Here we share some of the best man cave paint ideas to help you create the perfect vibe for your home's retreat.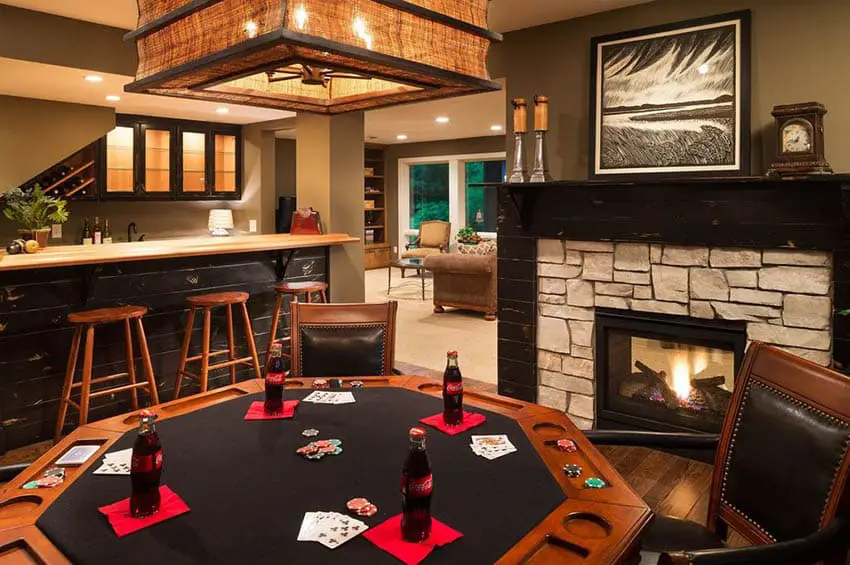 Color makes all the difference in terms of the visual aesthetics of a space.They help bring in character, create a mood or evoke meaning in a home's interior. So essentially, they also affect the way we feel in a space.
Thus, choosing the right color to dominate our personal abodes , whether it may be a bedroom, living room or a man cave must not be taken lightly.

The market presents not only hundreds but thousands of paint colors to choose from. Decide on the perfect shade of paint to furnish your man cave can be quite overwhelming, but with proper direction, making the right selection is easy.
Below we give you a guide of the best paint ideas which you can explore to create the perfect man cave of your dreams. (For more man cave ideas check out our gallery)

Best Colors to Paint a Man Cave
More often, the color schemes for man caves tend to go with "masculine colors" such as neutrals like brown, gray, blacks or accents like blue or greens. In general, these colors suggests a strong character, without being too overwhelming when used as a man paint color for a space.

Here are some best paint colors to use when designing a man cave: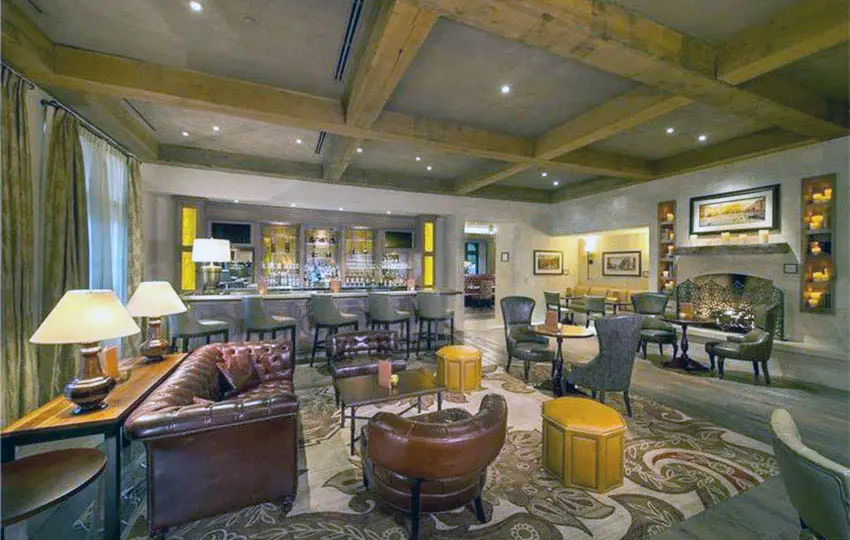 Shades of Gray
Aside from being one of the most trending colors this year, the color gray is also considered as a classic choice for man caves. Many homeowners and designers are drawn to the quiet strength that shades of gray bring to spaces.
Despite having a soft, subtle vibe, shades of gray have the ability to make a statement in a room. Its stability and strength make it a fitting choice of color for man caves.
The color gray is also considered to be the "new neutral" of the interior design scene, often replacing crisp whites or heavy black. If you feel that going with white walls for your man cave is too plain or dull, but still want the flexibility that it has to offer, then this might be the right color for you.
Shades of gray share the same attributes that make white flexible, but has a more understated color. Although lighter shades of gray do not have the same ability to make rooms appear brighter or more airy, several paint manufacturers offer this subtle neutral in cooler tints which can help create a more clean atmosphere.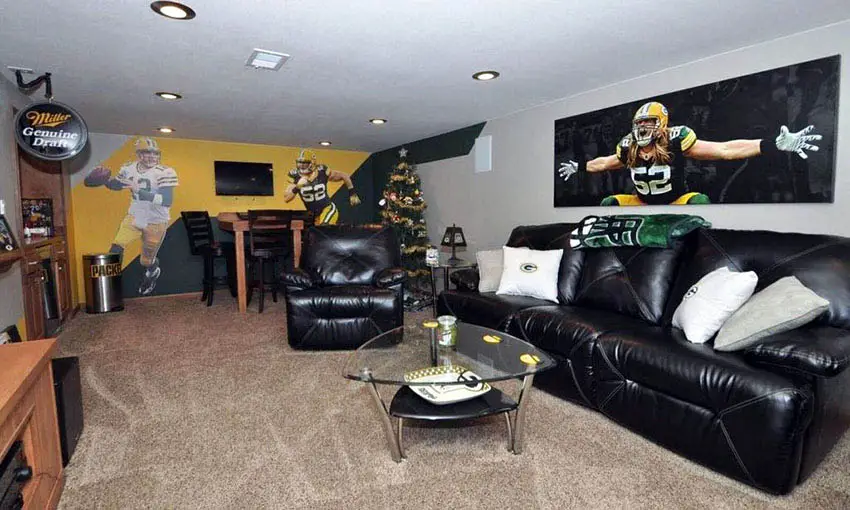 As mentioned, shades of gray also offer neutrality, which makes it versatile in terms of design. Walls in shades of gray can a backdrop for introducing splashes of colors into a space, whether it may be cool or warm accents.
In addition, shades of gray can also be used practically with any style for your man cave, whether it may be a classic traditional space or a more casual modern abode. The trick is just to choose the right tonality that will help you evoke your man cave's ambiance.
This moody color also makes an excellent choice for multipurpose man caves such as a study, library or home office. Its muted undertones reflect both edginess and timelessness, which is just perfect for a man's cave.
There are several shades of gray which can be explored as a man cave paint color, and all of its shades whether light, mid or dark prove to be a perfect choice.
Lighter tints such as greiges or cool grays help create a relaxing and calming ambiance, while warmer shades like slate grays ,ash gray, charcoal, graphite, smoke gray, pebble and iron all help set a mood for a more dramatic space.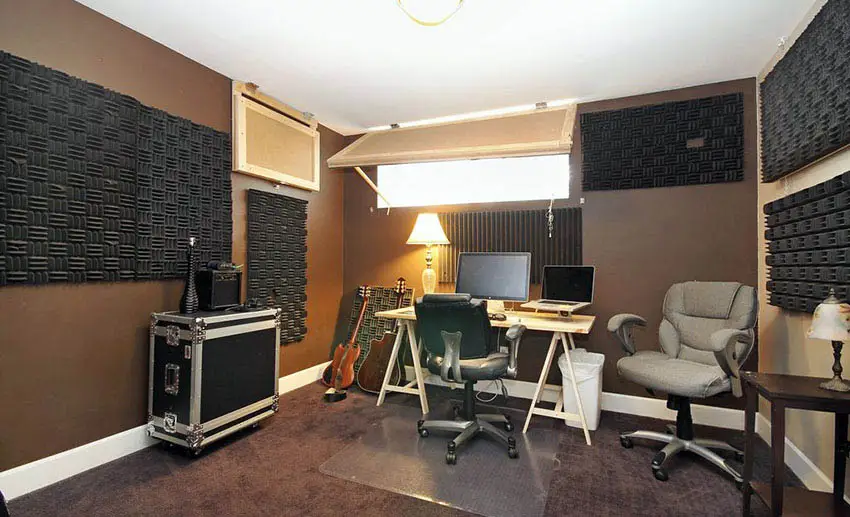 Dark Brown
Earth tones and browns are other colors which remind us of the outdoor and nature. The best thing about shades of brown, in general, is that it adds warmth and natural coziness to a space. It makes a well fitting choice for man caves because it is strong, "brave" and bold.
Dark brown also works well for creating monochromatic schemes. Sticking to one color for your man cave helps produce a cohesively tied look for your interior. However, sticking to one color does not necessarily mean that you have to repeat the exact same dark brown shade over and over again for all the finishes of your man cave.
Dark browns are also the best complement to wooden accents and natural stone as it produces a more "homelike" atmosphere and an inviting feel. Dark brown man cave palettes are also easy to live with, especially when paired with the right accent colors.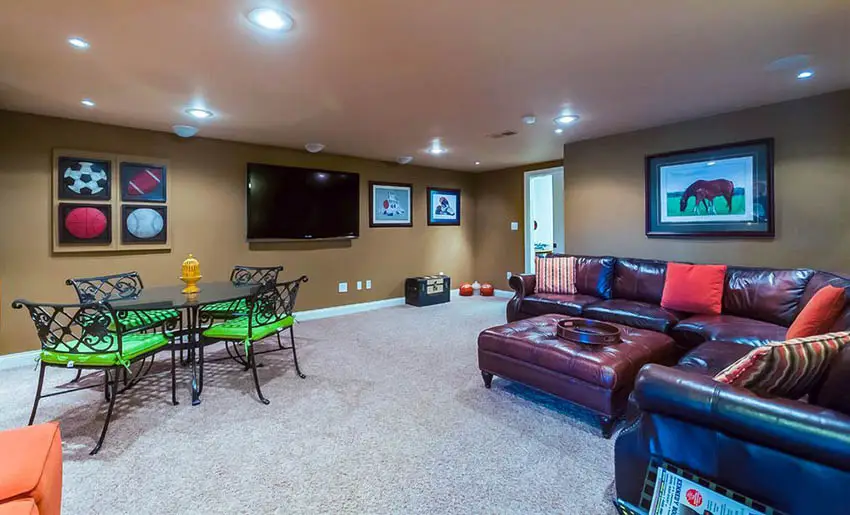 Light Brown
You can either adjust it to a lighter tint such as light mocha, tan sand, a mellow tone like coffee brown or a darker shade like chocolate brown to produce a well balanced layering of color.
To create an effective monochromatic color scheme for man cave using browns, makes sure to mix the right intensities of color in order to produce, depth, variation and contrast in the visual aesthetics of the space.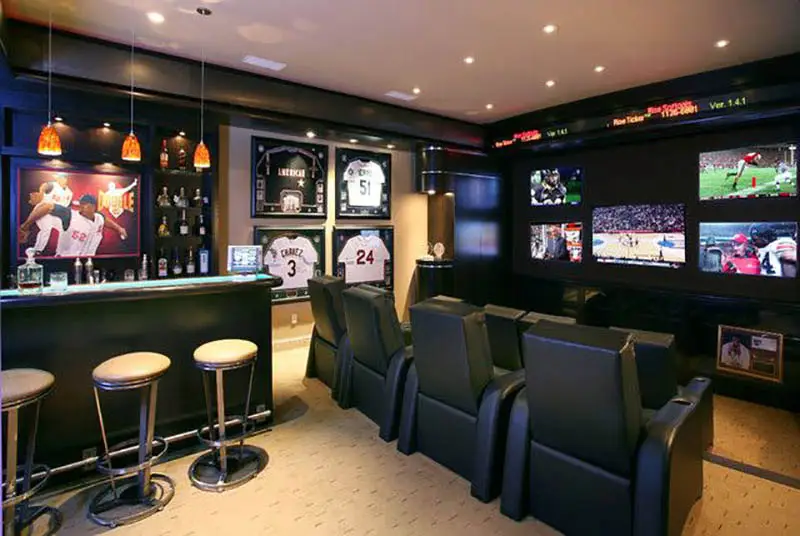 Black
Black has always been a consistently occurring color in man caves. Most men are drawn to its bold color which renders a very strong presence in a space. Aside from being mysterious, black is also elegant, extravagant and has a prominent masculinity to it.
Just like all the other neutrals like gray and white, black offers flexibility in terms of design, but it has a more stark character. It is the perfect shade for creating contrasts and can be combined with almost any accent color.
The best ones that pair with black walls are intense reds,bright yellows, lime greens and deep blues. Another classic combination is black and white, which is a popular favorite in man caves.
Black is best used for man caves which are spacious. When used for small spaces, it has the tendency to make it feel cramped or too heavy. This is also an ideal choice for man caves which aim to promote a dim atmosphere such as home bars, video rooms or home theaters.
Contrary to the belief that it can't be used for an entire room, black can be used for all four walls of a man cave, provided that it is backed up by proper lighting and balancing design elements such as light colored sofas or accessories in order to create a more livable space.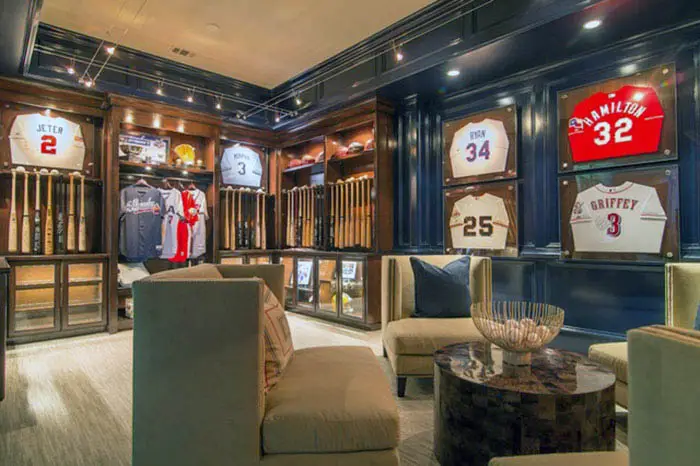 Navy Blue
When it comes to color, the most popular choice for men is blue, simply because when often associate it with masculinity. However, not all shades of blue works for a man cave.
The color blue does not come in a single hue but instead it has hundreds of tints and shades, which range from the lightest powdery blue to rich cobalt, dark navies or bluish grays. Those that fall on the medium to the darker end of the spectrum works best for man caves.
The best shade of blue that is ideal for a man cave is Navy Blue. Considered to be one of the darkest shades of blue (with almost a tinge of black), navy blue is one of the biggest trends in the interior design scene nowadays.
Although navy blue is a dark color, it can energize a space, while giving it that masculine character that a man cave needs. The color navy blue renders a strong presence in a room, but it also has the ability to produce a calming atmosphere. Overall, its result is a dramatic yet manly space.
Navy blue also offers versatility and flexibility in terms of mixing and matching decor in a space. Just like a trusted pair of jeans, the color navy blue presents a perfect backdrop for any man cave style, theme and inspiration.
Although it may not be as flexible as neutrals like grays or whites, navy blue paint works well with most color schemes. In addition, it can be used for a variety of design styles, whether casual or informal.
The deep hue of navy blue may be a bit overwhelming for some, but with right finishes, materials and furnishings to complement it, you'll get a stunning man cave design with completely balanced look. To tone down navy blue walls, make sure to pair with shades of gray.
Navy blue can also be used as paint on an accent wall, but it can also be utilized liberally for an entire room. However, it may not work for small man cave spaces because it's heavy, dark hue can make a room feel even smaller.
Exploring navy blue as accents also often gets better results, as compared to a whole room that is completely colored in blue. So make sure to introduce another color to your man cave rather than keeping a monochromatic scheme.
You can also explore other tonalities of the color blue if navy blue does not suit your taste. Some other variation of navy blue are denim blue, blue gray, midnight blue, oxford blue, cobalt and Persian blue.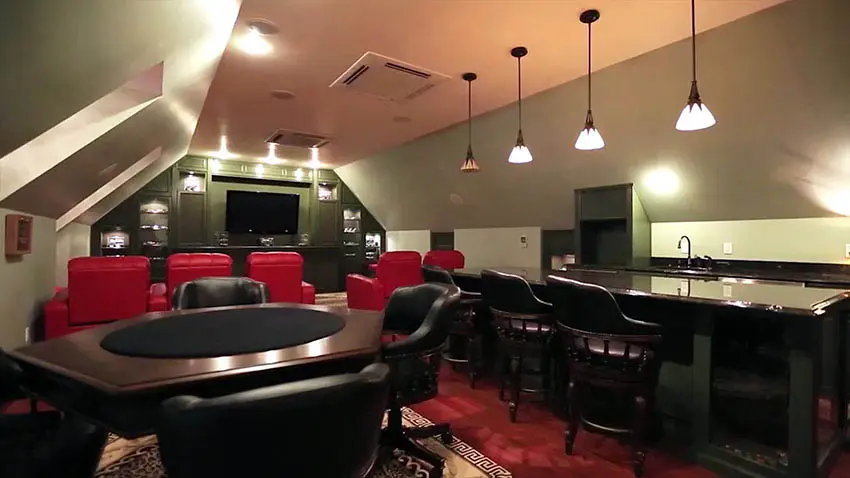 Deep Greens
For those looking for a splash of color but do not want to commit to intense, bright hues, then deep greens is the right color for your man cave.
The man cave, being an area for retreat could use the right shade of color which can set a relaxing mood that promotes rest and counteracts the negative vibes of a long, stressful day from work. Green is the color of healing and growth, which makes it a fitting choice for a calming man cave.
Deep green is also the color of nature so it projects natural coziness. Inspired by plants and trees, dark green is perfect for outdoor enthusiasts and those that want to be reminded of thrilling adventures while trailing or calming retreats in the mountainside.
It is suited not only for outdoor themed man caves, but also for those that suggest a formal ambiance, like a study or home office.
Dark greens can also be explored as an accent color and it pairs well with other natural elements like solid hardwoods and natural stone. You can match it with stone fireplaces, solid wood flooring and wooden ceiling beams.
For those who want to use a less rich color, you can opt for other shades of green which are more muted and subdued. Other greens which are ideal for man cave paint are moss green, sage green and hunter green.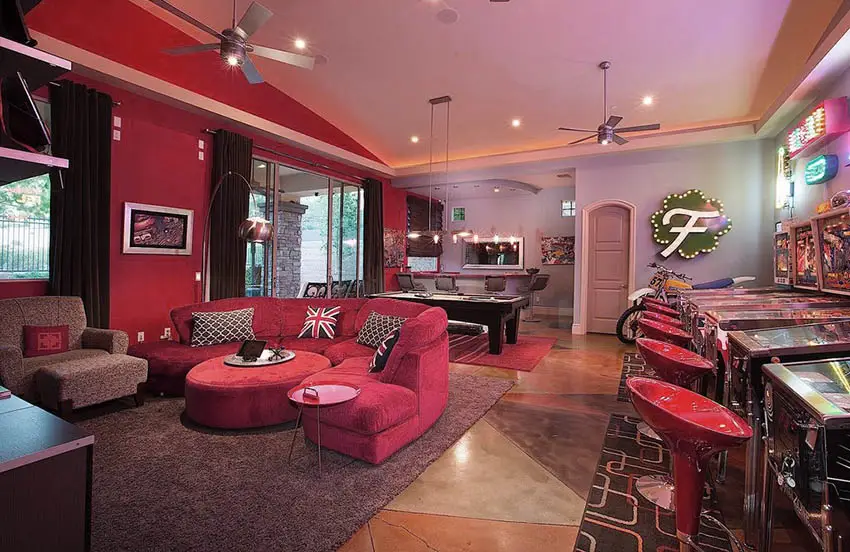 Red & Rich Burgundy
Another man cave paint choice for those who want to deviate from neutrals is shades of red. One popular choice is rich burgundy. Belonging to the color family of red, rich burgundy has the ability to energize a room, but compared to its vibrant counterparts, it offers a more formal and subdued space.
Using bright red for the walls may be too shocking but mixing it with a dark purplish undertone to create a rich burgundy color creates a more comfortable space to spend time in. Burgundy is also a color that is full of energy and despite its formality, it is not a boring choice of color.

Rich burgundy is also a well fitting choice for man caves which have a modern sophisticated flair, as it brings in casual elegance. It is more suited for formal man caves that have a library feel, study or home office. It also works best for most traditional styles.
To avoid making your man cave too heavy on the eyes, try pairing deep burgundy walls with a balancing color like beige, grays, taupe or greiges. Instead of using it for the entirety of the man cave, try coloring one wall with it to render a bold statement in the space.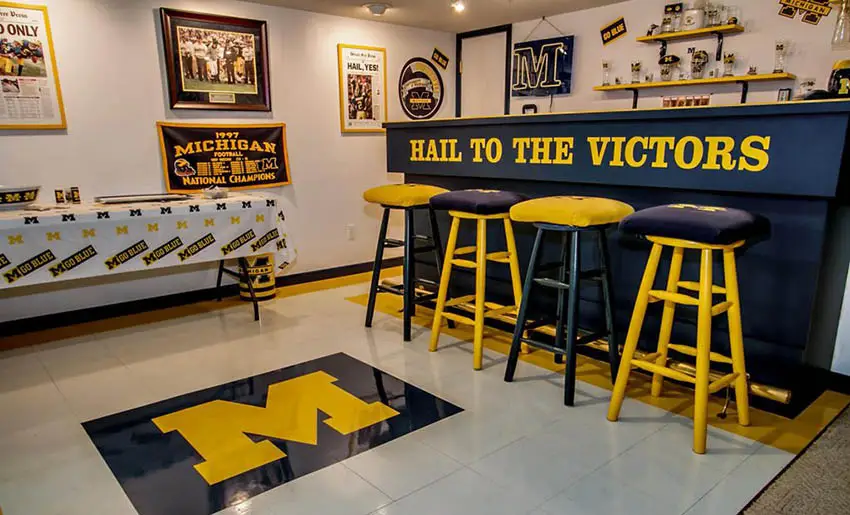 Greige
A combination of the colors gray and beige, greige adapts well to any type of man cave color scheme.
Greige offers flexibility as it can be tailored into different tones and values – the amount of gray tint in a "greige" color can be adjusted into different levels in order to make a warm or cool neutral. So practically, it can be paired with any accent color.
Depending on its tonality, greige works for most man cave themes whether it may be laid back or formal.
To create a more modern palette for your man cave, pair greige walls with orange and charcoal accents. For vibrant contemporary game room colors pair your light grey with a colorful accent wall or decor featuring warm colors like yellow, red, or orange.
While if going for a more formal flair for your man cave, try complementing it with a muted shade of blue and taupe accents.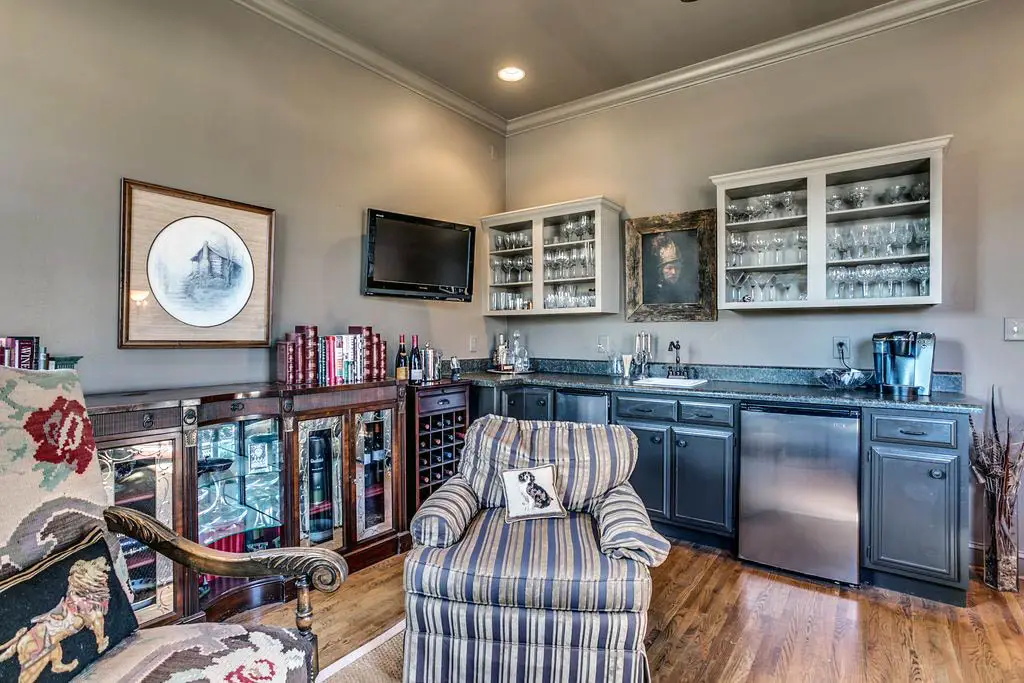 For those working with small man cave designs, it is best to go with a light neutral color like "greige". Greige has been continually picking up steam in the interior design scene, making it a trendy color for rooms in the house and its primary advantage is that it has the same attributes of any neutral, but it offers a more cooling and soothing atmosphere.