Here we share the best paint colors that go with brick including how to match and choose and colors to avoid.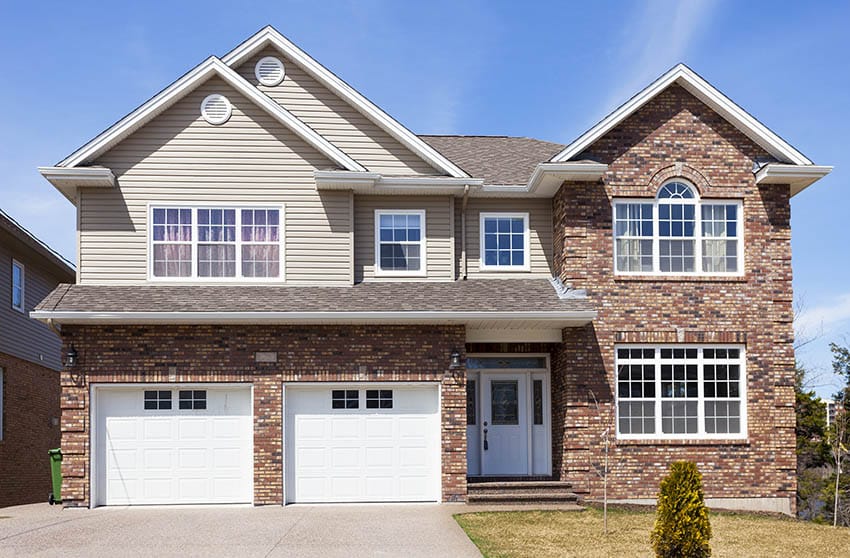 Brick is an incredible building material: durable, long-lasting, and fireproof. Its distinctive reddish color is synonymous with quality construction. Fireplaces, exposed brick walls, and brick siding are all highly-prized in the real estate industry.
But no home can be constructed entirely of brick! Interior brick walls often butt up against plaster or drywall that needs to be painted. Exterior brick has to look good next to painted doors, eaves, and window trim. Fireplaces must meld with the larger room. But what are the paint colors that go with brick?
What Colors Looks Good With Brick
The answer depends, in part, on the effect you're trying to achieve. If you feel that the brick is dominating the space and needs to be toned down, you'll want a low-contrast look. If you want to play up the visual impact of the brick, then seek to bring high contrast with your choice of paint color.
Further complicating matters, not all bricks are the exact same color. This is due to natural variation in the material and manufacturing process, though it's also possible to buy yellow or tan bricks.
Some homes or brick walls may be a combination of these colors. Establishing the dominant color of your brick, and any undertones that may be present is an important step in finding a paint color to match.
You can do this with paint swatches, or with items from around your house. Select three colors for comparison: orange, purple, and light brown. You can also use paint color visualizers to help choose color combinations.
When the sun is shining, take these items or paint chips to the brick and hold them up, one at a time. You should be able to tell which one looks the most similar and like it 'goes' with your bricks.
If the purple looks best, you've got brick with purple undertones. To enhance and draw out the brick, look at yellows, oranges, and reds. To take attention away from the brick, consider blues, purples, and dark neutrals.
If the orange item is the winner, that means your undertones are orange. To emphasize the brick, go for high contrast colors like blue, green, and purple.
If you want to turn the volume down on the brick, yellows and oranges can help you do that. Red bricks with an orange tone also combines well with neural colors such as tans and grays.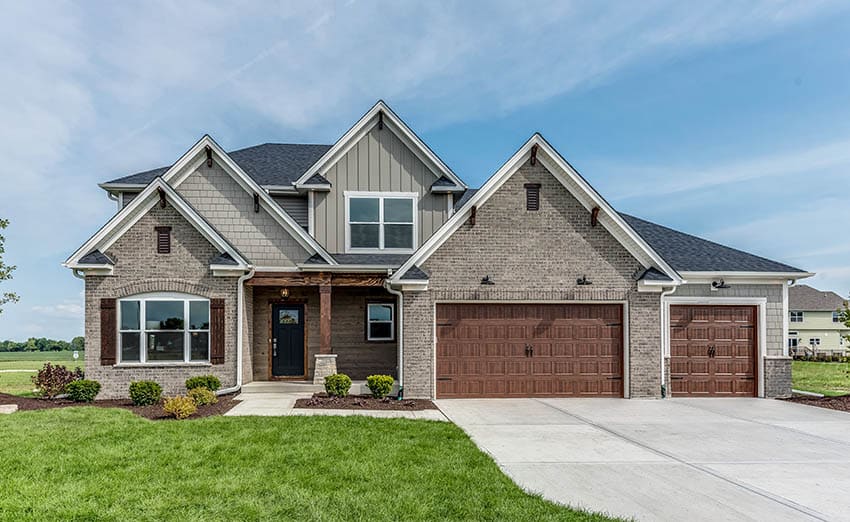 If the light brown item matches the brick better than the others, you've got a neutral brick. This kind of brick can support a dash of deep, bold color like burgundy or maroon. To integrate it into the rest of the room, choose neutrals like beige, taupe, or off-white.
Once you know what colors are likely to pair well with the specific bricks you're working with, it's time to head to the paint store.
Whatever color you're exploring, choose warm and neutral shades over cool hues. Because brick is a natural material, cool tones will look jarring and out of place against it.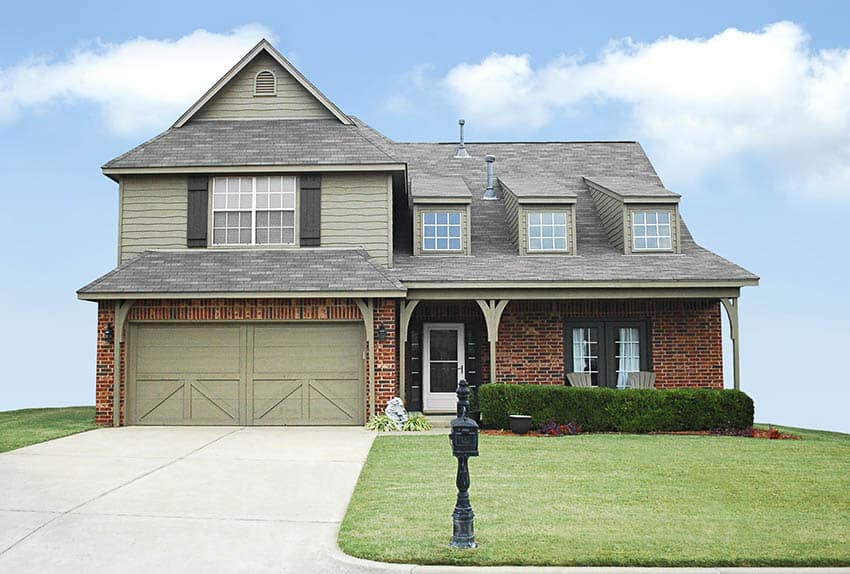 If you don't care to establish your brick's undertone (or simply can't tell the difference), here are a couple of safe choices:

Sage Green
Green is a complementary color of red, so it will enhance the color present in the brick.
Sage is a soft and muted enough tone that it won't compete with the brick for attention.
Sherwin Williams Svelte Sage SW 6164
Grays
The warmth of red bricks can be complemented with the contrasting cool of many types of gray paints.

Together the gray and brick combo can make a great impression. Here's a few paint shades that work well.
Sherwin Williams 7018 Dovetail
Sherwin Williams Gray Matters 7066
Sherwin Williams 6250 Granite Peak
Off- White
Benjamin Moore White Dove OC-17
Benjamin Moore Swiss Coffee OC-45
Dusty Blue
It's hard to go wrong with dusty blue. To avoid looking overly nautical, be cautious about using bright whites, brick, and dusty blue in the same color palette.
Best Paint To Go With Exterior Brick Siding
As a general rule of thumb use cool tones of gray, beige or green for an inviting house exterior. If you have white exterior brick siding you can go with darker colors to create a higher contrast.
Here's some more paint ideas:

Sherwin Williams Creamy SW 7012
Sherwin Williams Keystone Gray SW 7504
Benjamin Moore Gray Mist OC-30
Sherwin Williams Svelte Sage SW 6164
One of the best qualities of brick siding is its low maintenance requirements. It doesn't need to be painted or replaced.
The same can't be said for other parts of your home, like the doors and window trim. These will need to be maintained, and for wooden doors and trim, that means a fresh coat of paint every few years.
But as the owner of any brick siding house can confirm, it's not easy to pick a paint to match. Use the general guidelines above with the three tips below to create a color palette you love to drive up to.
Colors to Avoid Pairing With Brick Siding
First, avoid any excessively bright colors. Your windows and doors will almost exclusively be seen in natural light, which is much brighter than the lights inside your home.
A bright color will look blinding on sunny days. No neon-colored or bright white paint. It will stand out against the brick, and not in a good way.
Red colors and accents are also difficult to pull off when combined with red bricks and should be avoided when possible.
Purple and many darker shades are also not advised to pair with brown bricks as they can make the exterior appear too dark.
It's also a good idea to ask, what color is your roof, and how much of it can be seen from the curb?
If the pitch of your roof slopes down toward your front door, it is already making a big contribution to the visual impact of your facade. You should, therefore, avoid painting the door and trim the same color as the roof.
What are your favorite paint colors that go with brick? Let us know in the comments below.