Here's our comparison guide for polypropylene vs wool rugs including pros and cons, cost, durability, safety and cleaning tips.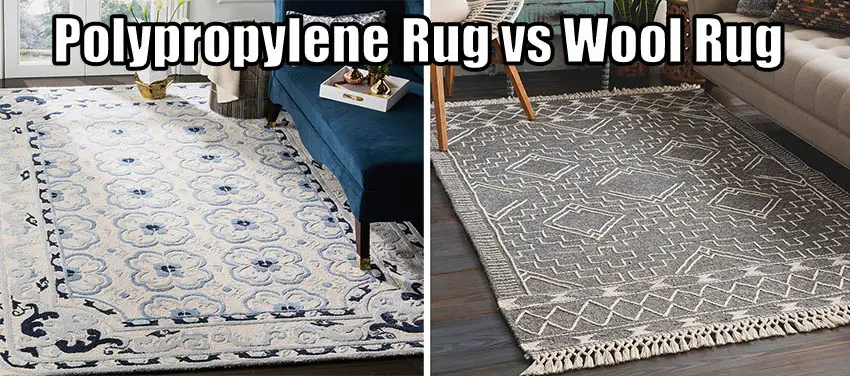 Choosing the best rug for your home can be extremely overwhelming as there is a wealth of options to choose from. Moreover, with the advances in techniques and machinery today, distinguishing between natural and synthetic fabrics became even more difficult as they almost look and sometimes feel the same.
The following is a comparison between the two most popular choices in the market which look similar which are polypropylene and wool rugs.
What Are Polypropylene Rugs?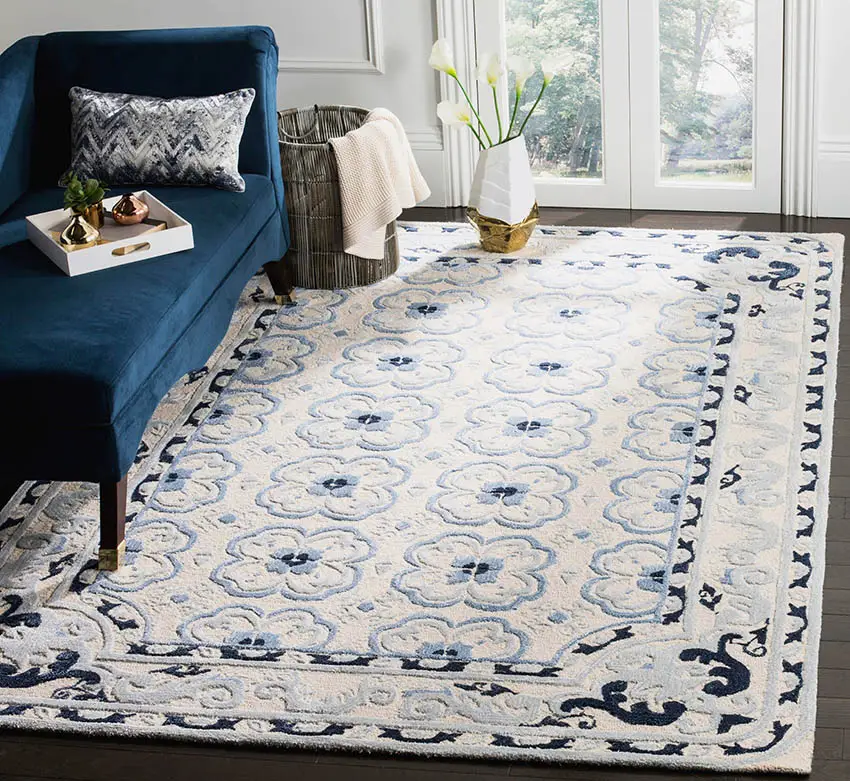 Polypropylene rugs are basically made from synthetic fibers, specifically of a thermoplastic polymer. The machine-manufactured rug is also termed polypropene or more commonly referred to as olefin.
The distinct characteristic of Polypropylene or Olefin rugs is that it looks like wool and often made with the looped Berber styles that can range from the matte to gloss finishes.
Polypropylene rugs cost less than most synthetic-made rugs and last a good 3 to 5 years. They are practical for outdoor use and basements or other areas with low traffic activities. Premium brands can withstand medium traffic and come with a plush and soft feel.
What Are Wool Rugs?
Wool rugs are hand-tufted rugs that are made from short lengths of wool derived from the softy or wavy hairs of sheep coat, goat, or any similar animal. The natural fibers are usually hand-woven which makes them very durable that can last as long as 50 years or more.
Rugs made from wool are distinguishable by their strong and dense make that comes in cream, white, silver, and brown in their natural state. Like nylon, wool can be dyed to get a variety of colors and patterns. Nylon and wool are only the two fabrics that can be dyed.
The overall appearance of 100% natural wool rugs has a matte appearance and does look luxurious and is soft to touch. Wool rugs have high durability, repels water, and are fire-resistant, making the natural rug suitable for high-traffic areas.
Now we'll look at polypropylene vs wool rugs pros and cons starting with wool.
Wool Rug Pros and Cons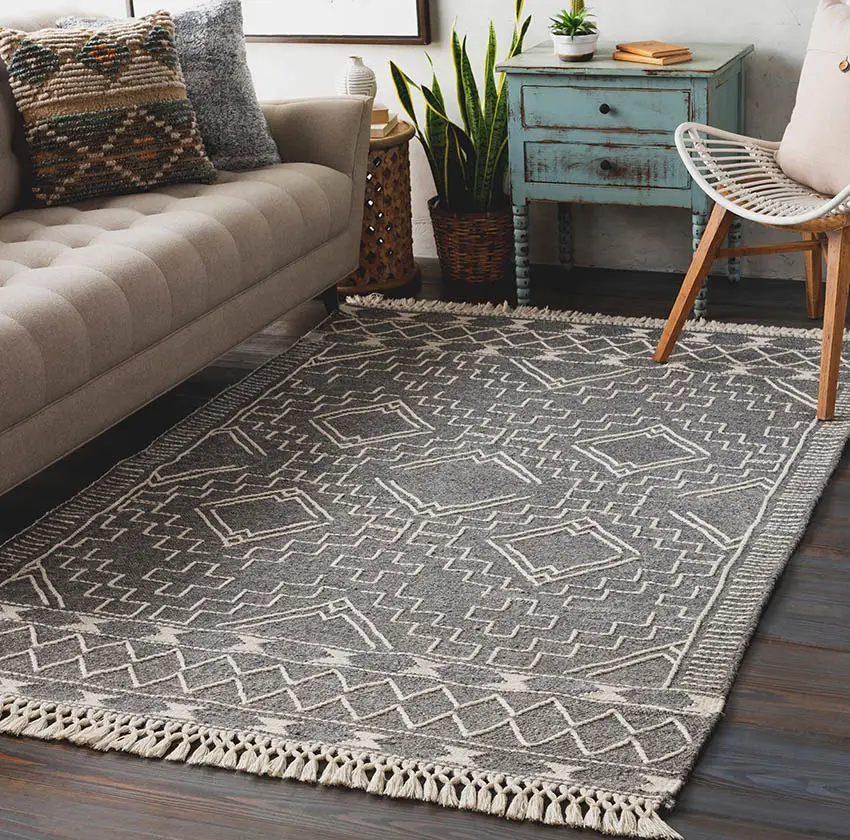 Pros
Durable and long lasting – There are reasons why wool rugs and carpets are favorite heirloom pieces. Wool rugs can last 50 years and even more and has better appearance retention. This means they won't become matted down by foot traffic or when moving along heavy furniture.
Better indoor air quality – Rugs and carpets made from wool are scientifically proven to improve indoor air quality by absorbing pollutants and VOCs or volatile organic compounds in the air. Neutralizing these contaminants can continue even up to 30 years of a wool rugs' life service.
Does not show dirt easily – The soil trapping fibers has a protective layer where the dirt stays on the top making it easier to be cleaned.
Moreover, wool will not show as much as other fibers because of its opaque appearance, unlike synthetic fibers that do have transparent fibers that can refract light. The diffused light makes the soiled parts look less obvious.
Water repellent and water absorbent – As the exterior of wool rugs prevents water from seeping through the fibers, the interior parts absorb the extra water vapor.
Less static means less dirt – Wool rug's ability to keep in moisture reduces the formation of static electricity. Thus, the low surface energy means it won't pick up much dirt on its fibers.
Resistant to most stains – The natural coating of wool fabric makes it possible to resist water-based stains.
Biodegradable – Aside from their longevity, wool rugs are biodegradable, making them an environmentally friendly product.
Cons
Wool is food for insects – Carpet beetle larvae and moths are the most common insects that love to eat wool and can significantly damage your wool rug in no time.
To prevent insect infestation, regularly vacuum your wool rug and make sure to flip furniture that sits on your rug from time to time. You can also apply pet-friendly insecticides to your wool rug.
Alkaline can damage your rug – Unlike polypropylene rugs that can be impossible to stain, oil-based stains on wool can be tough to remove. So, when removing stains, make sure not to use alkaline-based detergents as they can damage the fibers on your wool rug.
Expensive than synthetic rugs – Quality wool rugs can cost twice more than synthetic rugs.
Polypropylene Pros and Cons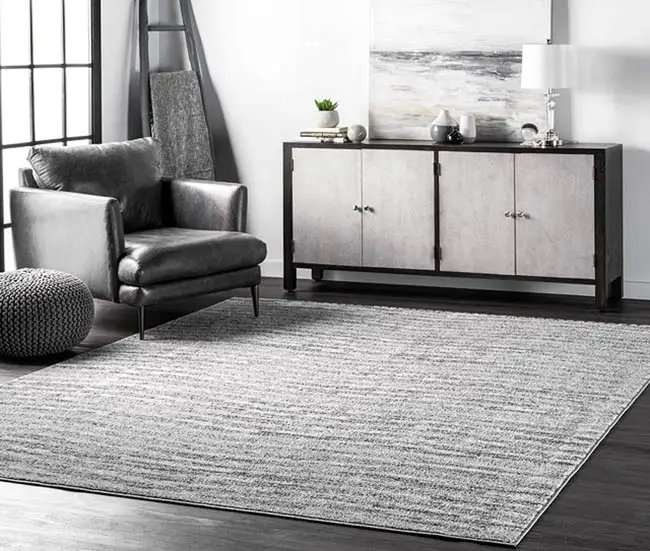 See this modern polypropylene area rug on Amazon [sponsored link]
Pros
Stain-resistant – Olefin or polypropylene rugs are impossible to stain as the fibers do not absorb stains. This makes it a practical choice for homes with kids or pets.
Color-fast rug – An advantage of olefin rugs over other rug fibers is that their dyed colors won't fade even under extreme weather conditions. This resistance to fading makes it suitable for outdoor use.
Moisture resistant – The synthetic fibers dry up fairly quickly preventing the growth of mold and mildew, making it a great option for bathroom and kitchen areas.
Lightweight – The low-density rug makes it a practical choice for constant movers.
Easy cleaning – Maintaining a spot-free carpet with olefin rugs is easy as you don't have to worry about using stronger cleaning agents. Stains and regular cleaning won't remove its color.
Affordable – With low manufacturing cost and easy maintenance, it makes a sensible choice if you want a budget-friendly rug.
Visually pleasing – Compared to other nylon-based rugs, polypropylene is more visually pleasing.
Cons
Can easily lose its definition – When placed in hard-wearing areas can matt off and fibers can get crushed and won't bounce back to their original form.
Abrasive texture – Low-end to medium-quality polypropylene rugs can come with a rougher texture compared with a wool rug.
Sensitive to heat and friction – Although it can withstand extreme weather conditions, low to medium quality olefin rugs can easily be damaged unless chemically treated.
Gives off harmful gasses – Since polypropylene is made from plastic chemicals it can give off VOCs in the air. Make sure to have a well-ventilated room when installing or it best to have it sit outdoors for a few hours before placing indoors.
Polypropylene vs Wool Rug Durability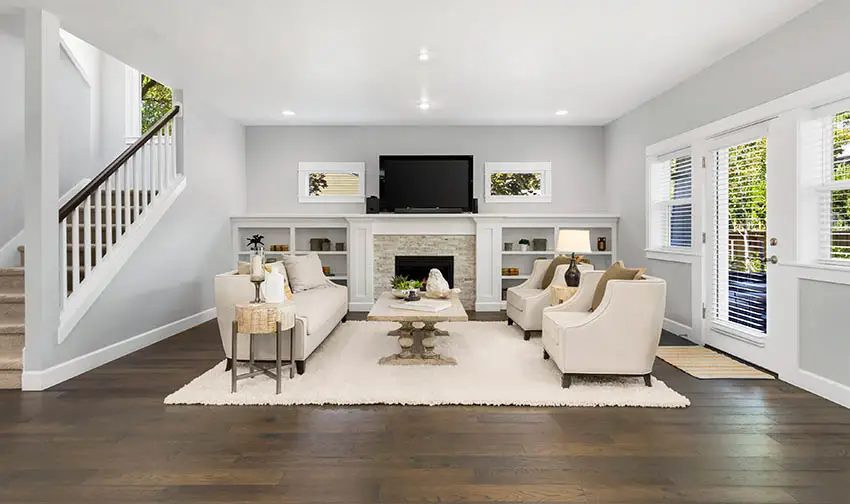 Wool carpets can outlast synthetic fiber carpets because of their resilient properties. Wool fibers have a natural coiled structure which gives its built-in resiliency from damage, where it also has inherent elasticity that makes the fiber bounce back.
This prevents the wool fiber from becoming matted even when you drag furniture on its surface. While polypropylene and other synthetic fibers are made artificially which means their strength can wear out over time.
Polypropylene vs Wool Rug Cleaning
Overall, olefin rugs are easier to clean than wool as you can use stronger detergents on their surface.
In addition, synthetic rugs do not stain easily because of the elastic fibers where spills such as oil can't adhere very well.
For wool rugs, on the other hand, oil-based stains can be very difficult to clean, and you may need to be careful on using detergents on the wool as chemicals can damage the natural fibers.
Machine washing can shrink your wool rug, so make sure to check for your manufacturer's cleaning recommendations.
Polypropylene vs Wool Rug Safety
Since olefin rugs do not absorb water, stains are easily wiped off preventing a slippery surface. Wool rugs, in the meantime in general, are not a slippery surface.
However, flatweaves such as dhurries and kilims can be hazardous matting, especially when it has no rough backing to keep the fabric in place. Make sure to have rough padding in between your flooring and your wool rug to prevent accidents.
When it comes to fire accidents, wool rugs are a great choice as dropped cigarettes or any source of sparks do not spread and instead self-extinguish.
It takes a large amount of oxygen and temperature to burn wool, thanks to its nitrogen and water content. For polypropylene, it will easily melt and burn, so avoid using olefin rugs near open fires.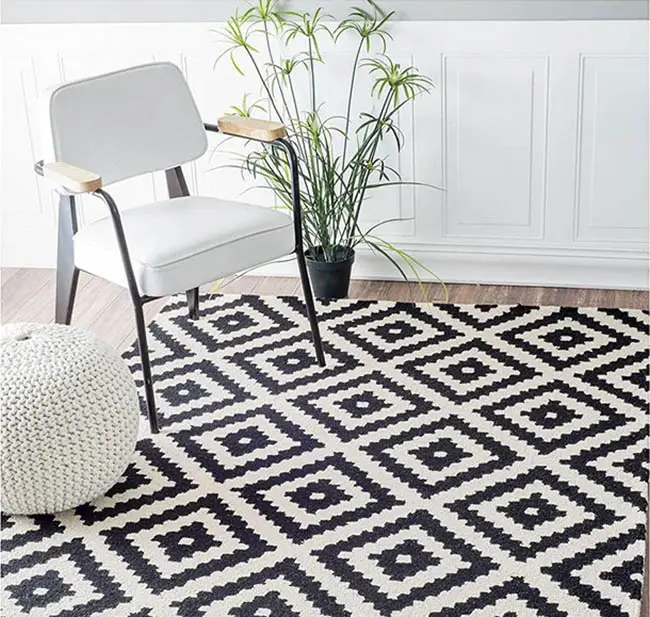 See this contemporary black and white wool area rug on Amazon [sponsored link]
Polypropylene vs Wool Rug Cost
Wool carpet costs vary according to the source of the wool, though wool rugs typically cost up to twice as much as nylon and polyester rugs.
For instance a 5′ x 8′ polypropylene rug on a popular online store currently runs about $65, while a similar 5′ x 8′ wool rug costs about $126.
The cost to produce olefin is lower than many other types of rugs, which means it's less expensive than other rugs made of nylon or even polyester. With olefin, you can get immediate savings, but of course, it will not last long as wool rugs.
Other factors that could affect the cost of your rugs include the quality, size, and inclusion of backing or pad.
Large area rugs in general, cost around $400 to $10,000, which means you get a wide range of prices and the cost will ultimately depend on your preferences. For help choosing a rug see our page about how to pick rug sizes.
Are Wool Rugs Better Than Polypropylene?
Wool rugs win over polypropylene mainly when it comes to durability and longevity as today's olefin rugs can already simulate the softness and visual appeal of wool rugs.
Olefin or polypropylene rugs have a more standardized yarn and can offer you more intricate designs but wool rugs still look luxurious and give that organic natural look.
If you're looking for a long-lasting rug for your home, wool rugs are the best option you have, but olefin rugs are practical for those who need immediate savings. So, it boils down to your needs and how much you are willing to spend on your rugs.
What do you think of polypropylene vs wool rugs? Let us know your experiences in the comments. For more related information like this see our article about how to position a rug under a bed.