Here are our travertine pool deck pros and cons, including colors, cost, sealing, and cleaning of these natural stone patios.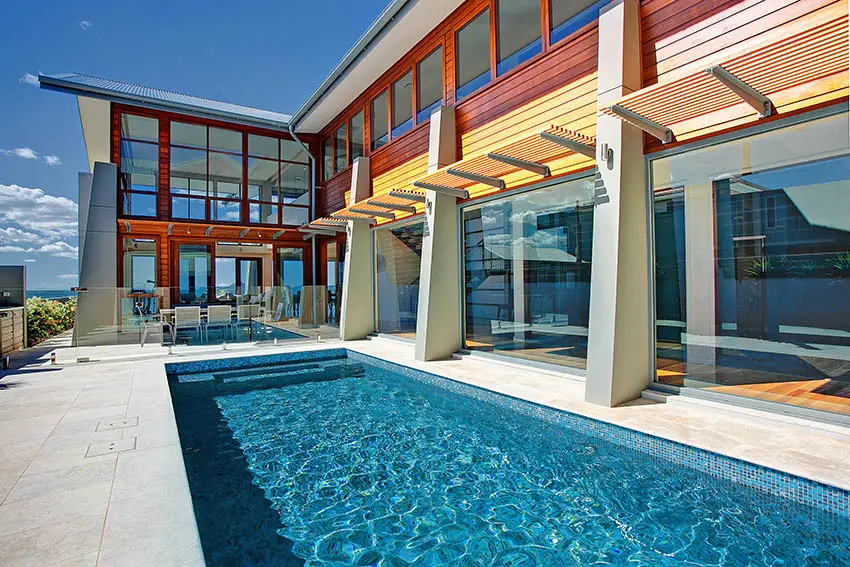 Ever so popular, travertine remains one of the most favorable stone tiles because of its unique aesthetics and functionality; it is also used as indoor, patio, and path walk tiles for both residential and commercial use.
Advantages of Travertine Pool Decks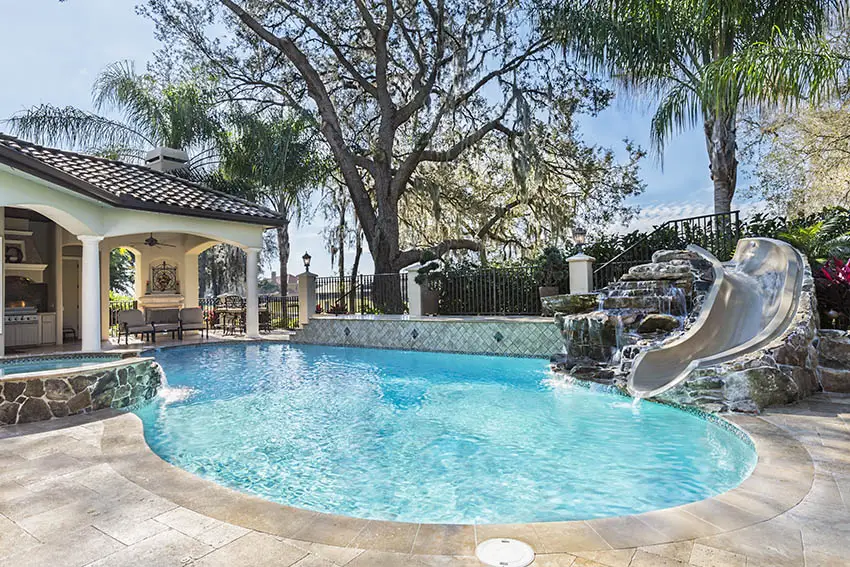 A beautiful, weathered look. Travertine tiles are undeniably gorgeous. Investing in a travertine swimming pool deck will add curb value to your property. You can easily create a comfortable, cozy-looking pool deck with these stone tiles, as the graining and primary tile colors have a warm, natural color tone.
Helps to keep feet cool – A travertine pool deck keeps your feet cool under the summer heat. You get the beauty of stone tiles without sacrificing comfort as this stone remains comfortably cool under your feet, making it possible to walk around your pool, even under the sun.
Travertine tiles allow the low temperature underground to flow upon the surface and simultaneously reflect the sunlight.
In colder climates, the stone can be cold, and the colors won't matter as much. However, it is best to choose lighter colors, especially when temperatures reach more than 85 degrees Fahrenheit.
It won't crack in cold temperatures. While it performs well under hot climates, your stone decking will remain pristine even when temperatures drop.
The stone tiles survive the freeze-thaw cycle due to the unique vertical capillary action, allowing moisture to escape through the flooring material.
It can last a lifetime. With proper care, correct installation, and not subjected to extreme wear and tear, average-grade travertine tiles could last over 100 years.
It looks great even with hairline fissures. Cracks on some tiles may happen, specifically when dropping heavy furniture or planters on the surface. If this happens, hairline cracks or even large vein-like cracks can appear.
Fortunately, these damages are not noticeable as each travertine tile is unique and has natural veining. These cracks can also add a rustic appeal to your pool decks. For a long-lasting, crack-free pool surround, install a quality anti-fracture membrane for your underlayment.
Easy work-ability. These stone tiles are easy to cut and shape in any design you want. This advantage makes it easy to work with, especially with uneven surfaces and irregular layouts of pool decks.
Easy and low maintenance. You do not need a little more effort in maintaining your travertine tiles compared to ceramic or marble. See examples of marble pool decks here.
Nonetheless, it is still considered one of the easiest floor surfaces to maintain. Regular sweeping and light setting on your power wash to remove stubborn dirt.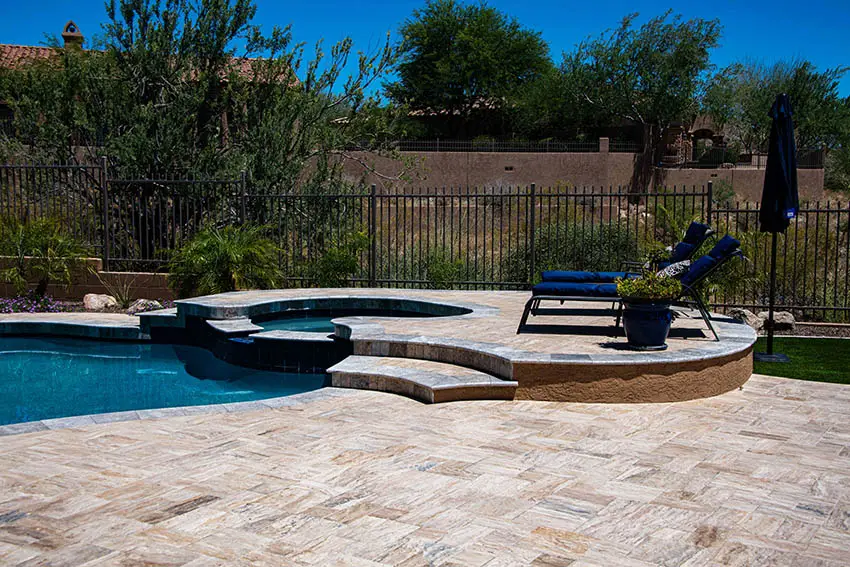 Disadvantages of a Pool Patio Made Of Travertine
Can be dented and scratched – Travertine pool decks have a soft surface that is more prone to scratches and dents. Though generally very durable, heavy impacts can dent and scratch the tiles, and it resists damage better than wood decks.
The scratches and dents on these tiles are hardly noticeable because of their natural surface pits and graining, which is a good thing.
It can be a slippery surface. Remember that travertine tiles, in general, are skid-resistant, specifically with a brushed or tumbled finish.
However, like any other stone tiling, there is no guarantee that these tiles will not become slippery, especially when wet. See more popular types of pool finishes here.
Not all travertine tiles are equal. In addition, shoe traction should always be considered for safety reasons. To ensure you get a skid-free pool surround, check with a specialist before purchasing your tile products.
In addition, some products feel different to the touch and are more suitable for a particular environment. Check for the COF or static coefficient of friction of your travertine tile. It is recommended to have a minimum of 0.5 COF, where the higher COF, the better.
You can apply non-slip coating when you have already sealed off your travertine tiles. To add the reapplication interval of your non-slip coating, you can add nano non-slip beads to your stone tiles. For a more effective non-slip surface, check out aggregate pool decks on this page.
Porous surface. As travertine tiles are very porous, it can be both an advantage and disadvantage. The porous surface will allow water and moisture to pass through, preventing puddles and mold build-up on the surface. But it can also easily absorb stains.
To avoid permanent staining, wipe off spilled liquids immediately. Finishes can also be applied to prevent staining, and on top of this coating is a non-slip coating.
Sensitive to acids. Be mindful of your cleaning agents, as these stone tiles can be damaged with strong cleaning agents and other liquids with acid content. Thus, it is a challenge to install natural stone in kitchens and bathrooms.
Travertine Colors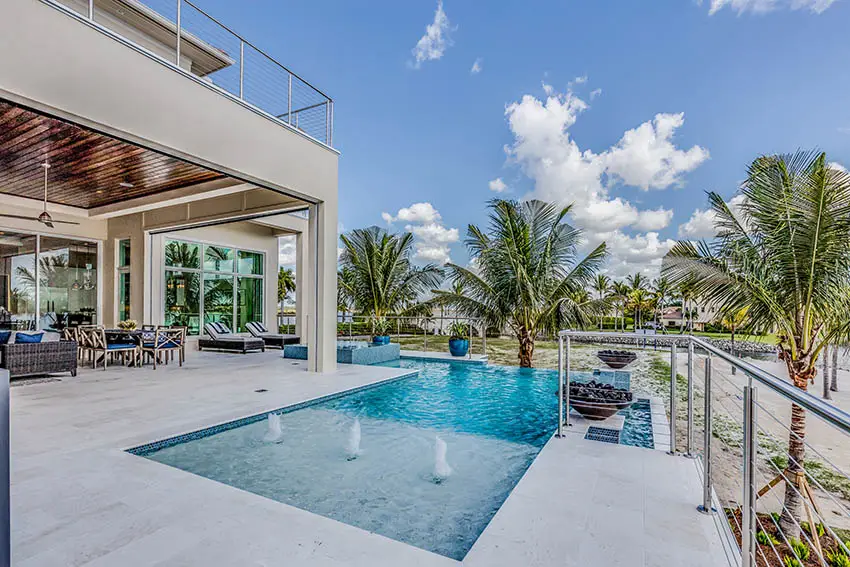 Pool decks with travertine tiles can visually impact as they offer a unique and interesting display of organic texture and warm earthy tones.
There is a wide range of colors to match your existing or desired design, and the most common color tones in the market for travertine tiles are silver, ivory, white, gold, walnut, and multicolored.
Ivory color – One of the lightest colors, perfect for pool decks that are constantly under the sun as it absorbs less heat and is visually cool.
Walnut color – The color is still a light hue but looks warmer than the ivory color tone. It makes an ideal pool deck surface as it stays cool under the feet but has a cozy appearance.
Multicolored or Scabos – This type of coloring combines a variety of gold, grey, silver, white, green, red, and several other colors to create a beautiful pattern. When you add a sealant, these color tones stand out even more.
Silver or gray– If you want a more neutral tone, silver travertine pavers are perfect for a more contemporary pool deck. The varying shades of gray and white look absolutely stunning.
Gold – If you love the walnut color but desire a warmer and darker version, using gold travertine tile is your perfect choice, as the earthy tone makes a rich texture on your pool deck surround.
White – As the lightest color hue for this stone tile, it can make a pool deck area luxurious and refined when you decide to have a polished look. The slight gray veining makes subtle variations on each tile.
Cost of Travertine For a Pool Patio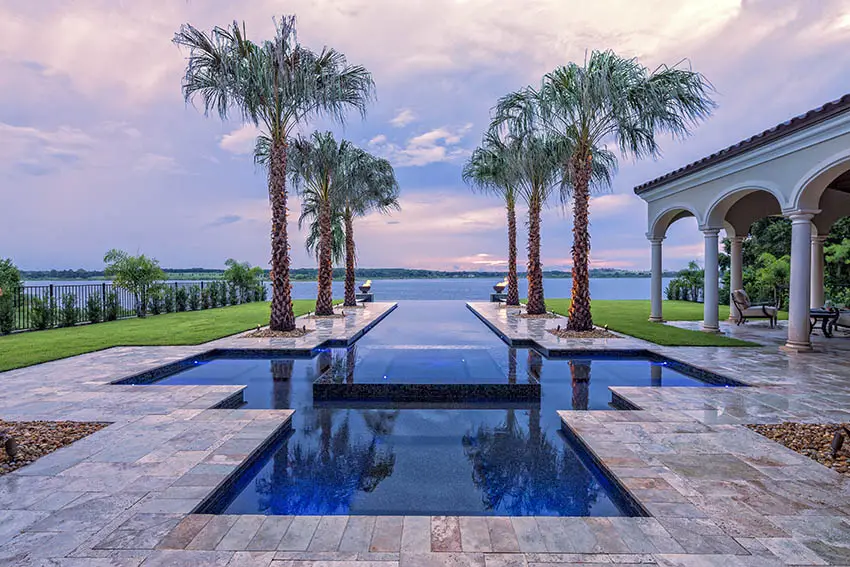 The cost of travertine tiles without installation can range around $5.00 – $30.00 per square foot, where $15 is the average price, and is considered as having a mid to high range tile pricing.
It is cheaper than limestone, slate, granite, and marble but more expensive than ceramic, concrete, porcelain, and soapstone.
The disparity of the prices is due to the many factors that can affect your pricing, such as the location it was quarried from, cut, size, installation process, and more.
To get a better idea of the cost, compare quotations from at least three different suppliers. See more types of natural stone pool decks here.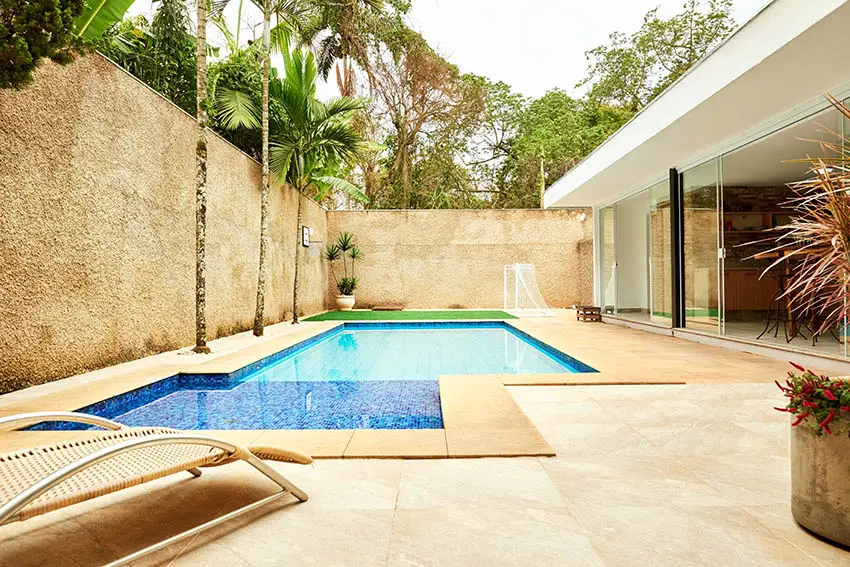 Sealing Exterior Travertine
To maintain the visual appeal of your travertine pool deck, you will require a sealer that will act as a protective layer between the natural stone and potential stains.
Aside from protecting your flooring surface from unwanted liquid staining, you also protect it from loose soil from being trapped through its pores.
Though sealing off your travertine pavers is not required, your contractor will likely recommend this application when installed near a pool or garden.
Sealing off your exterior stone surfaces is typically done twice, but consult your product manufacturer and contractor, as they may have methods that work with their tile product.
The first sealing is done with a primary seal before tiles are grouted, but it will reduce the porosity of your stone tile. The second seal is applied after the tiles are grouted to protect the surface further.
How to Clean Travertine Stone Pool Decking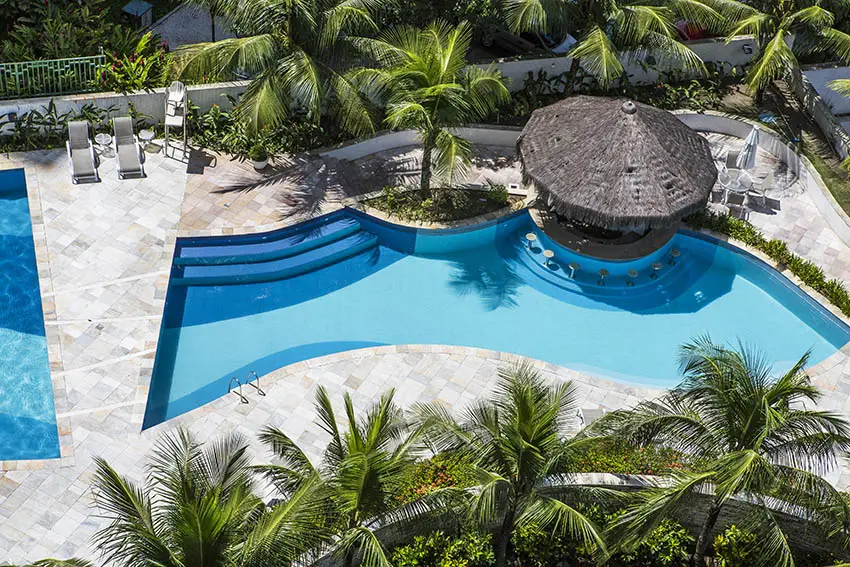 Use fiber brushes for regular cleaning and a soft broom to remove dust and debris on the surface. You can further remove dirt by brushing with water and a mild detergent.
For stubborn dirt, you may need to power wash your pool patio on a light setting, which you may need to reseal. Don't use cleaning agents with acid content, as it can damage your stone tile.
Ensure to follow the recommended cleaning and maintenance from your product's manufacturer.
Travertine Tile Problems
Like any other natural stone, travertine tile can break down when subjected to saltwater. The salt content can leave a chalky white residue but can be swept with a broom.
A more damaging effect of salt is when salt is present within the stone, and when water is absorbed in the stone, salt is dissolved, causing empty pockets and holes beneath the material. This can weaken the structure of your tile, causing it to break or have hairline fissures.
The best way to prevent this is by applying a salt-resistant penetrating sealer to protect your travertine tiles, which can give you reasonable protection for about 5 to 10 years.
As mentioned in its disadvantages, your pool deck has the potential to become slippery when it is constantly wet and when using footwear with poor traction.
It is recommended to apply nano nonslip beads on top of your sealant, as it is five times more durable than ordinary non-slip coatings, which will save you more on periodic sealing costs.
What is Travertine Stone for Patios?
This gorgeous stone material is limestone formed beneath the hot springs over millions of years. When geothermal groundwater heats up, water shoots up, thus creating the pits and unique character on the surface of each stone.
A travertine stone pool deck is an outdoor decking system that utilizes the unique natural beauty and function of cut tiles.
This material offers a rustic appearance, but with the color variations available, you will find that its tiles are versatile options that can work on any style you are aiming for.
Color variations include but are not limited to white, gray, beige, silver, rustic black, ivory, walnut, and cream. Travertine tiles give a homey feel to your pool deck area, and the subtle differences in the color of each stone will surely make your pool area stand out.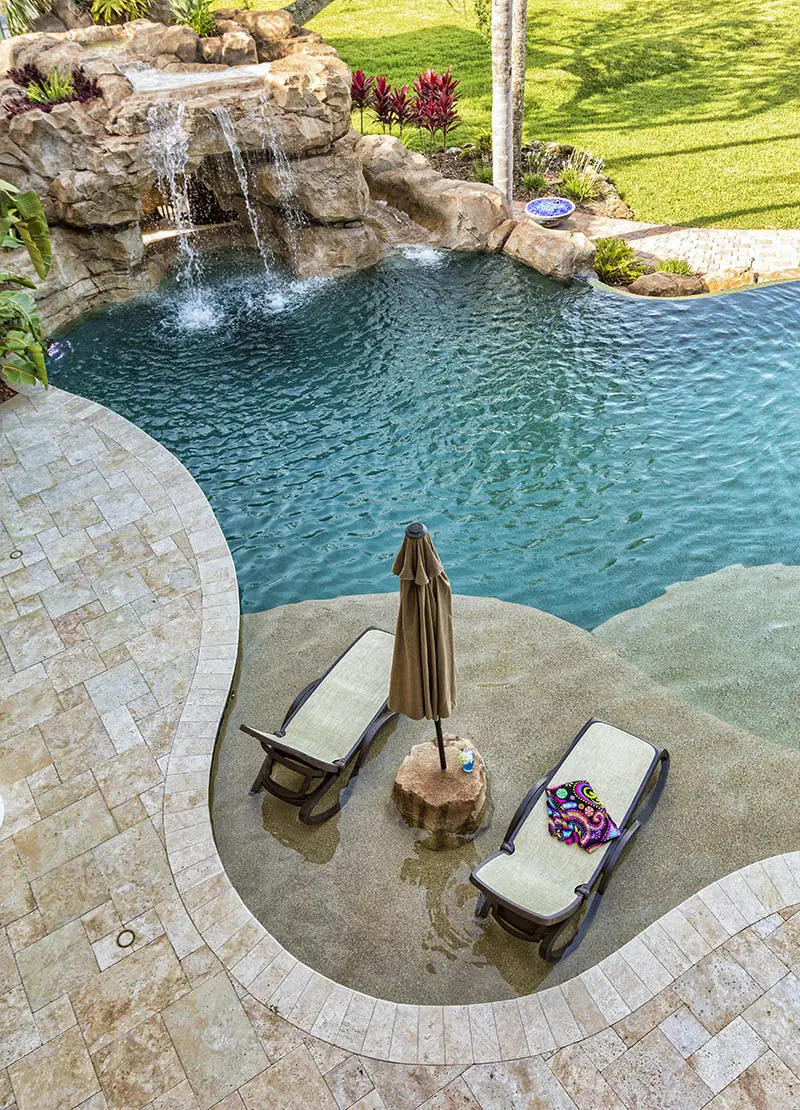 Since ancient times, travertine has been widely used in masonry works. The most notable architectural and engineering marvels are made from its stone tiles, including The Colosseum, Hierapolis, Basilique du Sacre Coeur, Tonto Natural Bridge, and Willis Tower.
Like any natural stone tile, these materials are quarried and collected in large stone blocks and then cut to the desired size and shape. You can find these stones sourced from all over the world. Most of these quarried natural stones from Turkey, Mexico, and China are, yet the best quality tiles come from Italy.
What do you think about these travertine pool deck pros and cons? Let us know if you like this stone around the backyard swimming pool or have questions. For more information, visit our page about travertine patio designs here.