Welcome to our dekton countertops buying guide including pros and cons, colors, cost and how they compare to granite and quartz countertops.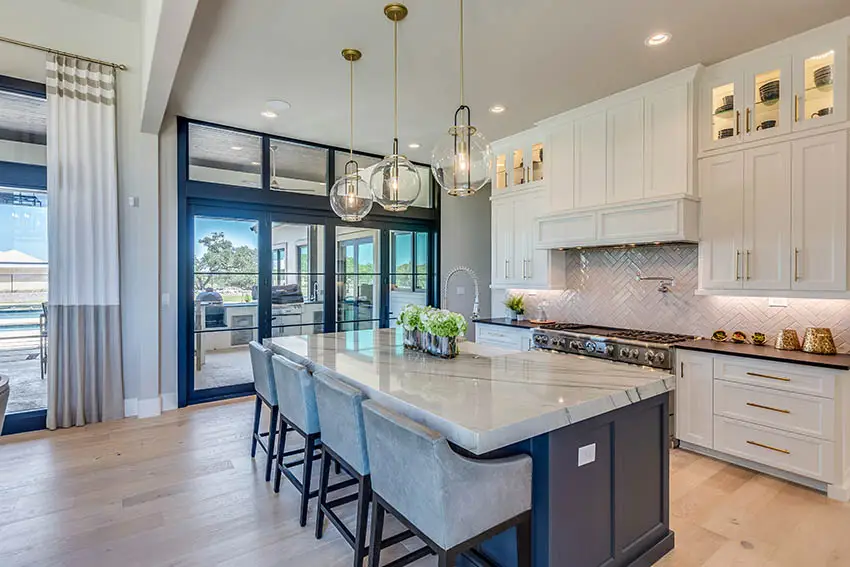 A relative newcomer to the countertop world, Dekton first became available in 2013 and has caused quite the stir in the interior design and home improvement world. This extremely dense and versatile material can be used inside and out.
Strong enough for flooring and durable enough to serve as a wall, Dekton is also a beautiful and low-maintenance choice of countertop for your kitchen or bathroom.
In this article, we'll discuss what Dekton is and some of the pros and cons of this material. Then, you'll learn about Dekton's color collection and review the cost of installing Dekton. Finally, after comparing Dekton to other materials, we'll explain where to buy these innovative and beautiful countertops.
What Is a Dekton Countertop?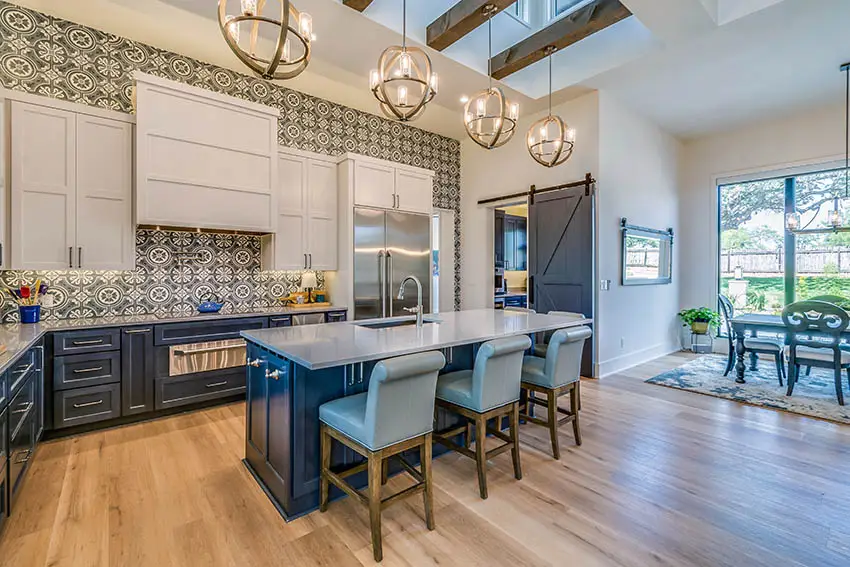 Dekton is the brand name given by Italian countertop manufacturer Cosentino to their new ultra-dense material used for kitchen, bathroom, and workspace countertops.
The brand name Dekton has become synonymous with ultra-dense countertops, which are also sometimes referred to as 'ultra-compact'. Other brands that produce similar products include Neolith and Lapitec.
Using a combination of materials also found in glass, porcelain, and quartz countertops, ultra-dense countertops are produced via a 'sinterized particle technology'.
Sintering is different from melting in that it uses both heat and pressure to combine disparate materials into a unified whole. This creates an unusually dense, durable, and non-porous material that can be turned into a countertop.
Dekton Countertops Pros and Cons
If you're considering Dekton countertops for your next project, review the pros and cons of this new material before making a final decision.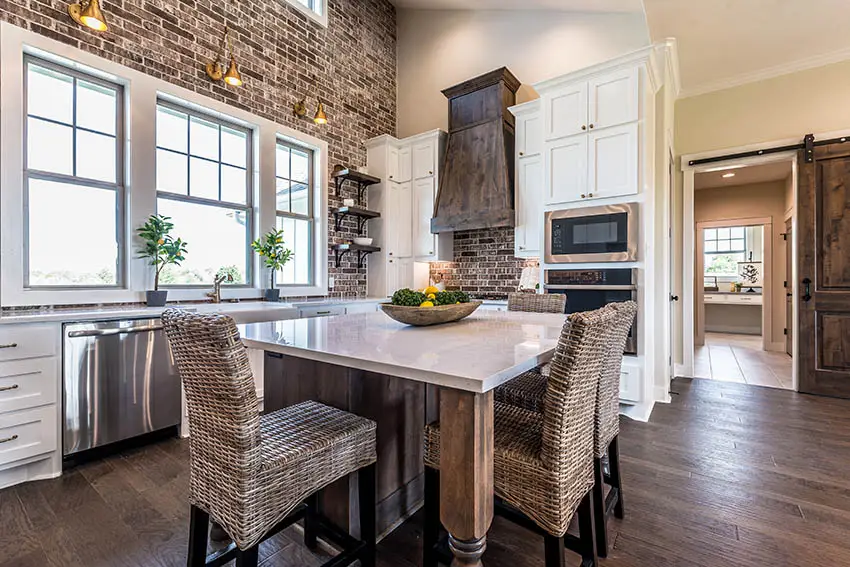 Pros
The main benefits of Dekton are; non-porosity, durability, ease of repair, and outdoor usability.
Non-Porosity – Natural stones like marble and granite are porous, meaning they can be penetrated by liquid. This makes marble and granite countertops susceptible to stains and water damage.
Dekton and other ultra-dense countertops, however, are non-porous as well as temperature resistant. Not only do you not need to fret over every water spill, you can also forget about stains. Even acidic or dark colored liquids won't contaminate Dekton.
Durability – Dekton countertops are known for being virtually indestructible. They are scorch-proof, eliminating the need for hot plates or trivets. With an ultra-dense countertop you can whip your dinner out of the oven and place it right on the counter.
Dekton is scratch-proof, too — even your sharpest knives won't scratch ultra-dense countertops. While there is the possibility of transferring marks from the metal onto the cutting surface, these can easily be removed with soap and water. Read more about the most durable types of kitchen countertops here.
Ease of Repair – With many premium countertop materials such as marble and granite, there is no way to repair chips. Repair is possible with quartz cabinets using adhesive, but is difficult to match if you don't retain the chip.
Dekton is different. A pit and chip repair kit can be used to restore the missing material, and will blend well with solid-color. Patterned countertops are more difficult to match, but it is still possible.
Ease of Maintenance – Dekton's smooth, non-porous surface is easy to wipe clean. It never needs to be sealed or resealed. No special cleaner is necessary, although the company recommends pot and pan soap for difficult spills.
Simply avoid impact damage, and your Dekton countertop will remain in like-new condition for years to come.
Suitable for Outside Use – Dekton might just be the perfect outdoor countertop material. It can be installed in any climate, since it is completely resistant to ice and thawing due to its nonporous design.See more examples of the types of outdoor kitchen countertops here.
It has high resistance to UV light, so it can be installed in sunny areas without concerns about degradation of the material. While some minor fading may eventually occur after extended exposure to bright sunlight, Dekton countertops do not yellow.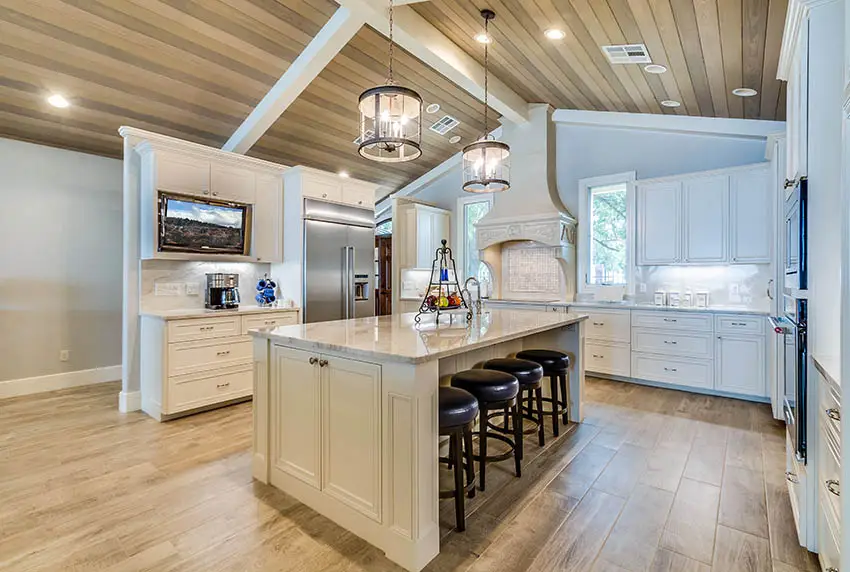 Cons
No material is perfect. There are some drawbacks associated with choosing Dekton for your next countertop installation.
Not Impact Proof – While it's impossible to scratch, stain, or scorch your Dekton countertop, if you drop something heavy on it from sufficient height, you can expect impact damage.
Cracks are disappointing and unsightly. They are also irreparable. Replacing the entire slab of is the only way to fix a cracked ultra-dense countertop.
Expense – If budget is your deciding factor, low-end materials like laminate and concrete make the least expensive countertops.
However, these less costly products lack Dekton's longevity, durability, and non-porosity. As a recent innovation and a premium product, Dekton countertops come with a correspondingly high price tag.
Dekton Countertop Colors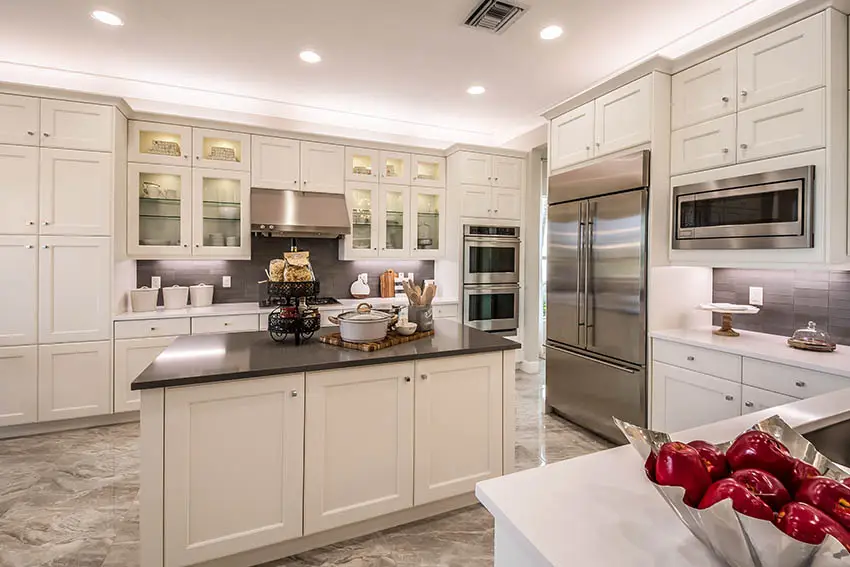 Dekton releases a new catalog of colors and patterns every year. Their current offerings are sorted into eight collections.
The Industrial collection features a variety of patterns that mimic cement and concrete, and metal. The Natural collection is intended to provide replacement options for materials such as granite and marble, and the patterns in this group often feature veining in contrasting colors. The majority of Dekton offerings are in these two collections.
The XGloss collection is composed from different colors of polished Dekton. This product shares a reflective, crystalline shine that is reminiscent of engineered quartz.
The Liquid collection, released in 2020, comes in only three colors. Each contains swirling, undulating veins that produce a liquified appearance unmatched by any other countertop product on the market today.
The smallest collection Dekton offers is their Wild collection, containing only one product. The Makai looks like strips of light wood that have been painted and then partially stripped. There are also limited solid colors available in the Chromica collection — off-white, muted green, and dark blue.
Dekton Countertop Cost

An average-sized kitchen has 30 square feet of countertop. Dekton must be professionally installed. The cost of installation and materials combined is between $65 and $90 per square feet. In an average-sized kitchen, that adds up to between $2,000 and $3,000.
This is less expensive than granite, which averages between $80 and $110 per square foot. Marble can sometimes be sourced for a lower price of around $40 per square foot, but the average price is higher — about $120 per square foot.
Quartz has a similarly large price range, which makes the average cost of installing quartz higher than the average cost of installing Dekton. Engineered quartz countertops start at $50 per square foot and can cost up to $120 for labor, materials and installation.
Dekton vs Quartz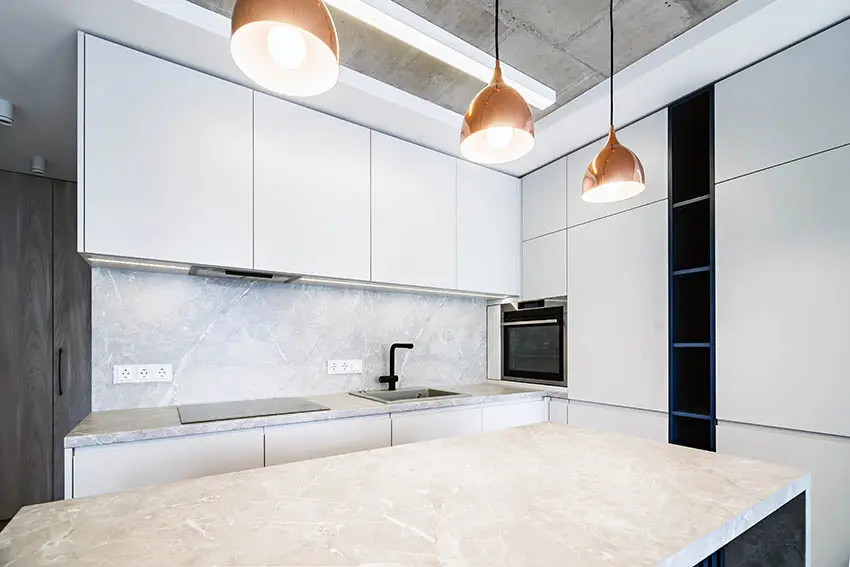 Dekton and quartz countertops have many similarities. They were both created by Italian design company Cosentino and quickly became popular with consumers for their style, ease of maintenance and damage resistance. They both contain quartz, although Dekton has glass and porcelain materials as well.
Quartz countertops improved upon natural stone countertops in virtually every way. Dekton replicates all of those improvements while adding a few more.
Porosity – Both materials are non-porous. This quality makes them easier to keep clean and stain-free than natural stone. In addition, no sealing or resealing is necessary with quartz or Dekton, in contrast to natural stone countertops.
While materials like permanent marker, food dye, and turmeric have the potential to stain quartz countertops, ultra-dense materials like Dekton are impervious to stains. Quartz is stain-resistant, but Dekton is stain-proof.
Heat-Resistance – When quartz countertops are manufactured, crushed rock is combined with adhesive resin, then heated and compressed into a slab. If sufficiently high temperatures are reached on the surface of the countertop, melting or discoloration of the resin can occur.
Due to their resin content, quartz countertops are not able to provide the protection against heat that is a natural part of Dekton. Dekton contains no resin, so there is nothing to melt. In fact, Dekton countertops not only have maximum resistance to heat, they are literally fireproof.
UV Resistance – Resin degrades with exposure to UV light, making quartz-based countertops unsuitable for use outdoors. They are also prone to a yellowing effect due to the resin content. Again, since Dekton does not contain resin, it is largely unaffected by sunlight. While the color may show some minor fading over time, it will not yellow.
Impact Resistance – The one area where quartz outperforms Dekton is in resistance to impact damage. The adhesive resin present in quartz but absent in Dekton provides superior resistance to chipping. That being said, it is easier to repair Dekton.
Style – Both quartz and Dekton are beautiful surface materials available in a wide variety of colors and patterns. Quartz countertops are shinier and sparklier than Dekton due to the high amount of crushed quartz it contains. Because Dekton is newer, there aren't quite as many colors and patterns available.
There are many styles of Dekton that try to replicate the look of quartz & marble. An example would be Aura 15 by Dekton that looks very similar to Calacatta. See examples of Calacatta quartz countertops on this page.
Dekton vs Granite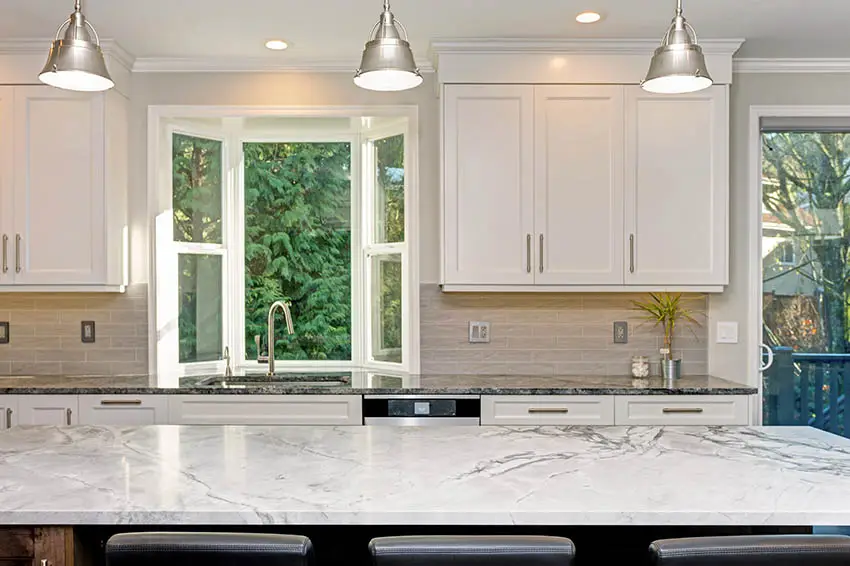 While Dekton is a synthetic material, granite countertops are made from natural stone. The stone is quarried and then cut into slabs.
Both granite and Dekton are premium surface materials, and occupy a similar price range. Granite is much heavier than Dekton, and sometimes requires reinforcement of the cabinets or subfloor to install.
Porosity – Granite is porous. If left unsealed, it will absorb moisture and create a breeding ground for microbes. This porosity also makes it vulnerable to staining, and unsuitable for use outdoors where freeze-thaw cycles might cause cracks.
Granite sealer helps avoid this period for a time, but must be frequently reapplied throughout the life of the countertop. In contrast, Dekton is non-porous, does not need to be sealed, and is freeze-thaw resistant.
Impact Resistance – Both granite and Dekton are resistant to scratches and heat damage. However, Dekton chips more easily than granite. Both surfaces can be repaired with the appropriate materials, but the process for repairing Dekton is easier to complete.
Style – The earth produces granite in a range of colors and styles. Dekton is available in a limited range of colors and patterns. However, it is easier to match old Dekton countertops with new ones, whereas it can be very difficult to find a match for granite that was quarried long ago.
Dekton is much thinner and lighter than granite, and can be produced in large format slabs that reduce the number of joints and seams needed for installation.
Who Sells Dekton Countertops
Dekton countertops are manufactured by an Italian company called Cosentino. Cosentino products are widely carried in home improvement centers like Home Depot.
Home Depot stocks the Dekton line of countertops, but they are not available at every store. Because Dekton is newer to the market, you may need to special order Dekton through your kitchen remodel consultant.
Do you use Dekton countertops in your kitchen or bathroom? Let us know in the comments section to share your opinion. For more content like this visit our gallery about Cambria quartz countertops.