Welcome to our gallery of outdoor kitchen countertops where we cover popular types of materials and share design ideas for inspiration.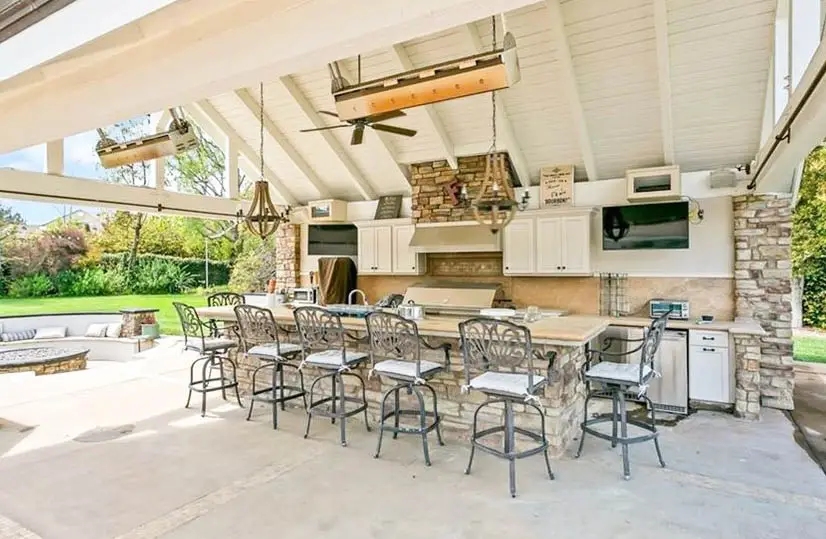 An outdoor kitchen is a great addition to any home. Preparing a meal together is a great way to socialize and entertain and an outdoor kitchen allows you to do so while enjoying the fresh air.
An essential part of any kitchen are the countertops. Countertops are in work areas and necessary for food preparation. When building an outdoor kitchen, it's important to choose the proper countertop material for ease of use, durability and attractiveness.
Best Countertop for Outdoor Kitchen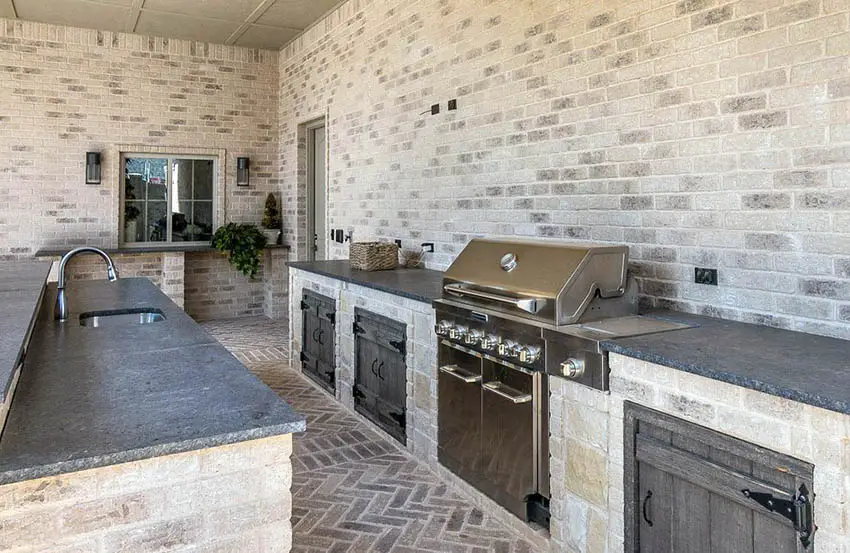 Since a kitchen countertop is a workspace, you need to choose a durable material that is easy to clean. You also want a material that is resistant to heat – as chances are good you will end up placing a hot pan or pot on the surface as you cook.
When it comes to the best countertop for outdoor kitchen, another factor to consider would be how well the material will hold up against the weather. The countertops of an outdoor kitchen will be exposed to the elements and you don't want something that will easily fade in the sun or warp due to moisture.
The types of outdoor countertops that offer the best amount of durability are granite, tile and concrete.
Outdoor Kitchen Granite Countertops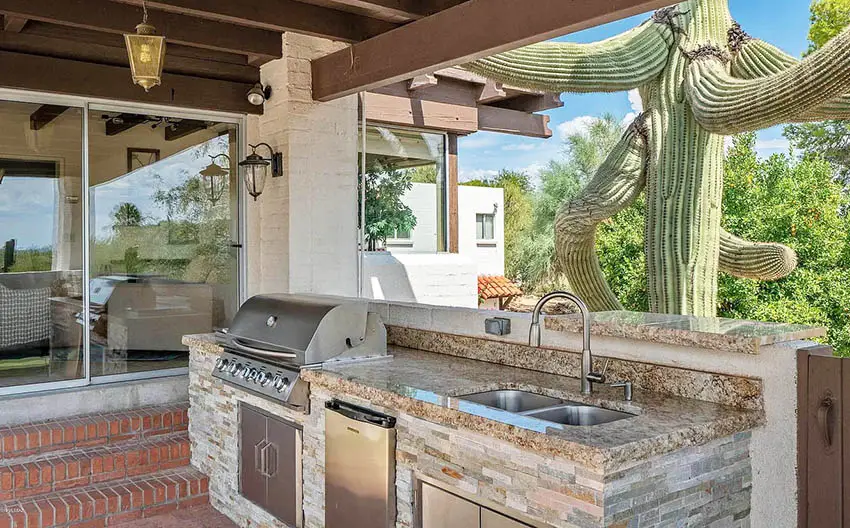 Granite is a good material to use for an outdoor kitchen counter top because it is durable. It can stand up to the elements and will not fade or discolor when exposed to sun or rain. As long as you seal it to prevent weathering, a granite countertop is a good option for an outdoor kitchen.
Granite is tough to damage, it won't scratch or chip, and it is easy to clean. You can also get it in a variety of colors and even textures. The only real problem with granite is that installing it can be expensive, so if you are on a tight budget you might want to consider one of the other options below.
Outdoor Kitchen Tile Countertop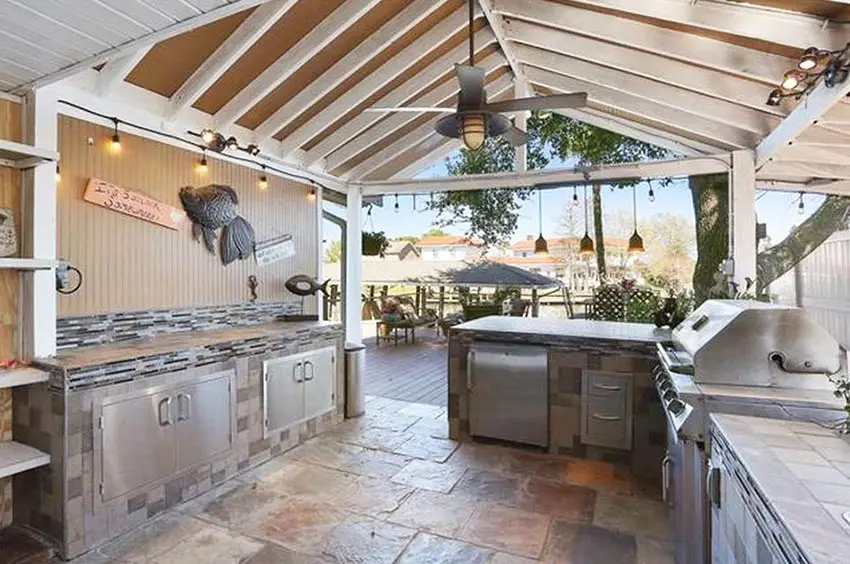 Tile can be a colorful and creative choice for an outdoor kitchen countertop. You can even lay them out in an attractive patter for a truly unique kitchen design.
The disadvantage to an outdoor kitchen tile countertop is tiles are not as durable as say a harder material like granite. Tile can crack and chip and this may detract from the beauty of your countertop. There is also the problem of discoloration of the grout, when tiles are installed outdoors these can get dirtier then in indoor installations.
Luckily, replacing a tile or two is actually a relatively easy DIY project. However, it can sometimes be difficult to find matching tiles to replace. In this case, it might be a good idea to buy and store extra tiles for this sort of scenario.
Outdoor Kitchen Concrete Countertop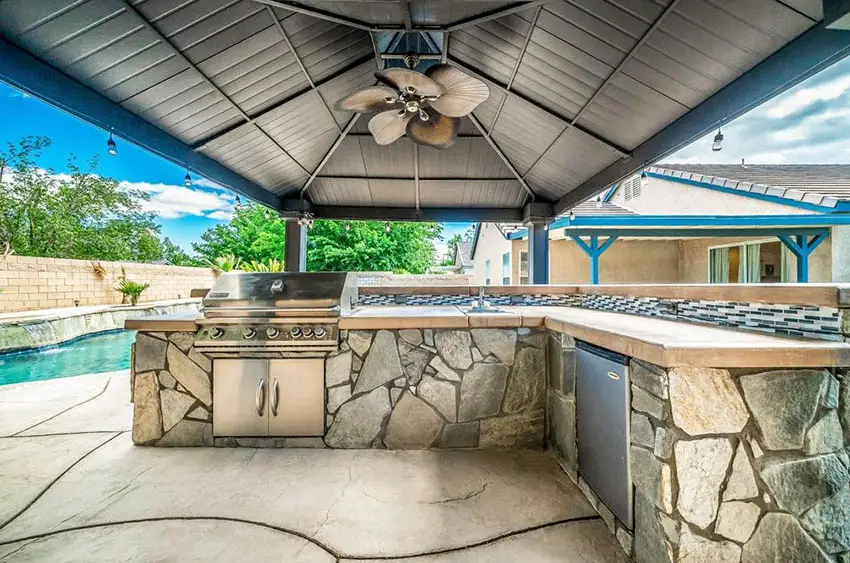 The advantages to having an outdoor kitchen concrete countertop is that concrete is a durable material that is capable of standing up to the elements. The disadvantage is that the color can fade when exposed to the sun and end up looking dull. To avoid discoloration and staining spills must be cleaned up as soon as possible and the surface should be sealed periodically to maintain its quality. Read more about outdoor kitchen concrete countertops here.
Outdoor Wood Countertop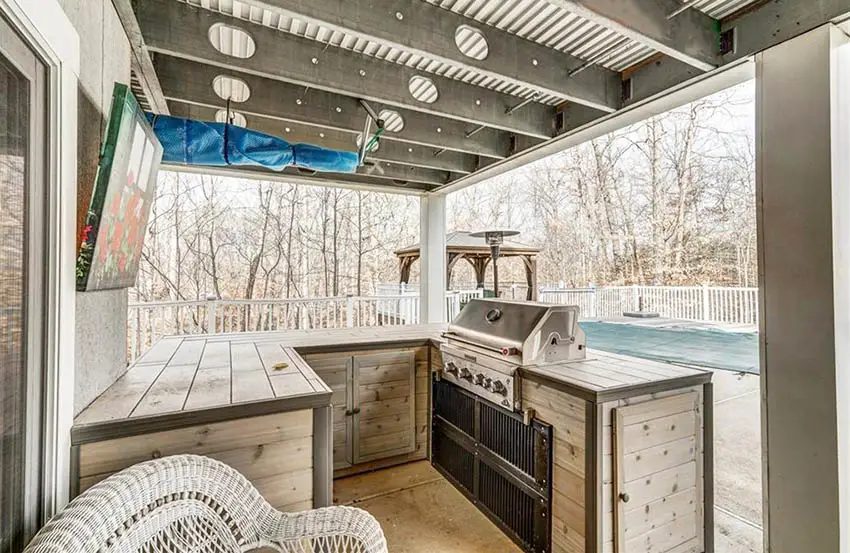 Wood is a beautiful material for a countertop, however outdoor wood countertops are very high-maintenance.
If you decide that the warm colors and unique patterns of wood countertops are worth the effort of maintenance, here's what you need to remember:
Apply food grade oil regularly to the surface. This will protect the wood from moisture and also allow for safe preparation of food.
Varnish the surface. Varnish is a good water repellent and also provides protection from UV. You'll need to sand and apply a coat annually.
Place a roof or awning over your wood countertop. You might also want to consider a cover for when it's not in use.
Quartz Outdoor Countertops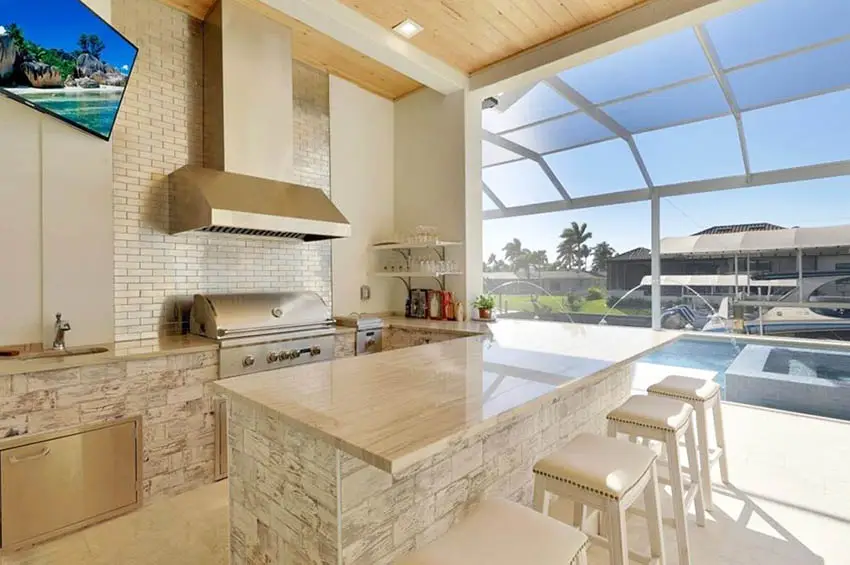 Quartz is a natural stone combined with polyester resins that can be used outdoor as long as it is sheltered under a canopy. Constant exposure to direct sunlight can cause a chemical reaction of the resins in the quartz that can fade the colors and even potential cause hairline cracking in the surface.
On the plus side any spills on a quartz countertops can be cleaned up easily and when installed in the proper environment there is no special care needed. Since quartz is non-porous it does not need to be sealed like many other types of countertops.
Soapstone Outdoor Countertops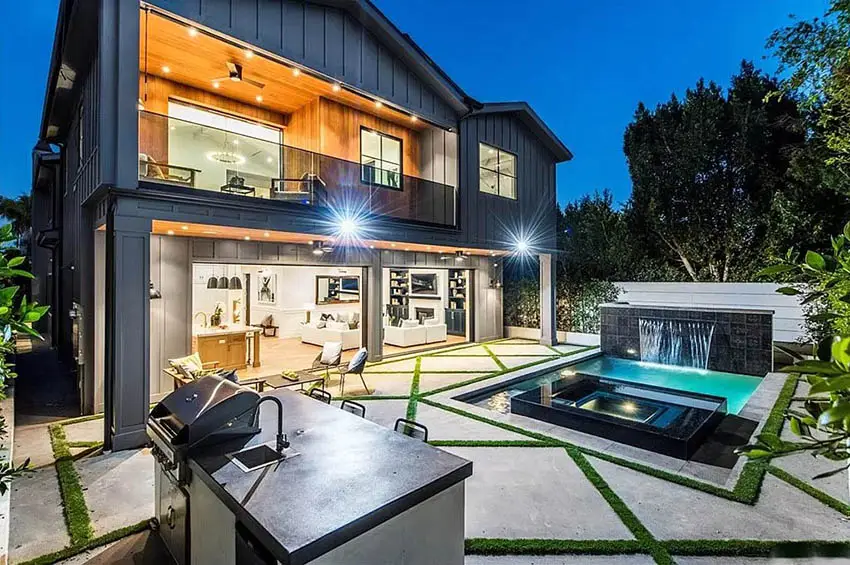 A soapstone outdoor countertop is a good choice for an outdoor kitchen. It is resistant to heat so it can stand up to the elements and cooking preparation activities. You can place a hot pan or pot on top of a soapstone outdoor countertop without damaging or marring the surface.
Soapstone scratches rather easily, however scratches are easy to deal with. You can sand scratches out of soapstone without too much effort.
One other disadvantage is staining. Water, oil, and even fingerprints can mar the surface of unsealed soapstone. While these can be washed off, some people consider soapstone countertops high maintenance because of this.
Outdoor Stainless Steel Countertops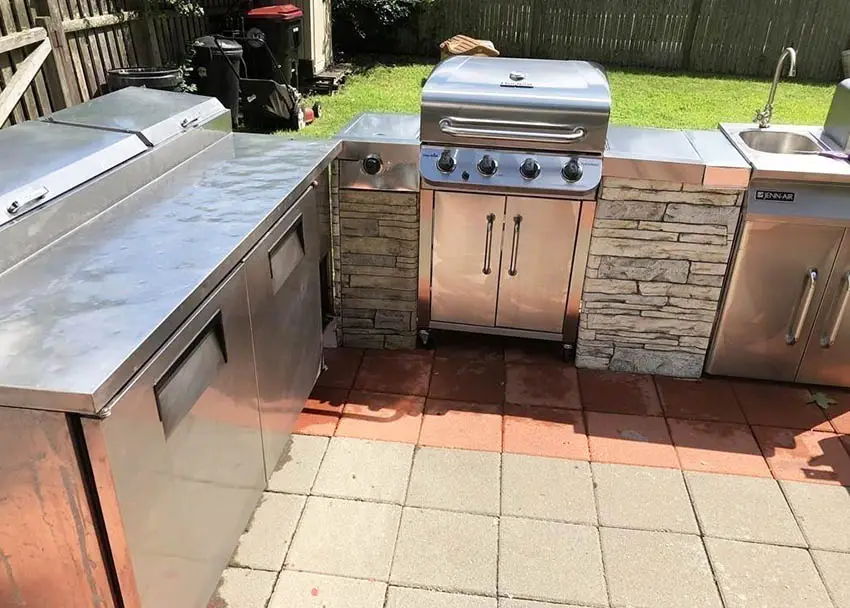 Stainless steel isn't often used for outdoor surfaces. This is because, one, it can get very hot when exposed to the sun. Also, it's very reflective, so the effect of the glare from the sun is a reason why this isn't considered a good option for an outdoor countertop.
Stainless steel is a good material if you are looking to create a sleek and minimalist look for a room. It's a common feature in modern design. It is very easy to clean and maintain, which can be a plus for a kitchen but it's also considered noisy. It's very hard to place a bowl or dish on a stainless steel countertop without making a clanging noise.
If you want stainless steel countertops in your outdoor kitchen, make sure you place them where they are not directly exposed to the sun. You can also place a roof, awning, or some other sort of shade over your stainless steel countertop. The noise factor of a stainless steel countertop is not that big a deal in an outdoor kitchen as, since the area is open air the sound dissipates quickly.
Outdoor Kitchen Countertop Ideas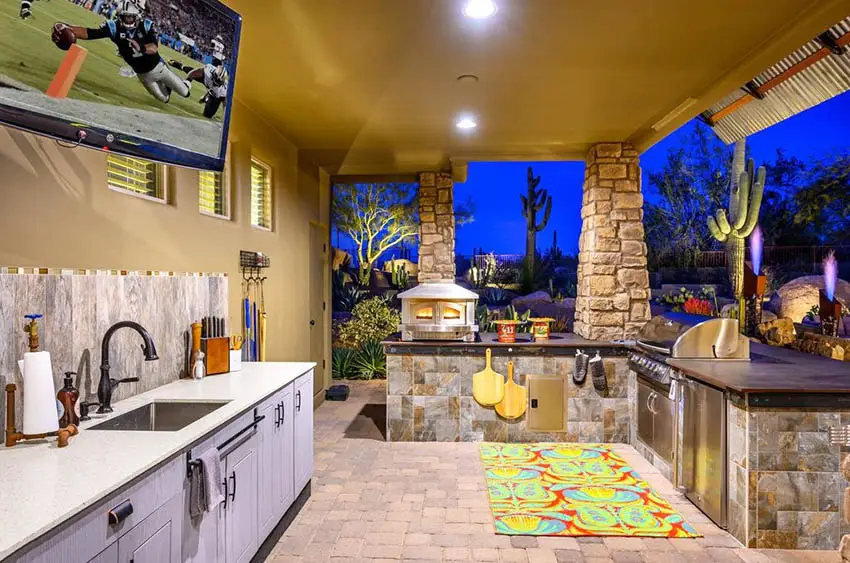 Outdoor kitchen with white quartz and slate countertops.
Have some sort of roof or covering over your outdoor kitchen countertop. Not only will this protect the countertop material, but it will also make it a better workspace. You might be spending a good deal of time standing at your countertop so you want to shield yourself from the sun to maximize your comfort.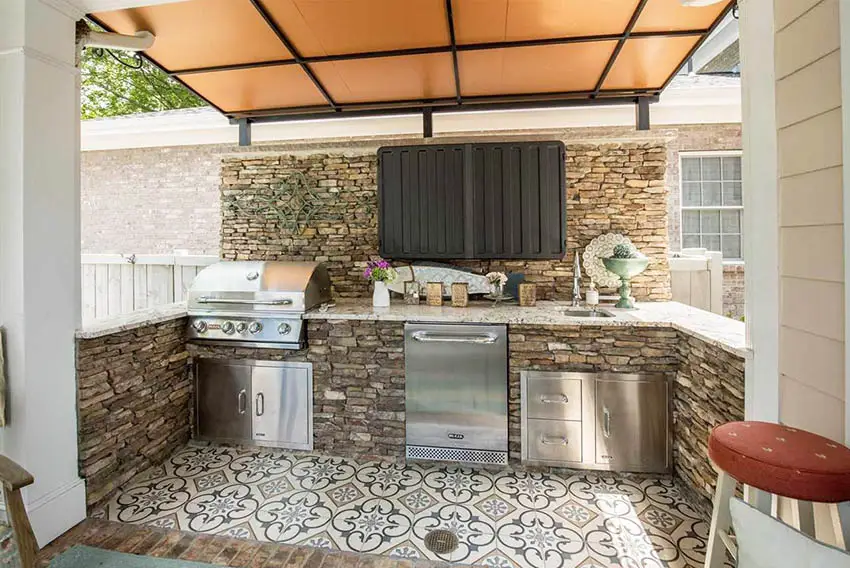 Covered patio with granite counters and stacked stone design.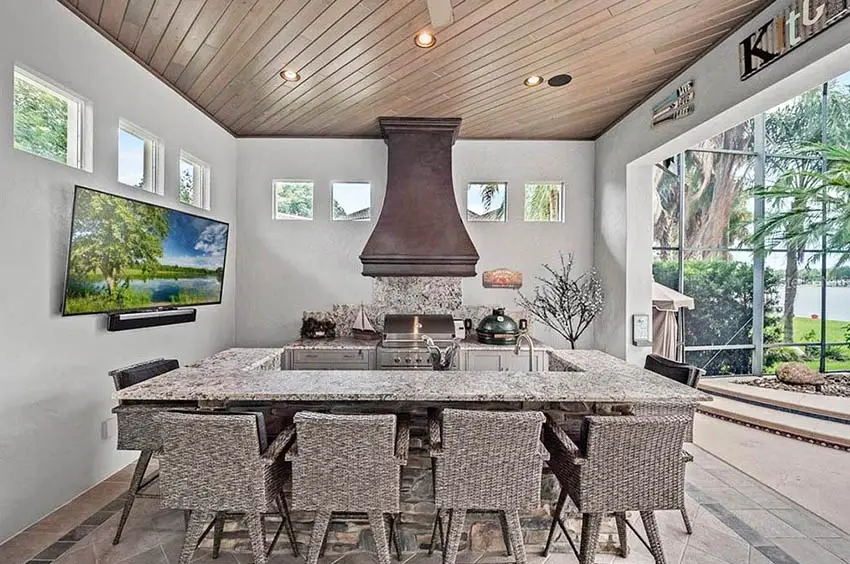 Covered patio with U-shaped outdoor kitchen design with white granite counters.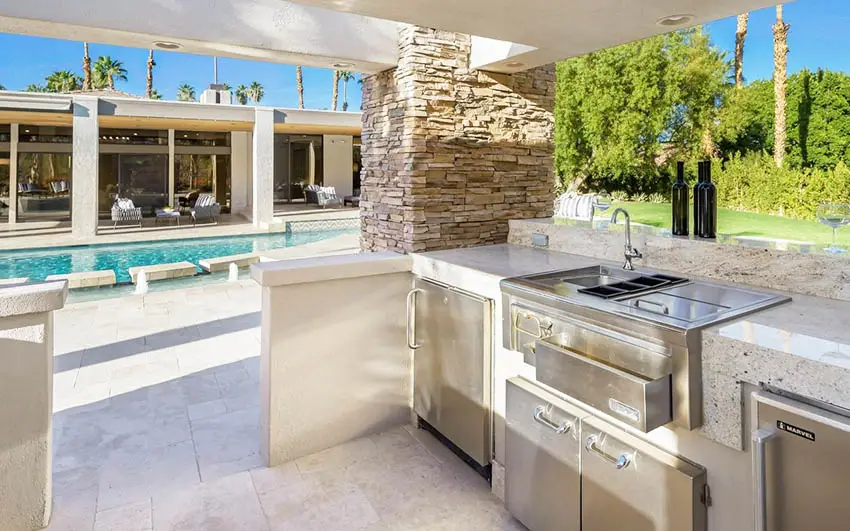 Covered pool patio with granite counters and stacked stone support beams.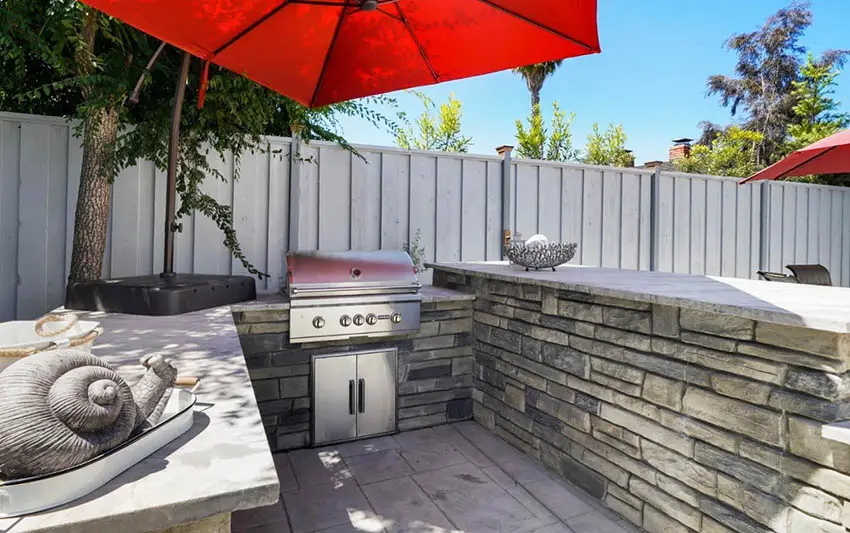 U-shaped design with concrete counters.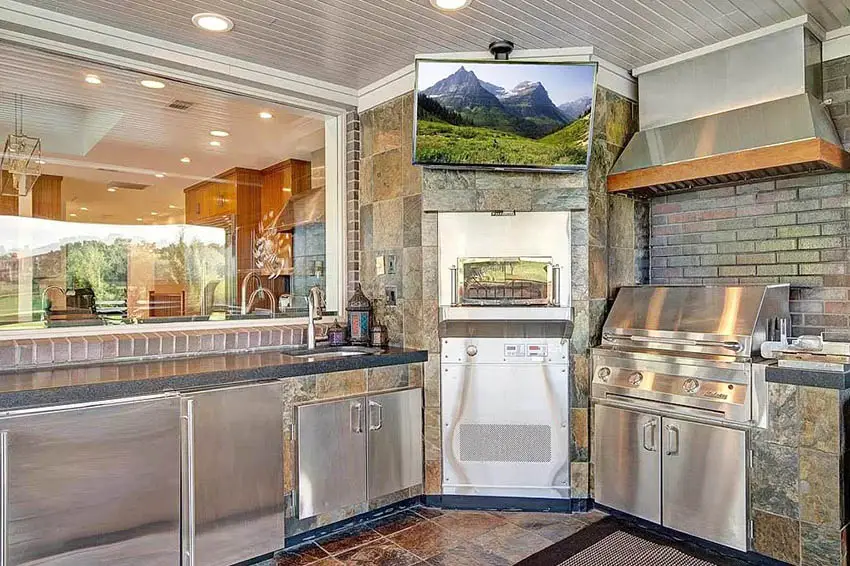 Black laminate countertops with slate side walls and brick backsplash.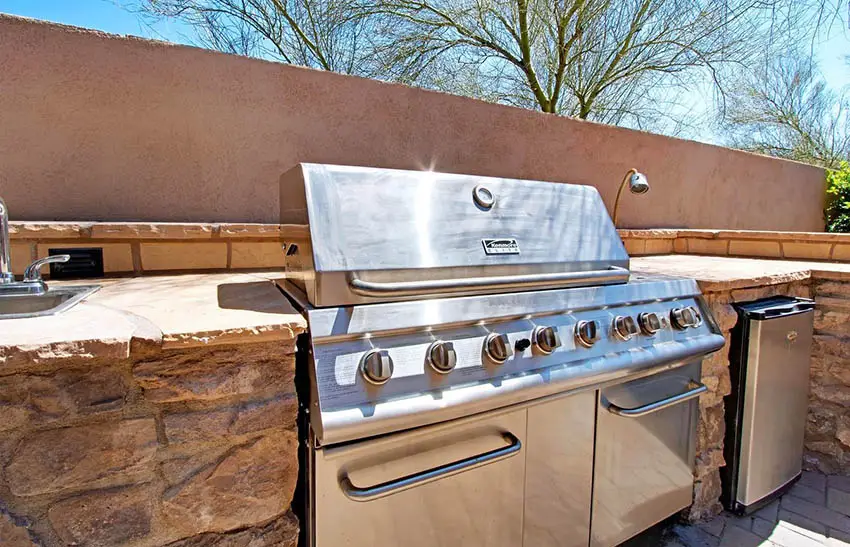 Flagstone countertops.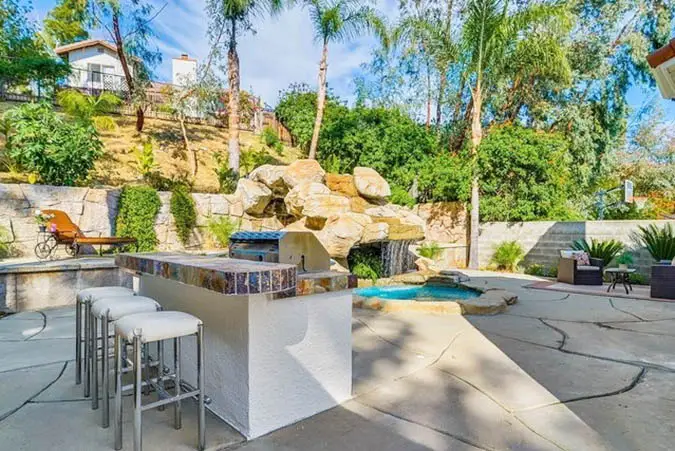 Slate tile counters.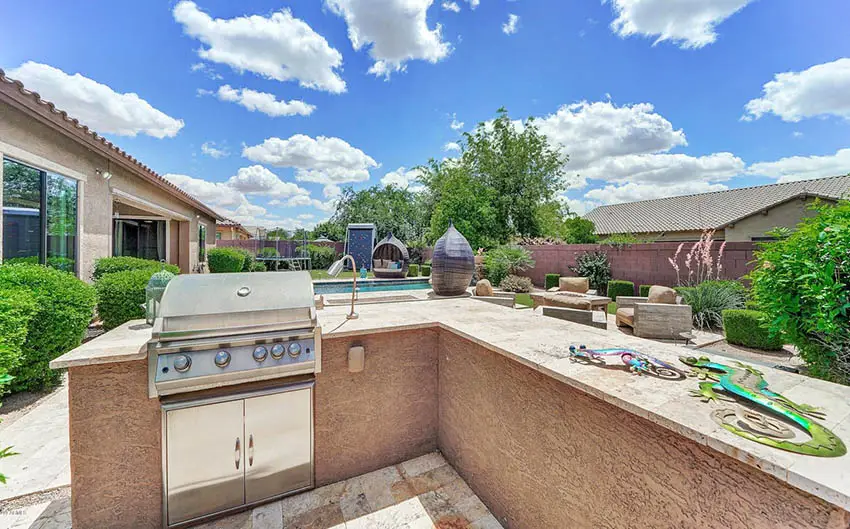 Travertine tile countertops.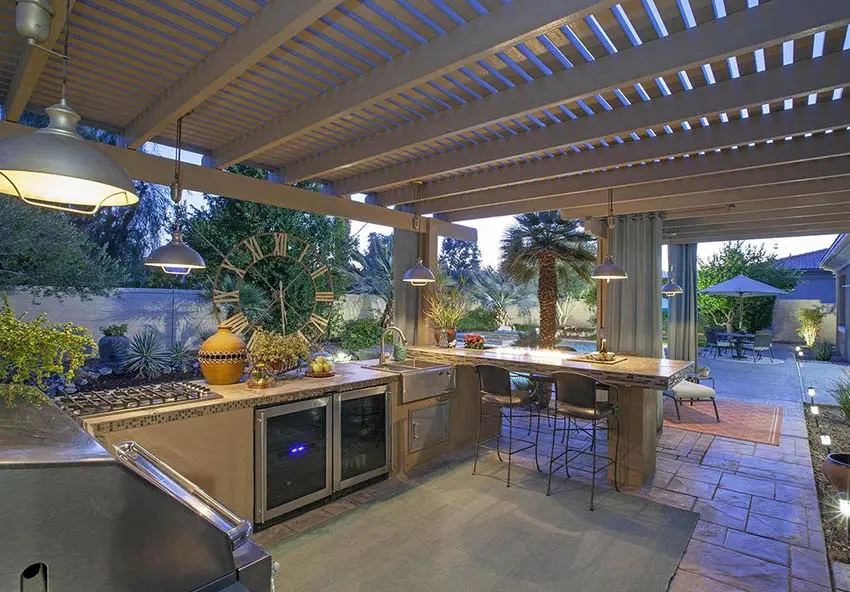 Pergola covered outdoor kitchen with concrete surface and mosaic tile.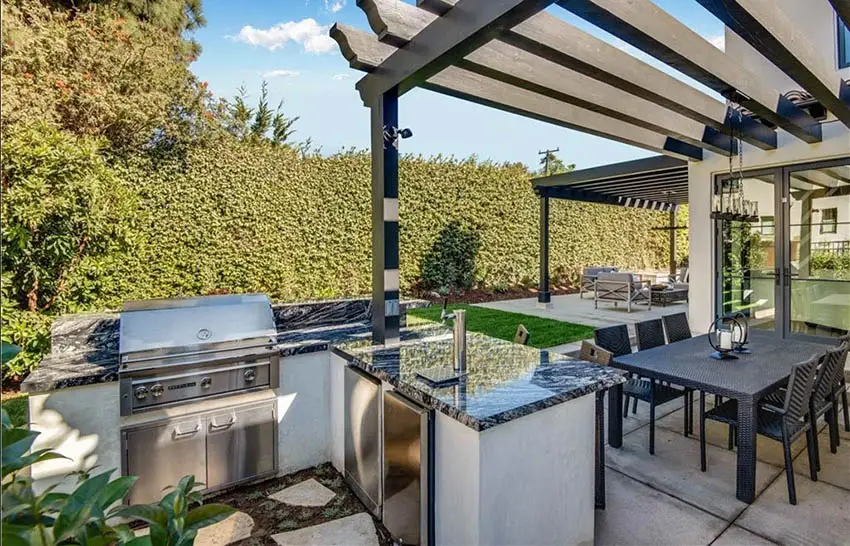 Black and white quartz countertops.
A good design idea is to incorporate in your countertop area a pergola. It will provide shade to keep the surface of your countertop cool, but will still allow natural light and air in.