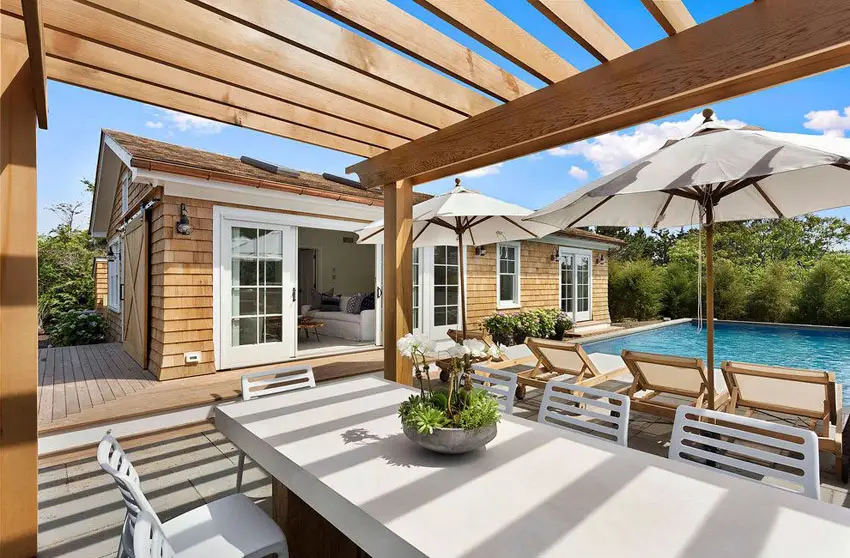 The pergola ideas found on this page provide a variety of different design styles, sizes and layouts. Backyard pergolas are a great choice for those who want to enjoy their outdoor living areas longer through out the year.
Family and friends will enjoy the shelter they provide from the hot sun. As the homeowner you will benefit from the increase in resale value they bring to your home. Below you'll see pergola designs made from a range of materials to help you discover the right one to build in your backyard.
The picture above is a great example of a contemporary style pergola, demonstrating the best of both worlds – the classic look of wood pergolas and the clean, sleek look and finish of contemporary design. It features a simple all-wood pergola design which uses a light maple weather-treated wood. The smooth finishing and the light color of the wood give it a very modern look which matches the style of the outdoor furniture pieces used.
As the weather gets warmer and more pleasing for outdoor relaxation and activities, the backyard / garden becomes more frequently visited. Adding a pergola into your patio design will not only improve the look of the area, but can also provide a great spot for lounging or dining outdoors. It helps add more personality into your outdoor space and creates a great focal point that can blend into the outdoor environment.
People are often confused on the difference of Pergolas & Gazebos, and often interchange the two different terms. Gazebos are typically round or octagonal and have a complete roof structure, while pergolas are typically square or rectangular in shape and have no permanent roof covering.
Gazebos sometimes also come with side covers/screens or even low walls to provide privacy and protection from insects, while pergolas simply stand on posts and has open sides. In choosing between a gazebo or a pergola, it is important to know your needs, budget and available space in order to determine which is the best for you.
Types of Pergola Designs
Those who want to add a pergola into their garden or yard would be pleased to know that there are many types and styles they can choose from to match their budget and style preference. Below, we have listed different types of pergolas in order to help you choose the perfect match for your requirement.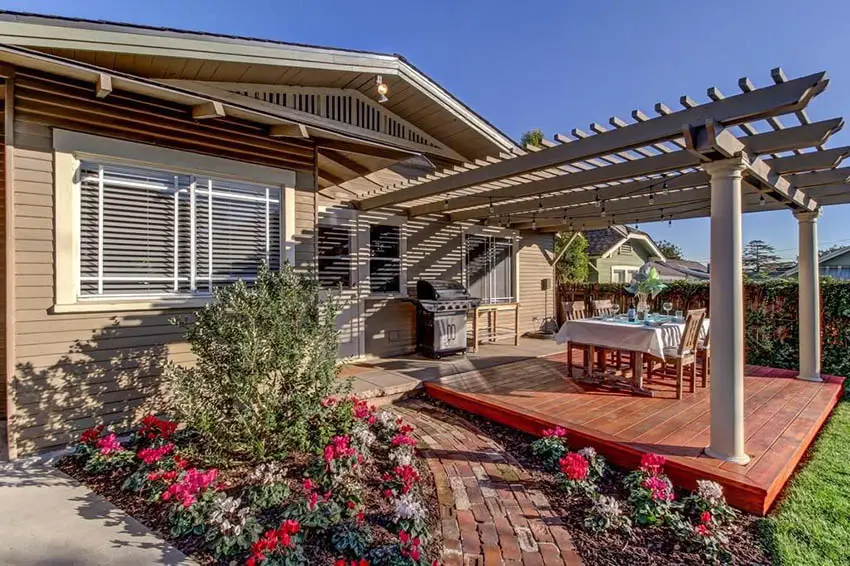 Pergola Kits – These are ready-to-assemble pergolas that come in a variety of materials and styles. They can be free-standing or even attached. This type is perfect for those who love DIY or those who don't have anyone to design the pergolas for them.
You can easily choose from the wide design selection & assemble the kit as it comes with complete materials. Since these are pre-fabricated, however, they can be quite expensive and you will also be limited to the sizes and designs they have available.
Wood Pergola – Wood has a very natural look that easily matches the outdoors. Whether freshly painted or somehow rustic-looking, it can give different looks that would match your requirement. Wood is easily sourced & easy to work with, so it is not difficult to find a builder build your pergola design. Depending on the type of wood used, it can be pretty affordable as well.
Wood is also the best choice if your location is at the beach as it is more resistant to salt & sand than metal. It is important to note, however, that wood has some limitations as it is a natural material.
Wood comes in limited span size, prone to cracks and warping. Also, it might need special treatment in order to prevent decay. Cedar wood is a popular choice for pergolas as it is very light weight, however, it costs more than pressure-treated wood. It is therefore important to choose the right type of wood depending on your requirement and its application.
Metal/Steel Pergola – Compared to the other types, metal pergolas are more weather-resistant and is the easiest to maintain. There are also many colors and finishes you can choose from to match the design you have in mind.
However, metal pergolas are generally more expensive and can be prone to heat expansion, depending on the type of metal you use.
Aluminum is a popular metal of choice for pergolas as it is very lightweight. Compared to wood, it is definitely more expensive, but it does compensate as it has a lower labor cost as they are easier to build.
Patio Pergola – These are basically pergolas which are connected/attached directly to the main structure or house. This type of pergola may or may not be part of the original architectural design, but are usually an "extension" from the wall or roofing.
This type is perfect if you have a very limited space, as it simply connects with the main structure. However, because it is connected to the architectural structure, you will somehow be limited to the design and material choice.
Pergola Over Deck – These are usually freestanding pergolas that are part of a backyard deck design. They are built primarily to provide shade, become a gathering area or act as an outdoor dining space. An pergola on deck can be custom made to your exact specification or constructed from a kit over an existing deck.
Covered Pergola – The name speaks for itself: a pergola with a covering on top to add shield from the sun and other environmental elements.
This type is especially ideal if you're placing furniture pieces under the the pergola as this helps with the upkeep of the outdoor furniture pieces and will also keep the elements away when you relax in the area.
The only issue in this type of pergola would be the additional maintenance you would need to keep the cover clean & intact (which would vary depending on the type of covering you use), especially during storms or windy weather conditions.
Luxury Mediterranean-Inspired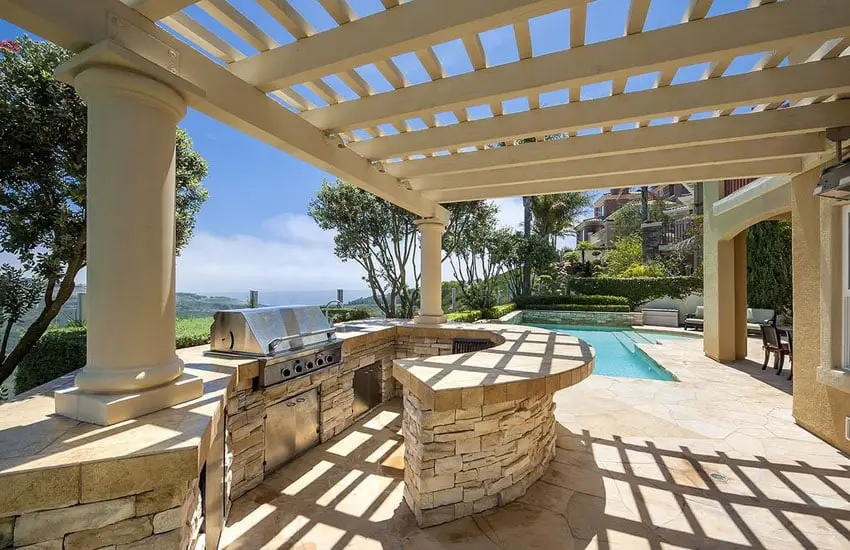 This is another great example of a combination of classic design elements with modern materials. To match the Mediterranean-inspired look of the architecture, the pergola design was made to stand on classic columns.
However, instead of using solid stone or concrete, it uses a metal column which was molded into the shape of a classic order column and fixed on the masonry-clad counter. The top of the pergola also uses metal, and were all powder-coated in a creamy off-white color for a more durable finish.
Outdoor Kitchen Pergola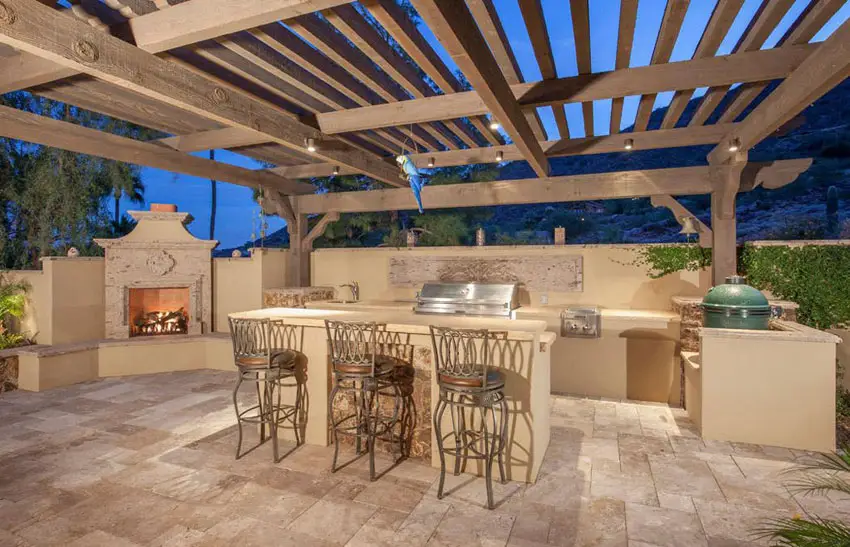 This luxury backyard is equipped with a beautiful wood pergola providing shelter for an outdoor kitchen and bar that overlooks a large fireplace. Pergola ideas often are created from the need to provide shade in the backyard.
Whether its a shady spot by the swimming pool or a shelter for your outdoor home bar a pergola design can help beat the heat and help you better enjoy your backyard space.
Sunken Pool Pergola with Lounge Chairs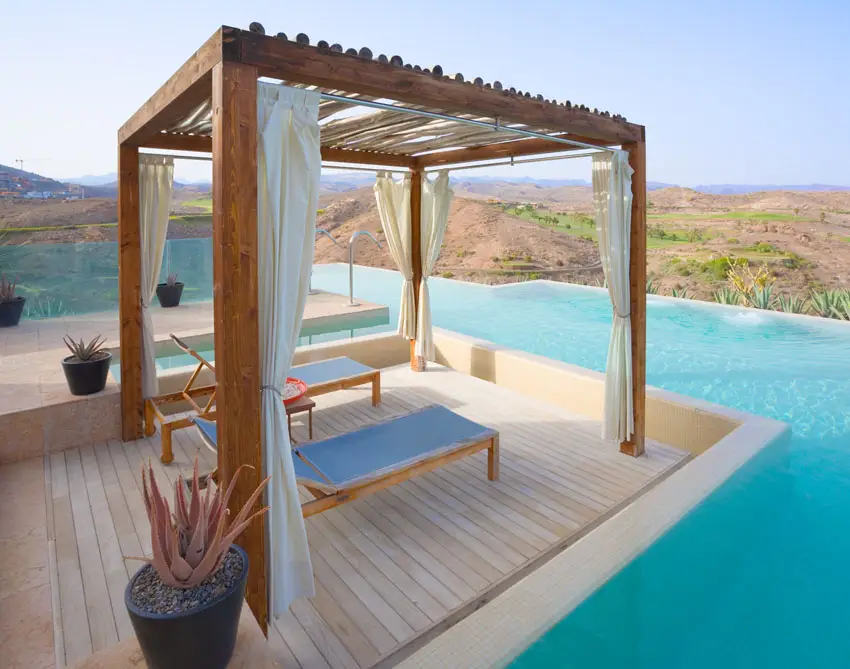 This is a rustic wood pergola design which uses a combination of different wood to create this look. Light maple weather-treated wood decking was used as the base/floor material, while solid teak wood was used for its main post/structure.
The simple square design of the posts creates a very modern & sleep look, while the natural wood finish gives it a rustic vibe.
For its trellis, instead of timber, natural maple driftwood was used, adding texture and a very organic/natural feel. In case the wood trellis is not sufficient covering from the sun, curtains were also installed on three sides of the pergola so you can close them for protection or privacy as you require.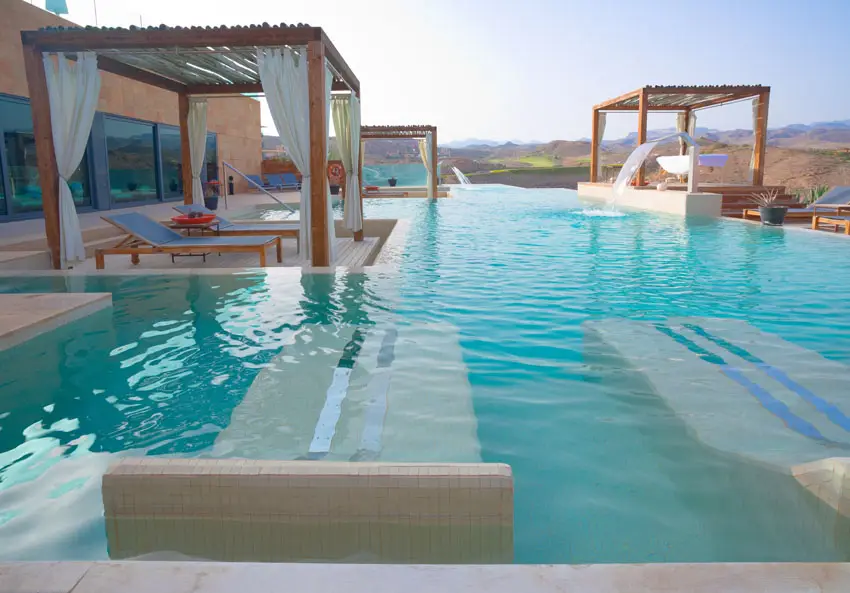 From this perspective of this luxury swimming pool you can see there are three sunken pergolas built in to the pool for the ultimate relaxation spot. The pergola features canopy curtains to offer privacy and shade from the hot sun.
Covered Patio Pergola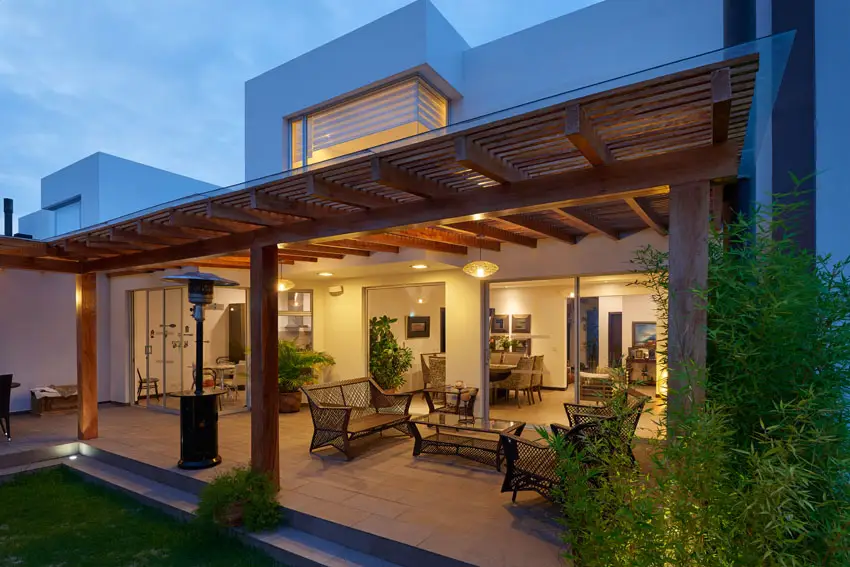 This is a covered patio pergola which naturally blends into the architecture of the house. The use of wood adds a chic, natural feel to the area while keeping its sleek modern appeal by using simple clean lines in the design. Since the patio was furnished, a clear roofing material was added in order to help keep the inside dry.
Shade for the Grill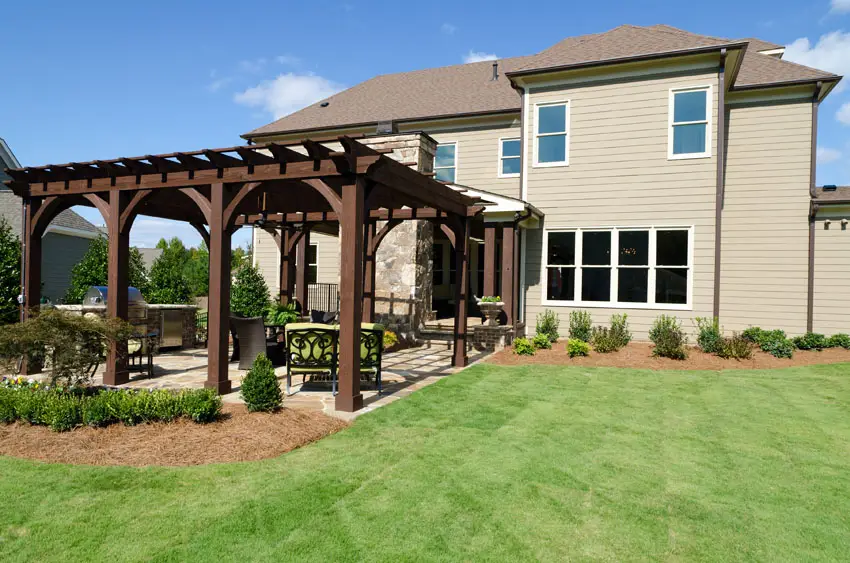 A gorgeous classic style wood pergola placed right by the back door of the house. The dark mocha finish of the pergola matches the finish of the wooden posts used on the house, making it look like it is part of the architectural design, despite being a separate structure. This pergola is quite large, as it has room for a sitting, dining, and even a grilling outdoor kitchen area.
Indoor Outdoor Living Area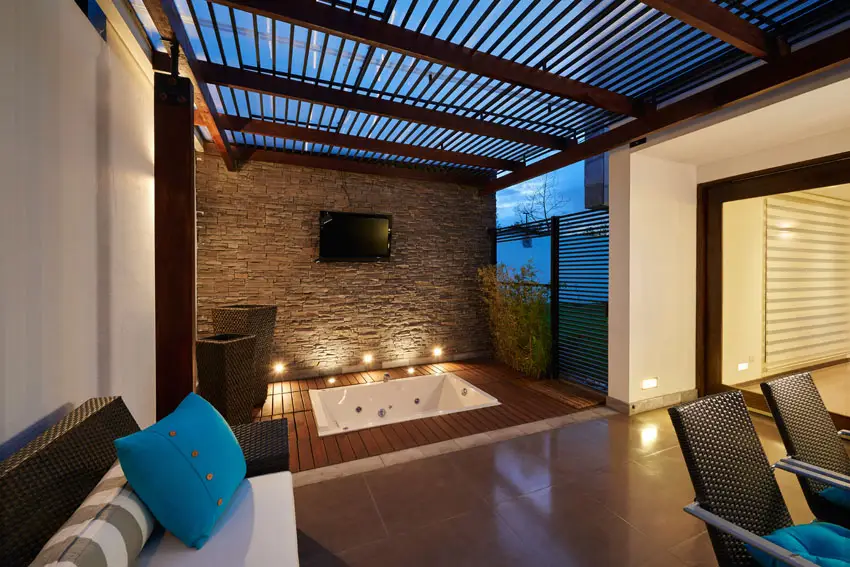 This patio pergola has a semi-indoor, semi-outdoor design principle as the area is adequately protected from the weather & elements, yet keep some areas open & transparent, allowing you to view the garden and the sky as if you were complete outdoor.
This allows the area to be furnished with comfortable furniture pieces. It uses solid wood in a dark mahogany finish, and tops the trellis with a clear sheet of polycarbonate to keep the rain, leaves and filter some of the sunlight.
Circular and Open in the Center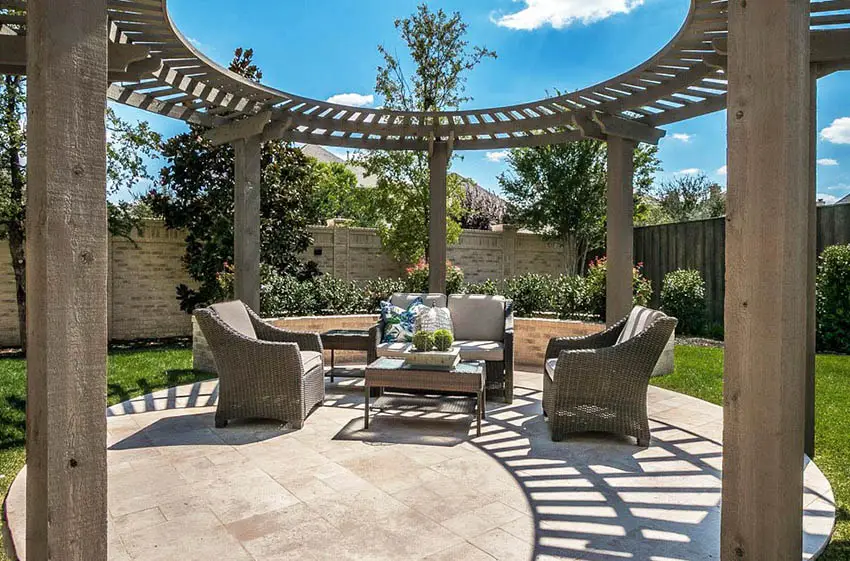 This inviting patio features a wood circular pergola design with sitting area and a semi-circle planter with flowering plants. The round concrete patio is framed by grass and is large enough to make a great backyard entertaining spot.
Extra Wide Design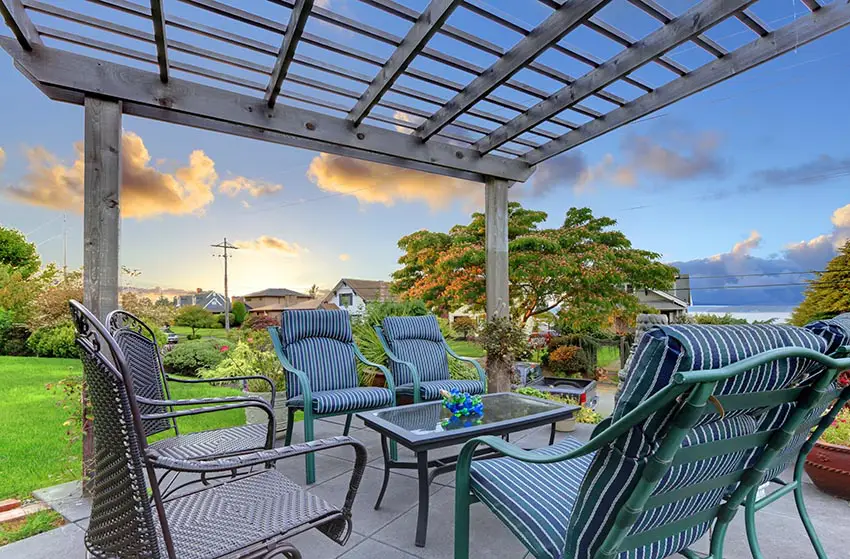 This backyard wood pergola sits on a poured concrete patio and offers sweeping views. Cushioned outdoor chairs with a glass table provide a place for conversations and relaxing.
Large Slats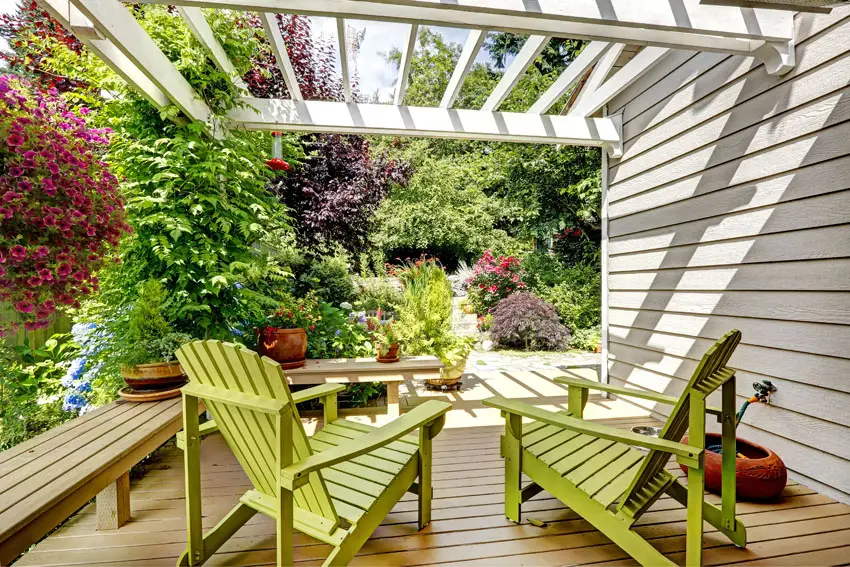 This wood patio pergola is just as colorful as the blooming flowers in the garden which surrounds it. The small pergola uses simple white-painted wood framing to match the white wood siding on the exterior walls of the house.
It has a slightly raised wood deck flooring in maple, and a matching built-in bench for added sitting area. There are also two lime green wooden armchairs where you can relax & enjoy the beauty of nature.
Romantic French Inspired Design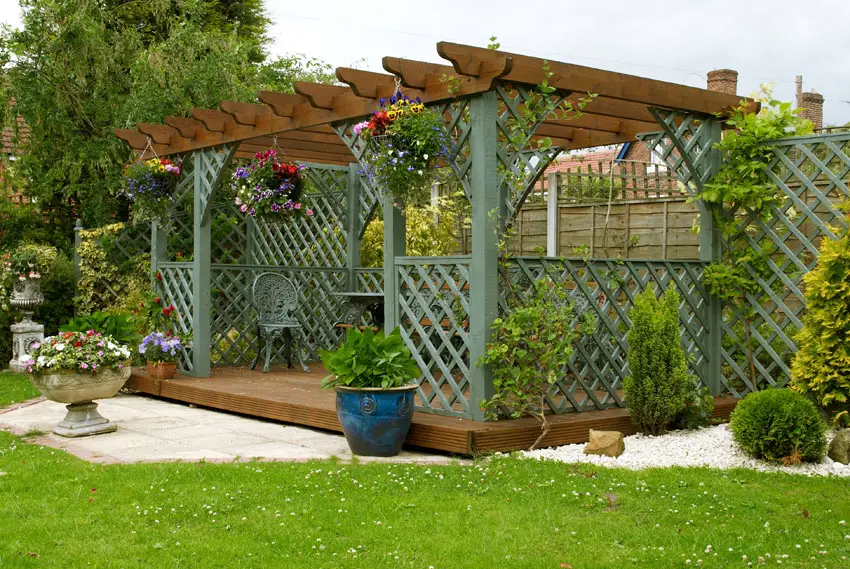 While most pergolas use a uniform finish throughout, this example uses two different finishes to create a romantic, French vintage look to match the general style of the garden. It has solid teakwood raised platform base & matching trellis for the top area of the pergola.
The posts are also solid wood, but were painted in a sage green color for a more vintage appeal. The sides of the pergola were semi-covered by a simple diamond-shaped fretwork, in the same sage green color as the posts.
Like the trellis, this style of fretwork provides an area for creeping vines and other plants to crawl along at, therefore making it look magical & romantic.
Patio with Outdoor Sectional and Curtains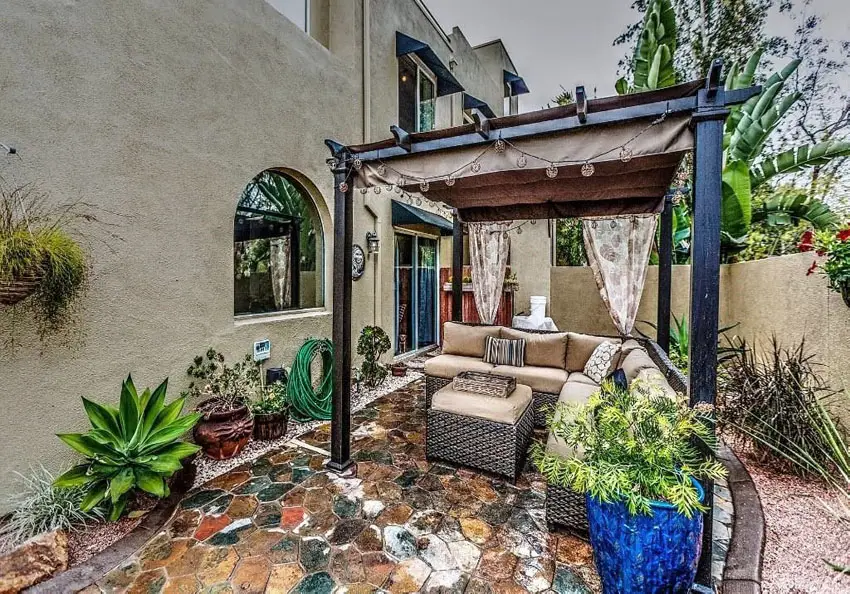 Matching the Mediterranean architecture, this metal pergola kit uses a textured finish instead of the typical smooth powder-coated finish so that looks like antique metal. Completing its Mediterranean vibe would be its mocha fabric shade and the gorgeous garden lights hung around the pergola.
Portable with Outdoor Dining Table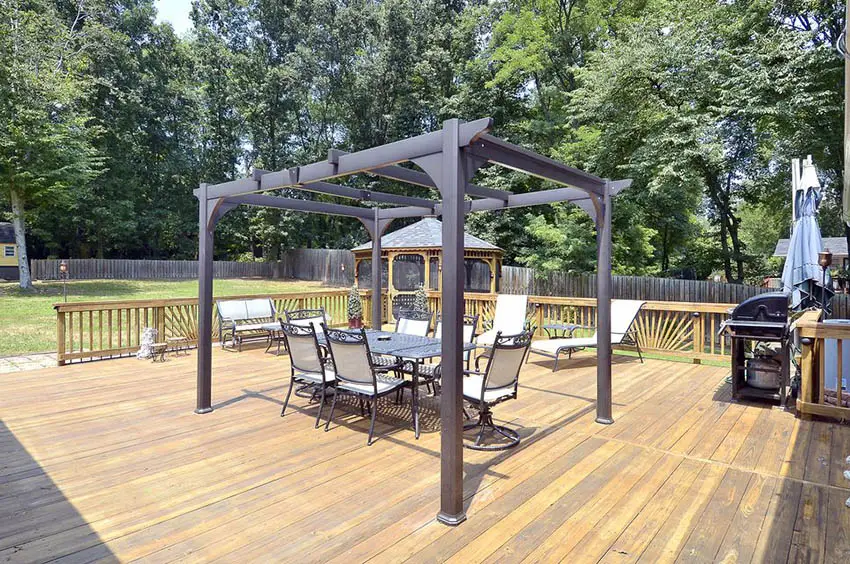 This stylish metal pergola makes a great spot for outdoor dining on this backyard's wood deck. With the addition of a canopy shade this pergola can provide more shade for hotter days. See more creative deck ideas here.
Rounded Tropical Oasis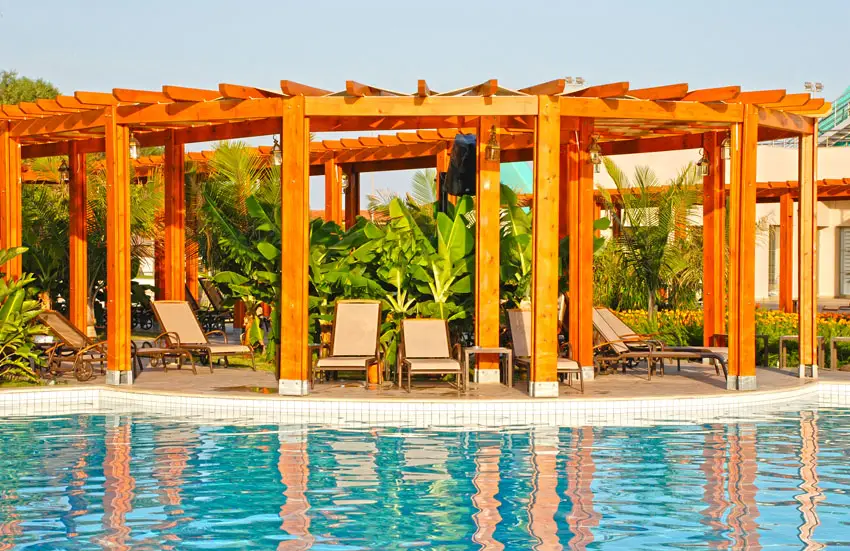 This large, expansive pergola serves as a walkway and a semi-cover around the pool area for those who want to lounge and relax. It uses solid cypress wood with a nice natural orange color the matches perfectly with the garden & pool concept.
This pergola is covered with an outdoor sunscreen material which filters the sunlight and allows a certain percentage of light to pass-through, so that you still get to enjoy the sun but without having to suffer from overexposure.
Garden Pergola with Seating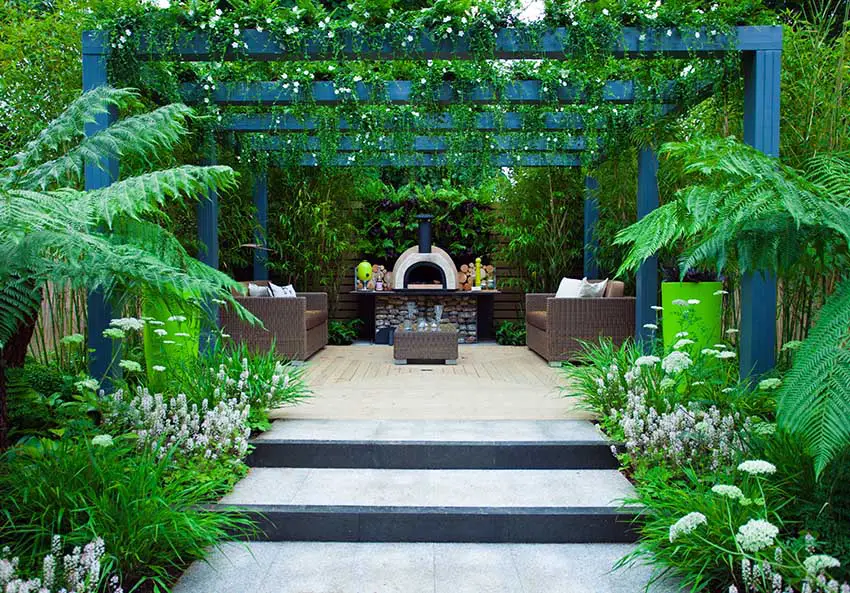 This modern pergola is draped with hanging vines and is nestled within a beautiful green garden and features an outdoor fireplace with synthetic rattan outdoor furniture.
Modern with Roof Canopy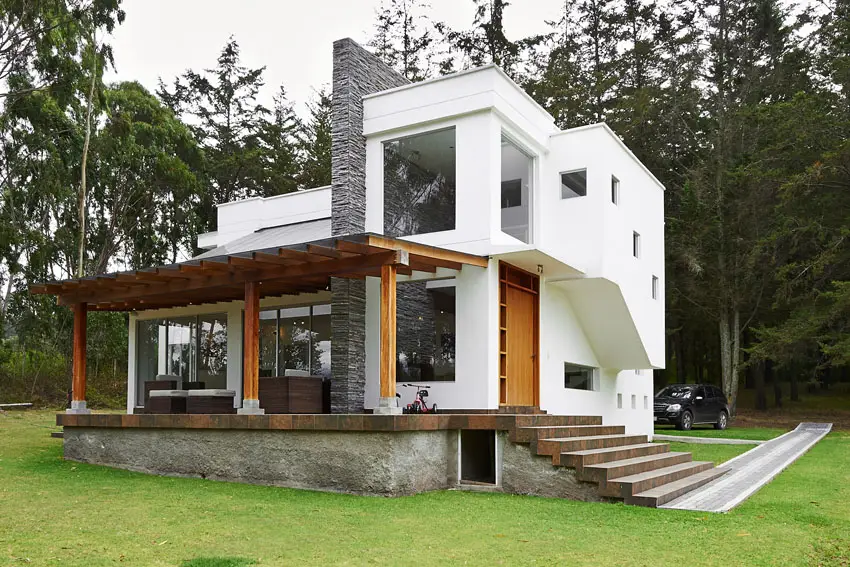 Another great example of a modern covered patio pergola which attaches directly to the outer walls of the house & was designed to match the architectural design.
It uses solid teak wood for its posts, beams and trellis, and fixes the wooden posts on a concrete base for a more stable structure. The roof of the pergola was covered in a flat sheet of gray polycarbonate in order to help protect the outdoor furniture pieces placed on the patio.
Arched Wood Design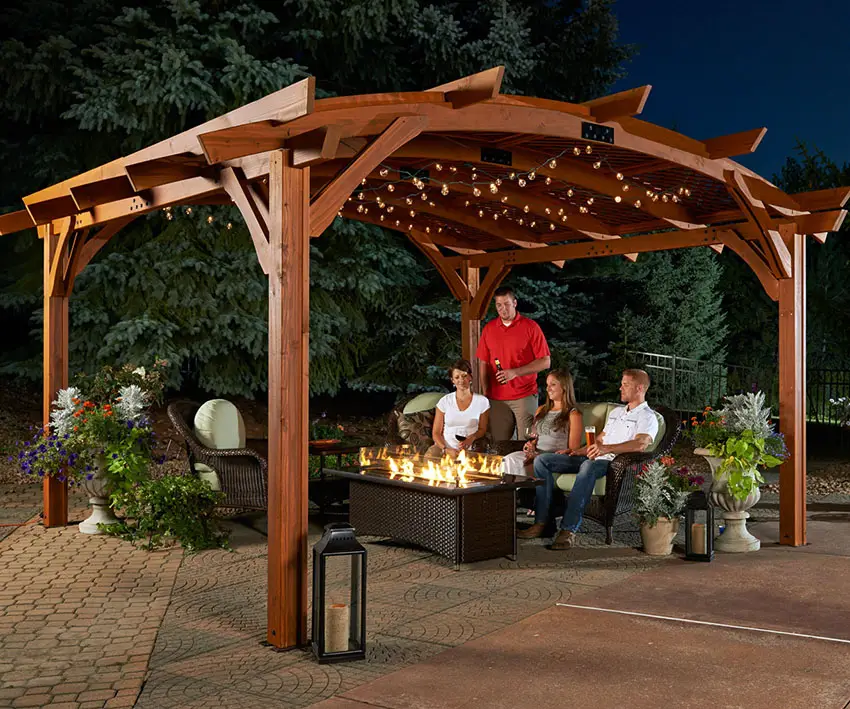 This gorgeous fir wood pergola kit is simple, compact and is quite spacious. Unlike most pergolas, this one has an arched or rounded top, making its "ceiling" higher and therefore making it appear more spacious. The top does not have a fabric or polycarbonate, but it does have diagonal slats of wood for a subtle sun shade/filter during sunny days.
Geometric Design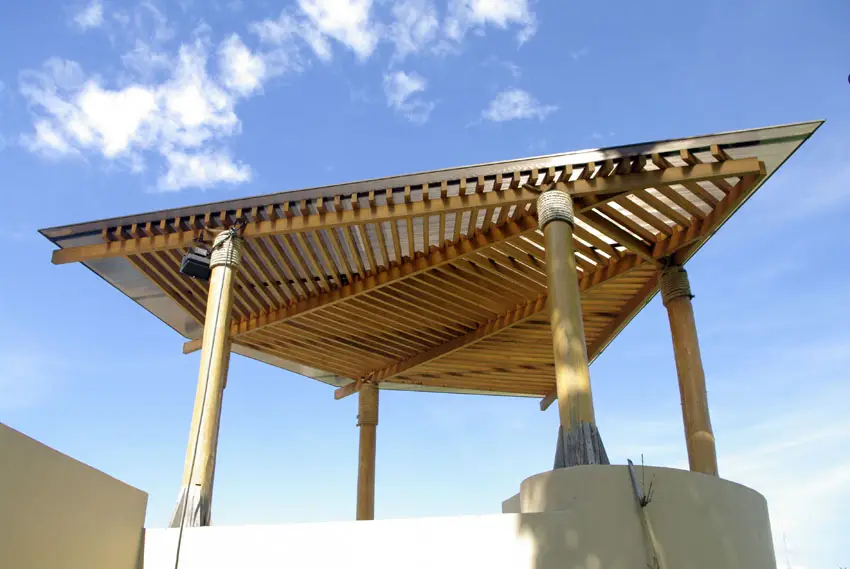 This modern pergola features an innovative modern design and a unique combination of materials and finishes. The top has a kite or wing-like shape and made from solid wood boards which stands on solid wood trunks that acts as the posts/pillars.
The wing-shaped top was also provided an additional polycarbonate cover to protect you from the sun, while still allowing light to pass-through.
Sitooterie with Daybed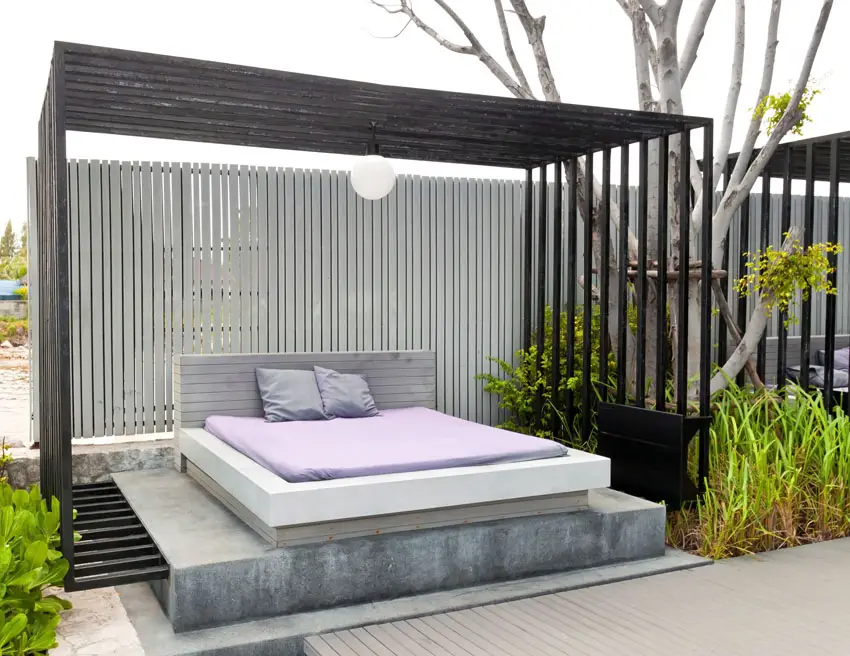 In Scotland this might be referred to as a 'Sitooterie', otherwise known as a small sheltered space to sit and relax. A sitooterie or sitootery, can also take the forms of pavilions, pergolas, or a small enclosed patio.
This structure itself, is a very unique steel pergola design which was built to create small private spots in the garden area. After walking on a wooden deck pathway, you will arrive at several small pergolas with built-in beds.
These pergolas are on a raised concrete base where the steel side and top slats are also attached. The continuous vertical and horizontal lines, combined with the black paint & raw concrete finish gives a very modern-industrial look.
Enclosed Patio Cover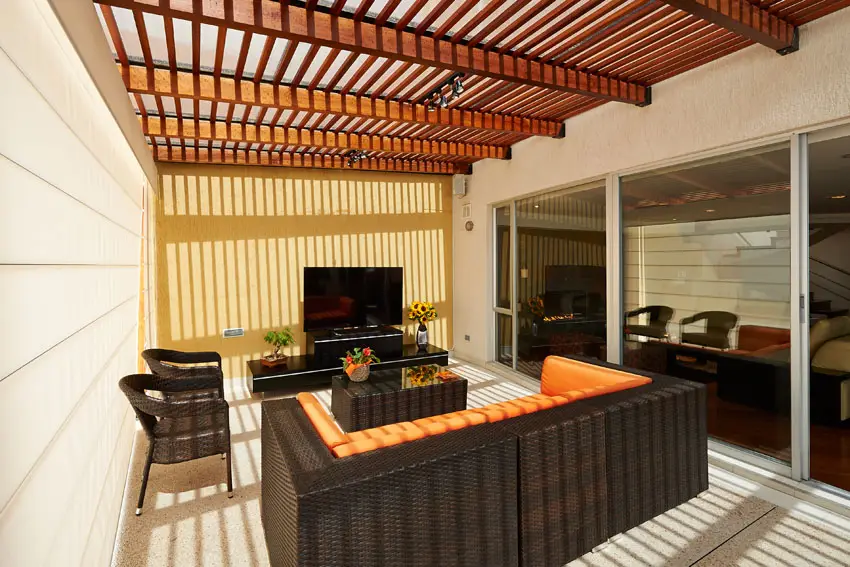 This is another example of a covered patio pergola structure. Since the area is in between the property wall and the external wall of the house, the pergola does not have posts/pillar supports anymore, and instead relies on the strength of the walls. It uses solid wood, topped with a combination of wood slats and a flat sheet polycarbonate.
Teak Wood Patio Pergola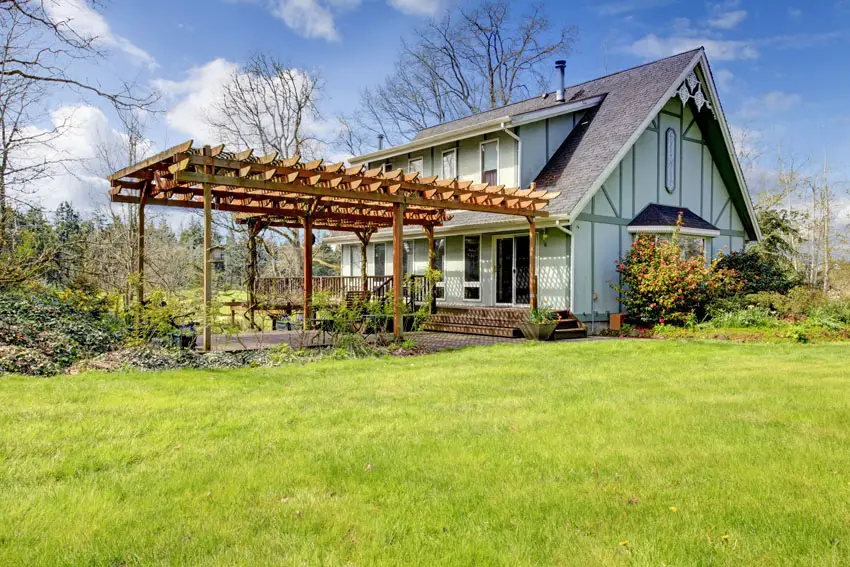 This is a classic wood pergola design that goes perfectly well with the country style architecture of the house. The pergola is connected to the raised deck on the back door as is made of solid wood construction.
It uses natural teak wood with no roofing/covering which allows vines and crawling plants to naturally grow on the pergola and provide adequate shade to the area.
Neo-classic Design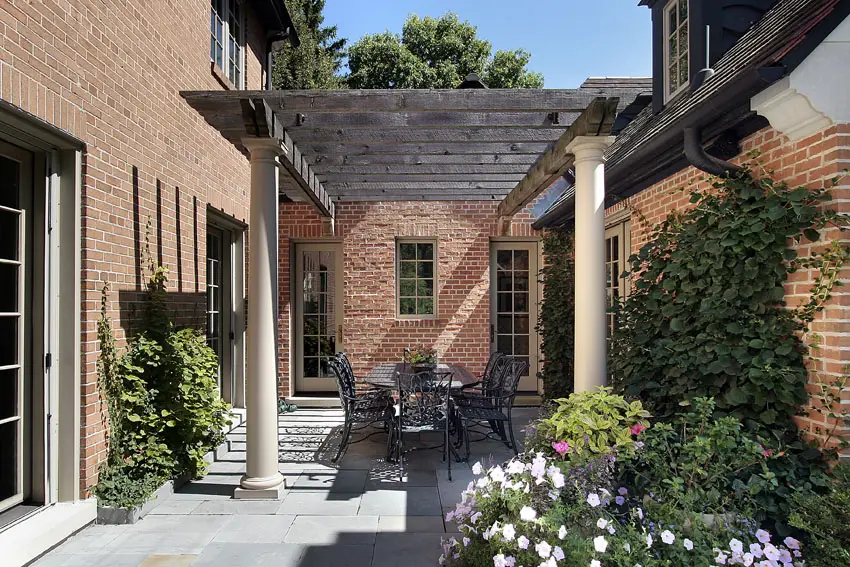 Made to match the neo-classic architectural details, this pergola combines various materials to achieve this look. It uses salvaged antique wood for that rustic/aged look for the trellis and beam, and is supported by a pair of concrete ionic columns and a pair of classic wall bracket. This creates a simple yet stylish pergola that perfectly blends in with the existing architecture.
Ocean Overlook with Concrete Block Base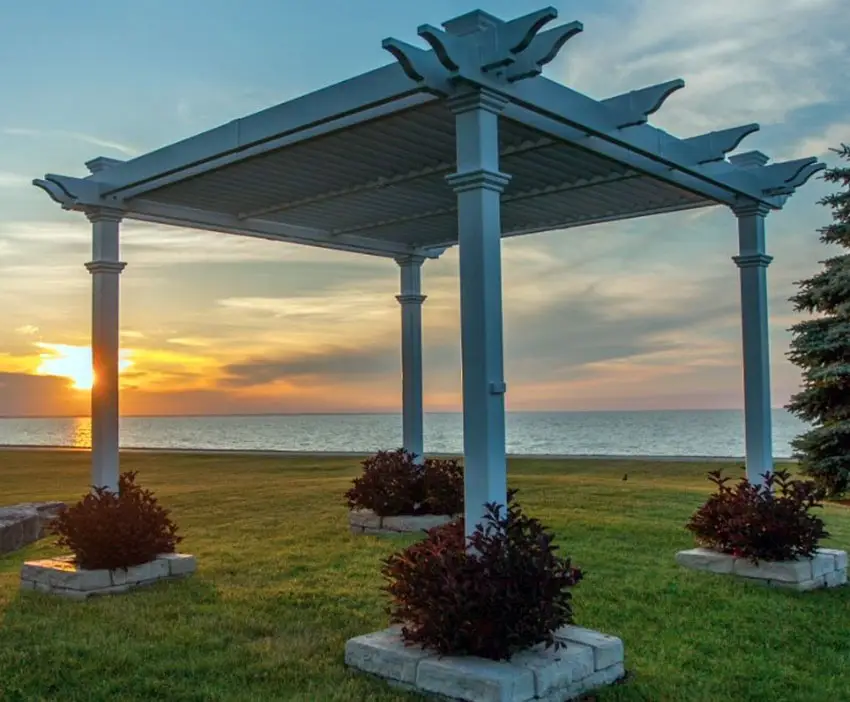 This pergola kit uses a lightweight vinyl material that is stylish, weather-proof and easily installed. It has a very simple classic design, a 10'x10′ square footprint and a simple white finish, making it a very versatile design.
Due to the lightweight quality of the material for this pergola, this is best installed on a heavy, solid base, such as this example which uses a stone masonry base with plant accents.
Wood Trunk Design with sun Shade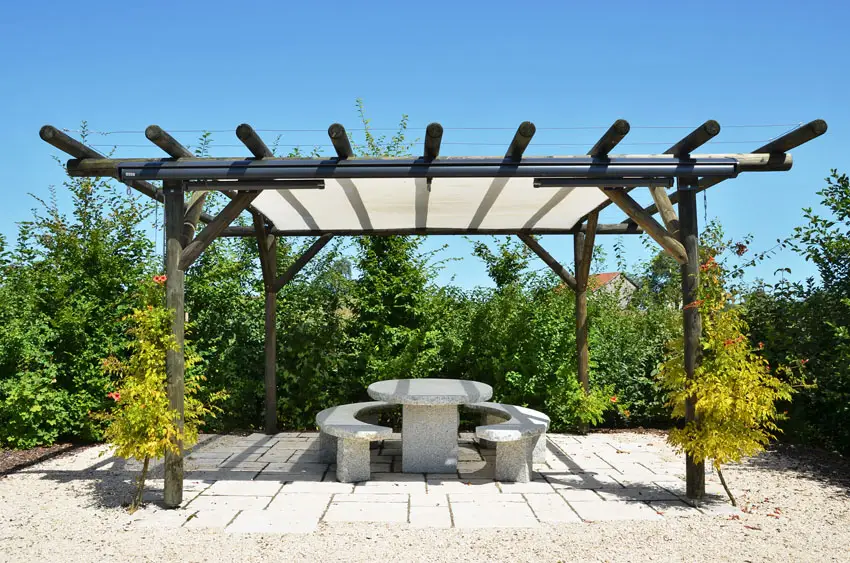 Going for a very utilitarian and tropical-inspired look, instead of using machine-cut wood, this pergola keeps the natural shape of the small wood trunks to create this design.
The wood keeps its weathered finish so it looks very natural and rustic, while a fabric sunscreen was added as a covering to filter the sun, as well as roll up sunshades for extra protection.
Tall DIY Build Attached to Fence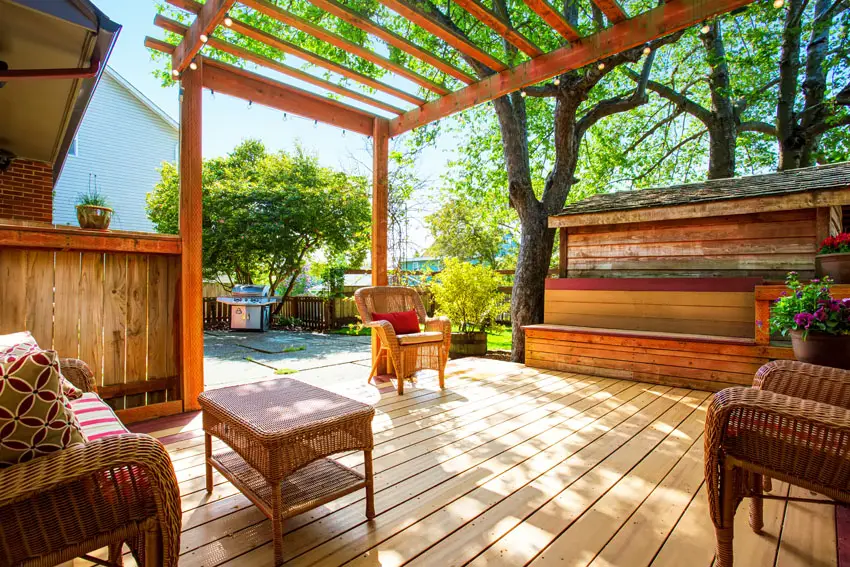 This cozy garden patio are features weather-treated wood decking floors, a sitting area with rattan outdoor furniture and a simple wood pergola made of solid teak wood.
The pergola does not serve as a sun shield or cover, as the large trees in the garden already does the job. However, the simple pergola helps emphasize the area, and also provides a place to hang the fairy garden lights, making the area look more romantic at night.
Sloped and Attached to House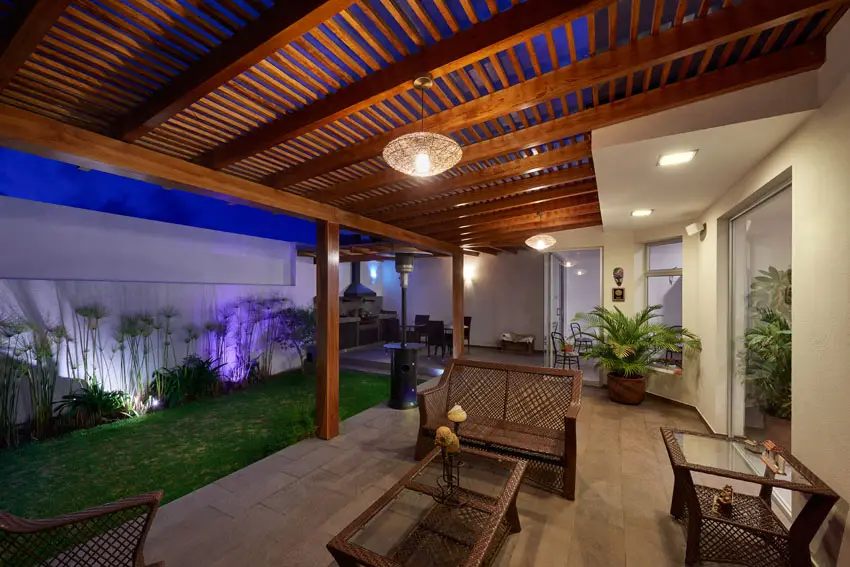 This covered patio pergola is a great way to extend the living area of the home and provide a spot for relaxation and entertaining.
Powder Coated with Fabric Shade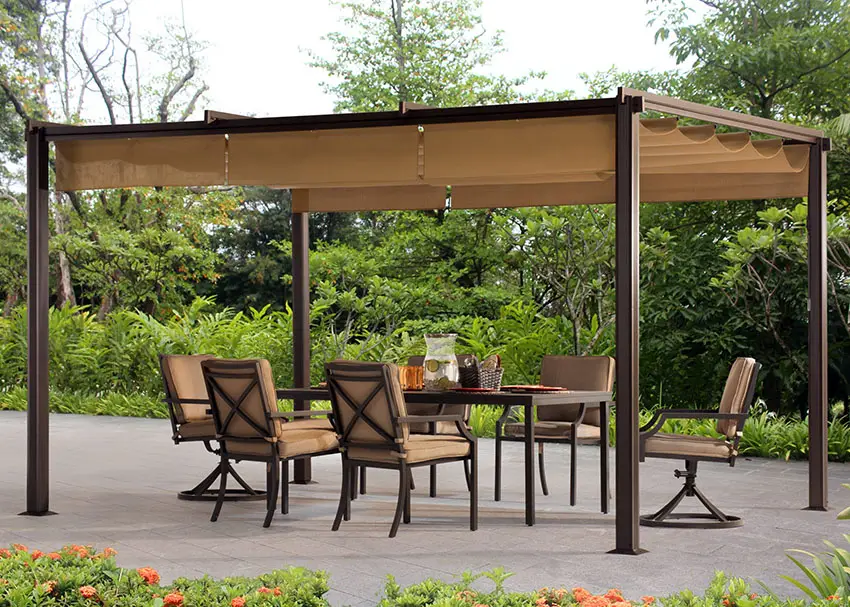 This adjustable metal pergola kit uses powder-coated metal framing in dark brown to give it a durable finish in mocha brown to match the outdoor furniture pieces.
This pergola kit can be bolted on the floor/ground to keep it from moving, and also features a fabric sunshade on the top, as well as the sides to protect you from too much sun exposure.
Regal Faux Masonry Pillars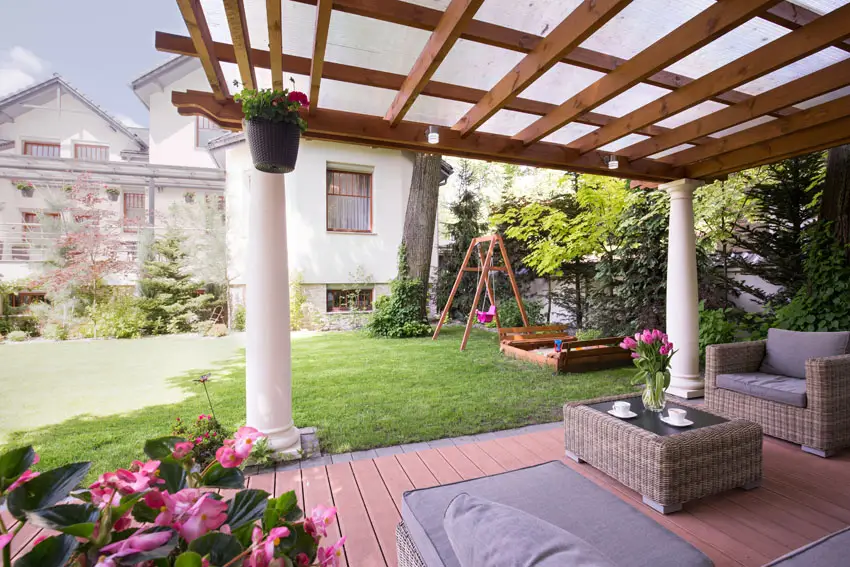 Another great example of a pergola combining classical details & modern materials. This covered pergola stands on ionic column supports and uses solid teak wood for the beams and trellis. It also uses poly-carbonate roofing material to filter the sun and protect the rattan furniture placed underneath the pergola.
Simple Four Post Design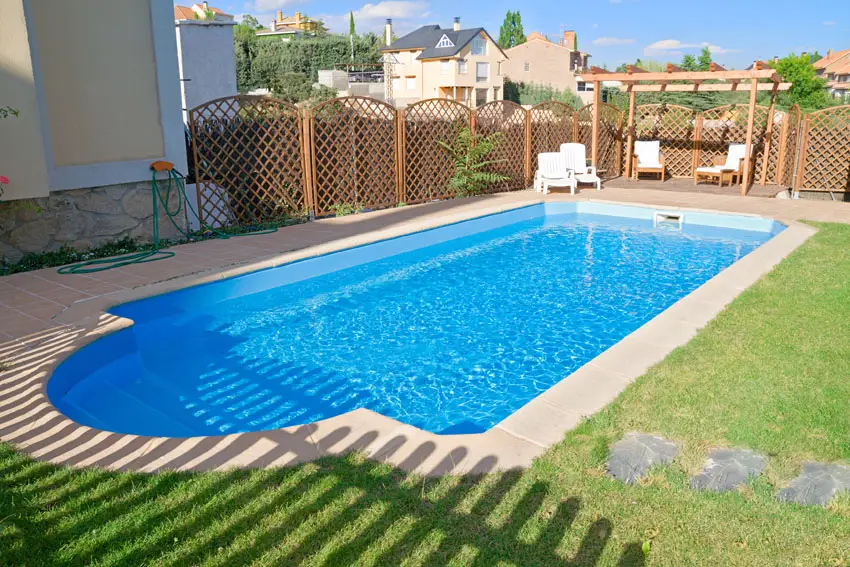 Wood pergolas comes in all shapes and sizes, and this example is a very small and compact wood pergola kit which nicely fits into this backyard pool-side well. It uses natural teak wood to match the wooden fence and the lounge furniture pieces in the area.
Wraparound Trellis with Benches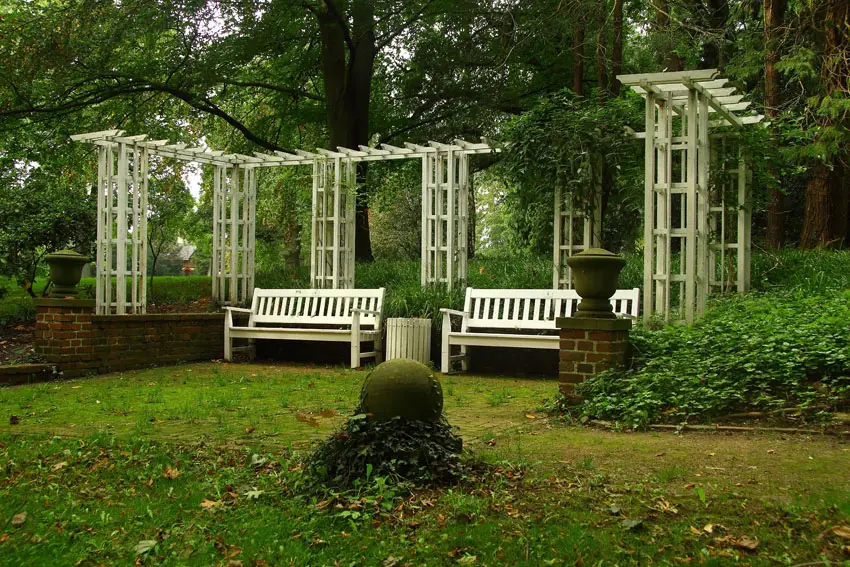 This garden features white painted pergola simply used as an accent piece in the garden to where vines and flowers can crawl and grow into.
This was fixed on the raised portion of the ground which surrounds a sitting area with two long benches in the same white-painted wood material. Once the flowers and vines completely grow into this pergola, it would become a gorgeous wall/roof of plants and flowers.
Movable Pergola Design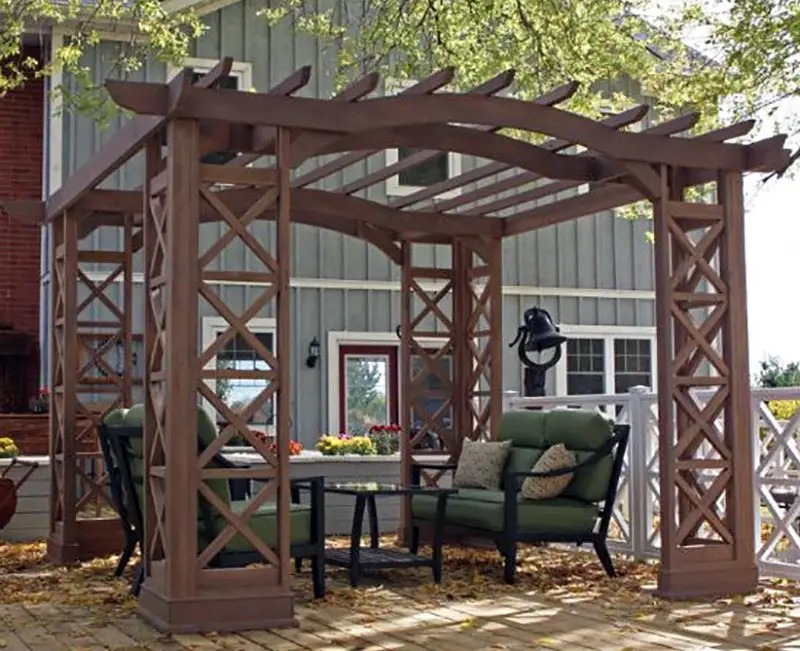 This example is a vinyl pergola kit with a cottage-style design. It is movable and very lightweight making it ideal for application in this area, as this is placed on a raised wooden deck/plantform.
The vinyl frame has a square footprint and natural brown finish. Instead of plain, straight posts, it instead uses a bracket-shaped support with x-shaped fretwork to match the white-painted wooden railing of the area.
Pool Shade Against Wall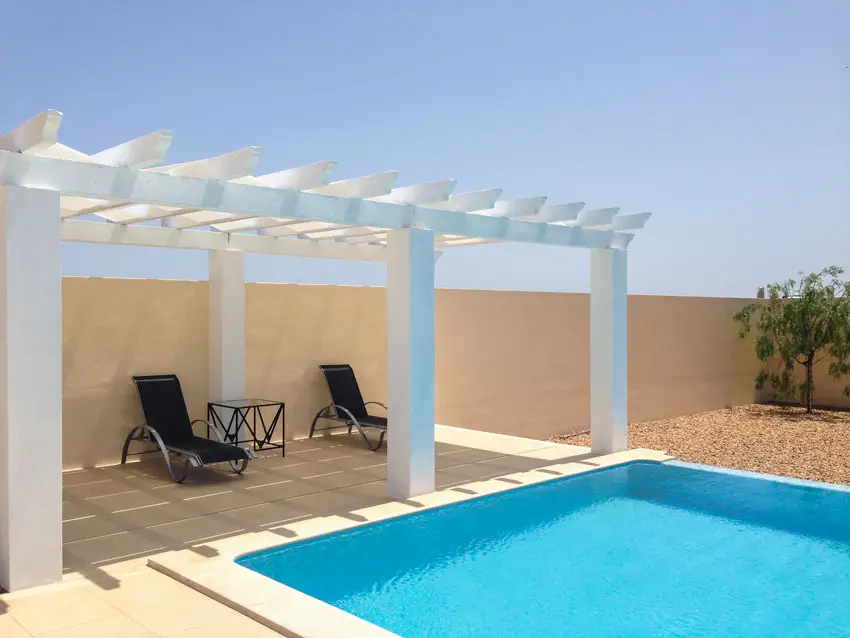 The pergola's design for this example was made to match the clean, sleek & modern look of this pool area. This backyard pool uses simple, plain-colored materials.
To follow the simplicity of the architecture, the pergola was built using white-painted concrete columns, and topped with white-painted wooden beams and trusses. A polycarbonate sheet was added on top as a covering material for added sun protection.
Attached with Vining Plants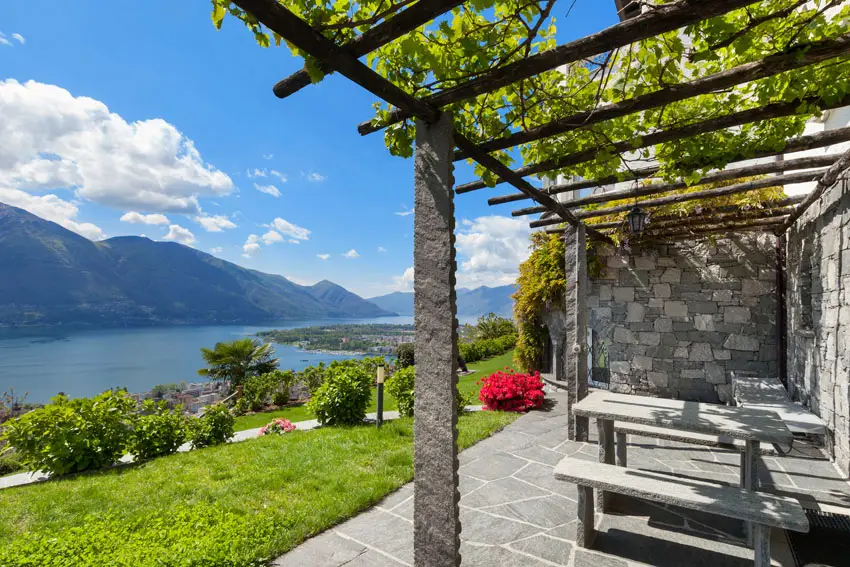 This pergola design is unlike all the previous examples has it has a unique combination of materials made to blend in with the architectural finishes.
Featuring a million-dollar view, this pergola is open and unobstructed, made from natural stone posts of the same material as the stone masonry finish on the exterior walls of the structure, and combined with natural wood logs for the trellis top.
Vines and plants are already crawling on top of the trellis, providing the stone table & benches adequate shade during daytime.
Pool Overlook Seating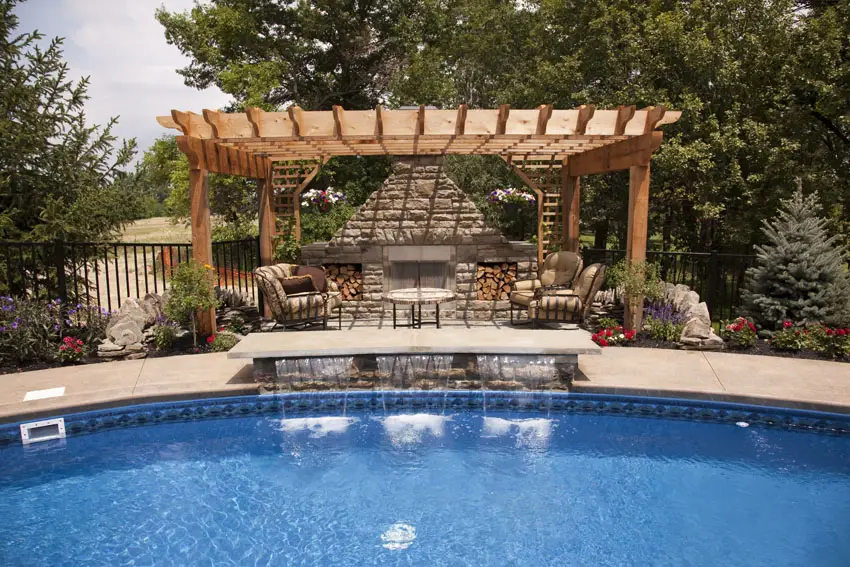 This small pool-side wooden pergola uses weather-treated timber in big & thick blocks, giving this pergola a massive & bulky look. One side of the pergola has a latticed decorative accent where vines could grow and crawl on, eventually providing shade for the sitting area placed in the pergola.
Modern Kit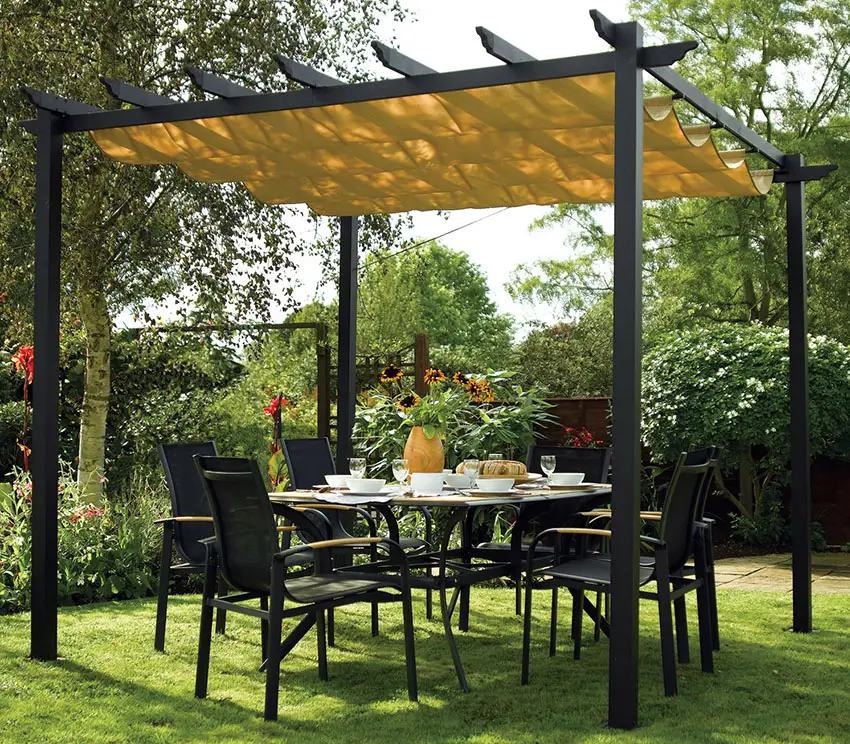 A pergola kit to match the black outdoor dining set, this 8'x8′ pergola is made from black powder-coated aluminum. It uses very slim but durable posts as support, and can be fixed on the ground for added durability. This pergola also features fabric sunshade on top to filter the sun.
Shading Vines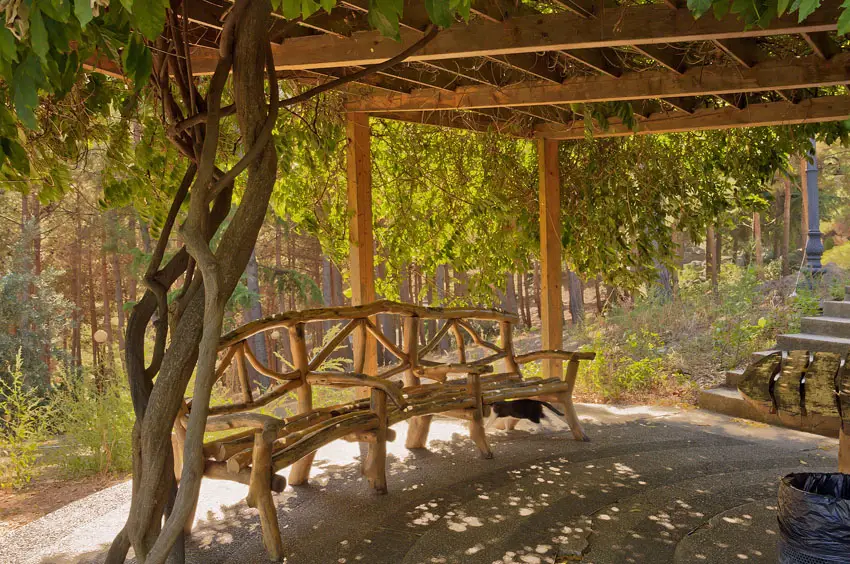 Once the vines have completely grown into your pergola, you will have a gorgeous shaded area with a very mysterious and romantic appeal.
This example uses a simple all-wood structure which was fixed on a solid concrete base. To take advantage of the ambiance and the shaded area, a bench made from natural driftwood was placed, as well as a driftwood dining table.
Over the Outdoor Fireplace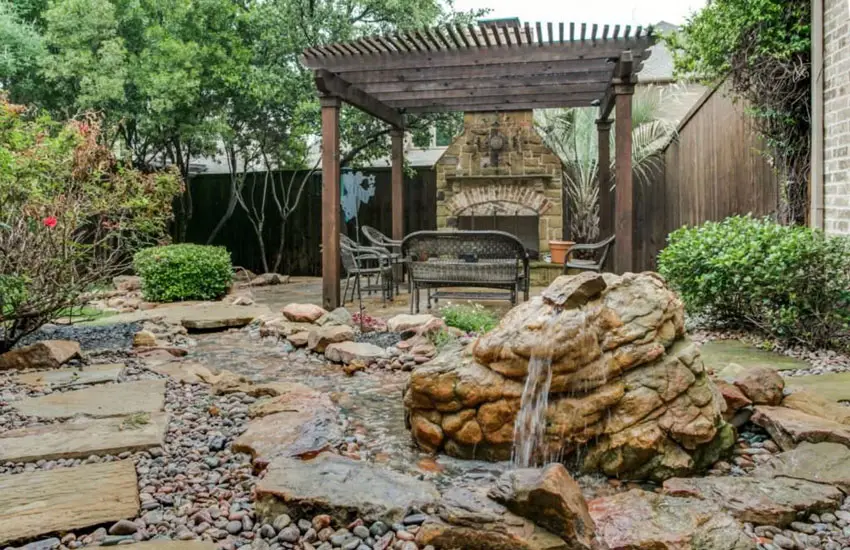 Another great example of an antique style pergola, this uses an all wood material and simple square footprint. Instead of fresh s4s timber bought on the market, it instead uses antique wood posts and planks salvaged from old furniture and old houses. This example uses a gorgeous antique cherry wood post with walnut beams/trellis of the top. You can see that the natural rough and aged look of the salvaged wood was preserved in order to match the antique look of this backyard garden.
Fabric Shade
Bring out classic European elegance with this vinyl pergola kit. It uses white vinyl material for this 10'x10' pergola and adds subtle motifs and details to achieve a more European look, such as the profile of the trellis and the moldings on the posts. It also features a fabric shade in a light mocha color draped on the trellis for added sun protection.
Wraparound Pool Pergola
Pergolas located above water feature designs can make an impressive statement. To complement the gorgeous natural style pool area with rock water features, a small relaxation area was placed under the pergola.
This area was framed with a solid wood pergola which features 2 square pergolas and a "hallway" which uses the two pergolas on each of its ends as its base/support. The wood used are salvaged wood pieces so it has a very rough and weathered appeal to it the looks perfect with the natural style pool.
Pathway Pergola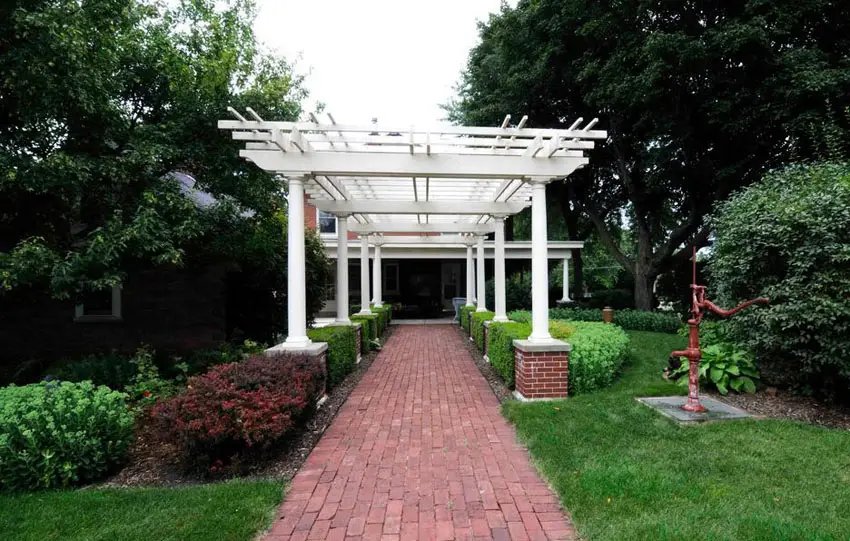 Another European-inspired pergola design which was used as a walkway covering. The wooden trellis were painted in white to match the white finish of the ionic columns which were fixed on a raised concrete and brick base to make it more sturdy.
The white finish of this pergola matches the white frames of the windows of the architecture, so it looks like it is a part of the main structure despite not being directly connected to the house.
Two Post Pergola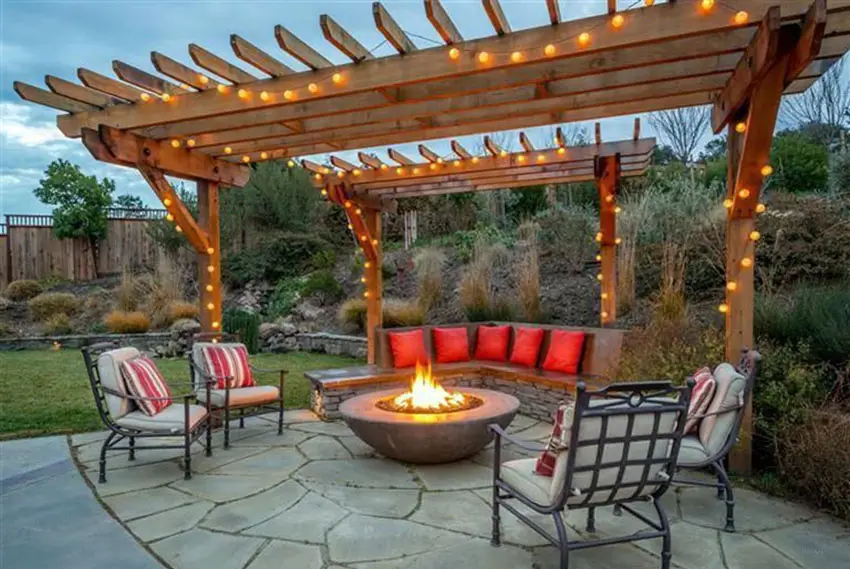 Previous examples show pergolas with four posts, or pergolas which has one side attached on walls/brackets, and another side on posts.
This example uses only two posts, so it is what we call a cantilevered pergola. Because of its design, the width of the top is limited, but it does produce a cleaner, more open look as it only uses two posts.
Vinyl Pergola Kit
This slim 10'x10' pergola kit is made from white vinyl material, so it is light and durable. The posts uses a simple latticed design, while the top uses classic motifs which gives it a classic European look.
Angled Out Wood Pergola Design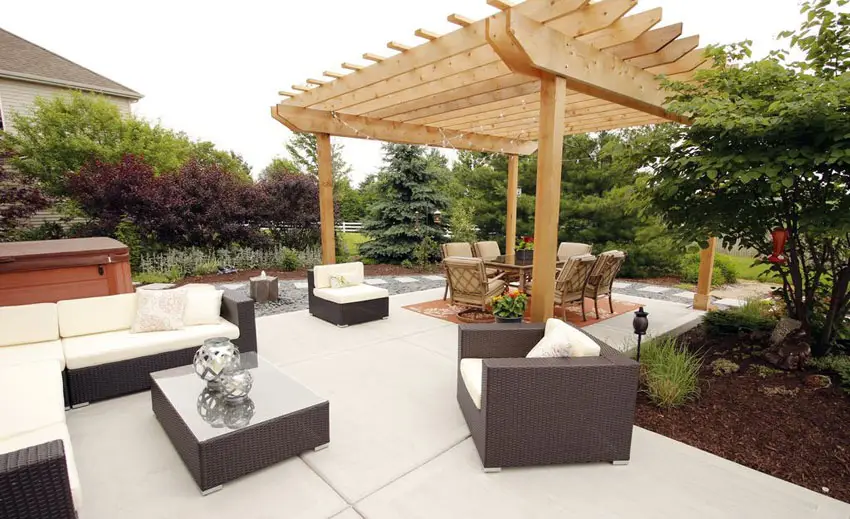 To match the contemporary look of furniture pieces, the wood pergola installed keeps a simple, functional design with a light maple finish for a modern look. The all-wood pergola is quite large, and was also used to fix hanging garden lights to give a romantic illumination to the garden at night.
Outdoor Seating Area Pergola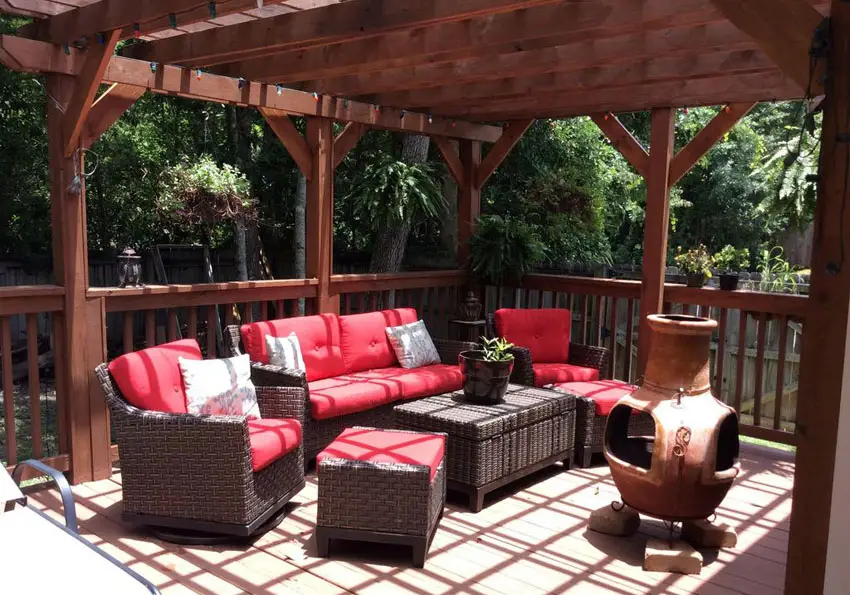 Built right into the balcony/patio, this pergola does not seem like a separate structure, but looks like a part of the patio area. The wood finish used on the pergola also matches the wood finish of the railings, so instead of standing out, this pergola intends to blend in with the existing design and simply provide more shade and an additional sense of privacy.
Over the Deck Pergola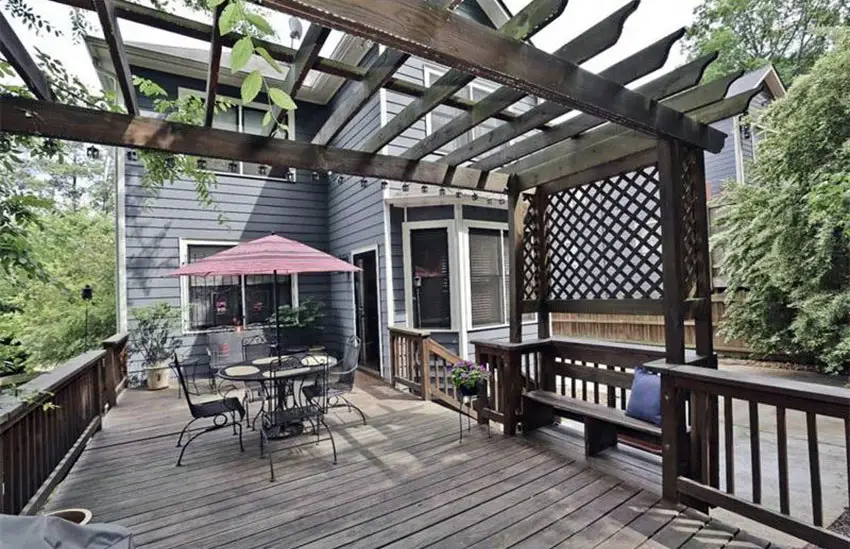 Just like the previous example, this pergola was built onto the existing railings using the same type and finish of wood to blend seamlessly with the existing design. This example, however, covers its sides with wooden lattice, adding more privacy and shade from the sun.
White PVC Pergola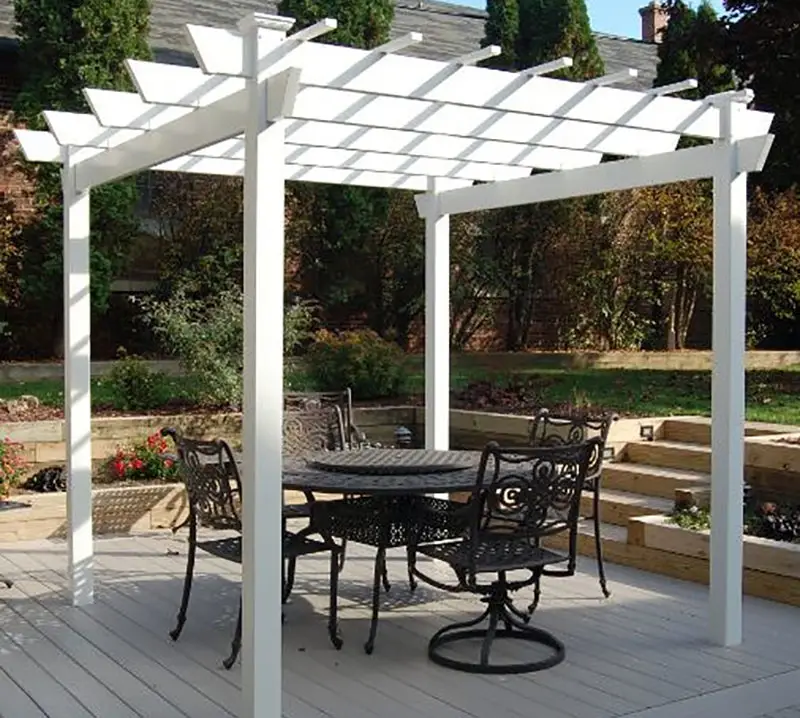 This white PVC pergola kit is a bit small and has a slim and compact design, inspired by classic pergola styles. It does not have any fancy features, but enjoys the typical advantages of lightweight & easily-assembled pergola kits.
Dark Stained Pergola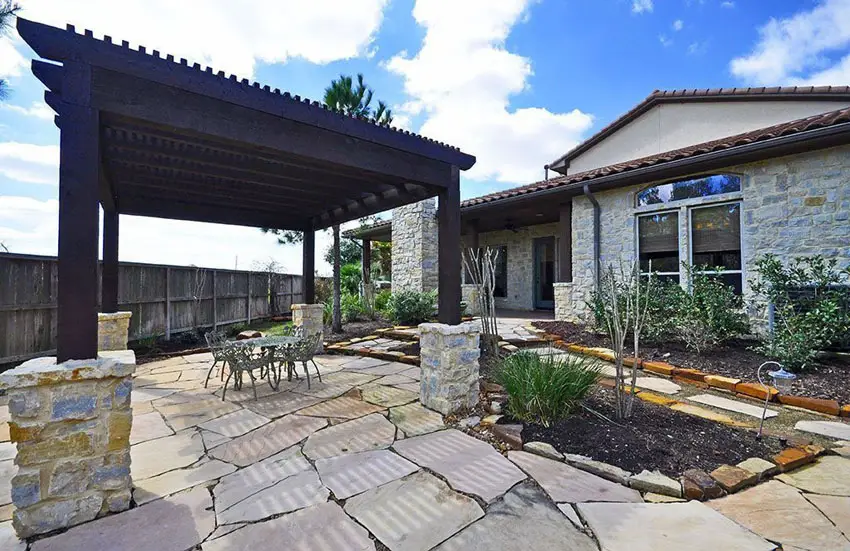 Looking at this wood pergola design, you will feel the heavy massing of its design. Compared to other examples which gives a light, open feeling, this pergola has a more massive, intimidating look to it as it uses large & thick wood pieces, and even a dark wengue finish.
Its posts were fixed on a concrete and stone masonry base adding further to its look, and its top is almost completely covered in wood slats, allowing little light to pass through its top.
French Style Pergola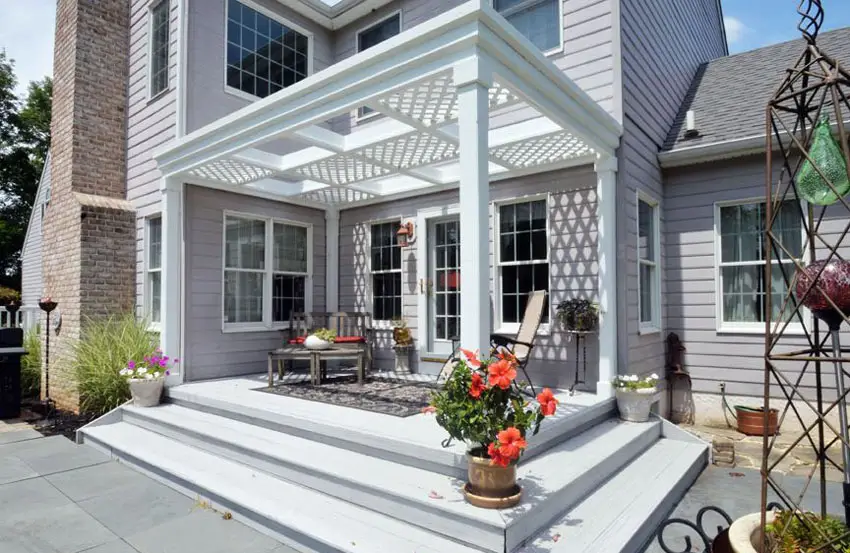 This is a lovely classic French-inspired patio pergola. It is made from a combination of white powder-coated metal posts & beams, and white-painted wood top with a latticed design/cover.
Stone and Wood Pergola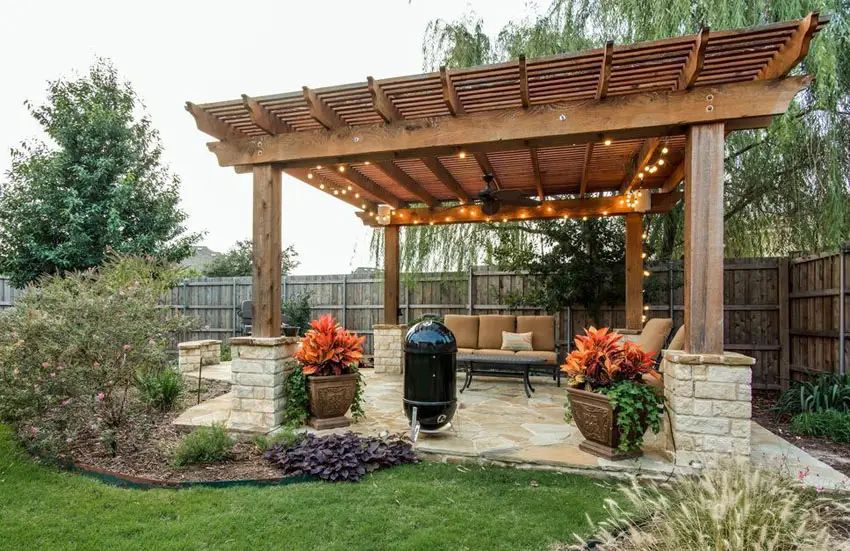 Using weathered solid walnut, this large patio area has a very open feel despite having its top almost complete covered with wood slats.
Its large wooden posts were fixed on a concrete and faux masonry base, keeping it stable and durable. Since the area is to be used as an outdoor lounging / living /dining area, garden lights and a ceiling fan were also installed to keep its users comfortable.
Pergola Next to Pool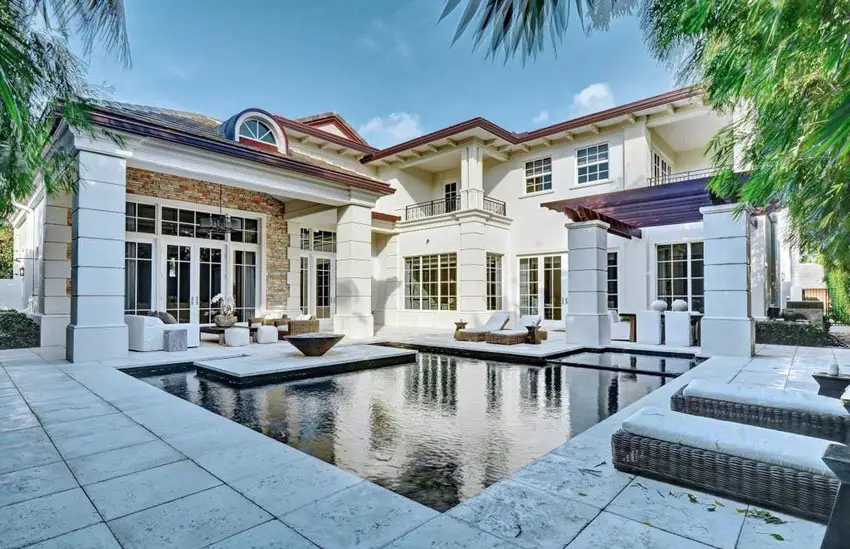 The application of this pergola is so subtle you will almost not notice it if you do not look closely. This design was made to blend in with the architectural design, so it uses red-tinted wood so it matches the color of the roof gutter. The wood pergola is fixed on the exterior walls on one side, and stands on massive concrete columns on the other side.
Pergola Attached to House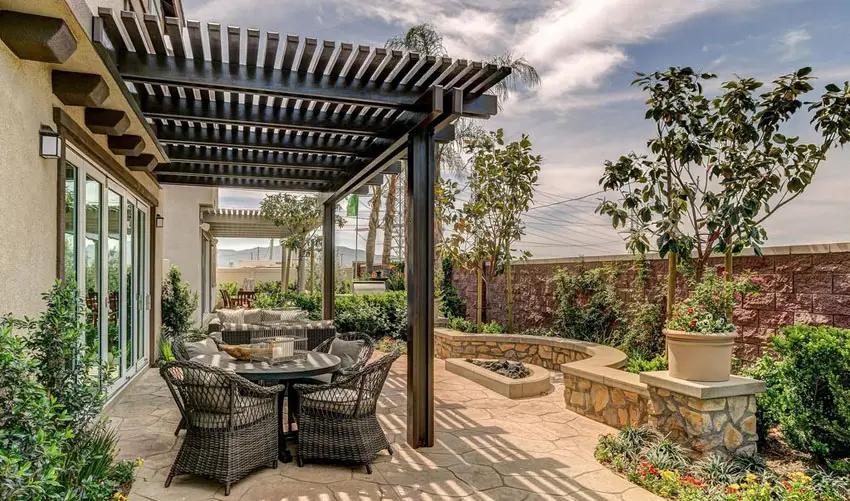 A gorgeous wood pergola which was well-designed and has gorgeous minute details that makes its elegant appeal. This pergola has one side fixed on the exterior walls, and the other fixed on wooden posts. It has a nice semi-gloss finish and a dark wengue color. What makes it more special is that the edges of the wood have been chamfered, removing the 'sharp' look of typical edges.
Pergola Over Koi Pond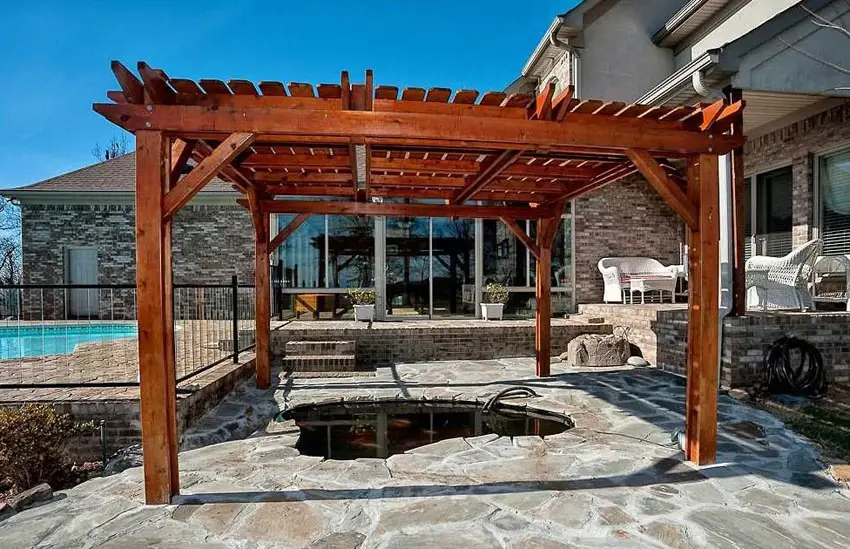 A cypress wood pergola which was mainly intended to help give shade to the small pond area. The structure is quite low compared due to the nature of its use, but nonetheless has a well-built structure and a gorgeous finish. The top uses thin yet wide wood slats so that it gives more cover/shade from the sun.
Electrical Powered Pergola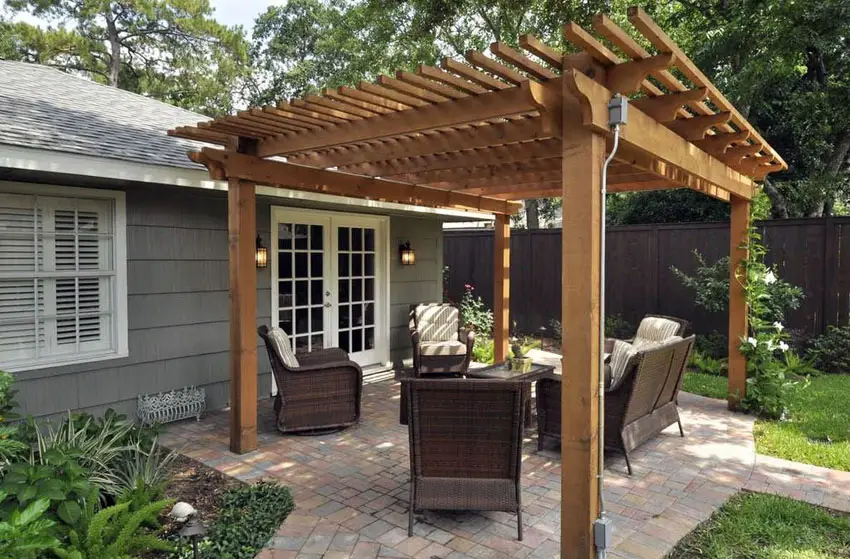 This wood pergola is a quite high and spacious, giving is a very open and airy feel. Its wooden posts were fixed on the ground to keep it stable, and has wood slats on top to keep it nice and shady during sunny days. It was wired with electrical conduit to hang string lights for night time entertaining and enjoyment.
Fire Pit Pergola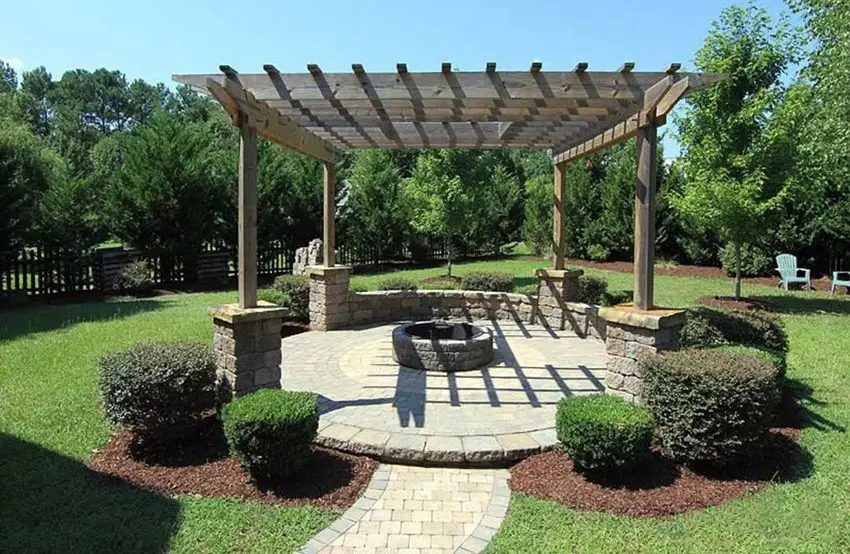 Outdoor fire pits can become a great gathering spot at night and be the perfect focal point located at the center of a pergola structure.
This round outdoor firepit is framed with a wood pergola which uses weathered wood to match the rustic look of the design. The wood posts are fixed on a concrete and stone masonry base to keep it sturdy and stable.
Three Post Pergola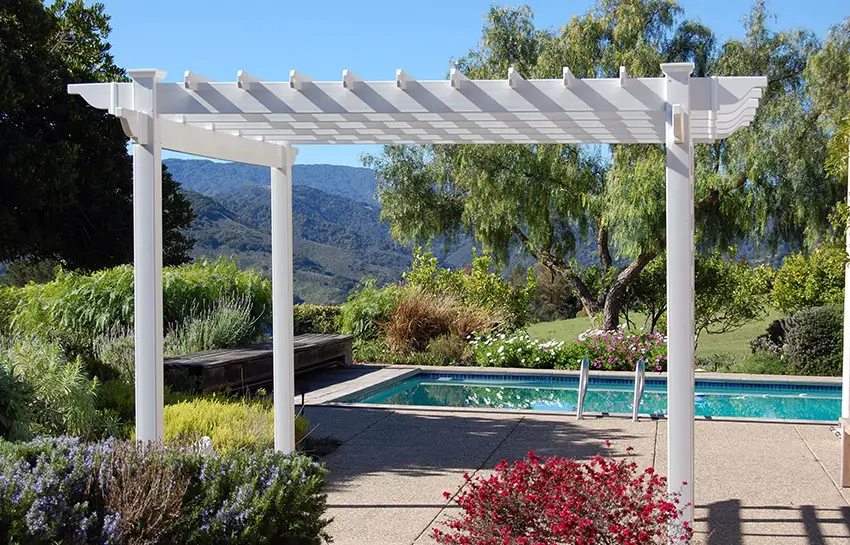 This small three post pergola kit made from white vinyl is not only compact & lightweight, but can easily match any design style so it is a great addition to any garden, yard or poolside area needing a pergola.
As it is made from a lightweight material, it also has the advantage of easy transportation & relocation, as well as installation, making this both practical and economical. What did you think of these pergola ideas? Make sure visit our Facebook page to let us know what you think.
Pergola Designs Infographic: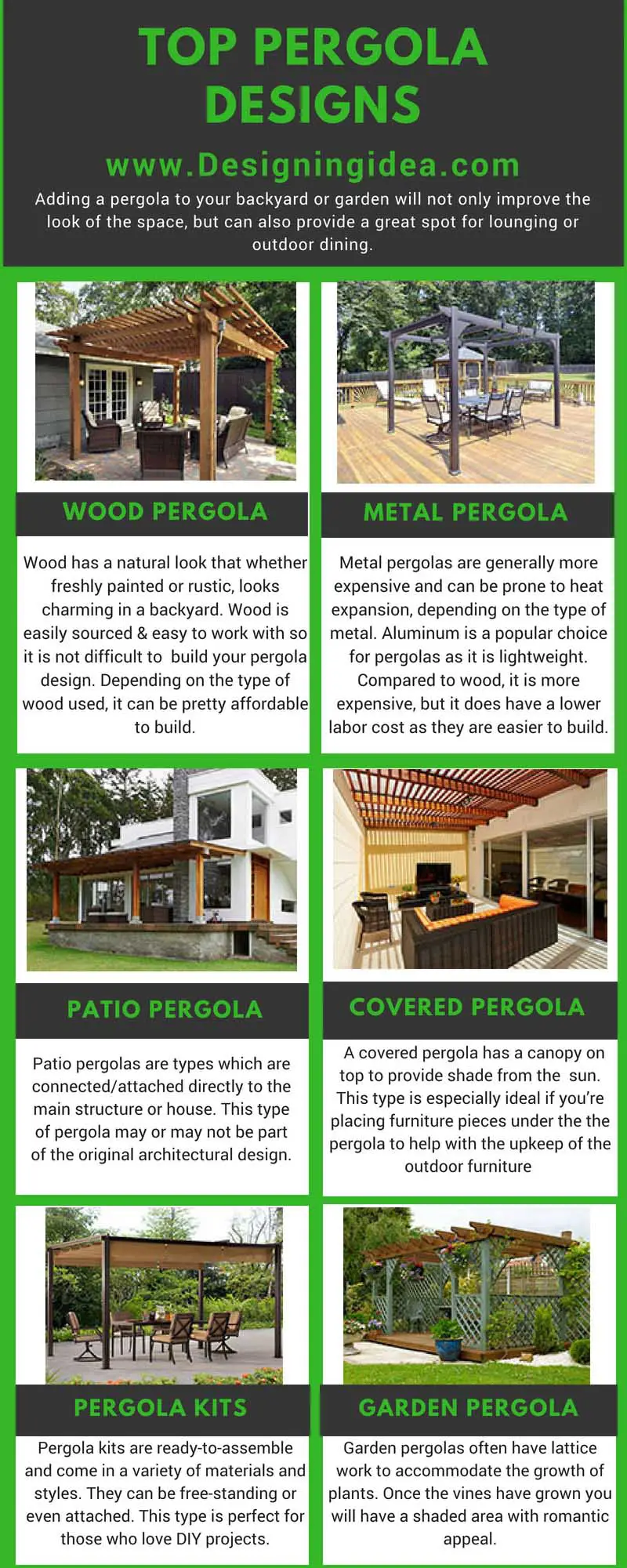 To see more outdoor structures and backyard ideas, visit our gallery of gazebo designs located here.