Here's our granite fire pit design guide covering popular questions and tips for using this beautiful natural stone in your backyard.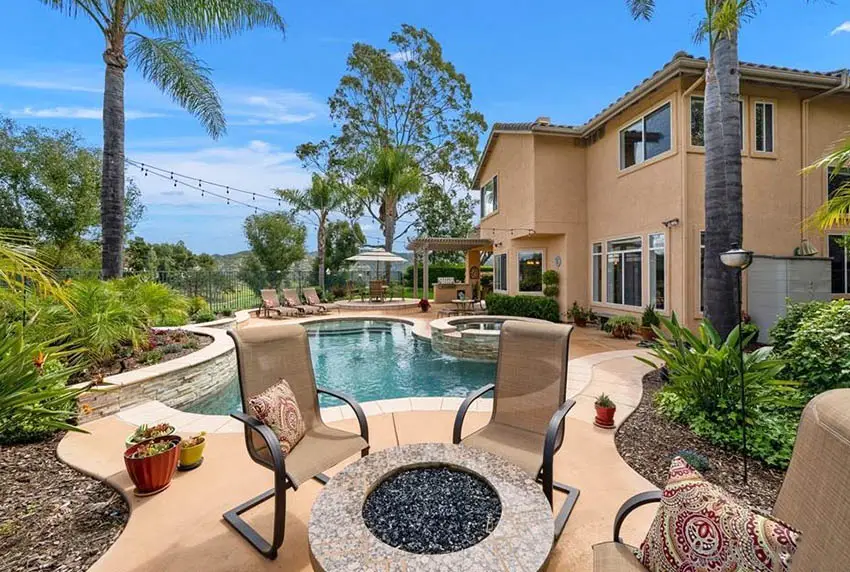 Concrete and fire-rated brick are two type of materials that are often thought of when it comes to fire pits. However, a granite fire pit can look attractive and give your home's outdoor seating area an appealing design. Below we'll cover many of the frequently asked questions regarding granite fire pits to help decide if they're right for you.
Can you use granite for a fire pit?
Granite is a durable material that can be used safely for fire pit designs. It's a great choice for a fire pit and multiple types of granite can be used.
Popular types include granite blocks, crushed granite, or decomposed granite which can all be used in parts of these fire pits. Using more than one type is completely welcome as well.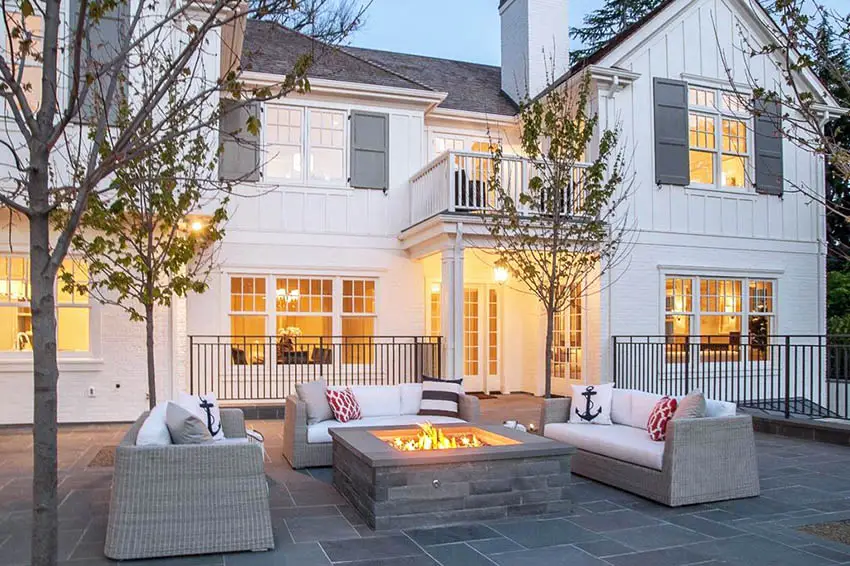 Why use granite for a fire pit?
As mentioned above, granite is extremely durable as well as physically appealing. Granite offers a lot of custom options as well as a large variety of colors and patterns that can be selected. Along with that, size and shape does not have many limits either.
This uniqueness makes using granite for a fire pit an elite choice. – interior designer Savannah.
Granite is a material that is pretty dense, making it less likely to absorb any water and explode when heated. This is important when it comes to fire pits, as they are outside when there are possibilities for rain and other weather. When setting the fire into the pit for use, it is important to not have water present to avoid dangerous situations.
Using granite as a material on a fireplace offers the benefits of functionality. Granite blocks will typically stay cool to the touch when in use. Therefore if someone accidentally runs into it, they will not burn themselves.
Granite is typically resistant to rusting, cracking, and staining. It also protects the surrounding patio areas from these issues as well, keeping maintenance on this very low. Additionally, granite fireplaces are typically extremely sturdy, meaning the replacement need is also extremely low.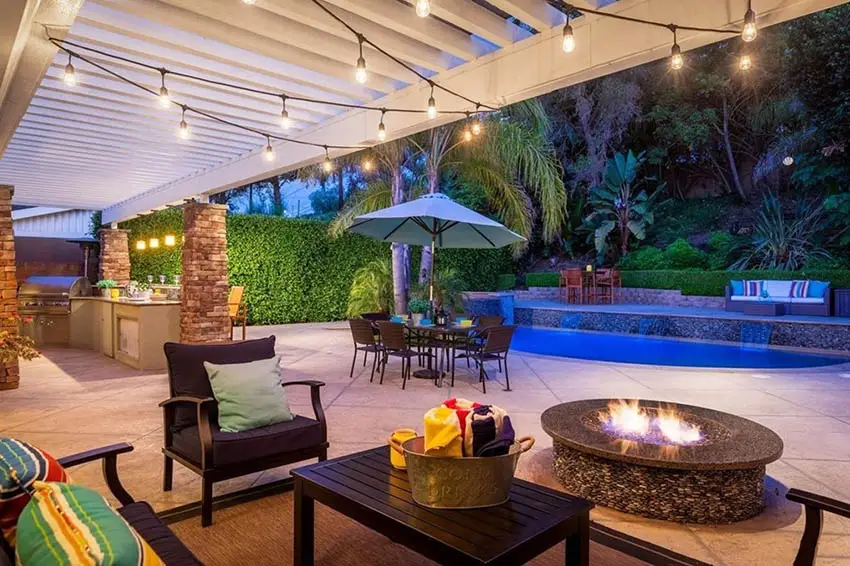 Will fire crack granite?
Granite does not crack under high temperatures. The melting point for dry granite is 1215 to 1260 degrees Celsius (2219 to 2300 degrees Fahrenheit). Fire, at orange to yellow range (which you are most likely to get in a fire pit) is about 1100 degrees Celsius (2012 degrees Fahrenheit).
How do you make a fire pit out of granite?

Creating a fire pit can be done in a few steps. These are summed up below.
First, dig out the area of the desired fire pit location. This should be at least 5 feet in diameter and at least 6 inches deep. This can be larger. This hole should be filled with gravel or sand, to allow for drainage during periods of rain.
Second, select the natural stone granite surface in the color and thickness so desired. These are typically going to be in blocks.
Third, the blocks will then be placed around the dug hole with a ring around it to create the fire pit. Keeping these tight are important as well as it being level. Multiple layers will be placed until it reaches the top of the hole and the desired outer area.
Finally, around the fire pit area will need to be filled with more sand or gravel to avoid any unnecessary negative effects from the elements.
There are different types of gravel that can be used for this. Pea gravel is one that's often used surrounding a fire pit as it's inexpensive, easy to walk on and visually attractive.
It's important to remember not to put any type of combustible materials in contact with flames. Certain kinds of rock, gravel or sand may spark or explode when they get too hot.
If you want to line the bottom of the actual fire pit or metal bowl its recommended to use only fire rated materials such as lava rocks or certain lava glass beads made for that purpose.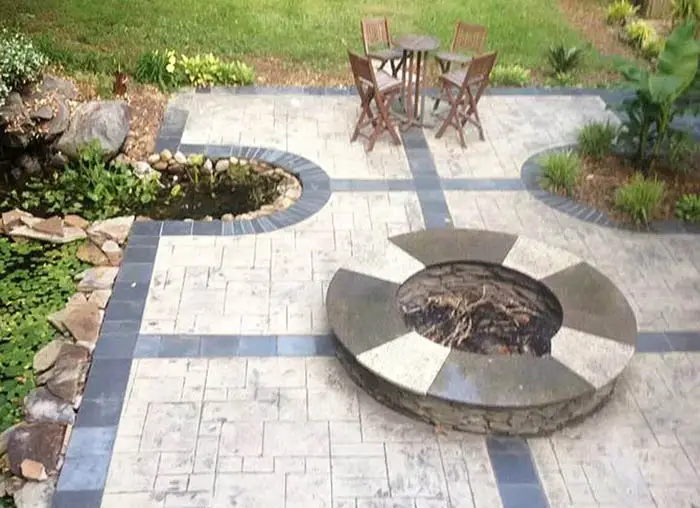 When creating a fire pit it is important to check local codes to make sure the proper permitting is in place to complete this kind of work. Additionally it is important to research the proper location for the granite fire pit you wish to make.
Some factors to take a look at can be the wind patterns, any nearby trees or shrubs, how close to a home it is, and even how it will be used. Determining all these factors beforehand can speed up the permitting process as well as save the heartache of burning something down you didn't meant to.
Planning a seating area around or near the fire pit can also lead to more use and a better attended fire. This can bring up the safety factor as well as the sophistication. Visit this page for more stone patio ideas.
Video on how to install a granite fire pit
Decomposed granite for a fire pit area
What is decomposed granite? Decomposed granite is granite that has been weathered and roughed up enough to the point where it is broken into smaller pieces. This is going to create a softer, less rugged piece.
Is crushed granite different than decomposed granite? Crushed granite is going to be sharp and have more defined shapes. Decomposed granite, as mentioned above, is natural, and therefore creates more organic shapes with softer edges.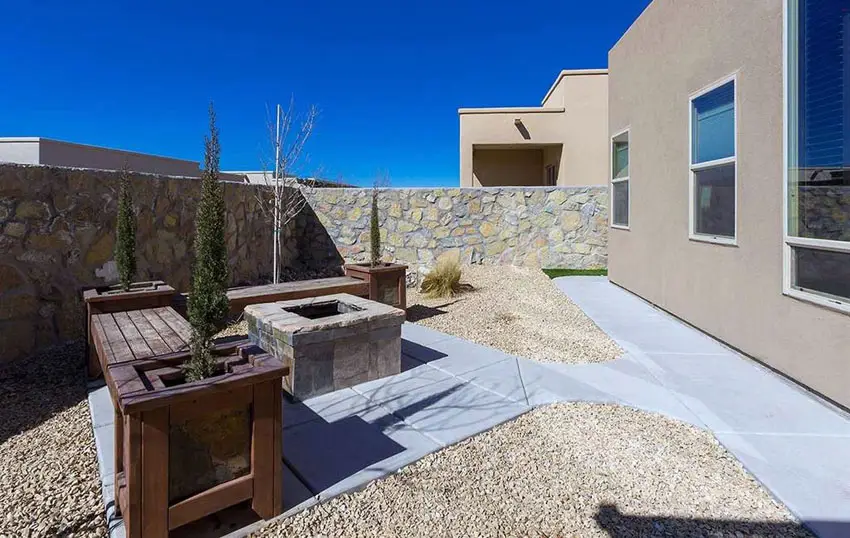 Is decomposed granite expensive?
Decomposed granite is not as expensive as large pieces, or crushed granite. This is because it can be a more recycled or reused versus a brand new piece of granite. This material typically costs about $40 to $50 per cubic yard.
See more pictures of gravel patio designs here.