Here we share our brick walkway design ideas, including the different patterns, materials, cost, edging methods, how to lay pavers, and aintenance tips.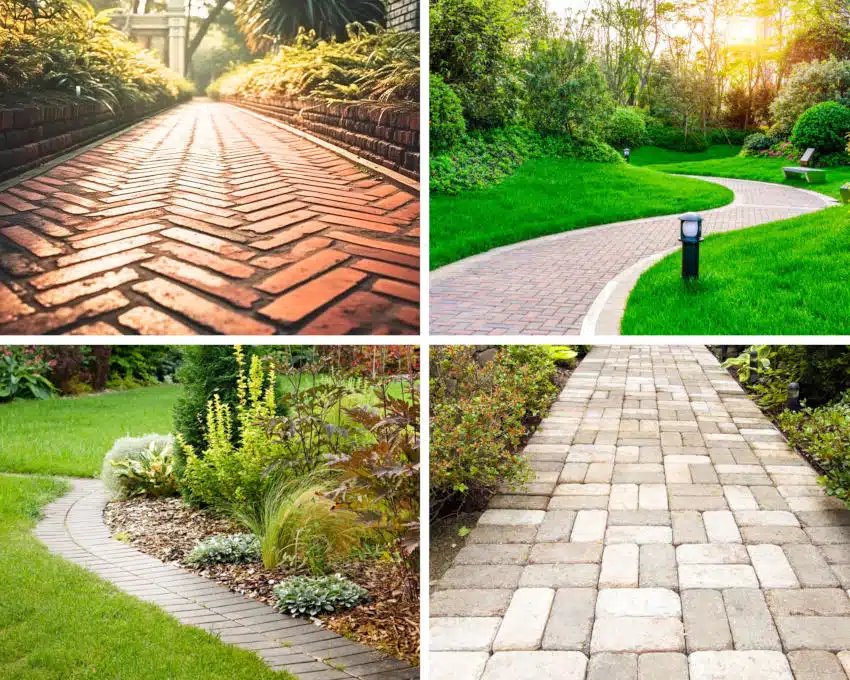 Bricks date back thousands of years as building blocks of houses and infrastructures. You can see them in movies being used in pyramids back in the past.
Until now, they have been used to add value to a building and charm to it. A walkway made of bricks is a good way to add aesthetics to your home and, at the same time, give a rustic vibe to your home.
Are you fond of a rustic ambiance and want to integrate it into your home? If you want to try out this kind of walkway for your home and learn more about it and your options, this is the place to be. Let's start with patterns.
Quicklist: Different Brick Pathway Patterns
Jack-on-Jack
Running Bond
Basketweave
Half-Basketweave
Herringbone
Grid
Pinwheel
Whorled
Patterns for Bricks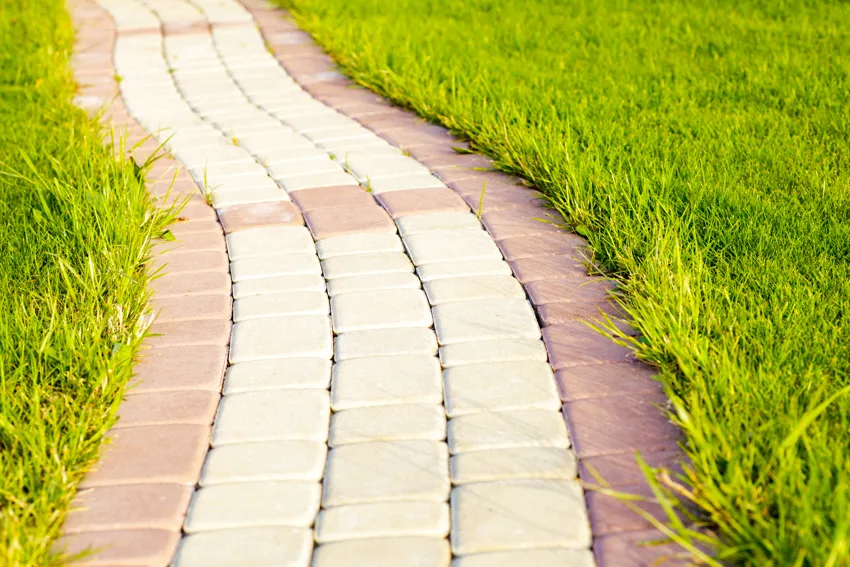 These patterns are both for functional and aesthetic purposes. Bricks are arranged so they can be tightly and tidily glued together.
Sometimes called bond patterns, a tight installation is important, especially regarding wall construction. It doesn't mean that it's less relevant with paving, though.
Here are some of the walkway styles you can often see.
Jack-On-Jack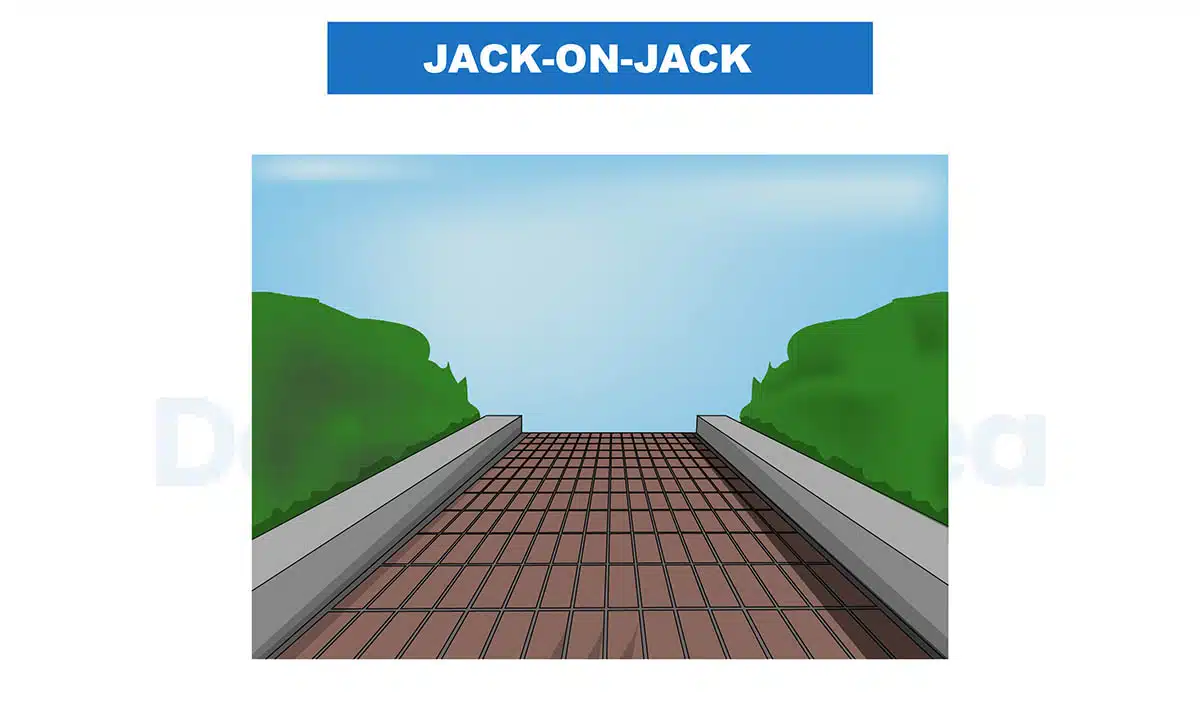 Known as the stacked bond, the jack-on-jack pavement walk pattern is when the bricks are piled together in perfect rows. The pattern is well-organized and geometrically pleasing to the eye.
The jack-on-jack pattern works in wall construction and edged paths but not in outdoor paving. Since the bricks are arranged neatly in rows and columns, without interlocking, any movement can ruin the pattern's clean lines.
Walking on this hardscape footpath with this pattern can mess it up. It's a different matter with wall construction since the bricks are mortared.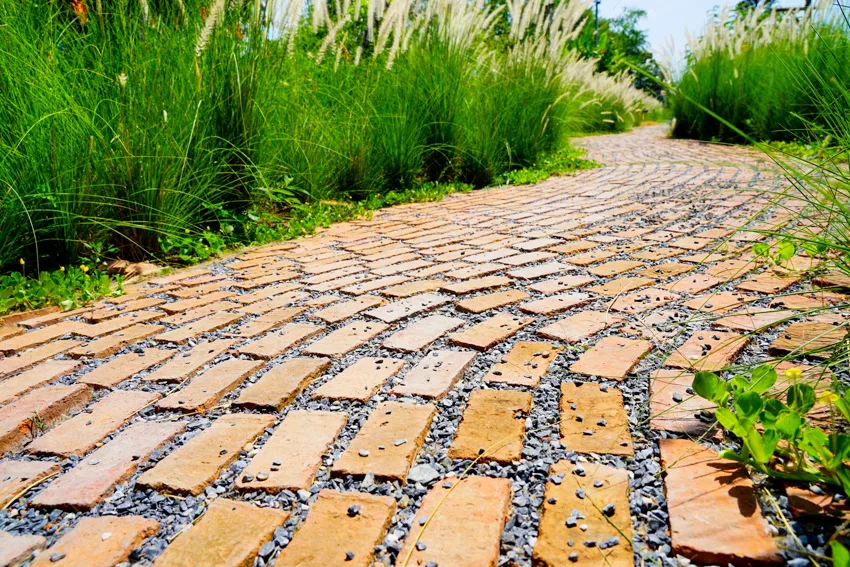 This particular walkway idea uses the jack-on-jack pattern. While not normally used for a walkway, this pattern secured its bricks using stones and gravel.
Running Bond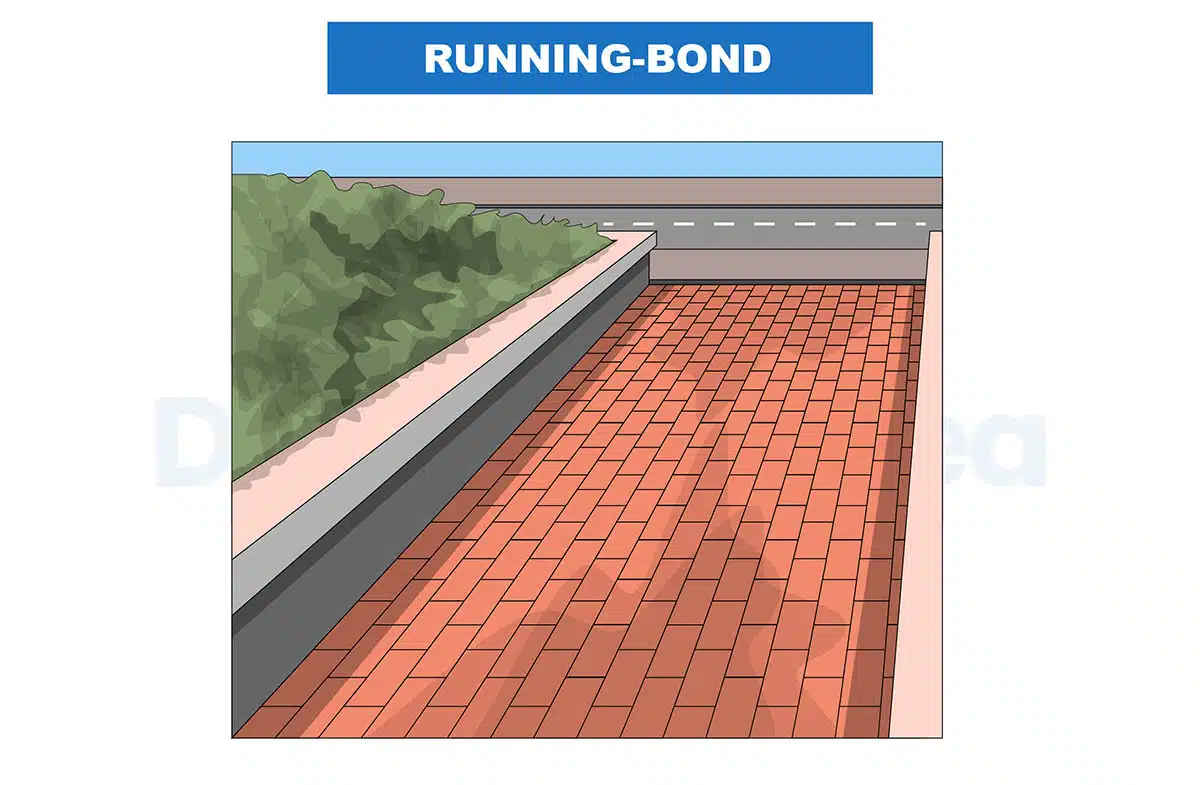 The running bond, the stretcher bond, is a classic pattern good for paving. It follows a 1-over-2 pattern, wherein one brickwork is stacked between two bricks (its simplest version).
The bricks are locked by alternating how they are positioned together. This creates a tight sidepath pattern compared to jack-on-jack.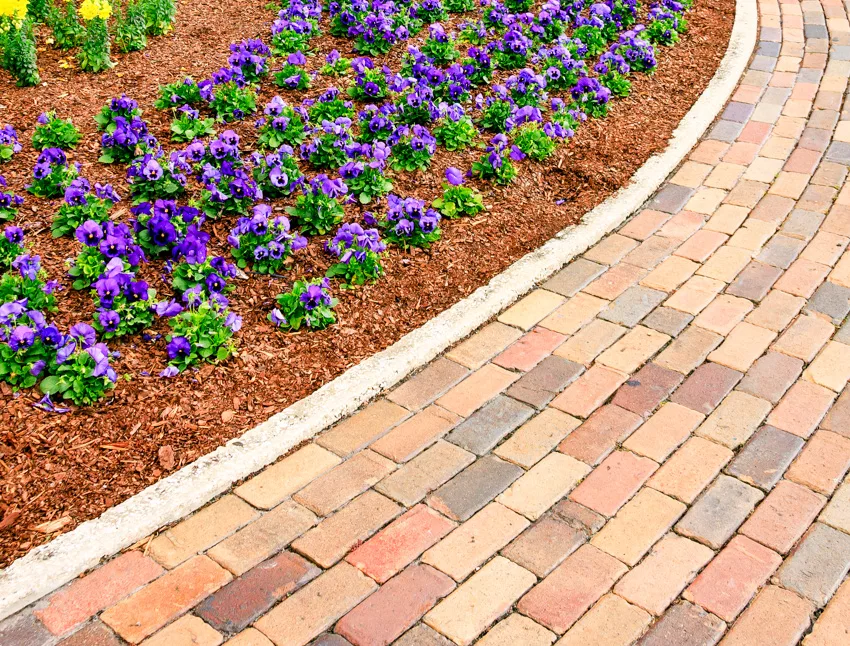 This running bond pattern uses more than a 1-over-2 pattern and random-colored bricks. This crosswalk can easily be walked on without disturbing its pattern if installed firmly and tightly.
Basketweave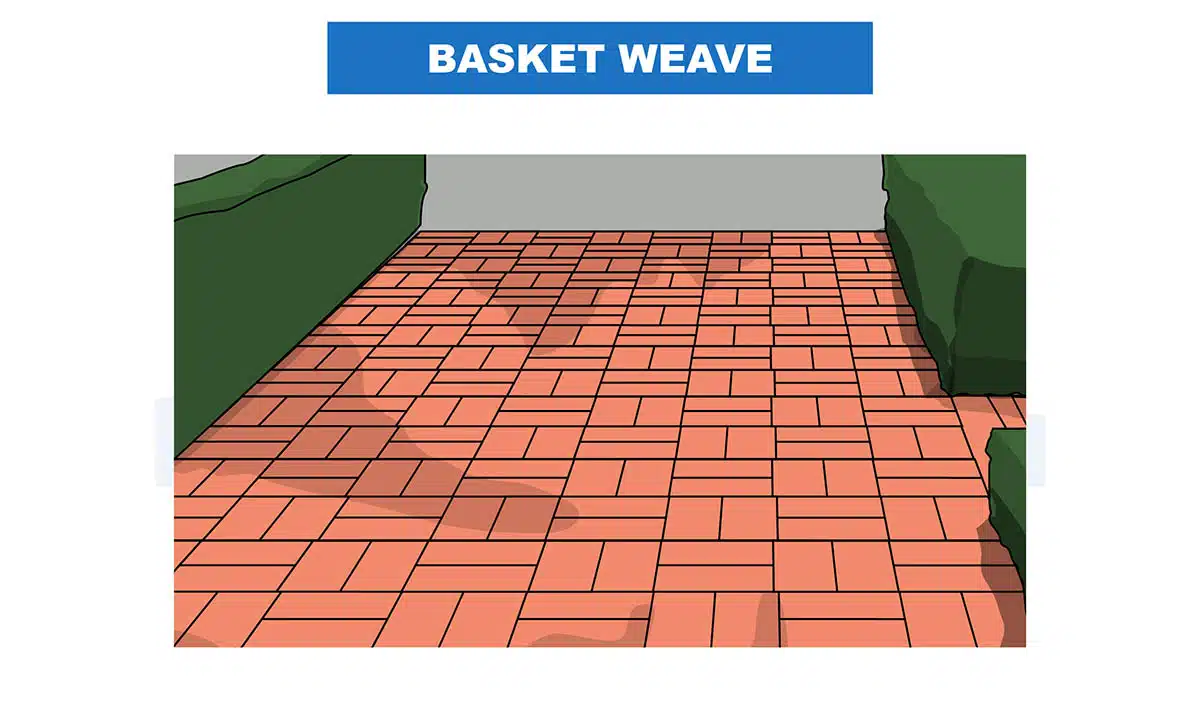 Basketweave is also considered a simple and durable pattern that you can consider. The bricks are arranged where 2 bricks are positioned horizontally, followed by another 2 bricks positioned vertically.
It's named as such because it creates a woven basket look, an ideal pattern for a trail crossing.
The interlocking pattern of the bricks helps reduce the chance of the bricks from shifting over time. In addition during installation, there is really no need for cutting bricks as they are stacked together in a grid. This type of arrangement allows for a savings of time and materials.

Half Basketweave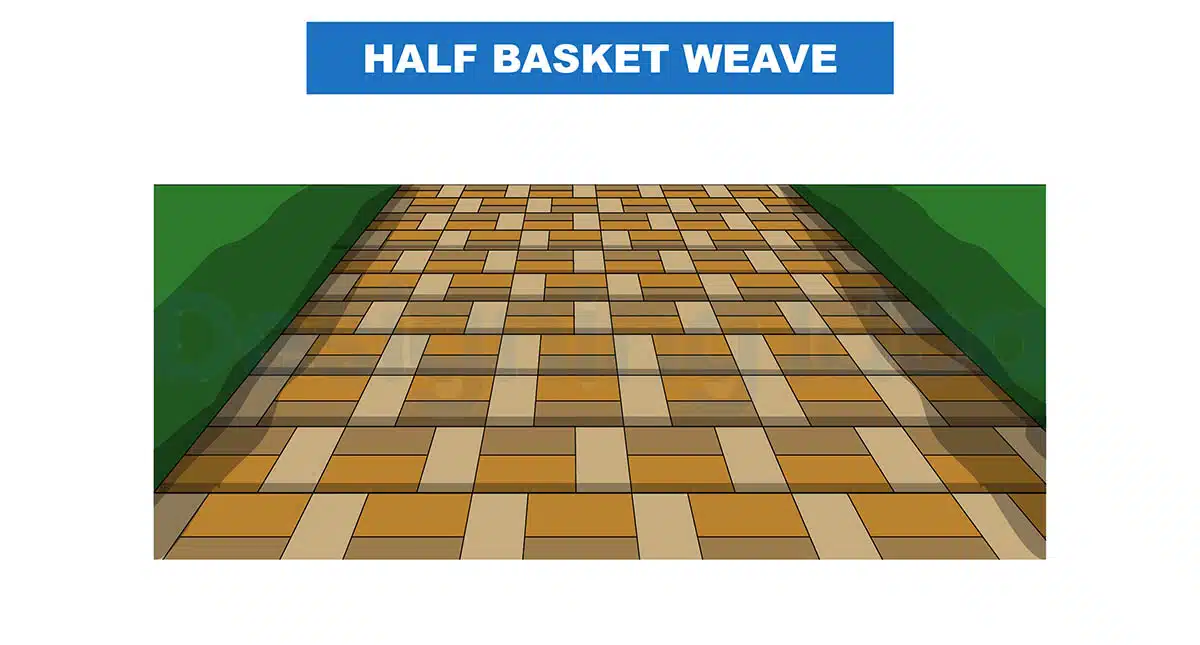 Half-basketweave is a pattern similar to the basketweave pattern, but instead of having 2 vertical bricks, it follows 1 vertical and then 2 horizontal bricks. These 3 bricks are grouped in one square, continuously repeated in the pattern.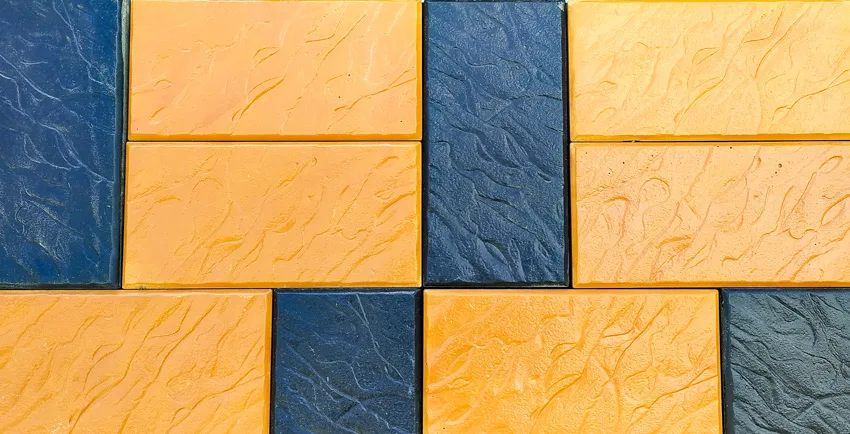 This arrangement offers additional visual interest and can be used for a variety of design styles such as tradition, contemporary or transitional pathways.
Like the regular basketweave pattern, this style requires less cutting, and in turn less products to buy, and easier installation than other styles.
Herringbone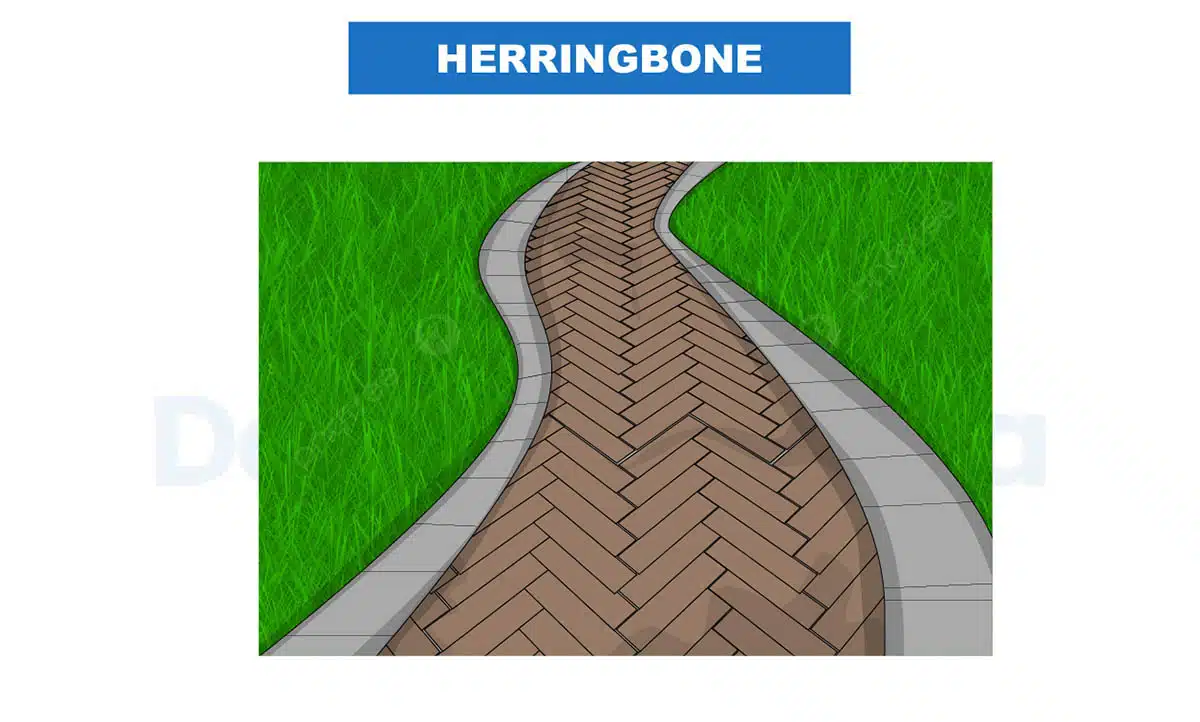 Herringbone is another pattern that is functional in its installation and mesmerizing in its aesthetic value. The bricks are arranged in a zigzag pattern at a 90-degree angle.
Some cut their bricks and customize the pattern at a 45-degree angle. This pattern is even more tightly organized and glued together, making it a good design for walkways and stairs.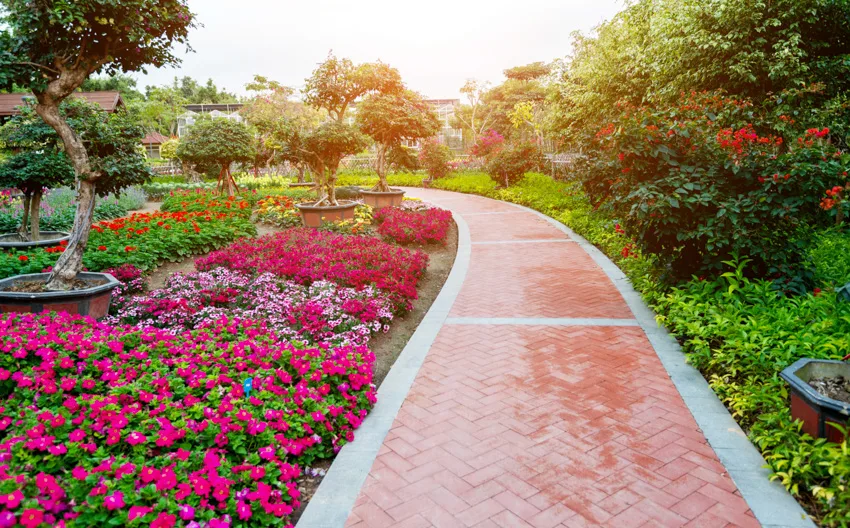 This pavement uses the herringbone pattern, with bricks arranged at a 90-degree angle. To add aesthetic value, the walkway is bordered with cement, and the bricks are grouped in rectangles.
Grid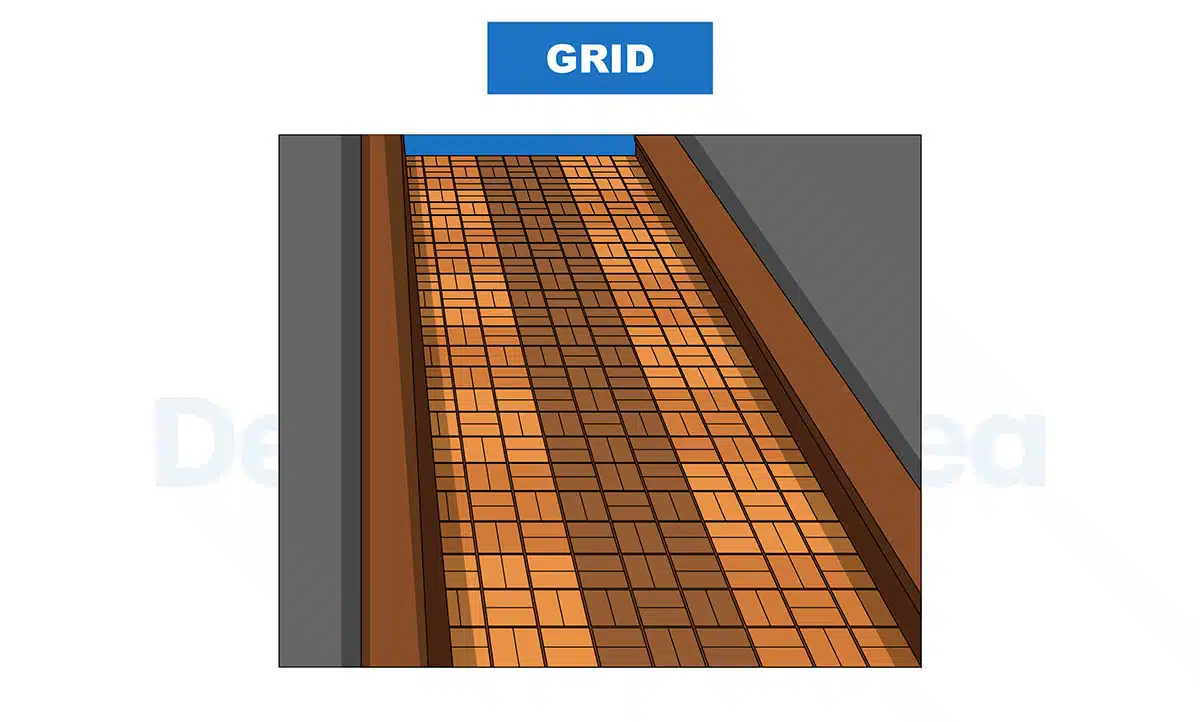 You can also try out the grid pattern, which may seem like the basketweave pattern, but the bricks are grouped in a box of 18 bricks. The first box stops at the third pair of bricks in the row and column.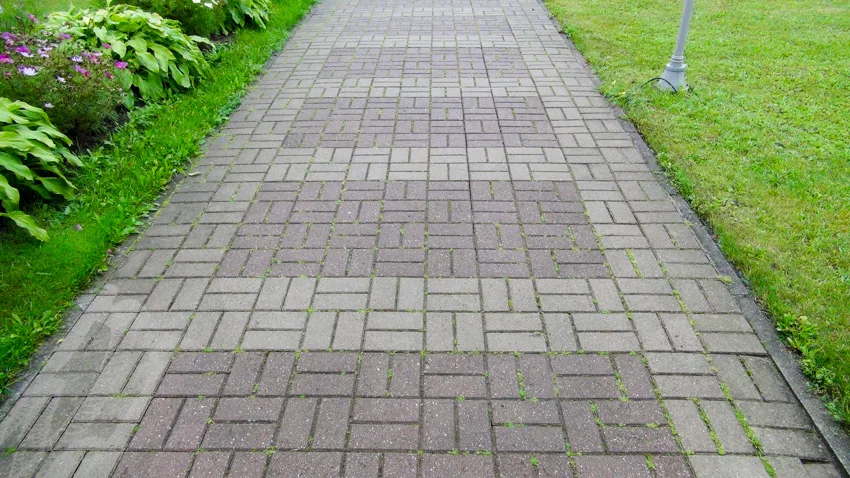 This pattern is a good option for wood timbers, along with the jack-on-jack pattern and pinwheel, which will be discussed next.
Pinwheel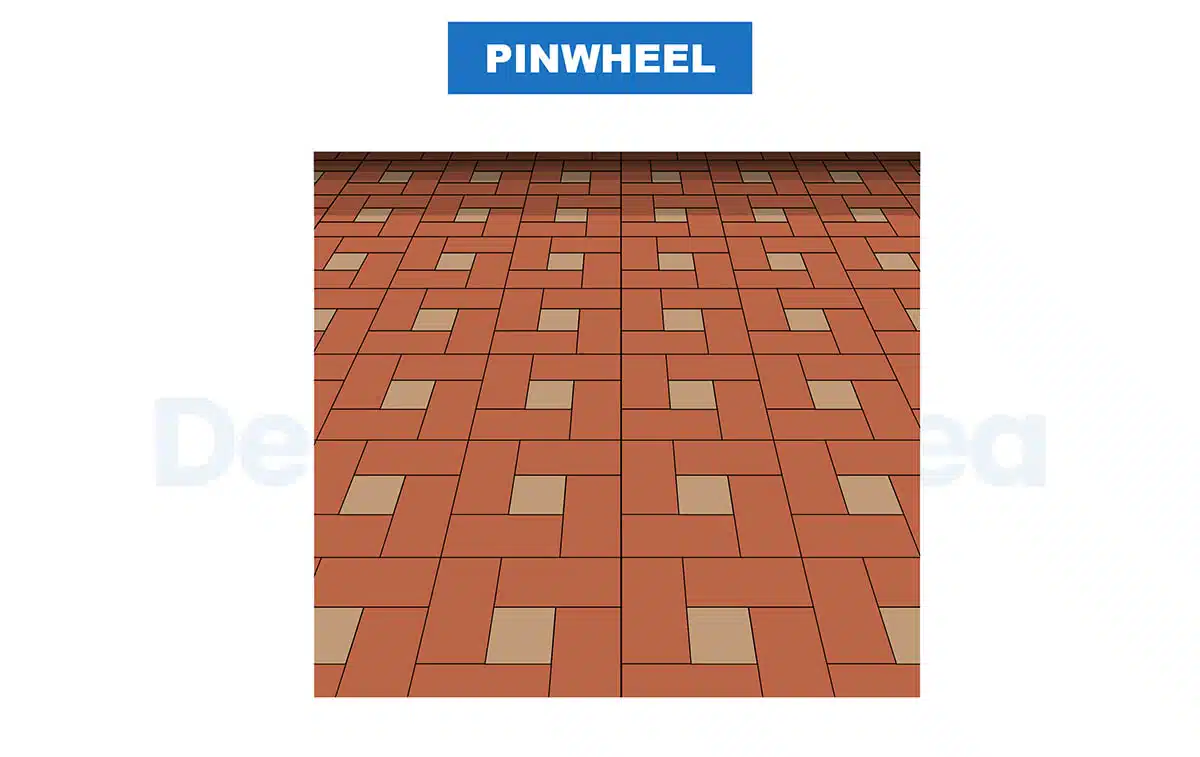 The pinwheel brick pattern is more complicated than the first few discussed patterns. This is primarily due to the brick-cutting skills needed to accomplish the pattern.
The pattern looks like a pinwheel, using 4 whole bricks and 1 half brick (square). The half-brick is placed at the center, with the 4 whole bricks surrounding it in a pinwheel design.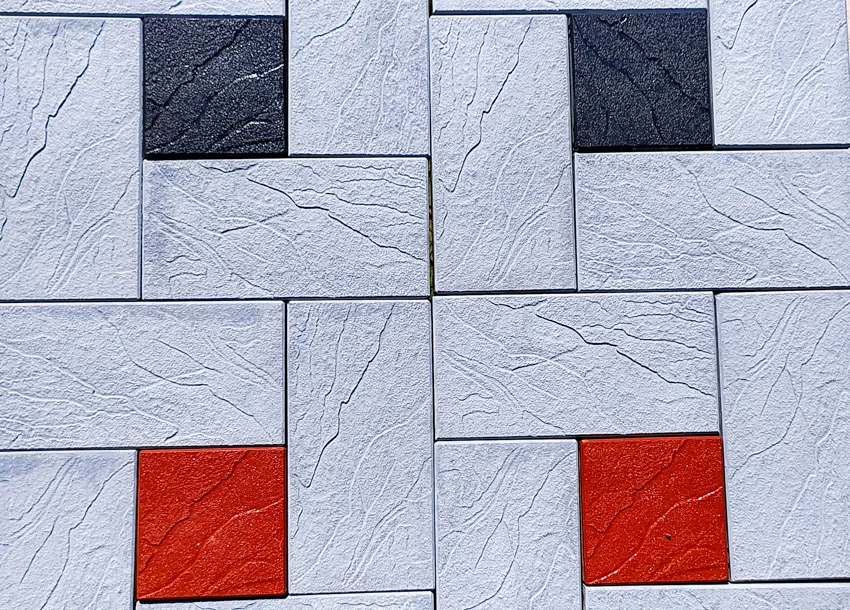 The pin wheel layout is an interesting design especially when used with different color bricks to make the pattern stand out. It offers a geometric style that can be used for the center of a patio to add contrast or a footpath.
Whorled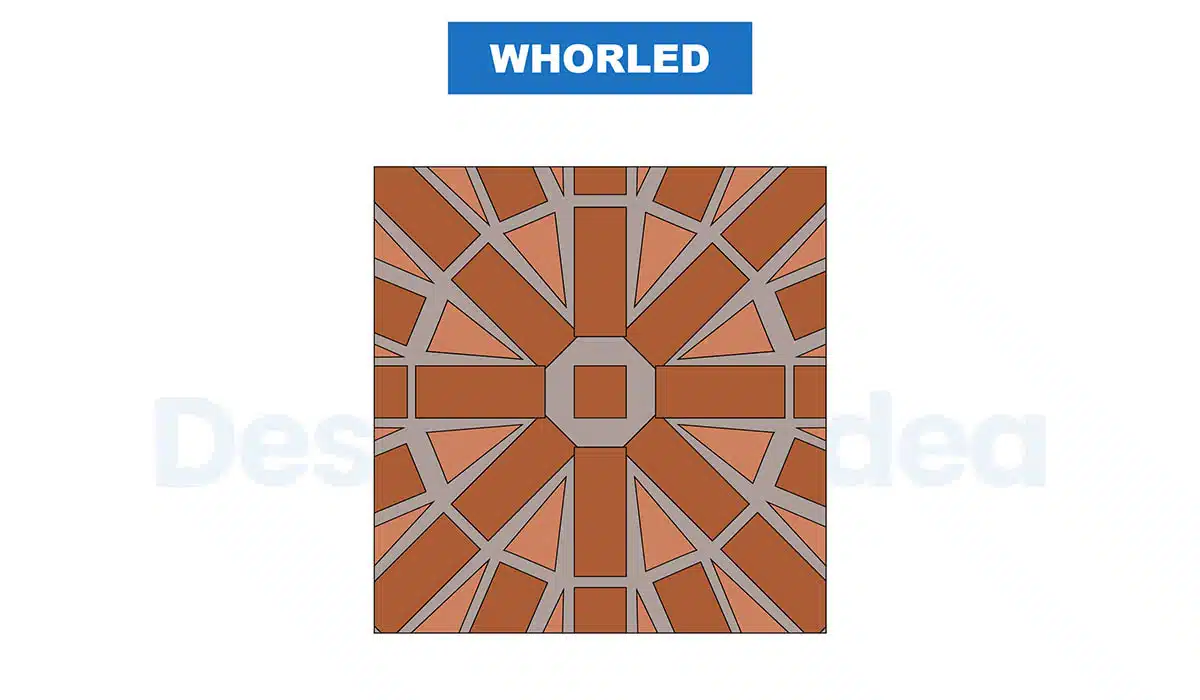 Whorled is a brick pattern considered the most complex among the different brick bonds. The pattern is time-consuming, especially since it doesn't just involve half bricks compared to the pinwheel brick pattern.
There are also specifically-cut pieces of bricks needed to accomplish the whorled look. The installation is also difficult, and it may take a professional hand to install them.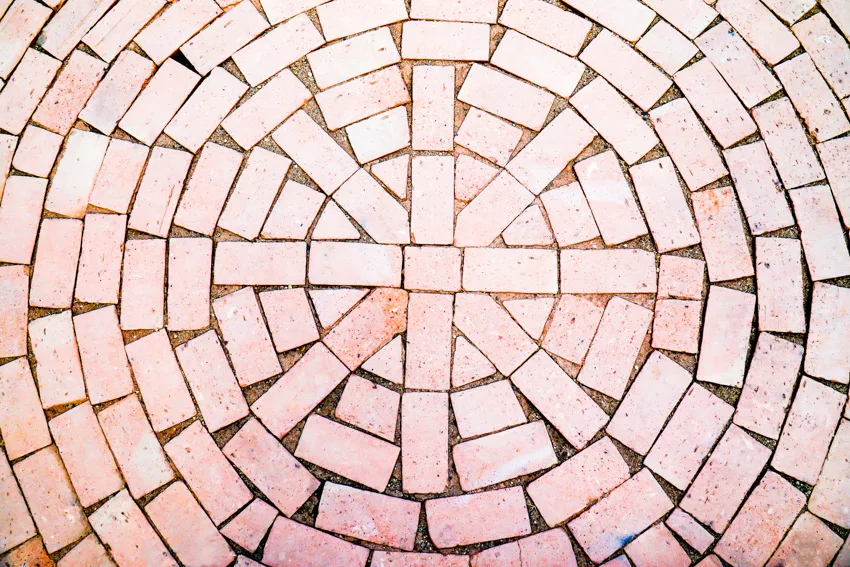 The middle of the pattern is a half-brick with 4 whole bricks around it to form a cross. 4 specially-cut bricks are inserted in the spaces between the bricks in the cross. Bricks would then continue to surround the center circularly.
Brick Materials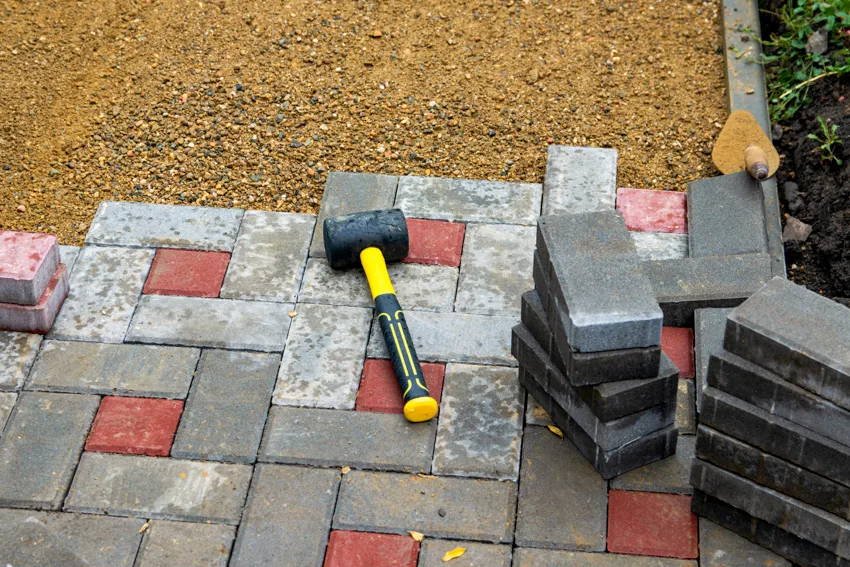 Now let's talk about brick footway materials after discussing patterns. This is another element you must consider if you plan to have a brick walkway.
Red Brick
Also known as clay brick pavers, red bricks are made from clay go way back centuries in ancient homes and yards. This may be the reason why red bricks have this rustic feel to them when used in construction.
Traditionally, red bricks can be brown, orange, or red due to the clay they were made from. Since they are made from clay, bricks are durable because they don't easily crack.
It's a natural and clean construction material. It's the perfect DIY material because it is easy to work around. [Souce: The Brick Industry Association]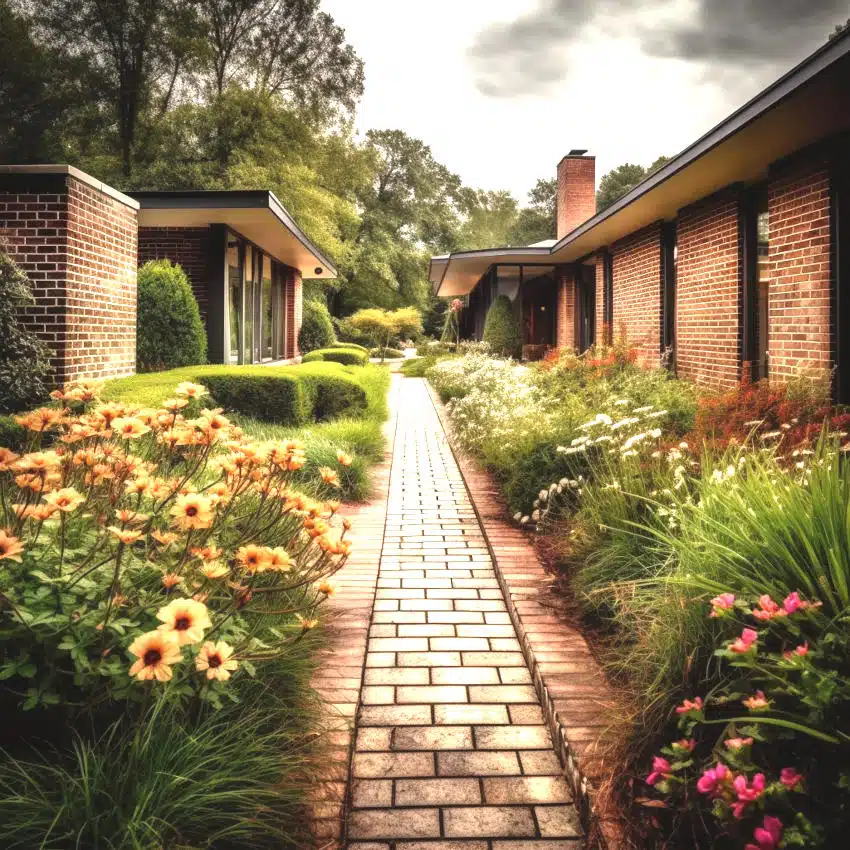 They are also flexible in maintenance, especially since you only have to remove the damaged brick and replace it with a new one.
Due to their colors, red bricks (orange or brown) boldly pop from green lawns, making them great for landscaping and adding aesthetic value.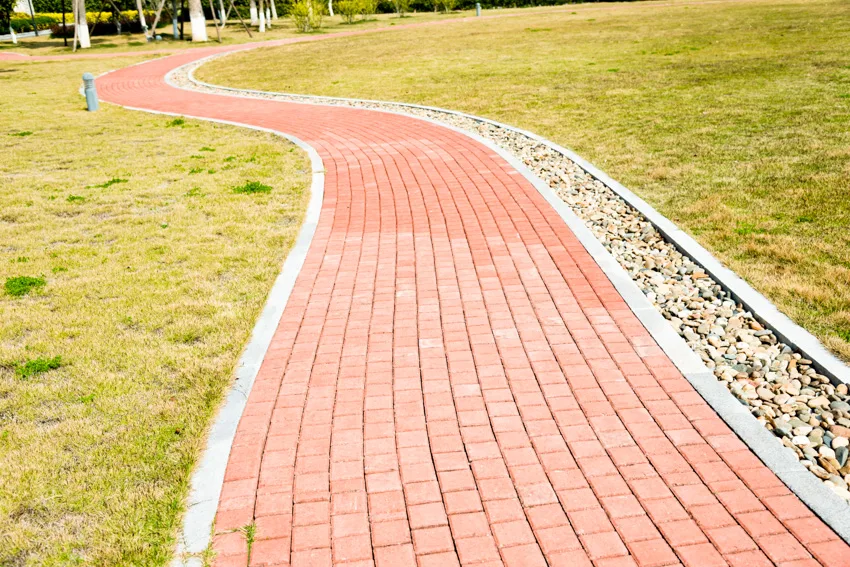 This running bond brick foothpath uses red bricks. The red bricks in the walkway are bordered with cement.
Brick Paver Walkway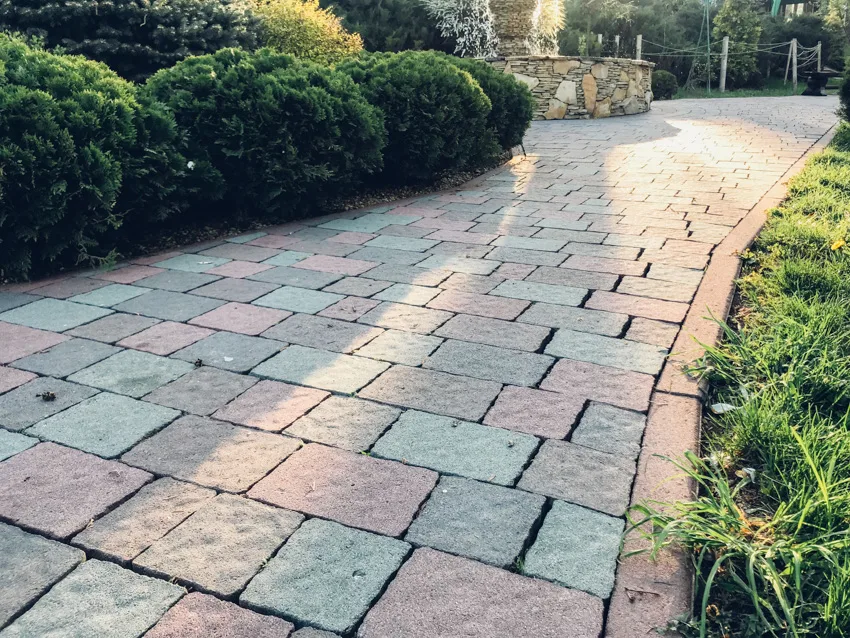 Brick pavers are molded from clay and then baked in a kiln. While similar to red bricks, brick pavers are processed more than red bricks.
They also come in varied shapes, colors, and sizes. And since they are made from natural materials, they are flexible enough to be cleaned and reused.
The downside of using brick pavers is that maintenance must be accomplished frequently, especially since these pavers can easily chip and crack over time and in regular usage.
Brick pavers can greatly reduce erosion, reduce local flooding, and transport contaminants to a storm drain or a local catch basin. [Source: burlingtonvt.gov]
Faux Brick Patio Walkway Paver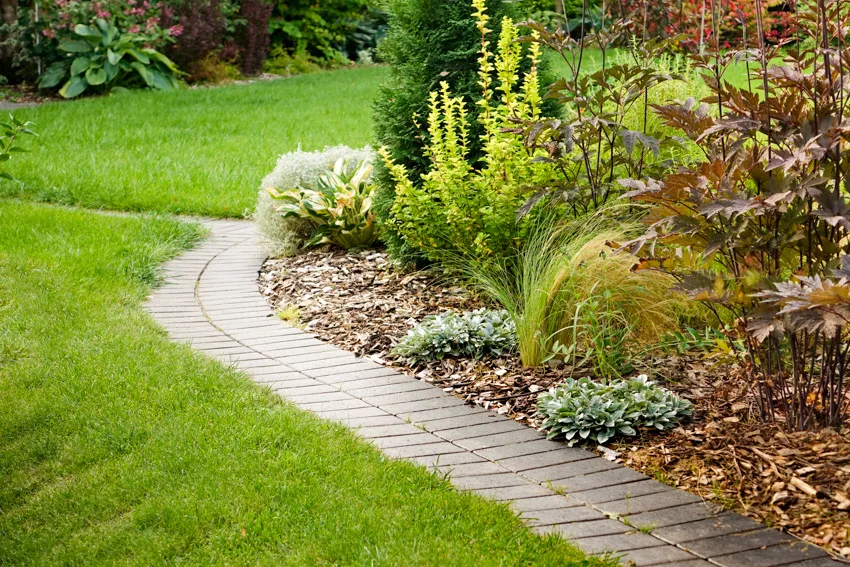 Using faux brick patio walkway pavers is an alternative to red bricks and brick pavers. If you are looking for something of authentic clay, this is not the material you should use.
It might be a good option, though, if you're worried about the weight of the real bricks. You can choose the following for faux brick pavers:
• Brick-look vinyl
• Brick-look porcelain tile
• Faux brick laminate
Brick Cost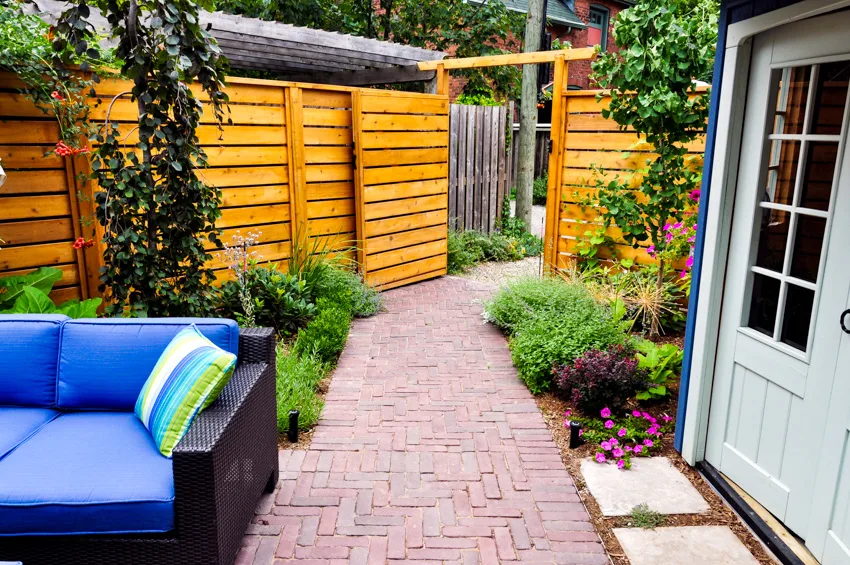 A brick pavement can add value to your home, but will you be able to afford the prices of the materials and labor necessary to build one?
You can choose two options when planning this type of walkway. You can either hire an expert to do it for you or DIY and make a project.
If you plan for a DIY, choose a simple brick walkways pattern like jack-on-jack or running bond. If you hire someone to do the work for you, ensure you can afford their services. See more paver patio ideas here.

Brick Cost Per Square Foot for Walkway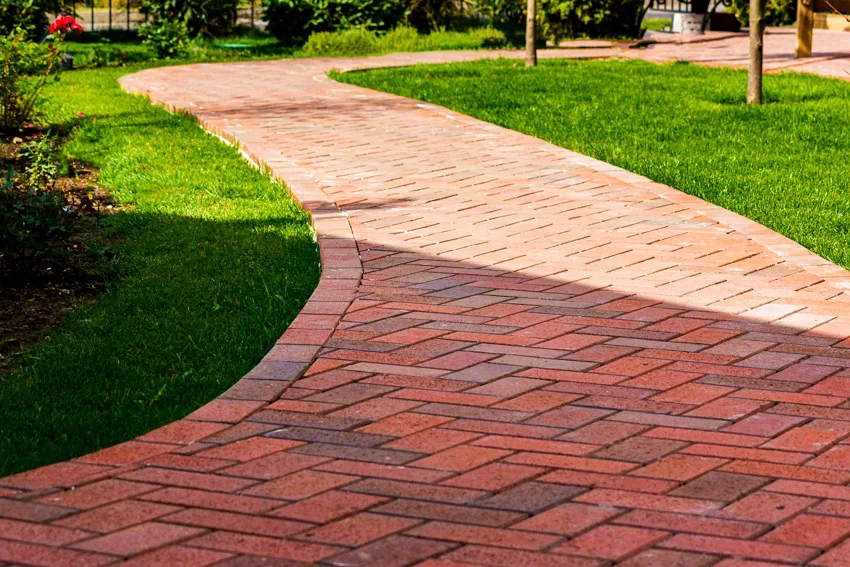 When considering the cost of your brick walkway, what factors are involved? The brick materials, design, and labor will affect the cost. And, of course, your location may also affect the cost.
In general, though, here are the costs we're looking at:
• Materials (brick cost): $0.5 to $3.50 per brick
• Professional charge: $8 to $15 per square foot
• Complex design: additional $30 or more per square foot
And depending on the design, more complicated ones cost more because of the additional bricks from twists, turns, and specialized cuts.
Here are some other considerations when building your brick walkway.
It should not conceal any existing fire hydrant in the area.
Before digging and paving your brick walkway, check for a utility pole. Contact your local utility company to help locate any buried electrical lines that might get damaged by the digging.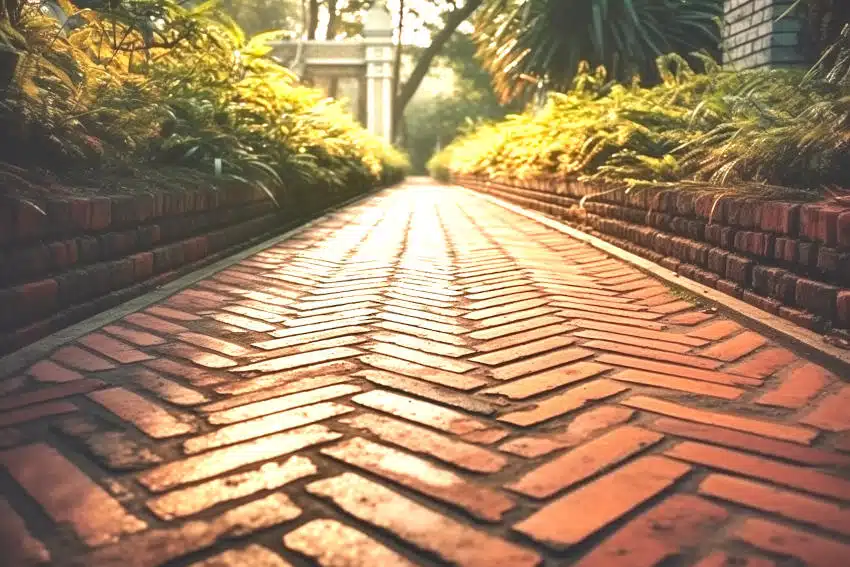 A wheelchair-friendly walkway with a ramp should ideally have clay bricks. Ensure your tiled pavement installation does not hinder mobility, especially around the wheelchair ramp area
Make sure that the location of your brick footpath is far from any tree, manhole, street light, or mail or newspaper box so you won't make any unnecessary adjustments to your design or acquire any violations from your local public works agency.
Brick Edging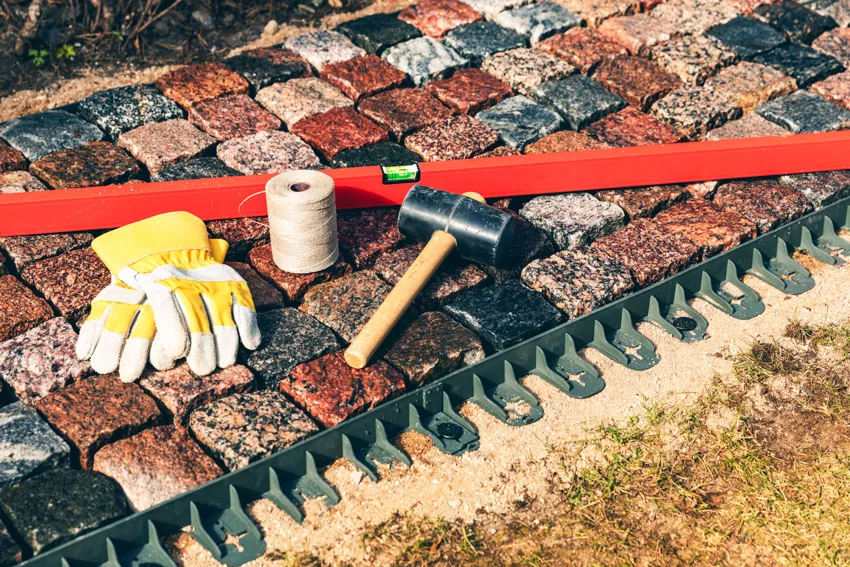 Brick edging refers to creating a foundation and border for your brick walkway. This is highly needed, especially since bricks would need a firm base to be installed properly without the future possibility of movement. Here are some types of edging options for a walkway made of bricks:
Wooden Beams – effective except for curved walkways
Plastic Paver Edging – effective for both straight and curved walkways
Metal Edging – effective and more practical since it's more resistant and durable (either steel or aluminum)
You can choose from these three options what kind of edging you want your walkway to have.
Walkway Ideas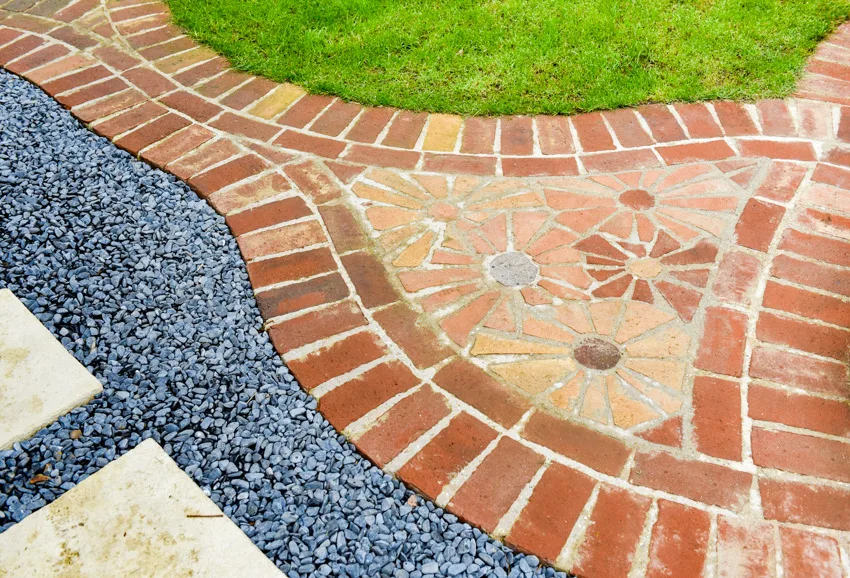 If you have no idea what kind of walkway style can work for your home, we have a few ideas you can skim through.
A flagged walkway's role is to create opportunities for a good flow of movement in the yard. And, of course, as some aesthetic value to your home.
Before diving into these ideas, though, make sure you know the size of your yard and who will often use the walkway.
Will bikes be rolling on the walkway? Before considering design and ideas, clearly envision how your brick walkway will function.
Painted Brick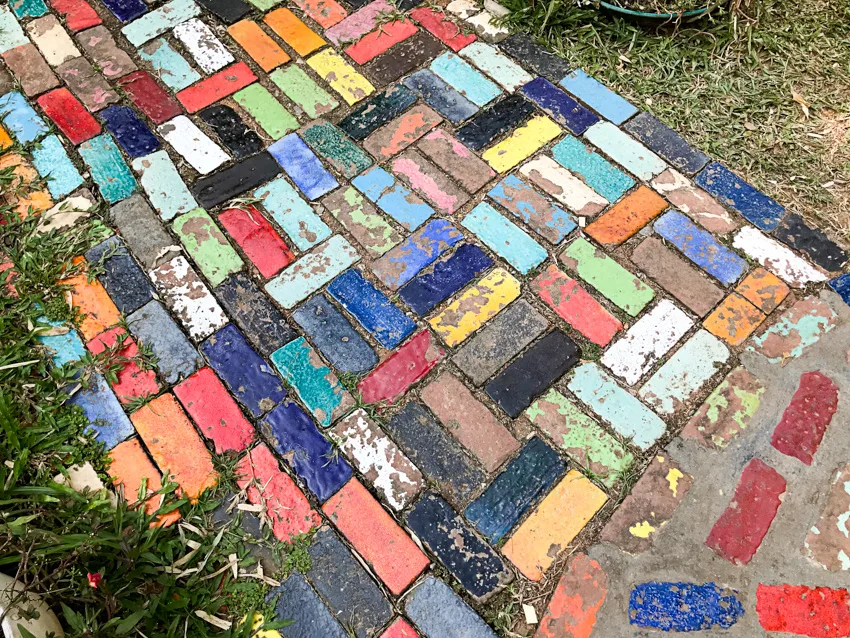 A painted walkway offers a more flexible approach to styling your walkway. You won't have to depend on the natural colors of the bricks since you can paint them over! It is even the solution to an aging footpath if you want it to look new.
"A modest brick paving project is a great way to add character to your home – without breaking the bank or calling in a landscape professional." – Popular Mechanics Magazine
This walkway is more durable and flexible in style. It also adds to the holistic aesthetic curb appeal of the year. If you choose a painted walkway, though, it will somehow lose the rustic feel that the authentic color of clay bricks provides.
Curved Brick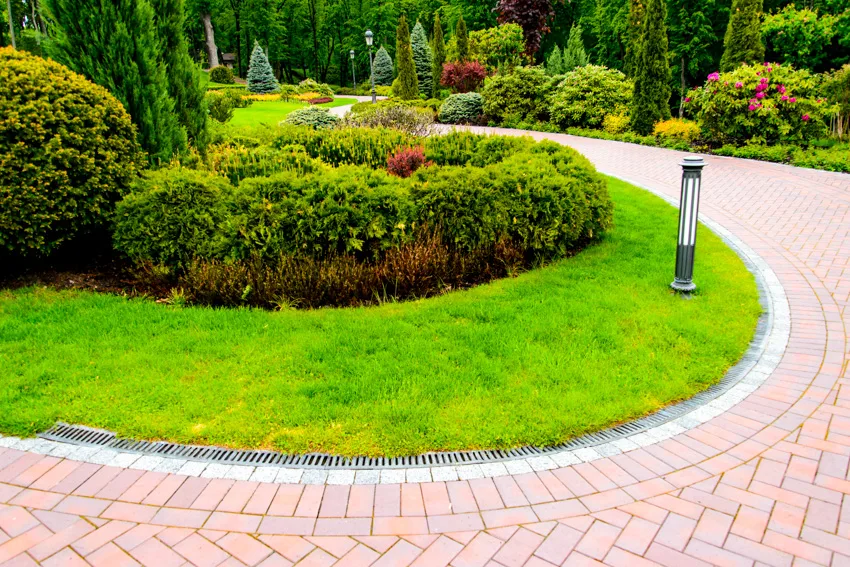 A curved brick footway is another option to consider, and it can be a fun and cool addition to your home. You would have to make sure that there is a curve in your yard in the first place.
One example of a curved red block walkway is a serpentine footpath. This will require a spacious yard, though, or a large garden.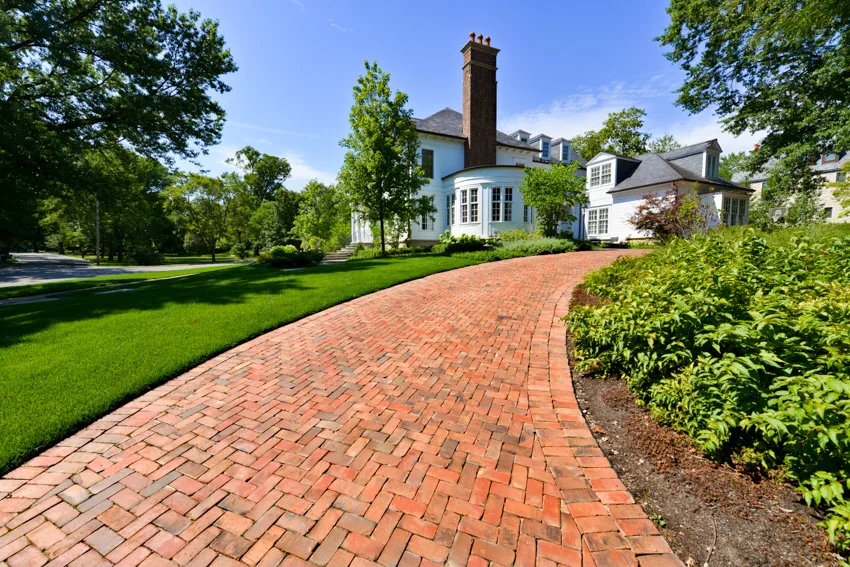 This walkway has a herringbone pattern that's pleasing to the eye and, at the same time, works well with a curve.
Concrete and Bricks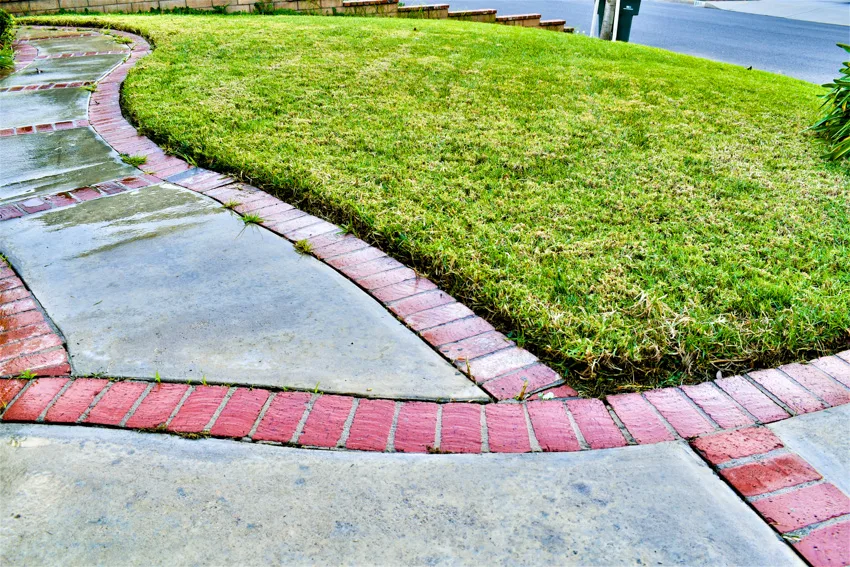 In considering a concrete and baked clay walkway, ensure that it is first the ambiance of your yard, garden, or wherever you plan to install the walkway.
Concrete is more affordable, flexible, and easier to install. Mixing concrete with red pavement blocks can be a good combination.
This specific walkway can be less expensive than other adobe walkways. Having concrete added to it can also have a rough appeal, so make sure it matches what you have at home.
For more details about these two materials, we have compiled an article comparing pavers vs concrete patio here.

Interlocking Brick

You may also want to try interlocking brick walkways for your home. These walkways will require more space to accommodate their design.
Through these pavement walk, you can divide your yard into different sections. If you plan to use it for your garden, you can divide flowers and bushes with them.
Interlocking concrete pavers are often used instead fired clay blocks as they are less expensive. In addition concrete pavers have a larger assortment of products available and have a more consistent appearance.
On the downside though concrete pavers have a shorter life span than bricks and are more prone to staining and can chip or break much easier especially with heavy use.
Brick Garden Path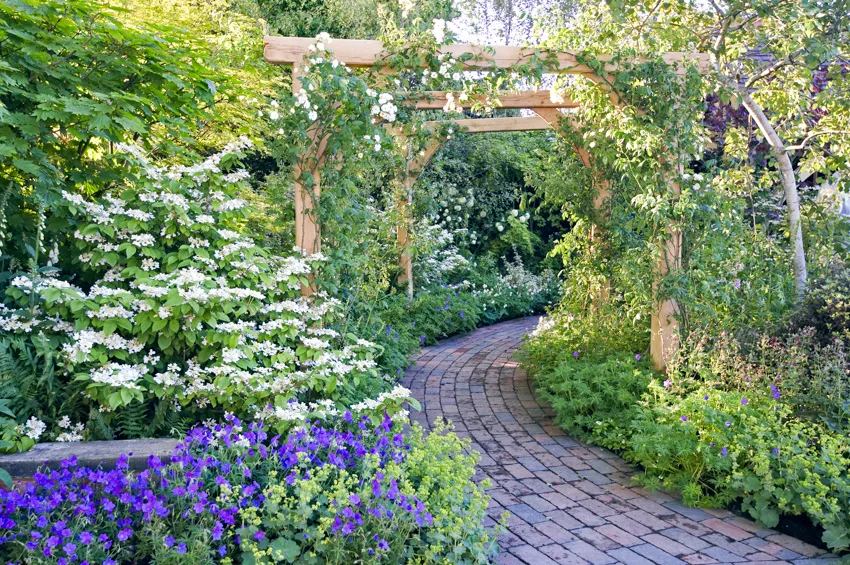 With a stonework garden pavement, you can enjoy its minimalistic design, allowing your garden's beauty to shine. You can even include a bench you can relax on whenever you visit the garden. With this idea, the limit is your imagination! (And your budget as well!)
How to Lay a Walkway with Bricks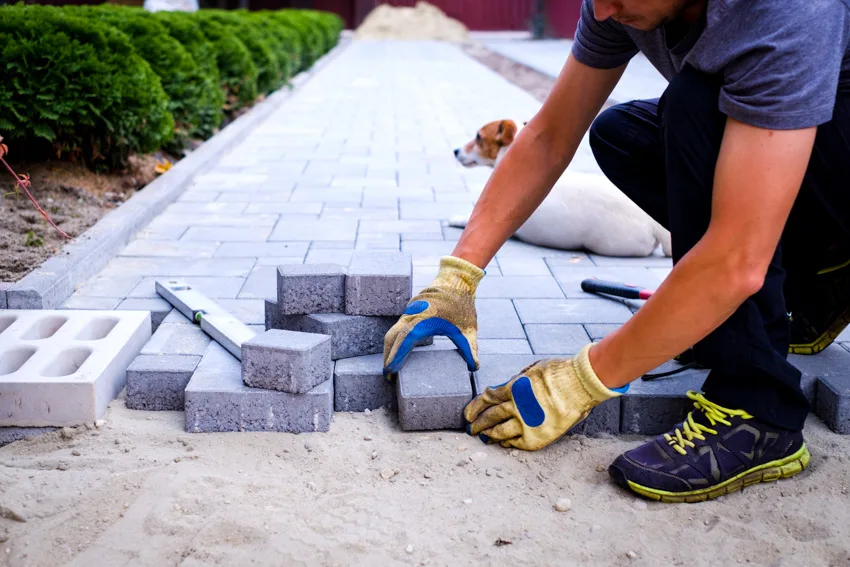 If you are set on making an effort and DIY a flagged footpath for your home, you need to know how to do it. You can't just miraculously turn mud into a rustic-looking walkway like magic. You need money, effort, and knowledge to do so.
To start with, here are the factors you need to consider: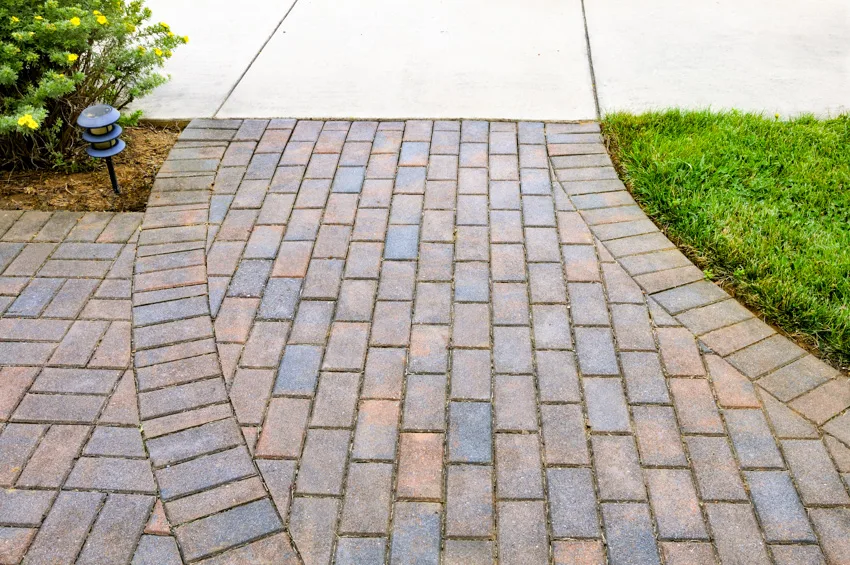 Brick: Make sure to take into account all elements under it, including:
• Size
• Material
• Color
• Pattern
Paved Sidewalk Border: What kind of border do you want to use for your walkway? You can choose a temporary or permanent border depending on your budget and preference.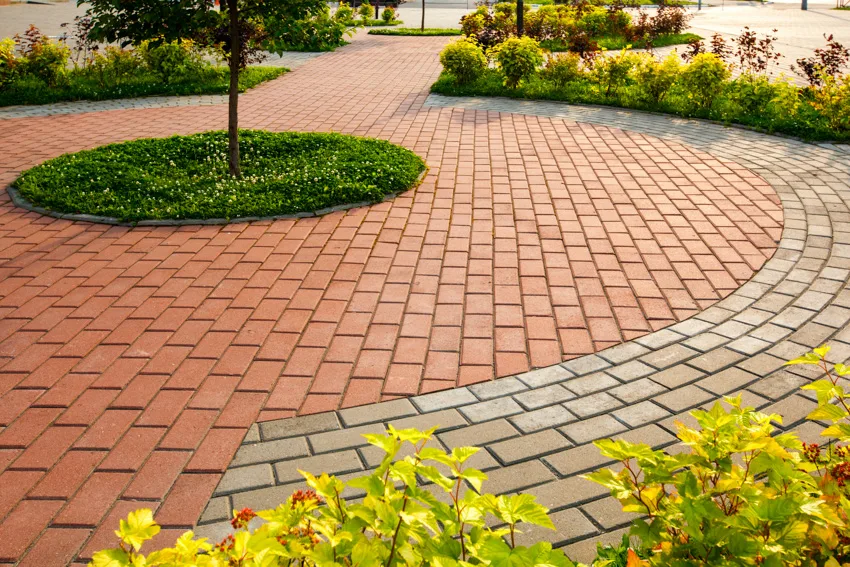 Brick Path Location: choose a location where the side path won't be too narrow or too wide
Here is the summary of the steps to follow when laying a brick walkway:
1. Dig and excavate the soil. (A bobcat skid steer can be worth the price rather than using a shovel on hard ground.)
2. Fill the hollow depth with a graded base.
3. Compress it and repeat the process until it reaches 3 to 4 inches in layers.
4. Add a sand layer.
5. Grade the path for drainage. A two percent slope away from the house will prevent water from accumulating.
6. Use stakes and a string line to plan the edges and level the path layout.
7. Slowly lay the block edging. A steel edging can help keep the pavers in place. Alternatively there is plastic edge or you can use brick sides.
8. Fill in the field and begin laying the bricks following the pattern between the edging.
9. Start laying the top of the bricks with sand or stone and fill the joints thoroughly to prevent gaps.
10. Use a garden hose to rinse off the excess material or an air compressor to blow it away.
Hiring a professional contractor may be best if you feel like following these instructions is too much. If you like DIY projects, this might be your next perfect project.
However, an experienced contractor can help determine the requirements and regulations of your project, operate heavy equipment needed, problem solve, and answer your questions regarding your backyard plan.

Brick Pathway Maintenance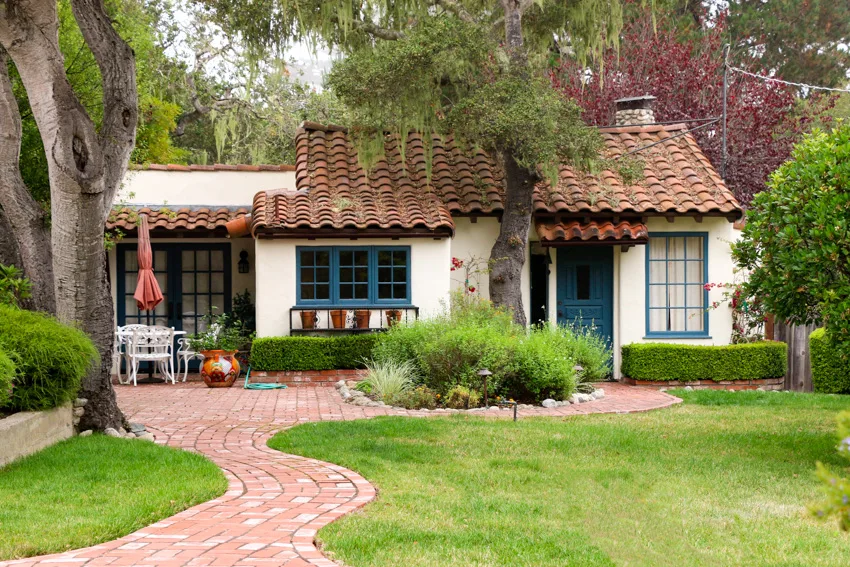 You must learn about walkway maintenance if you plan to install one in your home. It's not surprising that after installation, it will look incredible.
After a few years, you must maintain it to prevent maintenance issues, and keep its look and value. Here are some of the ways you can maintain a structural block walkway:
1. Power wash the surface of the bricks of your walkway. Don't forget the gutter if there is one. (Make sure to use a proper surface cleaner.)
2. Stop and avoid weeds from growing between your bricks – using polymeric sand rather than regular sand and filling the joints between the bricks with it will make this possible.
3. Track and keep the sand in your pavedwalkway than in any other part of your home.
These are only examples of what you can do for your walkway. The first step is to gain enough knowledge to care for the bricks and the walkway around your property. You should also learn how to clean the walkway properly.
How To Clean Brick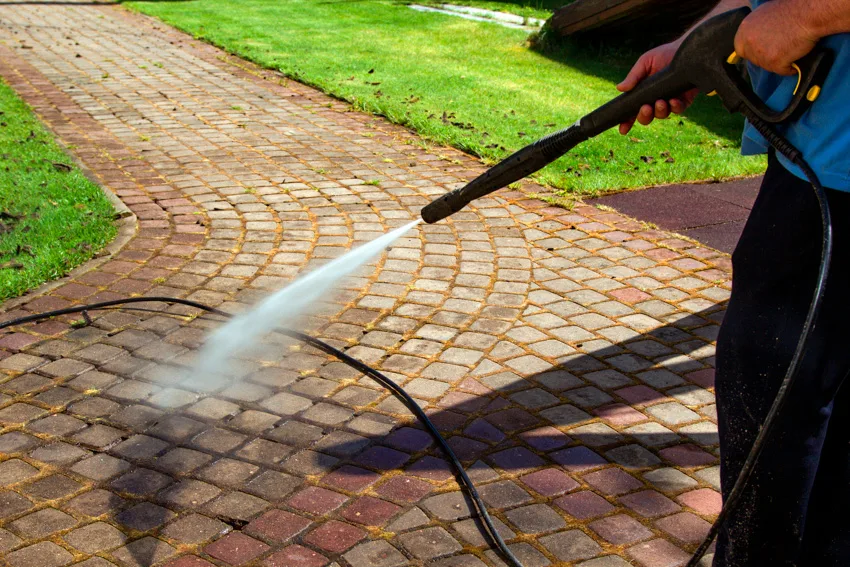 Let's face it, you can't just sweep your walkway and assume you've done your part in cleaning it. Should you sweep the sand off the walkway? How will you keep the kiln-baked blocks clean and at their best?
If you know how to take care of and clean your paved trail, it can last for a long time. Here's some information about ways you can clean your paved pathway:
Sweep off dirt (and not clear off your walkway's sand).


Make a habit and routine out of cleaning your walkway. (Move items like the grill or smoker to thoroughly clean spilled grease or debris spilled from the cooking grates.)

In case of liquor and oil spill, use something absorbent to pick it up.

Conduct power washing periodically to return the terracotta blocks to their original look and shine. (You can hire a landscaping contractor to do this task.)

Fill or replace sand using a broom on the

stonework path

now and then.

Avoid sandblasters and muriatic acid.

Sealing the brickwork pavers will help them maintain their beauty and prevent discoloration for extreme temperatures and mold and mildew.
By following these tips, you can ensure your paved pathway is constantly free from dirty elements. Doing so will offer better results and help it last longer.
See more related content in our article about the different walkway ideas on a budget on this page.