Pavers vs concrete patio design guide including pros and cons, cost and which one is best for durability, maintenance and installation.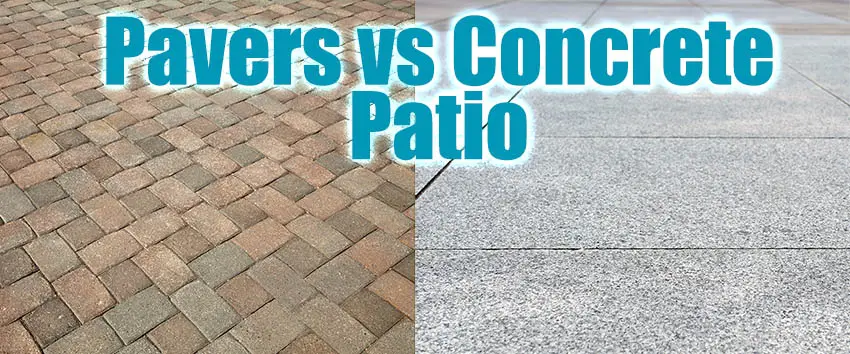 When confronted with which type of building material to use for your driveway, walkway, or patio, the most popular materials and options are pavers and concrete.
Pavers are available in a variety of shapes, styles, patterns, and colors giving homeowners and designers many different choices to create a unique patio that compliments your home and landscape.
The natural form of concrete is considered cold, drab and unappealing, but a concrete patio can be painted, polished and finished to resemble other types of building materials such as natural stone, wood, brick and tile.
If you are planning on renovating or installing a new patio this guide can help you figure out whether pavers or concrete are the right choice for your outdoor living space.
What are Paver Patios?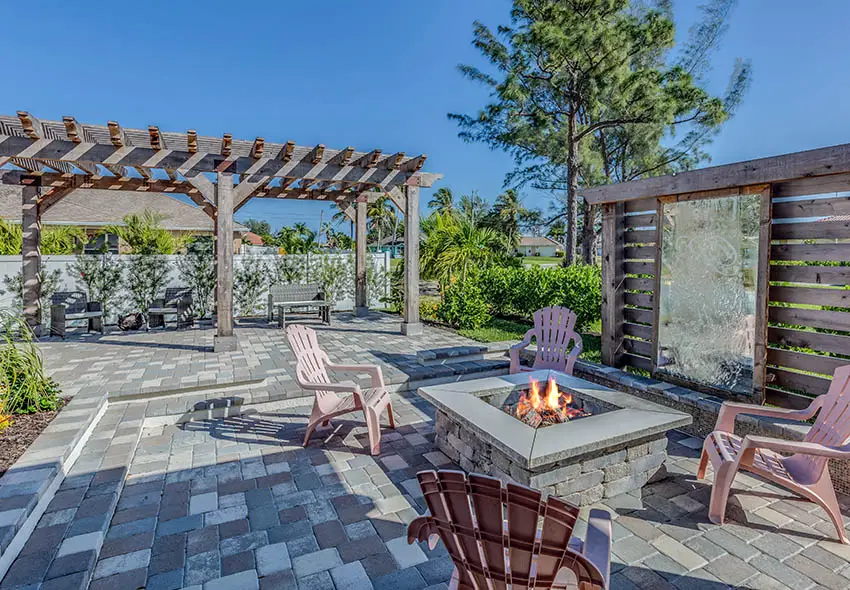 Paving stones or pavers are slabs and blocks made of natural stone such as flagstone, marble, travertine, porcelain, brick (clay), rubber and even plastic.
Pavers are used to create driveways, patios, pool decks, walkways, or pathways, which are used as an alternative to concrete for such projects.
Paver patios are made with various colors, textures, patterns and usually are small pieces of various sizes and shapes. Typically paver patios are constructed with many pavers with joints filled with sand or a poly sand materials which helps keep the stones in place.
Pavers Pros and Cons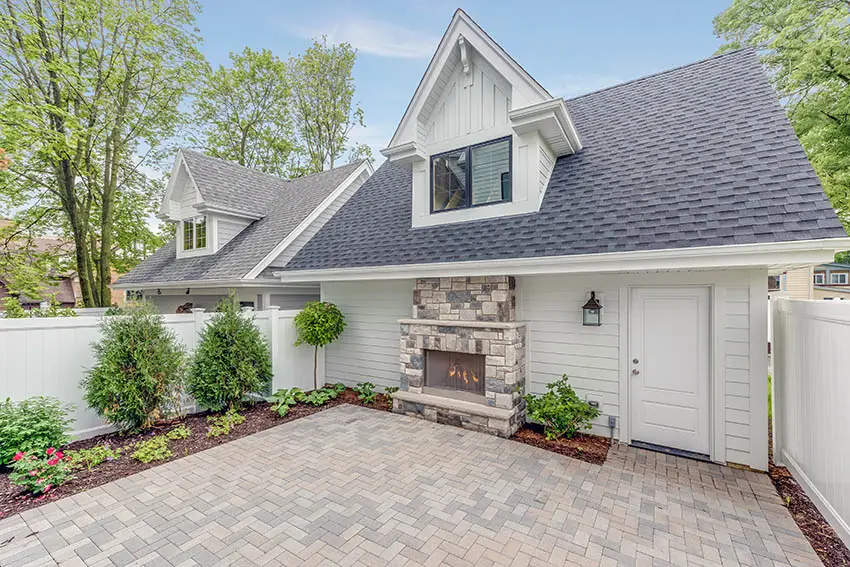 Pros:
Durability, Strength and Flexibility
These pavers are installed in an interlocking pattern and creates a flexible and strong pavement system.
Pavers are not prone to cracking or breaking due to their interlocking joints and can even assist in water drainage. Due to their flexibility when installed properly, pavers can last more than fifty years.
Pavers are also designed to withstand temperature fluctuations; this is one reason why pavers are better used in places which has varying climates and seasonal changes.
Maintenance and Repair
Stains on pavers are less noticeable due to the patterns that disguised them; most stains can be cleaned easily with soap and water.
Repairs on a paver are seamless and much easier to do – the simplest way to repair paver it to crush it with a hammer and break it out of the ground and replace it with a new one, just like replacing a small piece of a jigsaw puzzle.
Sealers can be applied to protect the pavers from environmental wear and tear and to make maintenance and cleaning easier.
Cost Benefits
Due to the benefit of an easy repair and recycle solution that of the pavers provides, this process of maintenance and replacements costs significantly lower than other types of paving materials such as concrete.
Versatility and Environmental Responsibility
When it comes to design, there is no end to the paver's architectural style, shape and pattern. Since pavers are made from natural material they will not lose any of their color or finish easily.
Pavers also will last for a long period of time and its color will not be affected by any form of ultraviolet light – which means that using pavers is a very good investment and helps appreciates the value of your property.
Pavers Cons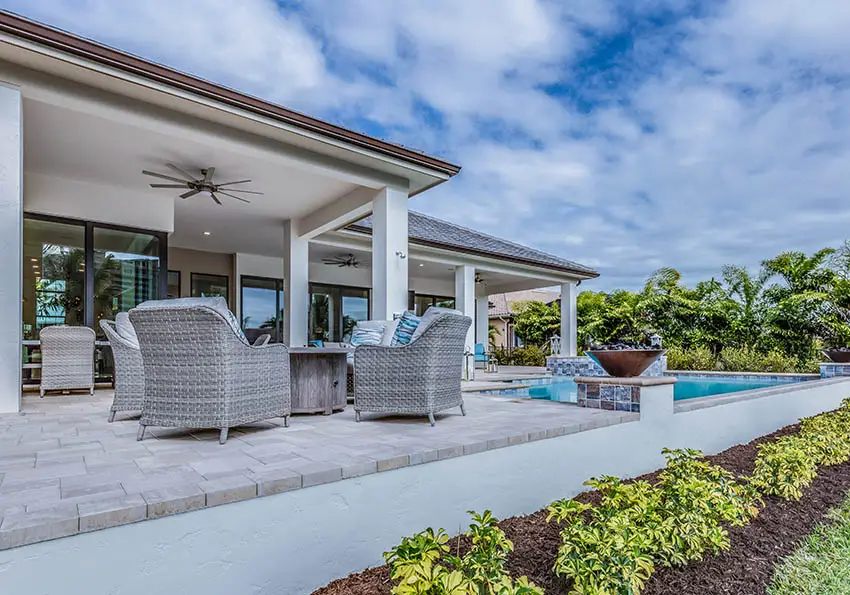 Longer Installation
Installing interlocking pavers is harder since it needs more leveling and groundwork to be done and often has custom dimensions to follow. When laid for the first time, the pavers are locked together tightly; but over time they may begin to loosen and separate from each other.
Higher Upfront Cost
The initial cost of a paver installation may be higher than other options due to the cost of leveling and laying foundations; that is why pavers are best suited for even ground.
Another cost factor is the building materials and equipment needed to install a paver patio and of course, when you opt for high quality and costly options such as decorative stones and toppings on your pavers, the cost may end up with more than 50% upfront investment cost.
Grow Weeds Over Time
Since paver are built from individual small pieces which forms numerous slits between those individual units which are filled with sand upon installation.
These sands are easily washed out by rains or during regular maintenance washing, thus making it possible for weed seeds to settle down in these slits and over time, these weeds can take over the pavers and can damage the pavers in the long run.
What is a Concrete Patio?
In the construction industry is the most commonly used structural material used as the foundation for most structures.
Concrete is made of aggregate (usually sand and gravel) that is mixed and bonded together by cement and water and used in construction through the use of structural concrete, slab construction, stair construction and other architectural features.
Concrete is also the most popular patio material because of its different decorative finishes and unlimited design potential.
Concrete patios provides a seamlessly blend between the interior and exterior living space, since concrete are the perfect decorative flooring surface for outdoor entertaining area such as outdoor kitchen and living room, outdoor fireplaces and water features.
Concrete patios can also be stamped, stenciled or have engraved patterns that mimic other popular paving materials such as bricks, flagstones, slates and tiles.
Concrete Patio Pros and Cons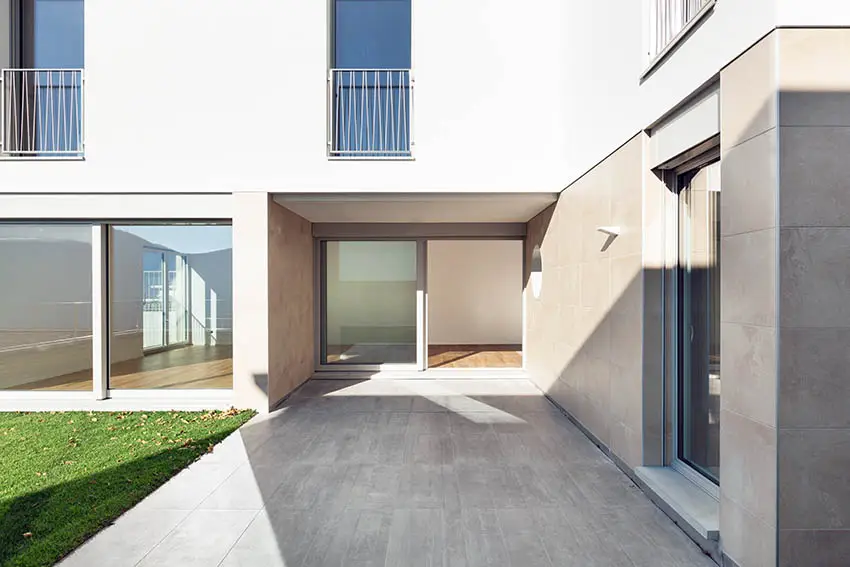 Pros:
Versatility of Concrete Patio
The advances in coloring techniques, dyes and stamping tools have contributed much to the design versatility of concrete patio.
With the variety of stains and other coloring methods and options available nowadays, make it easy to achieve just about any hue to match or blend with the natural landscape of your house and compliments the indoor living space.
There are also a variety of pattern and design options such as stamped patterns, stenciling, engraving, exposed aggregate and more to create a surface that blends with the interior décor as well as the outdoor landscape.
Durability and Strength
Concrete patio's is also highly durable and can stand extreme weather conditions. Concrete patios won't ever rot, warp or sink, and it is completely fireproof.
When installed with proper curing, accurate reinforcement, having good drainage and control joints, these factors can prevent concrete slab from random cracking.
By using a lot of steel and an addition of rebar in a 2 feet grid, will make a poured concrete highly durable, stronger and will last for decades. Concrete slabs are tough, resistant to impacts and withstand up to 2,500 PSI which forms a strong and solid base for any outdoor activities.
Maintenance
When compared with other masonry paving materials, concrete is easier to maintain because of its solid surface and saves you the labor of staining and resealing yearly.
Concrete is also invulnerable to termite or insect infestation, wood rot, mold, splintering and won't harbor weed growth. Simply sweep the concrete clean and occasionally wash it down with water using a garden hose.
Value
Initial cost of a typical concrete patios are more affordable due to the lower cost of raw materials and cheaper labor. Concrete can be stamped, engraved, stenciled or apply texture to resemble natural stone or brick paver at a fraction of the cost.
Eco-friendly
By using locally produced concrete patio marks a low environmental footprint, since it saves lumber and eliminates the need for regular maintenance using solvent-based wood stains and sealers. Using concrete patio allows you to use recycled materials such as metal fibers or demolished concrete.
Concrete Patio Cons
Safety
In places with frequent rain or cold winters, the risk of slipping and falling can be heightened by presence of water or ice on the hard concrete's surface.
If cracks or chips go unrepaired, it can also pose a serious trip hazard. These qualities make concrete patio dangerous for small children, elderly and others prone to falls.
Repairs
In areas where extreme high or low temperatures are being experienced, can cause a high level of shrinkage and expansion, thus making the concrete prone to cracking and damage.
Repairing of these cracks can be costly and difficult to repair since it may require a major portion of the patio need to be demolished and poured concrete again.
If this things happen, matching decorative concrete after such major repair can be expensive. Such repair or expansion brings about a possibility that continuity of design and look may be impossible to achieve.
Color Durability
In most cases, the colors of concrete patio are not integrated throughout the entire concrete slab; instead the colors are some kind of treatment which are added to the top layer of the slab – and because of this, the colors can wear off or chip off easily.
Strength
Poured concrete has an average of around 3,000 to 4,000 PSI whereas pavers are typically 8,000 PSI or greater.
Concrete patios have low adaptability and are limited to developments, it cannot extend or shrink with ease. This gives lower durability for the concrete patio.
Concrete Patio Cost vs Pavers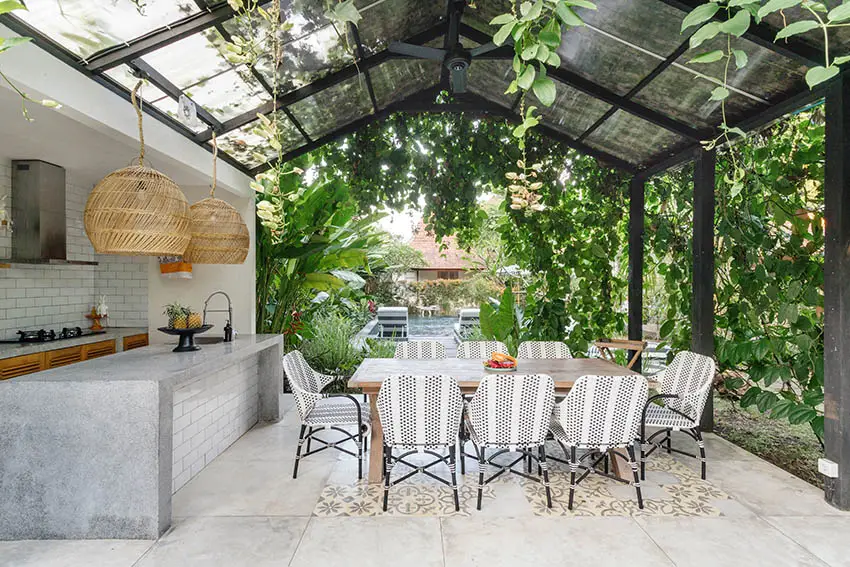 There are many factors to consider when you want to compare how much concrete patio cost vs. pavers such as the surface area you want to cover, materials you need, labor and removal of previous pavers or concrete.
The average cost for a plain concrete patios is between $2.00 and $5.00 per square foot and an average of $6.00 and $10.00 for stamped concrete. Interlocking pavers on the other hand, have an average cost between $12.00 and $22.00 per square foot.
Concrete Patio Pricing
Average cost for a plain concrete slab is between $2.00 and $5.00 per square foot
Average cost for a decorative or stamped concrete is between $6.00 and $10.00 (depending on the design)
Average custom work (borders, colors or hand application) cost between $10.00 and $15.00 per square foot
The average cost for a 16 feet by 20 feet concrete patio is between:
$640 and $1,600 for a basic slab
$1,920 and $3,200 for a stamped concrete
$3,200 and $4,800 for a custom concrete patio
Repair cost for concrete patios is between $5.00 or can go as high as $300.00 depending on the extent of the damage and the difficulty of the repair.
Interlocking Paver Pricing
Average cost for interlocking paver patios is between $12.00 and $22.00 per square foot
The average cost for a 16 feet by 20 feet patio made from interlocking pavers is between $3,840 and $7,040
Repair cost for interlocking paver patio may be as low as $1.00 or can raise up to $75.00 depending on the extent of the damage and the difficulty of the repair.
Paver's vs Concrete Patio Durability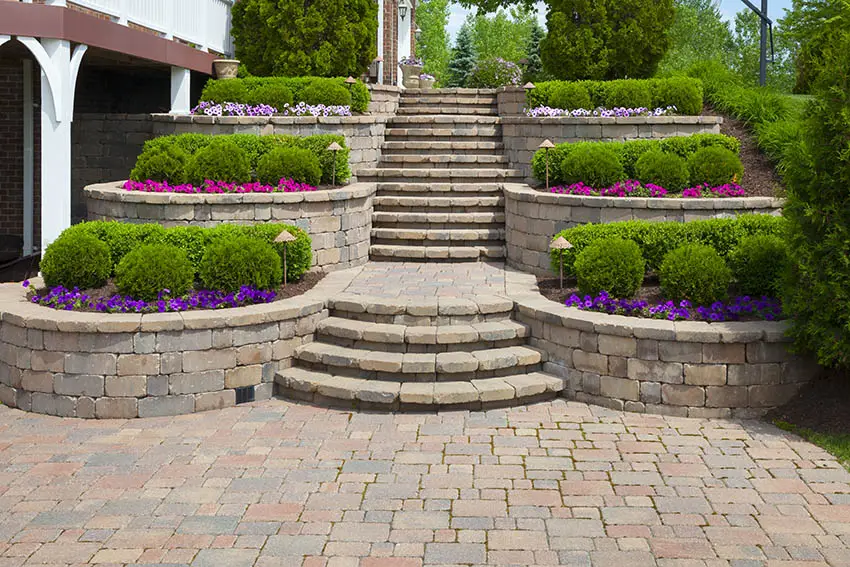 Whether you opt to install concrete or pavers, you want a product that is durable and will stand the test of time. Pavers are stronger than concrete and lasts up to 50 years and more; it can support four times as much weight than concrete slab due to their stronger material and simpler repair process.
Concrete is less than half as dense as pavers which means that concrete is more likely to absorb water than to displace it – this causes concrete to crack when exposed to extreme temperatures.
Pavers are less likely to crack due to the aggregate mix and their method of interlock. The high compressive strength of pavers and its natural density doesn't allow water to seep into the pavers.
But while concrete tend to crack over time, pavers on the other hand can come loose individually.
Pavers' vs Concrete Patio Maintenance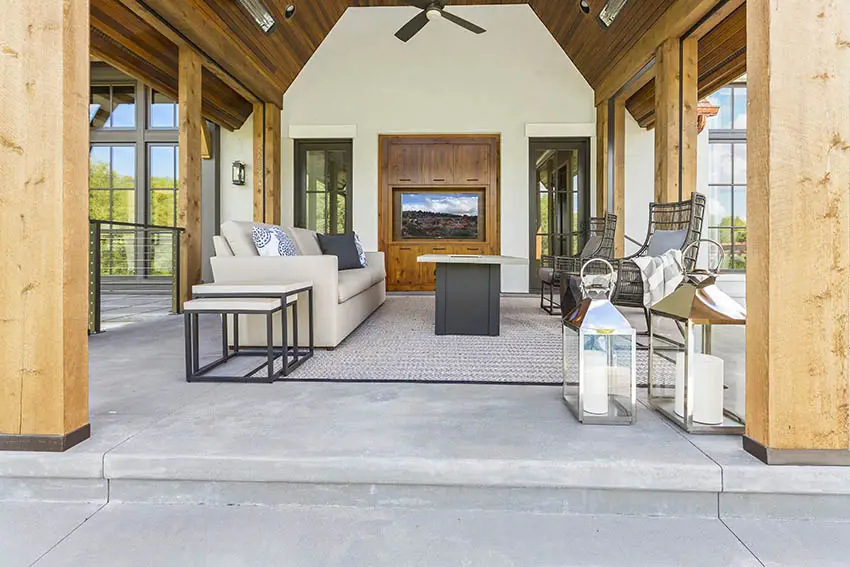 Both types of patio need regular maintenance and both concrete and pavers should be sealed regularly to increase durability.
Between the two types of patio material, concrete is easier to maintain since it only needs soap and water to clean; but in time, concrete patios can still crack and will have stain over time.
Sealants can help prevent cracks and stain but they must be applied regularly; by reapplying sealant repeatedly, it can make the surface slippery, this can increase lifetime maintenance cost and can affect the color of stamped concrete.
In contrast, pavers' sealant does not affect the color and can retain their slip-resistance characteristic.
Cleaning pavers are also simple but not quite as easy as the concrete patios because of being comprised of multiple pieces. Weeds and other plants can grow between the pavers and so, maintaining them can be quite challenging.
Paver's vs Concrete Patio Installation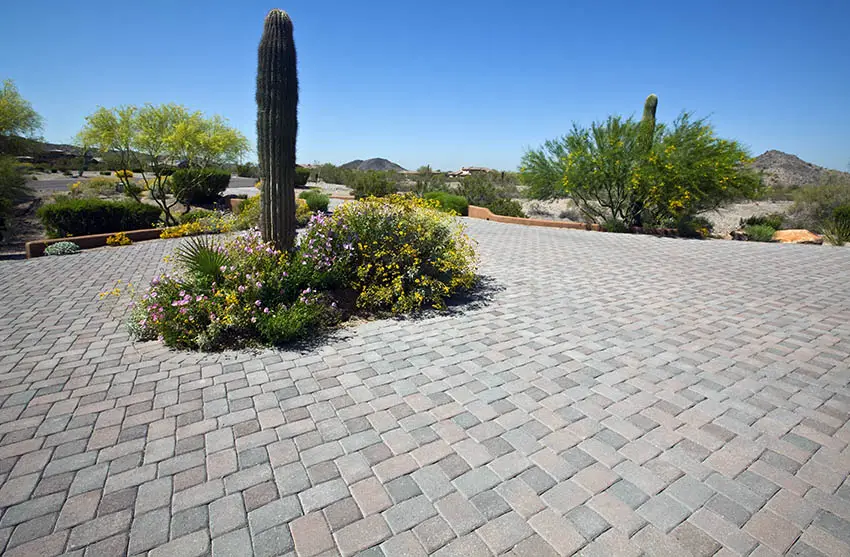 It is always best to hire a professional to build a concrete patio or one made from pavers, since they are the expert in the field and there are so many steps involved.
Compaction and base preparation are the very important factor to consider, because small errors can have major repercussions.
Interlocking pavers require a more intricate installation process. An average patio takes 3 to 5 days to install pavers from start to finish due to the longer construction cycle and process needed for its installation. Below are the installation process:
Excavation
Grading
Sub-base compaction
Geotextile fiber installation
Base preparation
Base compaction
Sand preparation
Paver laying
Boarder cutting
Bond beam preparation
Stone compaction
Sealing the pavers
However, concrete has slightly less labor-intensive installation process compared to pavers.
Excavation
Grading
Preparing the foundation
Setting forms
Pouring the concrete
Afterward, the concrete must dry and cure for several days before you can use it.