Here's stone outdoor kitchen designs including the different types of stone materials, and the best options for outdoor kitchens & countertops.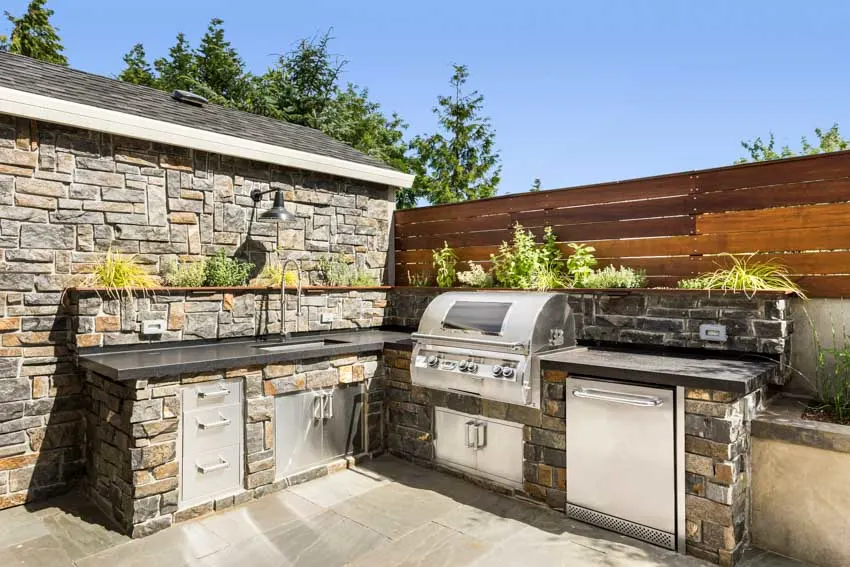 Natural stones are not only a popular selection for interior kitchens, but they also provide benefits for outdoor kitchens. Natural stones are ideal for outdoor kitchens since they are more visually appealing, last longer than manufactured stones, and necessitate less upkeep. They are also better for the ecosystem than man-made products.
Moreover, natural stones can be great for accenting your outdoor kitchen and enhancing your home's outdoor eating space. When it pertains to cooking and sanitation, these stones are a much safer option for your outdoor kitchen. They are non-toxic and survive longer than man-made stones.
Types Of Outdoor Kitchen Stone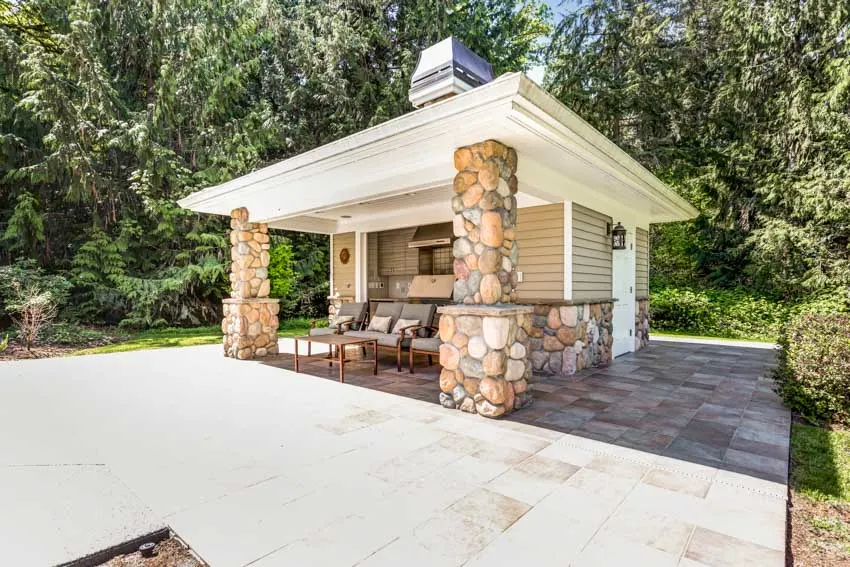 Since there are so many different types of stone available, selecting the appropriate ones for your outdoor kitchen may be tricky. Here's a simple reference to help you pick the right stone materials to simplify the process for you.
Stone Veneer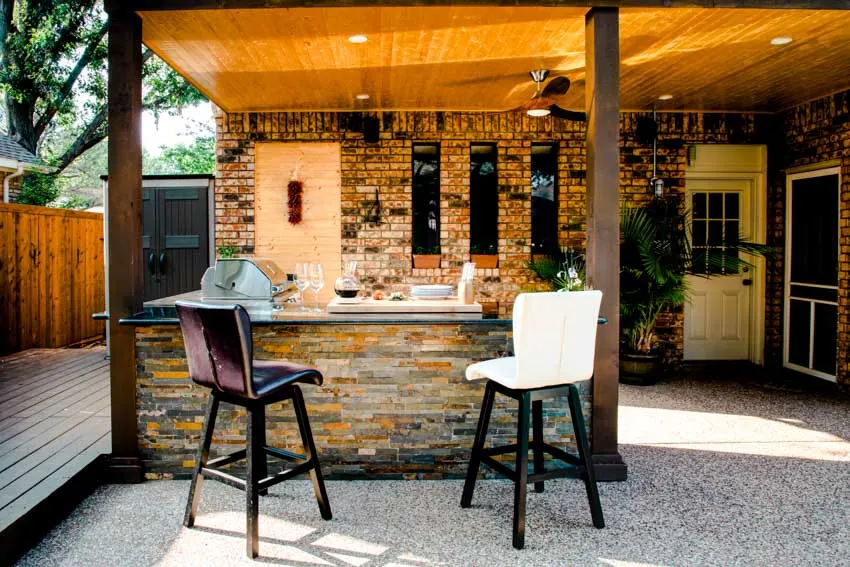 A stone veneer is a surfacing option for you if you desire an elegant finish with a natural look for your outdoor kitchen. Stone veneer, the most popular facing material for outdoor kitchens, is extremely durable and appealing. There are numerous types of stone veneer available. You can purchase stacked or entire stones in a variety of designs and earthy colors.
Stone veneers are obtainable in both natural and synthetic forms. Genuine stone veneers are less common, more expensive, and more complicated to install. Because of their accurate appearance, accessibility, low cost, and ease of installation, synthetic stone veneers are quite popular.
Manufactured or synthetic stone veneers are created using casts produced from actual stone. These stone veneers can be made to seem like almost any sort of stone, notably bluestone, ashlar slate, river rock, sandstone, cobblestone, or fieldstone.
The hue of stone veneer is likewise based on genuine stones, giving it an extremely accurate appearance. Your guests will assume it is the real thing when they see the stone workmanship in your outdoor kitchen.
When designing your stone outdoor kitchen, your stone selection must always complement your existing architectural and material spectrum for most of the environment. Because of the reduced weight of a manufactured stone, this effect may be achieved on surfaces that are not physically capable of supporting the weight of a genuine stone, bringing this attractive finish into new locations.
Moreover, laying stone veneer is a task best left to professionals. This ensures that the stone front is adequately strengthened with metal connections and will endure for many generations.
Since real stone veneers can be rather substantial, they perform much better when laid over a concrete block foundation. Furthermore, genuine stone veneer necessitates the installation of corrugated metal connections for added strength,
Ultimately, manufactured stone veneers can weigh approximately one-third less than genuine stone veneers. This implies that they can be mounted over wood or steel framing constructions with water- and heat-resistant backing panels. With manufactured or synthetic stone, fortification is often unnecessary, but it would be a wise idea to check with your contractor to make things clear.
Natural Stone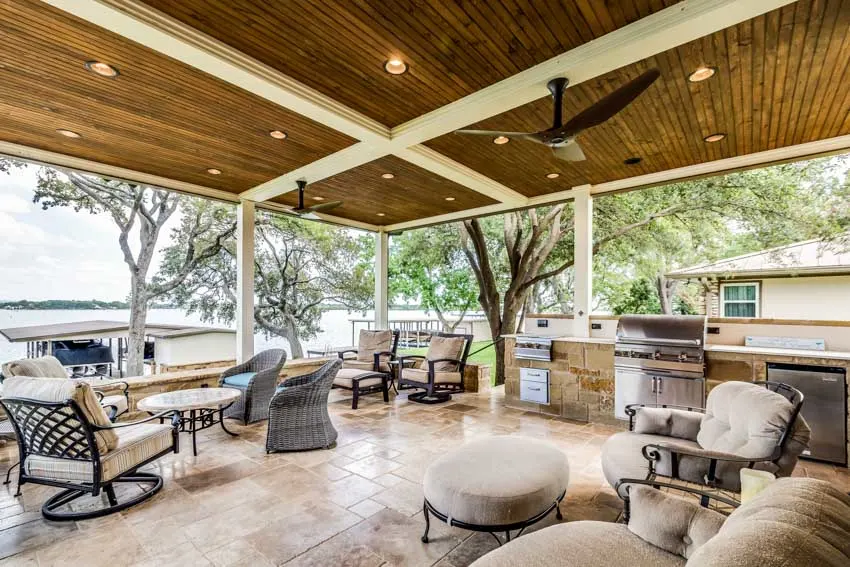 Natural stones are an excellent choice for outdoor kitchens since they are long-lasting, can be utilized in a variety of color patterns, and can even be matched to the decor of your outdoor kitchen countertops as well as cabinets. The only disadvantage is that they may chip or shatter with time.
Moreover, natural stones come in a wide range of colors, textures, and shapes, thus they may bring variety and charm to your outdoor space. They also create a perception of peace in the outdoors by reflecting sunlight and creating a relaxing ambiance.
Stone countertops or backsplashes are commonly used in outdoor kitchens. There are numerous stones that can be employed to construct an outdoor kitchen, each with its own set of advantages and disadvantages.
Let us go over each of the types of natural stone used for outdoor kitchen designs.

Granite: Granite is a common choice for outdoor kitchen surfaces. It is simple to install and is popular with engineers, architects, interior designers, homeowners, business owners, as well as other commercial project operations.
This material is long-lasting, seals effectively, and resists moisture and wear. Granite is a metamorphic rock, which implies it was produced by breaking down enormous chunks of rock and then compressing them, giving it a highly smooth surface excellent for kitchen counters.
Marble: For generations, marble has been utilized in the development of outdoor kitchens. Because of its adaptability, attractiveness, and low cost, the marble would be a desirable solution for outdoor kitchens.
Due to its simplicity of care, marble is frequently used in outdoor kitchens. It is fire- and moisture-resistant as well as simple to clean. Because it is sturdy and long-lasting, it is now often applied to outdoor kitchen surfaces.
Soapstone: Soapstone is frequently applied for outdoor types of kitchen countertops and may be found in a variety of kitchens across the globe. Because of its firmness, heat absorption, low-temperature endurance, and tenacity, soapstone is ideal for outdoor applications. It is also low-maintenance and can be easily cleaned with soap and water.
Although soapstone has been utilized as an outdoor surface since the 1970s, it has only lately gained popularity due to its exceptional attributes and low cost.
Sandstone: Sandstone is yet another type of natural stone that can be found around ponds and waterways. It is long-lasting and impervious to heat, cold, dampness, acidic conditions, as well as erosion. It is available in a number of tones and is frequently used to produce an attractive aesthetic for outdoor kitchens.
If you want a decent-looking backyard, you have probably looked into solutions to make it appear pleasant and inviting. Installing sandstone in the area around your outdoor kitchen is one method to make it appear beautiful. Sandstone can be widely used for a multitude of outdoor furnishings and structures such as walls, worktops, furnaces, and more.
Stacked Stone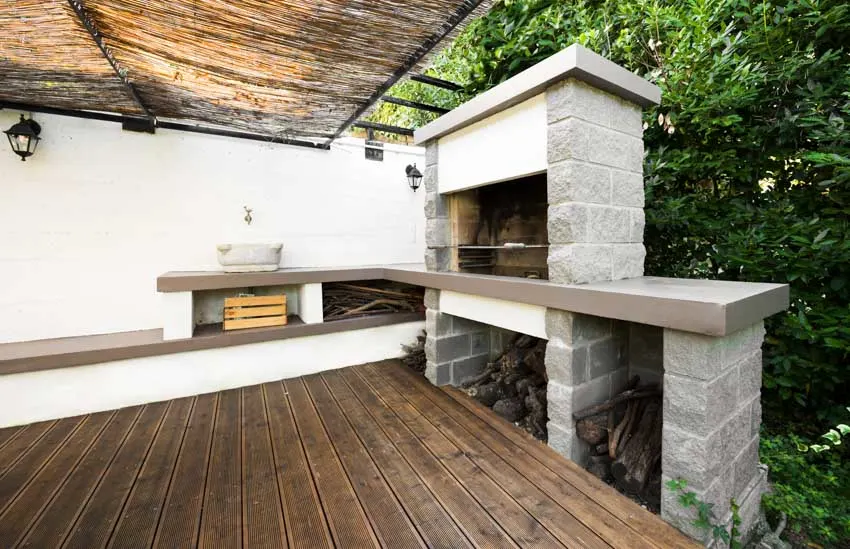 From the late 1990s and mid-2000s, stacked stone, or ledger stone, has been a widely known solution for outdoor kitchens, especially used on the vertical surfaces of cupboards, backsplashes, as well as vent hoods.
Stacked stone is ideal for suiting any area, style, or functionality. Outdoor kitchens, in principle, can generate a return on investment (ROI) of 70 to 200%, particularly in places where the area can be used all year. Stacked stone can be employed on a multitude of surfaces in your outdoor kitchen such as walls, islands, pathways, and more.
Single small stones are used to create stacked stone surfaces. These stones are smooth but not homogeneous like bricks. The ultimate effect is a lovely surface that exudes simple refinement while retaining exact complexity thanks to clever asymmetrical elements.
Stacked stone is used to create veneers, fireplaces, walls, enclosures, and columns, in addition to walls. Because stacked stone is so adaptable, it is indeed uncomplicated to incorporate it throughout your home to match the stone decor of your outdoor kitchen.
Stacked stone components are made using cutting-edge technology for usage in a wide range of building projects. They have multiple benefits, one of which is that they do not necessitate a cement foundation.
As a result, the stacked stone is great for updating walls, indoor elements such as furnaces, and backyard buildings such as outdoor kitchens and seats.
Stone Tile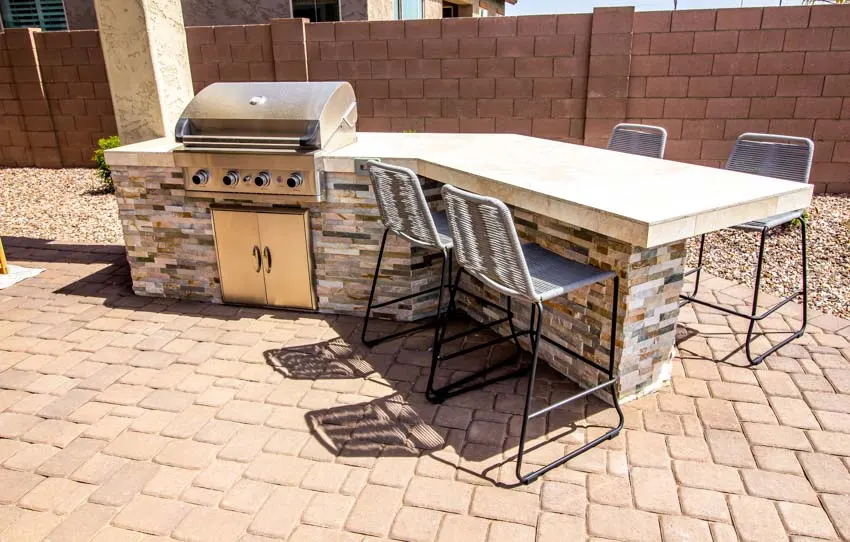 Stone tiles are a great option for outdoor kitchens as they can withstand a lot of harmful outdoor elements. These outdoor tiles include:
Marble Tile: Marble is composed of sedimentary deposits like limestone and dolomite, which have been sculpted into a crystalline composition over time through the application of intense heat and pressure. Marble is widely known for its magnificent hues, streaks, patterns, and clouds.
Marble is a fantastic choice for baths, backsplashes, and low-traffic outdoor kitchen areas. Unfortunately, acidic solutions might produce stains and corrosion in marble since it is a lighter and more porous type of stone.
Granite Tile: Extreme heat and pressure are used to form granite, which results in an extremely solid, non-porous surface that is impenetrable by typical kitchen acids such as lime juice, vinegar, or sodas. It is crystalline in appearance and can be mixed with feldspar, mica, or quartz.
Granite is a great material for outdoor kitchen surfaces, particularly countertops. Granite is also resistant to most scratches and heat including when heated pots and other outdoor kitchen must haves are placed atop it. Olive and vegetable oils, as well as grease, may discolor it though.
Slate Tile: Slate is a type of sedimentary stone composed of shale and quartz that organically forms narrow horizontal slabs. By masterfully pounding the stone to break it and split the layers, quarries may produce normally seamless and distinctively textured tiles. The unpolished natural appearance of the stone renders it a favorite option for outdoor kitchen tiling projects.
Slate is non-porous by nature. As a result, it cleans up quickly and does not encourage bacterial contamination. Slate tiles hardness and resilience make it less prone to chipping or scratching, and it can withstand heat efficiently. However, because not all slate is the same, you have to select a variation that is exceptionally hard and compact when selecting slate tiles.
Onyx Tile: Onyx is a natural stone composed of quartz crystals bonded collectively. It is typically located in caves. Because of its semi-translucent quality, vividly colored banding, and crystallinity, onyx is a valued stone that is ideally matched for accenting various types of tile. On the other hand, onyx is a porous, softer type of stone tile that can be easily discolored.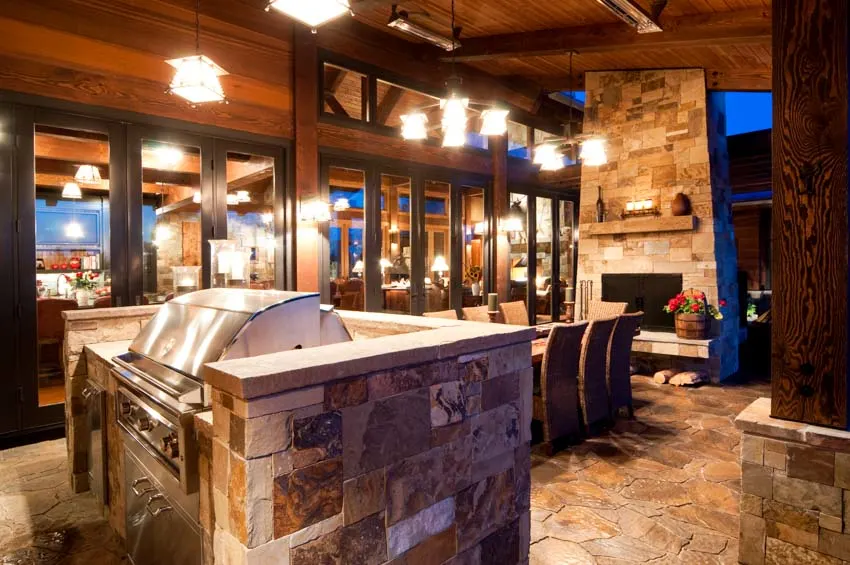 Travertine Tile: Travertine is a rock formed by hot springs that disintegrate the underlying limestone, which subsequently forms into stone with many small air openings and pits.
This imparts a distinctive, unpolished old-world appearance to the stone, which has been sought as a structural stone since ancient times. See pictures of the types of travertine here.

Faux Stone
The appearance of faux stone veneer is remarkably equal to that of natural stone veneer. The main distinction is that faux stone is man-made. The stone is even applied in the same way as natural stone veneer.
Some industries manufacture faux stone veneer panels. These are several sections of stone that have been pre-adhered to a panel. As a result, you can easily adhere single or several panels to the cement board. This is significantly more convenient than applying each natural stone manually.
Faux stone is typically composed of durable, lightweight polyurethane that will not crack, flake, or fall to pieces even when subjected to high temperatures, wetness, UV light, wind, and other environmental factors. Polyurethane is also impervious to pests, making it an ideal panel material for your outdoor kitchen.
Best Stone For Outdoor Kitchen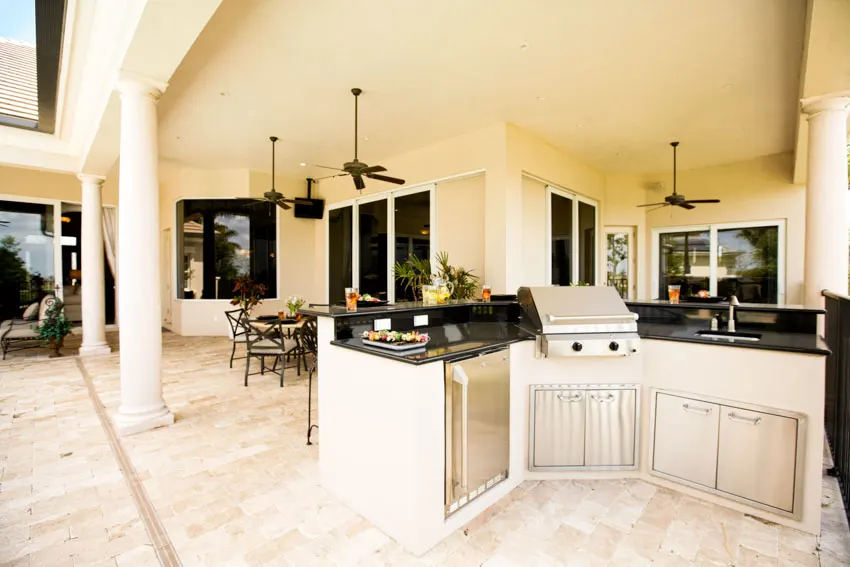 Granite is arguably the best type of natural stone for an outdoor kitchen. Among the natural stones, granite is the most resistant to extreme heat, stains, etching, and scratching from any material available.
Granite is, in fact, a stone that is highly suggested for outdoor kitchens. It is available in a plethora of colors and patterns that are suitable for any outdoor kitchen design. Sanitation and maintenance are simple, and it is often not necessary to seal it, although sealing it can make it even more durable and long-lasting.
Best Stone For Outdoor Kitchen Countertop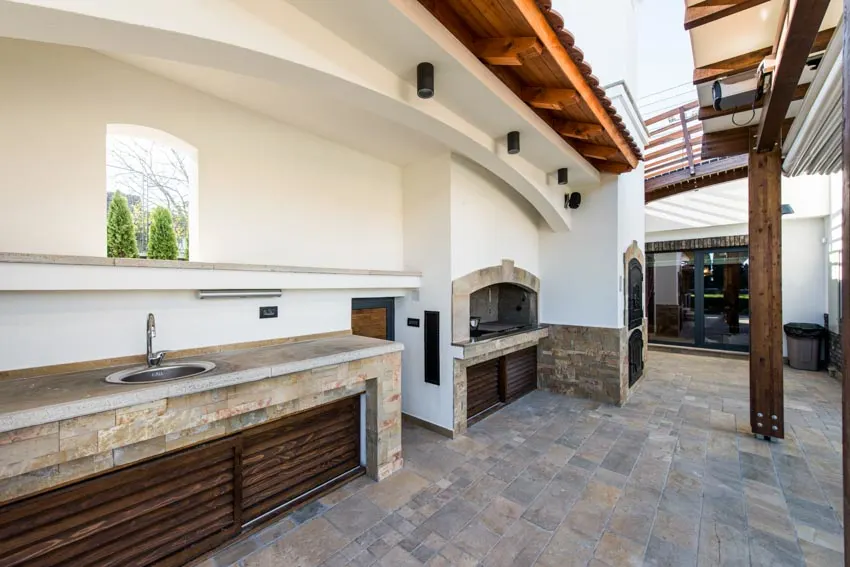 Granite and soapstone are the best stones for outdoor kitchen countertops. Granite is possibly the best material to utilize as an outdoor kitchen countertop for homeowners. The toughness of this stone allows it to withstand extreme environments.
Granite is resistant to heat from the sun as well as hot pans. Granite is also impenetrable to stains, mold, and mildew when properly sealed, so even the messiest parties or rainiest days will not be a problem. It can be even simpler to maintain with the right sealant.
Plus, you will not have to worry about it deteriorating under the sun no matter what design you select. Darker hues can become hot to the touch when exposed to direct sunlight, thus if your outdoor kitchen lacks shade, you should consider purchasing a lighter color.
Soapstone countertops are also an outstanding selection for your outdoor kitchen. This dark, natural stone is strong and impermeable to moisture. This provides soapstone countertops the advantage of not needing to be sealed for stain resistance.
Do you have a favorite stone outdoor kitchen material? Let us know you top picks or experiences in the comments section. See more related content in our article about outdoor kitchen dimensions on this page.