This gallery showcases the types of fountains including the different indoor & outdoor water features, designs, materials, and tips on how to choose a fountain.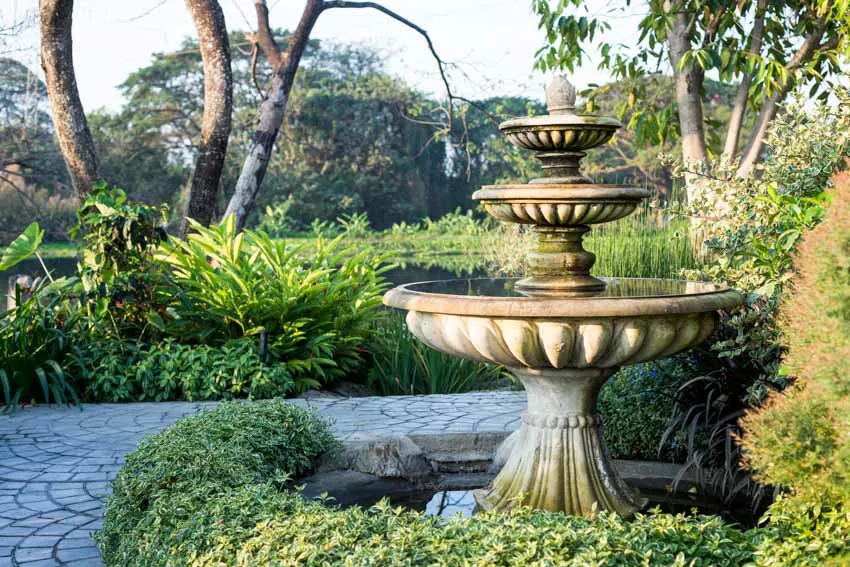 The various types of fountains available provide you with a vast array of options to meet your specific needs and aspirations. You can obtain precisely what you want whether you want a fountain in your garden, indoor space, or on a porch.
Does it not seem lovely to have a gentle breeze, the sound of birds chirping, and the tranquil trickling of water nearby? We are not portraying some exotic location that is so far away from your home. This may very well be your own backyard, all thanks to the addition of a water fountain.
Any garden may be dramatically transformed with the inclusion of a properly placed water fountain, which also increases the value of the property, draws birds and other wildlife, and creates a relaxing atmosphere.
In this article, you will identify the different types of fountains. They are available in different designs, materials, and features. By reading this, you will determine which one will have the greatest impact on your property.
Outdoor Fountains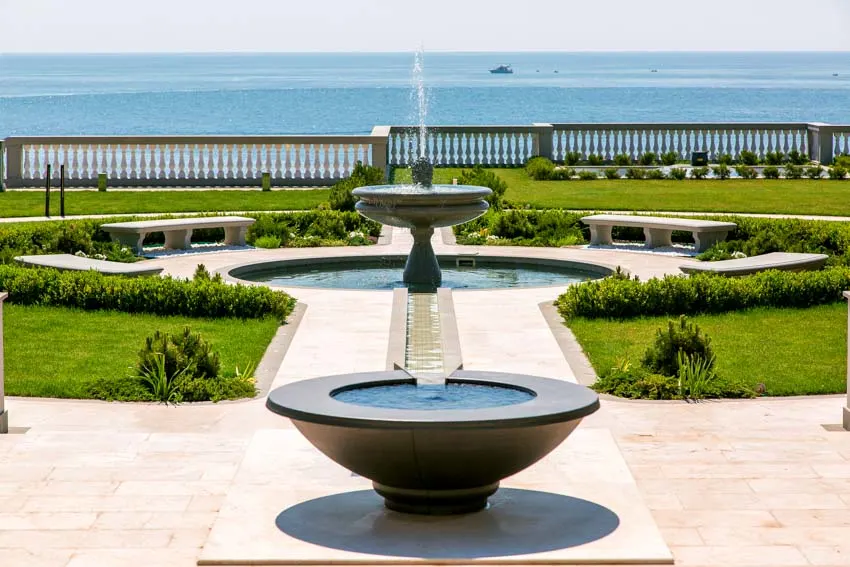 Fountains are typically found in outdoor spaces. There are numerous varieties of outdoor fountains that are commercially available. They can be as minimalist and graceful as fountains or as intricate as works of art.
The range of fountain styles obtainable for installation in your outdoor space is very fascinating, and you will undoubtedly discover something that captures your attention. Numerous homeowners choose to make the fountain the focal point of their garden space.
A large outdoor fountain is frequently on exhibit, with beautiful flowers and other plants bordering it. This gives the fountain the appearance of being on the show and draws the attention of everyone entering your garden area. Outdoor fountains can, however, be utilized in many other ways.
Outdoor fountains are often put at suitable spots in a landscape to provide a little elegance. Homeowners like enhancing the attractiveness of their yards with running water elements.
Adding an outdoor fountain can enhance the overall ambiance of your outdoor space and aid in presentation. Those that have considerable outdoor space can usually have multiple outdoor fountains throughout their property. However, here are the other types of outdoor fountains:
Waterfall Fountains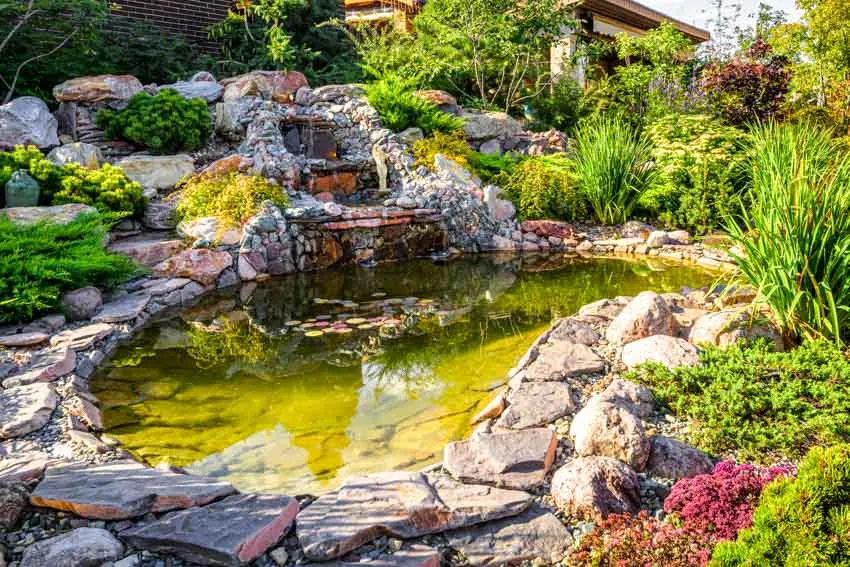 The appearance and sensation of a waterfall have been increasingly popular throughout the years. There are numerous types of waterfall fountains available. Such waterfall fountains may be extremely lovely and can be found in both indoor and outdoor settings. Some waterfall fountains are somewhat sophisticated, but there are simpler- and easier-to-operate versions.
Waterfall fountains are small waterfalls that mimic the feel and appearance of real waterfalls. Despite their size, these fountains are among the most widely known, incredibly beautiful, and eye-catching.
Some waterfall fountains are complex, but minimalist versions are also available. They can be found reasonably inexpensively or expensively constructed from various varieties of marble, for example.
Solar Fountains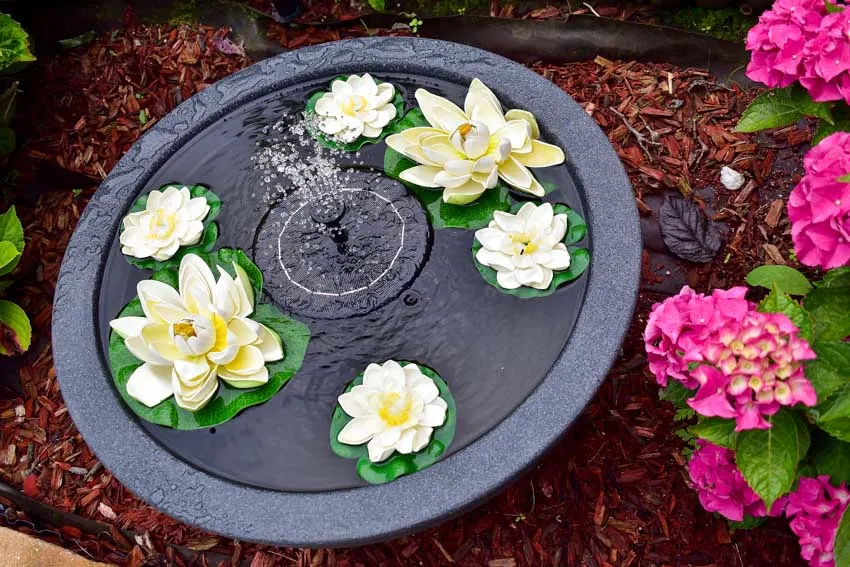 Several individuals may be unaware that solar-powered fountains are also commercially available. You can locate many types of outdoor fountains when searching for a solar alternative. These are quite convenient because you will not have to connect them to an electrical source.
When you have a vast garden and do not want to extend an extension cord, not having to operate a pump with standard electricity can be a benefit.
It should come as no surprise that solar-powered fountains exist in this day and age. These might be any style of the fountain, but the idea that they are supplied by solar energy distinguishes them.
Birdbath Fountains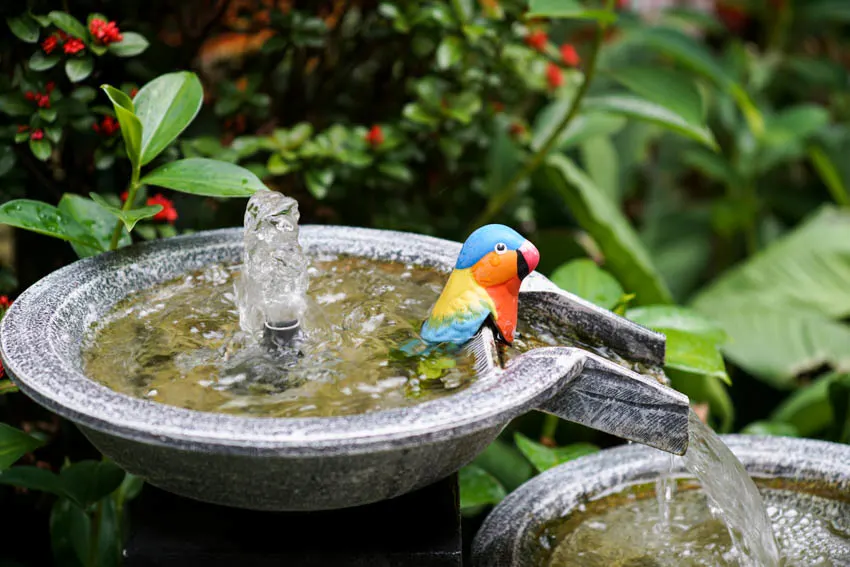 Birdbath fountains are extremely common among nature lovers. If you enjoy having birds visit your yard, adding a birdbath fountain in your outdoor space will be very inviting. These fountains would make an excellent focal point for a small garden area. They are also not too complicated to install or maintain, thus you will have a terrific experience if you opt to get one.
These fountains are primarily designed for bird enthusiasts, attracting birds to sip and bathe in your fountain while also serving as a stunning feature in your yard. These fountains are quite affordable as well.
Spouting Fountains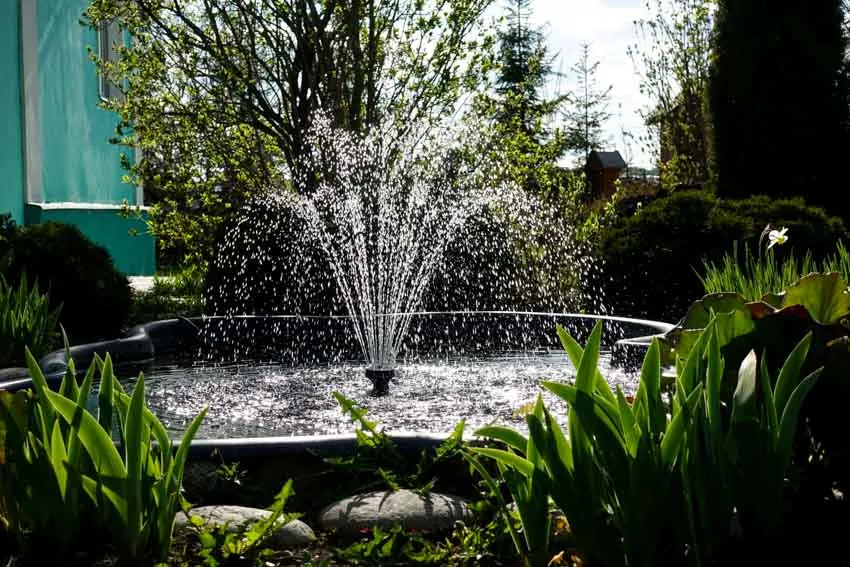 Whenever you picture a fountain, you probably think of a spouting fountain. As they spew water into the air, these fountains may be rather impressive. Although appearing extravagant due to the spouting element, these styles of fountains are generally quite simple to build.
All that is necessary would be an established body of water in which to position the fountain. They normally come with a submersible pumping system that allows the fountain to effectively discharge water.
In addition, there are different types of spouting fountains. Spouting fountains with more intricate variations can be seen in huge parks around the United States, although most spouting fountains found in a homeowner's gardens are more minimalistic and inexpensive. But this does not diminish their performances.
Indeed, a fountain like this one can add a great deal of fun to your outdoor space. When homeowners have ponds on their property, they prefer to place these types of fountains in them. Certain homeowners build man-made ponds simply to appreciate the visual attractiveness they give to their property.
You will be able to choose a style that works for you and will appear great in your garden. You may even install a spouting fountain in your yard without spending a lot of money, making it a desirable option.
Aside from that, spouting fountains can be combined with statues, allowing the water to spray from a specific place on the statue. You can also add a nozzle to have the water spray in desired patterns such as swirls or rings.
Free Standing Fountains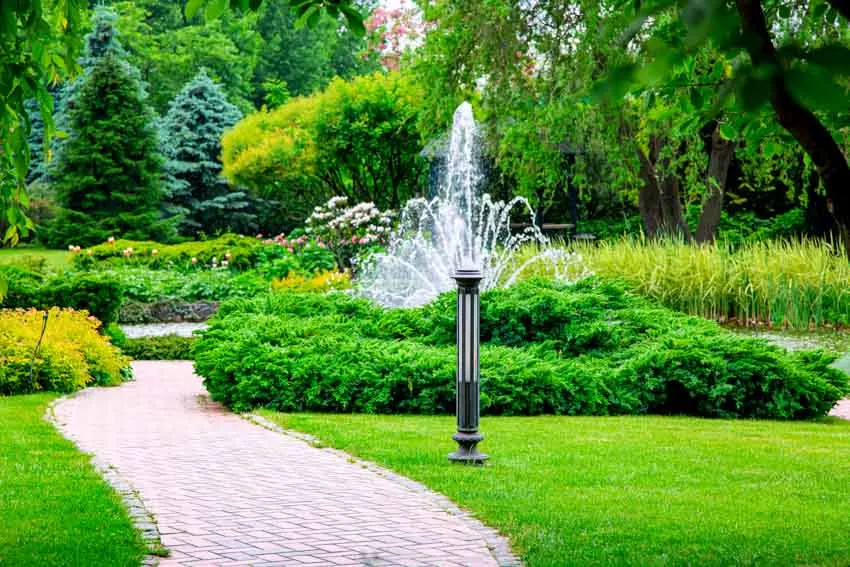 A freestanding fountain is usually large-sized and has a basin on the ground. This style of fountain is simple to set up and maintain. Cast stone, porcelain, metal, fiberglass, as well as other durable materials are commonly utilized to create this type of fountain.
Freestanding fountains generally include all of the critical components for operation such as plumbing and a pump. They can also be self-operating in the sense that they have their independent water reservoir, avoiding the requirement to be situated near a water supply.
The only external feature they might need is a power source, which can be supplied by a solar panel, batteries, an electrical outlet, or other techniques.
Tiered Fountains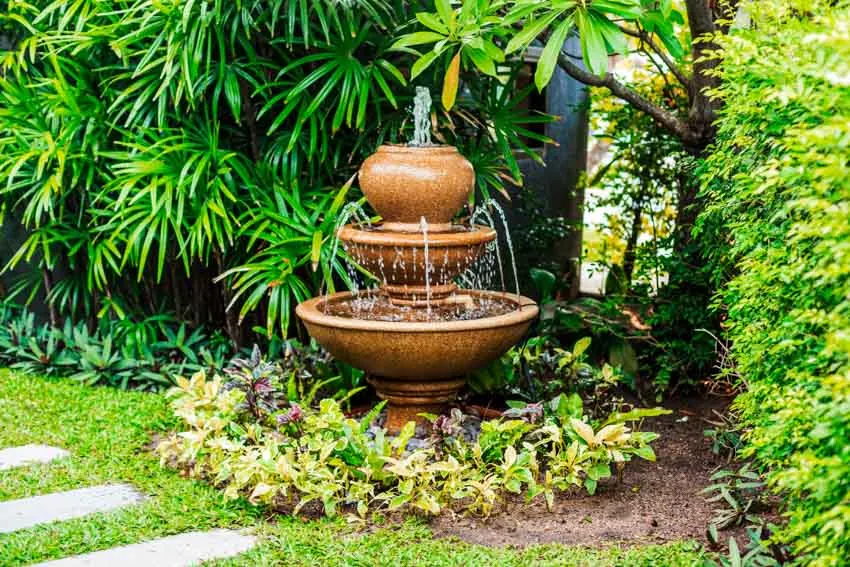 Tiered fountains are among the most classic styles of the fountain, and may be found in many open spaces and courtyards around the Mediterranean coast. These outdoor fountains contain many tiers (often three), with water pushed internally to the highest layer, which then cascades over the tiers outwardly into the bottom reservoir and so on.
These fountains might be as simple as three flat surfaces of increasing size layered in a tier or as complex as sophisticated sculptures.
Tiered fountains are ideal for traditional or ancient landscapes, stealing the show with their grandiosity and grace. The stronger the sound, the higher the tier, thus keep this in mind if you want a peaceful, soft, relaxing fountain.
Wall Fountains
Wall fountains, as the name implies, can be built into a wall, making them ideal for modest types of patios, courtyards, or enormous palaces around the planet. These fountain kinds are incredibly space-efficient by nature and can also be tailored to match the wall. These fountains are available in a variety of designs, including Asian-style, contemporary, and vintage.
The wall fountain is one of the most accessible forms of fountains for people to appreciate. Installing a wall fountain is fairly straightforward, and you may enjoy it either indoors or outdoors, contingent on the type of fountain you select.
Numerous people appreciate having them in their homes since the sensation of running water can be quite peaceful and has been shown to help many individuals sleep better. In addition, these fountains are also often used outside in garden settings.
Wall fountains are frequently installed on the sides of barns or garden sheds. This adds a fun element to the room and might serve as a terrific adornment. There are many different types of wall fountains available, hence you may be rather creative with your selection.
If you do not have a huge yard, fountains like this one are ideal. Numerous individuals would like to acquire a fountain but lack the space to incorporate most of the other outdoor fountain styles on this list.
Thus, if you do not have much space in your yard, a wall fountain can be built right on your fence and appear great. This allows everyone to experience the benefits of having a fountain in their yard.
The majority of wall fountains will have some kind of spout. This will spew water down into a basin located below. Wall fountains that cascade water downwards are also available.
It all comes down to what you want from your wall fountain. When browsing for wall fountains, you will come across a variety of personalities and fascinating designs, therefore take the time to select something that will resonate with your particular taste in fashion.
Cascading Fountains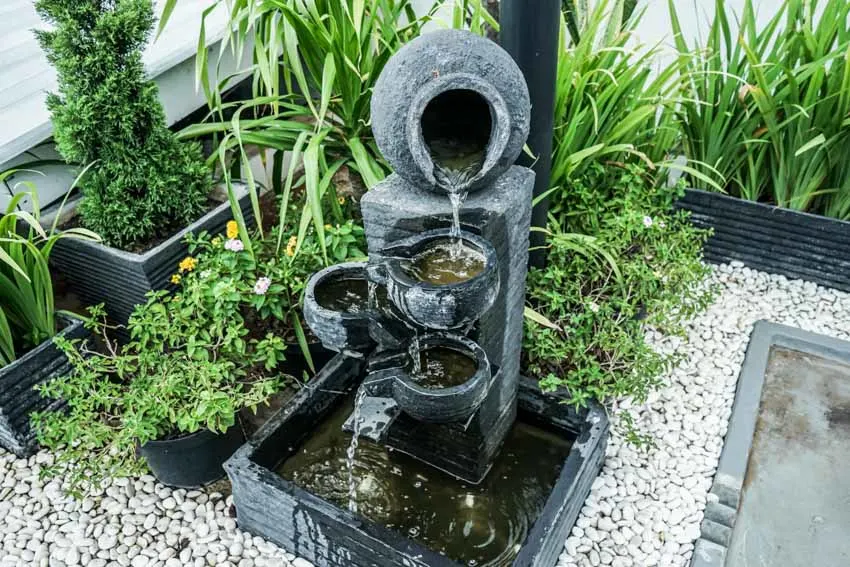 Cascading fountains have a distinct elegance about them. Individuals who adore fountains for their calming effects will enjoy possessing a cascading version. This will allow you to relax and savor the beauty of flowing water while unwinding and taking in the ambiance. If you want your outdoor space to help you relieve stress, this fountain might be just what you are looking for.
A cascading fountain operates by allowing water to flow downward from one level to the next. The most frequent cascading fountains will have three distinct tiers. The water is normally coming from the top of the fountain. It is constructed in a manner that the water cascades smoothly down to the bottom level.
Moreover, lots of people use the terms 'cascading' and 'tiered' interchangeably, which is understandable given that tiered fountains are a type of cascading fountain. Cascading fountains, on the other hand, have pebbles and steps. Water cascades down tiers of rocks from the fountain's top to the bottom.
There are cascading fountain designs with three basins, with each level increasing progressively larger from the top. There are different kinds of cascading fountains. Other designs may include columns, while some may show water streaming down a mountain or hill.
Whatever kind of cascading fountain appeals to you the most, you will be likely to discover the right asset to add a sense of serenity to your garden space.
Pondless Or Disappearing Fountains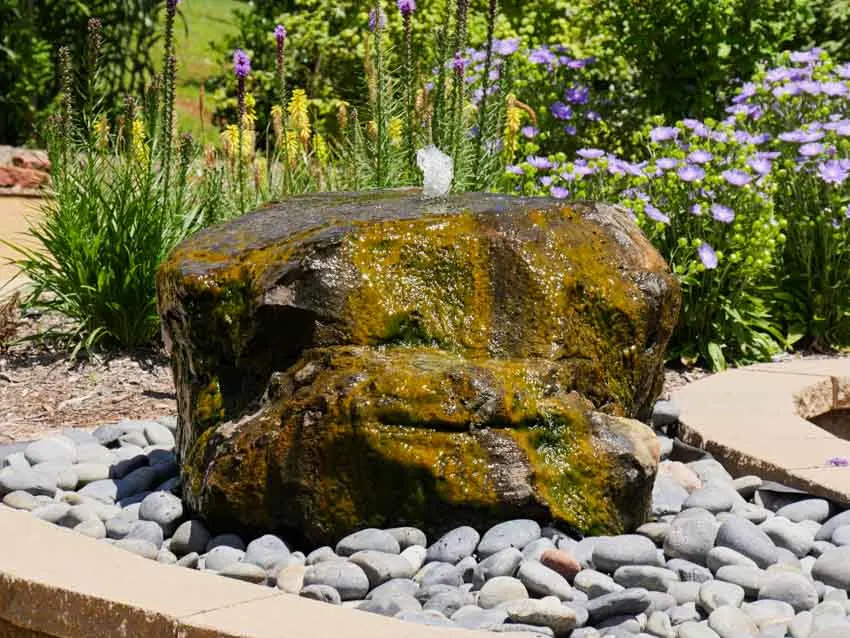 A pondless fountain, commonly known as a disappearing fountain, is another fascinating fountain design. These fountains are remarkable in that they do not necessitate any kind of pond or perceptible water feature to function.
Alternatively, you will put their water supply underground. This can be a highly eye-catching feature in your yard and will undoubtedly add great visual appeal.
When burying the water supply for these fountains, you have to make sure the ground is level. The ground on which the fountain will be installed must preferably be level too.
Pondless fountains come in a variety of styles, and most of them are things of beauty in their own sense. You can get less expensive pondless or disappearing fountains, or you can go with something more expensive to genuinely add a distinctive aspect to your property.
Furthermore, columns are used in some of the most popular pondless fountain designs. A design with three columns and flowing water is visually pleasing. It will bring attention to whichever area the fountain is installed in. Establishing one of these pondless fountains in a certain area of your outdoor space would be a great way to draw attention to that area.
Dry Fountains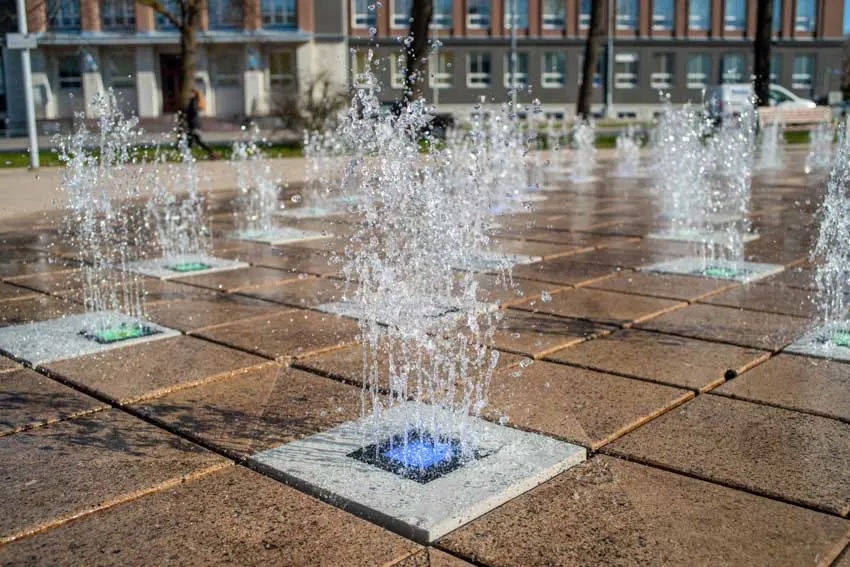 Dry fountains are engaging and entertaining and they have mechanisms that regulate the water jets. The jets are set on the ground and spring up at predetermined intervals or when someone passes by, activating the sensor.
The water tank for these fountains is hidden beneath the pavement and is not noticeable. The water jets shoot out of the subsurface tank and ascend directly above the floor. When the fountains are not in use, the floor is dry, thus the name.
Fountain Bowl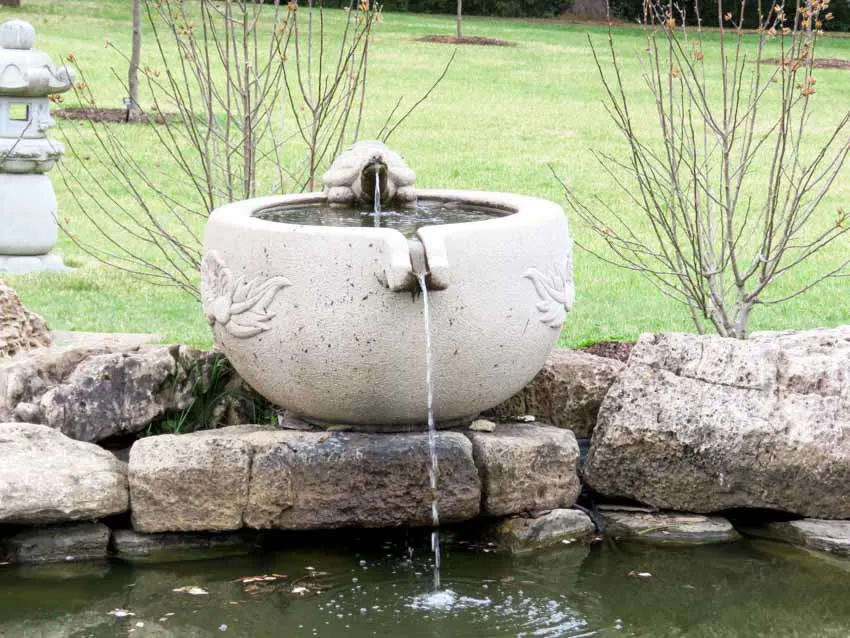 The fountain bowl, with its soothing rhythm of water and endless waves drifting out towards the bowl's edges, instantly creates a serene mood in the garden or patio.
Because ponds and fountains recirculate water, you don't need to run a water line directly into the pond or fountain. Just make sure there's an outdoor faucet nearby so you can add water to the pond from a garden hose. – Garden Ponds, Fountains & Waterfalls for Your Home, Editors of Creative Homeowner
Because the water is self-contained and flows between an inlet and outlet bowl, this form of a fountain is also practical. This type of fountain's interior bowl is shallow and ideal for incorporating your personal touch in the shape of pebbles in the size and color of your preference.
Japanese Fountains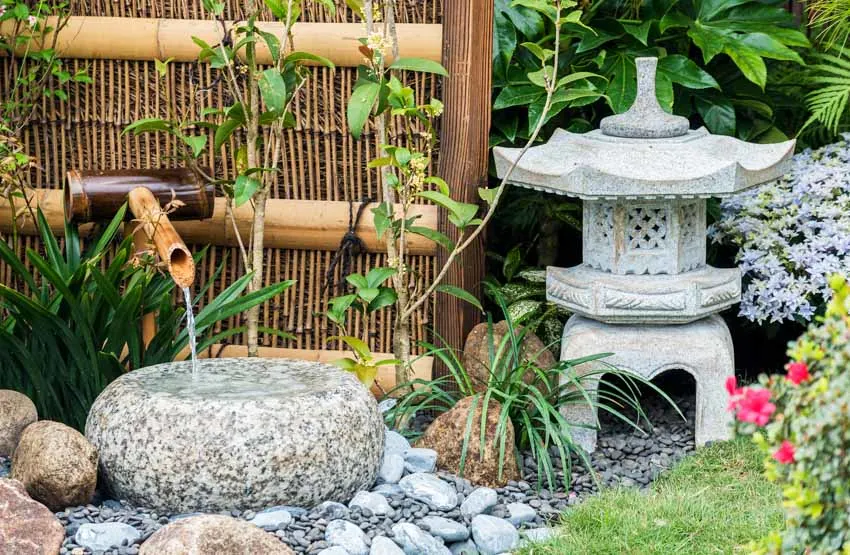 Fountains are extremely frequent in Japanese gardens, as anyone familiar with Japanese culture will understand. These fountains are also frequently found in front of cathedrals or other locations of spiritual interest.
For many generations, fountains have become a symbol of both human and divine cleansing to the Japanese citizens. These concepts extend back to ancient times, therefore it is no wonder that fountains are popular throughout civilization.
Fountains made in Japanese styles are particularly appealing. They exude a touch of pristine beauty and conjure ideas of purity and serenity. Bamboo is widely used in Japanese fountains, and you may come across fixtures with a bamboo spout dripping water down into a basin beneath. Adding a magnificent Japanese fountain to your garden space will undoubtedly enhance its aesthetic impact.
If you want to establish a garden setting that is truly in sync with nature, a Japanese fountain would be an ideal pick. You must be able to start making good use of one of these fountains because they are not difficult to build.
Some homeowners enjoy adding koi fish ponds to their estates and having Japanese fountains trickle water down into the pond zone. Whatever your fountain concept is, you will doubtlessly be able to discover a Japanese fountain that will suit your needs and preferences.
Floating Fountains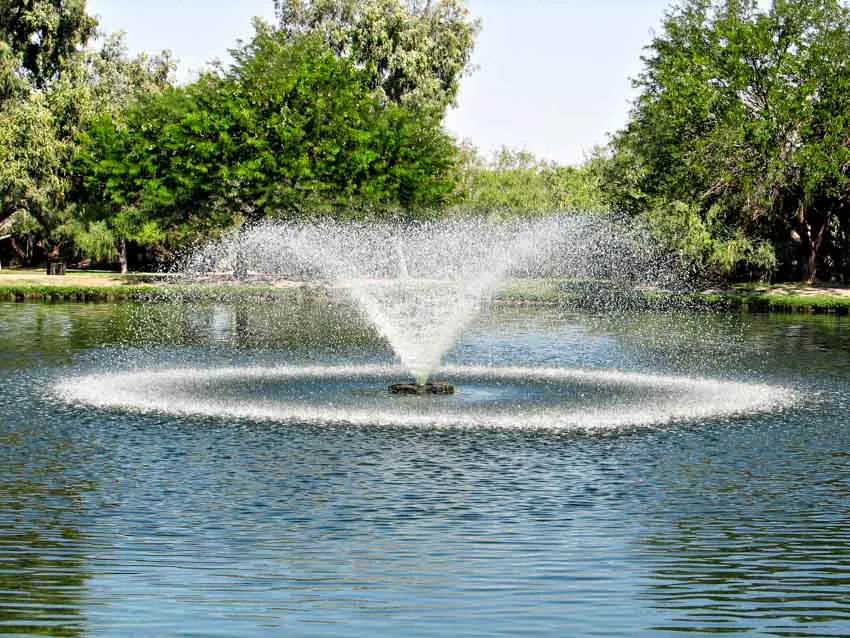 A floating fountain is a picturesque water feature that floats on the surface of a pond or lake. The submersible water pumping system is typically coupled to a floating ring, and the encircling water is then forced up into the air via a fountain nozzle connector to produce a colorful water pattern.
Floating fountains are typically utilized where the lake or pond is too deep or mounting a regular submersible pumping system on the pond ground is too challenging.
If the pond water is extremely unclean, floating displays are perfect since the water will be drawn into the pump closer to the surface, which is normally cleaner than the pond floor, where debris could otherwise obstruct the pump chamber.
Floating fountains provide the variety, performance, and dependability you require. These fountains will boost the quality of your water by increasing oxygen transmission.
This is in addition to adding style and refinement to your pond or lake. Floating fountains are engineered and developed to provide consistent and economical performance, which results in decreased long-term operational expenses.
These fountains are not grounded; they are intended to be mobile while remaining regulated by tying cords that connect them to the ground. Despite their economical and basic mechanism, these fountain kinds produce a remarkably spectacular end product.
Swimming Pool Fountains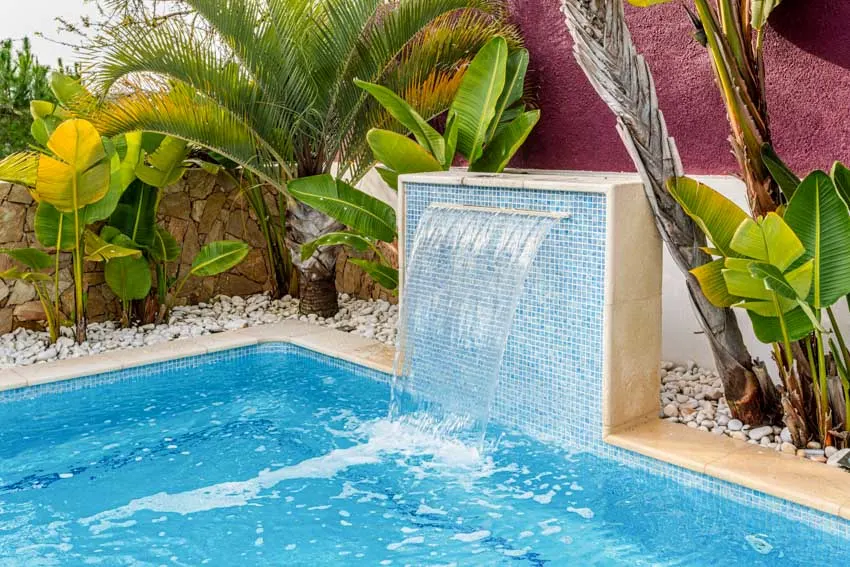 People enjoy being able to swim throughout the summer months. If you have been renowned to have a few pool parties during the hottest seasons of the year, you could be keen on acquiring a swimming pool fountain.
Such types of fountains are genuinely interesting since they can enhance your swimming enjoyment. These swimming pool water features are fairly simple to install and are a lot of fun to experiment with.
The majority of swimming pool fountains in the marketplace are designed for above-ground pools. Such fountains will be equipped to go onto the side of your swimming pool and will spray out water as expected. Many of them can even use LED light sources to make the water appear in many colors.
There are several sorts of these fountains, hence you will have options when searching to buy a swimming pool fountain. If you possess a very expensive in-ground pool, you can also acquire a particular fountain for that type of pool.
This style of fountain can be more expensive at times because you may need to request something special from a qualified contractor. The more economical swimming pool fountains will be simpler to find, and you will experience a lot of fun swimming with them.
Decorative Fountains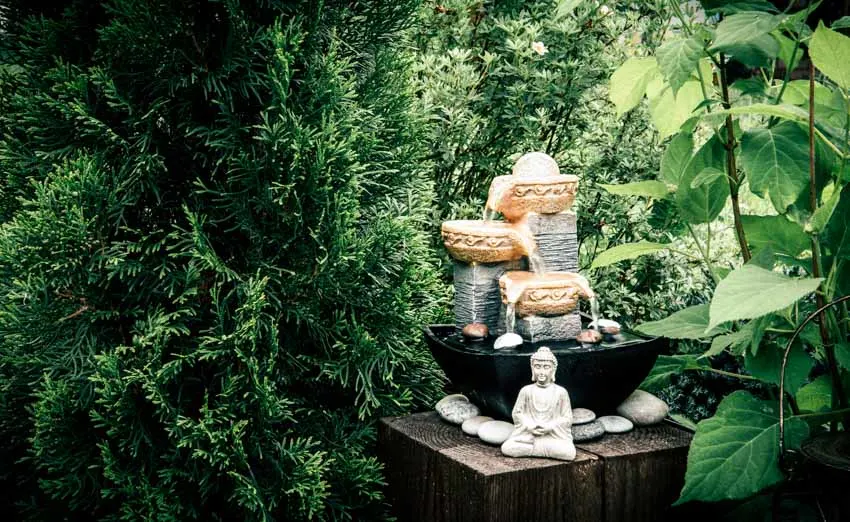 A decorative fountain is defined as a basin with water sprays or jets that are not generally used as wading or swimming pools and with drainage that is not immediately attached to any form of suction equipment for collecting or recirculating the water.
Many fountains can also be used as decorative components. Some of them even feature statues. Many of these statue-style fountains might be highly expensive, while others are reasonably priced. Fountains that double as statues are a great addition to any landscape.
Many decorative types will have designs of charming animals or tiny children playing, giving them a dynamic feel.
Sphere Fountains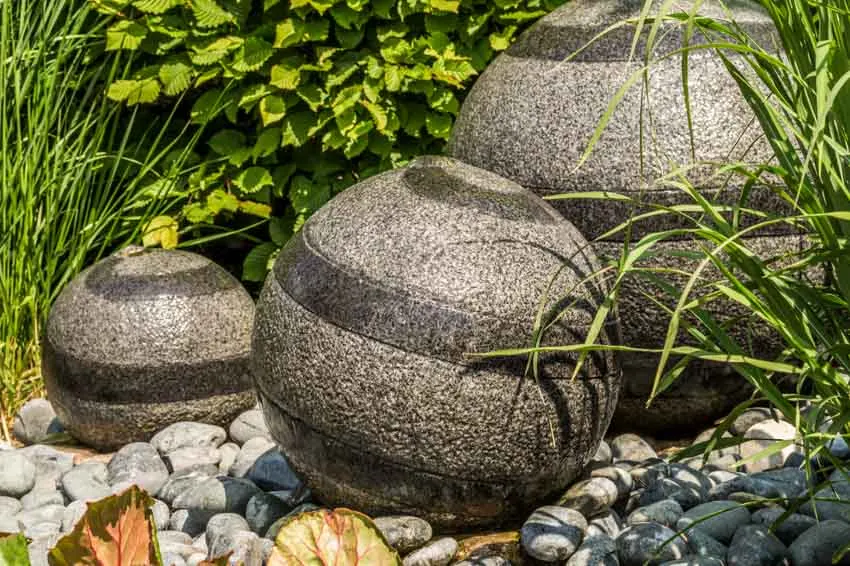 Sphere fountains are an expression of style and sophistication. The picture of a water ball fountain has indeed been observed to elicit sentiments of enjoyment ranging from the touchy vibe of encountering a loved one or a beloved cuddly animal in the flesh to the dreamy sensation of viewing a rock star or superstar in reality.
The ball is the key to the performance of sphere fountains of all sizes and styles. This fountain is made to appear to have been present for a long time.
The soothing spin of water and the appearance of the ball in the bowl is a picture of peace that animals, particularly birds, of all sizes and species have been found to bask in its ambiance, making this water feature an ideal garden fountain.
Column Style Fountain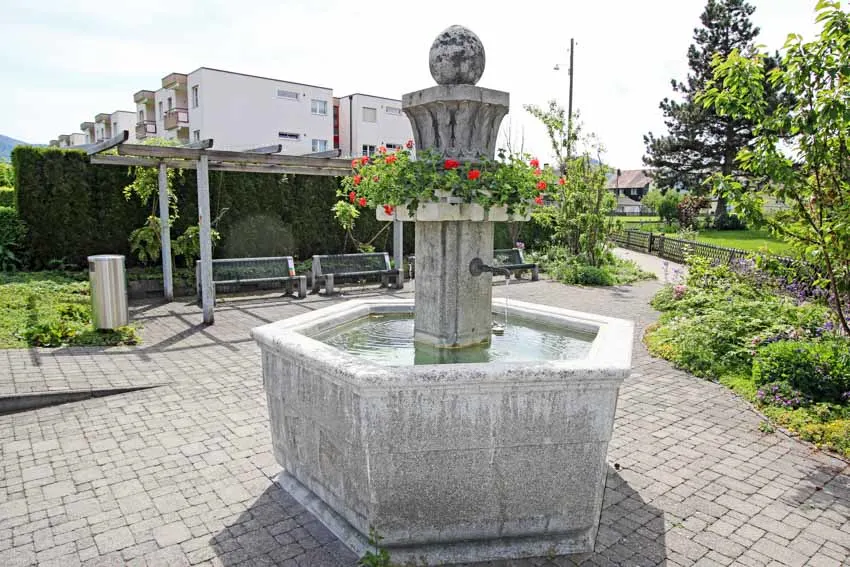 The Greek column-style statue fountain is definitely one of the most profound symbols of fountain styles. Everyone has seen this sort of statue, which is still quite popular today. Greek sculptures have a timeless allure, and many people enjoy having fountains that represent classic Greek iconography.
Drinking Fountain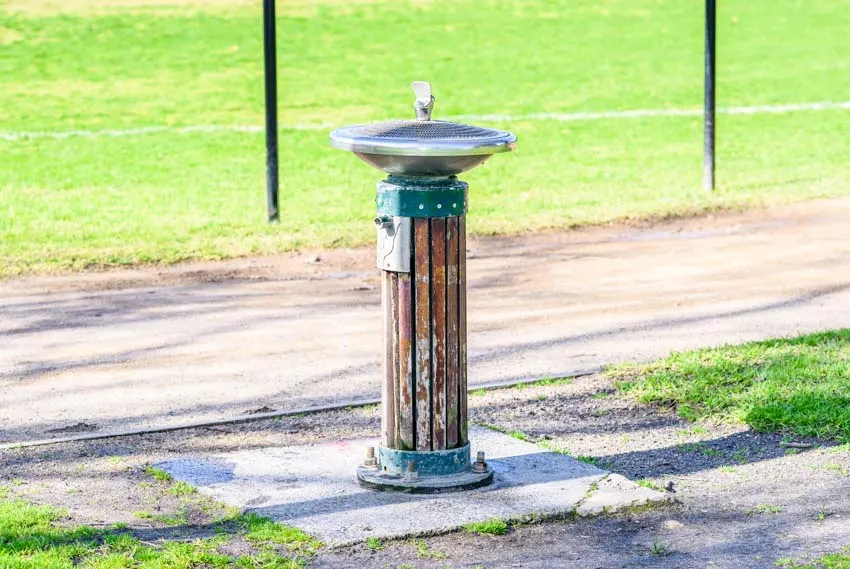 Drinking water fountains are intended to offer drinking water immediately. Water fountains, which are connected to the mains water source, feature a basin configuration with a tap or bubbler that gives either constantly running water or water upon request.
These fountains are typically composed of stainless steel and may include charcoal filters to eradicate odors and tastes from the water supply. They may also contain a chilling mechanism to decrease the temperature of the water.
Water fountains are appropriate for high-traffic locations such as hallways in schools and sports facilities due to their basins, waste mechanisms, and durable stainless steel construction.
Even though these setups may appear unappealing when compared to some mineral water chillers or plumbed-in machines, they are quite functional. They do not necessitate bottled deliveries or even much upkeep, and they can be left unmonitored because they are sturdy enough to withstand some mistreatment.
Indoor Fountains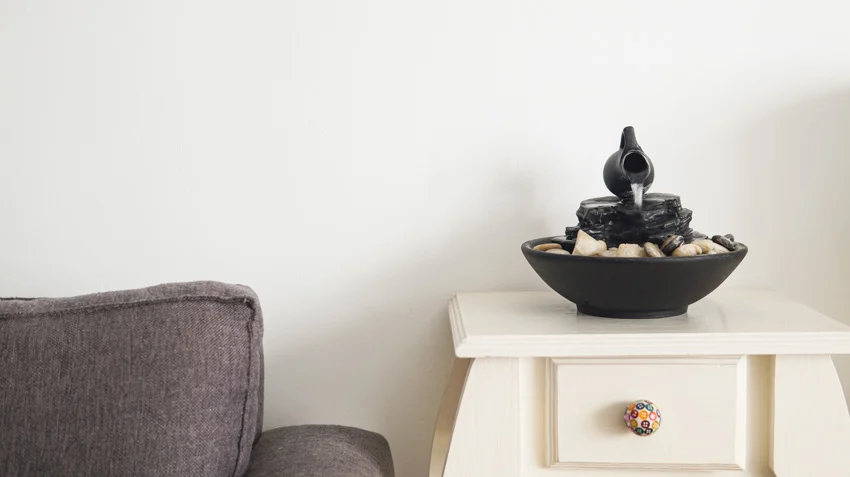 Whenever you hear the word 'fountain', the very first thing that arguably comes to mind is not usually an indoor water element. Nevertheless, indoor fountains have grown in popularity throughout the years.
Many individuals appreciate having running water features inside their homes because they may generate a relaxing atmosphere. Several individuals use these fountains in their home offices to help them focus and stay concentrated on their tasks.
Whatever your reason for wanting an indoor water fountain, you will find a lot of interesting options. Indoor fountains come in a variety of styles. You would be likely to appreciate a gorgeous fountain in your home without putting in too much effort. There are numerous options accessible, whether you desire something extravagant or something minimalist in nature.
Digital Curtain Fountains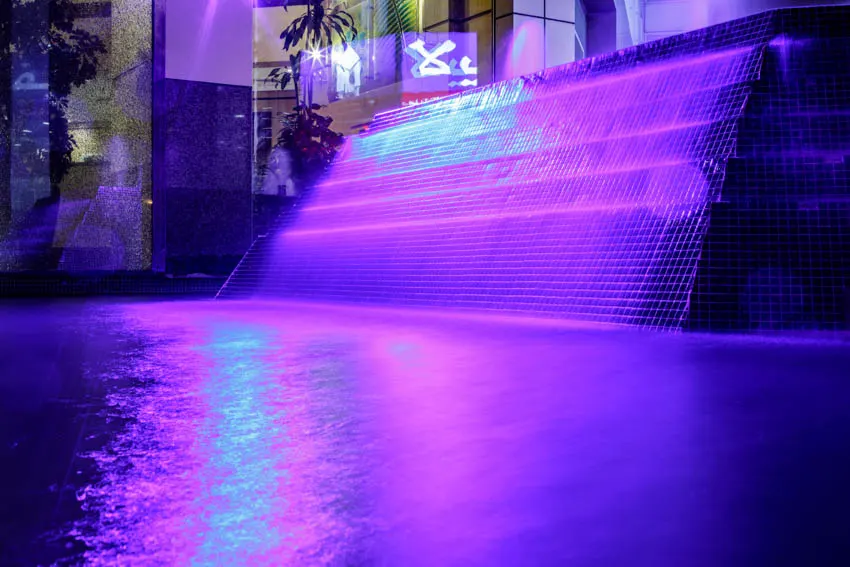 Digital water curtain fountains, as the name implies, are made possible by software-controlled jets of water that generate curtains of water. These displays can also demonstrate various messages, patterns, as well as designs.
LED Fountains
See this LED fountain at Amazon [sponsored link]
Numerous fountains are marketed with LED lights embedded into the design. Such LED lights can improve the functionality of the fountain. You would be able to appreciate the flowing water looking much more impressive because it can be displayed in many hues.
Even if this is merely a lighting effect, it can be very stunning to look at. These types of fountains can be acquired at reasonable prices, making them popular options for homeowners.
Tabletop Fountains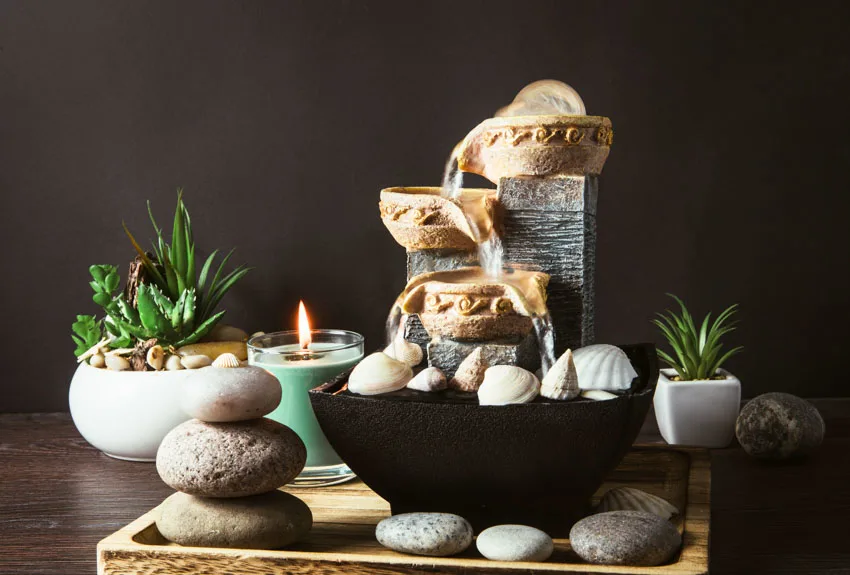 You may also get fountains that are small enough to fit on most types of tables. Tabletop fountains are really attractive and can offer a touch of flair to any area in which they are placed.
These fountains are affordable and can create a sensation of tranquility because you can stare at the flowing water while doing household chores. It comes with an easy-to-install pump, and all you have to do to get it operating is connect it to a conventional power outlet.
Indoor Wall Fountains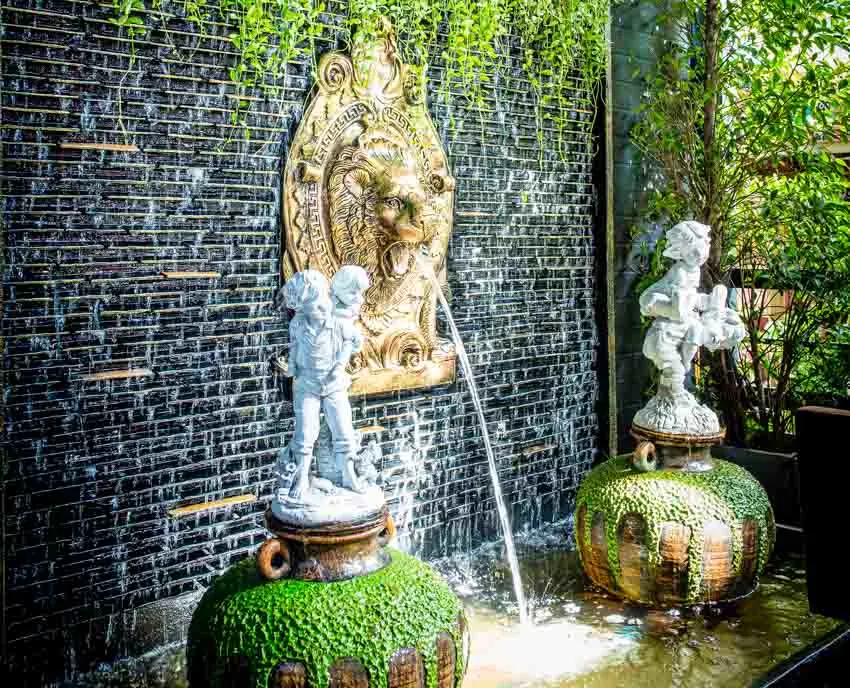 A wall fountain is attached to the wall to provide a visually appealing décor piece that offers a soothing and calming backdrop of sound.
They can be backlit to further enhance the mood at night. Some models come equipped with dimmer switches to control the amount of light and have a variety of different finishes to choose from.
Freestanding Indoor Waterfall Fountains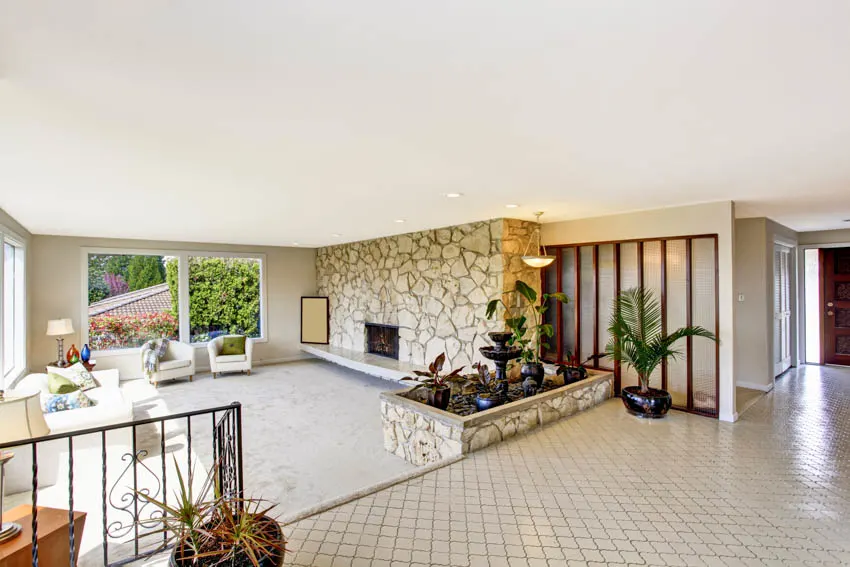 A freestanding indoor waterfall comes in many different designs and shapes. Some of the most popular types feature a cascading waterfall that flows into a stone basin that recirculates the water flow back up.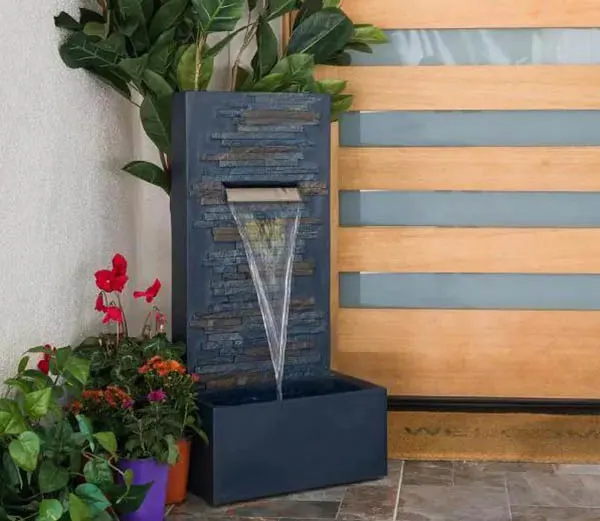 See this freestanding stone fountain at Home Depot [sponsored link]
Lighting features are generally used to illuminate the water flow to create a charming backdrop. Designs are often constructed using natural materials to give the effect of a natural environment.
Fountain Materials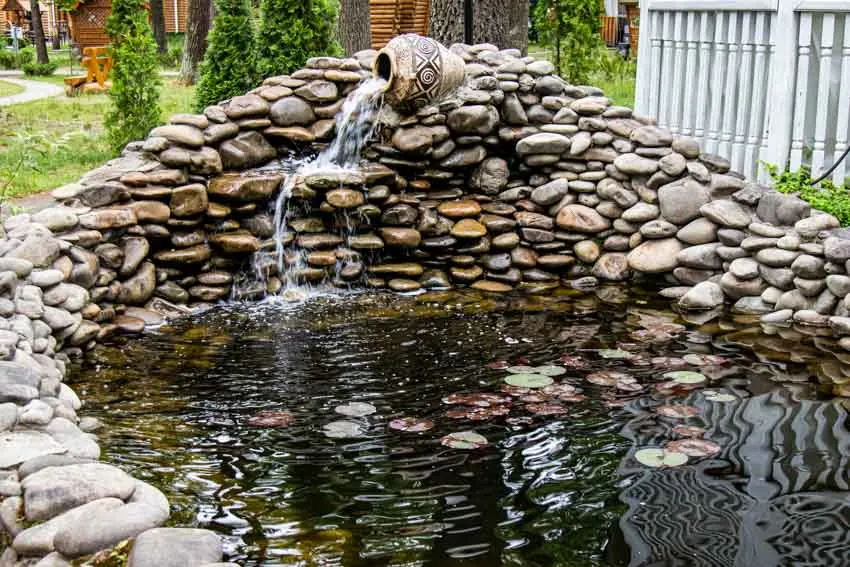 Cast Stone: Fountains constructed of cast stone are among the most popular and in-demand in the industry. They can also be costly if you do not have a substantial budget.
Nonetheless, these cast stone fountains are very stunning and would make a wonderful addition to any yard. In most cases, it is important to take into account purchasing one as it is arguably the best-quality fountain material.
Resin/Plastic: Many fountains are fully constructed of plastic or light resin. When it pertains to indoor fountains and wall-mounted fountains, this is fairly frequent.
At first appearance, fountains constructed of this material may appear to be less durable or valuable than those made of more durable materials. That is not always the case since these plastic fountains can be extremely well-maintained if you are meticulous and consistent.
Fiberglass: Fiberglass is used to make a variety of indoor fountains. When it comes to indoor fiberglass fountains, there are many unique styles to choose from.
This material is simple to handle, and business organizations can make fountains with a variety of distinctive designs. A fiberglass fountain would be an excellent alternative if you want a decorative fountain that will be interesting to gaze at in your house.
Ceramic: Ceramic fountains are popular as well, and they may be found both inside and outside the house. Ceramic fountains come in a wide assortment of styles, but the material is most commonly used to create cascading fountains.
Ceramic is also frequently used in the creation of spouting fountains. Ceramic fountains can be really lovely, thus this type of fountain material will turn heads in your garden.
Metal: Fountains constructed of metal are relatively prevalent. Metal fountains are available in a multitude of styles, thus you must be able to locate any form of fountain you want.
Metal fountains will be quite durable, and you can count on them to last a long time. If you want to buy something that will be an enduring feature of your yard, a metal-made fountain would be the way to go.
How Do I Choose A Water Fountain?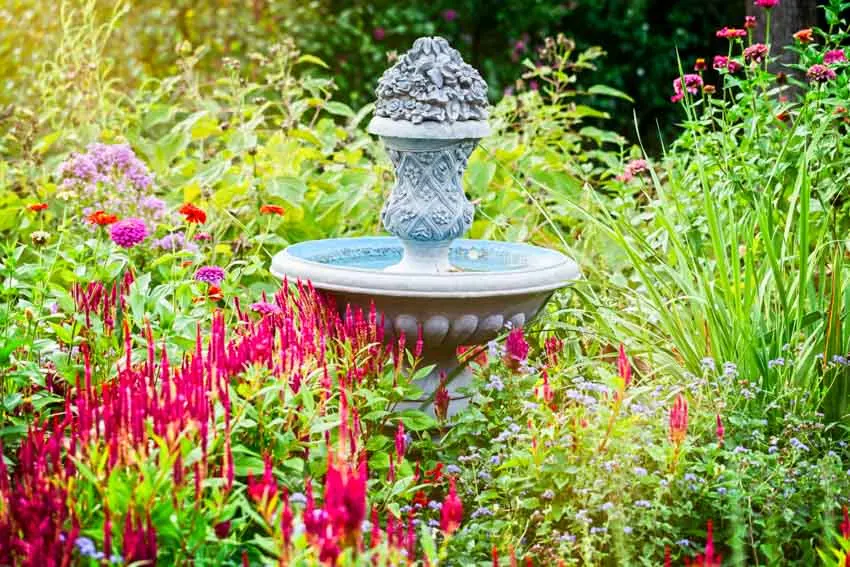 Take into Account Space Restrictions: A fountain is a key focus point in your yard and therefore should blend nicely with the rest of your landscaping. A huge fountain will make your landscape appear crowded, whereas a fountain that is too small will not have the desired aesthetic appeal.
The fountain's location will also influence what style of the fountain will fit in both functionally and artistically. To assist you in making your decision, you can take a photo of your yard and use a photo editing application to put various types of fountains in front of your house. This gives you an idea of what the ultimate result might be.
It is indeed a smart idea to print out your final layout and bring it with you once you buy your fountain. An experienced sales adviser should be able to determine what size fountain you need at a look in this manner.
Select the Appropriate Type of Fountain for Your Space: The following step is to select the appropriate sort of fountain for your location. Even though you may have an understanding of what you want, it may be thrown out the window when you realize the vast array of options available.
To prevent becoming confused or purchasing an unnecessary fountain, it makes perfect sense to limit your options before you begin shopping. There is a lot to select from. When selecting a design, keep the style of your home or garden in mind. A particularly ornate statue fountain will look out of place in a modern residence. Consider fountains with a more modern design.
If you do not have a lot of outdoor space, a wall-mounted fountain might be a good option. Aside from shape and size, the material utilized to build your water fountain does have a significant impact on its overall appearance. You should also select the most ideal fountain material. You can check the materials aforementioned to give you an idea of which one best suits your needs.
Match them With the Right Aesthetic Elements: Decorative fountains will genuinely shine out in the dark with unobtrusive lighting, which is necessary if you spend more time socializing outside at night.
Amber or blue illumination creates a soothing atmosphere, but brilliant white illumination appears dramatic and stimulating. Using differently colored light bulbs will add a festive vibe to your fountain.
Paving might help to accentuate and enhance the appearance of your fountain. You can take into account a walkway leading up to the fountain or a paved seating space adjacent to it.
Flowers and shrubbery offer a lovely touch to any outdoor fountain arrangement. It is critical to select the suitable type of pump to obtain the desired aesthetic. Always use the best grade of pump available.
How Do I Choose The Right Size Fountain?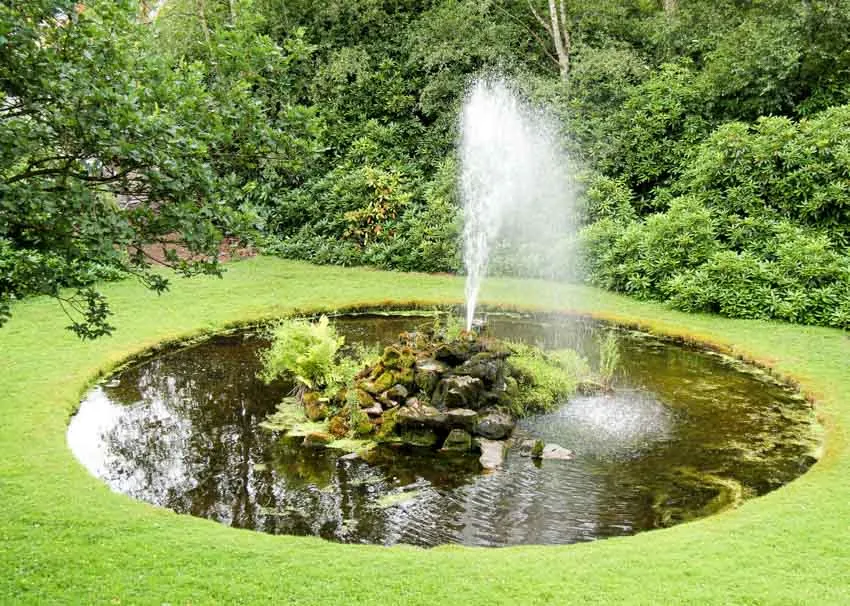 It is critical to keep in mind that the size of a fountain should be proportionate to its surrounding environment and other elements. A large fountain will appear best in a large yard, whereas a small fountain will look beautiful in a small setting. The overall size of your house also influences the size of an outdoor fountain.
As a general rule, you should use a huge fountain as the centerpiece and a small fountain as an accent. According to experts, a fountain must never be taller than one-third the height of your house. A fountain that is deeper than it is wide would help preserve water since evaporation is reduced.
Best Place To Install A Water Fountain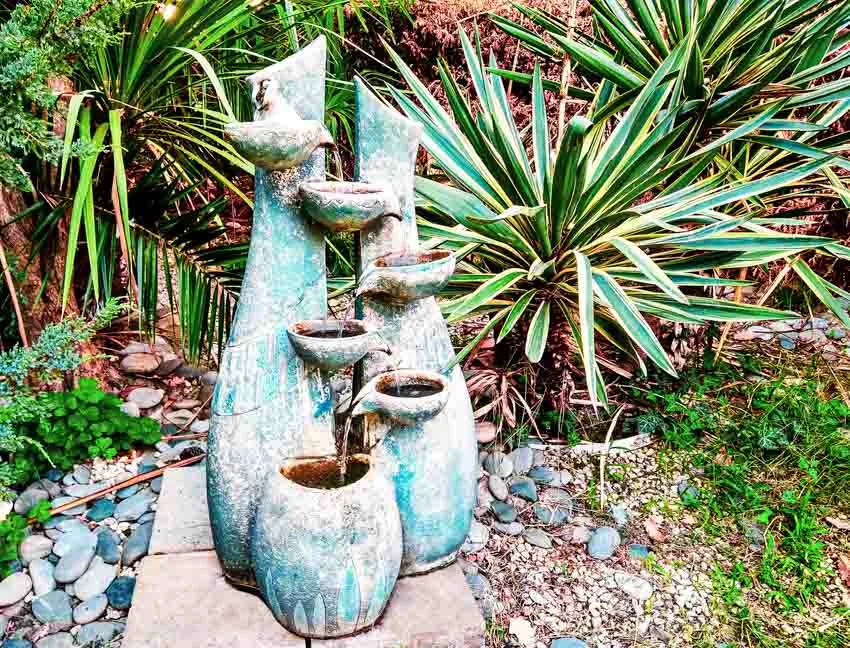 Where it draws the eye would be the best location for a fountain that will become an accent feature. From an aesthetic sense, the best placement will strongly indicate your landscape.
Take note that no single location is ideal for every terrain. The visibility of each garden is subjective, and what works for you may not work for others.
Acknowledging visibility enables you to make the fountain the centerpiece of your landscaping. You should select a location free of overgrown foliage and dark corners.
You should consider placing the fountain in a wide open space that can be seen from all directions. Furthermore, there should be enough space for guests to come and appreciate the fountain's atmosphere.
See more related content in our article about the best patio water features on this page.