This gallery features popular fence designs for the front yard and backyard of a home. Choosing the right fence is important as it effects the resale value of a house and its curb appeal. When it comes to selecting the right style there are many considerations to make.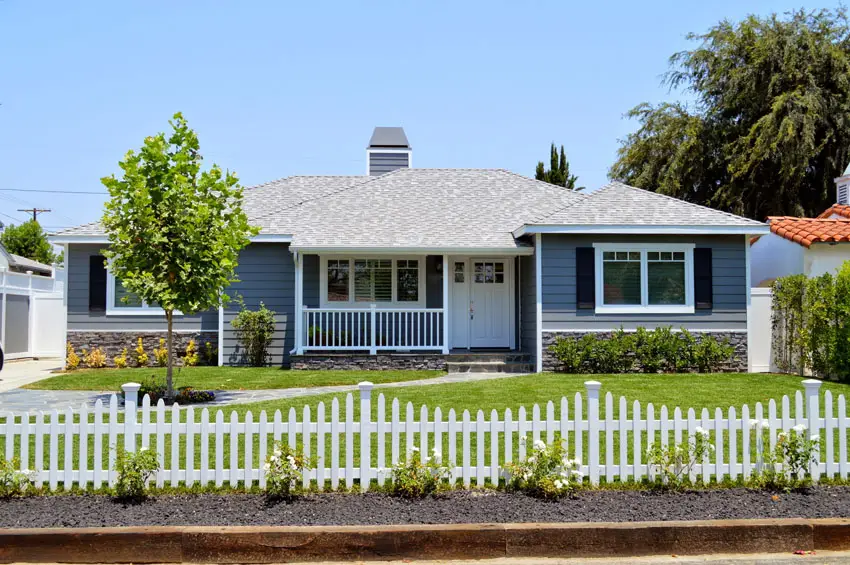 Below you'll find the pros and cons of each type and get fence ideas to help you select the one that's best for your home.
When choosing what type of fence to install its valuable to carefully consider its primary function. A well constructed fence can serve as a perimeter for your home's property line. It can create privacy for your yard, as well as keep people out and help offer protection from intruders.
Many fence designs are useful for keeping pets secure in your backyard, prevent animals from entering a garden, or to provide a safety barrier around a backyard pool. If the fence is for the front yard it will need to enhance the look of your home and match its overall design style.
The picture above features a white picket fence which is a standard to many suburban homes. This white picket fence design is arranged in different heights following a wavy outline that frames the front lawn and leads to the house.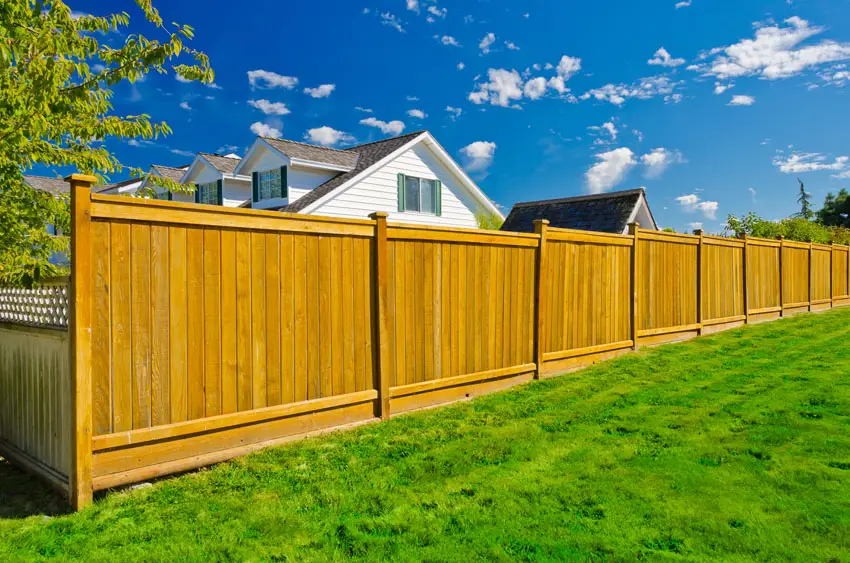 High, sturdy and affordable, cedar wood is a good option for fencing. With a yellowish tinge, it provides color to the house, as seen here, even when it is cut and laid out in a simple design. Cedar wood is also easy to cut and stain, so DIY enthusiasts will find this wood fun and easy to work with.
Fence Buying Information
The cost of fence installation varies depending on your location, choice of materials and labor expenses. Generally, fencing is priced per linear foot, and whether you self install or hire a fencing installer will determine much of your final cost.
Those who wish to install the fence themselves can find pre-made panels to make the job easier. The cost of these panels can vary depending on the type of material used.
For example a wood fence panel at Home Depot or Lowe's can typically cost around $100 for a 6ft by 6ft western redwood panel or pressure treated cedar panel.
Fencing Cost
Choosing cost effective fencing is a popular choice for those with a large area. A good example of a cheaper fencing material is chain link at $7 a linear ft.
Wood fencing can vary on cost depending on the type of wood used averaging $12 a ft. Vinyl fencing is more expensive than wood at around $17 a ft. Aluminum fencing is even more expensive at around $25 a ft.
The installation cost for fences differs depending on one's preferences. Before even starting to put up the fence, it is essential to consider the following:
Parts – can be acquired on your own or can be relied from the fence contractor with charges.
Permits – it is important to check with the municipality if a permit is a requirement. The average amount for a building permit is approximately $800.
Utilities – it makes sure that the fence does not interfere with other services like the underground wires or pipes. You can call 811 for assistance to prevent unwanted costs from damages.
Grading – check the land because the more it is sloped higher the more it will cost you more for the fence installation.
Labor – charges consist the labor and materials and charging for materials is according to linear foot.
The cost of the fence varies as it depends to the style as well as size. Below are the usual costs for fencing:
Wooden Fence – its cost varies according to the type of wood being used. For a DIY installation, it can cost from $3 to $9 per foot for a ranch-style fence. For a basic 6′ wood privacy fence, it would cost $10 to $30 per foot for professional installation.
Chain-link Fence – it is ideal for a basic and cost-effective structure. Its price changes depending on the cost of the steel. A DIY installation usually costs $3 to $6 a inear foot for a 4′ high. For a 6′ high, it costs between &8 to &15 a foot.
Gates like having a 100′ of fencing would cost $400 to $2,000 when you do it yourself. Professional installation would already charge $5 to $35 a foot or $600 to $4,000 for a 100′ fencing. This kind of fence is durable however it does not have a good aesthetic design.
Woven wire Fence – it is inexpensively durable with low maintenance. It is made with a wire net consisting of horizontal and vertical lines. It is used for marking property lines or keeping the pets or livestock in or out.
Its cost is about $0.40 to $1.50 a foot for DIY materials or $350 to $1,300 for enclosing a square acre. The cost for professional installation is $1.50 to $4 per foot or about $1,300 to $3,400 per acre.
Five-strand Non-electric Wire Fence – it is used in controlling livestock that costs $0.25 to $1.50 per foot for DIY installation or about $225 to $1,300 for enclosing a simple square acre that is about 830′. Professional installation costs $0.50 to $4 per foot or about $450 to $3,500 for a square acre enclosure.
High Tensile Electric Fence – used to control the livestock or wildlife which costs $0.05 to $0.75 a foo or $50 to $650 for enclosing a square acre. Professional installation would cost $0.20 to $3 per foot or $200 to $2,500 to enclose the acre.
Vinyl Fence – it is an expensive fence wherein a DIY installation cost for a ranch-style rail fence is about $4 to $12 and approximately $15 to $70 per foot for a 6′ privacy fence.
Wrought Iron-style Fence – it is usually made of aluminum or steel costing $20 to $100 per linear foot. It would cost $2,500 to $11,000 for a DIY 100′ fence that has a basic walk-in gate. Professional installation costs $30 to $300 per foot or about $3,500 to $35,000 for a 100′ fence that has a walk-through gate.
Composite Fencing – More of a resemblance to a wooden texture, the composite fence offers a lifespan of 25-40 years available in a range of hues having no need to be painted after the installation which makes the composite material a premium rather than timber.
The price is fairly expensive when compared to other fence types overall.Here are prices for composite fencing in linear feet: Composite picket fencing: $9-$22. Composite privacy fencing: $20-$32. Composite premium fencing: $28-$45 (Note that the amount is calculated per 164 linear feet for fencing)
Fence Ideas
Below you'll find the pros and cons of each type and get fence ideas to help you select the one that's best for your home.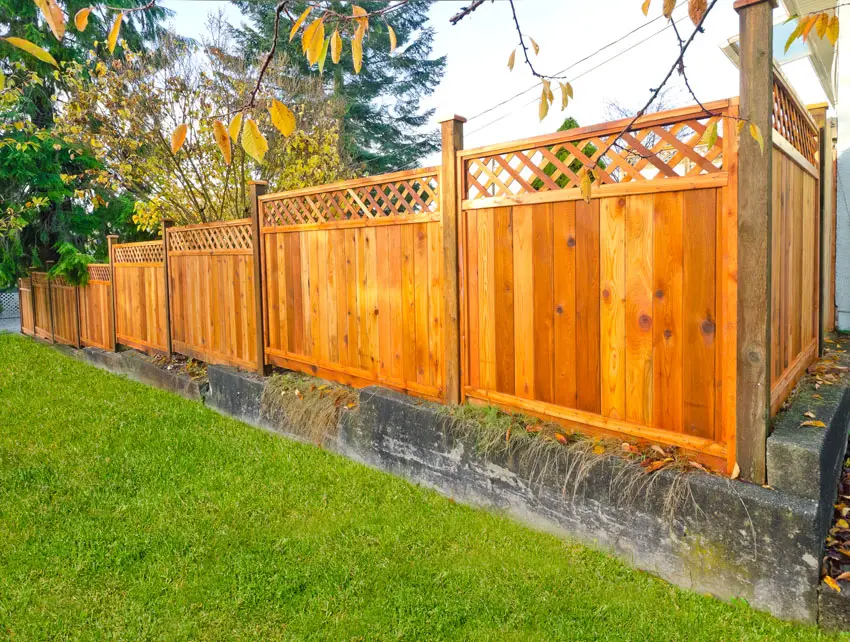 This high wooden fence features a warm wood stain that brings out the natural black knots in the wood. A concrete base with canal allows rainwater and groundwater to flow naturally out to the storm drain, preventing wood rot on the fence.
A cross hatched pattern at the top of the vertically placed wooden planks allows for more light and air while still maintaining a sense of security.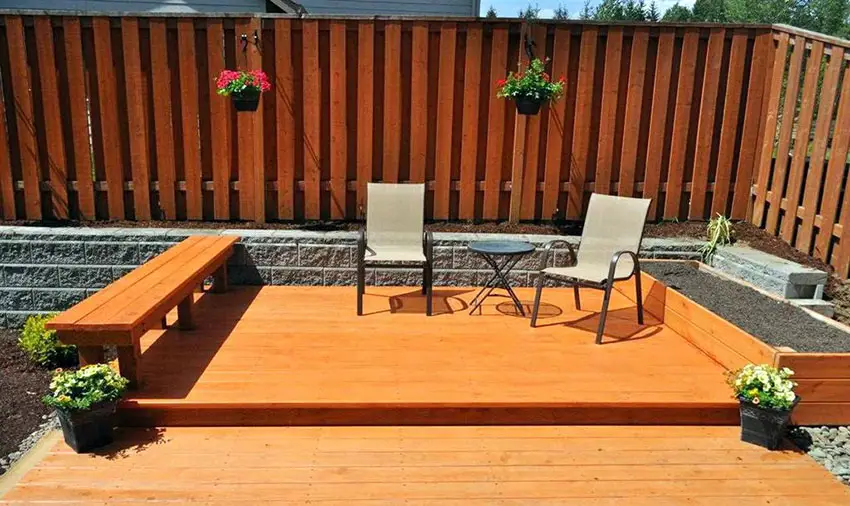 Made out of redwood, this kind of fence is high and sturdy, but ensures that enough air passes through to cool this outdoor deck. Putting some space in between wood planks is a budget-friendly solution, and in this case, potted plants were mounted onto the fence.
The dual level deck's wooden finish is done in a slightly lighter stain and features a small wooden bench.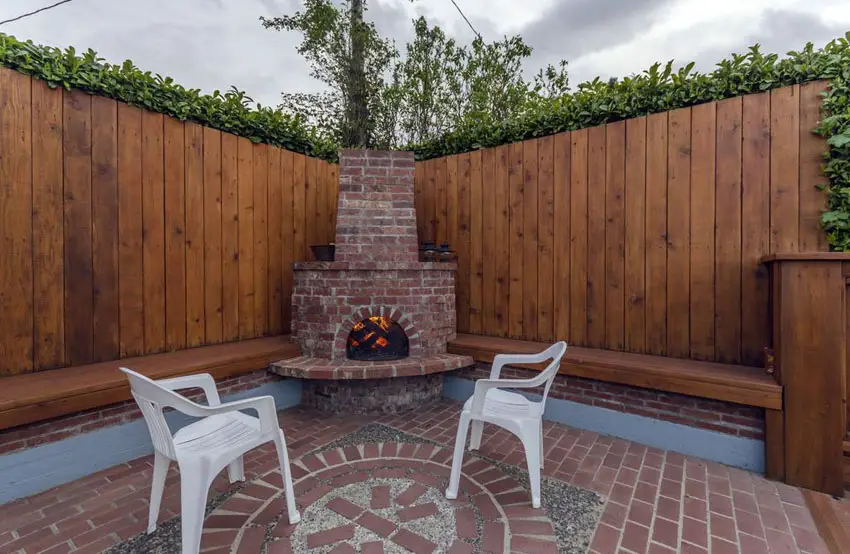 This garden fence perfectly matches two basic elements – brick and wood. Heavy grained wood planks are laid out vertically without any decoration, save for the natural grain and color of the wood. This goes well with the rusticated red brick used for the patio flooring and the built-up brick fireplace.
Low benches made of the same wood run along the two sides of the patio, also supported by a base layer of red brick.
Wood Fence
Also known as a neighbor-friendly fence, a shadowbox fence ensures a uniform look on both sides of the fence, meaning both sides of the lot need to agree on the look and maintenance of the fence.
In this case, an aged light colored wood was used in between sturdy post and rails of the same finish. This type of fence is also called a board on board fence, as a series of boards can be mounted onto the upper and lower rails, depending on how much privacy is called for.
Fence Cost for Wood
Wood fences provide great security as well as privacy despite its high cost for labor and materials used. This type of fence can increase its strength and longevity because of its durability.
The cost for wood fencing indeed varies especially because of the different options or preferences including the type of wood to be used or the size and style. Below is the usual cost for wood fencing:
Semi-privacy of Privacy Fence – it is used to separate the home and backyard from that of the neighbor. Its other uses include adding an extra layer for protection to individuals who will install a pool in the yard, for differentiation of the varied spaces in the yard, and for the creation of barrier between the yard and garage.
The materials that depends on the type of wood, complexity, and height would cost $4 to $75 per foot. The materials used for 6′ solid wood privacy fence of treated cedar or pine would cost $7 to $15 per foot, or $800 to $1,800 for 100′ fencing, or $2,200 to $4,800 for 300′ fencing.
Ranch Style Wood Fence – this is otherwise regarded as the split rail or the post and rail. Having two to four rails would cost $3 to $9 per linear foot for the materials only. It would cost $400 to $1,200 for 100′ fencing and about $2,500 to $8,000 for enclosing a simple square acre that is about 830′.
This price varies whether there will be a gate using a less expensive one like the pine, which still needs treatment to resist insects and rot, or a naturally insect-resistant cedar as well as redwood.The professional installation for rail fence would cost about $8 to $25 per foot, or $900 to $3,000 for 100′ fencing, or $6,800 to $21,000 for enclosing a square acre.
Wooden Picket Fence – the materials to build a 3′ to 4′ tall fence cost $3 to $30 per linear foot. With regards to the wood type, fence height, and design complexity, the cost could be about $400 to $1,800 for 100′ fencing and $1,000 to $5,000 for 300′ fencing for DIY installation.
Professional installation would cost a 3′ to 4′ tall fence about $1,000 to $8,000 for 100′ fencing and $3,000 to $24,000 for 300′ fencing.
Semi-privacy or Privacy Wooden Fence – its cost ranges from $8 to $100 er foot. Depending on the size, the following is the cost: $10 to $30 per foot for 6′ tall fencing, $1,000 to $3,500 for 100′ fencing, and $3,000 to $10,000 for a 300′ fencing.
Just like in Georgia's Production Fence Works, its 6′ wood privacy fence that has as pressure-treated fence post in concrete costs $11.30 per foot using a treated pine and $14.99 per foot using a Western red cedar.
A semi-privacy wood fence design that has a top as well as bottom rails and vertical pickets that has a spacing of two inches apart has approximate cost of $18.80 per foot when using pine and $25.75 per foot when using a Western red cedar.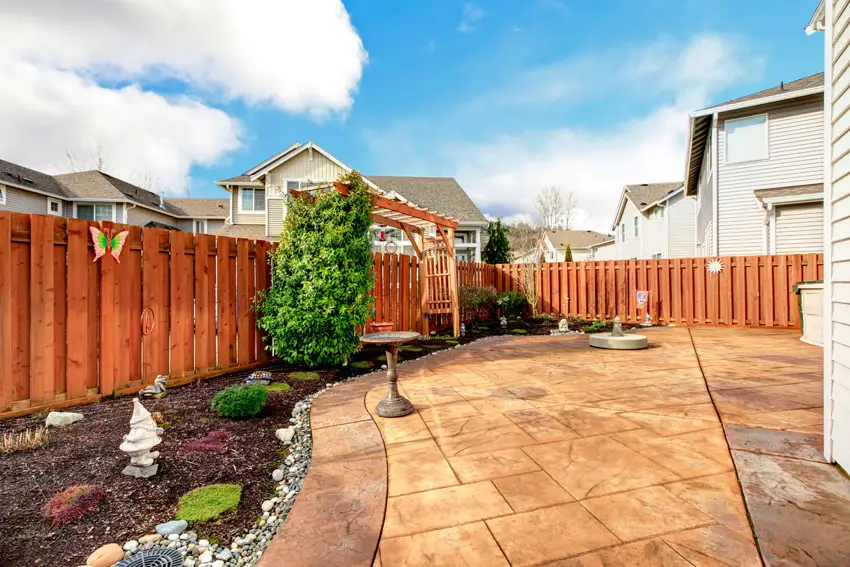 A variation of the shadowbox fence, this is referred to as the "good neighbor fence". With just a layer each of wood panels mounted onto the rails, and spaced evenly at one plank apart, this fence provides security but allows air and light to pass in between the fence.
This is a good fence to have when one intends to socialize with their neighbors. In this case, a wood pergola, of the same wood finish and done up in the same basic construction is built to the side of the paved garden path.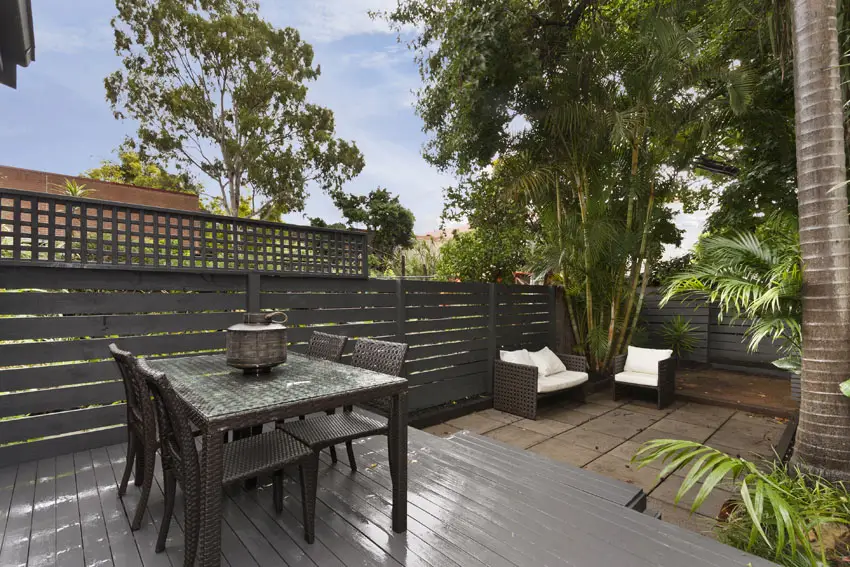 This backyard fence features a horizontal layout of planks in between the fence posts. In addition, a checkerboard patterned fence top was installed for added privacy and security, without compromising the light and air quality of the backyard patio.
A dark stained wood cut in thinner planks was used for the outdoor deck, where a matching woven plastic patio set was placed.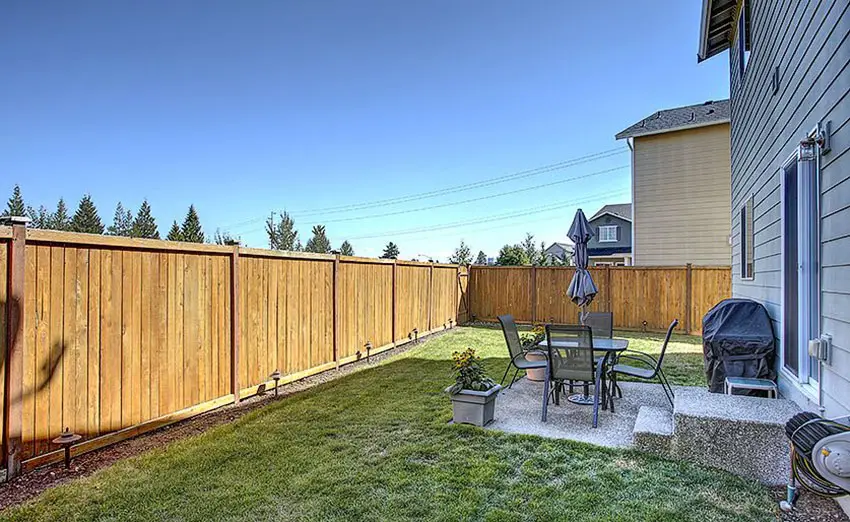 This fence, done up in a basic yet sturdy construction uses red cedar wood. The natural grain is allowed to shine through, creating an interesting look in the vertical planks laid out in between the main posts and rails.
To the side of the fence, a pebble bed is a great way to protect the fence from runoff ground and rain water, while small solar lamps light up the fence at night in a quaint yet charming way.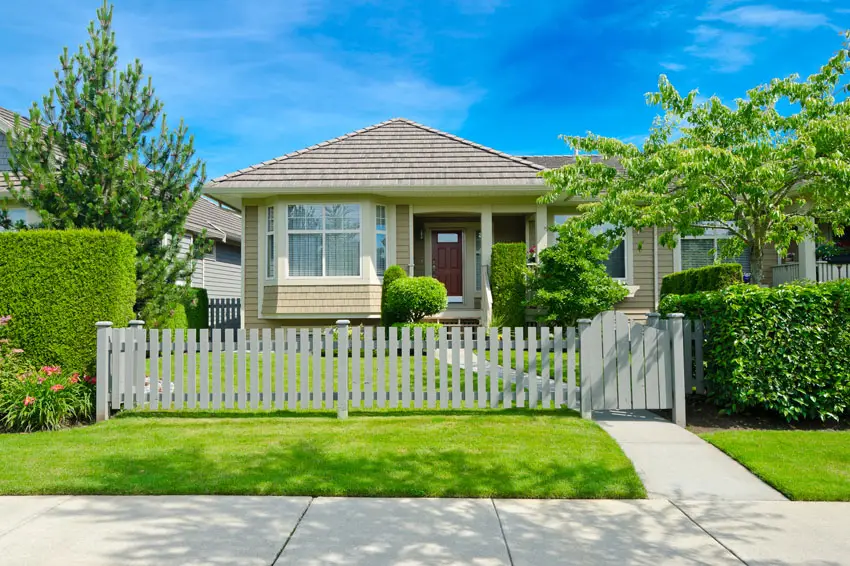 A typical scenario for most small, safe suburban areas is the picket fence. However, smaller, more contained communities with little security issues may opt for a low picket fence.
The low picket fence does not do a good job at providing security; however, it is great for when one wants to showcase the front façade of their home.
In this case, the light grey fence basically fades into the background, bringing out the earthy tones of the beige shiplapped wall panels, the brown roof and the rich wood finish of the front door.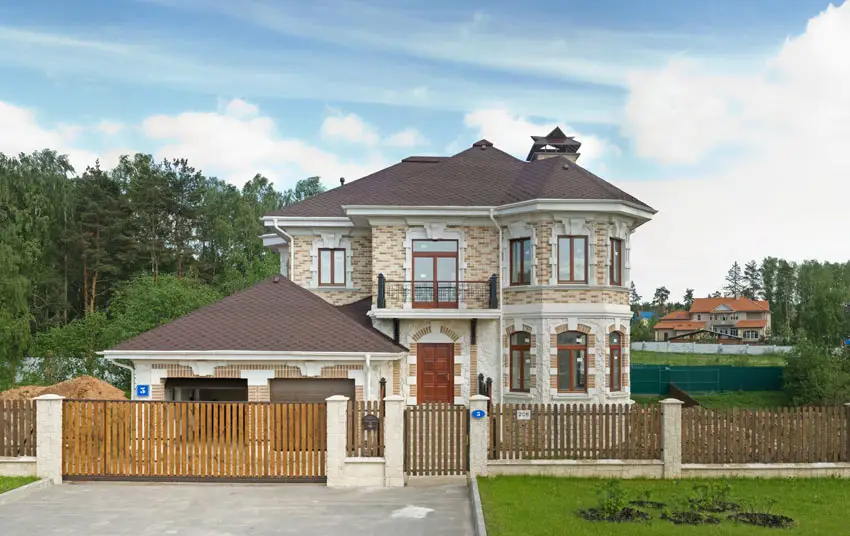 With the house façade done up mostly in beige and brown horizontal stone tiles, the front fence posts features post of the same light beige split face stone in horizontal bricks.
In between the stone posts, a top and bottom rail made of weathered wood is used as the base of more weathered wood planks in a vertical layout with spaces in between.
The gate is done up in the same fashion, except the wood is stained a brighter, more vibrant shade, to emphasize the gate opening and to put in a warmer tone for the house.
Cedar Fence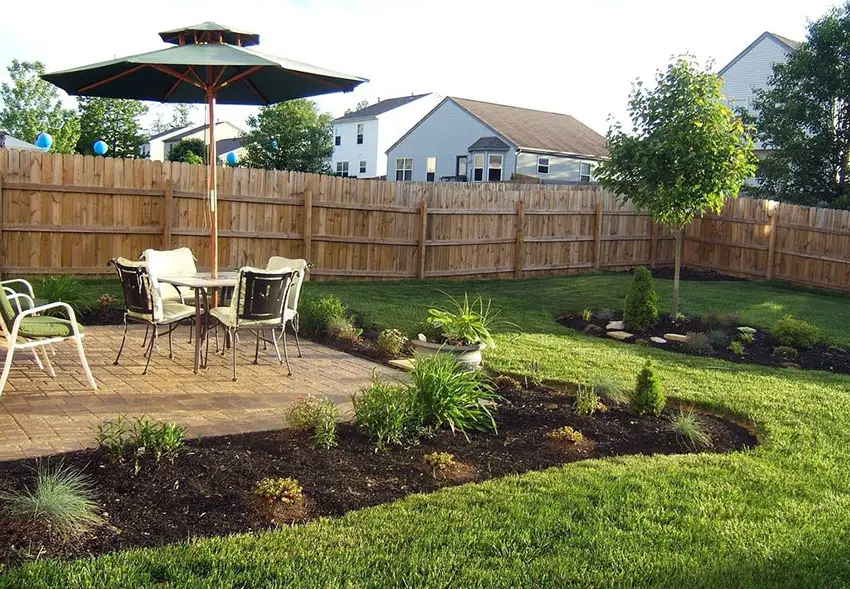 This simple cedar wood fence features post and rail with vertical planks lining only one side. Although this configuration is cheap and simple, closing the gaps in between as well as creating a high stockade allows for ample security and privacy.
For this garden, the simple fence goes well with the quaint backyard patio in colored cement pattern, set with a patio set with large umbrella.
Post and rail fences are normally similar to its native origin split rail fence except for often having more decorative posts.
The particular fence type offers the flexibility of installing posts and rails separately. Used more for decorative purposes the fence can be built from a variety of wood such as cedar and spruce which has a longer lifespan or pine considerably shorter.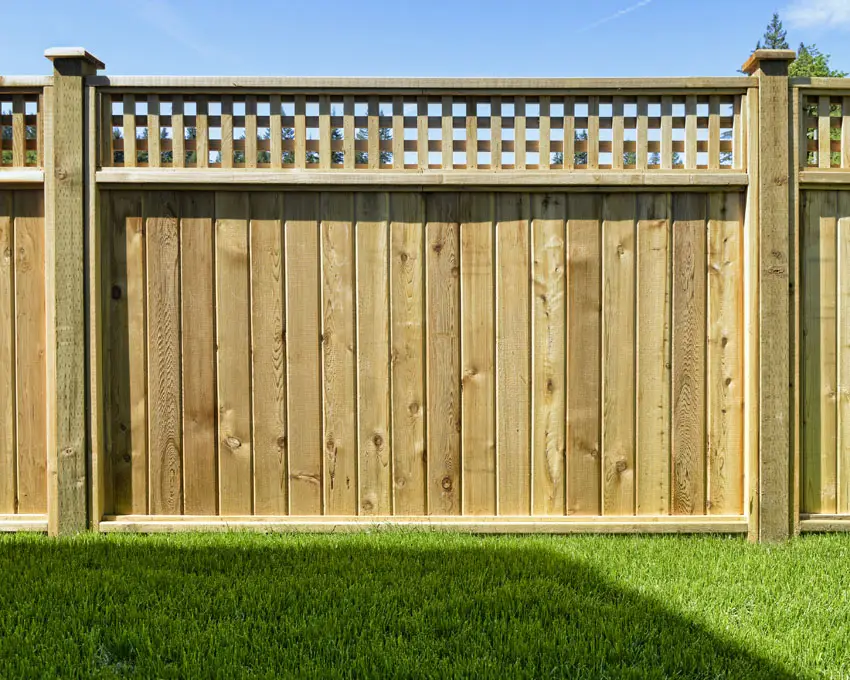 This fence also uses the basic but sturdy cedar wood construction of post and rail with vertical planks between.
Using larger widths of planks allows the natural grain and knots of the wood to shine through, while placing a light lattice work at the top aligns with the fence's rustic charm, and allows more light and air to pass through the heavy fencing.
Fence Panels Made of Wood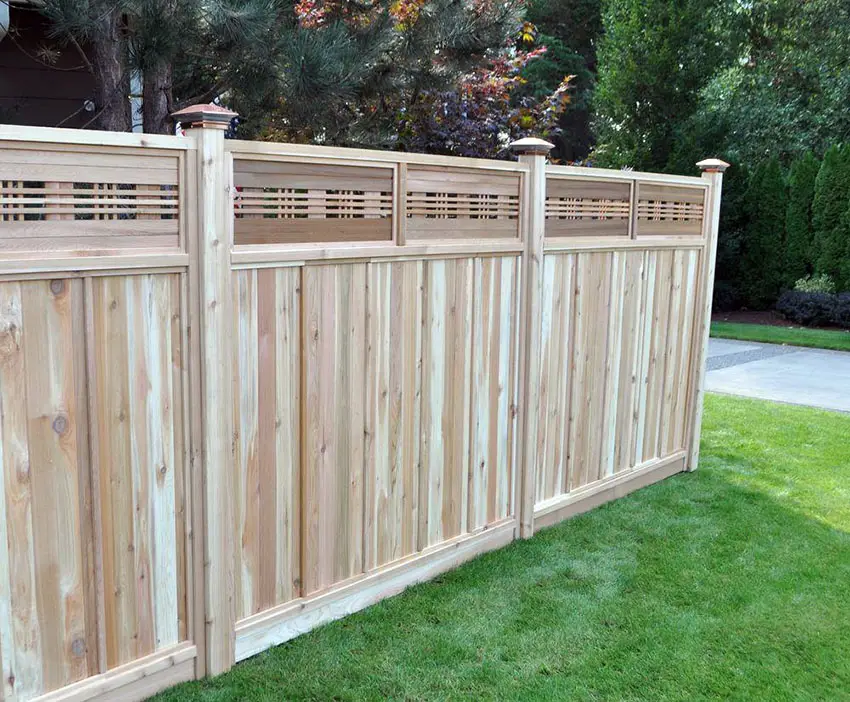 You can purchase wood fence panels like this Western red cedar fence kit from hardware store's such as Home Depot or Lowe's.
They generally come in 6×6 sections for around $105 a piece. Natural cedar is a great material for outdoor fencing since it is eco friendly, and naturally resistant to bugs and decay. This fence shown has a wood lattice top and can be connected together with screws or nails.
Horizontal Fence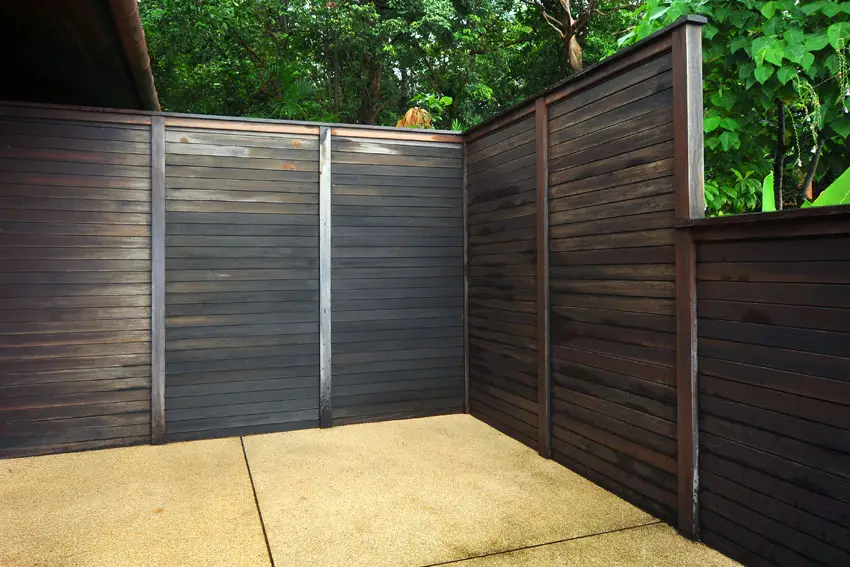 Horizontal fence designs provide a modern or contemporary style. For a more tropical modern vibe, dark stained wood, rusticated with water exposure can be laid out in thin horizontal strips.
This type of fence combines the clean linear lines needed for a modern expression with the dark, heavy grain of tropical lumber. This fence is well matched to the warm beige tone of the large outdoor tiles used for the patio.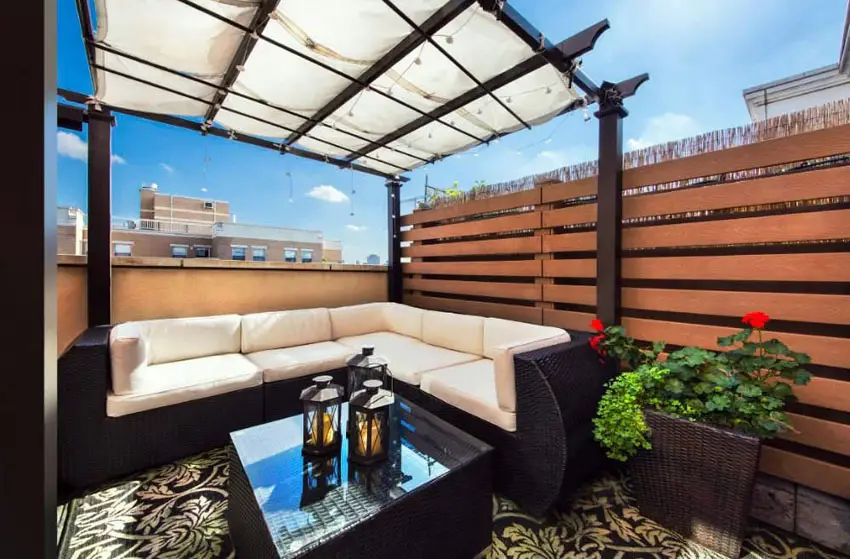 A good option for rooftop fences, horizontal wood slats in a warm tone can be laid out with spaces in between them to provide privacy. This allows light and air to pass through without compromising the security of the patio space.
The patio itself features a pergola with a light white fabric shading a beautiful composite rattan L-shaped sectional patio sofa with a matching central coffee table decorated with an assortment of hanging lamps. The addition of a leafy dark green carpet also adds to the Bohemian charm of this rooftop patio.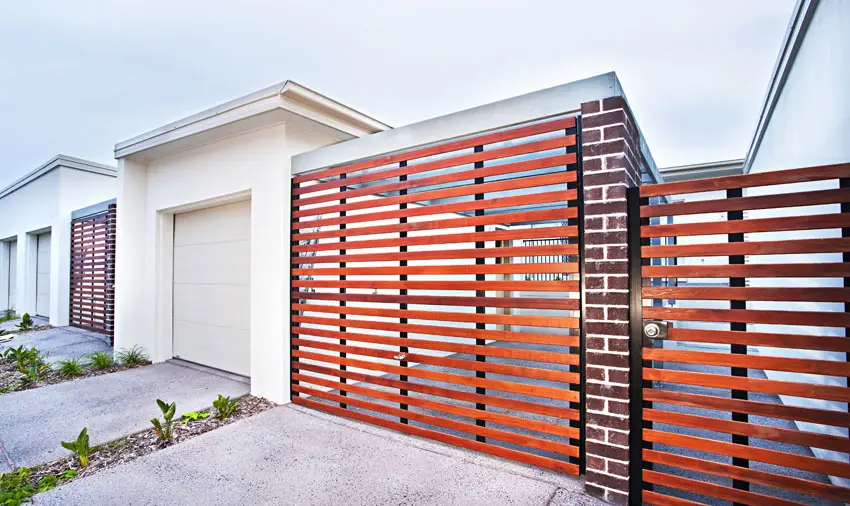 A clever match to a more modern style home, this fence features red wood strips spaced evenly and mounted onto black painted metal rails. The streamlined profile matches the boxier shape of the house and its plain white walls while bringing in a more natural finish with its warm wood grain.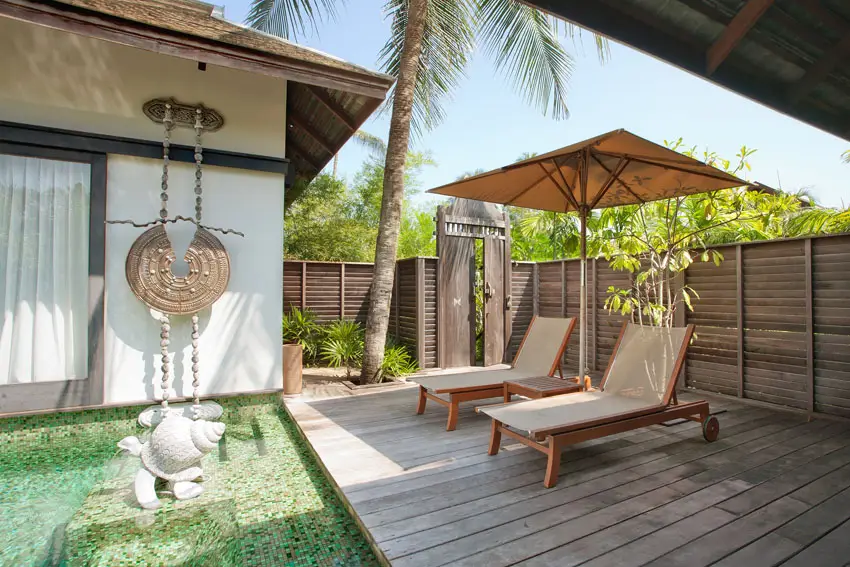 This simple yet luxurious looking backyard setup features the use of weathered wood. The deck is elevated using thick planks laid in a linear fashion, where two sunbathing chairs are placed on the center with matching patio umbrella.
The fence matches the finish of the deck, albeit in smaller strips mounted onto the thin posts and rails. This simple layout brings out the eccentricity of the Asian-style wooden gate with header, as well as the pool décor made of ceramic, stone and brass.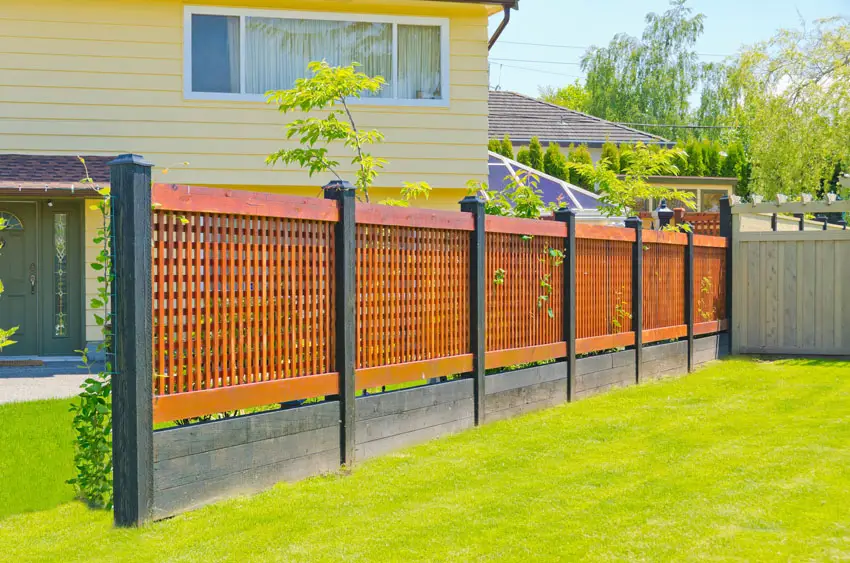 To give this fence a more Contemporary Asian feel, the use of a very warm wood stain was paired with a frame done in scrubbed black painted wood.
The base features heavy timber posts and a base of wide horizontally laid wood planks painted in black then scrubbed to achieve a weathered look.
In between these, a lattice work of thin wood strips is put in between two heavier horizontal planks both stained in a warm reddish tone.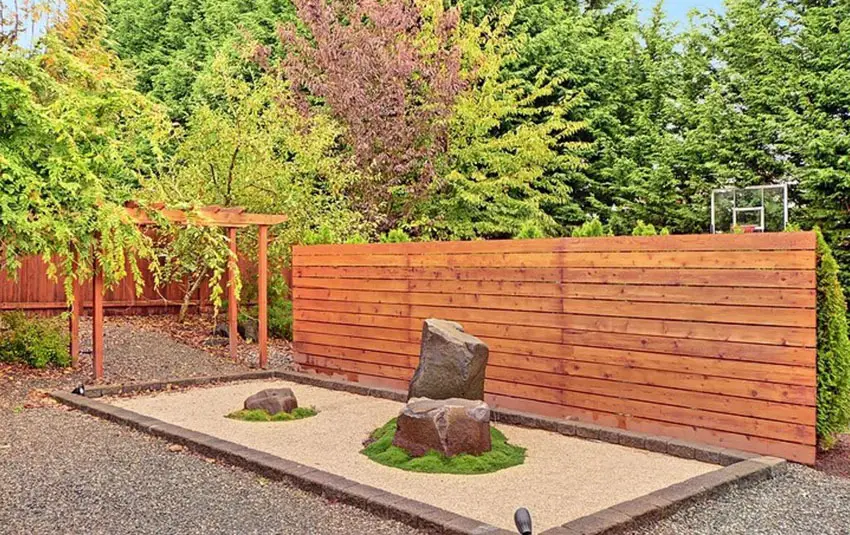 This tranquil Zen garden is given a good backdrop with the stained wooden fence behind it. The fence is a series of wood planks, stained in a warm wood finish and laid out horizontally, framing the Zen garden in its entirety.
The rest of the garden features small pebbles on the ground, a stark contrast to the rich greenery of the trees behind the fence.
Modern Fence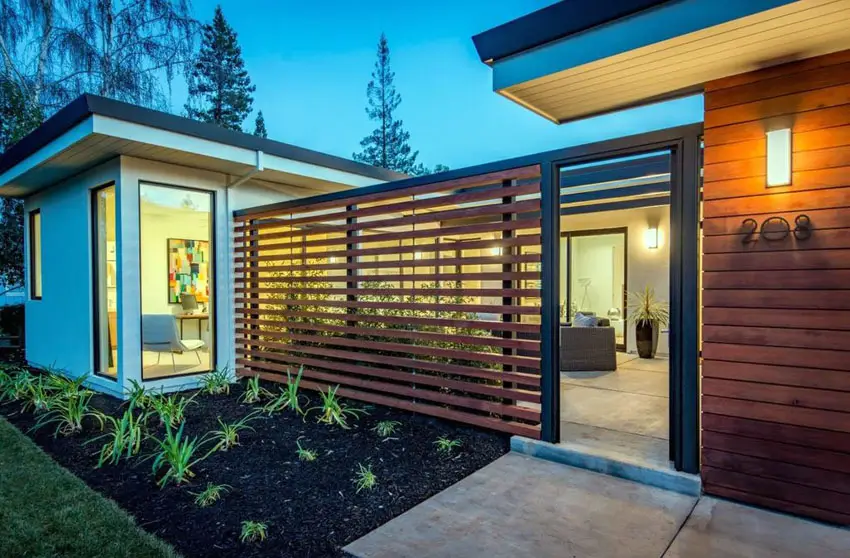 This Modern house features a boxier profile, with its large picture windows as well as the use of white for its main walls and dark grey for its fascia. The warm wood tone used for the fence as well as the wall for the main entryway brings in the element of warmth.
The fence features a black painted metal frame done in a streamlined rectangular layout, with thin wood strips in a warm wood stain spaced evenly and running in between the frame.
The outer wall also features the same wood strips packed closely together as the backdrop to the house number and recessed wall lamp.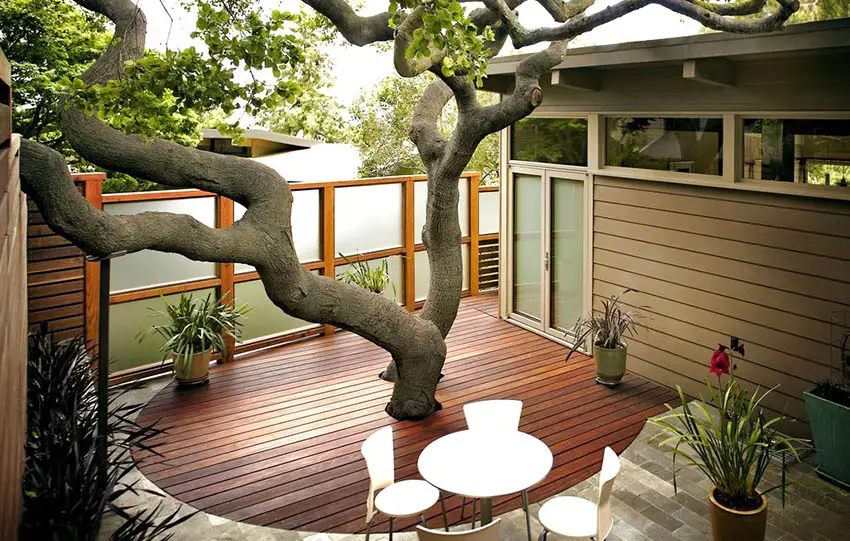 This interesting contemporary backyard deck is provided privacy by utilizing a wood fence with frosted glass panels. This fence design is perfect for those with close neighbors who still want to enjoy a sense of privacy and let in natural light.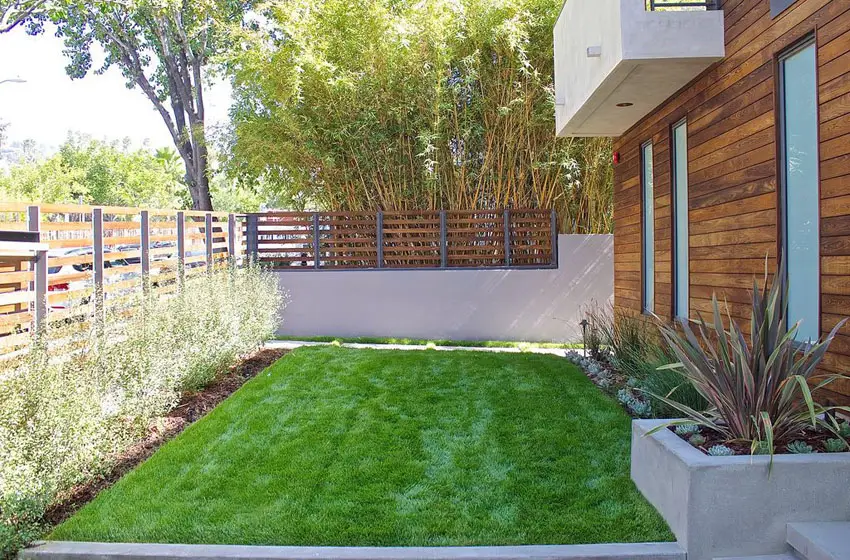 This house, featuring a more streamlined and boxy profile brings in a more tropical vibe with the heavy use of warm wood planks for its front façade and fencing.
The fence starts out with a heavy base of painted stucco walls, culminating in thin wood strips running horizontally in between metal posts.
Ample space in between the strips allows viewers to see more of the façade that also reflects the same warm wood finish, albeit with no spacing and using wider planks to go with the stucco finished balcony and plant box.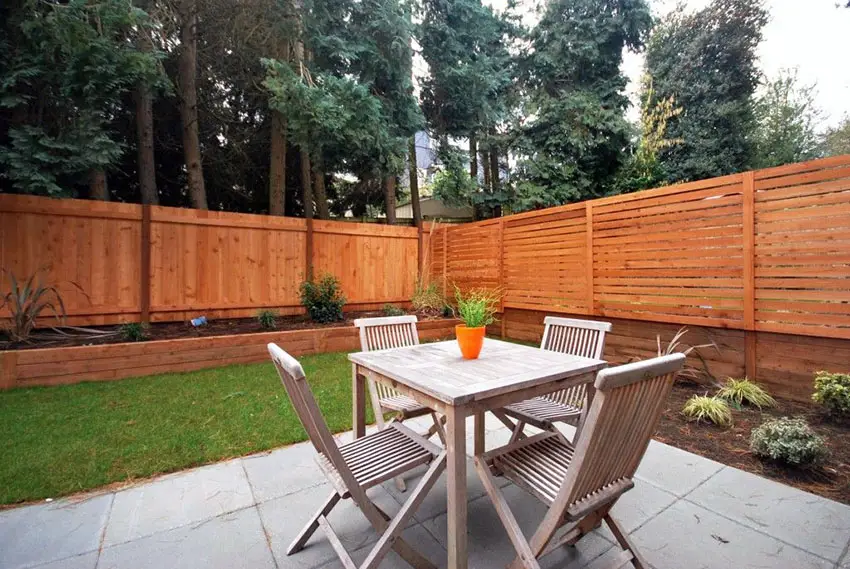 Although the fencing of this house uses the same type of redwood for both sides, the layout makes clear the intent of each side of fence. The back portion features sturdy posts with vertically laid planks mounted onto top and bottom rails with no spaces in between.
The other side features a lighter framing with thinner wood strips running horizontally with spaces in between them. The back fence reflects a need for more privacy and security, while the fence on the side opens up the paved patio space to much needed air and light.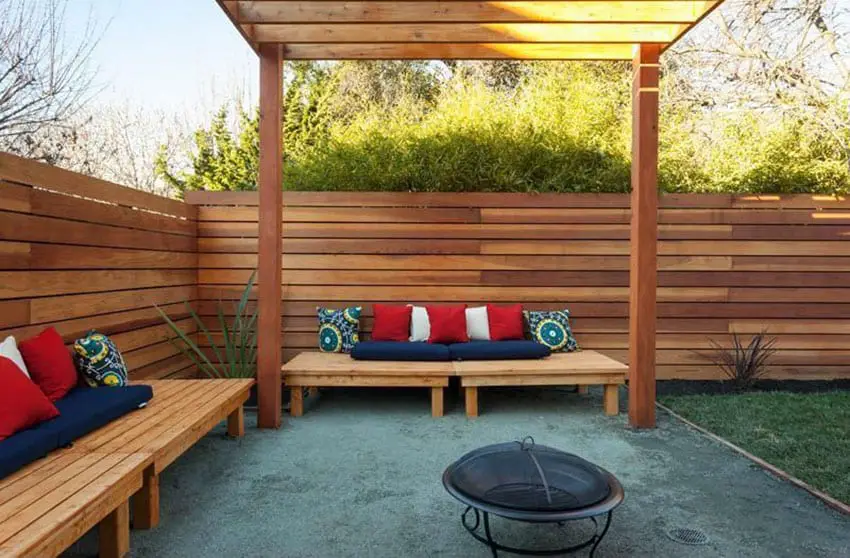 This Contemporary style fence features a warm redwood running all along the perimeter of this garden patio, shaded by a heavy timber pergola. Spaced closely together, the fence allows air and light to pass through without compromising privacy.
The benches in the patio, using a lighter stain, are also simple in their construction but are made quirky with the use of accent throw pillows in red and blue.
Deck Fence Designs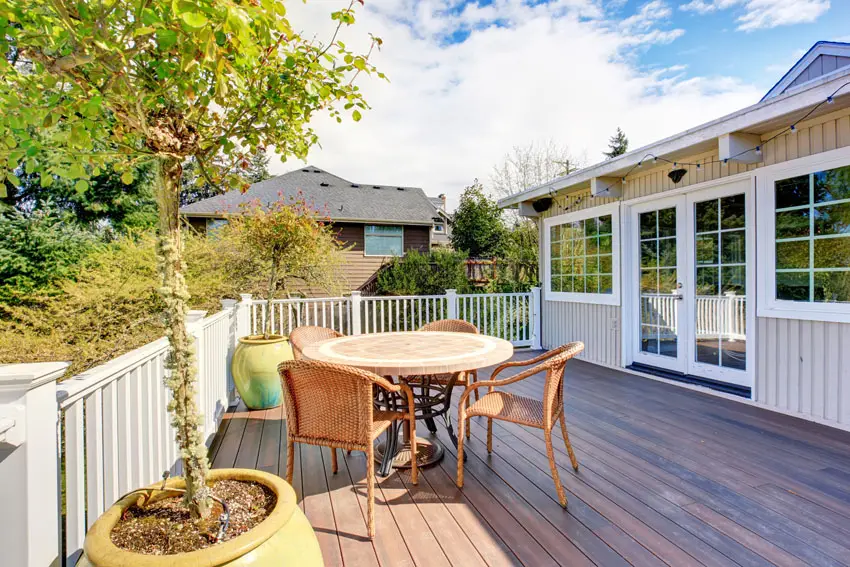 An elevated outdoor deck is done in a composite wood of medium color, going well with the muted white tones used for the house's walls and the more vibrant tone used for its doors, windows and trims.
The balcony, also acting as the fence towards the outdoors, is done more openly, as the elevation already provides some security. Heavy waist-high posts are stationed in equal spacing with carved heads.
In between, vertical wood posts stand with ample space in between, allowing for a lot of fresh air and a grand view of the outdoors within the deck.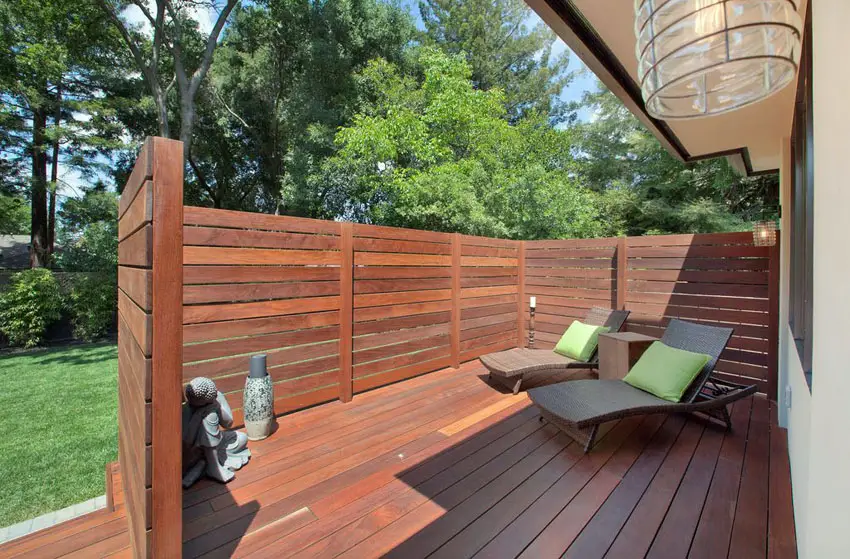 A stark contrast to an off-white house with dark brown trims, the strong redwood used for this outdoor deck and fence gives users a natural yet exciting finish to work with. The redwood is used seamlessly on the deck which features a pair of sunbathing chairs and a low table.
The surrounding fence is done in the same redwood plank, but mounted onto the posts with some spaces in between to ensure good air flow. The entire deck is lit by a pair of wall-mounted bell jar lamps.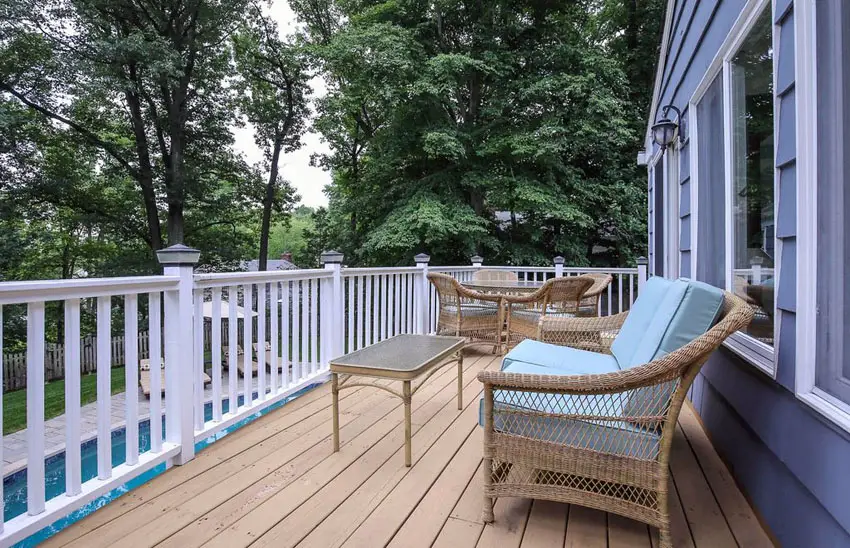 This small elevated deck features a neat white low fence, with the posts terminating in a black metal and glass classic style outdoor lamp.
The weathered wood used for the deck is a great accent to the midnight blue painted ship lap walls with white trims. The white trims match with the white painted wood for the fence, as well as the taller picket fence towards the site's boundaries.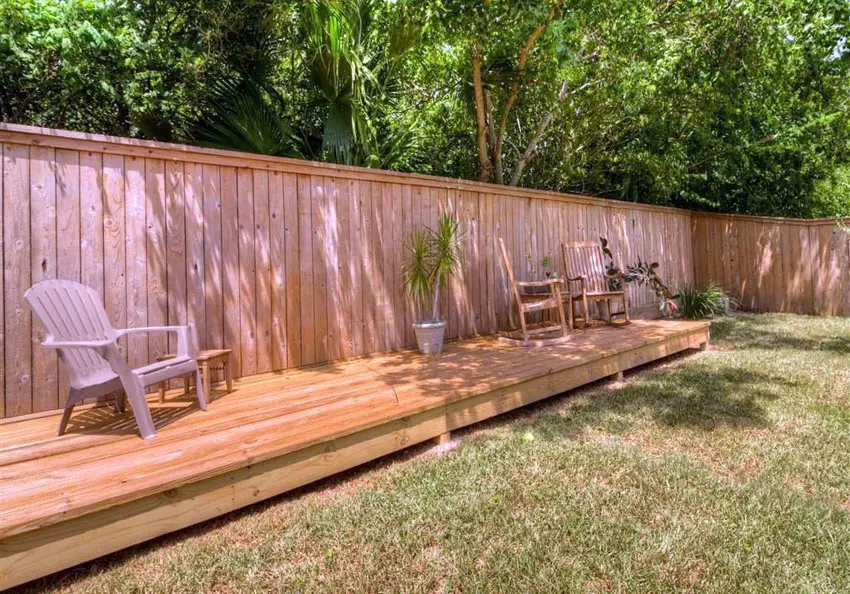 With a narrow backyard, a more linear layout for the deck is a good way to provide more space. The deck is done in a natural light wood finish with heavy planks.
Quaint wooden backyard furniture is laid out along the horizon of this deck, while the lawn stretches proudly in front of it. The fence features planks laid out vertically with a linear copping at the very top. The wood used for the fence uses a slightly pinkish stain.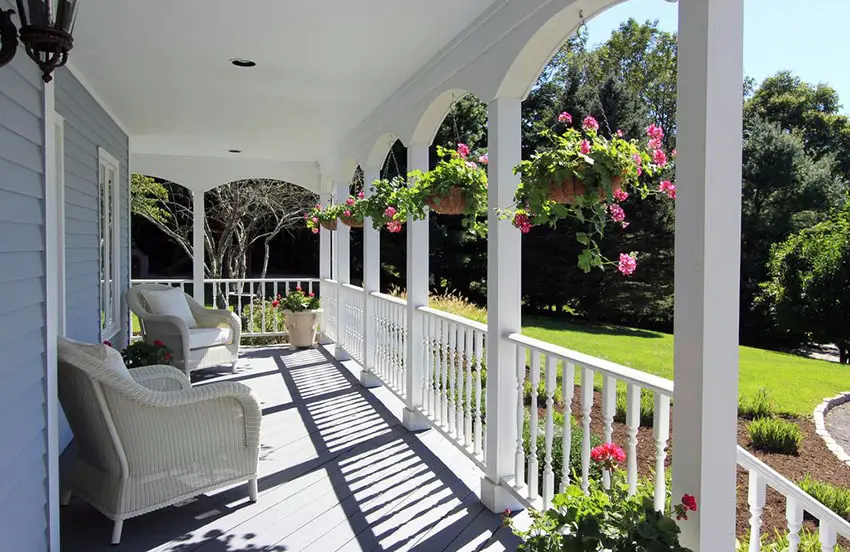 The classic Southern style porch is achieved in this look, starting with the light grey ship lapped walls with white trims and window frames. The narrow porch is protected by a low fence featuring thin and intricately carved balusters and a seamless, minimal top rail.
Each set of balustrade is set in between two columns with pedestals and topped with an arched architrave, framing the view. Hanging a flowering plant at the apex of each arch adds to the Southern charm of this house.
Stockade Fence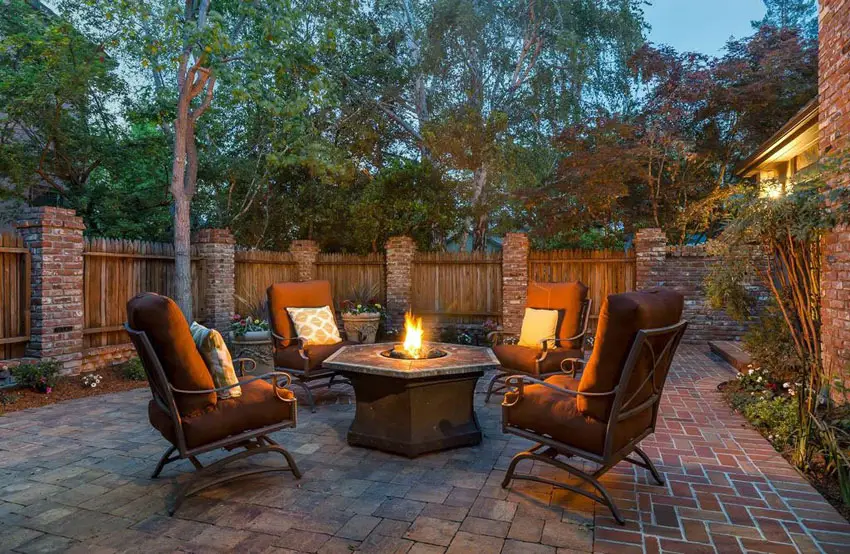 This brick and cement paver patio is centered around a table with a firepit, furnished with metal outdoor chairs with plush upholstery.
Around this patio, the fence features a base and main posts made of rusticated red brick. In between this, nailed onto horizontal rails are a series of closely spaced pikes. This stockade wall gives the patio a more Classic, rustic vibe.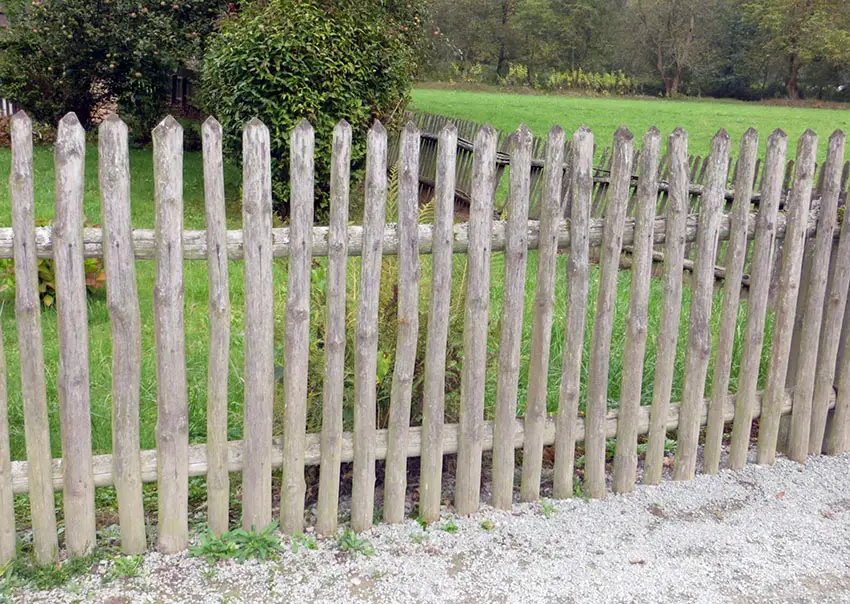 Another version of a wood stockade fence with rough cut stakes connected by horizontal posts. Many stockade fences are constructed out of whitewoods which usually are made from spruce, pine or fir.
The fence can be stained or painted to help prevent warping or cracking. When not treated the wood will lose its original color and fade to a silver gray. This style is an inexpensive DIY fence project for those looking to mark a property line or provide security.
Picket Fences
When one thinks about picket fences it often conjures up images of a beautiful white fence design surrounding a cozy cottage, with well maintained flowers and shrubs.
While adding a picket fence can definitely make your home more attractive, there are a number of benefits associated with adding one to your yard. Beyond the beauty aspect, a picket fence can be used to keep people from walking on your garden, to mark a property line, or as a privacy fence.
A few of the great aspects of picket fences are that they require little to no maintenance besides washing down from time to time, are long lasting, often resistant to weather conditions and rot, and they are cost effective to install.
Picket fences can also be purchased in panels making them easier to install than many other types of fencing. For more information visit our picket fence designs picture gallery.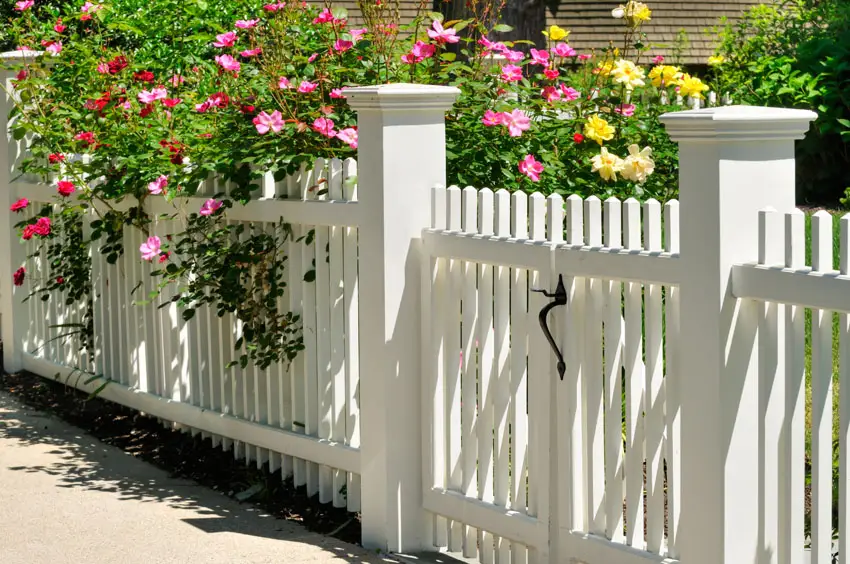 This classic low height picket fence goes well with the colorful flower bushes also growing low on the ground. What it lacks in safety and privacy, it definitely makes up for in terms of view and sophistication, and is a usual addition to homes in safer, higher end suburbs.
This particular picket fence features beveled tops, as well as a classic oiled bronze entrance lockset on the gate.
White Picket Fence
This flower garden is beautifully framed by this white picket fence. Each vertical section mounted onto the bottom and top rails is artfully carved into a dull spear shape, giving it a country style vibe. Large spaces in between the pickets allow leaves and flowers to creep onto the other side of the fence.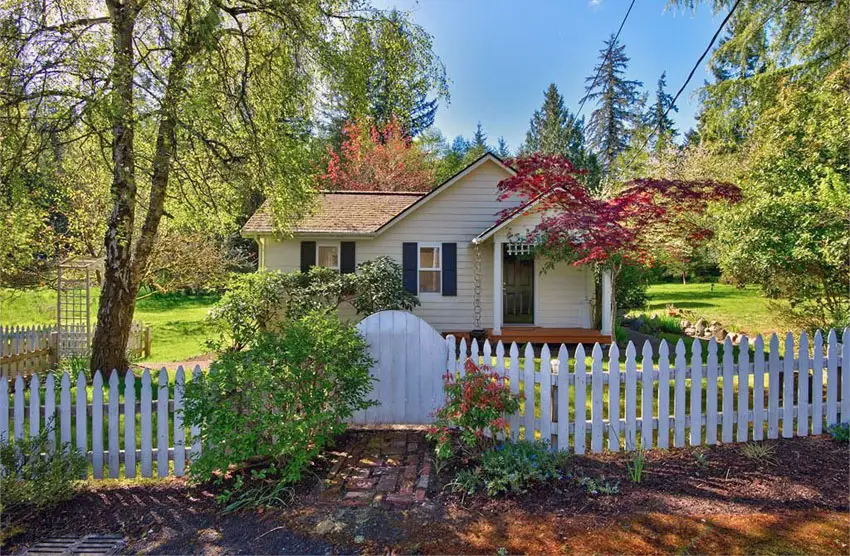 This cozy prairie style cottage with its beige ship lapped boards and warm wood porch is beautifully framed by the low white picket fence at the front.
The pickets, done up in a nice spear shape at the tips are mounted onto the weathered top and bottom rails. The center of the fence features a low wooden entrance door made of the same white painted wood, and is bordered by low shrubs beside the brick-laid path.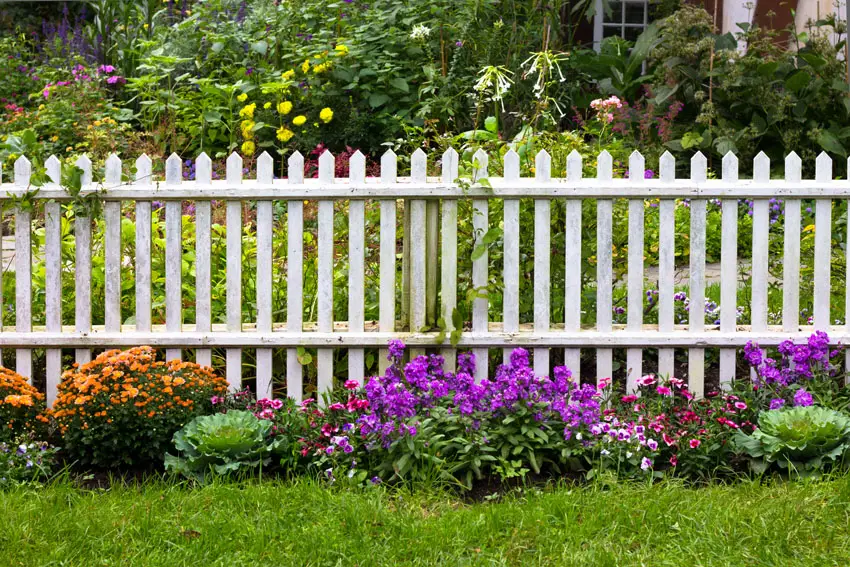 This lively flower garden with its bright blooms in orange purple and yellow are given a more neutral backdrop with the low white picket fence.
Large top and bottom rails run along the length of the garden, while short, stubbed tip pickets are inserted in between. Large spaces in between allow for a better view of the garden from either side.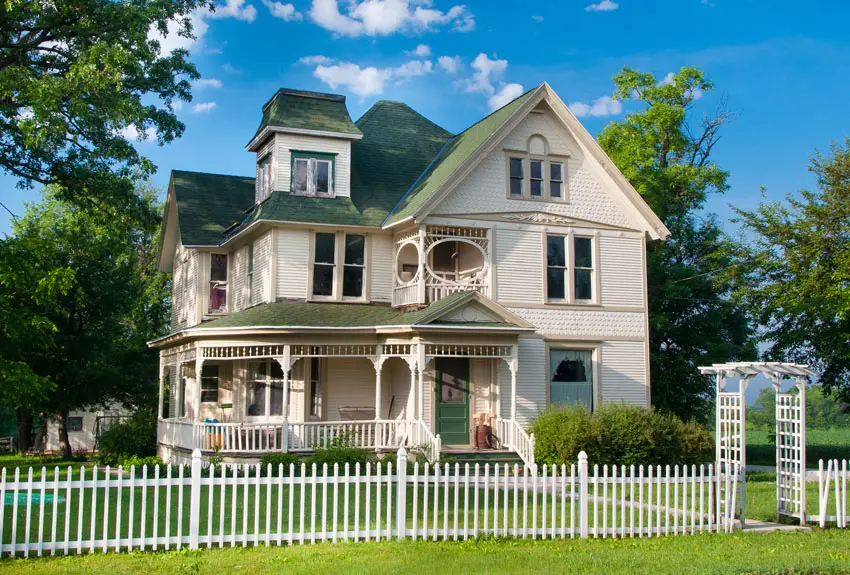 This large Victorian style mansion with its pinkish walls and emerald green accents is framed at the front by a white picket fence.
Main posts feature a taller, heavier build with bell-shaped tops, and thin, short pickets are mounted onto the rails in between the main posts. The main entrance features an arbor, where vines and creepers can crawl from the sides to the top of the framing.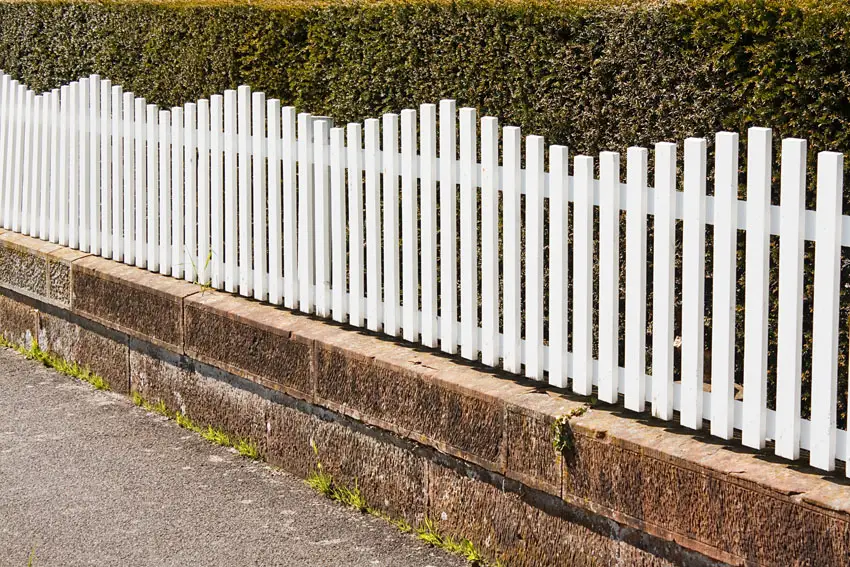 Adding a little more security and privacy to the classic white picket fence, this fence starts out with a dual layer of large red brick blocks, followed by an array of white pickets done in a wave-like height pattern. Behind this fence, to add more privacy, tall, thick bushes were planted.
Privacy Fence
Whether you want a little privacy on your patio or swimming pool area there are many different styles of fencing to choose from. Some of the most popular types of privacy fences include lattice, hedge, or wood slat. For even more pictures visit our privacy fence ideas gallery.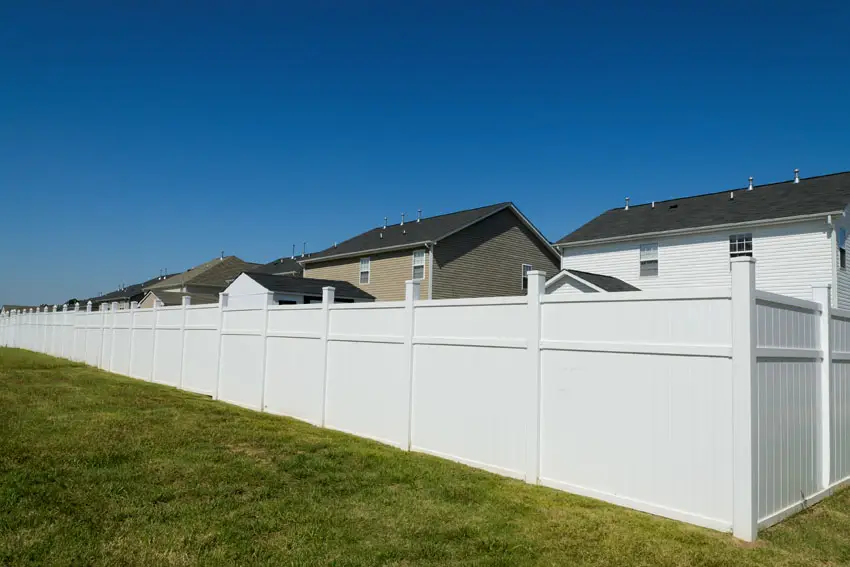 Providing optimum privacy, this fence is not only high, it also has no spaces in between the installed posts and planks.
Perfect for a neighborhood that needs a high level of security, this fence setup is also made up of PVC, meaning cheap and easy cleaning and maintenance.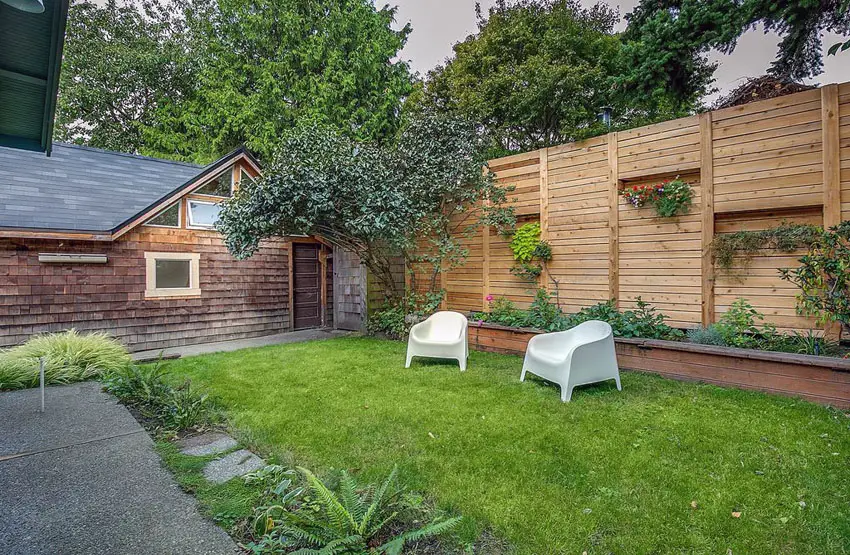 Having a high privacy fence does not necessarily mean having a perimeter that is dull and boxy. This fence, made up of planks of naturally stained wood in horizontal layers, features hollow spaces in between where plant boxes can be installed.
With another plant box right below made up of red brick, it is easy to make a solid wall feel more alive and breathable without compromising privacy.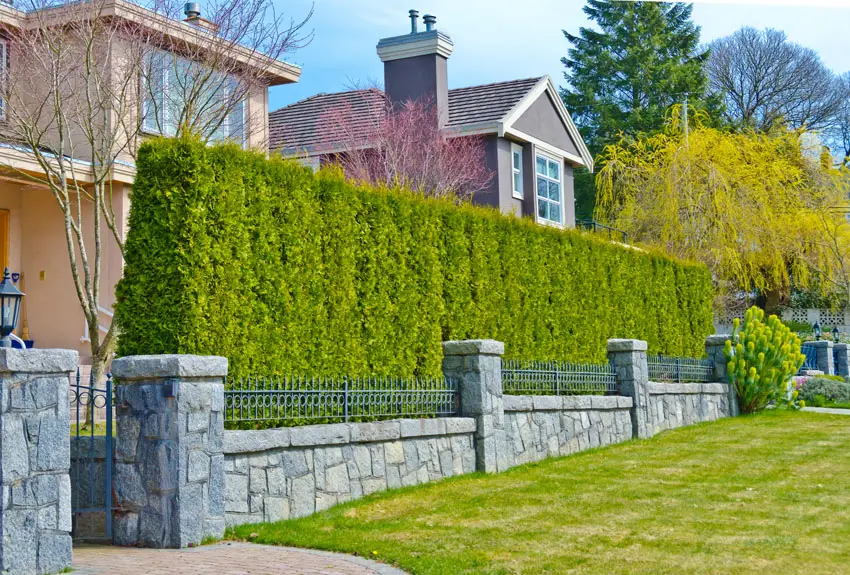 A low stone and iron grille fence may not give much privacy, but a tall row of hedges definitely does. In addition, the greenery of the hedges pops out from the dull grey split stone pieces and the green painted iron grilles. In addition, using plants as a privacy barrier still allows some air and light to go through the branches.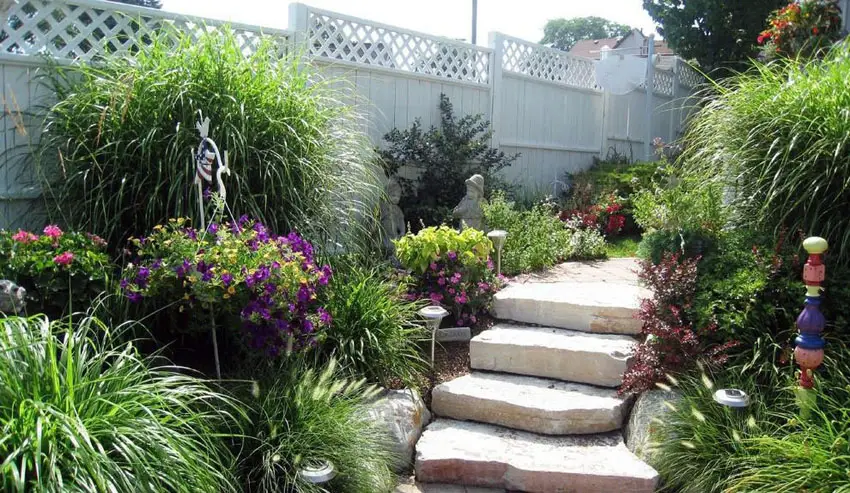 A tall fence made up of painted white wood planks culminates in a quaint lattice made up of the same white wood pieces. This allows for privacy while allowing air and light to come through. The simple white fence goes well with the overgrown style garden, as well as the massive stone steps on the garden path.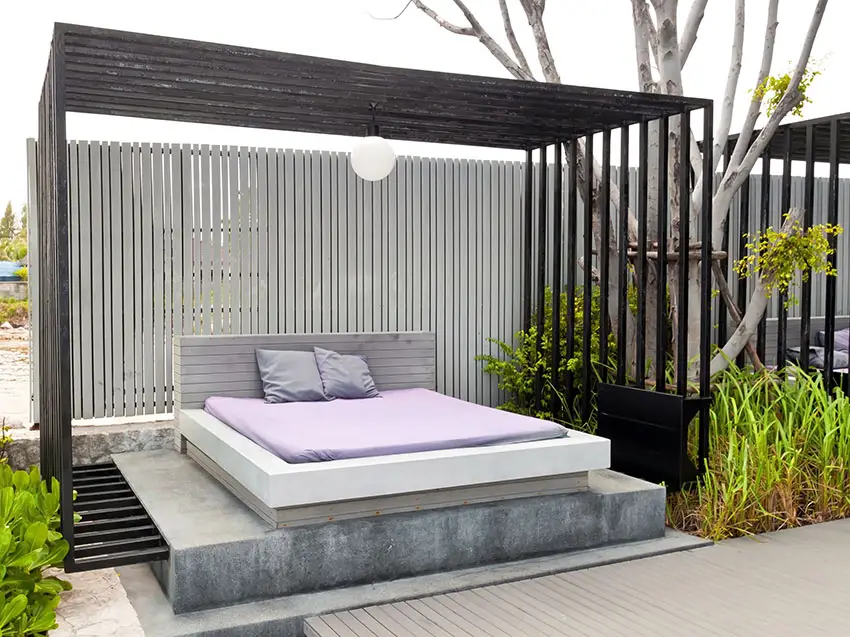 Going for a more modern luxe approach, a day bed in neutral colors is set on a bed of pale wood framing, atop a large concrete slab. The entire set up is covered by a black trellis spanning from side to side and a hanging lamp at the center. The back fence is tall and closely spaced, meaning a lot of privacy, and is also done in the same pale wood finish as the bed and decking.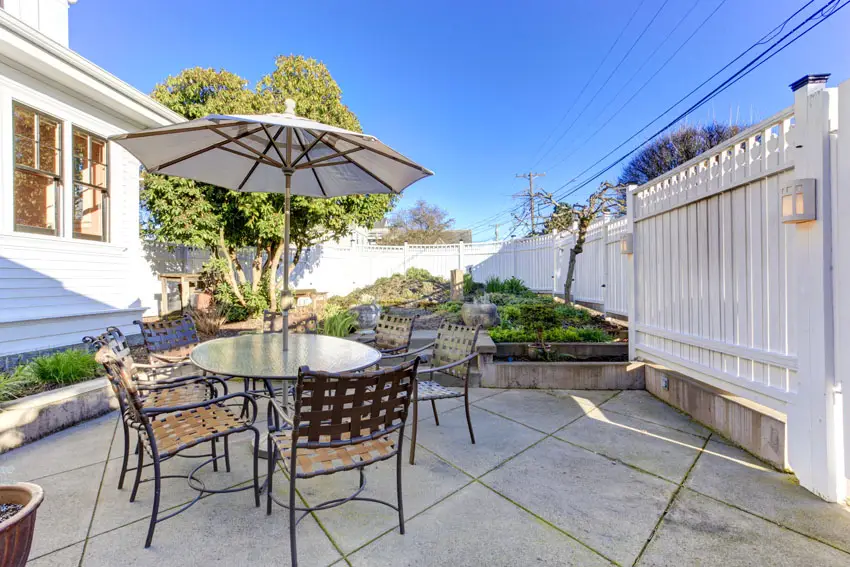 The fence of this patio features a tall installation of white wood planks, closely spaced together. For air and light however, the tops feature a punched circular pattern. This simple classical style look goes well with the cement paved patio and the plant boxes on the side, full of low ornamental plants.
How to Build a Fence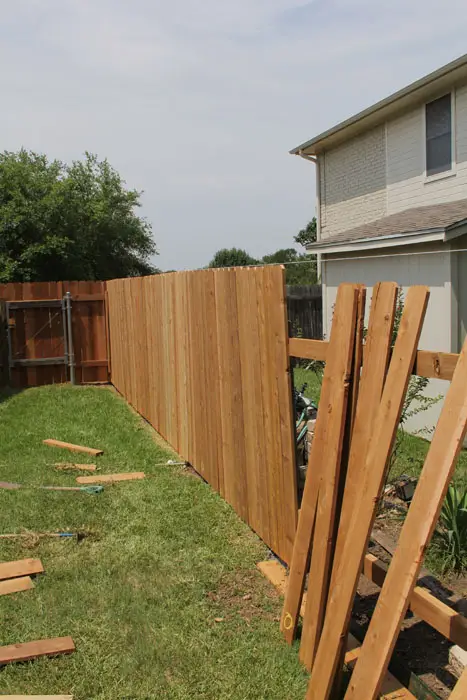 When building a fence, first things first: plan. Take a good long look at the area you plan to fence. Survey it, mark things such as bushes, sketch it if you can to take note of measurements. And when planning, take note of gate locations as these will be important when staking out and laying the posts.
After figuring out the plan, next is to lay out the perimeter. Typically stakes and mason's lines are used for this part. The mason's lines are stretched tightly between the stakes – it's important to make sure they are taut to ensure that the fence layout is accurate. These lines intersect at the corners of the perimeters.
If a 90 degree angle is desired at these corners, a quick way to verify is the "3-4-5″ method: Measure and mark out 3 feet along one line starting at the corner and then measure and mark out 4 feet along the other. If the distance between the marked areas is 5 feet, the lines are square. Otherwise, adjust the lines and stakes accordingly.
Next is to add the posts. These provide the main structure for your fence and typically consists of 4×4 lumber, set into the ground with tampered earth or concrete.
A good rule of thumb would be to make sure a third of the post is below ground for a stable and structurally sound hold. Measure out the distance of the planned posts from the corners of the layout using the mason's lines.
Posts are usually 6-8 feet apart, but keep in mind the planned location of gates as the two edges of the gates have to have posts to hold its jambs and hinges. It's good practice to use the actual gate you plan on installing to make sure the posts you install are at the correct distance from one another.
Dig out and install the corner posts first and use a mason line between the corner posts to make sure all the other posts in between are the same height. Make sure the holes are half as deep as the post is high above ground, or basically a third of the whole length. You can choose to set it down on the ground with the soil you dug up or you can use concrete for a stronger hold.
Be sure to do your research on the ground conditions of your area as variations of the frost lines as well as the type of soil you'll be digging up might affect how you have to install your posts.
Rails or stringers 2×4 lumber. These run horizontally from post to post and should be, at most, 24" apart. Use decking screws to attach the rails to the post. Cut out or leave out the rails in the parts where you plan to install gates and make sure to trim any excess rail
Vertical fencing boards or pickets are the last to be added and cover up the gaps between posts. Using a pneumatic nail gun is usually adviced but if you must hand nail, try to use galvanized ring shank or spiral nails.
Next up is installing the gates. There are easily ordered pre-built gates that come with their own hardware but building one and buying hinges and latches for it is relatively straight forward to do as well, if you prefer the DIY route.
After all of this, all that's left is to finish the fence with your preferred varnish or stain and to add accessories such as planters, pavers, and other landscape elements.
You can use one of the available fence design software programs to lay out your design before buying any materials to ensure you get the exact look you desire. Several of these programs are free to use.
How to Pressure Wash a Fence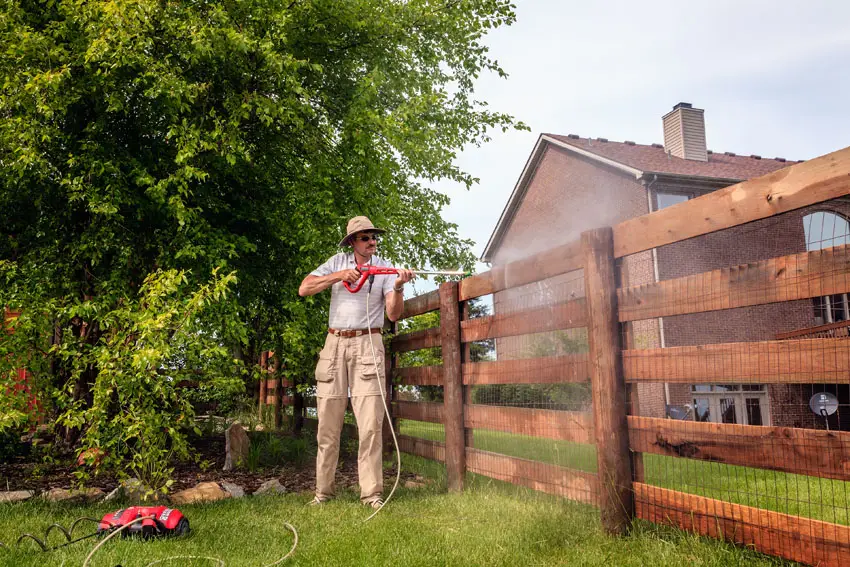 After having your fence built, maintenance is key in making sure it stays up for a long time. Before long, grit and grime start to accumulate on the fence and sometimes normal cleaning won't be enough. At that point, you might want to consider pressure washing.
Pressure washing or power washing uses a high-pressure mechanical sprayer to remove loose paint, grime, dust, and dirt from surfaces. Sometimes, it strips off a small layer from the surface to reveal an almost new texture underneath. As such, this works wonders for old wooden fences to reveal the wood's natural grain.
Stripping the old outer layer of the wooden fences helps make the end result look clean and professional. For this, a high powered rotating nozzle and 3000 psi is best used.
When using the power washer, make sure to go slow, one picket at a time, and vertical. Going horizontal will leave a mark on the fence that would be difficult or near impossible to remove afterwards. Going with the grain of the fence is a good rule of thumb.
Afterwards comes staining. You can use any stain you wish at this part of the process but also keep in mind that the rule of slow and vertical also applies in staining if you're using a sprayer to apply the finish.
Vinyl Fencing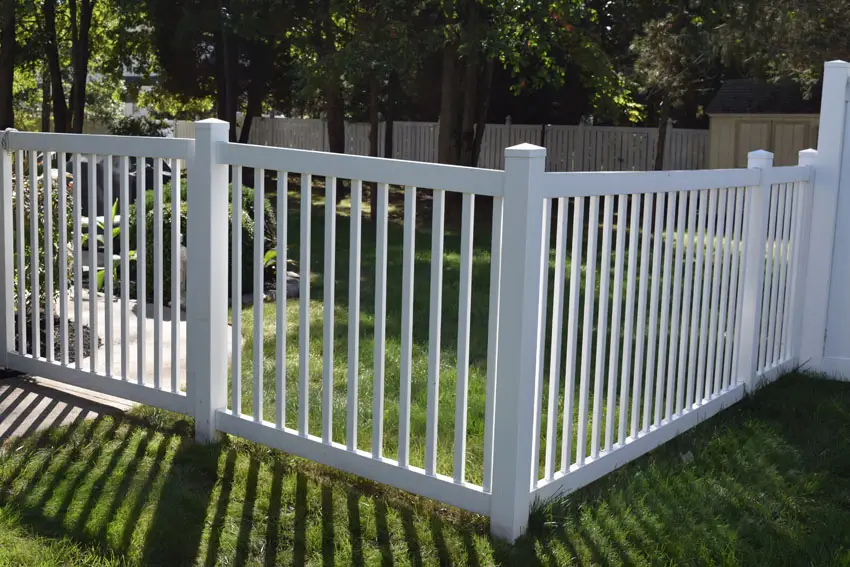 This simple fence is suitable for any backyard, especially those needing just a short height. Made up of PVC, the fencing comes in segments and can be assembled. The main posts are thicker, with beveled tips, and are joined together with two top and bottom rails, where thinner strips are spaced evenly on the center.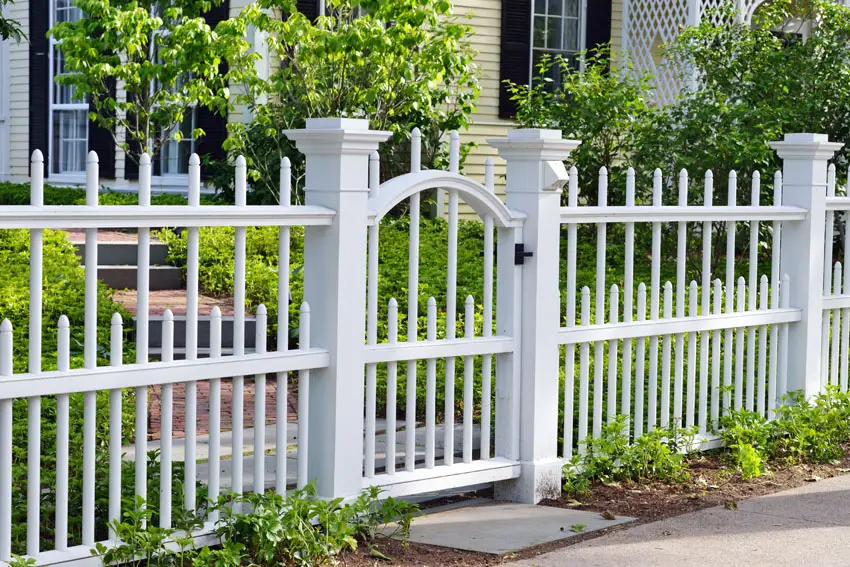 Also made up of PVC and easy to assemble, this white picket fence features a more dynamic design. Rounded tips of each picket are spaced evenly on the rails, with a dual level of picket heights. The center gate features a rounded top and a small oiled bronze entrance lockset.
Vinyl Fence Panels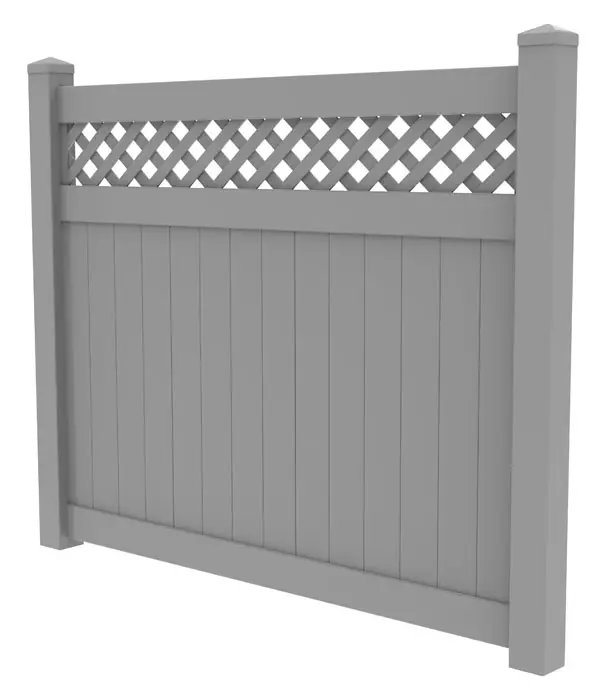 How to Install Vinyl Fence
Vinyl fences are a much more durable alternative to wood fences, albeit a bit more pricey. Their longevity is unquestionable, requires minimal maintenance, and is not susceptible to rot or termites.
The installation is similar to wood fences. Set and layout your end and corner posts first. The posts in between can be spaced evenly between the end and corner posts afterwards. Be sure to set these in concrete to have maximum stability in the hold. Also, verify that the height of the post above ground is around 54″ and make sure it's level.
Next comes the rails. Vinyl fence parts come pre-made, so you'll be sure about the sizes and compatibility of the posts and rails.
Typically, after all the rails have been installed and adjusted, the post caps are then put on the posts and secured with self tapping screws.
Garden Fence
A beautiful garden is the perfect place to enjoy your home's outdoor areas. There are a variety of garden fence materials available depending on your needs. Popular types include vinyl, wood, mesh, metal and pvc fence panels. See our gallery of garden fence ideas here.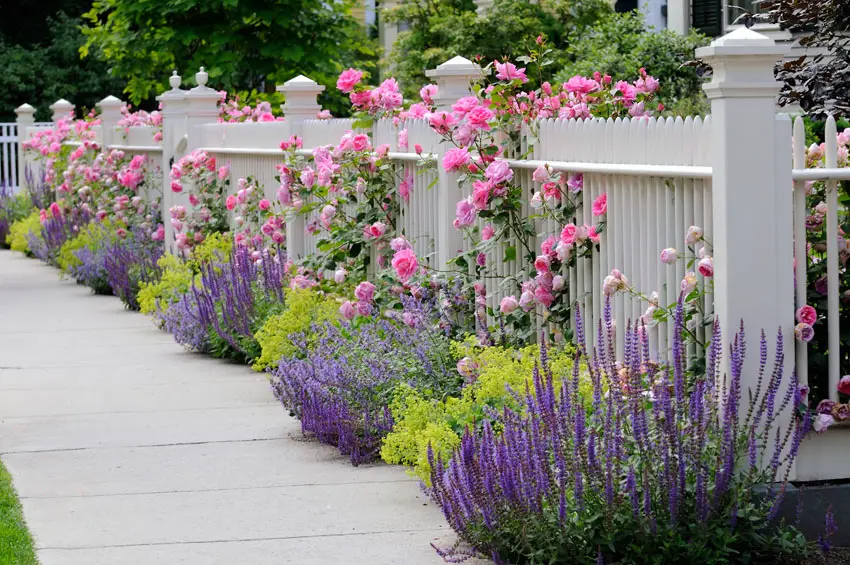 The thin white pickets on this garden wall allow rose bushes to extend their branches out beyond the fence. The main posts are of a sturdy white painted wood, featuring an intricately carved top. A low row of alternating yellow flowers and lavender blooms line the outer side of the fence, adding color without covering the rose bushes behind the fence.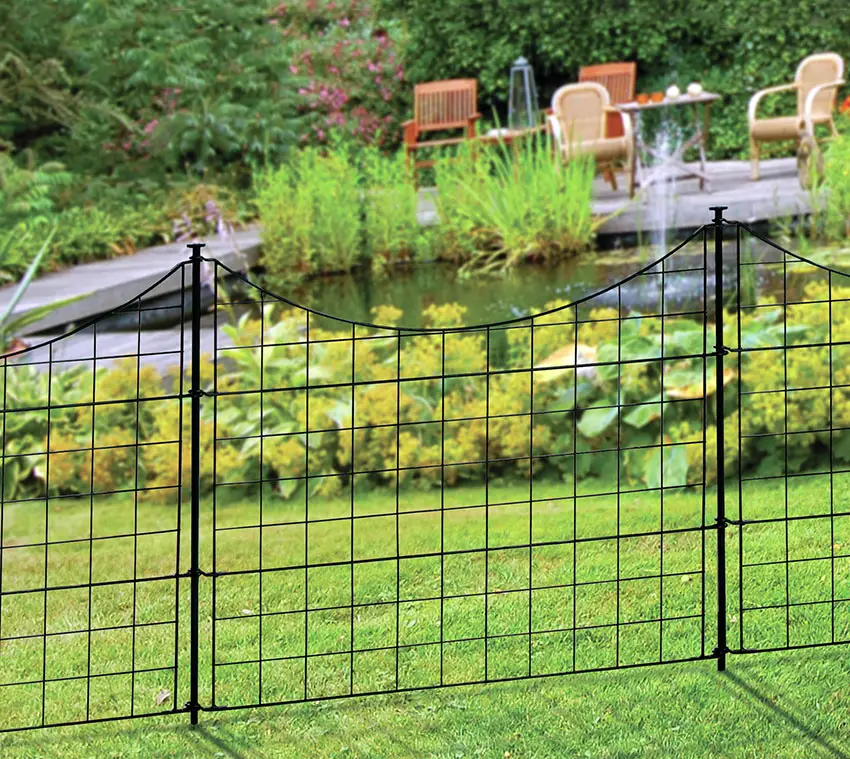 This powder coated garden fence is inexpensive to protect the boundary or a garden area. The powder coating is weather and rust resistant making it ideal for outdoor use. Sections can be added to the fence to create the size you desire for your yard.
You can get more information about this metal fence here.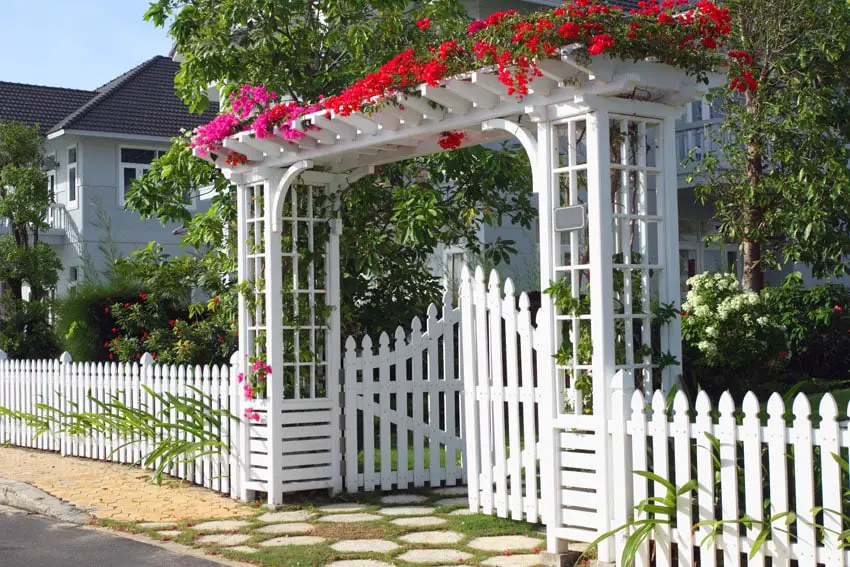 A white picket fence runs along the front of this house and lawn, with each picket carved to have a rounded tip. Each of the main posts also features a thicker wood, with the tips also rounded. The main entrance features an arched gate, as well as a canopy of vibrant red flowers over a white painted wood trellis. The trellis also continues to its sides, with a framing for creeping vines.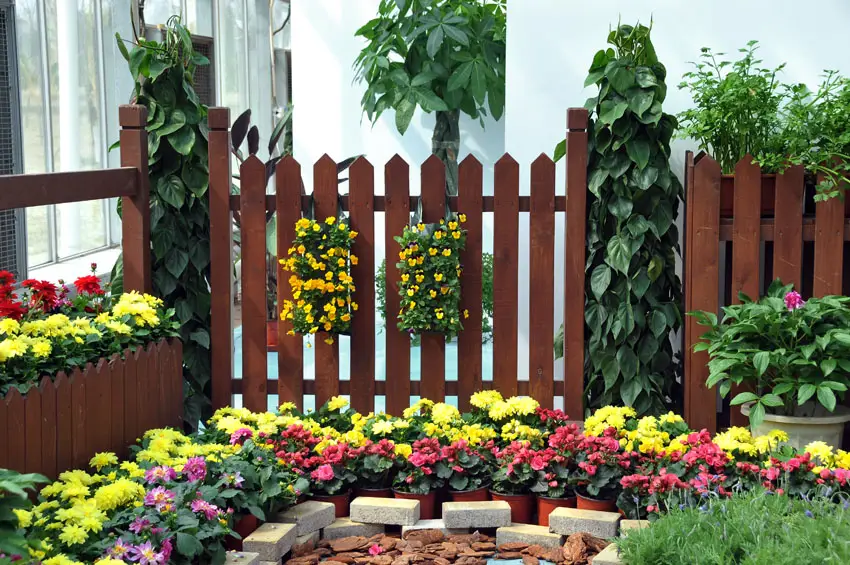 Shaped like the typical white picket fences in many suburban houses, the dark wood stain used for this picket fence helps it to achieve a more natural, rusticated look. The warm brown color provides a good backdrop to the variety of colors on the flower beds.
Gaps in between the fence also feature tall posts with leafy creeping vines. Fence planter boxes can enhance your garden and give more emphasis to your flowers by creating a tiered garden effect.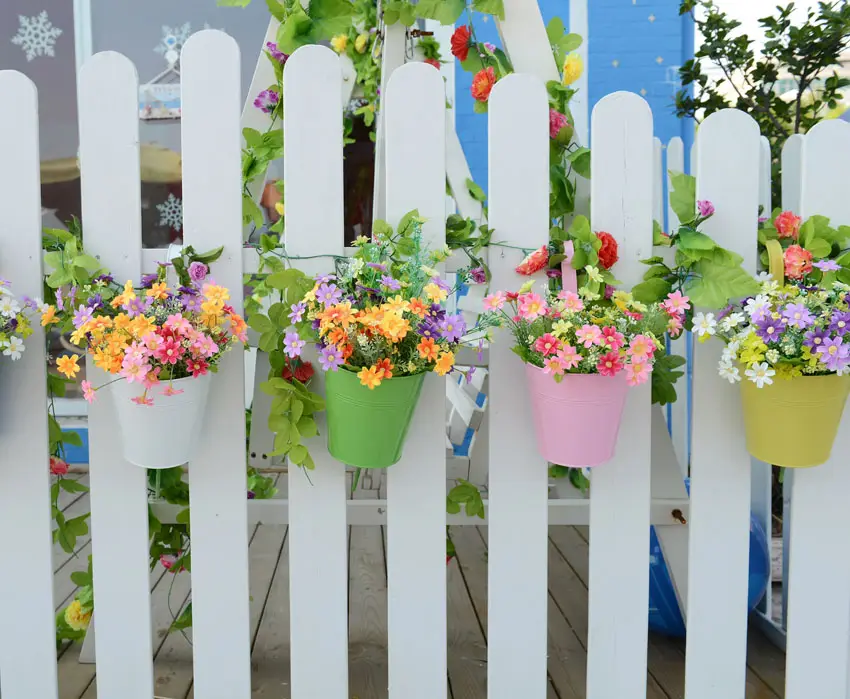 A simple way to decorate a plain picket fence is to add color to the clean white base of the fence. In this case, a row of small metal canisters was painted different pastel colors and hung into the top rail in between the pickets. Colorful flowering plants were then planted on each canister.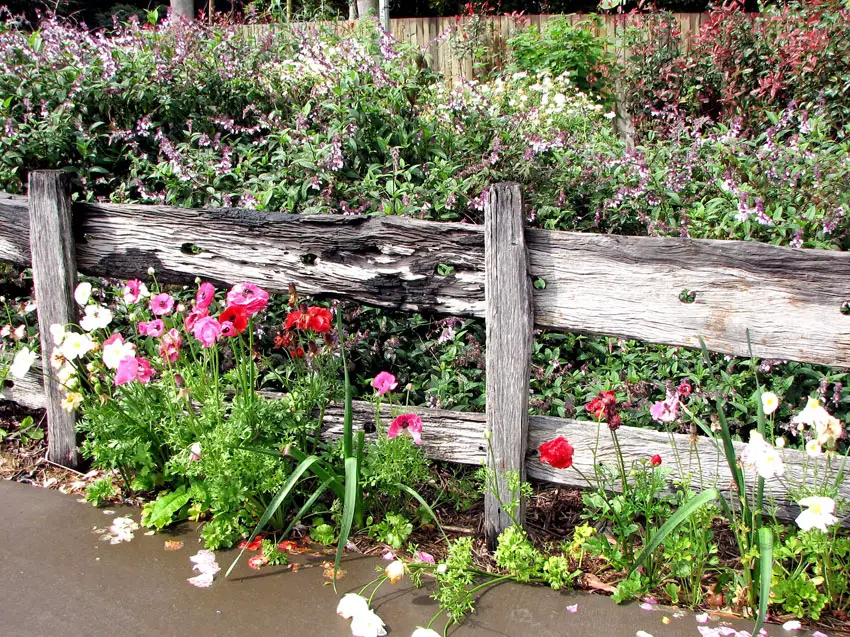 Reclaimed wood is a great material to use for an outdoor fence, especially when going for a more rustic, barn or industrial look. In this case, just two thick panels of wood are mounted onto sturdy main posts. In between the gaps, wild grasses and flowers grow wild and free, adding to this fence's rustic charm.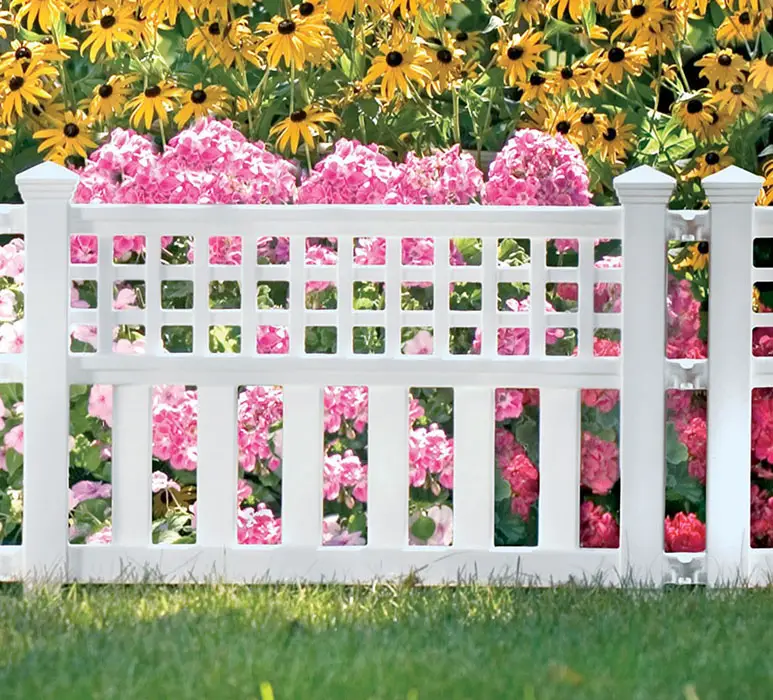 Made of white resin, this low garden fence features several main posts with beveled tips spaced apart evenly. In between the posts, the bottom portion of the fence features short vertical planks, while the top portion features thinner strips in a lattice configuration.
Besides the patterns being more decorative, the gaps in between don't deter the view of the lively hydrangeas in the background.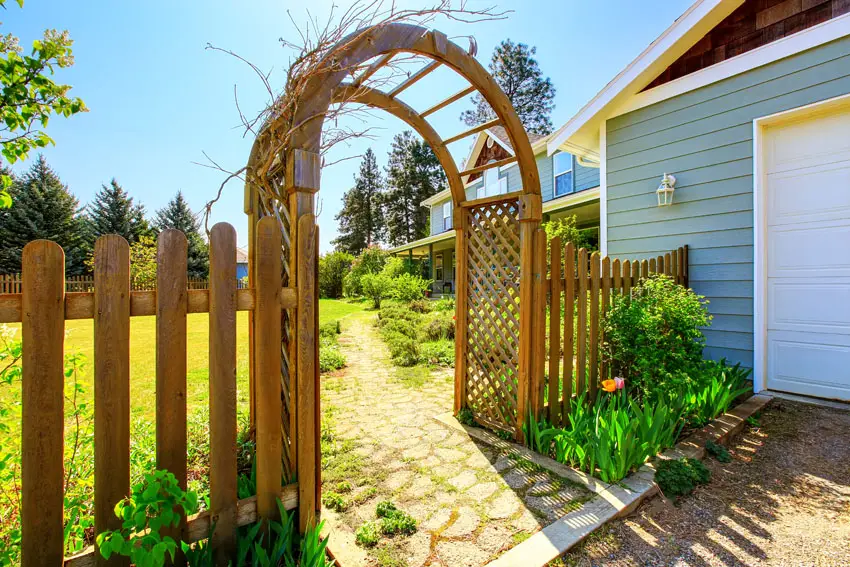 Rounded pickets line this fence in a more natural, heavy-grained wood stain. The center garden path, with rough concrete pavers, is led on by an arched arbor with rounded rungs. The sides of this arbor are done up in a lattice work in thin wood strips. This arbor can be used as a framing for vines and air plants.
Bamboo Fence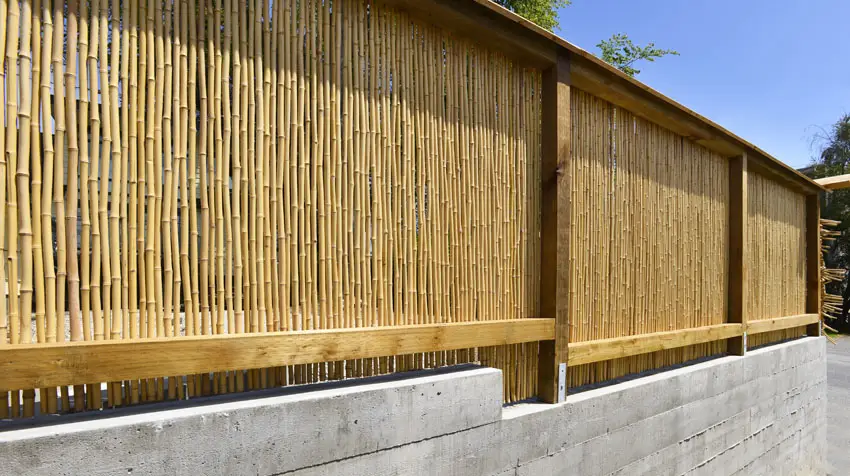 For a more industrial look, the base of this perimeter fence features an unfinished concrete surface, done by using a plywood plank framing, and roughly removing the cast once the cement has dried.
The top of the fence features heavy timbers mounted onto the wall using metal straps. For additional privacy, a rolled bamboo mat was installed on the outer portion of the wood framing.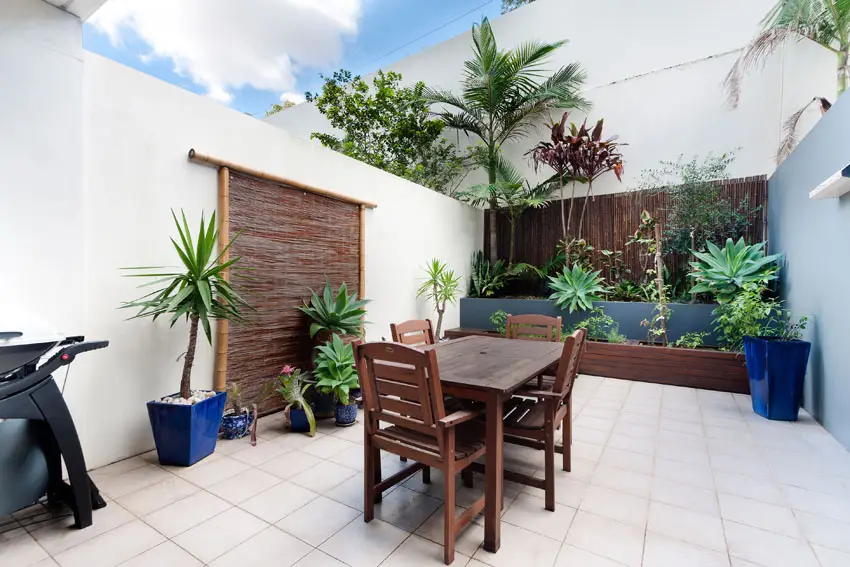 For a modern tropical vibe, the walls around this patio feature solid plastered cement walls, softened by a roll of thin bamboo strips. The back wall, with its whole length covered by the dark stained bamboo rolls matches well with the bluish grey paint used for the side wall as well as the plant box.
The patio dining set's wood finish was also meant to match the dark color used for the bamboo fence, as well as the plant box below.
Bamboo is a sustainable material that speaks in the tone of a warm and luxury language. The standard bamboo fence can cost from $1000 – $1700 while a top quality bamboo fence can cost from $2300 – $3700 for 164 linear feet of fencing.
This traditional bamboo fence features a top and bottom rail, where round bamboo poles are mounted at evenly spaced gaps.
Done in a curvy pebbled garden path, the fence is mounted onto a cement plant box where rose bushes were planted. The gaps in between the bamboo allow the rose bushes to grow naturally with parts on the inside and on the outside of the fence.
Metal Fence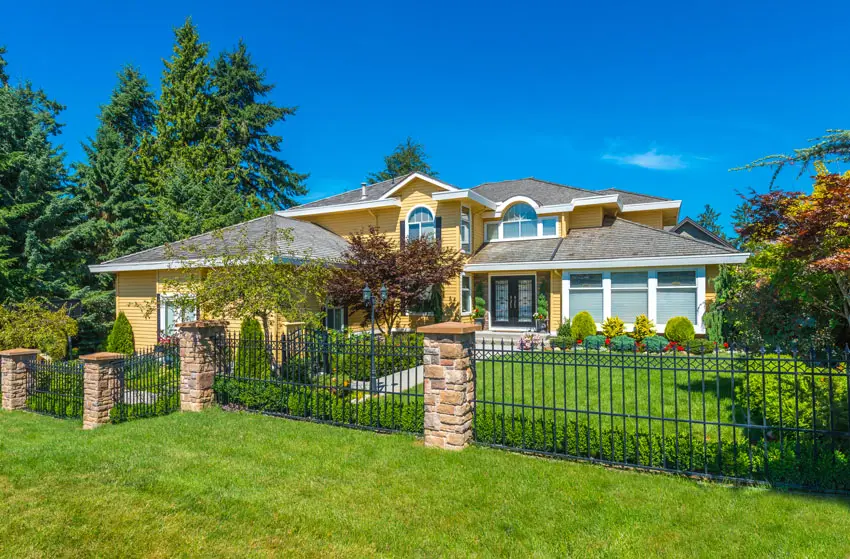 This bright yellow home is bordered by a wrought iron fence painted a deep shade of emerald green. Installed in between robust, short pillars finished in beige splitface stone, the grilles are in a vertical configuration with diamond motif, terminating in sharp spear points.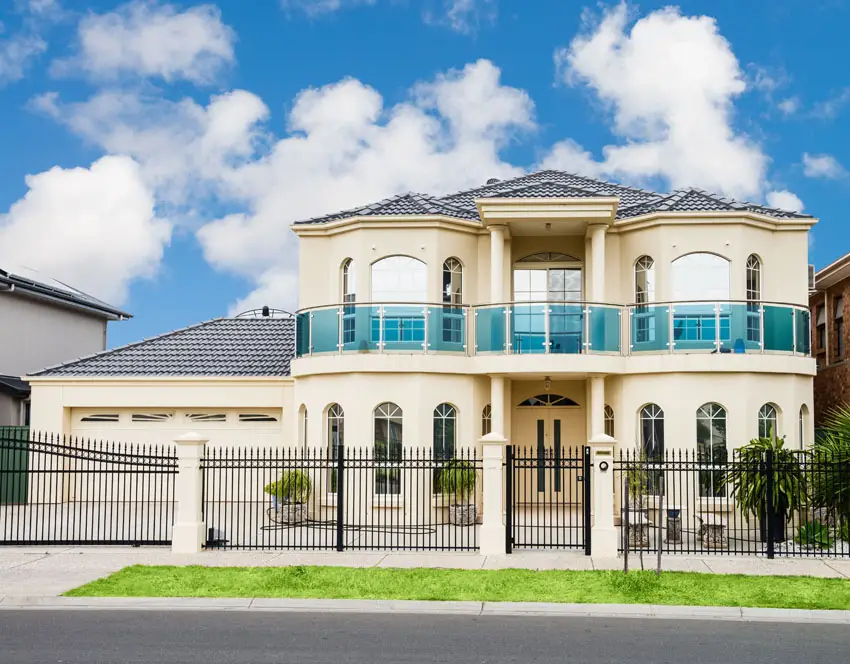 This large luxurious home with its off-white walls and deep blue tiled roofing is framed nicely by simple black painted iron bars in its front fence. Separated by white Classical style columns, the vertical pieces end with a spear-point tip, ensuring ample security for this home while still maintaining a luxurious look.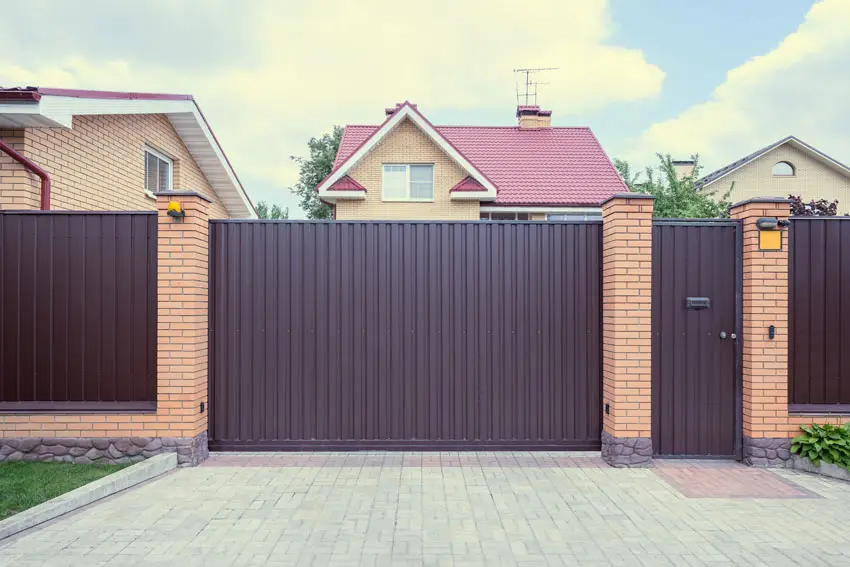 Ensuring loads of security and privacy, this gate and fence covers the entirety of the house's first floor. Metal sheets, painted a dark brown shade, is in good contrast with the faded red brick posts on the fence. The sheets are corrugated, giving the gate and fence some depth and are mounted onto a metal framework painted in the same shade.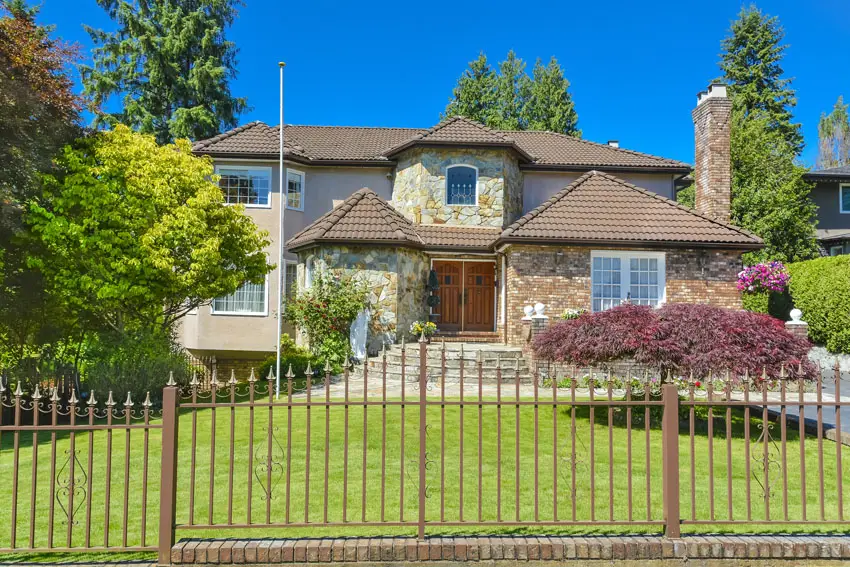 Featuring varied colors of river stone for its face, and terracotta brown for its roof tiles, this large house goes for a more quaint and simple fence. With a base of weathered red brick, a height of metal framing was incorporated into this house's fence.
Done up in the same brown as the roof, simple motifs and spear-point edges give this house ample security without compromising the view of their lawn from the outside.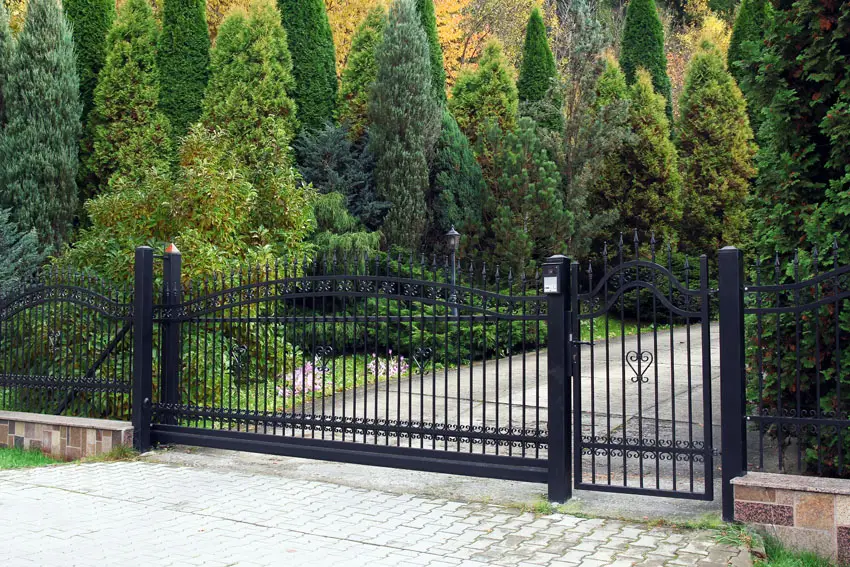 Classic to many mansions, the large wrought iron driveway gate design here is surrounded by numerous low trees and ornamental shrubs. The wrought iron fence and gate, painted black, does not distract from the Classic beauty of the well-landscaped driveway.
The fencing features a stone tile base, and features an arched profile toward the top. Spear-point tips are offset by the curvilinear heart patterns on the fence's body.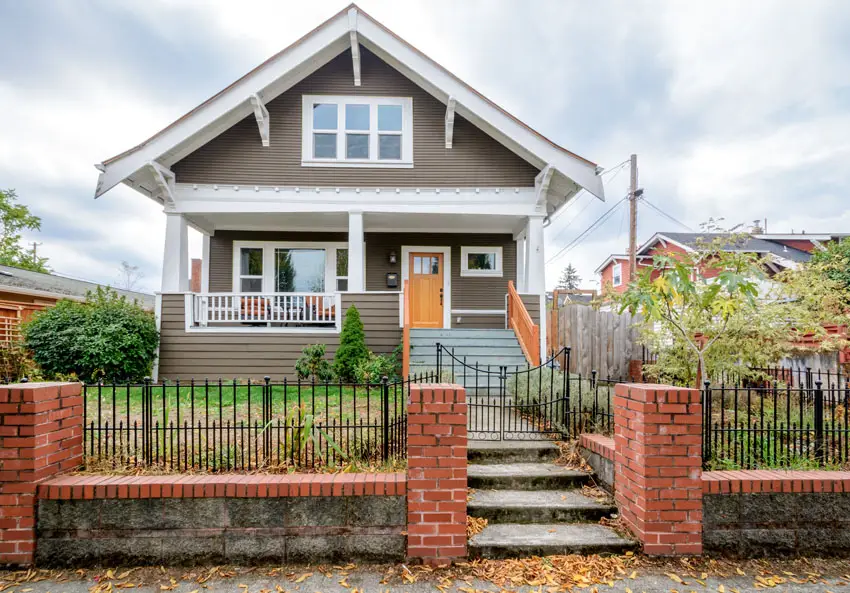 Exuding vintage cool, this house features warm grey walls, white trims and warm colored wood for its door and banister. The front fence exudes the same vintage style, using red brick and wrought iron painted black.
The red brick was used for the main pillars, as well as the base of the protective fence. The base is so wide that the small ledge created can be used as seating, or a place for potted plants. Above this red brick base, black iron is laid out in linear rows, with a dual layer of high and low spear-point tips.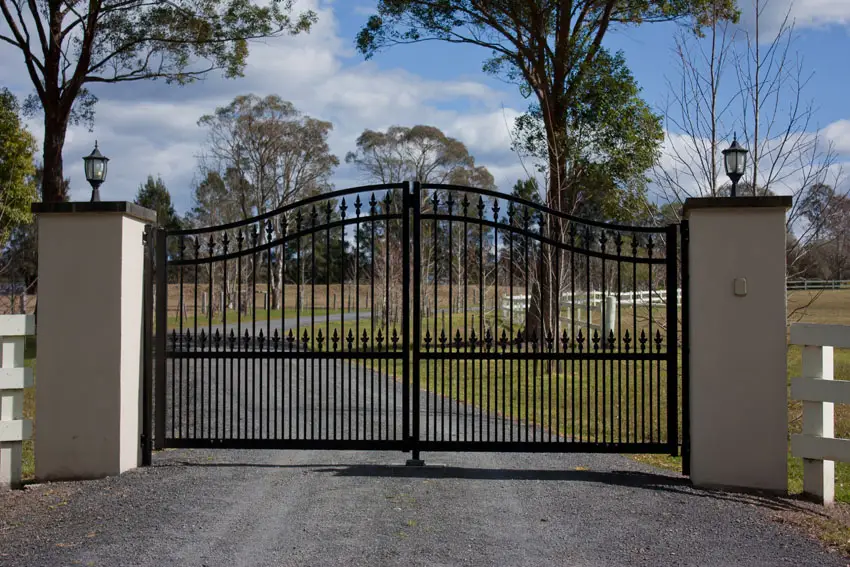 This rugged driveway may simply be pebble-paved, but the acres of lawn and trees suggest a more luxurious atmosphere. The simple ranch style fence of white painted wood on either side of the path culminates in a wide, intricately made high gate.
Two large posts painted white and topped with Classic style lamps have a pair of large wrought iron gates mounted onto them. The gates feature a curved top profile and have leaf motifs on each singular baluster.
Wrought Iron Fence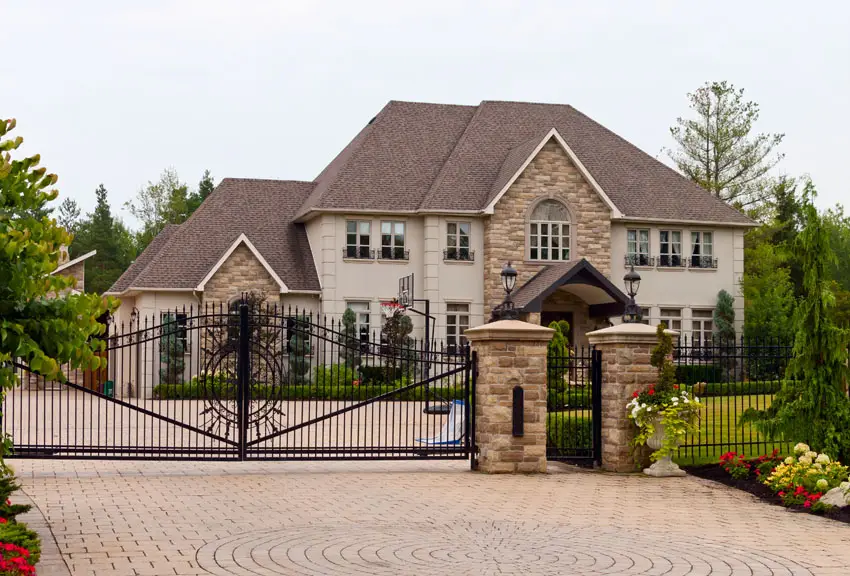 With its large sloping roof, this Classic style mansion also features a high fence and gate on its frontage. Two robust posts of splitface river stone serve as the guideposts to the house's main entry gate, a smaller number done in plain vertical wrought iron bars.
The driveway; however, spanning nearly 15 feet, features a wide wrought iron gate so wide that it needs diagonal cross bracing on its inner span to the top of the outer span mounted onto stone guideposts. The wide gate is also decorated with a curvilinear top profile and features a central circular compass-like motif.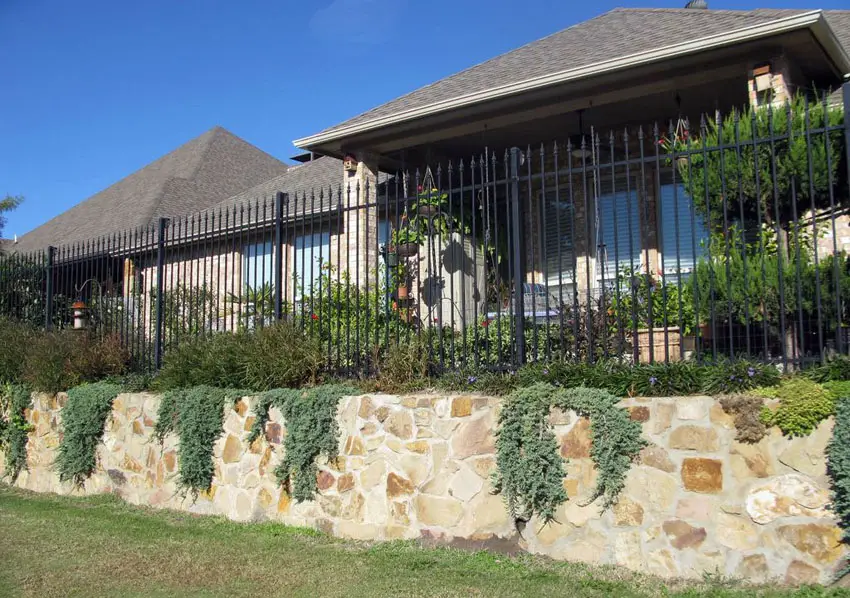 Many houses may need retaining walls in order to keep the soil level in their homes constant. In this case, the retaining wall was made to work in conjunction with the perimeter fence.
The wall was finished with beige splitface river stone, where bushes and vines were allowed to spill over onto its face. Above this, an array of vertical pikes are mounted onto thin horizontal rails, providing safety without compromising air and light quality.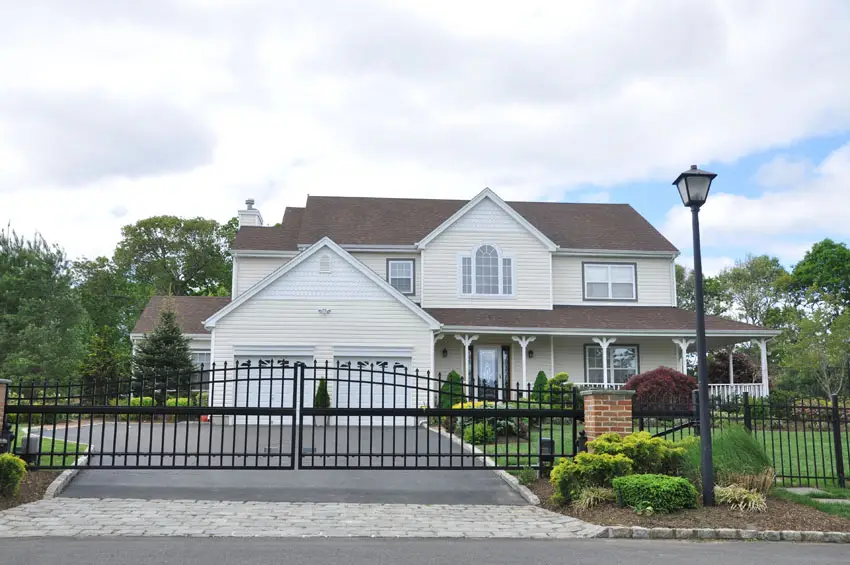 The wide frontage of this lot features a double garage fronted by an even wider driveway with protective wrought iron gate. Painted black, the gate is wide but of simple post and rail construction with a discreet curve on its profile at the top.
The same vertical rail motif continues on the front lawn's fencing and is separated from the main driveway by a large post made of vibrant red brick.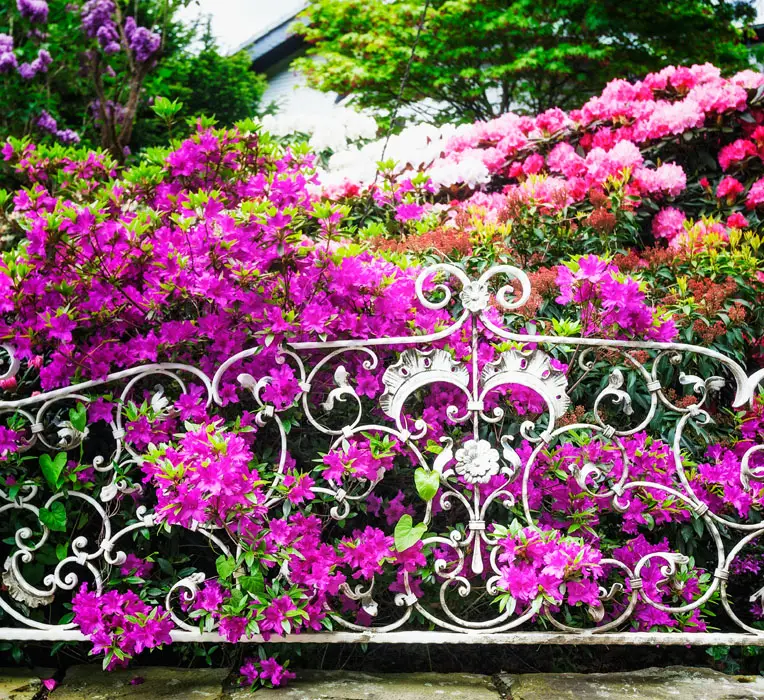 Pink and purple flowers are allowed to grow wild and free, framed by this intricately made wrought iron fence painted white.
Giving the garden a rustic yet luxuriously Classic look, the leaf and flower motifs on the low fence are a great way of protecting a garden while encouraging the natural beauty brought about by low blooming bushes.
Aluminum Fence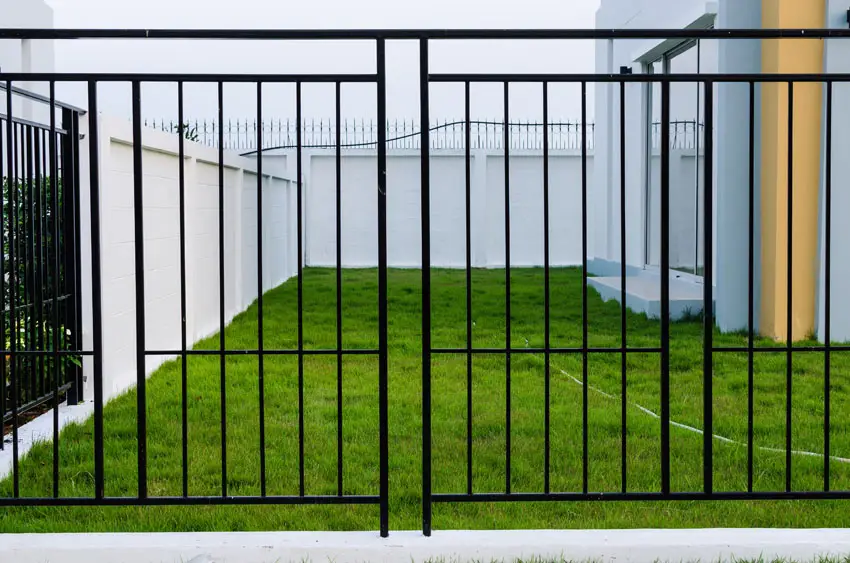 Although this type of fencing looks a bit more sterile, using aluminum framing and rails ensures that a fence can stay rust free. In addition, aluminum is much lighter than iron or steel, so that the base and concrete framing of the fence need not be too heavy.
In this case, the black powder coated aluminum fence, done up in an austere vertical pattern goes well with the horizontal lines on the solid white wall's face.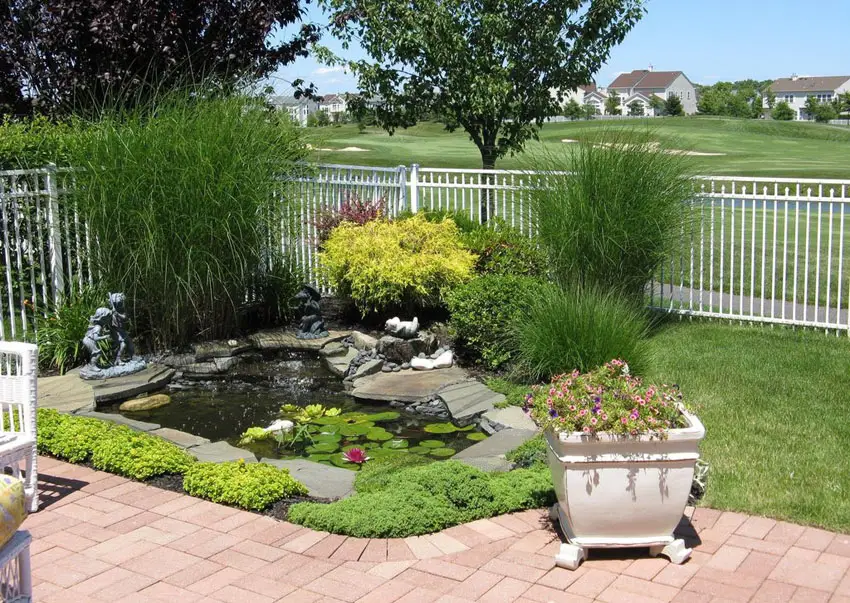 A clean white fence surrounds this small backyard pond with lilies, low bushes and overgrown reeds next to a red cement paver garden path and patio.
Low and with gaps in between each baluster, the fence does not distract from the natural environment and is simple enough to clean and maintain. Using aluminum and powdercoating it white also allows for better rust and scratch protection.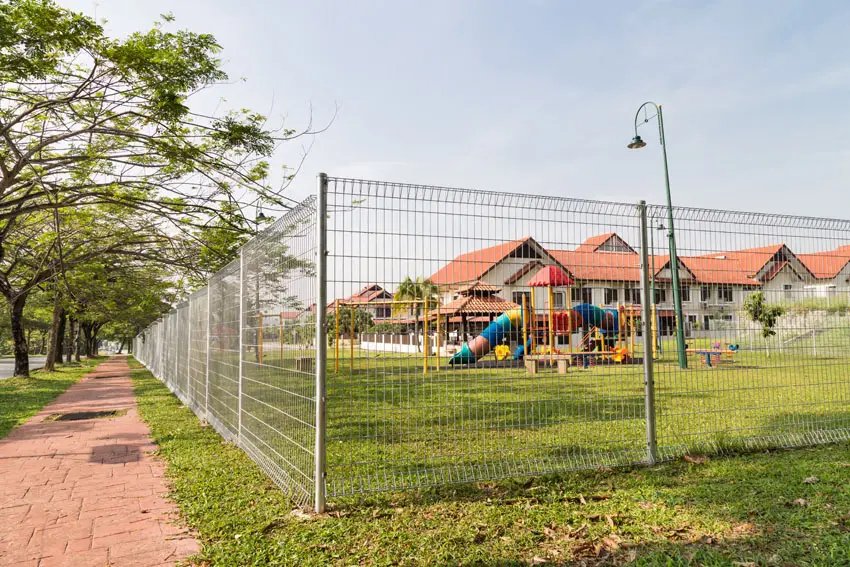 A neighborhood playground is well protected by a high fence in aluminum crosshatch wires. The thin wires naturally allow air and light to get through with no problem, and also makes the playground feel more open and welcoming.
Kids will enjoy safely playing in this playground, while parents and guardians can a keep a close eye from right outside the fence.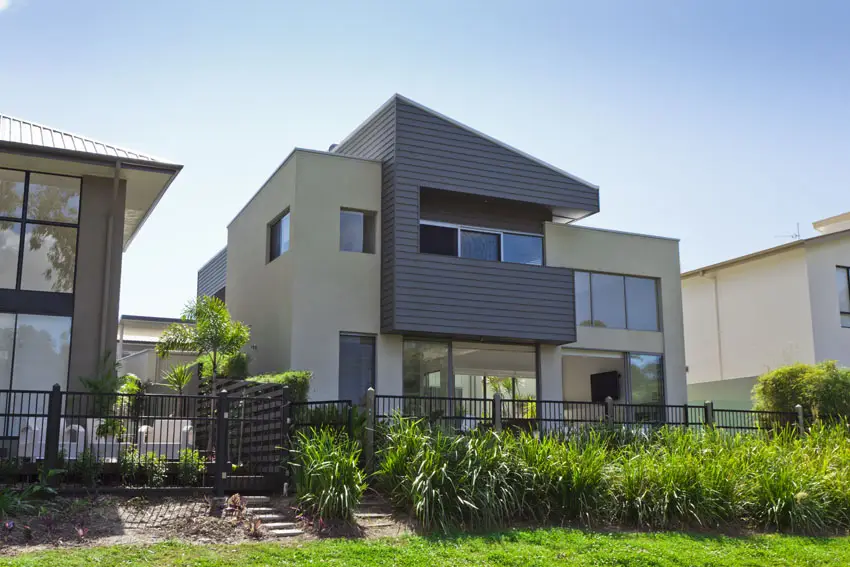 This modern style home in neutral also features a modern style front fence. Leading in from a grassy lawn with overgrown reeds, the linear style fence runs across the property and culminates in a small entrance gate by a path of stone steps.
Slim concrete posts stand in between each segment of aluminum fencing.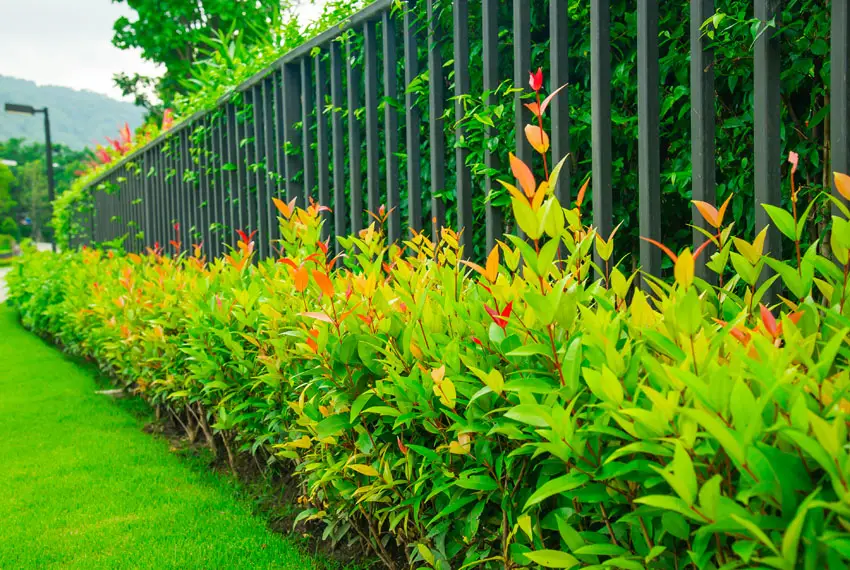 Made of aluminum, coloring the fence a dark emerald green allows it to blend in with the foliage around it. This fence, with its wide vertical slatted profile features low, bright plants on its front next to a lawn, while the other side features a higher shrub with darker leaves.
Stainless Steel Fence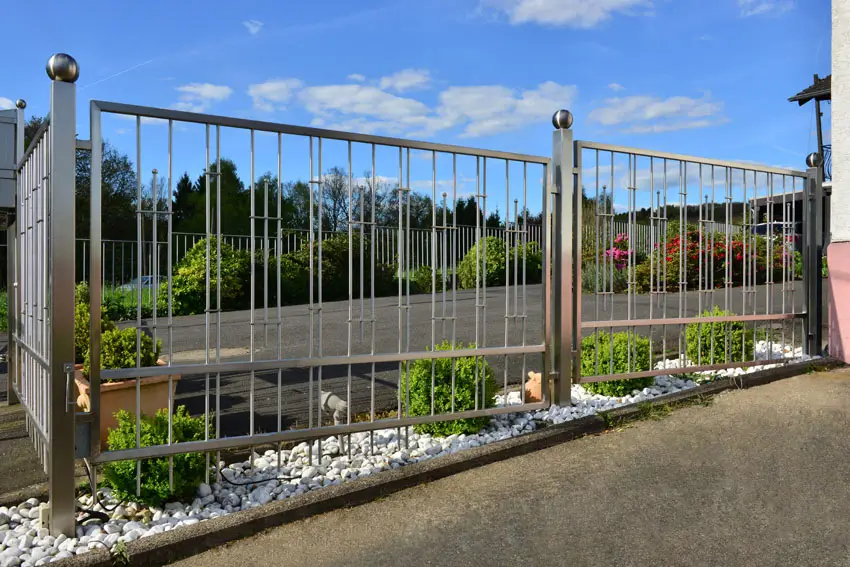 A stainless steel fence ensures very low maintenance, as it is rust, scratch and stain proof. In this case, a large outdoor deck of dark stained wood planks is enclosed by a high stainless steel fence featuring spheres on top of the main posts.
The fence rests on a stone bed with small ornamental plants and pots to offset the heavy, futuristic feel of the stainless steel.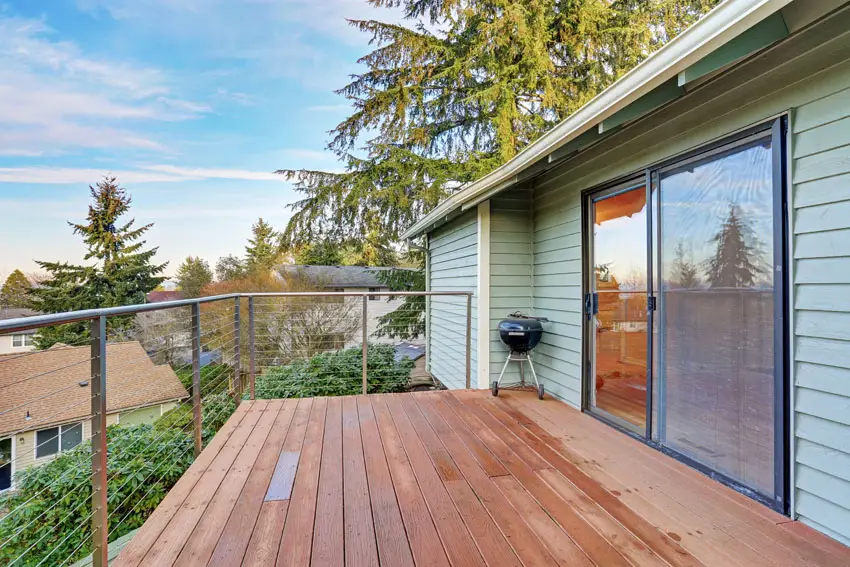 Classic meets Contemporary in this mint green house's warm wood plank patio balcony. The perimeter is lined with stainless steel fencing, with the handrail in a rounded tubular steel section for ideal gripping.
In between the tubular posts, thin steel cables run in between, ensuring a high level of safety without compromising the view from the deck.
Corrugated Metal Fence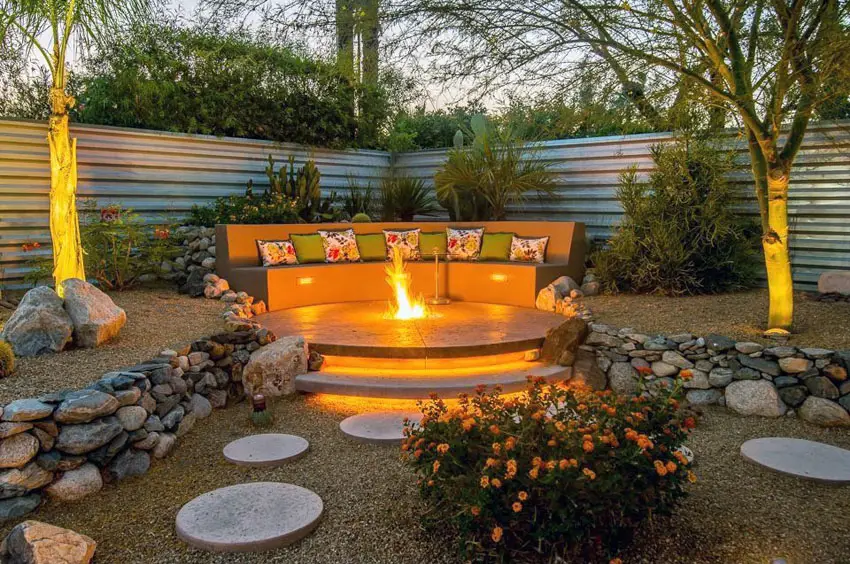 A beautiful backyard fire pit features a circular concrete deck with a semi-circular seating arrangement with accent throw pillows. Circular concrete garden pavers lead up to this area, held up by a riprap retaining wall of rounded river stones.
To keep with the rustic natural look of the garden, cacti and ornamental plants line the back corner of this garden, fenced in by corrugated metal panels laid horizontally on end. The unfinished metallic quality of the fence goes well with the rustic river stones and fire pit.
Brick Fence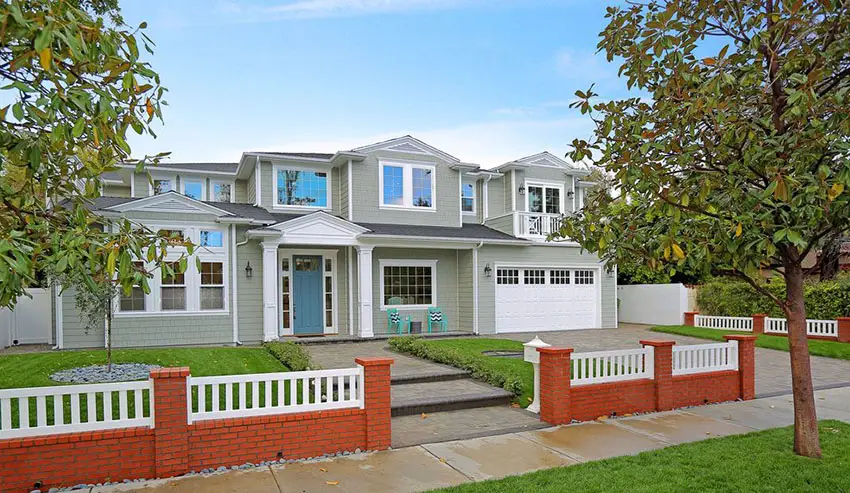 A Contemporary classic house features mostly neutral greys and whites with a pop of pale blue for the front door. As a contrast to the house's neutral palette, the front fence is done up in heavy red brick for the base and main posts.
In between the brick, white painted wood is laid out in simple vertical rows in between a top and bottom rail. The shade of white used on the fence matches the white used on the house's trims, door and window frames, fascia and posts. The simple use of white is a great way to offset the light grey ship lapped boards on the walls and the dark brown shingles used on the roof.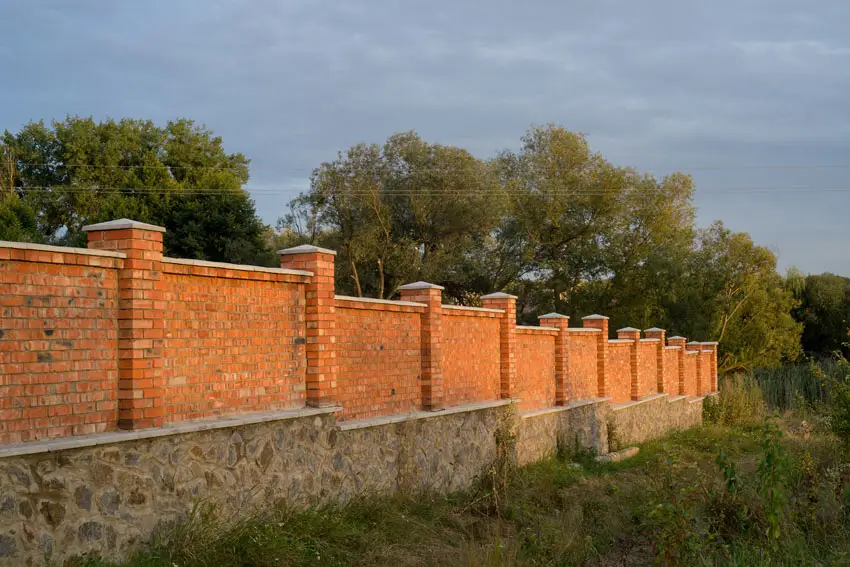 A combination of natural and man-made materials, this fence is very strong and resilient, and provides a high level of privacy. The base, a retaining wall of rusticated river rock, is done in steps, adjusting to the sloping ground level.
Above this, red brick is laid out in neat rows, with main posts jutting out of the wall and terminating in a beveled concrete tip.
This Classic country style home features tall roofs in brown stucco and grey slate stone. The front fence features a base reminiscent of the thin grey slate stone, but is softened by the low aluminum fencing used on top of it.
With wide gaps in between, the front fence pattern is also applied on the two small front gates, leading to the house's main door and back door.
PVC Fence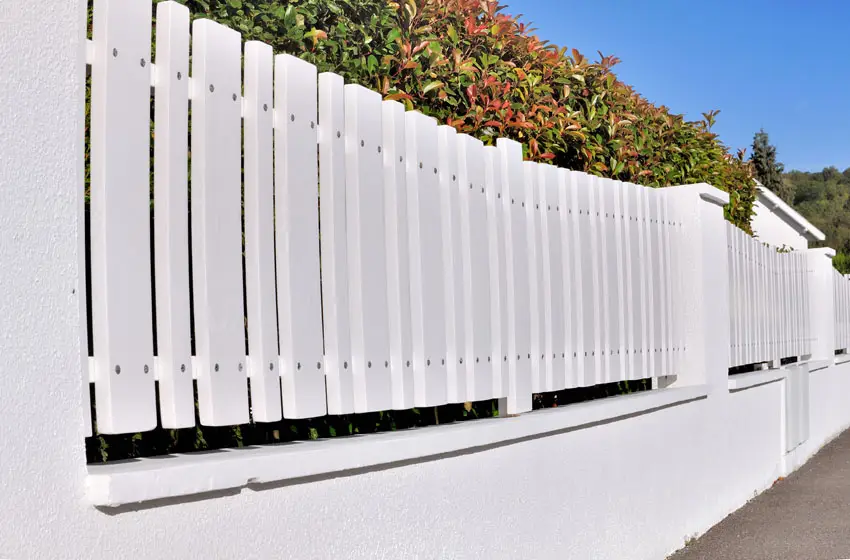 Looking almost like natural wood painted white, this fence is actually made of PVC. With a base of painted concrete, the PVC panels are mounted onto a top and bottom rail with gaps in between. These rails were then mounted onto larger, more robust pillars made of white painted concrete.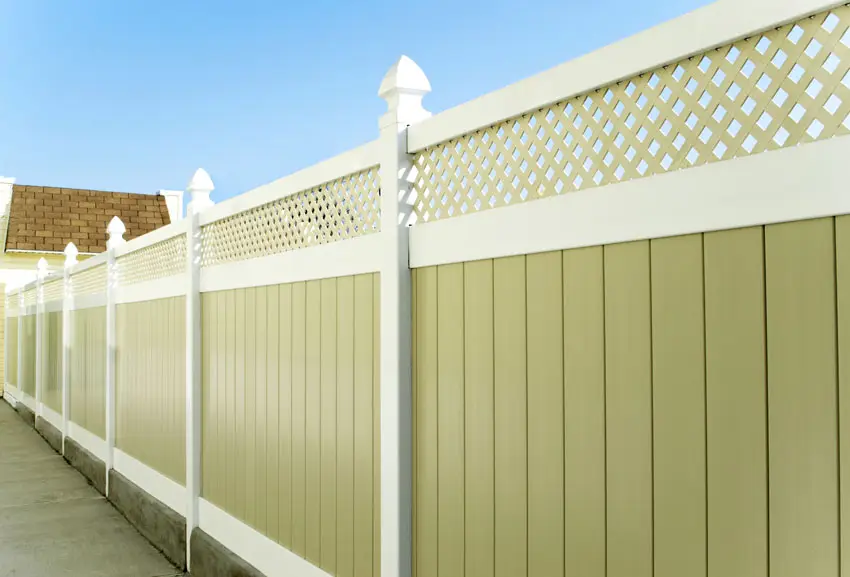 PVC panel fencing can also come in more fanciful patterns. This fence starts with an unfinished concrete base, and a heavy white framing was done on top of this, with main posts terminating in a helmet shaped ornament.
In between this framing, wide planks in warm grey are laid out with no gaps in between, ensuring privacy. The top part of the framing, however, was done in a lighter grey in a diagonal crosshatch lattice, bringing in more light and air.
Lattice Fence
A lattice fence is often constructed of wood, vinyl or metal and consists of slats creating a criss-cross design pattern. Lattice fences are frequently used to provide privacy and shade for backyard patios and decks. They make a great addition to a garden where lattice panels can be positioned to create an alluring ambiance. See our lattice fence design gallery here.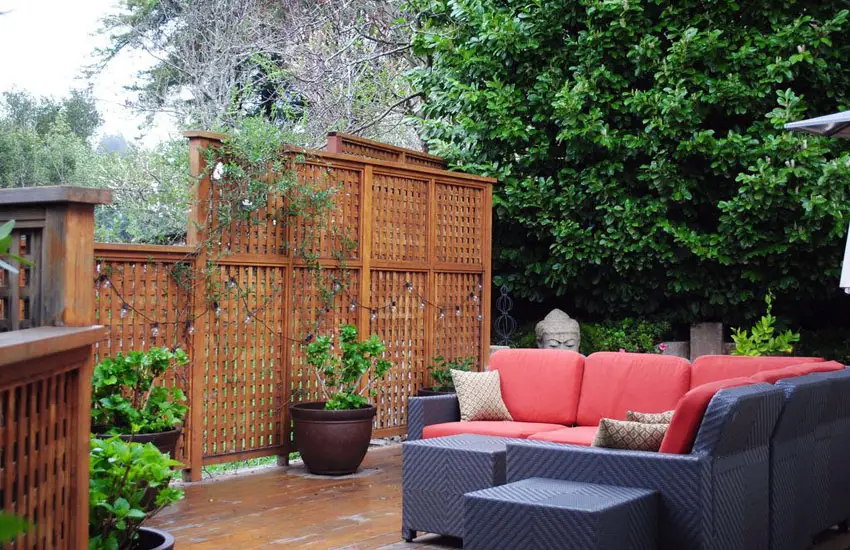 This Asian inspired home features a rectilinear lattice style fence on one side of its warm wooden deck. The lattice is decorated with crawling plants and a string of light bulbs.
The warm wood of the deck and lattice contrast well with the dark grey weave used for the outdoor furniture, highlighted by red pillows. The warm wood also goes well with the dark green vegetation on the other side of the deck.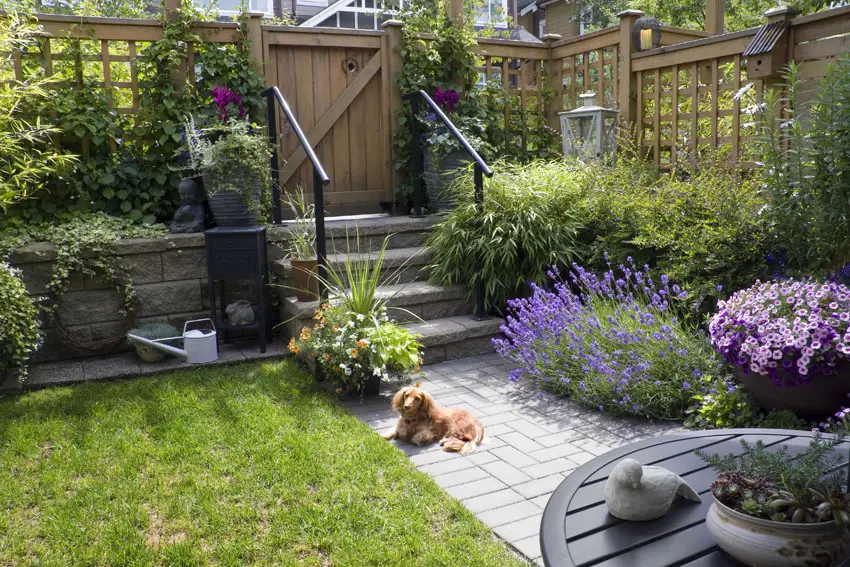 This simple patio features unfinished cement pavers in a herringbone pattern. Beside this, low flowering plants greet the patio, framed by a lattice style fence with big spaces in between, enough for plants to go in between, but safe enough to prevent intruders.
The small deck leads up to some steps culminating in a small barn door constructed of the same wood finish, albeit in larger planks.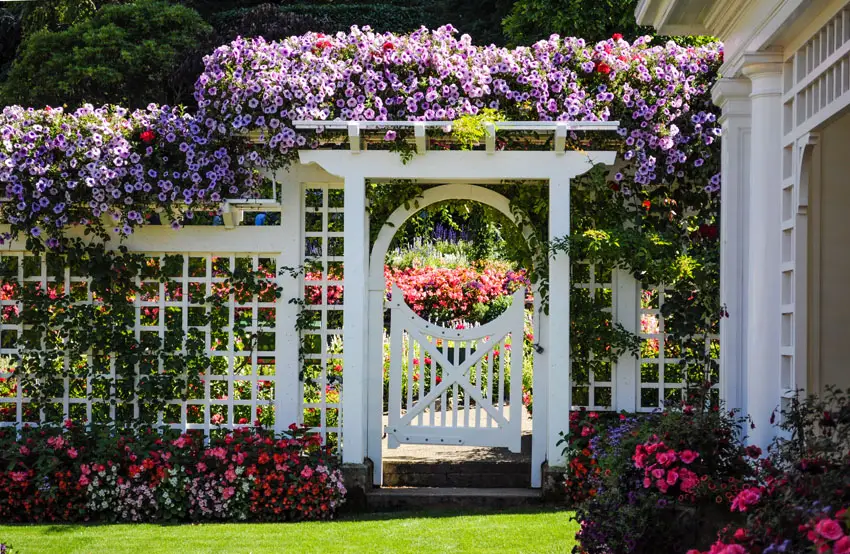 This lattice style fence features wood painted white, and laid out with larger holes, allowing vines and low bushes to cling on and grow. The lattice culminates at the top with a trellis, where even more plants and flowers are allowed to propagate.
The gate in this fence features a downward curve on its profile, mirroring the arched entryway right above it. With vertical slats on its face, the small gate also features a cross brace on its framing.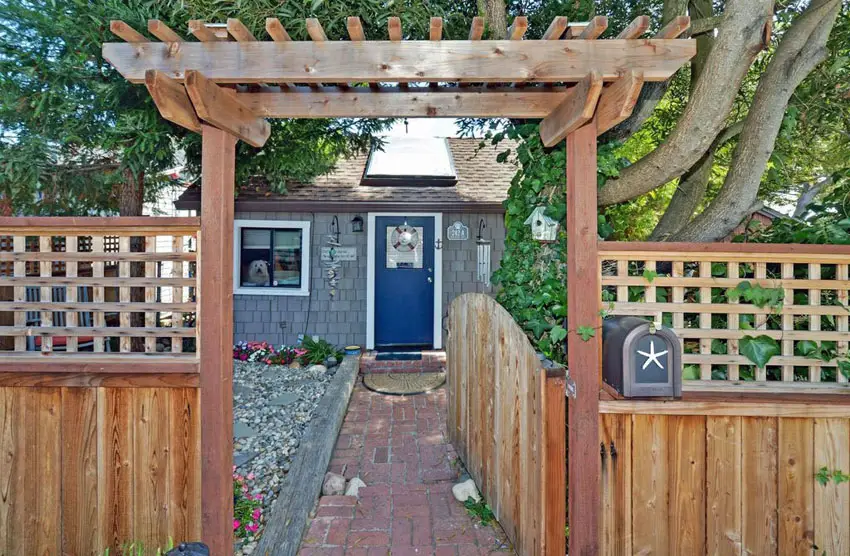 A small rustic cottage is framed beautifully by a naturally strong grained wooden lattice fence and arbor gate.
Red brick pavers lead up to the navy blue door, framed by an arbor of heavy wooden timbers over the short wood plank gate. On either side, wood planks laid vertically serve as the fence's base, while the upper area features a rectilinear lattice pattern, allowing garden plants to grow free.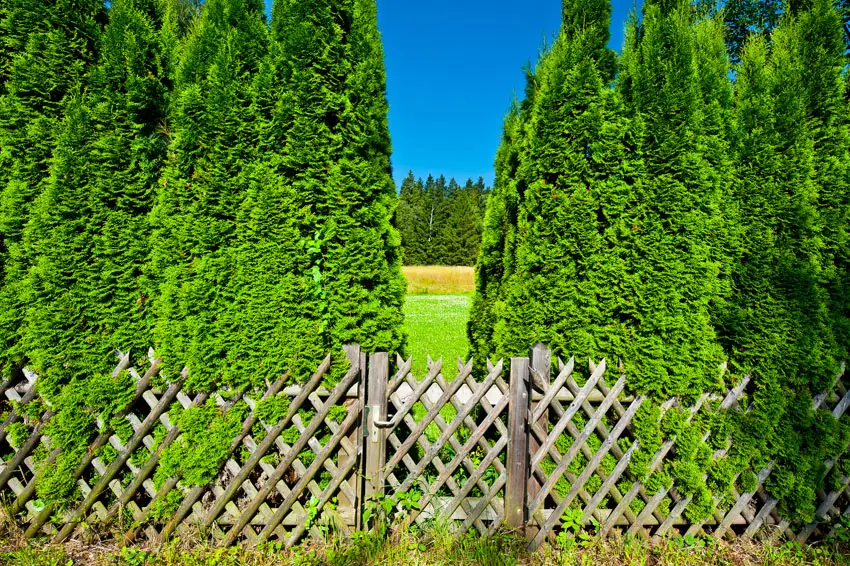 Tall green shrubs serve as the backdrop to this rusticated timber and bamboo fence. Low and made up of cross hatched bamboo strips, the ageing of the fence and its material only serves to give the fence more character, bringing out the green of the shrubs even better than a brand new fence.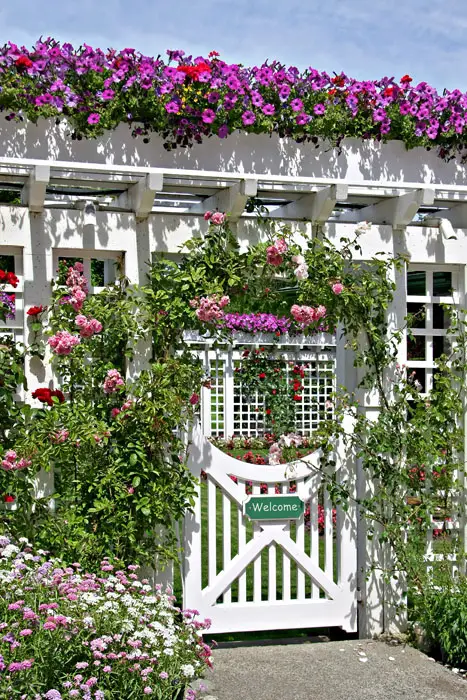 Flowering roses crown the top of this fence's multi-level arbor gate made up of heavy timbers painted white. Below the arbor, a low gate is done with a downward curved profile and a cross brace. On either side, more flowering plants are allowed to propagate via the open lattice style layout of the fence.
Gabion Wall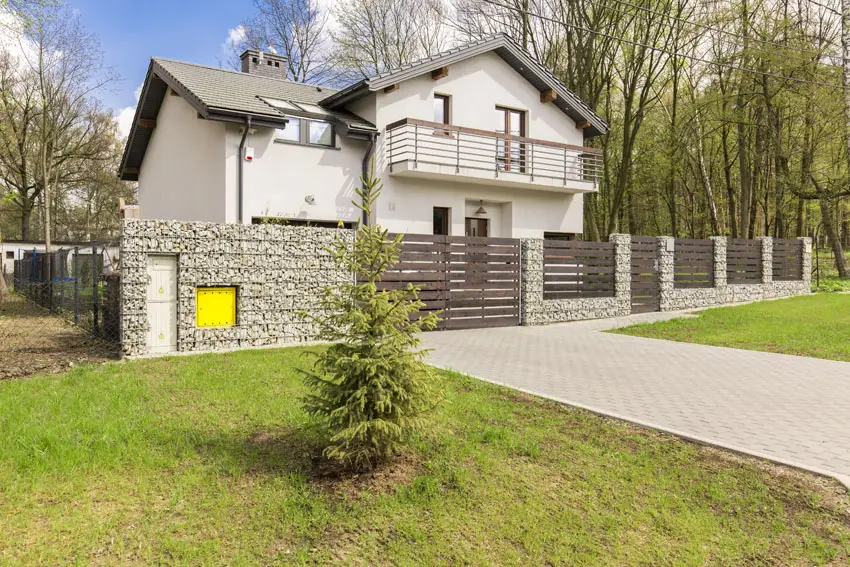 This country home features the use of gabion used with weathered wood planks for its fencing. Gabion is a system wherein boxes made of wire or wire mesh are filled with locally available stones. These boxes are then stacked, one on top of the other.
This is a very cheap way to achieve a rustic style home, especially when matched with weathered wood also found in the surrounding area.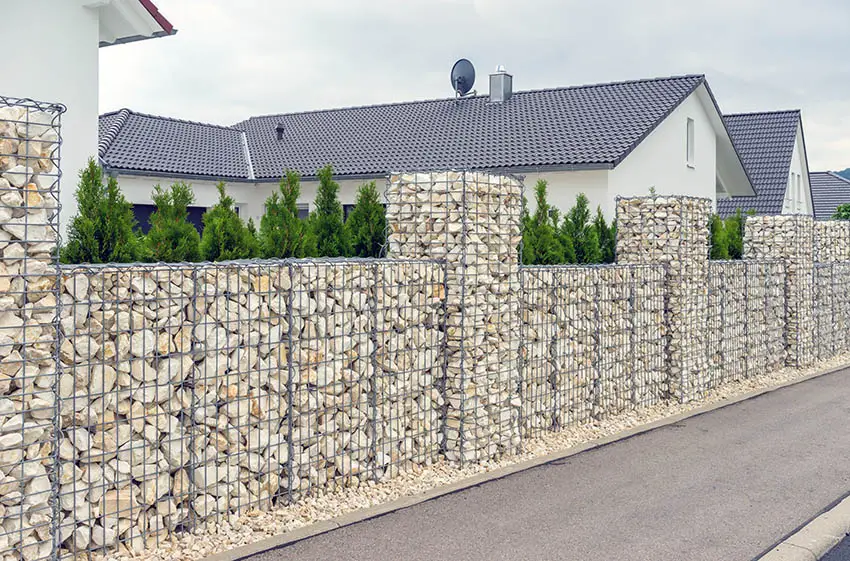 A gabion fence is usually started by purchasing a wire mesh kit. Gabion mesh is often coated with Galfan which is a mixture of 95% zinc and 5% aluminum.
Once you have cleared and leveled the ground where you will be installing the fence you can begin assembling the structure. Bracing ties hold the wire mesh frame together. While filling with rocks you will want to select only the rocks large enough to avoid slipping through the mesh.
Chain Link Fence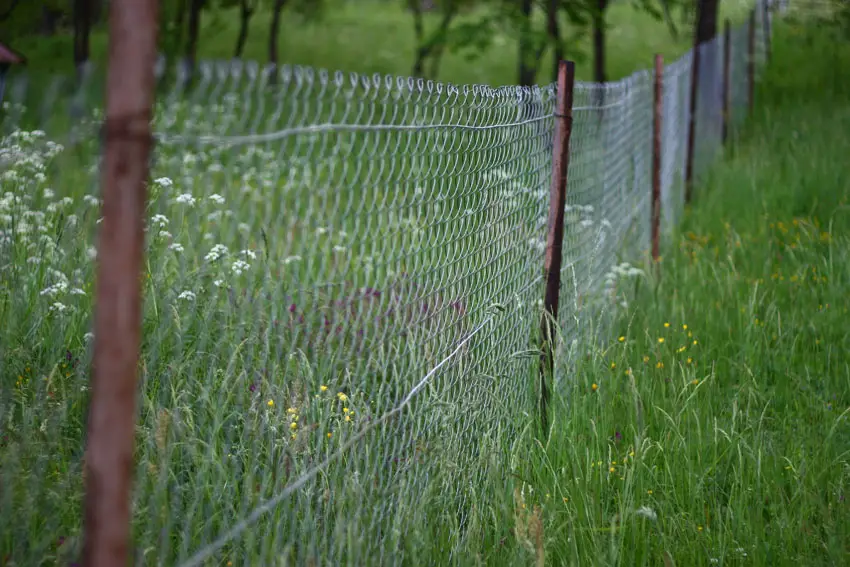 A chain-link fence is also referred to as wire netting, wire-mesh, cyclone fence, hurricane fence, or diamond-mesh fence. It is a type of woven fence and is typically made from galvanized or LLDPE-coated steel wire.
The wires are bent into a zig-zag pattern so that one bend hooks with the wire immediately on one side and the opposite bend hooks with the wire immediately on the other side. This forms the characteristic diamond pattern on most chain-link fences. With its affordability and widespread popularity, these types of fences are some of the most prolific in the country.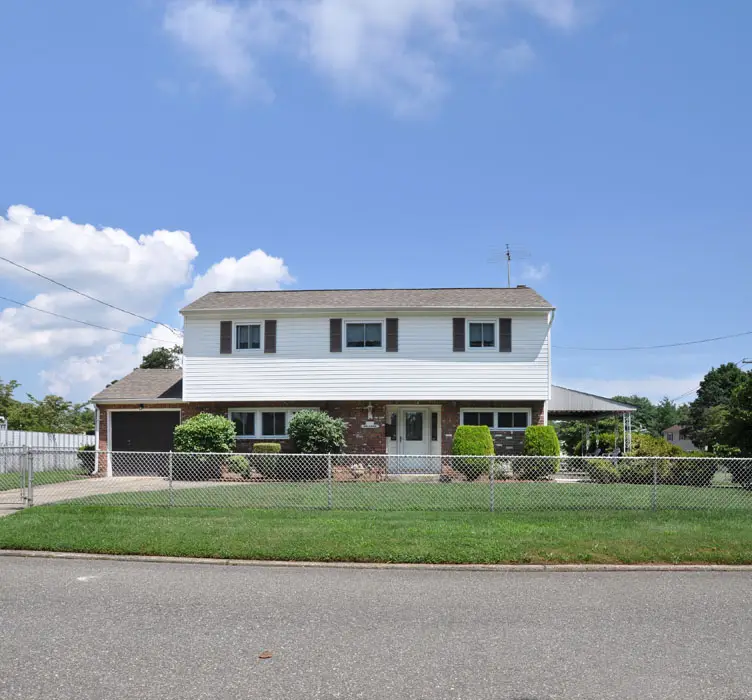 Aside from their common use in rural, forest, and agricultural areas, chain link fences are also common in a lot of residential and suburban zones.
This is partly because of their cost effectiveness, but also because of their low-maintenance assembly, their relatively secure enclosures formed, and their great visibility.
Chain link fences can also be integrated into other forms of fences. In the example we have here, the metal weaves are integrated into vertical members that increase security, give more privacy, and provide more structural integrity to the chain link fence system. Not to mention, the splash of color is a welcome aesthetic.
Wire Fence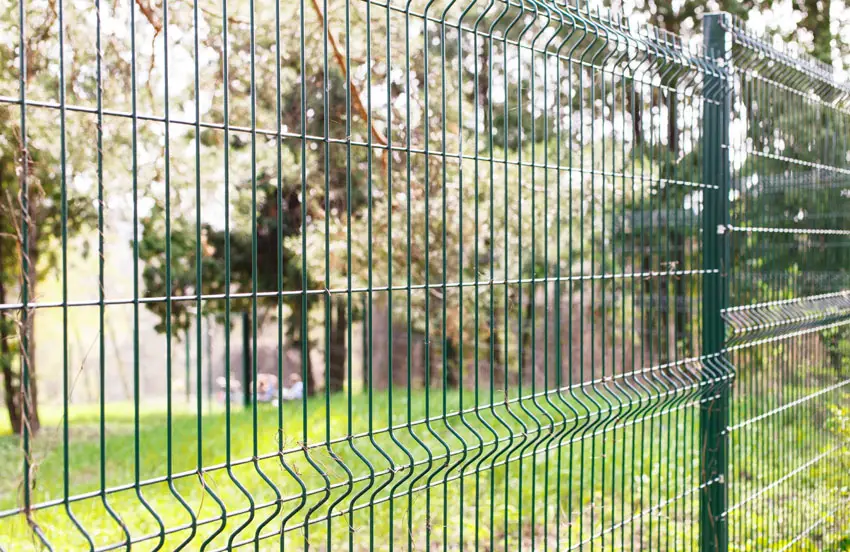 Wire fences such as this one provide amazing visibility as well as decent security to fenced areas. They are sturdy, have good longevity, and needs little maintenance as long as measures have been taken to prevent any unwanted rusting.
This example has wires coated by protective paint that makes an already long-lasting type of fence last even longer.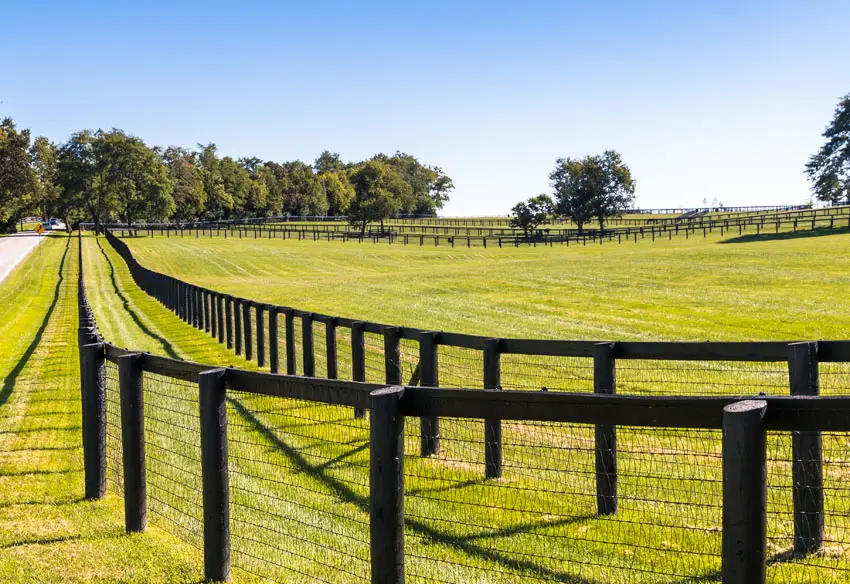 Wire fences are often used for agricultural and rural fenced areas. They are supported mainly by tension between the wires, being stretched and woven and supported by structural posts and sometimes railings that run between posts.
Some are made of galvanized mild steel and other, galvanized high-tensile steel. As such, they are cost effective as well as easily procured.
Invisible Fence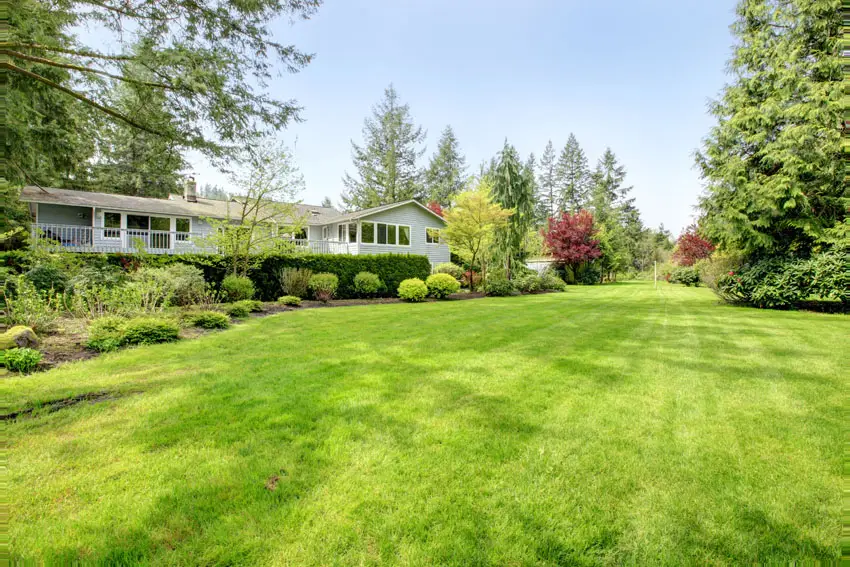 Not as much a fence as it is a lack of one, invisible fences work by delivering a warning tone followed by a very mild electric shock through a buried underground wire when the pet crosses the designated boundary set by the invisible fence.
These types of enclosures are useful for affordability, flexibility, and the unmatched visibility provided by the lack of any obstruction. Get more information about a popular electric dog fence here.
Dog Fence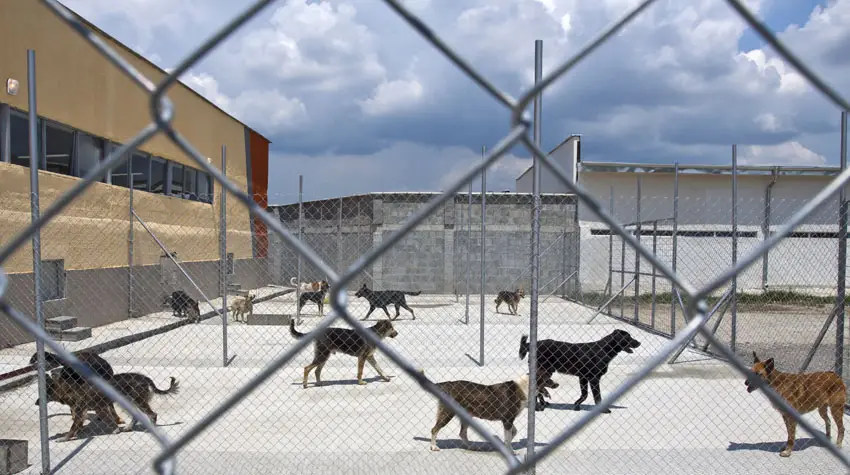 For kennels or areas used to house a large number of canines, chain link fences can also be used as dog fences. The key to having this type of fence be effective as a dog fence is to make sure the structural posts are solid and the height of the fence itself is at a point that the dogs can't leap over it.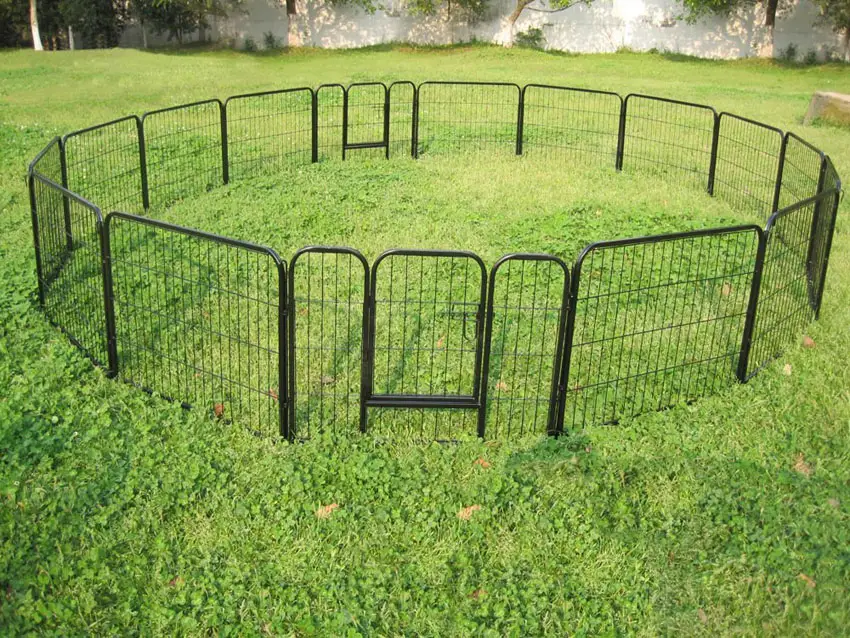 There's also the more traditional route of setting up solid fences for your household dogs. Dog fences such as this one arranged in a circular enclosure really maximize the are within the fence as well as providing the dogs with lots of visibility and freedom.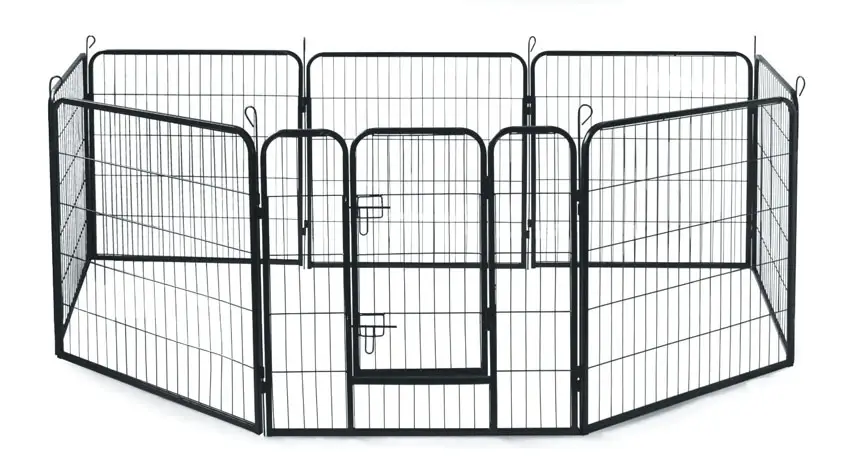 These types of metal pet fences are collapsible and portable enough to be used even indoors. It should be noted however that larger dog breeds are typically not to be enclosed by these types of dog fences.
The dog fence pictured above is constructed with a metal powder coated frame. It is both weather resistant and can be folded flat for storage and transporting. Get more information about this metal dog fence here.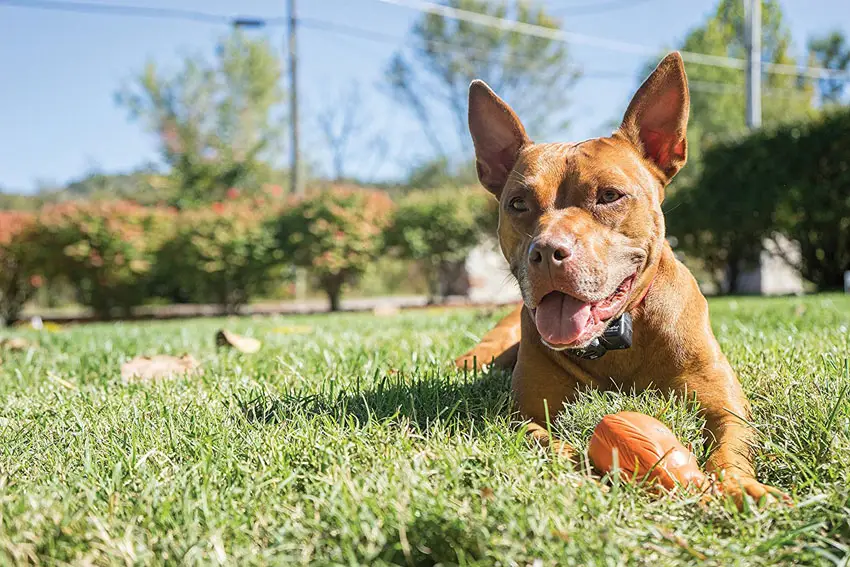 Similar to an invisible fence, wireless dog fences are technically not fences at all. Dog collars double as transmitters and are tied to an electric signal that is emitted somewhere within the house. If a pet strays a certain distance away from the emitter, its collar emitter will let out a mild electric shock to deter the dog from going any further.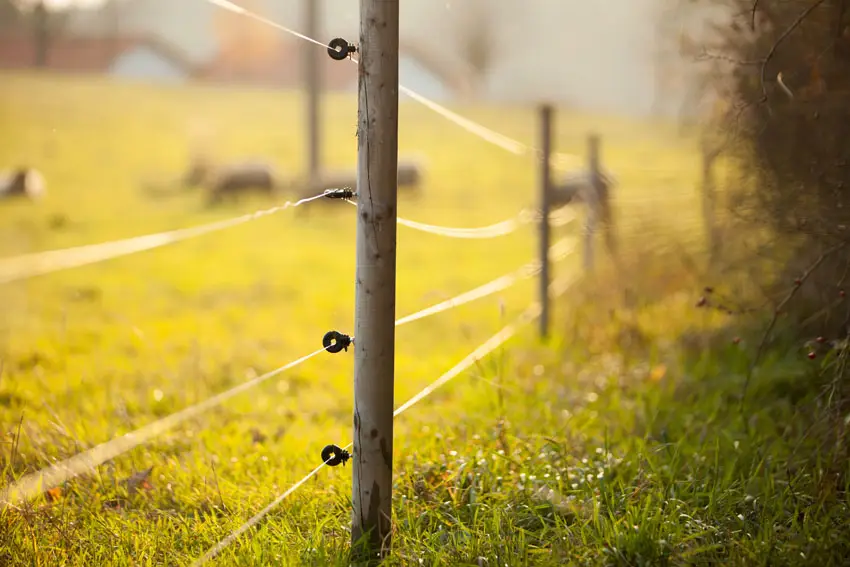 Another close cousin of the invisible fence, electrical dog fences are the above-ground version of the invisible fence. Usually, one unwanted brush up with any of the hot wires will usually deter a dog from getting near these types of enclosures again.
Safety Fence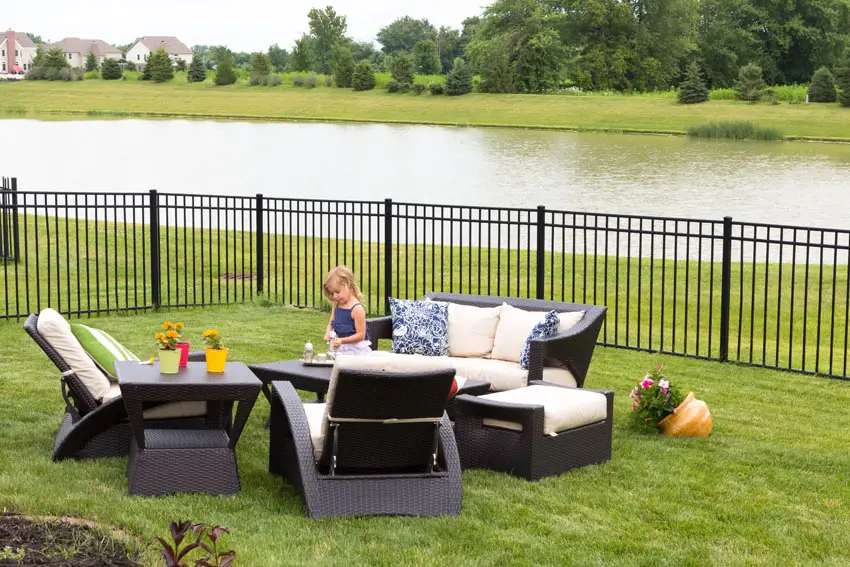 Safety fences are typically employed to keep users or pedestrian from potentially harmful areas. They are used in construction areas, hazardous land, and, in this case, residential areas located near bodies of water such as rivers or lakes.
The stylized black iron bar safety fence used here is to keep the residents from wandering too close to riverside, especially considering they have children in the family.
Temporary Fence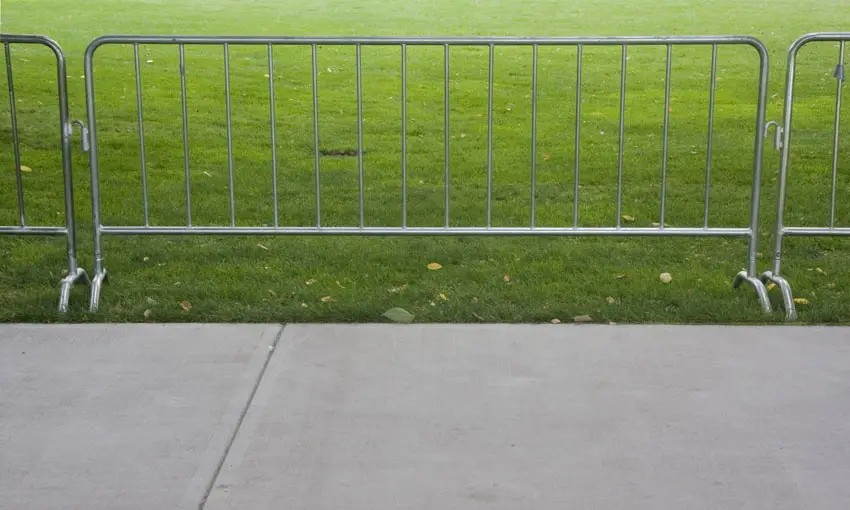 Temporary fences are very often used for the boundaries of outdoor events, keeping pedestrians off of restricted areas, and for general outdoor crow control. In their most commonly used form, they are made out of 2 m long modules that interlock with each other with a built-in hook and loop mechanism at their sides.
In this example, the fences are used presumably to keep pedestrian from stepping on the grass area next to a sidewalk.
This small temporary fence is made from a movable white powder-coated aluminum frame and styled to look like a white picket fence for aesthetic purposes. In this picture, we see its use in a residential setting to block off an area of their yard intended for the use of their house dog.
The fence shown in the picture above is made from durable pvc and can be easily installed by pushing the stakes into the ground. The weather resistant material will not rust or deteriorate and is great for the garden or for separating off a part of the yard.
Pool Fence
A pool fence is important to keep out unwanted guests, protect others from injury, and for offering privacy. Check out our pool fence ideas post for breakdown of pool prices by type and the pros and cons of the most popular fencing styles.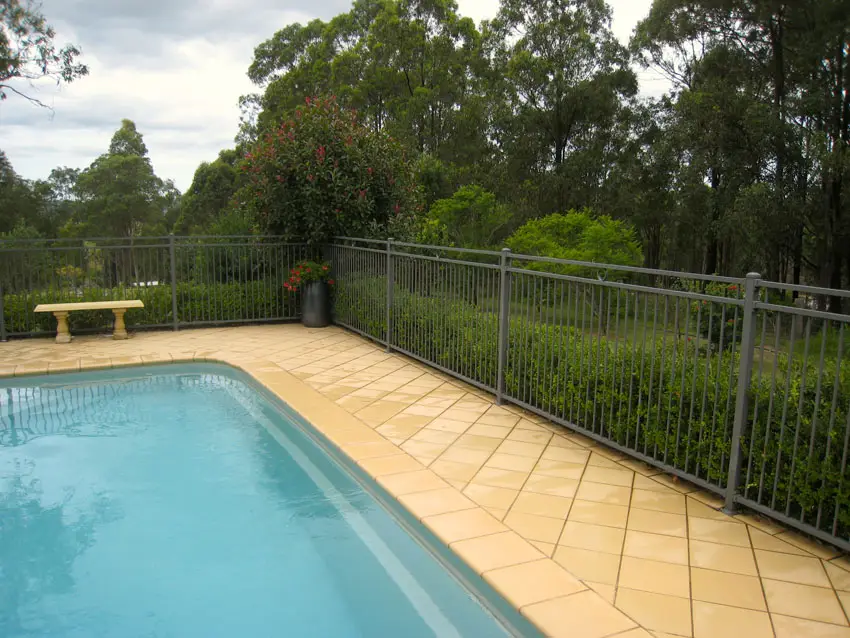 A low fence in dark grey painted metal lines the edges of this swimming pool and its rough sandstone tile flooring. The dark color almost fades into the background, allowing a better view of the greenery all around the pool.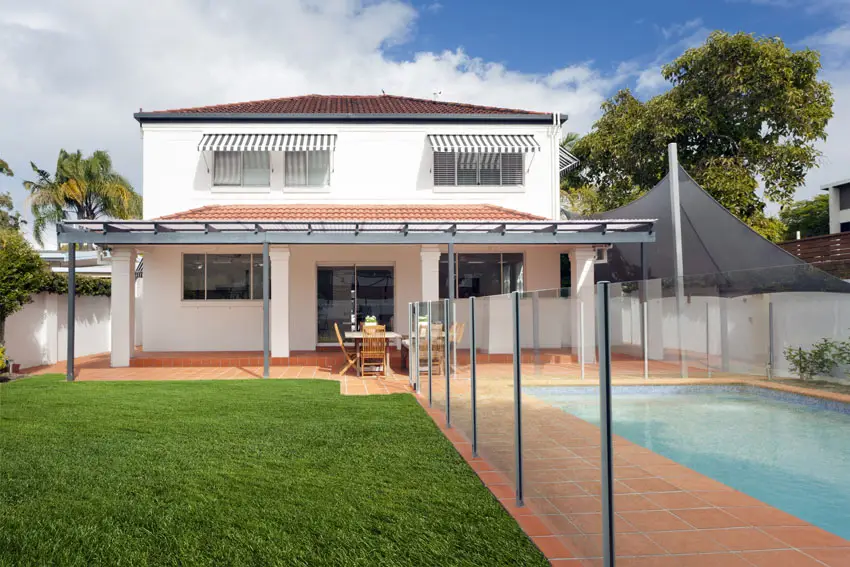 A glass fence around the backyard pool is one of the best way to keep kids safe while they are playing on the lawn. From the pool's blue waters and red brick paver flooring, the glass fence, with its minimal metal posts in between, provide a clear view of the lawn.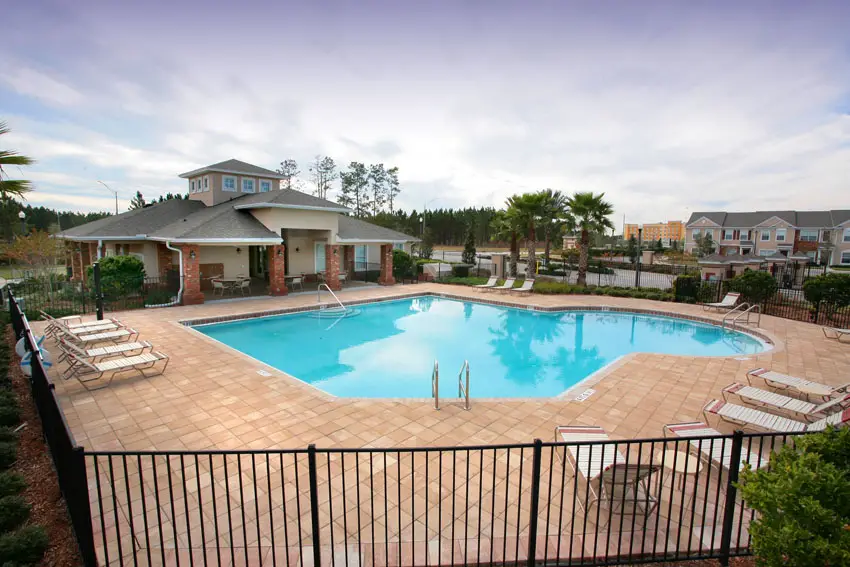 This large irregularly shaped backyard pool features a wide pool terrace of sandstone paver tiles with a multitude of sunbathing chairs scattered casually in pocket spaces. The entire terrace is bordered by a black painted metal fence, done in simple vertical posts, protecting the area from outsiders while still providing a view to and from the outside.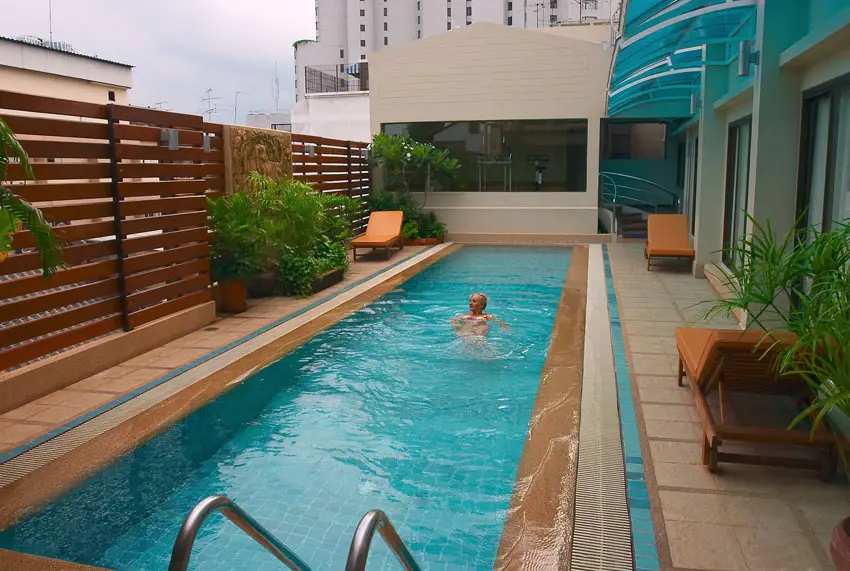 A small plunge pool is bordered by a wood horizontal fence on its perimeter. The warm wood color matches with the Asian-style relief on the center, decorated with different potted plants, as well as the warm beige stone tile used for the terrace flooring. The fence is also laid out in such a way as to allow air and light to pass in between the gaps between the wood planks.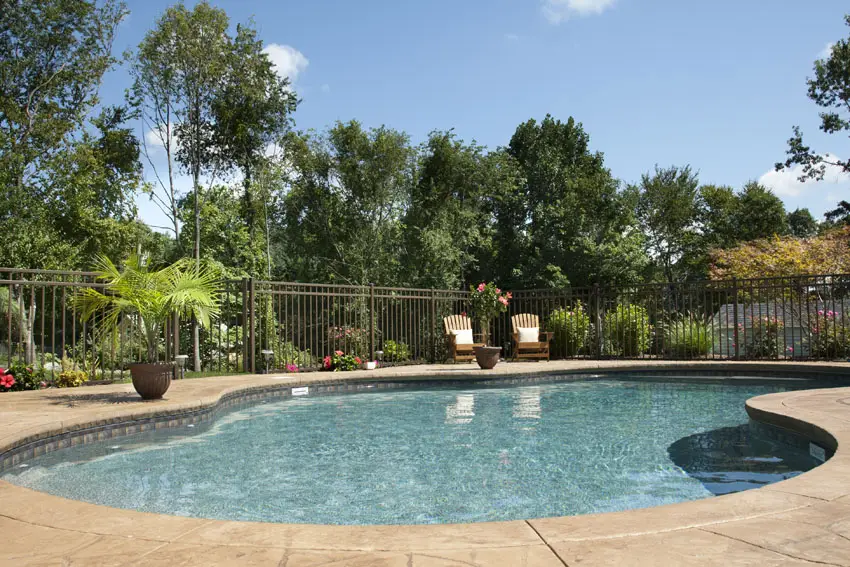 This curvilinear pool features finished concrete terrace flooring, as well as lounge chairs and potted plants all around it. A high steel fence, painted dark brown, lines the entire edge of the terrace, protecting the place from trespassers but allowing a great view of the outdoors.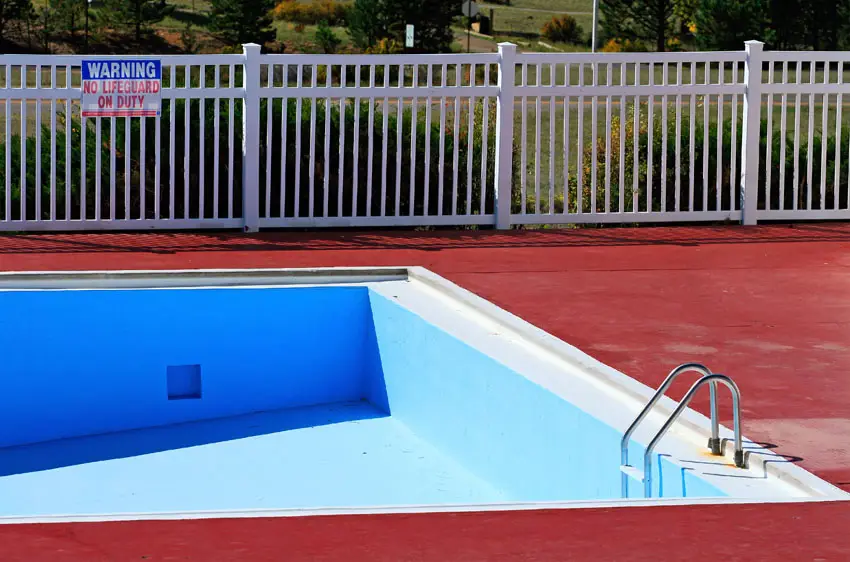 A basic pool with warm red resilient flooring is lined with a bright white painted metal fence. The fence is of medium height, with the main posts terminating in a beveled capping. In between, thicker tubular sections are set vertically with small gaps in between.
An austere dark grey painted metal fence lines the terrace border of this swimming pool. Done in vertical tubular sections, the fence is very minimal, safe, and still allows a view of the outside.
The pool terrace features a pebble wash flooring with red brick nosing over the water's edge. The terrace is decorated with outdoor furniture in off-white and dark green.
Farm Fence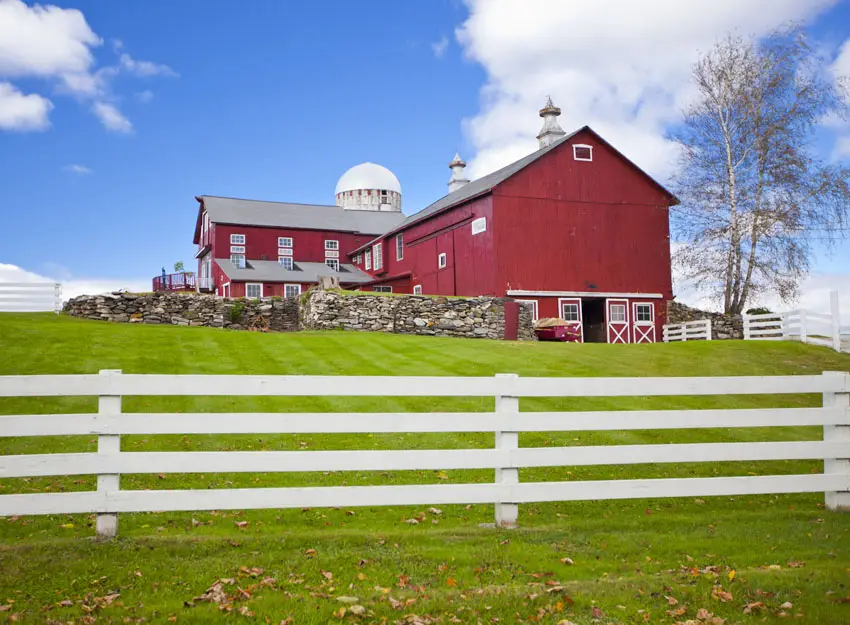 Farm fences come in different forms, the most famous and common of which is the stereotypical heavy-duty white picket fence. More so than keeping intruders out, these types of fences are more for keeping any roaming livestock within the farm grounds.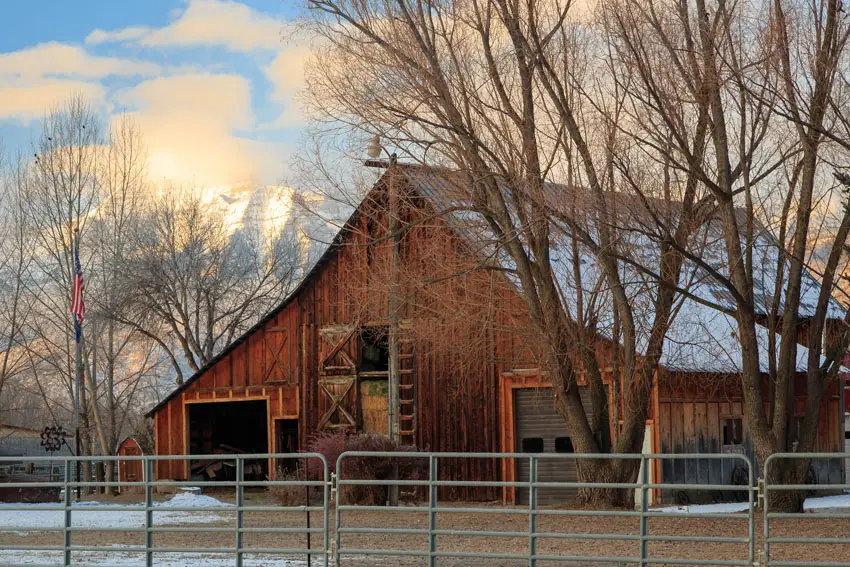 More modular, flexible types of farm fencing have been available in the form of adjustable interlocking steel frame fences. This type can be used when frequent re-adjustment of fenced areas is required. This is usually the case for constantly changing number of livestock that need to be herded and moved around.
Split Rail Fence
Split rail fence which has been around for centuries are commonly used for decorative purposes and functional aspects combined with a variety of materials fit for the purpose. A split rail fence is a popular choice for both agricultural and decorative use.
A split rail fence is especially useful for hard or rocky ground since their construction does not require post holes if built with a zig zag design. They can also be constructed without nails or other types of hardware making them ideal for out of the way areas where materials are scarce.
Split Rail Fence Cost
The cost of a split rail fence will depend on the type of material you select. Generally, cedar and yellow pine are less expensive to purchase. Cedar can cost from $12-$16 a foot, while pine runs from $12-$20. Composite fencing will usually range from $20-$25 a linear foot.
For those looking to save on installation costs and do it yourself here are the average costs for materials only:
Standard Split Rail Fence $1100 – $1300
Mid-Range Split Rail Fence $1300 – $1500
Top-Quality Split Rail Fence $1400 – $1900
(Note that the amount listed above is calculated per 164 linear feet for fencing)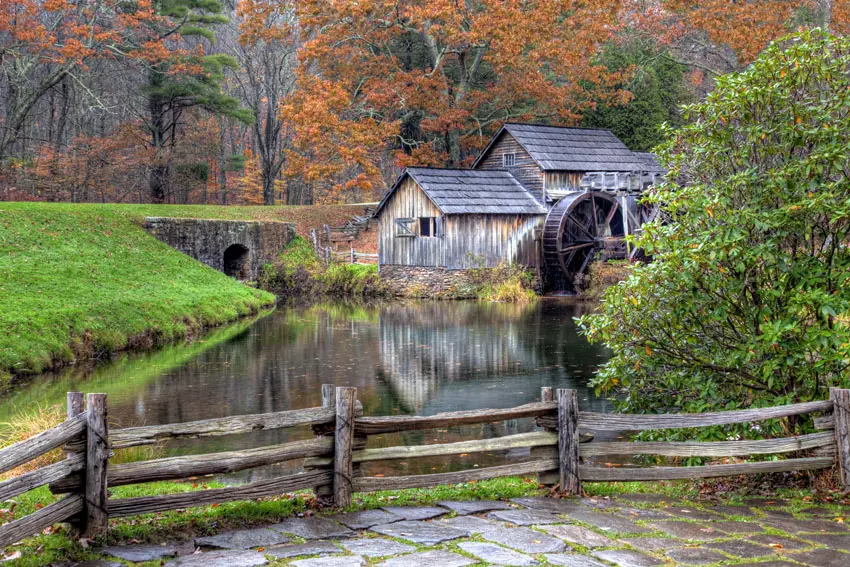 Bordering a pond with a rustic old watermill and cottage, this split rail fence fits right in. Made up of heavy reclaimed wood posts, the inner rails feature a lighter, longer variety, mounted in between the main posts. Also in line with the rustic cottage theme, the garden patio is made of cobblestones, with grass allowed to grow in between.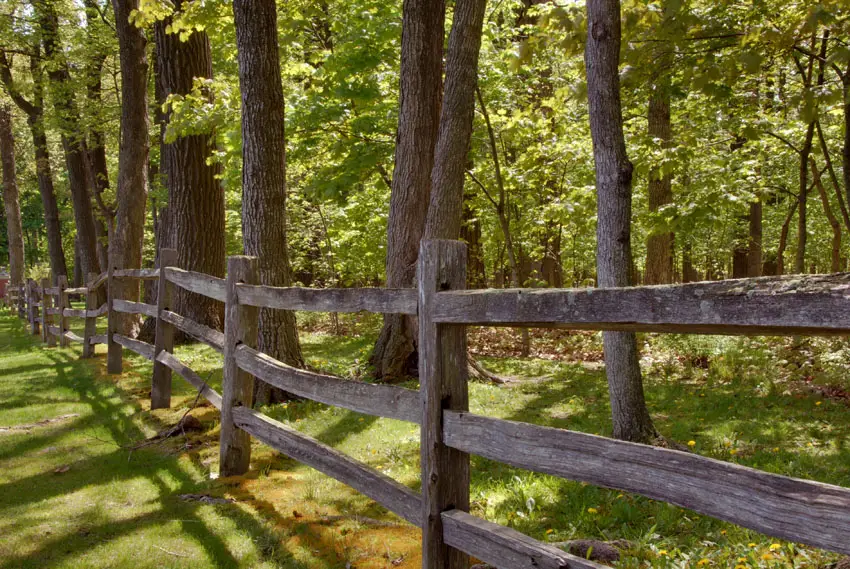 Becoming one with the forest right behind it, this split post and rail fence is made up of the same wood, locally sourced from backyard trees. The split rail fence features notches on the heavier main posts, where rails are tucked in. This type of fence is quaint and rustic, but is an easy way to demarcate lot barriers.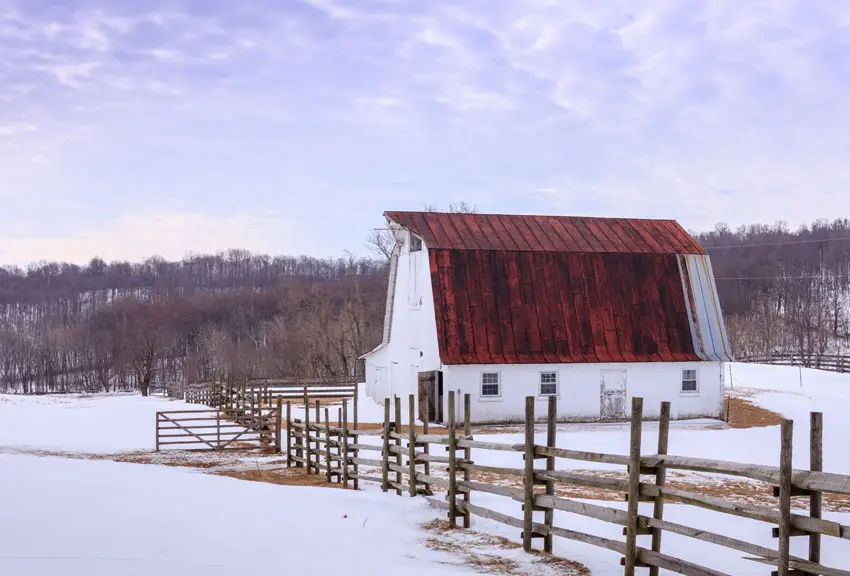 This extremely rustic style fence goes well with the snowy landscape and the classic barnyard's look with its high red roof and plain white walls. The fence features posts spaced evenly and done in pairs.
In between the posts, bracing is provided to keep the posts upright, and guard rails are topped onto these braces. The main gate is also done in a simple fashion, horizontal rails with a cross bracing on either side of the center post.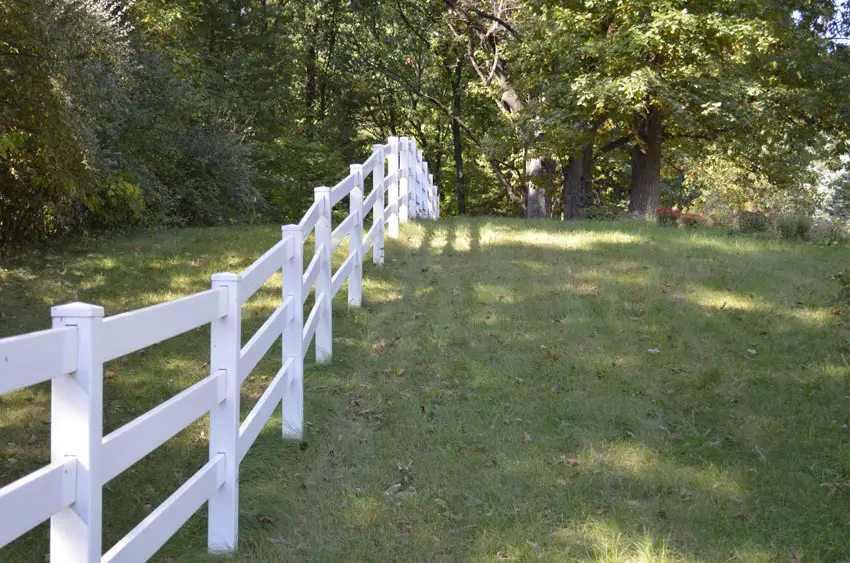 This backyard leading to a forest is protected using a post in rail fence. This fence is made up of wood timbers painted white. Main posts are staked into the ground, with the top ends capped and beveled. The posts are then notched, so that flat horizontal rails can be mounted in between. This quaint kind of fence safely demarcates land without taking away from the natural surroundings.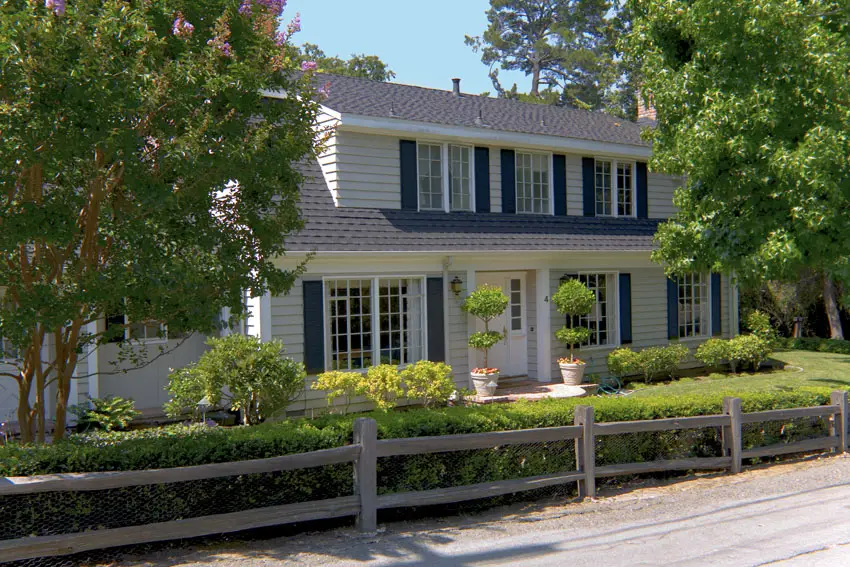 This post and rail fence simply demarcates this beautiful Classic style home from the main country road. Featuring only two rails notched in between thick wooden posts, the fence has an additional mesh backing in between the rails, as well as a row of bushes right behind the fence.
These discreet additions add security without taking away from the natural rustic look of the two-rail post and rail fence.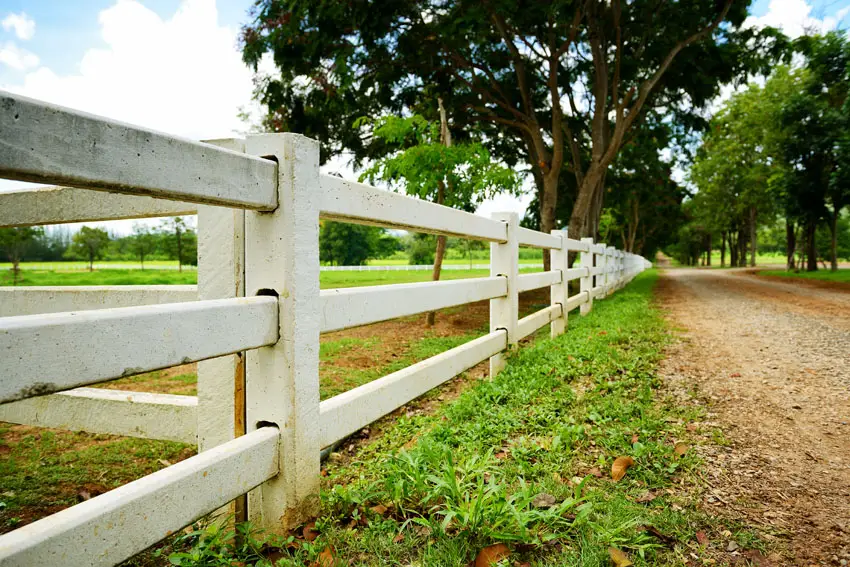 Running along a dirt-paved country road, a simple post in rail fence demarcates the property line, alongside rows of arbor trees. Thick rails are notched into holes on the main posts of the fence. The aging and staining of the white painted wood gives the fence a barn style vibe.
Barbed Wire Fence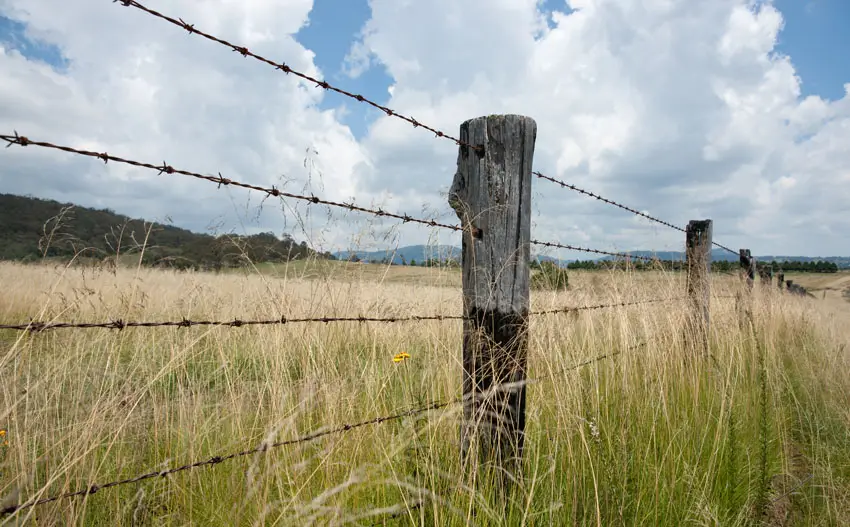 A variation of the wire fences, barbed wire fence designs are the product of last century's Industrial Revolution. This is used to economically and feasibly fence range land and agricultural areas.
They are made from two mild steel wires twisted together with steel barbs attached every 10-20 cm. They are held up by thick pieces of wooden posts typically made from spare wooden logs sturdy enough to hold their place.
Aside from their obvious physical deterrents to any unwanted intruders, barbed wire fences are close to becoming the universal symbol for keeping people our of property. Culturally, anyone seeing barbed wire fences will be forced to stay out of the area it fences.
Horse Fence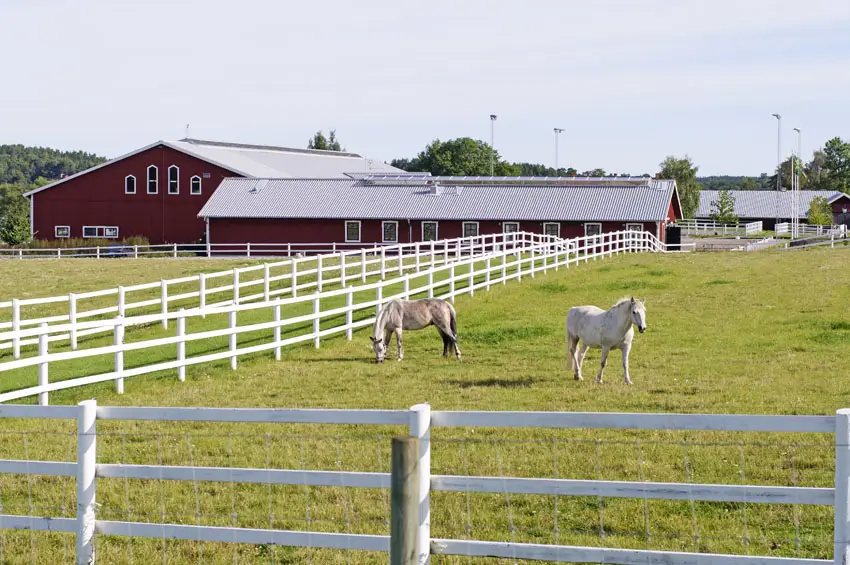 When considering the types of horse fences that you'll be putting up, the safety of your enclosed equines should be at the top of your list of priorities. Common horse fences such as this one are made of painted wooden posts and rails, with a height that prevents the horses from jumping over the enclosure.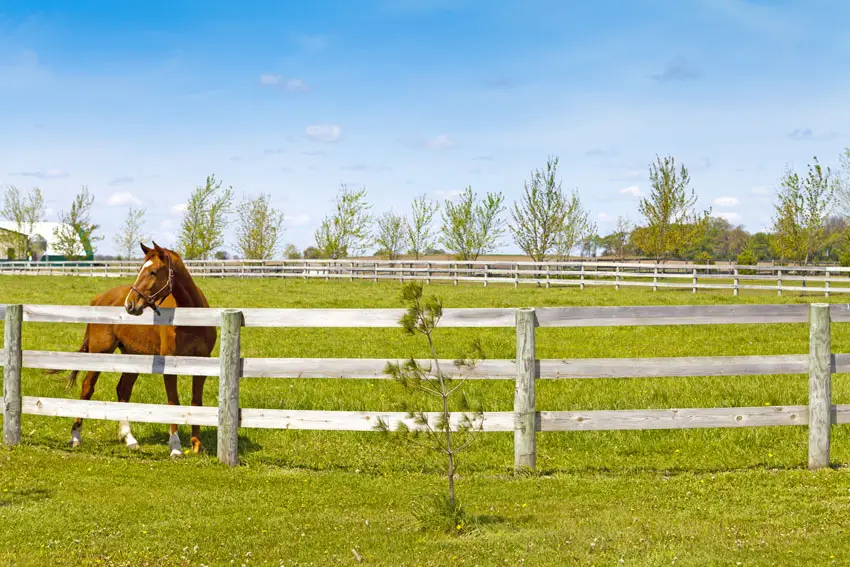 These types of fences typically run around the perimeter of very large open outdoor spaces. As such, their construction and materials have to be cost effective as well as long lasting. The typical local wood used for these fences is a good choice for affordable construction as well as sturdy and long-lasting performance.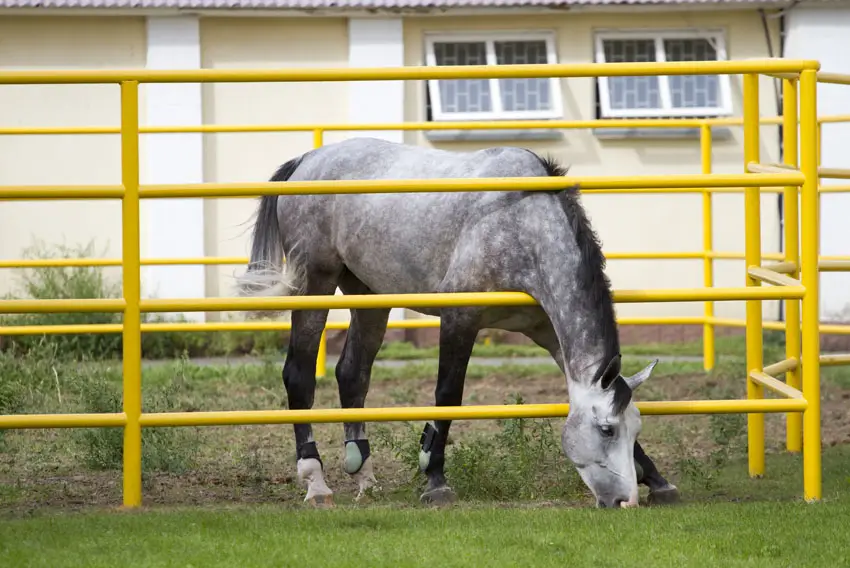 For smaller enclosures, custom built metal fences painted over to protect from rust as well as for aesthetic effect can be used as opposed to the typical wooden fences. These metal enclosures are lightweight and sturdy, not to mention incredibly low-maintenance and long-lasting.
Deer Fence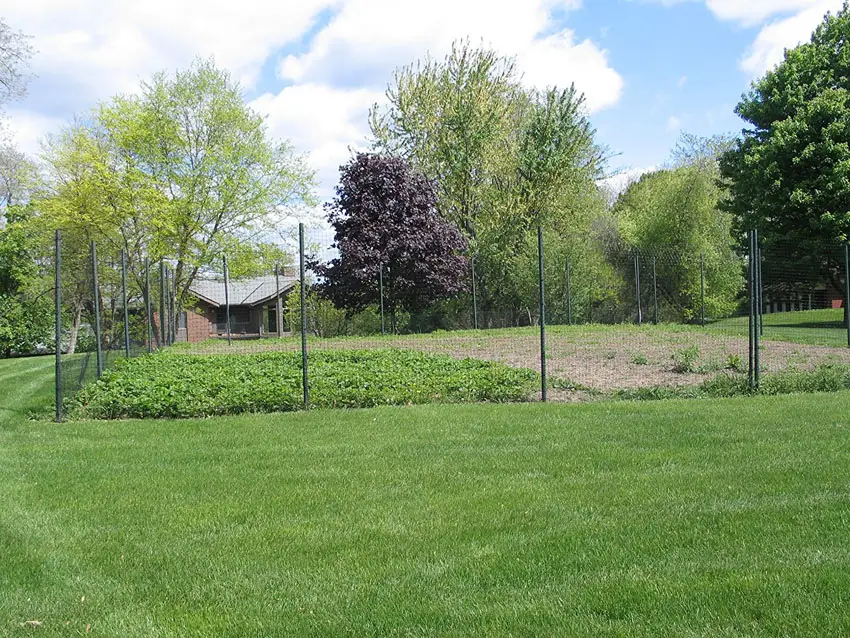 As the name suggests, deer fences are mainly used to control the movement and roaming patterns of neighborhood or farmed deer. In this particular example, the metal mesh deer fence is to keep any local roaming deer from getting into the owner's personal vegetable farm and consuming the produce.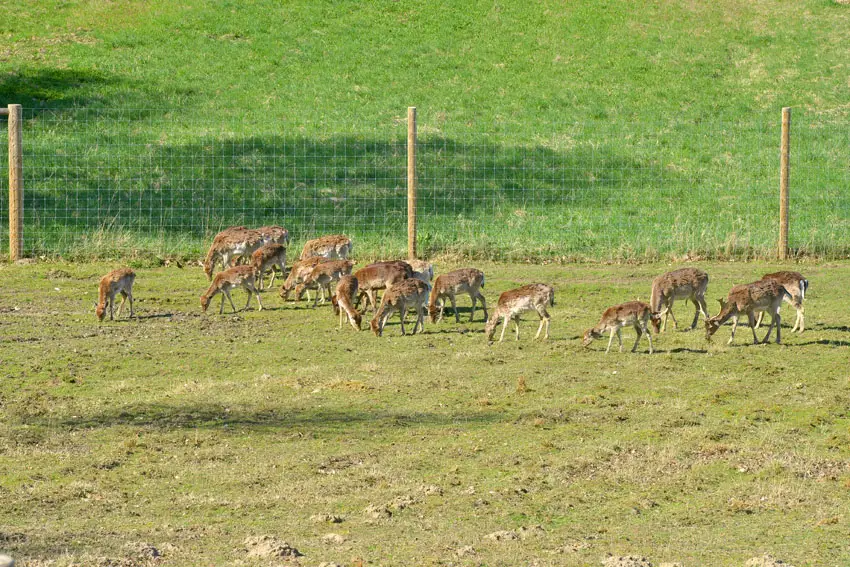 Aside from keeping out of any areas, some deer fences are used to keep deer within designated areas of interests. These are commonly used in deer farms or nature preserves. Deer fences are kept sturdy and high since most short height fences can easily be jumped over by deer.
Temporary Fence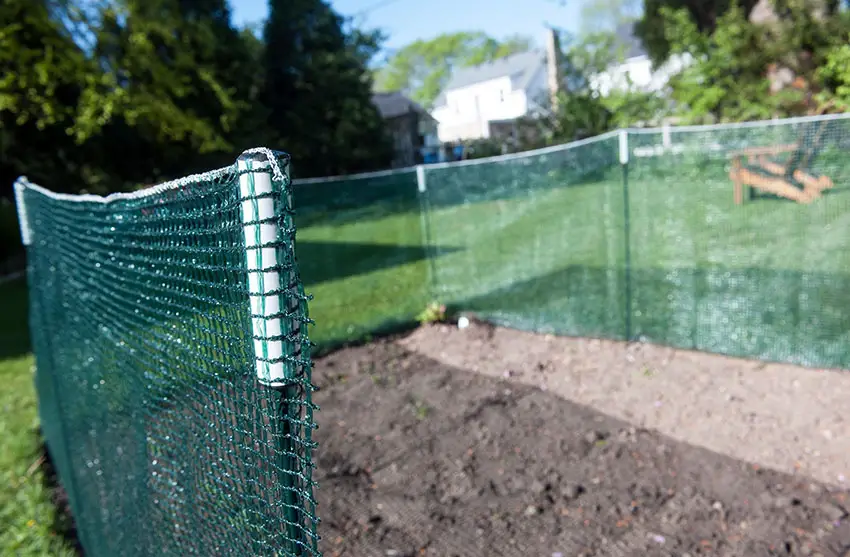 Temporary fence designs are used for construction projects, cordoning off areas for public events, theft deterrence or security. Common types of temporary fencing include, plastic, chain link, steel or wire.
The fence in the picture above comes with 6 fiberglass pickets and 25ft of fencing. It is a good choice for cordoning off garden areas as it comes treated with a bittering agent to help prevent animals from chewing through. Learn more about this temporary pocket fence here.
Silt Fence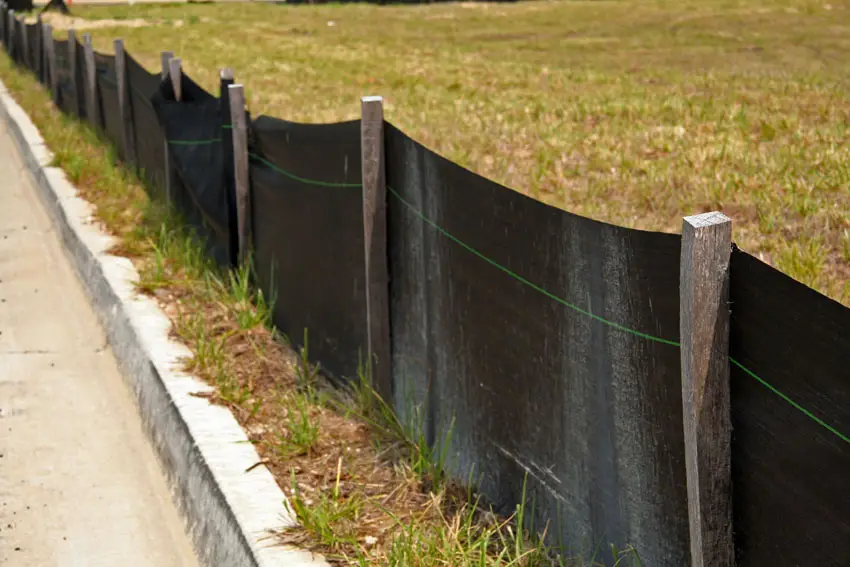 A silt fence, sometimes called a filter fence, is a sediment control measure used to protect water quality in nearby bodies of water from sediment and other unwanted elements found in stormwater runoff. They are commonly used in construction sites mostly.
| Use of Silt Fence | Main Benefits |
| --- | --- |
| Erosion control | Prevents soil erosion and sediment migration |
| Construction sites | Controls sediment runoff during construction activities |
| Agricultural areas | Protects crops from sediment-laden water runoff |
| Landscaping | Controls soil erosion and protects newly planted vegetation |
| Stormwater management | Controls sediment runoff from paved surfaces |
| Stream and shoreline protection | Protects water bodies from sediment-laden water runoff |
| Wetland restoration | Controls sediment runoff during wetland restoration projects |
| Mining and drilling operations | Prevents contamination of nearby water bodies |
| Road and bridge construction | Controls sediment runoff during construction activities |
Snow Fence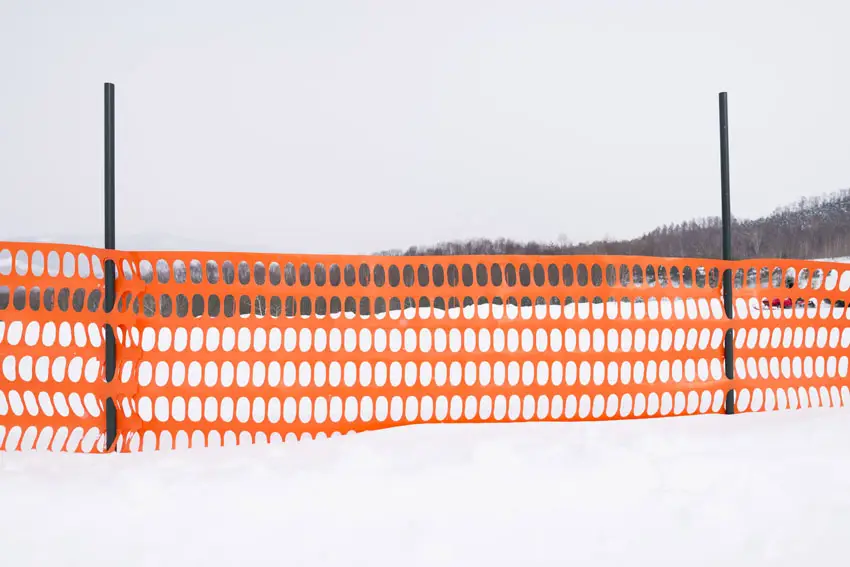 A snow fence is a fence that blocks windblown, drifting snow and forces them to accumulate just outside its enclosed area. These types of temporary fences are utilized to keep snow off of roads and pathways outdoors during the snowy seasons.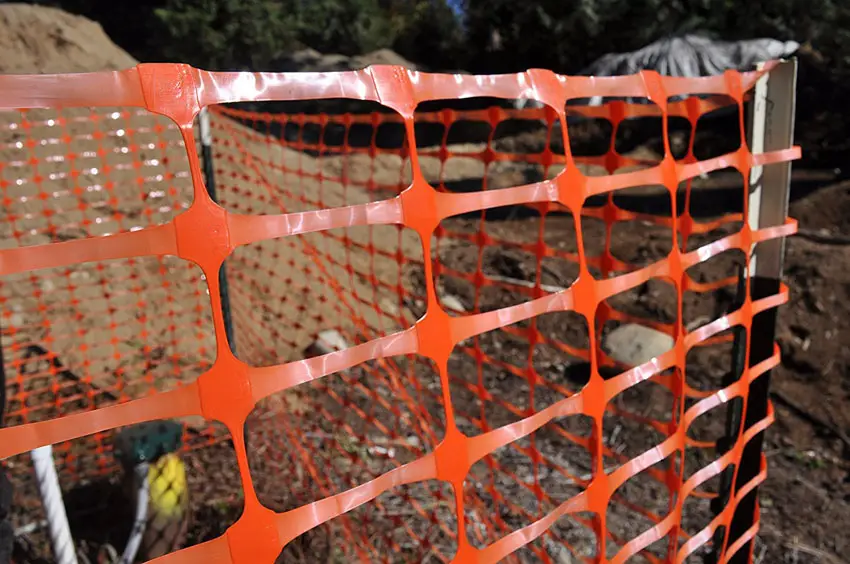 Construction fences are a sub-category of both temporary fences as well as safe fences. They are free-standing and self-supporting and are typically used to indicate restricted or cautionary areas in a construction site. Visibility of these fences are still high such that people are still aware of what is behind the fence.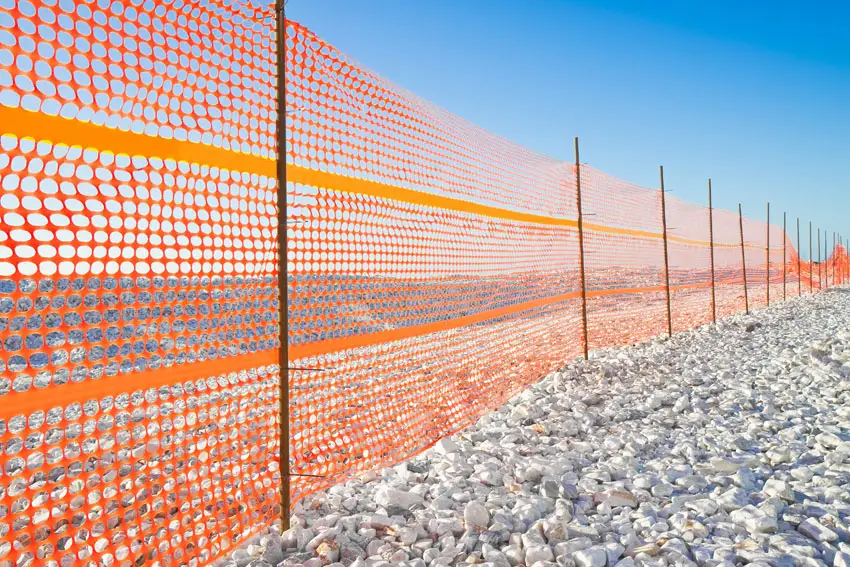 Such as in this example, construction fences can be used to indicate whether an area is to dangerous enter. They could indicate possible cliff drops, loose soil, or unstable ground conditions.
Are there any types of fence designs you'd like to see covered here. Let us know what you think in the comments section below.
Related Outdoor Design Galleries You May Like:
65 Patio Design Ideas – 50 Deck Design Ideas – Brick Patio Designs – Walkway Designs