See pictures of shadow box fence designs including ​​details about what it is, different types, pros and cons, cost, and tips on how to build shadow box fences.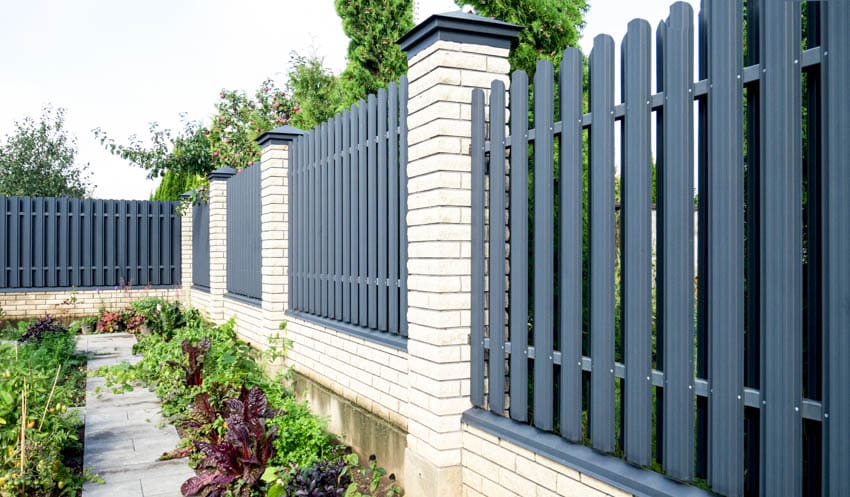 A shadow box fence is a specialized form of privacy fence. These fences, in fact, have a lot of major benefits. They provide a changeable level of privacy that may be adjusted based on the owner's needs.
The materials used to construct them are usually light and inexpensive, and wood is also biodegradable. These fences can also be adapted to the customer's preferences, thus they can be quite unique in style.
In this article, we will go over all of the necessary details about this type of fence. Hopefully, after reading this, you can determine if this type of fence is ideal for your beloved home.
What Is A Shadow Box Fence?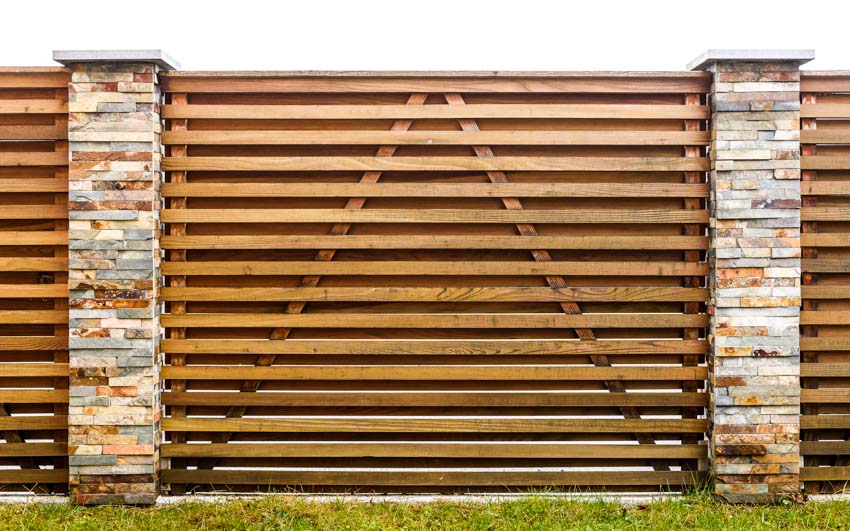 A shadow box fence is a common style of semi-private residential fence. The name "shadow box" comes from the way the fence is built, which casts a shadow.
The pickets are normally attached to both sides of the fencing rails in staggered patterns. Every picket bridges the space between the pickets on the opposite side of the fence. Unless you stand very near to the fence, a shadow box fence will obstruct most views. The holes between the pickets make it possible for a fair amount of ventilation.
Shadow fences are typically 6 feet tall, although they can be as short as 4 feet and as tall as 8 feet. Constructing a durable and long-lasting shadow box fence requires a scrupulous wood selection.
The most popular woods used to construct this form of fence are redwood, spruce, fir, cypress, white cedar, red cedar, or pine.
However, while building a fence, it is always preferable to choose heartwood instead of sapwood. Heartwood is the interior of the stem's wood, which is stronger and contains fewer knots. It will not rot as swiftly as sapwood, which is a newer wood cut from a tree's exterior.
Types Of Shadow Box Fencing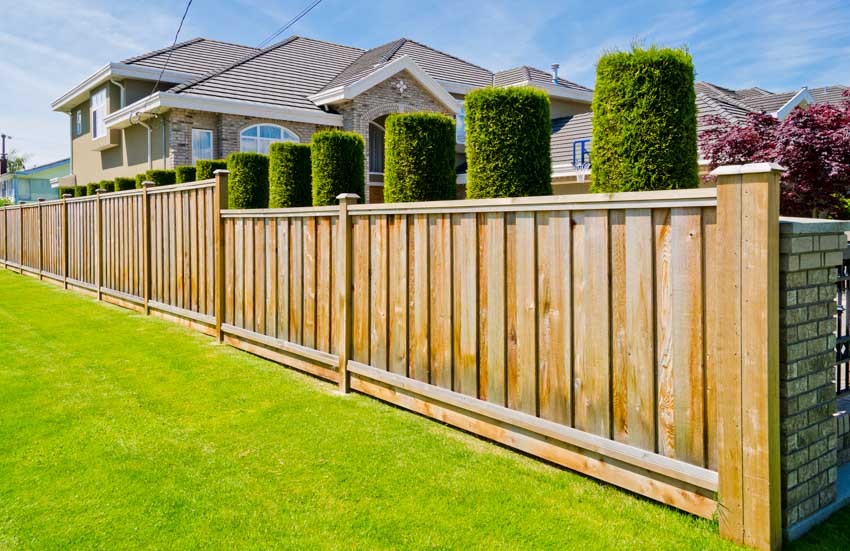 These fences can be created in a variety of styles, including flat top, dog ear, French gothic, and Gothic. This assortment of board types allows you to select the design that best complements your desired aesthetic.
Flat Top Shadow Box Fence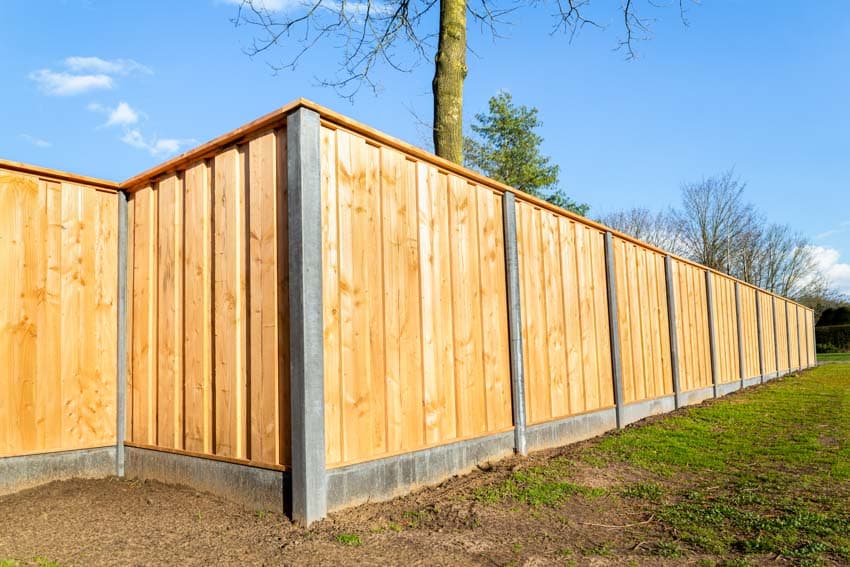 Installing a flat top shadow box fence is among the best techniques to establish a clean, visible border between your residential premises and the surrounding houses. Even if you own a commercial lot that needs expansion or if you manage a farm, this type of fence would be great for distinguishing your property from the surrounding region.
There are merely a few fence types that can compete with flat-top shadow box fences in terms of aesthetic appeal. These fences give your property a classic feel, but you can also select different styles of this fence that seem trendy and modern. Moreover, you can easily clean these fences by simply removing dirt and debris with water.
Dog Ear Shadow Box Fence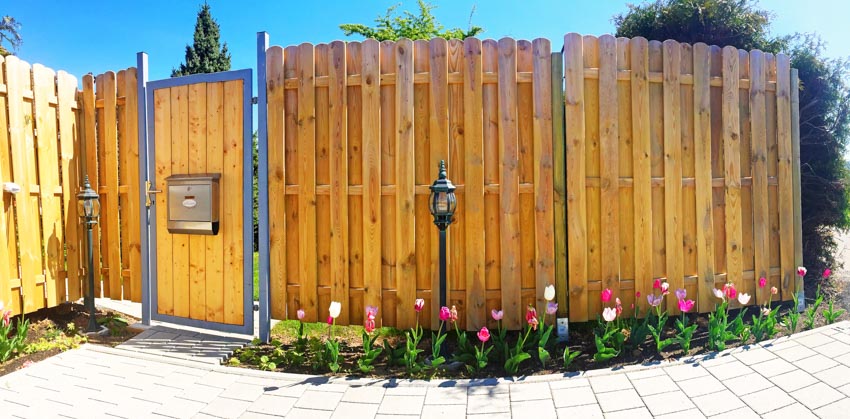 A "dog ear" is a conventional terminology for a book page that has been folded over to look like the floppy folded ears of a lovable golden retriever or beagle. The top corners of this fence board have been shaved off on either side
This design results in a hexagonal finish. The board's design can be manufactured out of any material, and the boards could be staggered apart or flush together to provide multiple degrees of privacy.
Gothic Shadow Box Fence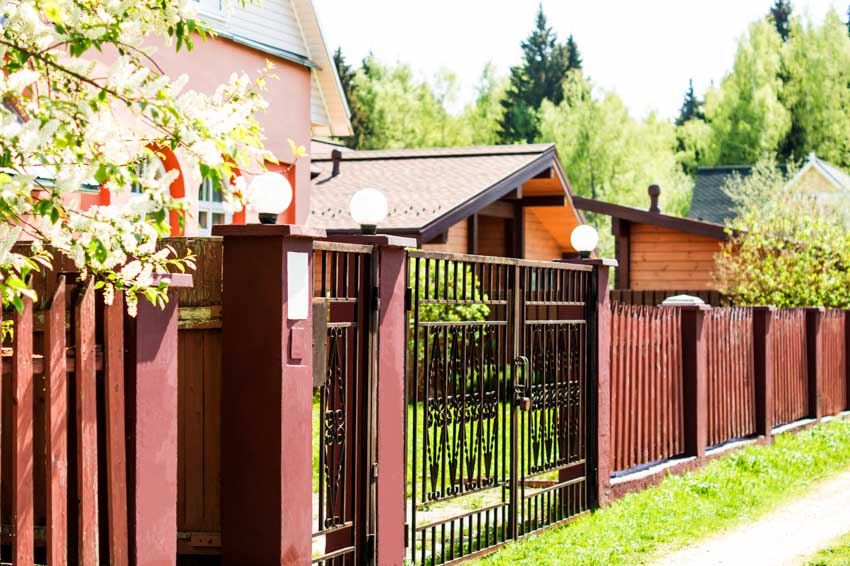 Even in shadow box fences, Gothic is one of the most widely known picket fence designs. It is quite popular for privacy fencing. They are treated to withstand the outdoors and are suitable for staining or painting. The fence type is recommended for this style because its design eliminates shrinking issues.
This fence would look fantastic in any landscape location. Several homeowners choose this sort of fence for security purposes as the pointy tips of these gothic pickets make climbing a challenge.
French Gothic Wood Shadow Box Fence
French gothic shadow box picket fences offer an attractive accent to any home while delivering old-world style and a pristine appearance. This style's components are typically made of cedar for added durability and natural resistance to the elements.
Moreover, this fence type also provides security by keeping kids and pets contained and unwanted guests and animals out. This style of shadow box fence has a classic and one-of-a-kind appearance.
Shadow Box Wood Fence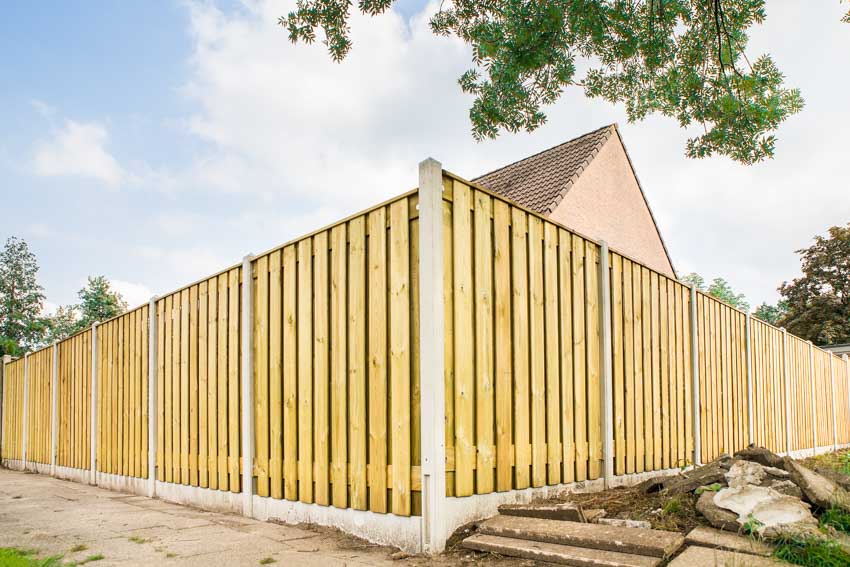 Practically nothing beats the inherent elegance of wood for enhancing your property with a shadow box wood fence that provides pure visual appeal as well as warmth. They are not just the most attractive but also the most functional. Shadow box wood fences are the most cost-effective, long-lasting, and environmentally friendly solutions.
Another interesting feature of shadow box wood fences is their ease of customization. They are often available in a wide range of picket styles, including flat top, dog-eared, gothic, as well as French gothic, as previously stated.
Wood pickets also blend beautifully with various caps, trims, columns, and stain finishes, bringing even more elegance to your genuine shadow box wood fences.
Shadow Box Vinyl Fence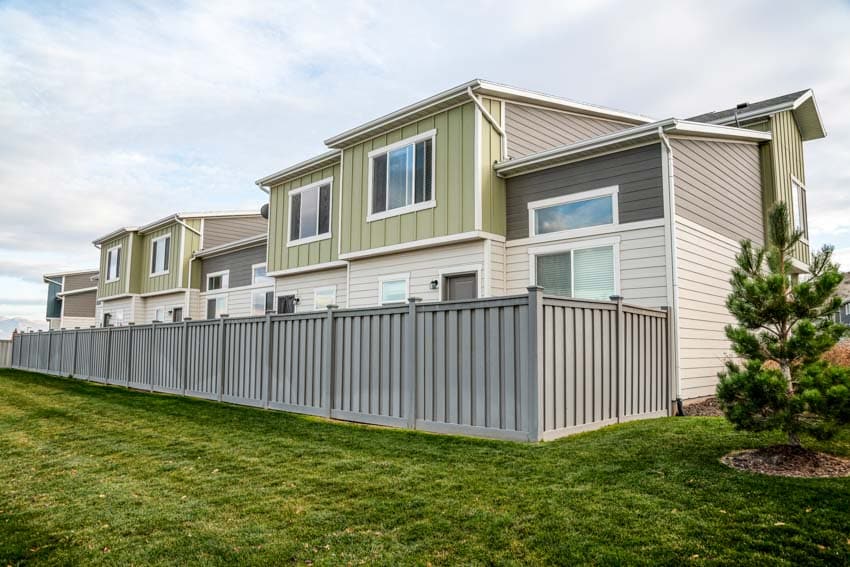 A vinyl shadow box fence is a significantly more secure and visually beautiful alternative to the standard wood shadowbox fencing structure, which is commonly utilized in certain residences, particularly in South Florida. The shadow box vinyl fence provides the appearance of seclusion while still allowing wind to pass through.
The whole vinyl fence panel is often composed of low-maintenance materials, ranging from the long-lasting vinyl fence panels and rails to the powder-coated metal balusters.
These vinyl fences are also permitted to be used around enclosures, providing significant privacy when looked straight on and openness when faced at an angle.
Shadow Box Fence Panels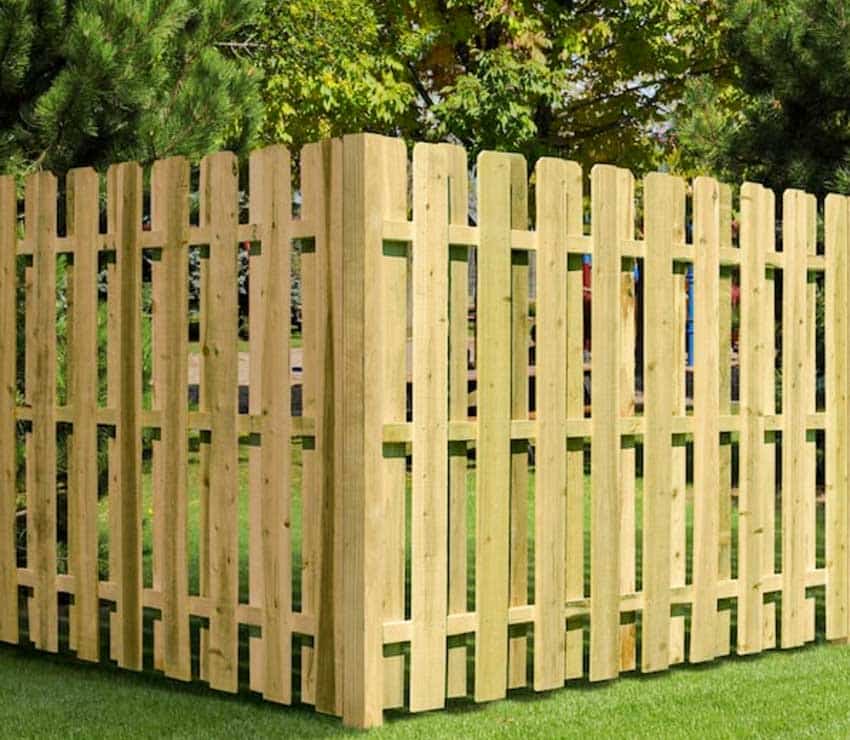 See this shadow box fence panel set at Home Depot [sponsored link]
Here are the different types of shadow box fence panels that you can use for your fences:
Cedar Shadow Box Fence Panels: These fences made of cedar fence panels are among the most prevalent and appealing privacy fence solutions. Because of their pure color, robustness, and wide distribution, shadow box panel types of cedar fences remain the most common substitute for pressure-treated wood.
Vinyl Shadow Box Fence Panels: Vinyl fence panels are more durable and necessitate far less upkeep. These panels will not rot or fracture as a result of temperature or humidity fluctuations. Pests dislike the smell, taste, and feel of vinyl as well.
When a vinyl fencing panel becomes dirty, it may be simply cleaned with normal soap and water. There will be no need for costly and time-consuming refurbishing.
Composite Shadow Box Fence Panels: These fences made of composite fence panels are a stylish substitute for both wood and vinyl. Composite fences are normally made out of fence panels filled with repurposed sawdust and capped with reused plastic. Furthermore, because of the density of the material, a composite fence panel will be much more durable.
Horizontal Shadow Box Fence
A horizontal shadow box fence has the pickets linked to the posts horizontally. Nowadays, these fences with horizontal boards are becoming increasingly popular due to their sleek and modern appearance.
Shadow Box Privacy Fence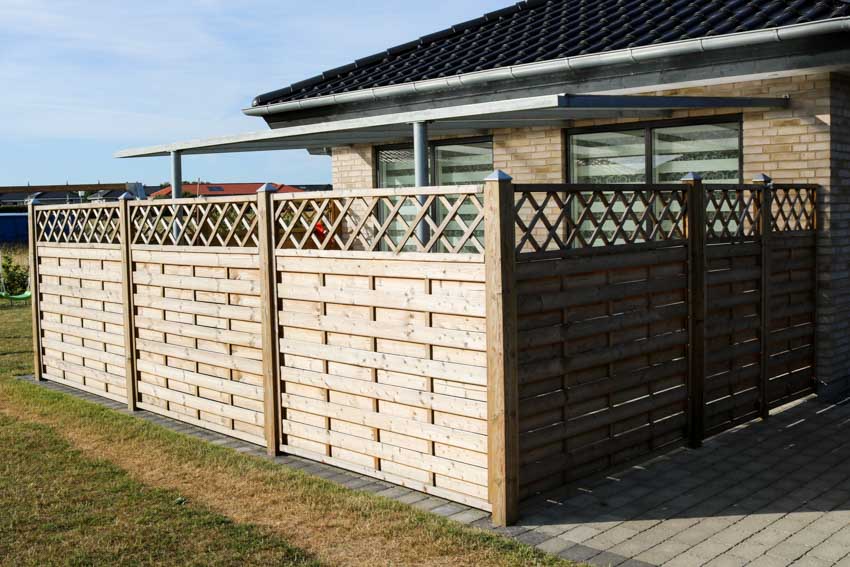 A shadow box privacy fence is often built with a staggering pattern of vertical pickets. This form of fence hides the gaps between the panels caused by shrinkage. This privacy fence offers stability, security, low cost, and maximum privacy.
It defines the space between residences, and because shadow box privacy fences resemble the same on both sides of the fence, it has tremendous aesthetic appeal.
Shadow Box Fence Pros and Cons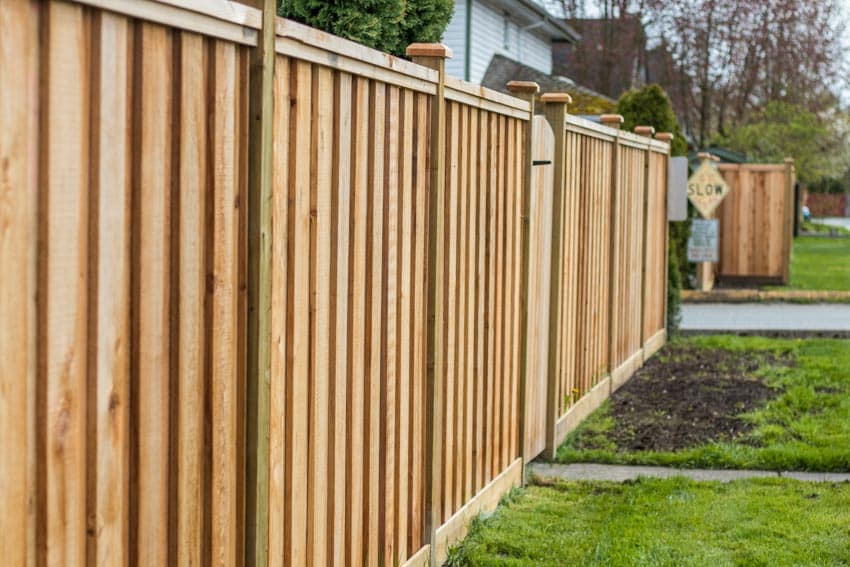 Here we share the advantages and disadvantages of a shadow box fence.
Pros Of Shadow Box Fences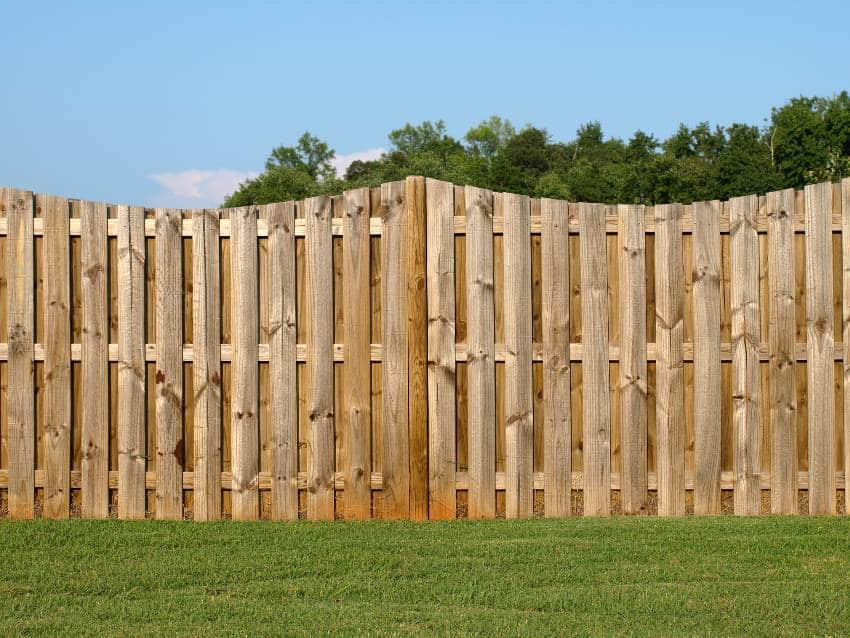 The Looks are Precisely the Same on Both Sides: Both sides of this fence type have an identical finished appearance. The rails and posts that sustain the fence will not be visible to you and your neighbors as well.
Since the pickets are staggered, your neighbor's fence will look just as lovely as yours. Truly, with these fences, you will believe that great fences produce friendly neighbors. When a residence has a shadow box as part of its primary residence, the value of the curb is clearly apparent.
Nevertheless, because the appearance is the same on both sides, any passerby or prospective property client is given a more favorable impression of that residence.
The Design of Shadow Box Fence is Very Aesthetically Attractive: The alternating pickets produce a three-dimensional appearance that is more aesthetically attractive than simple stockade fencing. A shadow box fence's precise construction includes conventional posts with three rails stretching in between.
Builders attach a picket to one side of the rails, then another to the other, with a tiny overlap to conceal the view. They maintain the alternate pattern, and it produces only an eye-pleasing overlapping fence pattern. Wood and light interact to produce an appealing interaction.
A Shadow Box Fence Provides Adequate Ventilation: The spacing between the pickets allows for more ventilation than a complete privacy fence. You will get more wind in your yard. In addition, the fence will have a higher resistance to strong winds.
Furthermore, these fences allow more sunlight and air into the yard than fences that have minimal or zero spacing between pickets. Increased light can provide a brighter backyard in addition to the comfort of knowing that no one is prowling on the other side of the fence just beyond the sight. A fresh breeze through the fence can help to cool you down on a hot summer day.
Cons Of Shadow Box Fences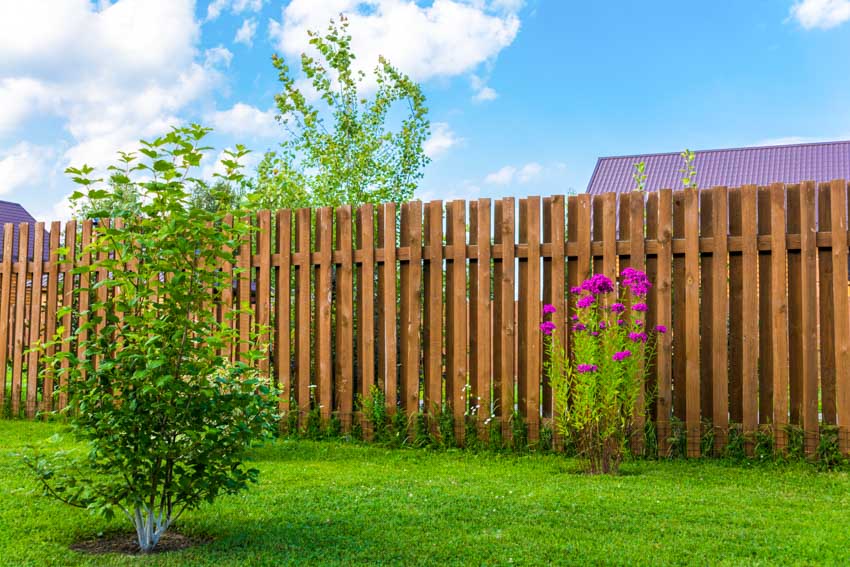 Includes a Minimal Cost Increase: These fences would necessitate additional pickets compared to a regular stockade privacy fence. Upon every side, the alternating 5.5-inch pickets often intertwine by one inch. This fence type might cost extra in materials.
Wooden Shadow Box Fences Require More Maintenance: Wooden shadow box fences require periodic maintenance, refinishing, painting, and staining. Furthermore, rotting wood may be vulnerable to dry roots and fungi. Hence, if you want to avoid this drawback, make sure to make use of vinyl shadow box type of fence panels.
Shadow Box Fence Cost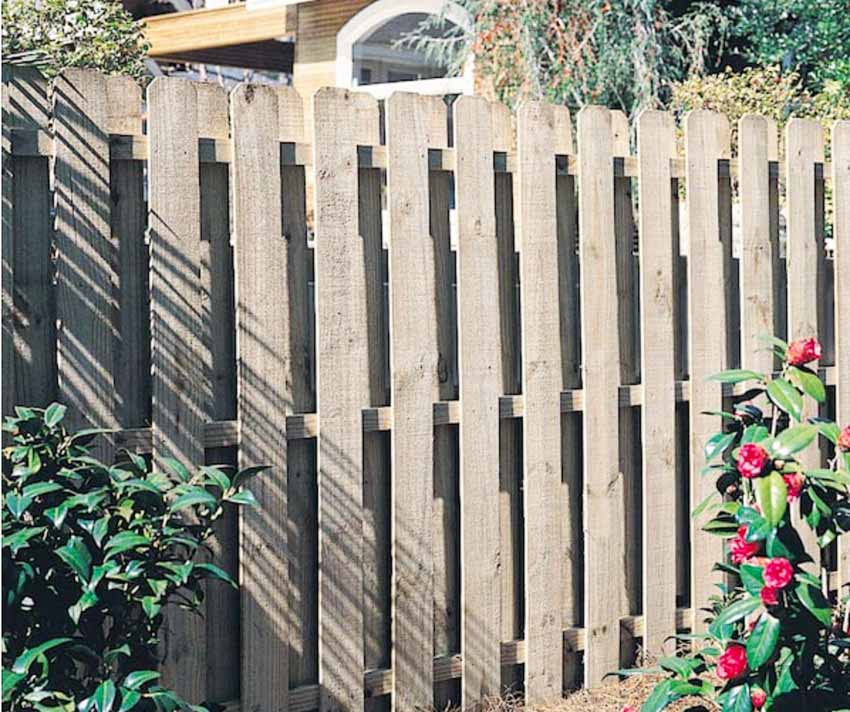 See this shadow box fence panel set at Home Depot [sponsored link]
The typical cost of installing these types of fences in your yard is roughly around $35 to $50 per foot. This will typically involve the 6-foot panels, all post and runner components, fasteners (screws or nails), a single walkthrough gate, and a double gate around 8 to 12-foot wide.
This also includes materials, and other equipment required to accomplish the fence construction. Furthermore, a professional contractor will secure all permissions and inspections required by local zoning regulations, as well as clean up the workspace once the construction is finished. This will be convenient for your part but this might drive the costs up too.
Cost Summary:
• Do-It-Yourself (Approximate Cost): $20 to $25 Per Foot
• Installation with Contractor Labor Cost (Approximate Cost): $25 – $50 Per Foot Installed
How To Build A Shadow Box Fence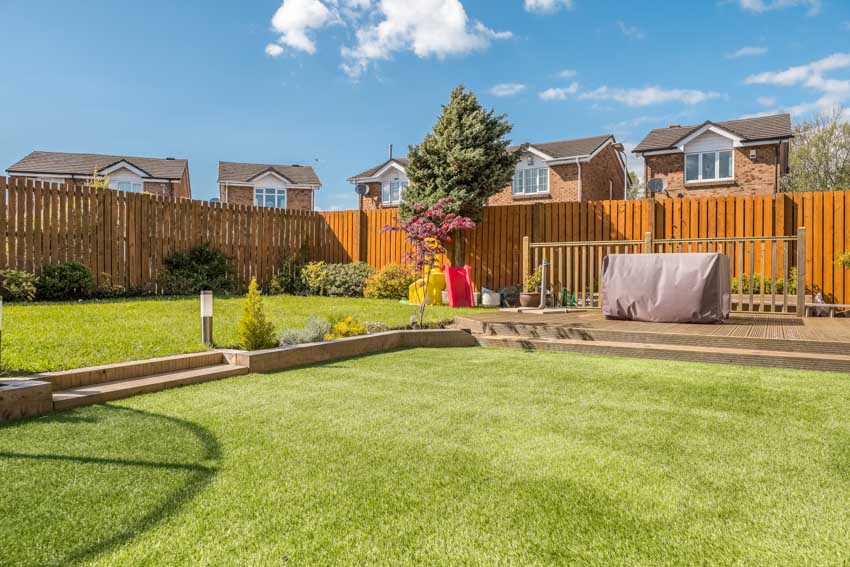 Before you begin buying materials and installing the fence its a good idea to plan your layout. There are a variety of fence design software apps to help you determine the amount of materials you will need. These programs can also help you visualize your idea to help you determine if it meets your requirements.
Here are some general steps on how to build this type of fence:
• To get started constructing this fence type one needs to dig fence posts that are 8 feet apart and 18 inches deep. If there are not too many openings to dig, you can use a manual fence post opening digger. You can also acquire an automatic auger.
• Begin by shoveling in about 8 inches of gravel. Place the post and shovel in a marginally wet and quick-set cement mixture around the bar. Attach the carpenter's level to a side of a 4 by 4 post to examine for plumb, and then position the decking adjacent to the neighboring face of the 4 by 4 post to examine for plumb once more. The concrete should begin to harden in a couple of minutes.
• You must now measure up to 5 feet and 10 inches from the upper end of the set concrete. Put a mark, whereupon put the metal square on one face of the 4 by 4 and draw a line. After that, insert a little nail into the line and wrap it in a thread. While walking down the fence posts line, you can unravel this thread.
• Connect a line level onto the string and slide the series upward and downward until the line level displays that the column is level. Afterward, draw a line across the face of the post. Press a little nail into the bar and tighten the rope around the nail.
• Form a line with the metal square against each fence post as well as the string. You can now use the electric saw to cut every post along the line. Now, the height of these posts will be uniform.
• Moving on, you must now carry over the first panel of the shadow box fencing and rest it on the initial two posts. The 3 horizontal rail panels to which the fence pickets are attached should overlap each fence post by about 2 inches at both ends. Afterward, you will need to put down the 6-by-6-inch wood block with a panel set at the correct angle for producing a basic lever and fulcrum.
• Elevate one side of the fence panel so that the upper end of the picket is about 2 inches above the initial fence post height. Place a wood block under the panel's lower side and do the same process at the opposite end.
• Pound the top rail against the face of the initial post. We suggest that you only use one nail. You must now place a carpenter's level alongside the horizontal top rail. Establish the lever and fulcrum at the extreme side of the panel.
After that, stand on the board's piece until the fence panel raises to level, then nail the rail to the face of the second fence post. You will need to hammer in 2 nails for each rail post.
• Make sure that each fence panel is level and that each succeeding fence panel is level with the preceding one by aligning the ends of the rails and then positioning the level to straddle the 2 rails where they overlap.
Shadow Box Fence Spacing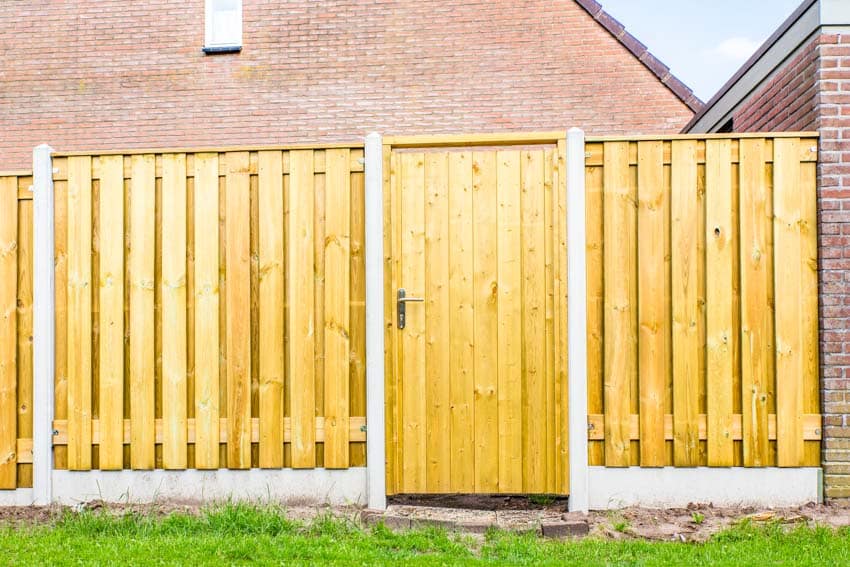 They are typically built with full 6-inch pickets spaced at 3-inch intervals. As the pickets rotate on each side of the 2 x 4 stringer, this results in a 1.5-inch overlap.
Shadow Box Fence Vs Board on Board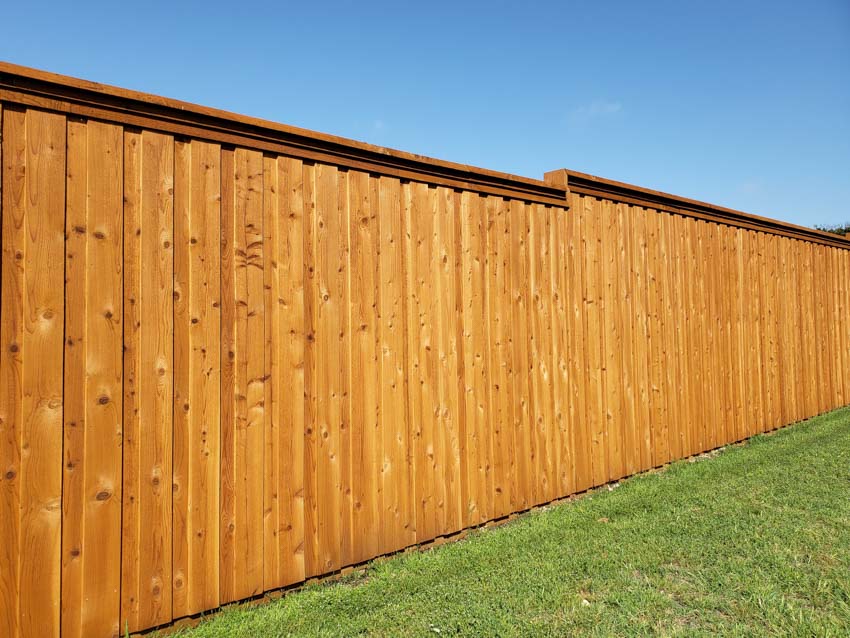 Homeowners with untrained eyes normally confuse these fences with board on board fences. A board on board wood fence has overlapping pickets located on the same side of the fence. There will be no gaps, not like a shadow box fence.
A board-on-board fence is more aesthetically attractive than a simple privacy fence, but it does not offer adequate airflow as a shadowbox fence does.
How To Make A Shadow Box Fence More Private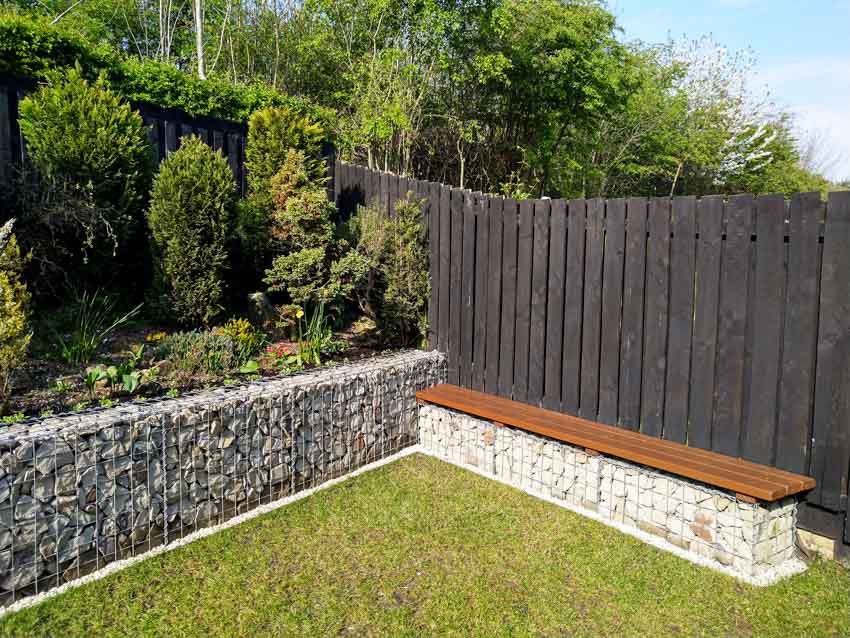 Here are some simple steps on how you can make your shadow box fence more private:
• Purchase a taller and opaque shadow box fence panel. Get the measurements before going to the store.
• To increase privacy, you can also repaint your existing fence. Get the necessary supplies, such as paint, a step stool, painter's tape, and proper painting gear.
• Build a shadow fence with screens that act as vertical privacy shutters. These give the impression of having walls surrounding your home without blocking any sunshine.
• Another alternative for enhancing security and privacy from unwanted access is to add lattice panels beside rails or atop posts.
See more related content in our article about horizontal fence ideas on this page.