Here are the types of cedar fences including the different wood varieties, styles, fencing grades, cost, sizes, and cedar wood fence staining tips.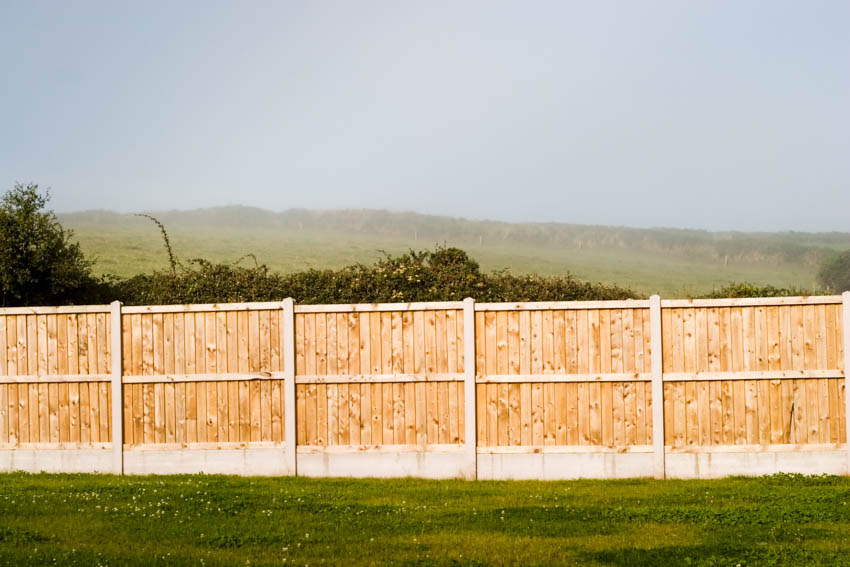 Do you want a wood fence installed at your house? If this is the case, you have probably conducted extensive research and discovered that cedar is a widely known material due to its appealing appearance and inherent durability.
Not all types of cedar, unfortunately, are suitable for fences. Some wood fencing is promoted as cedar but they are often not. As you might think, paying a high price for a fence that does not function as envisioned can be extremely upsetting.
Cedar Fence Types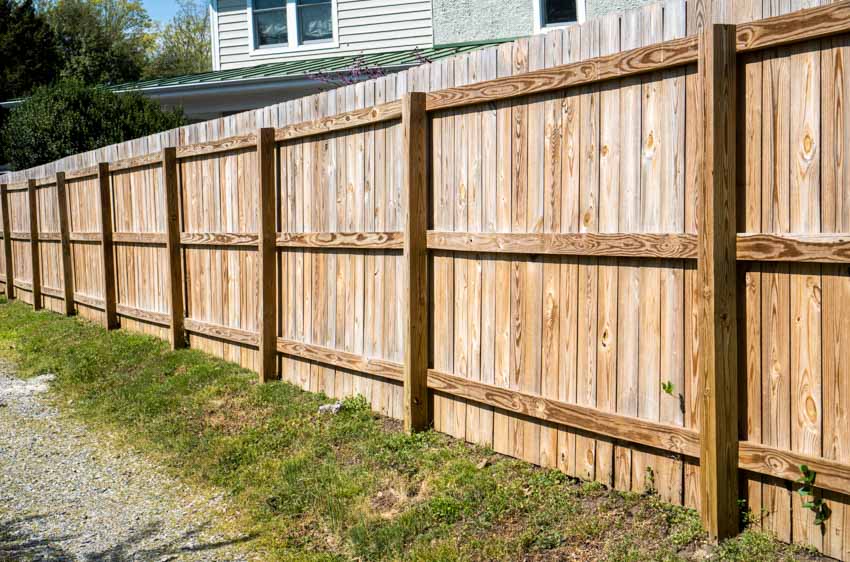 Here are the most popular varieties of cedar wood often used for fencing materials.
Red Cedar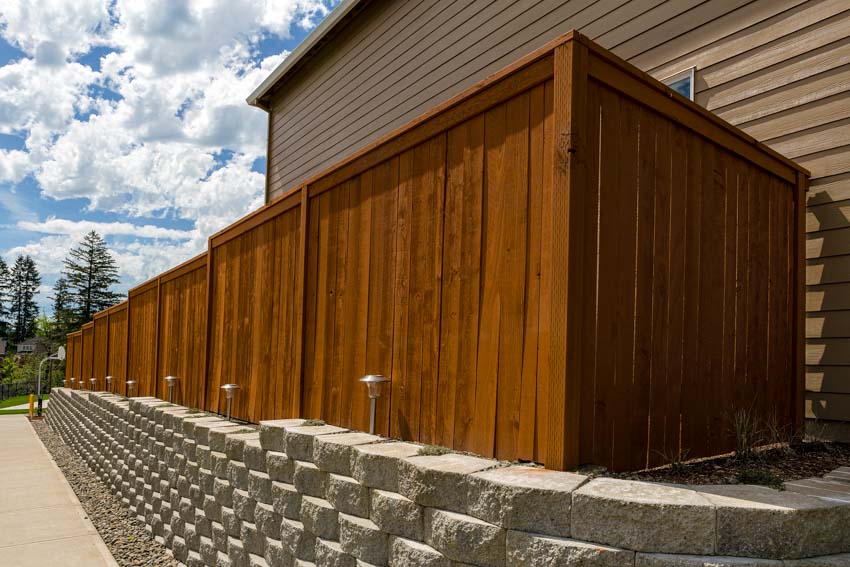 Red cedar is a prominent decorative hedge tree in North America and the United Kingdom. The wood is used for shingles, pillars, fence posts, boat building, greenhouse fixtures, and other applications where water and decay resistance are more critical than durability.
Since cedar is a soft wood derived from coniferous trees, it might not appear to be the best wood for fences at first. Nevertheless, for a variety of reasons, western red cedar makes an excellent fencing material.
Even so, red cedar is significantly less enticing to termites than other timbers. Most insects are repulsed by the oils in cedar, which is why cedar has traditionally been used to create chests to safeguard fabric from pests and other insects.
Western red cedar can be found in abundance in the western United States. It is simple to procure, and because cedar trees grow rapidly, they can be simple to cultivate and renew.
If your fence eventually requires repairs, you will not need to spend huge money or contact a specialized lumber service. Furthermore, because the trees grow swiftly, cedar is frequently regarded as an environmentally favorable choice for fences.
Moreover, the fence boards must be straight. As the grain compresses and swells, numerous types of wood absorb moisture, twist, and bend with time. Cedar, on the other hand, has a highly straight grain pattern and does not retain moisture naturally. Thus, it stays straight and genuine. You do not have to worry about fence railings bending or boards collapsing and causing gaps in the fence.
Truly, Western red cedar has consistently become the material of choice for building wood fences. Red cedar is a naturally durable alternative with several advantages for outdoor living, including:
Western Red Cedar is more stable, remains flat, and functions effectively in fencing. The natural tannins or resins in the wood assist in preventing pests and mold. In addition, Western Red Cedar has a knotted structure that would be ideal for fencing.
For uniform and balanced performance, the boards are grooved and polished on both sides. Indeed, a well-installed Western red cedar fence can survive for at least 20 years.
Japanese Cedar Fence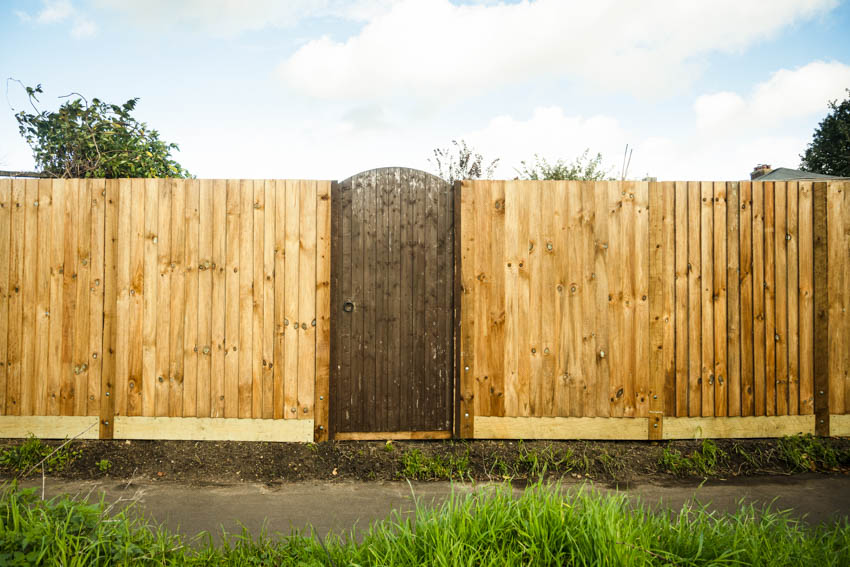 Japanese Cedar is another alternative on the fencing market at the moment if you are searching for a pricing comparison or something a little less expensive.
In 2021, the Japanese Cedar was launched as an expedient solution for getting fences constructed if you needed one immediately. Sticker markings from the locations where the wood was dried before being sent from Japan can occasionally be seen on Japanese cedar wood.
However, such markings do not fade, affecting the appearance and aesthetic attractiveness of your fence. Yes, you do have a price point, but there is a reason why the cost of Japanese cedar is lower than that of red cedar fencing.
The Japanese cedar is said to have many of the same qualities as the Western red cedar. This is evident in the same blondes, lavenders, and black color hues found in Western red cedar.
Several landowners claim that if you get Japanese cedar naturally off the ground and install it with a metal-based structure, you may expect it to last 15 to 20 years.
Therefore, when you pick cedar as a fencing option, you assume strength to be a major advantage. Japanese cedar fencing, sad to say, falls a bit short in this area. The pickets are thin and weak, and they might fracture or crack during the installation process.
White Cedar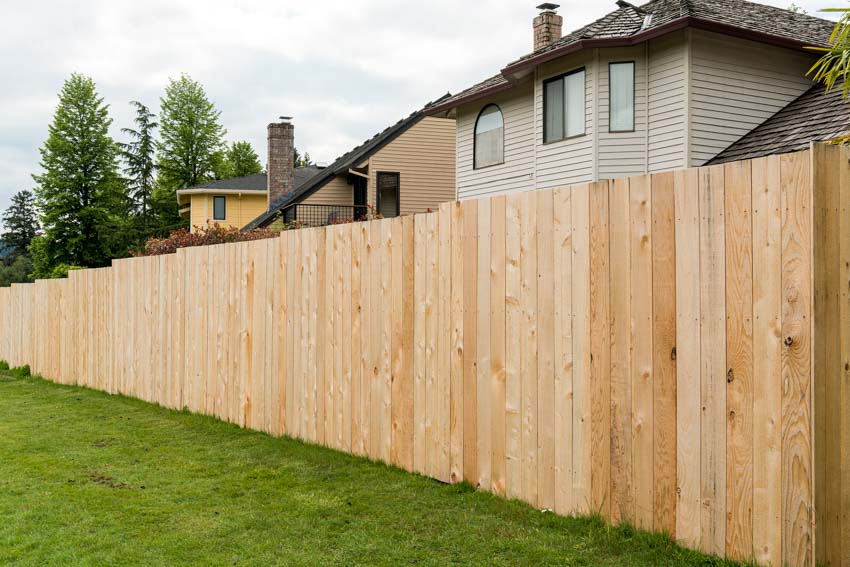 White cedar is a highly appealing wood to use for fence designs. It is also one of the most eco-friendly and cost-effective options available to wood fence builders.
White cedar is softwood with natural oils that keep mold, cracking, and pests at bay. It also requires no extra chemical treatment options. When purchasing, you may hear white cedar alluded to as Eastern white cedar or Northern white cedar. Such two species are not connected but have virtually identical characteristics. Both are excellent choices for fencing.
Furthermore, white cedar is an extremely water-resistant timber that does not require kiln drying, making it carbon-neutral. Since no treatments are used, your natural fence will be completely biodegradable. After disposal, other fence materials will be in landfills. There is less disposal waste from the manufacture of white cedar timber due to the use of whole trees.
These two species were originally utilized to make barrels, boats, fences, and dinnerware. Northern white cedar is still utilized in the construction of log cabins. Furniture is also made from Eastern white cedar.
For generations, numerous individuals have depended on this durable softwood to construct items that must resist harsh weather conditions for many decades. White cedar is well-suited to withstand inclement weather, rendering it an excellent choice for fencing.
White cedar is resistant to decay. It contains natural oils found in wood that act as a protective barrier as well as a waterproof sealant. This also implies that pressure-treated white cedar timber should be used for ground contact.
White cedar fencing has a life expectancy of 10 years or more. To extend the life of a white cedar fence, it should be coated with a premium stain or sealant. Solar and water degradation can be avoided by applying stains periodically. Staining also keeps white cedar from turning gray after being exposed to the environment.
Chinese Cedar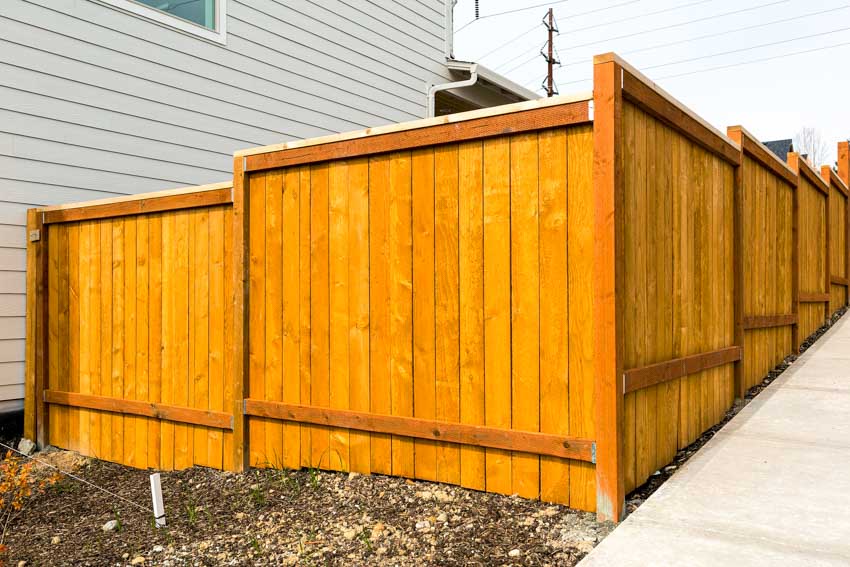 Chinese cedar is a classic example of an incorrectly labeled material. This particular cedar wood is actually fir. Although fir may look good and be less expensive, it will not last long outdoors. In fact, fir is considerably inferior to real cedar in terms of degradation resistance.
Furthermore, because of its reduced cost, Chinese cedar has been adopted by numerous fence makers. Chinese cedar, on the other hand, is not genuine cedar. It is, as previously stated, a fir. It has a low resistance to deterioration and weathering, making it unsuitable for fences and other outdoor buildings.
Cedar Fence Styles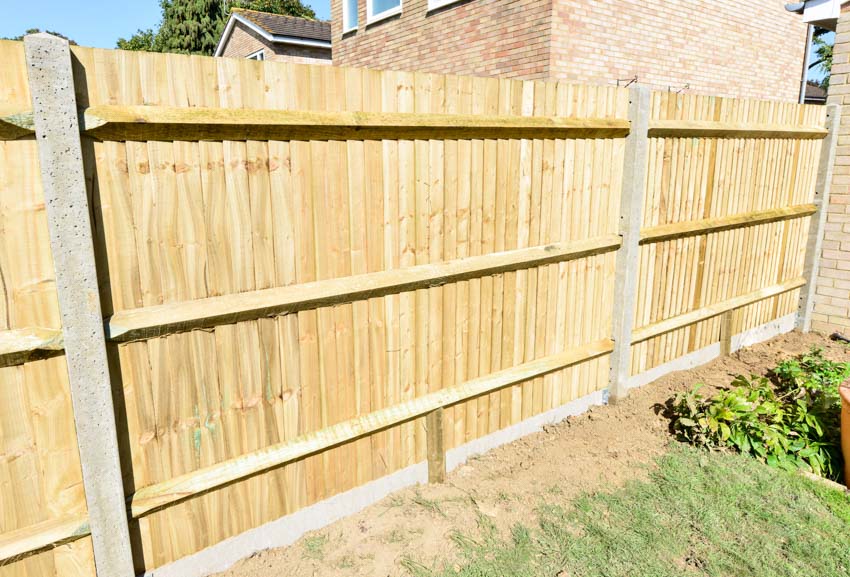 Here are the most popular styles of fencing made from cedar wood.
Cedar Fence Pickets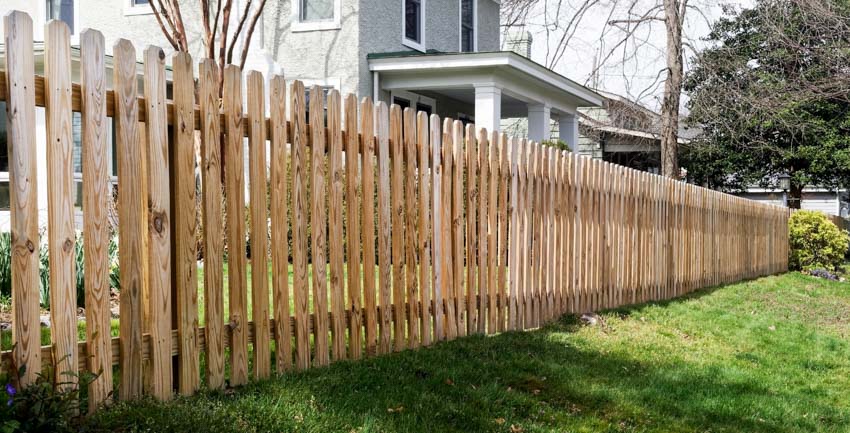 Cedar pickets are a lovely and long-lasting option for your privacy fence. Because the tannins in the wood help it prevent pests and rotting, it would be a logical option for your outdoor fencing project.
There are several types of cedar picket fence designs in the marketplace, including natural, heat-treated, and chemical. You can also often select from easy-to-assemble, environmentally friendly, and waterproof cedar wood fencing pickets.
Several cedar picket fence manufacturers provide galvanized posts in a variety of gauges, fence post covers and brackets, stainless steel bolts and coil fasteners, and even gate accessories.
Cedar Fence Panels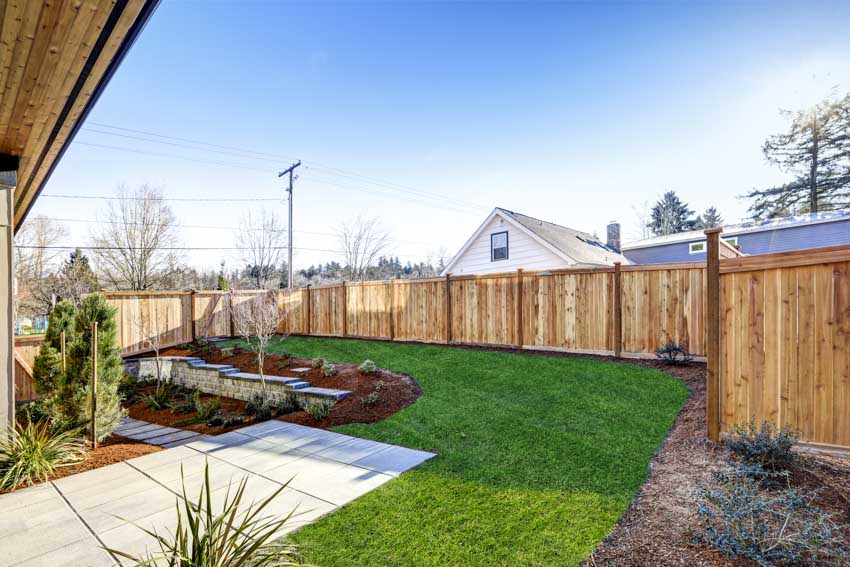 Cedar fence panels are excellent for constructing natural-looking fencing. For instance, Western red cedar panels are an ideal building option for your fencing applications. It is the finest cedar, which is the most resistant cedar fencing material to bending and breaking.
Wood fences are typically built with tongue and groove so that each panel fits together perfectly. However, cedar fence panels are commonly used to provide privacy in outdoor areas such as yards and recreational areas.
We cannot argue that cedar fence panels are still superior to other building materials. In comparison to other types of fences such as wrought iron, aluminum, or wire, the beauty, wear resistance, cost-effectiveness, and longevity of cedar fence panels are unrivaled.
Cedar Fence Planks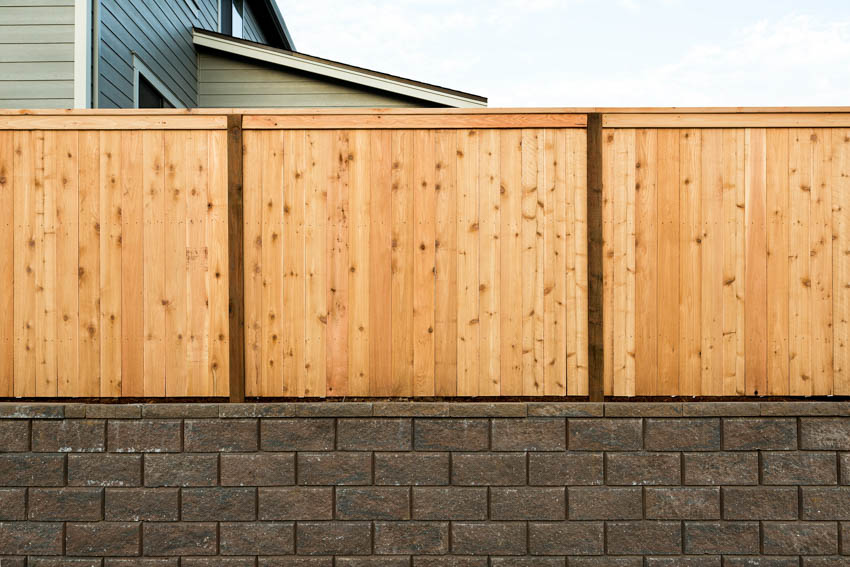 Cedar fence planks are a decorative style of fence that is recognized by their precisely spaced vertical planks, also known as pickets, attached to horizontal railings. Fence planks are especially widely known in the United States, where the white plank fence has come to represent the typical middle-class suburban lifestyle.
Cedar Split Rail Fence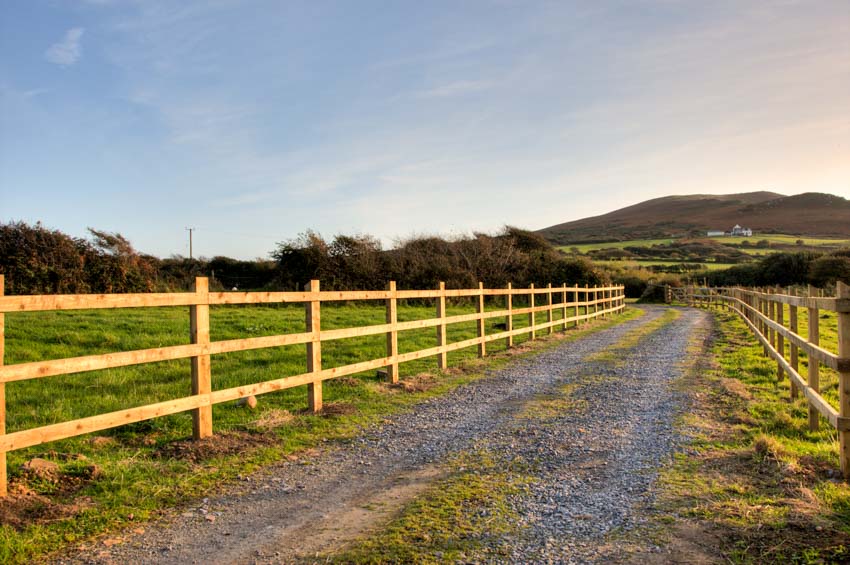 Cedar split rail fencing is a flexible solution for your property. You can obtain a classic appearance with the added benefit of cedar's natural resistance to insects and other harmful outdoor elements. They are often available in two rails that are 5 feet 4 inches tall, three rails that are 6 feet 6 inches tall, and rails that are 8 feet 10 inches long.
Furthermore, cedar split rail fencing is one of the most affordable options for creating boundaries and adorning the property. A split post and rail fence is simple to set up and is an amazing DIY project. Posts are normally set straight in the ground about 24 inches deep with no concrete.
During backfilling, a compacting bar is used to crush the dirt around the post; pebbles could also be used to backfill, which improves drainage. Nothing outperforms the beauty of a cedar split rail fence, and it can boost property value while being simple to install. End, line, and corner posts can be swapped out to suit your needs.
Horizontal Cedar Fence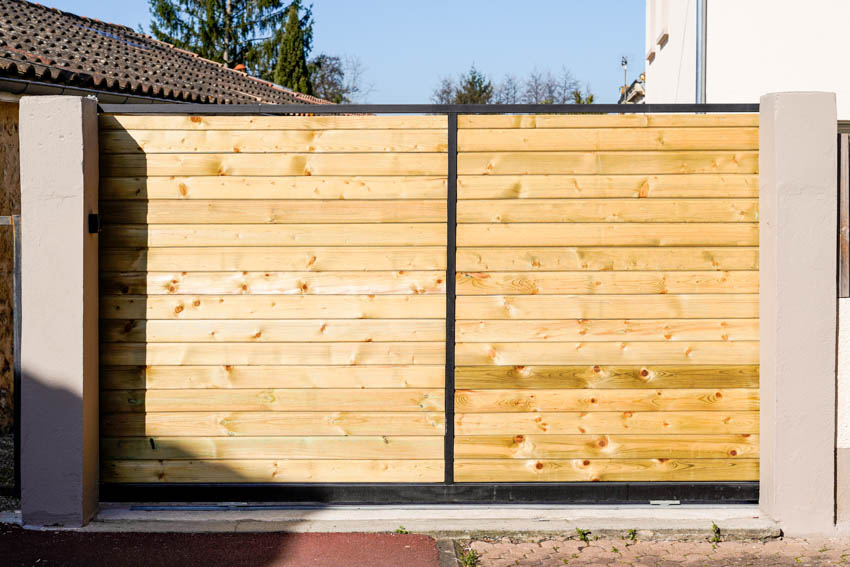 Horizontal cedar fences are simply made up of fence posts and horizontally positioned fence panels. Stringers are not used. Posts are typically spaced 6 feet apart to reduce the danger of cedar fence planks drooping.
Horizontal cedar fences are the sole legitimate aesthetic for many residences and communities. These fences are seen as modern, tidy, and regularly updated. Less lumber is used because no stringers are necessary. The board ends of cedar horizontal fences point to the side. This slows degradation and cracking.
Moreover, horizontal fences are typically more pricey because the fence boards necessitate a higher grade of timber to avoid the danger of collapsing. Nonetheless, they may sag over time, like with any horizontally-oriented panel.
Cedar Privacy Fence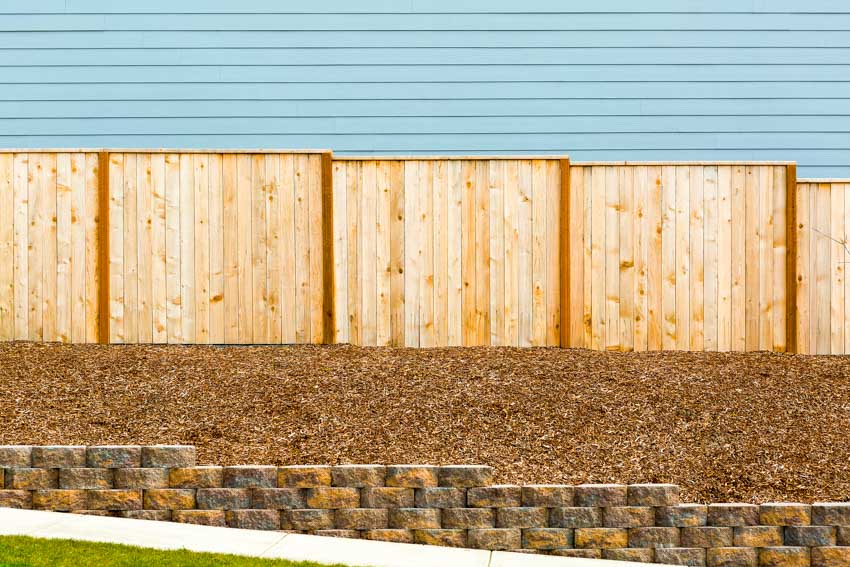 A cedar privacy fence is a construction made of cedar rails, planks, pegs, or other similar materials that are used to create a barrier or enclosure. Cedar privacy fences are ones that have 30% or less of their surface area left for unobstructed transmission of light and air and are intended to hide the activities that take place beyond them.
Furthermore, cedar privacy fences have slats or cedar panels that are abutted snugly next to one another with no gaps in between. This assures that no matter how close somebody goes to the other side of the fence, the private area remains secure.
Cedar Dog Ear Fence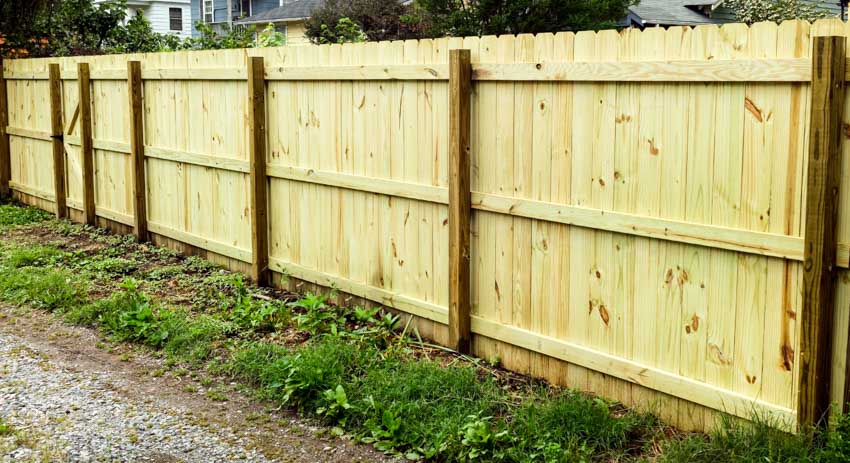 A dog-eared cedar fence is a traditional kind of fencing in which the upper section is trimmed on a slant on either side of the pillars. The tips of the particular cedar fence panels are cut at an angle to create the effect of a booking sheet being turned over.
The dog-ear style breaks up the boredom of a flat-topped fence and adds some depth. Because it is a simple design, it is less expensive than other decorative fences, making it a favorite choice among home builders. A dog-ear cedar fence board, fortunately, is weather-resistant and resists deterioration and termites.
Board on Board Cedar Fence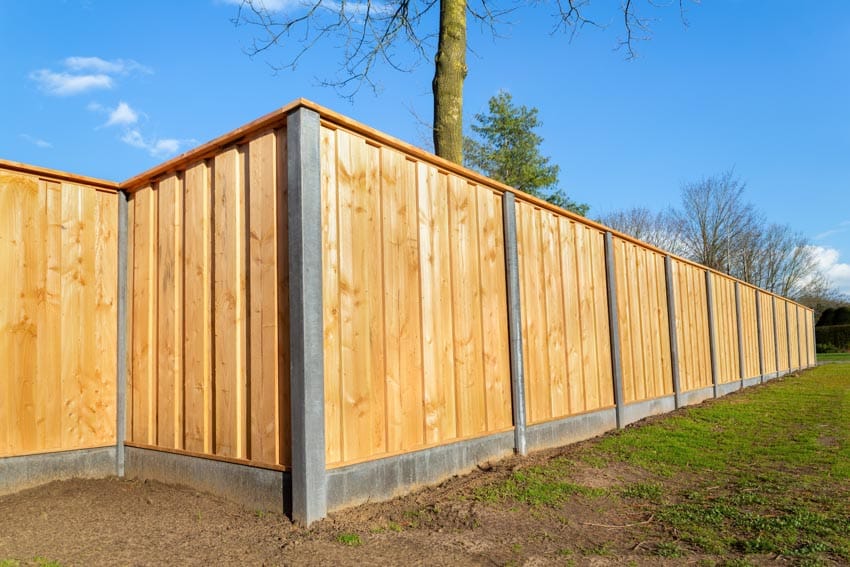 Board on board cedar fencing is obtainable in a variety of design options to complement any home style. Since the boards are constructed of cedar wood, they may be stained and varnished to match the entirety of your home's décor.
A board on board wood fence made of cedar with two sides are both beautiful. This is because of the cedar fence's balanced architecture. It has a simple layout of vertical boards that connect to a length of a horizontally positioned board, usually near the lower end and upper end of the fence.
As a result, the front and rear sides of the cedar fencing are the same, providing an appealing appearance regardless of which side you are facing.
Different Grades Of Cedar Fencing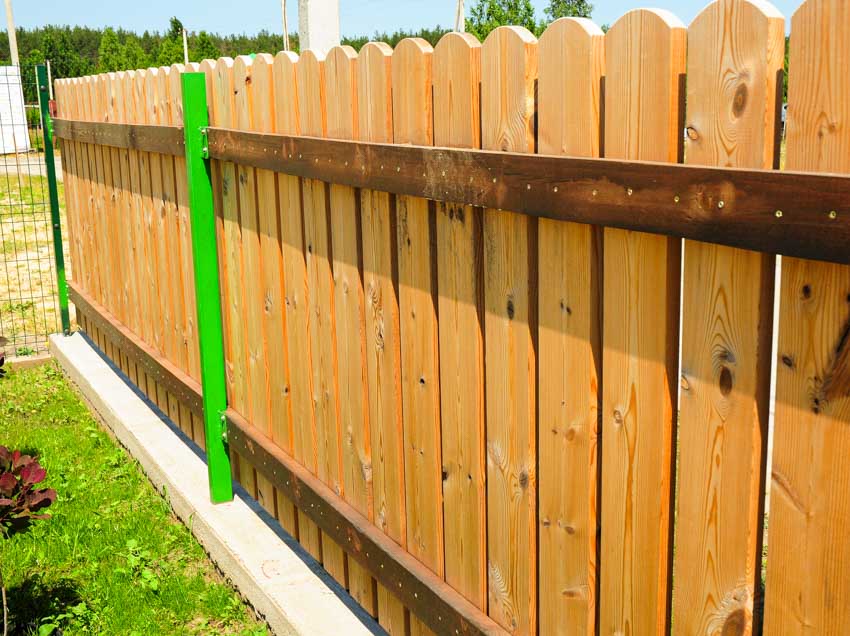 Wood grades are quite technical and complex, which can make picking what grade to use for a project perplexing and complicated. Distinct species have different grade classification schemes.
To begin, cedar is graded in two ways: structural grade and appearance grade.
Structural Grade: Structural Grade is often applied to cedar 2 inches thick or greater since these dimensions are mostly employed in a structural capacity. The structural grade is also known as common lumber. This grade ranges from 1 to 5, with 1 being the best quality.
Appearance Grade: Cedar is also rated according to its appearance, which is known as appearance grade or select lumber. Appearance grade is mostly used for non-structural lumber less than 2 inches thick.
Appearance grades are assigned using the letters A to D, with A being the best quality. Clear and Knotty or STK (Select Tight Knots) are two alternative designations for appearance grade cedar.
Clear Cedar means A & Better Cedar that is devoid of practically all knots but not completely free of knots. Clear vertical grain cedar is required if you want a cedar wood that is completely free of knots, which is hard to locate and expensive.
STK is an abbreviation for Select Tight Knots. This grade, as the name implies, has knots and offers a more earthy appearance. Sometimes, structural and appearance grading are integrated. For instance, you can have a structural grade of Number 2 and an appearance grade of A & Better Cedar.
Cedar Fence Cost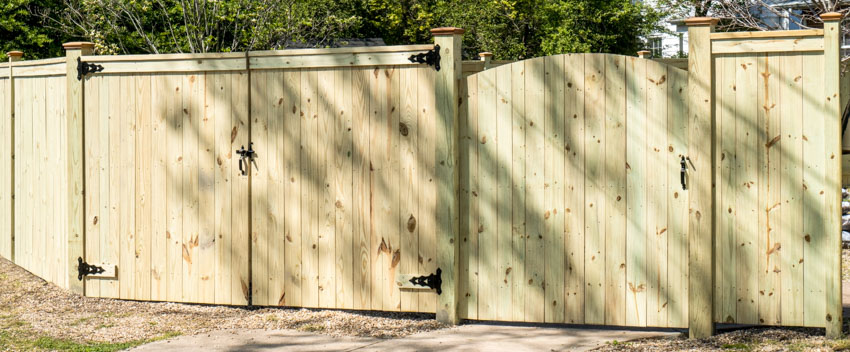 Here we share the costs of fences made of cedar wood.
Cedar Fence Cost Per Material:
• Basic Quality Fence Cost – $445 to $530
• Better Quality Fence Cost – $540 to $600
• Best Quality Fence Cost – $680 to $840
Cedar Fence Installation Cost:
• Basic Quality Fence Cost – $165 to $180
• Better Quality Fence Cost – $190 to $220
• Best Quality Fence Cost – $225 to $290
Cedar Fence Total Cost (Material + Installation)
• Basic Quality Fence Cost – $615 to 710
• Better Quality Fence Cost – $730 to $815
• Best Quality Fence Cost – $910 to $1,130
Cedar Fence Total Average Cost Per Linear Foot
• Basic Quality Fence Cost – $28
• Better Quality Fence Cost – $32
• Best Quality Fence Cost – $43
Cedar fencing costs around $7 to $12 per linear foot to install on your property. Cedar fencing is marginally more pricey than vinyl fencing and moderately more costly than a regular board-on-board fence.
The cost of installation is significantly dependent on the property's conditions. The cost of cedar material ranges from $28 to $43 per linear foot.
Cedar Fence Pickets Cost: A common 6-foot cedar fence picket normally costs around $3 to $5.
Cedar Fence Panels Cost: Depending on the style and measurements of the cedar fence panels, the cost would go around $25 to $35 per linear foot.
Cedar Fencing Sizes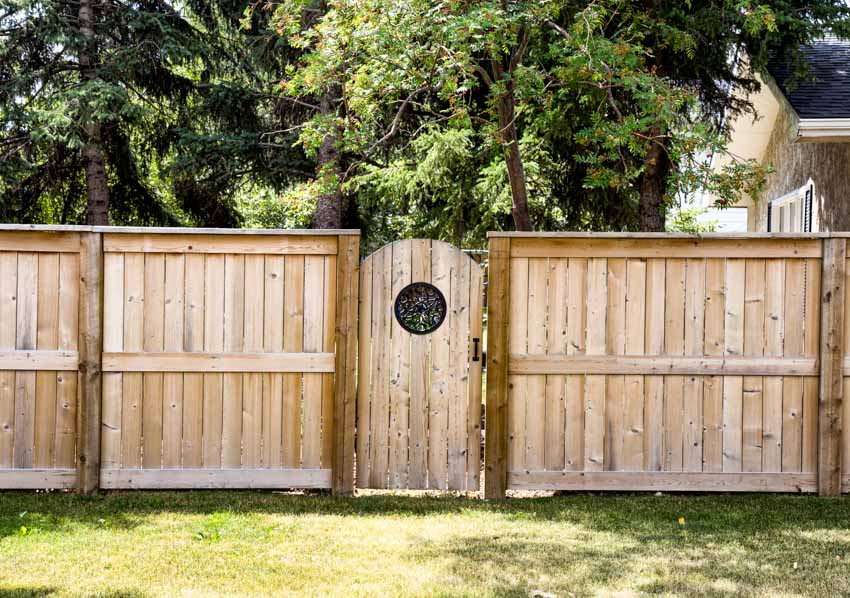 The most common cedar fence post sizes are 4′′ × 4′′ and 6′′ x 6′′ rough sawn or treated. Furthermore, the most prevalent sizes for cedar fence rails are 2′′ x 4′′ and 2′′ x 6′′.
The standard cedar fence dimensions are 3'9″ high, 4'9″ wide, and 5'9″ in width. Custom-sized panels, on the other hand, can be made to order.
Cedar Fence Stain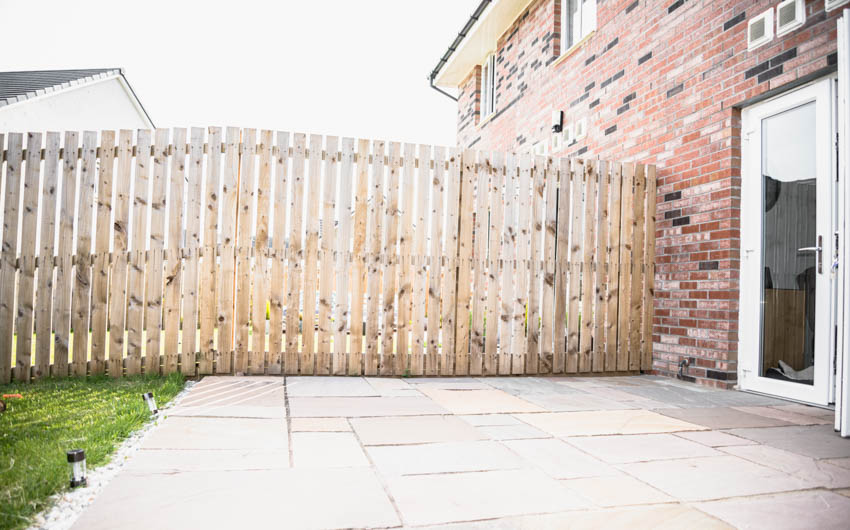 Cedar fence stain is a type of paint that may be put to wood fence components before or after construction to improve the wood's natural tone and transform the look of the wood to a completely different color while allowing the natural wood pattern to shine through.
A gorgeously stained cedar fence may add a lot of curb appeal to your home. This sort of stain fades gradually and effectively facilitates re-coating. Truly, it can increase the longevity of your cedar wood fences.
Cedar Fence Stain Colors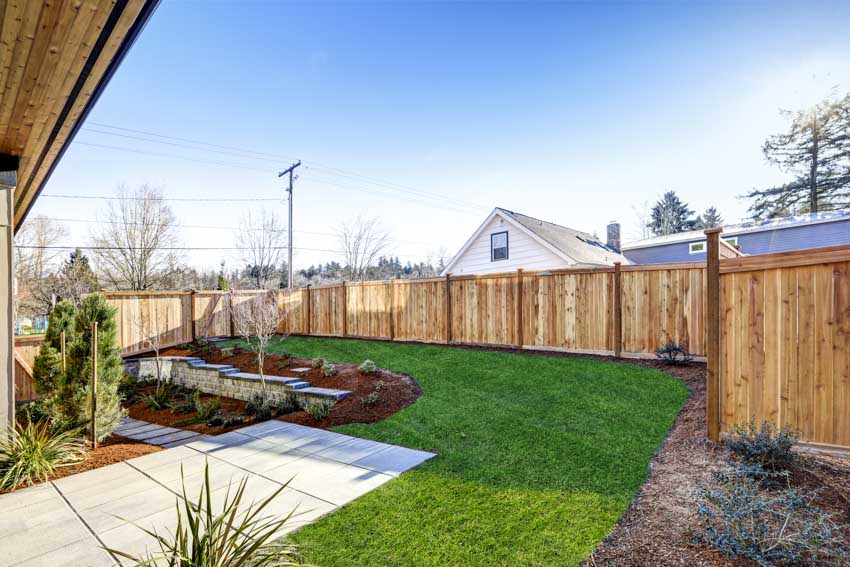 If you are thinking about stain colors for a privacy fence, you might want to stick with popular choices like warm cedar, deep redwood, or rich brown. If you are staining a rustic rail fence, a deeper hue, such as black fence stain or deep brown fence stain, might be ideal.
For a more modern appearance, you can consider a gray fence stain or a staggered fence color pattern utilizing two different stain colors. The composition of your chosen stain product is crucial. It is pointless to buy a cheap fence stain that will fade in a year or two.
Here are the different stain colors for cedar fences:
• Redwood fence stain
• Pecan fence stain
• Auburn fence stain
• Black fence stain
• Wet Look Clear fence stain
• Slate Gray fence stain
• Sable Brown fence stain
• Palomino fence stain
• Water Resistant fence stain
• Walnut fence stain
• Chestnut Brown fence stain
• Chocolate Brown fence stain
• Mahogany fence stain
• Cedar Tone fence stain
• Spraying Cedar fence stain
Staining A Cedar Fence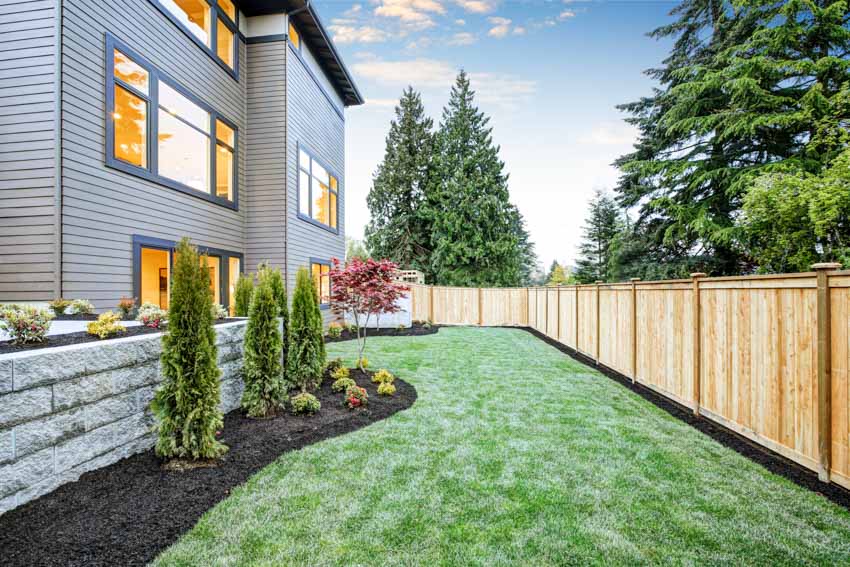 • Before staining, inspect the cedar fence. Replace any broken panels and hammer in any nails that are visible above the surface.
• To protect the grass, place sheets at the bottom of the fence. Fill a paint container halfway with wood stain.
• Immerse a 3/8-inch nap roller with a long handle into the stain. Begin at one side of the fence and liberally apply stain to the cedar wood. Work in 3-foot pieces vertically.
• Back-brush the stained area with a paintbrush, capturing any streaks or drips and ensuring the stain goes into all nooks and surface patterns. Before moving on to the next step, let the wood absorb as much as it can.
• Using a paintbrush, apply the stain to difficult-to-reach spots. Repeat the technique for the entire length of the fence, then let it dry for 24 hours.
• Apply a second layer using the same method. Depending on the product manufacturer, the stain can take up to 72 hours to properly dry.
Cedar Fence Paint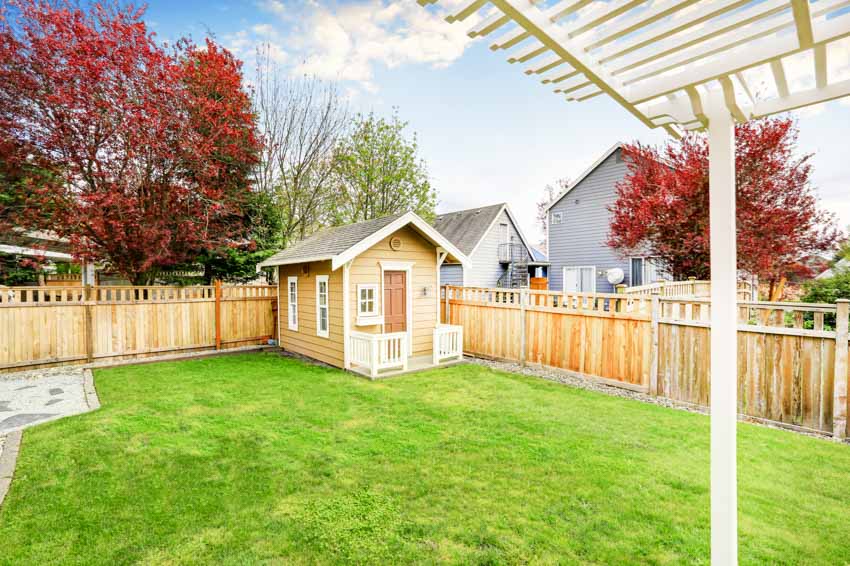 Numerous homeowners have a cedar fence surrounding their home that may be improved. One approach to accomplish this is to paint it. A simple paint job can dramatically improve the appearance of your wood fence. They also paint their cedar fences to keep harsh elements at bay.
Acrylic latex paint is most often used to paint cedar fences. This type of paint offers a good amount of moisture resistance which is helpful for exterior wood.
Cedar wood does not take paint well and most prefer to avoid it as in some cases it may reduce the woods lifespan. Visit this page if you are trying to decide the benefits between painting vs staining a fence.
How To Waterproof Cedar Fence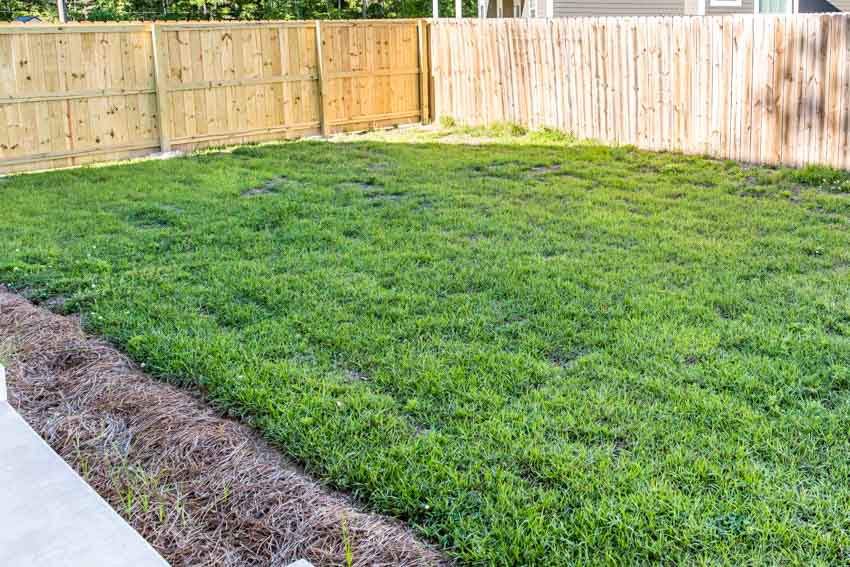 • Remove any dirt that has developed on the wood. Scuff softly with 50-grit sandpaper if the cedar has a highly smooth finish.
• Purchase a waterproofing material for wood. Most home improvement and hardware stores offer waterproofing treatments. These treatments are available in clear or colored coatings.
Cedar absorbs a wide range of colors pretty nicely. Many homeowners use linseed oil or a high quality teak oil to help waterproof their cedar surfaces.

• Apply a waterproofing sealant to the cedar fence to prevent splintering, cracking, and warping caused by harsh elements.
• Apply the waterproofing with a paintbrush or roller as directed by the supplier. Back-brushing, which involves sweeping the dry brush in the opposite direction that the paint was applied, will help to smooth out the coat. Make sure to allow the sealer to dry completely between coatings.
• Recoat with several coats. Cedar is normally re-treated every 2 years, but this could be extended by applying numerous waterproofing layers. Apply as many layers of waterproofing as the cedar will absorb for maximum longevity. If you intend to paint the cedar after waterproofing, only apply one coat.
Cedar Fence Sealer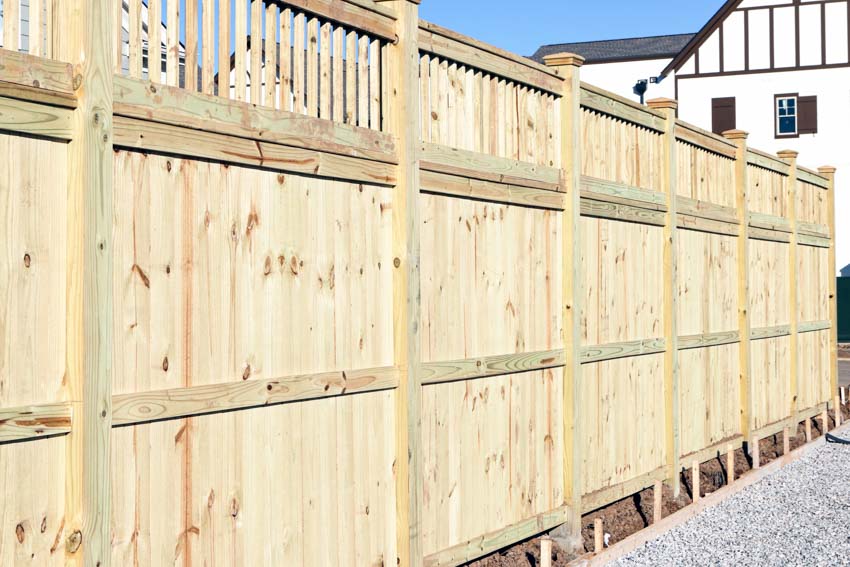 Applying a cedar fence sealer to your cedar fence can help it endure the regular beating from nature, which includes rain, heat, cold, solar radiation, and pests. Sealer is best applied in the late springtime or early fall when temperatures are mild and the sun's UV rays are not too strong.
One cedar fence sealing product to consider is Ready Seal 512. Read more about this product here. [Amazon sponsored link]

This stain is applied using a roller, paintbrush, or sprayer. It can be applied on any wood, but it works best on cedar fences. If you use a brush to apply the stain, no back-brushing is required, and there will be no streaks or puddles.
This sealer brand does not have a temperature range and can be used at any temperature. It also does not necessitate the use of a wet line. The best feature about this sealer is that you do not have to condition the wood before applying it. Most stains and sealers need sanding or stripping, but not this surface sealer.
If properly applied, this sealer will render the wood UV-resistant, preventing sunlight from damaging it. It also resists moisture and safeguards the wood from mold. In terms of color, it accentuates the natural wood color. It also comes in seven various color tones. Ultimately, unlike some sealers, this Ready Seal 512 sealer dries far too quickly. It should not take more than 45 minutes.
Adding another piece of information, you must inspect, repair, and wash your cedar fence once a year, and reseal it every 2 to 5 years. Keep an eye out for signs of corrosion and rotting after each inspection and allow the condition of your cedar fence to influence your decision concerning whenever it is time to re-seal it.
If your fence is constantly subjected to extreme weather conditions, such as the Texas scorching sun or the periodic freezing of a New England winter, it will most certainly need to be re-sealed more regularly than a fence in a sheltered area or a milder environment.
How Long Does A Cedar Fence Last?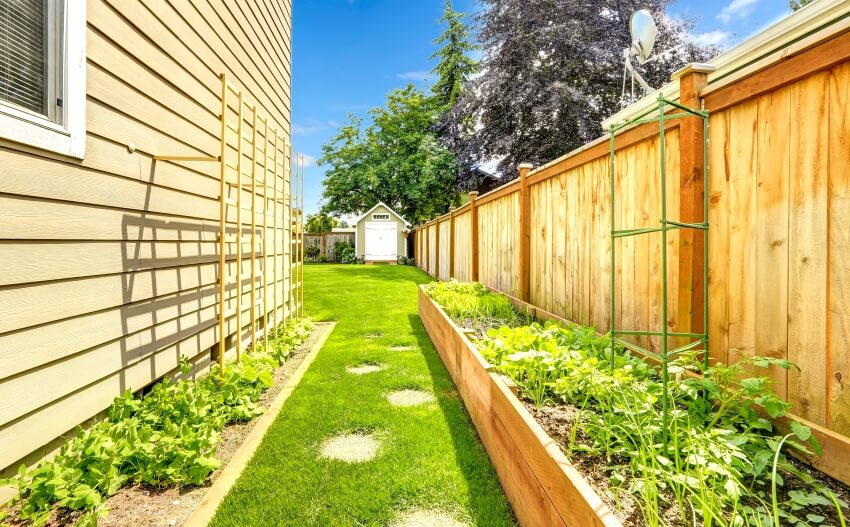 A standard cedar fence will survive around 15 to 20 years. Placement, susceptibility to the elements, and upkeep quality can all have a significant impact on the longevity of your fence, both positively and negatively.
A cedar fence that is not sealed, for instance, will corrode and deteriorate considerably quicker than a sealed fence. However, if you properly maintain your cedar fence and take simple precautions such as diverting your lawn sprinklers far from it, you might be able to prolong its life expectancy to 25 or even 30 years.
You can take into account staining your cedar fence to extend its lifespan as well. Remember that degradation and rotting are the two main culprits of deterioration in cedar fences.
Fortunately, a high-quality stain-and-sealer can solve both of these issues. When deciding whether to stain or not, consider the benefit of increased longevity and the loss of the cedar's natural look.
If you wish to stain, use an oil-based treatment because porous cedar absorbs them effectively, resulting in a smooth and appealing surface. Semi-transparent stains prevent the most UV radiation from the sun, minimizing corrosion and fading. Generally speaking, the darker the stain, the better it will safeguard your cedar fence from UV radiation.
Cedar Vs Pine Fence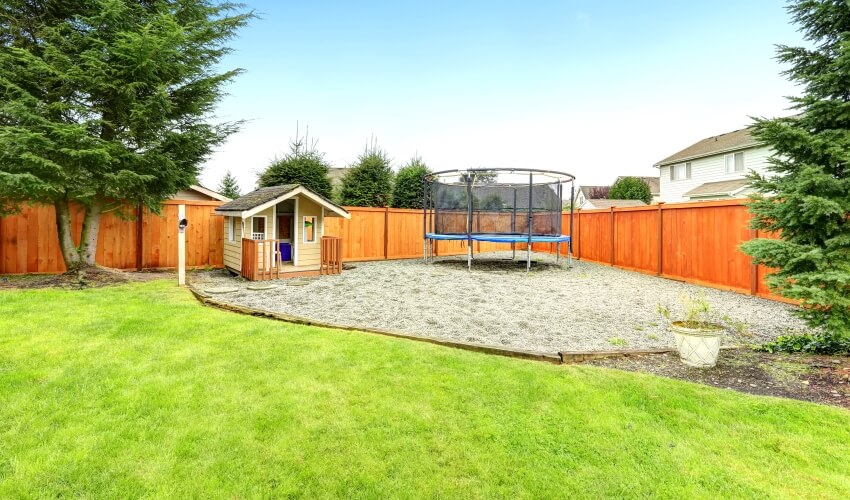 Popular fencing materials include cedar and pine. Individuals adore them because they make a house look more aesthetically beautiful. These fencing solutions are appealing to homeowners because of their eco-friendliness, ease of upkeep, and capacity to add value to a property.
Because it can survive the elements better, cedar would be a better choice for a fence. In terms of upkeep, it is less demanding. It also has a natural resistance to pest infestations and decay. It is resistant to extremes with a low danger of bending and contracting.
Pine, on the contrary, is more likely to buckle, warp, and shrink. It is also more susceptible to the environment in general. Without adequate care, pine can begin to appear damaged and weathered in a matter of years.
Cedar Vs Pressure Treated Fence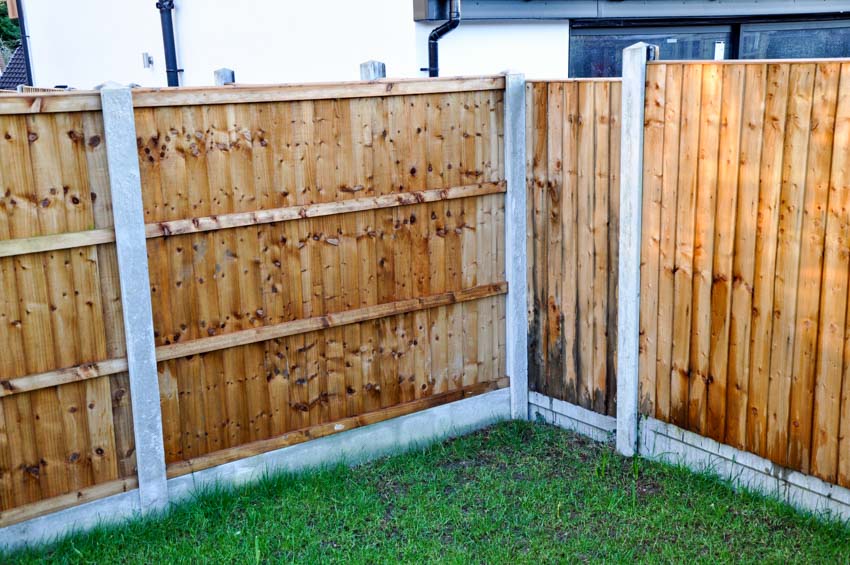 Cedar is more resilient and stronger than pressure-treated lumber. Although pressure-treated lumber is a widely accessible and inexpensive wood for patios, fences, and other outdoor structures, if left untreated, it will distort and deteriorate within a few years.
Cedar, on the other hand, may naturally maintain its shape. Cedar, nonetheless, is more prone to external issues such as dents and scratches.
Cedar Vs Redwood Fence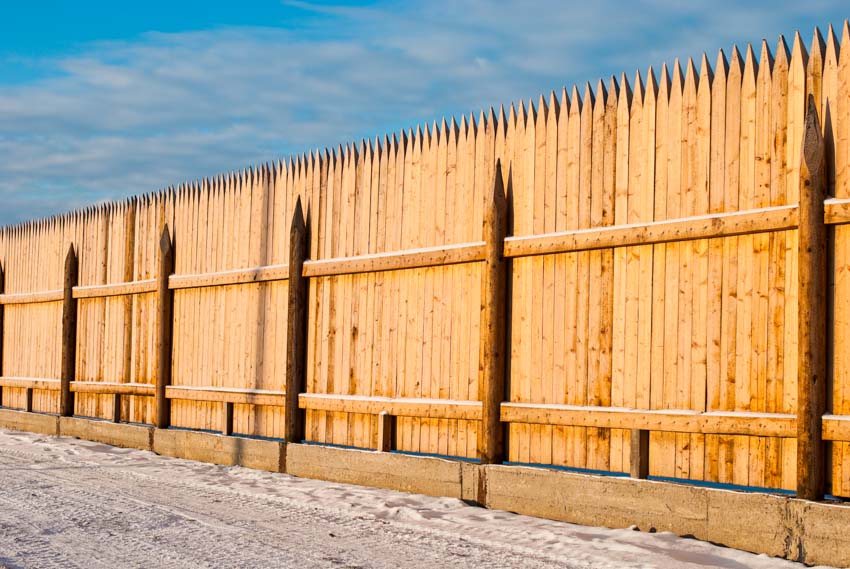 Maintenance, color preservation, and finishing techniques for cedar and redwood fencing are essentially comparable. Most grime and stains may be removed from either type of wood with detergent and warm water.
Mold and mildew can be removed with small amounts of bleach and water. Both redwood and cedar contain tannin, which gives the wood its color and naturally repels insects. Because redwood contains more tannin than cedar, it may perform slightly better in this regard.
Redwood fencing, on the other hand, is around 23% stronger than cedar. As a result, redwood is more long-lasting than cedar. When it pertains to environmental friendliness, redwood and cedar are pretty comparable as well. Both are all-natural materials that are better for the environment than synthetic brands.
See more related content in our article about the different types of fences for windy areas on this page.