Discover different types of gate latches including slide bolt, gravity, spring-activated, thumb, two-sided thumb, two way, ring, lever, and side pull.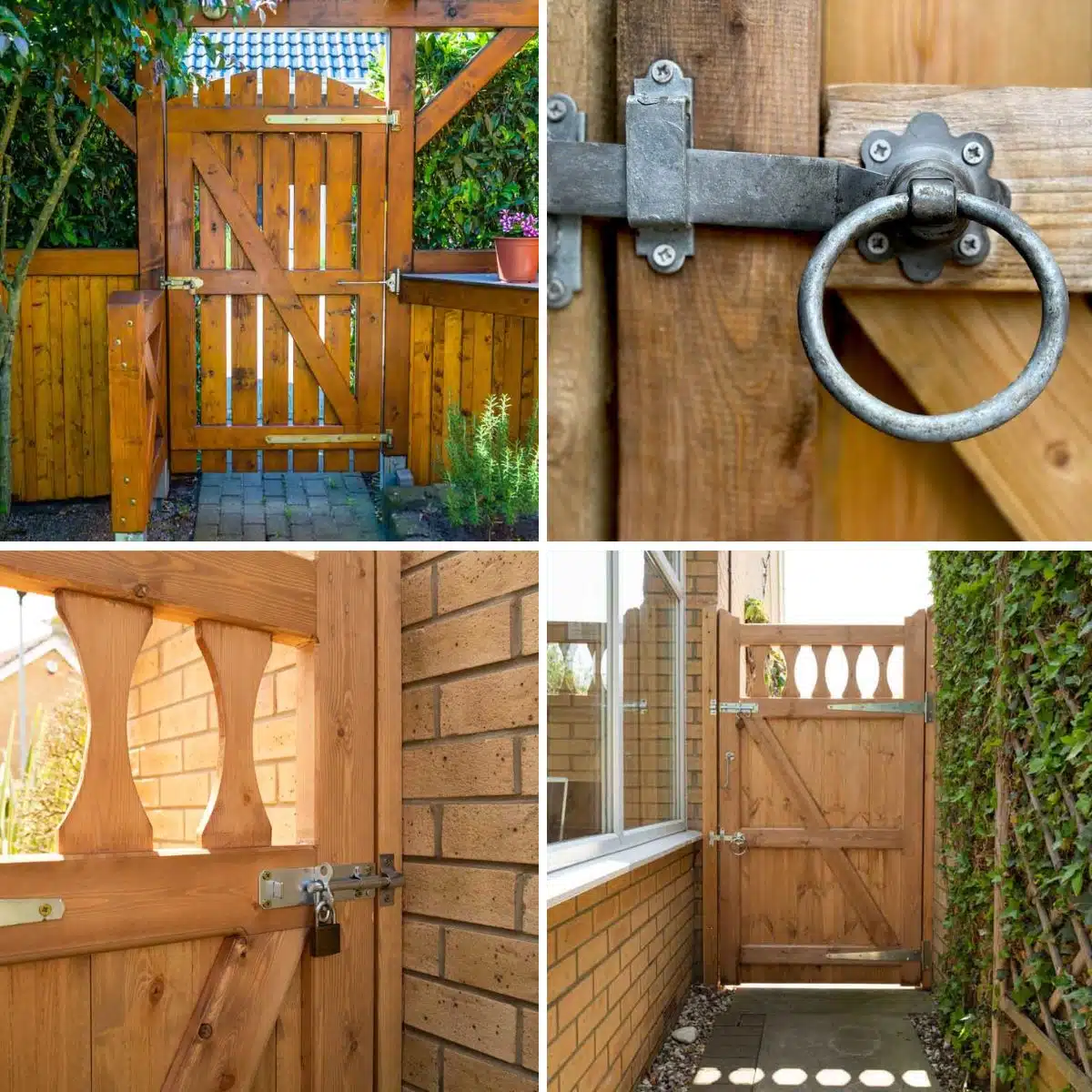 In the shadows of larger household features, there are silent factors that have a tremendous influence in safeguarding your residence – gate latches. Every time you slide open the latch and feel its smoothness beneath your fingertips, it's like a reassurance that, indeed, you are home.
The gate of your home should be undeniably secure, from its hinges to the bond it makes with its latch. That subtle mechanism of metal and levers is responsible for safeguarding our home and protecting our family.
Different Latch Styles & Designs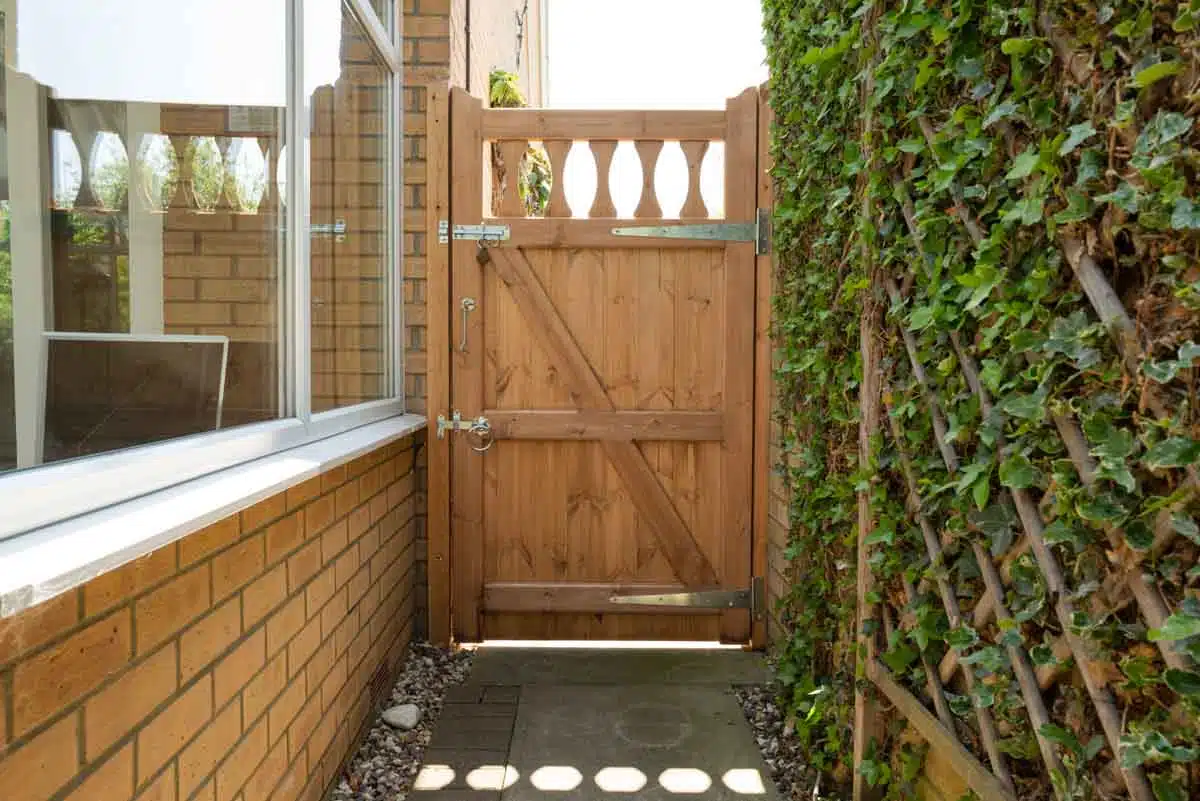 Below we'll highlight the different craftsmanship of gate latch styles and their functional design elements.
Slide Bolt Latch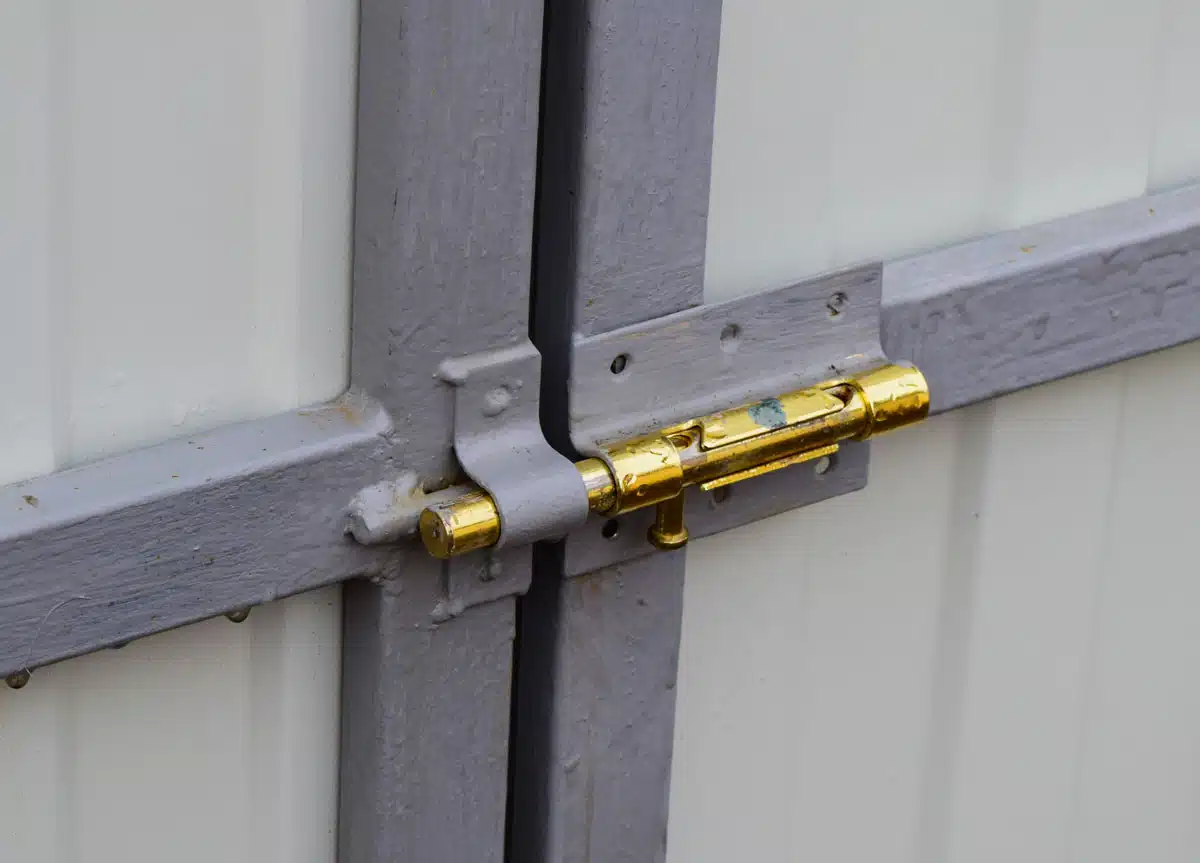 The slide bolt latch is quite easy to install, it's the ideal pick for gates that don't get used all the time. It'll fit on either side of your gate – inside or out – tailoring it to your needs plus it won't break the bank, making this an incredibly practical option if you're looking for something reliable without too much cost.
The slide bolt latch is made up of two parts – the lock body and its matching strike plate, held steady with screws. For added security, you can even padlock some models. Its simplicity at its finest – easily switching between open or closed in a heartbeat.
Gravity Latch
The gravity latch lives up to its namesake as it harnesses the power of gravity to close with a smoothness that can't be topped. As soon as you swing that gate shut, the arm glides past the strike plate and effortlessly drops into place – nice and tight.
Even though gravity latches offer great convenience and versatility for in-swinging and out-swinging gates, they don't provide robust security by themselves. So, if you want to boost the security of your gate, get a lockable design or consider adding some reinforcement like deadbolts or slide bolts. Plus, many of these latch models have nifty holes that are just perfect for attaching a padlock.
Spring-Activated Latch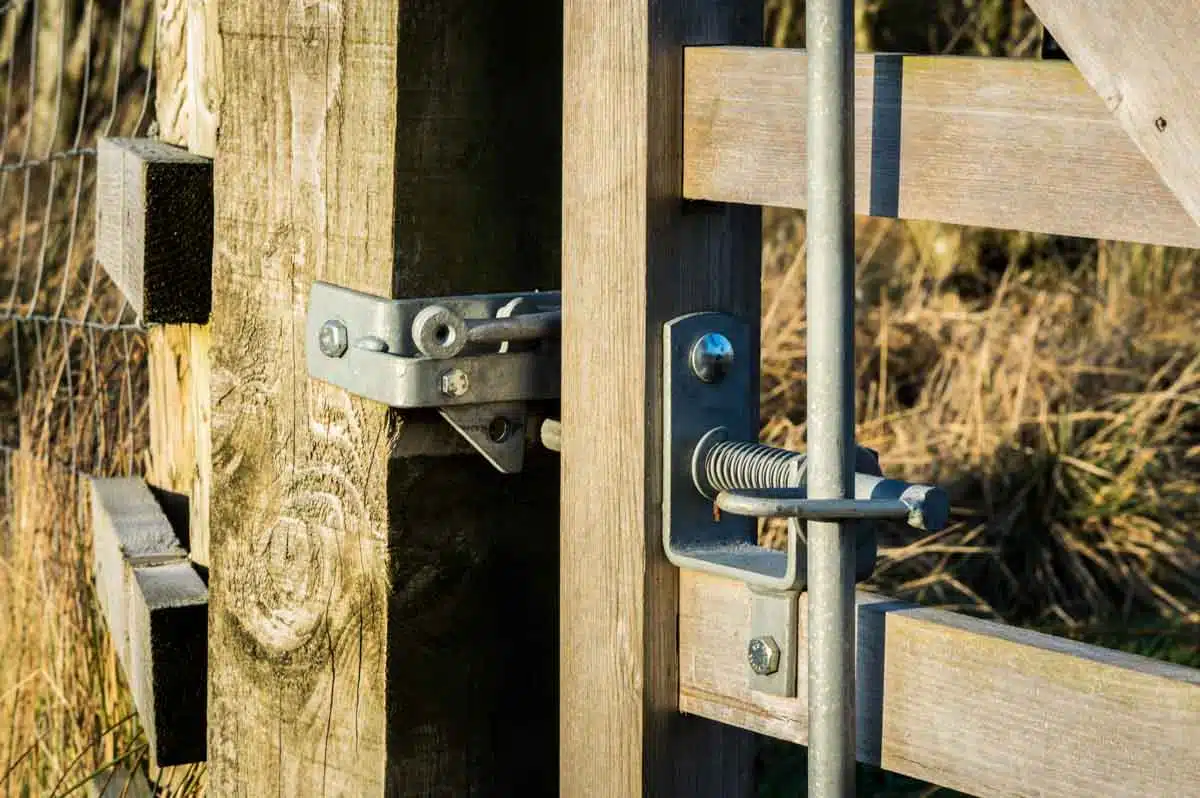 In gate hardware, the spring-activated latch proves to be an innovative and versatile latch type. From gravity latches and pool latches to ring latches – these ingenious inventions use a cleverly designed coiled spring mechanism to keep the bolt locked tight effortlessly. With just a push or pull they offer effortless security every single time.
The spring-powered latches will secure your gate in an instant; plus, you can set them up on one side for added reinforcement. This type of latch is designed to perform without a hitch and won't stand in the way of people going about their business. So put those worries aside – these locks guarantee that any silly accidents resulting from unintentional closures are completely avoided.
Thumb Latch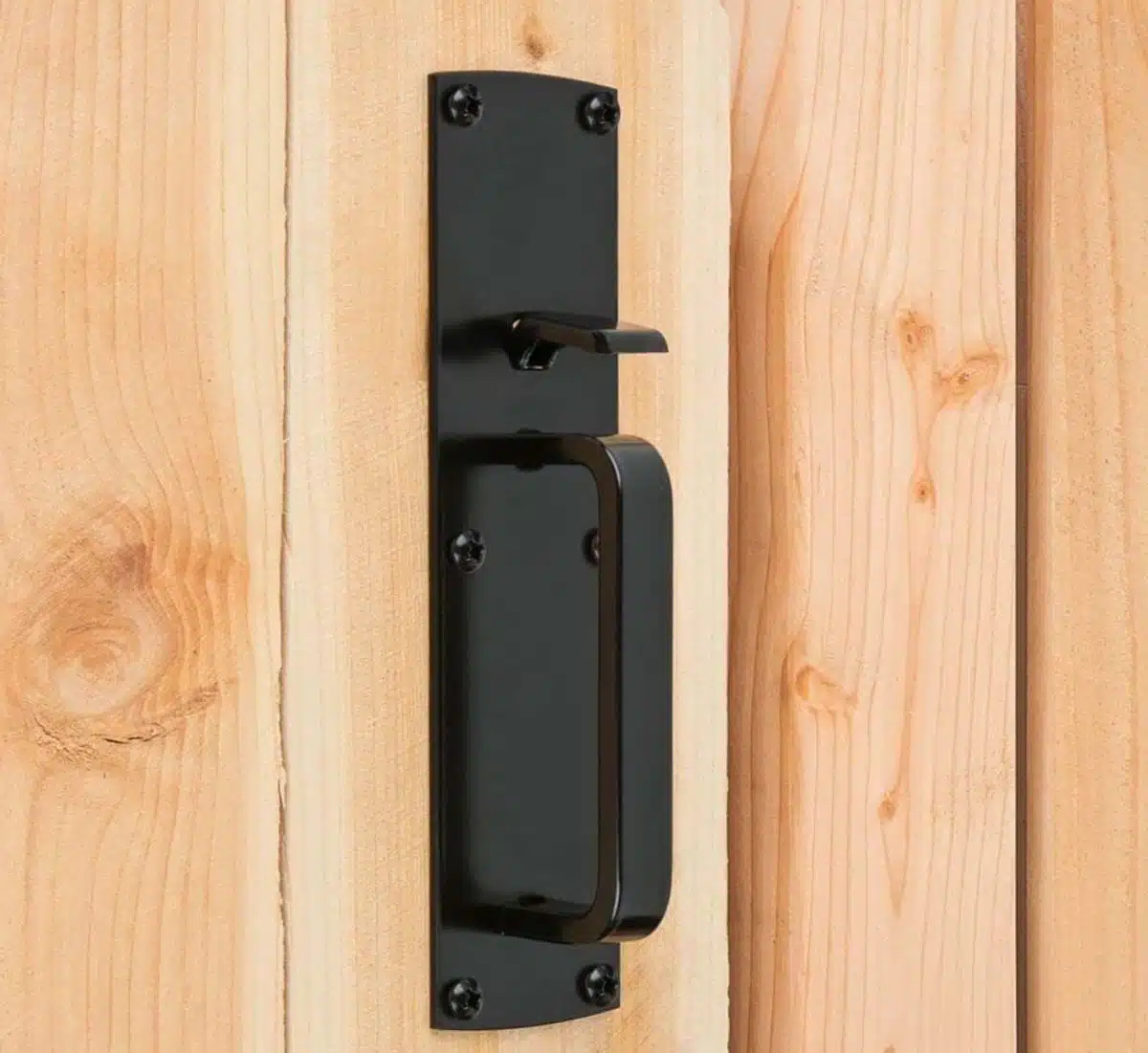 See this thumb latch at Amazon [sponsored link]
Charmingly picking up the slack, thumb latches do more than swing gates in. A decorative plate on the gate's outside – from the streetside and all – hides a nifty thumb depressor that opens up an entire world of possibilities when pressed down upon.
As one pushes down on it, away they go inside with their latch arm lifted, allowing entrance through the portal of sorts. Gravity takes back over and promptly sends the latch right back into its little catch – showcasing mindless efficiency at its finest.
Thumb latches provide two-way ease so that you can control it from any angle. A few come with lockable mechanisms for extra peace of mind – not to mention an impressive self-latching system. You won't have to worry about wind or anything else nudging it back open; these thumb latches close up on their own.
Two Sided Thumb Latch
No need to fumble for a way out with the two-sided thumb latch. This type of gate latch is ideal for gates that demand access from both sides. This nifty, convenient latch is built on either side of the gate so entry and exit are as simple as possible.
Those two-sided thumb latches are the bee's knees – not just efficient, but with an intricate design that blends beautifully into traditional gardens and fancy fence gates. Tooling up a chic addition to your gate, they will add some pizzazz while still doing their job.
Two Way Latch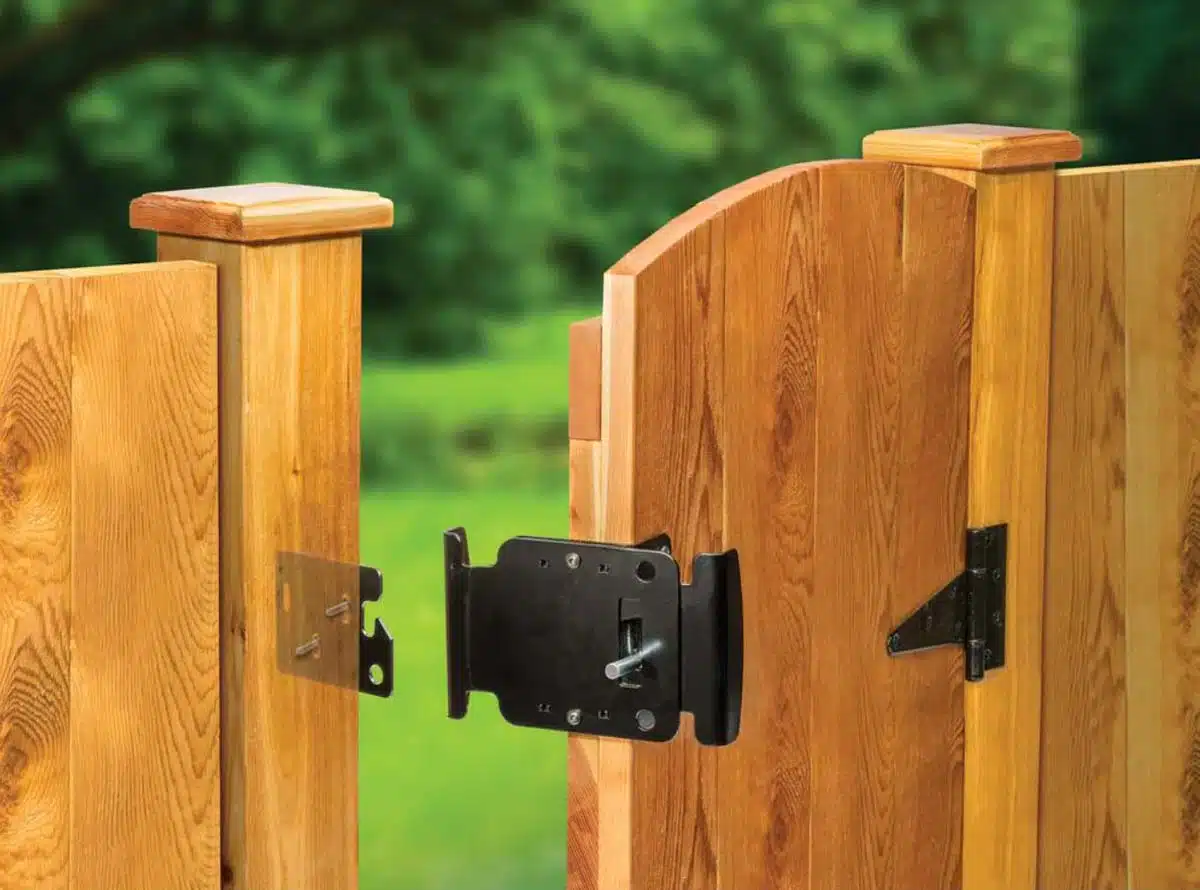 See this two way latch at Home Depot [sponsored link]
The double-duty two-way latch undoubtedly lives up to its name – with the capability of letting gates open and close in either direction, it comes in handy when you need easy access between your back garden and yard.
It might not offer rock-solid certainty, but if you are looking for a quick solution that won't compromise too much on security, this one does the trick just fine.
Its clever construction attaches the latch to both the gate's edge and post, granting free-flowing movement in all directions – a seamless operation enabling hassle-free entry and exit.
Unsurprisingly, this two-way latch is so popular for entrances where someone's constantly going back and forth, like garden gates or internal fences.
Ring Latch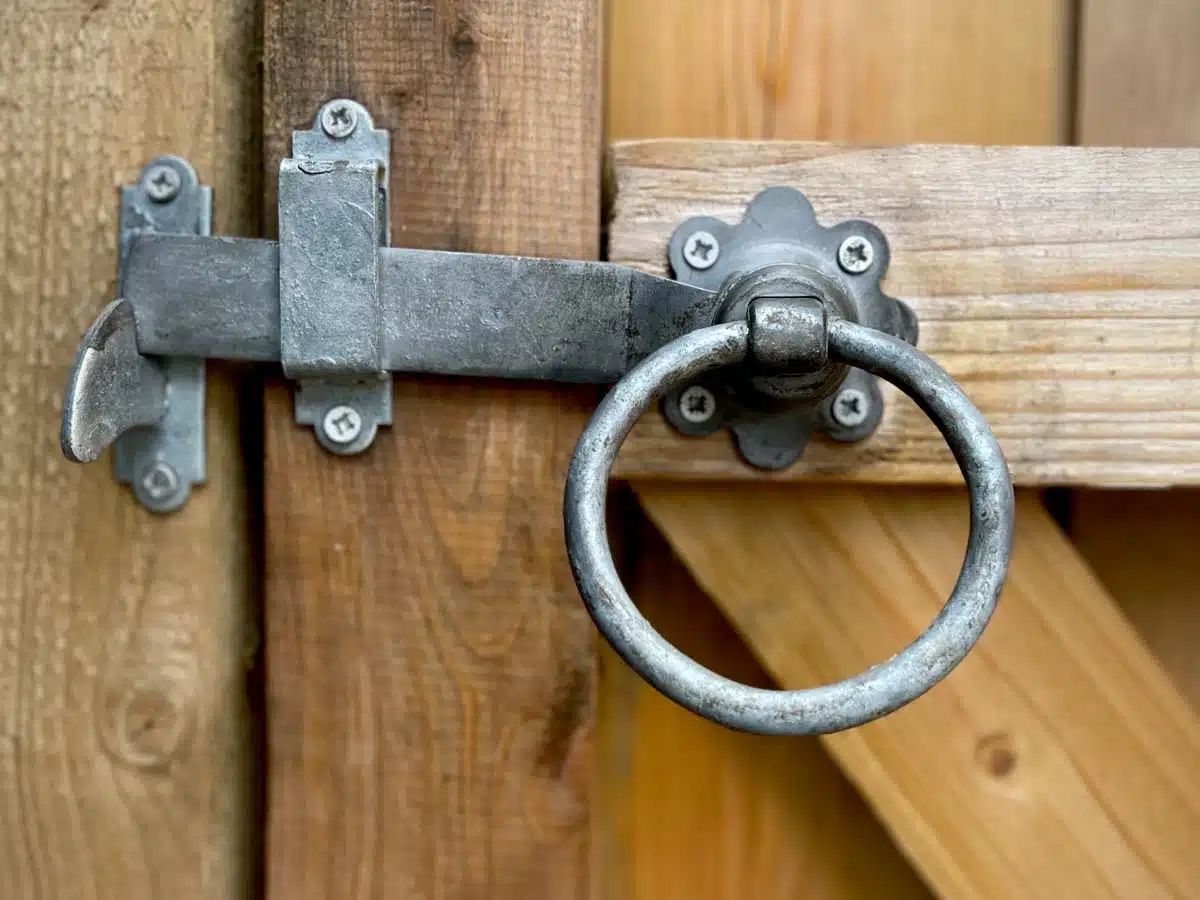 The ring latch is an extremely desirable twofold solution for any gate; the backplate on both sides of the door boasts a convenient little loop, so you can get in or out quickly as a flash.
When pulled, this lifted arm disengages from its socket and renders said gate effortlessly unlockable with just a confident twist of that handy little hoop.
If you are building a gate, you want to make sure that whether it is in-swinging or out-swinging, the latch arm is properly installed. Ring latches are an aesthetically pleasing addition and provide easy access no matter which side of the fence you're on – plus they can be locked securely from either direction as well.
Lever Latch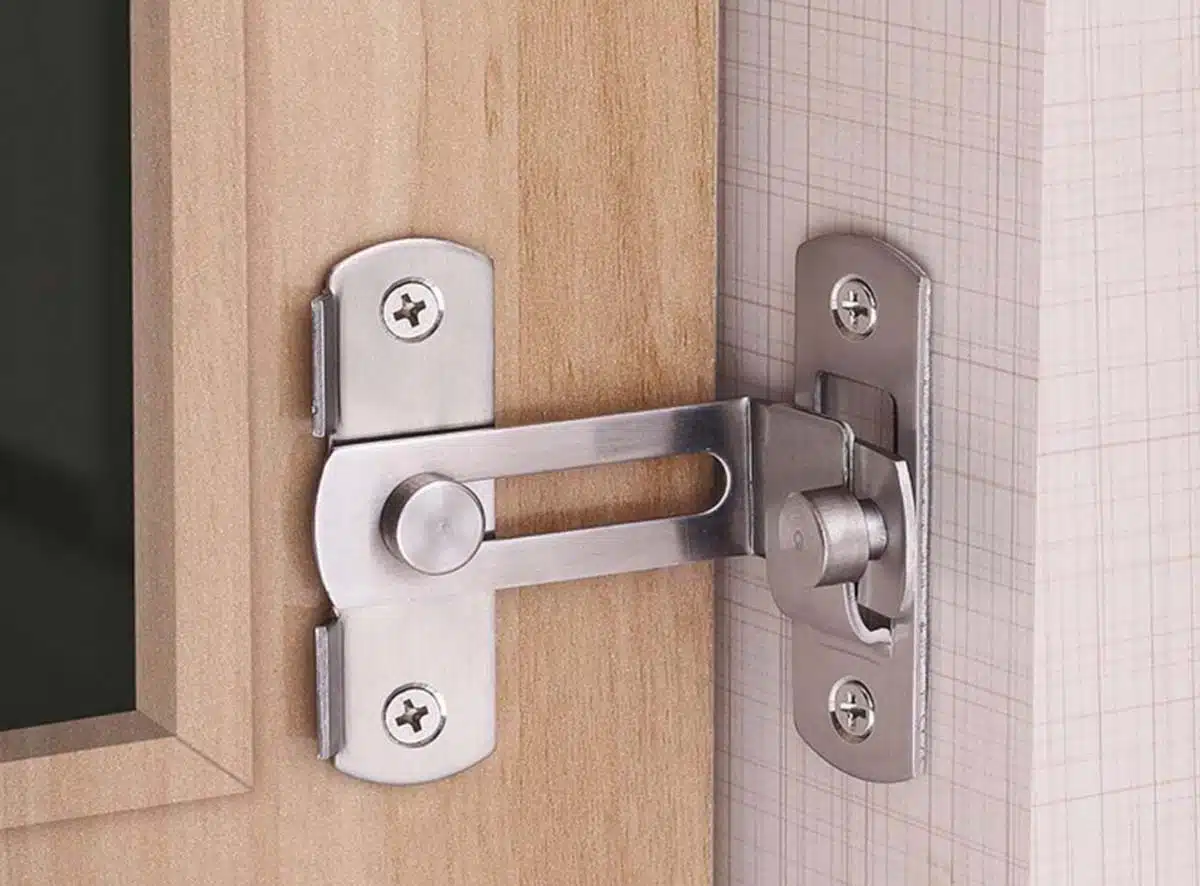 See this lever latch at Amazon [sponsored link]
The lever latch seamlessly blends style and versatility. Unlike its ring latch counterpart, this handsome handle attaches to the gate itself, no matter which direction it's swinging. With effortless adaptation across in-swinging or out-swinging gates, and standard sliding gates, you'll be pleased with the classy look of your new latch.
A lever latch is frequently used for indoor applications such as an interior barn door, or sliding pocket door.
When it comes to outer gates, making sure you get the right latch-arm assembly is essential if you want your swing gate to swing reliably. Lever latches offer plenty of variety – from gravity-assisted and spring-loaded models – giving you endless options on what will suit your needs and setup best.
Homeowners, after some extra assurance, will swoon at lever latches with locking powers, providing that sought-after tranquility. Perfect for those seeking an added oomph of safety, these locks promise the security every homeowner craves.
Side Pull Latch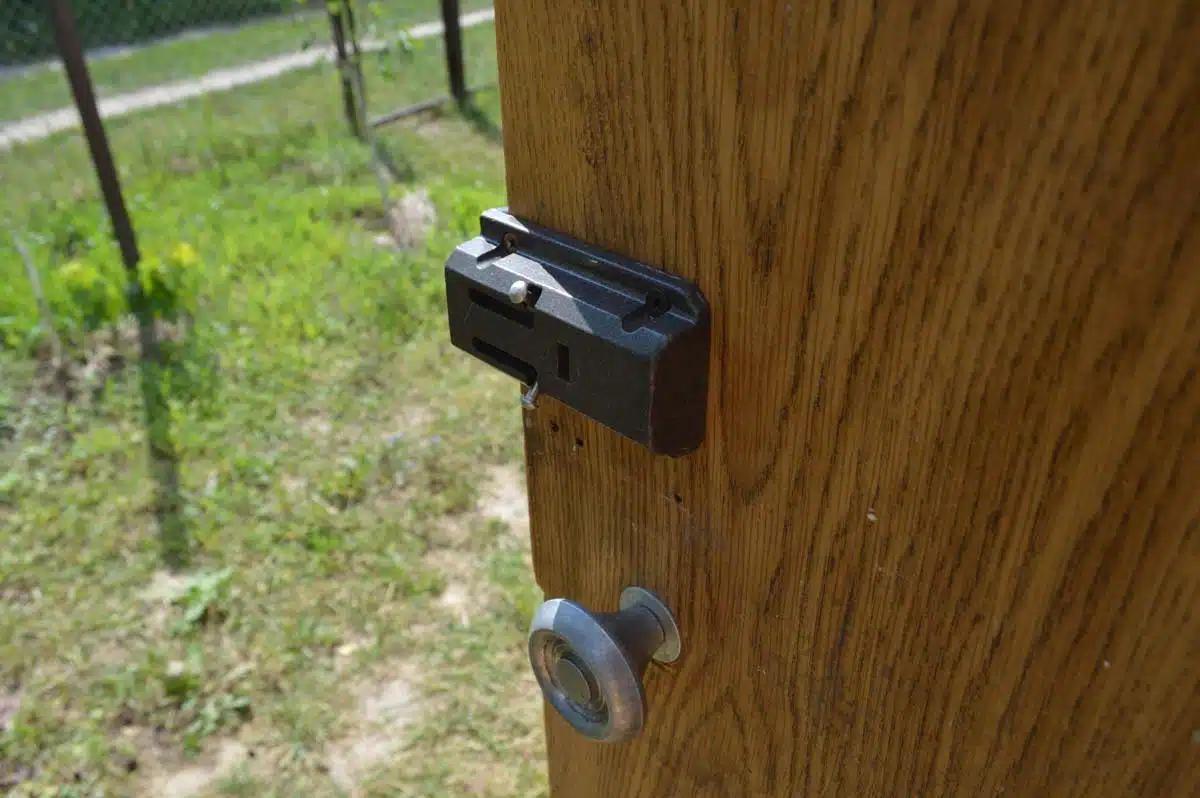 The ultra-sleek side-pull latch, a modern incarnation of the trustworthy gravity latches we know and love, gives you convenience with a big old dash of style.
This sleek beauty features a fully enclosed mechanism inside its handy housing, giving us more functionalities and rolling up extra security in one nice little package.
Side pull latches are undeniably convenient, making them extremely useful for internal gates and safety doors. As soon as they're shut, these reliable latches immediately latch themselves into place—providing the ultimate reassurance in terms of ease and security.
T-Latch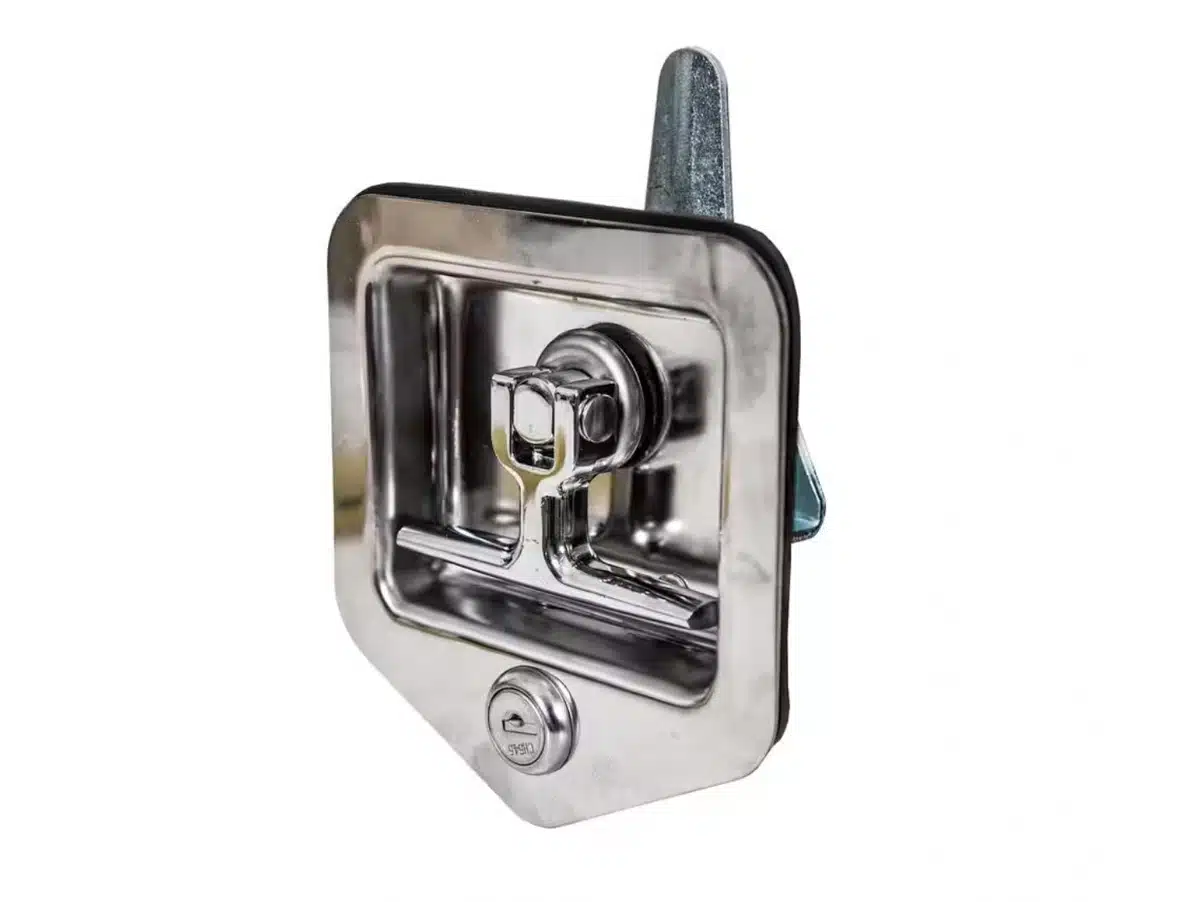 See this T-latch at Home Depot [sponsored link]
The T-latch certainly enjoys its fair share of love; with its prominent toggle mechanism, it's been a go-to pick amongst homeowners. It keeps your gates safeguarded with the extra layer of protection – plus, you can even toss in a padlock just for good measure to have that added peace.
Crafted from sturdy steel, the latch rod's adaptability with a set screw ensures it fits perfectly for that gate – no matter how much of a sag there might be over time. That T-latch maintains its dependable performance with a flush mount installation that offers an attractive look.

The T-latch's non-spring setup is heaven-sent for gates that do not close properly – it produces smooth operation without any picky fine-tuning required. It's the perfect solution to a pesky problem.
Gate Fork (For Chain Link Fences)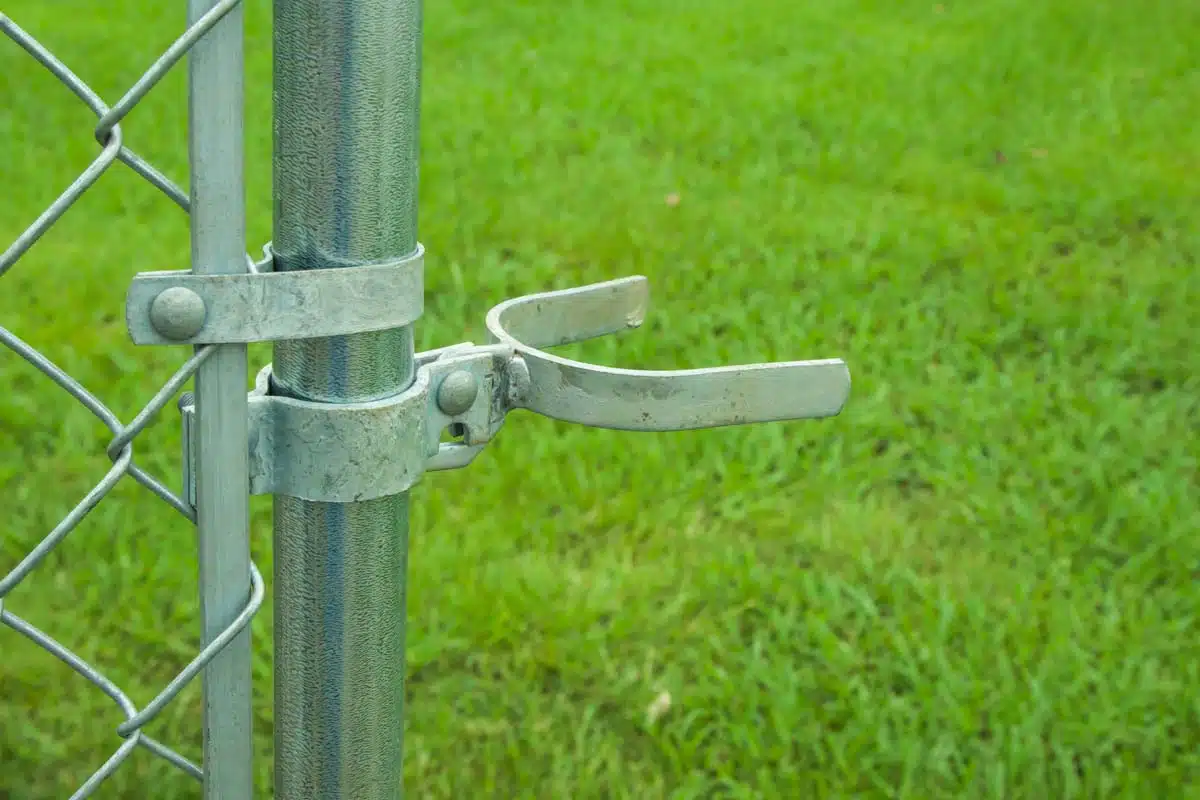 A chain link fence is renowned for its reliable security, and the gate fork latch is a tried-and-true mainstay. Composing all of the necessary parts – from forks to clamps, carriage bolts to hex nuts – this latch ensures easy assembly and sheer steadfastness.
With its padlock-compatible design, the gate fork latch has practicality written all over it. You get to up your home security with minimal effort since you only need to sandwich the fork clamp and tighten it with carriage bolts – chatting reliability and affordability into one neat package. It's a no-brainer for single-swing walk gates in residential settings.
Magnetic Latch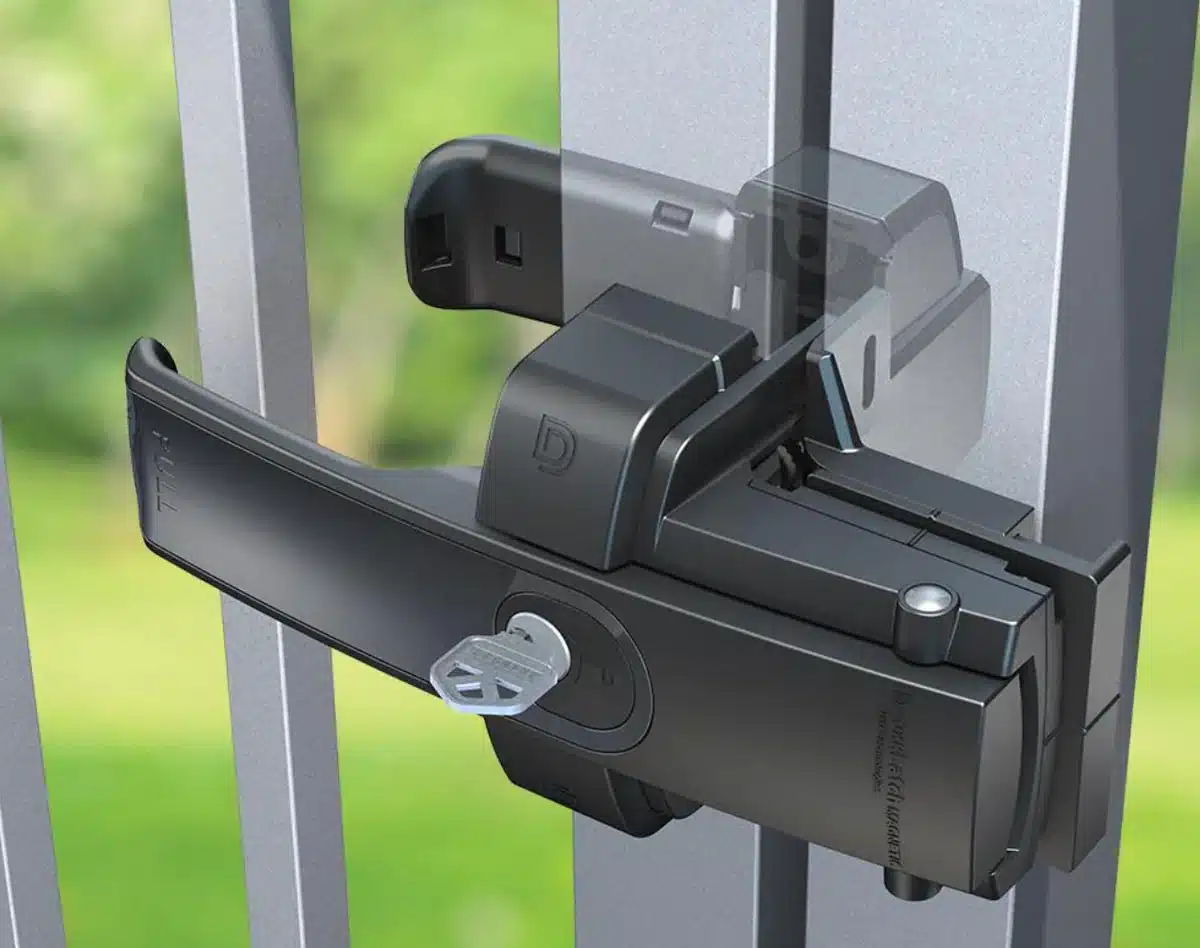 See this magnetic latch at Home Depot [sponsored link]
The magnetic latch is a remarkable piece of modern gate hardware. It uses a unique magnetic power to make it just right for securing yards with swimming pools and childcare centers. Wherever you're outdoors, these latches provide awesome solutions for protecting pets from running off onto other people's property or into restricted places.
By the time the magnetic latch went into production in 1955 , it was greatly simplified and improved The magnet was of simple horse shoe shape and the customer saw only the escutcheons and eyelets protruding thru the plastic inner door. – What Every Engineer Should Know about Inventing – Middendorf
These newfangled gate fittings are an absolute blessing for farms, livestock pens, enclosure gates, cowhouses, and shearing types of sheds. Magnetically locking into place when opened or closed, these gates provide immense convenience while one is going about their daily tasks – and to ramp up the security even more, they can be secured with a padlock or chain.
Butterfly Latch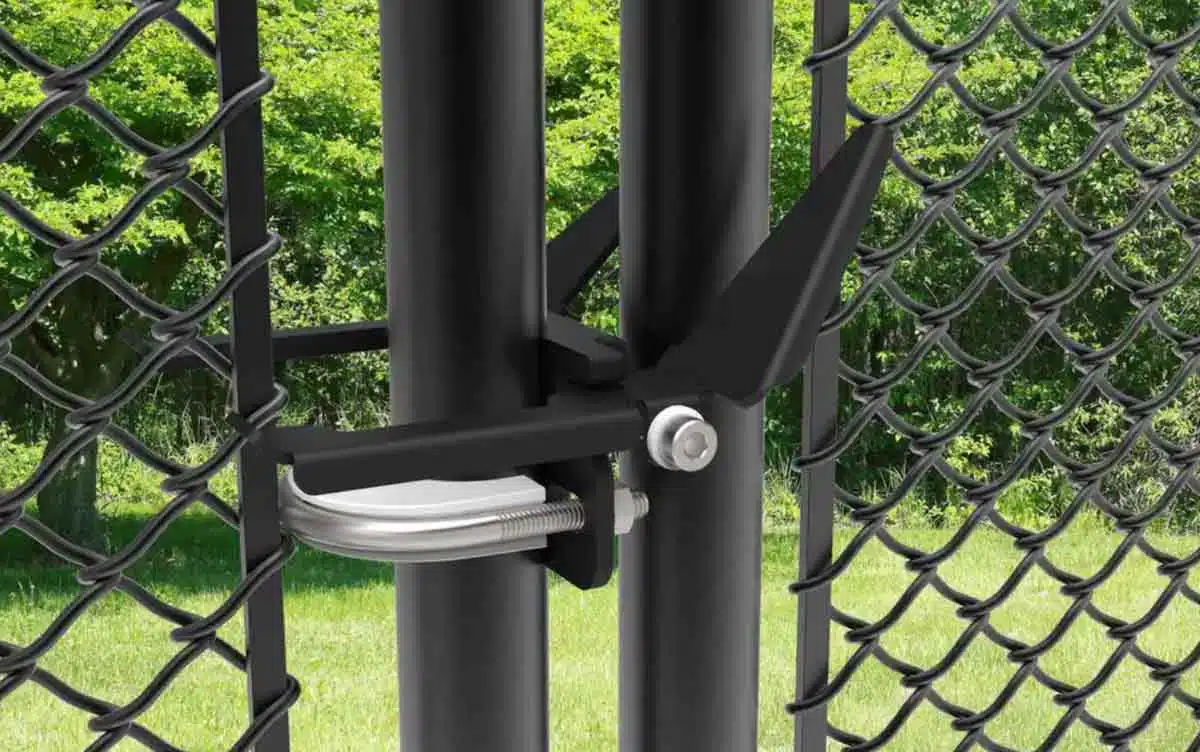 See this butterfly latch at Home Depot [sponsored link]
The butterfly latch is an absolute gem, the pinnacle of engineering for chain link swing gate owners. However, it also can work for wood, steel, aluminum, or vinyl gates. It's already established its reputation as a breeze to install and operate – making it a go-to pick when considering residential fence designs, especially alongside spring gate closers at pools.
This innovative latch is truly revolutionary – its spring-loaded mechanism guarantees reliable, self-latching functionality. Unlocking or locking the unit takes no time at all; with just a gentle push on its distinctive wing, you can turn it easily in a 270-degree motion, quickly engaging and disengaging the latch with ease.
The amazing user-friendly design of the butterfly latch is quite the charmer among homeowners who want effortless gate access with peace of mind.
A showstopper for those wanting to protect their children and pets from getting out of designated pool areas, it's easy to see why this mechanism has become such an important part of modern fencing solutions, particularly for those using a pool fence.
Swimming Pool Latch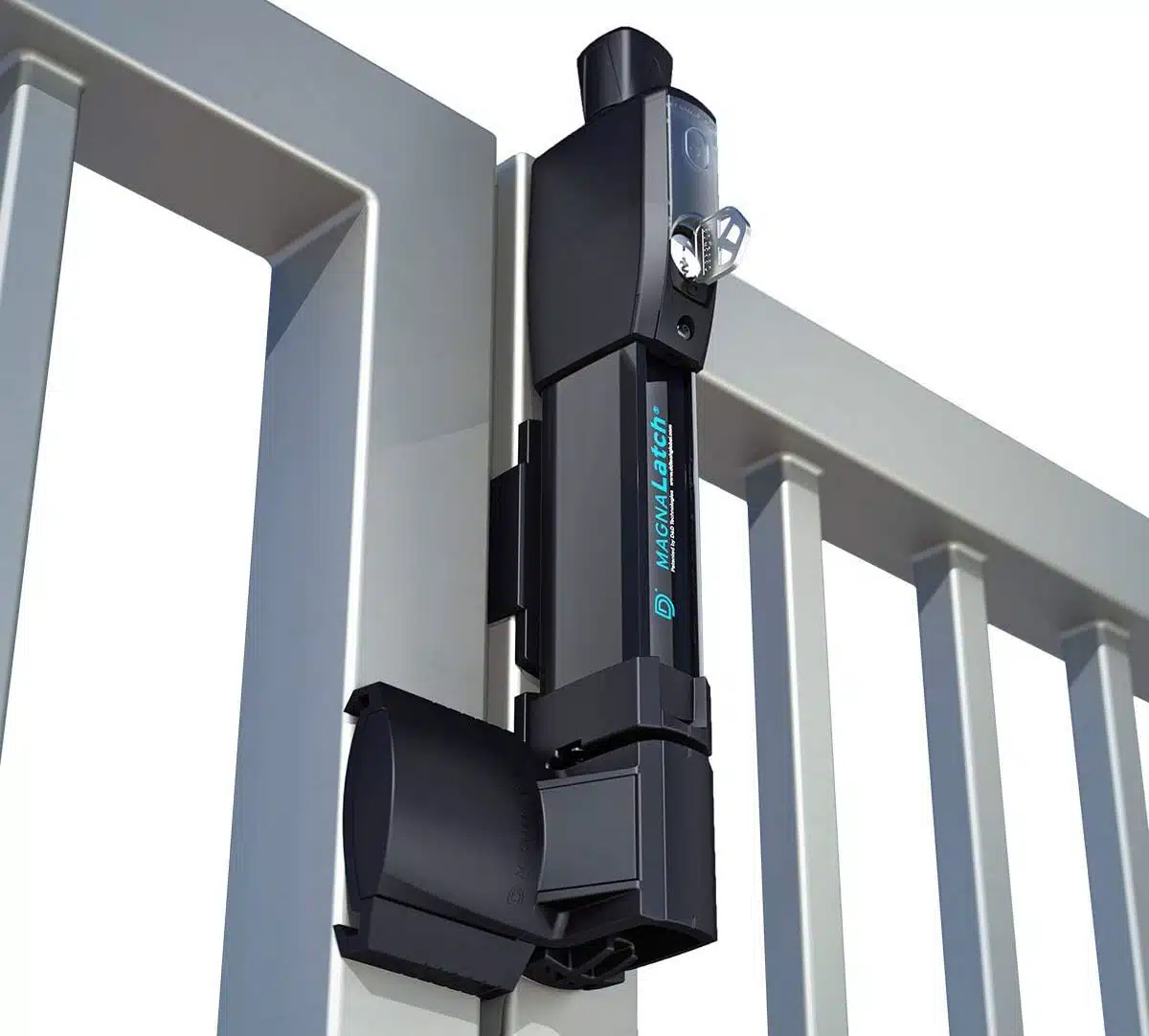 See this swimming pool latch at Amazon [sponsored link]
Pool latches often fulfil the job of keeping safety at the forefront for swimming pools. Built to deliver superior performance, they are designed with sturdiness to keep uninvited visitors from entering while providing a sense of assurance and meeting compliance guidelines.
No one wants young ones of animals at risk, so these protective pieces can provide some hush-of-mind that will come in handy when it matters most. Depending on the particular latch style, they may make use of some powerful magnets or other cutting-edge lock systems for their closing mechanism.
Dog Kennel Latch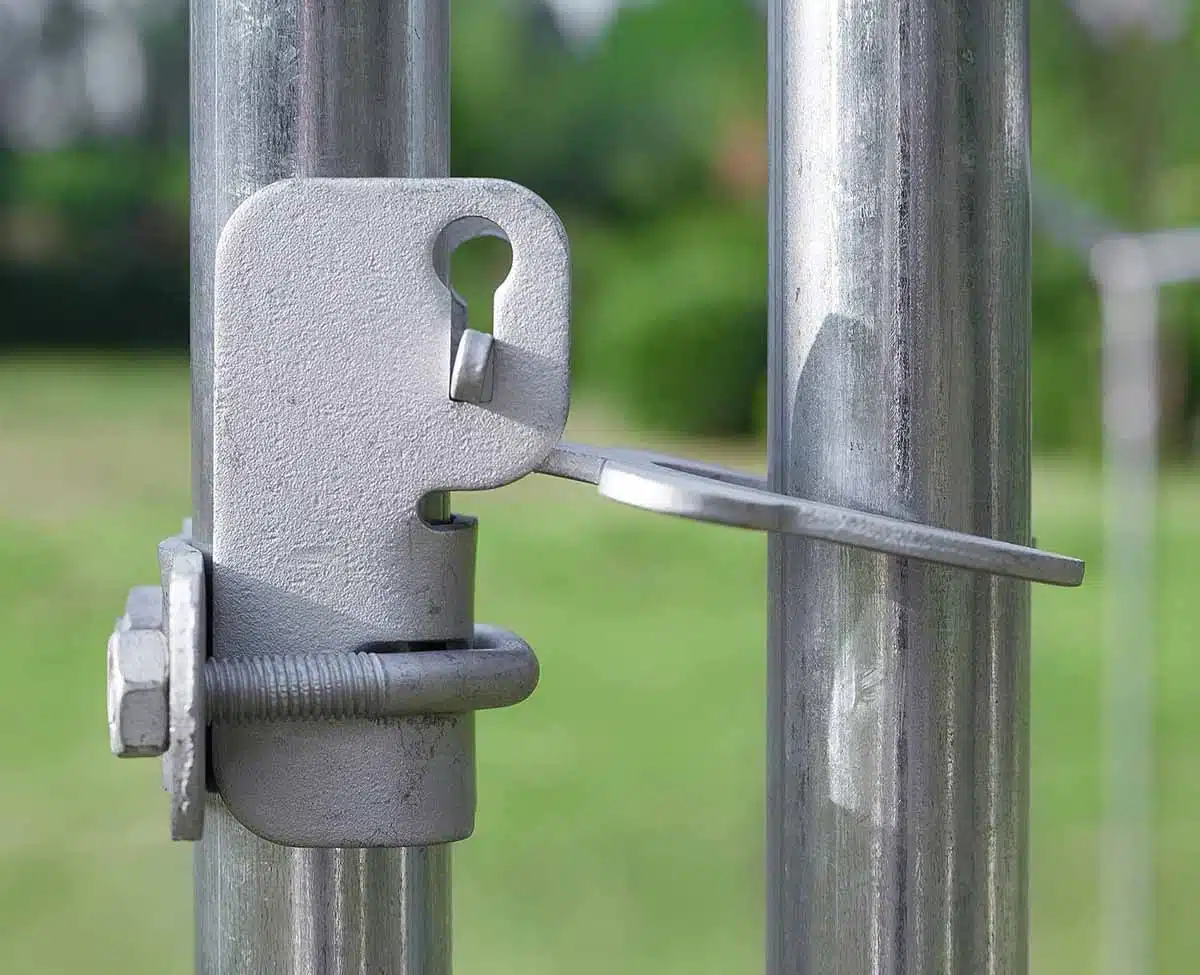 See this dog kennel latch at Amazon [sponsored link]
Built for a purpose with exact measurements, the chain link dog kennel latch is just what you need to lock down your animal cages securely. It fits snugly in place – think of it as insurance that stops critters from jimmying their way out and making a break-free. With this helpmate on guard, you can be sure those furry friends are held safe and sound.
Without any doubt, dog kennel latches are a must-have to keep those inside the kennel protected and secure. But at the same time, it also provides access when necessary.
Padlock Hasp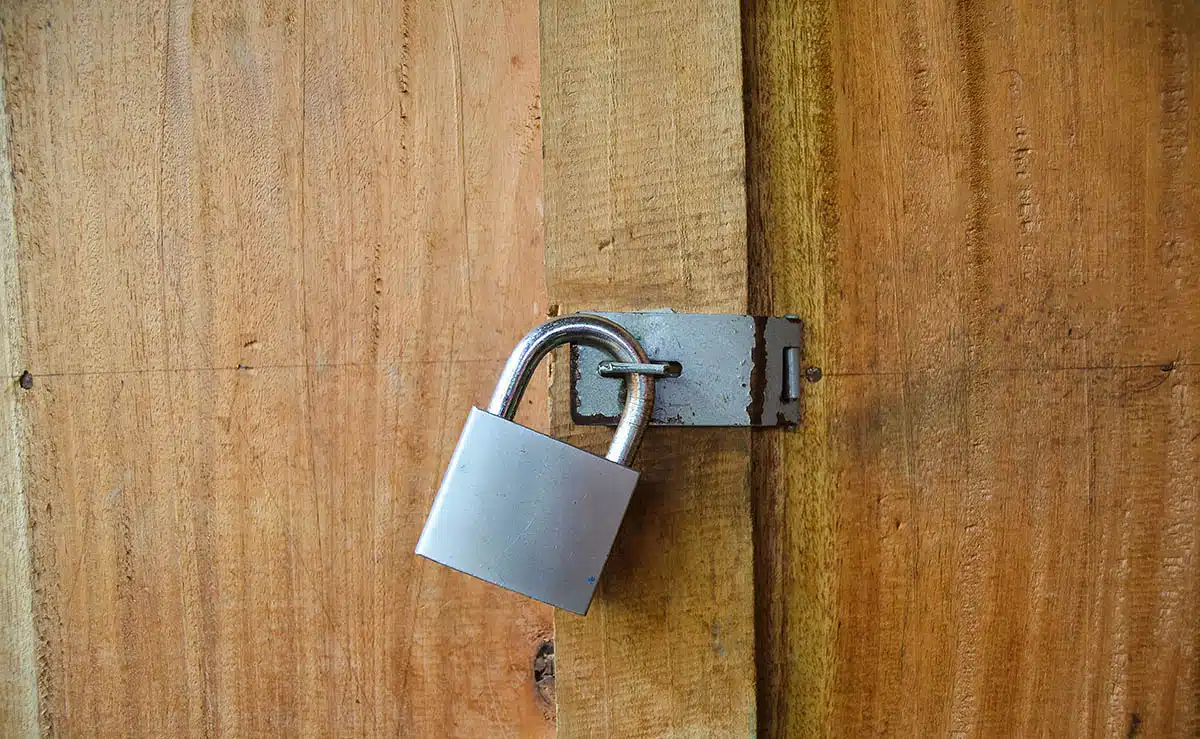 Not a latch, per se, but a simple padlock hasp can be used to secure a variety of gate types with a lock. The hardware consists of two pieces which are a hinged plate and a curved hasp. The plate folds over the hasp and can be secured with a padlock.
This type of hasp hardware is ideal for those who want to lock a gate securely that cannot be easily tampered with. In addition to gates and doors, they can be used for toolboxes, chests, cabinets, and storage sheds.
How To Choose A Latch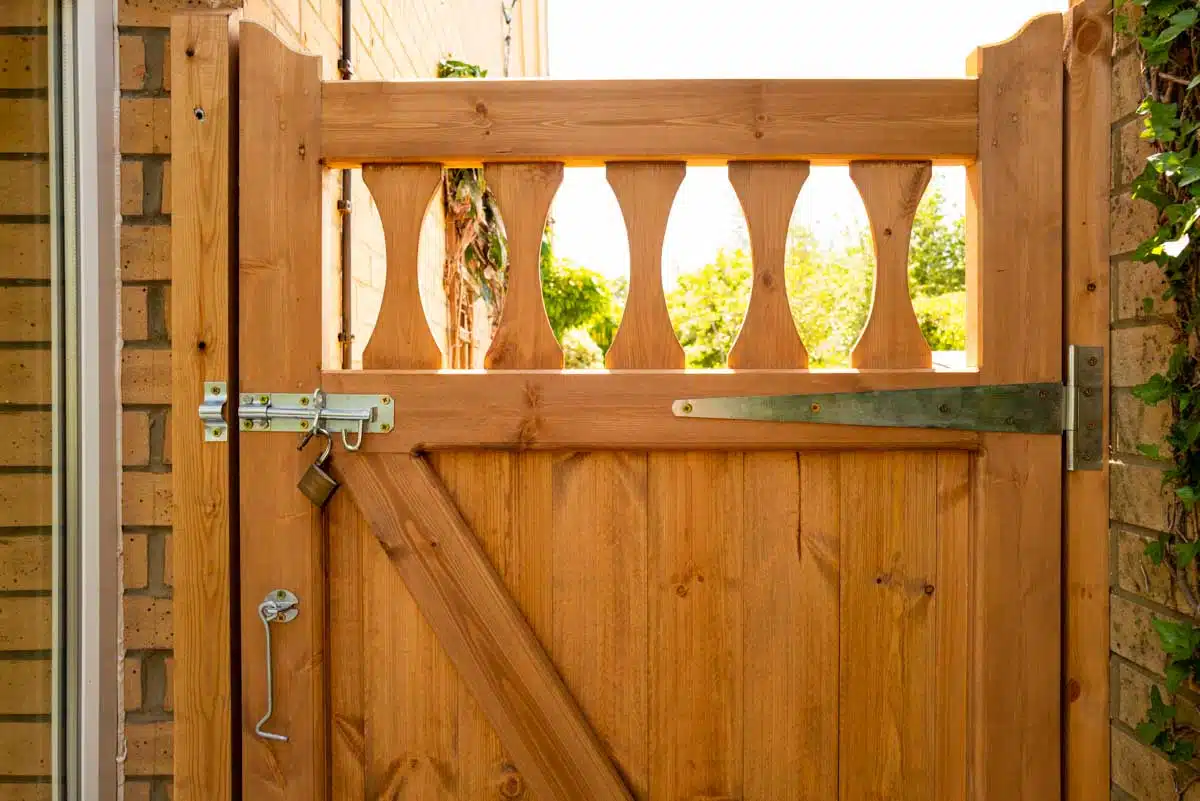 When it's time to beef up the security of your gate, selecting the proper latch is key. Not only will having a dependable gate latch protect whatever you're guarding with greater reliability and strength, but it can also add some stylish flair to your personal property.
With tons of different types of latches out there, each suiting its particular purpose, it can be tough to pick the right one. To make things easier and help you decide confidently, use this thorough guide on selecting the perfect latch for your gate.
Consider the Gate Material and Design: Let's get started by taking a closer look at your gate. Depending on what it's made of – be it wood, metal or, chain link – you'll need to consider which type of latch would suit best carefully.
For example, if you have an old-fashioned wooden gate, then some rustic thumb latches will do the trick – classic ring latches might also be the perfect choice. But if your gates are more modern and metallic, a contemporary lever latch may be the way forward.
If you are looking for an option with a practical touch, chain-link gates with butterfly latches might be just the thing. Make sure it ties in with the rest of your gate design and nearby scenery.
Assess the Gate's Swing Direction: It is undoubtedly important to know which way the gate swings to pick out the right latch. A gate can either open towards your property or away from it. Making sure you get this detail right is essential for a successful installation.
For gates that swing inwards, thumb latches, ring latches, and lever latches all work well, while for ones that swing out, you will probably need spring-loaded or T-latches. To make sure it operates smoothly without any effort, pick a latch appropriate to the direction of the gate's swing.
Evaluate Security and Convenience: When you want to up the security in your garden and the outdoor structures in it without sacrificing convenience, look no further than a gravity latch or self-latching spring-loaded model. These latches close up shop like nothing else – keeping your place safe as can be without a whole lot of effort from you.
Invest in additional protection for your gate – secure latch types are just the ticket. Or, if you need to get in and out quickly, latches like thumb or lever ones with quick-release functions offer stress-free security without compromising convenience.
Determine Latch Installation: Make sure the latch you get perfectly fits the installation requirements of your gate. A lot of them are designed for surface mounting so they attach to the outside, but others may need special mortise or through-hole installation. Double-check that once installed and it must hold securely without sacrificing any structural stability.
Account for Gate Size and Weight: With giant gates, you need something stiffer than a mere latch – like a slide bolt or magnetic latch with some serious durability to take on the heft. Make sure your heavy-duty selection has all the rugged parts it needs for a grip that lasts long into time's future,
Lighter gates have luck on their side in finding the proper latch solution; whether it be a dependable gravity or sassy spring-activated type.
Verify Local Regulations and Safety Standards: Depending on your spot and why you need a gate, safety regulations from your area could require special latches. Especially around pools or daycares, the needed latches must meet certain standards for child protection. Closely examine those rules before picking any latch – you'll want one that sticks to all the required safety measures.
Weather Resistance and Durability: With the elements always in mind, it's wise to invest in a latch that will hold up come rain or shine. You have to always opt for one made with stainless steel, brass, or galvanized finish: these materials resist rust and take whatever Mother Nature throws their way.
Seek Expert Advice: If you are feeling a little swamped by the sheer number of choices or just not sure what's best for sparkling up your gate, do not fret as there are pro-level peeps out there who can give you all the guidance and direction you need.

Specialists in hardware and retailers alike will make sure to provide all the info about available options keeping your requirements and finances top of mind.
What Is The Easiest Gate Latch To Install?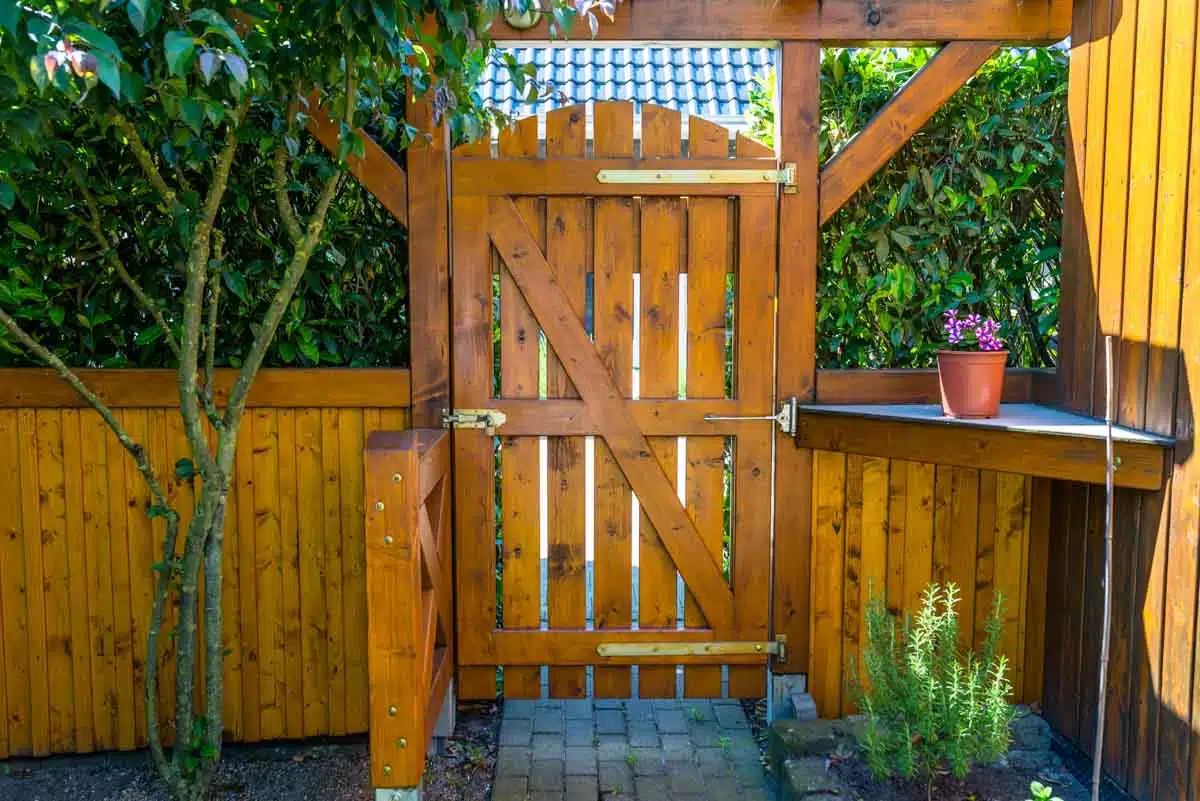 Installing gate latches may seem intimidating, but slide bolts and thumb latches make it a breeze; they are often preferred by many homeowners because they are the easiest gate latches to install.
With their straightforward designs and simple installation process, even the least handy homeowner can install them in no time.
• Slide Bolt Latch: Sleek slide bolt latches make securing your gate system a breeze. Easily attachable to both the interior and exterior, these bad boys have got quite the range when it comes to accommodating whatever construction you may have going on. Plus, they operate with effortless efficiency and smoothness.
It's got a pretty basic setup, which makes installation super streamlined – perfect for gates that don't get used a ton or if you're just looking to keep it simple.
• Thumb Latch: Conversely, thumb latches have been made to perfectly fit dual-direction in-swinging gates. Exteriors boast a distinct decorative ply that is teeming with an accessible thumb press – just push it down and the springy latch arm inside pops up; smooth sailing ahead for your gate's opening.
The gate shut seamlessly as if it were guided by its gravity, with the latch arm hitting the strike before gently lifting and falling delicately into place. Installing it is indeed effortless, which speaks volumes for its sophisticated design.
Installing these latches is a breeze – just make sure you stick to the manufacturer's instructions. A little trick we can always pick up from experienced installers is to never cut corners. Take it all in stride and before long you'll have them secure as can be.
With a slide bolt latch, it's all about screwing or bolting the latch down to your gate for everything to work buttery smooth.
When tussling with thumb-latch gates, however, it pays to be extra precise with how you line up and install the latch arm and strike.
Thankfully, most of these have some pretty helpful installation instructions that take all the guesswork out – no need for any fancy tools or complicated adjustments here.
Best Latch For A Garden Gate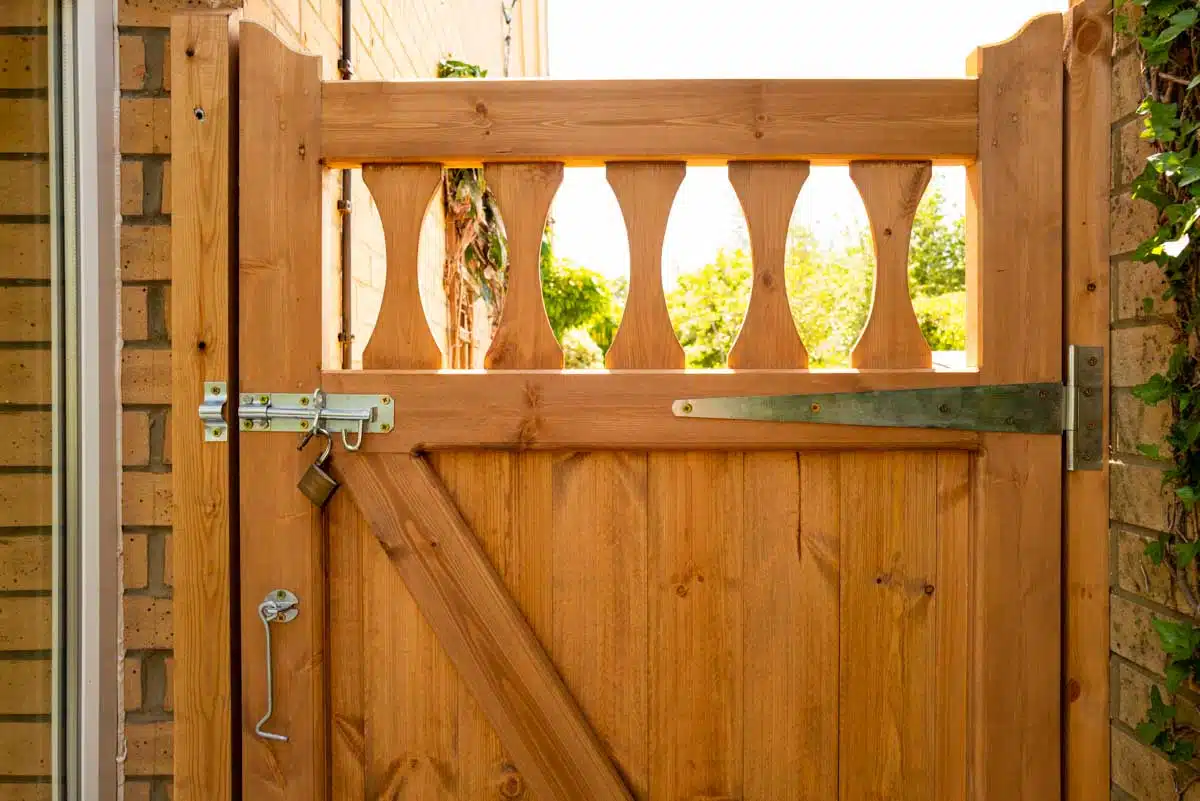 Ring latches are undoubtedly the best pick when it comes to securing a garden gate. Their classy look is nothing short of eye-catching and they're incredibly practical even for the clumsiest fingers.
These attractive ring latches double up as an efficient way to feel safe while outside decking or sprucing up your little piece of paradise – this is precisely why they are such a hit with homeowners and gardening enthusiasts alike.
Garden gates often go through a lot of use, so having a latch that's smooth and reliable is essential. That's why, for this job, ring latches come in handy – they're designed to provide excellent operation without any issues or delays every single time you open or close the gate.
The handle of a ring latch brings out the beauty of its gate – shining from steel, iron, or brass in an appealing way to perfectly balance your garden. And it's not just good looks: this durable material offers a guaranteed firm grip.
See more related content in our article about the different types of door locks on this page.