This gallery features the types of sheds including the different designs, uses, materials, roof options, siding, foundations, durability, cost and standard shed sizes.
Incorporating a shed into your outdoor space can be a great feature that can help expand your home's storage and provide easy access to tools and gardening supplies. Nowadays, with the rising trend of a minimalist lifestyle, sheds do function a lot more than just a place for putting away various objects. They can be used to rest, work, grow plants, and even function as a second house.
Thankfully, there are numerous shed types to pick from, henceforth you will find the one that will perfectly suit your needs. However, if you are searching for the ideal shed but do not know where to start, you must read this article.
We have categorized some of the many different types of sheds obtainable, organizing and describing them according to type, design, construction material, roofing, flooring, siding, foundation, usage, and many more.
Quicklook: Different Shed Types:
• Storage
• Garden
• Potting
• Tool
• She
• Office
• Bike
• Motorcycle
• Tiny House
• Firewood
• Studio
• Two Story
Different Types Of Sheds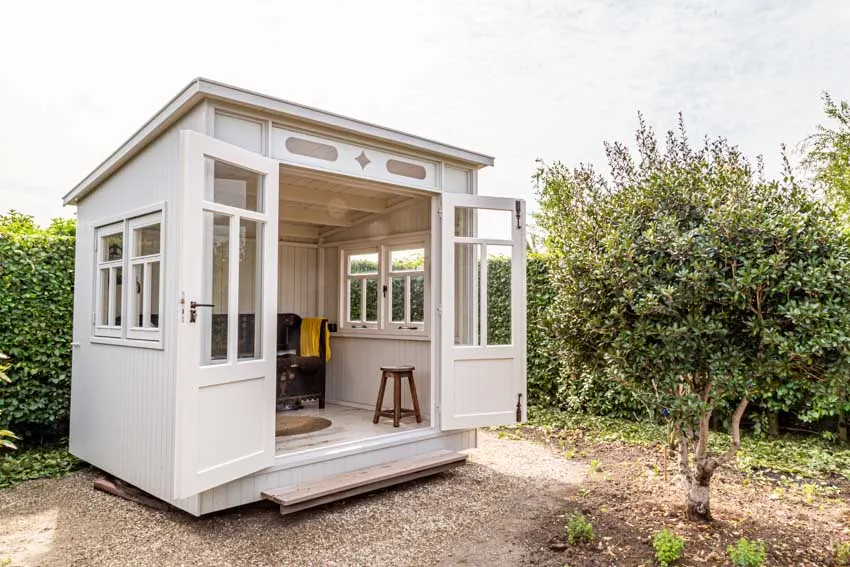 There are many different shed types available for your property. Regardless of how they differ in terms of function, design, structural components, and other factors, they all generally have the same objective, which is to offer outdoor storage space. Here are some of the most common shed types currently available.
Storage Shed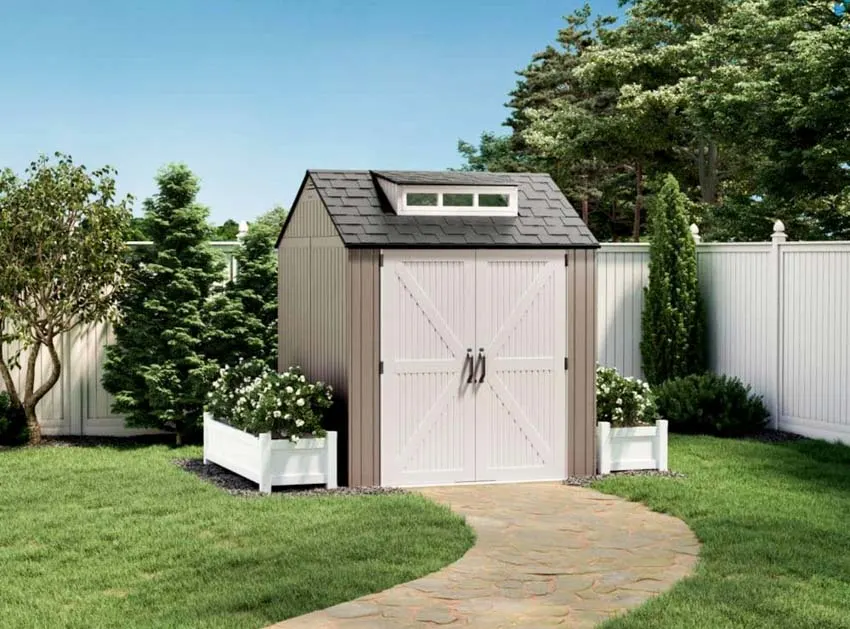 See this storage shed at Home Depot [sponsored link]
A storage shed is among the compact types of structures that are typically located in a private property's side yard or backyard. Mainly, it is used for storage purposes. Sheds can be basic or sophisticated, small or large, store-bought, or a DIY construction.
Although basic pre-made models can be placed at the side or rear of a property, far from the sight of the home, the shed materials and styles commonly resemble primary residences.
Storage sheds are used for a variety of reasons like storing gardening supplies such as pots, soil, seeds, and equipment. It is also frequently used to store lawnmowers, certain yard tools, and other miscellaneous items.
Moreover, storage sheds were originally designed to contain all of the objects in the yard that need to be kept under one covering. Truly, this was their original purpose before they became widely known as workshops and retreats. The other objects that are also often stored in storage sheds include toys, sporting goods, toolkits, and anything else utilized in the yard.
Some storage sheds are architecturally similar to the main house, whereas others are prefabricated constructions with limited material options. If you are feeling adventurous, you can build a storage shed out of recycled components from a package. You just have to make sure that it is made of weather-resistant materials, is well-insulated, has proper lighting, and is conveniently accessible.
Garden Shed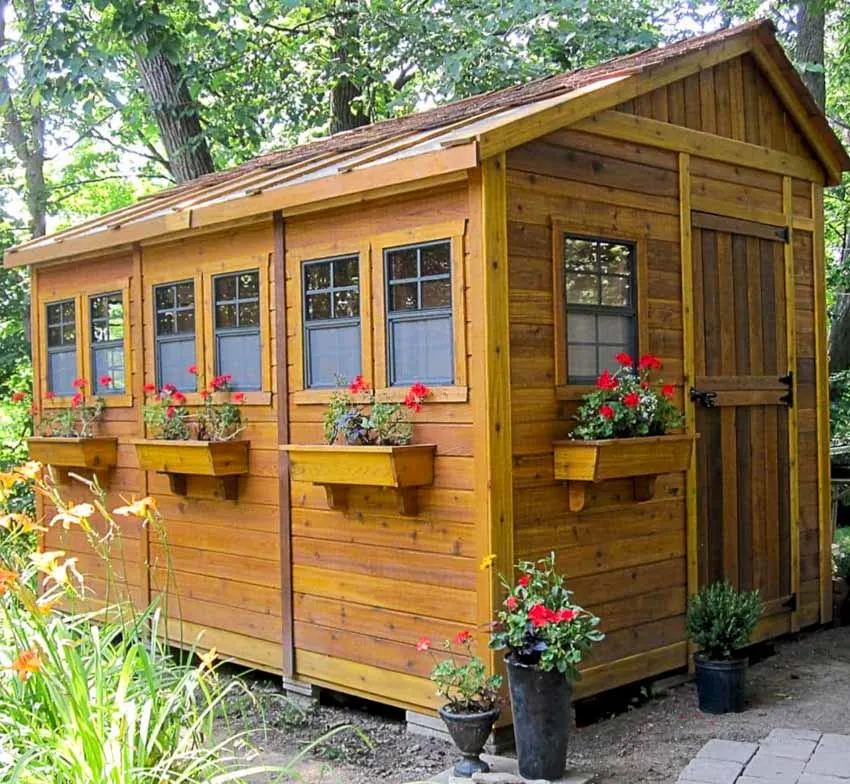 See this garden shed at Home Depot [sponsored link]
A garden shed is ideal if you want a dedicated location to house your gardening equipment, fertilizers, potted plants, plantings, and other garden materials. Although you might not want a lot of room, you will most certainly require a long-lasting garden shed made out of durable materials.
Every gardener is aware that the cultivation, weeding, transplantation, and pruning that plants necessitate involves a variety of specialized tools and equipment, including trowels, spades, gloves, shears, and similar items. A garden shed provides a secure location to store it all as well as lawn-care equipment and materials, distant from the irrelevant mess found in most yards.
A garden shed, on the other hand, can be much more than just a storage structure. It can act as a centerpiece of your property, offering a distinguishing feature to your garden.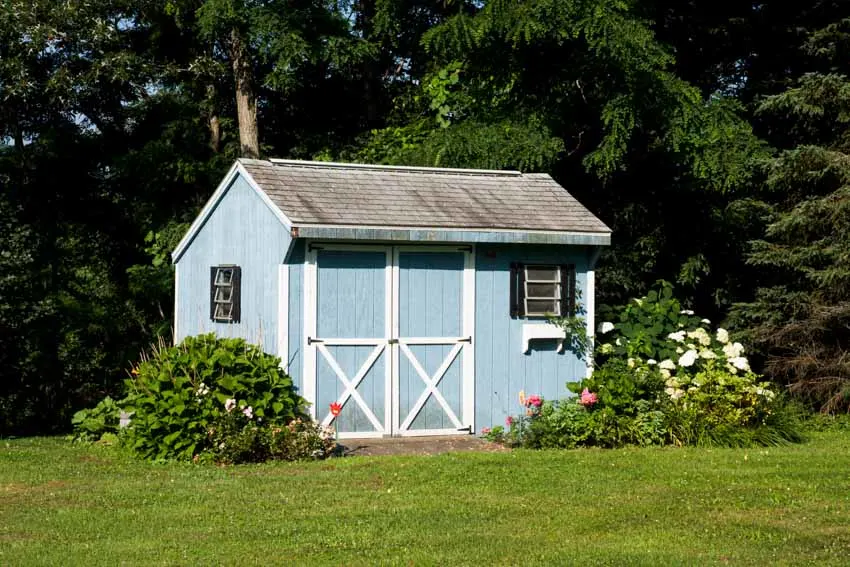 It provides a relaxing environment for potting, growing seeds, propagating cuttings, as well as multiplying plants to be shared with others.
Aside from that, garden sheds can be a cozy, calm retreat from the stresses of everyday life, as well as a place to commune with nature. A garden shed, regardless of size, requires a few critical components to function properly: at least one operational window to allow light, vistas, and good air quality.
Moreover, a garden shed must have sufficient floor space and headspace to enable you to stand up and stroll around, as well as some sort of working table for experimenting with plants or performing gardening upkeep.
Potting Shed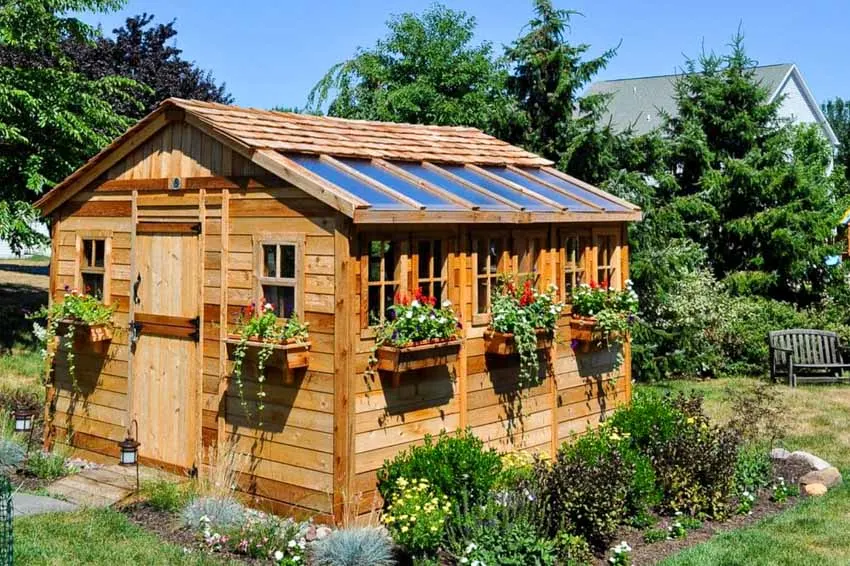 See this outdoor shed at Home Depot [sponsored link]
A potting shed is an outdoor structure used to pot vegetables and plants and also to keep garden equipment and other related supplies. Potting sheds are frequently used in place of greenhouses and it is much easier to build.
Additionally, potting sheds have a big slanted window made of thin glass or plastic that allows light and heat to pass through. Higher temperatures within a potting shed promote plant and vegetable growth while also protecting against weather damage such as extreme coldness and wind.
A potting shed might feature barn types of sliding doors or normal doors with glass windows to bring in sunlight while potting. Some of these are made from recycled materials, which allows you to save on expenses. Most are not meant to be long-term growing environments for plants, but rather to merely accommodate basic gardening activities.
In addition, potting sheds should be placed such that they face south, allowing enough sunlight to enter. Also, potting sheds provide better insulation than greenhouses, allowing you to keep growing fruits, vegetables, and plants throughout the winter.
A potting shed's three wooden sides can provide storage space, for instance, by installing hooks or shelving units to hold garden supplies and hardware.
Tool Shed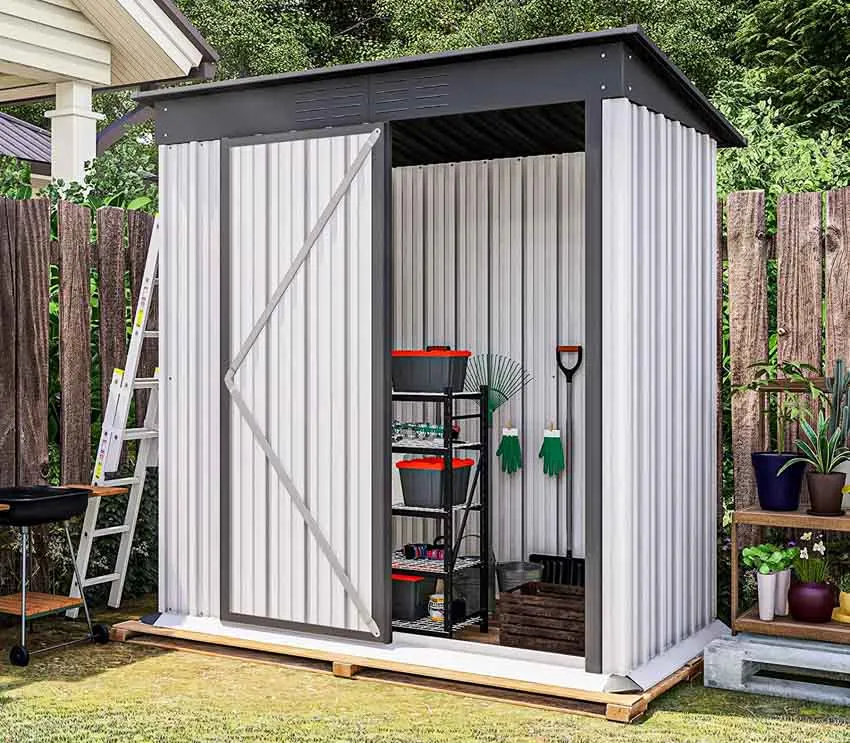 See this tool shed at Amazon [sponsored link]
Every homeowner has a wide range of tools for maintaining their home. However, unless you own a garage or a cellar to house your tools, knowing where to place them can be difficult. Luckily, there are tool sheds that are ideal for this purpose and will keep your outdoor tools and machinery secure.
Although some people prefer detached garages over sheds for storing objects like lawnmowers, the issue with this is that severe weather can still seep in and damage the equipment. To keep your yard tools and equipment safe from pouring rain, snowfall, hail, and blazing heat, it would be better to keep them in a dedicated tool shed.
Furthermore, because tool sheds are so easily accessible, you will have no trouble gaining access to your stuff whenever you need them. Installing a ramp at the entrance can also help eliminate the need to carry heavy equipment back and forth every time you need to use them.
A tool shed is also an excellent place to store bikes and backyard toys since it protects them while not being used and improves the aesthetic of your property as they are not scattered around.
She Shed
A She shed is a secluded garden hideaway that is a feminine equivalent of a man cave. Such sheds can be customized according to your preference. Moreover, She sheds can be utilized for a variety of functions including a home office, a craft room, or a relaxing area.
She sheds are quickly growing in popularity, and as a result more and more companies are refining their shed designs to include generous proportions and better aesthetics. – She Sheds: A Room of Your Own, Erika Kotite
When selecting a She shed, consider what you will be using it for and what kind of amenities you will need. If you intend to use the shed as a home office, for instance, you will need enough space for a desk and chairs.
Women have been renovating their ordinary garden sheds into beautiful hideaways in recent years. It is entirely up to you what you put inside She sheds, although numerous women make these sheds into a private reading corner, creative refuge, crafting zone, or even an office room.
Office Shed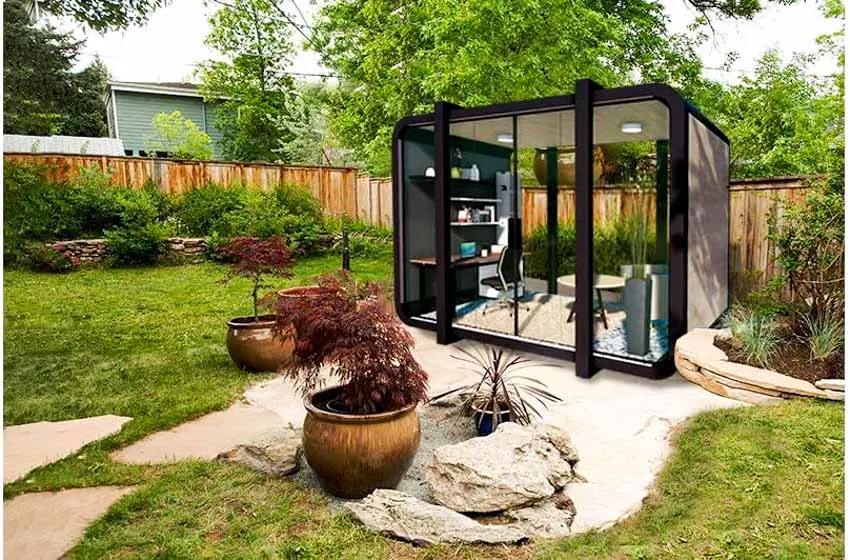 See this prefab office shed at Amazon [sponsored link]
It is essential to unwind in a peaceful environment so that you can unleash your creativity or be productive on your business plan or work. A growing number of homeowners in need of extra space are constructing high-quality office sheds on their properties to serve as dedicated office space.
Having an office shed is also a terrific idea for any individual who works in a creative field, considering going out in nature can encourage us to paint, write, or produce music. Additionally, this is a very cost-effective approach to adding functional space to your house while avoiding the inconveniences that are common with home remodeling or renovation installations.
Furthermore, office sheds are inspiring, simple to build, and can serve a secondary role if you switch occupations or decide that you no longer require this spare room for its original intent.
Bike Shed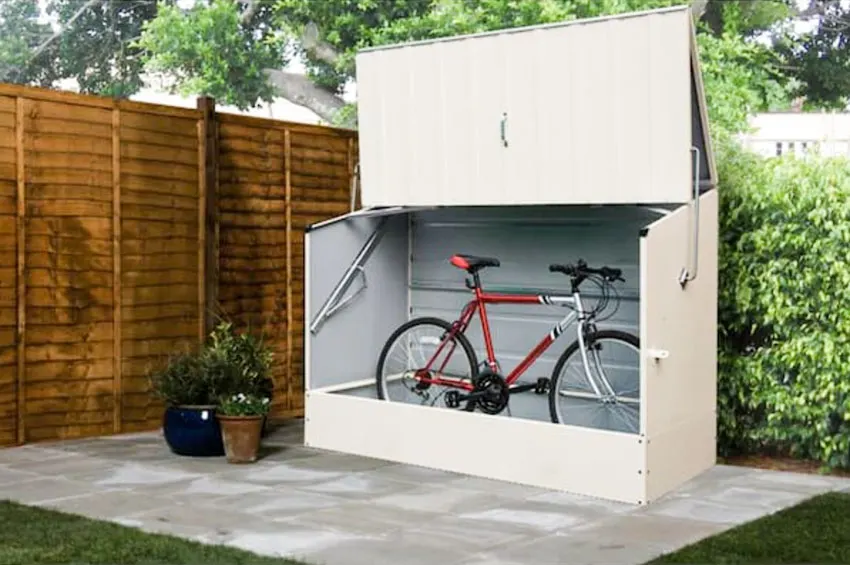 See this bike shed at Home Depot [sponsored link]
A bike shed is a separate structure from the house, and primarily, it is where bicycles can be stored. If you keep your bicycles in your yard or garden, a bike shed would be the greatest location to store them. Best-quality bike sheds, on the other hand, must be secure, weatherproof, and easy to use regularly.
Motorcycle Shed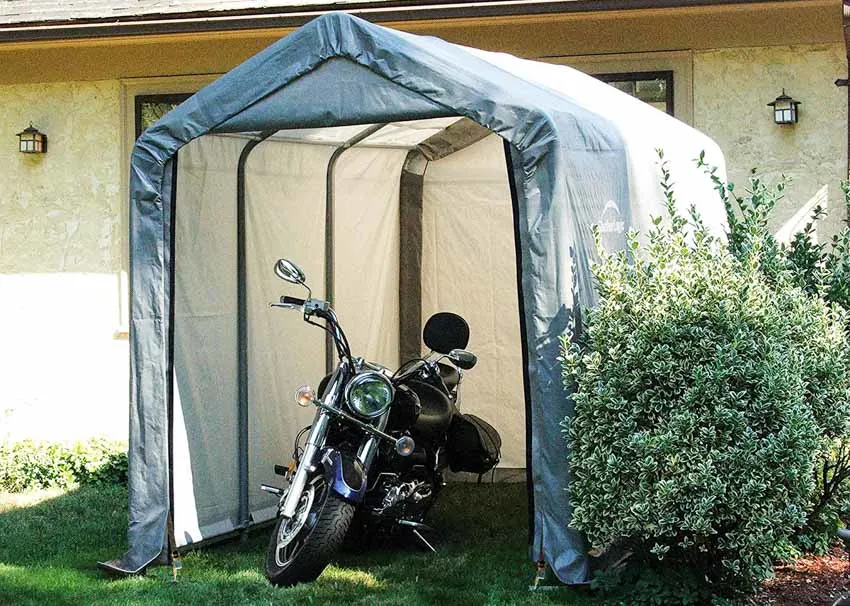 See this motorcycle shed at Amazon [sponsored link]
You can secure your motorcycles, dirt bikes, and scooters in high-protection storage shed with a motorcycle shed, which will give exceptional safety for your motorcycles and gear. Such sheds typically range in size, but the majority are composed of metal to ensure extreme durability and longevity.
Tiny House Shed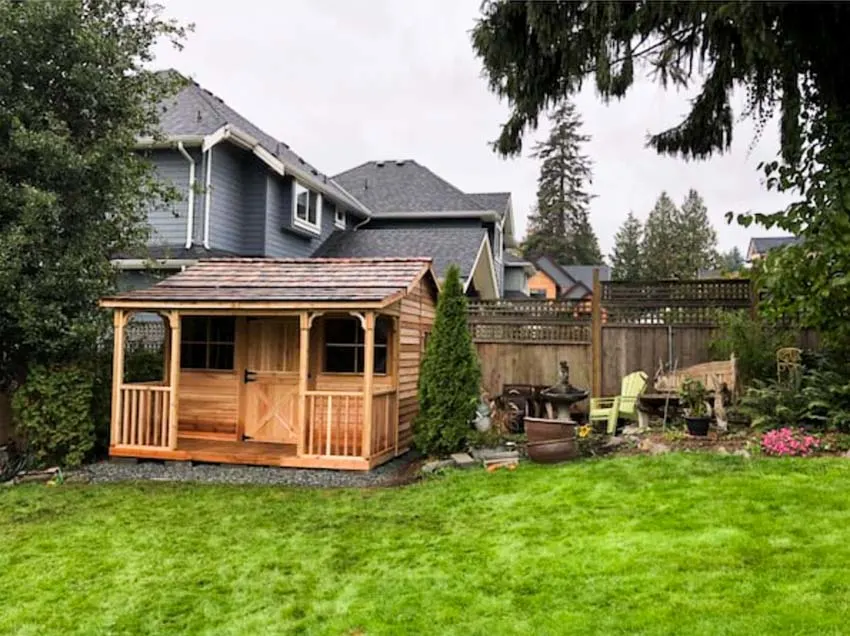 See this cedar wood shed at Home Depot [sponsored link]
Tiny house sheds are all about flexibility and independence, in addition to being low-impact. A tiny house shed is a separate dwelling that contains the necessities of a standard house.
Normally, this type of shed has seats, an extra small bathroom (with toilet and handwashing area), basic kitchen appliances (mini refrigerator and cooktop), a table, and windows.
Firewood Shed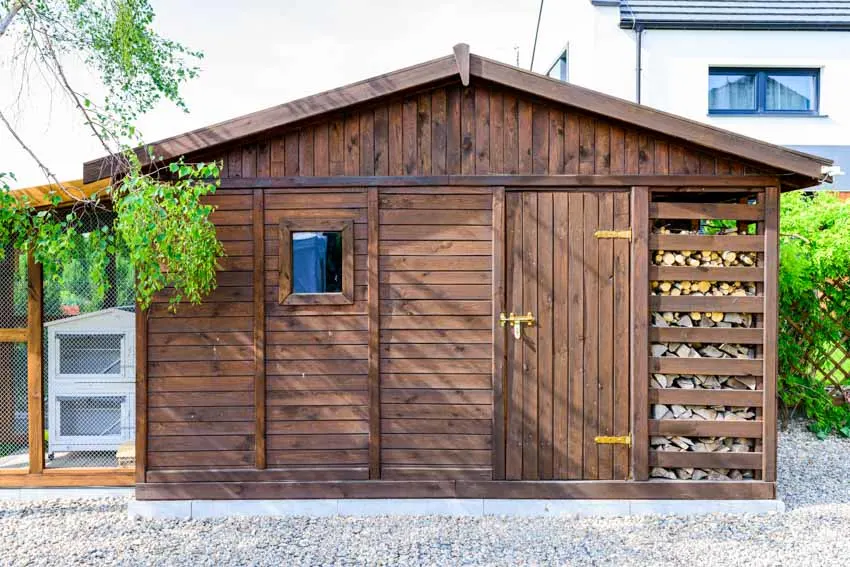 If you use firewood to heat your house, you probably know how critical it is to keep your fuel dry and safe from the extremes. Trying to light a fire to heat your house or prepare food but being unable to because the wood has become damp is one of life's frustrations. Once your firewood has matured, you need to safeguard it, and storing it in a firewood shed would be the best solution to do so.
A firewood shed is ideal for this since it allows fresh air to circulate around your wood, preventing it from getting damp and grimy. Furthermore, as firewood sheds are lean-to sheds that are constructed against your house, you will not have to travel far to obtain wood when you are feeling a bit cold in your house.
Studio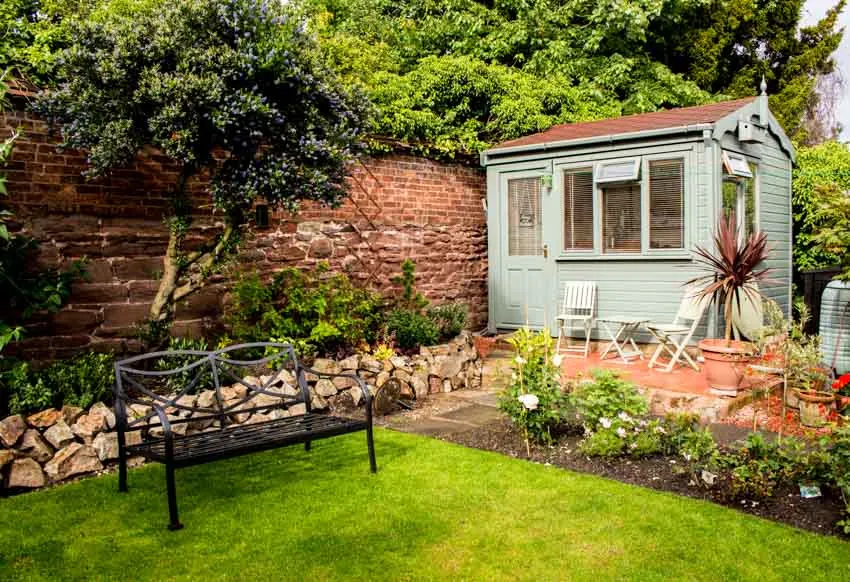 A studio shed is intended for use as a workstation. They are usually bigger than conventional types of sheds and have amenities like skylights, huge types of windows, and insulating properties to make them more convenient to live in. Studio sheds can be utilized for many different things, including an art space, a recording studio, or a private office.
When selecting a studio shed style, you can keep the shed's size and arrangement in mind. You should also consider the type of work you will be performing in the shed as well as the features you will need. If you are a painter, for instance, you will want a shed with adequate lighting and plenty of storage room for your art tools.
Two Story Shed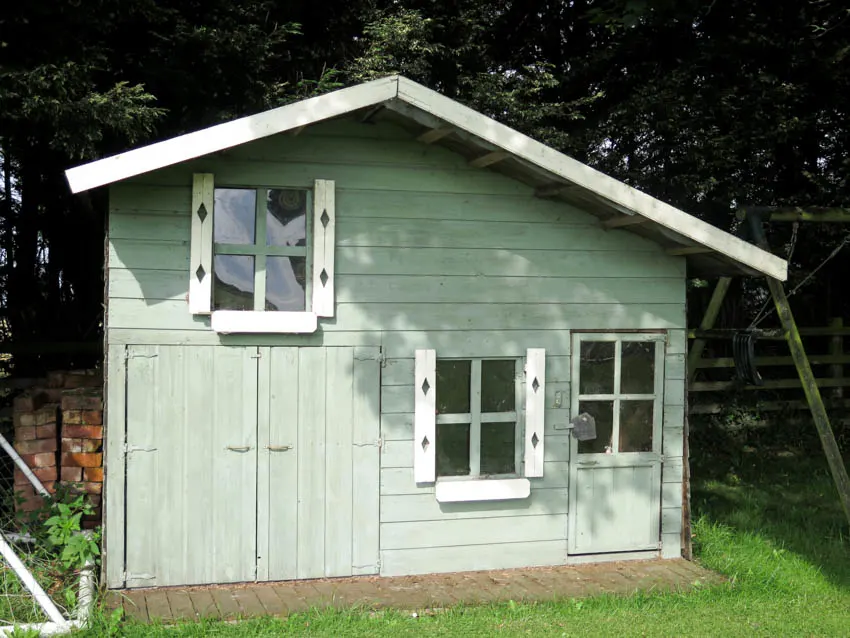 In comparison to other types of storage sheds, a two-story shed is quite spacious, allowing you to store a lot of essential objects and other miscellaneous items. It has an apparent second-floor room for extra large storage capacity. This building can contain many varied and unique elements depending on the contractor that designs the shed.
Aside from that, two-story sheds can be converted into cabins, with storage on the first floor as well as a studio or spare bedroom on the second. Power and insulation solutions may also be applied to these buildings to increase their utility.
Because a two-story shed has an additional floor, a staircase would be required to connect the first and second floors. Usually, shed designers include a staircase in their two-story sheds to facilitate access to the upper floor.
Shed Designs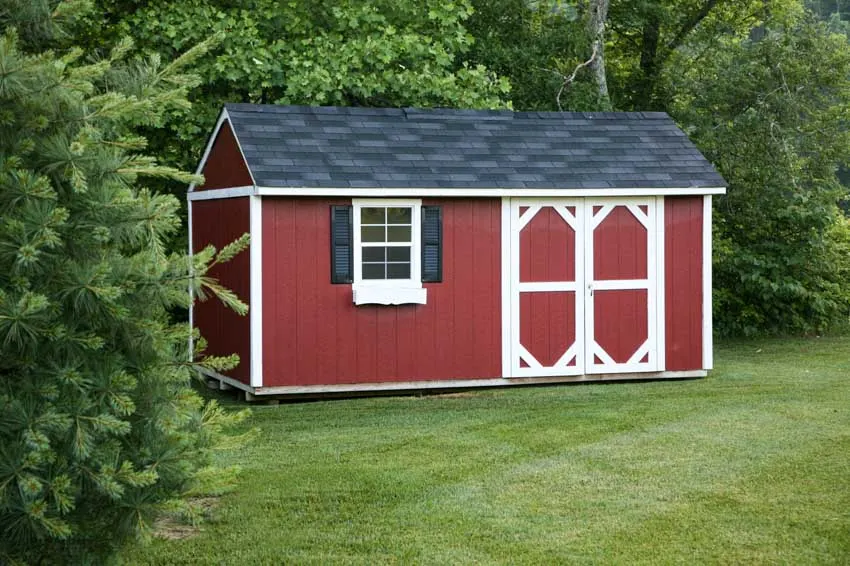 Sheds also differ in terms of designs. Check the different types below to see what may suit your needs and preferences. If you want to create your own plan there are a variety of shed design software programs that can hep you visualize your ideas.

Lean To Shed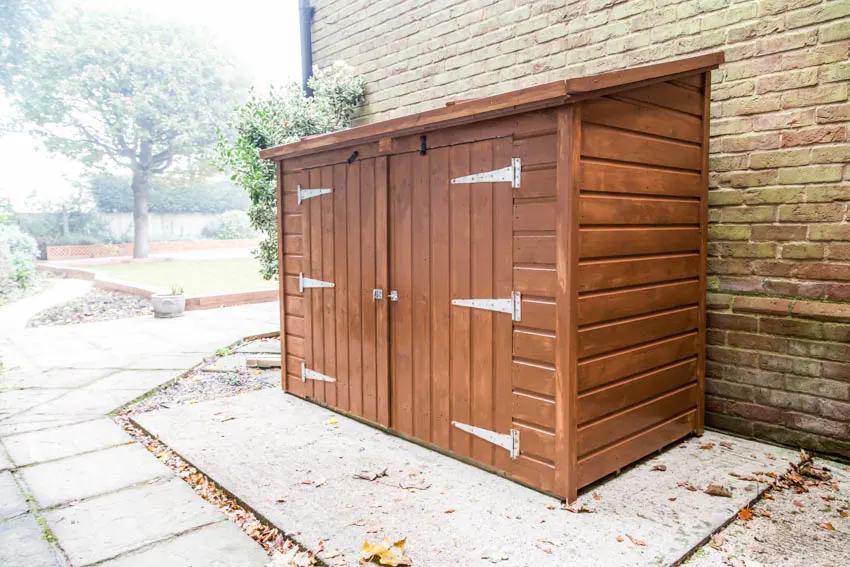 A lean-to shed is an excellent solution for a homeowner who wants a functional shed but does not want to spend the money on buying one. Their simplicity is largely due to the fact that they are constructed on a preexisting wall of your home, which means you do not need to do a full renovation just to get a shed you would like.
Although they can be built as a freestanding construction, they are considerably more common when connected to your home, garage, or other structure since you only have to construct three sides as well as a sloped roof. Due to their close proximity to your house, they are ideal for storing your grilling equipment, yard toys, and even your lawnmower.
A-Frame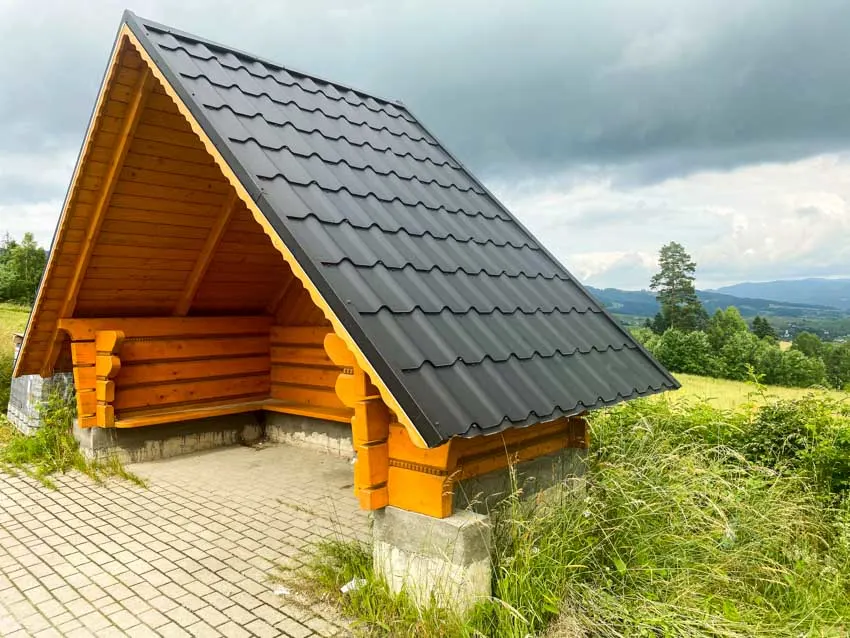 A-frame sheds have a roof that slopes down to a point in the middle and is formed like the letter A. These structures are usually small and composed of metal or wood. They can be employed as storage, a workshop, or a playroom for children.
Moreover, A-frame sheds are simple to construct and may be adjusted to any environment. If you reside in a region where there is a lot of snow, you can strengthen the roof to keep it from collapsing. Such sheds are also an excellent choice if you have a compact yard because they occupy less area than other shed types.
Gable Shed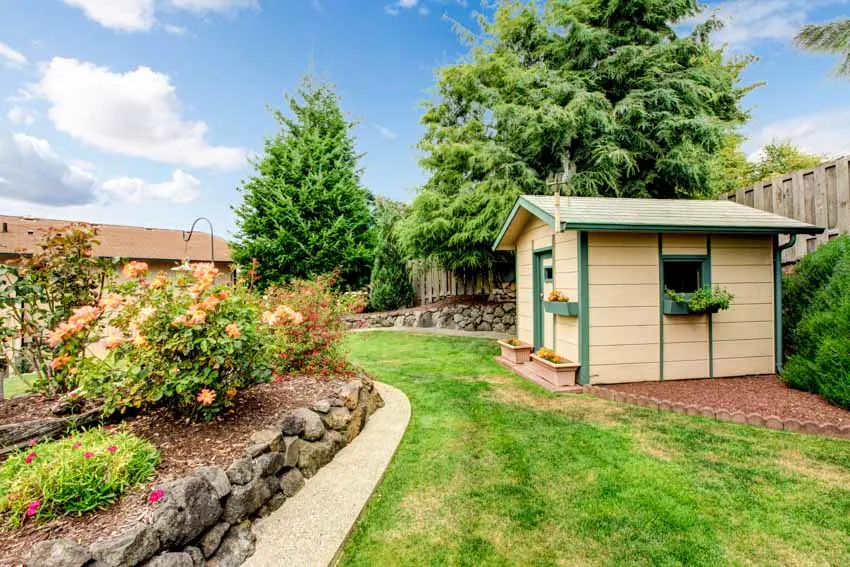 Gable sheds are among the most frequent sheds available for purchase, so you will have dozens of options to pick from. Property owners adore the way they appear, with their delicately slanted roof that rises in the center of the unit as well as the appealing ridge on the upper end.
This shed has a traditional shape that will appear fantastic on any property, regardless of the style of house you have. This shed design will allow you to build some more attic space.
Such sheds are widely known among homeowners who require a place to house their outdoor supplies, pot their vegetation, or safeguard their motorcycles. You can simply purchase this kind of shed in a variety of sizes, and they will keep on looking wonderful as they start to expand.
Gambrel Shed (Barn)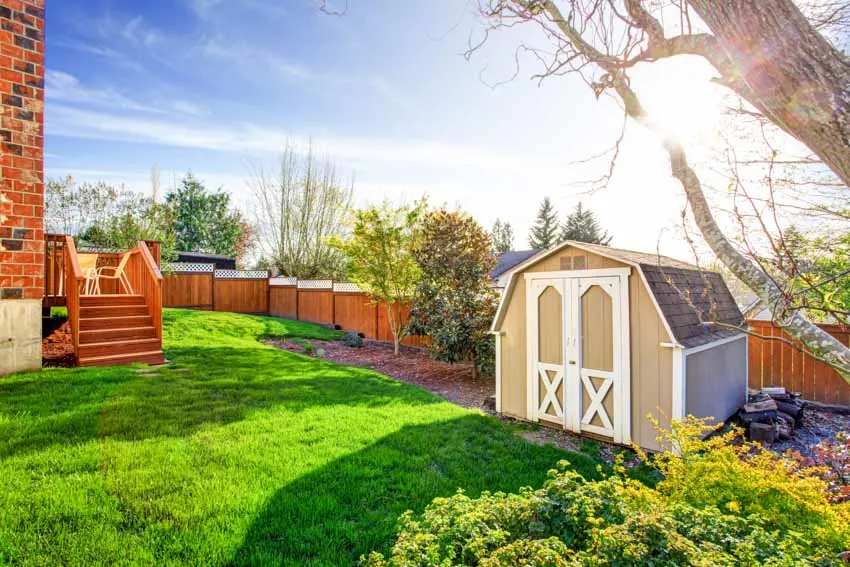 Selecting the correct shed design for you is critical since it will determine not only the aesthetic but also the space you will have to put your possessions within. The roofing of a Gambrel shed is so highly inclined that it generates an abundance of head space inside the structure.
Owing to this extra room, you may simply create an attic or a loft within the shed, providing extra storage capacity without reducing the usable area. Gambrel sheds are perfect if you want to have a workspace in your shed or keep your motor vehicles because you will have lots of space without feeling claustrophobic.
Saltbox Shed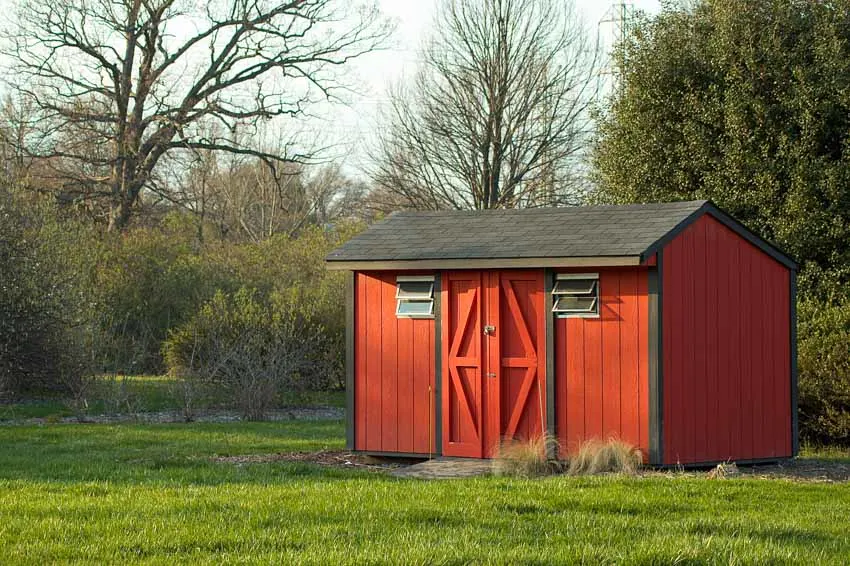 If you want your shed to be decorated like a small house and appreciate the appearance of it complementing your existing home, the saltbox shed would be a fantastic solution.
Because of its design, it may be easily adjusted to larger or smaller, making it suitable for a variety of purposes. Many homeowners enjoy installing saltbox sheds in their yards as playrooms for their youngsters since they are both lovely and practical.
The roof of this shed differs from others in that it is somewhat different in structure. Although the roof slopes together and joins at the upper end of a ridge, one part of the roof is physically shorter than the other.
This renders for an extremely appealing design, but it can be extremely tough to construct by yourself if you attempt to undertake this construction project on your own, making this an excellent shed to purchase from a credible supplier. These sheds may be used for any form of storage and are stylish enough that you would not mind having them nearby your main house.
Flat Roof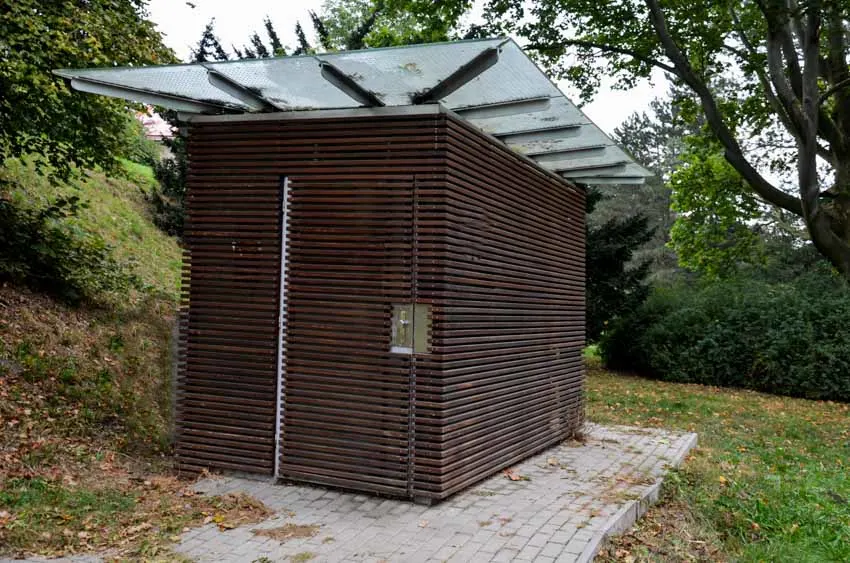 This shed style, as the name suggests, pertains to sheds with minimal to no sloping roofs. In most circumstances, flat roof sheds are the most cost-effective and easiest to erect. A flat roof is frequently used with the lean-to layout to produce an eye-catching backyard shed.
Naturally, this design will not work well in places with a lot of snow or rain because there is no natural inclination for the water to go off of the roof. Nevertheless, even the smallest slope can solve this problem and still allow you to obtain a flat roof design.
New England
Even though the sizes of these sheds vary greatly, they are frequently larger than the majority of the previous shed types. New England sheds combine classic design features with ample storage space and sleek lines. A New England shed can be a great addition to your home if you want abundant storage and an aesthetically pleasing structure.
Modern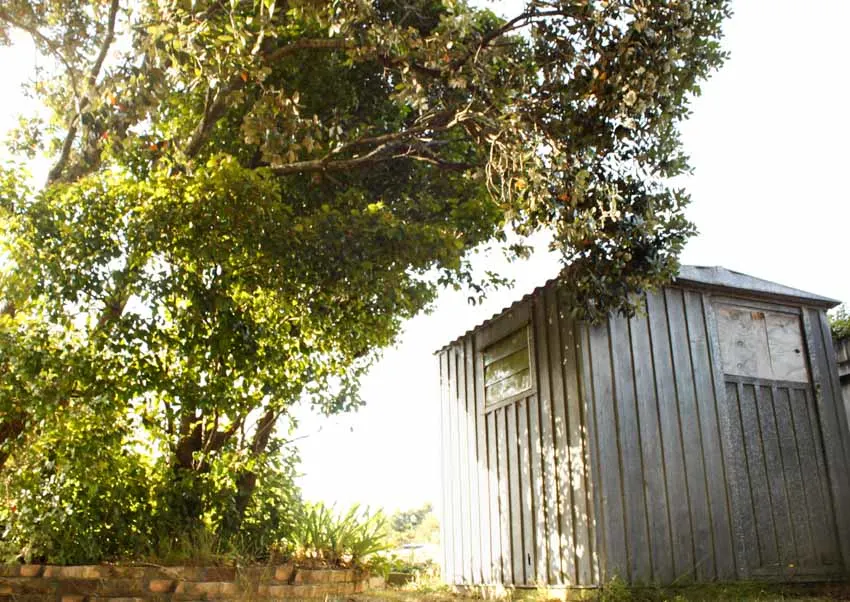 A modern shed is distinguished by its pristine and minimalist style. They are usually made of timber or metal and are rectangular. The majority of modern sheds have wide windows and doors that give in plenty of natural sunlight, and some even include skylights. Modern sheds can serve many functions, including storage, a home office, and a workshop.
When selecting a modern shed, you have to think about the materials you would like it to be made of. Metal-made sheds are more long-lasting and necessitate less upkeep than wood sheds, although they can be more pricey. Wooden shelters are a vintage option, but they need more maintenance than metal sheds.
Aside from that, it is critical to consider the size and style of your modern shed. Modern sheds are available in a range of sizes, allowing you to select one that will suit your yard and satisfy your expectations.
Garage/Storage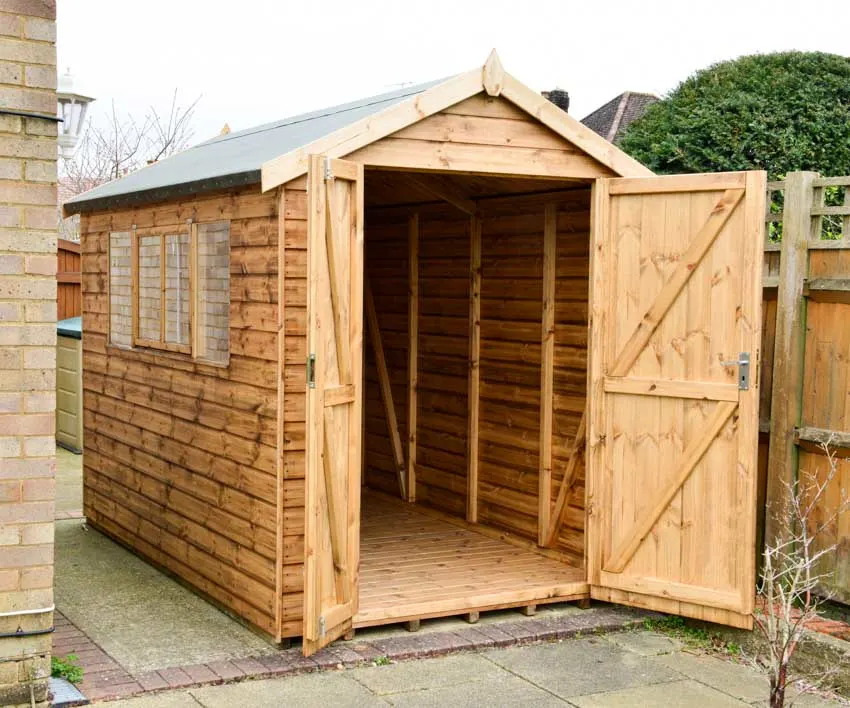 You can always build a garage that can also be used for storing other items. For optimal results, you have to choose a shed that is well-insulated and has a large amount of room. Workbenches, shelving, and cabinetry can be added to your garage/storage combo shed to expand its functionality.
To avoid obstructing the space for your vehicles, you must also declutter the area. Furthermore, before converting your shed into a garage, make sure that your vehicle(s) will fit inside. It is also a good idea to consult with a specialist first to ensure that the shed will be functional storage and garage.
Shed Materials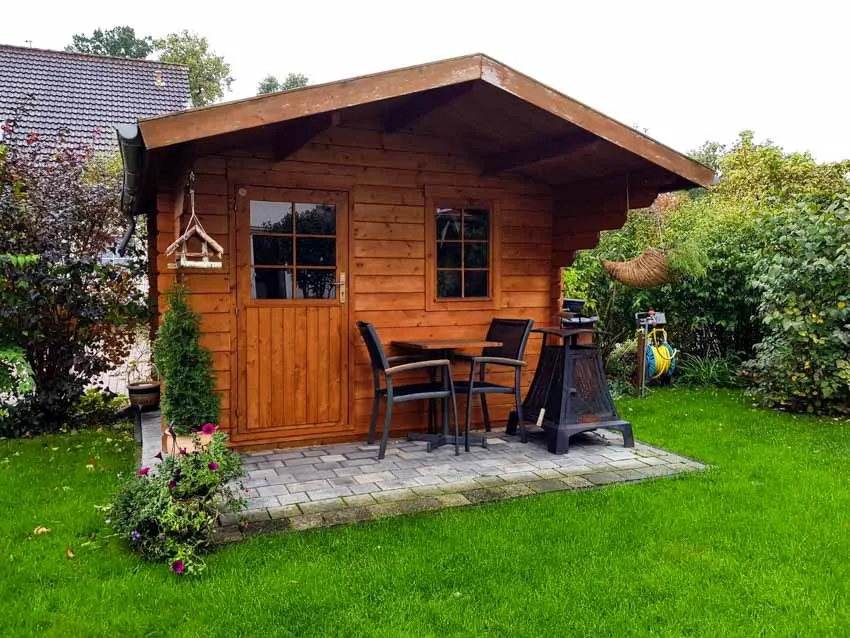 Sheds can also be made out of different materials. Each shed material has its advantages and downsides. Read this section to determine what material is right for your shed.
Plastic Shed: A plastic shed is the most cost-effective option. These sheds are the best option if you want to get a shed that you will have no problems with when it comes to maintenance. However, if the vinyl shed is of greater quality, the price will rise, but you will not have to worry about painting or polishing it in the coming years.
Plastic sheds are indeed an excellent option as they will never rot and will not be damaged by insects. Furthermore, any moisture or humidity issues that a wooden shed may have will not impact a plastic shed, and you will not have to bother about fungus growing on the side that might cause damage to your shed.
These sheds are resistant to water damage. Plastic sheds are constructed using plastic foundations and floors that are usually generated from recyclable resources. They are simple to assemble and function decently for both prefabricated and home-built sheds.
Plastic, like all other shed materials, has some downsides. To begin with, it is not a good option for individuals who intend to store heavy lawn machinery. It might not also provide adequate support for a ride-on lawn mower and, like wood, is easily damaged or dented by heavy machinery.
Vinyl Shed: Vinyl sheds are extremely durable, simple to install, sanitary, and well-built. The majority of these are tough, and some are even built to be unbreakable. Vinyl comes in pre-molded portions that click together. These types of sheds are often more resilient and waterproof than metal sheds.
Vinyl sheds, on the other hand, are not as appealing as some of their contemporaries, even though they are quite robust and long-lasting; yet, this will not prevent many homeowners from selecting this solution over the others that are obtainable as well.
Wood Shed: Wooden sheds are the most prevalent, and for a clear reason. They appear wonderful and are an excellent option whether you intend to use your shed as a private office or a playroom for your children. Aside from being aesthetically pleasing, wood sheds appear to stand out less in your yard than metal or plastic sheds, making them less visible.
You may easily remodel your wooden shed by adding more area or refurbishing the interior to better match your requirements. Sad to say, if your wood shed is not properly maintained, insects will swiftly take over and it might turn moldy.
Furthermore, wood sheds must be stained or repainted regularly to ensure that they not only be presentable but are also protected from harsh elements. Extremely wet situations will harm the structure of this shed, thus you should avoid planting plants too close to it because they will retain a significant amount of moisture near the wood, perhaps inflicting long-term damage.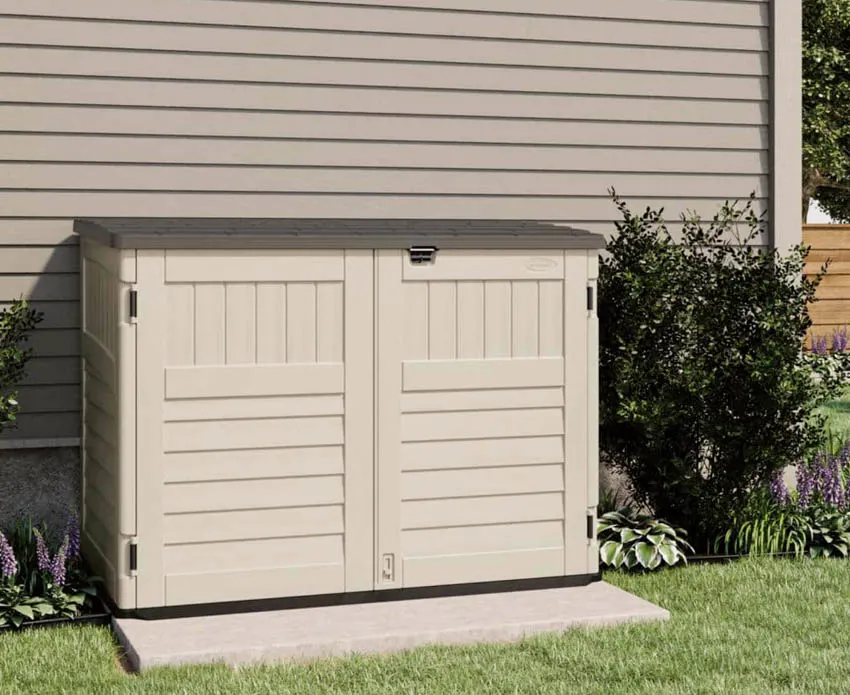 See this resin shed at Home Depot [sponsored link]
Resin Shed: Resin sheds are sturdily built, hygienic, and simple to put together. Most resin sheds are strong, and some are even made to last indefinitely. A resin shed's prefabricated components are designed to easily and firmly snap together. Compared to metal or wooden sheds, this shed material is typically more resilient and weatherproof.
Metal Shed: Metal sheds, which can be made of steel, aluminum, or sometimes iron, are strong, long-lasting, and extremely durable. They are insect- and fire-resistant and can withstand a variety of weather-related concerns like mold, mildew, and fungus formation.
These sheds are more difficult to get into than other types of sheds, thus if you are concerned about the security and privacy of your belongings inside, a metal shed would be an efficient option. Burglars are usually looking for places that are easy to break into, and a metal shed is something that they will ignore.
Regrettably, several homeowners choose a different form of shed due to concerns with metal sheds. Aluminum shelters, for example, are quickly dented by storms, falling trees, or even a misdirected baseball. Though steel sheds are a superior option, they must be treated periodically to avoid rusting.
Shed Roofing Materials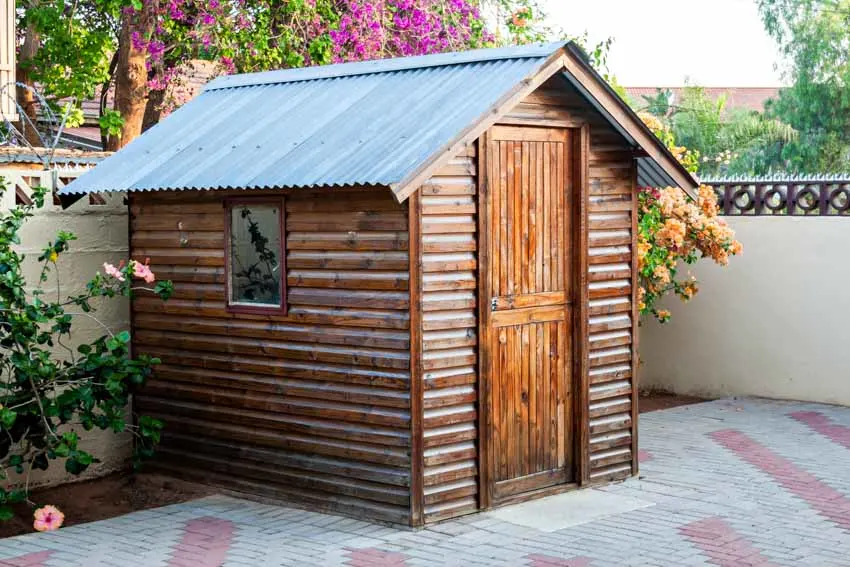 The best line of protection against bad weather, particularly moisture, is the shed's roof. The roofing materials listed below are all intended to fend off moisture. However, the ideal shed roofing material may frequently depend on the local climate, sunlight exposure, and wind. Here are the different types of shed roofing materials:
Wood Roof Shingles: Wooden roofing shingles guarantee that your shed exactly fits your home, making it appear to be an extension of it. Additionally, you do not have to be concerned about leakage or the roofing not surviving a good amount of time when you select high-quality wood shingles.
The roofing shingles on your shed roof should be replaced at the same time as the ones on your home so that they can mature together and remain looking outstanding. By doing this, you can also make sure that you have sufficient wooden shingles of the exact type and style to finish your shed and avoid having to select different types of roof shingles that might not look appealing.
Asphalt Roofing Shingles: Asphalt roof shingles are the most often used roofing material for almost any shed-building project. They are affordable, extremely long-lasting, and simple to install. All that is required for assembly is a hammer, roof fasteners, as well as shingles. Asphalt shingles are classified into two types, and these are 3-tab and architectural.
Conventional three-tab asphalt shingles have a 20-year lifespan, whereas architectural shingles can last up to 30 years and frequently come with a guaranteed lifetime warranty. However, the disadvantages of this sort of shed roofing material are that it is aesthetically unsightly, accumulates heat, and is not a wise option for a flat roof.
Corrugated Metal: Corrugated metal roof sheets are among the most durable solutions for your shed. Roofing made of this material has a lifespan of around 50 years, while steel roofs are proven to endure considerably longer. Metal roofing comes in a range of gauges; the smaller the gauge, the heavier, more pricey, and longer-lasting the sheet.
Steel is the most economical corrugated metal panel from which to pick. Nevertheless, for 100 square feet of aluminum or steel panels, you should expect to pay around $200. Zinc, tin, and stainless steel are even more expensive.
Wood Shakes: Wood shakes are probably among the most visually attractive shed roofing solutions. Shakes are firmer, manually cut, and feature a coarser surface quality than shingles. The fact that the sides of wood shakes are not at all completely straight adds to their charm. It does, nonetheless, imply that they are not as water-resistant as standard cedar wood shingles.
Additionally, this roofing material has a distinction for being among the most expensive choices. However, its lovely rustic appearance will add worth to your home. Wood shakes can be produced from cypress, oak, redwood, or almost any other wood. They can survive up to 40 years if treated frequently, but only 20 to 30 years if they are untreated.
Asphalt Roofing Felt: Asphalt roofing felt is a felt element that is coated on both surfaces with asphalt. Either side does have a granular covering for enhanced protection. Asphalt roofing felt is normally available in rolls, making installation simple, and it can be put using a burner or glue.
This roofing material has a life expectancy of around 15 years, although proper administration is critical to its longevity. Asphalt roofing felt, like standard asphalt shingles, collects heat, which could become an issue if you reside in a hot region. Consumers would prefer asphalt roofing felt mostly for its low cost as it is not aesthetically attractive.
EPDM Rubber Roofing Membrane: EPDM rubber roofing membrane, which is commonly found on industrial structures with level or sloping roofs, is constructed of reclaimed rubber and is acquired in huge rolls. Applying glue to sheathing and rolling it out is all that is required to apply this product to your shed roof.
In addition, EPDM is relatively inexpensive, costing around $80 per 100 square feet, while the glue costs around $25 for each roll. EPDM roofing membrane can survive for 50 years or more if correctly installed and maintained to be devoid of perforations.
Although it works best on flat roofs, EPDM may be used on any inclination. It is simple to install on new roofs and also works well as a substitute if your shed roof has been ruined and must be fixed or rebuilt.
Sheet Metal: Although sheet metal is more typically used on commercial properties, it is also an excellent choice for the residential shed as it is not only inexpensive but also incredibly sturdy. It is indeed an ideal buy if you reside in a region prone to severe weather since your roof will be unlikely to be worn down.
In addition, sheet metal will survive for more than a decade before needing to be changed and will necessitate extremely minimal maintenance over its duration. When purchasing a prefabricated shed, it can be difficult to find one that comes equipped with sheet metal roofing, but your roofing could always be upgraded or changed as needed.
Clay Tiles: Using clay tile is one of the greatest methods to make your wood shed appear to be a solid construction on your land and to complement your house. Since they are so hefty, they are difficult to utilize for a roof, hence you must arrange for clay tiles from the start of your basis, otherwise, your shed might not be capable of supporting them.
Additionally, the walls and roofing of your shed must be of good quality to withstand the weight of clay tiles. You'll be inclined to locate a clay tile alternative that you can purchase straight from a manufacturer, thus be ready to undertake the roofing job yourself or employ a reputable professional to perform it for you.
Rubber Shingles: Generally, rubber shingles are purchased in rolls that are simple to cut to fit and put on your shed. Although it is ideal for flat roofs, it may be applied to any slope. If your roofing has been ruined and must be mended or changed, rubber shingles would be simple to install on new shed roofs.
Polycarbonate Roofing Panel: A highly durable plastic roofing material that is made to withstand the elements is polycarbonate roofing. It is frequently employed for greenhouses and other structures needing translucent roofs. However, polycarbonate is now available in a variety of shades.
However, although they have an incredible lifespan of around 10 to 20 years, polycarbonate roofing panels can be susceptible to wear and scratching. Thus, this kind of roofing material is typically not advised for areas with lots of branches and trees.
Polycarbonate is less resistant to abrasion than many other substitutes, but it is, nonetheless, simple to install, inhibits UV radiation, and is extremely tolerant to temperature fluctuations.
Shed Siding Types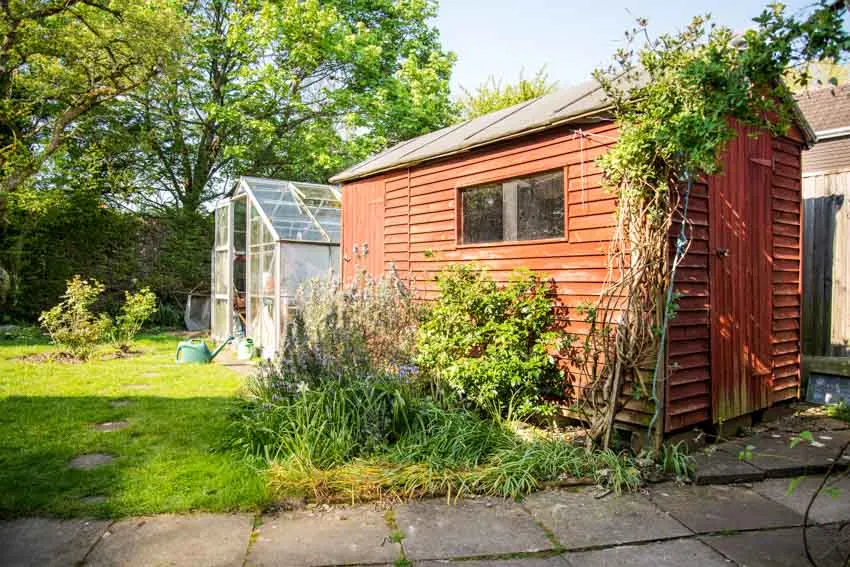 When choosing the best shed siding types, quality is indeed essential. It is also crucial that you avoid building a shed that cannot withstand continuous intensive usage. Listed below are some of the most popular shed siding options available you can choose from:
T1-11 (OSB or Plywood): T1-11 comes in two types – OSB and plywood. Plywood is a higher-quality selection, but it is also more pricey. OSB (Oriented Strand Board) is composed of wood chips that have been glued together.
It is also more susceptible to moisture, which means it is more susceptible to rot, expansion, and distortion over a period. Plywood, however, is far more robust and considered more cost-effective in the long run.
This form of siding gives physical integrity to shed walls and, unlike plywood, does not necessitate sheathing. Plywood is often easier to work with, although it has a coarser feel and does not arrive primed. As a result, you will have to paint or refinish the T1-11 siding every 3 to 5 years to maintain its primary shape. This will help to keep rotting, warping, and pest infestations at bay.
Metal Siding: Metal siding, in comparison to the other siding solutions in this article, will offer you the most industrialized effect. The attractive paint finish is expected to last 20 to 50 years without flaking, chalking, or deteriorating. You will not be concerned about decaying or warped panels with metal siding.
Moreover, metal siding is weatherproof, fireproof, pest-proof, low-maintenance, and simple to clean. This siding is indeed eco-friendly because the aluminum is 67% recyclable. Plus, it is so easy to install.
Fiber Cement: Fiber cement siding is made up of cellulose fiber, sand, and cement. This material is formed into layers and then compressed to create a specific pattern. Despite its synthetic nature, fiber cement can resemble genuine wood. Fiber cement siding is a long-lasting option, with most makers providing a 30-year warranty.
Aside from that, fiber cement is resistant to insects, fire, and moisture. Nevertheless, fiber cement can be difficult to deal with, thus you have to take into account hiring an expert to put this sort of siding on your shed for optimal results.
Vinyl Siding: Vinyl siding, which is made of polyvinyl chloride (PVC), is offered in a variety of colors and patterns to match your preferences. Since it is a man-made product, you can personalize the appearance and quality of your vinyl shed siding.
The vinyl on its own is extremely durable, resistant to yellowing and fractures, and can endure for over 30 years contingent on the type of vinyl used. Anyhow, vinyl siding must be correctly put to provide water resistance and a longer life expectancy. Vinyl is inherently impervious to predators like termites and fungi.
Another advantage of this sort of siding is that the color is embedded deep within the material, making scratches and minor damage invisible. If you are concerned about upkeep, vinyl siding might be the most ideal option for you because it necessitates minimal to zero maintenance.
Engineered Wood Siding: Engineered wood is made out of composite wood, which comprises a combination of wood fibers and various forms of wood. This form of siding, which is engineered to seem like real wood, is far more resilient. Even though it is not genuine wood, it has an extremely realistic and appealing appearance.
In contrast to natural wood, engineered wood is resistant to rotting, deterioration, pests, and other insects. It is indeed eco-friendly, low-maintenance, long-lasting, and simple to install.
Shed Foundation Types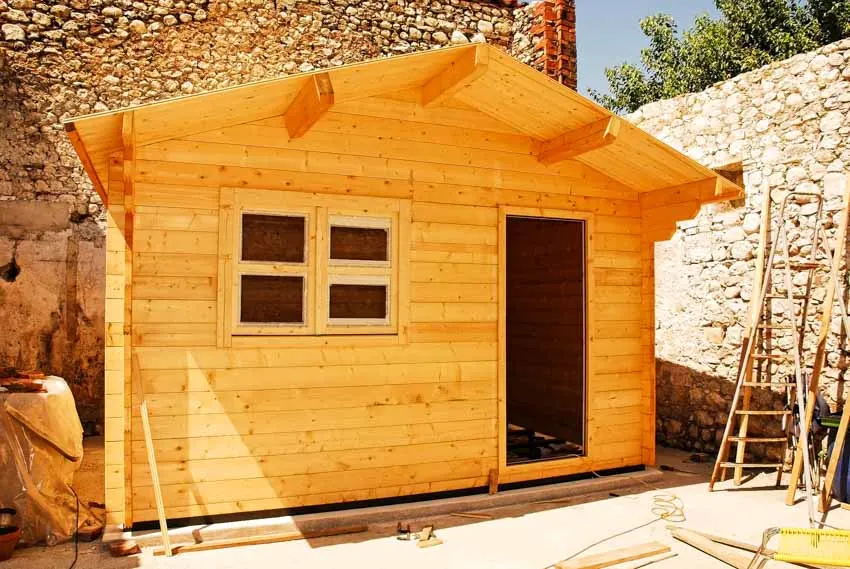 The right foundation will offer sufficient stability whether you choose to build or purchase your shed. The foundation will elevate your shed off the ground, give it a solid, level basis, and increase its lifespan. Here are some shed foundation solutions for you to consider:
Concrete Pavers: Concrete pavers are a high-quality ground-level foundation solution that is great for beginners and sheds that have been pre-built or homemade. A paver foundation will sit on either flat uncovered ground or a sand bottom.
They provide a stable, level foundation for a shed and uniformly sustain the flooring. Concrete pavers are generally uncomplicated to install, especially if the ground is level. There will be an extra even step if laid on sand; however, it is normally much simpler to align pavers using sand.
Concrete Blocks: Concrete blocks, a competitive ground-level foundation alternative, will offer a great base for practically any size of shed. They are either rectangular or square, settle on the ground, and should be level with the ground as well as with one another. The only difficult aspect of laying this type of foundation is balancing the blocks to become level and squaring off the edges.
Furthermore, on sloped ground, the problem increases, and concrete block foundations will not work for slopes that are larger than 24 inches. It is strongly advised that if you select this foundation solution, you only utilize solid concrete blocks because any other sort of concrete block is unlikely to be useful.
Concrete Slab: A concrete slab is one of the most popular types of house foundations used today. A concrete slab is strong and durable and helps protect the structure from insects.Since it is not too expensive and provides a stable platform it makes a great choice for a shed foundation.
When creating a concrete slab for a shed the thickness should be 4″ which is the same used for residential walkways and patios.The concrete is generally poured on top of compacted gravel.
Larger structures such as heavy-duty garages that will house large vehicles will need a thicker foundation of 6″ or more depending on the usage.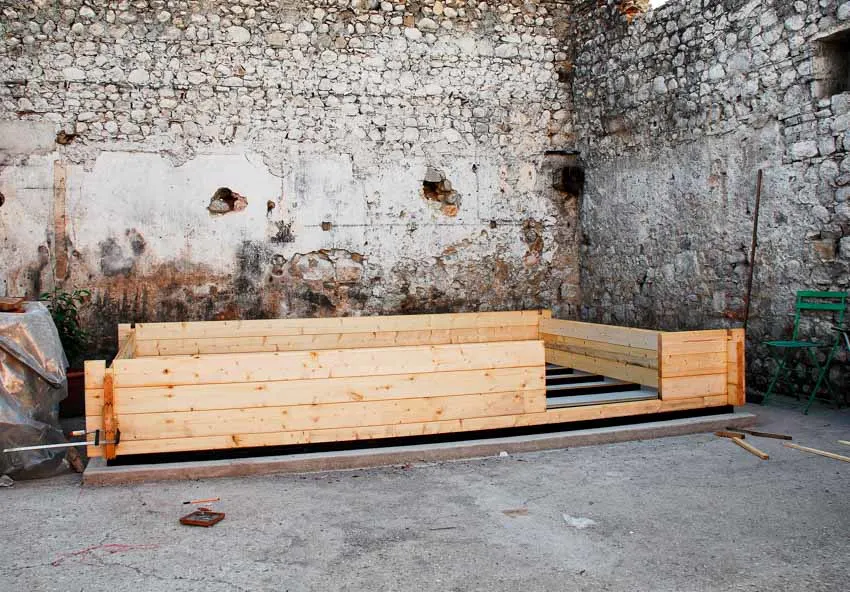 Timber Frame & Gravel Pad: Any size shed can have a reasonably simple foundation made of a timber frame and gravel pad. Pit-run or 1-inch crusher-run gravel is highly suggested for optimal results because it has finer particles and will provide a sturdier base.
To compress the gravel and create a flat surface, a gas-powered compactor must be utilized. This foundation enables the shed to be on or near ground level.
Deck Blocks: Deck blocks are a type of ground-level foundation that can be used for whatever size of a shed. It is also fairly simple to set up for the typical do-it-yourselfer. Deck blocks feature a square base as well as a pyramidal design, with channels on top for attaching woo framework.
They remain on the ground and, similar to concrete blocks, must be level with the ground and with one another. Design limitations prevent the space between the blocks from being supported. This indicates that deck blocks should not be used for large equipment.
Post and Beam: Post and beam foundations are yet another durable alternative that entails inserting pressure-treated wooden supports into openings underneath the frost line, leveling, securing, and then cementing them in position. Diagonal bracing must be connected between the posts for additional strength.
This foundation is just fairly challenging because you do not need to level the ground, but rather the posts that protrude above it. Post and beam foundations are suitable for most ground conditions, frost-prone regions, and tiny or big sheds.
Concrete Piers: Concrete piers are a superb foundation for whatever size of the shed, even if they are more time-consuming to construct and are irreversible. To build piers, openings are drilled or excavated into the ground to the frost line, then concrete is placed into the openings.
The holes require roughly 6 inches of gravel for drainage. Either plastic or cardboard molds are provided for insertion into the opening and later concrete filling.
After the piers have hardened, the beams are installed and leveled with shims. This foundation is appropriate for both level and sloping terrain. Concrete pier foundations are usually challenging for a typical homeowner and may necessitate the services of an expert.
Skid Foundation: Among the quickest and simplest ways to stabilize a shed is with a skid foundation. It is made of two or even more pressure-treated wood planks or timbers that are set out parallel to support the shed's length.
The "skids," also known as runners, lay on and uniformly reinforce the shed. Because these skids are placed firmly on the ground, somewhat flat terrain is necessary. Relocating your shed to a new site is nearly straightforward with this solution.
Recycled Materials: Using recycled materials is a new technique for shed foundation. These materials are very quick to install and perform well for both prefabricated and home-built sheds. Foundations made of recyclable materials, similar to skid foundations, lie directly on the ground and work optimally in level terrain.
Shed Flooring Types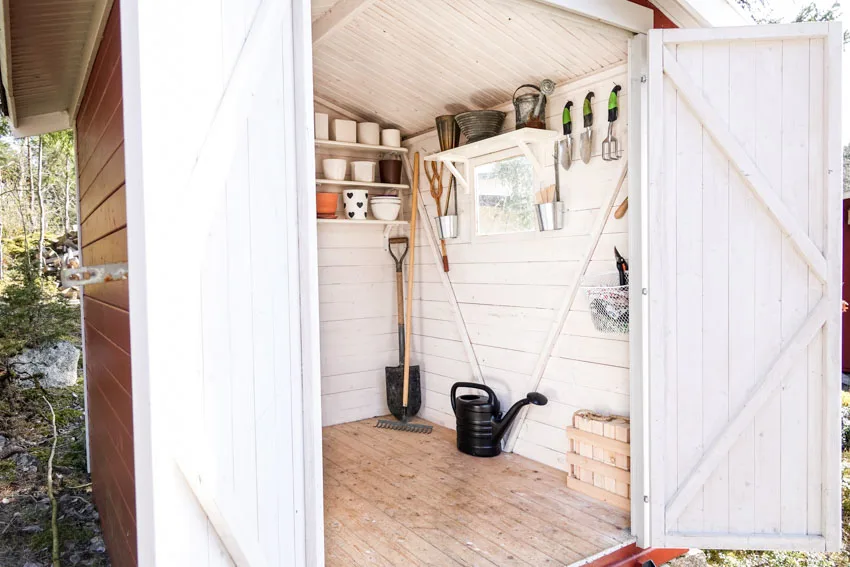 The ability to have a solid walking and storage surface depends on the shed flooring. In light of this, the floors must be quite durable yet comfortable. But rather than just basic flooring, a lot of homeowners prefer something a little more interesting. Here are your different shed flooring options:
Pressure Treated Wood: Choosing pressure-treated plywood is a less expensive solution compared to concrete slabs. This shed flooring solution, unlike concrete, will also soften when you step on it.Once can used 1/2 pressure treated plywood for a light duty shed or 3/4″ thick wood for a heavy duty shed.

Even though plywood provides a more attractive finish than concrete, since it is wood can be susceptible to rotting, structural damage, and will gradually be subject to harsh elements. Pressure treated wood decks and outdoor flooring are often popular due to their resistance to termites and fungal decay.
Furthermore, if you want to move heavy wooden boards back and forth throughout your shed flooring, they might readily chip and fracture, necessitating frequent repair and, eventually, replacement.

Concrete Slab: As it can withstand almost everything, concrete is the most durable solution for your shed flooring. You will never have to bother about water penetration, pest outbreaks, or deterioration with concrete. Concrete also takes the smallest amount of maintenance in comparison to the other options available.
Concrete slabs, nevertheless, have certain downsides. It is unattractive, uncomfortable, and hard on your feet when walking or functioning on your feet for an extended duration. Unsealed concrete flooring would also discolor quickly due to its porous nature.
Plastic: Plastic flooring is standard in most plastic-built sheds. This material is resistant to water damage and stains easier than wood or concrete. Plastic, like all other forms of shed flooring, has downsides.
To begin with, it might not be a great option for homeowners who intend to store massive lawn machinery. It might also not supply adequate support for a ride-on lawn mower and, the same as wood is easily scratched or ruined by large construction equipment.
Concrete Pavers: In comparison to concrete slabs, concrete pavers offer comparable strength as well as a considerably more aesthetically attractive look. Nevertheless, concrete pavers are cold, unpleasant, and rough on the feet and knees.
They are also prone to slumping or sliding out of position if not correctly placed, which is particularly important if you will be transporting heavy machinery in and out of your shed.
Oriented Strand Board (OSB): Oriented strand board (OSB) is inexpensive, sturdy, and most certainly the sub-flooring in your house. OSB is an amazing addition for long-lasting flooring that is also soft underfoot.
Nonetheless, if you want shed flooring that would enhance the appearance of your shed, you should choose a different solution. OSB, similar to other wooden flooring options, will decay and degrade over time.
Shed Uses
Sheds can be used for more than just additional space for storage. The ideal type of shed for you will largely be determined by how you plan to leverage it. Here is a handful of the most frequent shed uses to get you started:
Tool Storage: The most typical reason for purchasing a shed is for tool storage. Tool storage provides a convenient and practical solution to organizing tools. It also enables you to clear up rooms in your garage and is ideal for decluttering your living areas. You may also utilize your tool storage shed to maintain your yard clutter-free and to keep all of your backyard tools organized.
Workshop: You can build a shed if you lack sufficient room in your house or garage to build a workshop. You should choose an electrically equipped and well-insulated shed for optimal benefits.
You can also enhance the usefulness of your shed by adding workbenches, shelving, and cabinetry. However, it is suggested that you speak with a specialist before building a workshop shed for safety reasons.
Greenhouse: The growing season can be extended and you can care for your plants year-round with a greenhouse shed. Oversized windows that bring in lots of sunlight and additional ventilation help maintain these sheds well-ventilated and conducive to healthy plant development.
Greenhouses are widely known among gardeners who wish to begin seedlings or nurture sensitive plants that require protection from outdoor conditions.
Wood, aluminum, and plastic are just a few of the materials that can be used to construct a greenhouse. The size of your greenhouse shed should also be taken into account because it will affect how much space you get to deal with. A small-sized greenhouse shed might suffice if your yard is small. Read more about organizing a greenhouse here.

Garden/Potting: A gardening or potting shed is ideal if you need a location to keep your gardening equipment, fertilizers, pots, seedlings, and other garden-related materials. When building this shed, you have to ensure that it is weatherproof and well-ventilated.
Outdoor Living Extension: You can always build a shed that functions as an outdoor living extension. In some houses with small living rooms, homeowners can extend them without too much hassle and inconvenience.
They can do this by building a shed that has all the necessary objects of a usual living room, which include couches, entertainment items, windows, proper lighting, insulating materials, and a locking system for security.
Vehicle Shed: A vehicle shed is a prefabricated structure used to keep a car, mini tractor, van, or other automobiles. These structures are occasionally known as prefab garages, portable carports, or garage sheds. Vehicle sheds can be quite useful for homeowners who do not own a garage on their premises or someone who needs extra storage for their other vehicles.
Shed Sizes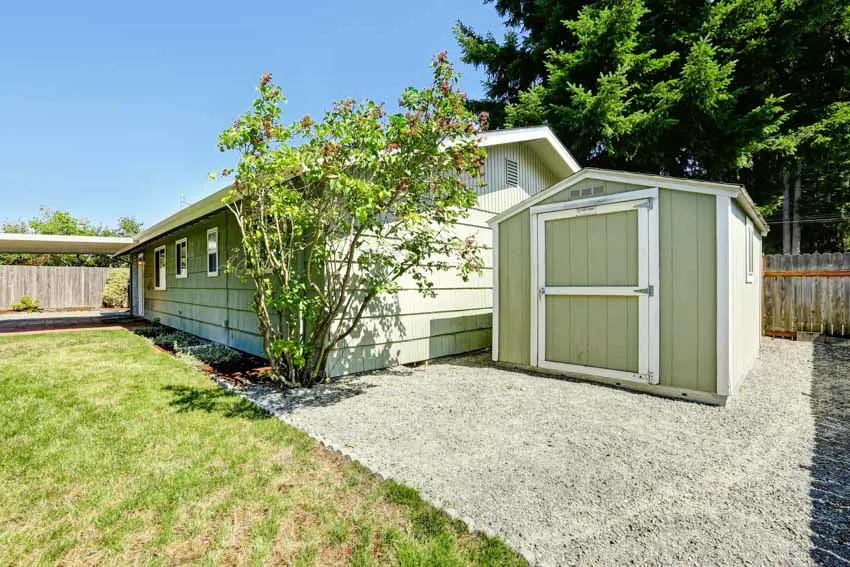 Small Shed (Approximately 10' x 12' or 8' x 12'): If your shed will primarily be used to store common outdoor equipment and tools, a smaller size would be preferable. In addition to being less expensive, these will also occupy less space in your home and be less noticeable when somebody is on your property.
Medium Shed (Approximately 10' x 16' or 8' x 16'): Increasing the shed size allows you to not only keep more stuff in your shed but also to get inside and move around if needed. This shed size is suitable for storing a ride-on lawnmower along with any other small gardening equipment, but it is not suitable to use as a workshop or private office.
Large Shed (Approximately 12' x 20' or 12' x 24'): By expanding your shed, you will not simply acquire a considerable amount of storage space, but you will also be able to walk around more comfortably.
This is critical if you intend to spend some time in your shed potting some plants or working with machinery. Additionally, some large-sized sheds may serve as a workplace or personal retreat, but you must be very selective about the objects you bring inside them.
Extra Large Shed (Approximately 18′ x 26′ or 22′ x 26′): Extra-large sheds are ideal for keeping any type of vehicle, lawn equipment, entertainment objects, and excess belongings from your house. They are also suitable for home offices and any artistic area that you may desire.
This shed size can readily be finished and customized to match your specific needs. You will not feel confined in them, and there will be ample headspace for you and your guests to roam around easily.
Shed Cost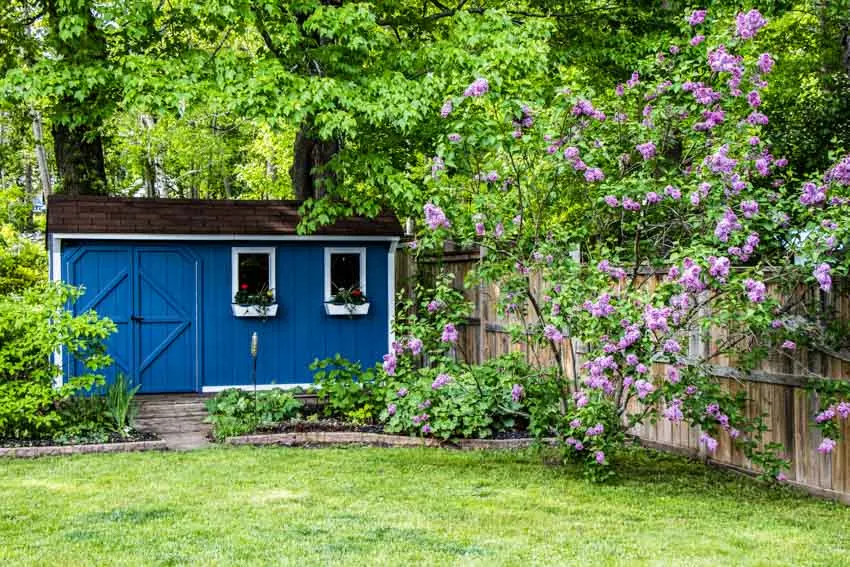 The average cost of constructing a shed ranges around $3,500 to $4,000, with the majority of homeowners spending around $1,800 to $9,600 or $20 to $175 per square foot.
Small-sized shed construction developments can be completed for as little as $400. Large to extra large-scale shed constructions including specialized designs and high-quality materials often cost between $10,000 and $30,000.
Various factors determine shed expenses such as the size, material, and design of the shed. A little prefab shed for your tools will be significantly less expensive than a large custom-built shed. A prefabricated kit would be simple to assemble, but a custom-built shed requires the services of an experienced builder.
Shed Windows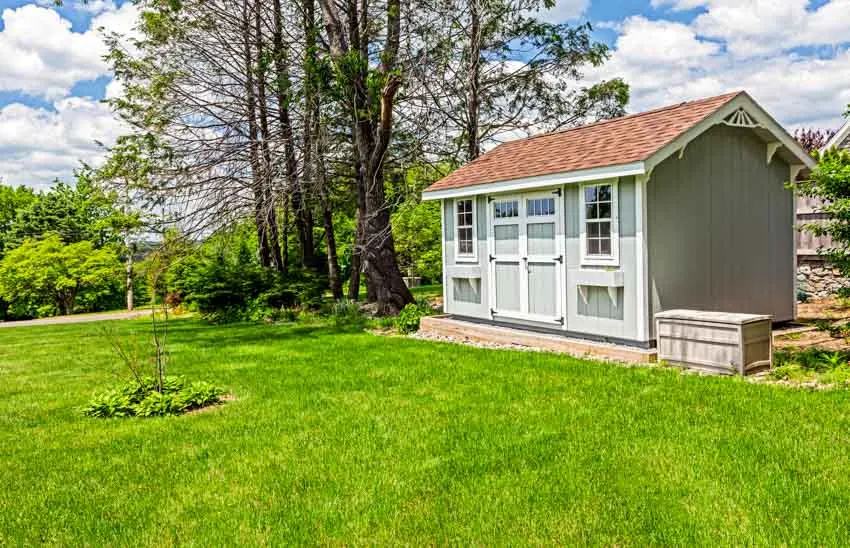 If you choose a prefabricated shed, your window selections will most probably be limited to those provided by the builder. A customized shed design, on the other hand, enables you to choose practically any window design and style you want.
You should consider the frame material as well as whether or not you would like a movable window. A durable framing material would be essential for an outdoor structure like a shed, therefore choose vinyl or metal varieties that can withstand wind and temperature changes.
Numerous homeowners also choose fixed window designs that cannot be raised, making the interior of the shed less susceptible to burglary. If you do not, however, keep anything precious in your shed, you can install hanging windows that can be raised open, but you must ensure that any frames you acquire still have a reliable lock system.
Shed Insulation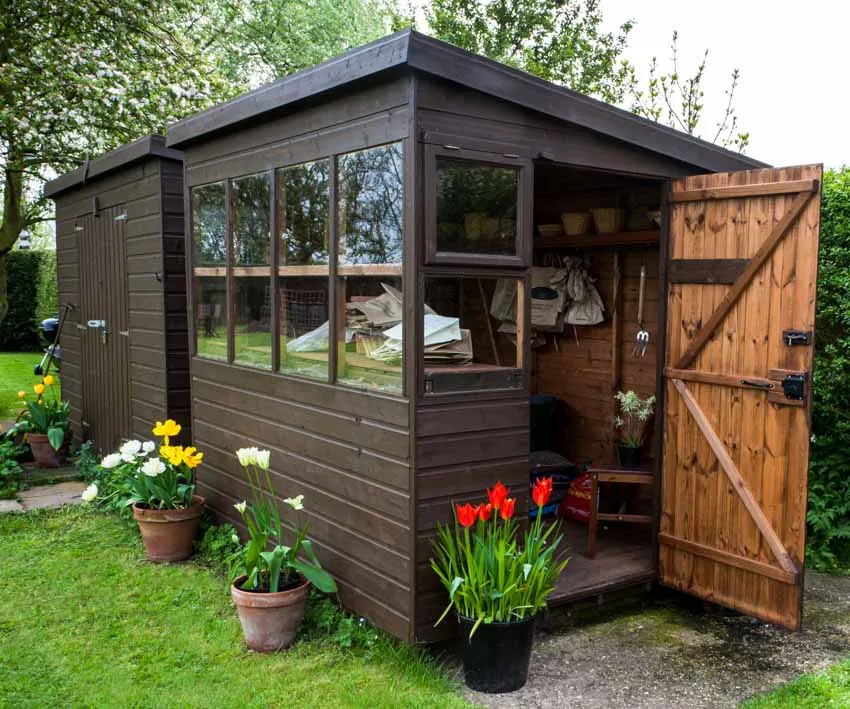 Having proper shed insulation can be relatively inexpensive while also being quite efficient. A simple initial investment can save a lot of money in multiple heating bills and also hundreds of dollars. The purpose of insulating your shed is to make it more energy-efficient and better at keeping heat.
Whether you are insulating a shed to be used as a personal office or a comfortable garden structure, it is indeed a good idea to put a breather membrane between the shed walls as well as the insulating material to keep moisture out. This is particularly important if the shed has no other means of ventilation.
People normally produce moisture in their surroundings, hence converting a shed into a private office or gardening structure without a breather membrane might result in moisture accumulation, causing wet and condensation issues.
If you intend to utilize your shed as an extension of your house and plan to turn it into an office, you must ensure that the floor is also insulated. The process is not complicated and the insulation could be put between the floorboards as you install.
Shed Ventilation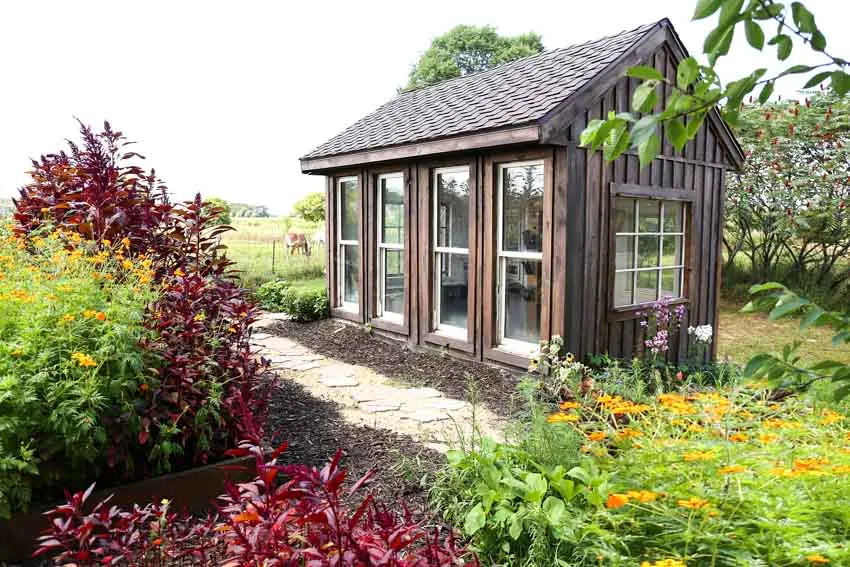 Before the shed is constructed or installed, it is really crucial that you take all reasonable steps to mitigate water and moisture there. Installing a polythene barrier on the ground wherein your shed will stand is one option. This will help prevent moisture from rising from the ground beneath your shed and will also prevent plants from growing beneath it.
Furthermore, you will need to ensure that there is adequate air so that the wood will not become moist. Wet timbers underneath your shed will be weak, and if you are not going to be cautious, mold issues and other structural concerns might arise.
Best Shed Manufacturers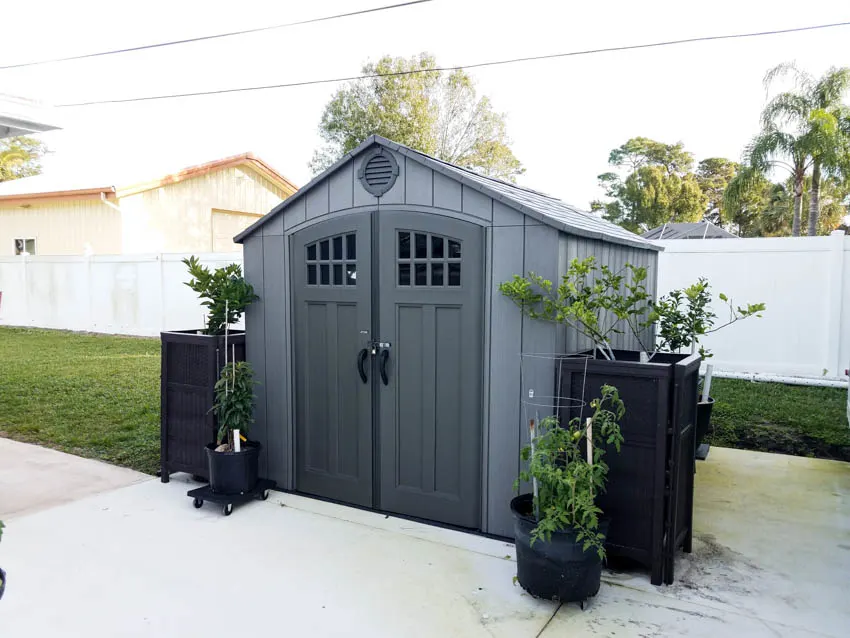 The shed manufacturers listed below provide a huge spectrum of the backyard and multifunctional sheds with the assistance of their dedicated websites, major storefronts, and internet merchants. You can try to visit their sites and inquire if you are planning to install a shed on your property.
• Craftsman
• Arrow Storage Products
• Keter Products
• Jaxpety
• Rubbermaid (Newell Brands)
• Lifetime
• Suncast
• Lowe's
• Target
• Sears
• Home Depot
• Walmart
Shed Organization Tips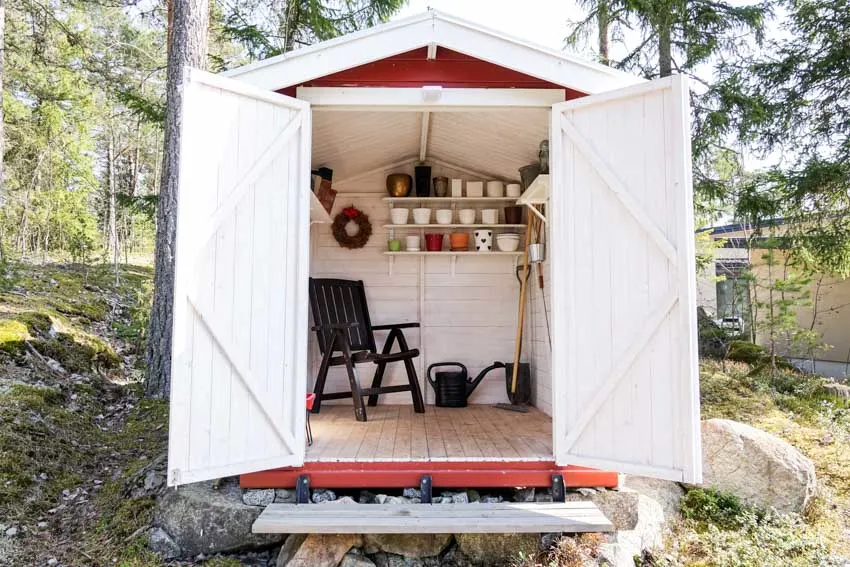 • A magnetic bar is an excellent method to arrange equipment in any sort of shed. This storage shed organization solution has traditionally been used to store common items, and it is perfect for gardening supplies.
• Consider adding open shelving. By adding shelves to the walls of your shed, you may add additional space on the floor and end up making your shed appear larger than it is.
• Build a rake and landscaping organizer. Begin by carving small holes into the wooden planks that each tool will fit into. This step will keep your trowels, rakes, and other landscaping equipment from falling while they are stored against the shed wall. Afterward, you can start screwing the wooden planks directly into the wall.
• Hang your hose and extension wires. You may declutter your wires and hoses using shed-organizing hooks or shelving units.
• Install the hanging rack on the exterior wall of your sheds to hang heavier gardening tools such as shovels and rakes.
• You need to have an established space to work even if it is raining outside so that your shed can function more productively. Sheds can serve as both a workspace and a storage facility. If your storage shed is spacious enough, it might be wise to incorporate a potting bench.
• Install slat wall systems. Slat wall organizing systems are similar to pegboards, but they are more sturdy for hanging heavy things such as wheelbarrows and bikes.
• Another wonderful organizational technique is to maximize the back sides of your shed doors. Install hooks, baskets, or even tiny storage units on your shed doors to get clutter off the ground and provide quick access to the equipment you use frequently.
What Is The Most Durable Shed Design?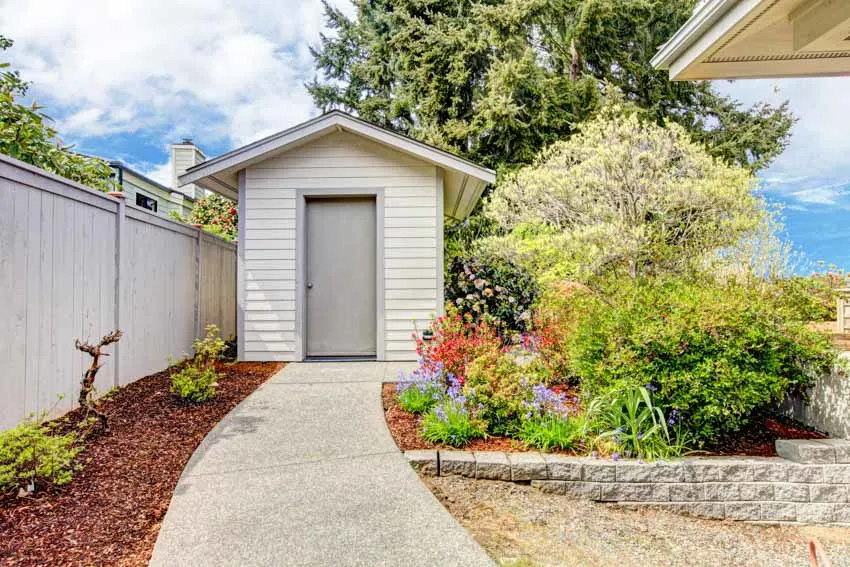 Arguably, vinyl and metal sheds tend to be the most durable. Vinyl sheds are less prone to cracking and are more weatherproof. They can typically sustain higher temperatures than other types of plastic sheds.
Metal sheds, on the other hand, are long-lasting since they are fire, insect, rot, and weather-resistant. Although they rust, they can still be more resistant to harsh elements.
How Long Will a Wood Shed Last?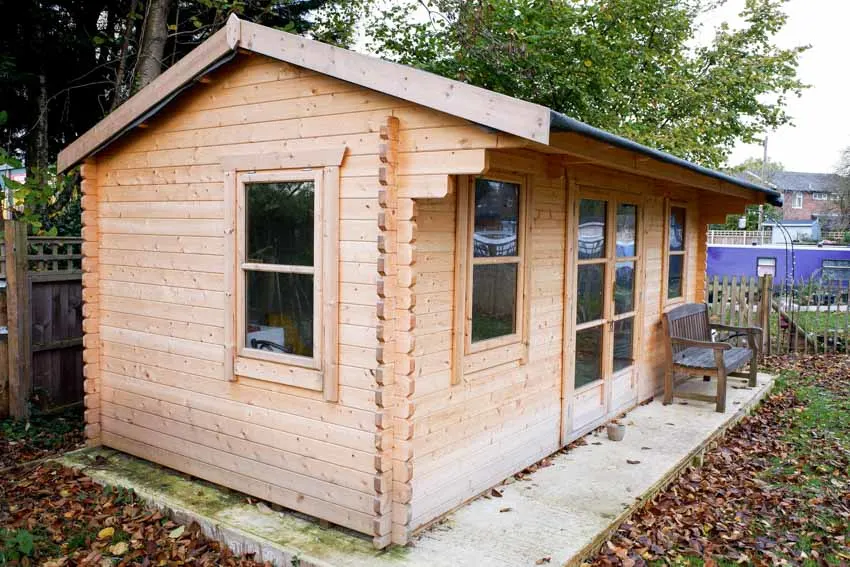 The longevity of a wood shed will vary depending on a number of factors. If a wood shed is constantly exposed to direct sunlight, it might need to be repainted around the 10-year mark, otherwise, the quality may deteriorate. However, with appropriate maintenance, it can survive around 20 to 25 years.
Do I Need A Permit For A Pre-Built Shed?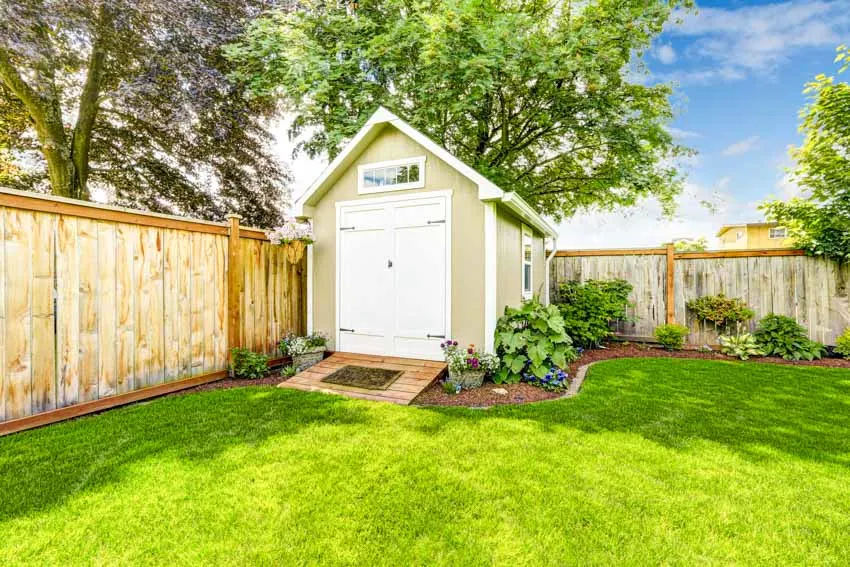 In most regions, a small-scale shed does not require a permit. Larger storage buildings, on the other hand, may lead to a violation of local zoning laws as many municipalities will only allow sheds to be built in backyards.
Hence, to avoid violating any regulations, whether you are planning to build a small or large shed, always speak with a qualified professional first and check for any permissions or licensing needed in your respective municipality.
What Type Of Gravel For Shed Base?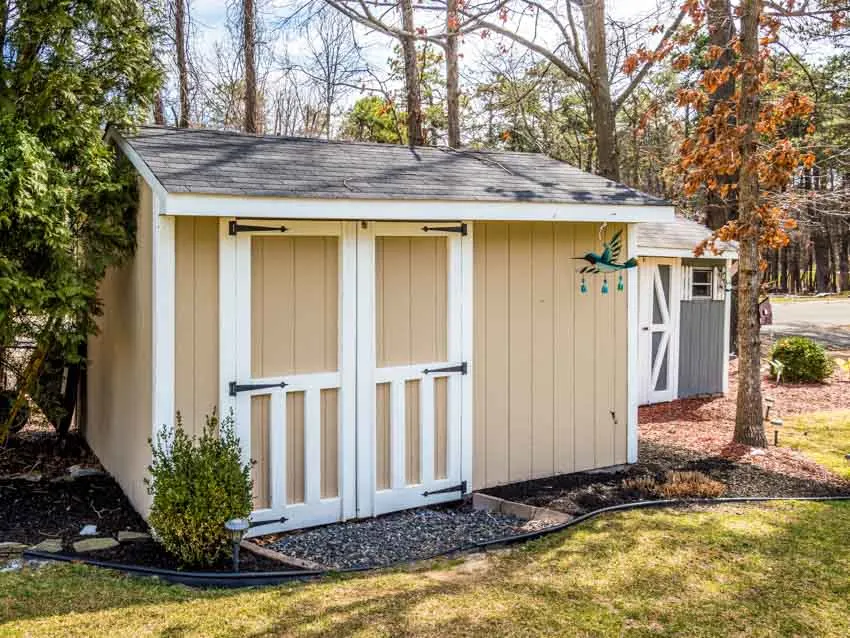 You should choose a gravel size that can be compressed to create a solid base while still being permeable enough to allow water to pass through. The objective is to prevent overflow as well as puddling. 0.75-inch drainage stones would be an effective option for your shed base. See our guide to the types of gravel here.
Does A Shed Need Airflow Underneath?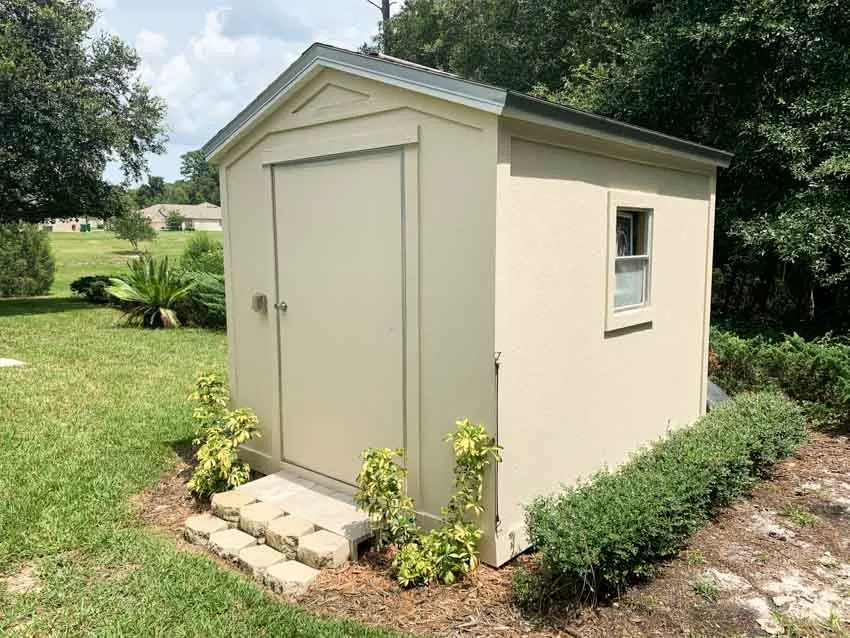 Yes. Ventilating underneath your shed ensures the best possible airflow and is necessary for your shed to minimize mold and chemical fume development.
How High Should Shed be Off Ground?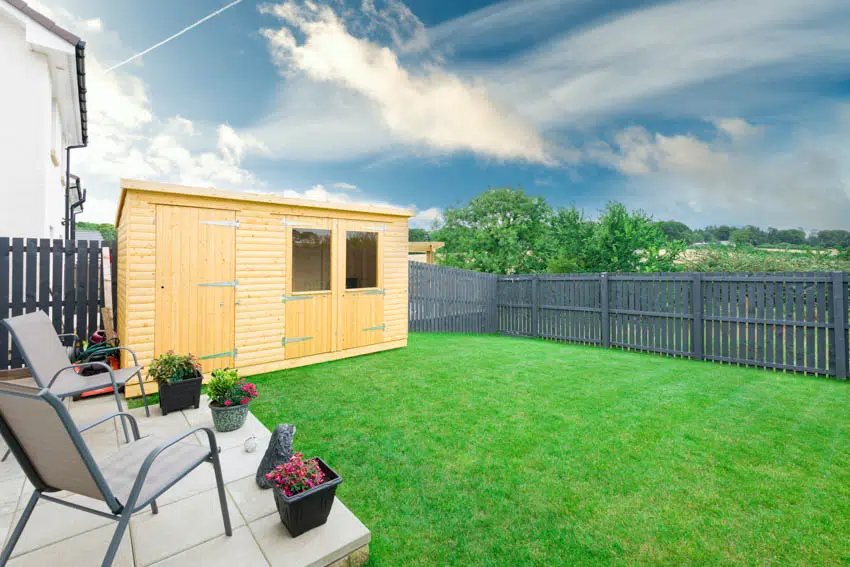 Although the specifications for how high off the ground a shed varies widely, it is suggested that you construct your shed at least 4 inches off the ground to permit proper airflow below it.
Do Sheds Need A Foundation?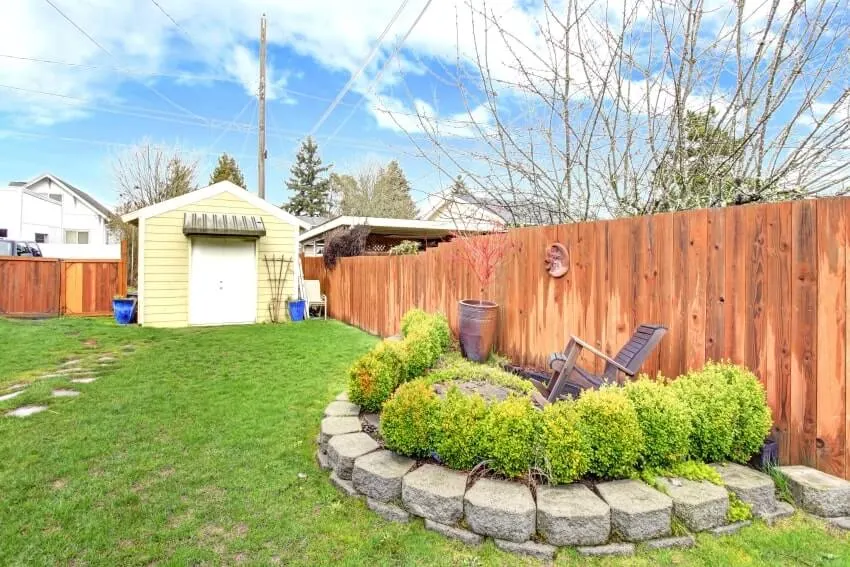 Small sheds with dimensions of 6′ x 8′ or less are usually not required to have a foundation. Nevertheless, we recommend that all sheds be built on a foundation for stability and ventilation benefits, especially if your shed is large.
See more related content in our article about the different backyard essentials on this page.