Welcome to our fire pit dimensions guide including measurements for round, square, different patio sizes and how tall a fire pit should be.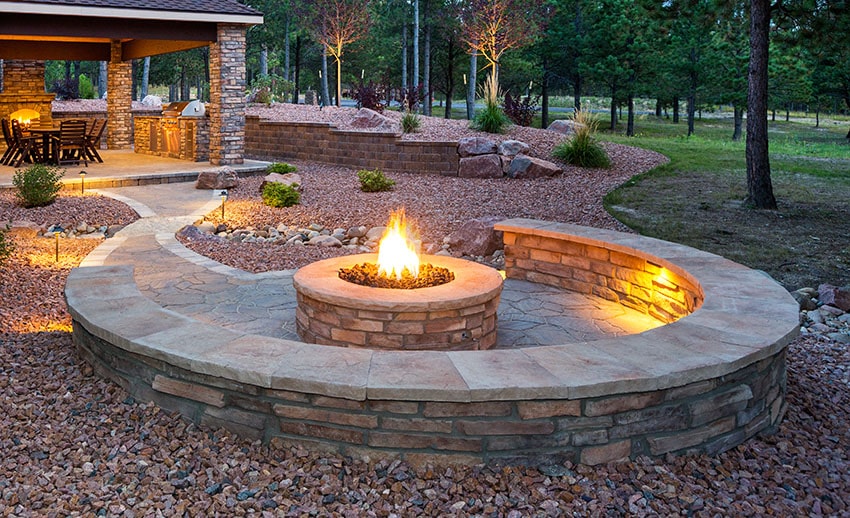 Few activities can be as effective in bringing families closer by having a delicious meal, fabulous drinks, and sharing fond memories around a campfire. Hence, building a fire pit is the perfect home improvement project for such a purpose.
This landscape feature not only protects the property against accidental fires from live charcoal and embers. A fire pit can also improve the property's value by enhancing its aesthetic appeal while affording homeowners and their families soft light for some quiet moments in the evening.
Building a fire pit is a cinch if one knows the fire pit dimensions appropriate for the property.
Standard Fire Pit Size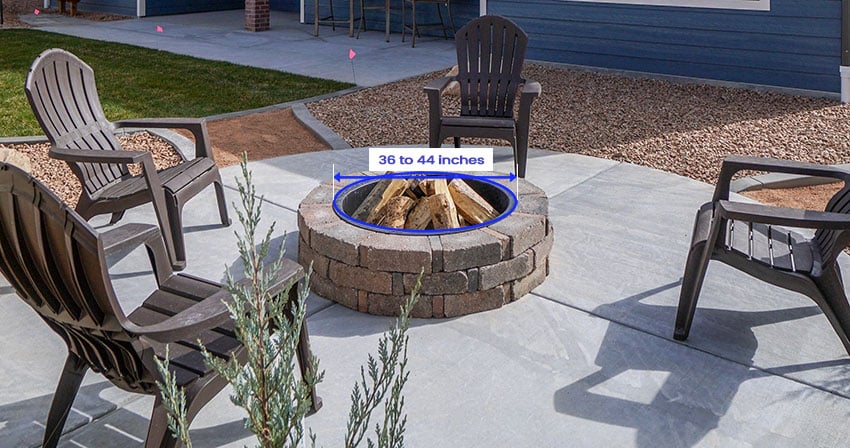 Experts recommend a fire pit with an inside diameter of 36 to 44 inches to provide sufficient space for the fire while maintaining a close and safe distance between people around the fire.
However, homeowners who want a fire pit for entertaining many guests can expand the dimension to a maximum of five feet. This pit size is sufficient for getting as many people around the fire as possible, allowing for more pleasant conversations while basking in the fire pit's warmth.
One must realize the sizes mentioned reflect the pit's inside diameter. One can expect the fire pit to be larger than these stated dimensions, depending on the thickness of the walling.
Round Fire Pit Dimensions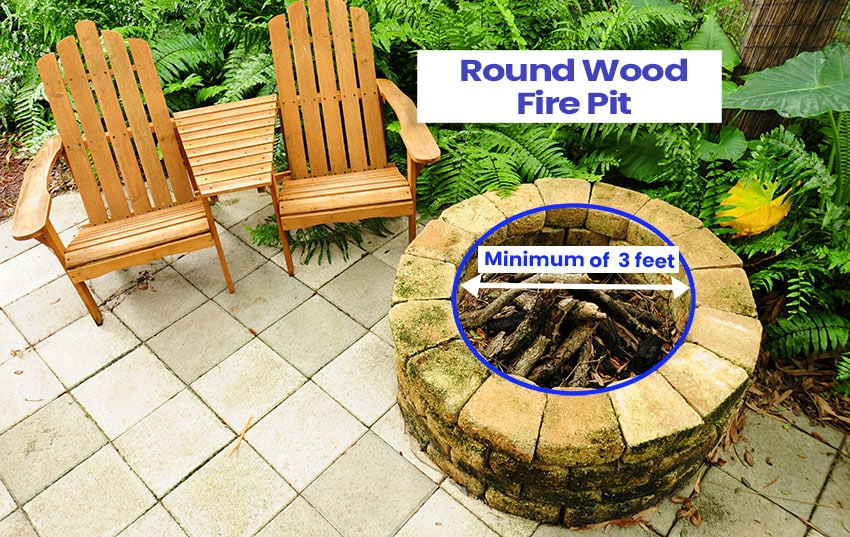 A round fire pit can have varying dimensions, depending on the homeowner's needs. Gas fire pits will tend to run much smaller than wood burning fire pits. A standard round gas fire pit typically measures about 22″ wide.

A wood fire pit will need to be larger to accommodate a robust fire but still allow gatherers around i close proximity. For example, if the fire pit is for family-use only, it should have an inside diameter of at least three feet.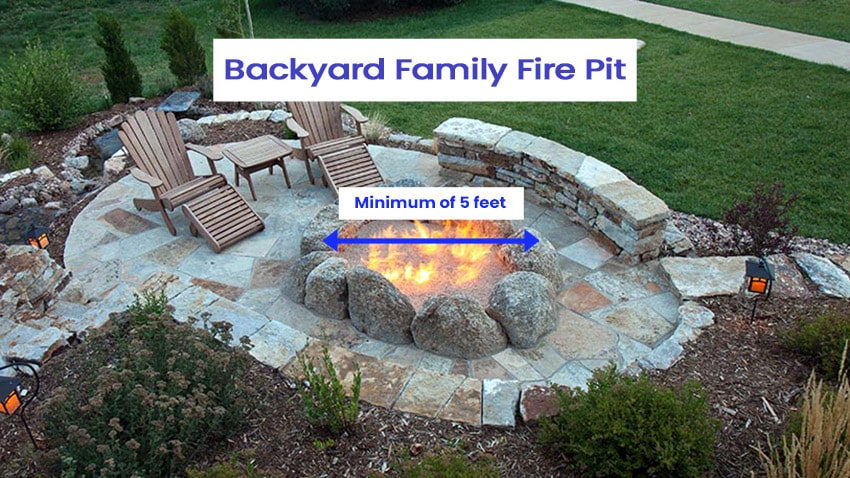 However, if the family wants to turn their backyard into a weekend party venue, the round fire pit should have a minimum inside diameter of five feet.
Round fire pits are ideal for encouraging active guest engagements because of its open design. Anyone can sit around the pit as long as they are comfortable. This fire pit type also provides better heat distribution regardless of seating location.
Square Fire Pit Dimensions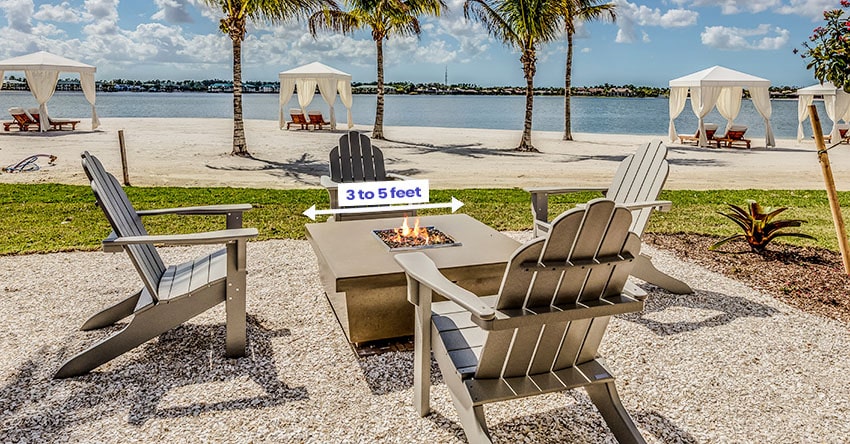 Square fire pits can be as small as three feet or as large as six feet on all sides. Households can also opt for larger fire pits to turn their property into a regular meeting place for family reunions.
A square-shaped fire pit is ideal for homes that want a more structured, modern, and formal look in their landscape. The pit's corners create strong angles that highlight other geometric elements in the landscape, including rectangular swimming pools and privacy walls.
Unfortunately, one's position in the pit's perimeter can impact the person's warmth and comfort.
Fire Pit Patio Dimensions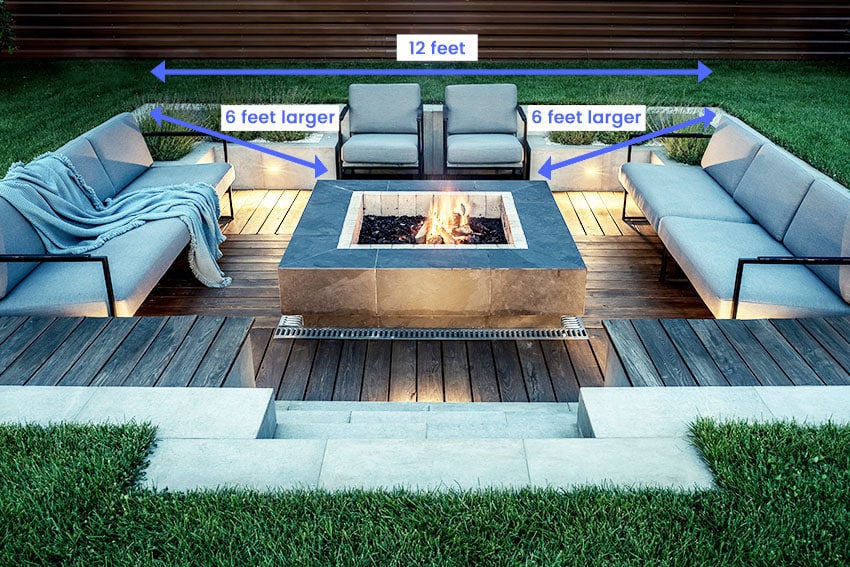 Building a fire pit on the patio requires determining the patio's dimensions. One will want sufficient space for people to move around the fire pit and the other patio elements.
Ideally, the patio should be at least six feet larger than the fire pit on all sides, bringing the total to at least 12 feet across.
The six-foot space allowance on all sides should allow guests to move without bumping into one another. The distance is also sufficiently close to the fire pit for warmth.
Hence, if the property has a 12-foot by 14-foot patio, the family can build a three-foot-wide round fire pit or a nine-square-foot square fire pit.
Fire Pit Seating Area Dimensions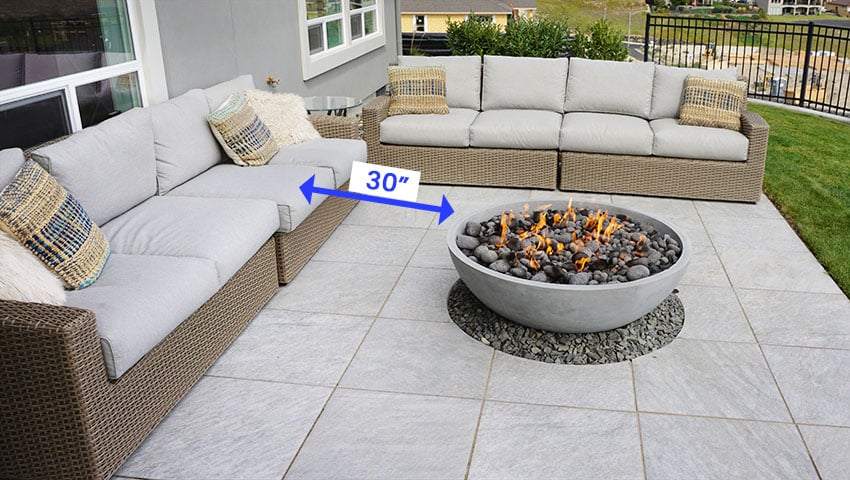 Designing a fire pit is not that different from creating a fireplace. One must consider seating arrangements to promote equal warmth and comfort for everyone around the fire.
Planning the fire pit seating area considers the fire pit type the homeowner wants to build.
For example, a wood-burning fire pit generally requires a larger area to account for the risk of embers falling on surfaces where they should not fall into. On the other hand, a gas-fired pit can have a smaller space to work with because there are no embers to worry about.
Ideally, chairs should be at least 30 inches from a wood-burning fire pit's outermost edge. A gas fire pit can be more forgiving, allowing homeowners to position their seats' leading edge at least two feet from the pit's outer surface.
The seating area should be at least seven feet from the fire pit's outer edge if one talks about building a fire pit on a patio. This distance is for both gas and wood-fired fire pits.
What Size Fire Pit Do I Need?
Sizing a fire pit for one's backyard depends on the property's existing landscape features and workable sections. For example, any size fire pit will do fine in an open area.
On the other hand, a family with limited backyard space cannot hope to build a six-foot-wide fire pit because it will upset the landscape's balance and harmony.
As a rule, people can choose a three-foot-wide fire pit for more intimate gatherings. Building a five-foot-wide fire pit makes perfect sense if the family wants to entertain more guests in a formal or structured setting.
Homeowners who cannot decide about the fire pit size should consider getting an expert opinion. Professionals can provide more accurate information about fire pit dimensions, materials, seating requirements, and other needs.
How Tall Should a Fire Pit Be?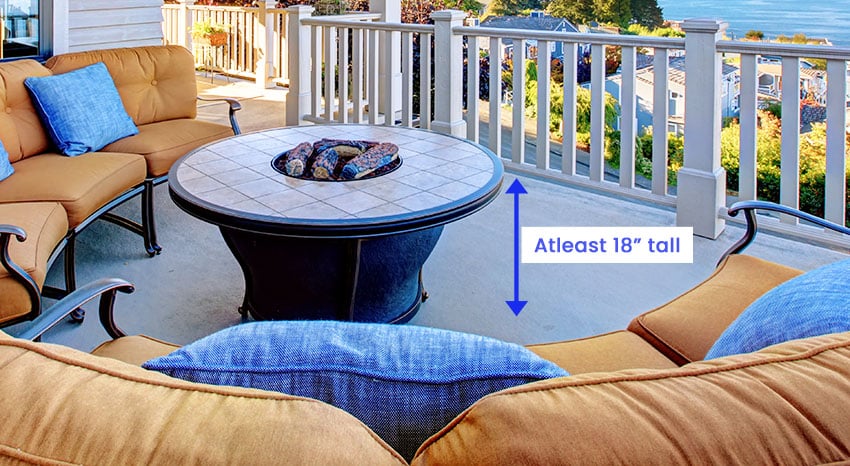 The fire pit's height depends on what homeowners intend to do with its elements. For example, if the family wants to use the fire pit coping as a footrest, it would be best to make the fire pit as tall as six to twelve inches.
On the other hand, if the homeowner wants the fire pit coping as a seat, the fire pit's height should be at least 18 inches. This height should be sufficiently comfortable to let guests sit down and stand up without causing back problems or knee issues.
If the homeowner wants to build a wood-burning fire pit, it must be deeper (or taller) and broader than the average. Wood fires produce embers that can create problems elsewhere in the backyard or the property.
Determining the correct fire pit dimensions for the patio or backyard is one of the essential steps homeowners must take to build a fire pit.
In general, the fire pit must be sufficiently broad and deep to accommodate a fire but small enough to warm the people gathering around.
For more related content, check out our outdoor fire pit designs here.