Here's our throw pillow sizes guide including standard & common throw pillow dimensions, size chart, insert cover size and how to measure for throw pillows.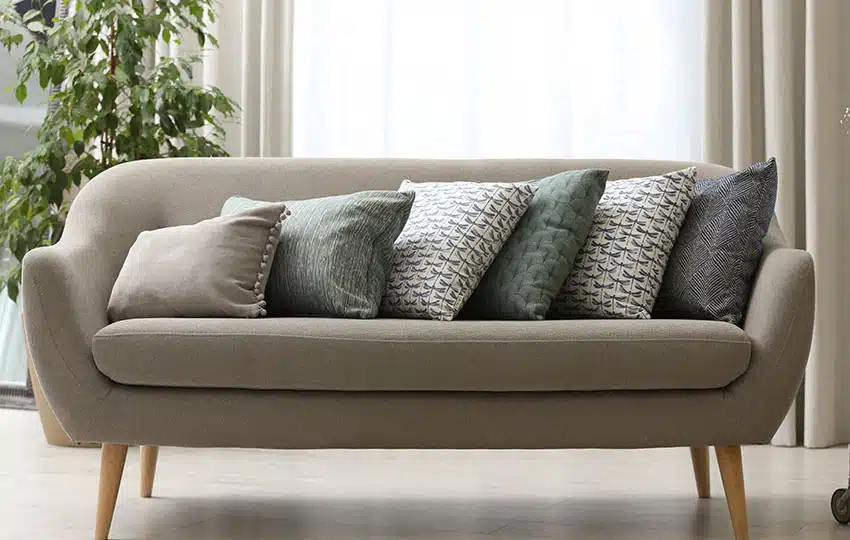 Throw pillows can quickly liven up and accent a space, like the living room or some furniture like love seats, window seats, or sofas. They can add softness, colors, prints, and textures, while complementing the existing theme of a space.
Now if you're looking to reinvent your home, tossing these decorative pillows on furniture can definitely help you achieve the kind of look you desire. But before going about choosing their styles, textures, and colors, know the right size you'll need.
Standard Throw Pillow Sizes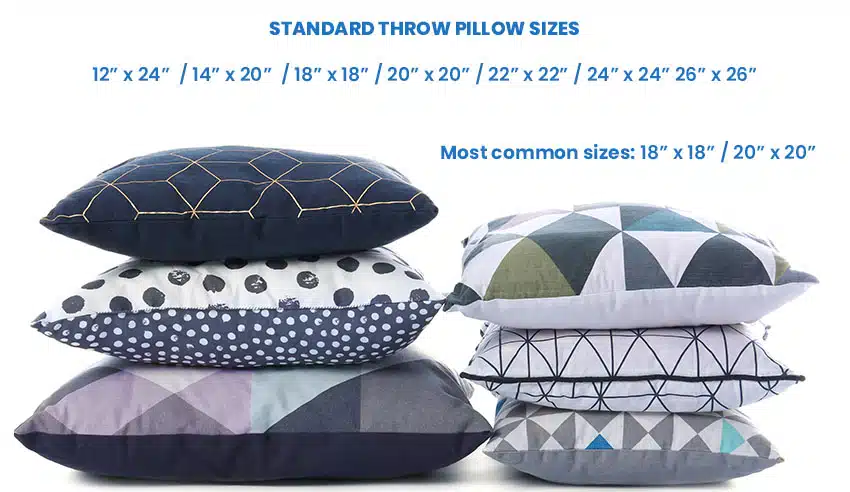 Throw pillows can come in many shapes, styles, and sizes. In terms of shapes, the most common is a square throw pillow, although others like rectangular or lumbar, bolster, and round throw pillows are also available for homeowners.
For sizes, the most common ones include 12 by 24 inches, 14 by 20 inches, 18 by 18 inches, 20 by 20 inches, and 22 by 22 inches.
Other sizes are 24 by 24 inches and 26 by 26 inches.The number of throw pillows to use on your furniture depends on personal preference and space available.
Homeowners with smaller chairs opt for one throw pillow with a size of 20 inches or 22 inches in the center of the chair.
For smaller sofas and loveseats the typical throw pillow size and amount, is to use two 18-inch pillows and two 20-inch pillows on each side. Another alternative is to use one large 22-inch pillow in the center and two 18-inch pillows directly on each side of the center pillow.
On the other hand, those with a large couch choose a two 22-inch pillows on each side of it, and then another in the center. An alternative to this is to use two 22-inch pillows on each side and two 20-inch pillows next to them.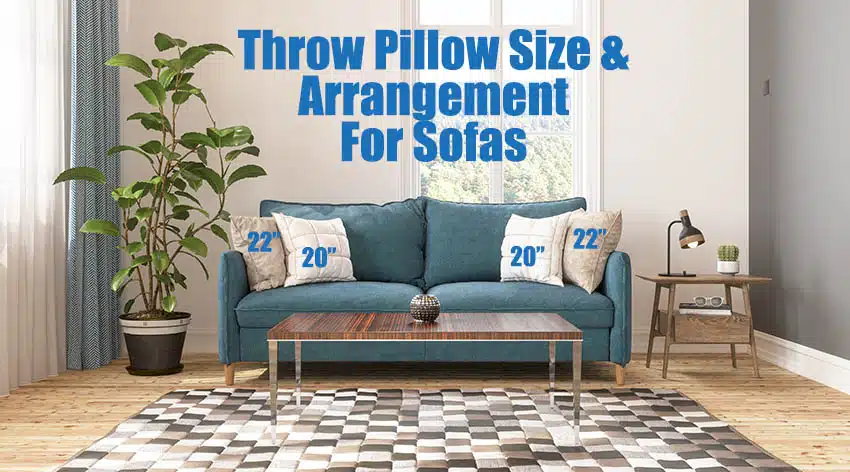 For those who want to achieve visual depth and have larger furniture, a layering is a popular option. The size of the throw pillow for this depends on the size of the furniture it will be on.
One typically will go for 22-inch or 24-inch throw pillows for the first layer, and a step down in size for the pillow in front. Although some others will use a 26-inch pillow if they have a larger space.
Common Sizes for Throw Pillows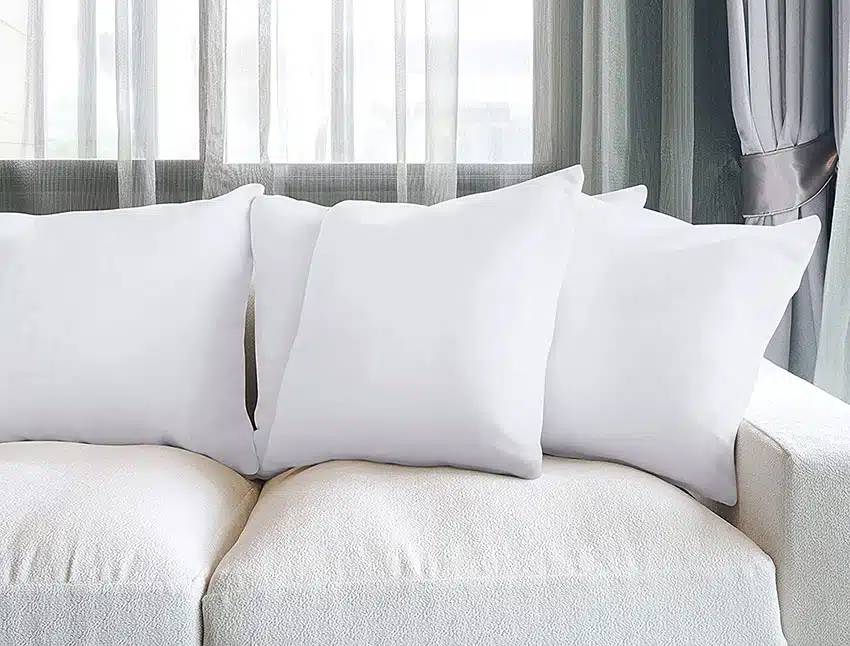 See this throw pillows at Amazon [sponsored link]
The typical throw pillows for sofas are the square ones, including those measuring 18 by 18 inches and 20 by 20 inches. For sectionals with higher backs or deeper seats and larger sofas, homeowners opt for the 22 by 22 inches or 24 by 24 inches sizes.
For homes with kids, smaller pillows are preferred. Each of these sizes will have many pillows available for support, comfort, and decorating a space.
To get an accurate measurement, here's what to do. Take the inserts out before measuring your pillows if your covers have removable inserts and have zippers.
Alternatively, you can pinch the pillow's two top corners and then pull the top seam tightly all while holding the throw pillow beside a measuring tape if the pillow is sewn up and the insert isn't removable.
You might want to get help from another person to do this. But if you cannot pull the pillow straight, you can just add some length to the measurement. However, ensure that you round up to a ½-inch increment.
Sizing for Pillow Inserts and Cover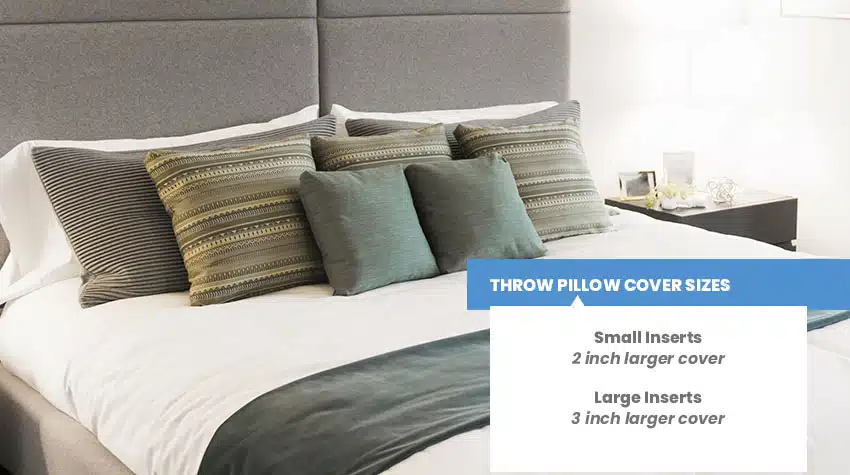 What insert size to use for the pillow cover? It's recommended using inserts that are two inches larger all around than the finished size of the pillow.
So for an 18 by 18 inches pillow cover, 20 by 20 inches of insert will be needed, ensuring that the throw pillow is filled out and looks plump when it's inserted. Otherwise, the pillow will be saggy.
For smaller than 18 by 18 pillows and lumbars, inserts that are one inch larger will work better than those larger by two inches. If you have extra large throw pillows, like 24 by 24s, inserts that are larger by 3 inches than the cover will work best.
But in the case of ultra dense inserts, they can be full enough to use with a similar sized cover, like 10 by 18 inches cover for a 10 by 18 inches insert.
Sizes for Rectangle Pillows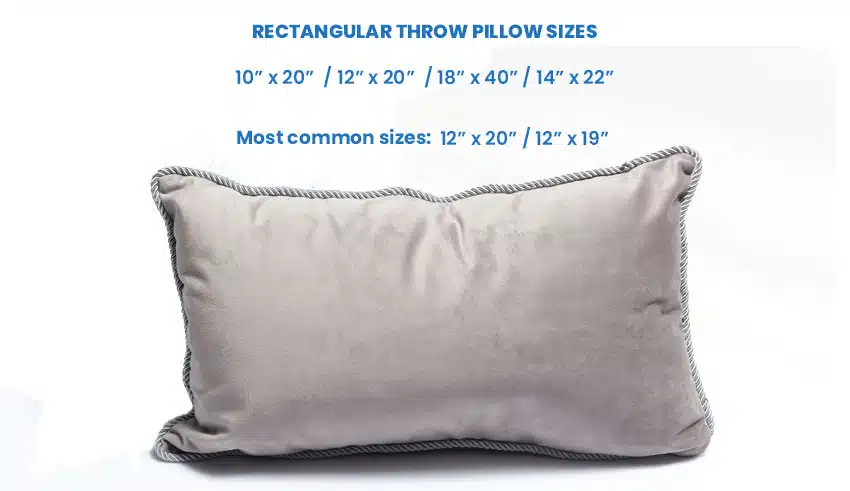 Large, rectangular body or lumbar pillows can support the spine and offer comfort. They are some of the most popular shapes of throw pillows whose name is taken from its ability to support the back's lower lumbar region while the user is sitting upright in a sofa or chair.
Rectangular throw pillow sizes are available in a wide range of sizes, including 10 by 20 inches, 12 by 20 inches, 12 by 40 inches, and 14 by 22 inches, and can be fit for a couch or a bed for a stylish rest. While they come in this variety of sizes, the two most common rectangular sizes are the 12 by 20 inches or 12 by 19 inches varieties.
These sizes also work well for standalone chairs. The 12 by 20 inches rectangular pillow, in particular, can offer excellent aesthetics when used alongside other throw pillows. A 12 by 20 inch pillow can offer a good layering solution in front of smaller 18-inch or 22-inch square throw pillows, too.
However, some are confused between lumbar and bolster pillows. The latter pertains to a cylinder shape pillow that has round ends, while a lumbar pillow is rectangular in shape. But then, if a rectangular shaped pillow is higher than 14 inches, it might not be able to provide lumbar support for most people, except for taller users.
Thus, a pillow with a size of 16 by 24 inches is not anymore a lumbar pillow in that it's now very broad for offering full back support. Nevertheless, a larger rectangular pillow is still a good choice for larger sectionals, as they can add aesthetics and offer backrest. See more types of pillows here.
Pillow Size Chart
Shape
Size (in inches)
Square (or Euro Sham)

16 x 16

18 x 18

20 x 20

22 x 22

Round
18 x 22 (diameter)
Body or lumbar

10 x 20

12 x 20

12 x 40

14 x 22

Couch or bolster
6 inches in diameters with 12 inches length or 7 inches in diameters with 20 inches length
Ideal Sizes for Big Pillows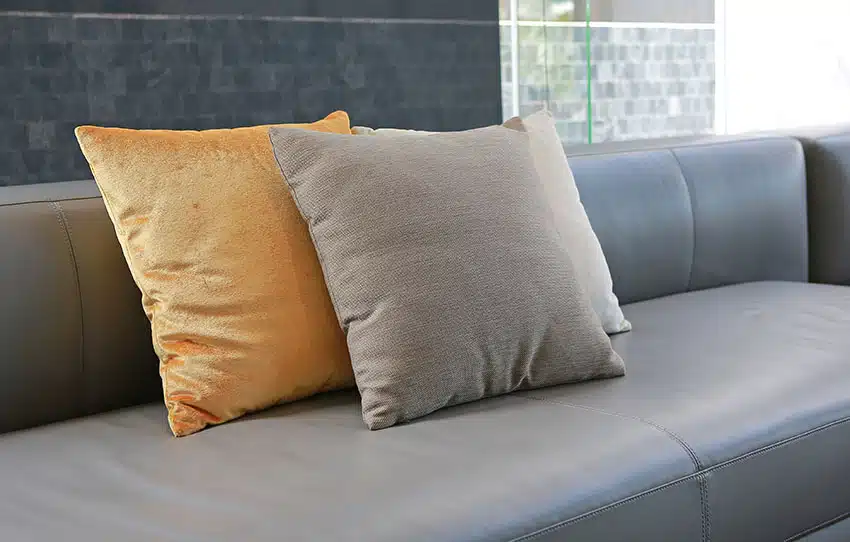 Larger sofas with higher backs will need 22 by 22 inches or 24 by 24 inches throw pillows. But while oversized pillows are available in these sizes, larger pillows can be enough to make a statement without having a lot of them on one's bed.
For example, lumbar pillows with a standard size of 12 by 18 inches or larger ones with a size of 16 by 36 inches would be good enough..
For others, using an even larger pillow, like 24-inch or 26-inch pillows for deeper couches are preferred if they want a more pillow-filled decoration or arrangement. But for not-so-deep couches, using a 22-inch pillow may be enough.
Dimensions for Couch Pillows
It will always be a good idea to use a standard 20-inch pillow for a rectangular-sized sofa. But for a modern, low-back couch, using a 16-inch or 18-inch throw pillow will be good to complement it.
King Bed Pillow Dimensions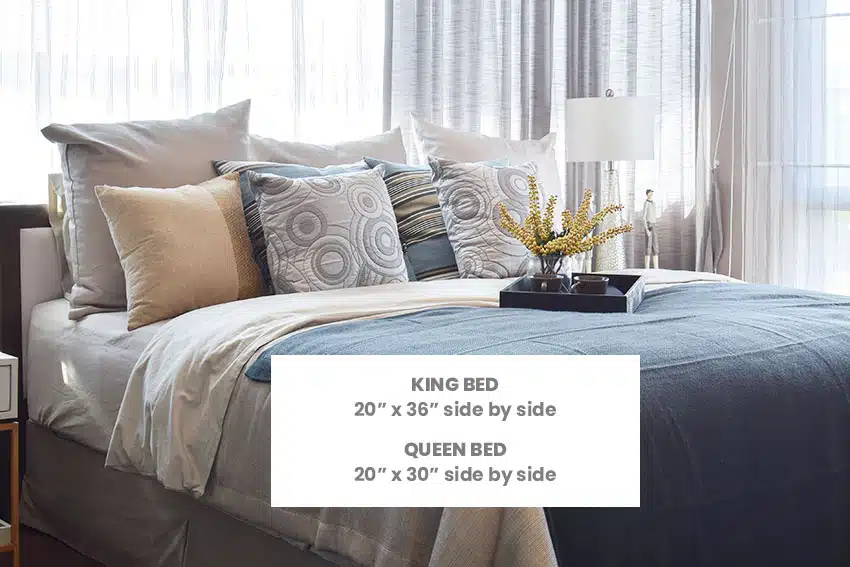 A king throw pillow will be extra long, having dimensions of 20 by 36 inches and using two of them side by side in a standard king size bed will be perfect. Still, some homeowners opt to use queen-sized throw pillows for their king size bed, and use a king throw pillow only for decorative purposes in it.
King size pillows have the perfect width for a twin bed and using one of them is enough for support alongside traditional pillows and for decorative purposes. Read more about bed sizes here.
Measurements for Queen Bed Pillows
A queen throw pillow is longer than a standard pillow, having dimensions of 20 by 30 inches. Two of them side by side make the ideal width for a queen size bed.
How to Measure Size of Pillows
To ensure that your throw pillows will have the right measurements for where you're going to place them, here's what to do.
Pinch the top and bottom corner of your pillow, and then pull its fabric tightly. From top to bottom, measure the height of the pillow along its edge.
Next, hold its left and right corner, and again, pull its fabric tightly. Get the width of the pillow along its edge from left to right.
Visit our pillow dimensions guide for more related content.