Welcome to our pillow dimensions guide including standard sizes for king, queen, twin, Euro and body pillows and how to mix and match.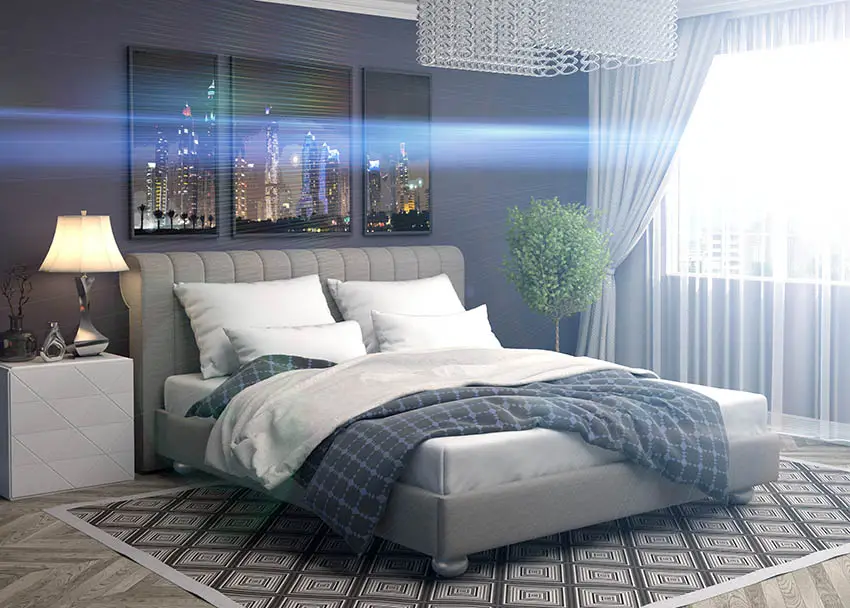 A full night's sleep boosts our immune system, keeps our heart healthy, provides energy through the day, and so many other helpful benefits. These are the reasons we go to great lengths to make every snooze as comfortable as possible.
Some may purchase diffusers, weighted blankets, scented candles, and other aids to get that much-needed goodnight sleep.
However, one of the more critical and sometimes often overlooked sleeping items is the pillow. Get the right types of pillows for plumpness and size and you get that healthy slumber night after night.
As pillows come in all sorts of shapes and sizes, for starters, we've listed the standard sizes that will guide you when choosing your pillows.
Standard Pillow Dimensions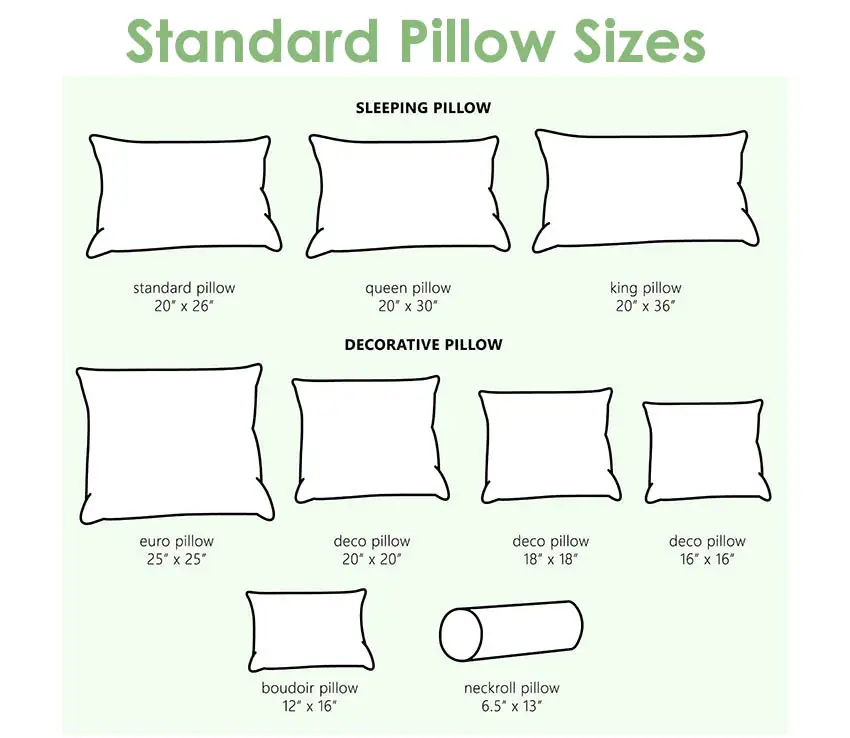 For the most basic sleeping needs, a standard pillow measures around 20 inches by 26 inches or 51 centimeters by 56 centimeters.
This pillow size will pretty much sit nicely with any bed size. If you are the kind of person who changes positions a lot while asleep, this may not be the best pillow for you as it is quite easy for your head to slip off to the side.
However, for a general-purpose sleep or nap, this is the right size that is used by most people. Since this is one of the most widely used, you will always find a pillow cover for it.
Queen Size Pillow Dimensions
A Queen size pillow is no different than that of a standard-sized pillow except for a longer length. The extra inches allocate additional room for sleepers who tend to toss a lot.
The typical queen size pillow dimensions are 20 inches by 30 inches or 51 centimeters by 76 centimeters.
Despite the slightly larger size, a standard pillowcase should still be able to accommodate this size. A pair of these pillows can fit nicely across a twin-sized bed and still have extra room in between.
King Size Pillow Dimensions
For sleepers who tend to move a lot. The king size pillow dimensions measure 20 inches by 36 inches or 51 centimeters by 92 centimeters.
This pillow size gives more assurance that your head will not go over the edge as it will leave no space between two of these on a Queen-sized bed.
On a larger bed, you will have to be tossing a lot to go over. A pillow of this size can also double as back support for when you decide to sit on the bed's headboard. So you can sit comfortably while reading a book or working on your phone.
Euro Pillow Dimensions
The Euro pillow comes in many sizes, if this is your first time hearing of this type of pillow, it is essentially a pillow-shaped in a square.
Some European countries use this type of pillow for sleeping such as Holland and Germany. But it is generally used for support such as propping up a book or laptop while in bed.
The traditional size of this pillow is 26 inches by 26 inches but Euro pillow dimensions can also be found in other sizes: 24² inches, 22² inches, 20² inches, 18² inches, and 16² inches.
Body Pillow Dimensions
A body pillow is aimed for body support rather than the head. Pregnant women will find this type of pillow especially useful since it functions as a barrier to keep their body from rolling onto their stomach or back.
Women who are pregnant sleep best on their side according to medical research. If this type of pillow is not available, two king-sized pillows can work well as a substitute instead.
The typical body pillow dimensions are 20 inches by 54 inches or 51 centimeters by 137 centimeters.
Lumbar Pillow Dimensions
Lumbar pillows are probably the most versatile as they can serve many functions whether in bed or on the couch.
This pillow is characterized by having a distinct length to width ratio when comparing to any of other standards pillows. The pillow can serve as armrests, lumbar support, head support, and as a decorative centerpiece.
The typical size for lumbar pillows is 14 inches by 22 inches. Some can reach a length of 60 inches.
Getting Creative: Mixing Pillow Sizes
When it comes to being creative, having a wide array of choices for pillows makes it more fun. However, certain factors will put a limitation on what you can do.
Pillow manufacturers design their pillows to be as colorful as possible while using different materials to address a variety of comfort needs. Then there are also the different sizes that serve different functions.
The first factor to look at is real estate. Are you filling up your bed or couch with pillows? This alone will determine what kinds of pillows you can place on them and how many.
The next factor to look at is the size of the bed. Just like the pillows, beds and couches come in different sizes. Having a bed too wide can afford you many options while a smaller bed will do the opposite because you have to prioritize more on functional needs.
A body pillow will not work very well with a twin-sized bed as it would pretty much occupy half of the area. This is an extreme example but you get the idea.
On the other side of the spectrum, a very wide bed gives you lots of options but you should not overdo it, otherwise, all you'll see are pillows and not enough space to sleep on.
Striking the right balance between aesthetics and functionality is the best route to take. Thirdly, consider finding the right colors and patterns to match well with the rest of the bed, and by extension, the whole room.
This will speak more in terms of design than just having random pillows cluttering the bed. The same idea goes with the couch. You can read more about mixing and matching sofa pillows here.
Finally, for our fourth factor, depending on your budget, pillows can be quite pricey so it's crucial to read reviews of different pillow brands and sizes. Ask around and watch online how others have picked theirs and what are their reasons.
Choosing Pillow Sizes Takeaway
You've probably heard the term "ergonomics" from somewhere and like furniture and other items we use from day-to-day, the humble pillow needs to have the right size in relation to the user, your type of use (sleep, reading, back support), and your bed's proportions.
Not only does having the right pillow size makes us comfortable, but it also prevents strains and achieves quality sleep, plus, creates that tempting slumber appeal to your bedroom look.
What did you think of this pillow dimensions guide? Is there anything we left out, if so let us know in the comments sections. For more similar content take a look at our types of beds gallery here.