More often than not, your living furniture is one of the biggest pieces of investment you'd have in your home. Here, we share our guide to the differences between sectional vs sofa with when to buy a sofa, loveseat, two sofas, or sectional for your interior design.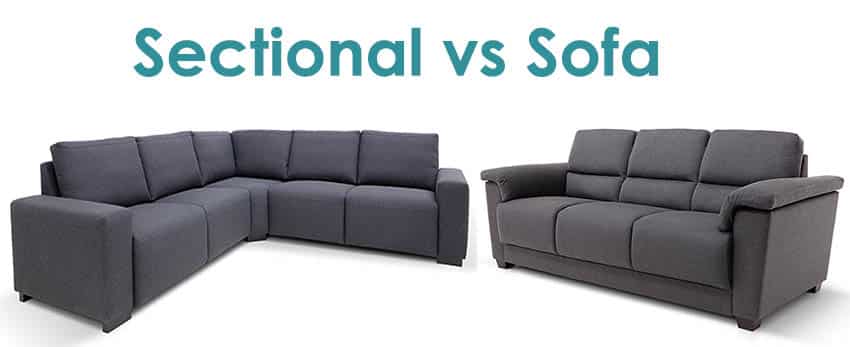 Sectional vs Sofa: Know the Difference
How do you differentiate a sectional from a sofa? There are three ways you can distinguish one from the other.
Type of Construction
The sofa is a single piece of furniture, while sectionals are made of modular pieces which you can arrange according to your preference or depending on the living space.
Size
On a general scale, sectionals fill up more visual space compared to sofas, regardless of the size of the living space.
Shape
Sofas are often linear. Sectionals, being modular, can be shaped as an "L', a "U" or any shape you want.

Quicklist: Different Types of Sectionals
Chaise

No armrest

No back-support

Designed for leg support

L-shaped Sectional

Shapes like the letter "L"

Optional armrests

Three-seat couch base with an extension on one side

U-shaped Sectional

Shapes like the letter "U"

Three-seat couch base with extensions on both sides

End corners have more legroom
Types of Sectionals
Appropriately enough, sofas or couches made up of multiple sections are called sectionals. A loveseat section combined with a chaise lounge section is the most common and least expensive type of sectional.
Chaise Sectional
A chaise, chaise lounge, or chaise lounger are all terms used to describe a type of seating with a longer-than-usual seat cushion made to support your legs when you're sitting down.
It is more common for these types of sectional sofas to be sold as one contiguous piece, albeit, the loveseat and chaise can become modular pieces arranged together and connected by cushions
Since the purpose of the chaise is to allow you to stretch out your legs, there is no armrest at the end of the chaise, and no back support along its side. Of course, this won't prevent you from using it as extra seating during a cocktail party.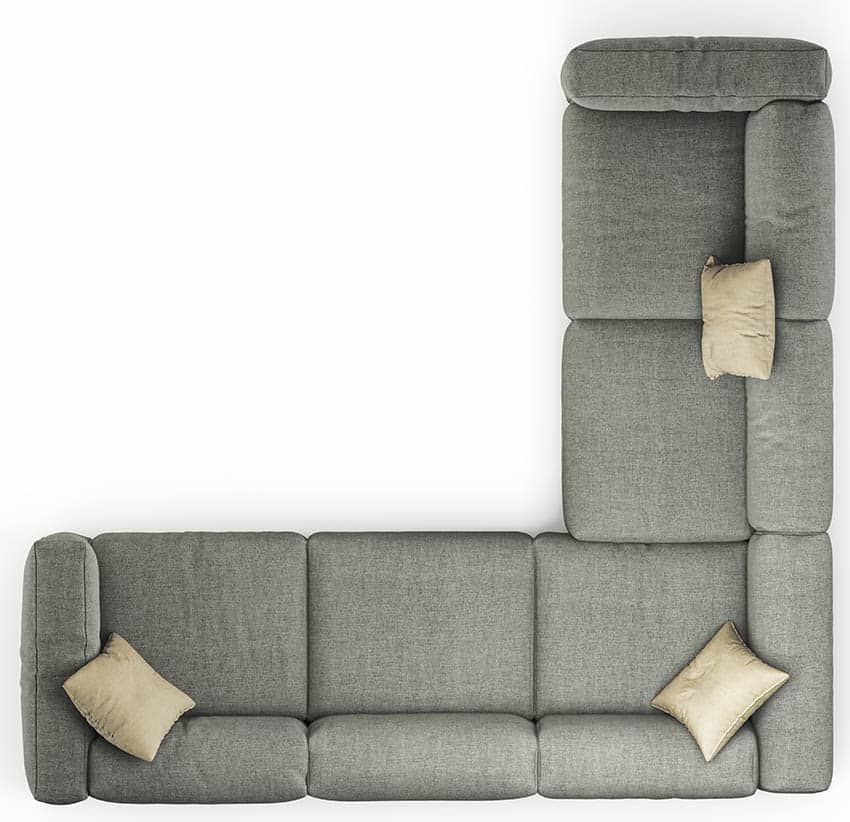 The L-Shaped Sectional
The next most common type of sectional involves a three-seat couch connected at the corner with another couch or sofa.
Unlike the chaise-style sectional, this second type of sectional has a back support that wraps all the way around the piece of furniture. Like the loveseat-chaise combination, this sectional style produces a piece of furniture shaped like the capital letter 'L'. The armrest at the end may be optional.
The U-Shaped Sectional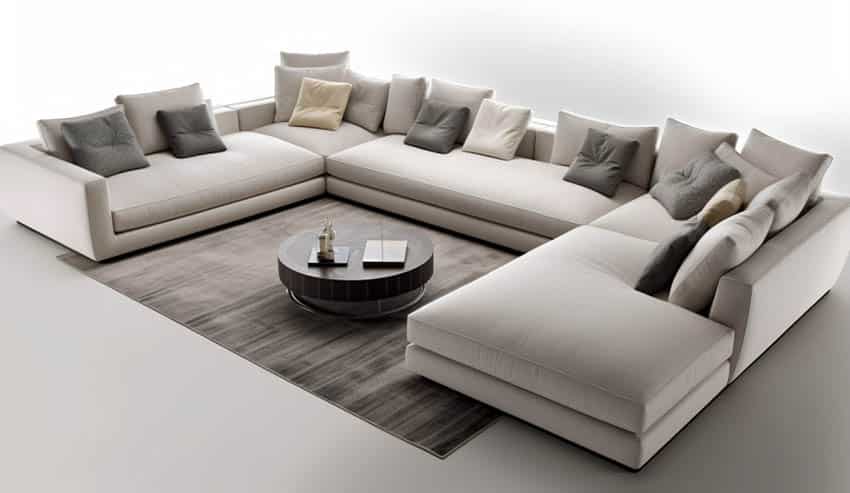 A third type of sectional has a three-seat couch as its base, with extensions on either end. The extensions can be chaise loungers or additional seats. This configuration provides the most seating options but also takes up the most space. These are referred to as U-shaped sectionals.
The corners of a large sectional sofa may be square or curved in shape. A square corner seat will be unusable when the rest of the sectional is full because there isn't a way for your guest to put their back against the couch and their feet on the floor.
When there are fewer or no guests, the corner quickly becomes the most coveted spot in the room, a cozy place to extend your legs in either direction.
A curved corner seat is better when many people are present, giving your guests adequate legroom and access to the coffee table.
When to Buy a Sofa for Your Interior Design
Sectionals are a versatile and much-loved interior design staple, but that doesn't mean they are right for every room.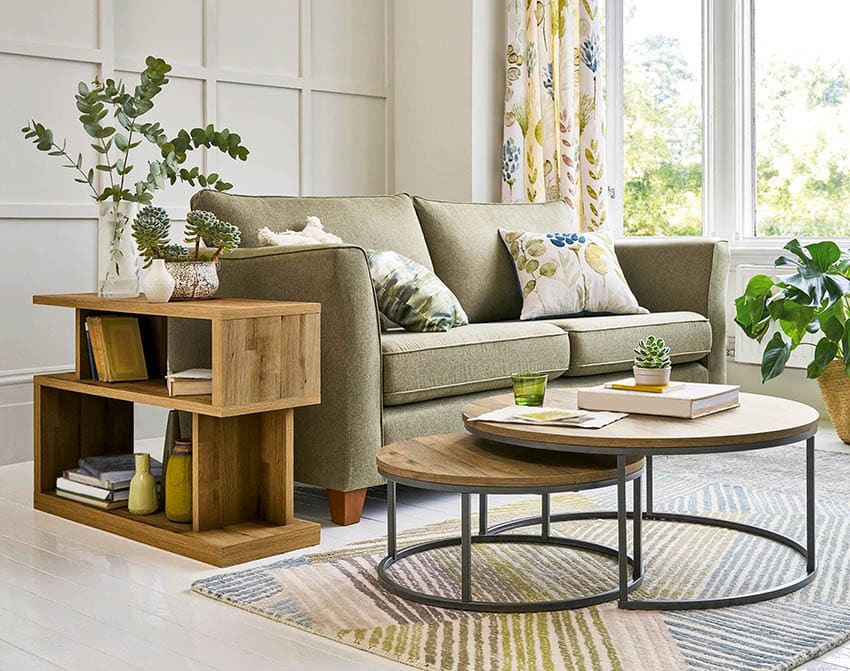 Due to their size and fixed shape, there is often only one place in a room where a sectional can go. If you like to rearrange furniture for different looks or would like to get the most in your living space planning, it's best to opt for a regular sofa instead.
"Standard sofa lengths vary from about 70 to more than 100 inches(1.8 to 2.5 m), and choosing the right one is dependent on the size and flow of your room." – Beau Ciolino, Matt Armato, Probably This Housewarming: A Guide to Creating a Home You Adore
Sectionals are quite cozy and are generally perceived to be informal, a perfect add-on to a family room where you and some close friends can pile up on to watch a movie.
If you regularly entertain guests that aren't intimate friends, a sofa and a few chairs will provide ample seating without asking your guests to sacrifice their space to enjoy your company. Read more about the different sofa sizes here.
The size of your room also matters. A large, cavernous room with a sectional pushed against the wall will feel empty and underused. In contrast, a traditional sofa set for the living room (one regular sofa, a loveseat, and two chairs) will better fill the space.
A sectional looks most natural when nestled against a wall or into a corner.
On the other hand, sofas are more desirable to create a free-floating look, where the seating space is in the center of the room, perhaps sitting atop an area rug, rather than being pushed against the walls.
Choose a sofa when you want a more formal, distinguished look, and a sectional when comfort and informality are more prioritized.
When to Buy a Sofa & Loveseat
If you need the seating capacity of a sectional but want the flexibility to rearrange furniture, consider a sofa-and-loveseat combination. Choosing pieces from the same era or furniture styles, but with different designs will give you a classy and cohesive look.
Furniture designers know the difficulties consumers face when deciding between sectionals and sofas and have created modular furniture to fill the gap.
For instance, many sofas can be purchased with an optional oversized ottoman. The ottoman should be at the same height as the couch cushions and can be pushed up against the couch to provide the functionality of a sectional with the flexibility of a sofa.
You could also look for a sectional that can be detached, with each individual section functioning as a separate seating area or pushed together to form one giant couch.
When to Buy a Sectional For Your Interior Design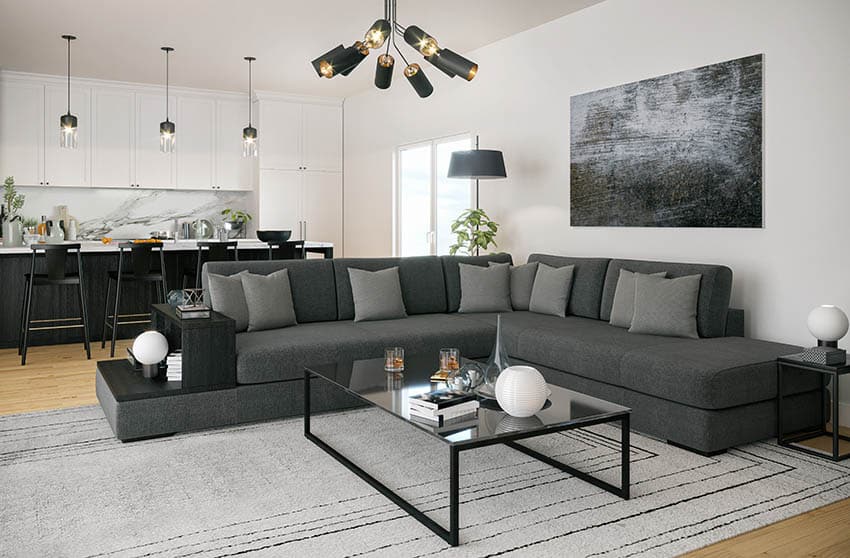 Sectionals are large pieces of furniture that take up considerable floor space. Some people may shy away from them for smaller rooms, feeling that the sofa would overwhelm the space.
The result is often inadequate or uncomfortable seating, with no place to stretch out or put your feet up. Because each piece of furniture requires clearance to navigate around it, small rooms with several seating options often look cluttered or cramped.
A sectional condenses multiple pieces of furniture into one designated area, freeing up the rest of the room. It can make a small room look larger than it is.
But what about wide, open spaces? With open-plan living areas, life and conversation flow easily between the kitchen, dining room, and living area, but you still need a visual definition.
The back of a sectional can function as a half wall, delineating the living room as separate but not impeding traffic, conversation, or communication.
While sectionals are available from high-end furniture design houses, these are still perceived to be less formal than standard sofas, particularly models that include chaise lounges.
If you're going for a classic look, ditch the chaise sectional and ensure the entire furniture piece has armrests and back supports. Opt for sectionals with individual square cushions.
If you've got a big family room, you can dispense with the armrests and look at sectionals with larger, rectangular cushions for a more informal design aesthetic.
If you need your couch to do double duty as a guest bed, you may feel that a folding pull-out bed is the only option.
However, rather than removing the cushions to expose a mattress underneath, sectionals often have extra cushions that can be pulled out and popped up to create a rectangular sleeping surface the size of a double bed.
When you've decided to buy a sectional, the next important decision you have to make is RAF or LAF. These abbreviations are commonly used by furniture sellers and indicate which side of the couch protrudes into the room.
When you are standing directly in front of the sofa, facing it, if the chaise or protruding sofa is on your right side, this is said to be a right-arm facing model. If the extension is on your left side, this is a left-arm facing sectional.
Sectional vs Two Sofas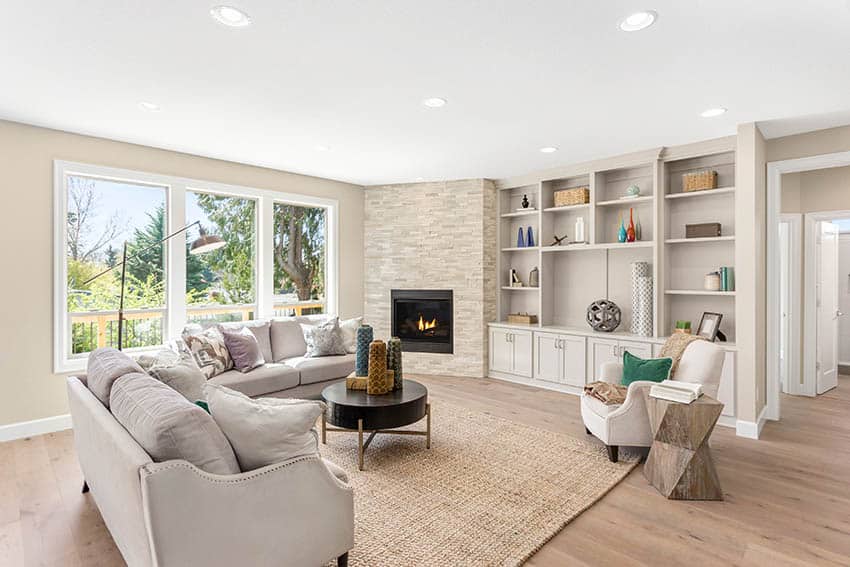 To decide between a sectional and two sofas, ask yourself what the main activity will be in this room — is it for watching or talking?
If the room's purpose is watching television and movies, then a sectional does a better job by clustering all the room's inhabitants in one area that can be set up to face the TV.
A room with a fireplace or an outstanding view could also have the primary purpose of watching and thus would benefit from a sectional rather than two sofas.
Take note that with household fires becoming more prevalent, your sofa or sectional must have the CPSC label, which means the furniture manufacturer has complied with the federal mandate of the US Consumer Product Safety Commission. [Source: CPSC.gov]
If the room is primarily a place where family and friends gather to talk to each other, with a focus on conversation rather than a shared visual experience, opt for two sofas arranged opposite each other. This way, your guests can face each other, stimulating conversation while preventing sore necks.
For more related content, visit our page on couchless living room designs.