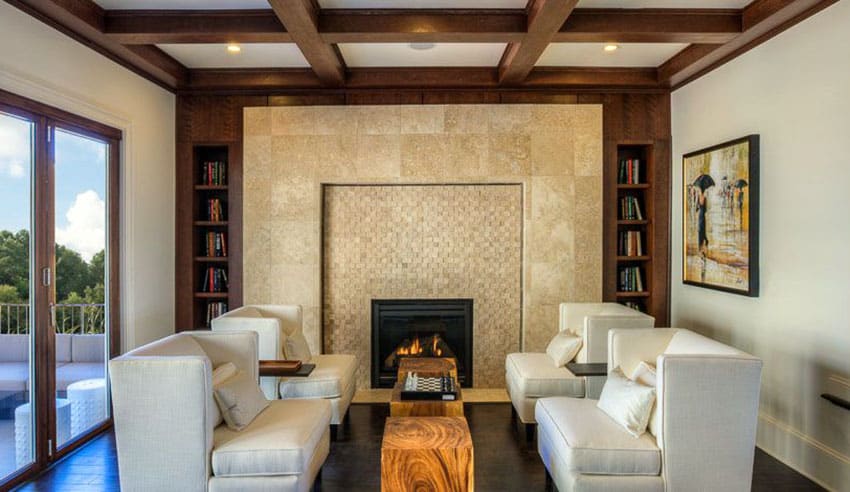 If you're looking for couchless living room ideas you've come to the right place. Couch is such an interesting word, it is most commonly known as a noun, that large thing that takes up space in nearly every American living room. But it is also a literary term meaning to lay down. When we nap, we couch on the couch. But it isn't necessary to have a couch in order to…err…couch. You can have a stylish, functional living space that is 100% sofa free.
The first thing to consider is what you want to get out of your space, whether it's getting cozy near a sunny window and reading a book, entertaining a group of friends, or making a pallet for a slumber party, the couch-less living space is beautifully versatile.
Some of the primary benefits of going couchless are:
Save space – Sofas take up a lot of room – for those with smaller apartments or living rooms replacing a couch with armchairs makes a lot of sense. Lightweight chairs can be easily moved to accommodate others and use where they are needed at that moment.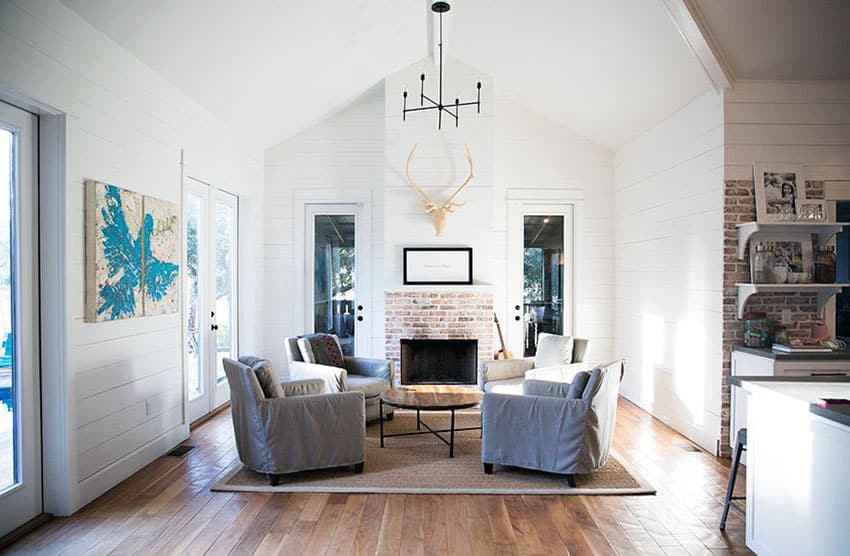 Easier to clean – Cleaning around and under a large couch can be a pain. Couches can be hard to move and are real dust & hair magnets, especially for those with dogs and cats. Not to mention I can't remember how many times I started housework and ended up kicking back on my couch with my feet up instead of housecleaning.
Entertaining – If you entertain a lot, whether is a gathering to play the latest video game or watch the Super Bowl, you want your friends to be comfortable. Sofa seating isn't always comfortable, people who may not know each other well are often hesitant to squish onto a couch.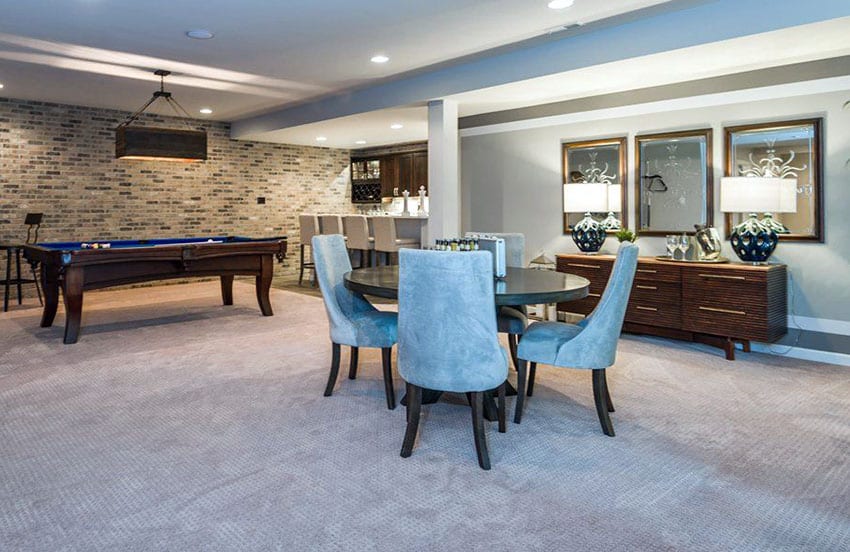 Basement living room with dining table and chairs
You might notice a few people sit on the couch then others pull in dining chairs or simply sit on the floor. We tend to arrange ourselves in a semi-circle, so that conversation flows easily and we don't have to twist and turn our bodies in order to speak to one another. Instead of a sofa, try a grouping of large floor cushions or bean bag chairs. There are a few new companies making durable, comfortable bean bag chairs that are stylish and sophisticated enough for any living space.
Cost saver – Going with a couchless living room can be a great way to save money. Not only are chairs more inexpensive that a full size sofa, they are easier for those who frequently move to a different home.
Great for kids – There are many ways to make a couchless living room that's kid friendly and fun. Bean bag chairs, indoor hanging chairs, or just cozy cushions are just a few of the ways you can create a kid friendly living space.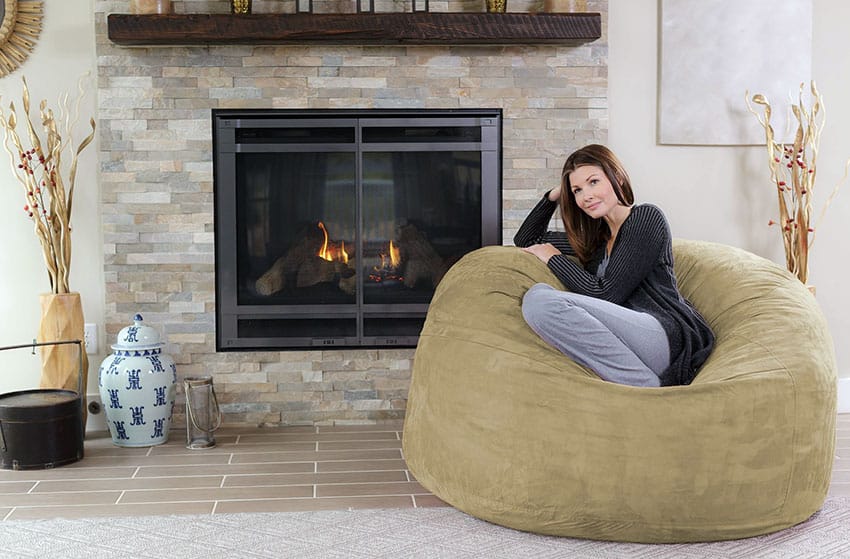 Bean bag chair in living room – Wayfair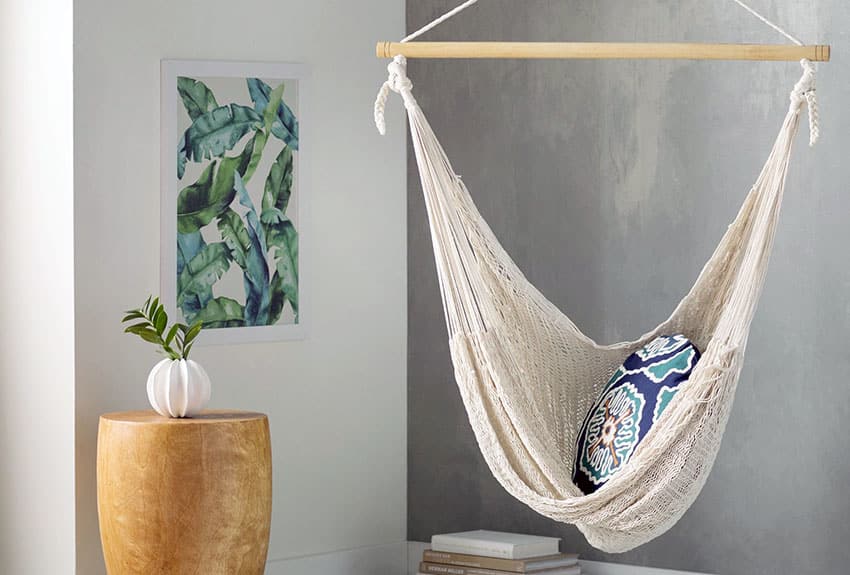 Handcrafted hanging indoor hammock – Source
Include a few small, lightweight tables scattered about the space. You can easily stow them in a corner if you need more floor space for those crazy dance party game nights. Pop a comfy rug on the floor and keep a basket of throw blankets handy for adult naptime, if you are fortunate enough to have adult naptime, that is.  Don't think that sitting on the floor is just for dorm rooms, in many parts of the world, it is quite common to have floor seating only.
If floor sitting isn't your thing, no worries, you have choices! A couple of vintage armchairs create a nice conversation area and lend an eclectic, funky vibe. A mid-century Danish credenza on the wall, a Kilim rug underfoot, and a round, minimalist end table between the chairs give you a great base with which to work.
Create a formal living room space – Many formal living rooms get rid of the traditional couch to go for separate chair seating. This works especially well for those who entertain business clients at home or want to create a more formal environment.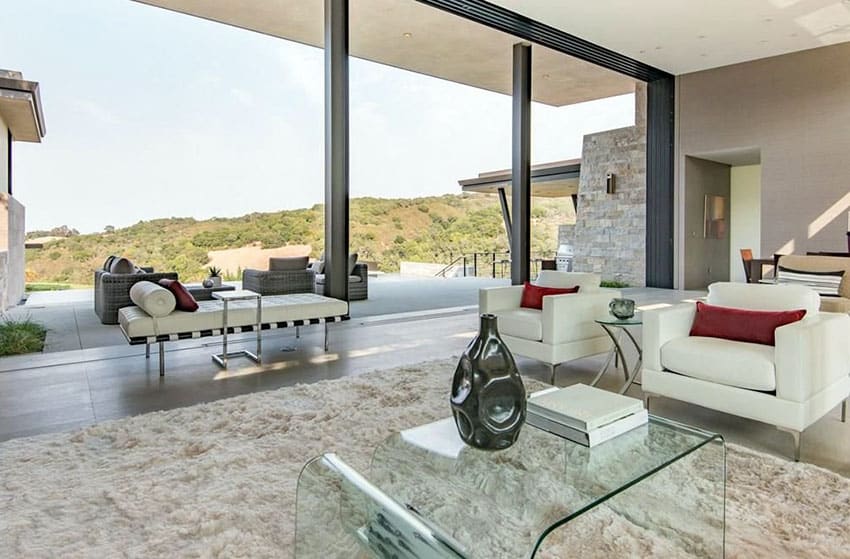 Stylish – Probably one of the best reasons to go couchless is its versatility. There are so many ways to get creative with styles and matching decor with chairs that it makes a great choice for those who like to mix and match furniture and try out new styles without getting one large couch you're stuck with for yeas.
Traditional Couchless Living Room with Armchairs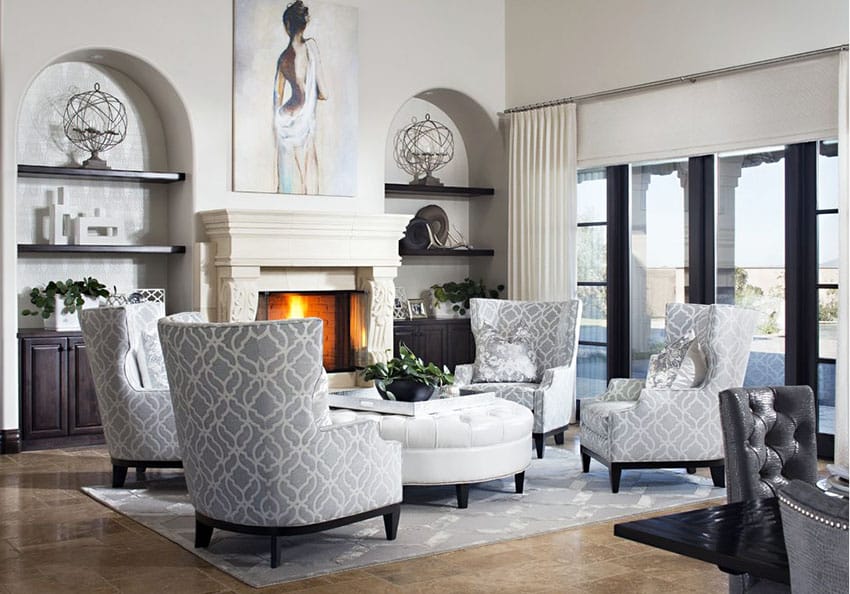 Living room with Nikko armchairs – Source
If you prefer a more traditional feel, go with a few French style velvet armchairs and an antique occasional table and Persian rug as the base of your design. Built-in banquette seating under a large window is also a great alternative to a couch and it provides bonus hidden storage space. Place a couple of armless slipper chairs across from the built-in seating and voila, instant living space with no couch!
Glam Style Couchless Living Room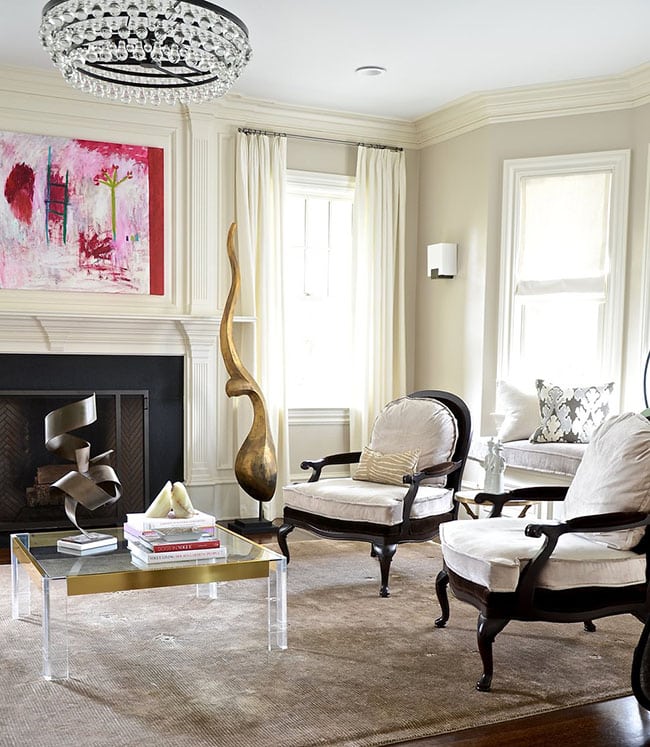 Living room with armchairs with cabriole legs – Source
Contemporary Couchless Living Room with Butterfly Chairs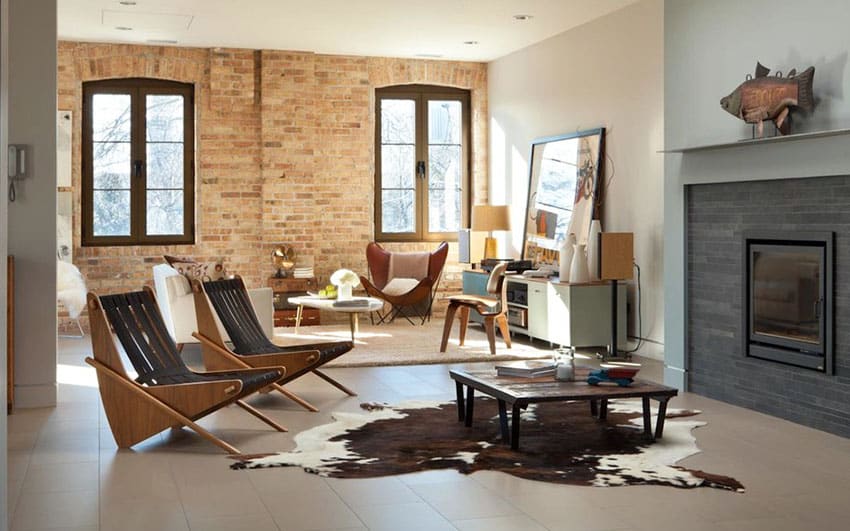 Living room with leather butterfly lounge chairs – Source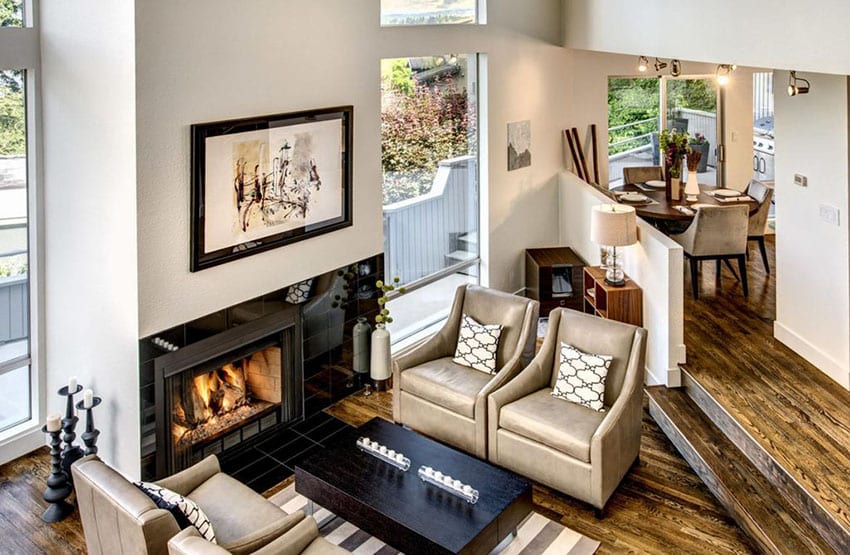 This small sunken living room makes perfect sense for going couchless due to its limited furniture layout. Keeping it cozy by the fire this homeowner opted for leather armchairs situated next to the fireplace.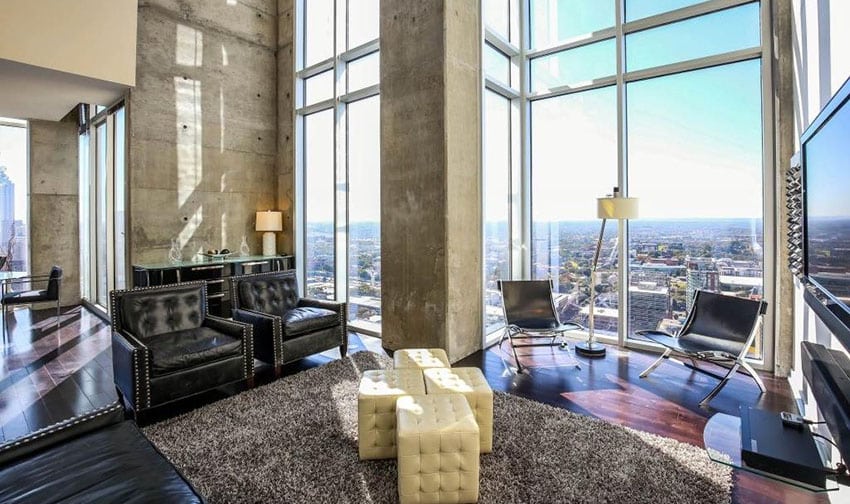 This contemporary living room uses leather armchairs in the place of a traditional sofa to create a stylish space.
This is just a small sampling of what you can do when you decide to live couch-free. A couch-free life is budget and space friendly and gives you a lot more flexibility in your living space. Take a look at your space today and imagine what you could do if you didn't have that bulky, heavy sofa taking up valuable floor space.
Related Interior Design Galleries You May Like:
Alternative Uses for Formal Living Rooms – Formal Living Room Ideas  – Beach Themed Living Room Designs