Here's our chaise lounge dimensions guide including different types such as the double, three seat and standard chaise lounge sizes, cushion dimensions and how to measure this chair.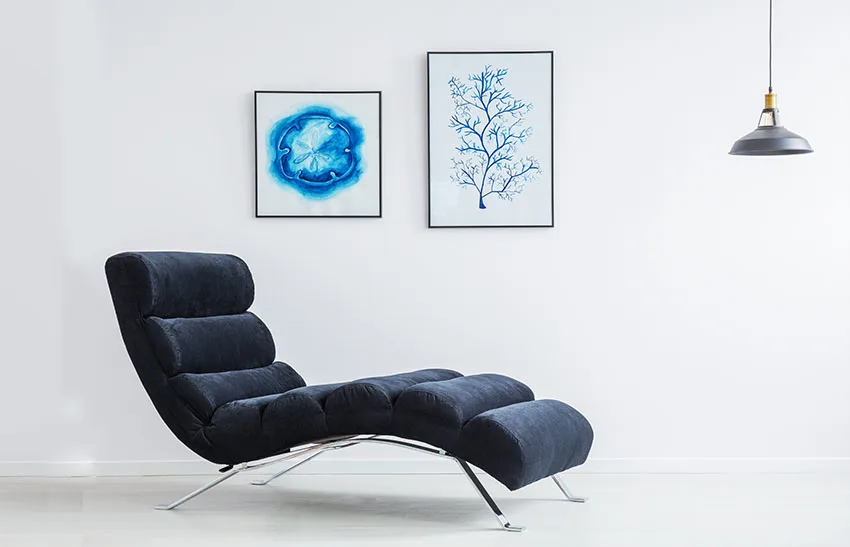 Chaise lounges are versatile furniture pieces that could provide extra seating and be an added design element for your home. Whether situated in the living room or on the foot of your bed, they come in different sizes.
This article will talk about chaise lounge dimensions, both indoor and outdoor, and will also teach you the basics of how to measure them for covers or cushions.
Standard Chaise Lounge Sizes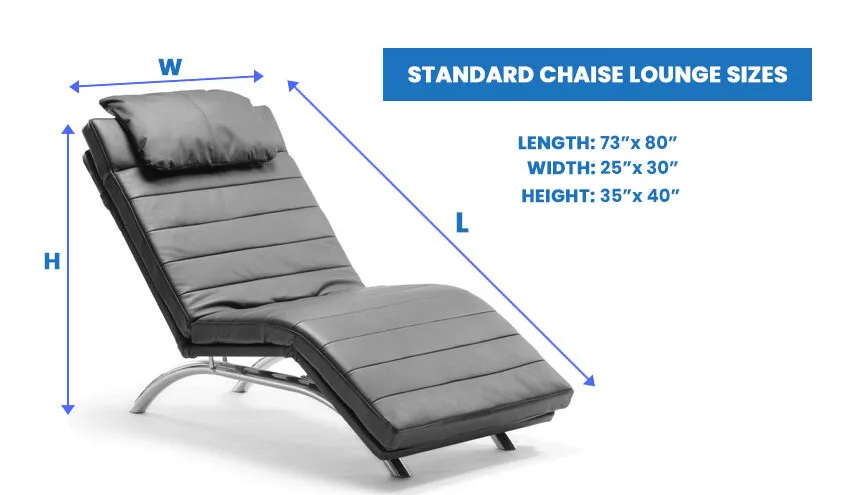 Chaise lounge is an umbrella term for a chair style that allows the person sitting in the chaise to stretch out and recline in a lounging position.
What sets it apart from other living room seating is that the chaises have one side angled back. These chairs are close to the ground and support the whole body, making them perfect for relaxation after a long day.
Chaise lounges vary in many shapes and sizes, with seat lengths ranging from 73 to 80 inches or 185 to 203 centimeters. Chaise lounge height ranges from 35 to 40 inches or 89 to 102 centimeters, while their widths come in dimensions of 25 to 30 inches or 64 to 76 centimeters.
Indoor Chaise Lounge Dimensions
The main difference between an outdoor and an indoor chaise lounge is that an indoor chaise lounge can seat two people comfortably. They are also made of comfortable materials and distinct designs comparable to a sofa or a loveseat.
They have elongated cushioned seats, some classic designs have four chair legs, and some are even designed to include extra storage space in the bottom of the seat.
There are many types of chaise lounges, from the French Duchess brisée to the more contemporary Eames lounge chair, and thus dimensions could differ from one kind of design to the next.
The lengths of chaise lounges range from 73 to 80 inches or 185 to 203 centimeters. This size will allow a person of average height to lounge comfortably.
The widths of chaise lounges are between 25 to 30 inches or 64 to 76 centimeters. This wideness will allow the arm to rest comfortably on the chair, while the height of chaise lounges could range between 35 to 40 inches or 89 to 102 centimeters.
It will prop you up and support your head comfortably. See more styles of sofas on our gallery page here.

Double Chaise Lounge Dimensions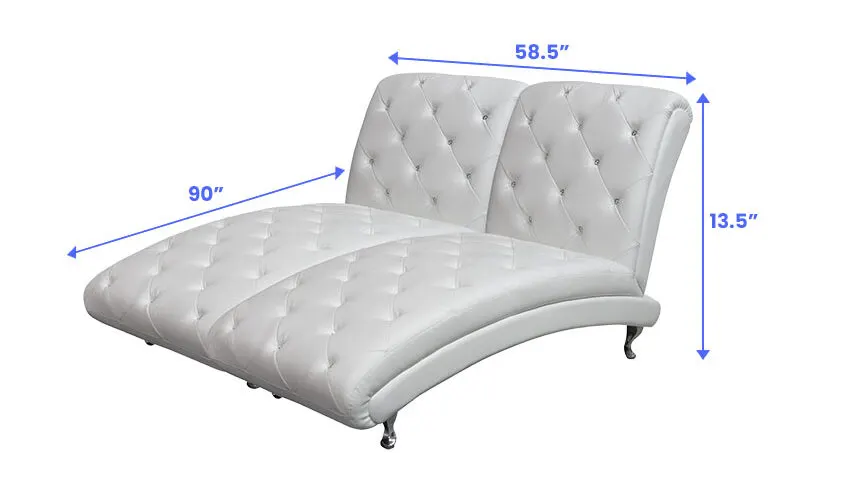 A double chaise lounge would give you fun furniture for your living room and function since it could seat two or even three persons in one.
This lounge chair will give you a perfect seat to lay back on while reading with your children or simply cuddling close to your significant other while watching a movie. They come in many styles and upholstery or wood options.
You can add a statement piece by having a upholstered leather one or a lounge in pink with a mid-century design for a pop color.
The standard double chaise lounge dimension is 90.5 inches or 230 centimeters long. It has a seat width or depth of 58.5 inches or 149 centimeters, while it can have a height of 13.5 inches or 34 centimeters above the ground.
3-Seater Chaise Lounge Dimensions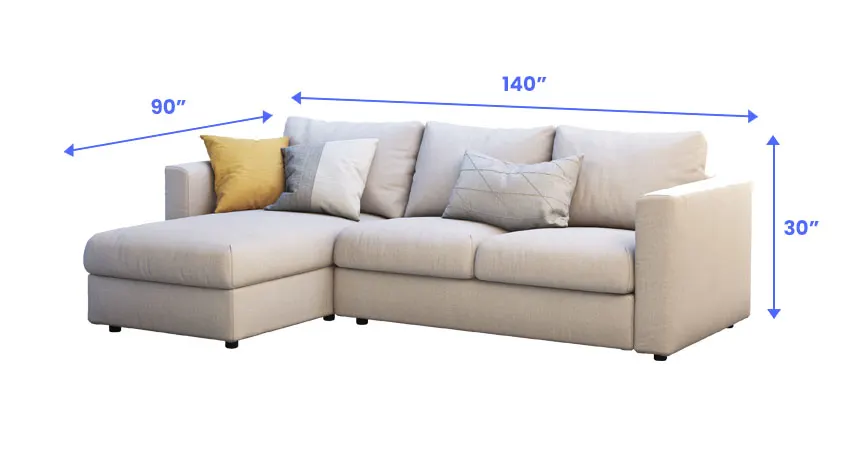 The 3-seater chaise lounges are known as a chaise sofa sectional. It combines a sofa and a chaise lounge for comfortable seating and will cover more space because it could sometimes be more extensive than your average three-person sofa. The 90-degree configuration is where the chaise lounge part comes in this type of seating.
The regular chaise sofa is essentially a love seat plus a chaise lounge on one side. They usually come in an overall height of 30.5 inches or 78 centimeters, a chair length of 140 inches or 356 centimeters, and a depth of 90 inches or 203 centimeters.
For the chaise part of the lounge, the height is set at 16.5 inches or 42 centimeters with arms on one end, usually 21.5 inches or 55 centimeters. See more types of sectional sofas here.

Chaise Lounge Cushion Dimensions
To fully customize your chaise lounge options, buy a cushionless one and fit custom cushions with different covers to fit your needs.
Maybe you want them waterproof to be able to be used poolside or by your beach, if you are fortunate enough to live by the sea. You can buy cushions individually and have them custom upholstered to fit your every need.
Cushions are usually much thinner for outdoor chaises, with the most popular thickness being 3 inches or 8 centimeters. However, there is always of looking for something thicker.
For seat cushions, the standard size is usually 21 inches or 53 centimeters for the width with a height of 47 inches or 119 centimeters. The back cushions have dimensions of 21 inches or 53 centimeters in width with a height of 25 inches or 64 centimeters.
Outdoor Chaise Lounge Dimensions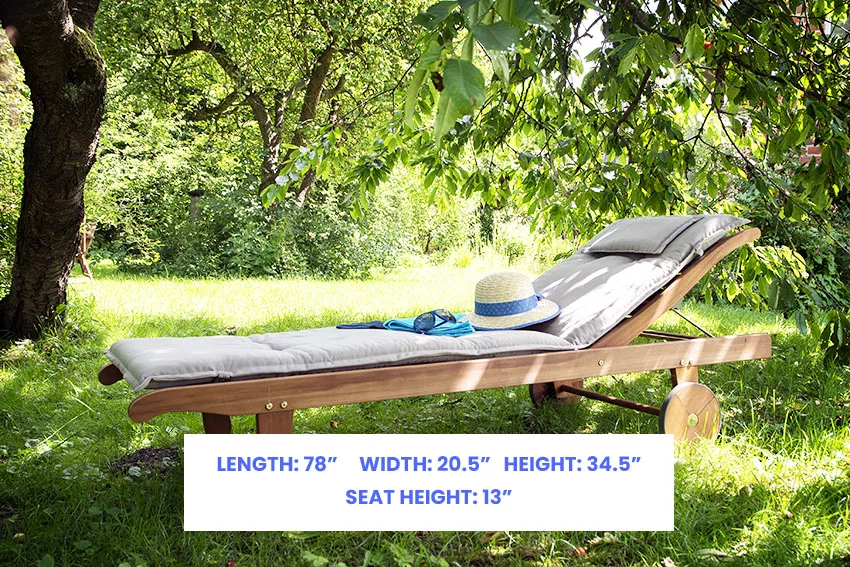 A distinction between a regularly used chaise inside the home and an outdoor chaise is that an outdoor chaise is more often than not has adjustable backrests. You can see them commonly found at the beach or poolside. Sunbathers use them to enjoy the sun but are also often used for reclining while reading.
Outdoor chaise lounge chairs come in different shapes and sizes, and you can get whatever you need by looking for them in different furniture stores or making them by a skilled furniture maker.
The typical outdoor chaise has dimensions of 78 inches or 198 centimeters in total length, and they are 20.5 inches or 52 centimeters wide. The chaise's back height is 34.5 inches or 88 centimeters overall, while the seat height from floor to the seat is 13 inches or 33 centimeters.
Pool Lounge Chair Dimensions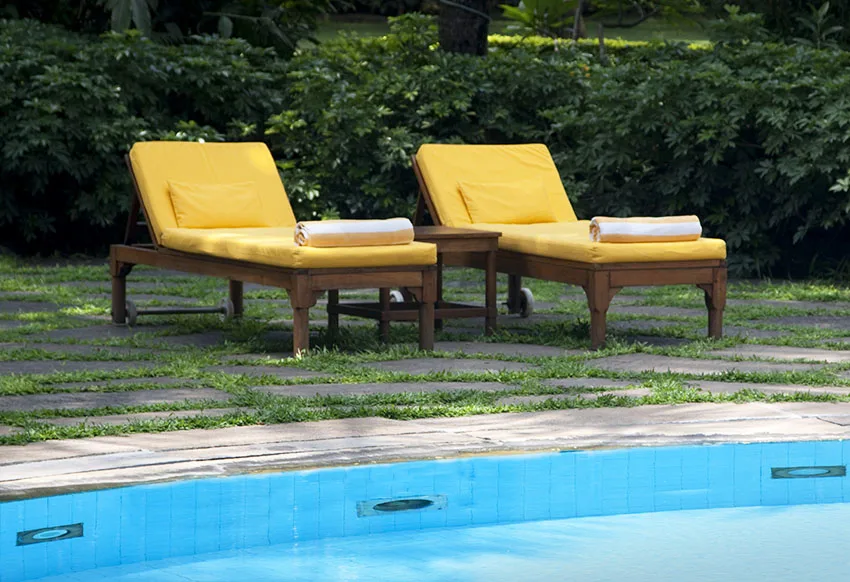 Pool lounges, in essence, are just the standard outdoor chaises. They have an angled back to support the whole body and are used indoors for relaxing or even dozing off!
Pool lounges are also great for people with mobility problems as they are close to the ground and could include armrests for extra support. The best thing about pool lounge chairs is that some variety could be stackable, making storing and moving easier.
For a basic stackable pool lounge chair, the dimensions are a length of 78.5 inches or 199 centimeters and 98 inches or 249 centimeters when fully reclined. The chair height is 39 inches or 99 centimeters, and a chair depth of 27 inches or 69 centimeters.
How to Measure a Chaise Lounge?
There are two ways to measure your chaise lounge. The first measures the chaise itself to fit a cover, and the second measures the chaise cushion for your already existing lounge chair.
To measure your chaise lounge height, outdoor or indoor, you can measure from the top of the chaise to the ground. It is recommended for a cover to be 1-2 inches or 3 to 5 centimeters shorter than the existing furniture to account for breathability.
To measure the depth, you can measure from the deepest side (essentially the entire length of the chaise) from top to bottom. Measure from the front to the back to simplify it. To measure the width of the chaise lounge, you can measure from side to side, left to right.
At the same time, here are the steps to measure for chaise lounge cushions:
First is measuring the width, which is done by measuring the inside of the chaise lounge's frame, where the arms will be resting, from right to left.
To measure cushion height, measure the height for reclining first. This is done by gauging the length from the bottom of the reclining part to the top of the chair.
Depth is where we measure the cushion where we will be sitting, and this is done by measuring where the recline stops at the bottom to the foot of your chaise lounge.
For more related content visit our recliner dimensions guide article here.