In this bowl sizes guide you'll see standard small to extra large bowl dimensions, including cereal, soup, mixer bowls with size chart, and measurements for popular bowl brands.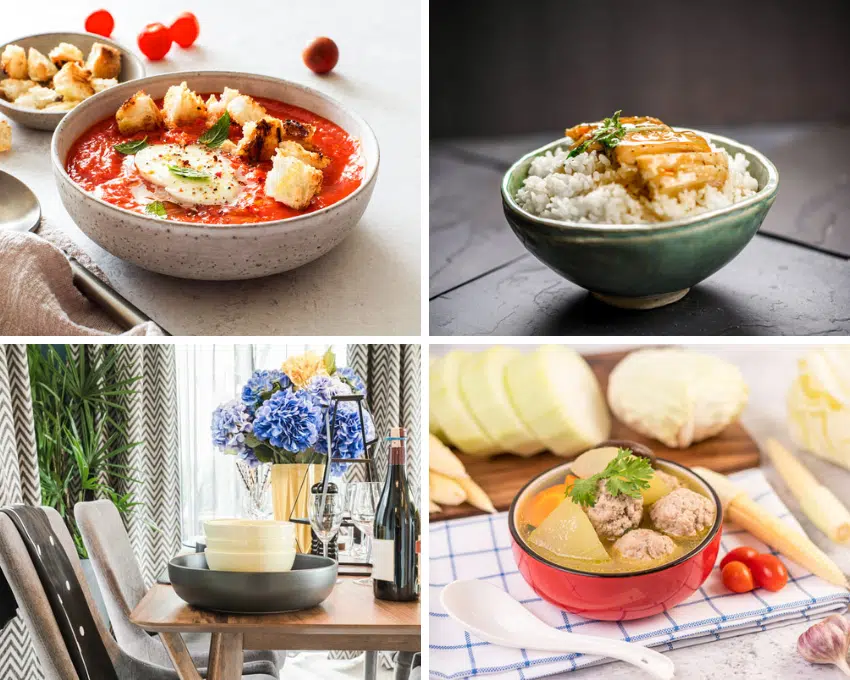 Bowls work perfectly in holding liquids and loose food and are some of the most common cookware, either for serving or eating food. A bowl will have an interior that is shaped like a spherical cap and a curved bottom, and its exterior can be of any size and shape.
A bowl can hold either a single- or multiple servings of food depending on the size and be made of materials, such as wood, metal, plastic, or ceramic. These round containers or dishes are staples in anyone's kitchen.
In order to buy the right bowls for their needs, homeowners must know the standard bowl sizes, be it a small, medium, or large bowl.
Standard Bowl Sizes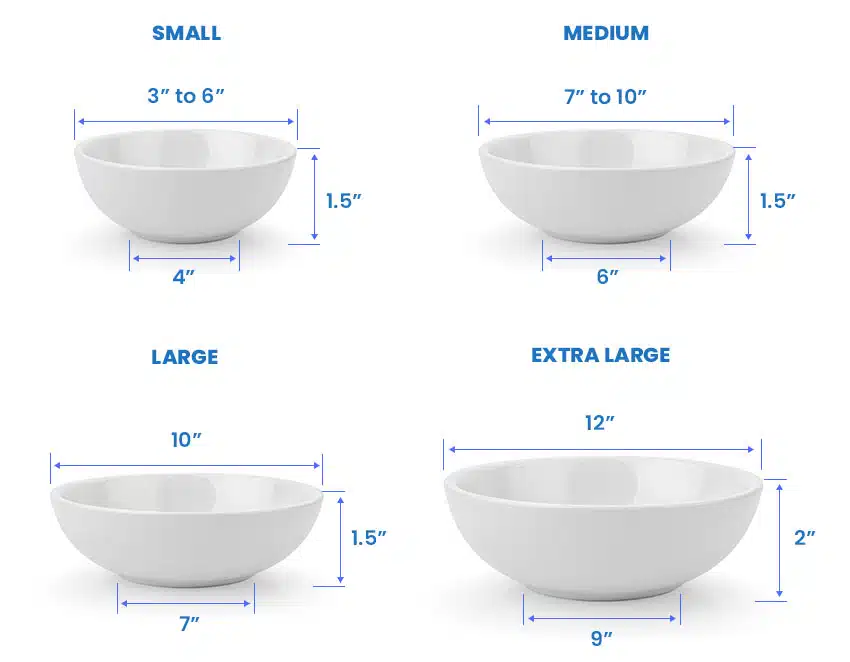 Typically, standard bowls can hold between eight to 12 ounces of food on the average. There are three types of basic bowls, namely the soup bowl, finger bowl, and the ramekins.
The finger bowl is a gracious custom seldom used today except at a formal dinner that concludes with a courts of fresh fruit, particularly in the United States where the final course is so often dessert taken with a utensil. – The Art of the Table: A Complete Guide to Table Setting, Table Manners, and Tableware, Suzanne Von Drachenfels
Finger bowls are used to rinse the user's fingertips, while the ramekins hold solid food. On the other hand, there are seven types of soup bowls, namely lug soup bowl, soup plate, coupe soup bowl, soup cereal bowl, bouillon cup, cream soup bowl, and covered soup bowl.
Small Bowl Size
A small bowl will be between 3 and 6 inches in diameter, which is a good size for serving small appetizers, like nuts or candies.
Meanwhile, a 6-inch small bowl will have a 4-inch well diameter, 1.5-inch depth, and a rim of 25 millimeters.
Medium Bowl Size
Medium bowls will have between 7 and 10 inches diameter, which is good size for serving light snacks, dipping sauces, and appetizers.
Some medium bowl sizes are 8 inches or 203 millimeters in top diameter, 6 inches or 152 millimeters in well diameter, 1.5 inches or 38 millimeters in depth, and have a rim of one inch or 25 millimeters.
Large Bowl Size
A large bowl will be 10 inches or 254 millimeters in top diameter, 7 inches or 178 millimeters in well diameter, 1.5 inch or 38 millimeters in depth, and have a rim of 1 inch or 25 millimeters.
Extra Large Bowl Size
An XL bowl will be 12 inches or 305 millimeters in top diameter, 9 inches or 229 millimeters in well diameter, 2 inches or 51 millimeters in depth, and will have a rim of 1.5 inches or 38 millimeters
Cereal Bowl Size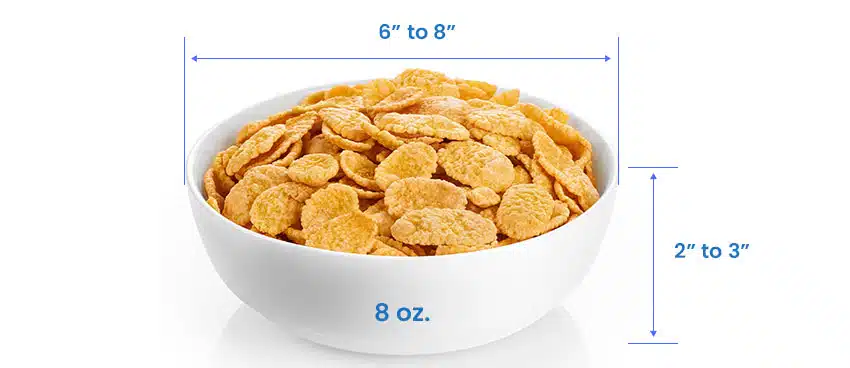 A standard size cereal bowl is about eight ounces, which is enough for most of the recommended servings of cereals. One will have a diameter between 6 and 8 inches and a depth between 2 and 3 inches.
While there isn't really a standard when it comes to a cereal bowl size, a typical bowl will be able to hold about 12 fluid ounces or 1 ½ cups of liquid. For the dimensions, they can vary among brands and model, but nevertheless, a 12 fl. Oz will have dimensions of six by three inches (width, depth).
Soup Bowl Size

Soup bowls are also available in different sizes (and dimensions) depending on the manufacturer, but their typical size will be around 6 inches or 152 millimeters (top diameter), 4 inches or 102 millimeters (well diameter), and 2 inches or 51 millimeters (depth).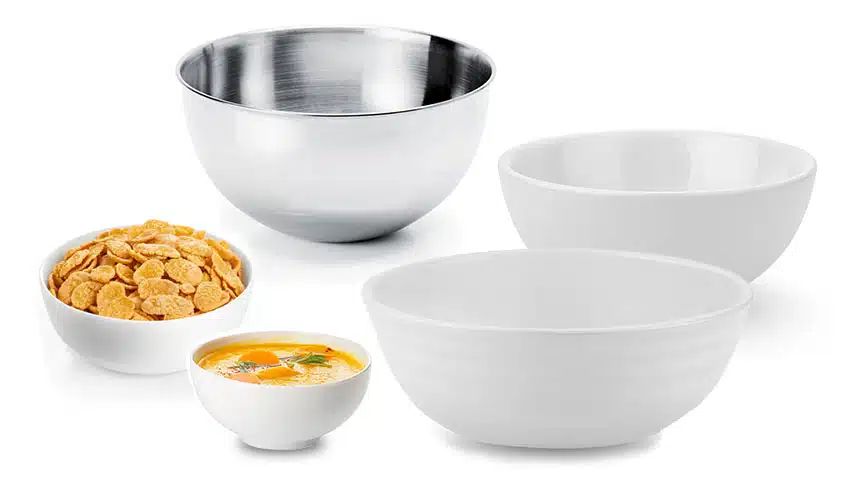 The size of a soup bowl can also vary from one type of bowl to another. For instance, soup plate, a wide and shallow bowl that has a flanged rim, will be between 9 and 10 inches in diameter, with a rim between 1 to 2 inches thick, has well diameter of 6 to 7 inches across, and is 1.5 inches deep.
On the other hand, a coupe soup bowl, which has a saucer-like shape, measures around six to nine inches across.
Meanwhile, a soup-cereal bowl, which is slightly deeper and narrower than a coupe soup bowl or soup plate, is used to serve food, like pasta or salad at informal meals. It will be between 5.75 inches and 8.75 inches (diameter).
Mixing Bowl Size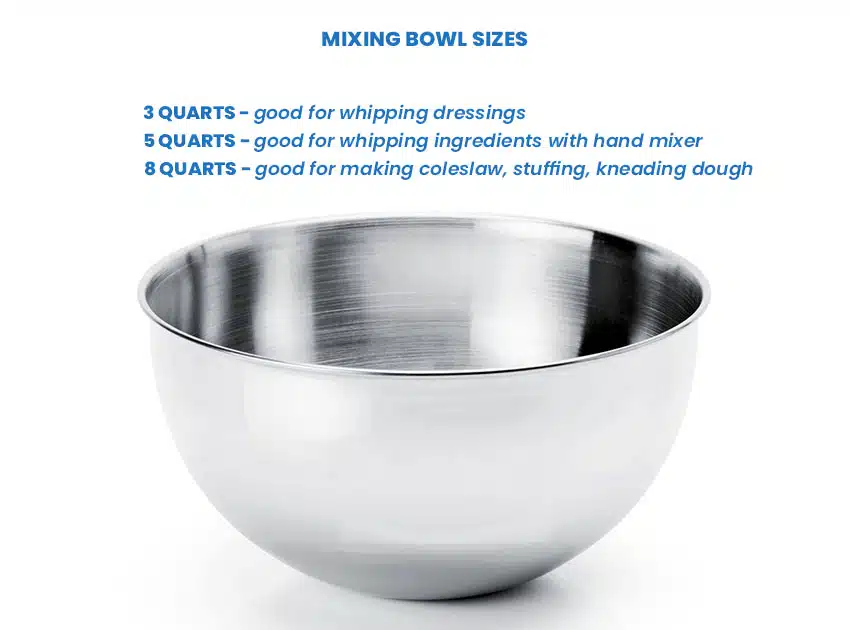 A mixing bowl has many uses in one's kitchen. It can be used for mixing dry ingredients, working dough, storing, organizing, and mixing salads. Every kitchen need to have a couple of bowls in different sizes for every task and in order tackle different recipes. One is recommended to have at least three.
Typical sizes for a mixing bowl are the 3-quart, 5-quart, and 8-quart bowls.
A small mixing bowl can be used for whisking dressings and doing other small kitchen tasks, while the medium ones can be for whipping up ingredients with a hand mixer.
Small mixing bowls are also ideal for individual servings, small recipes and holding ingredients, and even beating a single egg. It is always a sound idea to own one of these smaller sized bowls at home.
On the other hand, 2- and 3-quart bowls are ideal for whipping ingredients together or making eggs. Having one or two of these medium sized bowls can compliment one's small and large bowl.
A large 8-quart mixing bowl, on the other hand, is good for making coleslaw, stuffing, and potato salad. Large sized mixing bowls are also perfect for tackling a large recipe and are commonly used for mixing batter together and kneading dough.
They're a must-have bowl for every kitchen even if one won't use it every day. Just in case, they'll be in handy when the need arises.
Bowl Size Chart
| | | | | |
| --- | --- | --- | --- | --- |
| Size | Rim | Depth | Diameter (Top) | Diameter (Well) |
| Extra small | 0.5 inches | 1 inch | 5 inches | 3 inches |
| Small | 1 inch | 1.5 inches | 6 inches | 4 inches |
| Medium | 1 inch | 1.5 inches | 8 inches | 6 inches |
| Large | 1 inch | 1.5 inches | 10 inches | 7 inches |
| Extra Large | 1.5 inches | 2 inches | 12 inches | 9 inches |
*The numbers do not represent the actual sizes of the bowls per manufacturer, and there could be variances on the actual size they offer.
Corelle Bowl Sizes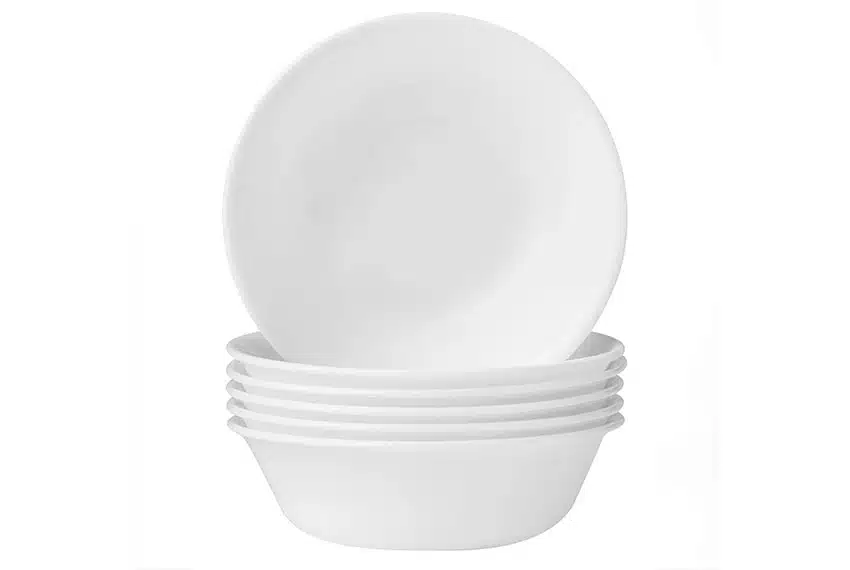 See this bowl at Amazon [sponsored link]
Corelle bowls are available in different sizes. Little dippers are in 2.4 oz, 6 oz, and 11 oz for dressings and dips, while slightly larger variations are in 18 oz, 20 oz, and 28 oz for cereals and soups.
Bowls for one-dish wonders are in 30 oz and 46 oz sizes. Larger bowls, on the other hand, are in one-quart and 2-quart variations for centerpieces and family favorite dishes.
How Many Oz Are Corelle Bowls?
It varies from one size to another, from 2.4 to 46 ounces. If you're looking for bowls to hold two cups of food or liquid, you'll need a 16-oz bowl. There is definitely a Corelle bowl for every need. Refer to the previous section for other ounce capacities available for a Corelle bowl.
Fiestaware Bowl Sizes

See this bowl at Amazon [sponsored link]
Cereal bowls are available in 19 oz bowls or a smaller 14.25 oz, while soup bowls in 13 oz, 18 oz, or 28 oz size.
A medium serving bowl is available in 38 fl oz. Homeowners can also find large Fiesta bowls that can hold 40 ounces with 8.25 inches diameter and a height of 2.75 inches, or a larger bistro bowl that is 68 ounces.
Pyrex Bowl Sizes
Pyrex bowls are also available in various sizes, like 1-qt, 1.5-qt, and 2.5-qt mixing bowls, 6- or 10-oz Custard Cups, and 4-qt rimmed mixing bowls. They also have classic glass bowls in sizes, like 0.5L, 1 liter, 2 liter, and 3 liter sizes.
Their 400 Series Color Bowls, also known as the Primary Color Bowls, are a four-piece multicolored mixing bowl sets, which were first introduced in the 1940s. It is made of 1 pint Blue bowl, 1.25-qt Red bowl, 2.5-qt Green bowl, and 4-qt Yellow bowl.
Kitchenaid Mixer Bowl Sizes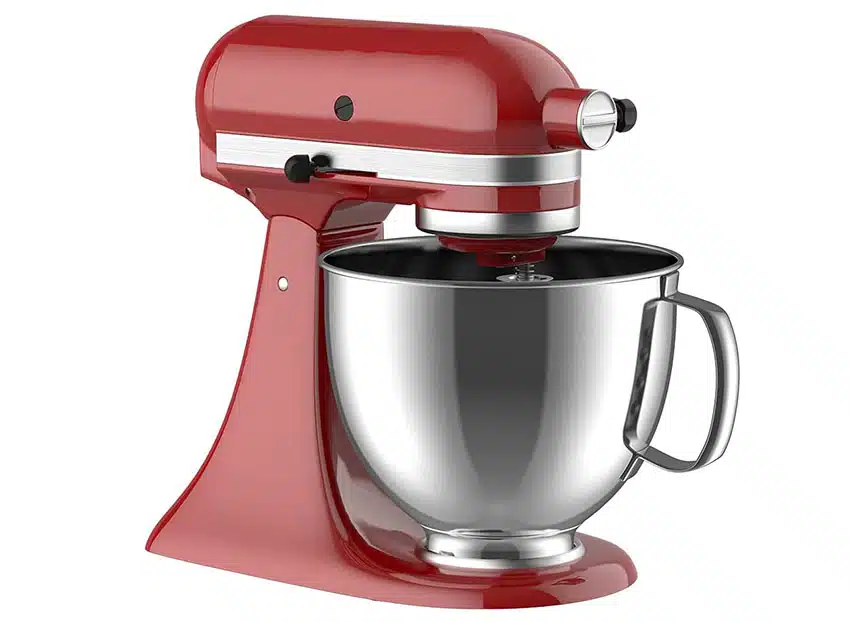 See this mixer bowl at Amazon [sponsored link]
Some stand mixers come with a 4.5-qt mixer bowls, although some can support larger bowls. Many replacement bowls from three to five quarts can fit into a standard 4.5-qt tilt-head mixer.
A Kitchenaid full-sized tilt-head stand mixer will have more than 20 interchangeable bowls, from three to five quart capacities. The 5-qt bowls, which can be available in options like glass, stainless steel, and ceramic, are the largest, while the 3-qt polished stainless bowl is the smallest.
On the other hand, the Artisan Mini tilt-head stand mixer, which is for baking and cooking in small quantities, typically come with 3.5-qt capacity bowl with a handle.
Does one need multiple bowl sizes? Different sized mixer bowls can be in handy for different purposes. It is a sound idea to have several of these mixer bowls.
For example, one can easily use a 3-qt mixing bowl in the freezer for whipped cream to top desserts, while a 5-qt bowl to mix ingredients for a large dish. Nevertheless, one can use a lot of their creativity if they have multiple bowls at home.
Visit our Dutch oven sizes guide for more related content.