Have you ever wondered about all the types of bowls for dining? See the different styles, their uses, materials, pros and cons, container shapes, and which ones are microwave-safe.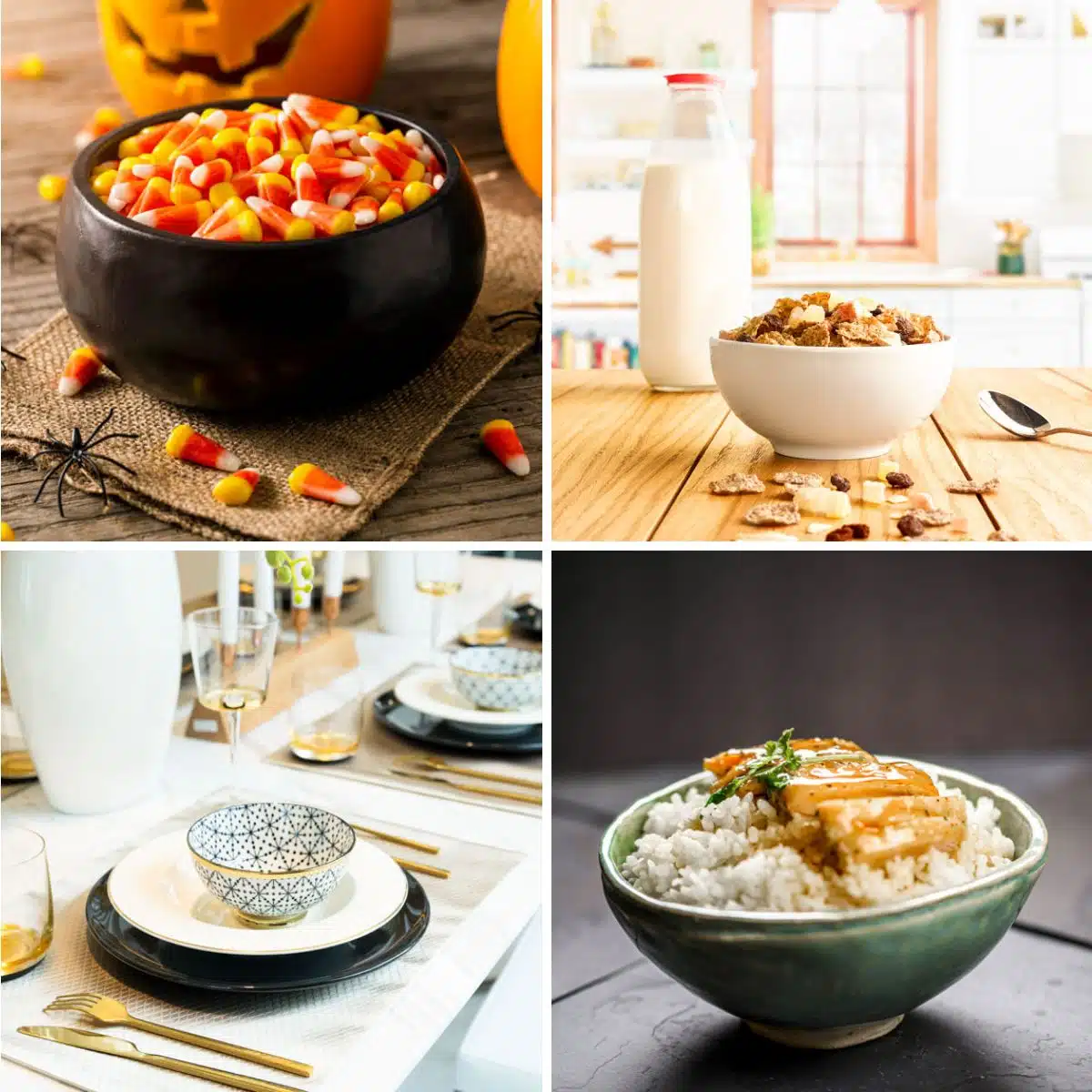 One of the most important pieces of kitchenware you can make sure to have at home is a set of bowls. These pieces are not new to any household but they don't really get that much attention in the first place. And if you're working on your plating skills, it's even more important to know everything about bowls and explore all aspects of it. These are some of the bowls you can choose for specific purposes.
Soup Bowls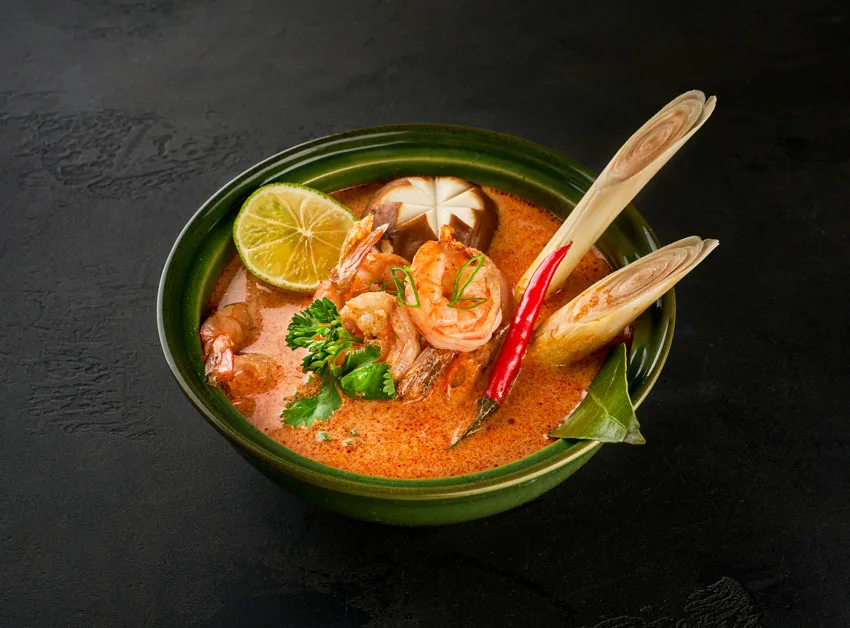 Use: Serving and drinking soup
Official Purpose: Both formal and informal
The soup bowl is the most common type of serving vessel used in households. This particular dish is versatile in its use and can come in different sizes and styles. From a container meant for clam chowder to one used for ramen and other noodle-oriented dishes.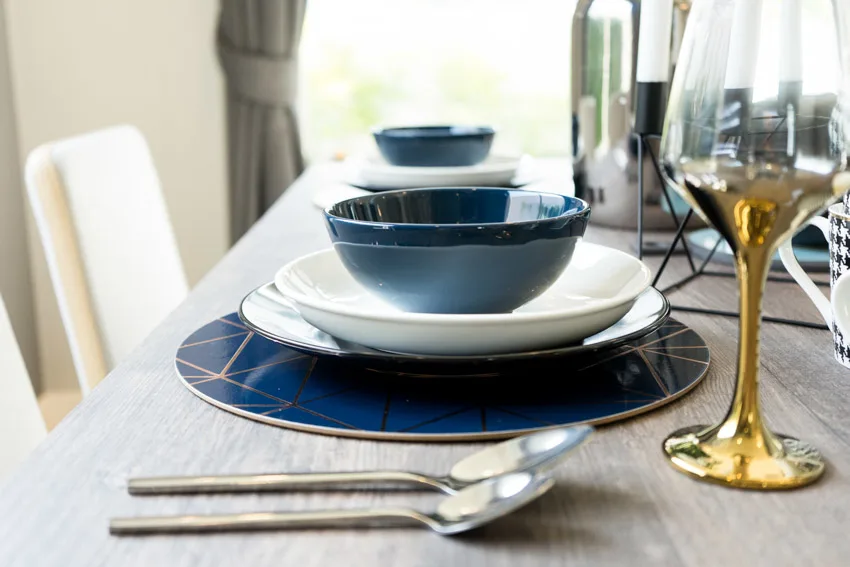 If you're looking for a standard bowl that can serve many purposes, this is a good option to consider. These types come with or without handles, depending on what you prefer. If you value quality and durability, professional-grade porcelain is an excellent material for it.
Check out the following types of soup bowls you can consider.
Soup Plate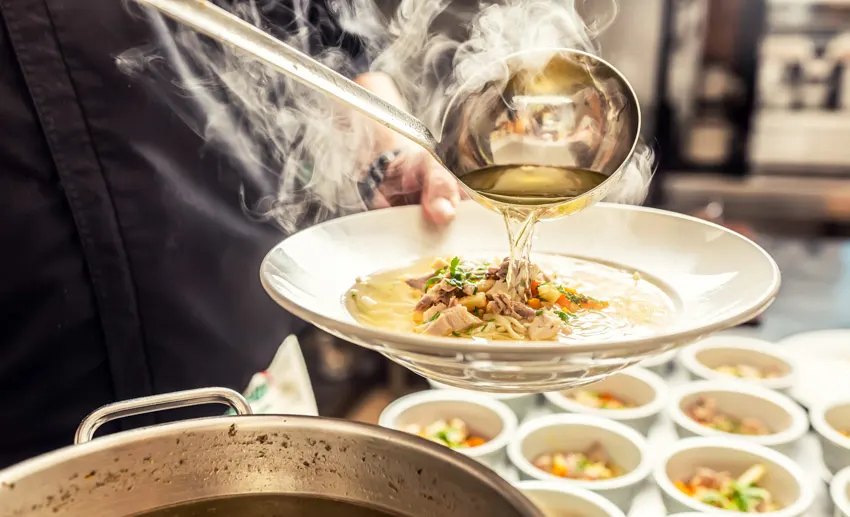 Official Purpose: Formal dinner service
Soup types of plates are shallow and wide kitchenware with an estimated depth of 1.5 inches. It also measures around 1 to 2 inches in width, 9 to 10 inches in diameter, and 6 to 7 inches across.
Design-wise, soup plates are made for the bourgeois, which is precisely why they are perfect for fancy and formal use. It is very shallow bottom and prominent rim are its most popular features. It is deep enough to be used for soup but also shallow enough to be considered a plate.
Soup plates are technically not a great option if you're looking forward to sipping on soup. Despite being a good option both for thin and thick soups, it is only a great consideration if you pair it with rolls, buns, and crackers you put on the rim. They also come with heavy price tags so make sure you're prepared for that.
Coupe Bowl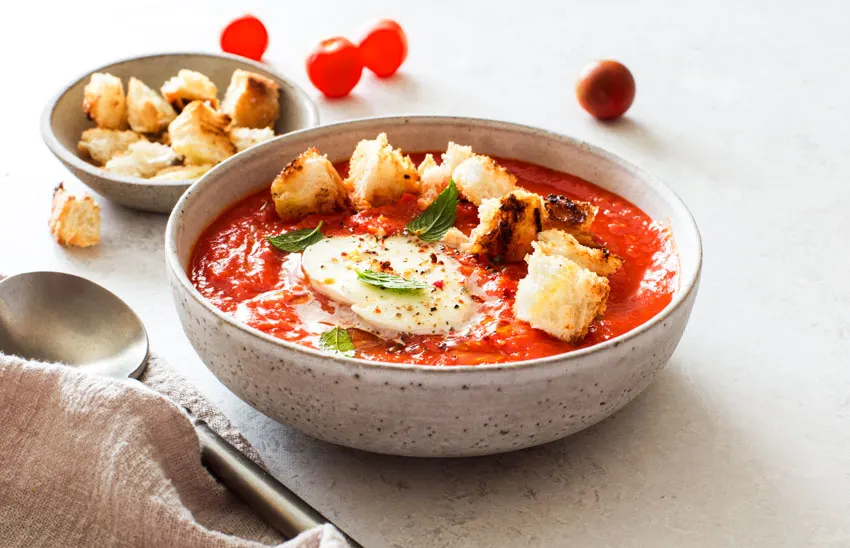 Official Purpose: Informal dining
Very similar to a saucer, a coupe soup bowl measures around 6 to 9 inches across. Without a specific shape it identifies with, the coupe soup style is known for being a plain basin without handles or rims.
They can come in shallow insides and large diameters, as well as deep insides and small diameters so it can be difficult to differentiate them from a soup plate and lug soup bowl.
A coupe soup vessel, ideal for informal dinner service, is just the perfect choice if you're looking for something that's not too fancy but can be used for soup.
Soup & Cereal Bowl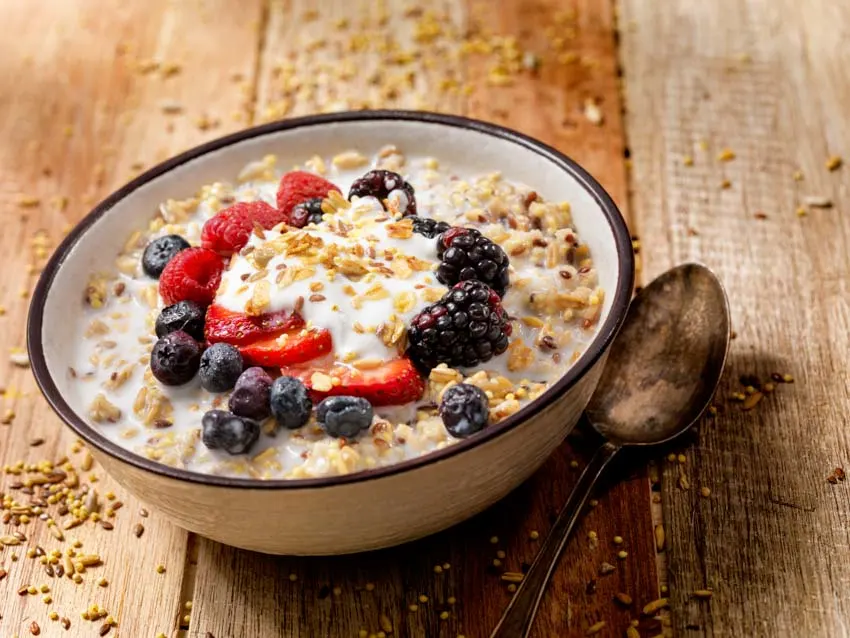 Official Purpose: Informal dining
Also known as an oatmeal bowl, the soup & cereal bowl is used for eating dishes that use a fork, including pasta and salad. It is deeper and narrower than both the soup plate and the coupe soup bowl, approximately 5.75 to 8.75 inches in diameter.
The soup & cereal vessel is only used in an informal dinner service and can come with or without a rim, depending on its design and maker. Read more about dinner plate sizes here.

Cream Bowl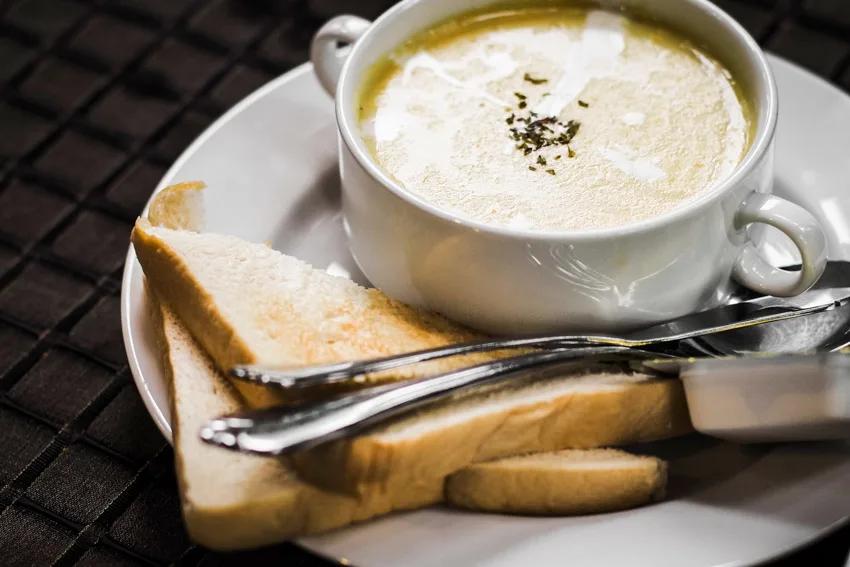 Official Purpose: Formal dinner service
The cream soup bowl is the type used during light meals, particularly when pureed soups are served during the first course of the meal. Measuring 4 to 5 inches in diameter, this type usually comes with two handles and a shallow bottom.
Cream soups are generally served with large round spoons. Clear soups on the other hand are served with large oval spoons. See our guide to the different types of silverware for more on what utensils to use.

Lug Bowl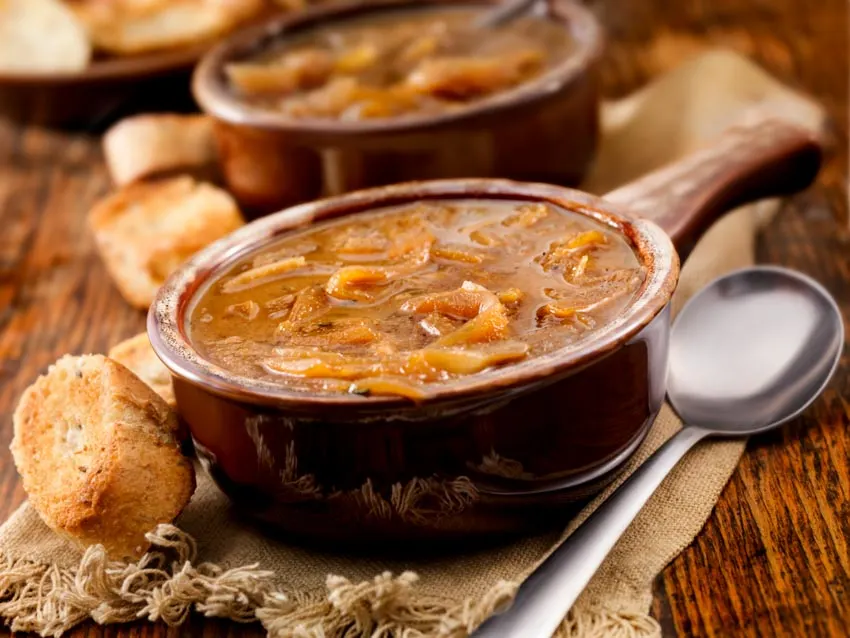 Official Purpose: Formal/informal dinner service (Basically for onion soup)
A lug soup bowl is a type that handles heavy-duty soup, including French onion and other similar soups. In fact, it is also known as the onion soup bowl because of this and it's also depicted through its colloquial name which refers to individual French onion soup servings.
It comes with either one or two handles (depending on preference) and, most of the time oven-safe, capable of withstanding high temperatures.
Lug soup bowls measure 2.5-inch deep and 4.5 to 5.5 inches in diameter. And the great thing about them is that they are easy to carry around and are structured to last for a long time.
Bouillion Cup
Official Purpose: Formal dinner service
A bouillon cup usually comes with a 5.5-inch saucer and measures 3.75 inches in diameter. Also known as a broth bowl, these bouillon cups look similar to mugs. These small serving vessels are used for dishes like chili, custard, and pudding.
This type of soup basin is called a cup for a reason and it's because you can drink entirely from the cup if you prefer that rather than sipping from a spoon. And since this is used in formal dinner service, excellent table manners dictate that you choose just 1 method of eating your soup and never both.
Tureen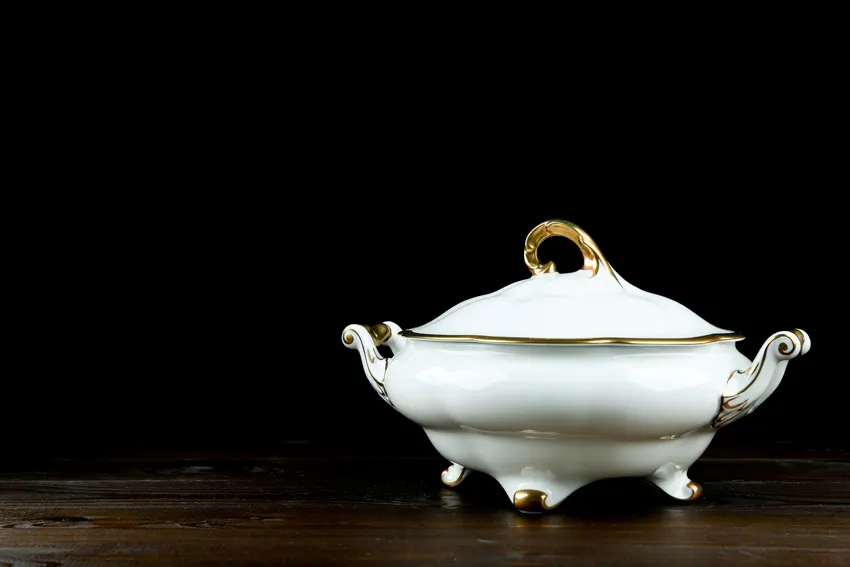 Official Purpose: Formal dinner service
The tureen is an old-fashioned elegant serving dish that can be used for warm and wet dishes like stews and soups. Normally made from ceramic or porcelain, this serving dish has an oval shape, broad mouth, deep interiors, and handles. These features make serving and ladling easier for hot dishes.
Some tureens can also be made from silver and stainless steel, depending on the manufacturers. Some of the well-known components that the tureen is notable for being are the following:
• Footed bottom: To avoid tablecloths from being burned
• Domed lid or cover: To keep the contents hot and fresh
• Knob or handles (Located at its tallest point): To ensure that the lid can be removed without burning anyone
Salad Bowls
Use: Mixing and serving (sometimes) salad
Official Purpose: Both formal & informal
Most usually in glass, wood, or metal, salad bowls are solely for mixing salad in and tossing the ingredients around to better mix them together. If you want more sophistication for your salad serving, especially since you're hosting a formal meal, going for ceramic or porcelain might be a great consideration.
When using a salad bowl, you have the option of taking a portion from the container and transferring it to your plate or transferring everything to another for serving. The vessel is for mixing and creating the salad but not for actual eating.
Cereal Bowls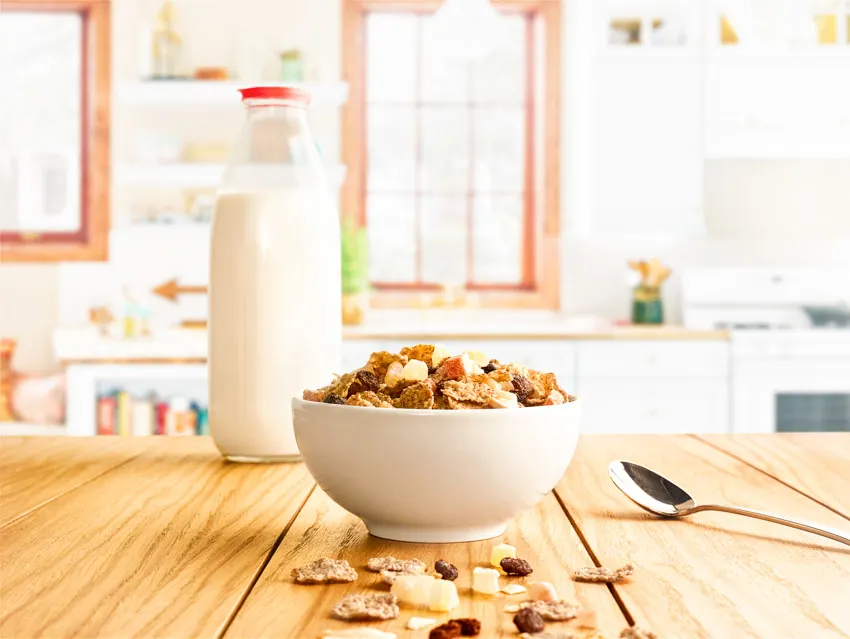 Use: Eating cereals
Official Purpose: Informal dining
Cereal bowls are a standard in many American homes' mornings since cereals are also a big part of their lives. If you want to make the most out of your breakfast, use this type in the morning. There are also basins that you can eat practically anything in.
Cereal bowls can come in glass, ceramic, melamine, and other materials, the options are widely varied and there's no right material for it.
They also come in different sizes and if you enjoy a full breakfast with cereals, getting an extra large is even possible. But if you want a formal breakfast every day, you might need to change your routine and breakfast meal preference.
Pasta Bowls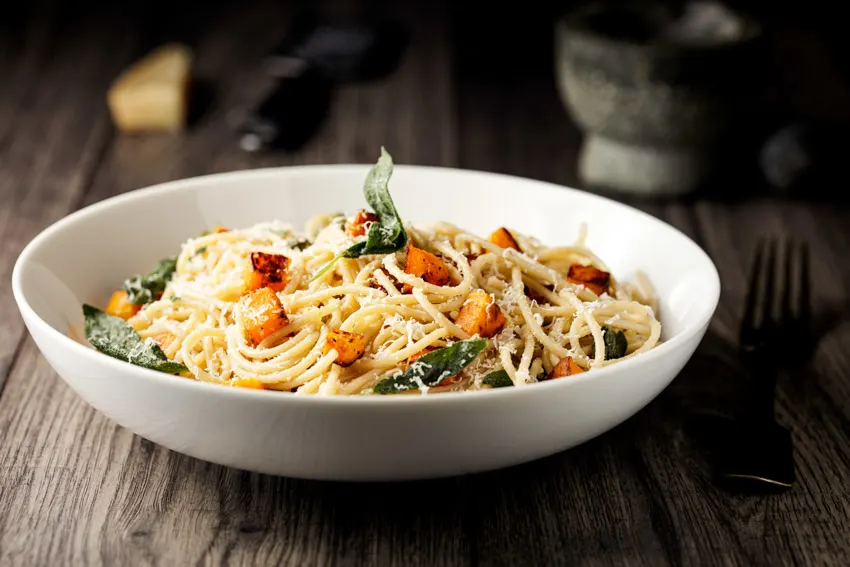 Use: Serving pasta
Official Purpose: Informal/formal dining
Most types of bowls are pretty much straightforward, and they are named based on their uses. Pasta bowls are a staple in Italian homes and if you love Italian foods, you may also prepare this kitchenware for yourself.
Differentiating pasta bowls from other types is easy since they have this distinct look and shape that includes wide rims and shallow bottoms. You can use these to serve pasta on the table, from simple spaghetti to other types of pasta like fettuccine and rigatoni.
You can also use it for other courses like curries, stews, and stir-fries. And to level up your dining experience for a sophisticated meal, pair them with wine. Visit this page for more ideas about dining room essentials.

Rice Bowls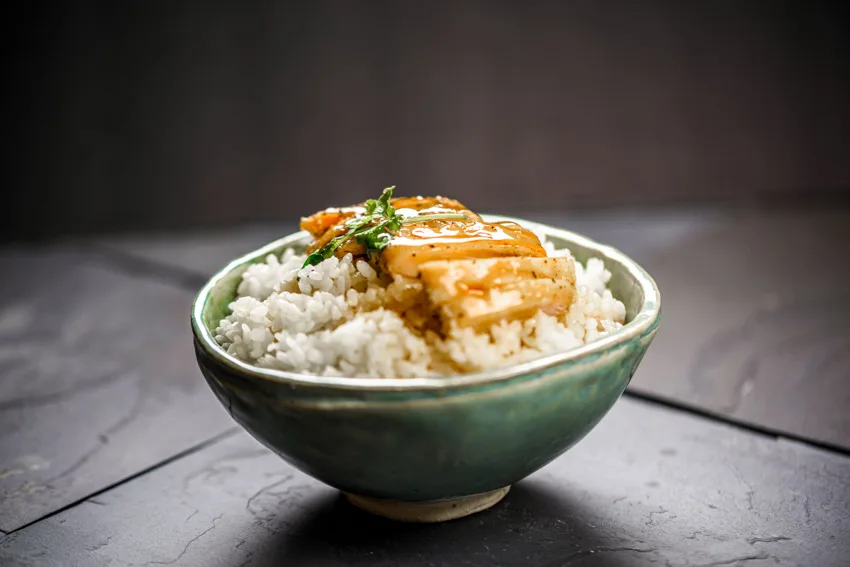 Use: Eating rice
Official Purpose: Informal dining
Just as they are named, rice bowls are used for eating rice dishes and not serving them. While common worldwide, they are more staple in Asian countries because of their high inclinations and the cultural preference for eating rice dishes, including South Korea and Japan.
Rice bowls have become more popular though not just in Asian countries because of the rising popularity of rice dishes worldwide.
In fact, these vessels are usually packed with a pair of chopsticks when they are sold for a complete set. This is the reason why it's possible that they have become the top-selling types in the market.
Dip Bowls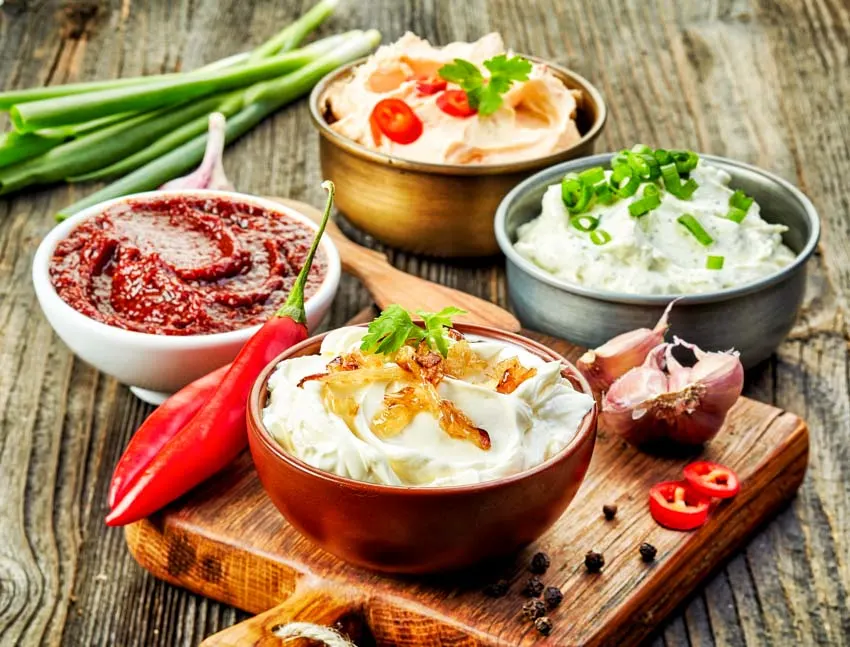 Use: Serving dips
Official Purpose: Informal dining service
As they are named, dip bowls are meant to serve dips. A dip bowl, just as it is named, is used to serve different types of sauces you can dip your snacks in. You can put the following contents in the serving dish if preferred:
• Dressings
• Appetizers
• Condiments
• Candies
• Fondue
Handy in structure, these vessels usually have this curved design that makes them convenient to hold and carry. Besides that, the curve is also aesthetically pleasing and would be a wonderful addition to your meal presentation.
Mixing Bowls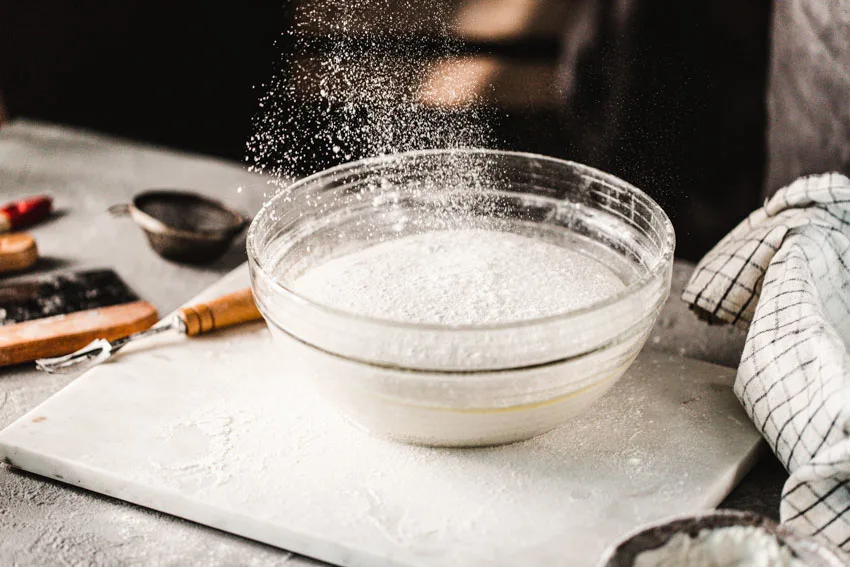 Use: Mixing ingredients
Official Purpose: Informal dining service
A mixing bowl is an excellent kitchenware tool you can use to prepare meals, which is how different this type is compared to others that are used for eating or serving dishes.
You can get multiple mixing bowls in varying sizes in order to accommodate the amount of food you prepare. This is the perfect tool you can use when mixing the ingredients for baking a cake.
A mixing bowl can be made from different materials, but the most popular and preferred material is stainless steel because it's lightweight and durable, so you can easily use it every day.
Stainless steel mixing containers are also easy to clean and won't retain flavors when washed, so you won't have any problem on this end. If you're going to purchase one, get one with a rubberized base and grater lids of maximum functionality.
Fine China Bowls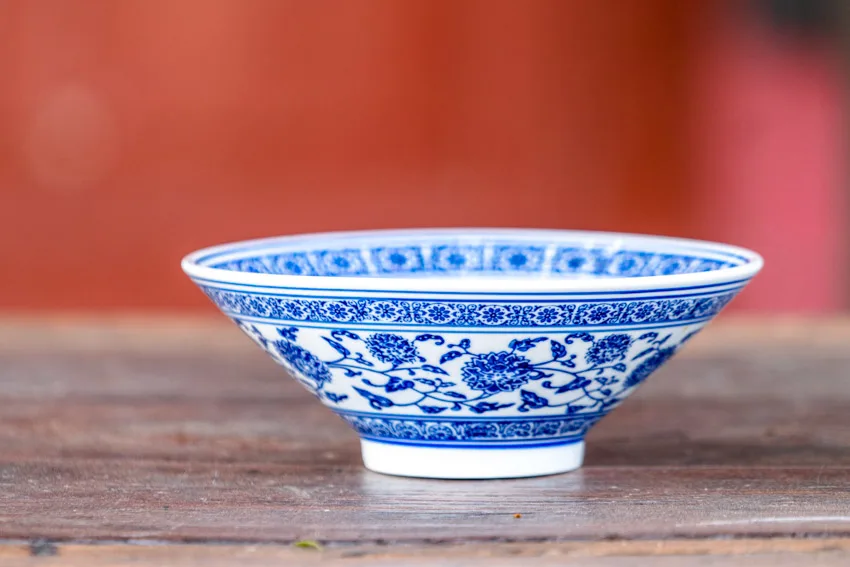 Use: Serving and eating dishes
Official Purpose: Formal dining service
Fine China bowls are very fragile kitchenware that if you choose to use them, you need to be careful and they're also not recommended for children.
In addition to that, they also come with high prices that they've become the epitome of luxury and wealth in the kitchen. This is one of the reasons why despite its fragility, people want to have fine China even with their high costs.
These fine China bowls are made from kaolin, a white China clay popularly used to make porcelain. Since it's very fragile, you can put it in the microwave and use a dishwasher to clean it.
Porcelain is also called "fine china" because China was the birthplace of porcelain. Porcelain also shows properties like low permeability and elasticity and a high resistance to chemical attack and thermal shock. – Building Materials and Construction, Misra, Anil Kumar
The truth is, fine China serving dishes are better off displayed and only rarely used (for special occasions). With the stunning aesthetics of these bowls, it will be a big waste not to have them on display for added visual value.
Bone China Bowls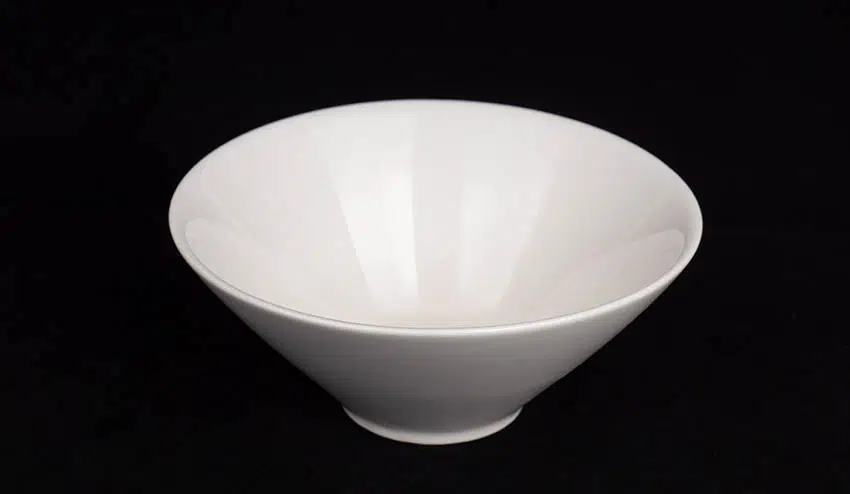 Use: Serving dishes
Official Purpose: Formal dining service
Bone China bowls, compared to popular fine China, are sturdier and more durable. If you want something that can serve as a wonderful conversational piece, a bone China vessel is perfect for the job.
This kitchenware may be thinner, but it is made from animal bone that's turned to ash and then a paste-like substance to create these bowls. These bone China dishes, while considered extremely strong and durable, are still breakable and fragile, which is why they need extra care when handling them.
When it comes to appearance, a bone China bowl is almost translucent and white. They are visually appealing and can elevate the visual value of your kitchen. Compared to fine China though, these can be used in the microwave, oven, and dishwasher.
Candy Bowls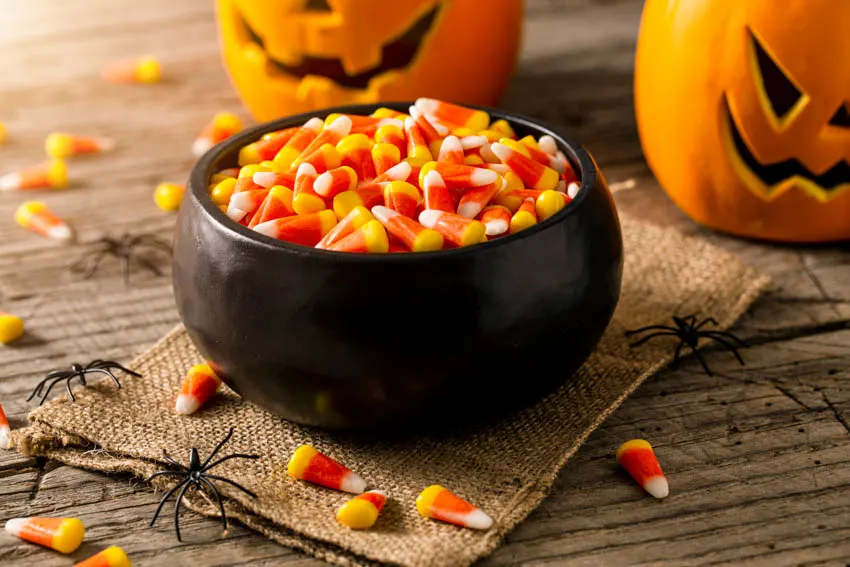 Use: Serving candies
Official Purpose: Informal dining service
If you're someone who's fond of candies, using a candy bowl to serve these sweets to your guests will be a tasteful thing to do. These types are also used for decor and aesthetic purposes, especially if you choose a stunning candy dish and fill it with colorful candies. Place the container on the coffee table or anywhere that's easily accessible by guests.
While named as a candy bowl, you can also place other types of snacks you can enjoy for a quick bite. You can also put nuts inside, which is why it is also known as a nut bowl. These serving items most commonly come in glass, plastic, and stainless steel, depending on your preference.
Pet Bowls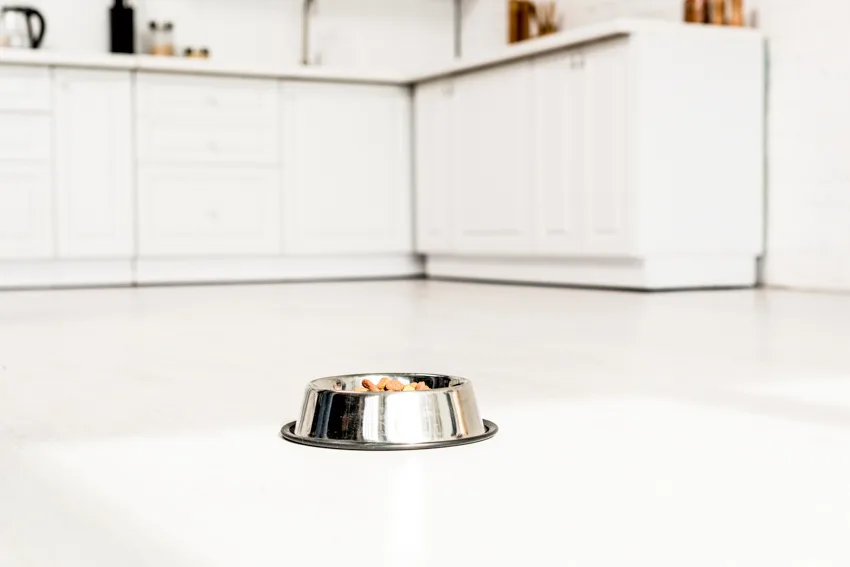 Use: For feeding pets
Official Purpose: Informal
Just as they are named, pet bowls are used for providing pets with either food or water. With these types, designs, and sizes are widely varied based on the dogs or cats that will use them.
Some may even come with their respective stands, ensuring that there won't be any spilling. And most come with two compartments, one for water and the other for food.
Pet bowls are also made from different materials, and you have the prerogative to choose the one that will be convenient for you. The most popular types are the durable copper ones and the easy-to-clean silicone ones.
Storage Bowls
Use: Additional storage space for food
Official Purpose: Informal
If you have leftovers in your meals, storage bowls are the best container to keep them in. Since they are designed for storing food, they can be refrigerated with ease. They also come with a lid for the same purpose of better safekeeping and storage.
To keep the food well protected, storage containers are usually airtight so that the food won't go bad. The most popular storage receptacles are made from either glass or plastic. You can choose plastic storage bowls if you plan to keep them inside the fridge.
If you're thinking about heating the food in the future, keeping them in glass storage containers is recommended since you can place them inside an oven or microwave anytime.
Ramekins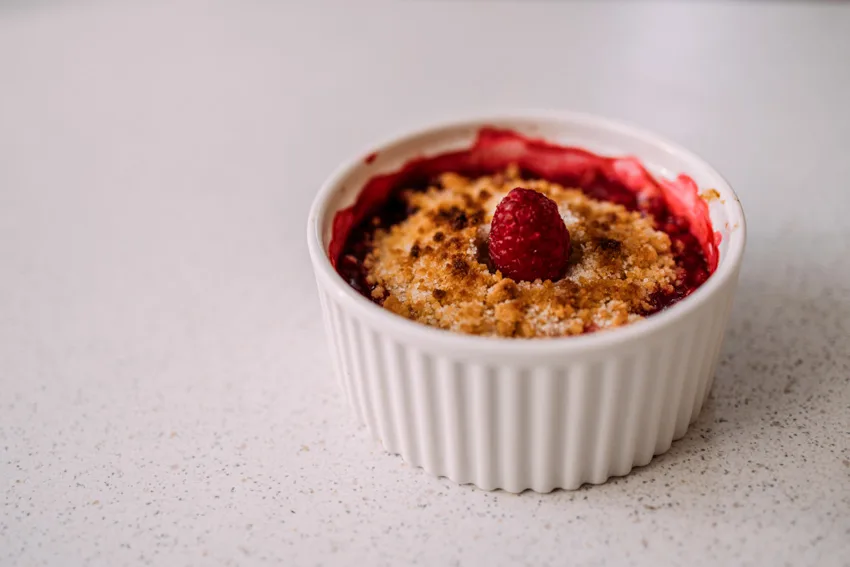 Use: For baking and serving food
Official Purpose: Formal dining service
Ramekins have become popular throughout the years because of the rise in the popularity of baked dishes. This kind can easily resist high temperatures and so can be placed inside certain types of ovens.
Derived from the Dutch word that means "to toast", a ramekin is a type used to bake dishes like pot pie and creme brulee. Ramekins are known for their circular form that flares out from the bottom, giving better support and hold.
Smaller in size compared to other types, ramekins may feature ridges on the sides for better gripping. And while it's normally round, its popularity gave way to the creation of ramekins in different shapes like flowers, stars, and hearts.
Decorative Bowls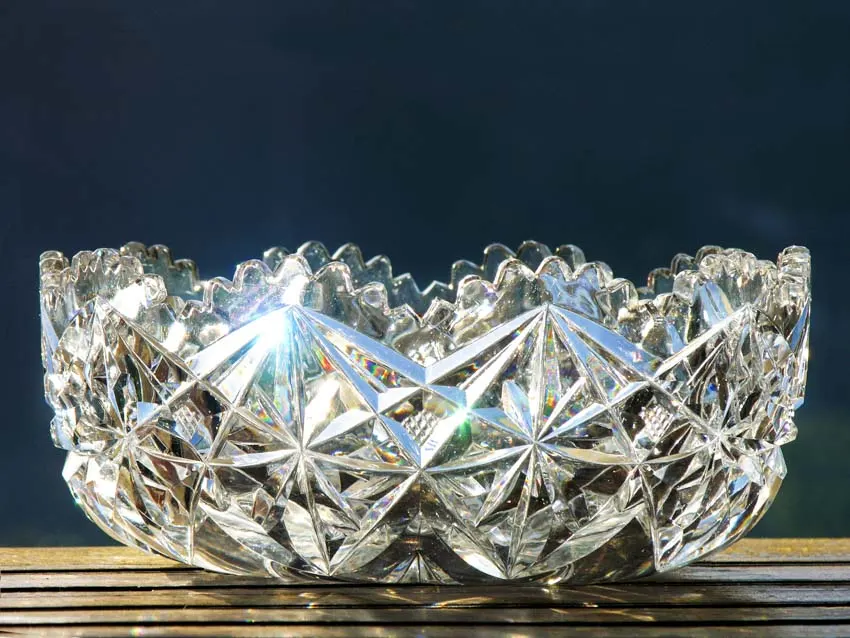 Use: For added aesthetic value
Official Purpose: Informal
As their name suggests, decorative bowls are for aesthetic purposes and are meant to act as a decorative element and be displayed.
They look stunning and trendy; some can even be used as a centerpiece of your table setup (And yes, many add plastic fruit inside the vessel for aesthetics). Most of them are displayed on a glass shelf or cabinet.
These decorative pieces are less functional compared to other types. Since they are for the room's aesthetics, they vary in materials, sizes, colors, shapes, and designs. Depending on the vibe you want to produce, you can go for decorative bowls made from wood, porcelain, and glass.
Bowl Materials (Uses And Pros And Cons)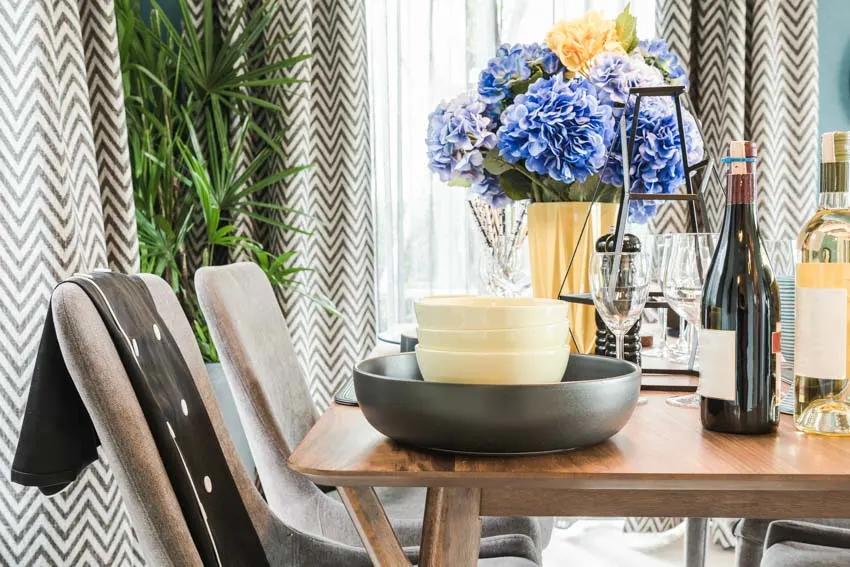 Besides the different types, you can explore them based on their uses; you can also find different styles based on the materials they are made from.
This is a huge factor to consider when choosing the type to purchase since the materials will affect the bowl's durability, lifespan, and general appearance.
Choosing the right bowl material is relevant in meeting your expectations and benefiting from its functionality. And having several options can be a bit confusing and overwhelming. Going through each material one at a time and comparing their pros and cons is an excellent idea.
Ceramic Bowls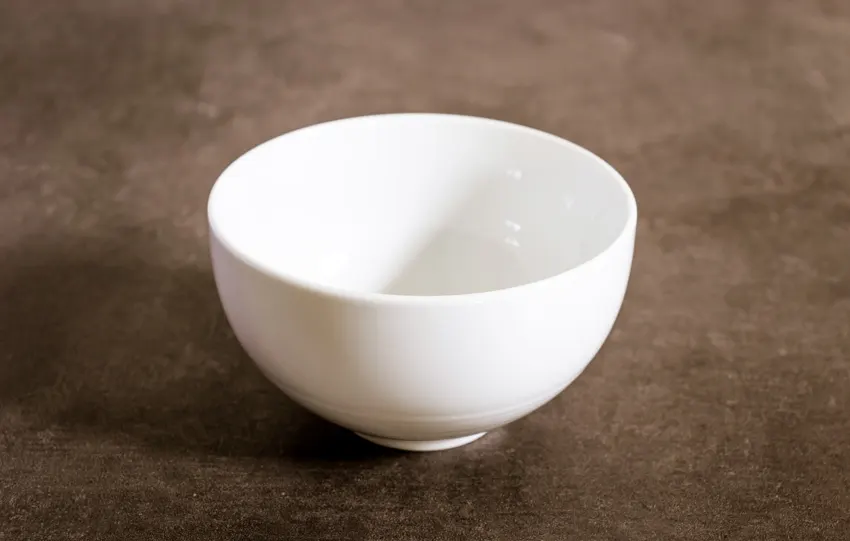 Ceramic bowls are popularly made in Italy, Morocco, and Spain, and they are made from ceramics (clay) that are shaped and exposed at a high temperature to help harden and make them more durable. They are also considered the favorite bowl material worldwide.
Pros of Ceramic

• A bit harder and stronger than glass: While not indestructible, ceramic dishes are still guaranteed to be durable and it's even better than glass in this aspect
• Aesthetically pleasing: Ceramic vessels feature stunning designs that can be used for decorative purposes.
• Withstands daily wear and tear: These dishes are durable enough for everyday use.
• Versatile: You can serve any type of food using a ceramic bowl.
• Machine-safe: You can use them in the dishwasher and even put them in the microwave.
Cons of Ceramic

• Can crack and smash with force: Ceramic materials are not indestructible and will shatter when they slip from your hand.
Plastic Bowls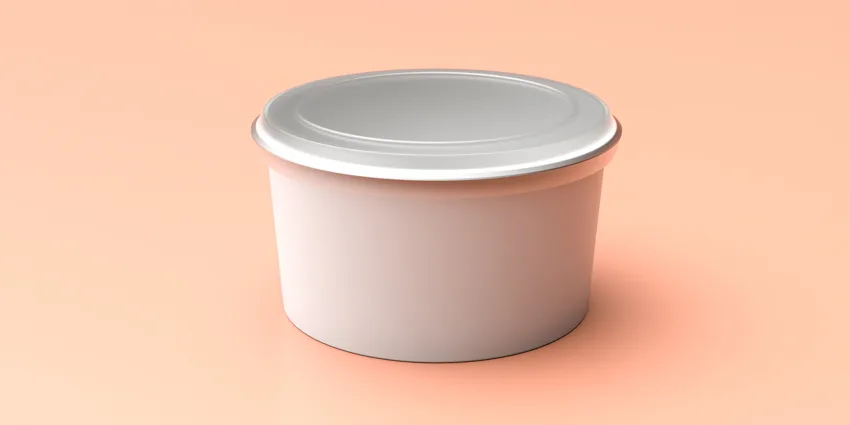 Plastic bowls are so popular worldwide that many use them for food storage. Besides being used for storage, many cereal bowls are also made from plastic.
Pros of Plastic

• Lightweight: Handling plastic containers is easy, and you can move them around.
• Inexpensive: Plastic dishes are affordable and have reasonable prices, so you can buy as many as you need and want. The price is perfect for those who are just starting on their own.
• Durable enough: Plastic materials won't shatter even when they slip from your hands.
Cons of Plastic

• Weak with heat: When you use this bowl, ensure not to put it inside the microwave, though it can still be used in your dishwasher.
Wood Bowls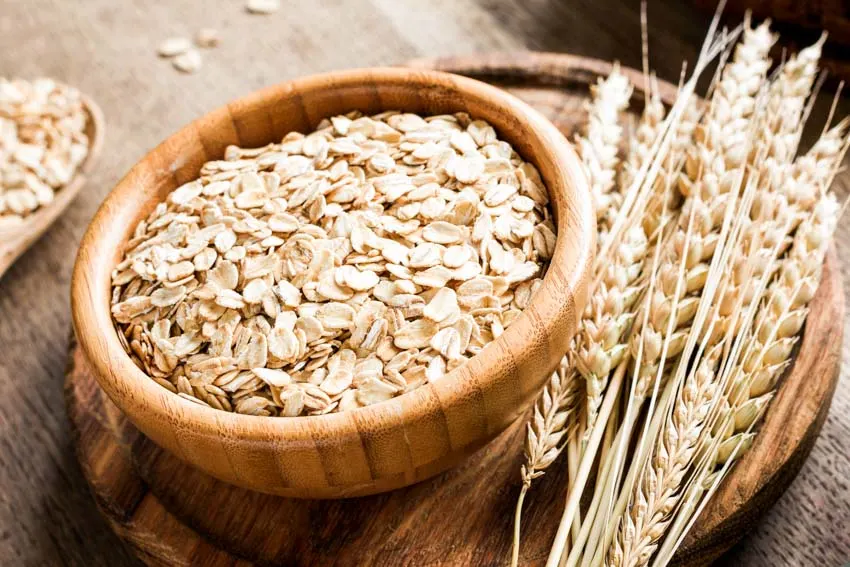 Some prefer wood bowls for their mixing and salads because of the simplicity of the material. Some of the materials used for wooden bowls are acacia and olive oil.
Pros of Wood

• Durable: Wooden vessels are durable enough that you can use them every day.
• Natural aesthetics: If you like the look of nature and want to use the same vibe and theme in your kitchen, wooden containers are great to consider.
Cons of Wood

• Retain odors: Washing your wooden bowl can be challenging, especially if you've used it to carry a dish with an odor that stands out.
• Requires handwashing: If you want to get rid of the odors that are retained, handwashing is the key rather than putting them in the dishwasher.
Stainless Steel Bowls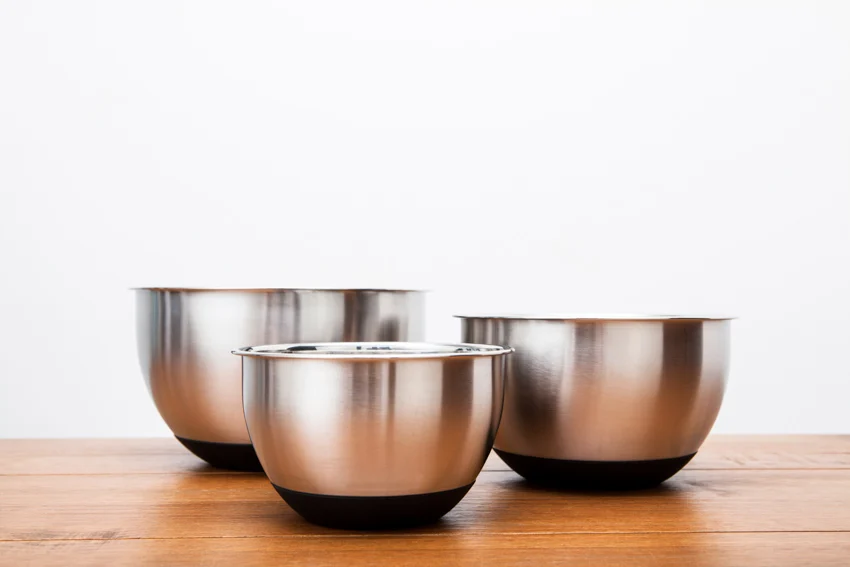 Metal materials, like stainless steel bowls, make excellent decorative and mixing containers. They also function for the following uses:
• Storing food
• Baking
• Serving dishes
Pros of Stainless Steel

• Durable and indestructible: Unlike many types, a stainless steel bowl won't shatter or get destroyed when it slips from your hands.
• Easy to clean: Stainless steel can be cleaned up easily so this is not an issue you have to worry about.
• Lightweight: Using stainless steel as mixing vessels is effective because it's lightweight and easy to handle in the first place.
• Inexpensive: You don't have to save up for it just to be able to purchase one stainless steel product.
Cons of Stainless Steel

• Easily heats up: You can't use stainless steel in the microwave since they heat up too fast and too much that you can burn your hands if you do so.
Stoneware Bowls
If you're looking for something that's overall rugged, stoneware bowls are the way to go. These non-porous bowls are usually made from stoneware clay, which is heated at 2330 degrees Fahrenheit to harden.
Pros of Stoneware

• Durable: Stoneware can withstand daily wear and tear so using them every day will not be an issue. They are durable enough to be placed in a microwave oven and inside a dishwasher.
• Quirky designs: If you like to have some fun, you can choose stoneware with stunning and unique designs. Artisans actually create detailed designs on these containers.
• Versatile: Stoneware vessels can be used for varied purposes and you can use them for salad, soup, and even cereal if preferred.
• Earthy aesthetics: Besides the fact that these materials won't need to be glazed, they look perfect for casual restaurants with a nature theme.
Cons of Stoneware

• Heavy and bulky: If you have a small kitchen cabinet, this is not an ideal option since these types are pretty bulky and heavy and can take up more space.
• Breaks easily: Similar to glass and ceramic, a stoneware bowl can break easily, especially when dropped on the floor.
Earthenware Bowls
Similar to stoneware bowls, earthenware is made from clay but not at high temperatures. Instead, they are baked at a relatively low temperature that allows the vessel to harden and actually become unbreakable. These bowls have become a trend in the 21st century.
Pros of Earthenware

• Visually striking: Earthenware has ornate and stunning aesthetics that you would want to display in your kitchen.
• Durable and unbreakable: These containers can be considered a practical choice since you can use them daily without wearing them out. They are also safe to be cleaned in the dishwasher.
• Not affected by temperature: Earthenware is both heat-proof and cold-proof, so you can use it for freezing foods, cooking, and serving meals.
• Possible for waterproofing: Glazing these bowls can actually waterproof them.
Cons of Earthenware

• Porous bowls: While resistant to heat or cold, the porous holes on the surface can soak up too much liquid, causing them to be unsafe to be used with food.
• Can be brittle in nature: Never place the earthenware dishes directly on the burner or the oven.
Glass Bowls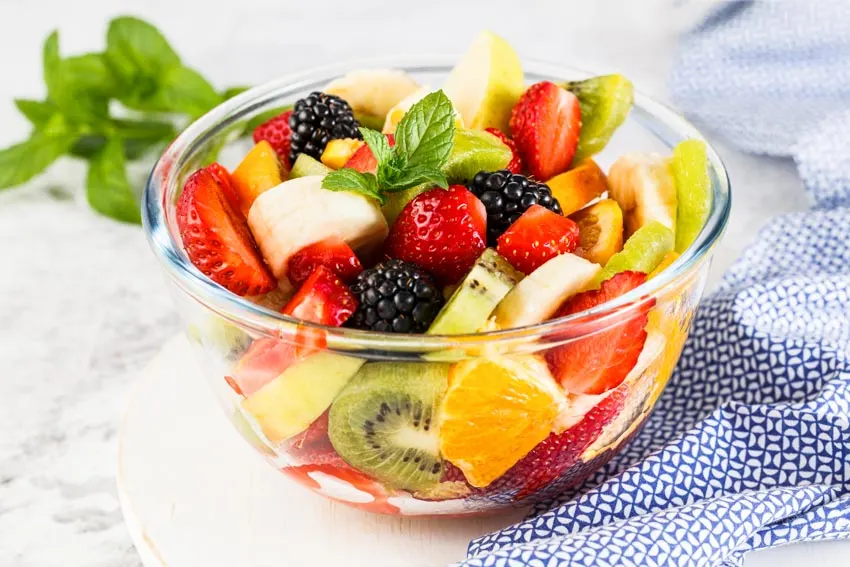 Considered one of the most common types, a glass bowl can be used to serve different dishes, including noodles, cereals, and salads.
Pros of Glass

• Looks elegant to use: Glass vessels are generally quite stunning and fetching to look at. They are eye-catching and would even be a great centerpiece for your table setting.
• Easy to clean: Using glass dishes every day will not be an issue since they are easy to clean and can withstand daily wear and tear. Unlike wooden containers, you won't have issues with retaining odor and they also don't easily stain.
• Durable: Glass dishes are durable enough to use with a dishwasher, microwave, and refrigerator without worry.
• Comes in a variety of sizes: There are different sizes of glass bowls you can consider depending on the amount of food you're preparing.
• Affordable: If you choose glass, you won't have to spend a fortune just to buy a set for your kitchen.
Cons of Glass

• Quite fragile: Glass can be delicate so you need to be careful how you use them and take care of them. If you're choosing this type, get a tempered glass bowl that won't overheat and easily shatter.
Copper Bowls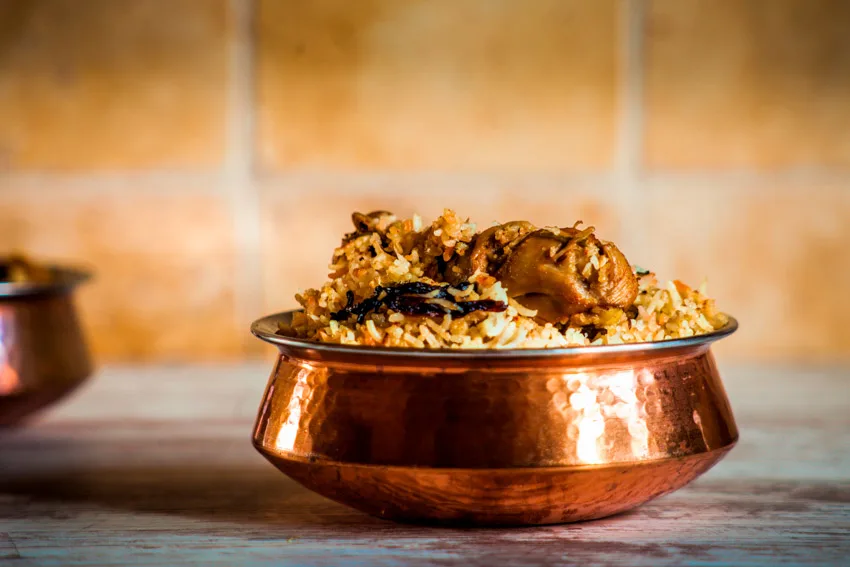 An excellent option used as a mixing vessel, a copper bowl is an ideal option when you're dealing with the following:
• Beating egg whites
• Mashing potatoes
• Whipping create
• Mixing crepe batters
Pros of Copper

• Classically stunning aesthetics: Copper has this classic and rustic look that would look wonderful when displayed in your kitchen.
• Perfect for dealing with egg whites: Copper vessels produce firmer whipped cream since the copper ions stabilize the egg whites you're working on.
• Durable and sturdy: Excellent for daily use, copper material can withstand everyday wear and tear.
Cons of Copper

• Relatively expensive: You may need to spend a bit more if you choose copper than what you will spend if you choose a different type.
Bamboo Bowls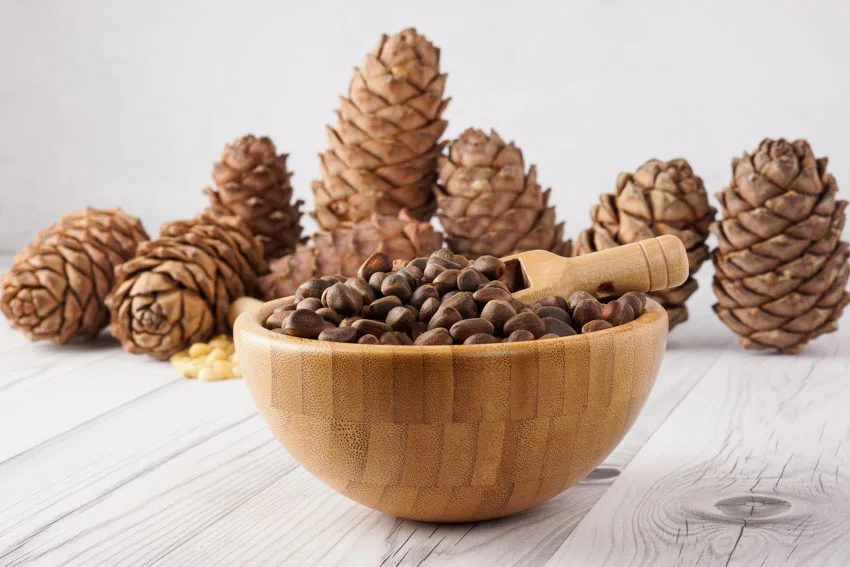 Excellent for serving appetizers and salads, bamboo bowls can be a great addition to your kitchen. Many people choose this type when serving their salad and it has become popular because of this.
Pros of Bamboo

• Environmentally-friendly option: Bamboo is fully biodegradable, so they do not harm the environment in the manufacture and production but also at their disposal.
• Durable: You can beat into your bamboo containers without having to worry about damaging them, so they can withstand daily wear and tear. Bamboo cutting boards are frequently used due to their strength and because they are less porous and harder than hardwoods.

• Stunning to look at: Using a bamboo bowl for salad simply looks fitting.
Cons of Bamboo

• Does not last long: Compared to other types, bamboo bowls can only last for up to 2 years.
• Not machine-friendly: Bambo containers are not microwave- and dishwasher-friendly, so make sure not to use these materials with the said machines.
• Handwash cleaning: Cleaning bamboo requires a personal touch, and you may need to wash them by hand to ensure they've been thoroughly cleaned.
Melamine Bowls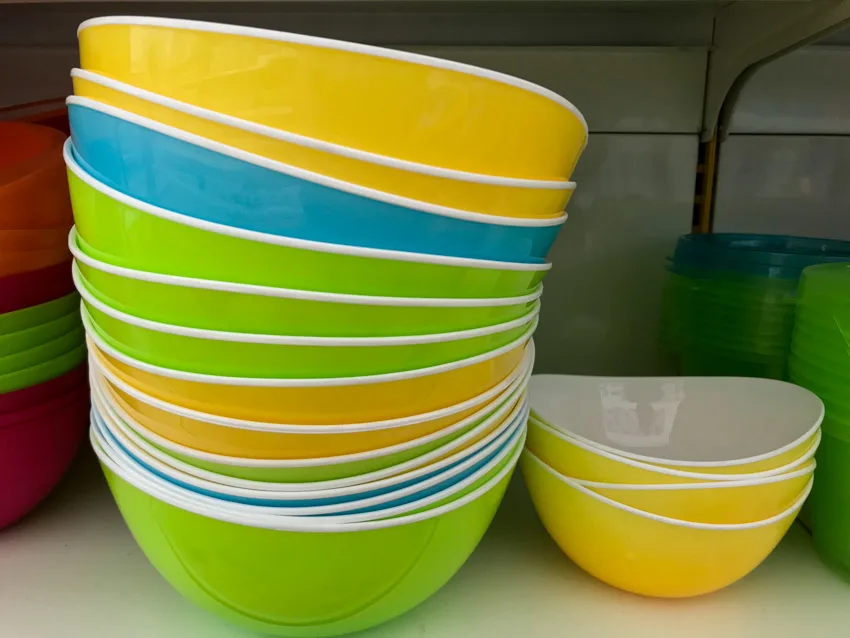 Another common type, melamine bowls, are popular in the kitchen and they are created using the same organic chemical used for plastics. This makes them a bit similar to plastic, but they are also a bit better and nicer.
Pros of Melamine

• Dishwasher-safe: You don't need to hand wash them and can use the dishwasher to clean these containers.
• A variety of options: Melamine, similar to plastic, can come in a variety of shapes, colors, and designs.
• Durable and sturdy: This material won't easily break and can actually be used by both the elderly and children alike. Dropping them won't break or shatter them compared to other types.
Cons of Melamine

• Not microwave-safe: Melamine containers will melt if you place them inside the microwave so make sure to remember this to avoid a disaster.
Wire Mesh Bowls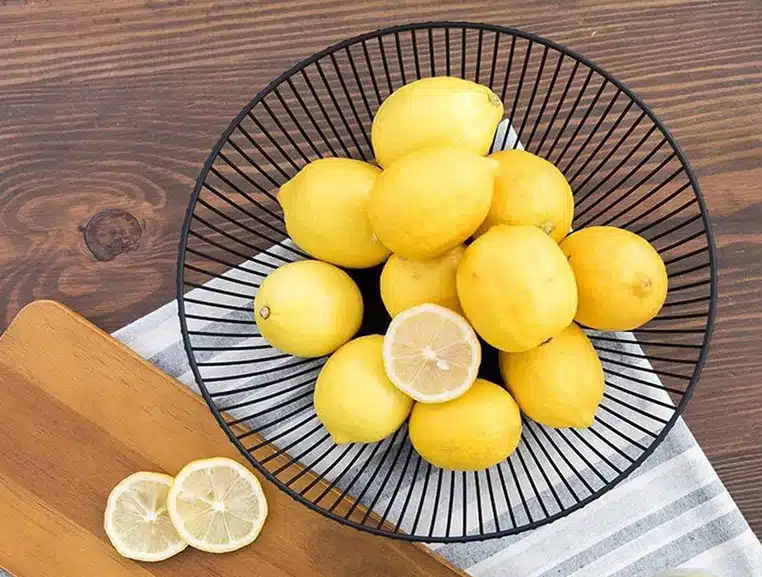 A wire mesh bowl is useful for storing fruit due to its design which allows for air circulation. It is generally constructed with one or two mesh layers. It can be made from a variety of different metal materials such as stainless steel, aluminum, copper, or powder coated to help prevent rusting.
Pros of Wire Mesh
• Allows fruit to receive air circulation.

• Can hold up to heavy use.

• Useful for washing fruit as water falls through the bottom.

Cons of Wire Mesh
• Powder coated designs are often hand wash only.
• Food particles and debris can get caught between the mesh layers.

• Not made for holding liquids or small items.

Silicone Bowls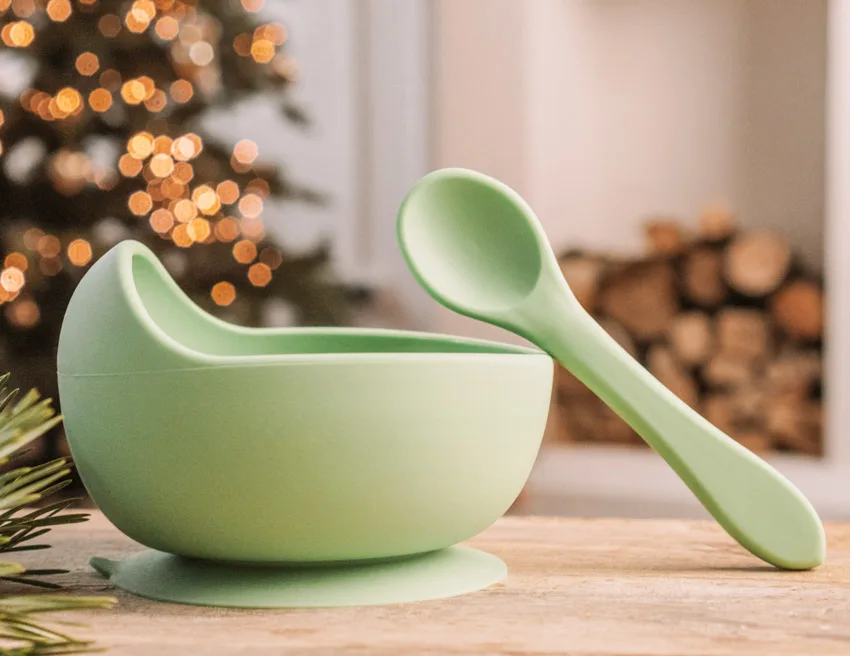 Silicone bowls are created by combining synthetic rubber materials with synthetic plastic polymer.
Pros of Silicone

• Food-safe: Silicone does not react with food or drinks so you can use them without any possibility of harmful gas production.
• Flexible in structure: The material is naturally foldable and flexible, so you can arrange them in a way that can save space inside your kitchen closet by bending them.
• Durable: These types of dishes are extra durable and certain models can take a variety of temperature fluctuations, such as use in the microwave, freezer, and dishwasher without harmful leaching of chemicals. Since silicone is so strong its often used for kitchen mat countertop protection.
Cons of Silicone

• Not that aesthetically pleasing: Silicone bowls are a bit cheap to look at so if you're going for something classic and elegant, this is a bad option for you.
Different Types Of Bowl Shapes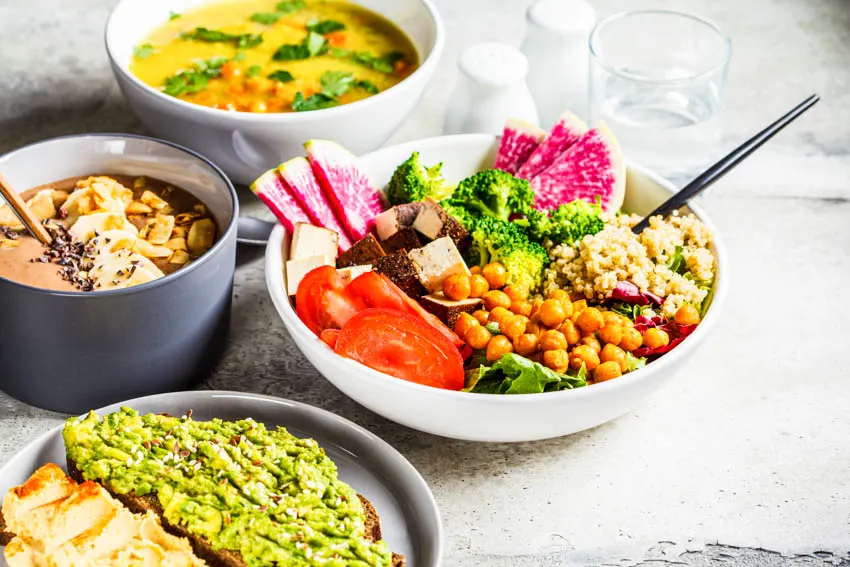 In general, bowls are known for their round shape; this goes the same for every serving dish, whatever type you're dealing with. While this is the most common shape, it is not the only shape you can encounter in stores and different homes and kitchens.
Many are now offered in different shapes and designs, from triangular dipping bowls to rectangular soup bowls.
How Many Cups Are In A Bowl Of Soup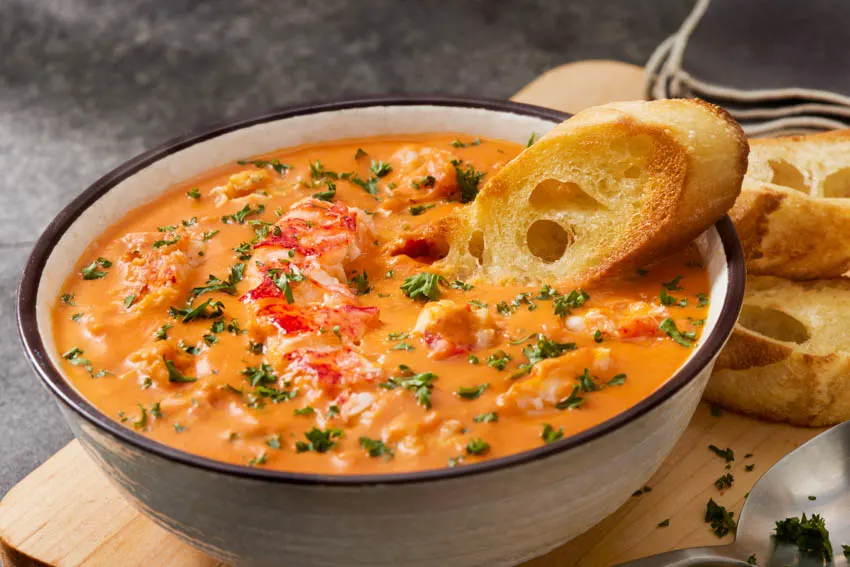 These can come in a variety of sizes, but if you're dealing with the standard bowl of soup, this means you're preparing for around 12 oz or one and a half cups of soup.
What Type Of Bowl For French Onion Soup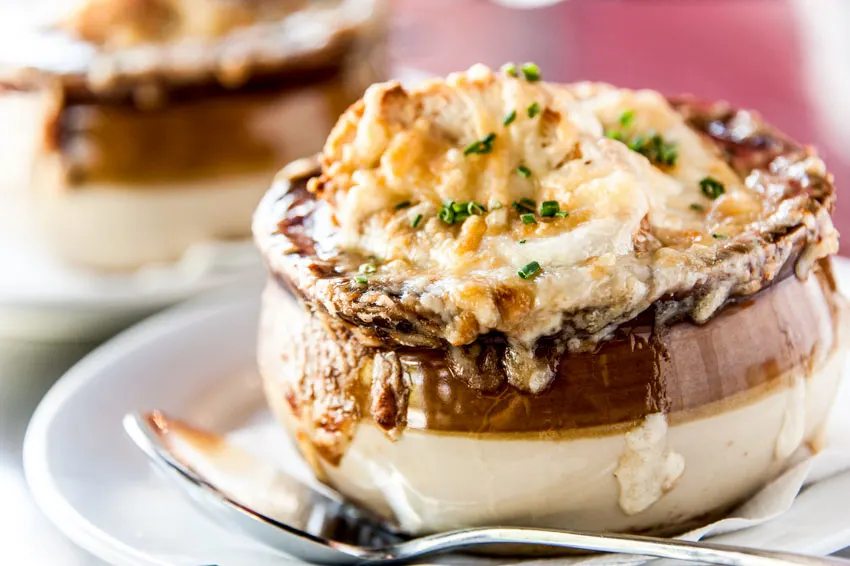 French onion soup is one of the most popular soup dishes in the world, whether you're talking about something homemade or served in restaurants. If you're planning on cooking your own creamy French soup, you need to have the right kind of bowl.
This will not just help you with the presentation but also with the cooking. This is primarily because cooking an authentic French onion soup itself is not an easy job to accomplish.
It will be preferred if you choose a bowl that comes with both a handle and lid. If you want help choosing, though, here are some types of bowls you can use for your French onion soup.
• Soup bowl
• Soup plate
• Lug soup bowl
• Cream soup bowl
What Type Of Bowls Are Microwave Safe
The microwave is one of the best small appliances you can have in your kitchen. To quickly heat your food, popping it inside the microwave oven is the most natural thing to do.
If you want to know if a specific kind of bowl is safe for certain types of microwaves, you can always check the box that they came in with since there will always be instructions from the manufacturers. In addition, try checking the bottom of the product for instructions.
Without any label, one thing you can do is determine the material that it's made from. But if you are somehow thinking twice about it then just don't pop it in the microwave. And, of course, avoid putting the following bowls in your microwave:
• Wood
• Bamboo
• Plastic
• Melamine
• Fine China

• Bone China
• Metal
What Type Of Bowls Are Oven Safe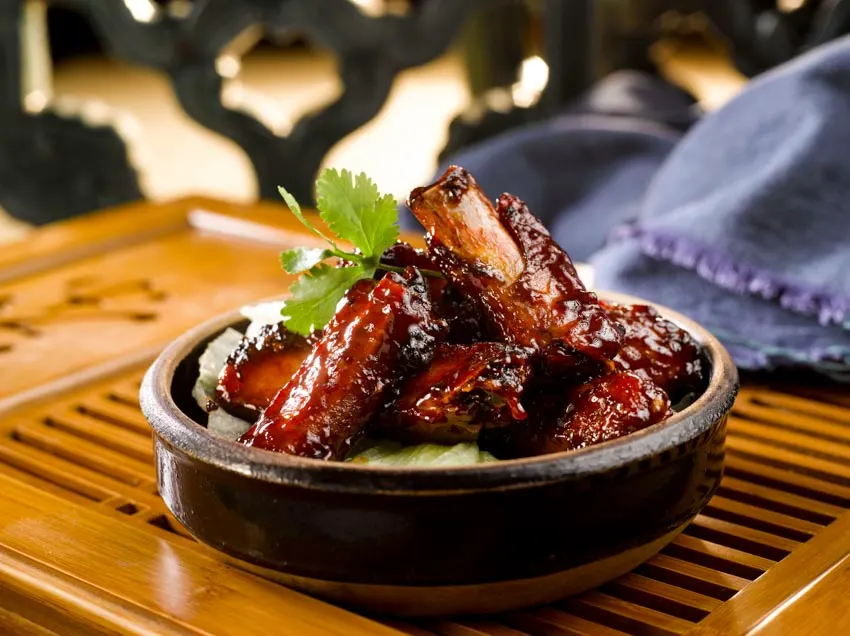 If you want a list of the different types of bowls you can use to heat or cook food in your oven, here are some that are pretty safe to use.
• Ceramic
• Stoneware

• Earthenware

• Glass
While these bowls made from the same materials are oven-safe, make sure that the manufacturers guarantee them by looking at their labels.
There are also specific temperatures that the bowls can withstand and the ones they can't, so take note of those details. The manual guide with the bowls will tell you what temperature you can use them with.
Top 15 Popular Bowl Styles Infographic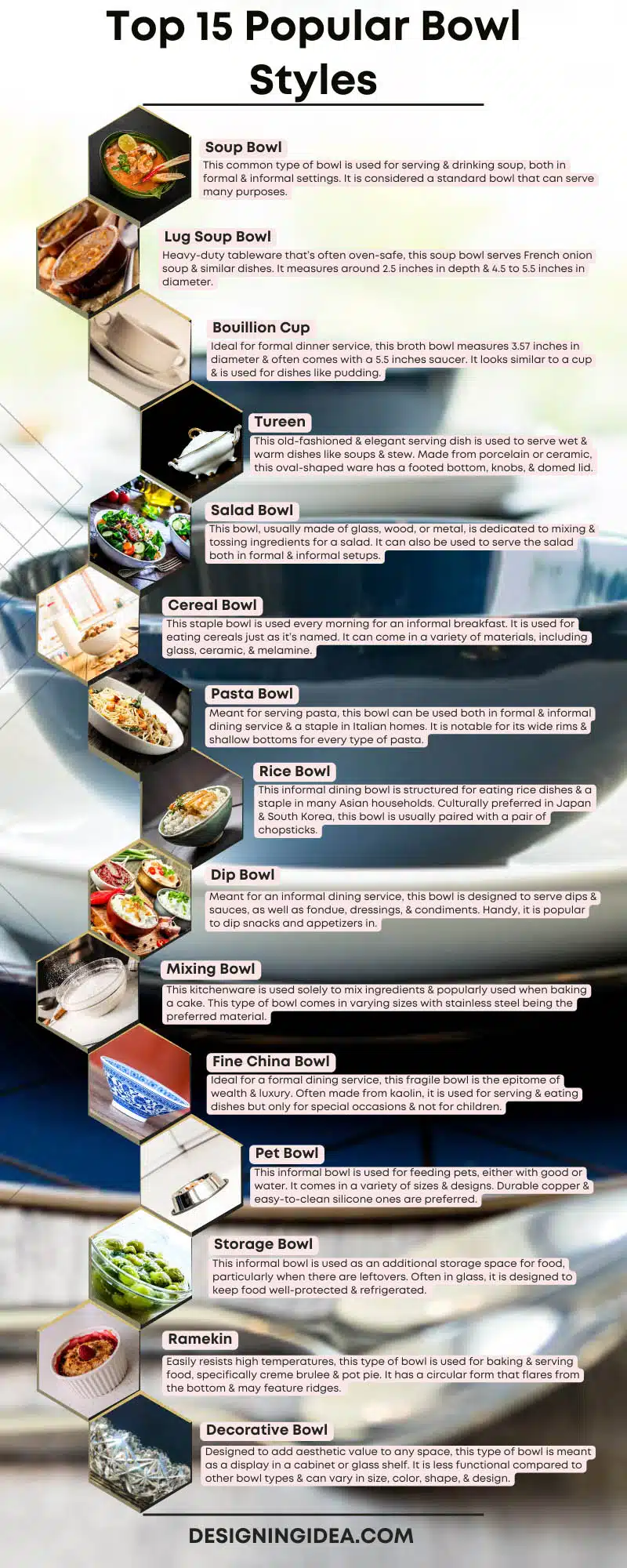 Bowls have existed in homes as far back as 20,000 years ago during the bronze age. They are believed to come and have been used before plates and other utensils ever existed.
With how they are designed, they can accommodate more than just food. Considered the oldest kitchen utensils, they are becoming more popular since people are shifting from formal to more casual eating styles.
When it comes to different types of bowls, there is a specific one for a certain occasion or need.

Did we miss any of your favorite types of bowls? Let us know in the comments below what you think. See more related content in our article about the different placemat sizes on this page.