Here's our placemat sizes guide including the standard size for rectangular, circular, oval and square placemats and how much fabric is needed for DIY placemats.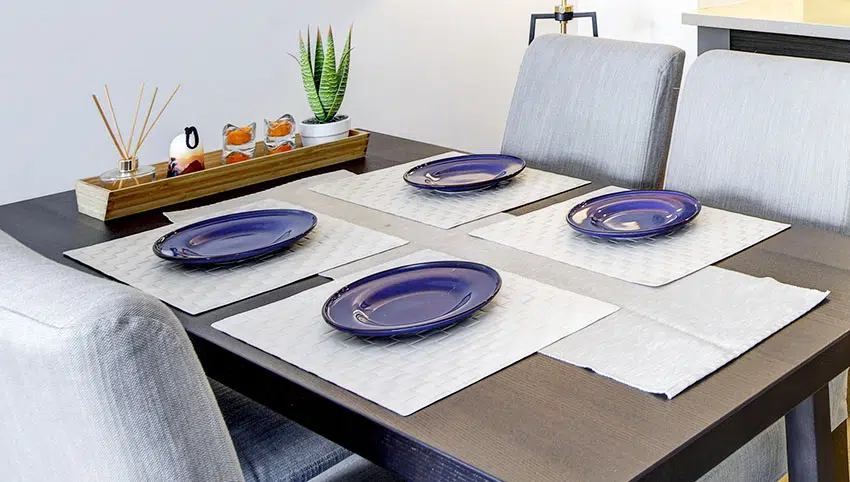 For any homeowner who wants to add a dash of style and color to their dining table setting, one way to do that is by adding a placemat, whether for a special occasion or simply for a normal day-to-day sit-down dinner with the family.
Placemats break down a normally full table; it protects the wood, and also allots a specified space for people to have ample room when dining. The key to this is buying a placemat that is not too small and not too large.
Once deciding factor to help any homeowner decide on a placemat is to know what size of the plate they will be using every day or during special occasions, like Thanksgiving or birthday dinners.
Standard Placemat Size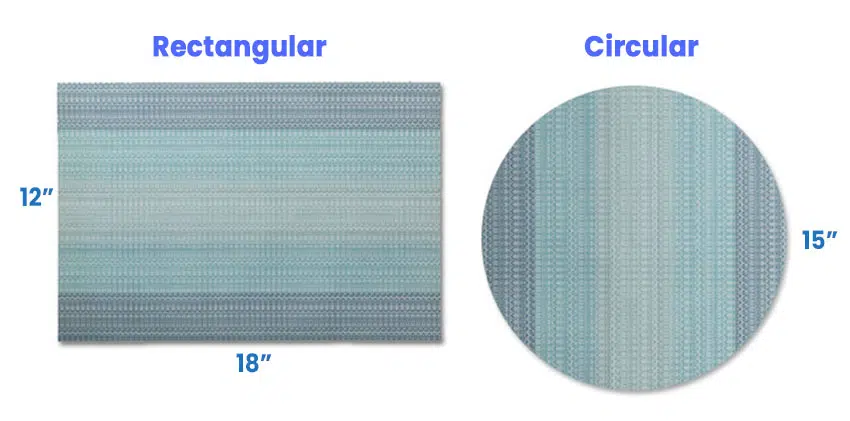 Placemats come in many shapes and sizes, and virtually all types of plates will have the perfect placemat to match them. There are standard or commonly used placemat sizes available in many stores, and for a foolproof and easy-to-follow buying guide, homeowners can opt to purchase these sizes.
One of the standard placemats is the rectangular one with a size of 12 by 18 inches or 30 by 46 centimeters.
There are also circular placemats commonly bought that are 15 inches or 38 centimeters in diameter. These sizes will be enough to fit a standard place setting to fit perfectly on the mat.
Rectangle Placemat Size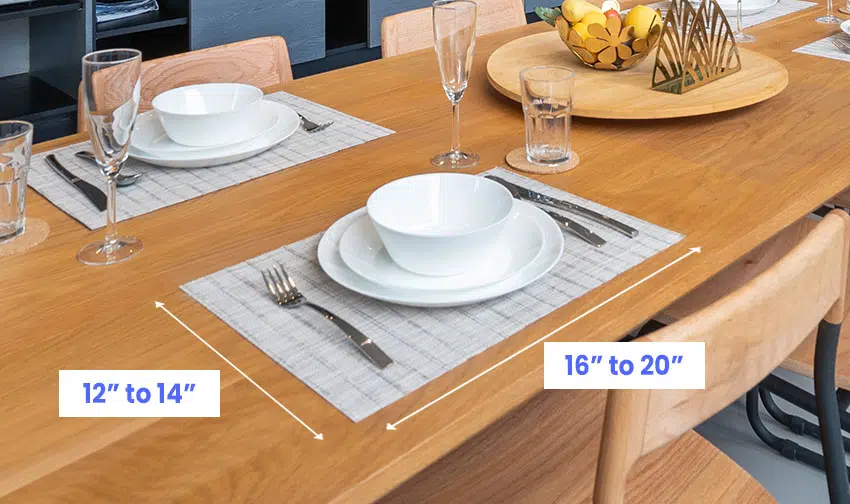 Any homeowner will probably have the picture of a rectangular placemat in mind when thinking about placemats, and this is for good reasons since rectangular placemats cover a lot of surface area for table settings, casual or formal.
Aside from the standard 12 by 18 inches or 30 by 46 centimeters rectangular placemats, there are many sizes available.
Most rectangular placemats will range in sizes from 12 to 14 inches or 30 to 36 centimeters wide by 16 to 20 inches or 41 by 51 centimeters long.
Round Placemat Size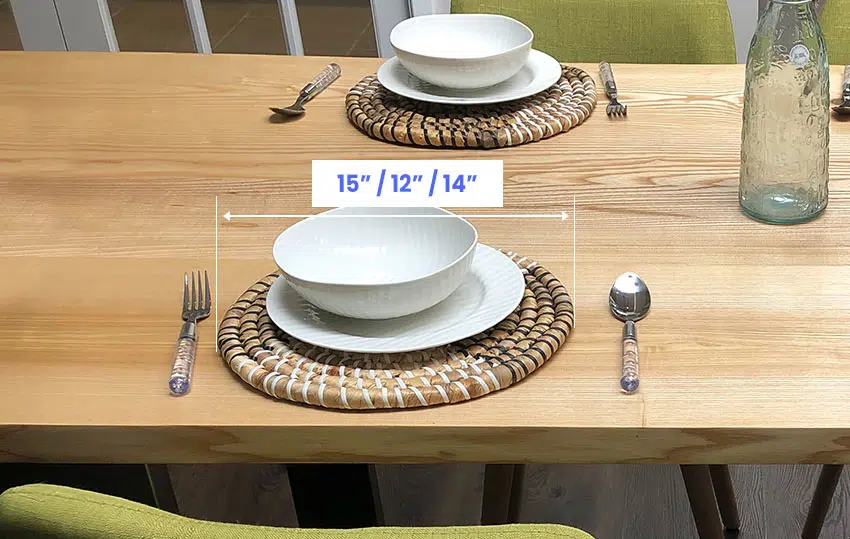 If anyone wants an alternative to the regular rectangular placemats, there are circular placemats they can utilize instead. Most circular placemats will only hold the plate, and other utensils like forks, knives, and glasses will directly be placed on the table.
There are many available sizes for circular placemats aside from the bigger 15 inches by 38 cm in diameter, there are smaller 12 inches or 30 cm ones, and 14 inches or 36 cm in diameter to complete the look of any types of dining tables.
One important rule of thumb to remember is leaving at least 4 inches or 10 cm in between round placemats to make sure that elbows are not touching.
Square Placemat Size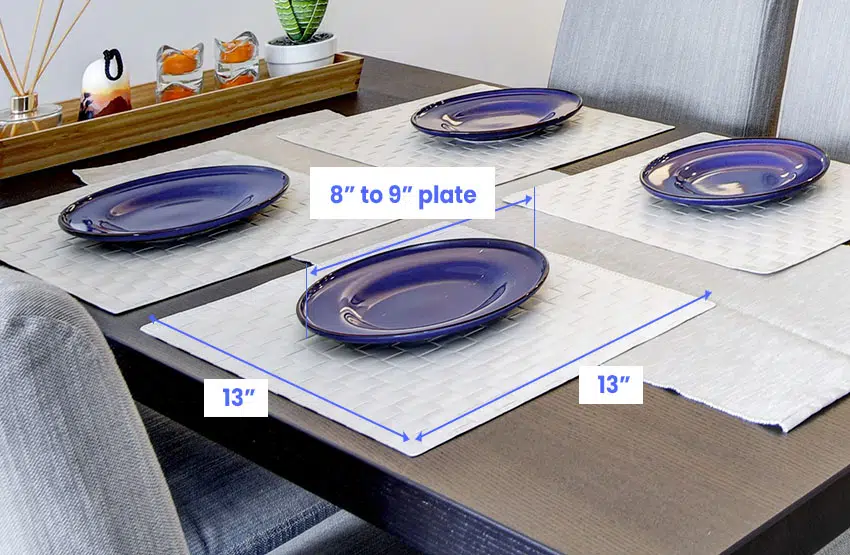 A less common shape for placemats is the square placemat with four equal sides. The reason is that square placemats will usually cover less surface area, making square placemats the choice for smaller eating surfaces. Square placemats are also the choice for more minimalist, modern, and edgier table settings.
The standard size utilized for square placemats is 13 inches or 33 cm. The best plate for the square placemat size is usually the 8 to 9 inches or 20 to 23 cm ones. A 10 inches or 25 cm plate will look a little big for placemat size.
Small Placemat Size
Small placemats are commonly known as kids' size placemats because of their smaller sizes and the fact that a kid's place setting will not need a lot of room versus the adults.
There are rectangular small placemats that are 9 by 14 inches or 23 by 36 cm, and there is a smaller size that can go down to 9 by 12 inches or 23 by 30 cm.
There are many factors for anyone buying a smaller placemat for their children to consider. The first is regarding the kids' table size, and the other is taking into account how much one child can eat.
Medium Placemat Size
Some homeowners will have bigger meals that will demand a placemat more oversized than the standard-sized placemats. They can also have bigger plates at 11 to 14 inches or 28 to 36 cm that will require a bigger placemat.
One placemat they can utilize is bigger placemats which are usually the oval or the cut corners placemat.
Oval placemats are bigger than the standard at 13 by 19 inches or 33 by 48 cm. They can best fit an oval table without overlapping. Another placemat bigger than the standard size is the cut corner placemat, with a standard size starting at 14 by 18 inches or about 36 by 46 cm. These placemats are usually suitable for most table shapes.
Large Placemat Size
There are charger plates that are larger in circumference than other standard plates at 11 to 14 inches or 28 to 36 cm. These charger plates are more oversized than the average plates.
For charger plates, more oversized placemats are needed. Let us say that a 14 inches or 36 cm charger plate is utilized, a placement for this plate size needs to extend at least 2 inches or 5 cm beyond the plate for the best table protection and table setting aesthetics for any event or occasion.
What Size Are Quilted Placemats?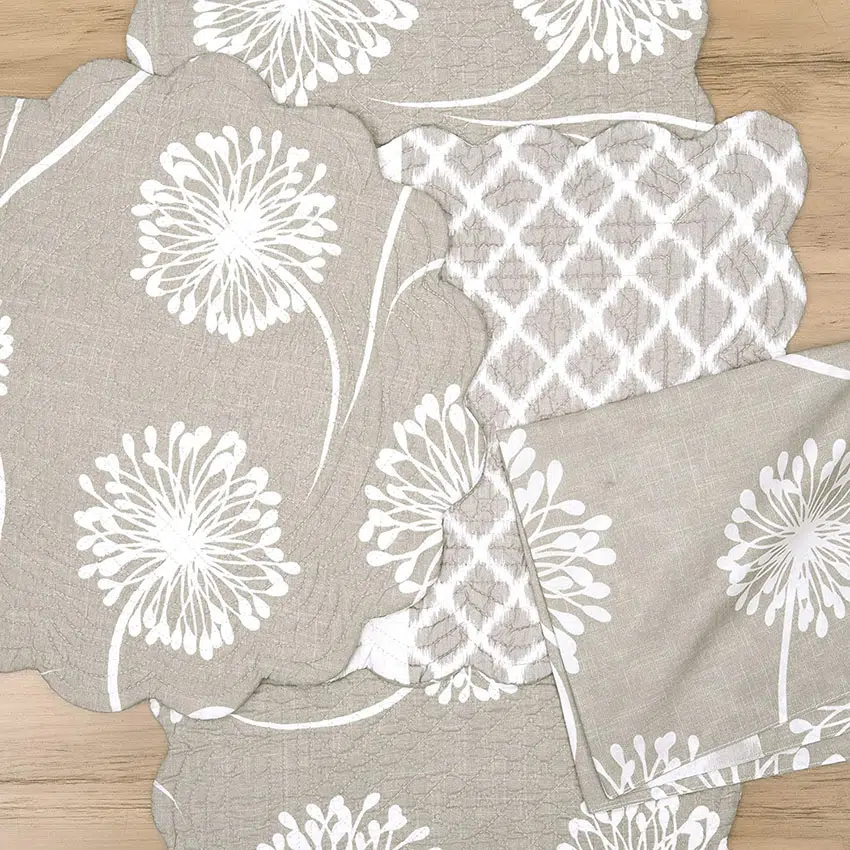 See this placemat at Amazon [sponsored link]
Another placemat that will be fantastic for extra protection for antique dining tables is quilted placemats. Quilted placemats are thicker, which makes them perfect for extra insulation to protect the dining table against staining brought by hot food.
Quilted placemats are available in many designs, and they can also have straight edges like rectangular placemats, or they can have scalloped edges like oval ones.
Most quilted placemats are available with a standard size of 13 by 19 inches or 33 by 48 cm. This size can easily be adjusted to size up or down depending on the homeowner's needs. Read more about dining room essentials here.

What Size Placemats For Round Table?
Some placemat shapes will not work as well for a particular dining table shape, so assessing what placemat is suitable for a table shape is essential before purchasing a specific placemat shape.
A rectangular or square placemat will not usually work for a round table, but there is another placemat shape one can use for a round table, an oval or circular placemat are the best choices.
The size of a circular or oval placemat will differ according to the table size, so knowing the correct and exact dimensions of a round table is critical.
Placemat Size Chart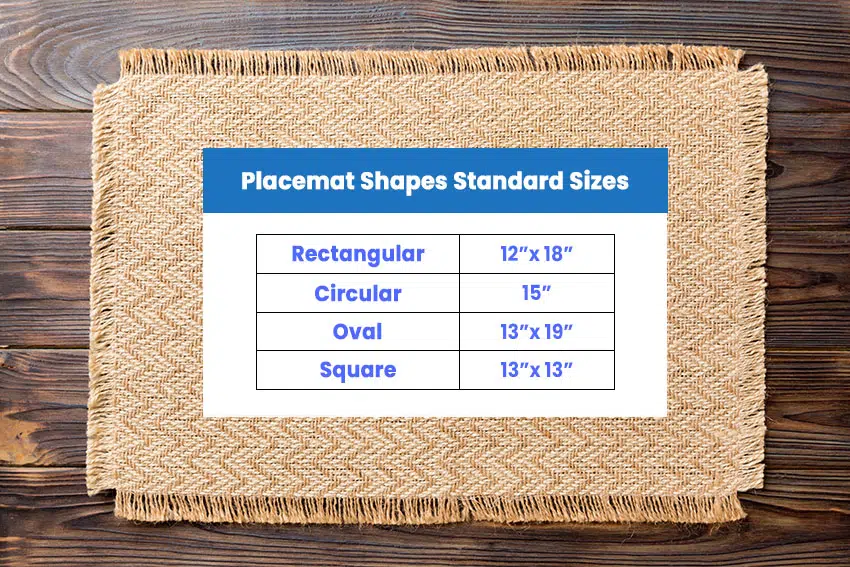 Here is a foolproof cheat sheet of the standard placemat dimensions for common placemat shapes that any homeowner can utilize for reference.
For a rectangular placemat, the most common size is the 12 by 18 inches or 30 by 45 cm ones. A standard circular placemat is 15 inches or about 38 cm in diameter, while an oval placemat is 13 by 19 inches or 33 by 48 cm.
Lastly, the most common square placemats are 13 by 13 inches or approximately 33 by 33 cm.
What Size Should A Placemat Be?
The placemat each homeowner or buyer will need will depend on some factors and the best thing about them is there is no real rule on what size they should be since some place settings will call for a different size of the placemat to fit an aesthetic, especially for events and other parties.
There is a variety to choose from with the 12 by 16 inches or 30 by 41 cm in size, the 12 by 18 inches or 30 by 46 cm for rectangular ones, or the circular 15 inches or 36 cm placemat. It will ultimately depend on the dining table size and the number of people sitting at the dining table at a given time.
How Much Fabric Do I Need For 4 & 6 Placemats?
For a DIY project of placemat making, a person needs at least a yard and a half of their chosen fabric to make four placemats that are 14 by 20 inches or 36 by 51 cm.
A six placemat is harder to gauge, but at least 3 yards of a chosen fabric in total is needed to account for both placemat backing and binding.
Visit our tablecloth sizes guide for more related content.