Here's our pocket doors for bathroom designs including what it is, their pros and cons, pictures, cost, dimensions, and how a pocket door compares to a barn door.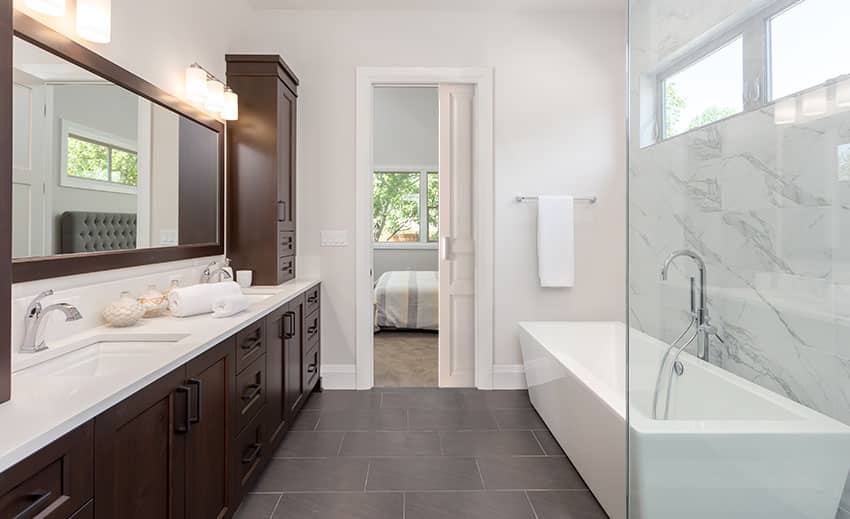 Pocket doors are popular among designers, builders, and homeowners who want to save space. We frequently see pocket doors linking a bedroom to a bathroom, and they have a very sophisticated and streamlined aesthetic to them.
These doors can be used in both traditional and modern settings and, as previously said, are a significant space saver. However, what should you consider before picking this type of door? Is it true that pocket doors are great for bathrooms? Let's see if this door style is right for your home.
What Is A Pocket Door?
Pocket doors are mounted from the ceiling and glide along a rail installed within the wall. Whenever the door is opened, it will seem like it is disappearing into the space inside the wall. Rather than swinging out from a hinge, pocket doors conceal inside a wall cavity.
These doors are great for spaces with limited square footage because they add 10 square feet of functional floor space that would otherwise be covered by an open door. Because the frame will fit inside the wall, the length of the wall will determine whether this form is functional.
Pocket doors, as the name implies, are sliding door designs that glide inconspicuously into a gap within a framing or a wall, which pertains to the pocket. This style is ideal for reducing space and producing a more streamlined appearance in a bathroom.
Although there may be some additional considerations in regard to fixtures and mechanisms, the space saved from where traditional door swings in and out could make a massive difference between one bathroom arrangement and another.
Furthermore, a pocket door links the bathroom and bedroom without requiring the space required for a regular door to swing inward or outward. Thus, you might use the extra space obtained by not having a traditional door for a bigger room layout.
This can translate to a larger shower, greater floor area in both the bedroom as well as the bathroom, or to allow for the potential of a better overall arrangement. A pocket door is also an excellent choice for a downstairs or basement bathroom where space is limited.

Pros and Cons of Pocket Doors for Bathrooms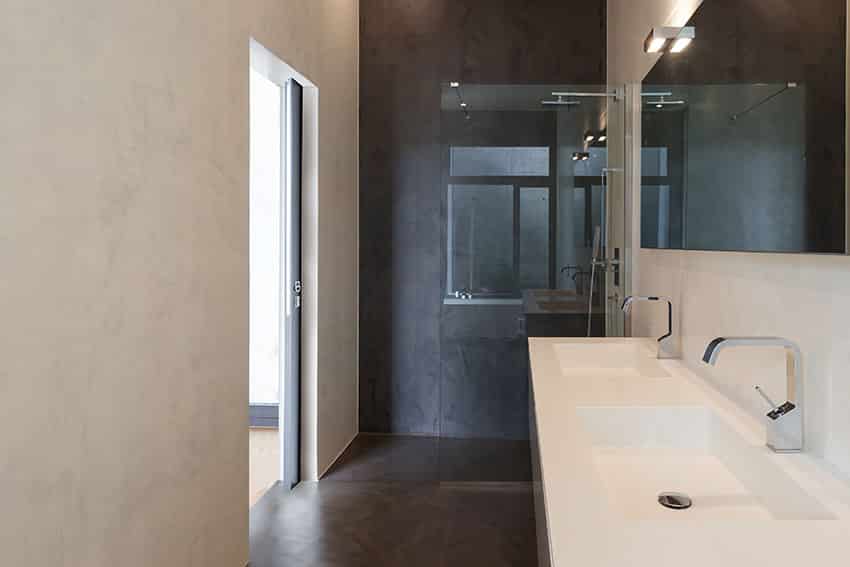 Pros of Pocket Doors for the Bathroom
Pocket Doors Add More Space to Your House, Particularly Your Bathroom
Swinging doors normally require up to 10 square feet of area to allow for the opening as well as the closing of the door. You can free up this area for new furnishings or adapt the positioning of current furniture by installing pocket doors. It also provides more wall space for hanging artwork, towel racks, and other items.
Indeed, pocket doors are an excellent method to conserve both floor and wall space. They are especially useful in tight quarters, such as Jack-and-Jill bathrooms (bathrooms with two or more openings) and small bedrooms, where a typical door could take up major space.
Pocket Doors are Much More Attractive than Traditional Doors
The primary and most noticeable reason that anyone thinks about pocket doors is that they look fantastic. Pocket doors improve the appearance of both ancient and new house layouts. An open swinging door takes the focus away from the aesthetic feel of a room, whereas the disappearing pocket door gives style and interest to even the most basic bathroom.
When pocket doors are open, they often disappear, as previously mentioned. This results in a more usable wall space as well as a neater visual appearance than a typical swing door. You can hang photos or a mirror next to a pocket door framing and view them even while the door is open. In addition, open pocket doors also disappear in houses with modern décor, preserving a minimalist appearance.
Pocket Doors Complement Any Bathroom Décor
Pocket doors function equally well in modern and traditional bathroom designs. They can accentuate any décor and will not detract from the overall appearance of your interior design.
Cons of Pocket Doors for the Bathroom
Pocket Doors Do Not Securely Close
Unfortunately, pocket doors do not close as securely as standard doors and have a bigger gap to the floor. Such doors do not settle as well as traditional doors. Thus, they are not as efficient in preventing noise from moving from one room to another.
Interior pocket doors perform as inadequately when it comes to blocking off a bathroom's odor. Similarly, more light will escape from one place to the other.
Can be Hard to Fix Whenever Something Gets Damaged
Because pocket doors operate on tracks, it can be extremely difficult to fix the hardware whenever anything goes wrong. Hence, you have to purchase and configure the best hardware you can afford to avoid difficulties.
You can check out the functionality of the hardware before deciding to configure a pocket door to ensure you are satisfied with how the door will open and close once placed. Pocket doors may be more difficult to operate than conventional swing doors for individuals with particular physical impairments.
Bathroom Pocket Door Designs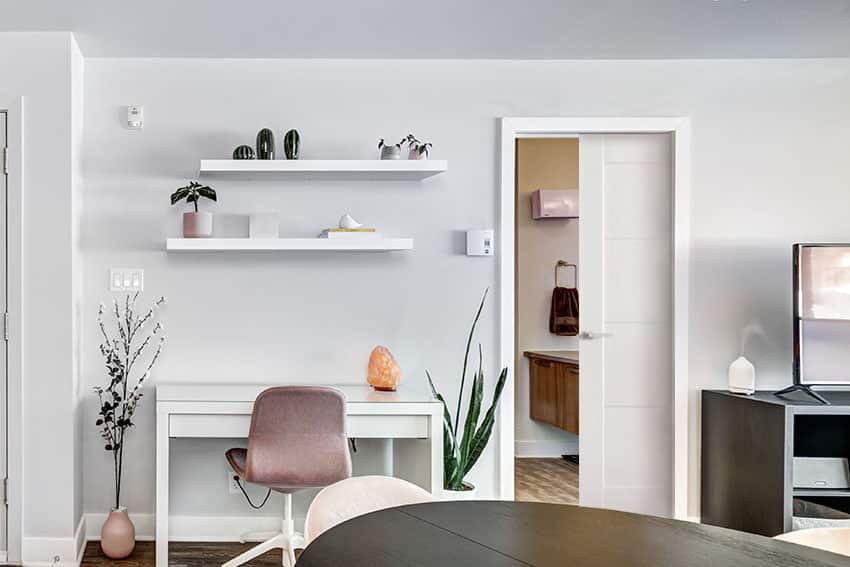 Pocket Door Kit
Pocket door kits typically contain a pocket latching mechanism, which allows your doors to slide easily into a wall opening, saving space while appearing extremely sophisticated.
Pocket door kits with a solid frame are typically delivered pre-assembled, allowing them to be installed in half the time of other types of doors.
Interior Pocket Door
A sliding door that snugly nestles into a wall or partition is known as an interior pocket door. It slides down a track, allowing you to close off an indoor room for seclusion or open it up to link rooms. It is primarily intended for use in small interior rooms or situations where a regular swing door would be inefficient or occupy too much space.
Because pocket doors sit on a track and drop into a wall recess, they are typically slim and lightweight, and they do not prevent all sound from flowing between indoor rooms. Though you can hire a contractor, installing interior pocket doors is a reasonably straightforward do-it-yourself task.
Glass Pocket Door
A glass pocket door is a movable or sliding glass door that vanishes into a recess in the next wall. Glass pocket doors can conserve space while also improving the appearance of living space. They can help to open up your home and modernize the look of your living room due to the streamlined effect of glass. There are numerous more advantages to using a glass pocket door.
The good thing about glass pocket doors is that you do not lose out on the illumination as well as the benefit of an open-plan lifestyle even when the bathroom doors are closed.
Moreover, a glass pocket door is a big glass screen opening in a construction that allows entrance from a room to the outdoors, fresh air, and plenty of natural light. This glass door is typically seen as a single unit composed of two pieces of the panel, one fixed and one movable to glide open.
However, when used for bathrooms, glass pocket doors are only advisable to be used in shower rooms with a separate main bathroom door since these glass sliding doors will not provide any privacy. A wall-sized glass door, for instance, features one or more panels that are movable and slide into wall gaps.
Bathroom Pocket Door with Frosted Glass
Glass bathroom pocket doors are an excellent option to maintain the light, airy, and spacious sensation of open-plan living while also having the ability to zone off specific areas when necessary.
To add greater privacy, you can use a frosted type of glass. Sandblasting or acid-etching a clear sheet of glass produces frosted glass. This results in a pitted texture on one side of the glass pane, which makes the glass translucent by dispersing the light that passes through, blurring visuals while still transferring illumination.
Mirror Bathroom Pocket Doors
A mirrored pocket door functions as a door and takes up no floor or wall space. When not in use, the mirrored pocket door can be glided into the wall pocket. These doors are frequently used in huge closets.
Mirror pocket doors are a low-cost yet high-impact interior design upgrade. They provide a quick enhancement for updating the home. Proper mirror placement is artistry, and it is always preferable to employ mirrors as effectively as possible.
Mirrored pocket doors are one of several ways to improve the efficiency of mirrors. Interior designers frequently employ them to conserve space and make a room look bigger.
Typically, full-size mirror pocket doors are used on closets. They optimize the passage of light through the room, giving the impression of a larger space. Mirrored wardrobes not only bounce light and make the room appear larger, but they also eliminate the necessity for the room's separate bathroom vanity. See more types of closet doors here.

Mirror pocket doors are well-known for their sleek, stylish, and visually pleasing appearance. They complement every interior décor. Mirrored pocket doors look great with any color scheme or design motif. They give the space, especially the bathroom, a classy, luxurious feel.
Pocket Doors Cost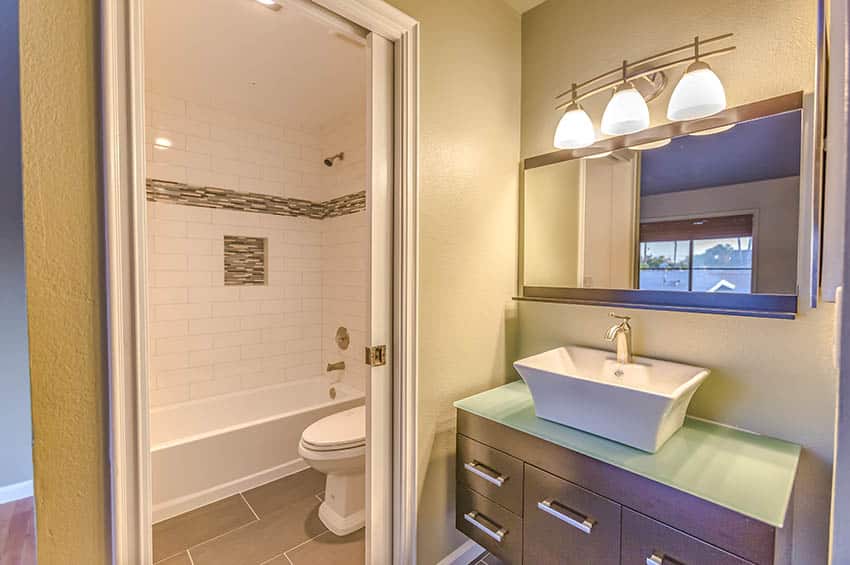 It will cost around $500 to $1,850 to install pocket doors that are up to 36 inches in new construction. They will cost around $1,550 to $2,950 as part of a home improvement project. These costs include both parts and labor. Bigger doors, dual doors, and French doors will be more expensive.
Although 36 inches is the most popular size for pocket doors, they are available in a variety of sizes that are up to 48 inches. The bigger the door, the greater the installation expenses, with costs much higher when retrofitting a pocket door into an established structure.
Here are the detailed costs for pocket doors:
32-inch Pocket Door
• New Construction Installation Cost – around $450 to $1,500
• Retrofitting Installation Cost – around $1,350 to $2,200
34-inch Pocket Door
• New Construction Installation Cost – around $500 to $1,600
• Retrofitting Installation Cost – around $1,400 to $2,800
36-inch Pocket Door
• New Construction Installation Cost – around $550 to $1,850
• Retrofitting Installation Cost – around $1,550 to $2,950
46-inch Pocket Door
• New Construction Installation Cost – around $600 to $1,900
• Retrofitting Installation Cost – around $1,600 to $3,100
48-inch Pocket Door
• New Construction Installation Cost – around $700 to $2,800
• Retrofitting Installation Cost – around $1,600 to $3,800
60-inch Pocket Door
• New Construction Installation Cost – around $800 to $3,300
• Retrofitting Installation Cost – around $1,700 to $4,200
Pocket Door Materials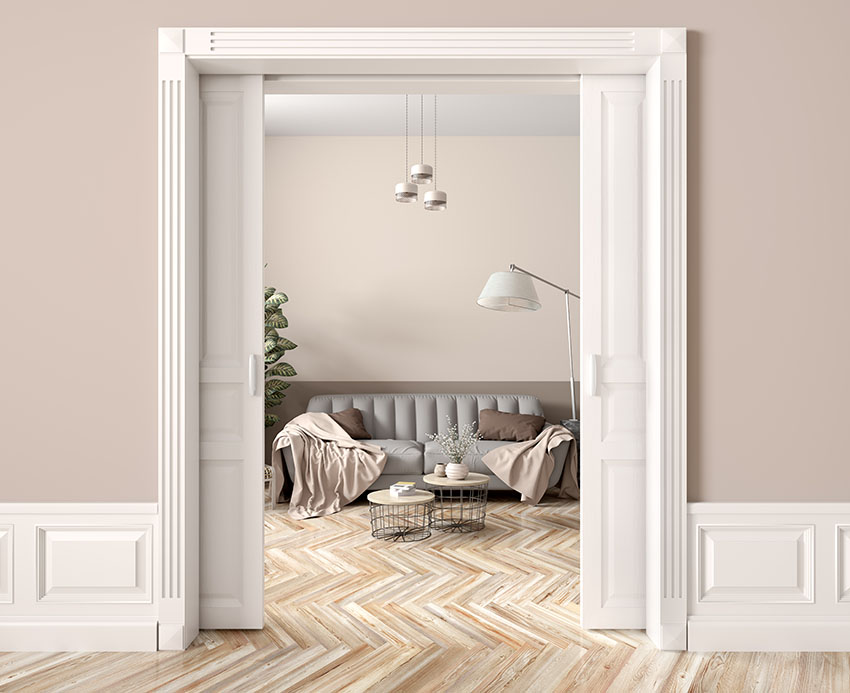 Pocket doors are produced from a variety of materials, including solid wood, metal, glass, and fiberglass. Each has advantages and disadvantages, as well as varied price ranges for installation and construction materials:
Genuine Wood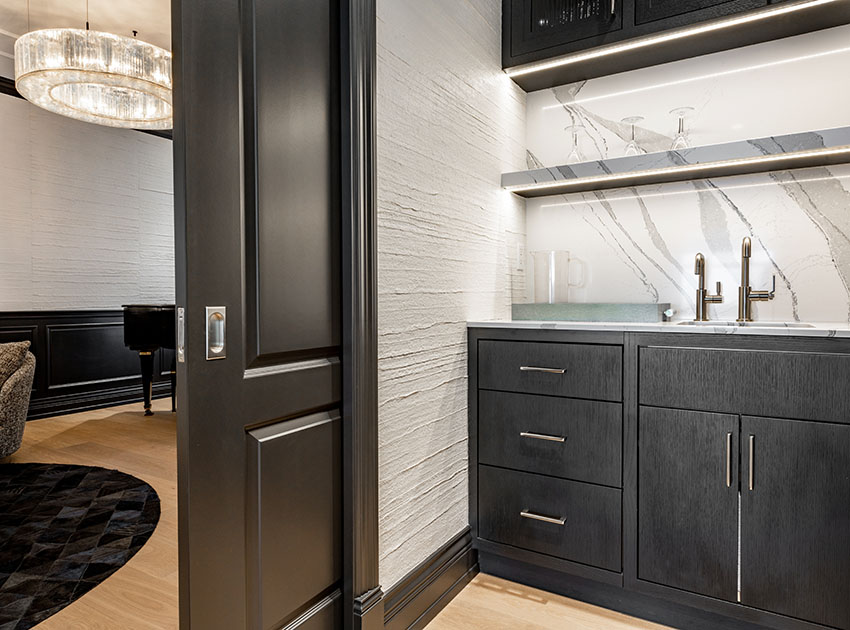 Genuine wood doors are a widely known choice since they are durable, long-lasting, and come in a range of textures to match the design of your house, particularly your bathroom.
A solid wood pocket door will cost around $500 to $2,000, and installation in new construction will cost approximately $600 to $2,200. A retrofit will cost between $900 and $1,800.
Aluminum
Aluminum pocket doors are typically chosen for their streamlined and modern appearance and cost around $500 to $2,000. Installation costs between $600 and $2,200 in new construction, and between $900 and $2,000 in retrofits.
Glass
Glass pocket doors range in price from $450 to $2,000. The overall cost of installation in a new structure can range from $550 to $2,200, with retrofit costs increasing by $900 to $1,800.
Because of their weight, glass doors necessitate a sturdier frame, unlike conventional materials, making them more difficult to incorporate into a retrofit installation.
Fiberglass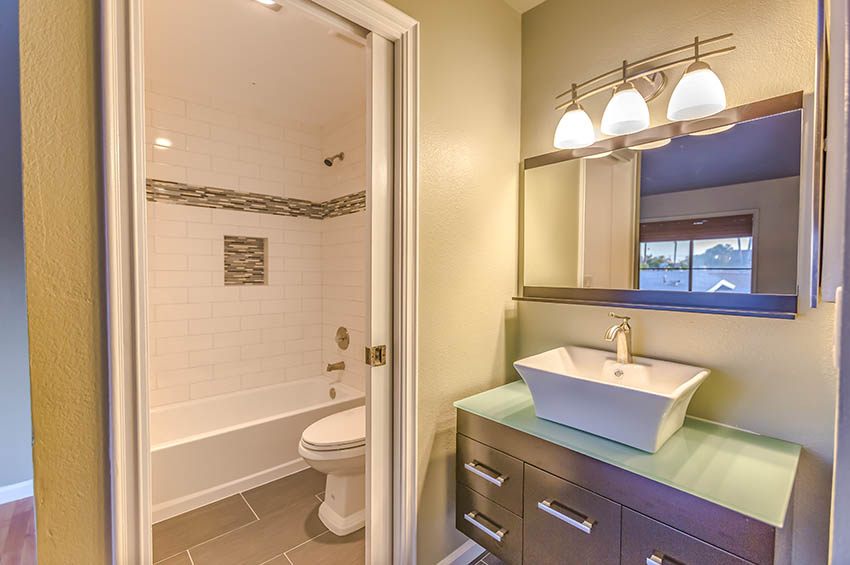 Fiberglass doors are low-maintenance, long-lasting, and can be repainted to resemble wood paneling. They range in price from $500 to $800, with the whole cost, which includes installation, ranging from $600 to $1,000 in new construction. A retrofit will cost approximately $900 to $1,800.
Hollow Core
Hollow core doors range in price from $400 to $600 per door, with installation costing between $500 and $800 in new construction. Consider paying $900 to $1,500 more for a retrofit installation.
This material is lightweight and inexpensive, making pocket doors simpler to glide in and out of the wall, but this is not the most robust alternative because it lacks an interior core.
Bathroom Pocket Door Dimensions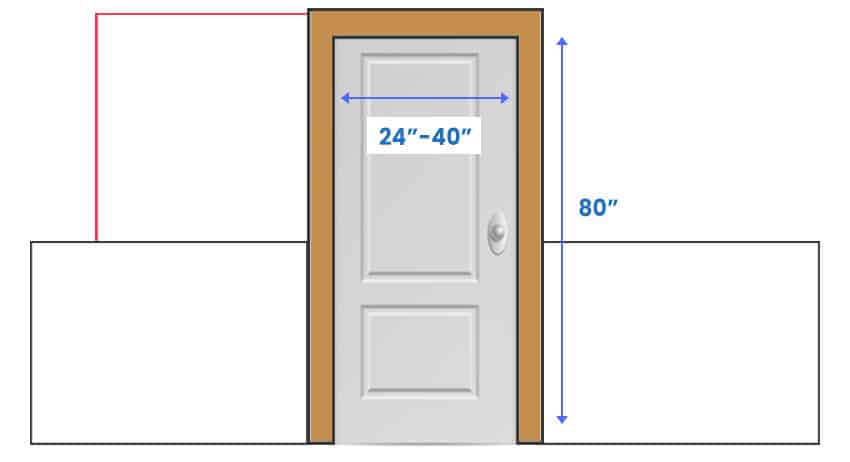 Standard bathroom pocket doors are normally 30 to 36 inches wide and 80 inches tall, just like traditional hinged doors. However, you must consider the whole system dimensions, which are significantly greater. Pocket door systems can be 51 to 162 inches wide and 86 inches in height or higher.
A single-pocket door panel is often 24 inches to 40 inches wide and 80 inches tall, but double-pocket door panels are typically 86 inches tall and provide a clearance of 82 inches.
A 24-inch panel is often the smallest standard-sized pocket door available. A rough aperture of 49.75 inches would be required. The panel's height is normal at 80 inches, and it fits a rough aperture of 84.5 inches.
A pocket door rough aperture is the whole space required between the studs to construct the pocket door system. Normally, the general guideline is to double the pocket door panel size by two.
Afterward, depending on the door size, you can add 1 to 1.75 inches. Add 2.25 inches for height, bringing the rough aperture for an 82.25-inch system to 84.5 inches.
A rough aperture for a 30-inch pocket door, for instance, would be 61 inches in width. A 36-inch pocket door would have a rough aperture of 73.75 inches wide.
You should verify the manufacturer's precise specifications before constructing your wall for a pocket door. Read more in our pocket door size guide here.
Can A Pocket Door In The Bathroom Lock?
Yes, you can secure the bathroom inside your home by locking pocket doors. Pocket doors can be locked on either one or both sides. You can also secure your bathroom pocket door by using a pocket door lock with a key. The locks can be either circular or square.
Do Pocket Doors Block Sound?
No, pocket doors do not provide much sound insulation. Pocket doors are not very soundproof, whether you decided to pick them or they were installed when you purchased the house.
Pocket doors might not sit or seal as snugly as standard doors. As a result, they may not effectively prohibit noise from spreading from one room to another.
Pocket doors open and close by rolling on a track. No matter how delicately you push the door, it will make little noise as it slides. Visit our guide on how to soundproof a door for more tips.
Barn Door vs Pocket Door for Bathroom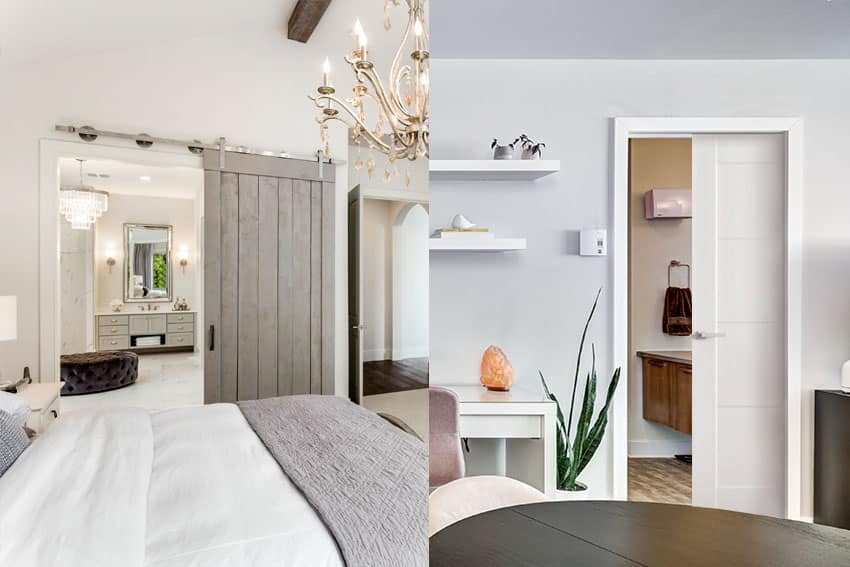 In Terms of Appearance
Pocket doors are a unique addition to many houses since they drop into the wall, concealing the door when it is open. Because the door is intended to be closed out of visibility, this might be of very simple design.
Pocket doors are, nonetheless, available in a variety of styles ranging from classic to modern. They are also available in a variety of materials.
On the other hand, barn doors generally have a more unique appearance. These wood doors typically have a more rustic polish and appearance.
They are suitable for a wide range of home designs such as country, earthy modern, farmhouse, and cottage. They can work in modern or futuristic interior designs when created with a solid panel or installed with glass panes.

In Terms of Overall Usage
Pocket doors and barn doors are both designed to save space. Because they do not open out inward or outward the room, they are ideal for bathrooms and other spaces that require greater mobility.
Pocket doors, on the other hand, slide into the wall and are hidden while open. When open, barn doors glide on a track on the outside of a wall and conceal it. Because pocket doors slide between rooms and corridors, they are slightly more adaptable.
When open, barn doors might block plugs and wall controls, so they must be able to move across a blank wall. Thus, no artworks or shelving can be placed. Since pocket doors are installed within the wall, the exterior wall can be left blank.
In Terms of Installation
Pocket doors are more complex and time-consuming to install since they are mounted on a track that is both within the doorway and inside the neighboring wall. In some circumstances, the track must be installed through an opening in the wall.
Barn doors, however, are installed across the doorway as well as along the outside of the neighboring wall. This ends up making them considerably simpler to install as the track can be visible at all times, eliminating the need to open the wall or refinish it once the track is installed. The track can be put on any wall, regardless of how thin or load-bearing it is.
In Terms of Maintenance
These two types of doors both need basic maintenance. Since they all glide down a track, it should be kept clean and free of fragments that might end up causing the door or rollers to fail from functioning. They may also need to be oiled or rehung regularly if the track malfunctions.
This maintenance is typically simpler to perform on a barn door than on a pocket door since it is totally exposed and conveniently accessible. At least half of the track for the pocket door is hidden in the wall, making maintenance more complex.
In Terms of Durability
Both doors employ a track, which can potentially induce durability issues. It all boils down to the track's strength and the materials used to make it.
Both doors may slip off their tracks, become awkward to roll, screech or squeal if not greased, and gap or hang, making sealing and locking difficult. Nonetheless, because the door is exposed, barn doors frequently have a bigger track. This indicates that the track may have fewer problems in the long run than the compact pocket door track.
Barn doors are easier to repair when difficulties arise, therefore serious issues are less prevalent than with pocket doors.
In Terms of Noise
In principle, pocket and barn doors are not intended to provide sound insulation. It is conceivable to lessen noise by adding acoustic paneling to the doors themselves, although this can make the doors bulkier and more prone to slipping off their tracks.
Visit our 14 pocket door alternatives for more related content.