These are the types of Douglas fir fence designs including boards, pickets, panels, posts & privacy fences, with pros and cons, durability, best stain options, and comparison to cedar fences.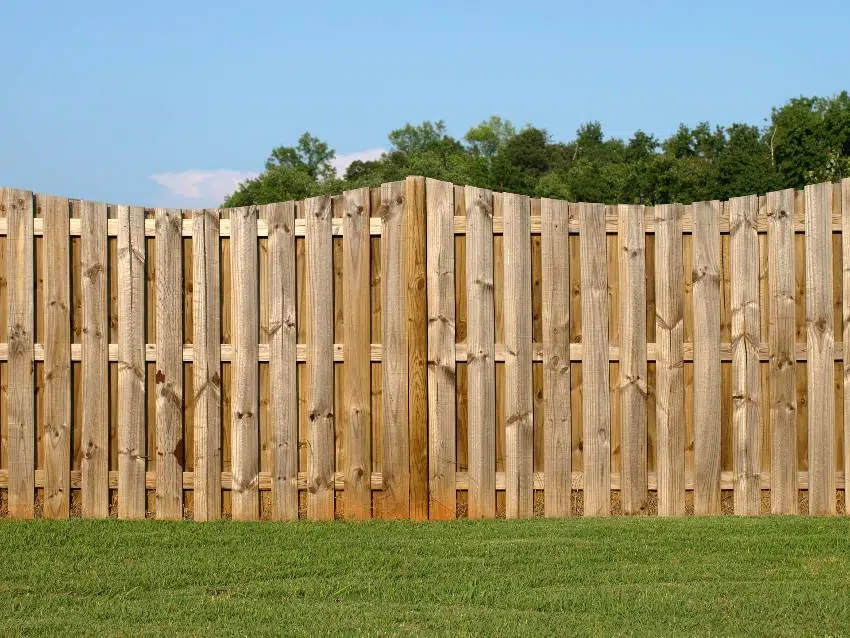 Adding a wood fence to your home seems like the most obvious thing to do not just because of how standard wood fences are but also because they are durable and aesthetically pleasing to look at.
The real challenge though is not just the installation of the wood fence (which you can actually do with the help of professionals or DIY whichever you prefer) but in deciding what type of wood to use for your fence. And it's important to understand the type of wood you're going to work on before starting on the task.
Softwoods are more manageable and easier to cut, which means that they are easy to work with. And one of the types of softwoods you can start exploring is Douglas Fir. It is one of the most common and appropriate wood options for fencing based on durability and resistance to harmful elements.
What Is Douglas Fir Fencing?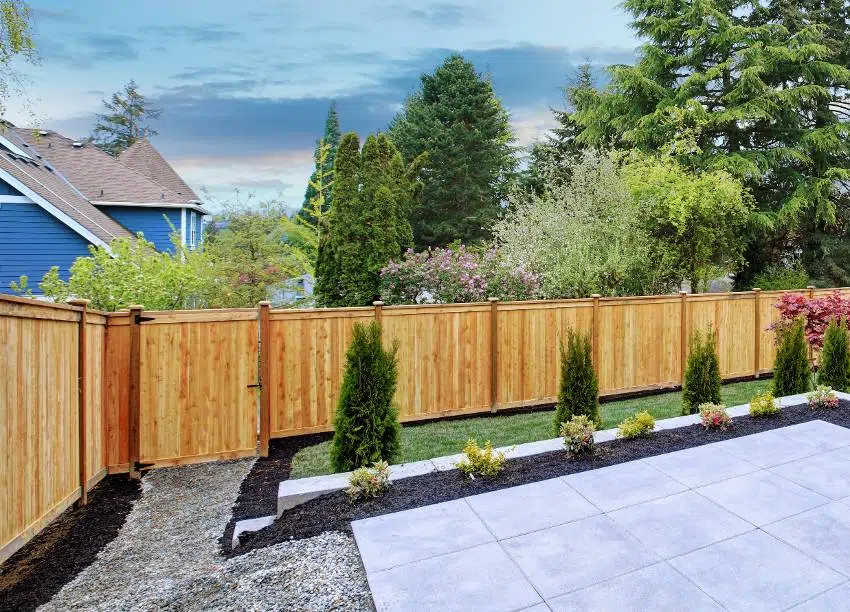 Douglas Fir fencing simply refers to working with Douglas Fir in building and creating a fence. This type of wood is abundant and has been used for lumber because its structure is strong and stable.
Douglas fir wood is grown and harvested in the following locations:
• Pacific Northwest
• West of the Cascade Mountains
• Arizona
• Colorado
• New Mexico
• Nevada
• Utah
Despite being a softwood, it is one of the strongest western wood options to consider for fencing. Rather than using Douglas Fir as a solid fence though, this wood is more used for rail and post styles.
While strong (better than pine in this factor), it is still a softwood and so you will need to adjust how to use it in its best structure. It is used in manufacturing many products and projects more than other lumber choices.
Douglas Fir wood is like redwood in the sense that it is a coniferous tree. The balance between stability and workability is what makes this softwood a very good option for fence designs and even other projects like decking.
It is also an incredible material for home improvement since it's lightweight and has great nail and screw holding properties. Cutting this softwood is also not an issue and so if you decide to DIY your fence, Douglas Fir wood is a joy to work on.
Douglas Fir fencing can be the next summer project to work on. But before you can schedule your summer for this task and dive into it, explore more about this softwood to be sure about your decision.
Douglas Fir Fence Boards
Douglas Fir fence boards are relatively long pieces of wood that are thin and not too wide in dimensions. Wooden boards, in general, are often used for furniture-making and other construction projects you can work on.
While Douglas Fir boards are not the ideal form for this softwood, they are still functional and popular for fencing.
Considering its resistance to elements that can harm and damage the wood (like insects and bugs), Douglas Fir boards are great to work on, especially with their pleasing fragrance that's way better than other softwood options.
Pre Stained Douglas Fir Fence Boards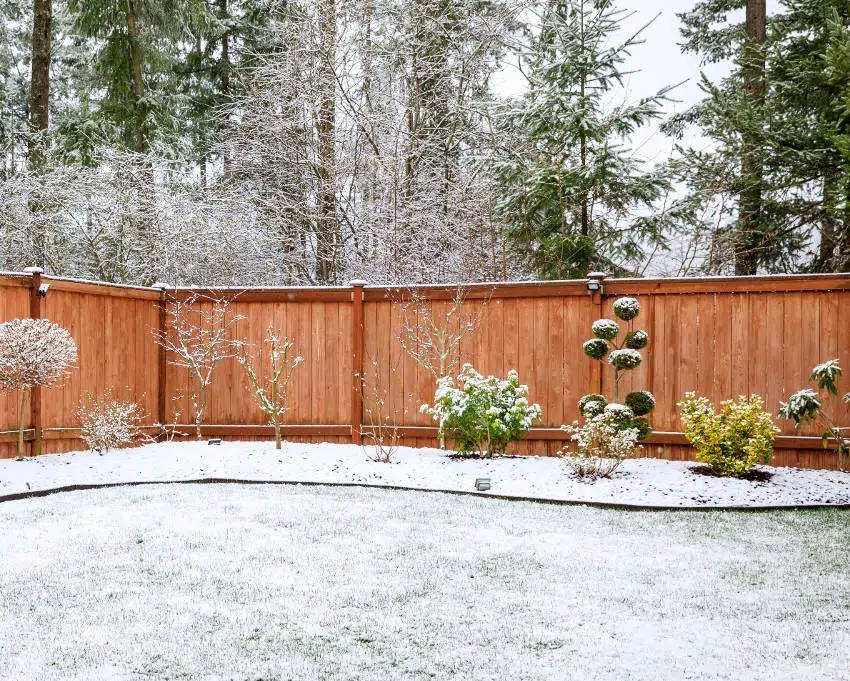 If you're going for Douglas Fir fence boards, you may want to consider having the pre-stained ones. While it's not a requirement to treat and stain this softwood, you can still have this option to further protect the wood.
Staining will help the fence last longer and can provide a different hue for your fence especially if you don't want it to turn darker naturally in time.
In choosing pre-stained fence boards, you won't need to do the task of staining the wood yourself. You can just have a pic among the stains available on the Douglas Fir boards. Of course, you may need to re-apply the stain to maintain its color after some time.
Douglas Fir Fence Pickets
If you like something more traditional and plan to have wooden fence pickets to enclose your yard, using Douglas Fir wood is still possible. Since the Douglas Fir wood is better when in posts and rails form rather than in board form, pickets come sort of in between the two forms.
Fence pickets are usually decorative and if you're choosing this kind of fence then you value aesthetics as one of the top priorities more than privacy (since pickets don't really block the view from the inside and vice versa).
With a light brown to yellow color, a Douglas Fir picket fence can showcase beautiful aesthetics like other wood fence options. And if you choose to paint it white or stain it, this wood handles stains and paints well.
Douglas Fir Fence Panels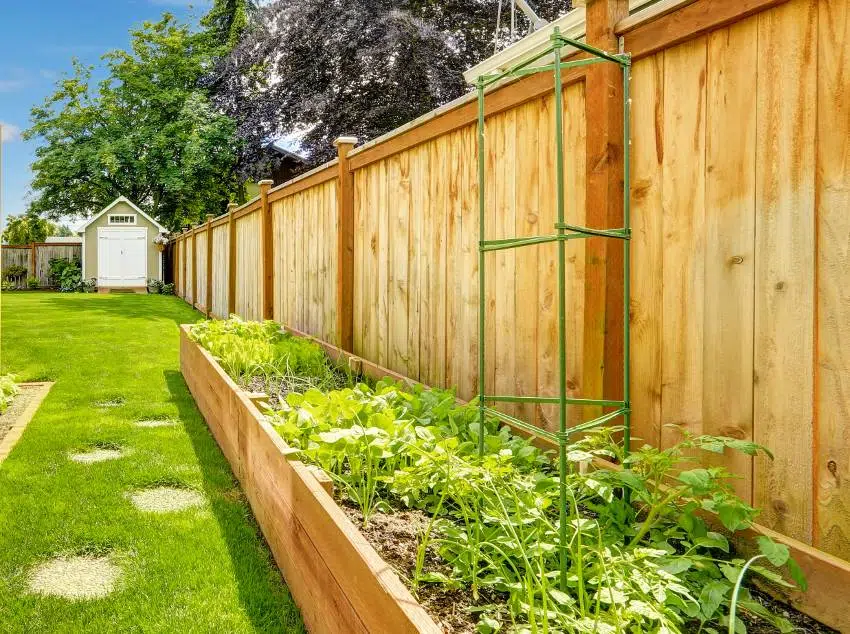 Douglas Fir panels can also be used for fencing if you prefer this form compared to other forms of wood. Panels have the standard rectangular shape on the surface that's easy to handle and work with. When applied to the durability and workability of Douglas Fir, you can use the panels in more than just the ceiling.
The panels, like other forms of the Douglas Fir wood, are durable and resistant to elements that can cause permanent damage to it. And since the wood is fragrant, homeowners prefer it bare on their fences and even on the decks.
Douglas Fir Privacy Fence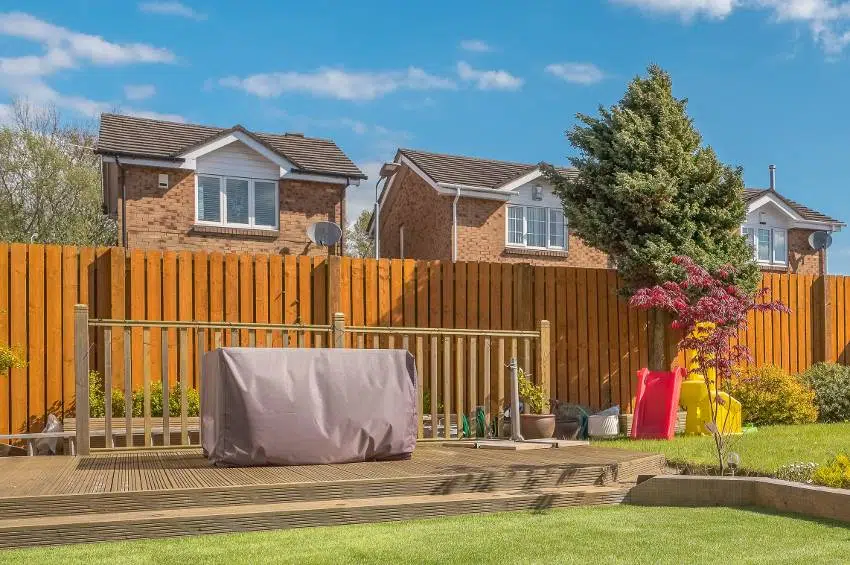 A privacy fence is a type of fence that stretches overhead and conceals the inside of the home or even the entire home when designed to do so. Some have solid fencing for the lower part and a lattice structure for the very top.

The main purpose of a privacy fence is to deter unwanted visitors from looking in to the premises of your home, and keep the people, pets, and properties inside the home safe. For this purpose you will need a durable material for this kind of fence. And this is where Douglas Fir comes into play.
If you decide to build a Douglas Fir privacy fence, it may be better if you build them with panels or slats rather than an entire board of wood for the fence.
The wood is easy to work on so cutting them into poles or slats won't be a problem. But since it's still softwood, going for an expansive and large wood structure for a fence may not be a good idea.
Using Douglas Fir For Fence Posts
Creating posts for your fence may be one of the best styles you can use when handling Douglas Fir. This type of wood is said to be commonly used as rails and posts compared to a more expansive version of the wood.
While Douglas Fir is known for its stability and durability, it is a softwood that's still susceptible to other elements, particularly moisture. Compared to cedar though, Douglas Fir is much better used as a post with cedar wood for the remainder of the project.
You can use on of the available fence design software programs to add up the total materials and their cost. This can help you quickly determine the layout and avoid buying unnecessary amounts of materials.

Douglas Fir For Fence Pros And Cons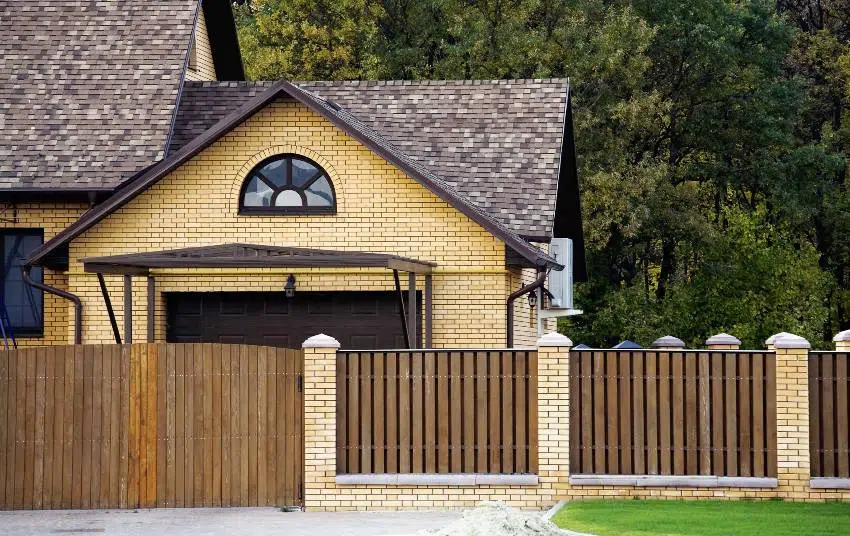 With all of the options you can do to Douglas Fir for your fence, the next step to take to be sure that this softwood is ideal for you is to explore its pros and cons.
Pros of Douglas Fir Fences

If you see Douglas Fir as an excellent option for your fencing project, expect the following benefits you can take advantage of.
• Considered as strong, hardy, and structurally stable wood with a Janka hardness rating of 660- making it harder than most softwoods and excellent framing lumber that can be used for fencing, interior trimming, and cabinet building.
• Does not require treating and so can be left bare and natural when preferred (Turns grayish hue after some time)
• Resistant to warping, twisting, and bending
• Easy workability since it's lightweight so can be moved around with ease and has easy cutting properties and nail/screw holding properties that makes it easier to handle
• Stunning aesthetics that involves yellowish-white sapwood that turns to orange as you go near the wood's heartwood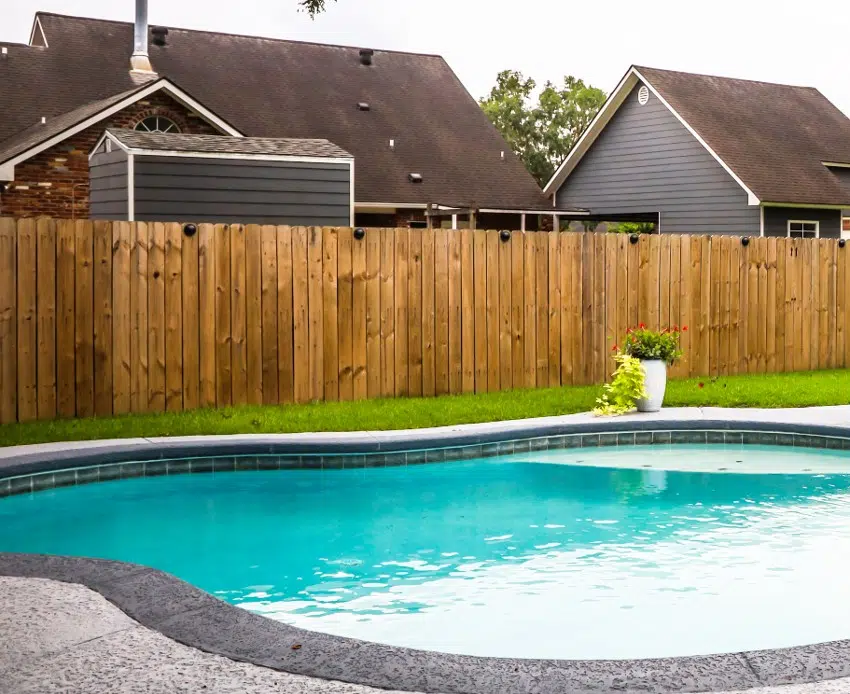 Cons of Douglas Fir Fences

More than just the advantages you get from choosing Douglas Fir, you also have to consider the drawbacks with that decision. Here are some weaknesses of Douglas Fir that may lead you to choose other wood options for your fence.
• Has the tendency to crack more compared to other softwood options like cedar
• Costs more compared to its softwood counterparts
• Does not have natural oils that easily resist pests like cedar and redwood fencing
• Will need (recommended by professionals) screws when it comes to its installation
How Long Will A Douglas Fir Fence Last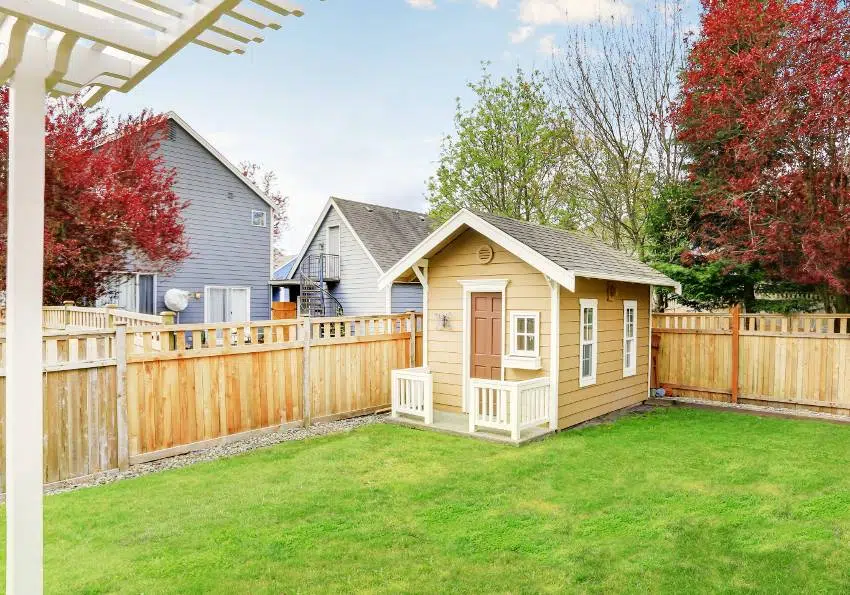 If you're going for an untreated Douglas Fir fence, it can last around 15 to 20 years. And by that time, it will have this grayish hue compared to the yellowish-white to orange colors you admired when you first installed the fence. It is an entirely different matter if you treat and stain the wood.
Treating and staining Douglas Fir will give you an additional 10 to 15 years and even more, provided that your maintenance of the fence is up to standards and that you make use of screws and nails to properly hold the wood down.
Douglas Fir as a post needs a different approach if you want to lengthen its lifespan. A bare Douglas Fir post can last up to 5 to 8 years but when plastic wrap is used with the post, it can extend up to 16 to 20 years.
Technically, treating the wood and using plastic wrap are not needed for a Douglas Fir fence but they can help lengthen its lifespan so you might want to consider them too despite being optional.
Best Stain For Douglas Fir Fence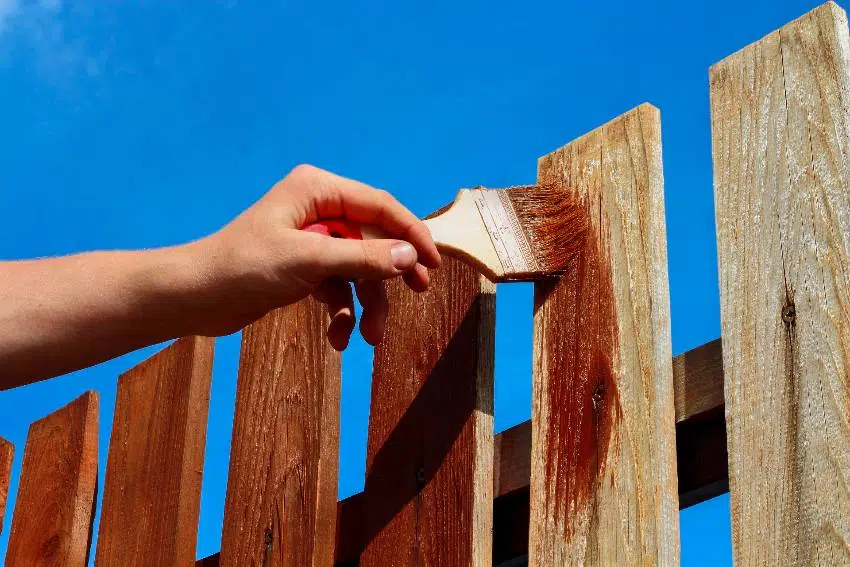 Douglas Fir is a softwood that's good for staining but there are preparations that you need to do to make this possible since the wood has uneven texture and variable porosity, which are factors that make it a bit hard to stain.
One more thing that can make it an easier job to do is to choose the ideal stain for this softwood. For the Douglas Fir fence, gel stain is the best option.
With characteristics much closer to paint, it is easily applied to this softwood and even allows the fence to have this uniform and even color free from bubbling and surface blotchiness. Since the gel is thick enough to limit absorption, you can be sure that the gel stain is spread out and more even than other stains.
Handling the natural color of Douglas Fir can be difficult so this particular stain can help manage it better. If not, there's a risk of the color popping through the stain and dominating its aesthetics.
Cedar Vs Douglas Fir Fence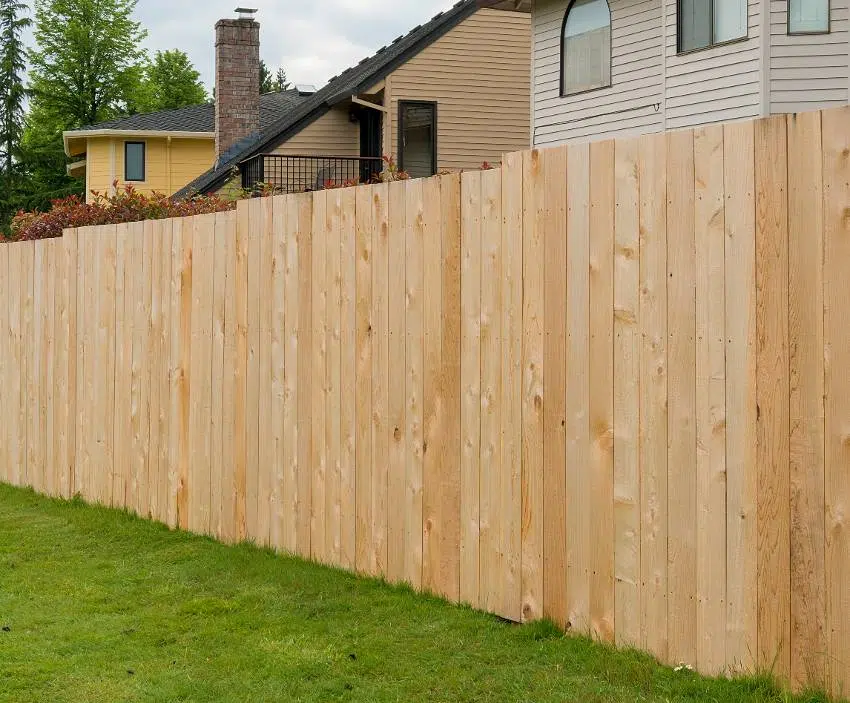 Besides Douglas Fir, another type of wood popularly used for fencing is cedar. Comparing both types of softwoods will help you decide better if Douglas Fir is the ideal choice for your fence or if you feel like you're now leaning towards Cedar fences after exploring your options.
To help you make a decision easily, here is a summary comparison of Cedar Vs. Douglas Fir Wood:

Elements/Factors
Cedar
Douglas Fir

Hardness (Janka Rating)

900

660

Aroma

Strong scent

Pleasant aroma

Aesthetics

Brownish tan in color with tight grain pattern and a few knots

Light brown to yellow hue with plain and straight grain pattern and dark growth rings

Sapwood

Yellowish white

Light

Heartwood

Orange

Yellowish to reddish

Cost

Economical choice

Slight more expensive

Sealing (Treatment)

Not required

Staining/Painting

Not required but stains well

Workability

Highly workable

Insect Resistance

Insect-resistant

Rotting/Decaying Resistance

Rot-resistant

Warping/Denting Tendency

May sometimes dent/warp

Does not warp

Cracking Tendency

Less tendency to crack

More tendency to crack

Availability

With restrictions on old trees (High availability on young cedar only)

Highly available

Lifespan

15 to 20 years (25 to 30 when treated and properly maintained)

10 to 15 years (More than 30 years when treated and properly maintained)

Cleaning

Easy cleaning with 1 part bleach and 3 parts water

Quality mop and neutral wood cleaner

Maintenance

Stained every 3 to 5 years

Not that much required
Douglas Fir is much more preferred for posts compared to cedar because the latter has the tendency to rot when it absorbs moisture. Cedar is ideal for board fences while Douglas Fir is for posts and railings. And you will need screws when using Douglas Fir.
In addition to that, Cedar has a problem with current restrictions on old trees so the ones that are available are more expensive than usual and much softer compared to the older trees.
Visit our guide to Douglas fir decking for more related information.