This gallery features the different types of chandeliers, their materials, design styles, light bulbs, cost, installation, and types of crystals & their lamp shades.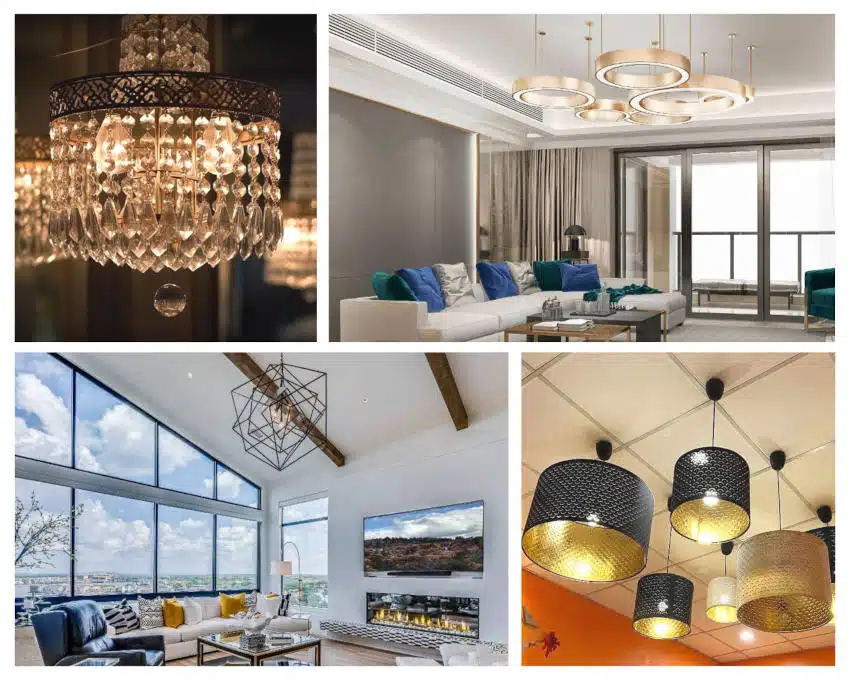 Chandeliers strongly indicate modern grandeur, dangling from every ballroom and dining room. Nowadays, a chandelier would be among the best lighting options if you want a classy style with a high ceiling.
However, one size does not fit all when it comes to chandeliers. They come in a variety of styles, and each one can accentuate a particular style of décor. Therefore, before deciding, it is best to browse around first to see what you like.
Incorporating a chandelier into your home can greatly boost the elegance of your interior design. They also come in various styles; thus, it is necessary to be familiar with all of them.
Quicklist – Different Chandelier Types
| | | |
| --- | --- | --- |
| Candle | Transitional | Modern |
| Crystal | Empire | Bowl |
| Glass | Wagon Wheel | Antler |
| Drum | Ceiling Fan | Beaded |
| Caged | Mini | Sputnik |
| Linear | Antler | Bubble |
| Tiered | Outdoor | Unique |
| Globe | | |
Different Types Of Chandelier Styles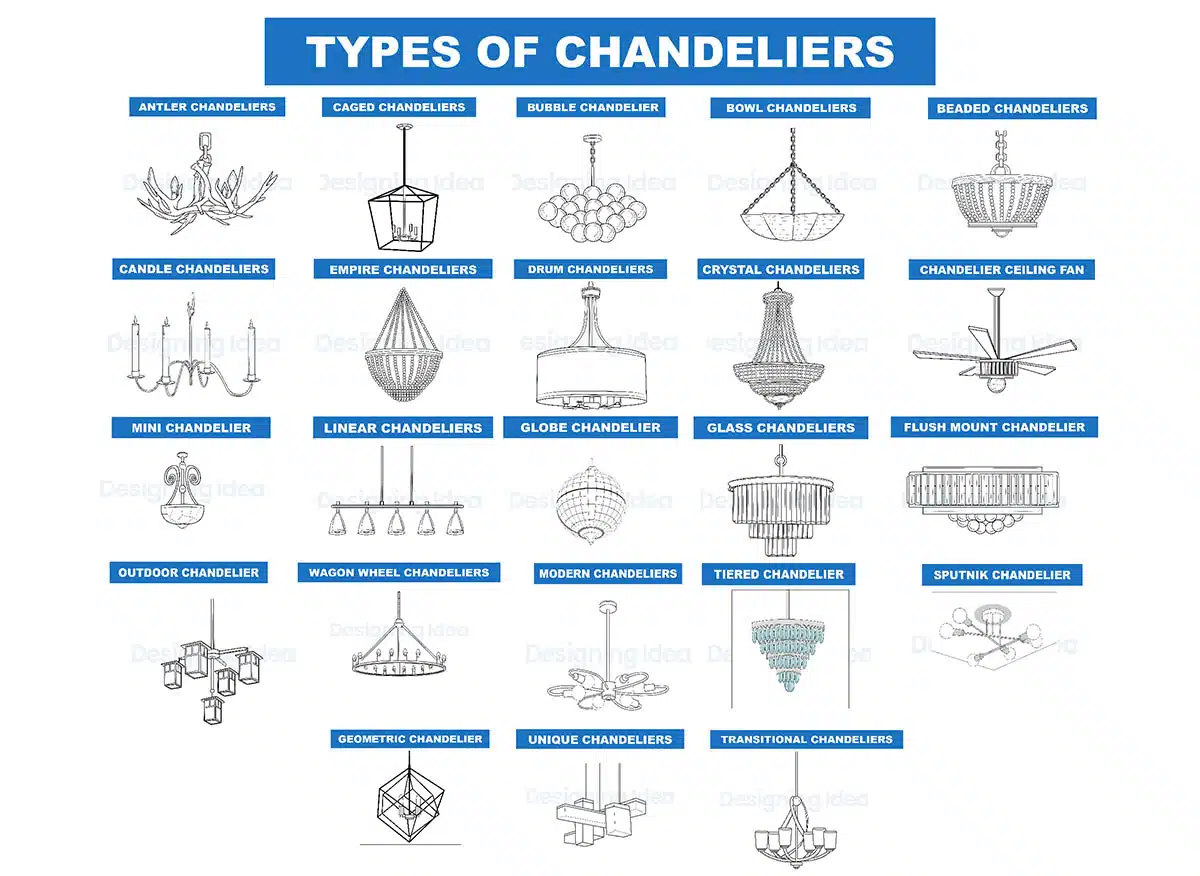 Below is a comprehensive guide to the various chandelier types available, usage tips, and their distinct styles.
Candle Chandeliers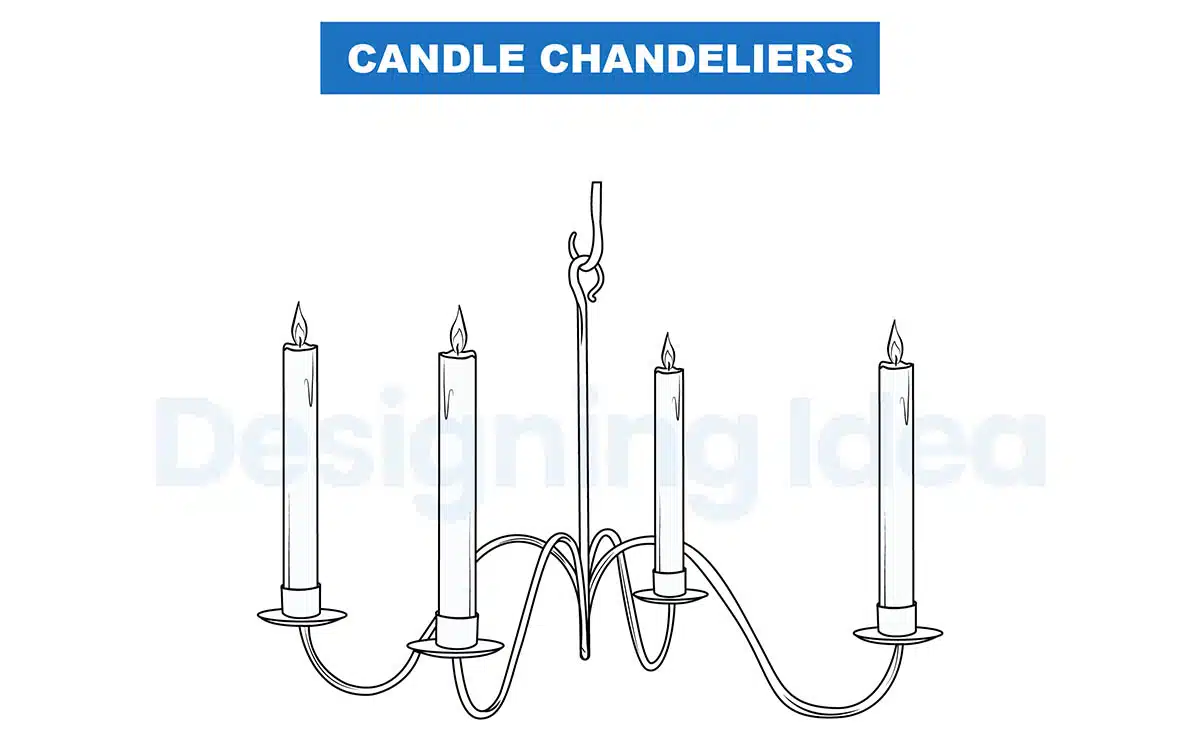 This type of chandelier is precisely what the name implies – a chandelier with lights that resemble candles. This design is frequently a mix of different styles.
This is also a relatively formal aesthetic because the purpose is to mimic traditional candle lighting.
A candle chandelier returns the decoration to its origins. Such designs often feature at least five branches, each with distinct candle-like lighting at the end.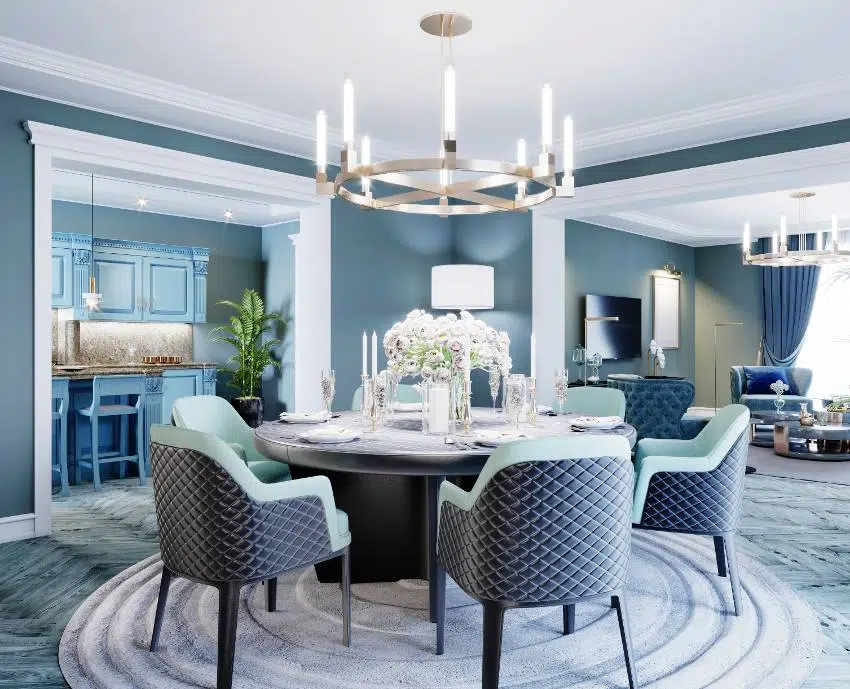 This is suitable for people who prefer a more rustic look. The excellent thing is that because these are not as massive as some other types, they do not require a lot of space.
Furthermore, a candle chandelier may work best in a dining room environment. This is particularly applicable if you want a simpler yet attractive style.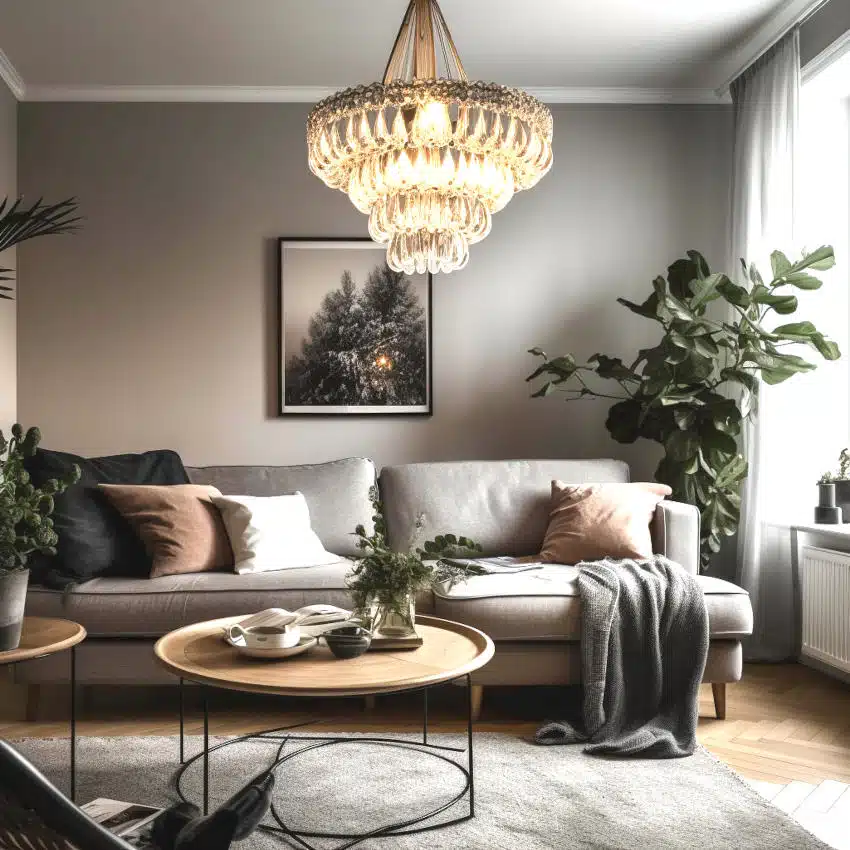 Sadly, for those seeking pure authenticity, most candle chandeliers nowadays are no longer made with real candles. Instead, they employ lights shaped like candles to provide the characteristic effect without the danger or inconvenience of genuine candles.
Some versions offer a minor shift of pace by arranging lampshades on the candles, providing the iconic item with a more modern aspect.
Crystal Chandeliers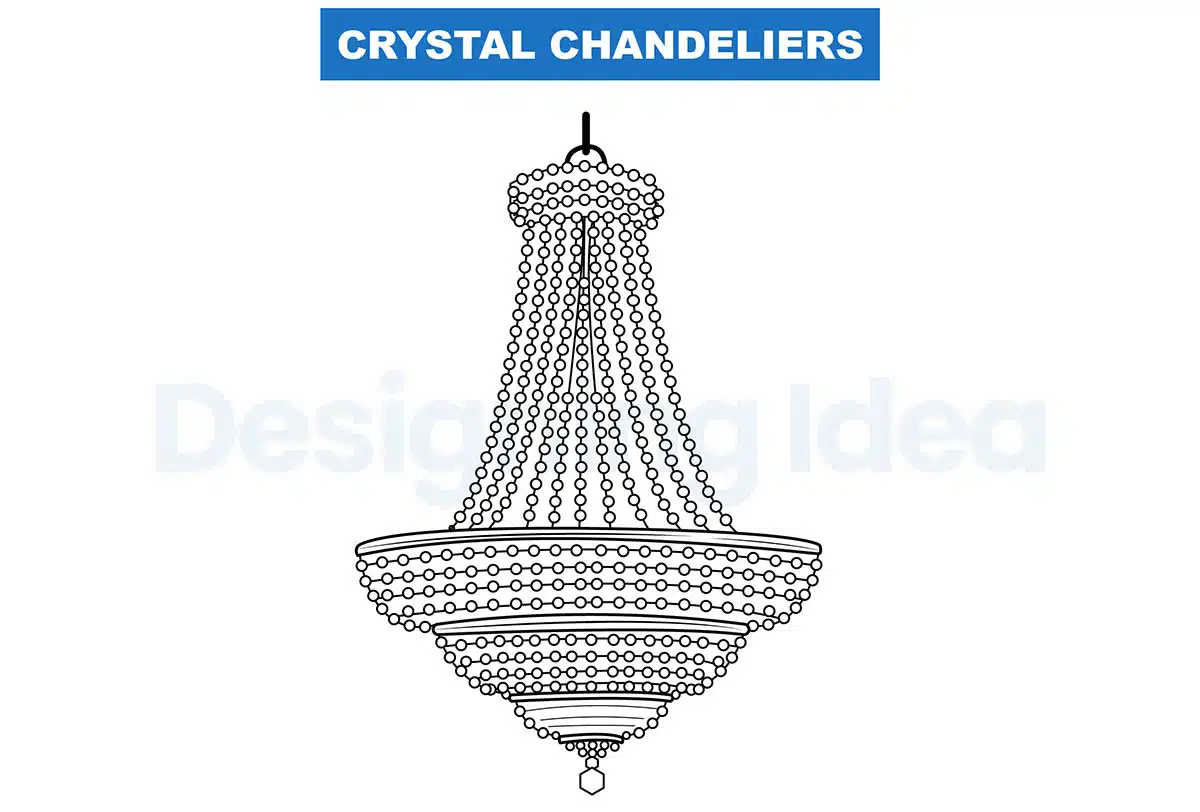 Crystal chandeliers were given the name after the materials used to make them. A crystal chandelier can come in a wide range of sizes and shapes. These are the ideal ones to purchase to achieve a sense of exquisite grandeur.
Indeed, these look great in dining and living rooms and large, spiraling staircases. Bedrooms are not a good place for them because they would look too flamboyant in there.
Crystal is what most people think of when they think of chandeliers. It consists of a series of lights enclosed by glass crystals that reflect light around the space. It has a very stately and elaborate aesthetic.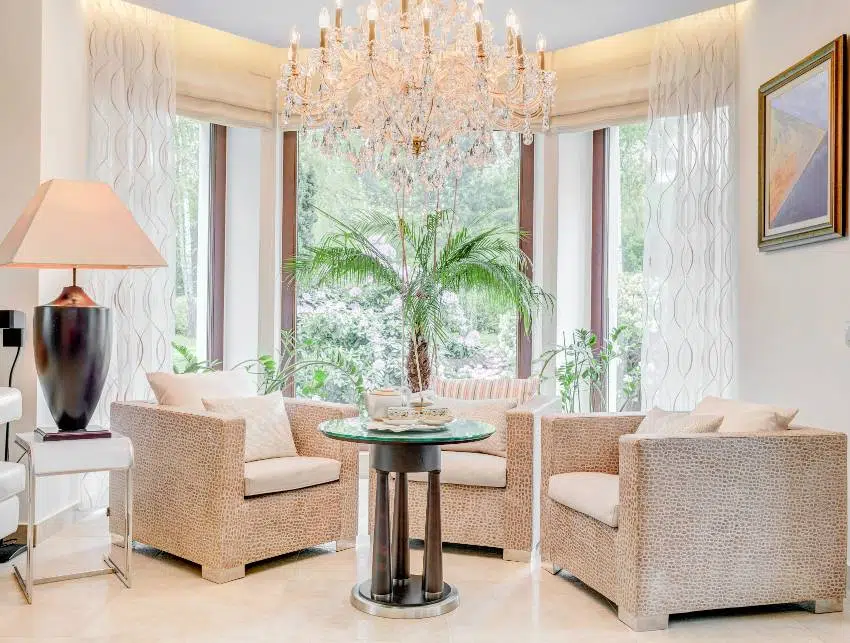 It is not for everyone's taste, particularly in today's more informally constructed homes. On the other hand, the contrast of a magnificent crystal chandelier against a more informal style can have a stunning effect.
"If you discovered that chandelier in a country antique market and hung it above a worn wood farm table, the combination of material in the room would create a rustic, romantic mood." – Jeffrey Katz, Chandeliers
A raindrop chandelier is a common style for the crystal type of light fixture. This style is exactly what it seems like – a chandelier with crystals designed to resemble rain.
A staircase chandelier is another complex, not to mention stunning, crystal chandelier design. The staircase chandelier has crystals organized in a spiraling effect that extends downward, mimicking a spiral staircase.
However, the raindrop and staircase designs of the crystal-type chandelier occupy a significant amount of vertical space; thus, if you do not have tall ceilings, you might prefer to avoid using them. However, you can find smaller ones that might fit even if you do not have sufficient space for a standard-sized chandelier.
Glass Chandeliers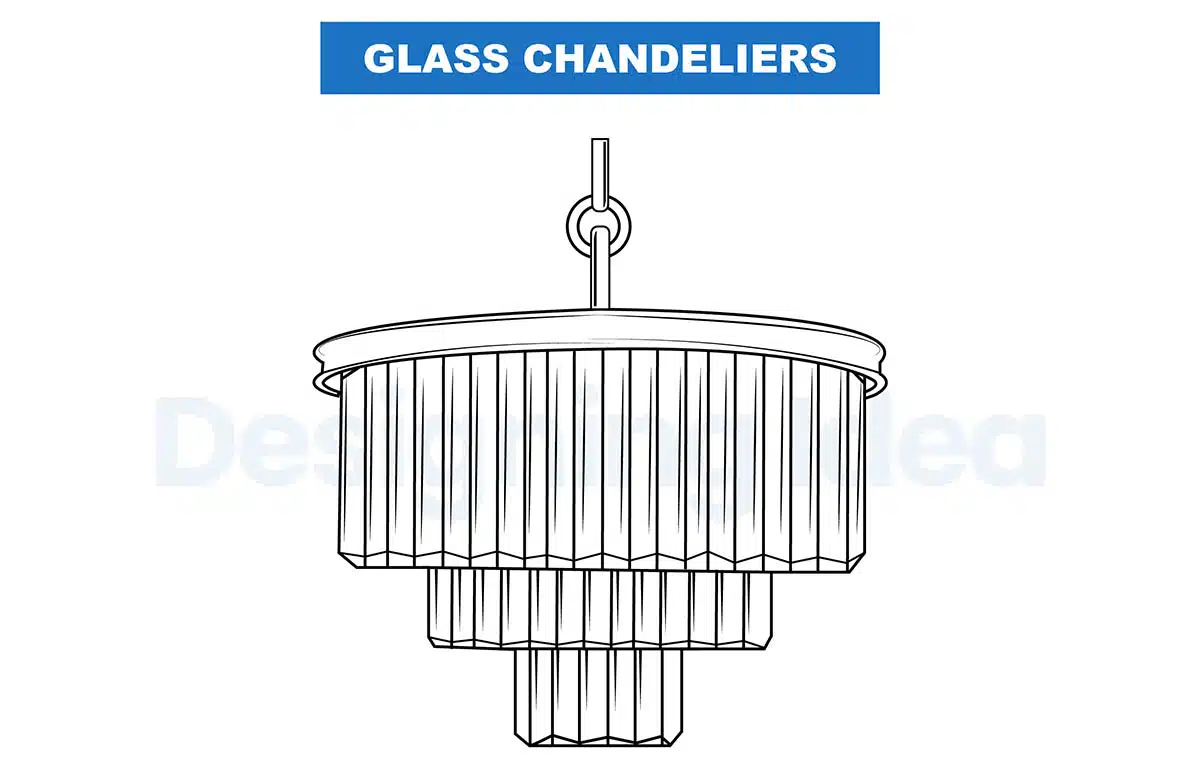 Glass chandeliers, another chandelier style named by its material, are popular for their versatility. They are created in various styles; thus, you should have no trouble picking one that matches your personality.
Furthermore, considering the range of shapes that the glass chandelier can take, you must be able to choose one that fits the room quickly.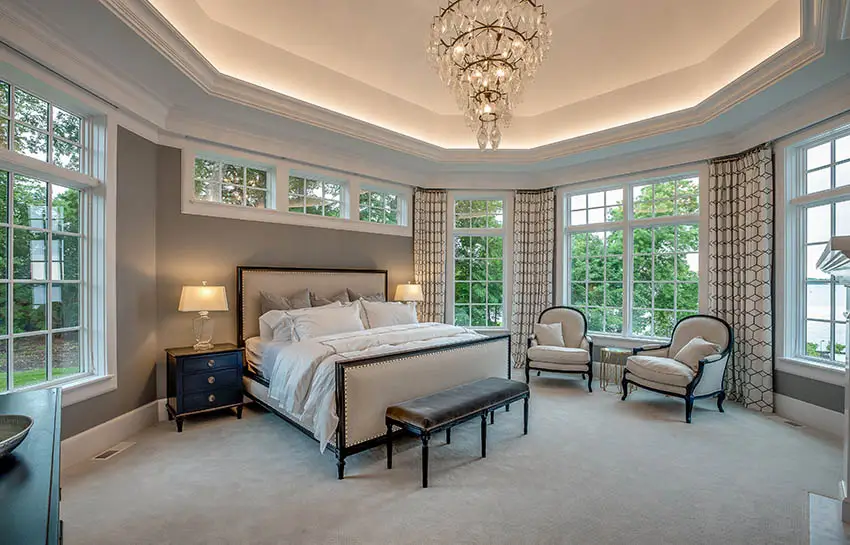 Furthermore, the diversity implies that there are few rooms where a glass chandelier would not fit, providing you can select one that matches the room's ambiance.
Drum Chandeliers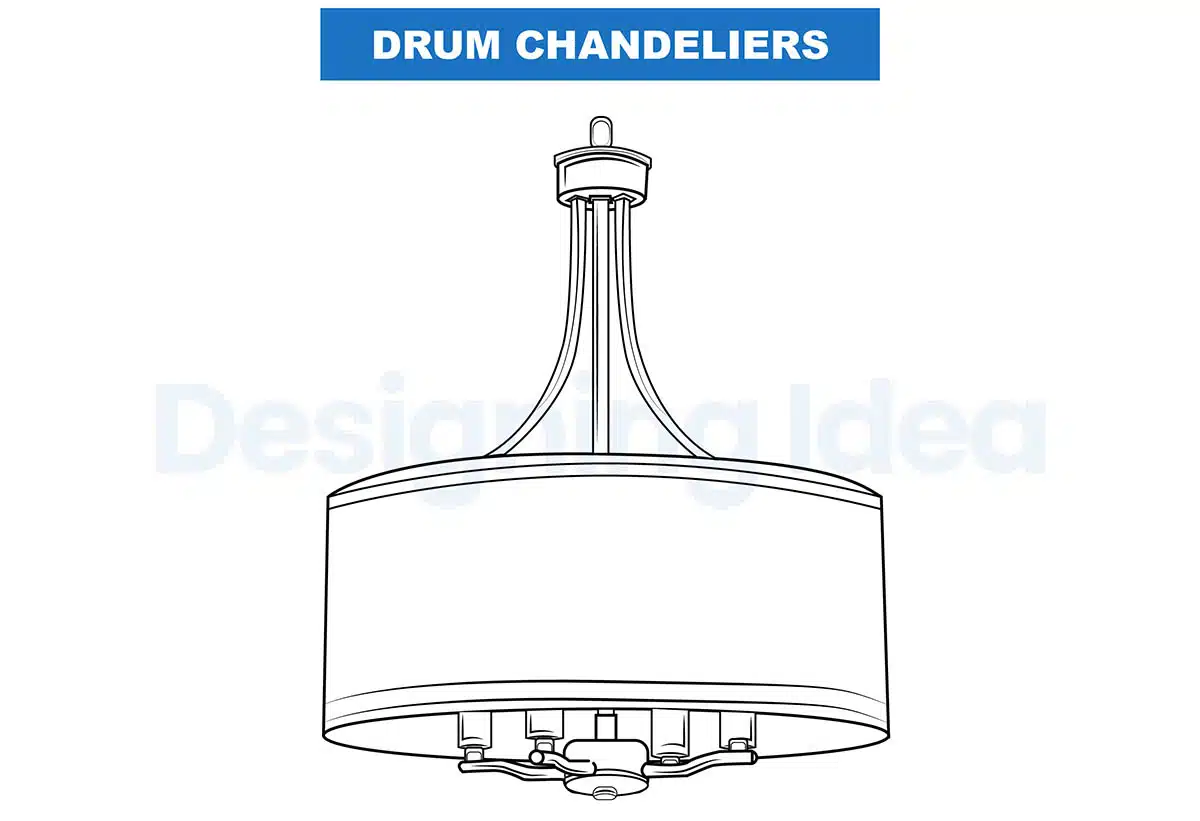 A drum chandelier is formed like a drum and gets its name from its unusual shape. It acquires this shape from a huge shade surrounding the light sequence.
This style provides a softer illumination throughout the area, making it ideal for bedrooms, kitchens, baths, and dining spaces.
Numerous variations of this chandelier feature a single, spherical shade that simulates a drum over each lighting fixture. A drum chandelier can assist in giving off a romantic light; thus, if you are searching for something to complement your love nest, you can look no further.
Since these might vary in size, it is important to look at a few different models before determining which one will work best in your house.
Caged Chandeliers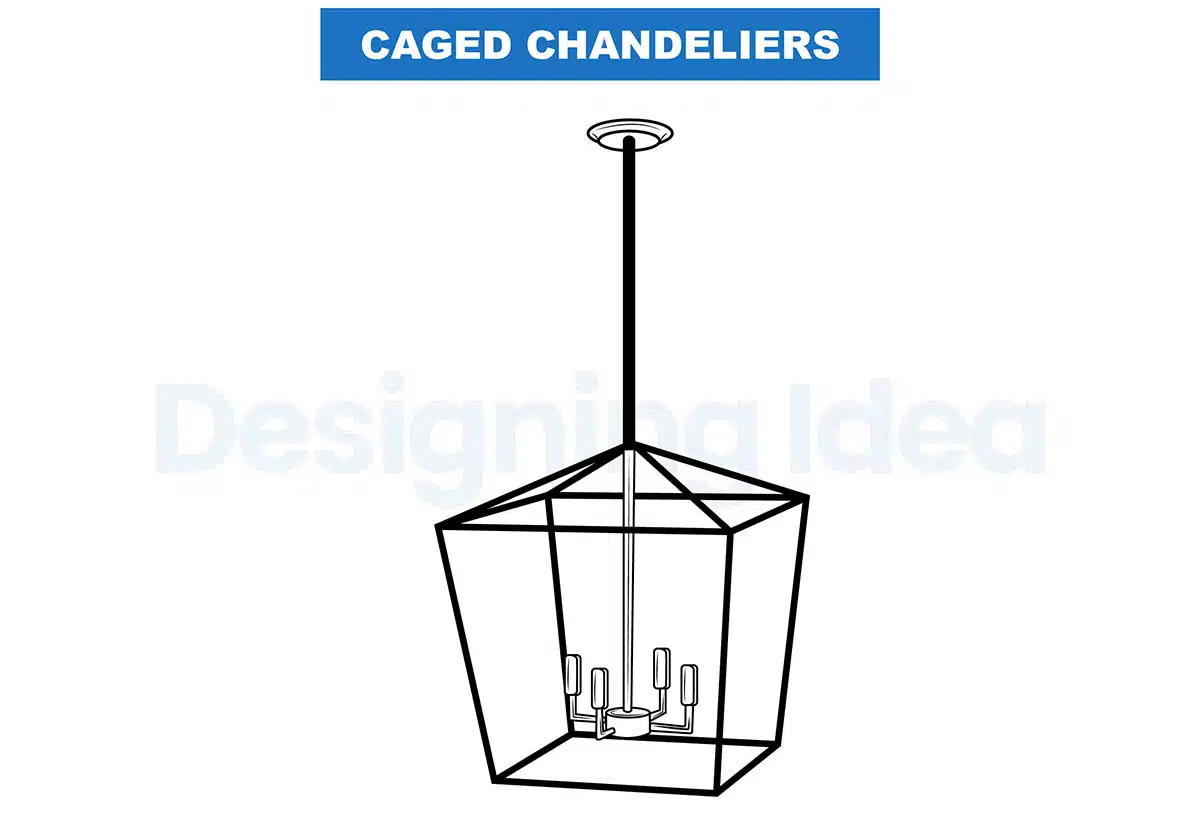 The lights in a cage-type chandelier are enclosed in a cage appearance. Whatever shape, such as a triangle, globe, square, or rectangle, can be used.
Caged chandeliers are sophisticated designs in which the light source is in the middle of an elegant cage, a significant monument to modern design.
Most of these designs have a more literal application to a 'cage,' but some take a creative approach, constructing a round cage out of overlapping round bars.
In any case, these are frequently aesthetically gorgeous and should draw much attention. These light fixtures are typical of average size and can easily fit modern homes.
Due to its size and exquisite design, a caged chandelier is frequently used as an entry element, hanging above the door to impress guests with its lantern like style. It can also be used in kitchens and dining areas but won't work as a bedroom element.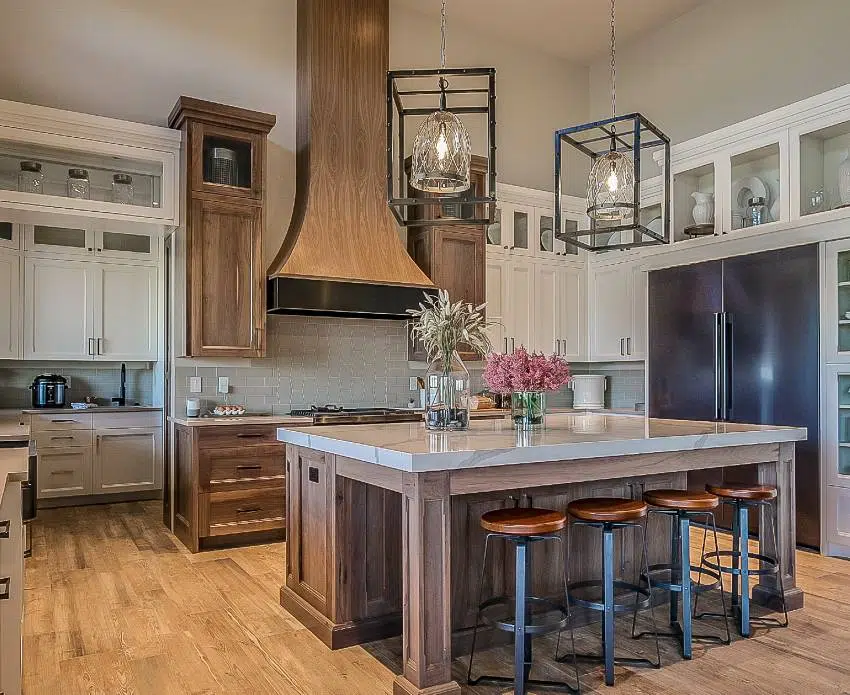 Regarding the mood, most homeowners would avoid rustic. If you are happy with a little futuristic element, it could blend well with modern, vintage, or even a more Victorian design.
Having said that, you can match the cage to the style. If your room has a more Victorian aesthetic, you should enter a cage with a more traditional appearance.
Linear Chandeliers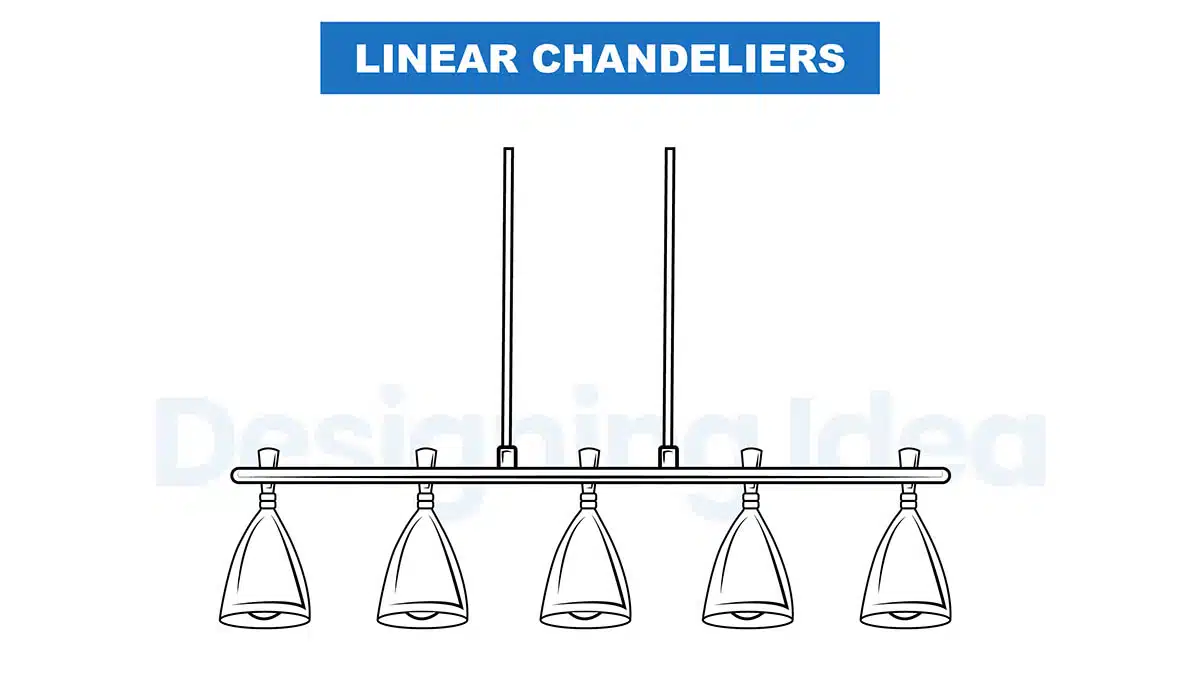 A linear chandelier is a cutting-edge form of hanging chandelier that will bring a new look to kitchen island spaces, dining halls, and other spaces. The layouts are long, thus called "linear," and typically narrow.
The design complements kitchen islands, long tables, and customized areas, including pool tables and workspaces.
A linear chandelier is a collection of light fixtures connected by a vertical bar. The lights can be mounted on the upper end of the vertical framework or hung from below. The chandelier is mounted to the ceiling and may be adjusted in height based on the room and your preferences.
For example, a linear chandelier in an entryway is typically moved nearer to the ceiling to brighten the entire space instead of illuminating a dining room, which is descended over the table to concentrate on the dining space. Numerous designs are available, each with bulbs, shades, and frameworks.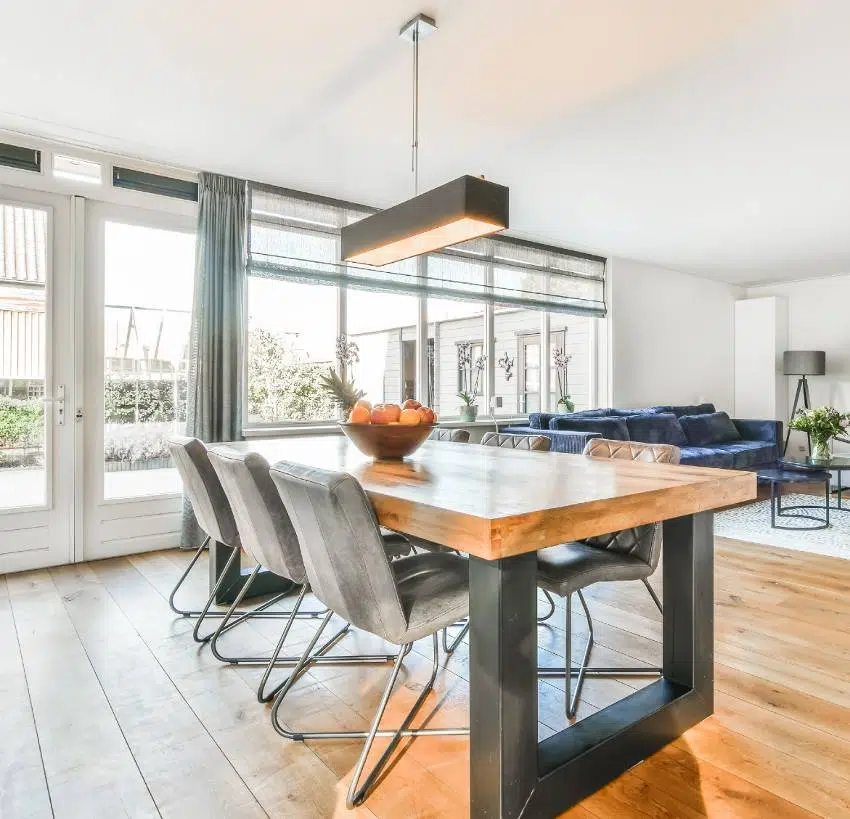 Smaller and more complex linear chandelier models feature fewer lights that can be utilized to illuminate tiny areas efficiently. Linear chandeliers can also be enormous and glamorous, with more than 15 bulbs, to highlight the grandeur of a place.
The bulb shades vary from extravagant and classical to minimalist and modern décor. The primary goal of every structure, large or small, is to provide optimal lighting with an emphasis on usefulness.
Tiered Chandeliers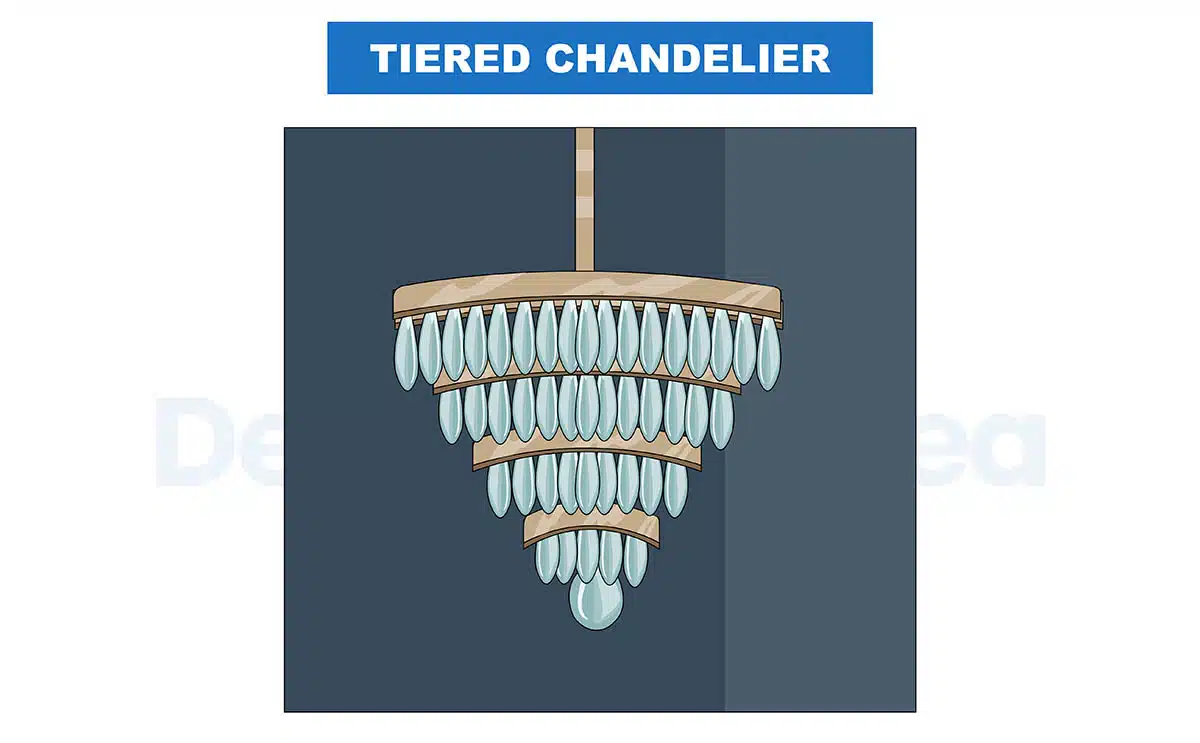 If you want something very extravagant, tiered chandeliers are a good option. These have been created in various designs, but they always have one thing in common: many tier layers and extra arms.
The notion of layering causes the tiered chandelier to be longer than other types, while there are even taller versions, such as raindrops and staircase chandeliers.
Avoid using a multi-tiered chandelier unless you have a lot of room. You can also try to disregard the tiers when designing. A tiered chandelier will not operate if a traditional chandelier does not work.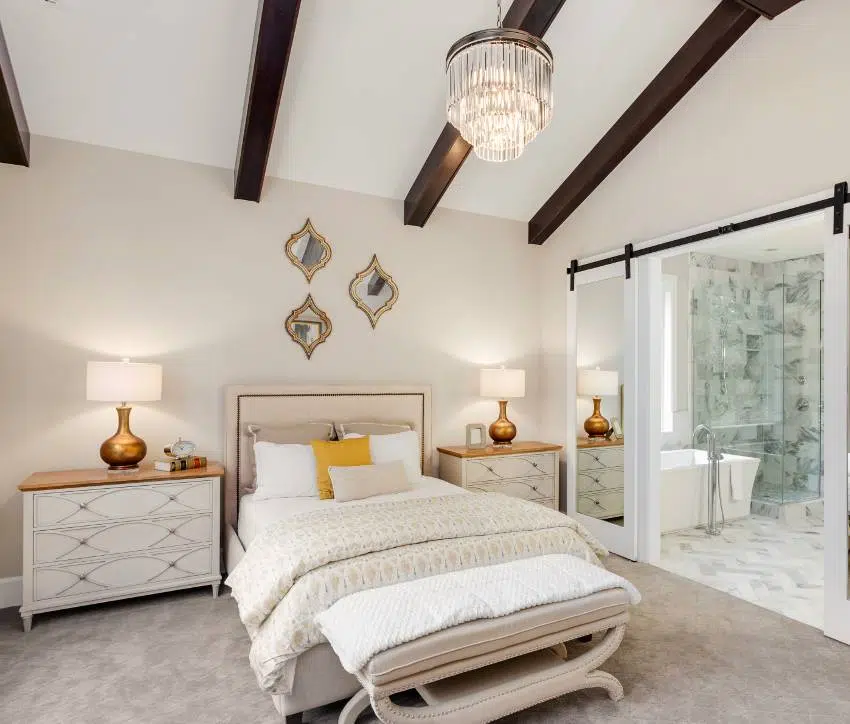 The same may be said for almost every style that has tiers. Ultimately, single-tier chandeliers can make a terrific accent for dining rooms, foyers, and living spaces if you can fit them.
Globe Chandelier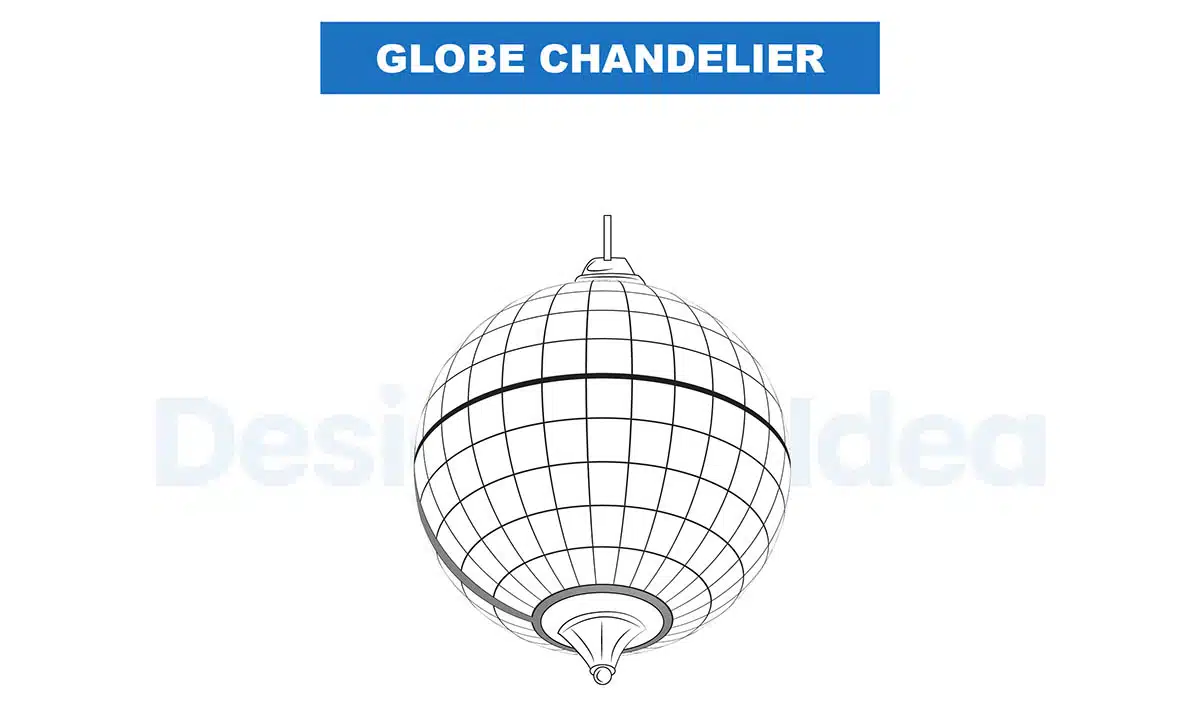 A globe-style chandelier is another exquisite light fixture fashioned like a globe. The shape is composed of a sequence of lights often encased in a metal cage or cloth to give the appearance of a globe. Captivating spheres enclose the light branches in globe chandeliers.
Globe chandelier lights vary from extremely simple to pretty striking, with numerous styles and options in between, allowing you to easily match a globe chandelier to the preexisting décor of your room.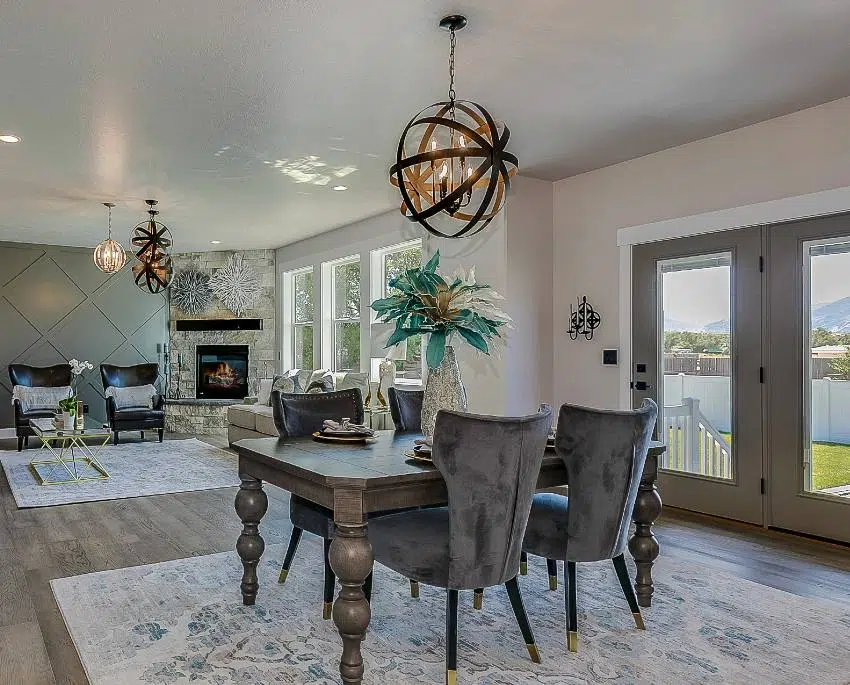 The multiple lights design allows illumination to spread elegantly over the room, covering all corners and sections as you envisioned.
This style works well for mid-century modern room designs or other designs, depending on the look and materials used. They are a versatile home lighting fixture and can work equally well for the dining, room, hallway, living room, bath, closet, or office.

Bowl Chandeliers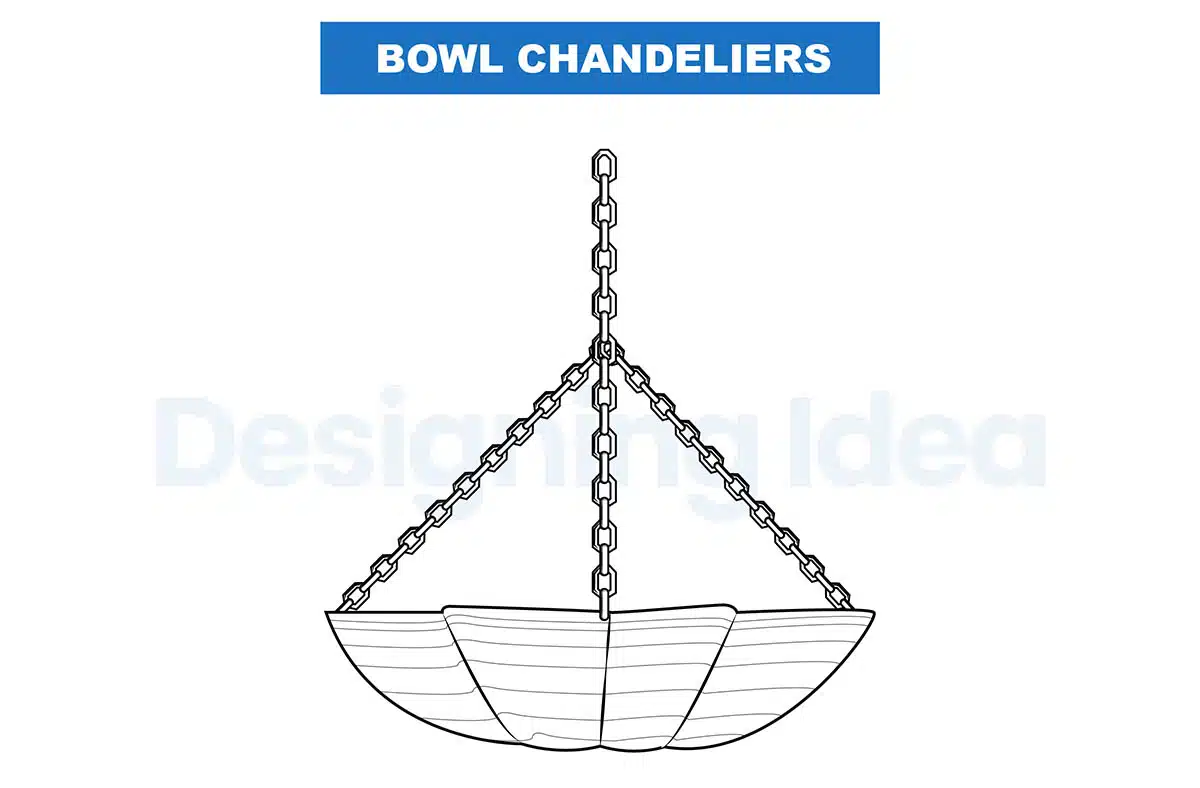 A bowl-style chandelier has primary lighting at the bottom shaped like a bowl and encircled by smaller lights. It could be a pendant if it were only the middle bowl, but when encircled by fewer lights, it becomes a chandelier.
The bowl chandelier is a pendant light that resembles an actual bowl. It is one of the most minimalistic designs. This shape creates a fascinating light impact, with much of the light focused on the ceiling or seeping through the holes in the design and the bowl, creating a subtle glow.
This design can work with various moods, but it might be especially suitable for people who want a more stylishly subtle approach. This may also be an option for those sensitive to bright light.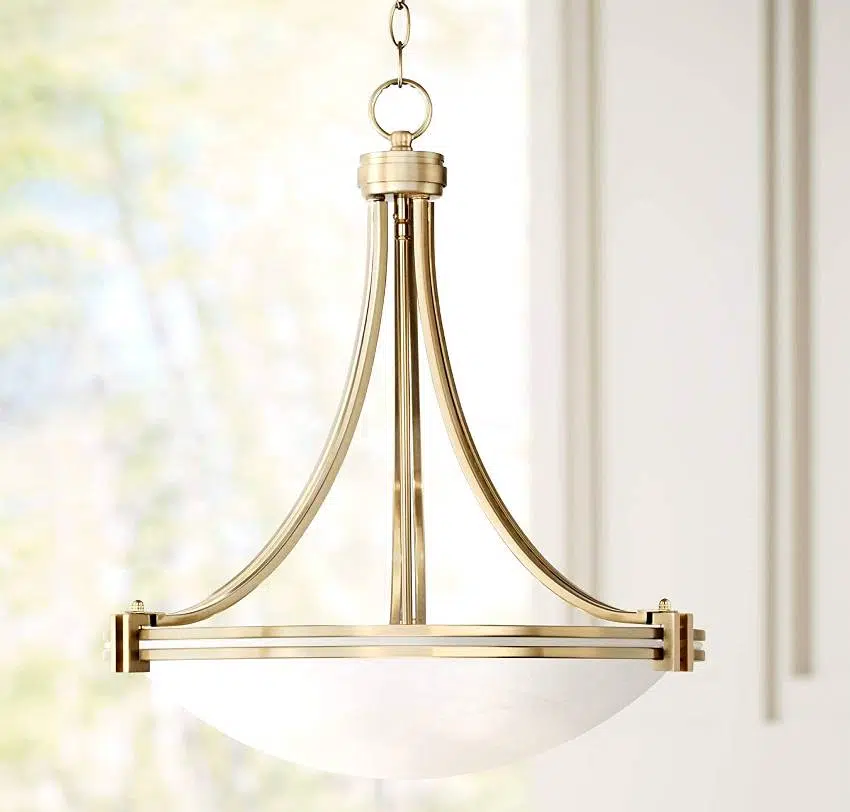 See this Deco warm brass gold bowl chandelier at Amazon [Sponsored link]
Bowl chandeliers exist in various sizes, primarily determined by how low the bowl hangs on some types. The majority, on the other hand, do not appear to take up much room. Because of its modest glow, this would be ideal for kitchens and bedrooms.
Bubble Chandelier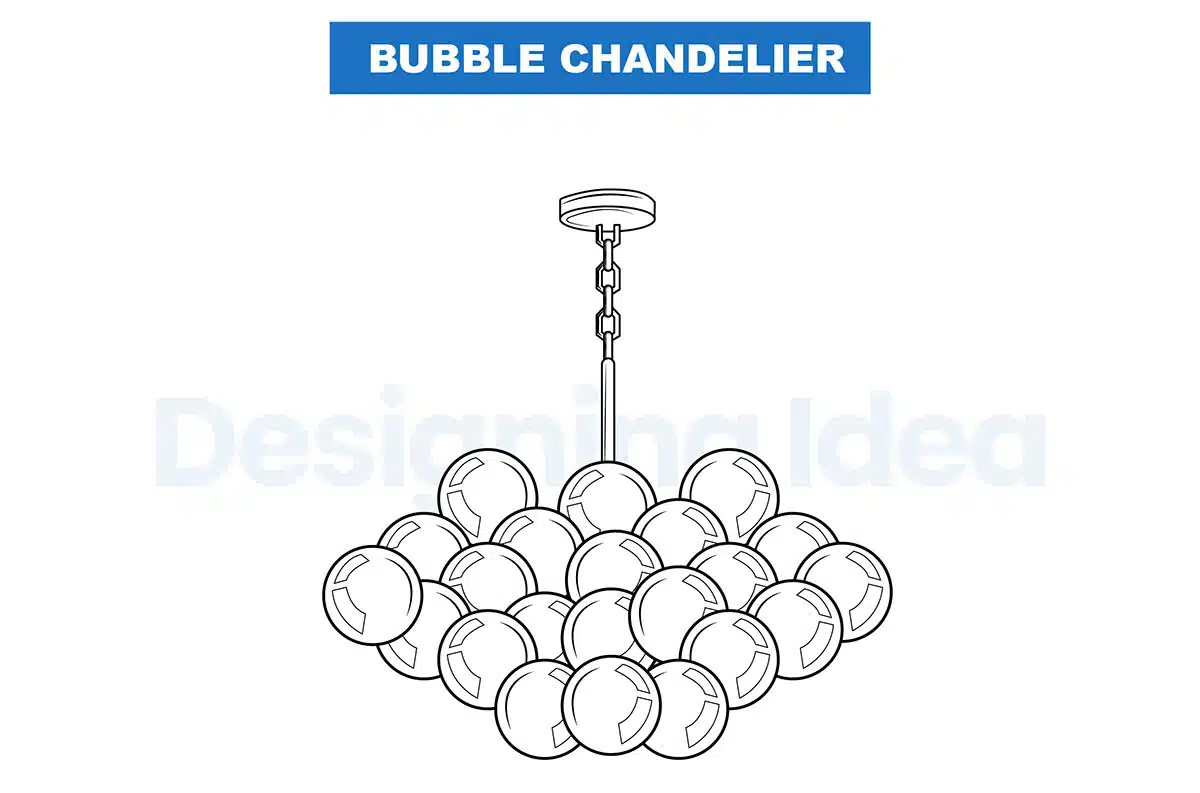 A bubble chandelier comprises glass bubbles assembled to form a shape resembling floating clouds. It is a contemporary or modern design that can act as an interesting focal point above a dining room table or living room area.

Sunlight will produce patterns of reflected light around your home, while a soothing glow streaming through the glass bubbles will brighten your evenings.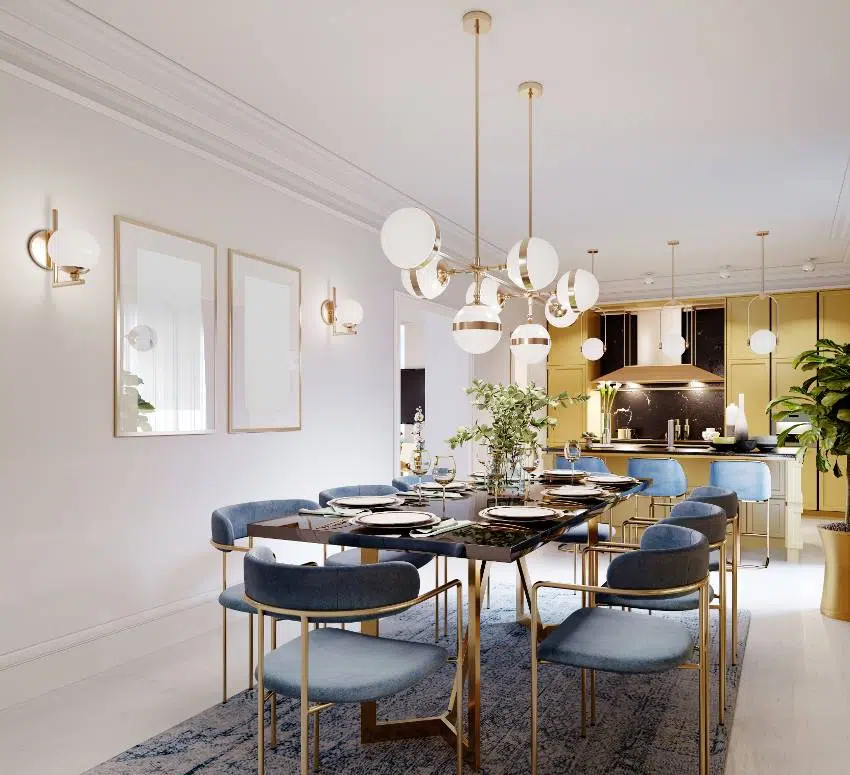 Modern clear glass bubble light fixtures are typically made of glass and metal and have numerous transparent glass globes with bulbs hidden inside to complete the effect.
Beaded Chandeliers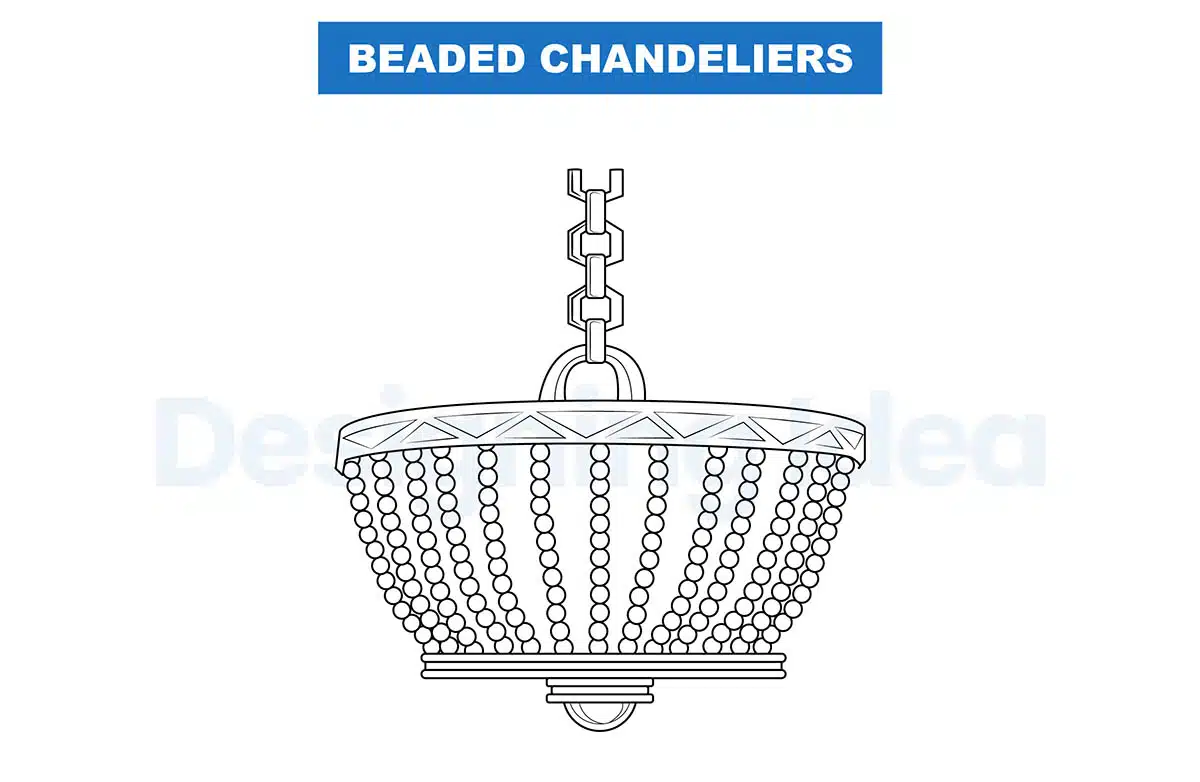 Beaded chandeliers are innovative chandelier designs that can give your property a more exotic appearance. Due to their almost complete bead composition, they can also be quite the talking point.
The beads are available in various shapes and sizes, with some constructed of glass, others of wood, and some crafted entirely of shells.
Given the time and effort required to create a huge bead chandelier, most will likely be moderately sized and fit in most settings. To emphasize, this is a fairly hit-or-miss type of design, thus think about it and possibly seek feedback before investing in anything.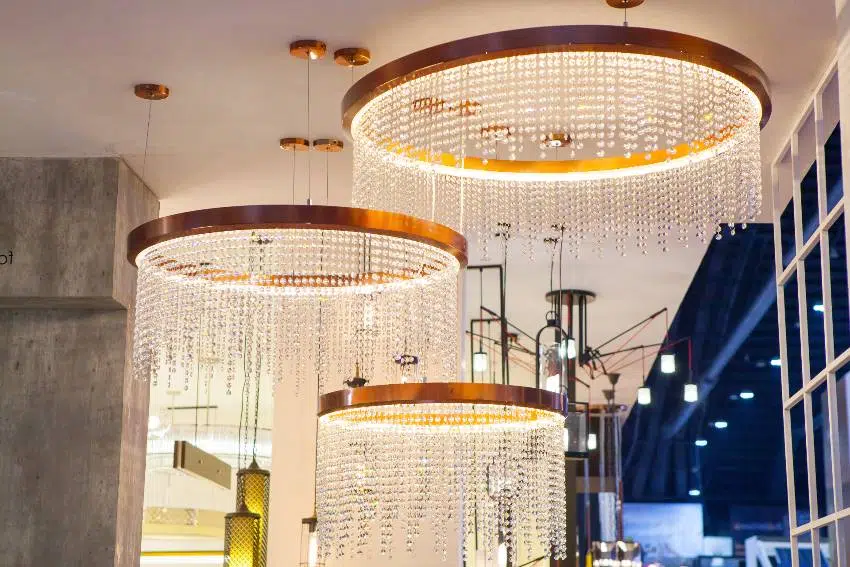 This might work in bedrooms if you are trying for a new-age or unique design. They can also be used in kitchens and entryways. It can practically suit anywhere that complements the style.
Antler Chandeliers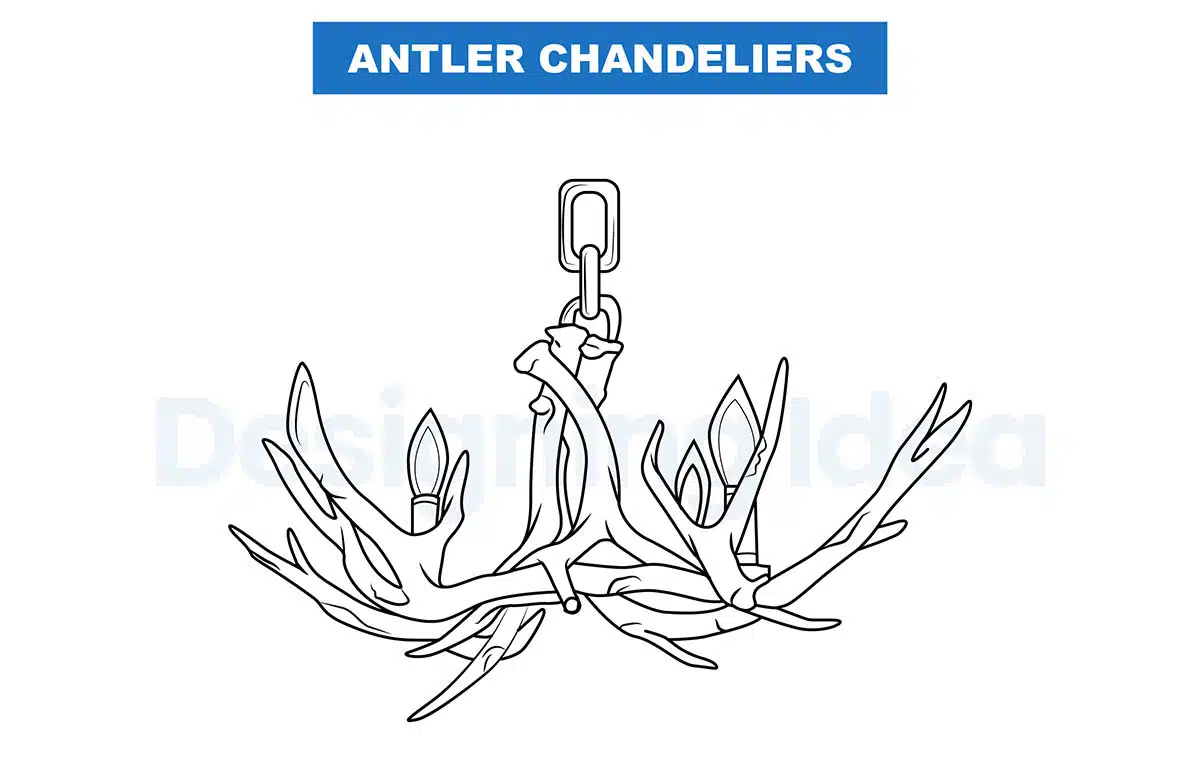 The antler-styled chandelier provides a genuinely rustic accent that can transform your home into a wildlife lover's daydream for individuals who are exceptionally enamored of the outdoors. Thankfully, the antlers are not real. Thus you can achieve the effect without harming any living creatures.
These swag-style luminaires do not take up much area. Hence you do not need a mansion to make them function. While this works for a more rustic look, not many other designs match well with antlers.
However, antler chandeliers should probably not be placed in a kitchen or dining room. People's appetites may be affected by the sight of antlers. Nevertheless, if your home has a more rustic feel, this will look excellent in the family room.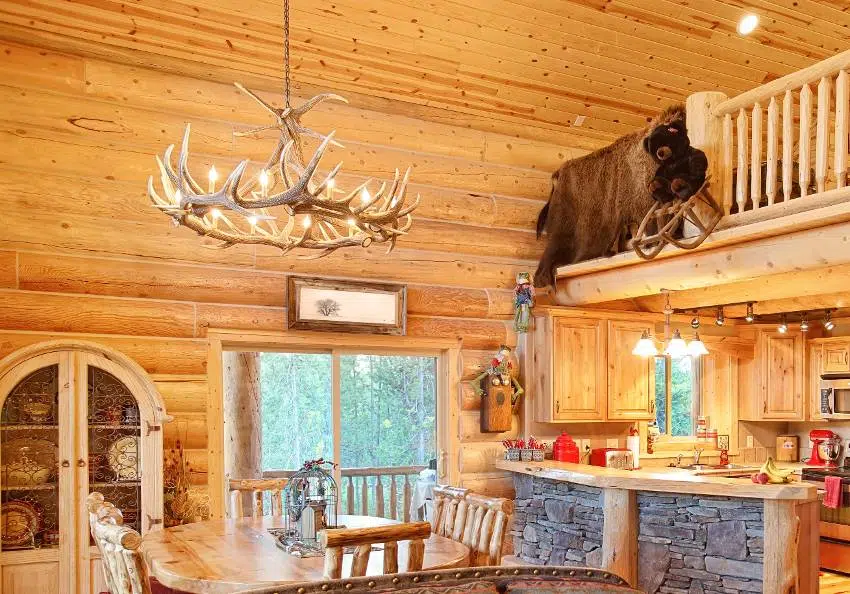 Furthermore, this will work perfectly if you are lucky enough to have a gaming room with a pool or billiards. If you enjoy hunting, this would be an excellent addition to your trophy collection.
Flush Mount Chandelier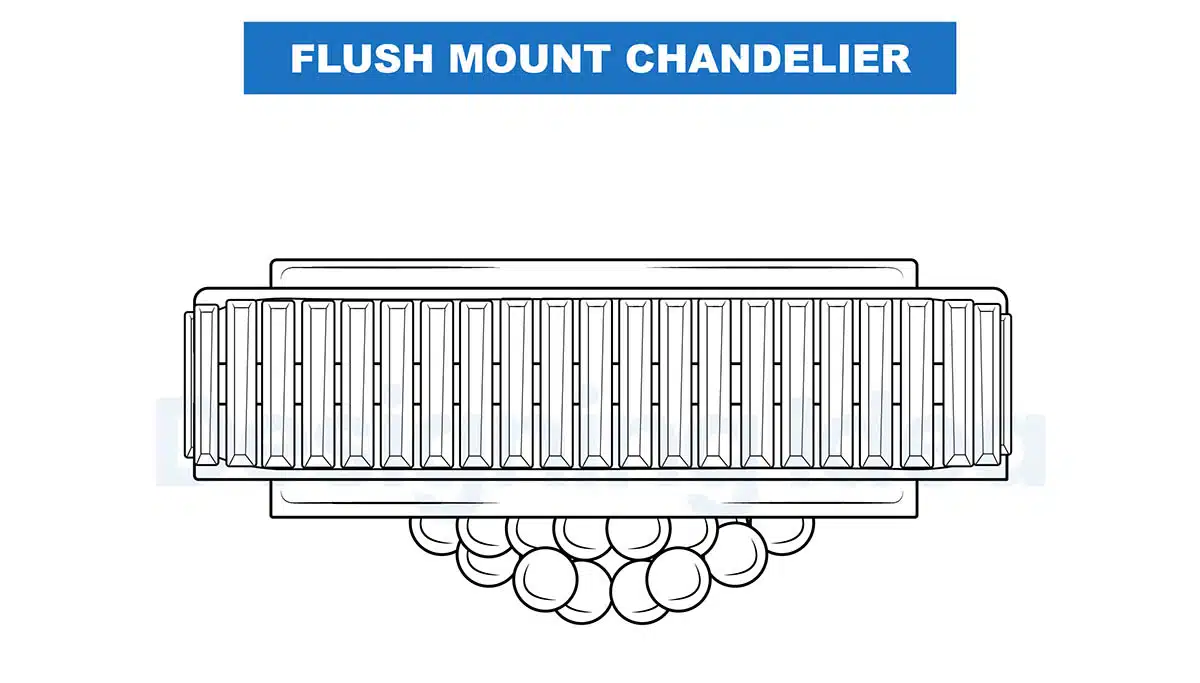 A flush-mount ceiling chandelier is normally a dome-like lighting fixture recessed within and flushes with the ceiling.
A semi-flush-mount chandelier seems more ornamental, with its base extending slightly below the ceiling.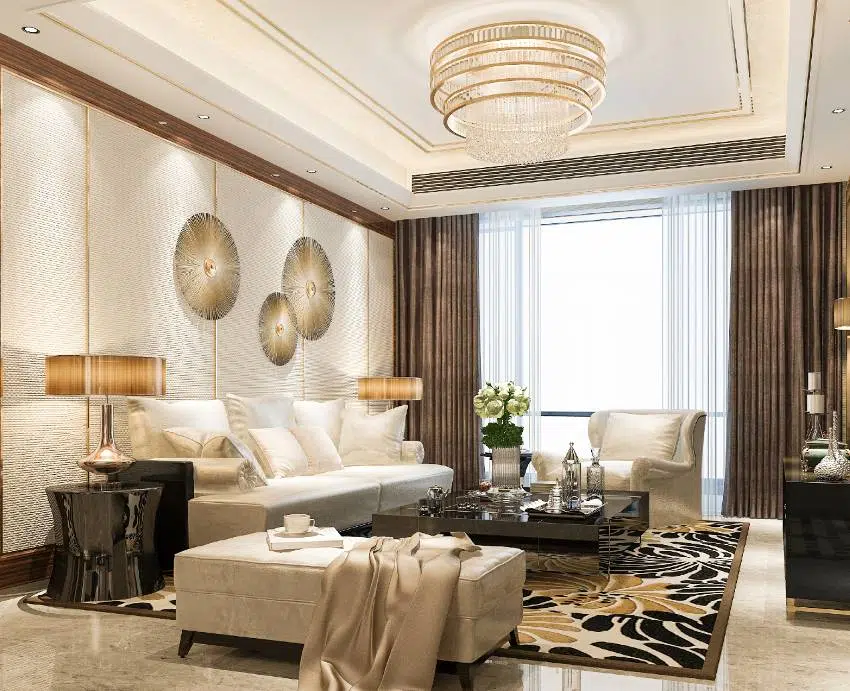 Moreover, a flush-mount chandelier emits light downward. These flush mount lights are perfect for preventing dust and detritus from the bulb and shade since there is no gap between the ceiling and the light.
Modern Chandeliers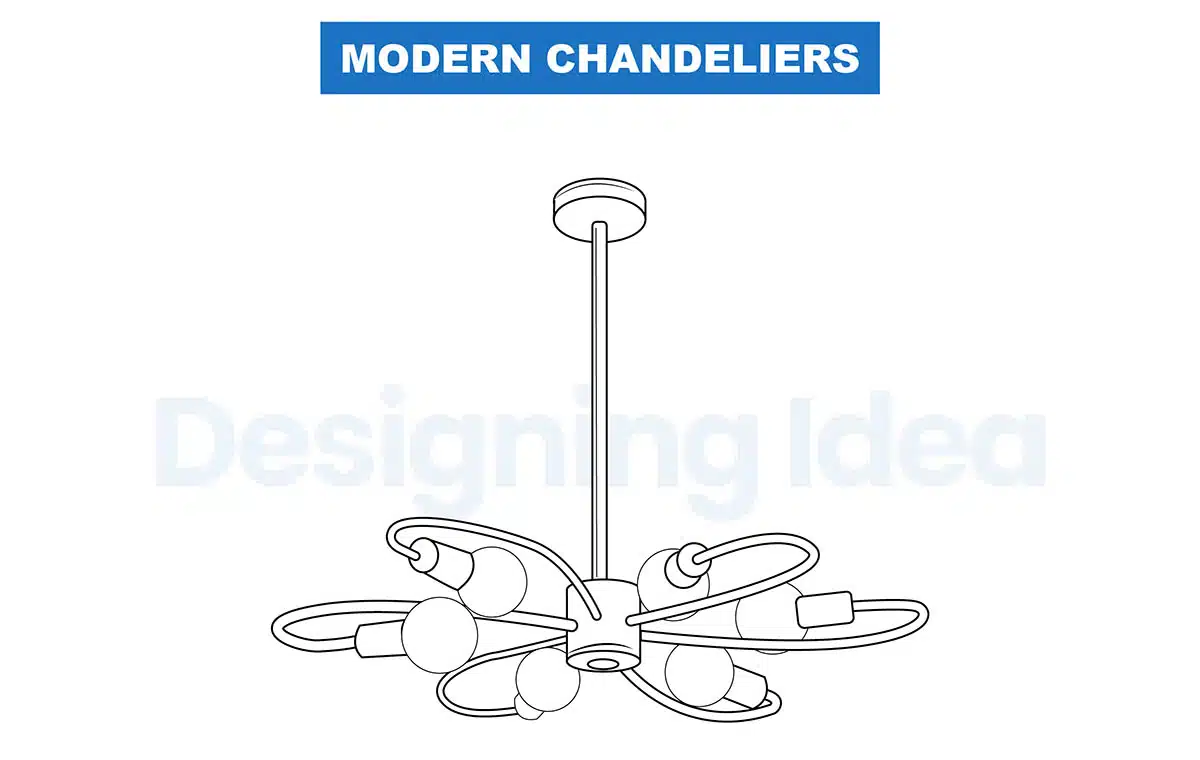 Modern-style chandeliers provide a more contemporary vibe for individuals looking for an avant-garde look. Modern versions come with sharp edges and geometric shapes that complement the modern age well.
This does not imply that you cannot choose a more abstract or unique design, but such a design will most likely be executed fairly geometric manner.
Complexity is not merely a hallmark of modern design, so you might want to skip this one if you cannot make your idea work without some details.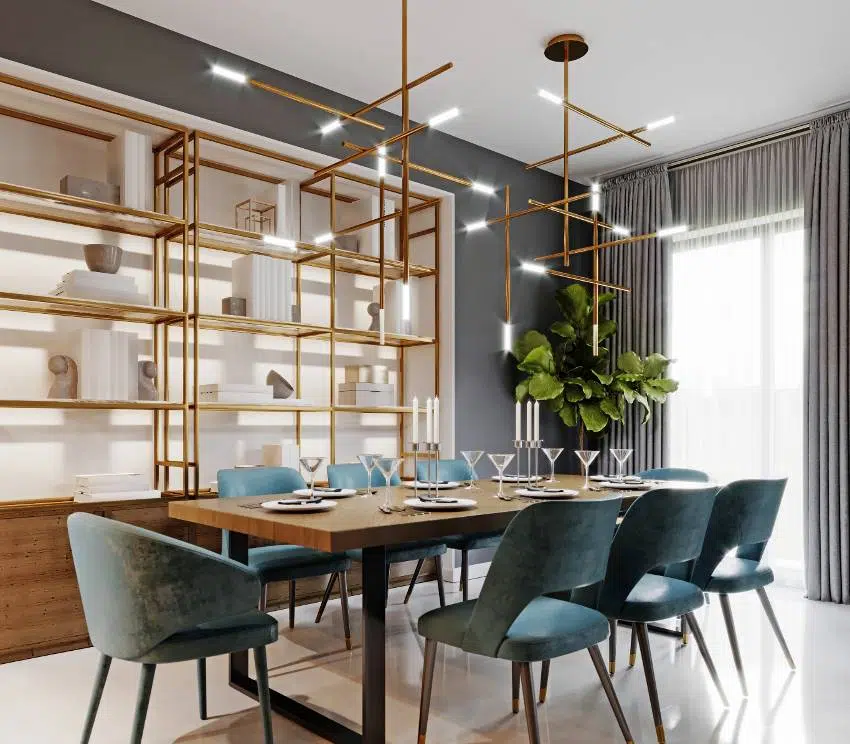 Furthermore, modern chandeliers are not renowned for their size. Therefore they ought to fit in most rooms but would work best in areas where these become conversation pieces, like in the entrance hall. Their style makes an impression but can appear strange in other locations, such as kitchens or bedrooms.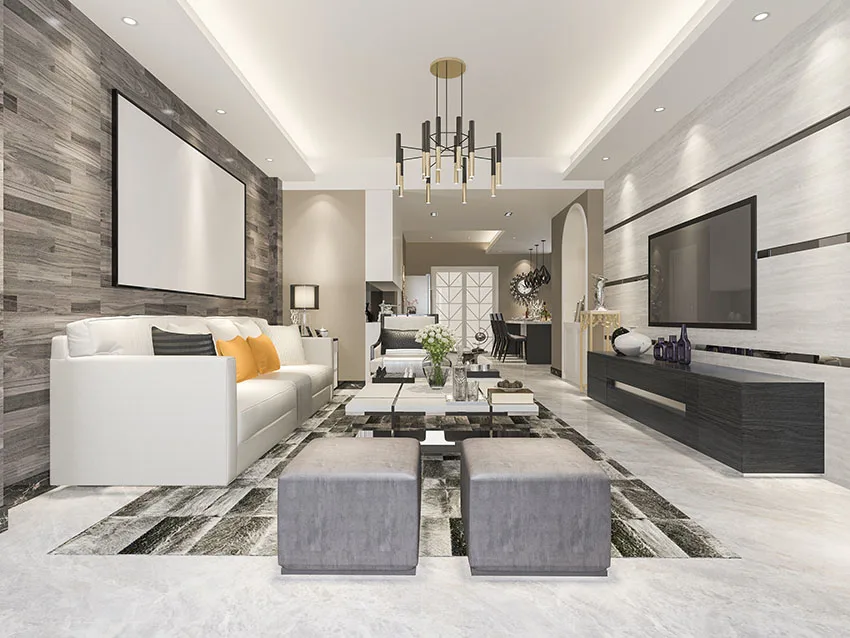 Here are the two variations under modern chandeliers:
Sputnik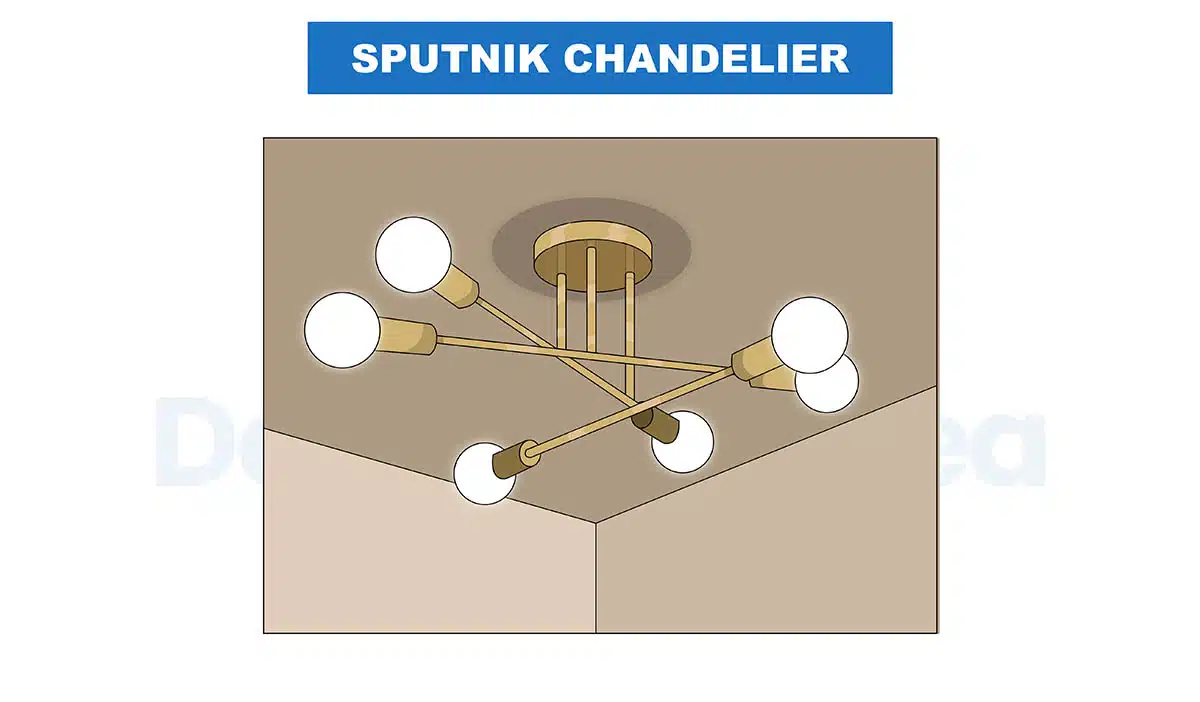 The Sputnik chandelier is a light intensification with light branches radiating from a central point. Several models are symmetrical and form a circle, whereas others are more haphazard.
The arms are straight and sometimes feature lights on both sides, whereas others only have lighting on one side.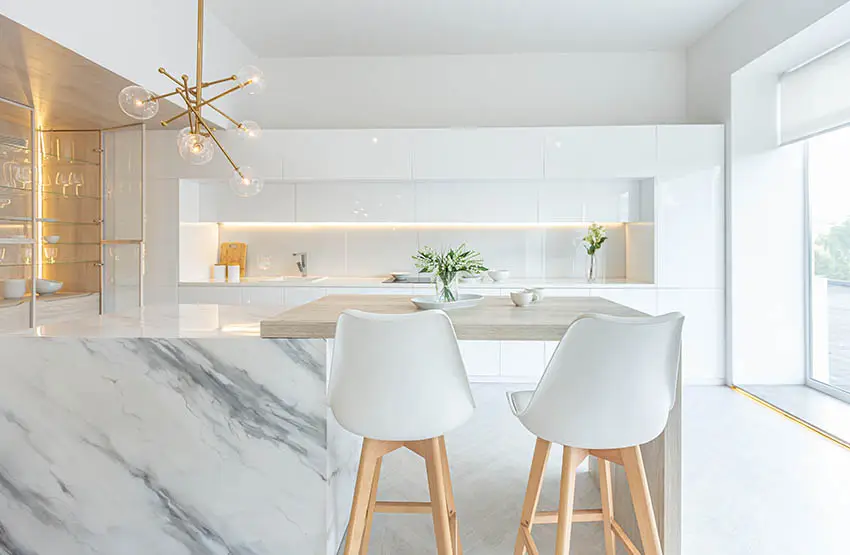 The sputnik chandelier, which are modern and newfangled, make ideal accent lighting elements in modern interiors. Spindles capped with light bulbs emerge from centralized filaments, frequently as a sunburst and other minimalist and geometric shapes.
Geometric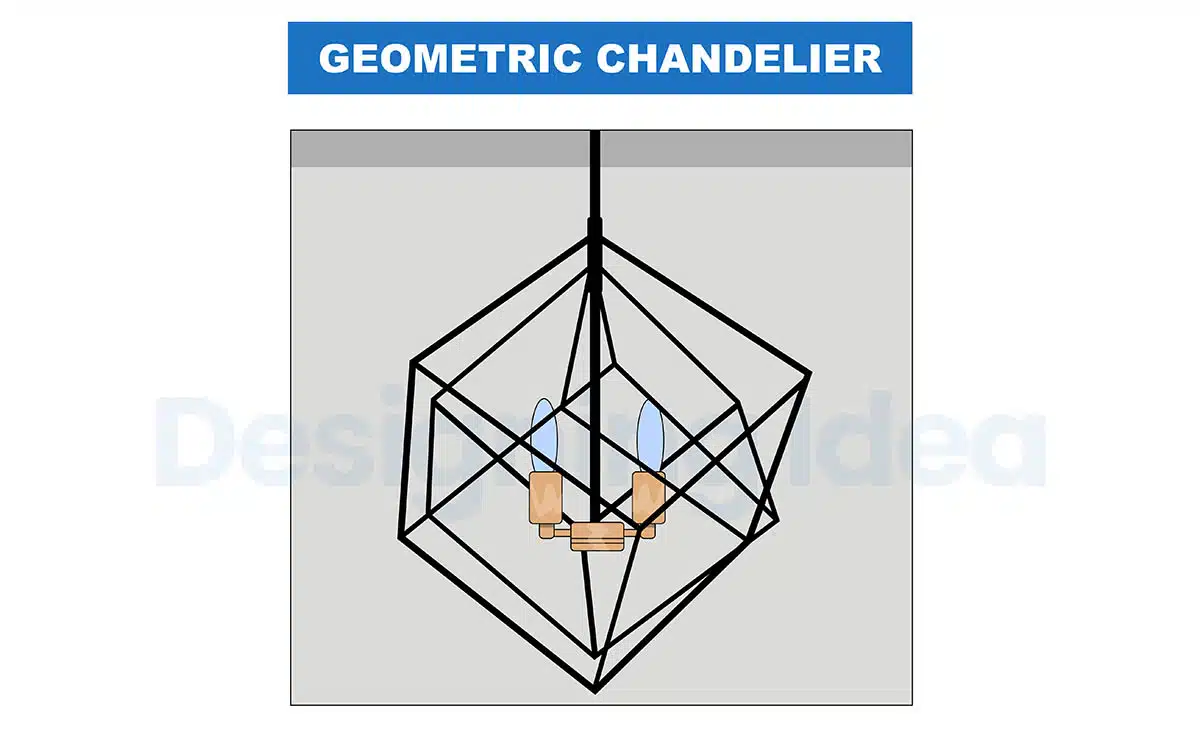 Contemporary geometric chandeliers, the same as square and globe chandeliers, have lighting fixtures housed in cage-like frameworks built of oval and geometric shapes.
They are available in various materials and designs and are a lovely modern alternative to traditional square and globe shapes.
Transitional Chandeliers
Transitional chandeliers combine old- and new-style types of light, combining the futuristic sharpness of a modern chandelier with the rustic charm of an earlier version.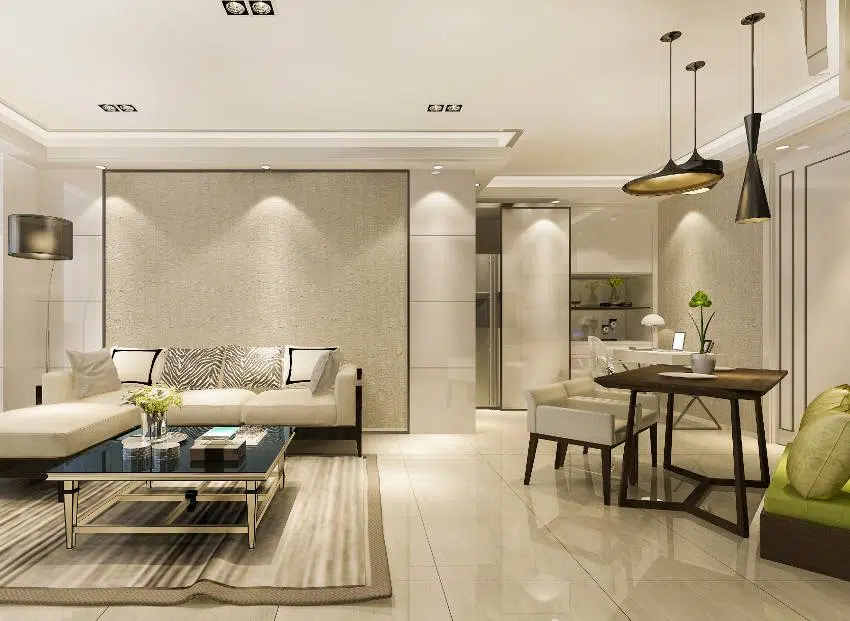 One distinct advantage of this one-of-a-kind chandelier is that it goes well with either style and possibly a few others. These look great in dining rooms and passageways but not always in bedrooms.
Empire Chandeliers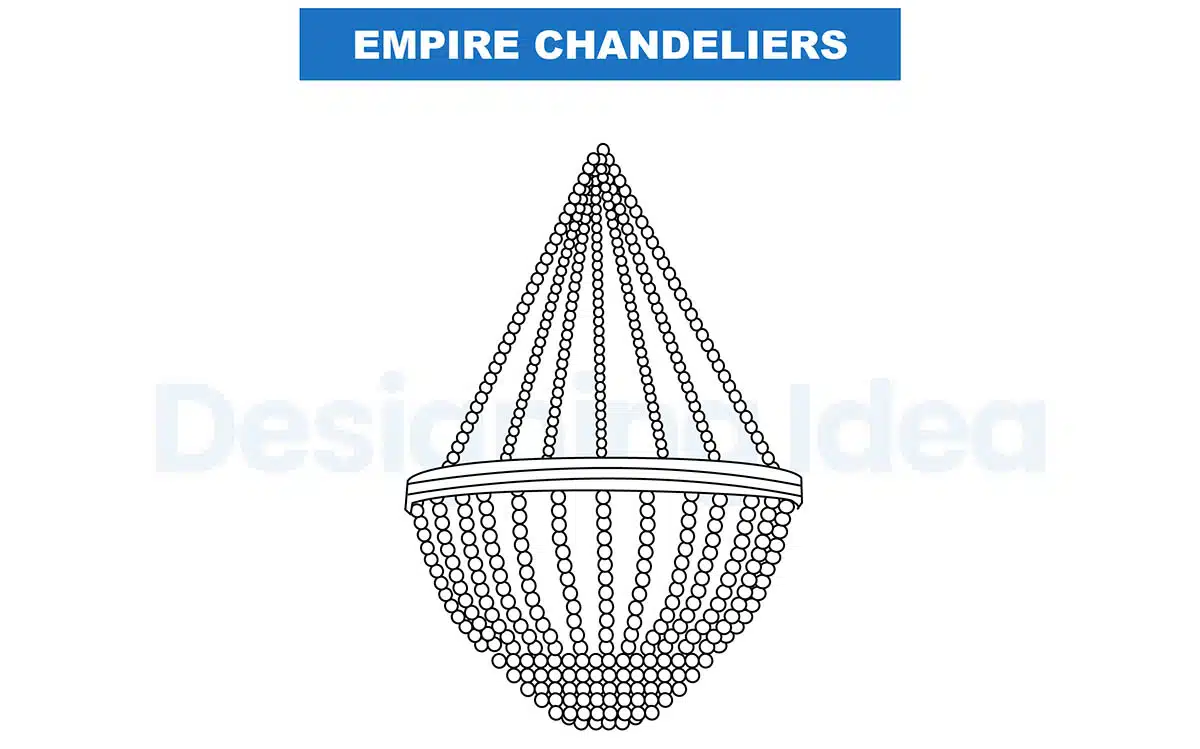 Chandeliers designed in the Empire style have a very formal and classic appearance. The shape is the aspect that normally defines it. It usually contains two portions.
The upper portion is shaped like a cone. The bottom half is shaped like an inverted bell or bowl. The entire piece is made up of small lights as well as crystals.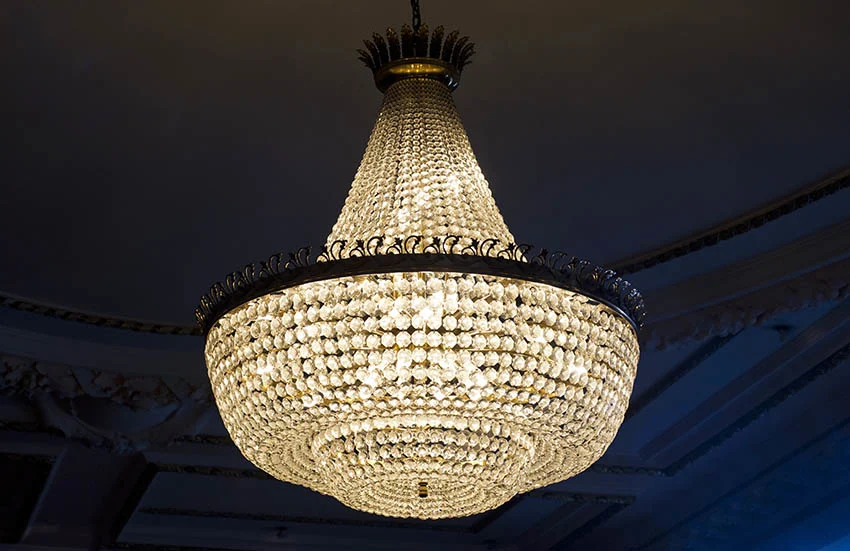 The Empire style is a subset of crystals since light comprises crystals. The French type is a prominent Empire chandelier style.
Wagon Wheel Chandeliers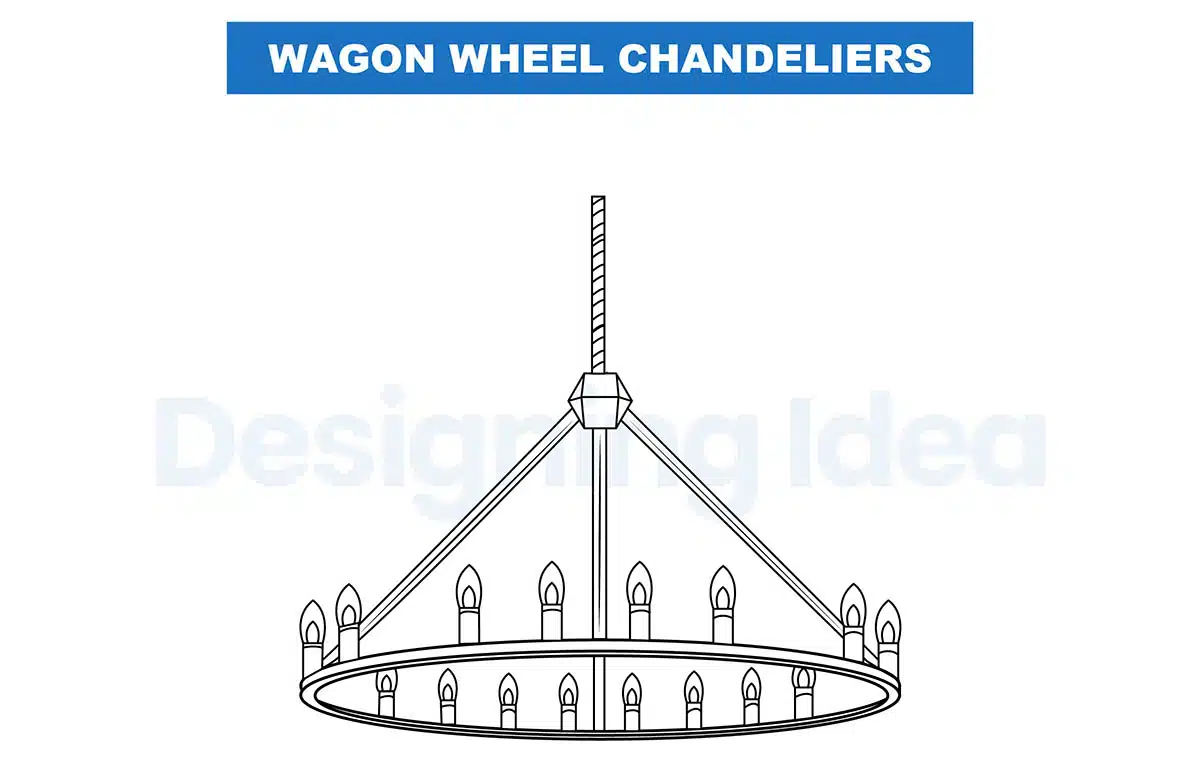 As the name suggests, a wagon wheel chandelier is a chandelier fashioned from, or designed to seem like, a wagon wheel. This wheel chandelier is a lighting installation that hangs from the ceiling in the shape of a movable wheel. The Roman era has the earliest and most significant examples of this chandelier type.
Wheel chandeliers were created for the utilitarian purpose of lighting large religious institutions and other public locations, but sometimes, they also have a spiritual meaning in religion.
Although wagon wheel chandelier styles differ, they frequently branch out and have multiple smaller lights rather than one main light. They give any place a rustic, Western feel.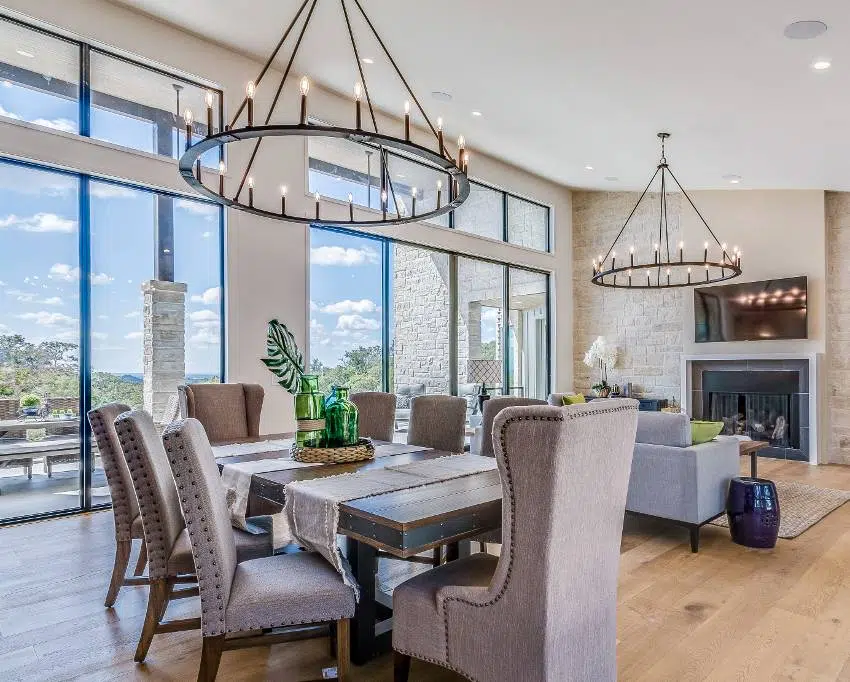 One or more huge, light-affixed metal rings are strung from a chain in these lighting fixtures. These designs are simple, streamlined, without decoration, and can be adapted to suit any home.
Chandelier Ceiling Fan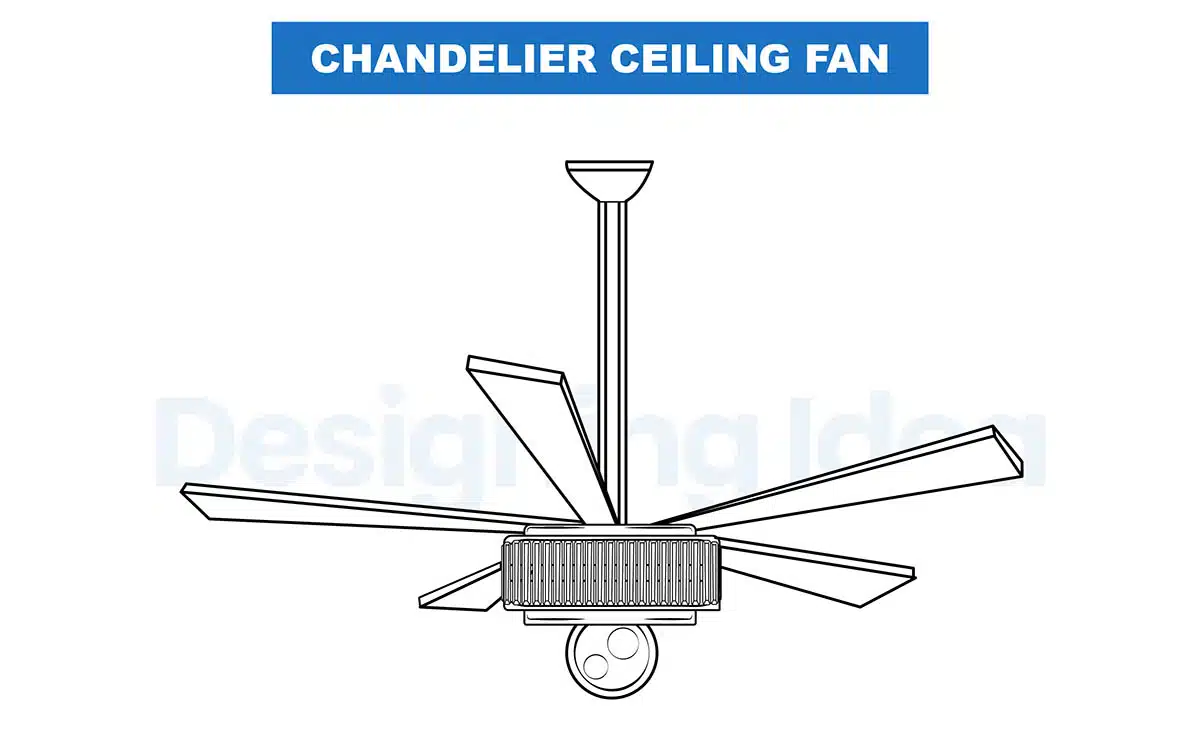 A ceiling fan chandelier has all of the attributes of this light fixture with the added benefit of improving air circulation. Fortunately, you can find these multipurpose light fixtures on the market. As the name suggests, these chandeliers are also incorporated with ceiling fans.
Hence, they can provide sufficient lighting, eye-catching design, and a functional ceiling fan to improve the ventilation in a specific area.
Many interior designers dislike regular ceiling fans because they often aren't as stylish as many modern light fixtures. This ceiling fan design aims to create an attractive fixture with the desired functionality.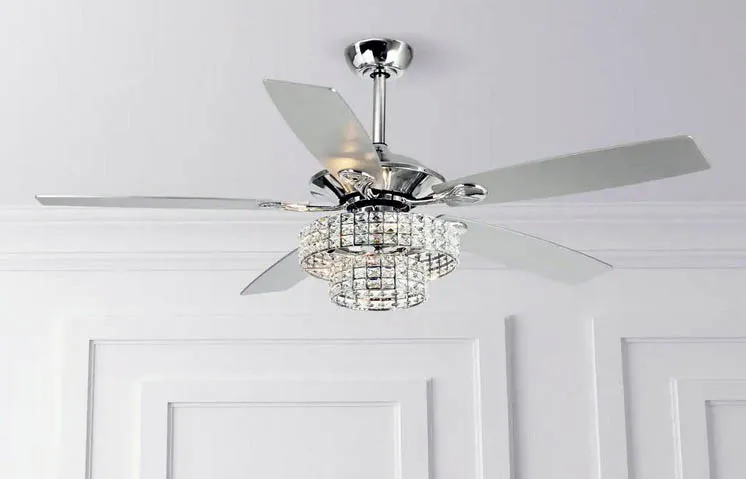 See this chandelier ceiling fan with remote control at Home Depot [sponsored link]
Mini Chandelier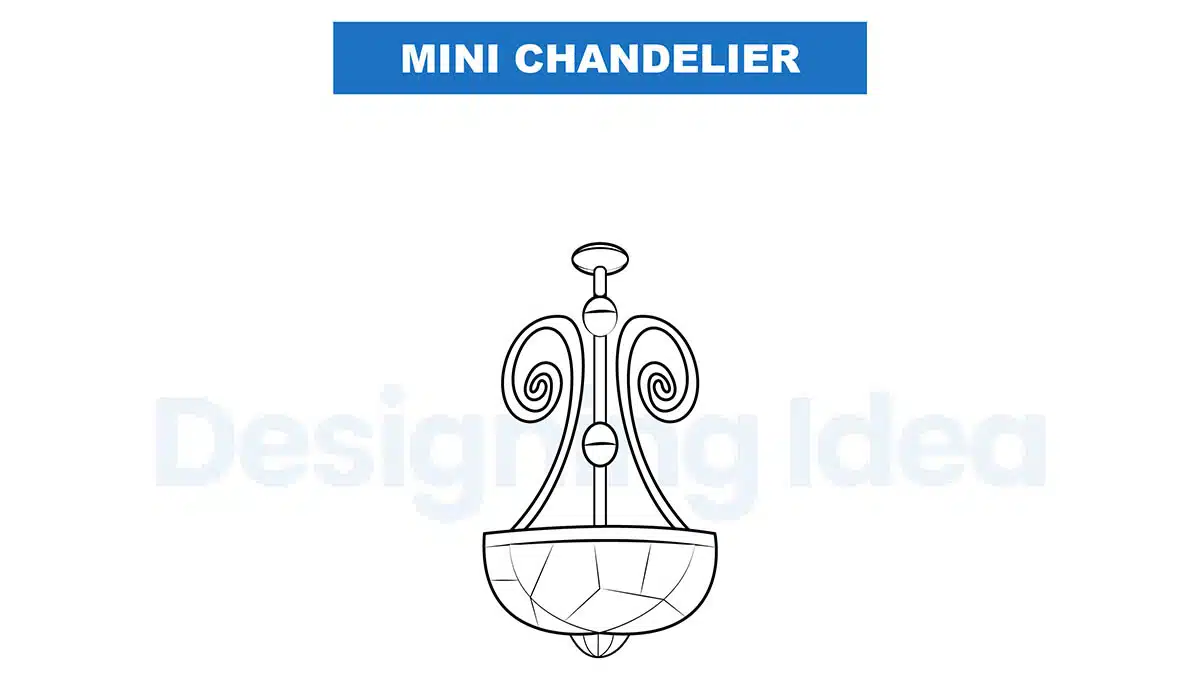 A mini chandelier is a compact chandelier designed for use in small areas. Although this might appear to others to be an unusual option, it makes sense to those who want chandeliers but do not have huge rooms and high ceilings.
Chandeliers were traditionally massive ceiling lights that necessitated a lot of space; nevertheless, because these are used in numerous house rooms, smaller options are also more convenient in rooms that cannot accommodate a bigger design.
You can often find bathroom chandeliers in smaller sizes since they require proper spacing to pass inspections. A chandelier should be placed at least 8 feet above a tub or 3 feet away.
In addition, many bathrooms have sloped ceilings, which may create the need for a smaller-diameter light fixture.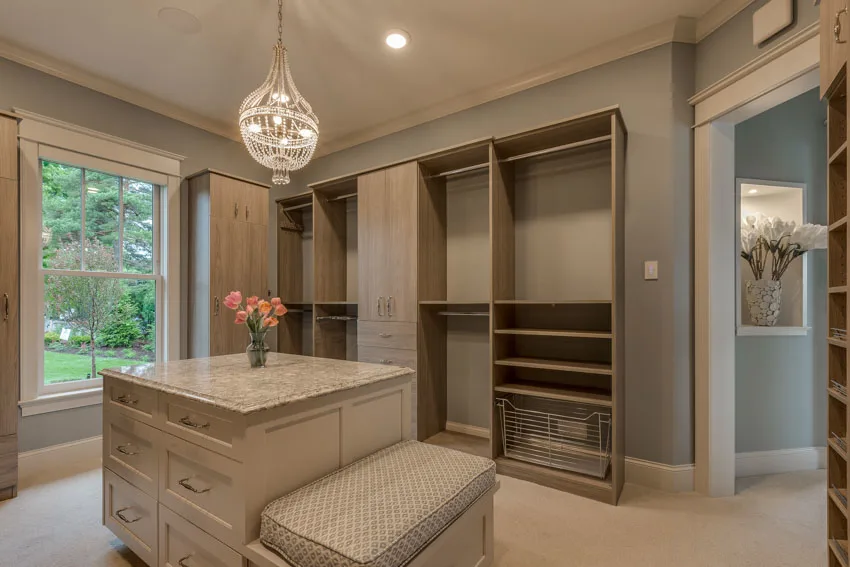 Another popular choice for mini chandeliers is in a walk-in closet above an island or bench. This can enhance the design's appeal while providing much-needed light for changing and trying on different clothing.
Outdoor Chandelier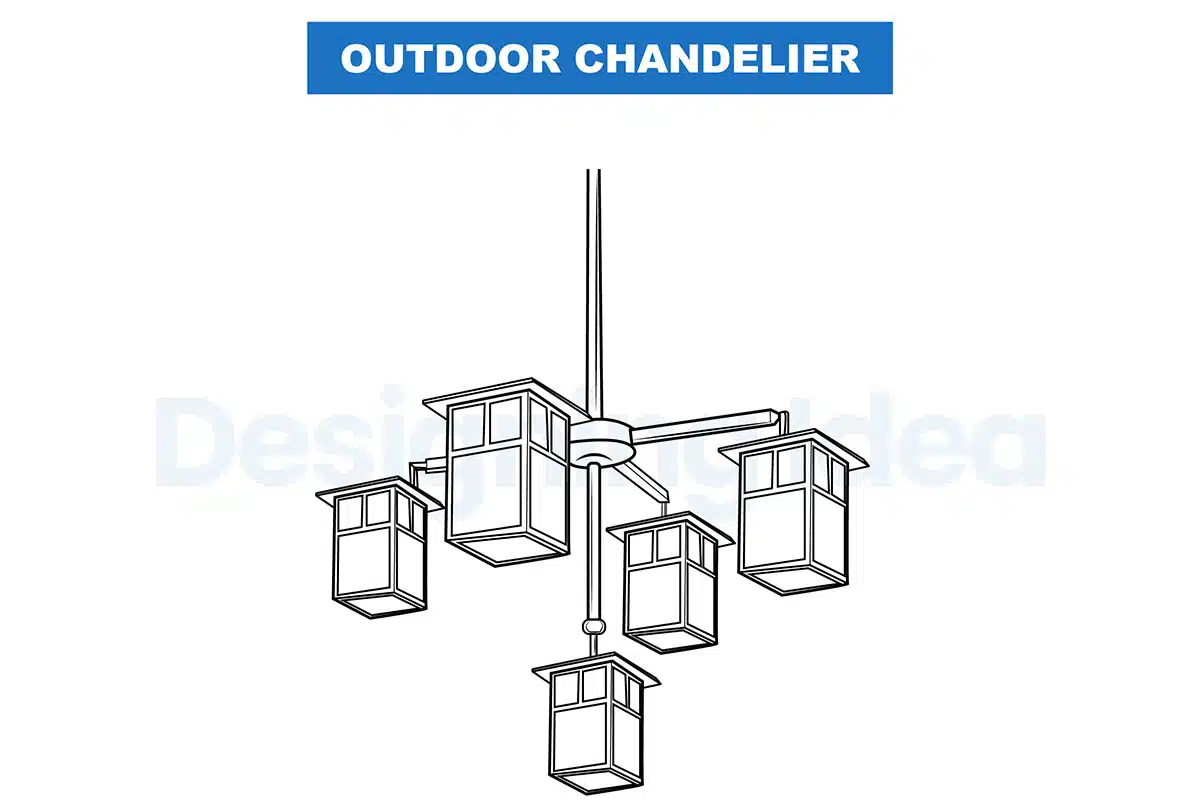 Outdoor chandeliers transform a plain and somewhat dull patio area into a beautiful getaway from the continual demand for indoor devices.
With these damp-rated and high-quality chandeliers, outdoor living places move from tacky to tastefully gorgeous.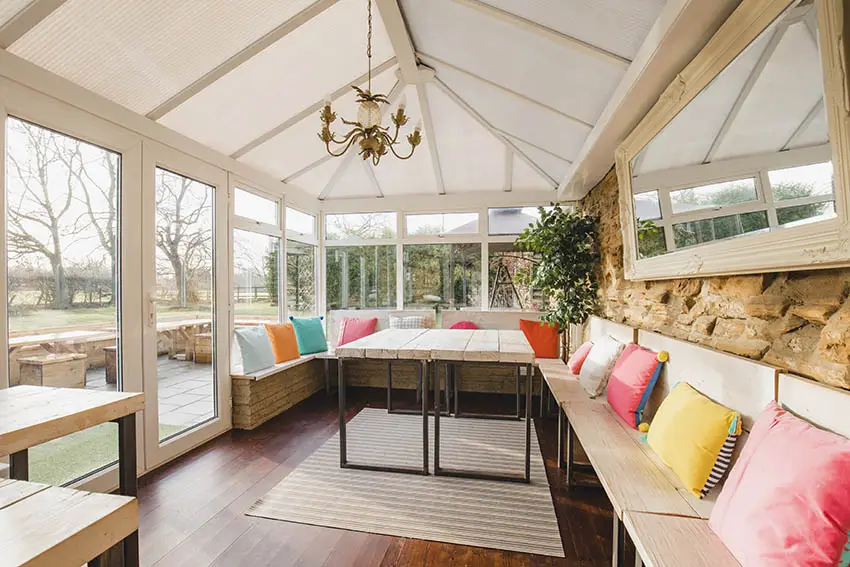 Moreover, outdoor luminairies for gazebos, which range in style from rustic to gentle contemporary and modern, replicate the warmth and comfort of the interior living spaces for outdoor nighttime delight.
Unique Chandeliers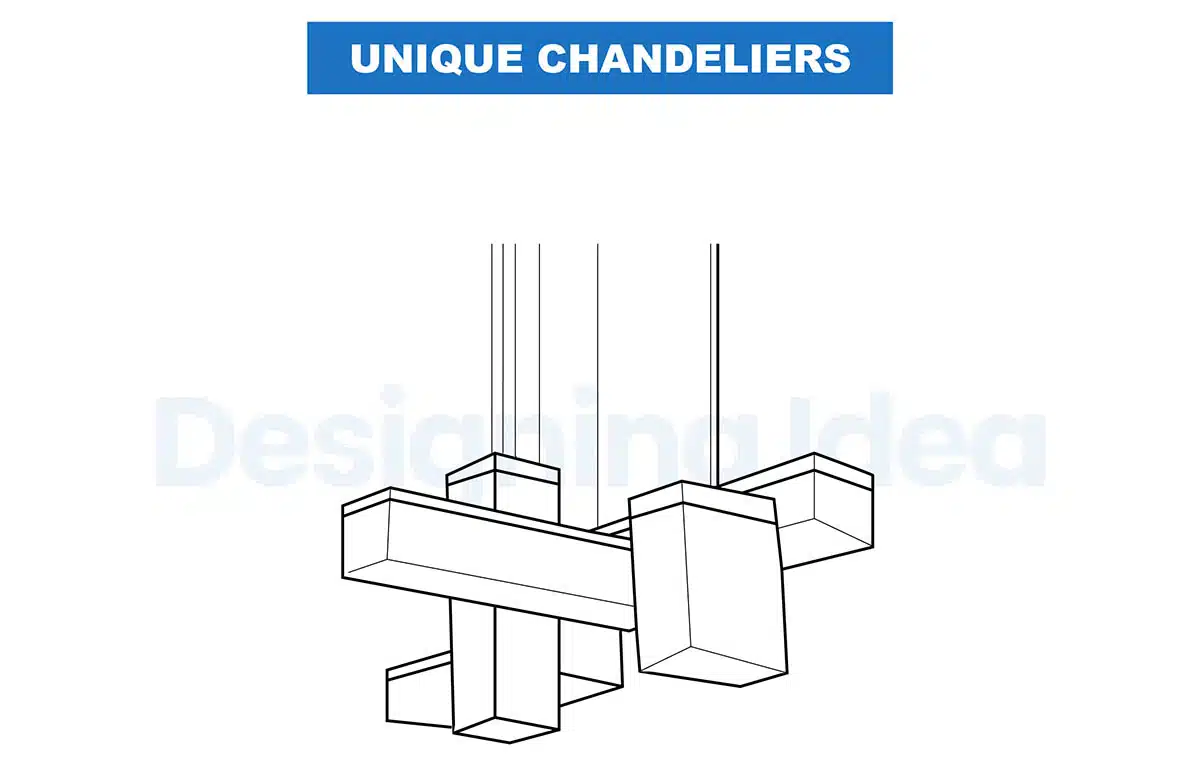 Many magnificent, distinctive statement pieces are available if you want to take a more artistic step away from standard chandelier types.
Unique chandeliers are ceiling-mounted pieces of artwork that also function as light fixtures. Normally, unique pieces function as decorations more than lights.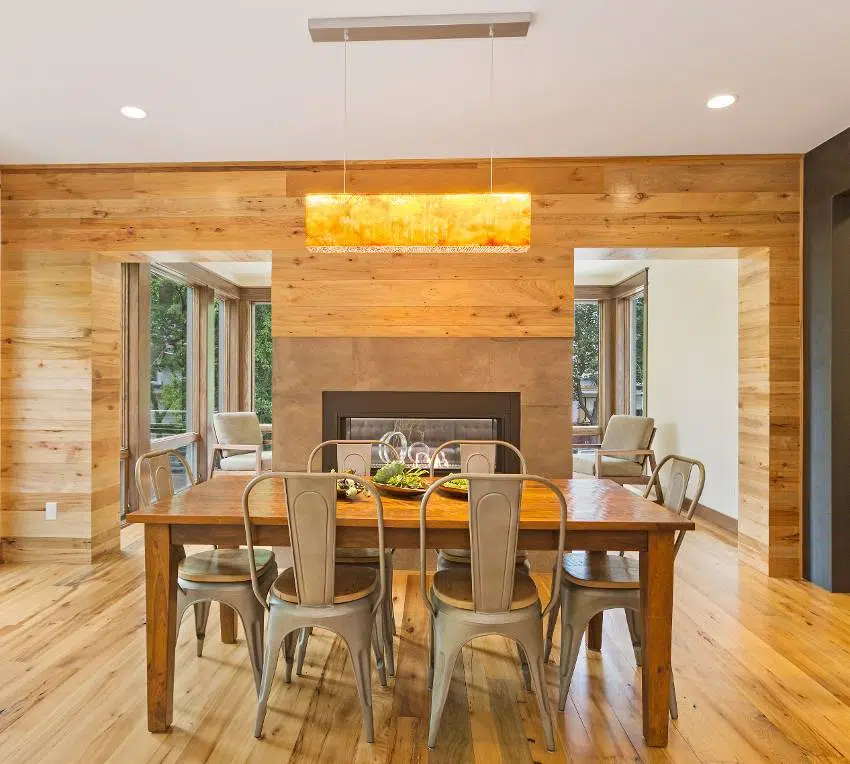 Here's a list of unique chandelier ideas:

Feathered
Animal antlers
Paper lantern
Recycled glass bottles
Tree branch
Industrial style pipes
Geometric wire design
Antique or vintage style
A unique design can become the central focus of attention and make a great conversation piece.
Chandelier Materials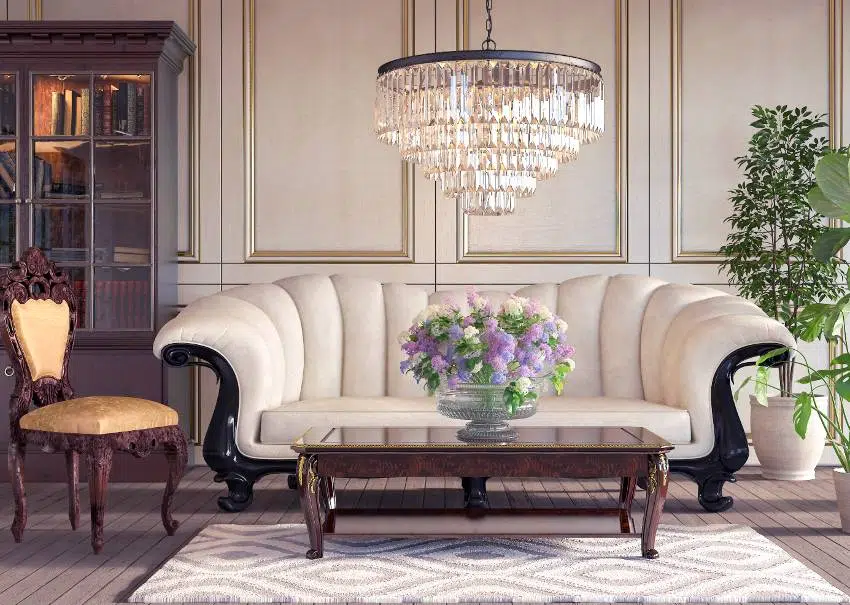 Chandeliers are now made from a variety of materials. Metal, alabaster, crystal, glass, and wood grain are popular mediums. Let us describe them one by one.
Metal
Metal lighting pieces are simplistic structures, but some might be the most attractive. Brass, nickel, and wrought iron are popular metal surface treatments. They are a basic feature used to embellish traditional lighting fixtures and are made to fit household objects.
Alabaster
Alabaster is a fine-textured compressed plaster that is used all around the globe for different sizes of chandeliers. It is certainly an alabaster-based chandelier if it has a touch of the square and a clay hue.
Crystal/Glass
Crystal or glass chandeliers are often more expensive than the low-cost blast of genuine glass bushes. They are popular because they offer the appearance of being upper-class while charging middle-class prices.
These are composed of lead oxide glass, giving them a more bright and prismatic appearance. A crystal chandelier adds a bold statement to any interior layout.
Types of Crystals for Chandeliers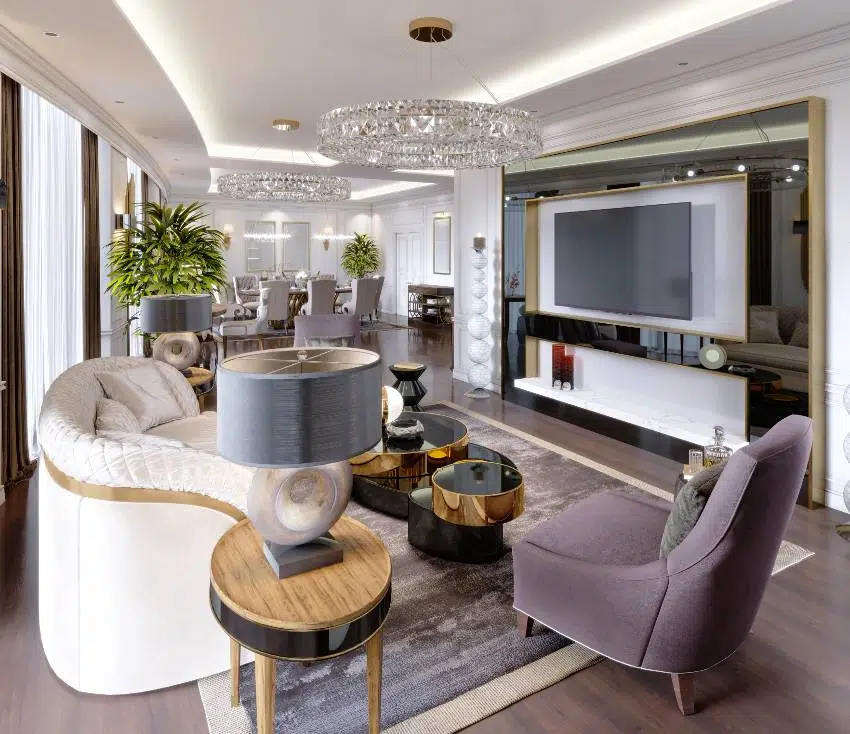 Swarovski Crystal
Swarovski Elements, the purest crystal in the world, is produced in the Austrian Alps by Swarovski AG utilizing a centuries-old proprietary technique. This crystal glass line, offered in various colors, sizes, and shapes, provides a fantastic spectrum for lighting designers.
To attain optimum visual clarity, Swarovski is often machine-cut and then machine-polished. Swarovski Elements glass is subsequently treated with a transparent optical coating, which makes it easier to clean and preserve. Each crystal element has the company logo laser engraved in detail.
Egyptian/Moroccan Crystal
Gem-cut crystal is high-quality, machine-cut crystal glass with exceptional clarity and precision. While not as good as Swarovski crystal, Gem-cut has unique splendor, visual pureness, sharp faceting, and perfect polishing.
Turkish Crystal
The techniques used to create this sort of crystal extends back generations. In an extreme procedure, crystal is fashioned by hand in two phases on iron and then sandstone-grinding wheels.
The crystals are then polished using marble dust on a wooden wheel. As a symbol of provenance, you may find small remnants of the wood wheel in the final works.
Spectra Crystal
Spectra crystal is usually less costly than Swarovski crystal. However, it is only available in a few sizes and shapes.
Italian/Venetian Crystal
This crystal originates from the ancient glass-making region of Venice and has a distinct appearance and texture. Instead of being hand- or machine-cut, Venetian crystal is sculpted and fire-polished, bringing in a stunningly delicate brilliance. When compared to cut crystal, it is reasonably priced.
Chinese Crystal
This crystal kind is mass-produced and delivers great beauty at a reasonable price. It has a great optic grade with accurate facets and is trimmed and refined like more pricey grades. This is a great pick for shoppers looking for good value and more for their money.
Types of Chandelier Lamp Shades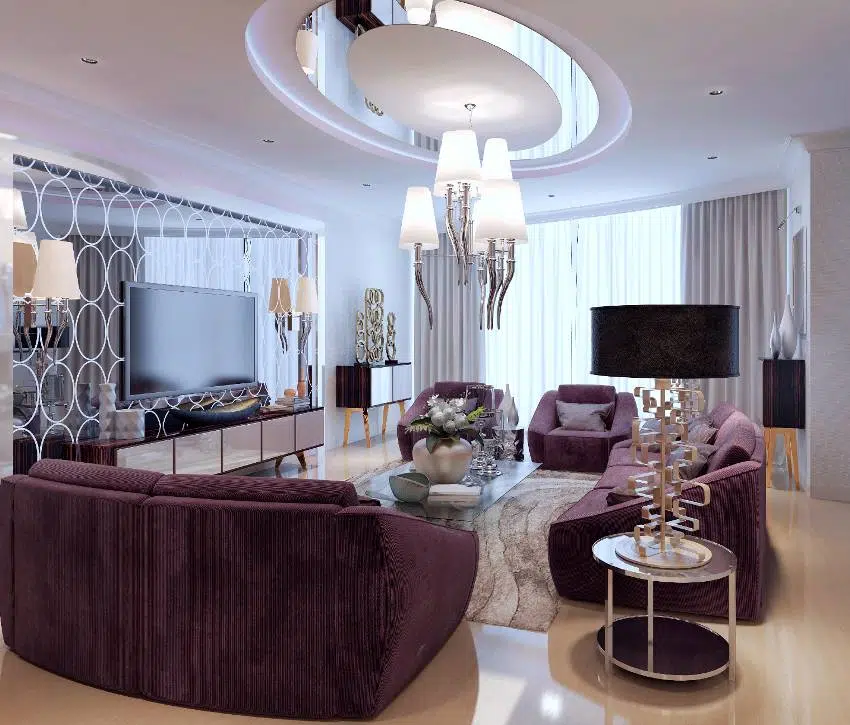 Chandelier lampshades are a terrific way to dress up your chandelier.
• Lampshades for chandeliers are available in the same materials as desk lamp shades, featuring modern and classic chandelier shades made out of linen, silk, organza, or paper.
• Several chandelier shades are also constructed of metal, such as hammered tin or copper, for industrial-themed chandelier shades or chandelier lampshades that are distinctively your taste.
• Pheasant or peacock feather lampshades, beaded chandelier shades, customized fabrics, leopard or zebra designs, string, and embroidered chandelier shades are also available at some retailers.
• Burlap, rawhide, and leather-based chandelier shades are more rustic, while straw, birch wood, wicker, and parchment chandelier shades are more nautical-themed.
Chandelier Light Bulbs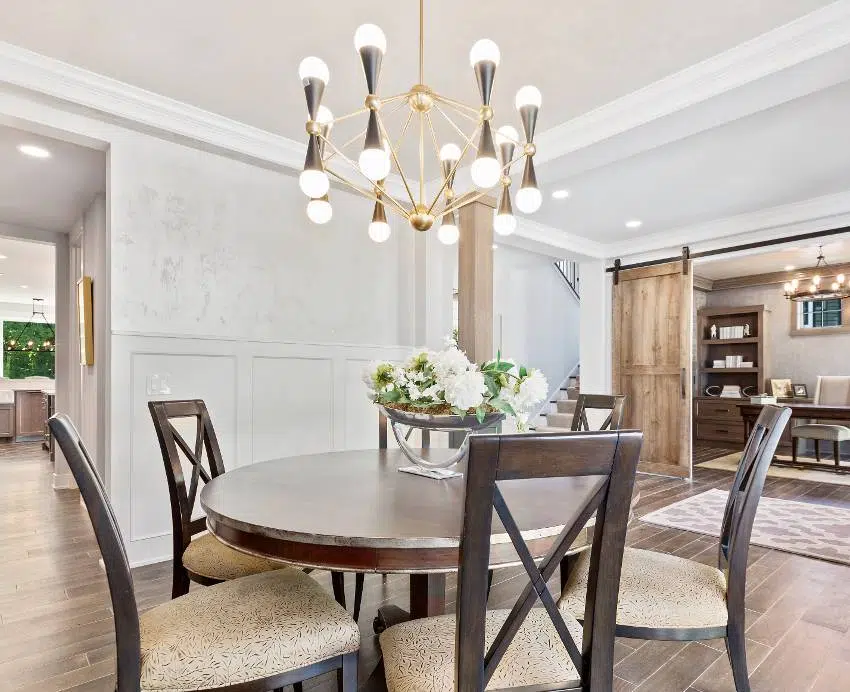 LED Bulbs (Light-Emitting Diode)
This bulb is one of the most energy-efficient lighting sources, emitting no heat and no mercury, but still offers a strong light. They produce direct lighting, making them ideal for chandeliers.
Some lighting systems have built-in LED lights, known as integrated LEDs. They are long-lasting and affordable as well.
LED bulbs last 30 times longer than your traditional incandescent lighting fixtures and 3 to 5 times longer than compact fluorescent lamps. [Source: energy.gov]
Incandescent Bulbs
These are the most often-used and lowest-priced types of bulbs. They produce a warm light, may be dimmed, and often last up to a year, longer than halogen light bulbs but not as prolonged as CFL or LED light bulbs. They are also less energy-efficient than other types of lightbulbs.
Compact Fluorescent Lights (CFL)
Depending on the manufacturer, these energy-saving lights can emit a broad spectrum of colors. They frequently take a little time to warm up and become brighter. You can use these to light up vast areas like long dining rooms.
They cost less than LED lights and last longer than incandescent lights. Because these lightbulbs contain mercury, they must be handled with care. They are recyclable once they have burned out.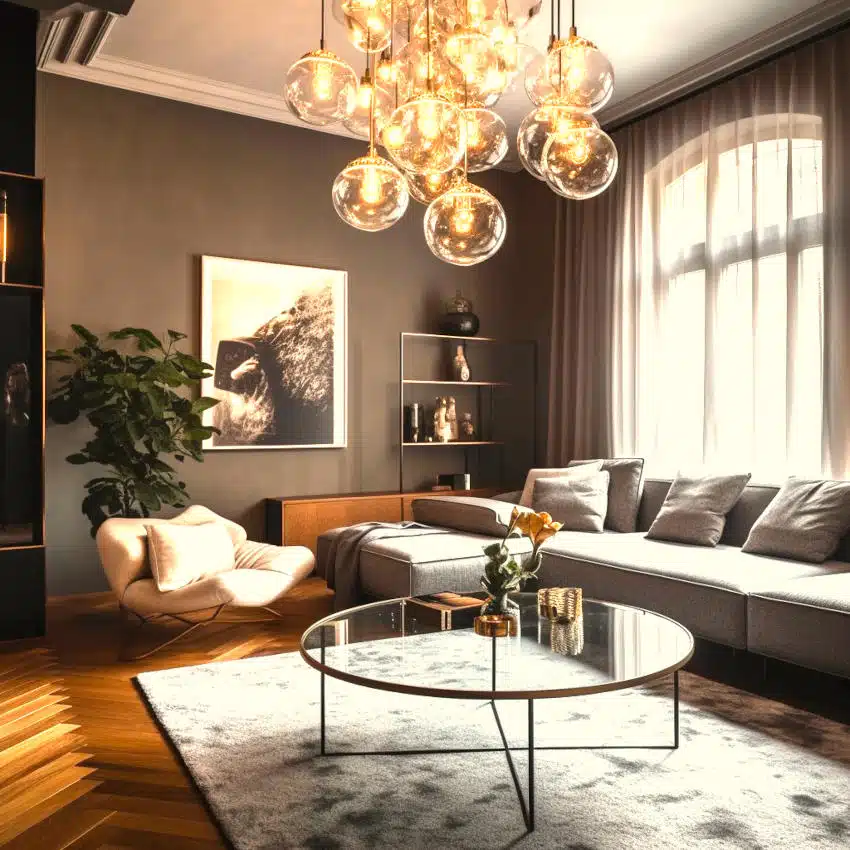 Halogen Bulbs
These lights provide a white light that looks like noon daylight. They are ideal for recessed lighting since they are energy-efficient and dimmable. The life expectancy of this lamp is the shortest of the four bulbs on this list.
Nevertheless, it is vital to remember that they heat up quickly, therefore, must stay separate from fire-hazardous objects. We also suggest wearing gloves when changing the bulb on your chandeliers because the oil on your hands can cause the bulb to ignite if it becomes too hot.
How Much Does a Chandelier Cost?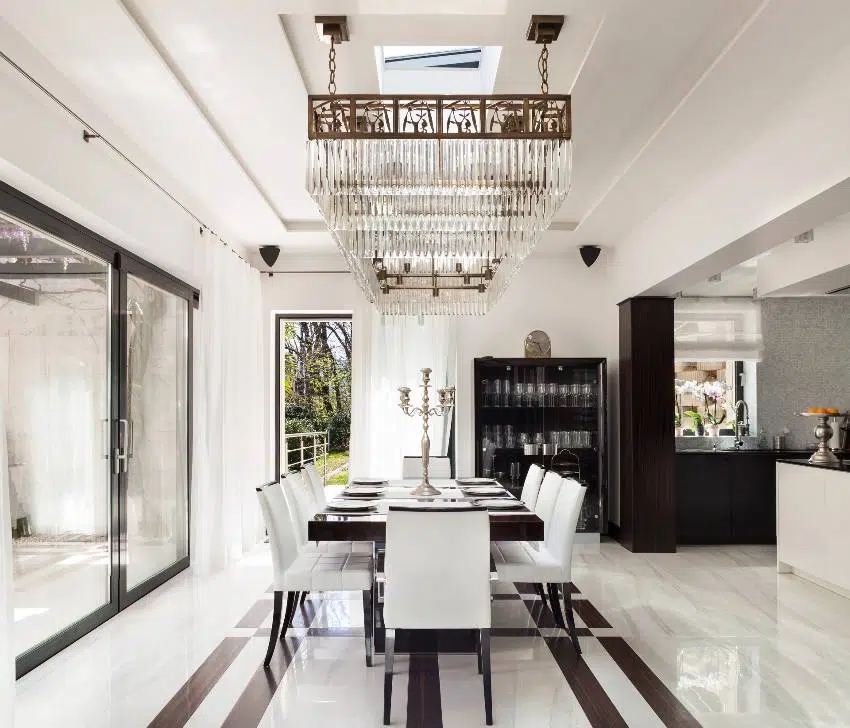 Some chandeliers are surprisingly cheap, while others are more pricey. A low-cost chandelier might cost:
• A 5-light chandelier in a simple style would be around $100
• A more sophisticated chandelier with 5 lights will cost around $140.
• A French-inspired 5-light chandelier costs around $240.
• A 5-light vintage chandelier costs $240.
A chandelier can be significantly more expensive. A more premium chandelier will typically have more intricacy and lighting.
They come in a variety of styles. Chandeliers made of crystal are popular and can cost as much as the prices below:
• A 3-light crystal chandelier costs around $280.
• A 5-light crystal chandelier costs around $500.
• A more complex crystal candelabra costs around $900.
• A more decorative crystal antique chandelier with more than 5 lights can cost up to $1000.
Crystal chandeliers are just one form; another variety may be better suited to your needs. The more elegant types and designs can be much more expensive.
• Basket type can cost anywhere from $200 to $4500 for a huge and intricate chandelier.
• Pendant luminaire in acrylic can range in price from $500 to $3700.
• Flush-mount chandeliers are suspended from the ceiling. A little bronze chandelier might cost around $230, while a 37-inch wide chandelier can cost around $2000.
How Much Does It Cost to Install a Chandelier?
Replacing an existing chandelier is typically between $100 and $200. Installing a chandelier in a different location, on the other hand, can range from $300 to $2,000, depending on the chandelier's weight and the complexity of the configuration.
How to Clean a Chandelier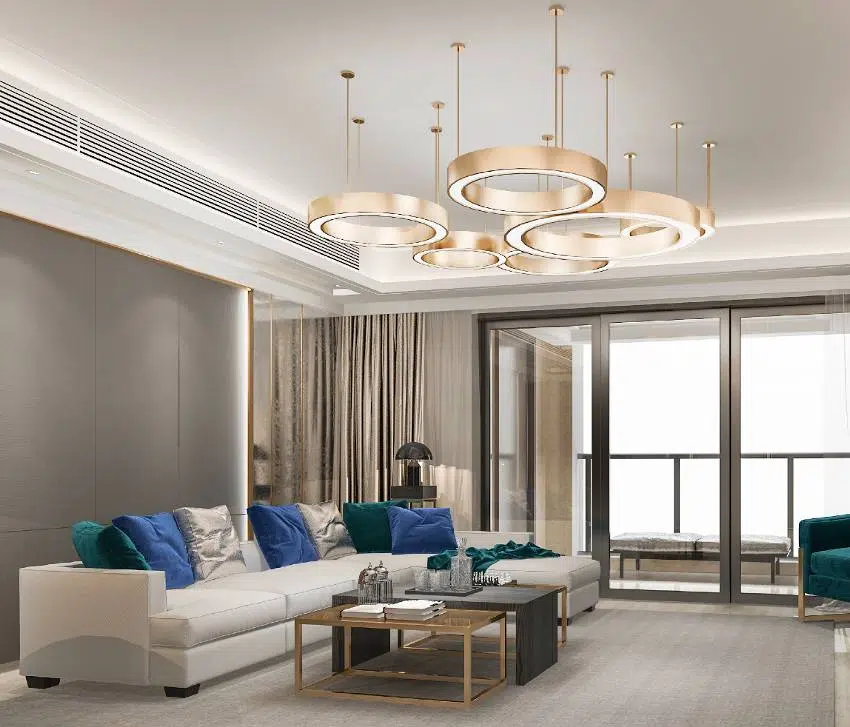 Here are the steps required to clean a chandelier.
1. Prepare Your Supplies
Cleaning a chandelier requires only a few simple supplies. To access the fixture, you must have a step ladder and pads or a dropping pad. If you drop something, this pad will prevent glass or crystal prism from shattering and protect fragile furnishings and tabletops.
Clean gloves or soft, lint-free towels are advised, particularly while cleaning crystal, which attracts fingerprints rapidly.
2. Turn Off the Power of the Chandelier
Work progressively and observe basic, common-sense safety precautions around any electrical device. To start, turn off the chandelier's power at the power outlet.
Covering the wall switch with tape is a good idea to prevent the light from turning on while you are working. To be extra safe, turn off the electricity at the breaker box. But remember to have backup lighting handy to prevent working under darkness.
3. Apply the Glass-Off Cleaning Method
Pulling out all crystal and glass allows for a more thorough cleaning, enabling you to reach every crevice and corner of the body. This method also provides more access to the chandelier structure.
Prepare a cleaning solution of one part rubbing alcohol to four parts distilled water in a spray container to clean the chandelier.
Hand-washing the glass in tepid soapy water with a gentle dishwashing liquid would be another option for chandeliers with greater dirt and muck accumulation.
Rinse quickly in clean water and pat dry with a delicate clean cloth for this procedure. Dust your chandelier carefully every 2 to 3 months with a feathery duster to extend the time between cleanings.

How to Clean a Chandelier Without Taking It Down
To expedite the cleaning process, you can use the glass-on cleaning method. You will not have to take the chandelier down to clean it. If your chandelier does not necessitate extensive cleaning, leaving the crystal or glass in place saves time and effort.
To clean a chandelier with the glass or crystal in place, apply the same cleaning solution as indicated above.
A small amount of the solution should be sprayed onto a clean cotton glove or lint-free cloth. Wipe the glass or crystal with a moist cloth and instantly dry it with a different glove or towel. Work gradually and cautiously to avoid damaging any suspended glass or decorations.
Ammonia-based cleaners should be avoided since they can remove the finish from the gold- or silver-finish metal hooks that keep the crystal components in position.
How to Clean a Crystal Chandelier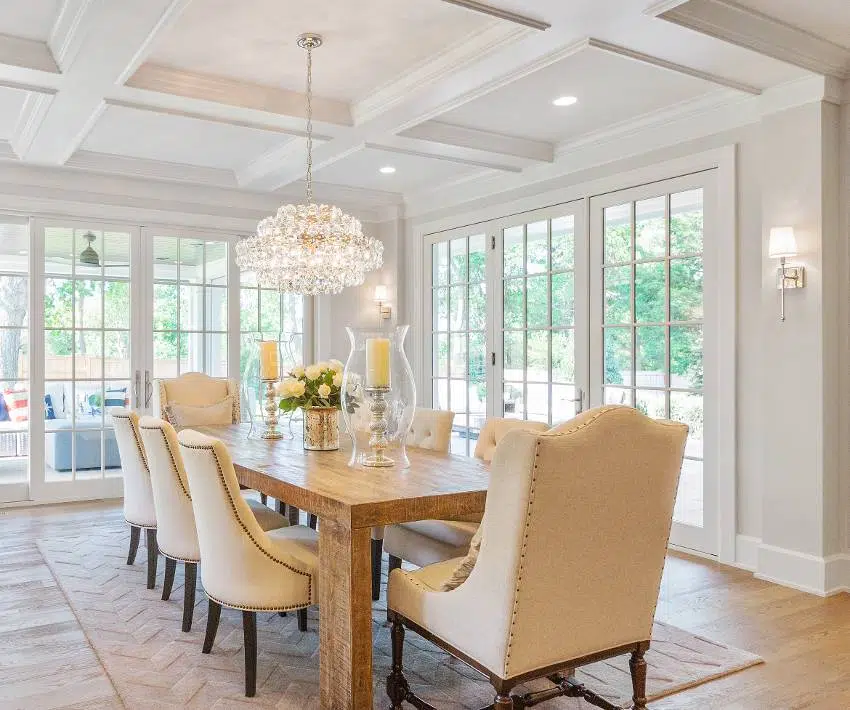 The best approach to clean a crystal chandelier is to use a microfiber cloth sprayed with a cleaning solution consisting of a 1:4 ratio of isopropyl alcohol to distilled water. Use a pair of white cotton gloves to protect the prisms from fingerprints.
Detailed Cleaning Steps:
1. Place a blanket on the floor beneath the chandelier to catch any falling parts and keep them from breaking.
2. For safety purposes, turn off the chandelier. Cover the light switch with tape to prevent someone from mistakenly turning on the lighting while you are working.
3. Use a ladder to get to your crystal chandelier if necessary.
4. Use a clean, lint-free cloth, such as a microfiber cloth, to apply your homemade cleaning solution. Spraying directly onto the chandelier will make a mess.
5. Wipe each crystal piece delicately with the damp towel. Following that, use a dry, lint-free towel to prevent water marks.
How to Clean a Brass Chandelier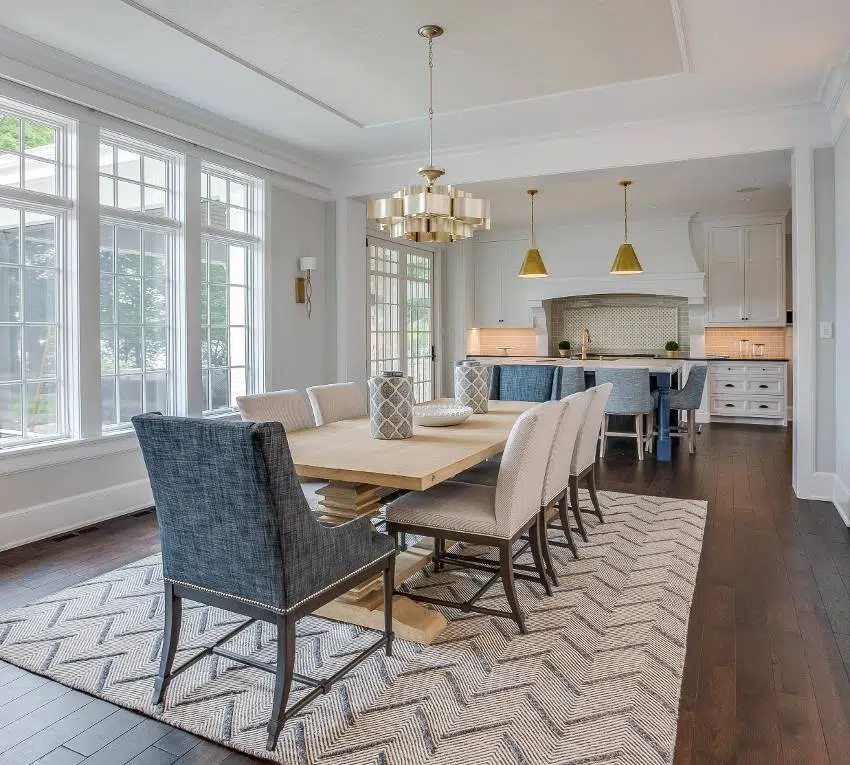 Except for one thing, you can follow the same guidelines as crystal chandeliers when cleaning a brass chandelier. Instead of using isopropyl alcohol, you can use vinegar.
Vinegar is perfect for cleaning a brass chandelier. A cloth immersed in table salt after being soaked in tepid distilled white vinegar can be used to wipe tarnished brass and remove buildup. Rinse and dry the brass chandelier once finished.
How High Should the Chandelier Be Above the Table?
With an 8-foot ceiling height, installing a chandelier 30 to 34 inches above a table would be ideal. If your ceiling is above 8 feet, install the chandelier 3 inches higher for every foot of ceiling height.
What Type of Chandelier for Dining Room?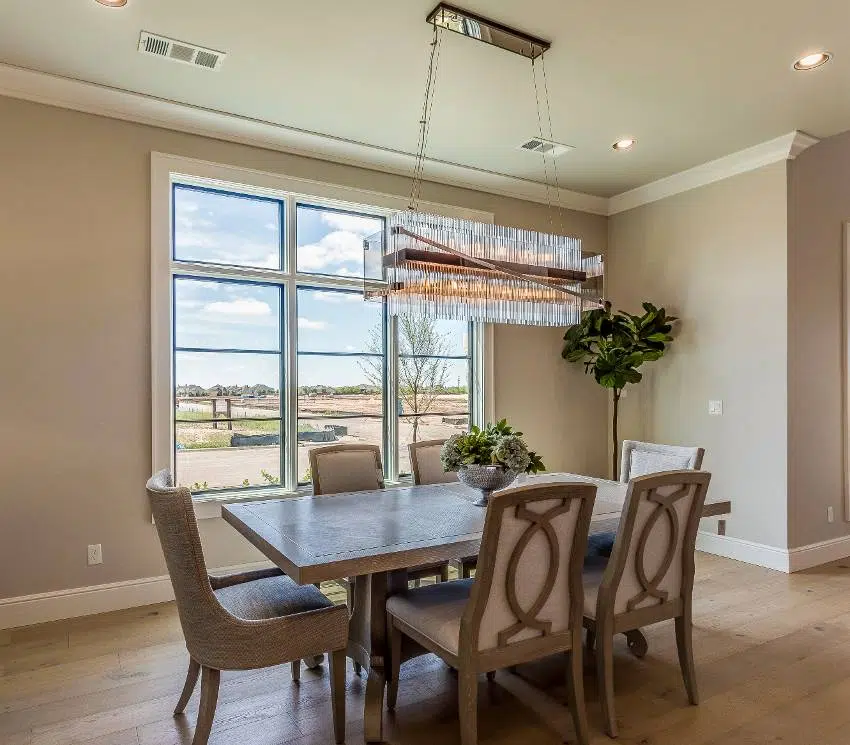 We highly recommend using these three types for your dining room as these are arguably the best options:
• Candle Type. These chandeliers offer a lot of brightness to your dining room because no shades hide the bulbs. You will want to pick appealing bulbs that will contribute to the visual attractiveness of your chandelier to guarantee that you get the greatest splendor out of it.
• Drum Type. A drum chandelier provides plenty of illumination and depends on a lampshade to help disperse the light in the area so that it is not too intense or too brilliant.
Unlike ordinary chandeliers with separate lampshades for each light source, a drum chandelier features a wide round shade that wraps around all the light bulbs in one go.
• Crystal Type. A crystal chandelier is the most opulent and elegant lighting fixture you can add to your dining space. They look excellent in formal dining rooms but will not fit small breakfast nooks well.
What Size Chandelier for the Dining Room?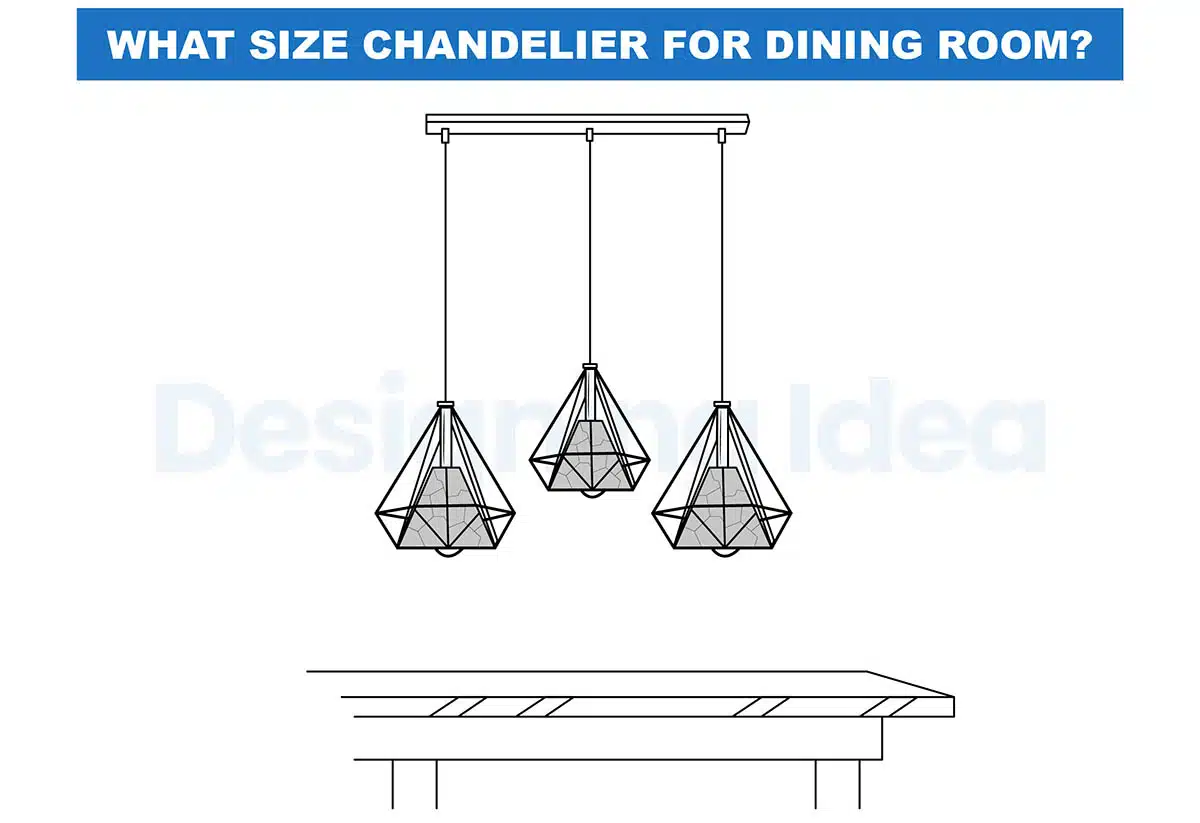 The simplest method to determine this is to choose a chandelier with a diameter of 1⁄2 to ¾ the diameter or width of the tabletop.
For instance, if the dining table is 48 inches wide by 60 inches long, a 24 to 36 inches diameter would be the best chandelier size to complement a dining table.
What Shape of Chandelier for Rectangular Table?
Shapes that match look best. Therefore, rectangular chandeliers are also best suited to long, rectangular tables.