Discover different wall sconce decorating ideas, including illumination solutions for entryways, vanities, kitchen counters, and children's bedrooms.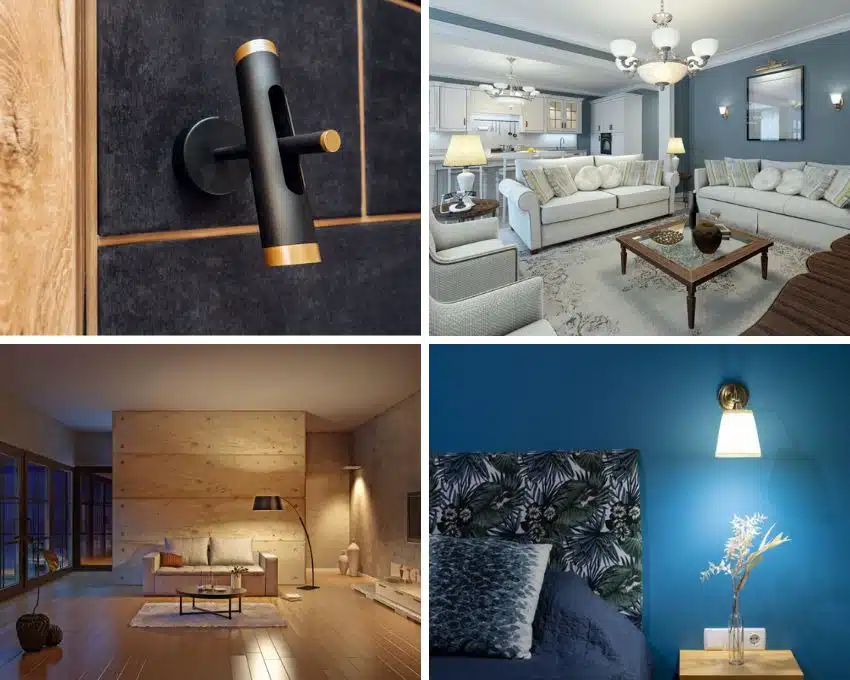 Wall sconces are versatile wall-mounted lighting fixtures that create productive, safe, and aesthetically pleasing spaces without the need for complex installation. The term "sconce" particularly refers to the part of the lighting fixture that attaches the lamp (the source of illumination) to the wall.
Modern sconces have been derived from wall bracket candles or torch holders from classical antiquity, making them one of the oldest lighting fixtures.
From Wallchiere sconces to globe glass sconces, these wall-mounted lighting fixtures can easily elevate a space, creating the mood or style for both exterior and interior areas. Explore the following popular sconce decorating ideas here.
Entryway Sconces To Welcome Guests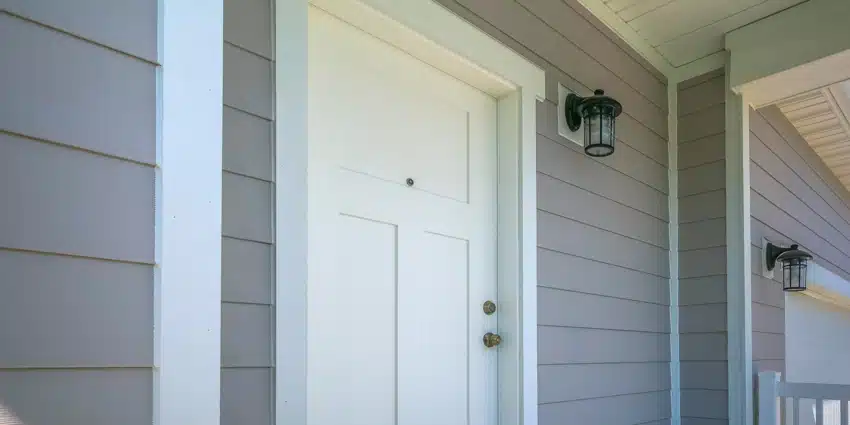 Framed pictures, décor pieces, or a display of items of a hobby or interest are popular elements in an entryway or foyer. Create a warm welcome and introduction to your home by highlighting this ensemble with wall sconces.
The wall lighting fixtures can come as a pair where each sconce is placed on each end of the table or as a row parallel to the length of the table, evenly spaced. A large mirror or painting can also be mounted on the wall just above the console table, where a pair of sconces are placed on each side of the painting or mirror.
Free Up Space In Your Vanity And Prevent Casting Shadows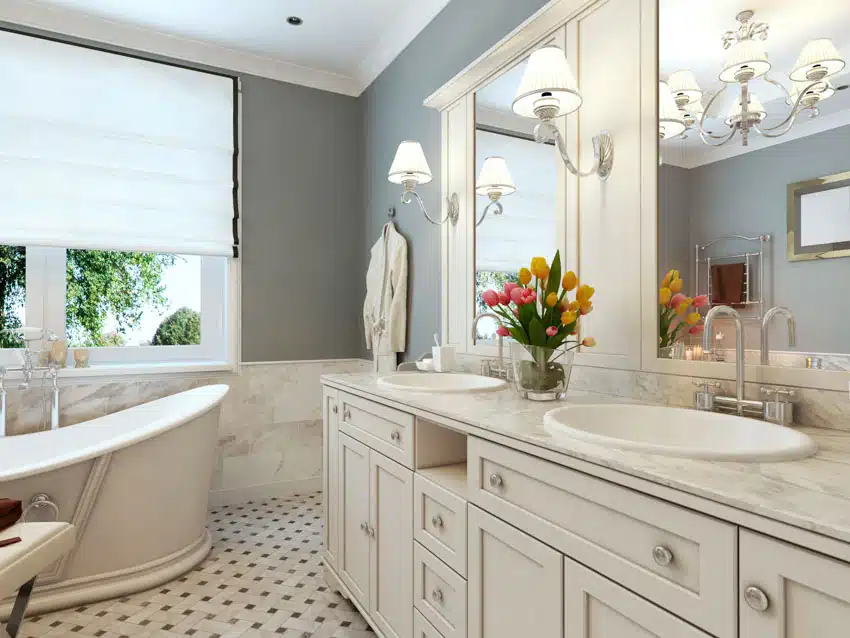 Most vanities in a bedroom or bathroom usually have limited space Installing bathroom or bedroom wall sconces just above the vanity counter or table can free up some space to accommodate other items.
The wall-mounted fixtures also make adjusting the preferred height and lighting design easier to prevent glare or cast shadows. According to interior designers, it is ideal to place the sconces at eye level, but since heights vary, the best range of height is from 65 to 70 inches from the floor. The interior designer
Donna Mondi, an interior designer from Chicago, suggests a 66-inch-off-the-floor installation of sconces to prevent casting and create an even illumination across the face. Norburn Lighting, a Vancouver-based ALA Certified Lighting Consultant, recommends a 30″ to 36″ distance between sconces when framing the mirror.
Wall Grazing for Textured Walls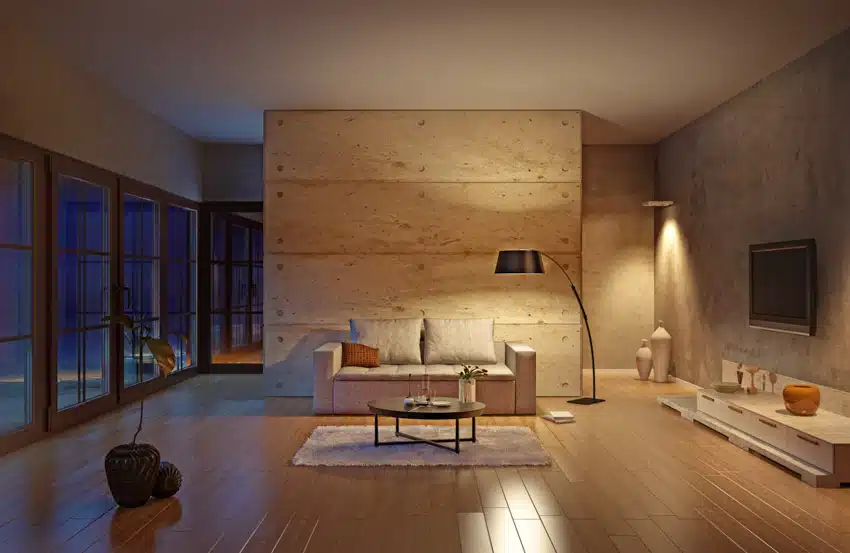 Use sconces with an uplighting effect to graze the wall, highlighting its texture or architectural features. This technique adds depth and visual interest to the space.
Create A Feature Wall Or Focal Point Using Up-Down Sconces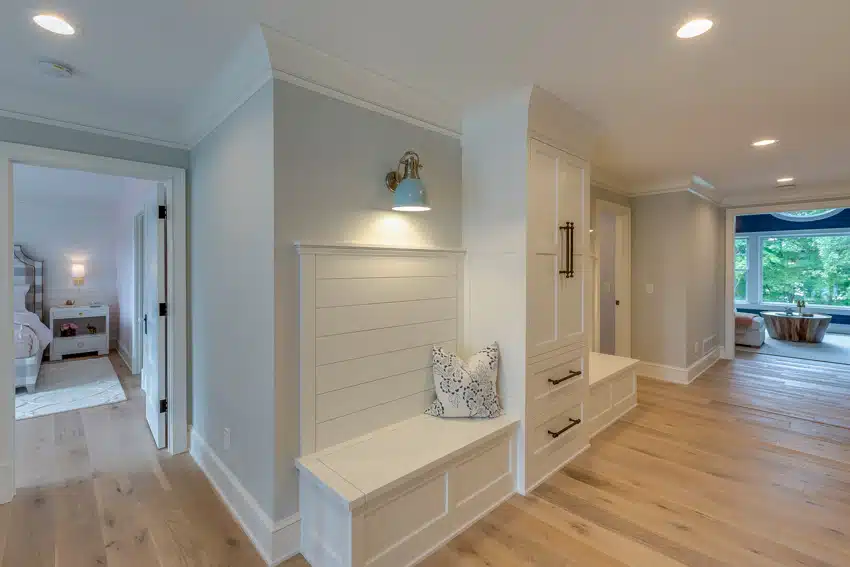 Arrange several pieces of up-down sconces to fill in walls behind a sofa, bedroom, hallway, dining area, or any expansive blank space. The light projected can form interesting patterns and add dimension to the interior.
For instance, an alternating placement of up-down sconces evenly spaced can create an interesting cast of light, usually forming a triangular or concave-shaped light on a wall. Random placement of up-and-down sconces can create a unique design.
Armed Sconces To Light Up Kitchen Counters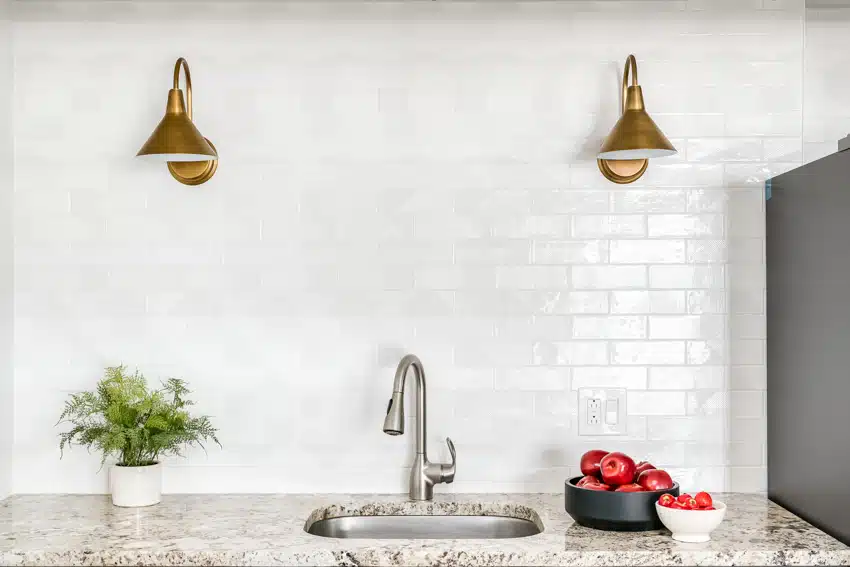 Task lighting is important in kitchen spaces, especially with a long counter accommodating several functions. Adjustable kitchen wall sconces can effectively light up counters. Install several of these lighting fixtures just above the wall behind the counter to provide distributed light along the counter.
Eugene Colberg of Colberg Architecture says, "Recessed and track lighting in the ceiling can make the room brighter overall; however, when one uses a kitchen, you typically face the countertop, prepping and cooking.
When light is behind you, you have a shadow in front of you. Make sure to install sconces positioned at the front counter, and an adjustable arm sconce can further help reposition a row of sconce lights according to the task at hand.
Decorative Bedside Sconces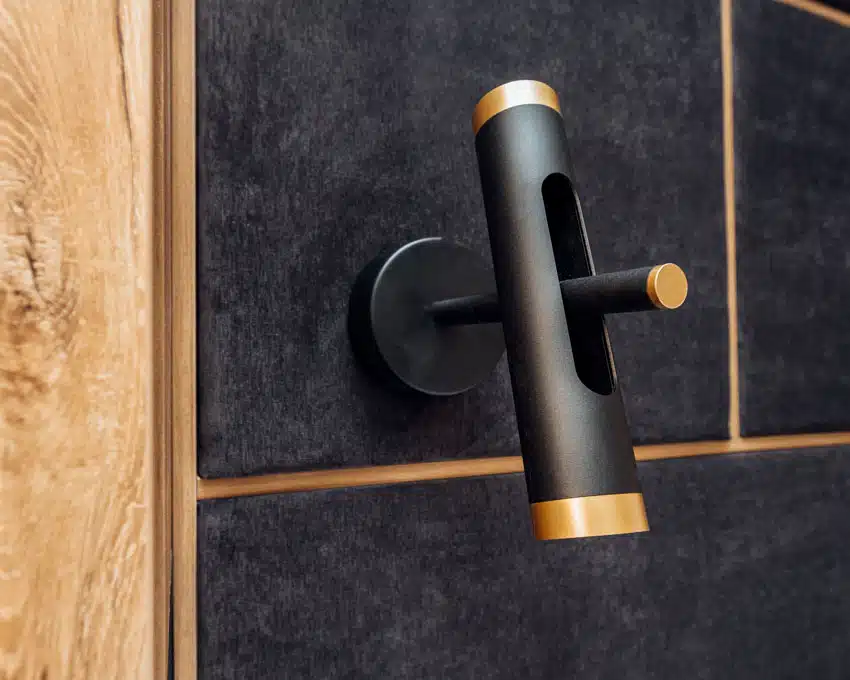 A pair of adjustable bedside sconces can be an excellent addition for those who like to read in bed. These can be attached directly to the wall or headboard to direct light exactly where you want it.
For a child's bedroom, choose fun, playful, themed bedside wall sconce designs that appeal to kids, such as animal shapes or whimsical color motifs. Be sure to prioritize safety when selecting a kid's bedside wall sconce with no sharp edges and a secure installation of wires and other electrical parts. A battery-operated wall sconce is preferred when used in a kid's room.
Dimmable bedside wall sconces help adjust the light intensity at any time of the day or night, making it possible to control light for different functions. Look for light fixtures with dimmable switches and bulbs to control the amount of light intensity.

Pair these lights with a hanging chandelier, ceiling pendants, and flush or semi-flush fixtures to provide additional ambient illumination to go with the new task lighting.
An Oversized Sconce Light Doubles As An Art Piece Behind A Sofa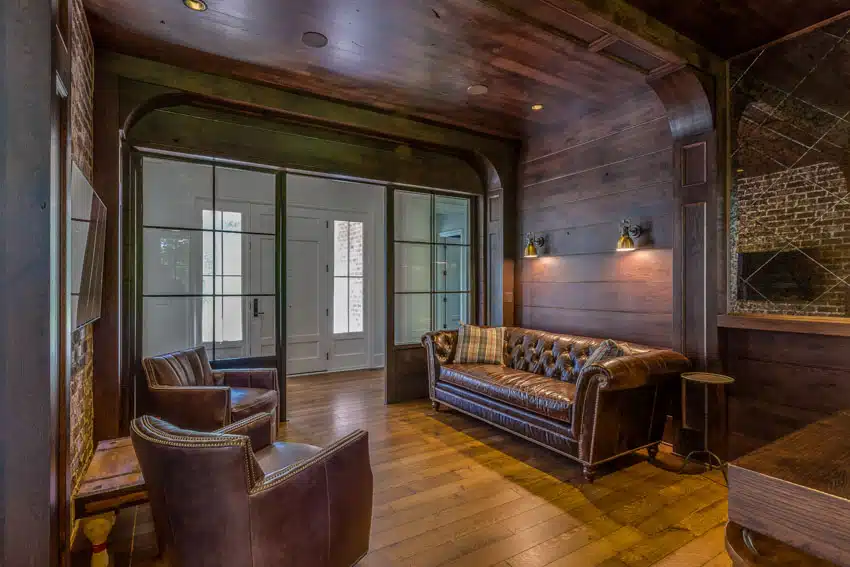 A geometric or round oversized sconce wall light in a living room as an intentional focal point can draw elements together. According to Scott Richler, CEO of Gabriel Scott, a Canadian design house and producer of contemporary furniture and lighting, 'Whether it's for a hallway, above a dining table, a bedroom, or a living space, there's no better way to create emphasis in interior design than a statement lighting piece.
Whether it be a sculptural chandelier or a series of cascading pendant lights, beautiful lighting is the decoration any home needs to make it feel warm, inviting, and luxurious.

Along with creating a focal point, the balance and proportion of decor elements and furnishings should also be considered when putting together an interior. Use dimmable sconce lights to offer more flexibility in a social space with several functions during the day or night.
Light-washed Walls For Loft Areas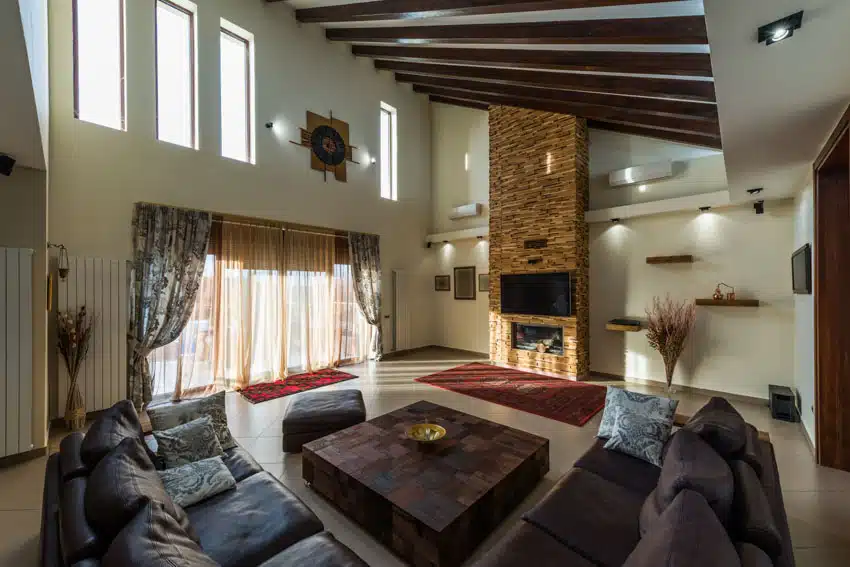 Loft areas will typically have large blank vertical spaces, and installing a wall sconce can create the mood and fill in the void of the large space with an upward, downward, or a combination of the directions.
Strategic placement of sconce lights can also exaggerate or give an impression of grandeur, and dramatic lighting, such as luminous colors against a dark backdrop, can also provide a theatric experience.
Light Up Shelves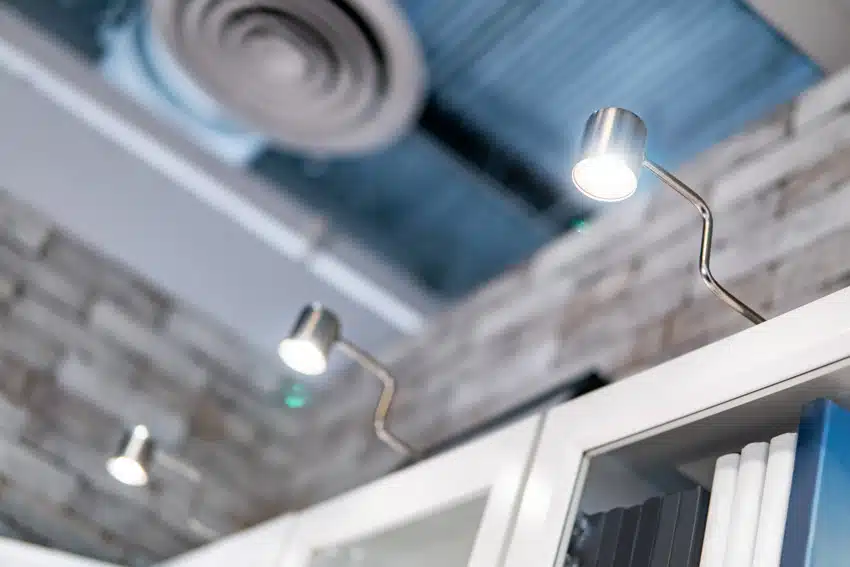 Tall shelves usually create dark areas above the furniture and look incomplete, with vacant space between the topmost part and the ceiling. A sconce can provide that finished look and fill in the blank space above an enclosed shelf.
Open types of shelves with a sconce or several sconce fixtures on top can add interest while also providing extra illumination to the tiers. An armed light sconce can also add dimension to horizontal shelves.
Long Sconces For The Main Door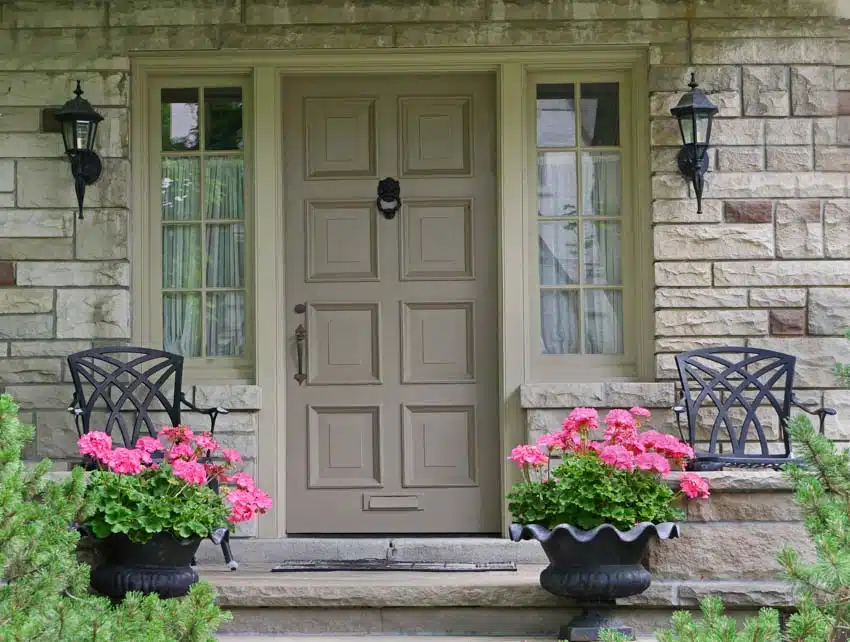 A long, sleek, and minimalist wall sconce can be installed vertically on each side of the entrance door, creating a modern aesthetic. The lighting fixture is also practical for doorways with tight wall space on the sides and can be installed on only one side when a pair of sconces is not possible due to the architectural design.
When installing outdoors, choose a wall sconce that is weatherproof. A certified electrician is required when installing new sconces on a wall without existing wires.
Wall Sconce Step Lights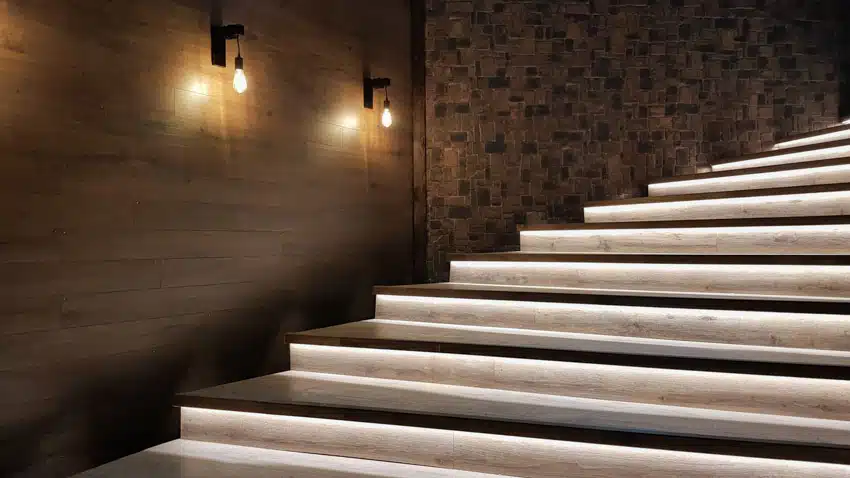 Install wall sconce step lights along a run of stairs without the complex wiring. Aside from the size and style, check the light's directionality when the wall step sconces are used. The illumination should be enough to provide light and be evenly distributed while not providing any glare or eye discomfort when going up or down the stairs during the night.
Motion sensor lighting is one of those useful home automation projects that not only makes life a little simpler, but they also help to cut down on the cost of electricity. – 25 Home Automation Projects for the Evil Genius, Jerri L. Ledford
Extra features such as motion sensors are helpful in saving energy. There are also solar (for outdoors) or battery-powered wall sconce step lights that are easily installed on any type of wall.
Luxurious Crystal Sconces for the Living Room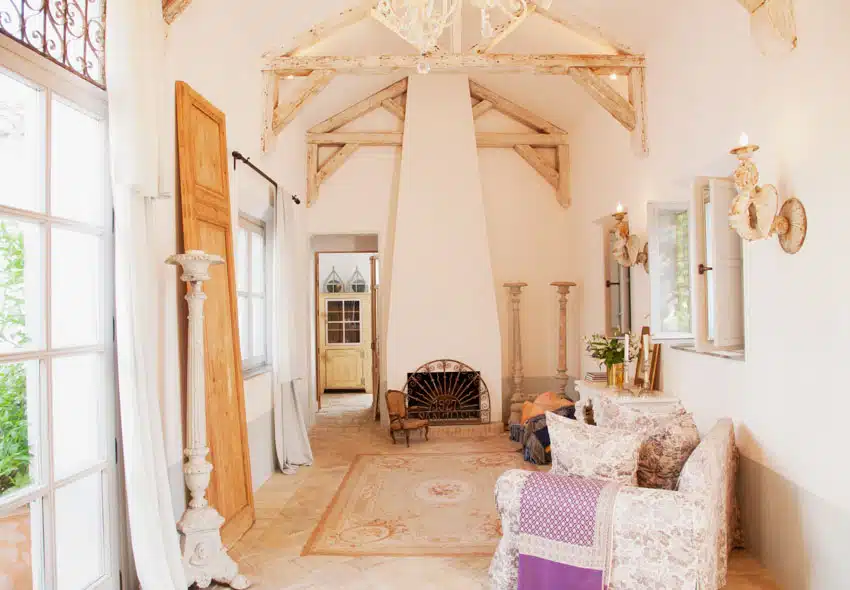 Elevate the ambiance in a living room with a luxurious crystal sconce. These sconces have intricate designs with crystals arranged similarly to types of chandeliers with metal brackets. The most common finishes for crystal sconces are brass, antique bronze, chrome, silver, or matte black.
Aside from the style, proper proportions and the general profile of the lighting fixture should be considered. With its more intricate design, a maximum of three sconces in one area is recommended so as not to look overwhelming. A consideration when choosing crystal sconces is that they can be challenging to clean and maintain due to the individual parts.
Rotating Recessed Sconces for Bedside Reading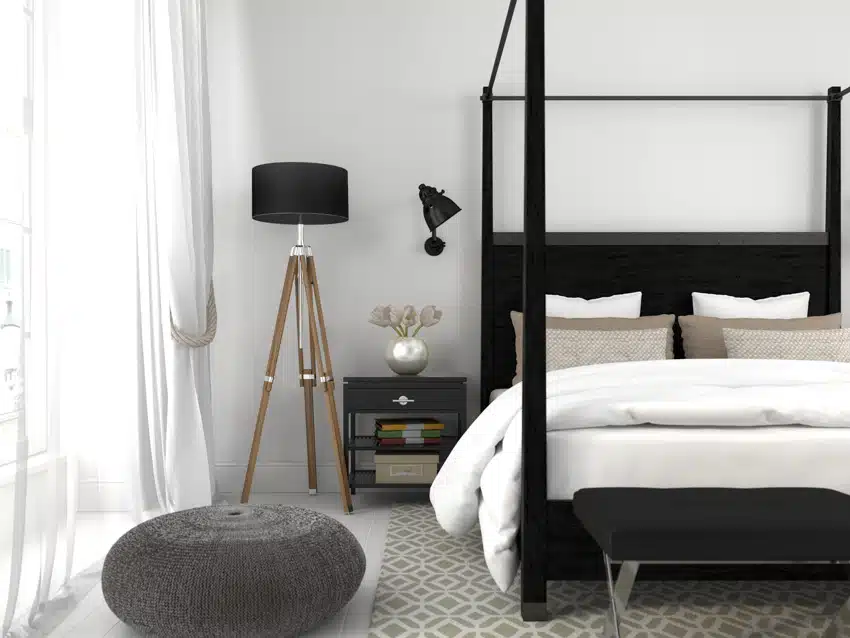 A wall lighting fixture is installed along stairs or hallways. Since it is a recessed sconce wall light, there will be a need to embed the lighting fixture into the wall, which means cutting off a part of the wall to accommodate the shape of the sconce.
Ensure there's enough space and access behind the wall for wiring installation. Also, the wall structure and material can be cut without disrupting any hidden wires or plumbing.
Adjustable Sconces for the Picture Gallery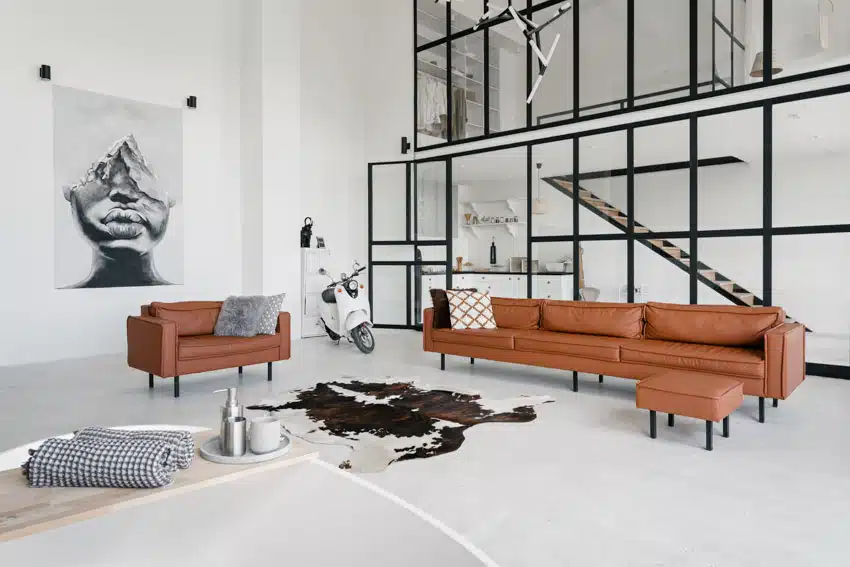 Mount one or more adjustable sconces just above a wall in a gallery. Often, sconces are installed on each side of a wall décor element to provide an invisible frame or to visually extend the element's width.
For artworks such as paintings or picture galleries, as a general rule, lighting is best provided above the artwork. According to Harry Triggs, the co-founder of the London-based design company TM Lighting, "A lot of what we try to replicate in artificial lighting is what we see outside. Think about the light from the sun; that's the perfect light, and it comes from above."
With various designs, one can select the best sconce design to match any picture gallery configuration. A number of wall sconces can be distributed evenly above the gallery to create even lighting.
An adjustable arm can extend the fixture or adjust the position to light a particular picture frame. Another way to light a cluster of paintings is through a long horizontal wall sconce installed above the gallery. This way, you get even lighting for your picture gallery.
Light Up Corners With Sconce Lighting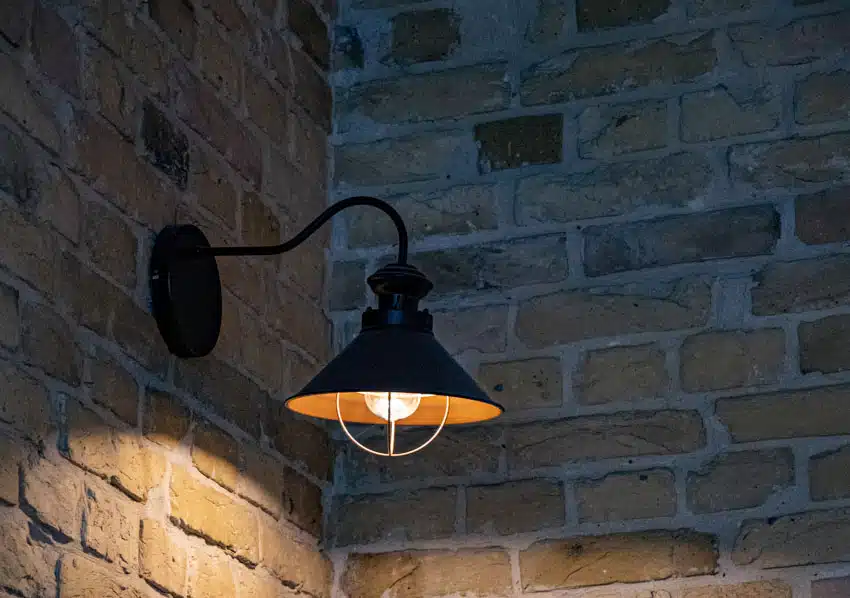 Install sconces at the upper corners of the walls, diagonally across the corner. This positioning allows the light to spread evenly across the corner and eliminates shadows, providing a balanced and well-lit area.
Corner sconces feature a distinct angled design directing light toward both corner walls. This design helps to distribute light evenly and illuminate the corner effectively. Corner sconces are designed to fit snugly into corners, making them an excellent space-saving lighting solution. They don't protrude into the room like traditional wall sconces, maximizing the available space.
Kitchen-Dining Wall Sconce Layered Light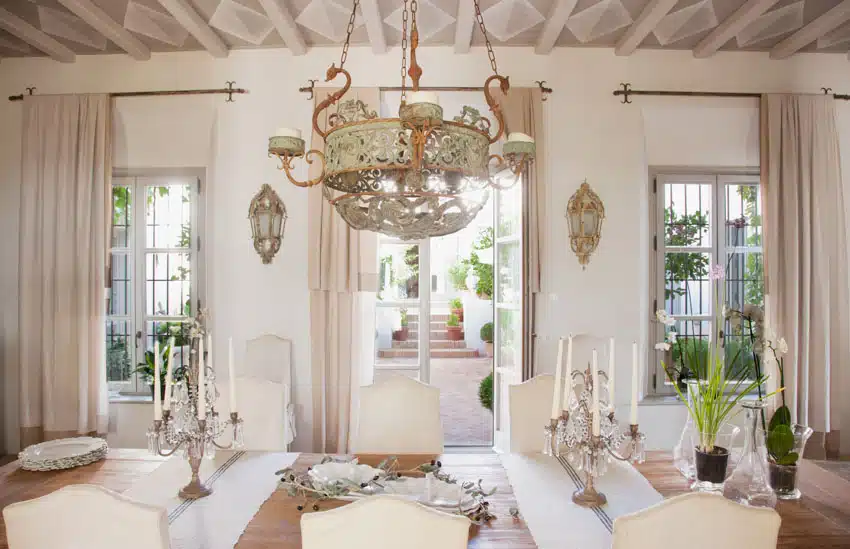 Lighting design is one of the challenges of expansive open rooms, and one way to create a cohesive space is by layering light sources. Sconces are versatile and easily installed without dismantling or cutting the ceiling.
For rented apartments, layering lights in different directions can be a challenge. Use floor lights combined with sconces and other lighting fixtures to tie up elements while creating the intended mood.
Suzanne Duin, owner of Maison Maison, an interior design service and antique and décor shop in Paris, recommends a mix of lighting to create a warm and relaxing space while bringing a room to life and emphasizing different design aspects for different functions. From vintage farmhouse to modern industrial, there's a style of sconce to fit the room's design.

Statement Sconces to Frame a Fireplace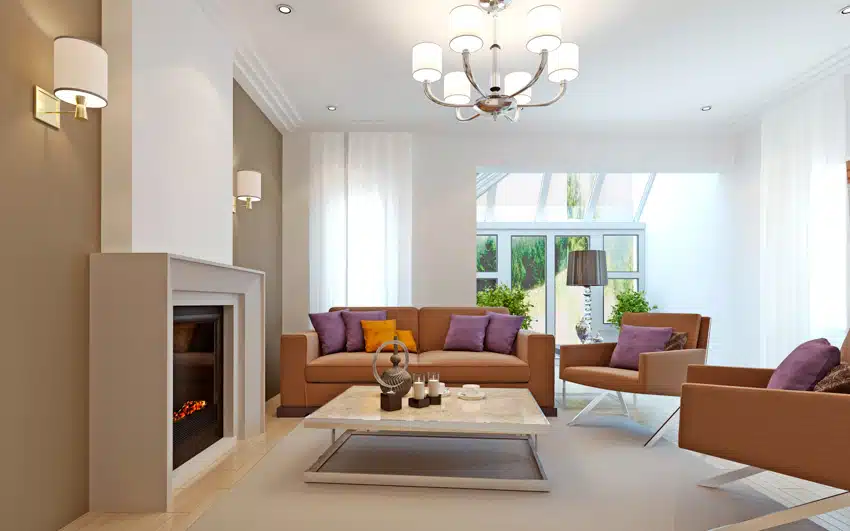 Whether a fireplace is traditionally styled or has a streamlined version, sconces placed on the sides to frame a fireplace are a popular lighting design. Contemporary and modern interiors can employ statement sconces that are usually more edgy or elaborate, which can be sculptural pieces in themselves.
If your fireplace has a mantel, ensure that the sconces are placed at a height that allows them to visually extend beyond the mantel's width. This creates a cohesive and balanced look.
Accentuate Columns With Sconce Light Fixtures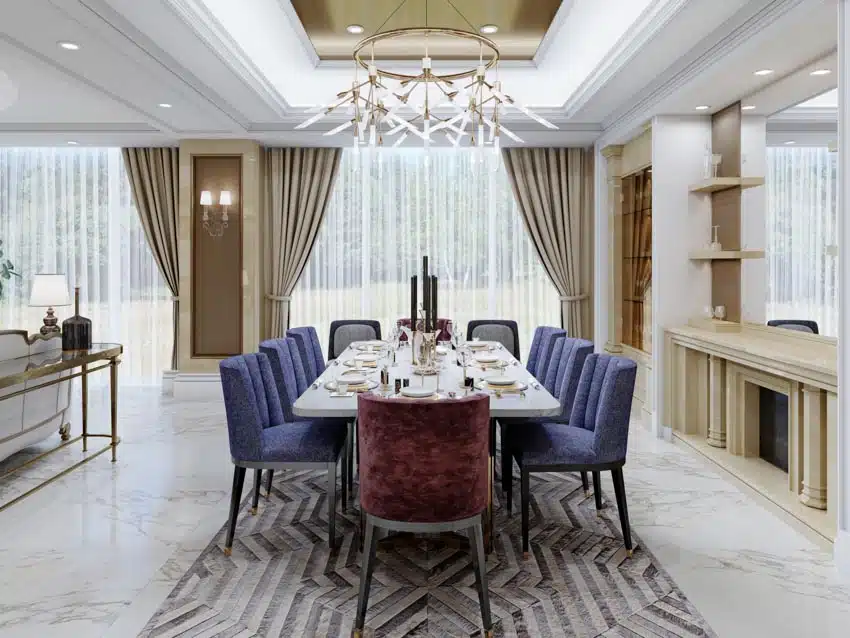 Wall sconces are the perfect lighting fixture to accentuate columns, whether seen outside or indoors. Wall sconces can highlight an architectural feature, texture, or material using different directions or angles, creating a layered and dimensional quality.
Installing sconces is relatively easy, and battery- or solar-powered wall sconces can be great options. For electrical wiring, though, getting a professional electrician to do any wiring configuration required by your local electrical code is recommended.
Smart Integration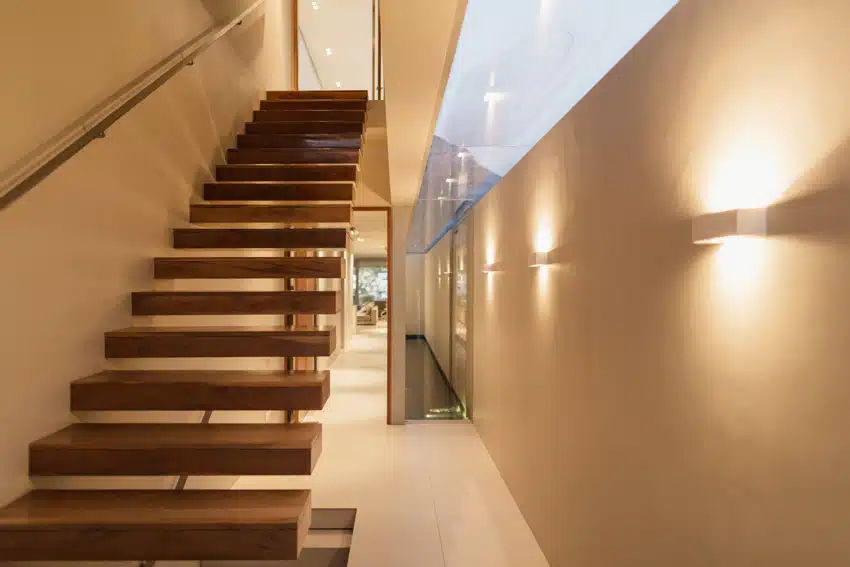 There are wall sconces that can be integrated with a home's smart control system, making it easier to customize and manage the lighting fixture's functionality. They are usually controlled using a smartphone. Voice control, smart lighting scenes, smart switches, smart bulbs, remote access, geolocation, and proximity detection are just a few features that can be utilized in tech-ready wall sconces.
​​See more related content in our article about mood lighting in the living room on this page.