This beautiful American Craftsman house plan comes with a 2-story floor plan and layout ideas for living rooms, kitchens, and dining rooms.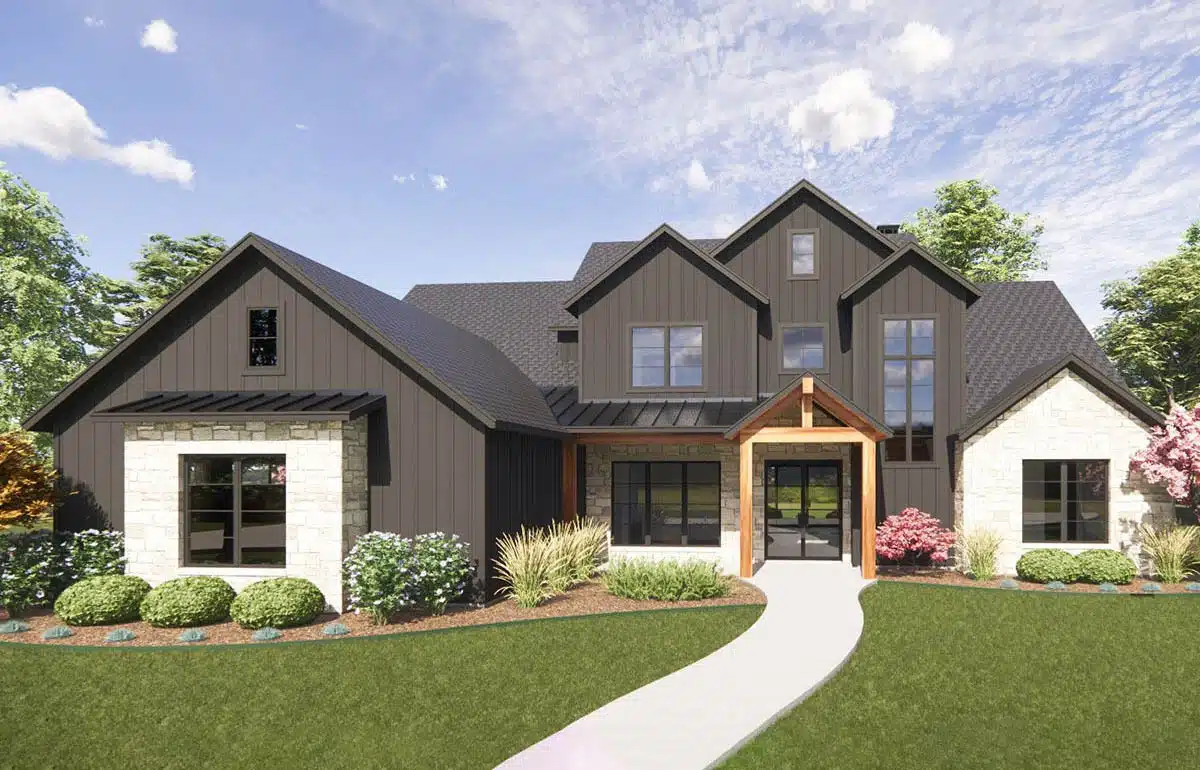 This is a home that already looks warm and inviting from the outside, with plenty of curb appeal. With eye-catching architectural decisions like the eye-catching dormer window designs and a stone facade paired with siding already make this home memorable from the curb. Once you get inside, there are 3,880 square feet across two stories with four bedrooms, 3.5 baths, and a 3-car garage.
Modern Craftsman Floor Plan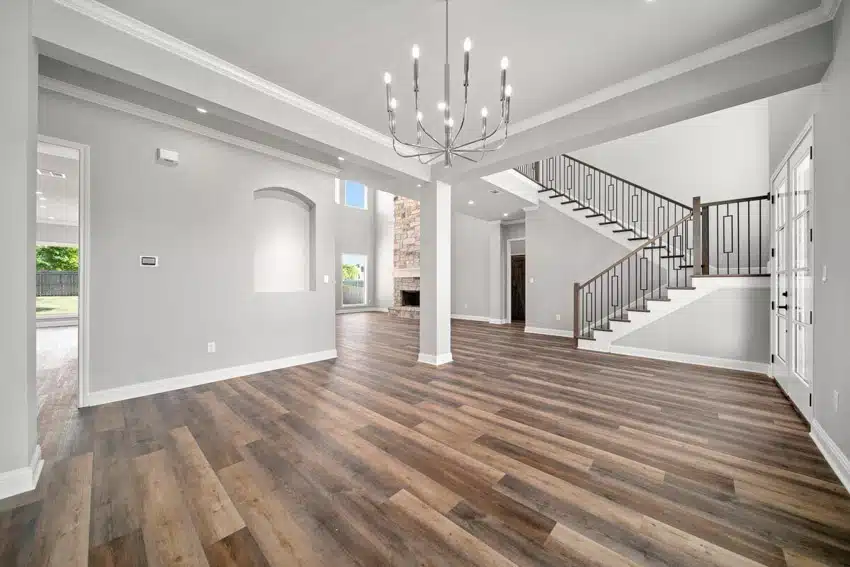 This stunning design is two stories, and both the main level and second floor offer a lot of room and versatility to any family looking for space and a bit of modern elegance. Even from the outside, you can see that this is going to be a beautiful, inviting space before you even open the door.
Main Level Layout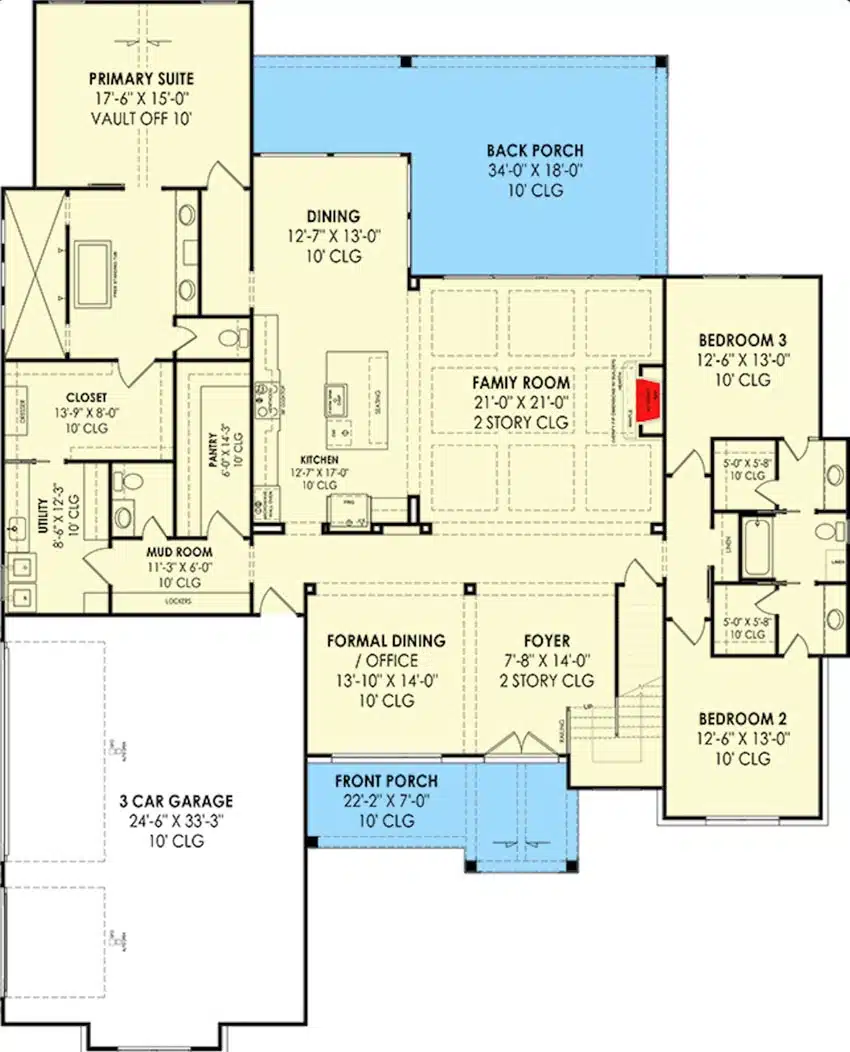 New American craftsman home plan 818034JSS – See this plan here.
On the main level, you have a lot of the high-traffic areas of the home. When you open the door, coming in from the front porch, you'll walk through the foyer and find yourself in a spacious family room.
From there, the floor plan flows naturally into the kitchen and dining area. If you want more fresh air, you can spend time on the large back porch patio as well. The main level also features three bedrooms that are spacious and private, as well as plenty of closets, pantry space, a mud room, a 3-car garage, and three bathrooms.
2nd Floor Layout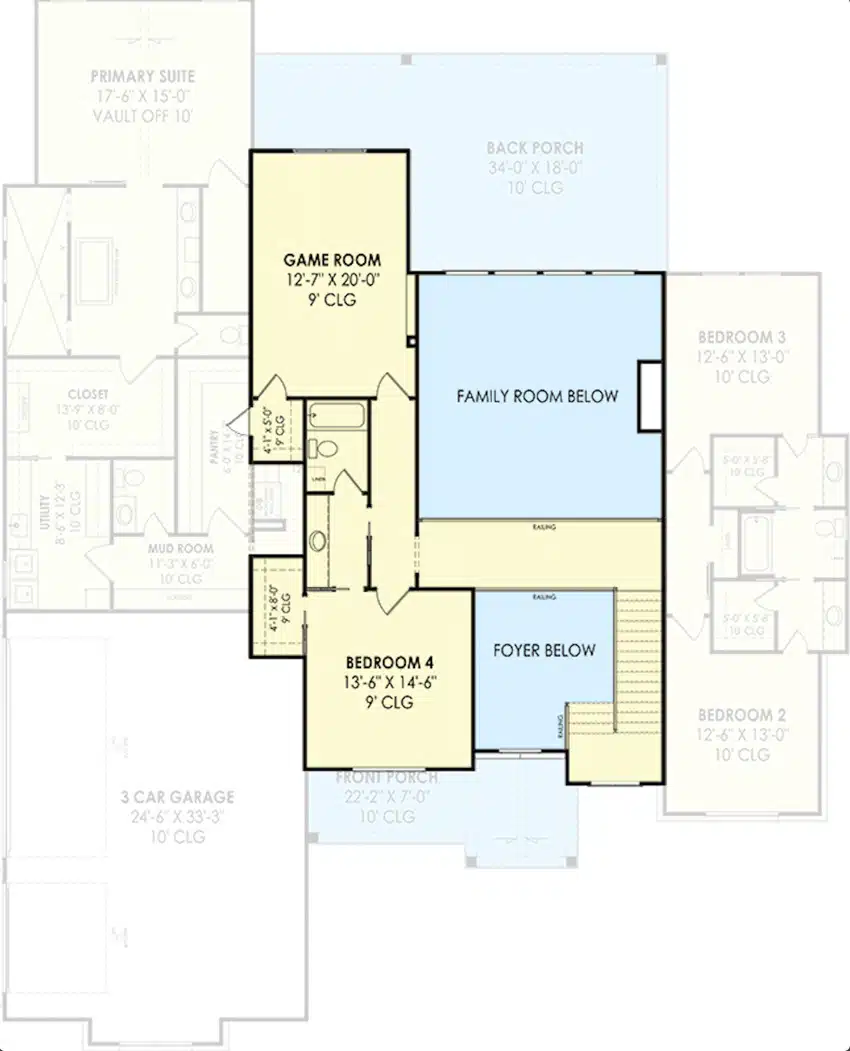 The upper level of this two story craftsman style house interior floor plan is geared more toward privacy. The first thing you'll see as you reach the end of the landing at the top of the stairs is another bedroom. Directly across the hall is another room, a bonus flex space to use as you please, with a bathroom conveniently between the two rooms.
Bonus Flex Space Second Level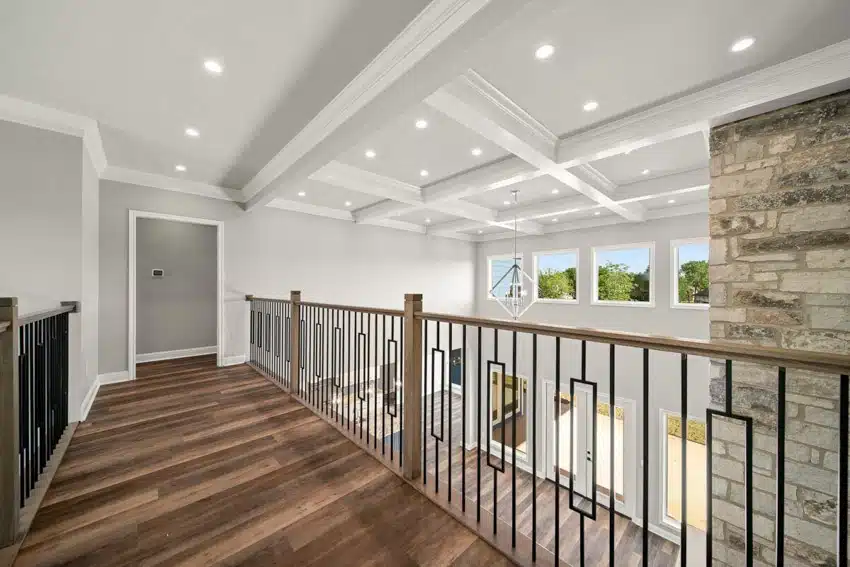 There is a space on the second floor labeled in the plan as a game room but this space is quite flexible, giving you the chance to customize it to meet your family's needs.
At 12' 7" by 20', this is easily big enough to serve as another bedroom if you need it. Alternatively, you could use it as a recreation or workspace. Maybe you do want a game room, a spacious office to work quietly in, or a room to dedicate to your favorite pastimes. This space offers plenty of potential.
Open Plan Layout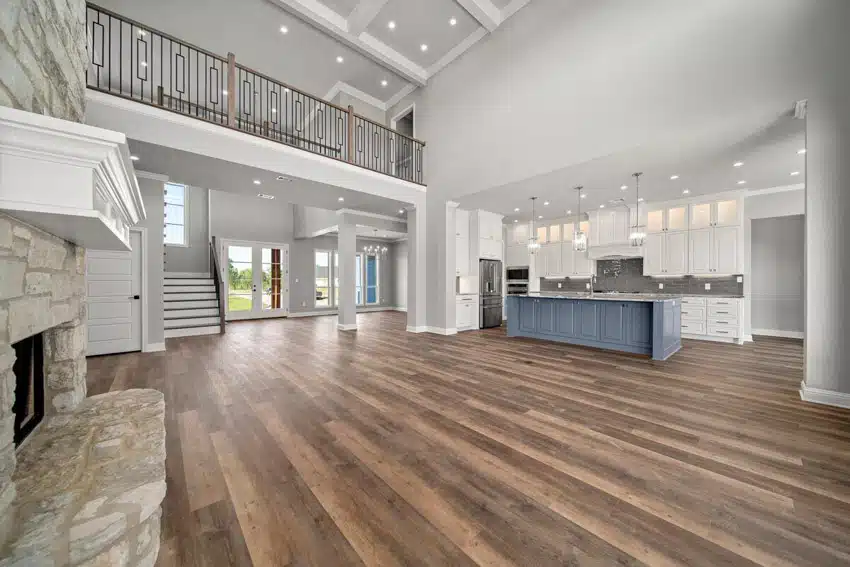 The layout of this American home flows naturally with an open floor plan with a focus on natural materials and handcrafted details. When you open the front door, you're greeted with an open foyer that leads you directly into the plan's family room.
Entering the home you're greeting with the craftsman style details that emphasize functionality and simplicity, with clean lines and minimal ornamentation. Since the living room shares an open plan with the kitchen, it's easy to entertain or just transition from dinner to dining on a quieter night.
Add on three downstairs bedrooms, one upstairs, and additional flex space, you'll have plenty of space for your family to get comfortable in. Not to mention, there's plenty of space for organization and storage.
Living Room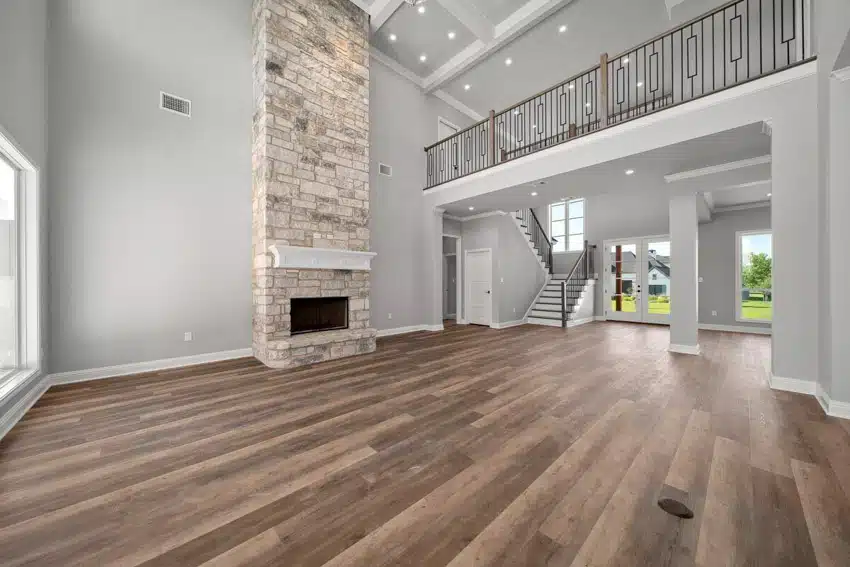 The family room in Plan 818034JSS is a spacious 21 feet by 21 feet, giving you plenty of room to stretch out and relax or entertain a big crowd. On top of this, the American craftsman living room has a natural, functional focal point with a tall stone fireplace. With a roomy mantle above it, it's an excellent place for a TV as well.
Without anything closing off the second floor above it, the living room has high timber framed box ceilings, and windows, making the room look even more prominent. Plus, it lets in some extra natural light to the space. The beams can be painted or left as natural wood depending on your preference.

Craftsman Kitchen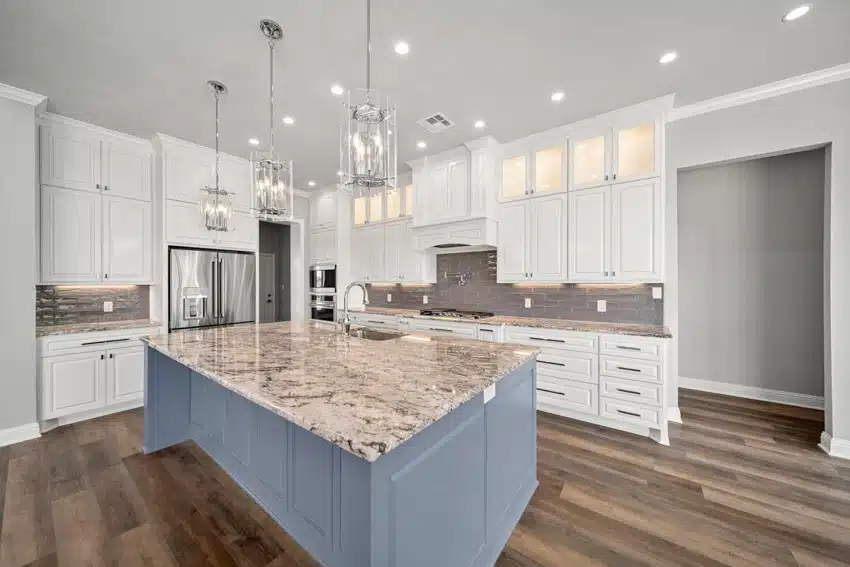 The living room flows directly into the large kitchen this house has to offer as well. The center of the kitchen is taken up by an island that gives you a lot of extra countertop space well-lit with beautiful pendant lights.
With plenty of space and accouterments like a pasta arm, deep sink, and large fridge, this kitchen is any home cook's dream. With so much space, it's great for hosting family meals or cooking with friends too. Ample cabinet and drawer space means all of your culinary tools can be neatly organized for when you need them too.
Craftsman Dining Room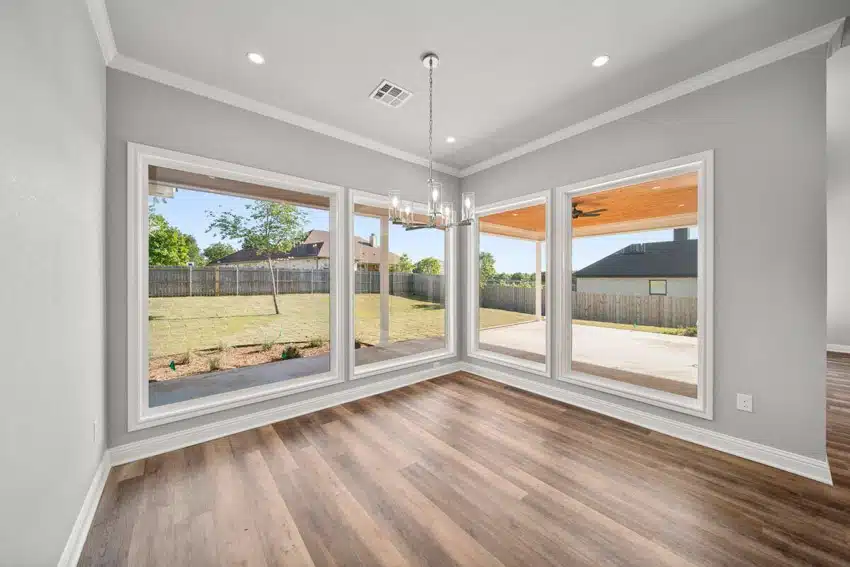 Once dinner is ready, you don't have to go far to call your family to a meal. There's space left at the far end of the kitchen for the perfect dining space. Even better, the space is flanked on two sides by massive windows. This not only gives you a great view into the backyard but lets in plenty of natural light while you eat as well.
This proximity to the kitchen and living areas means that you can entertain your guests in a well-tailored space and you don't have to struggle too much with getting dishes to the table.
Bathrooms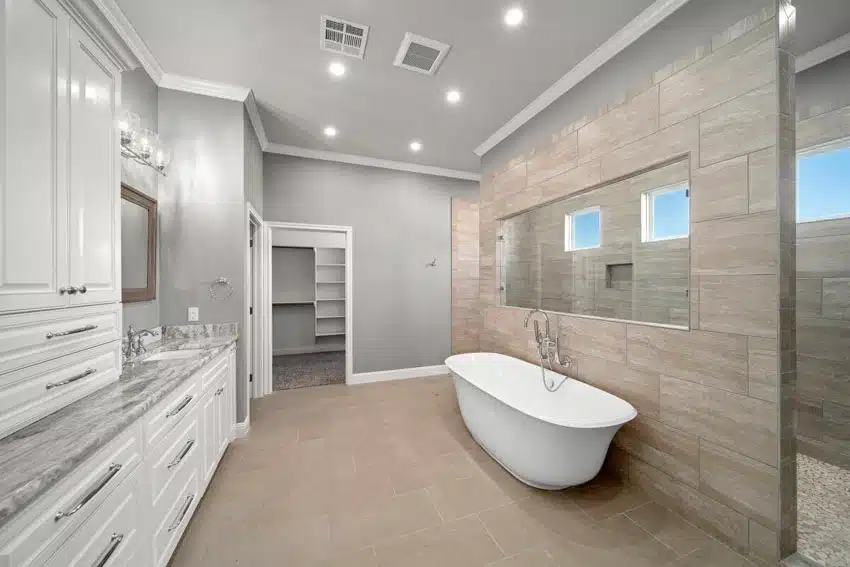 As mentioned, this home boasts 3.5 American craftsman style bathrooms in its floor plan. On the main floor, there's a half bath near the kitchen off the mud room, a full bath attached to the primary suite, and a jack-and-jill bath shared by the other two bedrooms. Moving upstairs, there's one full bath.
The primary suite's bathroom really takes the cake here. After a long day, there's the option to soak in a tub or, if you want something different, there's a full walk-in shower behind the tub. There's even a built-in shower bench if you want to relax or need a little more support.
Flexible Space Room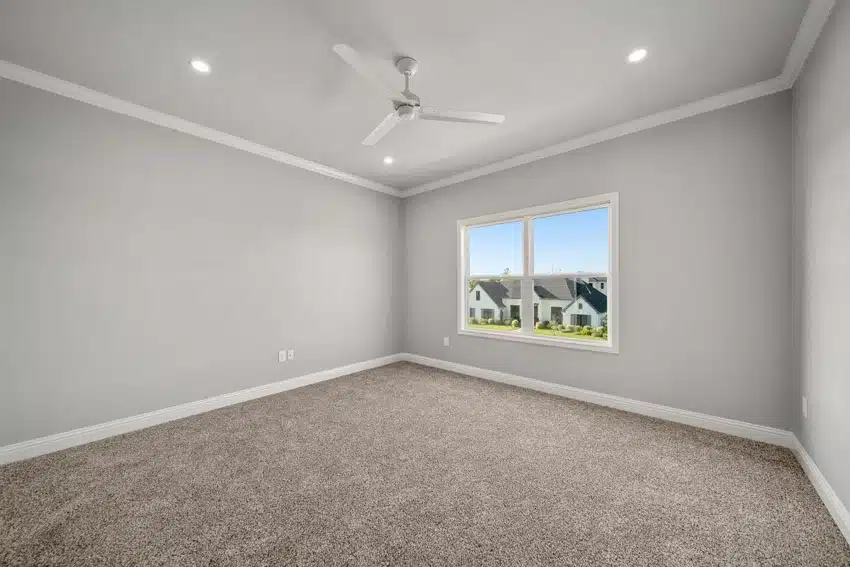 In this two-story house, there are four bedrooms, officially. However, upstairs, there's a flexible space that you can use as you please. This means that if you need an extra room to accommodate someone new, there's room for another bedroom.
Of course, that's not the only thing you can use in this 12'7" x 20' space for nearly anything. It'd make a great game room, home office, playroom, media room, workout room, craft room, or more. It's a space to fit your family.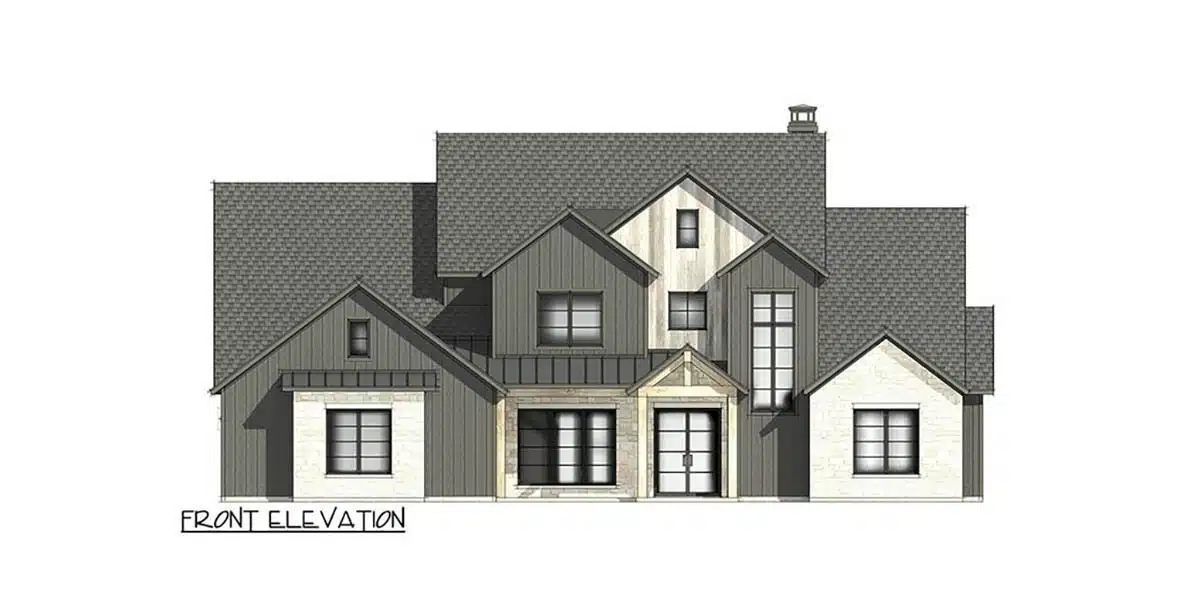 This rendering image shows the front approach to the house, including the numerous gable and dormer framed window designs, stone and wood siding with chimney. the home foundation features a monolithic slab or slab on grade foundation that is poured as one single application, according to Dalinghaus. The builders' architecture plan allows for a variety of construction customizations depending on the budget of the client.
3-Car Garage
New American craftsman home plan with 3-car garage – Buy this plan here.
Another big benefit of this home plan is the attached garage. You can hop out of your car and walk right inside, keeping yourself and your vehicle safe from the elements. This one is spacious too, leaving enough room to park three cars inside without a problem comfortably.
See more related content in our article about mountain craftsman house plan on this page.