Get ideas from this modern farmhouse plan with gables, including a rear porch, spacious garage, main room, primary bedroom, and a gourmet kitchen.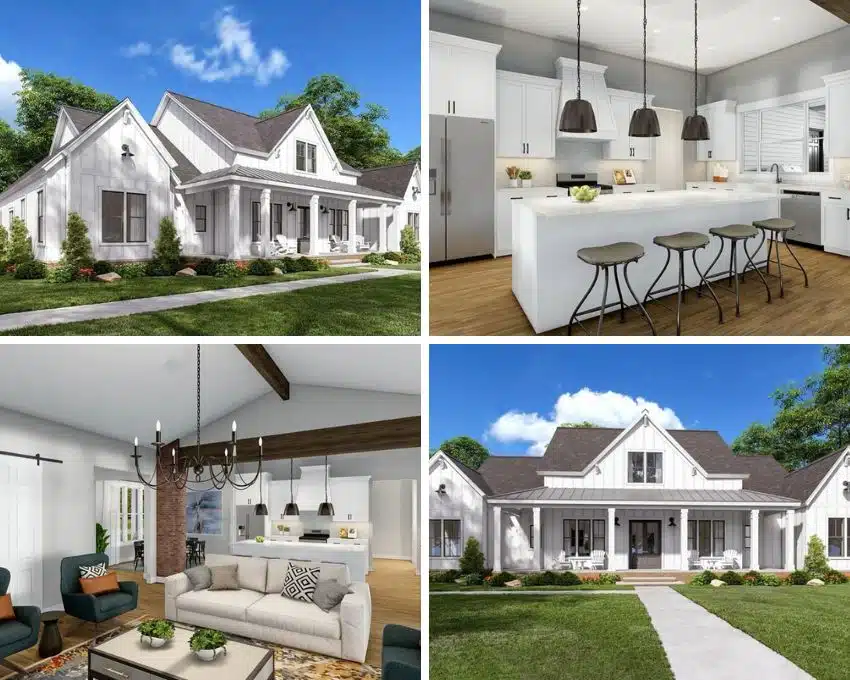 Achieving the perfect blend of style, comfort and functionality is key when crafting a dream home – and with modern farmhouse plans, you can nail all three! They provide a cozy living space with an aesthetic that seamlessly merges modern and rustic vibes.
This amazing 4-bed modern farmhouse plan is truly out of this world! Its layout offers a ton of room to move about plus enough goodies to make your friends envious. It's the picture-perfect option for busy families or those who just love having folks over.
This mod-farm design confirms it's got all the must-haves for families of any size! Boasting a heated hood of 2,400 sq. ft., and a handy one or two-story option, you can't go wrong. Let's delve into the standout features of this fabulous house plan. There's so much to give it that wow factor from the architecture to the decor.
Exterior Design Plan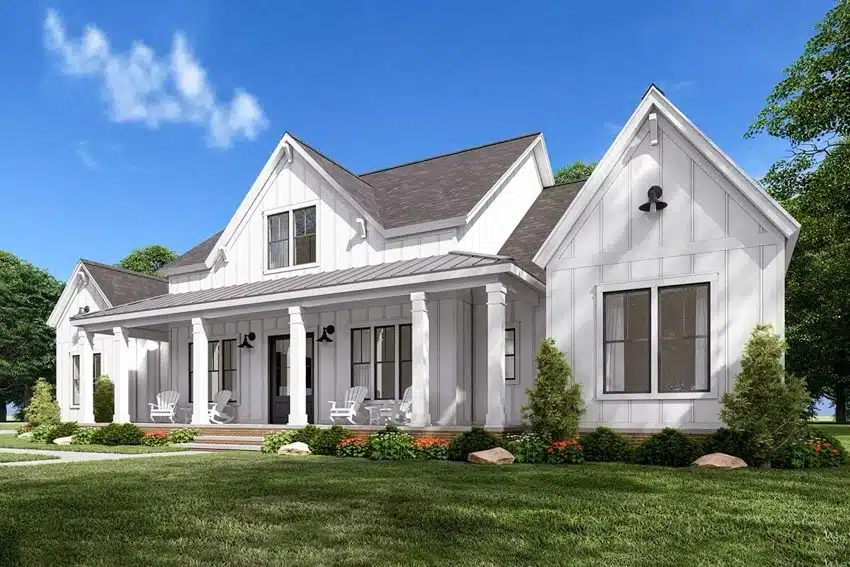 See this modern farmhouse plan with 4 bedrooms floor plan on this page link.
Here we share the exterior design elements of this modern farmhouse.
Two Gables and Board and Batten Siding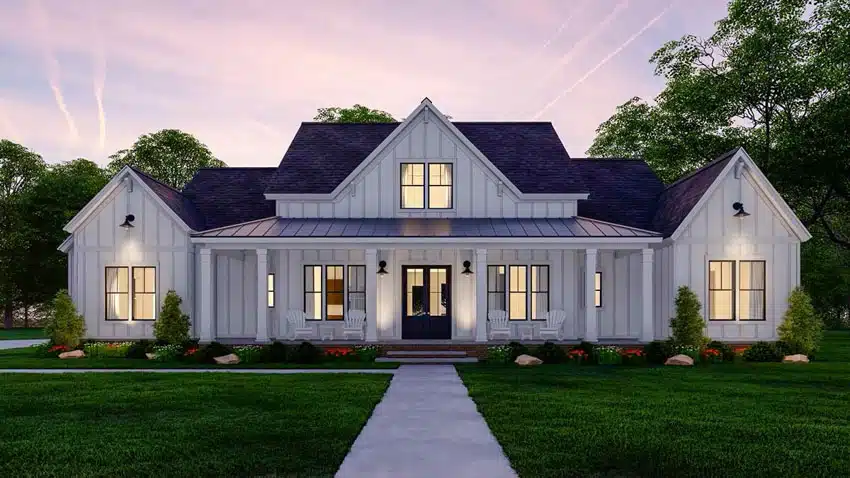 This house will seize you with its captivating balance as soon as you lay eyes on it. It's got a pretty-as-a-picture porch with 10 ft high ceilings and a 4:12 pitch, flanked by two gables, and don't miss the old-school gabled dormer over the front French doors, inviting you to come in!
Completed with board and batten siding for texture, this property will always have something to charm you by.
A Rear Porch with Dining Space, Outdoor Kitchen, and Access to the Powder Room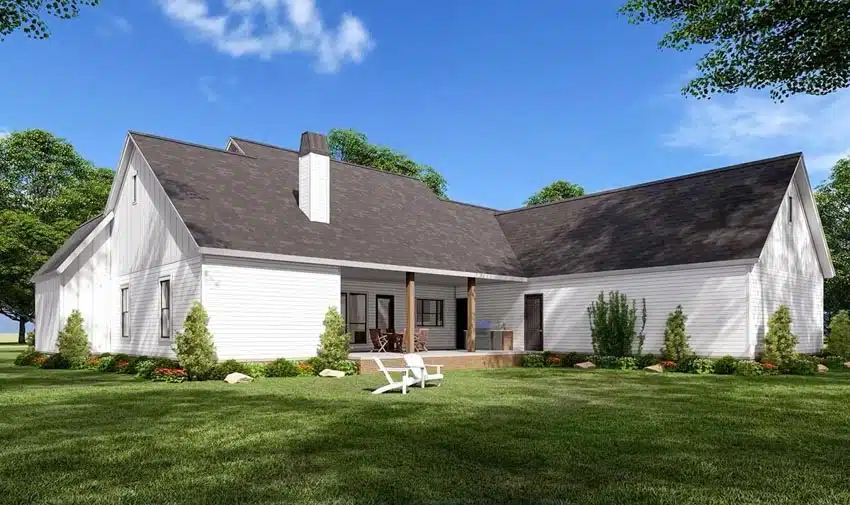 Check out this awesome rear porch: perfect for al fresco dining, it features an outdoor kitchen and access to a powder room. How swanky is that? What a great spot to throw a summer shindig or kick back and relax with friends and family.

The rear porch, equipped with access to a powder room, is one of the most eye-catching features of this 4-bed modern farmhouse plan– perfect for entertaining guests or when family members come traipsing in from the garden and need to spruce up quickly!
Those warm summer months, when the perfect spot for two and four-legged family members to fire up the grill and dine al fresco, can be found right near the outdoor kitchen. To ensure everyone's comfortable, a dark-finished wooden dining table surrounded by five matching chairs is set up on the rear porch. Who could ask for more?!
The powder room has a handy pocket door leading to the mud room, which is great when you need to transition indoors and out. This spot's perfect for stashing your shoes and jackets – plus it keeps the house tidy because of its wooden racks and shelves.
The gold-finish of the hardwood porch columns truly evoke a farmhouse atmosphere, enveloping the home with warmth and charm. It's as if they are inviting you and your guests to step into a cozy, friendly environment – delightful!
Spacious Garages for Your Vehicles and Gear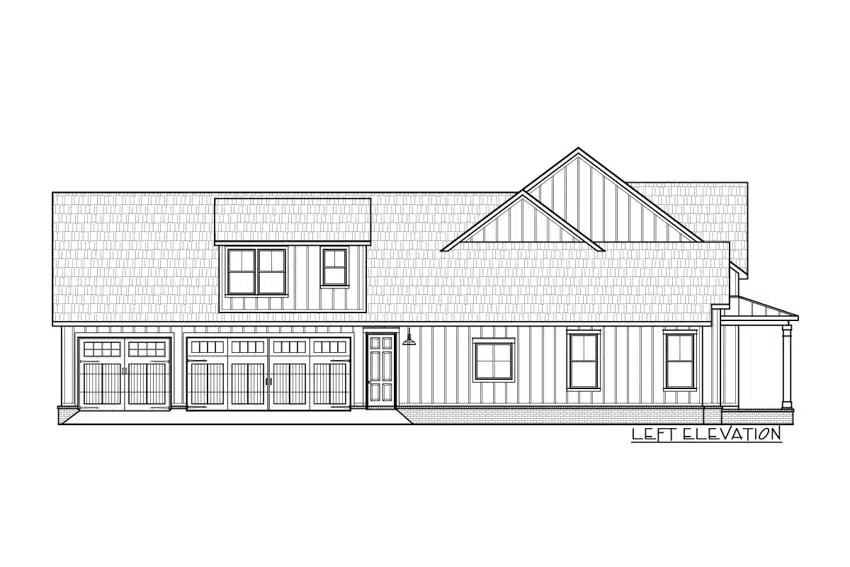 This house offers a 3-car garage boasting a man door to the backyard – perfect for parking your vehicles and stowing away all your gear. Talk about prime real estate, this place offers two separate openings for two cars so you can decide how best to use up all that space.
Got two cars? Go with the version for two and you'll have yourself a big 'ol 24′ x 25'-8″ garage! Plenty of room to park those babies and even squeeze in a workbench or storage. You can't go wrong!
Interior Design Layout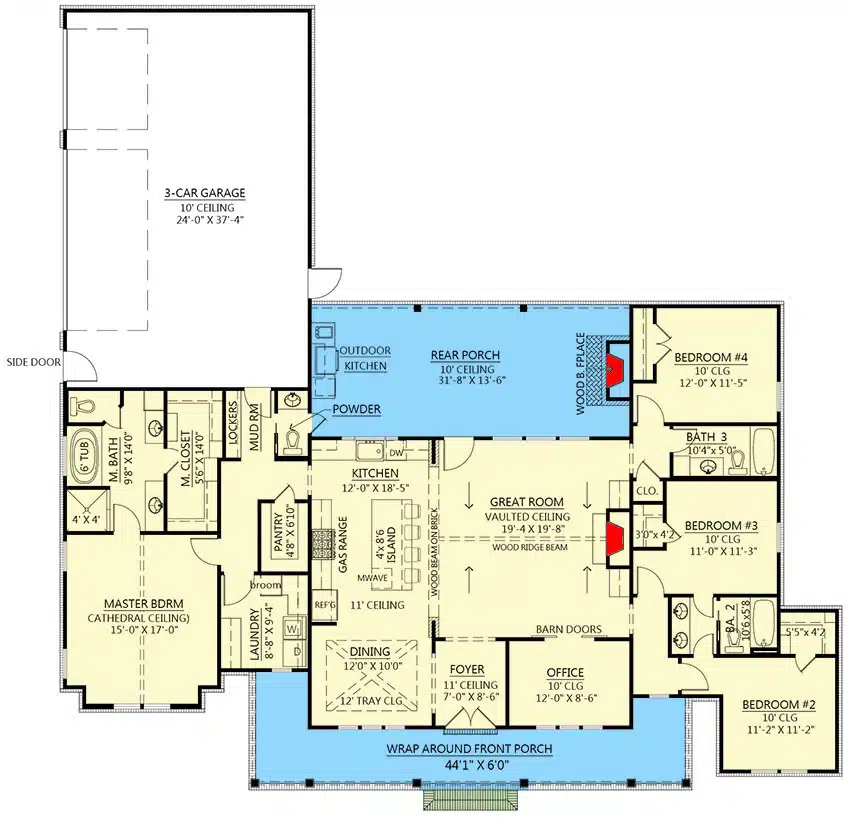 Here we share the interior design elements of this modern farmhouse style home.
Extremely Inviting Main Room and Foyer – High Ceilings and Cozy Fireplace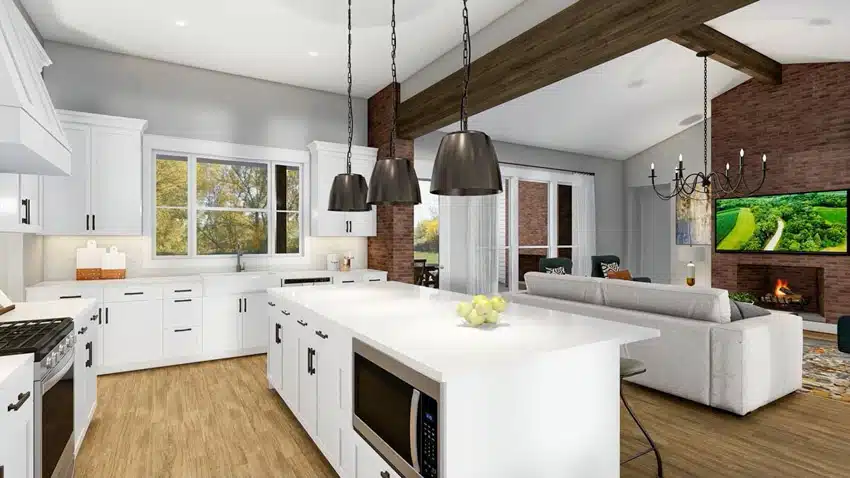 Walking into the foyer, your eyes might pop out—so striking are the white-painted vaulted ceilings! With its brick fireplace in just the right stage-left spot and flanking built-ins, this spacious room practically begs you to throw a get-together.
Expansive windows look outside onto the back porch, welcoming you to gaze at the views and linger in this cozy abode.
The exposed wooden beams create that classic farmhouse feel – adding atmospheric warmth to the interior. Meanwhile, the white oak hardwood flooring bring a touch of elegance and further add to the cozy vibe in the main room.
Gorgeous and Balanced Modern Farmhouse-Style Living Room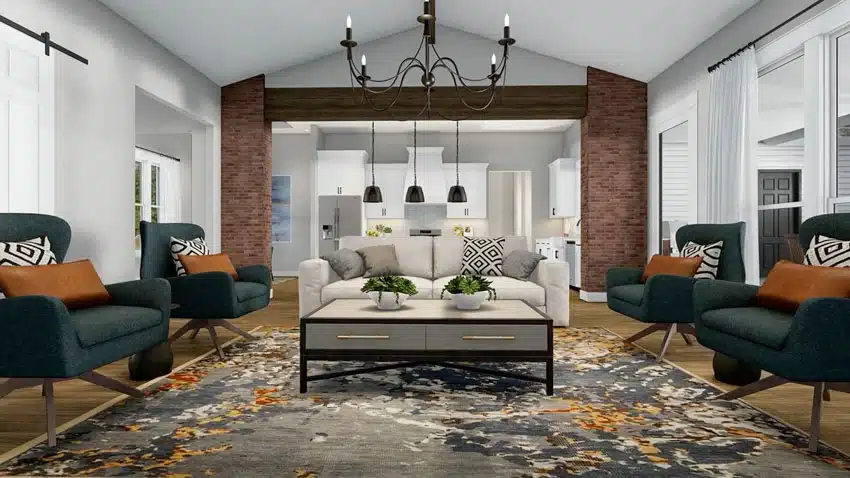 The open concept living room's eye-catching centerpiece is a beige sofa with an array of plain and patterned throw pillows that provide visual interest.
For comfortable guest seating, four plush accent armchairs are adorned with geometrical throw pillows and sleek leather rectangles.
The archway – it's totally stunning! Frankly, you could make a case that this is what farmhouse-style decorating is all about! It's got everything: chunky brick on both sides and gorgeous exposed wood on the top.
Plus, adding to its wow factor – an incredibly chic French countryside black chandelier hanging above the living space – really dials up the charm. Illuminating to perfection, it just takes this rustic-chic look to another level.
Gourmet Kitchen with a Pantry and a Spacious Prep Island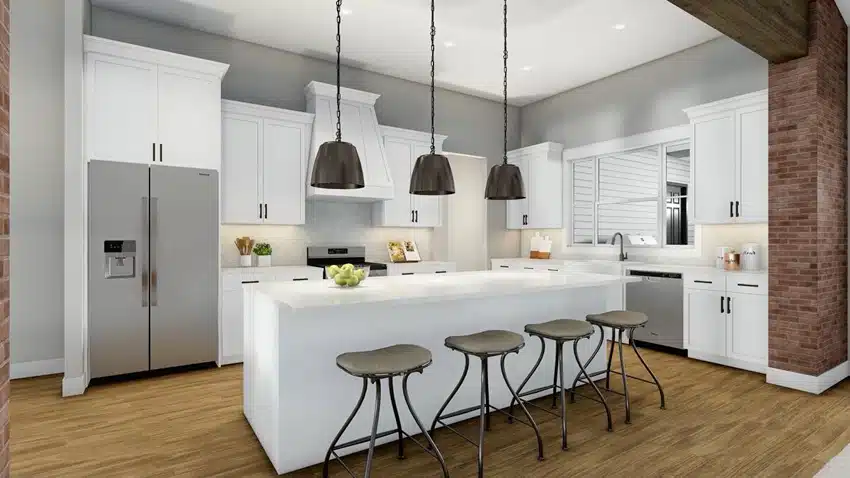 Hey home chefs, have you ever dreamed of cooking and entertaining in the ultimate gourmet kitchen? One with integrated high-end appliances and lots of counter space?
Well, get ready for your dreams to come true. Picture it – pristine white countertops gleaming beneath the light – drooling over that image yet? Come make this culinary dream a reality.
The walk-in pantry is nirvana for storage, while the massive prep island, perfect for whipping up meals quickly or hosting impromptu gatherings – complete with seating for four – balances out the mostly farmhouse vibes in the main room. The sleek, gray kitchen walls provide minimalistic modern charm.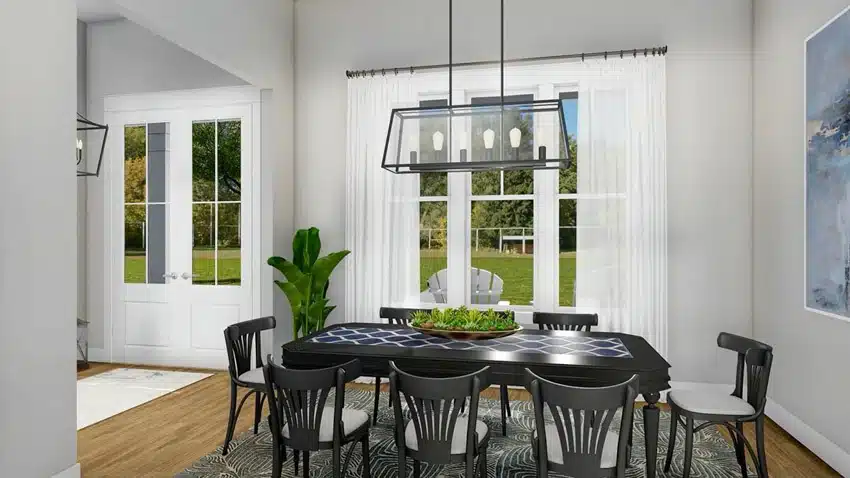 What a great set-up for dinner parties and family dinners nearby! The black pendant light hanging over the sleek black dining table and chairs make a modern statement to pair with the barn and country feel, while the lush houseplants and white oak floors bring home that farmhouse feel.
Premium Amenities and Solitude in the Master Bedroom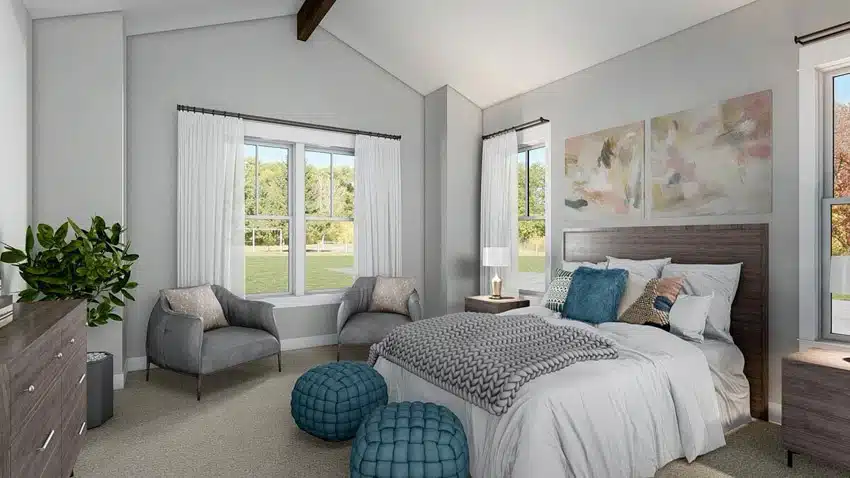 A peaceful retreat awaits homeowners in the master bedroom suite on the left side of this modern farmhouse. A solid wood nightstand and bed headboard, both painted gray, offset light walls for a beautiful contrast.
Pure white curtains add a touch of elegance while teal poufs and cozy gray armchairs take up residence around the room – offering an extra seating solution or two. This bedroom is the definition of airy and spacious, with its vaulted ceilings and a modern bathroom design – complete with a roomy walk-in closet and separate tub 'n' shower.
Plus, you've got light gray walls and all-white window frames adding to that sleek, clean feel. The star of the show has to be that beautiful freestanding porcelain bathtub – ideal for some tranquil downtime – alongside a convenient towel rack.
When you step into your bathroom, are you instantly at peace? This is the feeling that you should be getting, so if it's not, then you have some work to do. A minimalist bathroom is one where you see the essentials. – Minimalist Living: How to Become a Minimalist, M.A. Hill
Primary Bathroom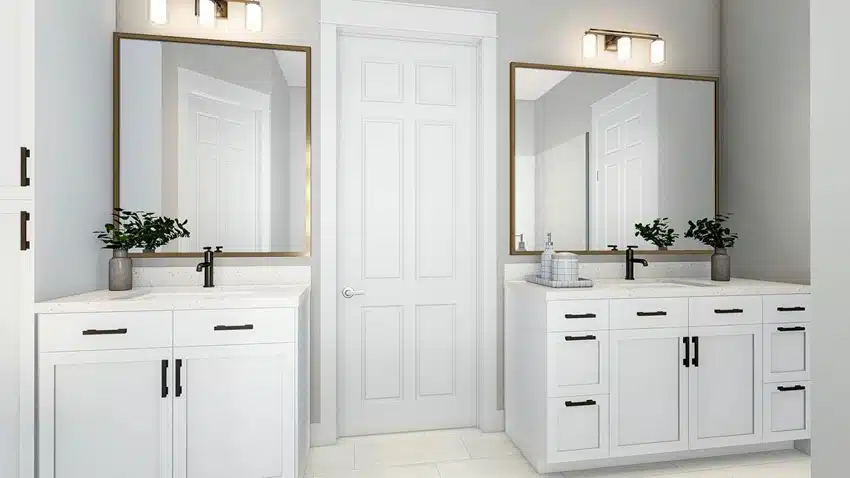 The opulent marble bathroom vanity and gleaming white-painted cabinets will give your bathroom a luxurious feel, with plenty of space to store all your lotions and shower products and accessories.
Vanity lights are fitted to provide just the right amount of illumination for your morning primp. It is perfect for those who prefer a modern and minimalist style.
After a hectic day, there's nothing better than retiring to the master bedroom – a haven of luxury that promises blissful relaxation and heavenly pampering. Indeed, it's just what the doctor ordered!
The cozy bedding and those indulgent amenities create an atmosphere where you can truly kick off your shoes and forget all your worries.
Secondary Bedrooms: Ultimate Privacy and Convenience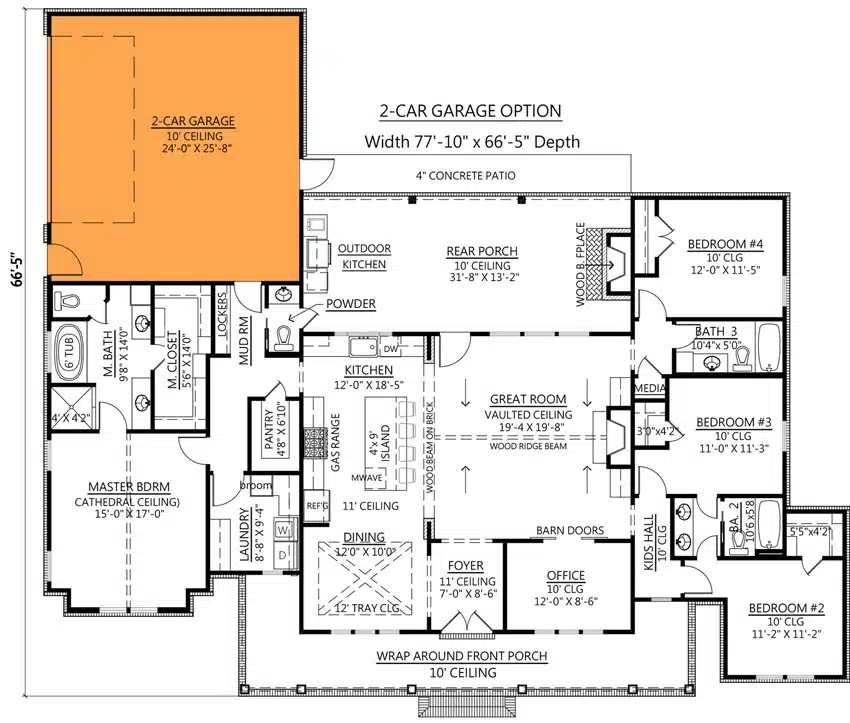 Buy this modern farmhouse with 4 bedrooms design plan at this link.
Enjoy the utmost privacy with three secondary bedrooms on the house's opposite side. The second and third bedrooms share a Jack and Jill bathroom, whereas the third has its own.
The modern farmhouse style plan has 2400 square footage and can be adjusted to have 3.5 to 4.5 baths depending on personal preference. Ideal for giving everyone plenty of room to unwind in their own private getaway!

See more related content in our article about a modern farmhouse plan with studio apartment on this page.