Here's our trundle bed dimensions guide, including the standard trundle bed sizes, trundle mattress size and the difference between a trundle and a twin bed.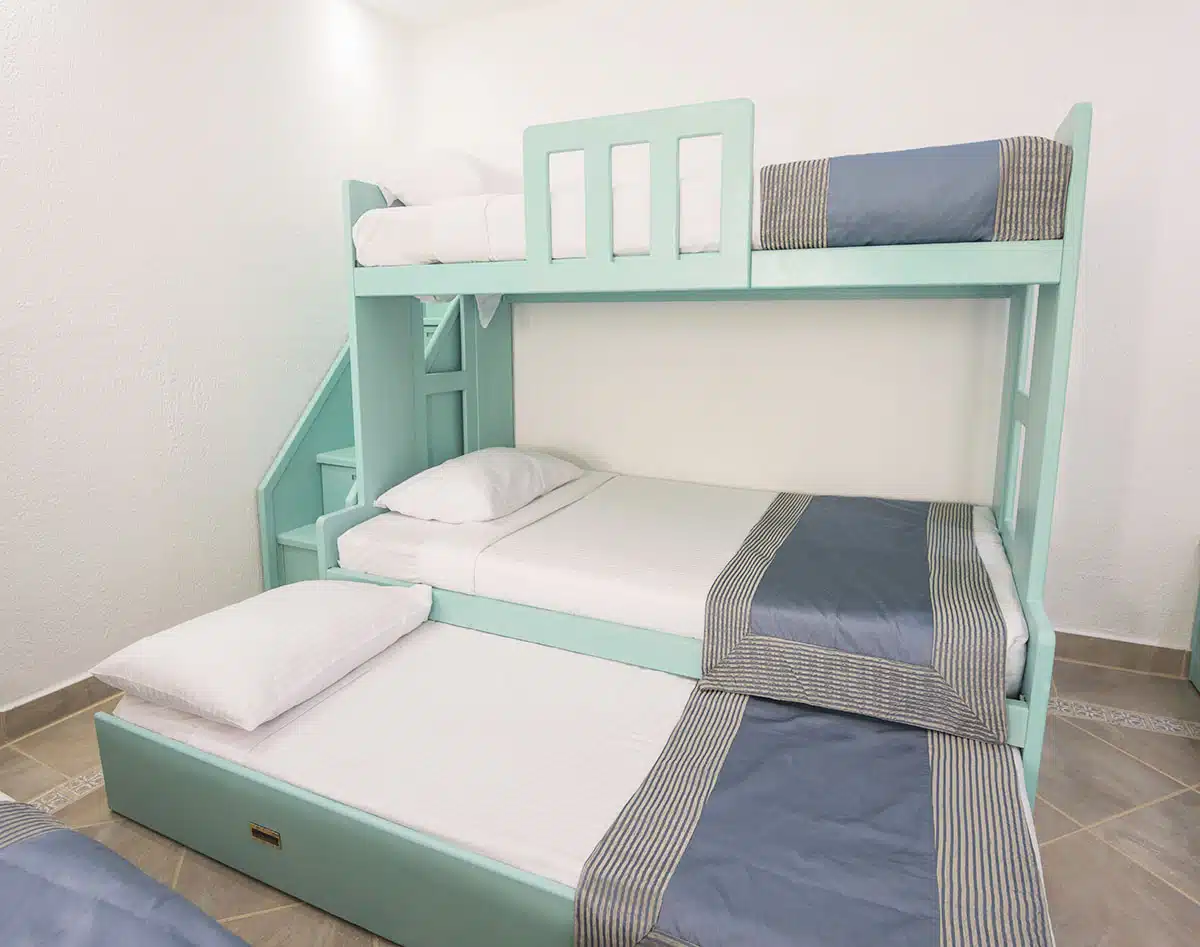 A trundle bed is one of the best beds for homeowners looking for space-saving options. Trundle beds are versatile and practical for people looking for functionality and comfort.
These beds are space-saving since they are a great way to maximize living spaces, making them excellent and ideal beds for small apartments, children's, or guest rooms.
There are many factors to consider when choosing a trundle bed, and one of the main factors is looking at the correct size to ensure the best fit for all needs.
Knowing the best size will determine everything from functionality to how the bed will adapt to a space, especially smaller spaces.
Standard Trundle Bed Size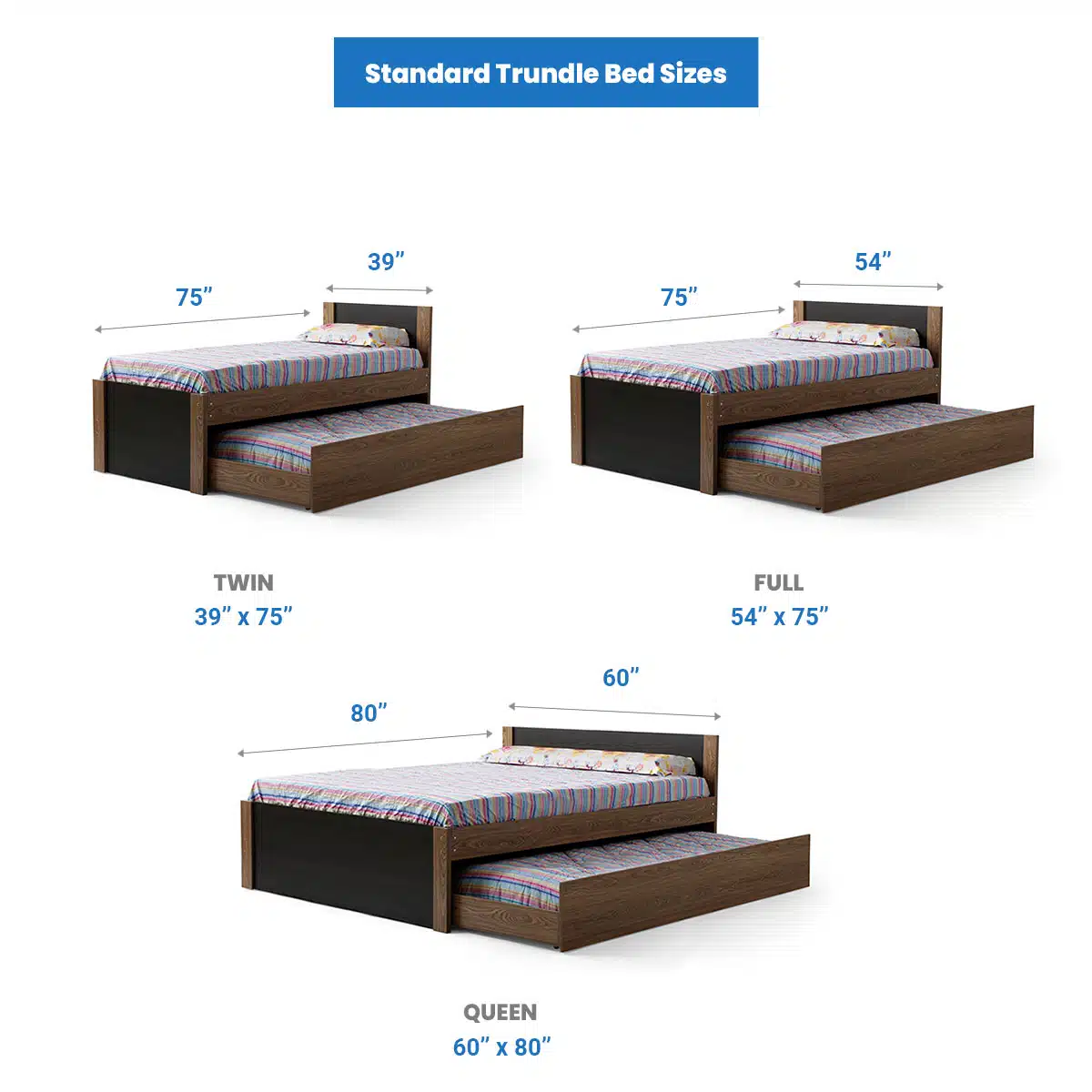 Standard trundle bed dimensions are designed to fit existing mattress dimensions and accommodate various sleeping arrangements.
While there can be some variation among manufacturers, trundle bed designs, or specific models, there are standard sizes that homeowners could look at before buying the perfect fit.
The first size is the twin trundle bed. This is the most popular bed size and is widely available in many furniture stores.
A twin trundle bed features a typical size of 39 inches or 99 centimeters in width, with a length that extends at 75 inches or around 191 centimeters. For the lower trundle, the same size will follow but usually requires a thinner twin-size mattress.
The next standard-sized trundle bed is the full-size trundle bed, also called a double trundle bed. This size will provide a bigger sleeping surface than the former.
A full size trundle bed has a width of 54 inches or 137 centimeters, with a length of 75 inches or about 191 centimeters. Like the twin, the mattress will be thicker on top, while the one on the lower trundle will require a thinner one.
Although they are harder to find and are less common in most furniture stores, homeowners can acquire a queen-size trundle bed. These are some of the largest and are suitable for couples or people who like the space when sleeping.
A queen size trundle bed has a width of 60 inches or 152 centimeters and a length of 80 inches or 203 centimeters, both for the upper and lower trundle.
Trundle Bed Height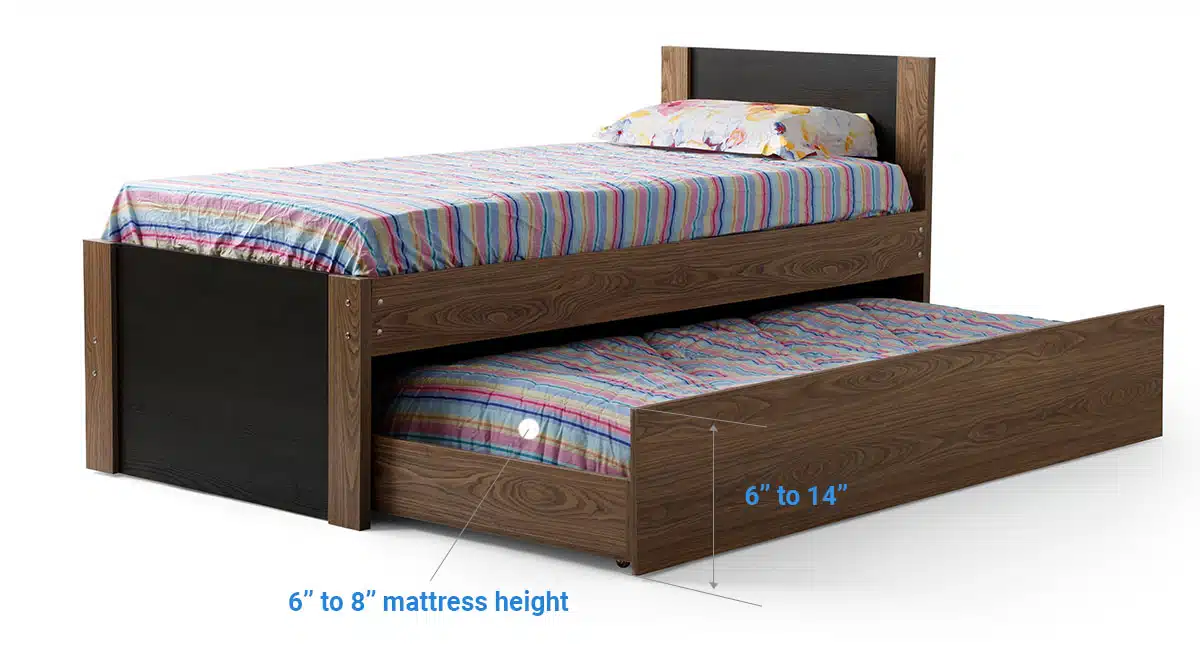 One of the most distinctive characteristics of a trundle bed is its lower profile. This allows for easy storage and sliding in and out of the bed under the main bed frame. This is why the mattress is thinner for the lower bed and can be thicker for the main bed above.
The average height of a trundle bed is around 6 to 14 inches or 15 to 36 centimeters. This measurement is usually the size of the bed frame, allowing a 6 to 8 inch, or 15 to 20-centimeters tall mattress to be placed below the bed frame.
This height for a trundle bed frame will save space when the lower mattress is not in use but still provide sufficient space and maximum comfortability for anyone utilizing the mattress.
What Size Mattress For Trundle Bed?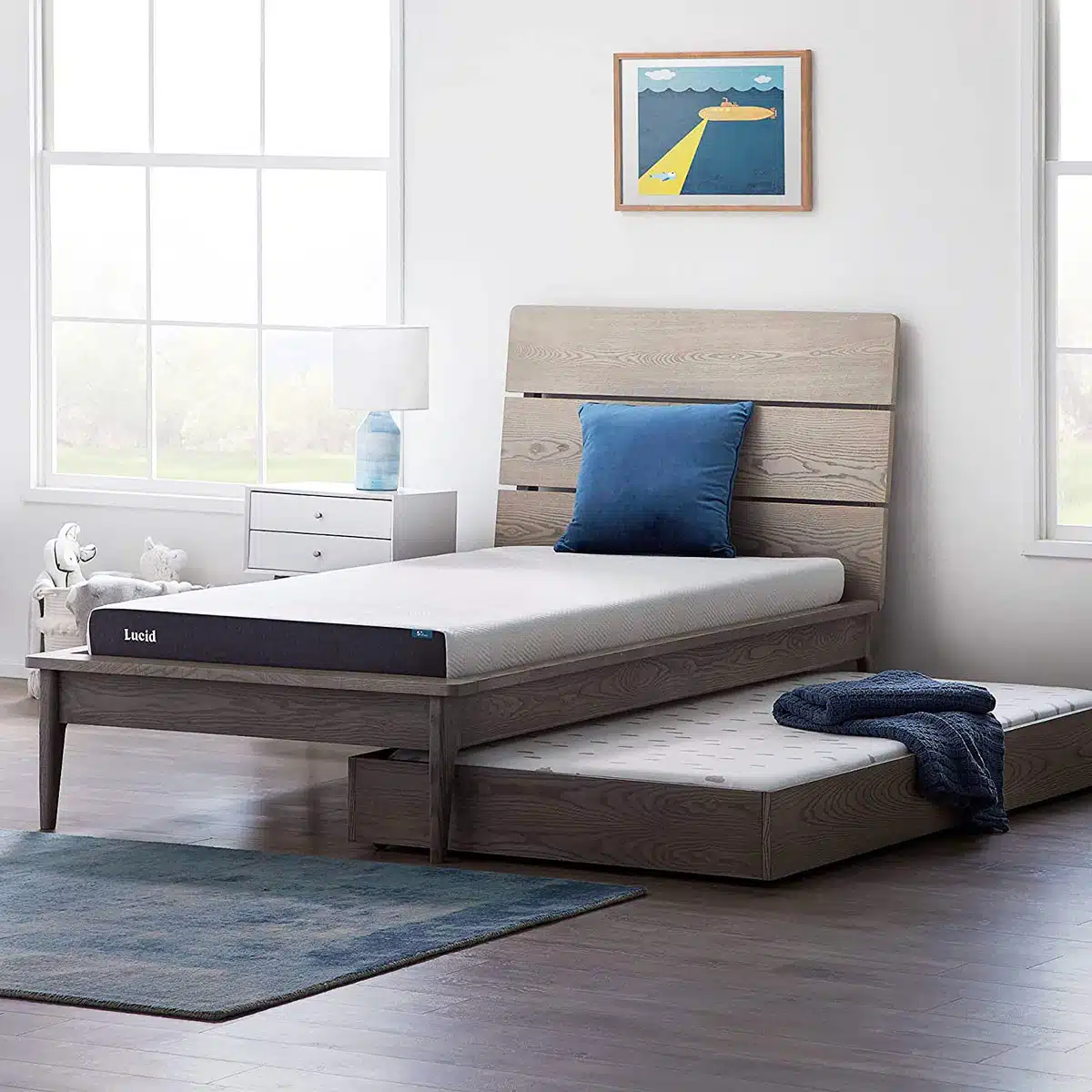 See this trundle bed mattress at Amazon [sponsored link]
Whether the homeowners are going for a daybed or a trundle bed, mattress sizes for specific trundle bed sizes will follow the standard foam dimensions.
For a twin-size trundle bed, the best mattress size for it has a width of 38 inches or around 96 centimeters and a length of 75 inches or 191 centimeters.
A full trundle bed will require a mattress with a width of 54 inches or about 135 centimeters, while the length from top to bottom for this trundle bed should be a mattress 75 inches or 191 centimeters.
A bigger queen-size trundle bed will require a queen-size mattress with a width from side to side of 60 inches or 152 centimeters and a foam length of 80 inches or 203 centimeters.
Is Trundle Mattress Same As Twin?
A trundle mattress differs from a twin bed as both serve different purposes. A trundle mattress is a mattress type designed to fit perfectly with a trundle bed.
A trundle bed would need two trundle foams of the same size to be used for the bed frame itself and one stored underneath the trundle bed, which is usually smaller than the upper mattress.
On the other hand, a twin mattress is a single-size mattress measuring around 38 by 75 inches or about 97 by 191 centimeters. This mattress size is common in children's bedrooms, dormitories, and guest rooms.
Difference Between A Trundle And A Twin Bed
A trundle bed and a twin bed are different; their most distinct difference is that they have different functionality.
A twin bed is one of the most common beds designed for a single person. It measures around 38 by 75 inches or 97 by 191 centimeters. A twin bed consists of a bed frame around the same size, with a twin mattress perfectly fitted for the bedframe.
A trundle bed is another type of bed. The main niche of a trundle bed is that it is the perfect option for homeowners looking for a space-saving option since it can fit two mattresses, with one stored underneath the trundle bed frame.
It is available in many sizes, from twin to queen-size trundle beds. Because of its double mattress feature it could easily accommodate two persons or more, depending on the trundle bed size.
Both a twin and trundle bed generally have a headboard and footboard. However, due to the pull out function of the trundle bed, there is no room for storage drawers under a trundle, unlike the twin.
Trundle beds can have a base constructed of a solid piece or slats constructed from wood or metal. Since a trundle is designed to be stored close to the floor there is no need for a box spring or other support system.
A trundle bed does have unusual measurements for sheet sizing which you may have to special order at a higher price.
Do All Trundle Beds Pop Up?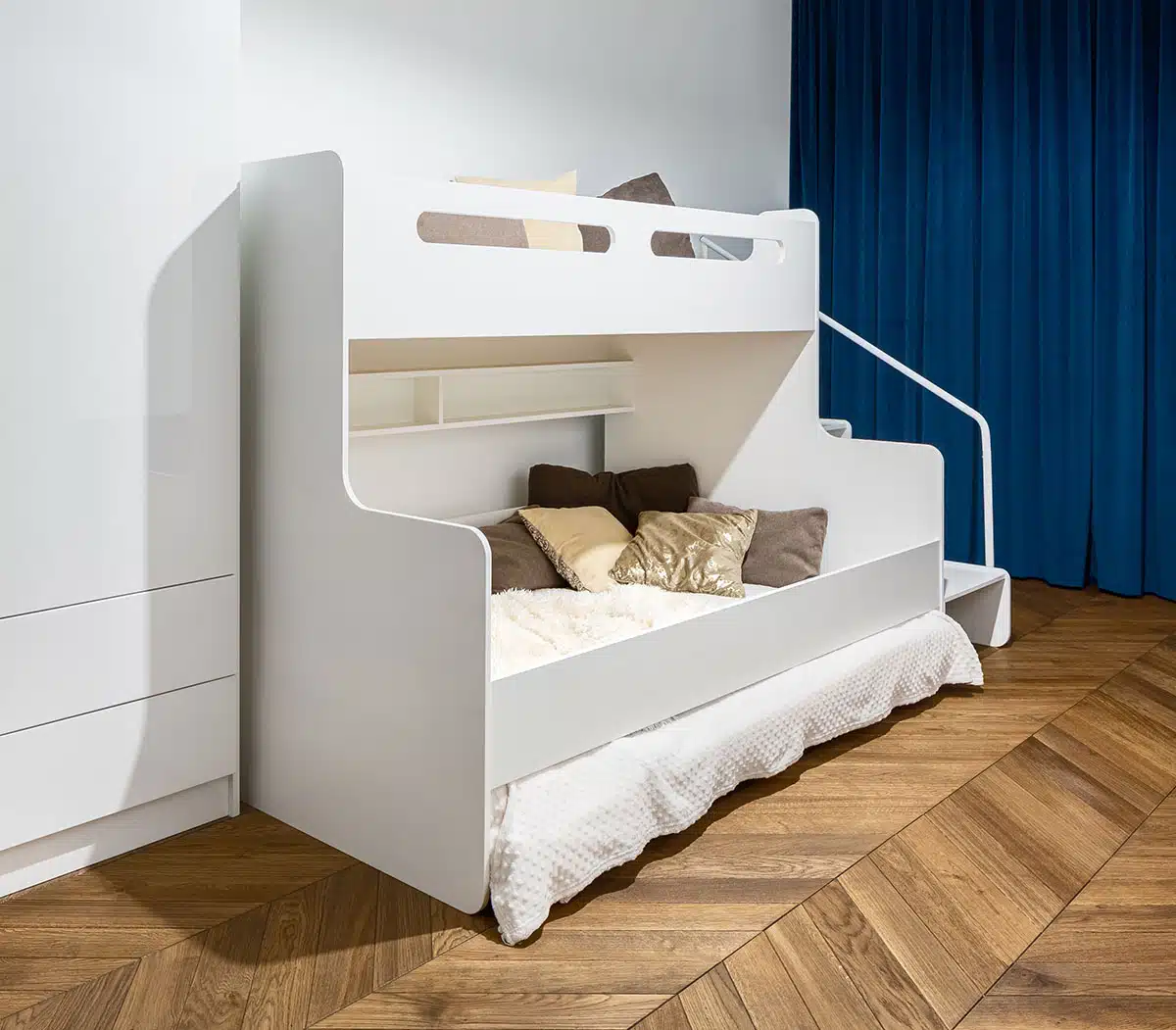 Some trundle beds pop up, but some will not have that feature. Trundle beds come in many styles and designs; one has a pop-up feature.
When a trundle bed has this feature, the lower mattress will be raised to the same height as the upper bed mattress. This will allow the user a larger sleeping surface since it combines both mattresses, and some can even be as big as a king-size bed when it "pops up."
Although this is convenient to some, most trundle beds on the market and in most furniture stores will not carry this feature.
Visit our bunk bed dimensions guide for more related content.