Here we share our Muskoka chair guide including what it is, the meaning of its name and origin, design, cost, size and how it differs from an adirondack chair.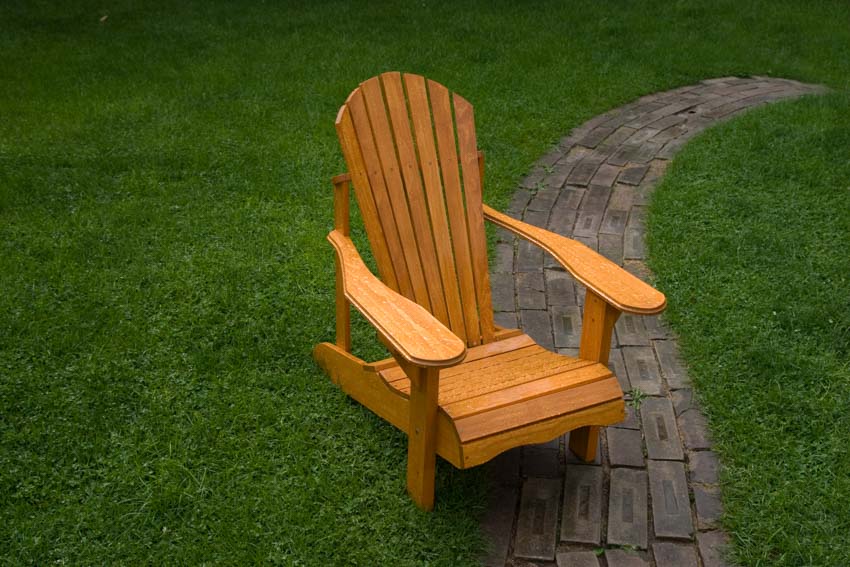 Muskoka chairs, also called Adirondack chairs, are beloved fixtures of many summer patios, and lawns. This classic chair with a sloped seat, high rounded backrest, and wide armrests signifies leisure and relaxation.
Flat, wide planks make up the design of a Muskoka chair and add to its distinct and recognizable style. Muskoka chairs are highly sought after for sitting on a front porch, a patio, on the beach, along the shores of a lake, or around a pool.
In this guide, we'll explore what a Muskoka chair is by discussing its history, how it compares to an Adirondack chair, different style backrests, materials, sizes, and cost.
What Is A Muskoka Chair?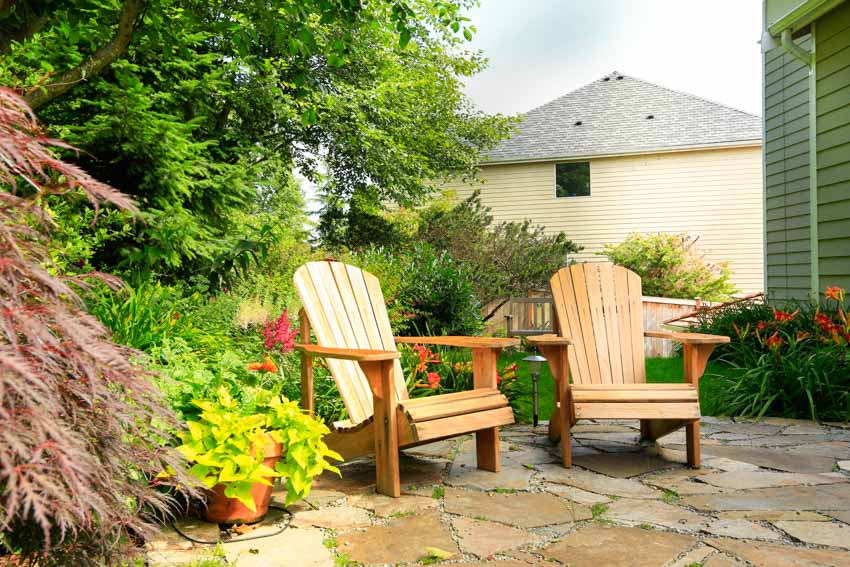 The draw to a Muskoka chair is the reclining design and comfortable angles. Large armrests provide plenty of room for a glass of iced tea or lemonade, and the flat-planked construction with ample spacing keeps the occupant cool.
Muskoka chairs are typically made of wood, and either stained, painted, or left natural for a rustic style. Most chairs are made from moisture-resistant hardwood such as Cyprus, cedar, or teak. Manufacturers offer pine and hemlock, both less durable kinds of wood and less expensive.
Today's chairs are often made from wicker, plastic, resin, Polywood®, or recycled materials. Polywood is imitation wood made with high-density polyethylene (HDPE), which is recycled milk jugs, laundry detergent containers, bottle caps, and discarded plastics.
Modifications on the chair's design include folding Muskoka chairs, reclining, swinging, and chairs made smaller for kids. Some can even be modified to be considered among the different types of rocking chairs.
Why Is It Called Muskoka Chair?
Muskoka is a district in Ontario, Canada, made up of several townships. The region is home to over 1,600 lakes interspersed with ancient rock formations and thick forests, making it a beautiful location for vacationing.
Muskoka is known as cottage country, featuring numerous vacation cottages, resorts, country clubs, golf courses, and lakeside communities, all dotted with Muskoka chairs. The chairs are a Canadian version of the American-made Adirondack chair, first adopted in Canada by the Muskoka community.
The Muskoka chair is so revered in Muskoka that it shows up in business logos, souvenirs, and as a welcoming artifact for a Waterloo, Ontario store. The store owners proudly display their 900-pound, 10-foot high Muskoka chair perched outside to welcome visitors. However, the Muskoka chair, named after the region in Canada, didn't get its start in Canada.
Are Muskoka Chairs Canadian?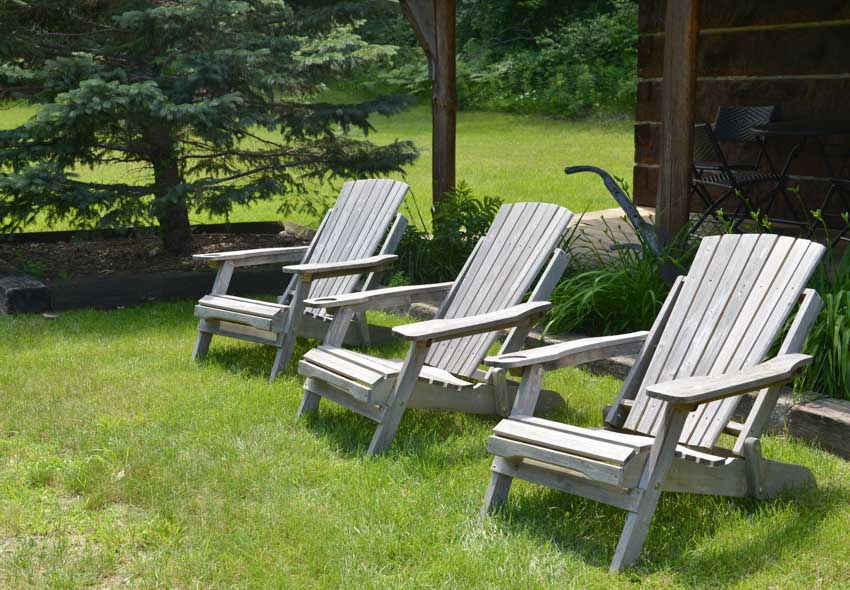 If you visit the small community of Varney, Ontario, Canada, you can't help but notice the world's largest Muskoka chair painted Canada red and accented with painted white Canadian flags.
This monument to the Canadian version of an Adirondack chair stands 20 feet high and is 14 feet wide. Although the Canadians elevated this chair to national status, the origins of the Muskoka chair actually began in Westport, New York.
Thomas Lee owned a country cottage in Westport, located in the Adirondack Mountains. The cottage provided a family respite from the sweltering New York City summers. Urged on by his family, Lee created his chair, allowing the occupant to sit in a reclined position.
The chair featured wide armrests, a sloping seat, and a wide back. Lee allowed his friend Harry C. Bunnell to use his design to build and sell the chair in his store during the winter months when business was slow.
Bunnell then applied for a patent after realizing the chair's popularity. He named the chair the Westport chair, and for 25 years, Brunnell sold the chair without any opposition from Lee.
The Westport chair took on a new name, the Adirondack chair, because of its popularity in the Adirondack Mountains. In the 1980s, the chair traveled to Canada, brought by Americans vacationing in cottages located in Muskoka. It was embraced by talented woodworkers who created a replica naming it the Muskoka chair.
Muskoka Chair Vs Adirondack Chair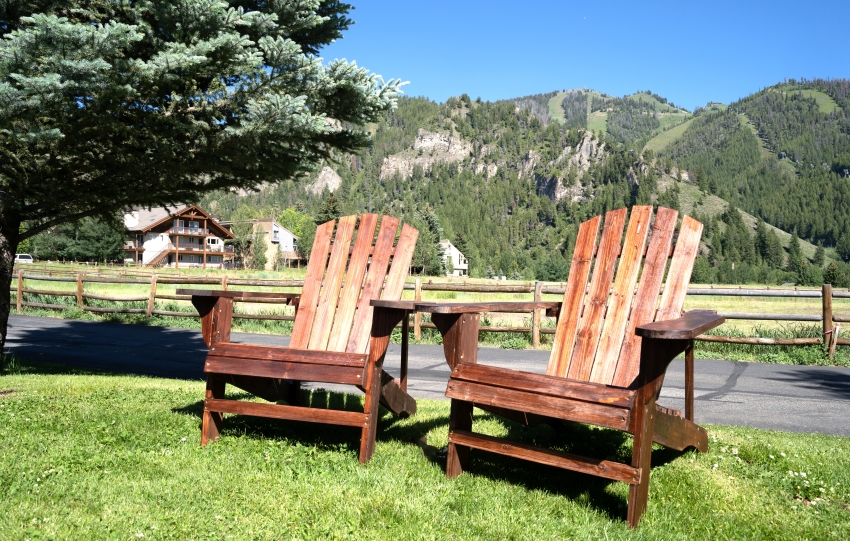 These two types of outdoor furniture possess the stylish look of the original Westport chair, but there are some differences. The Muskoka chair is Canada's version of the chair, and the Adirondack is found in the United States. It may seem the only difference is the name and the two are almost indistinguishable to the untrained eye.
If both chairs are manufactured or hand-built using their patented shape and design, the only visible difference is the back. An Adirondack chair will have a flat yoke slatted back.
The Muskoka has a slightly curved yoke. The other difference that is not easily recognized is the size difference. Adirondack chairs are built 2 inches taller than the Muskoka, and the armrests are 2 inches wider. Some say there really isn't a difference between the two chairs.
Either chair may have more features made popular in recent years. These include built-in cup holders, wine glass holders, adjustable headrests, and sliding Ottomans.
Curved Yoke Chair Back Vs Flat Back Chair Back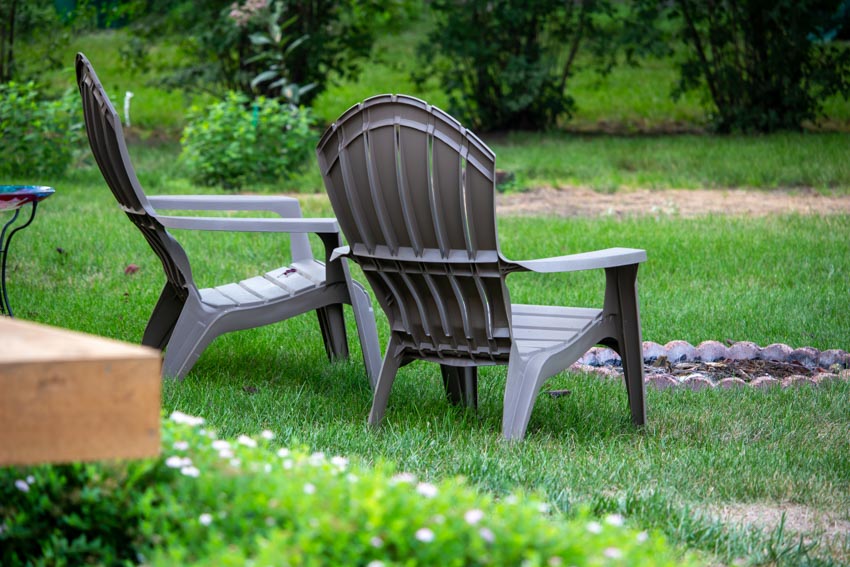 Adirondack chairs have a flat back, made initially from a solid piece of wood. The design changed to use slats, allowing airflow to keep the occupant cool. Muskoka chairs have a curved yoke, which may not seem to make a difference. However, many say the curved yoke is more comfortable, allowing the occupant to cradle their back and head in the curve.
Muskoka Chair Cost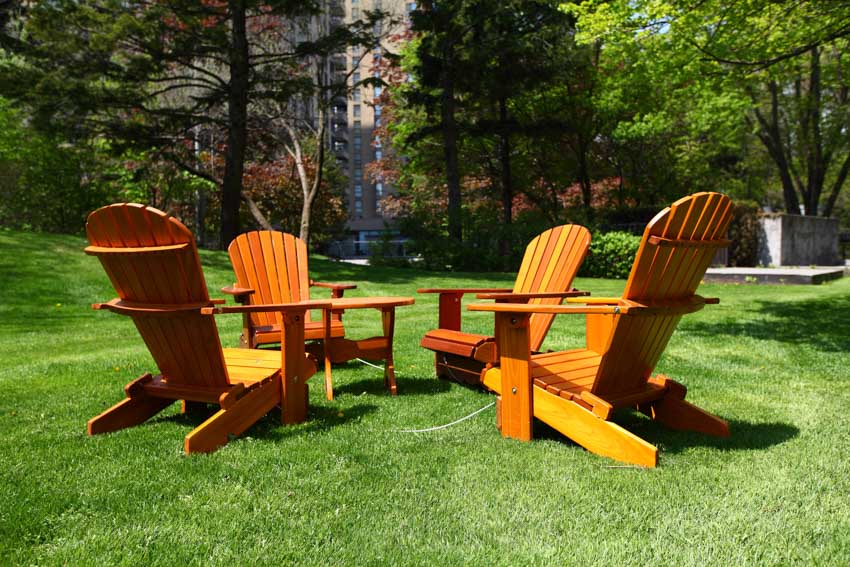 While there's a wide price range for Muskoka chairs, these backyard essentials can range as low as $50 for one made of plastic or recycled materials to $1,000 for a luxury chair made from teak wood. An average price for a chair of good quality runs about $200 but expect to pay more for custom handmade chairs.
The higher price for a Muskoka chair includes the craftsmanship, durable materials, weather resistance, and low maintenance outdoor furniture materials. These chairs last much longer than cheaper versions, significantly reducing the replacement costs of other more affordable chairs.
Muskoka Chair Size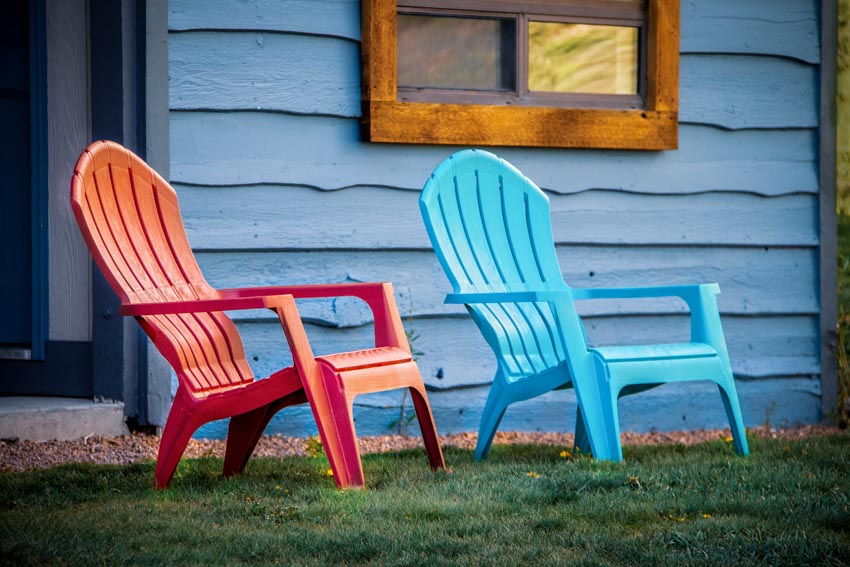 Muskoka chairs are generally 36 to 42 inches high, 30 to 34 inches wide, and 35 to 38 inches deep. There are minor size differences between a Muskoka chair and an Adirondack chair, but they are otherwise about the same size. Muskoka chairs can weigh anywhere from 15 pounds for chairs made from resin or plastic to 45 pounds or more for wooden chairs.
There's no better sign of summer than a Muskoka chair with a cold beverage sitting at the end of its armrest. This iconic piece of outdoor furniture symbolizes peace and serenity, welcoming all who take rest in its embrace.
See more related content in our article about the best adirondack chair paint colors on this page.