Welcome to our gallery showcasing the types of rocking chairs including a variety of design styles.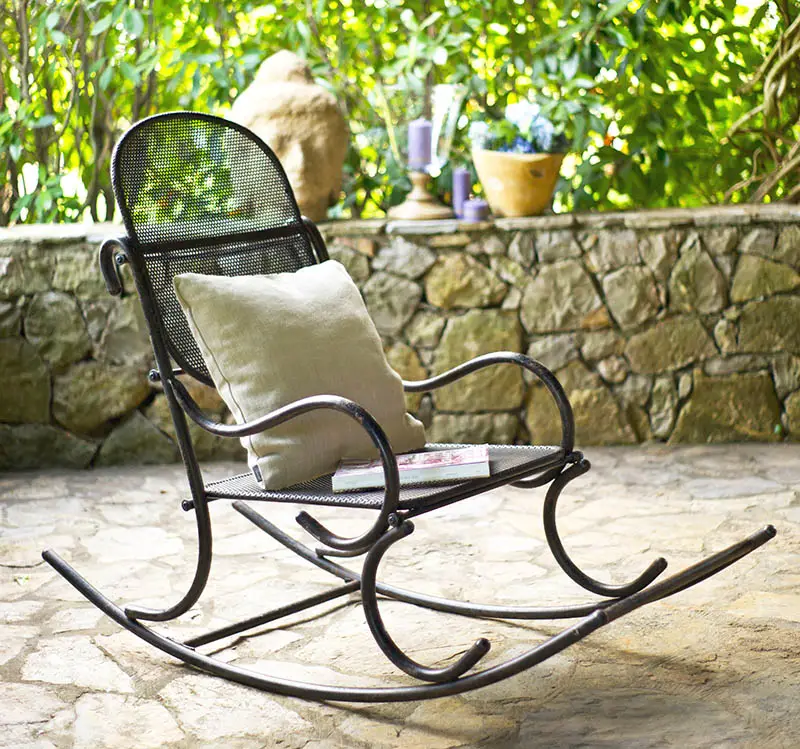 A commonly underrated article of furniture is the classic rocking chair. Most of us associate these chairs with fond childhood memories of slow mornings and lazy afternoons with Mom and Pop.
And appropriately so, since rocking chairs are often associated with parenting. Rocking chairs are quite often used by new parents to soothe infants with their gentle cradling motions.
Child-rearing functionality aside, many adults quite enjoy the rocking chair themselves due to its soothing and relaxing functions. Scientifically, gentle rocking motions aid greatly in providing faster sleeping onset times.
Rocking chairs also have typically sloping, lounging angles providing some great ergonomic benefits to users. visit this page for our gallery of popular types of chairs for the interior.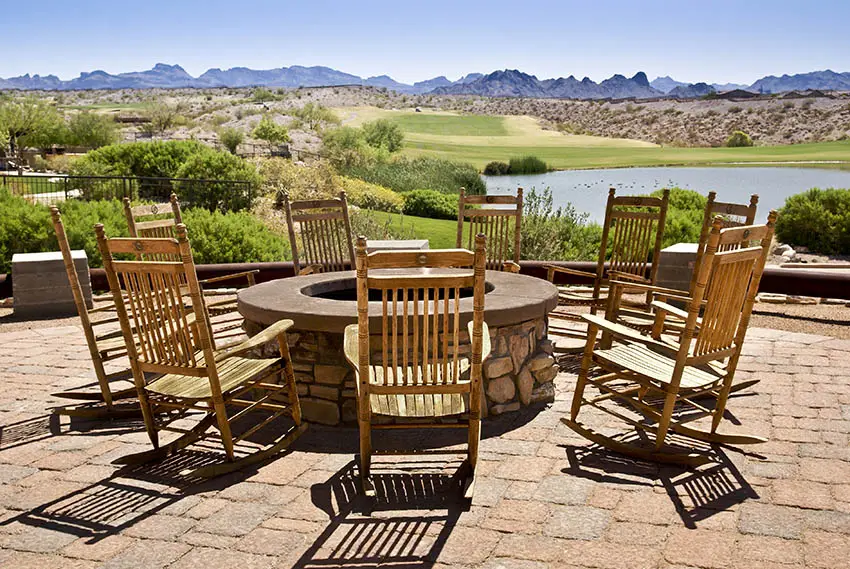 Rocking Chair Design
Rocking chairs are known to have been used as early as the 1700s. It had a bit of popularity in early 18th century North America and were basically jury-rigged chairs with rockers attached to them.
A popular albeit historically inaccurate myth is that rocking chairs were invented by Benjamin Franklin. They are in fact known to have been in mainstream use when Franklin was still a child, and so the dates don't check out.
In 1725, the rocking chair craze had spread to England and soon, wicker rocking chairs had more or less cemented its place as an American and English staple in most households at the time.
A bit more than a century later, German craftsman Michael Thonet designed the first bentwood rocking chair – a designer piece popular for its grace, beauty, and light weight.
The 1900s saw a great number of innovations to the rocking chair. Folding rocking chair variants were taking root due to their convenience and functionality; families could take them out on picnics or long road trips with little hassle. Nowadays, it is not uncommon to see designer rocking chair pieces decorating the homes of most families.
With the onset of modern-day building and material technologies, the rocking chair has come a long way. Different new functionalities and building methods have resulted in various rocking chair types. Below are the most popular types of rocking chair designs so you can get the one that best suits your needs.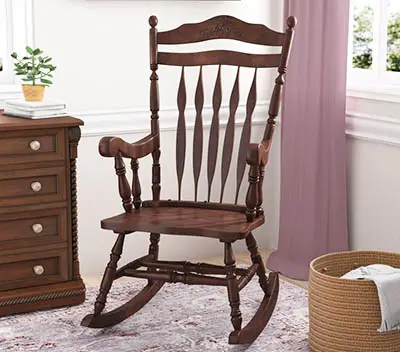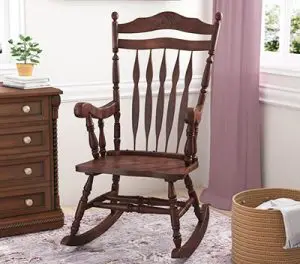 Traditional Chair
There's the traditional rocker with its rustic appearance. These are characterized by curved legs that serve as the mechanism by which the chair rocks back and forth with.
This type of rocking chair typically has slats for the backrest and is typically the most common and most affordable style.
With its time-tested design, it's also popularly the most durable out of all the types. The downsides of this type include it fairly rigid and inflexible nature and its usually large amount of needed floor space to be functional.
Glider Chair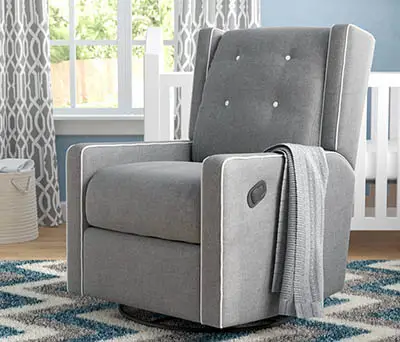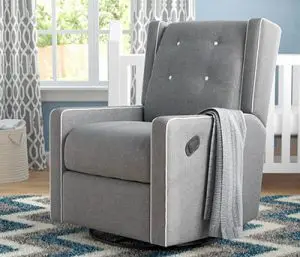 The second type is the glider rocker. A bit more complex than the traditional rocking chair design, glider rockers use a mechanism of levers and hinges such that the chair rocks back and forth on a flat plane, as opposed to the traditional arc.
This type of chairs eats up less space and is considered to be more comfortable than other types of rockers.It often has a recliner feature that allows for rocking and reclining together.
However, due to its complex design, the glider rocker costs a little bit more than other types and is more prone to breaking.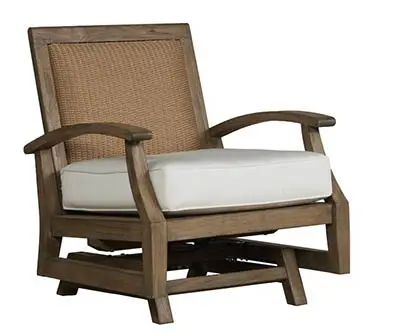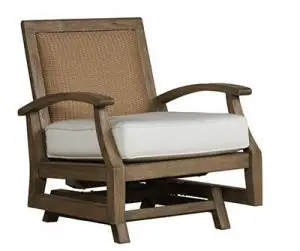 Spring Chair
Spring rockers are a bit of a mix of the traditional arcing rocking chair and the glider rocking chair. They rock back and forth like traditional ones, but are supported by mounted springs that cause the rocking motion.
The mechanism is a bit of a complicated piece of engineering; most designers prefer hiding it away beneath a box at the base of the chair to prevent any unwarranted contact and for aesthetic value.
These types of rocking chairs are durable and at the middle of the price points of traditional rockers and glider rockers.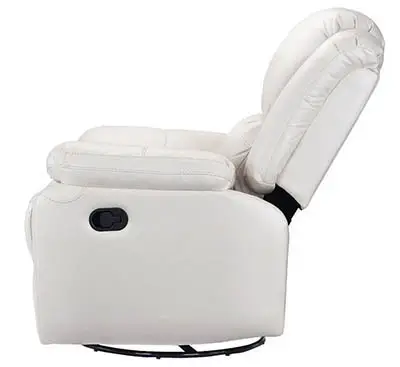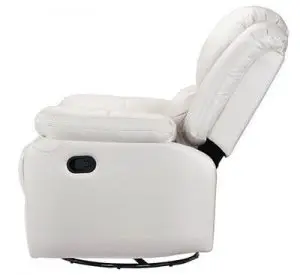 Swivel Chair
Swivel rockers are those utilizing a mechanism which allows for rocking on more than one plane of motion.
You can apply this type of functionality to glider or spring rockers to increase their functionality and comfort.
As with the other types, the increased comfort and flexibility of the swivel rocker is brought about by a more complex design.
Swivel gliders often include both a rocker and recliner mechanism for maximum functionality. As such, its price and risk of breakage also go up.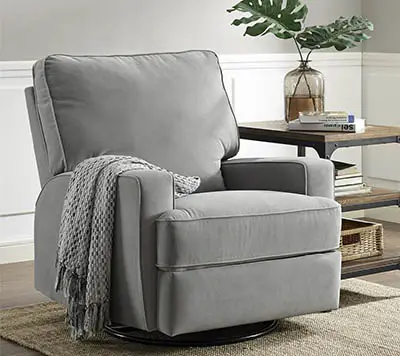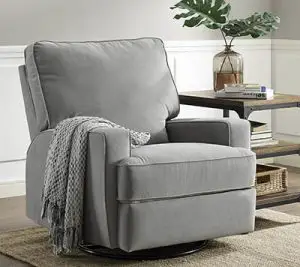 Reclining Chair
The last type of rocker worth noting is the reclining rocker. As the name implies, these rockers are those with functionalities that allow you to recline the back of the chair. As such, this is popular for homeowners who are particularly fond of lounge chairs.
Usually, these recliner chairs don't allow for you to use their rocking and reclining functions at the same time; you pick one or the other. This is for safety's sake.
The complexity of the adjustable design also makes this one of the pricier types of rocking chairs.
Different varieties are also derived from their aesthetic styles, such as Mid-century Modern, Glam, Mission, and Neo-colonial. There are also different materials you can choose from such as wicker, solid wood, durable plastic composites, leather, and metal.
What's your dad's favorite chair? It's likely to be the Barcalounger or other behemoth of a reclining chair that dominates your living room. It may be hideous, but one thing can be said for it—it's comfortable. – Artifacts from Ninetheeth-Century America, Elizabeth B. Greene
Rocking chair technology has expanded a fair piece since the days of Whistler's Mother. There are a few basic types of rocking chair, each of which can be designed to a specific style or built out of different materials.
Some common styles of rocking chair include Mission, Danish Modern and plush. Common building materials include wood, wicker and PVC, with pads from fabrics, leather or vinyl.
Different Types of Uses
Along with the types of rocking chairs, they also have different uses including nursing a baby or rocking the baby to sleep, sitting on the front porch or backyard patio and even improving mental well being, plus others shared below:
Nursery Chair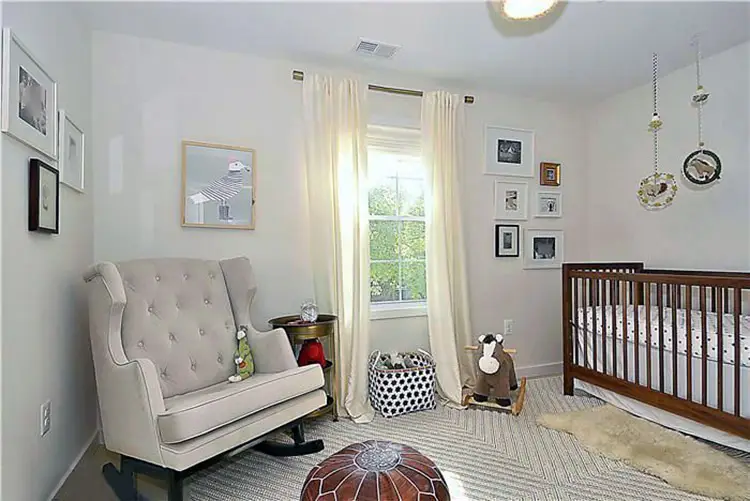 When selecting a rocking chair for your baby's nursery it's important to have one you can sit in comfortably for long periods of time. Nursing or rocking a fussy baby to sleep can take time, so you'll first want a chair that is comfortable for you.
For those who will be breastfeeding, you may want to make sure your chair has padded armrests that are wide enough to fully support your arms while getting better positioning.
Rocking chairs with footrests can be a great plus for mother's who want to elevate their feet. By elevating the feet you can take strain off of the lower back and help lessen stress.
Another thing to look for in a rocking chair for the nursery is safety. Many rocking chairs have a bad reputation of pinching adventuresome children who use it as a jungle gym.
To help avoid this you can make sure the chair you get has a locking mechanism for its glider or reclining functionality. You'll also want to consider whether the chair has all of its gears and rough edges out of reach of young fingers and toes.
Choosing a chair that has an easy to clean fabric is another consideration that can make your life easier. Micro-fiber is often a popular choice as well as leather since they both can be easily wiped down after a spill.
Other fibers can be scotch-guarded, however, be mindful of the chemicals in these products that may come in contact with young ones.
Patio or Porch Chair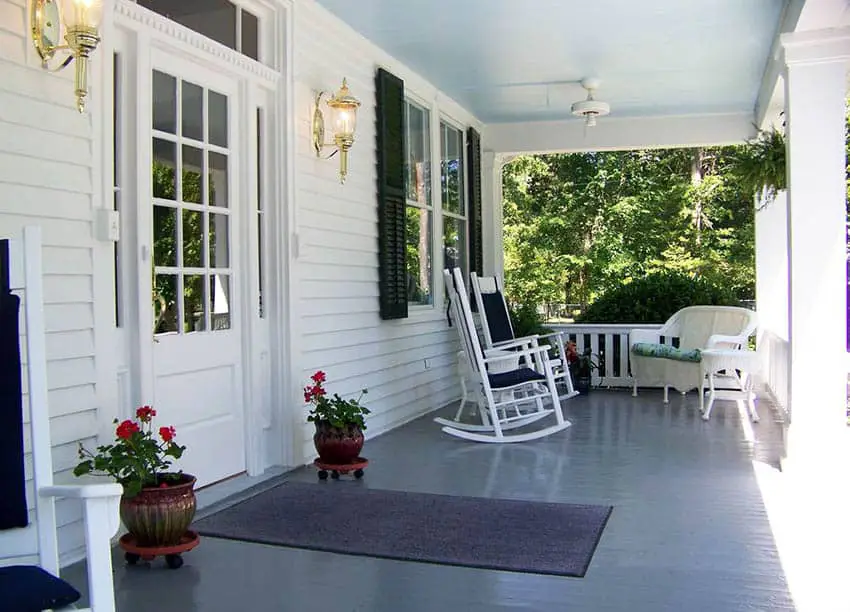 When choosing a relaxing rocking chair you'll want one that offers plenty of back support, comfortable armrests and a smooth rocking motion. If you're looking for a chair primarily for stress release pick a chair with a contoured backrest that offers the most comfort.
For a covered patio or porch rocking chair there are some wood species that hold up better than others. A few of the best woods to use are teak, cedar or Brazilian cherry. Another option is a chair constructed from HDPE lumber which is a synthetic resin that is durable and resistant to water and wind.
It's always fun to enjoy rocking on your porch with someone else. If you want to buy more than one, make sure to measure your space and select a portable chair style that will fit more than one.
Health Benefits of Rocking Style Chairs
Using a rocking chair has surprisingly been shown to reduce anxiety and depression in seniors as well as those suffering from severe forms of dementia. The rocking motion has been shown to release endorphins that can elevate the mood of adults and help soothe infants. Here's a quick rundown of some of the most popular health benefits:
Rocking reduces anxiety and stress
The motion increases blood flow through the body
Helps improve balance
Soothing effect on babies
May help with back pain
Cool Rocking Chair Ideas
Here are our top cool rocking chair ideas featuring a variety of design styles:
#1 Comfortable Contemporary Chair with Plush Cushioning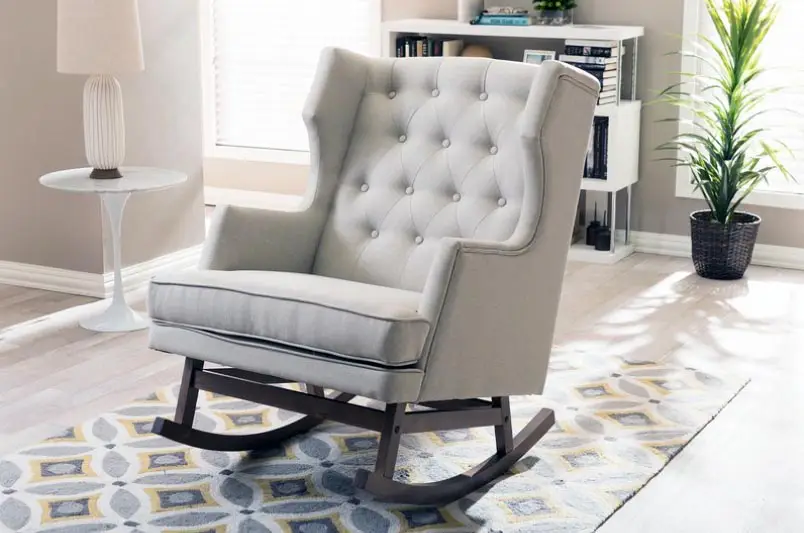 This contemporary rocking chair design sports a clean, modern look and boasts an aesthetic that is equal parts graceful and comfortable.
The smooth light-colored polyester fabric upholstery sports some extra padding for just that extra bit of comfort, while the tufted button design gives it some nice aesthetic value. The dark brown finish on the solid ruberwood base is also a nice touch.
All in all, this designer rocking chair piece is a perfect fit for living rooms or family rooms that might want a nice accent chair to liven up the space a little bit.
#2 White Modern Chair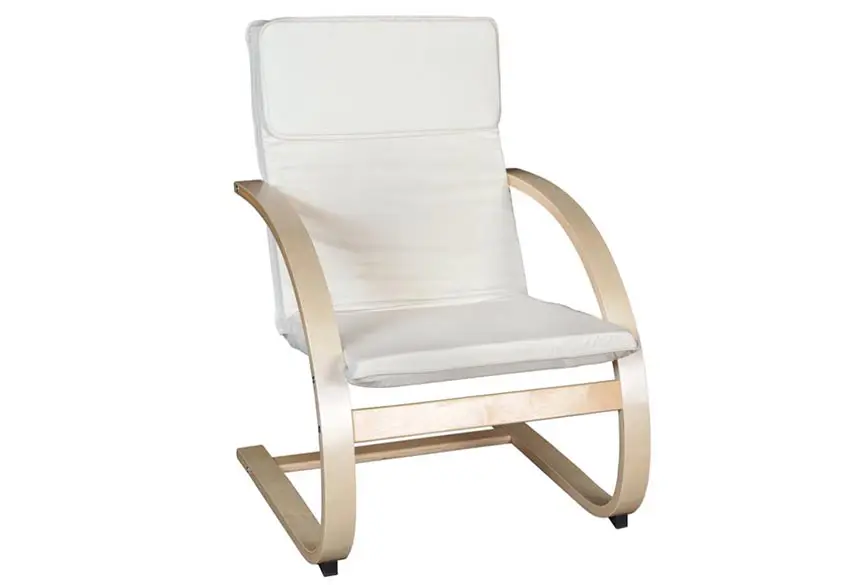 This rocking chair design showcases a straight-forward, bold, and minimalist look that boasts bot style and durability. Its cantilever base has a solid, internal metal frame and core with a bentwood shell.
The said cantilever base lets the chair function as a rocking chair while keeping the construction stable and simple. The upholstery is made of 100% cotton and is removable for the owner's convenience – it's easy to just take out and wash. The assembly is as straight-forward as the design and should be no hassle to undergo.
#3 Small Space Seat with Wood Rockers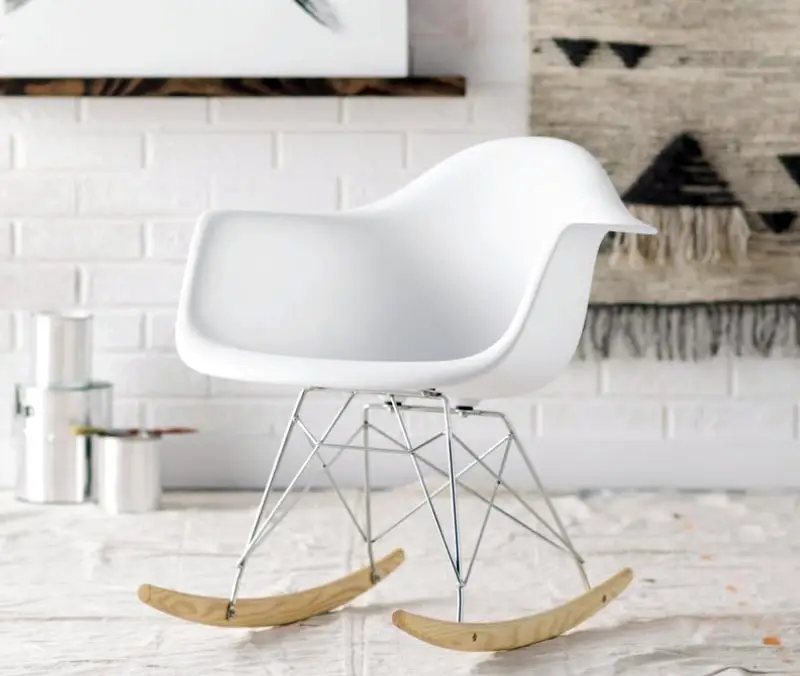 Here we have a piece a bit different from the standard and traditional rocking chair look. It sports a molded fiberglass seat with a flowing, curvilinear, ergonomic saddle and arm rest that should be able to accommodate end-users quite comfortably.
The solid one-piece construction of the seat also gives it a sleek, modern look that few other sliding chairs can match. The seat is secured to the traditional wooden bow rocker base with solid metal wire frames.
This kind of rocking chair is perfect for those who love the functionality and comfort of a rocking chair but are looking for a more updated, contemporary aesthetic.
#4 Stylish Leather Rocker Chair with Stainless Steel Frame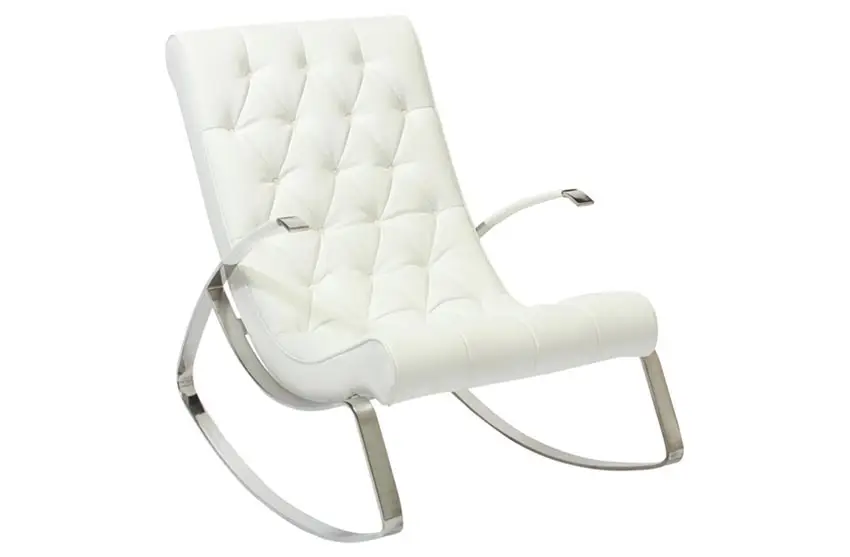 A perfect balance between form and function is what all good design aspires to. This rocking chair comes pretty close to that. Its sleek tufted white leather upholstery goes amazing well with it chrome finished solid stainless steel base and frame.
The neutral colors let it be as flexible as it wants, going with a wide array of interior design styles. The construction and workmanship of this rocking chair is solid and durable, which is a necessity since any furniture with moving parts will be subject to some amount of physical duress. This tufted rocking chair is a nice, clean addition to any living space in your home.
#5 Modern Lounge Chair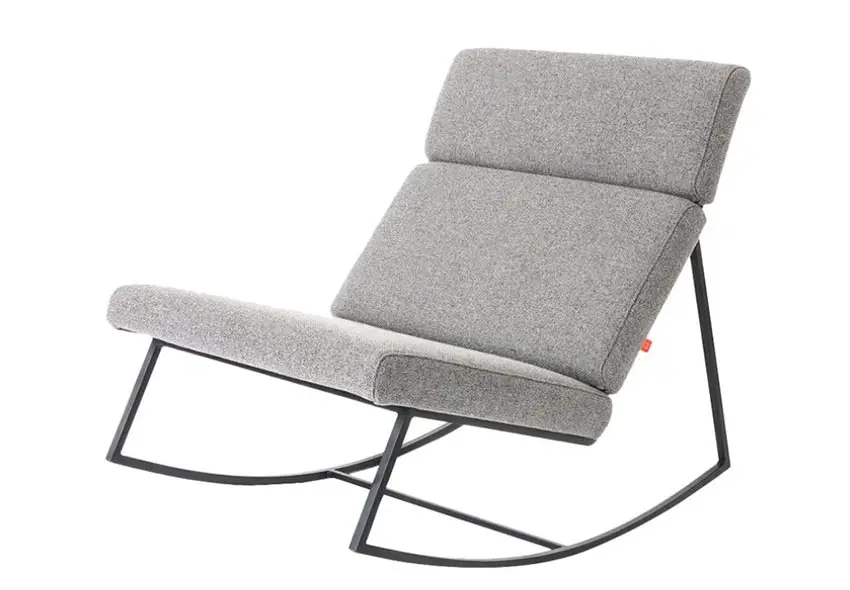 Another quite uniquely designed rocking chair, this piece sports a design that draws inspiration from vintage car interiors of the '70s and '80s. The base is made out of black powder coated steel and is fashioned into simple yet striking arches.
They even come with thoughtful felt strips at the bottom edge of the rockers to protect your floors from any potential scuffing. The seat itself is a polyester and cotton blend with a smokey, grainy gray finish. The chair all-in-all is a modern and stylish piece that would go great with retro interiors.
#6 Wicker Swivel Chair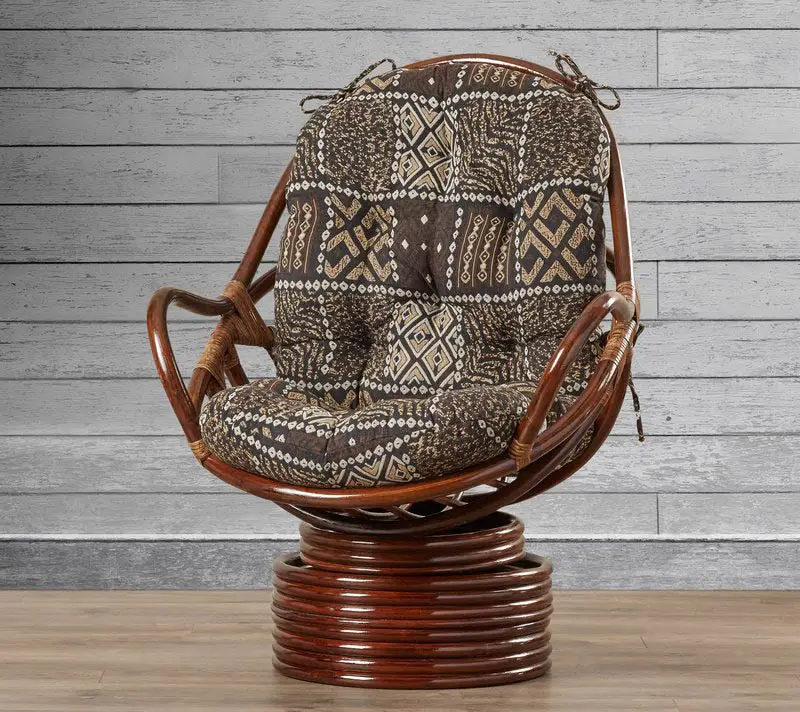 This rattan rocking chair features the ability to swivel and rock while relaxing. Designed to be used inside the house this stylish rocker is durable and compact enough to fit inside a smaller bedroom space. The chair has a wide assortment of fabrics to choose from to allow you to select the one that best matches your personal taste.
#7 White Hammock Chair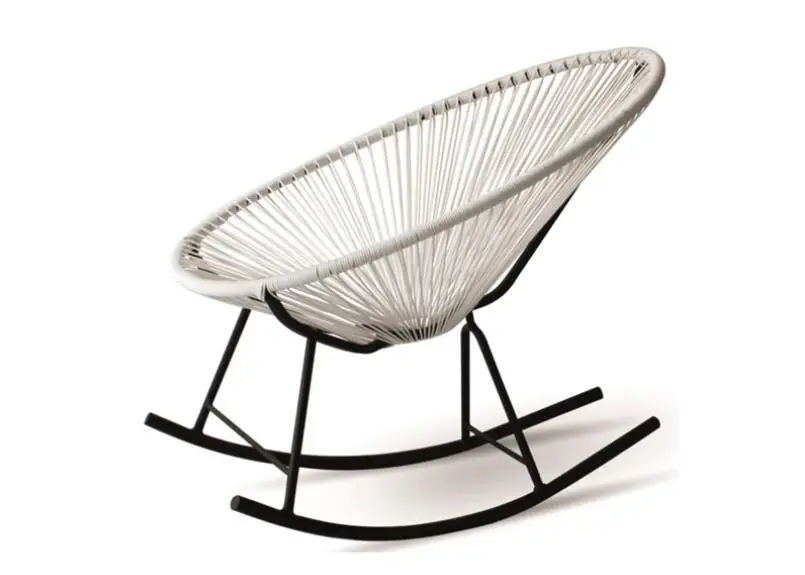 This white modern hammock style rocking chair has an interwoven cord design that comes from the time-honored Mayan tradition of creating woven hammocks.
The Acapulco Rocking chair is perfect for both indoor use as well as outdoor use, with materials that are durable enough to withstand any exterior weather.
With its unique woven design, it is fully adaptable to any and all body types and can function ergonomically quite perfectly. The design also lets the chair be breathable so it works well even in more humid or hot climates.
#8 Mid Century Modern Chair with Ottoman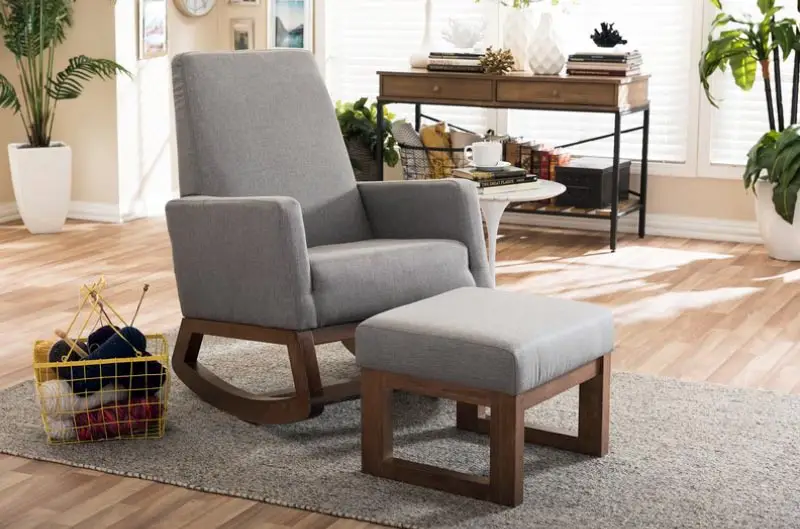 This particular rocking chair set makes homage to mid-century modern design and incorporates different retro design elements to really give it a traditional, vintage aesthetic.
The set comes with a partner ottoman which makes it perfect for lounging and putting your feet up. The grey polyester fabric upholstery is a perfect complement to the dark, wooden frame with its rich walnut finish.
This kind of versatile and modern piece of furniture can be used in a plethora of living spaces; it goes just as well in a nursery as it would in a living room.
#9 Cottage Chair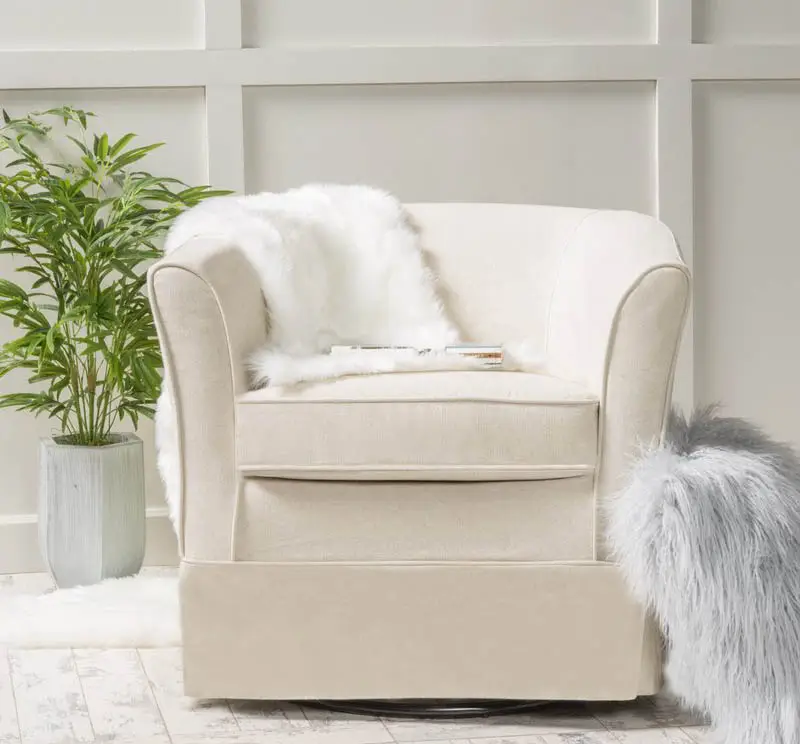 This beautiful barrel rocking chair with cottage style aesthetics is glamorous and inviting. In the case of this rocking chair, it has beautiful velvet upholstery that in addition to its style and comfort, have the added functionality of being removable so as to make cleaning and maintenance more free of hassle.
The flared arms transition to a straight back design with a narrow profile that's perfect for a reading nook in a bedroom or smaller space.
#10 Gaming Chair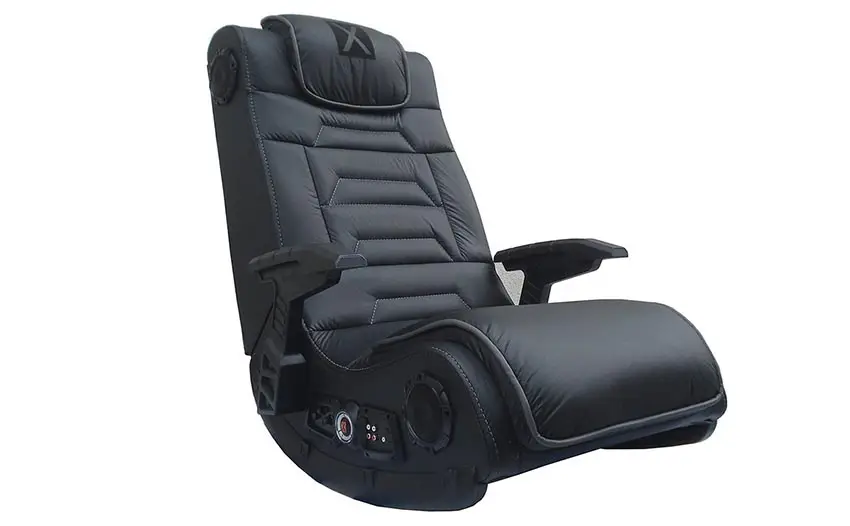 (See this rocking gaming chair at Amazon)
This futuristic, technology-clad beast of a rocking chair is one of the best examples of what happens when you mix modern-day technology with time-tested furniture pieces like the rocking chair.
This gaming chair is upholstered with a comfortable, breathable fabric which makes it perfect for hours-long sessions of gaming.
It features built-in speakers and innovative AFM technology for a unique and comfortable gaming experience. It has a radio wireless receiver, a padded head rest, and gun-stock arms to boot.
#11 Navy Blue Chair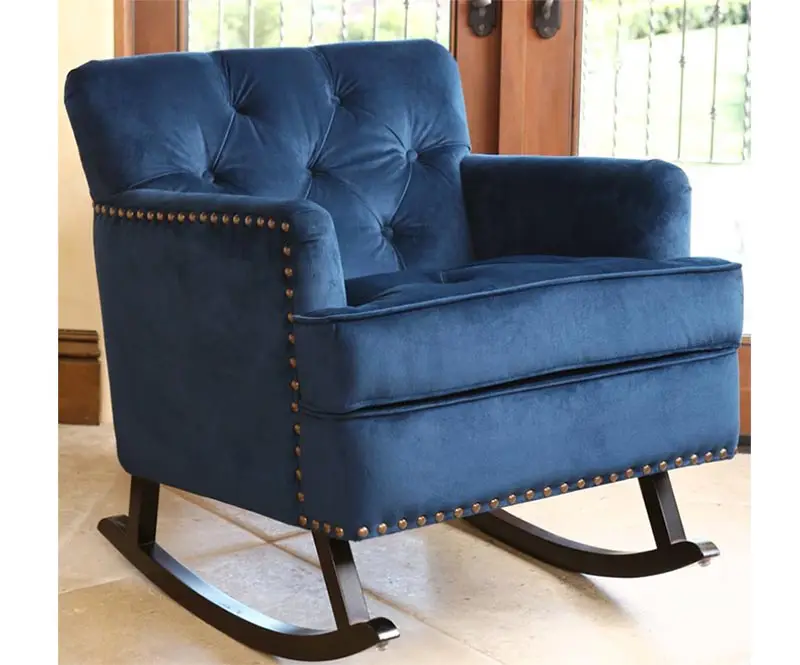 This rocking chair is designed exactly as you would a classy, navy blue arm chair, the only difference being the arched rocking chair base at the bottom.
The upholstered seat cushions and arms are of a micro suede fabric with tufted buttons at the back to keep it looking stylish and modern.
The legs at the bottom are fully removable, perfect for repairs or alterations you might decide to undertake in the future. The brass nail-head trimmings are a nice touch and go quite well with the dark blue color scheme.
#12 Outdoor Patio Chair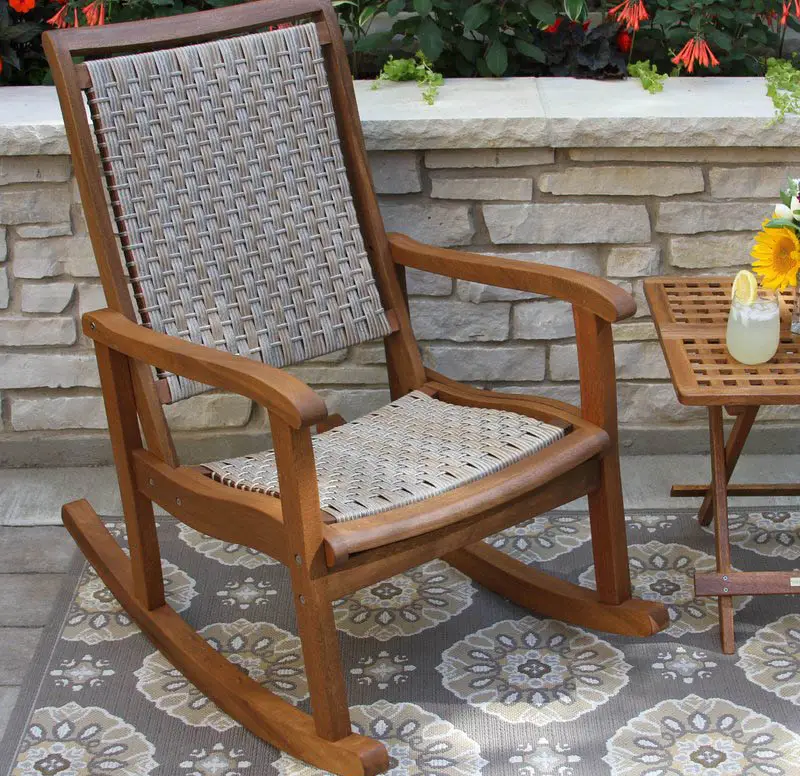 Constructed from a durable eucalyptus wood and resin wicker this outdoor patio rocking chair is charming and inviting.
The chair has an attractive look that can work with a variety of wood furniture to create a pleasing ambiance for your outdoor living area. The chair can be protected using linseed oil to help protect its natural wood finish.
#13 Danish Style Chair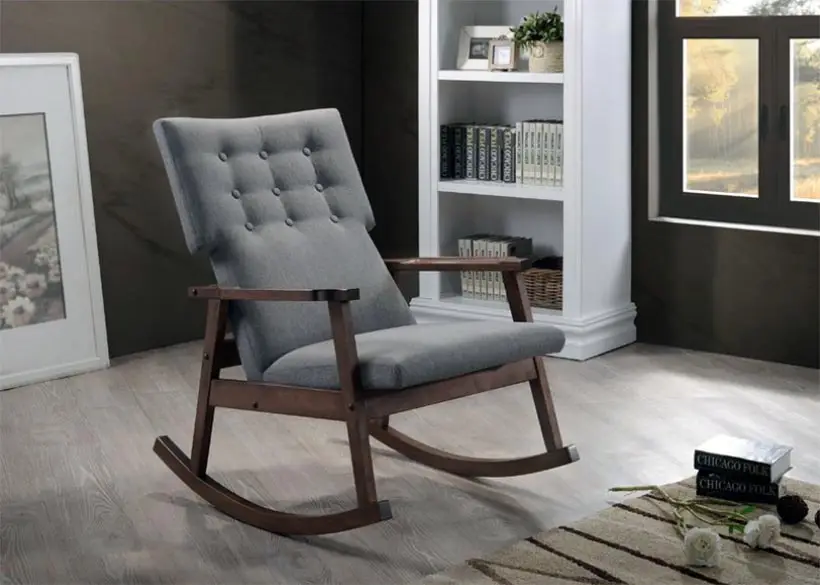 This classy piece sports a stylish, clean Danish aesthetic and quality workmanship. The Nikanor has a high back cushion upholstered in smooth, gray fabric with well-placed button tufting for that contemporary look.
The base of the chair sports solid rubberwood, richly stained in a dark walnut finish. Overall, this rocking chair looks smart, modern, and sleek but sports a comfortable design perfect for families and new parents.
#14 Velvet Chair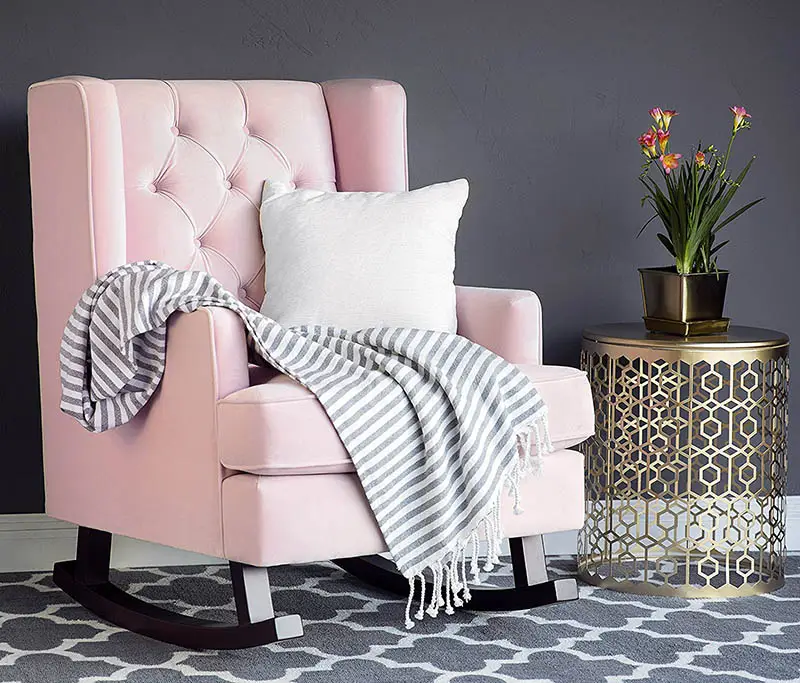 (See this pink velvet rocking chair at Amazon)
With a cool contemporary design this pink velvet tufted rocking chair is both comfortable and fashionable. The velvet material is soft and comfortable making it a great choice for relaxing after a long day.
Perfect for the person who want to make a statement and bring some character in to their room. The chair is also available in teal, beige, green and blue.
#15 Extra Wide Chair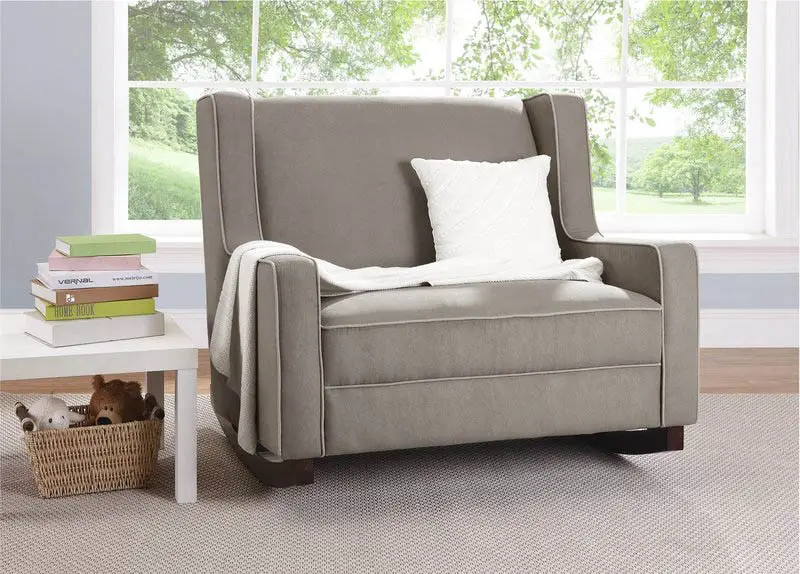 With an extra wide design this rocking chair has plenty of seating to share and snuggle. The chair is designed to be 1 1/2 as big as a traditional rocking chair which is big enough for two adults or several small children its a great choice for new mothers or families with small children. The polyester cushions are comfy and the cherry wood rockers provide a gentle rocking motion.