Here we share our transitional furniture style gallery including what it is, its different features, colors & designs, which rooms to use it in, and the best transitional brands & stores.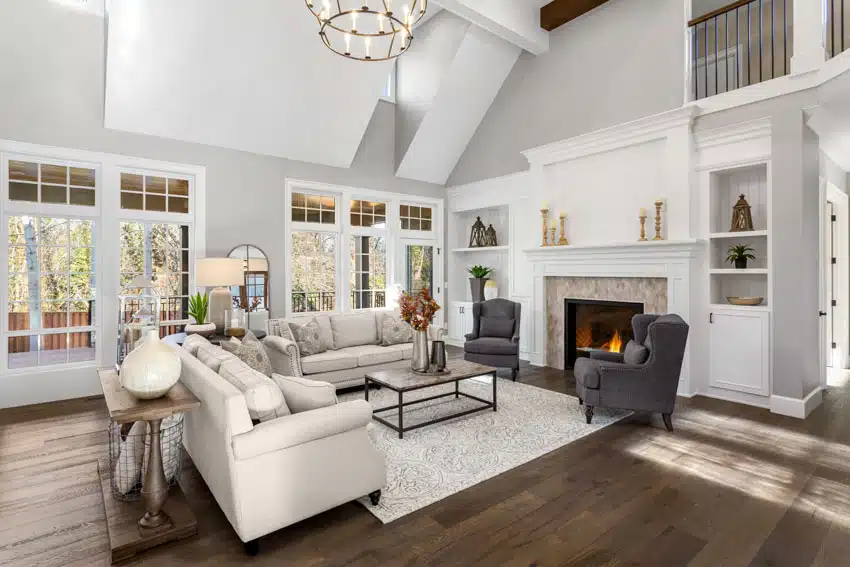 The word transitional has many meanings. However, when referring to transitional furniture style, it means bridging styles or building a bridge to connect two different types. Transitional furniture bridges traditional furniture with today's modern designs to create a fusion of the two.
The ensuing design pays tribute to classic styles and welcomes modern elements to breathe life into the old. When more ornate furniture is paired with the clean lines of contemporary designs, the result is one cohesive mix of two very different elements. And the results are intriguing.
To learn more about this exciting furniture style and how you can incorporate it into your home's design, read this helpful guide as we discuss what transitional furniture style is, its features, colors, brands, and where to purchase this unique and novel furniture.
What Is Transitional Style Furniture?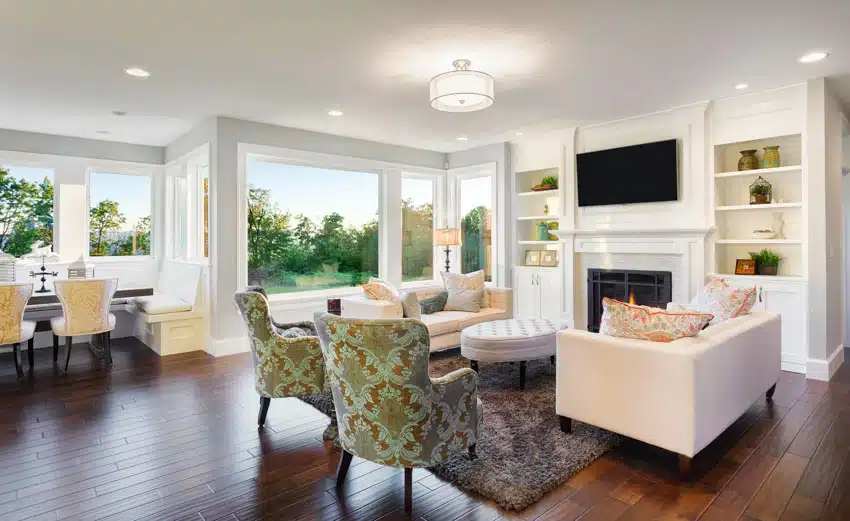 The elements of transitional style furniture include:
• Combining comfortable with functional
• Bringing together a mix of traditional design elements with modern and contemporary styles.
• Neutral colors with bold-colored accessories
• Soft, comfortable fabrics with natural textiles and materials
• Masculine pieces with feminine styles
Looking through design magazines, interior design websites, or browsing the inventory of furniture stores means you'll undoubtedly come across transitional-style furniture. It's prevalent in many homes and part of any interior designer's arsenal of style suggestions.
Homeowners appreciate using their sentimental and heirloom furniture pieces with modern and contemporary-styled furniture and accessories to bring the two together.
Essentially, merging the two styles allow both design eras to complement each other, providing an eclectic look without locking into one design era. The result is a balance of refreshed luxury and sophisticated contradictions.
For example, rustic wood types of dining tables and chairs with a black and white zebra-patterned acrylic serving tables provide enough contrast to create interest and pop. It may sound like two opposing styles, and that is true, but the tension they create is what transitional furniture styles is all about.
While the features of transitional style furniture are starkly different, the effect of melding the two creates a discriminating look.
Transitional Style Furniture Features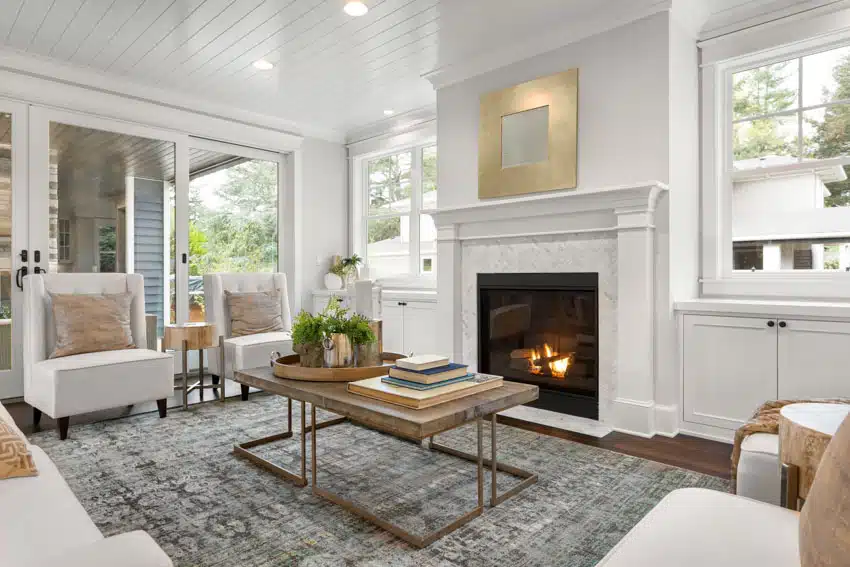 The features of transitional furniture style include several noticeable characteristics brought together to create this exciting style. The combination of classic and contemporary makes for interesting furniture pieces.
Below are the features found as part of transitional furniture.
Pair Curved and Straight Lines: The pairing of clean, straight lines and softer, rounded edges are typically used on transitional furniture. Another way to create the same effect is to pair two pieces of furniture, one with straight lines and one with rounded curved lines, and place them close together.
Use Complementary Textures: Transitional furniture tends to favor neutral colors and tones, so texture provides the variety. Materials such as wood, glass, fabric, metal, cement, and acrylic are layered or used together, intermixing different textures to create an interesting blend of organic and industrial.
Choose Simple Lines: Even when straight lines are matched with curved ones, keep the profile crisp to create a straightforward style. Curved and rigid lines work off each other to give the furniture piece energy and interest but be careful not to use intricate flourishes. Transitional furniture is designed with simple elements.
Mellow Color Palettes: Monochromatic neutral colors create a basis for strategic accents on transitional furniture pieces. Warm neutrals may seem dull. However, using shade variations of muted neutral colors leaves an empty palette to add drops of color through pillows, throw blankets and accessories.
Keep Accents and Accessories to a Minimum: The transitional furniture style is characterized by minimal designs on the furniture and the use of accents and accessories to contrast the unpretentious foundation.
Any accents or accessories tend toward minimal ornamentation and a sparse choice of specially curated choice objects. Bold colors are used in small amounts, providing the color pops around any room to cause visitors to take notice of the exclusive design transitional furniture offers.
Ask the Designer
We asked architect and designer Ellen Siloy her thoughts on the features of industrial furniture design and this is her response:
A transitional furniture style seamlessly blends modern materials with traditional profiles simplified to fit into a contemporary setting. A transitional interior has a balance of modern and traditional aesthetics creating an atmosphere of more lived-in space, practical yet has the right amount of decorative elements to create a homely feel.
Features of transitional furniture styles:
Neutral Colors paired with modern materials – Look for neutral color palettes, simple forms, and a combination of materials such as wood, metal, and glass.
Simple Profiles – Typically transitional furniture combines curved and straight edges with minimal embellishments with comfort as a priority.
Conservative Scale – Other styles have that grandiose scale or toned-down build, transitional style has a medium build.
Minimal and Curated Embellishment – While transitional furniture focuses on comfort and tends toward a more minimalistic approach, it does not abandon decorative features. Instead, embellishments are toned down and simplified versions of traditional design.
Balance and Symmetry – Since transitional furniture has a mid weight design (open to creative outcomes) it is necessary to match it with the existing scale of other elements.
Client-specific – Does not follow an established style.
Colors – General colors include neutral to earthy tones such as whites, grays, dark browns, and taupes.
Materials – Transitional furniture employs both modern and organic textures including metal, glass, wood, and natural fabrics. Leather and fabrics that exude texture are a favorite inclusion such as corduroy, chenille, and suede.
Symmetry and balance are important features to create a cohesive interior design especially as transitional styles incorporate a wide range of styles into one setting. – interior designer, Ellen Siloy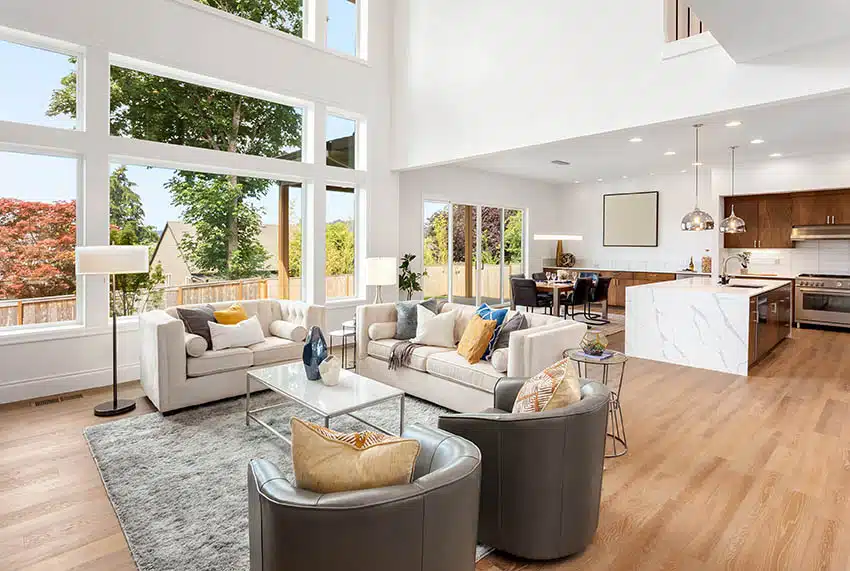 ---
Designing Transitional Style Spaces
Here's what Rachel Razal Padilla, our in-house interior design expert, has to say about designing transitional furniture and spaces. If you would like to incorporate transitional design into your home, keep in mind the following design tips:

Comfort is the priority – Comforting and welcoming are two of the best words to describe a transitional space. Think of fully upholstered sofas with large seating, soft cushions and textured pillows and a calm and relaxing ambience.
"When you look at a transitional style space, you immediately feel warm and invited. It's polished yet doesn't make you feel intimidated to use the space. Additionally, it encourages relaxation. The overall design is cozy, comfy and homey", Rachel stated.
When choosing transitional style furniture, opt for pieces that have ample spaces, luxurious soft upholstery and high-quality craftsmanship. Steer away from anything that looks too stuffy or stiff.

Simple is better – Keep simplicity in mind when designing transitional spaces. Forego extremely detailed and ornate furniture and furnishings because they tend to look off when juxtaposed to clean, sleek, modern pieces.
According to Rachel, although transitional design combines both the traditional and modern styles, it strongly adheres to the philosophy "Less is More".
It uses carefully selected furniture pieces and is not overly decorated. Accessories are used sparingly and every furniture in the space is placed there with intention, so the resulting overall look is clean and very streamlined.
Layer your textures – Layering textures and finishes gives visual interest to transitional style interiors. According to Rachel, "Layering textures works well in transitional style spaces which use monochromatic and neutral color palettes.
The reasoning being that these color schemes tend to become dull when not properly executed. By combining different textures and materials, you add depth and dimension to the space through contrast", Rachel said.
Keep it light – One noticeable difference between traditional and transitional design is that the former tends to use dark colored wood. Light wood is more prominently used in transitional furniture because they have a more relaxed appeal.
According to Rachel, the best woods for transitional style furniture include the following species oak, maple and walnut. These woods have colors that range from creamy white to pale brown and are extremely durable and reliable for furniture use.
Embrace neutrality – Another hallmark of transitional spaces is the use of neutral and light color schemes throughout the interior. As mentioned, muted hues and earthy tones like creams, white, shades of brown, taupe, gray are largely used in transitional furniture, furnishings and decor. Accent colors include subtle shades of calming blues, refreshing greens and sometimes mustard yellow.
According to Rachel, neutral colors not only produce a clean, serene look but it can also instantly render a soothing feel to a space.
Oftentimes, you find these colors used in bedrooms because they tend to promote relaxation and they lighten the mood, and that is the same thing you want to achieve in a transitional style space — serenity, comfort and warmth.
Rachel also added that when creating your color palette for a transitional style space, it is best to start with three colors. Three colors are perfect because it is enough to create balance and produce the right visual effect. Choosing too many colors can make your space too overwhelming.
"Start by choosing a neutral shade like white or off white as your most dominant color, then add two more tones — one for contrast and the other as an accent.
For example, shades of white for the walls and furniture, a light and medium toned brown for the wooden elements and finally, a muted version of teal as the accent.", she stated.
Alternatively, you can opt for a monochromatic scheme. According to Rachel, a monochromatic palette employs one color in different shades, tints and tones. That means your whole color palette will be composed of darker and lighter varieties of your base color.
For example, ash wood floors paired with greige walls and a cool gray sofa. Rachel also added that monochromatic color schemes can be effective by combining different materials and textures.
Balance is key – Balance is key to pulling off a stunning transitional style interior — balance between the traditional and the modern design, the old and the new, the masculine and feminine elements in the space.
"To achieve balance in the space, you can start with the furniture pieces first to anchor your design, then add in contrasting styles through the accessories. For example, traditional seating paired with a modern wooden center table with metal legs, then you can add delicate glass accessories for a feminine touch.", Rachel said.
Mix and match – Mixing and matching is one of the best design tricks you can use in designing transitional spaces. You can mix and match the style of the furniture, the patterns of the decor, the scale or the textures of the finishes.
Rachel discourages the use of anything extremely traditional or extremely modern so your space can still blend harmoniously despite mixing and matching different elements.
Create a focal point – If you do not know where to start designing your transitional spaces, you can choose a furniture or accent that will serve as the focal point for the space. It can be modern or traditional style, as long as it makes a striking statement.
For example, you can start with a striking traditional wooden dining table then design the rest of your space from there. Add in a modern hanging light above and a beige area rug to draw the eyes to the center of the room.
---
What Are Transitional Colors?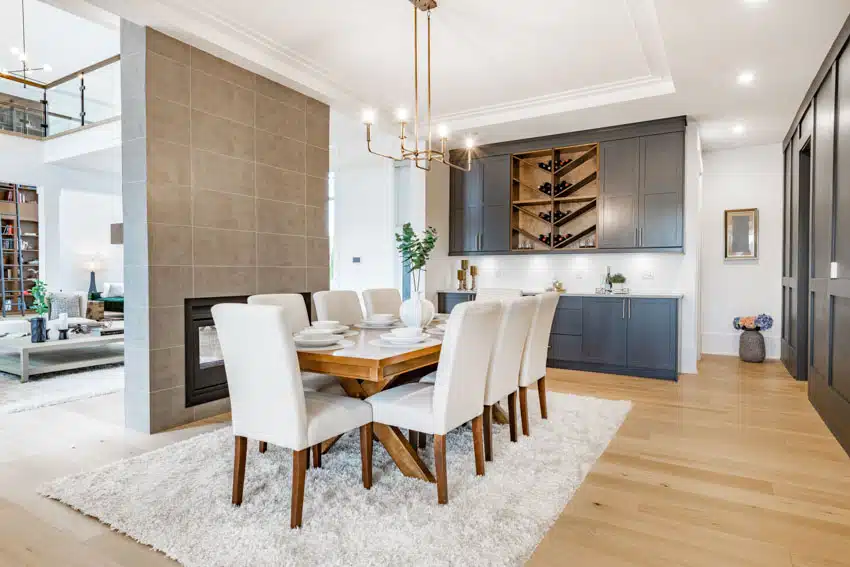 Transitional colors typically include beige, browns, grays, and charcoal, all neutral tones to act as a monochromatic background for the active styles of transitional furniture. Transitional paint colors have a healthy balance of warm and cool colors and stay close to a 50/50 ratio.
If a room has walls painted in golden tans, adding too little gray or cool blue furniture and accessories will not balance the style. Transitional room styles demand colors that create consistency to provide a foundation for the two different types of furniture styles.
Transitional Bedroom Furniture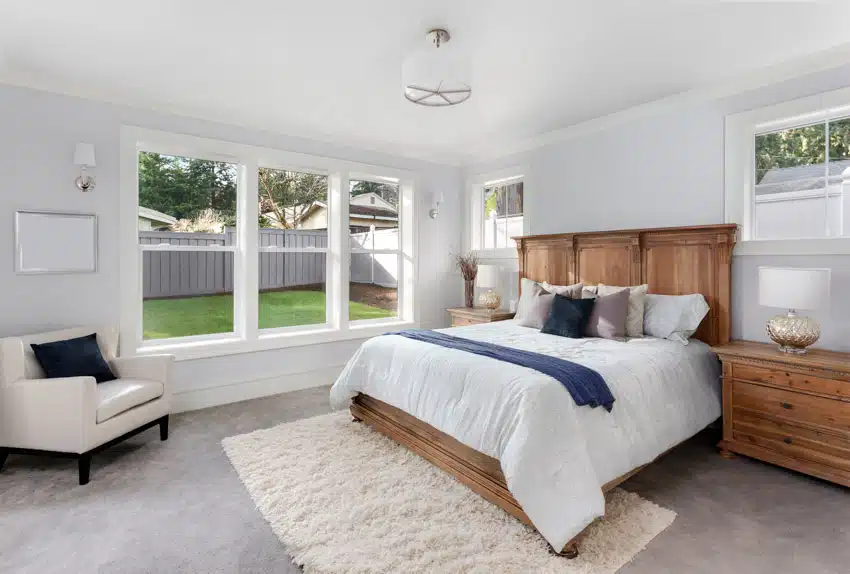 Transitional bedroom furniture often has a peaceful feel, promoting calmness and rest. A brass-buttoned tufted headboard upholstered with neutral fabric and married with a metal framework creates a modern twist on a classic bed frame style. However, the simple lines of the metal framework bring balance to the gilded headboard to create a relaxing haven.
Another distinctly transitional bedroom furniture combination is a wooden canopy or four-posted bed with a traditional, curved headboard made of deep mahogany paired with sleek, glass bed stands. Add some sophisticated table lamps and a microfiber chaise lounge in smoky gray to contrast with the mahogany wood.
Transitional types of bedroom furniture create a soothing getaway, much like a suite in a resort, bringing all the luxury and comfort of two different eras into one space.
Transitional Living Room Furniture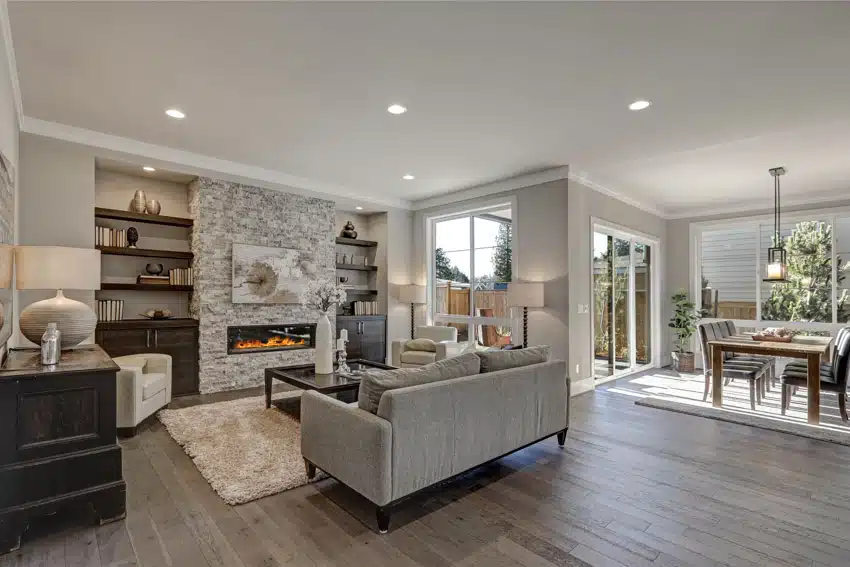 Living room furniture for a transitional décor is based on what your living room style already incorporates. A living room with crown molding, neutral colors, and long, ornate draperies takes on a lighter style by adding simple living room furniture.
Choose couches and loveseats upholstered with solid-colored, soft fabrics to balance out the more traditional style throughout the room.
Transitional living room furniture itself follows the same old meets new style combining classic elements with modern. A clean-lined, simple living room set with sleek, metal framework and yet luxurious leather coverings says look at my country western style accented with trendy, shiny metal.
What Makes A Sofa Transitional?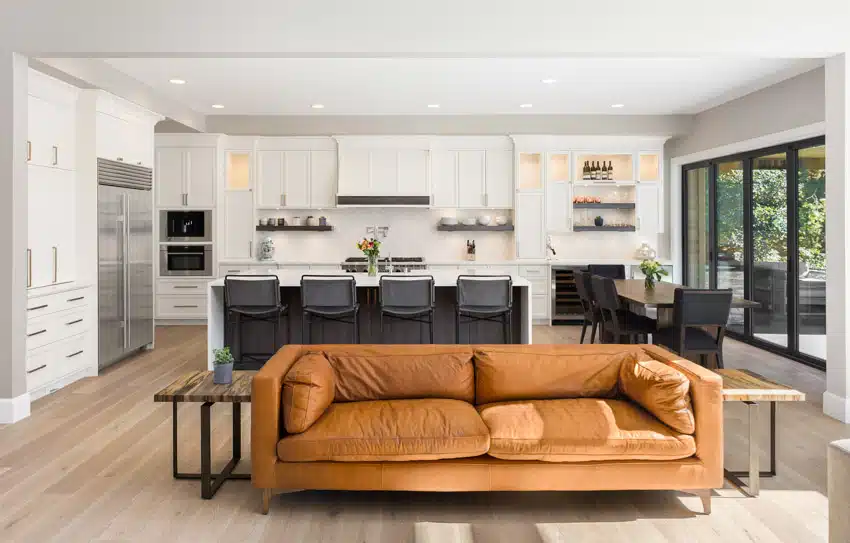 For a sofa to be transitional, there must be a good balance of classic and modernistic materials and structure. Designers use the best elements of traditional and modern couches and create a warm, casual piece.
The resulting sofa is the best of both worlds with a unique style of its own. Adding throw pillows with contrasting designs can further balance the mix of classic and contemporary.
The sofa is the most significant piece of living room furniture and can also be offset with sitting chairs or a loveseat that includes different forms of the sofa's design.
A country-styled sofa with a white-out wood frame and sea foam solid green fabric can be matched with chairs and a loveseat with the same frame but a print-design fabric that incorporates the sea foam green.
Decorate with traditional lamps, rugs, and window coverings to finish the look. The same effect can be achieved by purchasing a complete living room set with a sofa, loveseat, and chair.
Choose light, solid-colored fabric in a neutral color and bring in lamps, end tables, and a coffee table with contrasting materials and looks. Be creative and reckless with your accent colors but remember not to overpower the neutral colors of the sofa and living room set.
Transitional Dining Room Furniture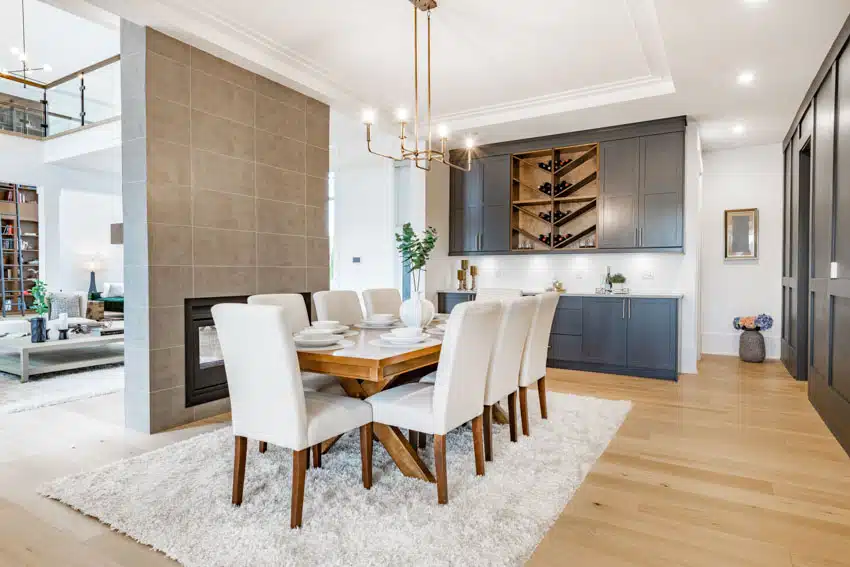 Dining rooms are where family and friends gather to share a meal, laugh, and enjoy a conversation. A dining room style of stiff furniture, traditional serving ware, and delicate figurines may be too much for homeowners who want a more welcoming atmosphere.
That's where transitional dining room furniture comes in. A long, glass dining room table fitted with upholstered wooden chairs creates a comfortable and conversational setting perfect for a lively dinner party.
The chairs contrast with the minimalist table so diners can be relaxed while the table creates an obtuse platform for the savory dishes of food. Buffets and serving carts can act as traditional or contemporary balancing items, or you can shop for purely transitional dining room furniture that's a combination of the two.
Never underestimate the mix of old and new when it comes to transitional dining room furniture. You can still keep precious heirlooms to combine with more contemporary pieces and décor, all creating a refreshing take on typical dining room styles.
Transitional Style Kitchen Furniture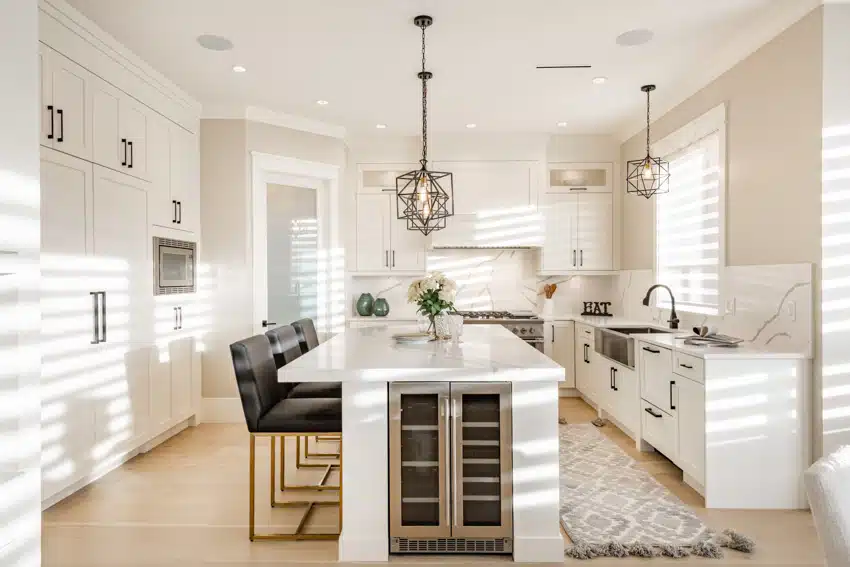 If a true classic or ultra-modern kitchen doesn't suit your design preferences, consider transitional kitchen furniture to spice up the space and keep all the things you love about traditional and contemporary furniture.
Kitchens already lend themselves to mixed materials and elements, often paired with neutral walls and colors. Choosing transitional furniture only helps to allow creative chaos by embracing the differences. And both bring together all the fun of a transitional-styled kitchen.
Using a palette of grey and coffee colors in the kitchen allows you to surround your kitchen with transitional furniture and utility pieces. Consider using shaker-style furniture and cabinets in neutral colors. These timeless cabinets create a solid backdrop to add to the rest of the kitchen furniture and accessories. Keep décor to a minimum; you'll have plenty of kitchen gadgets and tools to fill the space.
Reserve a portion of your countertop space, or if you have a kitchen island topped with traditional marble countertops, pair tall, wicker embellished chairs with silvery metal legs to create a focal point for visitors or guests.
A kitchen nook with spindle-back wooden chairs and an acrylic round table also make a spot for a cup of coffee and a chat. The conflict of modern versus traditional draws the eye and makes the space feel special.
Kitchen tools and accessories can include an old-fashioned metal stepping stool that folds up when not in use, a set of ultra-modern track lights hung with differing heights, and mixing up your countertop appliances with classic and cutting-edge cooking tools.
Cabinets and flooring should be done in neutral colors with minimal design, patterns, or texture to allow the kitchen transitional furniture pieces to take center stage.
Transitional Furniture Brands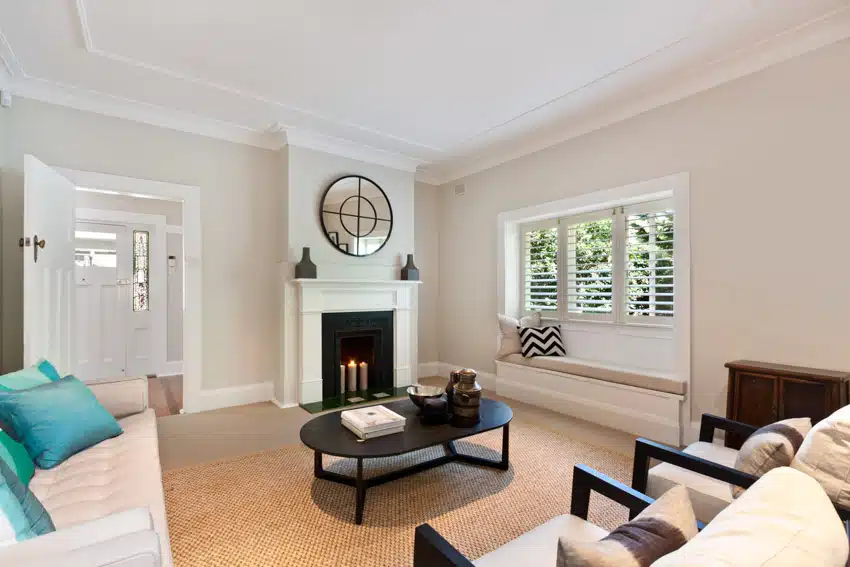 Furniture companies have embraced transitional furniture style, watching this meld of classic and modern styles take off in popularity. Iconic pieces are much easier to find and now saturate the market, with manufacturers and brands touting their inventory.
Below are several brands you can explore that offer transitional furniture pieces.
Brand
Description and Locations
Sample Piece
Caracole


Caracole creates transitional furniture offering versatile and unique pieces for every room in your house.

Their high-style designs provide personality and beauty using the timeless look of traditional furniture combined with the clean lines of modern innovation.

Instead of creating collections, Caracole offers individual pieces and custom fabrics to take transitional furniture and make it uniquely yours.

Caracole is sold in the United States and globally. Click here to find retailers.

Sample Piece: The Cityscape King Bed is Caracole's offers intersecting lines and shapes to create a positive/negative effect.

The design itself creates a cityscape using a mix of metals with bold finishes.

The side and foot rails are upholstered in vegan leather, contrasting the metallic structure for a transitional duo.

ModShop

ModShop offers custom furniture designs marrying an exquisite combination of designs, including organic paired with industrial, modern and urban loft styles and transitional Hollywood Regency glamour.

All ModShop furniture can be customized to fit your personal style needs. Find ModShop furniture retailers here.

Sample Piece: ModShop's Palm Beach Lucite Desk recreates a traditional tabletop with classic fluted legs using a transparent contemporary Lucite material.

Paired with a cow skin rug and clean-lined chair creates the perfect transitional style for your home office.

Jonathan Charles

Jonathan Charles furniture employs meticulous and ingenious designers taking their inspiration from antiques around the globe.

Transitional furniture is created by reproducing the original pieces with added contemporary details to complete a new style.

The resulting pieces show evidence of age-old techniques with a breath of fresh design that makes them transitional. Locate a dealer by clicking here.

Sample Piece: The Gatsby Cabinet is a wardrobe made from hardwood hand-rubbed in a Dark Grey Walnut with stainless steel or mother-of-pearl inlays.

The merging of modern stainless steel with French design creates a truly transitional style. No piece is alike due to the natural wood grains.

Rowe Furniture

Rowe Furniture's furniture inventory includes pieces infused with unique details, clean lines paired with classic curves, and modern accents.

Their furniture embodies the transitional style using eclectic and cosmopolitan elements with classic styles.

Rowe Furniture offers a transitional style for homeowners not afraid to infuse their homes with strong statements and personality. Find retail locations here.

Sample Piece: Rowe Furniture's Stockdale Twin Sleeper Sofa provides the neutral colors and clean lines of a modern piece with your choice of over 500 fabrics.

The seat moves to reveal the sleeper bed, and two throw pillows are included. The custom fabric choices, wood legs and cushions allow you to create a personalized transitional sleeper sofa.

Sherrill Occasional

CTH Sherrill offers an inventory of mixed media, numerous finishes, and global sources, including carved wood from South America and metal designs from India.

Their furniture collection offers new and daring dynamics, mixing organic with man-made materials and casual with formal styles.

Mediums also include industrial matter such as glass fiber reinforced concrete and aged metals with contrasting wood elements. To find a retailer, click here.

Sample Piece: The Cullet Rectangle Cocktail Table takes the warm, luxurious feel of a parquet top supported with the coolness of a round metal tube frame to create a beautiful example of transitional style.

The frame is configured in a geometric pattern to add more tension to the piece's design.
Transitional Furniture Stores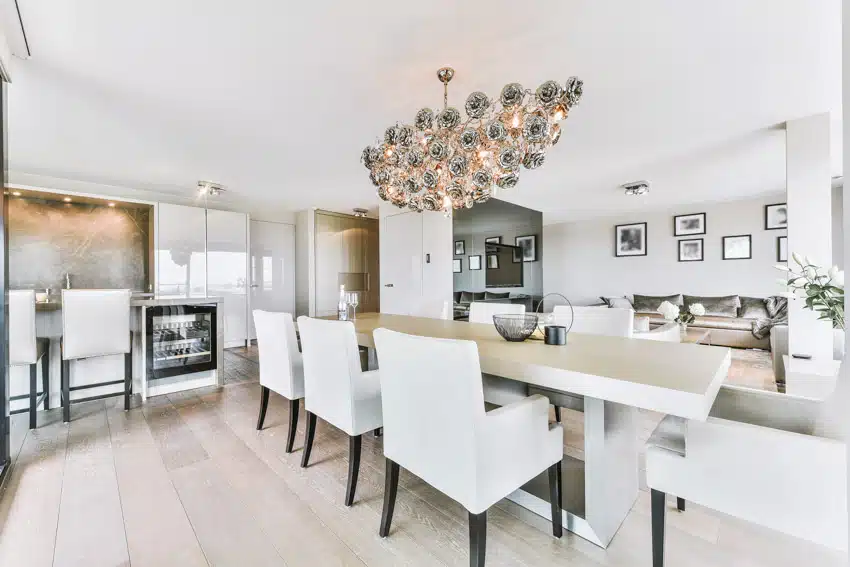 With the excitement of transitional furniture saturating the furniture market, countless stores are offering this intriguing style. To help you find a local or online store that carries transitional furniture, we've listed some of the mainstream retail stores you can browse.
Clicking on the links below will take you to a search results page for transitional furniture for that retailer. If the link takes you to the retailer's home page, there were no search results, but they do offer plenty of transitional furniture pieces that aren't categorized as transitional.
You can browse the furniture categories, and armed with the information in this guide; you'll recognize the fluctuating yet cohesive style. If a store is online-only, it will be marked as online.
Embrace the combined styles that make up transitional furniture and see how the rooms in your home are transformed into comfortable and exciting spaces. You'll show off your discerning taste by incorporating transitional style furniture and décor in your home and don't need to be limited by one furniture style.
Transitional-styled furniture allows for a broad palette of colors, materials, embellishments, and fabrics to choose from and allows the freedom to incorporate sentimental items with new designs.
See more related content in our article about transitional kitchen designs on this page.