Here we share octagon backsplash designs including what it is, different tile styles, materials, and kitchen & bathroom octagon tile backsplash ideas.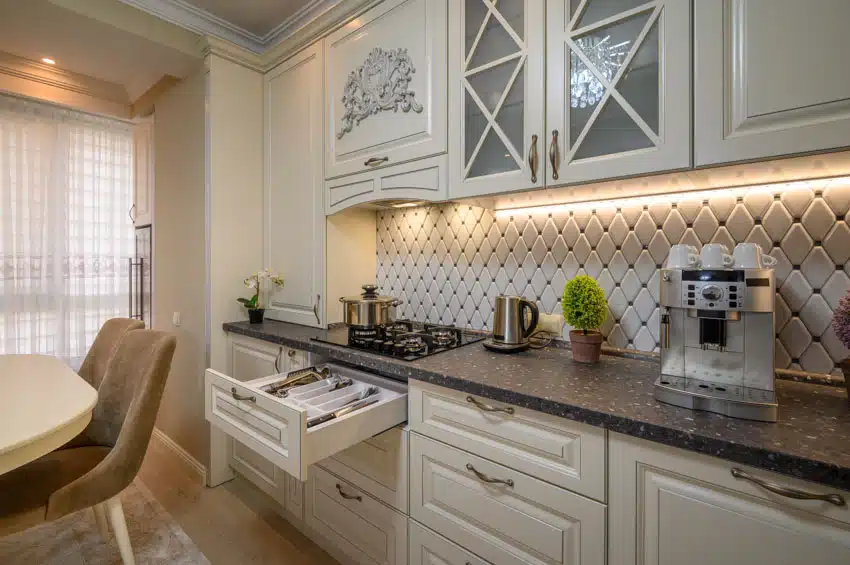 As technology advances, we gain access to fresh shapes, designs, colors, and patterns. Octagon backsplashes have become increasingly well-known these days. They are both eye-catching and extraordinary, and they are ideal for infusing flair and originality into your kitchen or bathroom.
A backsplash in the style of an octagon can accentuate a kitchen far more effectively than painting it. These octagon tile backsplashes are stunning, and they come in a variety of qualities, allowing you to select the perfect one to make your kitchen sparkle. They are also very simple to install!
Although octagon tile backsplashes might be visually appealing, their primary function is to preserve the structure of the wall behind them. These uniquely constructed backsplashes are most found near sinks and stove-tops, where splatters from liquids, food, and oil are frequent.
What Is an Octagon Backsplash?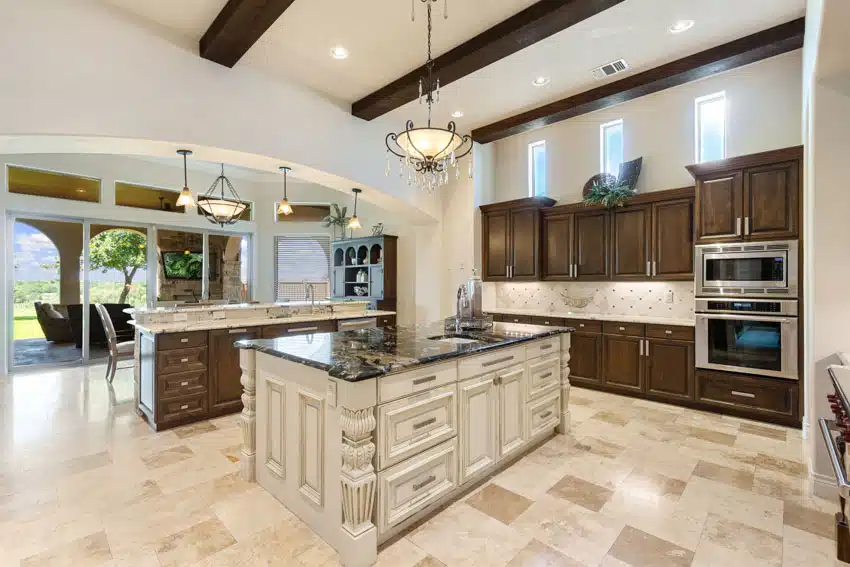 An octagon backsplash is made up of eight-sided shapes that are of the same height and length. This backsplash features a mosaic design that mimics the look of tiling found in elegant kitchens of the past decades. Since the time of the Romans and Greeks, octagons have served as an essential shape in building and design.
The octagon was generally the favored shape by lots of homeowners for backsplashes since developing materials into eight straight sides is practical and provided a great visual appeal.
Octagon backsplash tiles are often designed for simple installation and are appropriate for a wide range of backsplash applications such as nearby kitchen countertops, accent walls, shower rooms, and striking wall insets.
Octagon tiles were utilized to provide the impression of a sanitized and spotless space. These backsplash tiles still have that clean, completed aesthetic today and demand attention wherever they are put. Although this basic geometric shape is antique, its lines, angles, and appearance are very timeless.
Octagon Tile Backsplash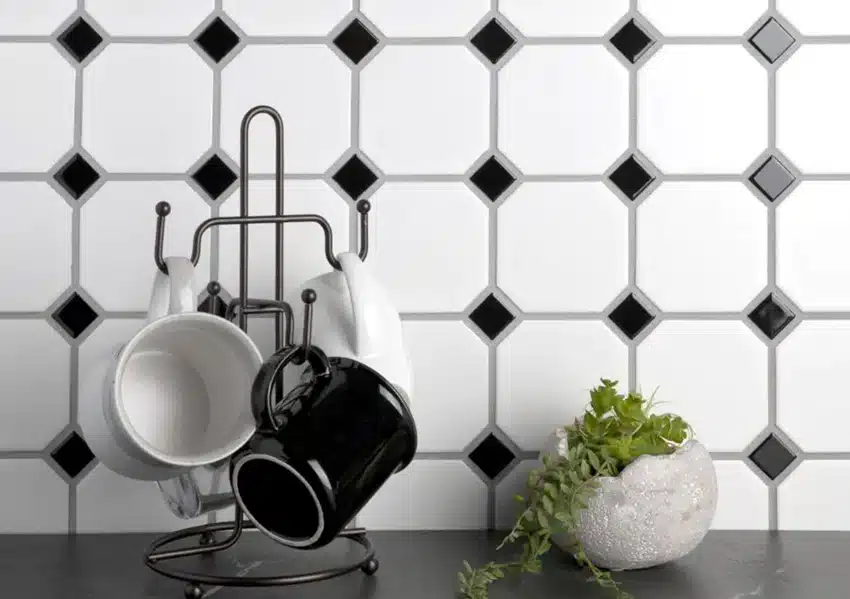 See this black and white octagon tile backsplash at Home Depot [sponsored link]
There are different types of octagon tile backsplashes that you might encounter on the market. Here are some of them:
Mosaic Tile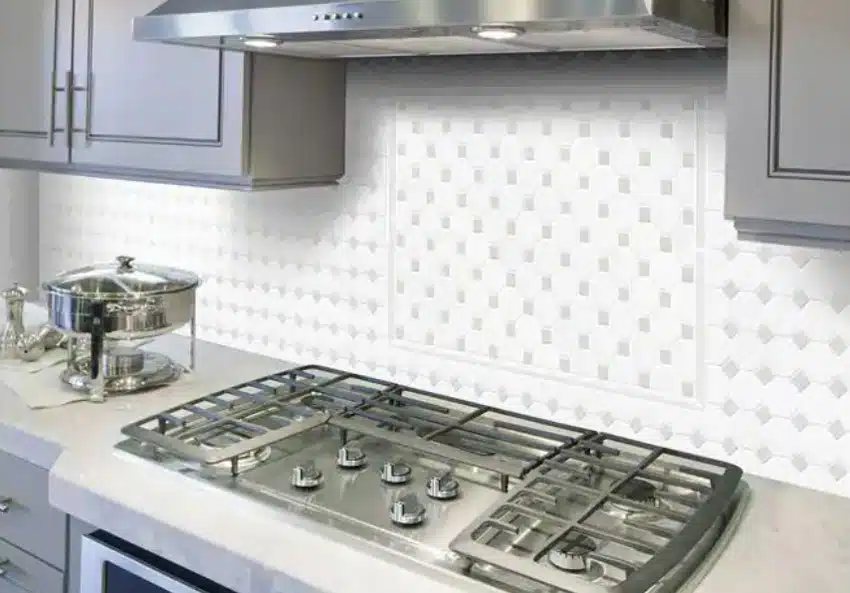 See this octagon mosaic tile backsplash at Home Depot [sponsored link]
An octagon mosaic tile is frequently distinguished by marble construction with exceptional stain resistance and water absorption. The glossy surface of the tile makes it perfect for usage as a wall and backsplash tile. It includes a set of octagon tiles, which are often installed on a backsplash slab for ease of installation.
Furthermore, aside from marble, octagon mosaic tiles can be made of ceramic, porcelain, natural stone, or even metal or glass, and can be laid out haphazardly or in a sequence on a mesh-mounted panel. Octagon mosaic tiling is a one-of-a-kind kind of artwork that frequently adds a unique flair to a kitchen or shower backsplash.
However, because octagon mosaic tiles feature grout lines, it is normally recommended to seal them. Some of these tiles must be sealed both before and after installation. Sealing any octagon mosaic tile with porous surfaces like natural stone is extremely vital to prevent staining. The grout will protrude more if your tile is sealed after installation.
Vintage mosaic shapes are a popular option for kitchen owners who want to add an eye-catching backsplash with a familiar geometric pattern.- interior designer Ellen Siloy.
Large Backsplash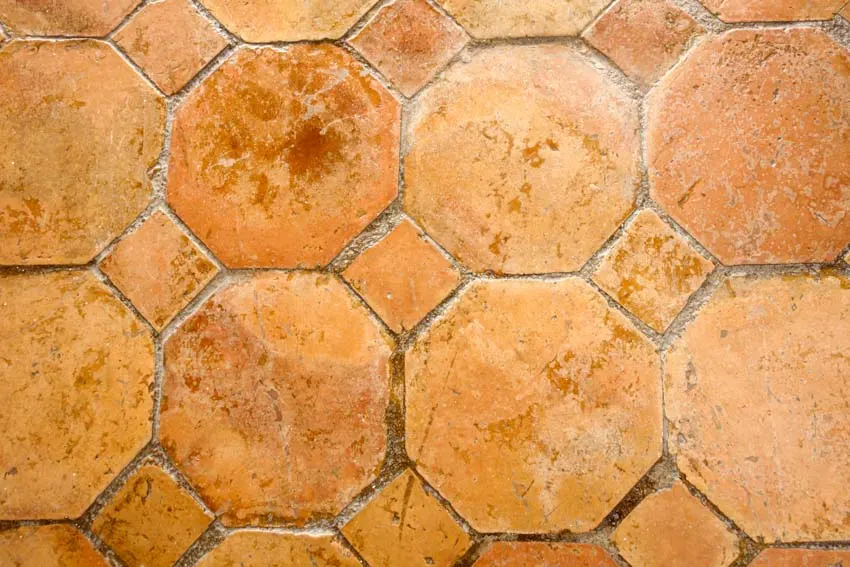 These days, octagon backsplash tiles are also getting larger. Large octagon tiles, especially in lighter hues, can make your kitchen or bathroom appear more spacious. Larger tiles also imply fewer grout lines to maintain.
Large octagon tiles have a luxurious shape that is both classic and stylish for any kitchen size. These tiles are available in a variety of materials, colors, and sizes, ranging from marble to copper to white to black. You can incorporate this element into any kitchen with this vast selection of large octagon tiles.
You can get a minimalist and refreshing style with a large white octagon tile backsplash and finish the overall look harmoniously. Or you can add an extraordinary twist with contrasting large octagon tiles and establish a unique focal point between your kitchen cabinet and countertop.
Whatever you select, a well-installed large octagon backsplash will assist you in creating your ideal kitchen by making a bold statement. One major advantage of using large format tiles is that they are easier to install because the development procedure takes less time.
Furthermore, the minimal grout lines between the tiles mean fewer spots for filth and debris to build, making the large octagon tiles a more sanitary backsplash solution.
Elongated Backsplash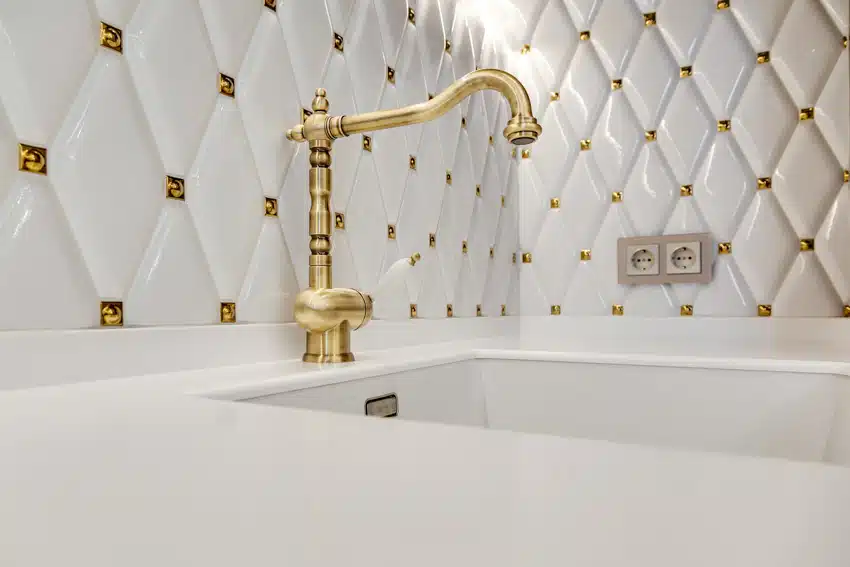 One of the latest options available from the tile sector is an elongated octagon tile backsplash design. This elongated backsplash tile resembles a stretched-out octagon. Six of the sides are frequently long, while the two end pieces are on the shorter side. This is an excellent technique to make creative types of kitchen backsplash designs with soft corners and angles.
If you like subway tile backsplash but want to try something different, the elongated octagon backsplash tile would be a great choice. The octagon tile version features smoother edges, but it still appears luxurious as a backsplash above your countertop.
Moreover, these elongated octagon tile shapes give a level of adaptability that is only bound by the amount of creative effort provided. Longer backsplash styles are now creating some modern contrasts in kitchens.
Gloss Backsplash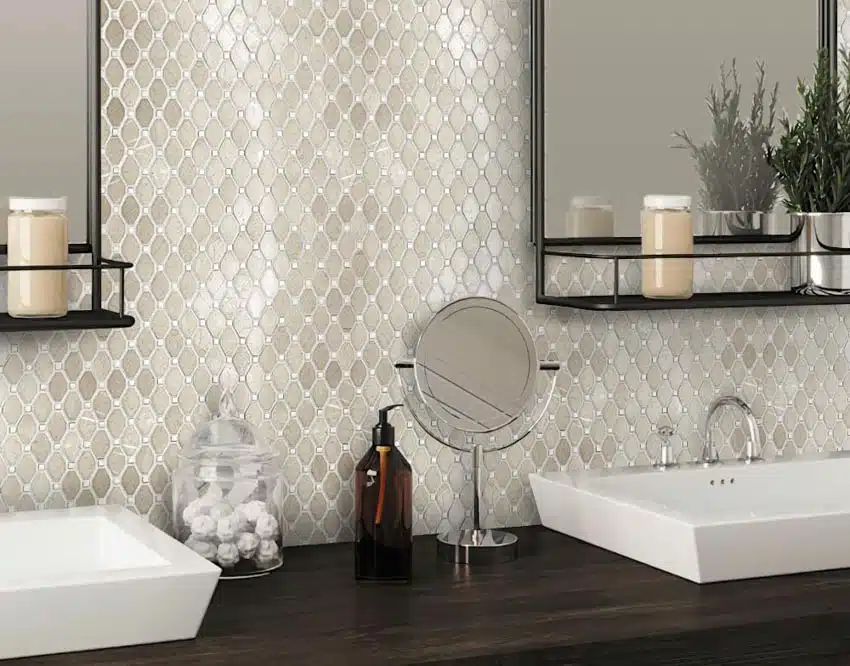 See this glossy octagon tile backsplash at Amazon [sponsored link]
Gloss octagon backsplash tiles are treated with a high-gloss polish to give your bathroom or kitchen a stately and extremely clean look. Your octagon tile colors will stand out with a glossy finish; thus this is a wonderful choice if you want something clear and vibrant. The glossy finish of these octagon tiles is smooth, which makes them very easy to maintain.
Furthermore, gloss octagon tiles are an excellent complement to any kitchen, and many people appreciate the elegant appearance they provide. This backsplash design is very reflective and can assist in enlivening and opening up your room.
Because of their silky texture, gloss octagon tiles are quite easy to clean, and most glossy tiles may be effortlessly wiped thoroughly with warm water, which makes them a huge plus for backsplashes. Glossy octagon tiles look more professional and sophisticated, which can help you polish your bathroom or kitchen design.
Peel and Stick Backsplash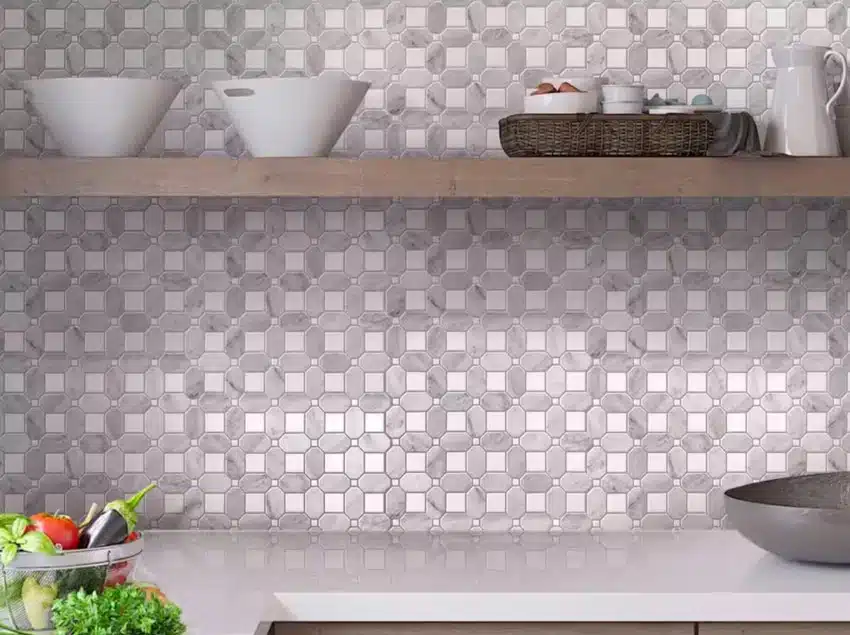 See this octagon peel and stick backsplash at Home Depot [sponsored link]
Installing ceramic or stone octagon tiles may sometimes seem complex. Nonetheless, one of the key advantages of octagon peel-and-stick backsplash tile is its simplicity of placement. Standard octagon tile installation can be complex and time-consuming, requiring mortar and grout.
However, octagon peel-and-stick backsplash tile overly simplifies the process. What you just need to do is cut the backsplash sheet to size, peel off the sticky backing, and adhere the sheet to the desired surface. It is indeed devoid of mess and inconvenience. Some products require only a pair of household scissors, and you can install this kind of backsplash in your kitchen or bathroom immediately.
Although certain octagon peel-and-stick backsplash tile materials do not have the genuine look and feel of actual ceramic or natural stone octagon tile, plenty of these products are as textured and premium in appearance as their authentic tile equivalents.
In addition, when putting octagon peel-and-stick tile backsplashes, remember that they are merely temporary, especially in moisture-prone areas. Usually, octagon peel-and-stick adhesive wears down faster than mortar and grout over a period, specifically when exposed to water. Thus, if this backsplash design will be in persistent contact with moisture, you might want to avoid this option.
Backsplash Materials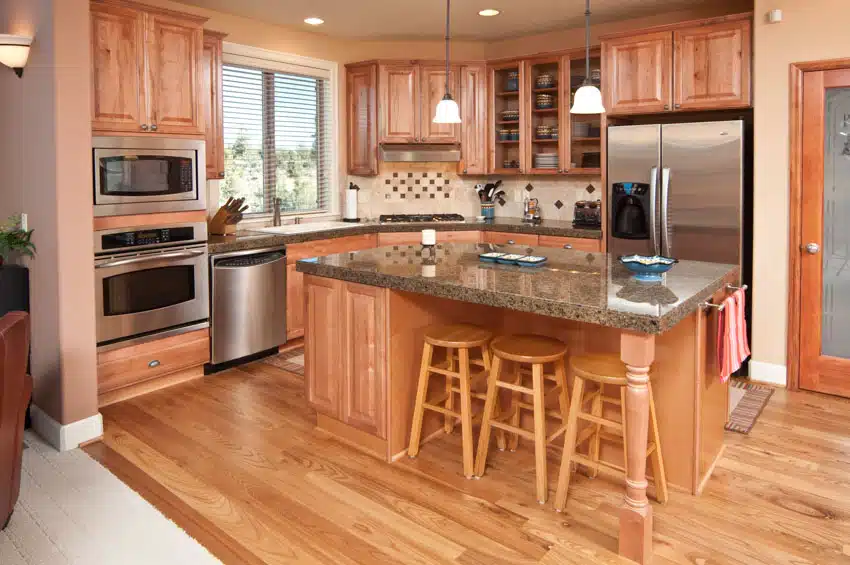 All octagon tile backsplashes are highly attractive and have a huge potential in making your kitchen look high-end and luxurious. However, there are different types of octagonal tile backsplash materials that might help you successfully find the perfect option for your kitchen or bathroom.
Ceramic Octagon Tile: Ceramic is arguably the most popular backsplash tile material. A ceramic octagon tile backsplash is an inexpensive alternative that still has a high level of durability. Octagon ceramic tiles are manufactured from a clay mixture and burned at a hot temperature in a kiln to produce a wide range of colors and designs.
Because of its affordable cost and exceptional efficiency, this type of octagon tile backsplash material has become one of the most preferred materials, although it must be noted that ceramic octagon tiles require more ability and knowledge to install than basic peel-and-stick octagon tiles.
Most ceramic octagonal backsplash tiles are created from recycled materials including clay, sand, or glass, which helps to lessen your environmental impact by choosing an ecologically friendly solution.
You can also comfortably say that your ceramic octagon tile backsplash is waterproof. You will not need to worry about cracked or warped octagon tiles whenever they are exposed to steam and water.
Porcelain Octagon Tile: The porcelain octagon tile backsplash is an excellent alternative if you want the grandeur of genuine stone but wish to save money on materials and maintenance.
Porcelain octagon tiles are long-lasting and come in a variety of qualities. A porcelain backsplash with octagon tiles can be designed to have the appearance of any natural texture including wood or real stone.
Porcelain octagon tiles, just like ceramic octagon tiles, are manufactured with a clay composition and then burned in a kiln. The primary distinction between octagon porcelain and ceramic tile is that porcelain utilizes finer clay and is burned at a much hotter temperature, increasing the density and longevity of the octagon tiles.
Keeping these factors in consideration, octagon porcelain tiles are indeed a fantastic choice for a kitchen or bathroom backsplash thanks to their simple maintenance, minimal cost, and superior longevity.
Marble Octagon Backsplash: The marble octagonal backsplash boasts that translucent feature with the exquisite delicate veining that delivers an elegant and naturalistic feel. One option for your marble octagonal backsplash is to arrange multiple marble tiles, each with a different style, to create a mosaic of patterns.
Calacatta marble backsplash tile is one popular type of marble because of its purely white surface with massive and dramatic gray speckles. By far the most appealing aspect of a marble octagon backsplash is its varied luxury appearance and feel.
This octagon backsplash material represents beauty, sophistication, and agelessness. It gives every area a light and airy feel, and its unique beauty is unrivaled. A marble octagon tile backsplash can create a dramatic contrast to dark kitchen cabinetry and add additional lighting to a modern-style kitchen.
Nevertheless, certain homeowners avoid marble octagon backsplashes since they necessitate frequent maintenance to keep them from looking perfect. Because of their light color, accidental splashes or spills would be quite visible, especially in the grout lines.
Fortunately, a marble octagon tile backsplash is simple to clean when necessary. Most spills may be cleaned with warm water and dishwashing solution, while tenacious stains can be removed using a baking soda and water mixture. Sealing the grout lines may also be necessary.
Metal Octagon Backsplash: Metal octagon backsplash tiles have always been referred to as enormous metal ceiling tiles that have been reclaimed for the wall. This arrangement is still used in some houses and businesses, but numerous manufacturers have lately developed metal tiles that can be molded into octagonal shapes and come in a range of textures and finishes. And yes, they have seen that metal tiles can also work as backsplashes.
Admittedly, a metal kitchen backsplash with octagon tiles adheres straight to the wall with an adhesive element, making them more straightforward to install compared to other backsplash options, although they are more expensive than ceramic or porcelain solutions.
Copper is the most frequently used metal for octagon backsplashes. The deep reddish-brown tones of copper octagon tile backsplash greatly protect your kitchen wall by masking any stains or spillages. However, you can choose different hues of copper octagon tiles and arrange them sporadically on your countertop area to create an eye-catching aesthetic impact.
Metal octagon backsplashes, particularly copper backsplashes, can be used in both contemporary and traditional settings, although they look best in kitchens with neutral hues like black or white, which highlight the metallic nature of the material.
The only disadvantage of metal octagon tiles is that they are prone to scratches and other abrasive damages. Certain metals may react poorly with acidic foods. Copper tiles, for example, while lovely at first, will gradually tarnish over time.
Kitchen Backsplash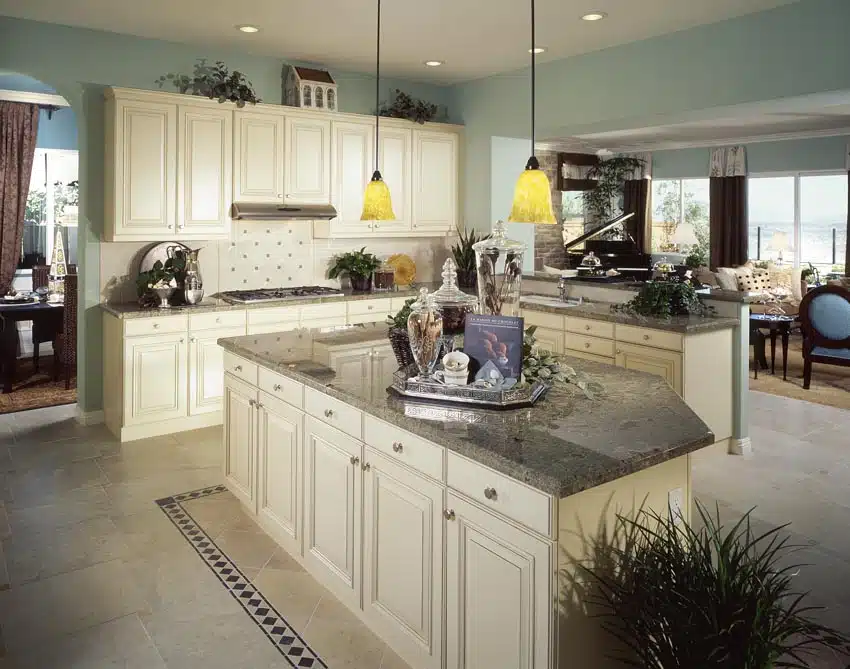 When choosing the ideal backsplash tile for a kitchen, functionality, and durability are the most important. The octagon tile backsplash, with its spontaneous design, is considered a continuing component of contemporary decor. This implies that you are not obliged to change your octagon tiles anytime in the near future.
However, if you wish to have a really good octagon backsplash kitchen, here are some ideas that you might want to apply:
• Because it takes up so much visual area in kitchens, the backsplash is frequently the first thing you notice. As a result, a beautiful matte and gloss combination on your octagon tile backsplash might be an eye-catching highlight.
You can alternate a matte octagon backsplash tile with a few glossy octagon tiles. The best material for this backsplash design is a copper or white marble octagon tile, which gives an exciting theme of glossy and rustic textures.
• Pairing two contrasting materials on your kitchen wall can be a difficult design choice, particularly when moving from one to another. Well, you can effortlessly transition from wood paneling, for example, to an octagon tile by maintaining the octagonal tile shape's wholeness rather than trimming the wood floors to fit the pattern of your octagon tile backsplash, as you would when transitioning from wood to stone in terms of floor installation.
• You may create unique geometric shapes, monochromatic patterns, a colorful environment, and other interesting backdrops for your kitchen with multiple octagon tile designs and variations.
• You can pick two colors to be sporadically set on your octagon backsplash to add aesthetic appeal without overpowering the kitchen with color. There are additional octagon tiles available in multiple colors.
A two-tone octagon tile, for example, might feature half of it in a different shade. A bright and delicate hue can be used to add contrast. A brown and beige combo, for example, might enable you to add a complex layer to your monochrome octagon tile backsplash design.
Bathroom Backsplash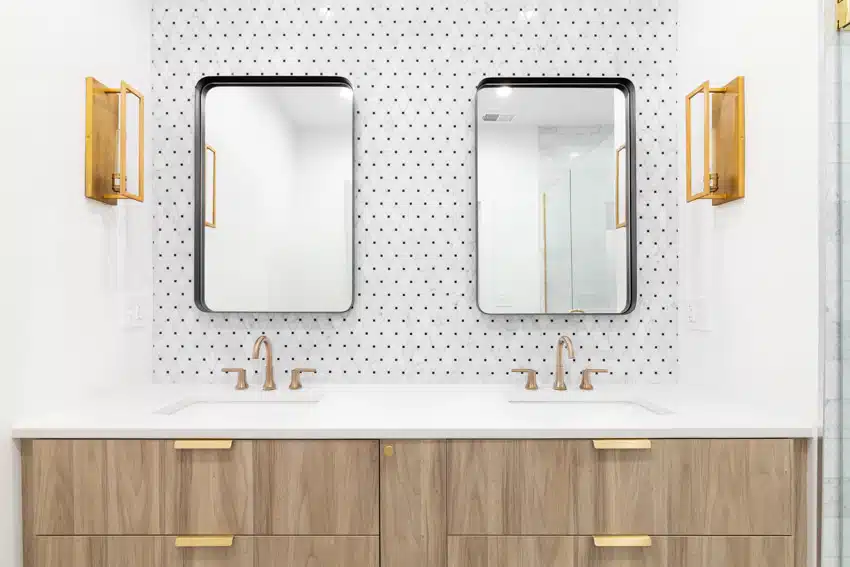 Octagon tiles are available in a range of colors, so you can easily create a unique look for your bathroom. They make waterproof and durable bathroom floors, making them ideal for wet areas such as the sink or toilet area. The octagonal shape provides visual interest and makes it easier to maintain.
An octagon bathroom tile can be a multicolored backdrop with unique octagonal elements for your kitchen and bathroom backsplash. These tiles are perfect for creating a fun and interesting atmosphere in your bathroom.
Shower Tile
See this octagon shower tile at Amazon [sponsored link]
Octagon tile is a fashionable and practical option for your shower backsplash or floors. This shower tile has a unique octagonal shape and looks great in contemporary and traditional-style bathrooms. Its bright and vibrant color options are perfect for any shower area decor, which helps you to prevent a dull-looking shower space.
What Is the Most Timeless Octagonal Backsplash Color?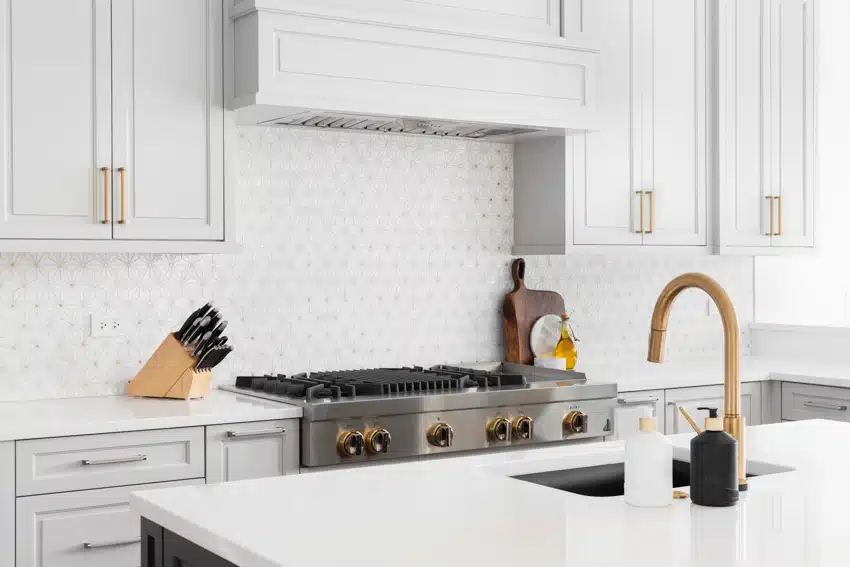 A white octagon backsplash is, without a doubt, the most classical and timeless alternative for any kitchen or bathroom. A white backsplash may complement any color palette and design style while also adding value due to its effortless elegance. Indeed, with a white octagon tile design, you will not worry about updating it as it offers ultimate timelessness.
See more related content in our article about hexagon backsplash on this page.