See glass tile backsplash designs including the different types, pros and cons, cost, how to cut this material, and useful installation tips.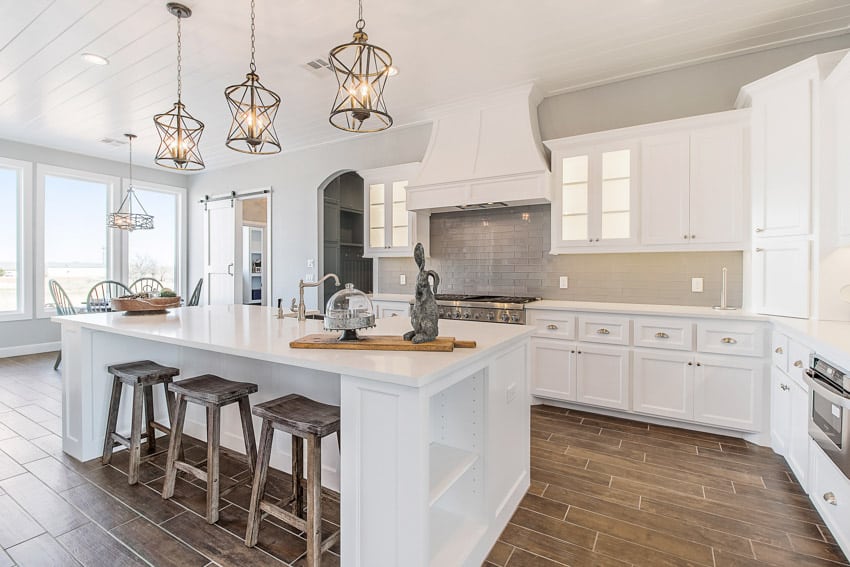 The glass will always be an elegant material to work with but sometimes people are scared of using and working on this material because of the preconception that it's too fragile and can break anytime.
The truth though is that you can use glass even for walls and can even be a protective element in the home like a backsplash. A glass tile backsplash is quite a progressive choice at home but it's also a stunning investment for your kitchen.
Glass tile adds incredible visual interest to your home and the materials are also quite versatile since they come in different sizes and shapes, as well as an endless array of patterns.
Types of Glass Tile Backsplash
You can consider mosaics, penny tiles, and subway tiles, depending on your preferences. If you want to explore all your options on the different types of a glass tile backsplash, here are some options to consider.
Glass Subway Tile Backsplash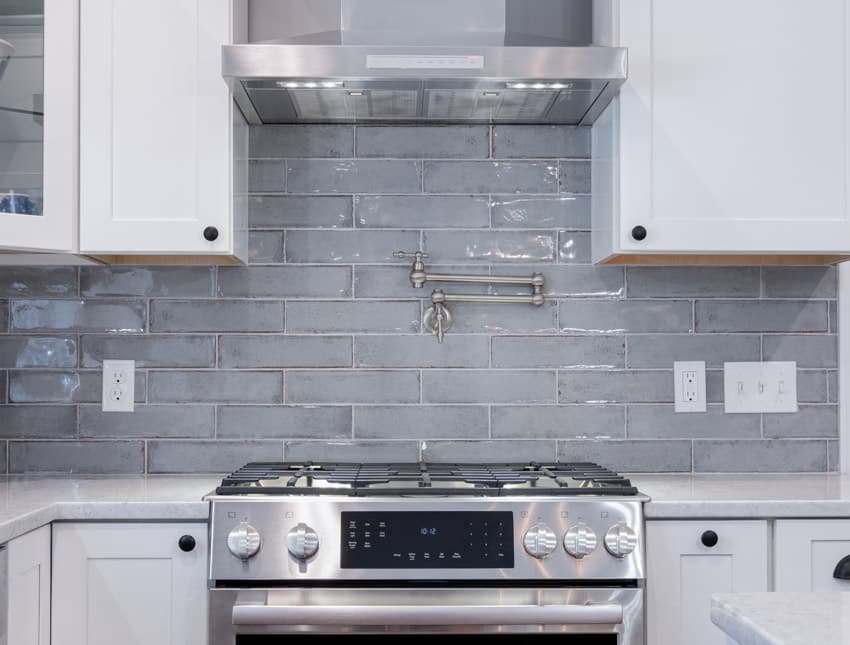 One of the most popular types of backsplash you can choose for your kitchen is a glass subway tile. With the development of the construction industry, many new tile styles have been introduced and that's where subway tiles come from.
A glass subway tile backsplash comes from the tile lining style used in the New York subway walls. Rustic in vibe, these tiles make you feel nostalgic and bring back many memories. The arrangement of these tiles is considered traditional but using glass tiles instead of the usual bricks can easily add visual value and elegance to your kitchen.
So if you want something that's both trendy and unique at the same time, this type of glass backsplash is a good consideration. Make sure though that you know what you're dealing with, from its proper installation to its cleaning and maintenance.
Glass Mosaic Tile Backsplash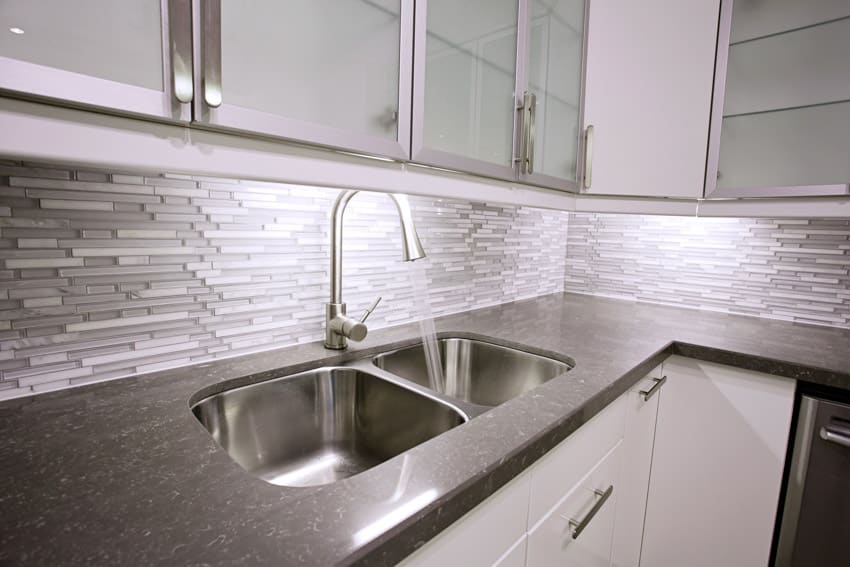 A glass mosaic tile backsplash can also be considered for either your kitchen or your bathroom, depending on where you plan to install it. Aesthetically, arranging the glass tiles in mosaic form showcases enough creativity and statement that will protect the walls in your home while at the same time adding visual value to the space.
Considered both timeless and versatile, glass mosaic tiles can be used in a variety of areas in the moon but most specifically for wall decors including the different types of kitchen backsplash, as well as those used in bathrooms. You have a variety of colors and shapes in your hands and you can create a particular pattern using these smaller tiles.
In terms of performance, glass mosaic tiles also have an impervious surface with makes them resistant to bacteria, mold, and mildew buildup, which is what you want to have in the kitchen or bathroom where these elements are more likely to grow due to moisture exposure.
Frosted Glass Backsplash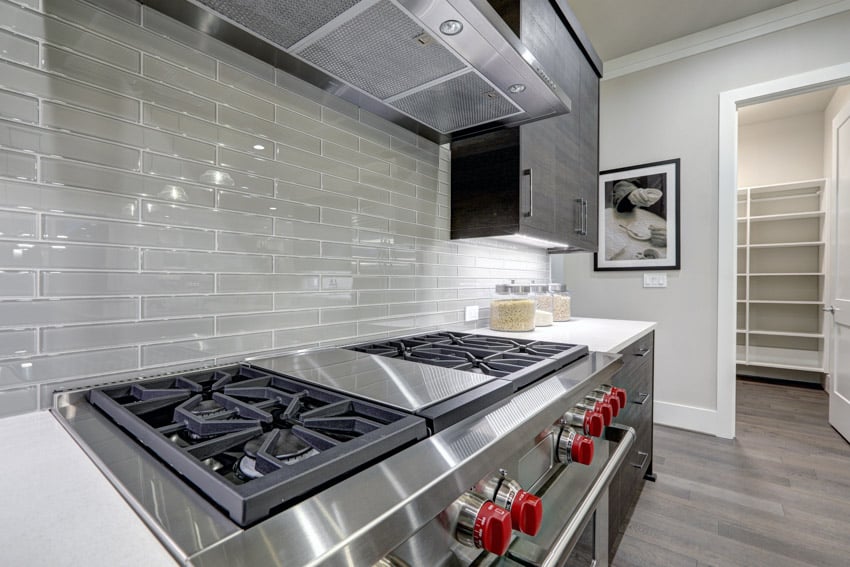 A stunning option to go for is a frosted glass backsplash if you don't what to go for the usual look of glass tiles. Usually, with a matte finish, frosted glass tiles have this blurry effect on the surface that's made possible with either acid-etching or sandblasting. They are also significantly less reflective, soft to look at, and have a leather feel to them.
These frosted glass tiles are incredibly versatile since they can still be used to form different patterns, including linear, subway, picket, and herringbone patterns. And they can be used in kitchens and bathrooms, making an eye-catching addition to your home.
Sea Glass Backsplash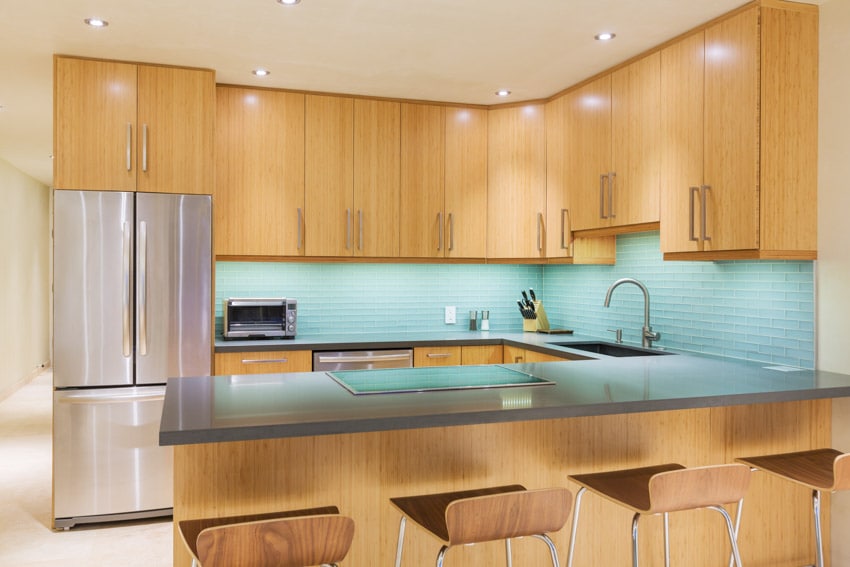 Another type of glass you can use for a backsplash is sea glass, which is basically comprised of small pieces of glass that were formed when the glass chemically and physically weathered because of its constant tumbling and motion.
More than just where the interesting way they are formed, sea glass tiles can easily bring in tropical and beach vibes to your home. If you build a sea glass backsplash, expect a sunny and fresh addition to your home with a simple change in the wall.
More than just its aesthetic value, you can also enjoy the following benefits:
• Incredibly durable
• Impervious to wear and tear
• Eco-friendly
Glass Peel And Stick Backsplash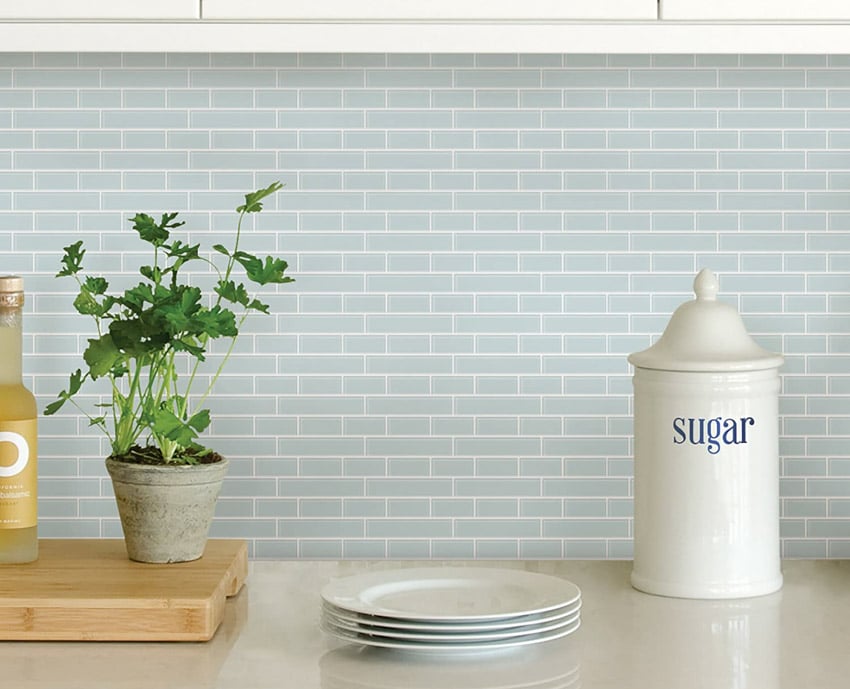 See this glass peel and stick backsplash at Amazon [sponsored link]
Peel and stick tiles and panels are well-lived by many homeowners and DIY enthusiasts primarily due to how easy it is to use these materials. You can easily peel over the back of the tiles and stick them on the walls you're working on.
With glass peel-and-stick tiles, installation is even more carefully done since the tiles are usually transparent and so a mistake in the application can easily show.
Choosing to work on a glass peel and stick backsplash means that you're choosing an affordable and convenient project to work on that's also very DIY-friendly so you won't need to pay for its installation since you can do it on your own.
Painted Glass Backsplash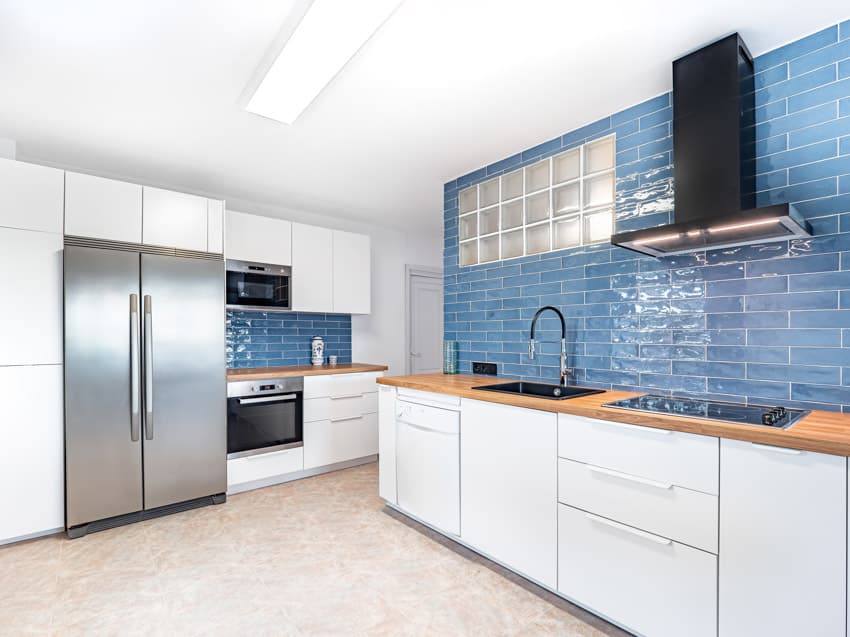 Similar to how frosted glass is, painted glass tiles are created from the paints being hand-blown to a glass sheet. If you choose a painted glass backsplash, it can easily brighten your kitchen or bathroom since the glass can easily reflect ambient light in the said space.
This means that you can also make a small space look a bit bigger than it actually is. And all these benefits on top of the added visual effect you can use in your home.
A painted glass backsplash needs to be mounded to the drywall. You can have the painted tiles installed in a frame or laminated to clear tempered glass before mounting them to the wall as a backsplash.
Solid Glass Backsplash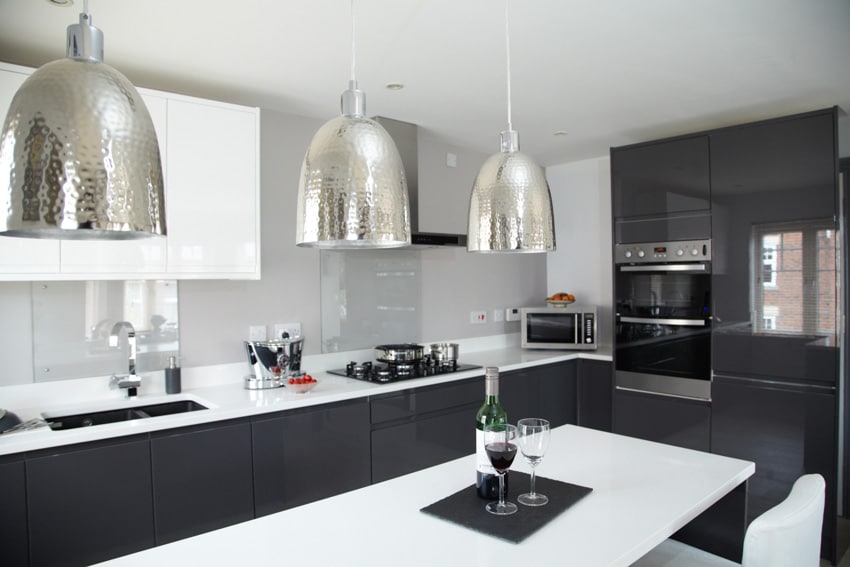 If you like the elegance of glass but also need to add some color to your home, going for a solid glass backsplash can be recommended.
Solid glass can come in a variety of textures and colors you can choose the one that you think will fit the style of your home. Using solid glass as a backsplash can easily put emphasis on the area.
A solid glass backsplash is a convenient option because it is durable and easy to clean and maintain. And while being visually stunning is a great advantage, the backsplash is about wall protection so durability is a vital consideration.
Glass Herringbone Backsplash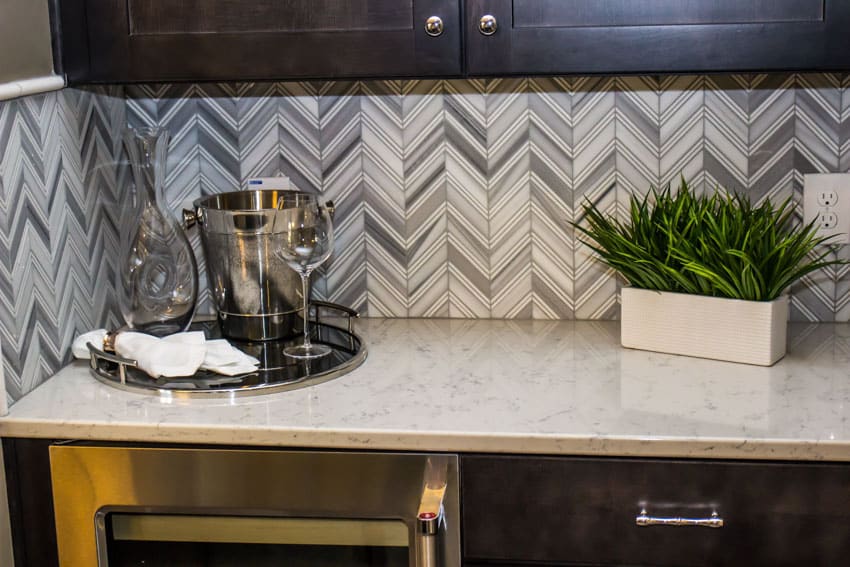 One interesting pattern you can choose for your glass tile backsplash is herringbone. The pattern involves arranging rectangular glass tiles in the form of a fishbone or a herring.
A glass herringbone backsplash tile will be a pretty addition to your home, offering a refreshing and unique look rather than just sticking with a plain surface.
If you add this backsplash to your kitchen or bathroom, make sure that the aesthetics in the area is not as busy as the pattern in herringbone or everything will look too much.
Glass Sheet Backsplash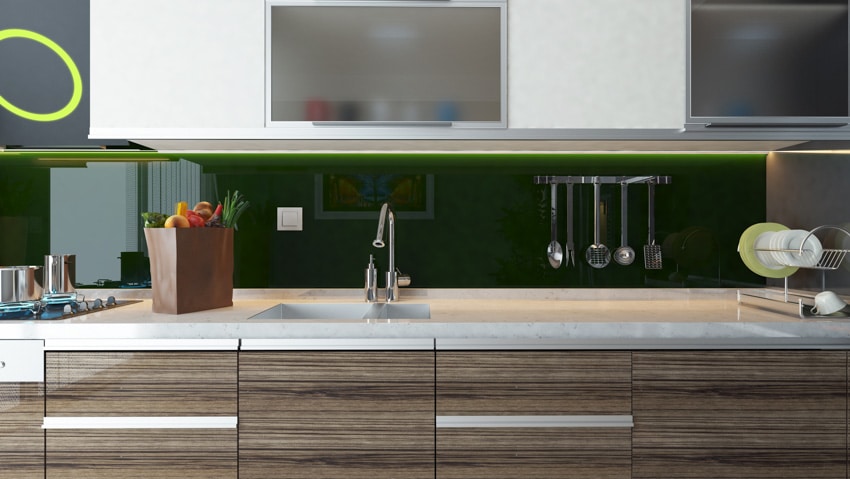 Compared to typical glass tiles, glass sheets are bigger in size. You also have the option of having the glass sheet painted to the color you've chosen.
A bigger glass piece means that you have more flexibility and freedom to customize the backsplash however way you can. But this is only possible if you know how to cut glass and install the backsplash on your own.
A glass sheet backsplash can be a wonderful addition to your home if you know how to work on it. Since this type of backsplash doesn't come with grout joints, keeping it clean as much as possible is important. And depending on the size of your wall, you may need to piece large glass sheets together to form a full backsplash.
Tempered Glass Backsplash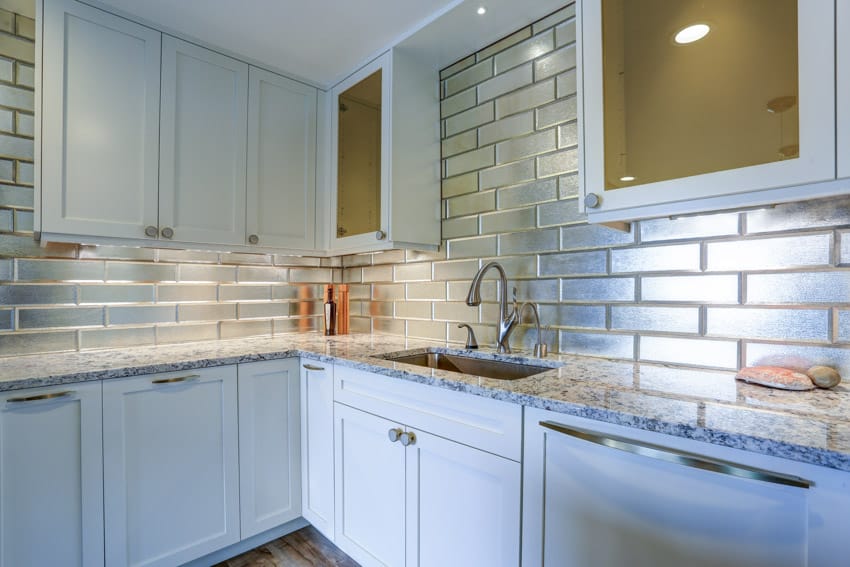 A tempered glass backsplash involves a harder material and is around four times stronger than standard glass which was made possible by heating it in a furnace with a temperature of over 1,000 degrees Fahrenheit and immediately cooled down with high-pressure air blasts.
Using tempered glass for a backsplash means that you're going for a safer choice. The main feature of this glass is that even when it's broken, it disintegrates into small pieces and so would less likely to cause harm and injury to anyone.
This is a good material for a backsplash since it is basically for the protection of your walls and will be counterproductive if it causes you harm when it gets broken.
Glass Backsplash Pros And Cons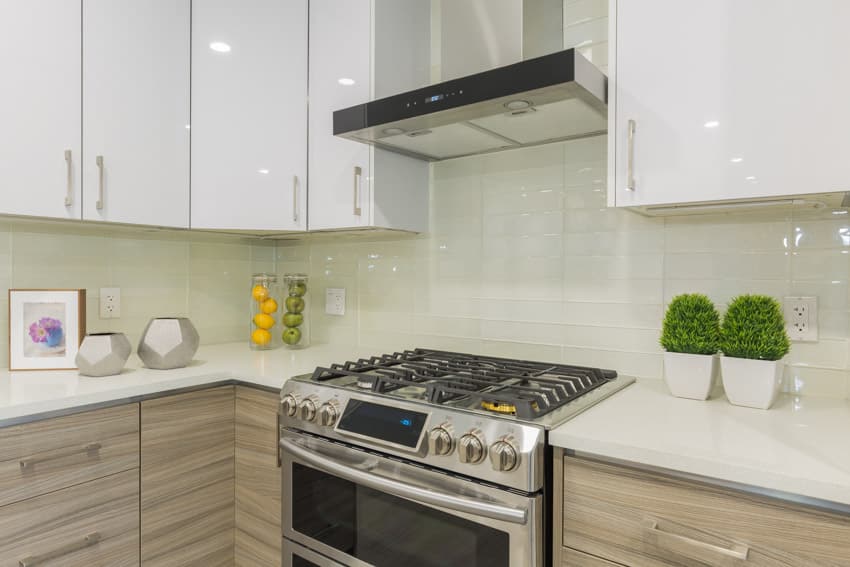 There are many other materials you can use for a backsplash and to be honest, glass has a negative reputation when it comes to durability. Many believe that glass is simply fragile and not meant to be used for areas with high foot traffic and activities like the kitchen and bathroom.
But it is still worth considering if you want to be thorough in your search for the ideal backsplash material. Before you go for a glass backsplash, it is highly important that you understand what you're actually choosing.
One of the clear ways to understand this decision better is to list down the relevant pros and cons that you will encounter with this type of backsplash.
Pros of Glass Backsplash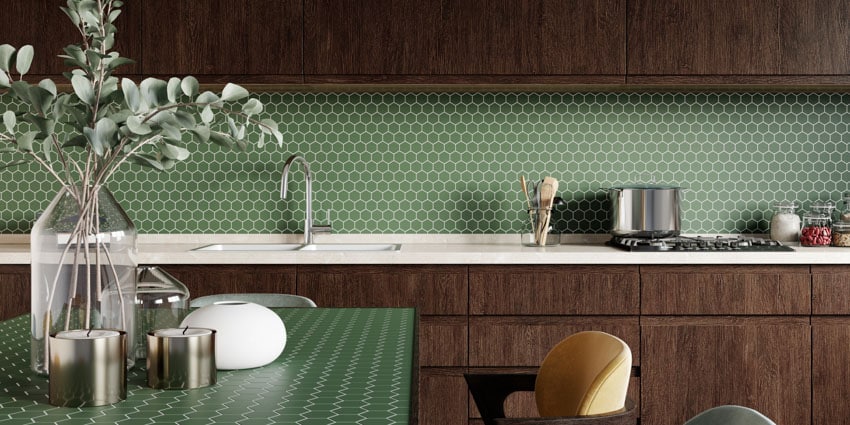 Glass has a bad reputation but there are many benefits you can take advantage of when you decide to install a glass backsplash. Some of these are the following:
• Stunning aesthetics: Glass is an elegant material and it's only expected that the addition of a glass backsplash can immediately beautify any room you install it in. Since they don't have grout lines, you get a cleaner and uniform appearance.
• Brightens up the space: With light bouncing off of the glass, your backsplash can help brighten the area where it's installed, making it an ideal option for darker areas. Its reflectiveness also creates this illusion of more space, which means it is a good choice for smaller areas too.
• Good durability: Depending on the type of glass, you can still have a durable glass backsplash if you choose the right material. This is important since backsplash is all about protecting the bathroom and kitchen walls. The material is resistant to staining, burning, and mildew/mold buildup and if you choose tempered glass can easily resist hot temperatures.
• Easy to clean: A glass backsplash can easily be cleaned and you can accomplish this with a simple use of water, dish soap, and a soft cloth.
Cleaning is as easy as wiping on the backsplash surface for food splatters so you won't tire yourself out scrubbing on the walls just to keep stains out since the material is also stain-resistant.
• Highly versatile: There are different types of glass you can choose for your backsplash and they come in different tile shapes, sizes, colors, and textures. In addition to that, they can easily be used to farm patterns that will look attractive on the wall.
• Less maintenance needed: Since there are no grout joints to seal, you won't have to worry about scheduling when's the next time you need to reseal the material just to protect it from water damage.
Cons of Glass Backsplash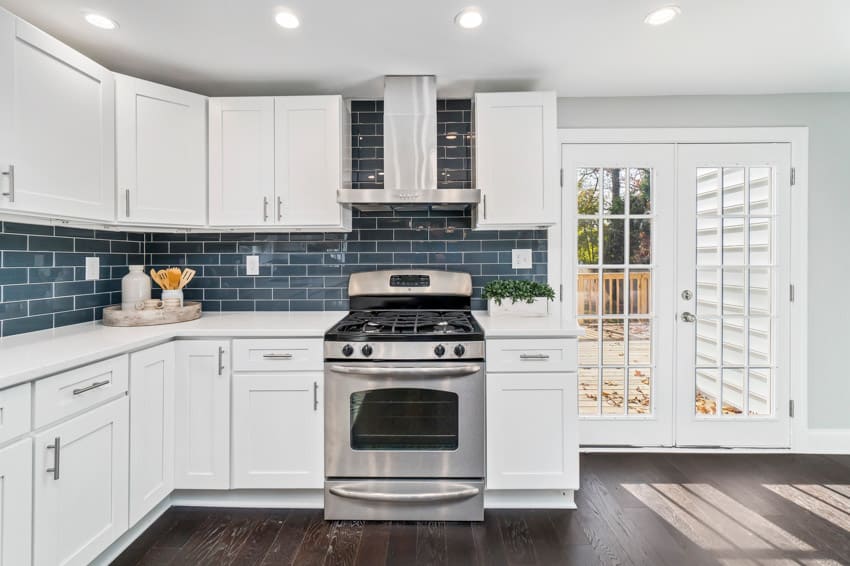 Along with these wonderful benefits, you can make the most of, there are also several drawbacks that you need to accept and consider. Just to be sure that a glass backsplash is what you want, here are the disadvantages you would need to accept.
• Replacement is preferred over repairs: If your glass backsplash gets damaged, chances are that you won't be able to make any repairs on it since it will be tough and almost impossible to do. The only solution is to replace the glass tiles with damages.
• Tends to crack: While not as fragile as many treat it to be, glass still tends to crack despite its incredible durability. It can only shatter though with heavy impact and hard handling.
• Can be expensive: Glass is more expensive compared to other materials you can use for a backsplash like ceramic tiles. This means that if you choose this type of backsplash, you should be prepared for the cost. The installation and labor fee also needs to be considered since there is a higher chance that you will need an expert to install it for you.
• Tricky installation: The main reason why you need to hire an expert is that a glass backsplash demands a tricky installation. Cutting the glass to specific sizes will be necessary and if you don't know how to do that, you will have a tough time working on a glass backsplash.
With these pros and cons, make sure you weigh them accordingly and decide if the benefits that glass backsplash comes in are worth the drawbacks that they also offer.
How Much Does Glass Backsplash Cost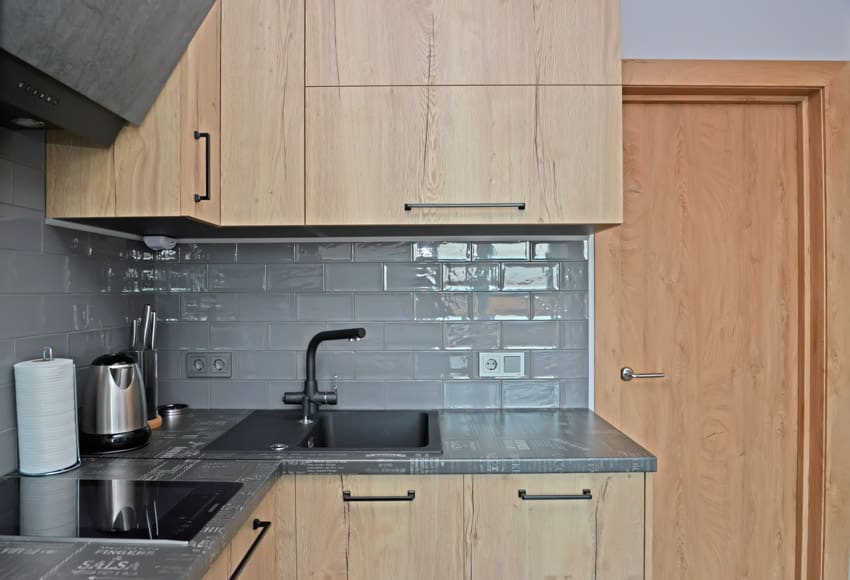 A glass backsplash is considerably more expensive compared to other counterparts like a ceramic backsplash. The cost of glass tiles can range from $20 to $60 per square foot, depending on the size, shape, finish, design, and type of glass you choose.
The simpler the glass, the more affordable it is, and the more intricate it is (like frosted, painted, or tempered) the more expensive it is. And this is just in the material alone.
The installation of a glass backsplash also needs to be considered with the cost you need to prepare for. Since it requires a tricky installation, you will need the touch of professionals to successfully install one in your home.
For the labor fee, expect around $10 to $40 per square foot in addition to the materials you're going to pay for. This means that in total, you will need to pay around $30 to $100 per square foot both for the materials and the installation of the backsplash.
Glass Backsplash Designs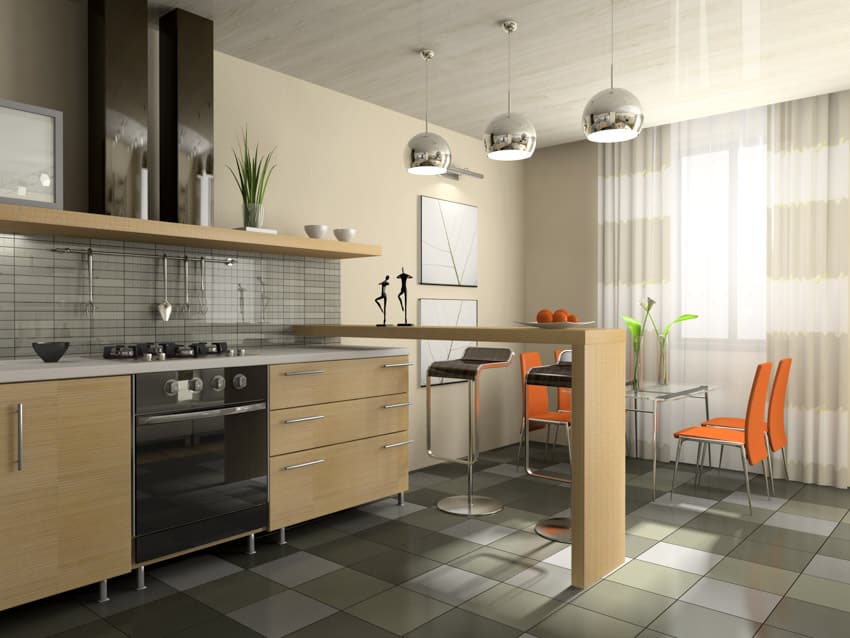 When choosing a particular glass backsplash design, you will need to take into account the area you plan to install it. A backsplash is meant to protect the walls and there are two main areas they are usually installed in, which are the kitchen and bathroom.
Glass Tile Kitchen Backsplash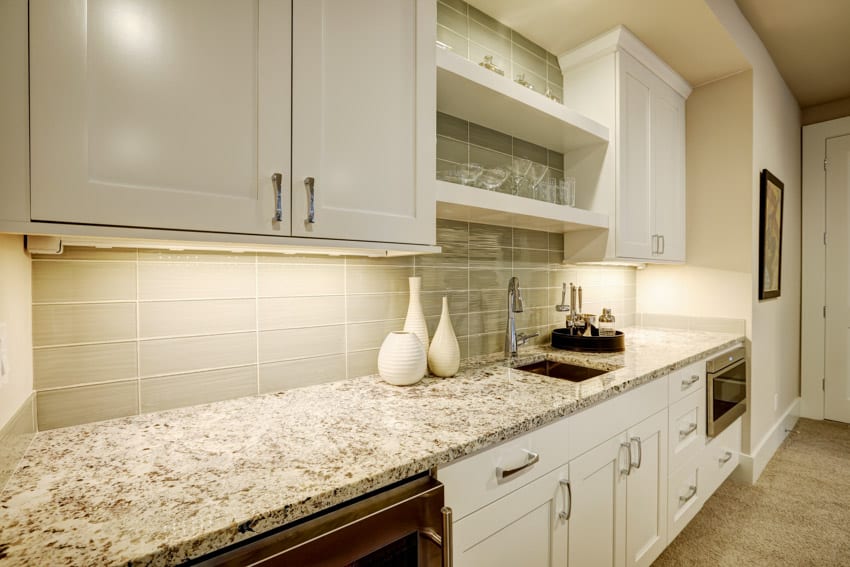 The kitchen is one of the busiest areas in your home and installing a backsplash is important if you want to protect your walls from all the activities that happen daily in the area. If you're considering a glass backsplash, make sure that you choose the more durable ones.
A kitchen backsplash tends to be exposed to more than just moisture since it will probably be exposed to heat too with all the cooking and meal preparation happening in the kitchen.
While glass can be resistant to heat, it's not that invincible, especially with high temperatures. So if you're going all out and focusing on durability, a tempered glass backsplash is the ideal one for the kitchen.
Glass Tile Backsplash For Bathroom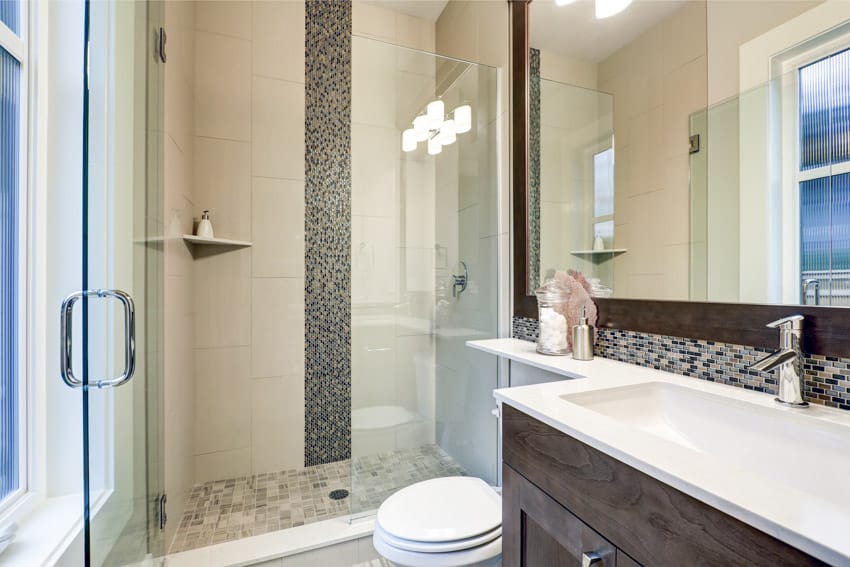 Compared to the kitchen, the bathroom is a bit more lenient and relaxed with its backsplash. Choosing a glass backsplash can be done and you even have the option of getting the most aesthetically pleasing choice on your list.
Mold and mildew buildup is also nothing to be worried about. They are easy to keep clean with a window cleaner and soft cloth.

Without grout lines, you won't have to worry about the constant exposure to moisture that this type of backsplash has. Just make sure to install the glass backsplash evenly and safely on the wall to avoid any gaps. Read more about different types of bathroom tiles here.

How To Cut Glass Tile Backsplash
If you choose to work on a glass tile backsplash without the help of an expert (which is quite bold for a beginner), you need to learn how to cut glass tiles.
This is a skill that you need to learn and invest in, both in terms of time and effort. And while installing a glass tile backsplash is still possible for DIY, it still needs hard work.
There are four possible tools you can use in cutting glass tiles, including a wet saw, a manual scoring wheel, a bar cutter, and wheeled mosaic nippers.
Wet Saw: Ideal to be used when tiling a large area, a wet saw can effectively create straight and clean cuts in the glass, saving time in the process. Using a wet saw reduces the risk of damaging the glass tiles.
This is because it uses a steady stream of water, decreasing friction on the glass tile as the blade cuts through the material. Investing in this powerful tool will set you back around $100 to $1,000, depending on if you choose a cheap model or a high-end one.
Manual Scoring Wheel: Requiring more skills and techniques, the manual scoring wheel is what artisans used in the past before tile saws were even invented. This tool takes a much longer time in cutting glass tiles since you need to be extra careful to avoid uneven edges.
Cost-wise though, it will only set you back around $15 for one. If you're a beginner, this is not the tool for you since it takes a lot of experience to effectively use it.
Bar Cutter: Setting you back around $25, a bar cutter is more efficient compared to a scoring wheel since this tool can score and cut the tiles, saving time in the process. Some bar cutters can only score though so you need to make sure that you're purchasing the right tool.
Wheeled Mosaic Nippers: Just as named, wheeled mosaic nippers are designed to cut small and irregular pieces of glass tiles that can be used to create this particular pattern.
This is not the ideal option if you're working on a large wall and installing a glass backsplash on it. These nippers can cost around $25 if you choose to work on artistic tile patterns for your backsplash.
How To Install Glass Tile Backsplash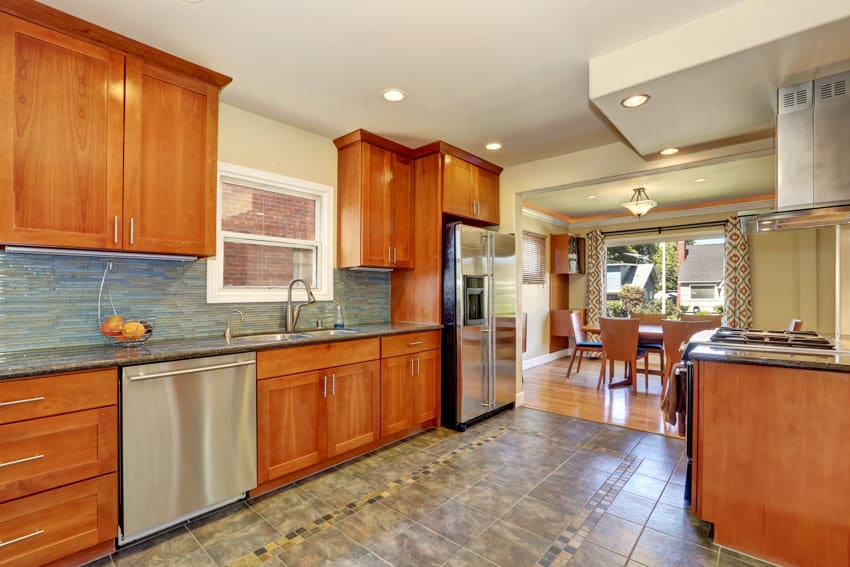 Installing a glass tile backsplash is a tricky business that as much as possible, it is better if you just trust and rely on the professionals to complete this job for you.
Before the actual installation, here are the steps to take to prepare for this task:
1. Determine the number of glass tiles you need to cover the surface area of your backsplash (Decide whether you'll cover the entire wall or just a portion of it)
2. Mark the surface you're planning to work on
3. Measure the square footage of the area
4. Settle on color, style, and pattern of glass tiles to use for your backsplash
5. Decide if you are capable of completing this job or not
If you choose to DIY this project, make sure you know that it will take a lot more than just watching a Youtube video. The easiest you can go for is to choose a peel-and-stick glass backsplash and here are simple steps you can use as a guide:
1. Thoroughly clean the wall and remove grease and debris
2. Cover the entire work area with a drop cloth and secure it with painter's tape (Pay extra attention to your countertops)
3. Use painter's tape to mark where the backsplash will start and where it will end
4. Use the measurements you got during prep time and transfer them to the tile adhesive mat and cut them to their corresponding sizes using scissors
5. Peel half of the back, align it on the surface, and carefully stick it to the wall
6. Slowly peel the other half of the adhesive and stick the remaining part of the tile to the wall
7. Repeat steps 5 and 6 until you cover the area you've marked with the painter's tape
8. Push on the adhesive mat using a rubber float so that it will have a permanent bond
9. Hold the tile up and cut it to the preferred size
10. Cut the mesh behind the tile using a utility knife
11. Carefully peel the plastic coating off and place them onto the adhesive and push on it with a rubber float
12. Repeat step 11 until you've covered the wall with the tiles
13. Wait for 24 hours for the tiles to completely dry and wipe on the tile with a clean rag
How To Clean Glass Tile Backsplash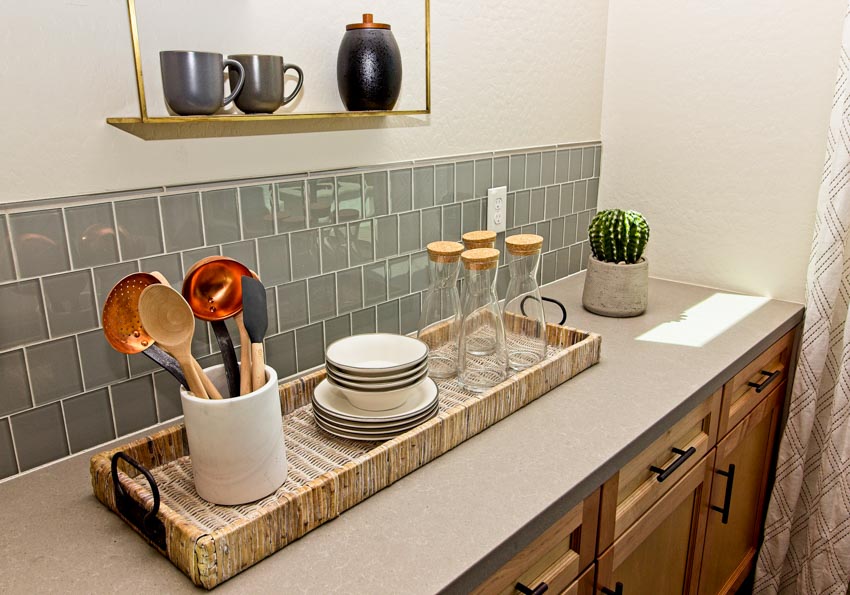 One of the best things about choosing a glass tile backsplash is that it doesn't take that much effort and time to clean it. While ceramic tiles are the most affordable, glass tiles are non-porous which makes the material resistant to staining, and the buildup of bacteria, mold, and mildew.
This takes out the need for more thorough cleaning and maintenance. For easy cleaning, you just need to use non-abrasive learning products.
If you want to use your own solution, here are simple steps to follow:
• Mix the cleaning solution: You can mix equal parts vinegar and water and put the solution in a spray bottle for easier use.
• Apply the cleaning solution: Just spray the solution on the glass tiles and leave it for about 10 minutes,
• Clean and wipe the tiles: Use a soft cloth and wipe the solution off the glass tiles
• Scrub the soap scum: If the glass tiles have soap scum, get a brush and rub on the area
• Rinse the glass backsplash: Use cold water to rinse everything off your glass tile backsplash then use a clean soft cloth to wipe it dry
If you are not that confident with your cleaning prowess and there are marks that just won't get off, ask for professional advice or hire someone to do it for you.
Are Glass Tiles Good For Kitchen Backsplash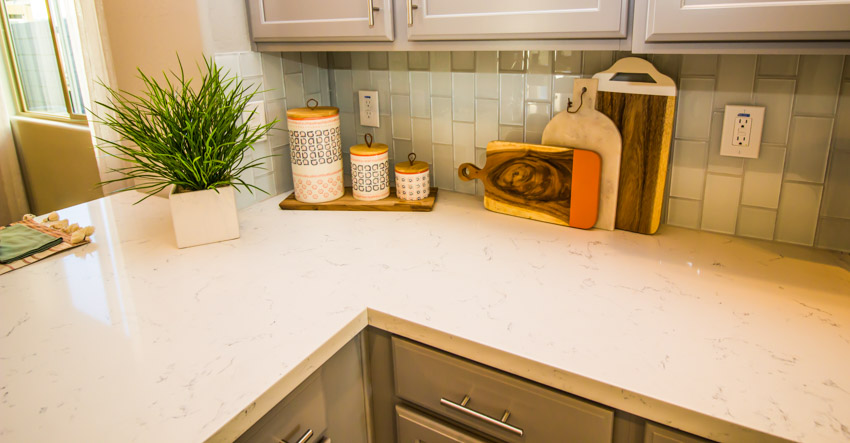 Glass tiles can be a good option for your kitchen backsplash and the different advantages discussed previously alone can help you with this decision.
If you are a bit scared about its durability and the tendency of glass tiles to crack, you can go for tempered glass tiles instead. But you can always explore your options just to be sure that you are choosing the ideal material for your kitchen backsplash.
See more related content in our article about the best subway tile kitchen backsplash ideas on this page.