This guide to gray washed kitchen cabinets shares what they are, the different types, designs, what kind of paint to use, and gray washing kitchen cabinet tips.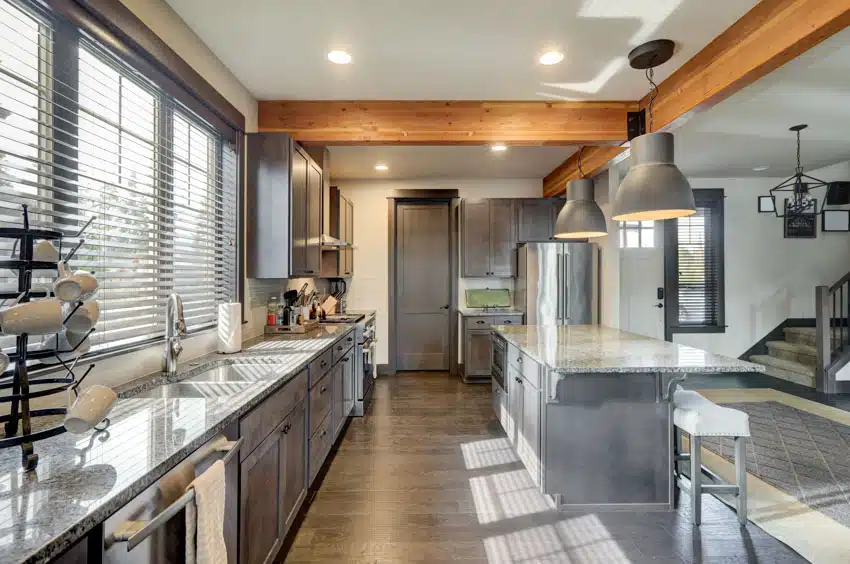 Like the walls, kitchen cabinets take up most of the visual space of a kitchen, where color can influence the atmosphere and mood of the room. With a gray-washed kitchen cabinet, you get a versatile color that's either generally cool or warm, depending on the undertone and shade you choose.
The right shade of gray can also balance color temperature, making it a great base color to inspire you in selecting colors for other kitchen elements. Moreover, the neutral hue doesn't show dirt or dust easily, while dents and scratches are less visible.
The calming effect of gray is another advantage of this latest trend, and not only is gray washed kitchen cabinets great for traditional kitchens, but they can also work well with contemporary kitchens.
Know more about why gray-washed kitchen cabinets are becoming popular and read on ways on how the distressed finish can be incorporated in your next renovation or new kitchen project.
What Is Gray Wash?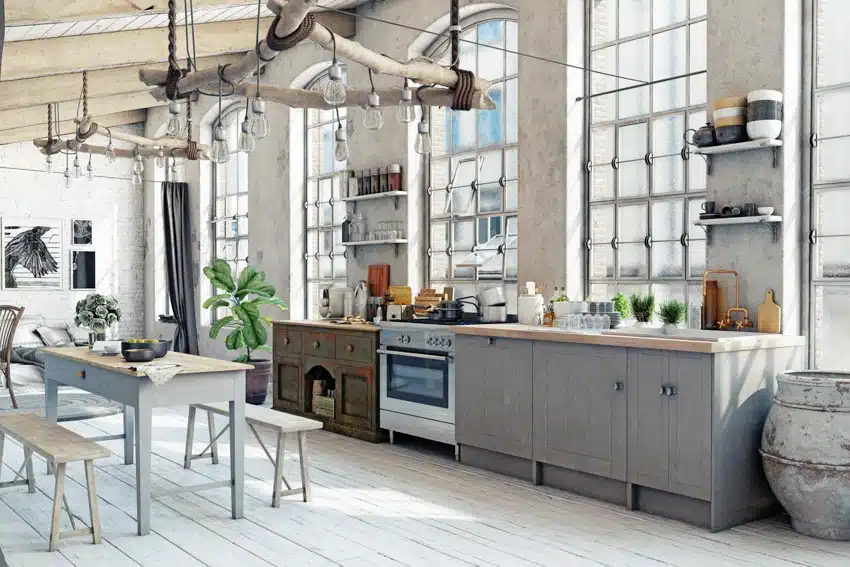 A gray wash kitchen cabinet is a wood finish that simulates the look of distressed or aged furniture. The washed-out look is characterized as having a rustic or vintage appearance where the paint applied is both opaque and see-through, where the wood graining is still visible.
The finish is achieved by mixing gray paint, primer, and water with a 50/50 ratio between paint and water. Other methods, such as using vinegar or bleach, can also be used.
Painted kitchen cabinets can be transformed into gray-washed cabinets by first stripping the existing paint or finish. Sanding, using a hot air gun, or applying a stripping agent such as Citristrip or vinegar are the most common methods in removing paint and finish from the furniture.
The great thing about gray washed kitchen cabinets is that they are inexpensive to do and can be a home project even for a first-time DIYer. Gray wash kitchen cabinets go well with almost any color, and the color you match with the neutral tone will set the mood of your kitchen space.
For a contrasting effect, vibrant colors such as yellow, teal, and orange will create contrast. The gray wash also works well with other neutral tones, as you can create a monochromatic look. Charcoal gray, ivory, cream, and soft white are samples of color that are perfect to layer with gray.
For that subdued look, burnt sienna, midnight blue, and marsala is a great color to mix and match with the weathered wood surface. Gray washed kitchen cabinets can also be matched with natural wood colors as the warm palette of wood balances off the soft neutral.
Light Gray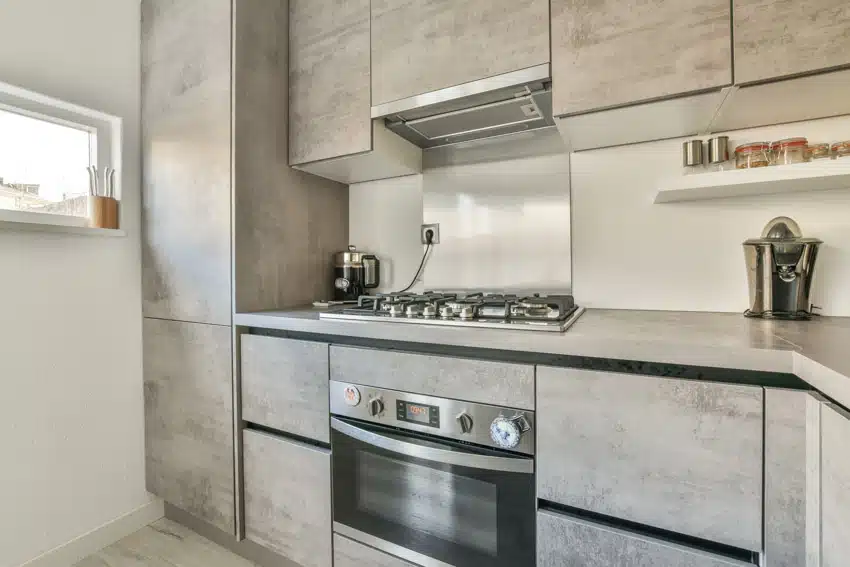 Many consider gray the new white in interiors, and we're seeing a lot of the color in kitchen designs these days as it is a versatile hue that can go with any kitchen size and style.
The light version of gray washed cabinets is advantageous in creating a bright atmosphere for kitchens as it can be paired with lighter shades such as white and cream without looking bare.
Aside from a wood texture, a light gray cabinet can help details stand out, such as the craftmanship, and other elements, such as the prominent graining from a marbled backsplash.
For this reason, light gray washed storage cabinets are great for traditional kitchen designs such as French country-inspired and farmhouse kitchens.
The rustic appearance of light gray washed cabinets are also great for transitional, industrial and bohemian interiors. The more water added to your gray paint, the lighter your gray-washed cabinets will be.
There are wood stains that can achieve a light gray washed effect on your cabinets, but it will also depend on the wood specie it is applied on.
Dark Gray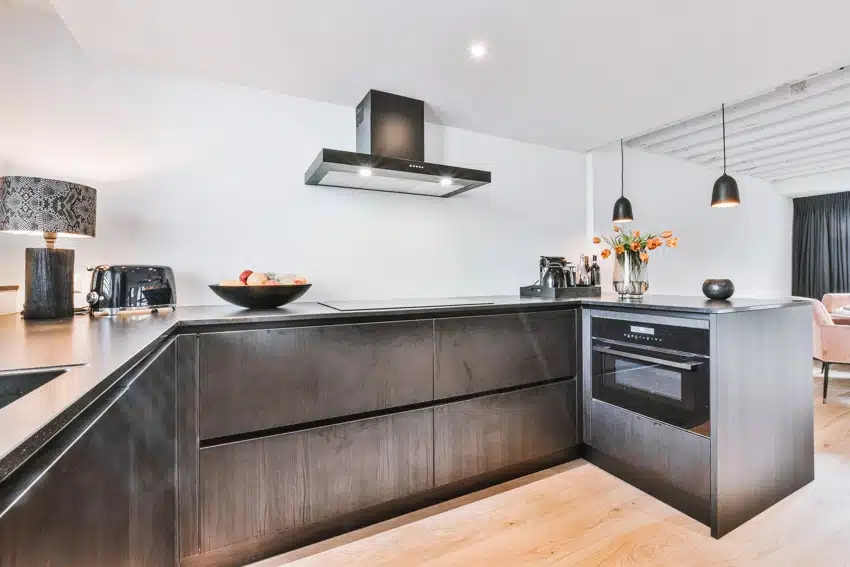 Dark gray-washed cabinets are a great way to add a subtle transition between the old and the new. Straight-grained wood surfaces, finished with the dark gray wash, can add interesting detail to your modern elements.
Dark gray-washed cabinets allow other elements to pop into views, such as prominent marble veining or a colorful mosaic tile for a kitchen backsplash. They are also versatile to match an urban interior style allowing sophisticated elements such as sleek and elegant elements to take center stage.
The great thing about dark gray washed cabinets is that you can layer them with almost any color without overwhelming the space and control the mood of your kitchen interior.
Dark gray with light blue combination conveys a calm and collected interior while matching it with a light cream color can create a cozy atmosphere. You can also combine a dark grey wash with lighter stainless steel appliances and lighter countertops such as a white quartz, marble or granite with beautiful results.

Gray Washed Oak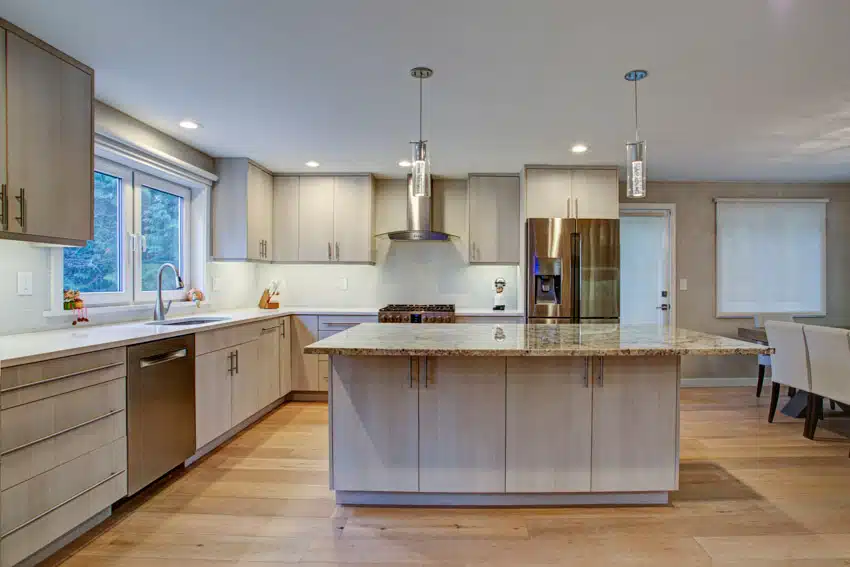 When it comes to choosing the best wood for a gray-washed effect, oak wood is an excellent option as it absorbs stains, glazes, and paint easily due to the large pores.
The defined graining of oak also means the texture is still noticeable even when staining or painting creating that perfect distressed look for your kitchen cabinets.
Oak has among the more prominent types of wood grain patterns compared to maple wood. In addition, oak wood for kitchen cabinets is an excellent choice as it is very resistant to wear and tear while having good water-resistant properties.
When exposed to sunlight, oak kitchens are also less likely to warp. To gray wash oak kitchen cabinets, mix a light gray paint with water. Apply the solution with a brush and finish it with a protective finish.
What Type of Paint To Use To Gray Wash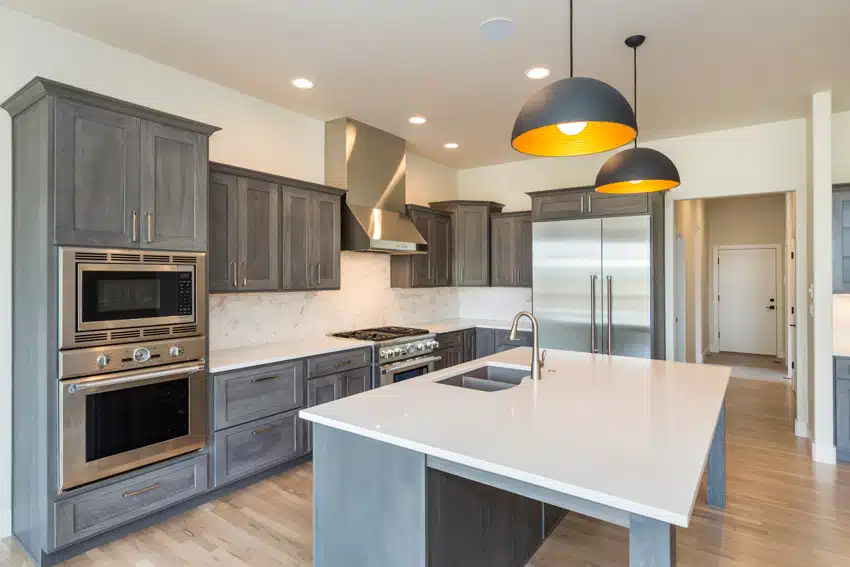 To achieve a gray wash effect on cabinets, use interior latex paint for both your primer and a medium gray medium-toned paint. Gray latex paint is a water-based finish less toxic than enamel or acrylic paint.
When diluting your paint, you'll need water-based paint, as enamel and acrylic are oil-based and will not mix water. Although you'll also find water-based enamel paints, another advantage of latex paint is that the finish is more malleable, which is needed for surfaces that expand or contract, such as wood.
Add extra protection to your gray wash cabinets using a water-based protective finish. A matte acrylic can also be an option, but it dries quickly, which can be hard to remove once it dries into a very tough surface.
How To Gray Wash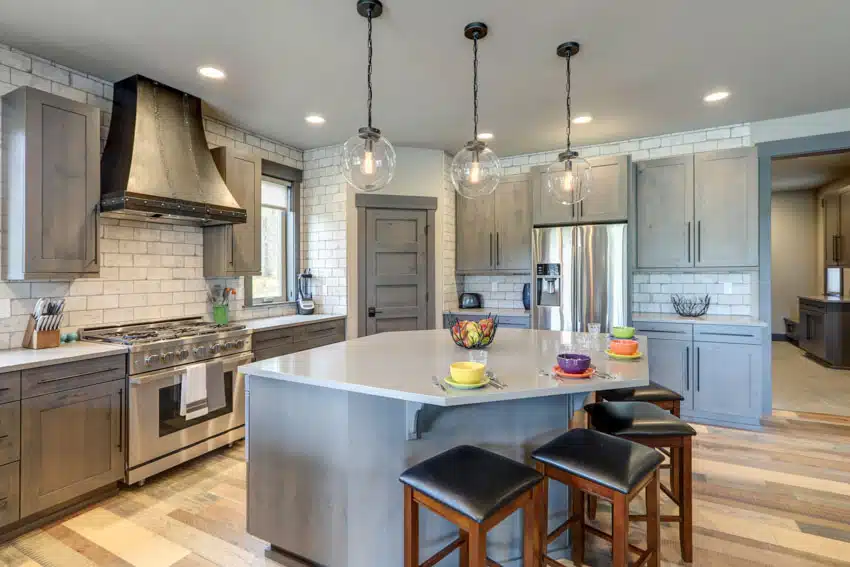 Gray washing your kitchen cabinets is an easy DIY project and can be done on most wood types of furniture styles. Bare wood is the easiest to gray wash as you don't need to remove the paint, and you can already see the natural wood color making it easier for you to pick the best paint and mixture ratio for your gray wash.
Materials:
• Sanding Grinder, Steel Wool, or Sandpaper: This will depend on how hard to remove existing paint.
• 80 grit (coarse), 120 (fine), 220 (fine): Remember, the higher the number, the finer the sandpaper gets.
• Primer Paint and Medium Gray Latex Paint: The gray color paint will depend on how light or dark you need your gray washed kitchen cabinets.
• Old Clean Cloth to remove excess paint.
• Latex gloves (optional)
Step 1: Use sandpaper to remove any existing surface finish, such as paint or stain. Tougher surface finishes can be removed with steel wool. A sanding grinder
Step 2: Dust away sanded wood particles. Use a damp cloth to remove excess debris from the surface and let the surface dry for a few hours.
Step 3: Mix a ratio of water with the primer and gray paint. The basic mixing ratio is 1 quart's primer and 1 gray paint, and a 1:1 ratio of water is to paint.
Step 4: Apply the mixture on the surface with light strokes. If it has straight graining, follow your strokes in a linear direction.
Step 5: Allow the paint to dry on the cabinet surface. The surface dries typically around 2-3 hours.
Step 6: Apply a water-based protective layer on the surface.
Other Mixture Solutions:
1. Water (1 Gallon) and 1 Cup of Bleach
2. Water (1 Gallon and ½ Cup of Vinegar
Gray Wash Design Tips
1. When finding the right gray shade options for your gray kitchen cabinets, test on the most concealed part of the furniture. The back area of your kitchen is the best surface to color-test your gray wash.
2. A paintbrush is best to use when applying your gray wash solution as it is easier to control the strokes and can better reach crevices. A 2- or 2.5-inch brush is recommended.
3. Apply the gray wash solution on your wood furniture along the graining of your wood to create that natural distressing look.
4. Suppose you're unsure if your paint is water-based or oil-based. Use the alcohol test method. Apply the mixture of light detergent and warm water on a section of your wood, then let it dry. Next, rub a cotton ball dipped with alcohol on the section.
5. There are existing stains that can achieve the look of gray washed furniture. There are products that are specifically made to create a gray stain and produce a level of grayness depending on the wood specie.
See more related content in our article about wood veneer kitchen cabinets on this page.