Here's our guide to bench dimensions including different types of bench sizes and various uses to help you choose your future indoor and outdoor bench.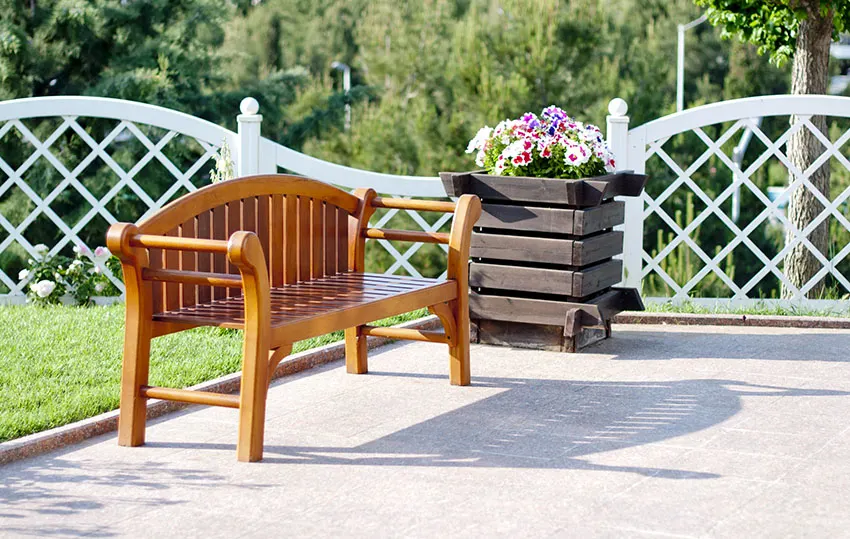 When looking at available seating options for the dining room, a chair will always reign supreme. After all, it's the standard dining choice. It's movable, and you have a variety of designs to choose from. But what if your home doesn't afford you the space for a complete dining room set? Benches are an option.
Benches are seeing a rise in recent design trends; they are perfect for homes with little space, like in a condominium, and they also might be the more elegant option.
Benches offer more seating and are also less cluttered; in a large-sized bench, you can seat three to four people, whereas you need four chairs to seat four people on dining table chairs.
Standard Bench Size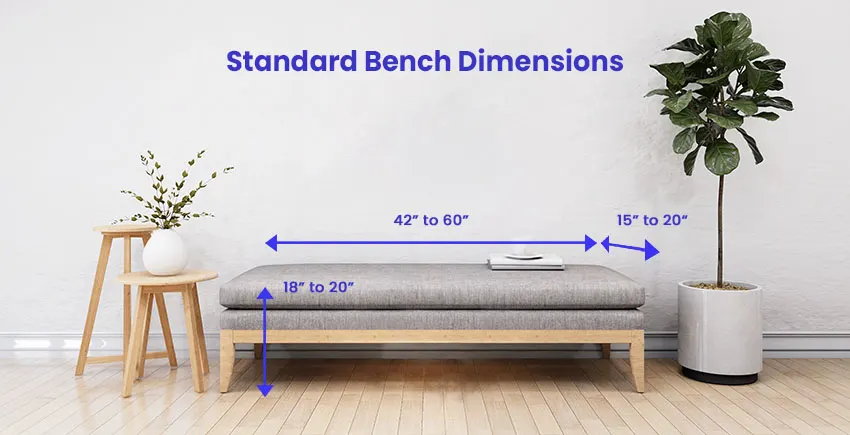 The standard bench size is the basis or benchmark for comparing all other bench dimensions.
Standard Bench Depth
A standard bench has a seat depth between the size of 15 to 20 inches (38 to 51 cm). Benches exceeding the 20-inch mark or benches below the 15-inch limit would not feel as cozy and comfortable for a person with an average height to sit on.
Standard Bench Width
Benches with a depth between 42 to 60 inches are the standard size. This type of benches can seat two people comfortably and have a lot of space to move.
If seating three people is what you're looking for, a bench width between 53 to 80 inches will work comfortably. Anything above 80 inches can comfortably seat four people.
Bench Width Size Chart
| | |
| --- | --- |
| Seat Capacity for Adults | Size |
| 2 Seat Bench | 42" to 53" |
| 3 Seat Bench | 53" to 80" |
| 4 Seat Bench | 81" and over |
Standard Bench Height
A bench with a height of 18 to 20 inches is the standard size — from the ground up to the seat. This height is perfect for a typical dining room table with a height of 28 to 30 inches.
Mudroom Bench Dimensions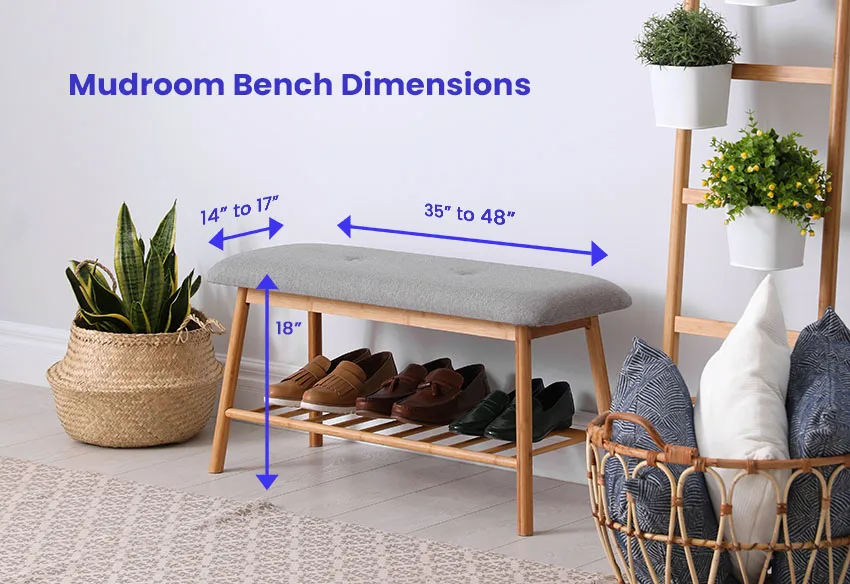 A mudroom is a dedicated secondary entrance to remove boots, coats, hats, and wet clothing before entering the house. Usually, there are hooks dedicated for coats and hats, even little cubbies for storage of shoes. Mudroom safeguards the house from outside dirt and mess, keeping the house tidy.
Mudrooms are not complete without benches or any seating. An average mudroom bench has a length of about 35 to 48 inches, a depth of 14 to 17 inches, and it should be at least 18 inches tall. To be able to install a shoe or a boot tray beneath, add an inch or two.
This standard depth size for benches, a bench with a flip-up seat cover, will work best for added storage space. Check our gallery of 45 mudroom ideas here.
Shower Bench Dimensions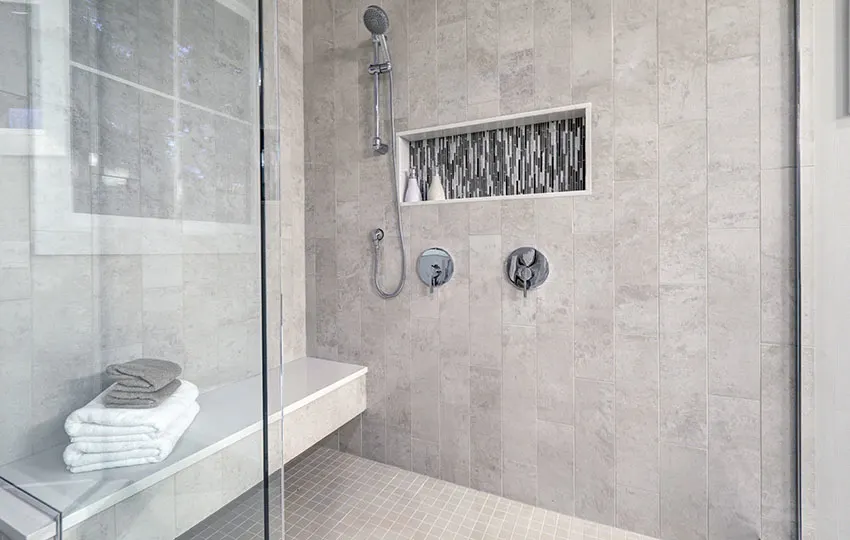 Shower benches add a lot to a bathroom's aesthetic, convenience, and functionality. The question is, what dimensions should a shower bench have?
As a rule of thumb, the length from the ground to the seat of the benches should be an inch lower than the back of your knees. The usual shower bench size is 17 to 19 inches. The ADA or the Americans with Disabilities Act also recommends this height.
The wideness or the width of the bench is dependent upon the homeowner's choice. There's more leeway when it comes to this dimension.
A seat 14 inches wide should be enough for the average size adult, but sometimes it's not enough as not all bodies are built the same way, so bodybuilders play a big part in determining shower bench size.
The depth of a shower bench is more fixed than its width. As per ADA guidelines, if a person with a disability uses the shower bench, a depth of 15 to 16 inches will be comfortable for an adult.
On the other hand, L-shaped benches require more corner space inside the shower tend to be narrower. A depth with an average of 14 to 15 inches should suffice. Read more about shower bench ideas here.
Dining Bench Dimensions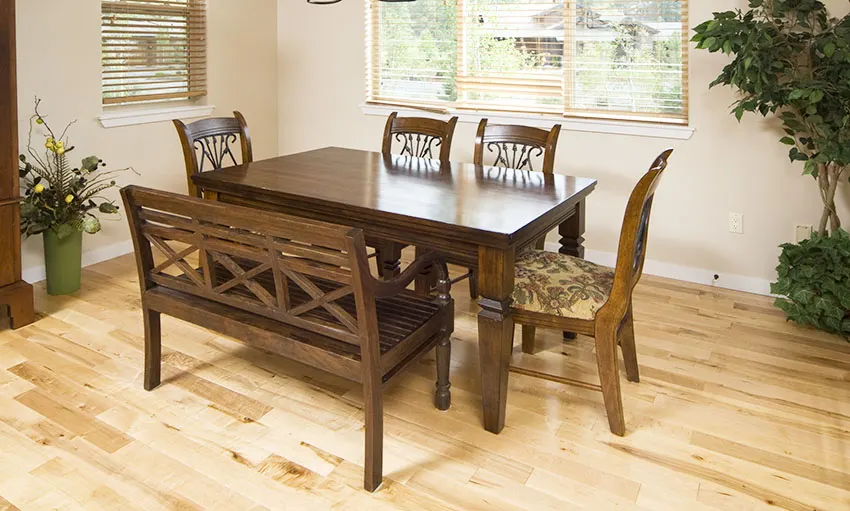 To have you consider what dimensions would work well for your dining chairs, we're going to list three sizes for you. Large dining benches can seat three to four people; usually, they have a height of 17.5 inches, a length of 60 inches, and a depth of 17.1 inches.
A two seater bench length typically ranges from 42″ to 60″.
For a medium-size dining chair for a six-seater dining table, a medium-sized bench should suffice. Medium benches have a height of 17.7 inches, a length of 45 inches that could seat two to three people, and a depth of 17.1 inches.
There are also small benches available in the market that could seat an individual. These are a great alternative to the usual dining chairs with the arm and back.
A small individual bench is 17.7 inches in height, a length of 19 inches to sit an individual comfortably but still has a lot of room and the usual depth of 17.1 inches.
A dining bench can sit more people simultaneously. You can opt for a bench with a back rest, or go for a more minimalist individual chair without a back for added interior appeal. It is an excellent alternative to the usual dining chairs and makes eating fun for a number of children.
Dining benches are usually made of wood, but various materials are now used: concrete, plastics, metal, and even stone. You can buy a product with a fashionable upholstered seat or separate cushion that is easy to remove and clean

Outdoor Bench Dimensions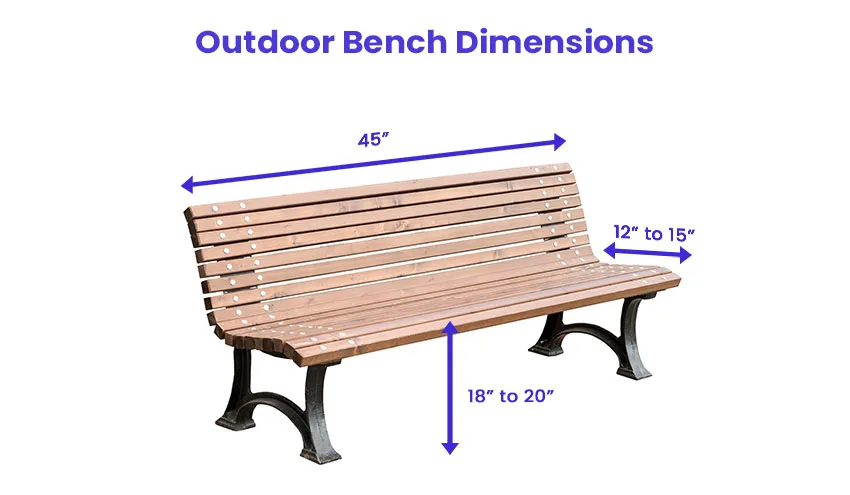 Outdoor benches come in various shapes and sizes, but the usual outdoor benches you see in parks and beaches are the two-seater or the medium-sized ones.
That typically comes with a height between 18 to 20 inches, width or depth of about 12 to 15 inches, and a length of about 45 inches. This is the standard outdoor bench, but ultimately, it will stem from what the homeowners need.
To make the bench comfortable for people with disabilities, the American Disabilities Act mandates specifications for an outdoor bench height of around 17 to 19 inches to make it functional for everyone.
With the seat width and depth, 60 inches and more can comfortably seat two to three people. A depth distance from the front to the back of 16 inches for a backless bench is recommended.
For another related article, visit our picnic table dimensions here.