Here's our studio apartment size guide sharing the standard, average and minimum studio apartment dimensions, and the bed, TV, couch, & rug sizes for studios.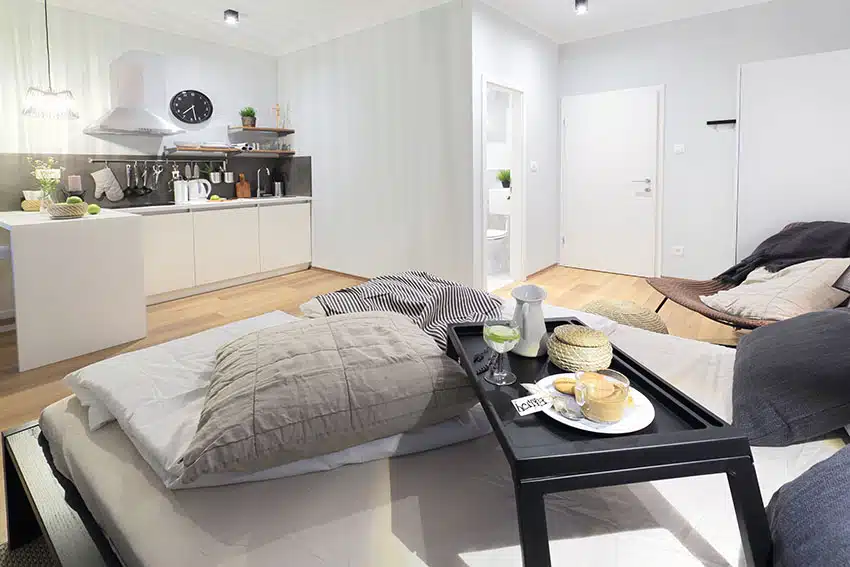 Living in a studio apartment is a right of passage for young adults starting on their own. Contrary to popular belief, studio apartments are not determined by an exact size, and there are a lot of different sizes depending on the building. There are various sizes and layouts of studio apartments, and one studio apartment to the other can come with unique features.
What makes studio apartments distinct from regular apartments is that everything is one open space in a studio: from the living room to the bedroom and the kitchen. There is a partitioned bathroom and a closet, and that's it.
How Big Is A Studio Apartment?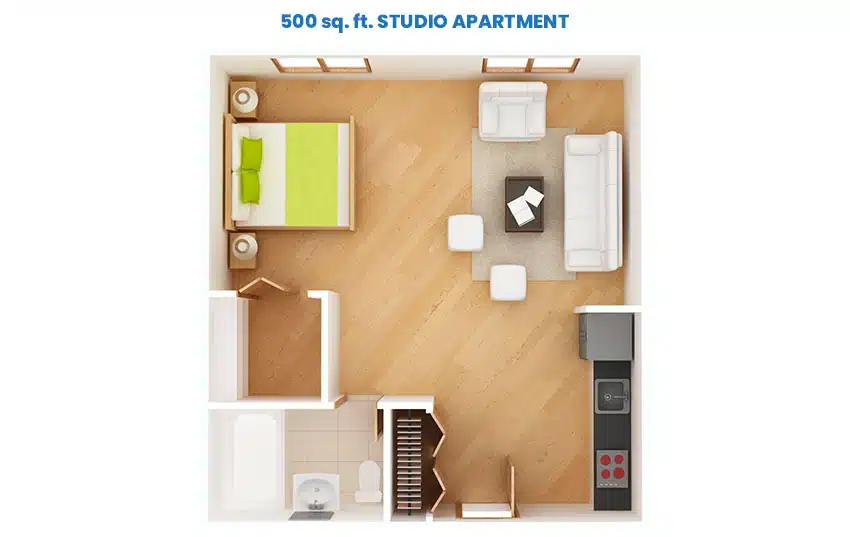 Due to the open floor plan of a studio apartment, it is known to be trendier and give off an urban feel that many people find appealing. If renters or homeowners want this kind of open space, then getting a studio might be the best option for them. There is a sense of minimalism and efficiency with studio apartments that many people want for a home.
The standard size of a studio apartment is 500 square feet or around 46 square meters. This studio apartment size will typically include a living room and bedroom combination that will occupy most of the space, a partitioned bathroom, and a kitchenette, which depending on the floor plan can be partitioned or open.
Sometimes the studio apartment will have an L-shape layout with one corner of the space solely for the kitchen only.
Average Studio Apartment Size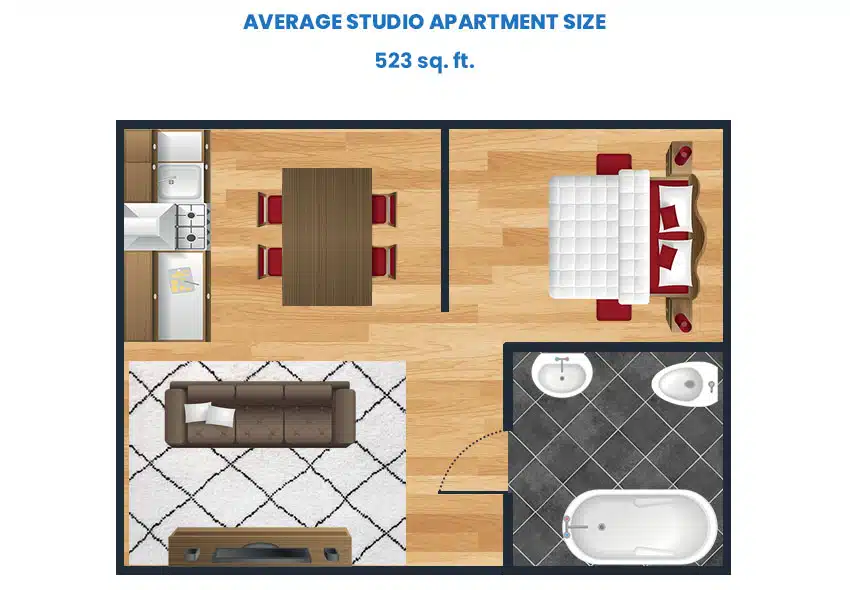 So, on average, what are the total square feet of a studio apartment? All in all, a studio apartment is around 523 square feet or approximately 49 square meters. This space is big enough to fit all roomed apartments, from the bedroom to the closet to the living room and the bathroom to the kitchen.
To get a better picture of how big that size can be, think of hotel rooms which are more often than not 325 square feet or 30 square meters. With that, one can imagine a studio apartment being more extensive than many standard hotel rooms.
This space may seem smaller to some, but with smart utilization of space by opting to get furniture that offers multiple uses, this apartment will be big enough for a single person or a couple of friends or roommates.
Minimum Size For Studio Apartment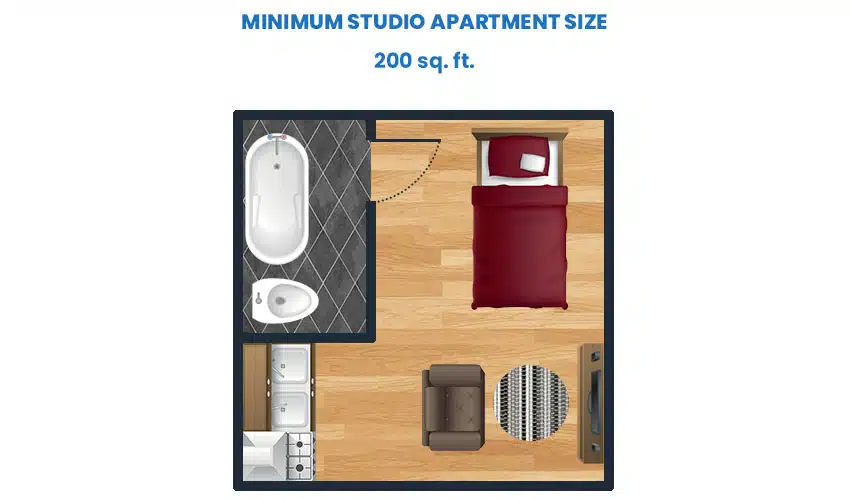 Searching far and wide for the best studio apartment money can rent can be challenging, especially for those who live in major cities. One of the many challenges will involve finding the right size of studio apartments.
Although there are too big or too small studio apartments, the one perfect for people looking for them will depend on what they need the space for and how much they are willing to pay for the room.
If the average size of a studio apartment is 500 square feet or around 46 square meters, the smallest studio apartment home anyone could get is about 200 square feet or about 19 square meters. It might be hard to picture this space fitting everything in the area, but it is not impossible.
What Is A Good Size Studio Apartment?
There are no exact dimensions for a great apartment because it is subjective to what renters or homeowners are looking for and the budget they have for a studio apartment. However, there are some considerations to take note of.
A good studio apartment is something that can fit a sofa, coffee table, plus a TV set. It should be able to fit a twin bed if you don't have a pull-out couch. A perfect space to live in is somewhere that could hold space for essentials you need to be comfortable in the space.
It doesn't necessarily mean that you need a bigger space since a 200 square feet studio apartment can be just as livable as a 500 square feet one.
Best Bed Size For Studio Apartment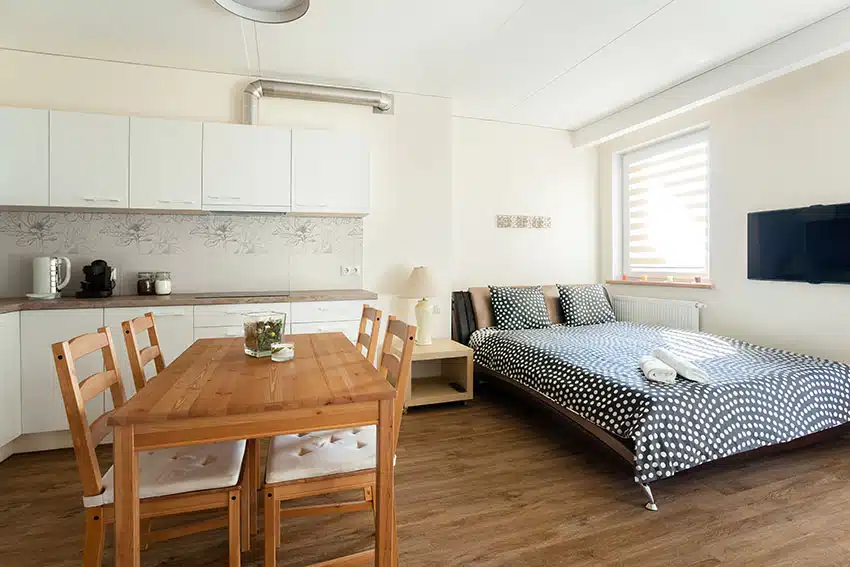 The best bed size for a studio apartment will depend on what bed will fit inside the space. If the occupant has a smaller apartment and wants to save room, the best bed to get is a twin size or an extra large twin.
A twin bed has dimensions of 38 by 75 inches or about 97 by 191 centimeters and around 38 by 80 inches or 97 by 203 centimeters for the extra large twin
A homeowner with a bigger studio apartment can fit a queen or a king bed inside the space. A queen mattress has a dimension of 60 by 80 inches or around 152 by 203 centimeters.
This should fit easily if they have a standard 10 feet wide apartment. A king is 76 by 80 inches or about 193 by 203 centimeters.
Proper space utilization will need to maneuver such a big bed into a smaller studio space, but it is not impossible.
Can A Queen Size Bed Fit In A Studio Apartment?
One of the most famous bed sizes is a queen bed because of its versatility since it is perfect whether a single person or a couple is using the bed.
So, how big is a queen bed? Overall it has a dimension of 60 by 80 inches or around 152 by 203 centimeters. So based on this size, can it fit the average studio apartment?
This will depend on the available bedroom space at their disposal. A studio has no specific bedroom or living area, meaning homeowners can decide how much space is allotted for both. One way to ensure that it will fit is to get a queen-size pullout bed that can be folded easily when not in use.
Best Size TV for Studio Apartment

The viewing distance for an average-size studio apartment is around 4.5 feet making the prime size for a television set around 32 inches or 81 centimeters.
This television set is excellent for renters or homeowners to enjoy relaxing and watching TV. If the apartment has a viewing distance of around 4 to 5.5 feet, getting a more extensive television with a size of 37 inches or about 94 centimeters is best.
For spaces with a viewing distance of 3.6 to 5.4 feet from the sofa to the television screen, a 43 inches or 109 centimeters television set can also be an option.
What Size Couch For Studio Apartment?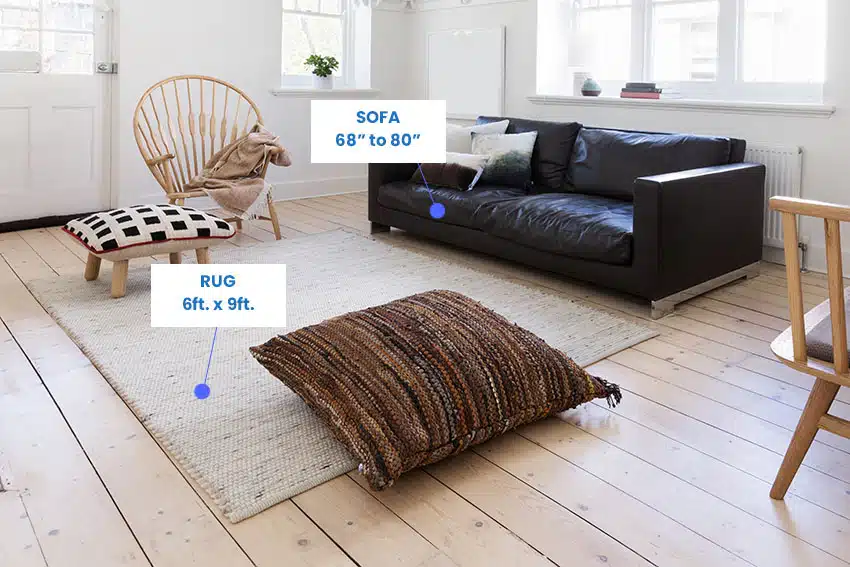 A studio apartment will require smaller items of furniture, and one living room essential is a sofa. In choosing one that will fit the apartment, it is best to get a couch that is around 68 to 80 inches or about 173 to 203 centimeters.
This is a great size and smaller than the average sofa, which will be approximately 84 inches or 213 centimeters at minimum.
Another option is getting a loveseat around 60 inches or 152 centimeters wide. A good loveseat for an average-size studio apartment is also one that is about 53 inches or 135 centimeters in width.
Rug Size For Studio Apartment
Since the average studio apartment has a small living room space, it is best to opt for rugs that are made for smaller living rooms. The best and most standard size to get is a 6 by 9 feet rug or around 183 by 274 centimeters.
This size will be enough to be under a sofa with two armchairs on each side, and there is also room for a small coffee table situated in the middle of everything.
Visit our bedroom layout ideas for more related content.