See kitchenette ideas including their design elements, cost, dimensions, what basic items to include, and their comparison to a full size kitchen.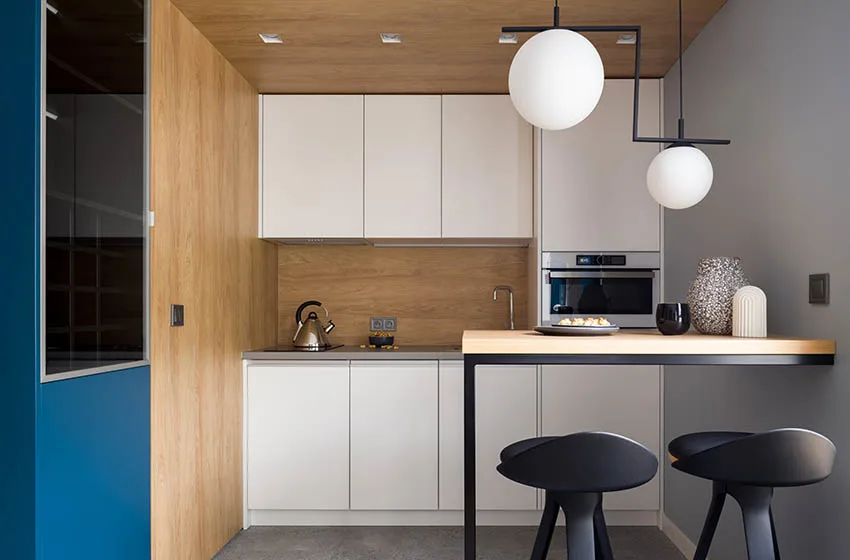 Have you ever heard of the term "kitchenette"? Without really thinking hard about the definitions and origin of words, you can immediately tell that it means a little kitchen or smaller kitchen.
If you have limited space in your home but still want to have the option to prepare your own food, you can build your own kitchenette instead. A kitchenette offers the basic functionalities that a kitchen offers but only without requiring too much space and even appliances or furniture.
Let's learn more about kitchenettes and if it's actually the ideal option for you.
What Is A Kitchenette?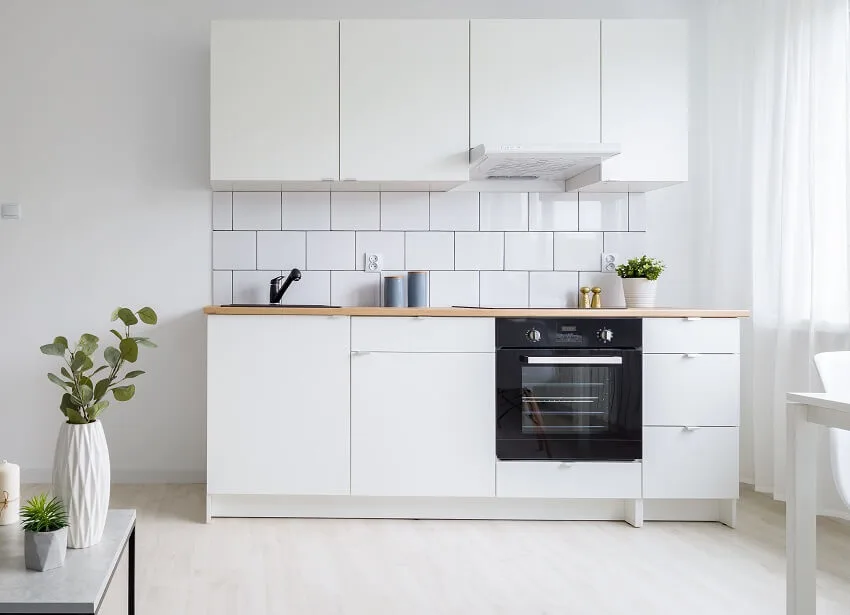 A kitchenette is exactly how it is named since it simply refers to a smaller and compact kitchen, which usually only takes up a single wall and corner but includes all the important elements of a kitchen.
These elements include small appliances such as a microwave, a sink, and a mini refrigerator. The focus of this mini kitchen leans more on space conservation and efficiency – the fact that you are able to prepare, cook, and store food without the limited space being a hindrance in these tasks.
Traditional kitchens may take a lot of space to accommodate different appliances and furniture, leading to needing an entire room.
For kitchenettes though, the largest ones can also have a gas or electric cooktop with a burner or two, and sometimes even an oven. But with more functionality that comes with a full-size kitchen, why should you settle with kitchenettes?
Kitchenette Pros and Cons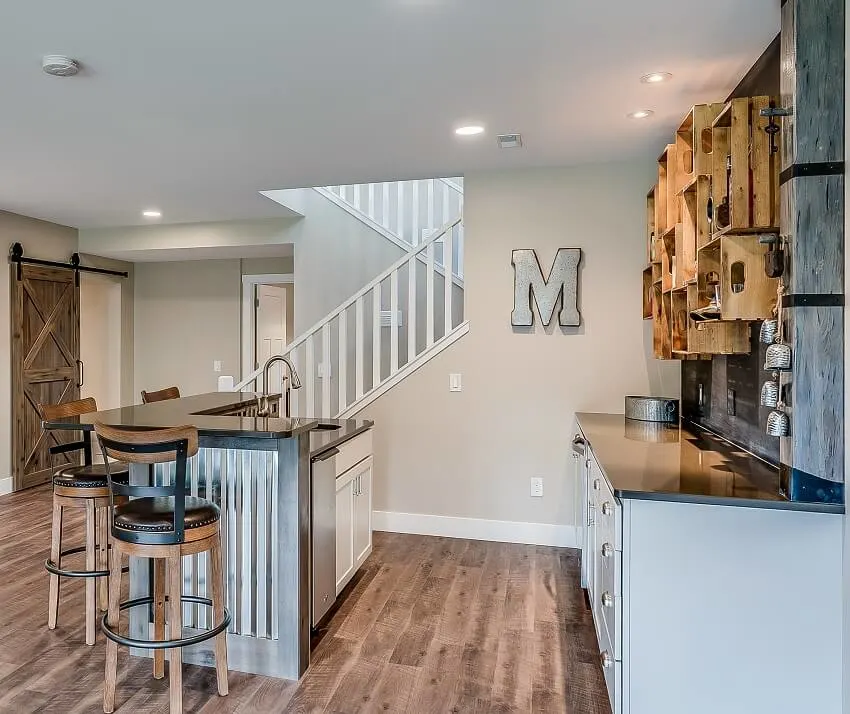 Here are some of the pros and cons that come with using a kitchenette so that you can weigh them as you please to come up with an informed decision.
| | |
| --- | --- |
| Pros | Cons |
| Less expensive to operate – especially when it comes to utilities | Limited cooking capability with limited kitchen functionality – less storage for tools, utensils, and even dry goods |
| Less like for things to go wrong – fewer appliances to malfunction, break, or worse blow up | Cooking with your family is difficult – with less space to accommodate anyone, only one person can cook and do meal preparation |
| Cheaper maintenance and renovation – with less space, less area to cover when it comes to cleaning, maintenance, and renovation | |
Kitchenettes are popular in rentals, especially in hotels and studio apartments, where needing a full-sized kitchen may be too much but having a kitchenette to have the ability to cook is desirable for guests who will stay for a period of time.
With the limited space though, how would you make the kitchenette work for you? The first thing to consider is to get used to the small space and the limited appliances. This is where the work triangle comes in handy.
The secret to making this work is to maximize the space you have and make the most out of the appliances you have.
Kitchenette Design Tips
Here are some tips you can do to adjust to using kitchenettes instead of a full-size kitchen.
• Use cabinet inserts – They are perfect for utensils, pans, and pots storage.
• Organize appliances while maximizing space – Place heat-proof items on appliances like microwave or toaster ovens.
• Install foldable tables and chairs – Fold them when not in use to save space.
• Mount a magnetic knife rack above your sink – You can have your knife within reach without filling up counter space.
These are only some things you can do to organize a small kitchen space. If you are fond of entertaining guests in the kitchen and cooking together with your family, a full-size kitchen may be better for you.
How Big Is A Kitchenette?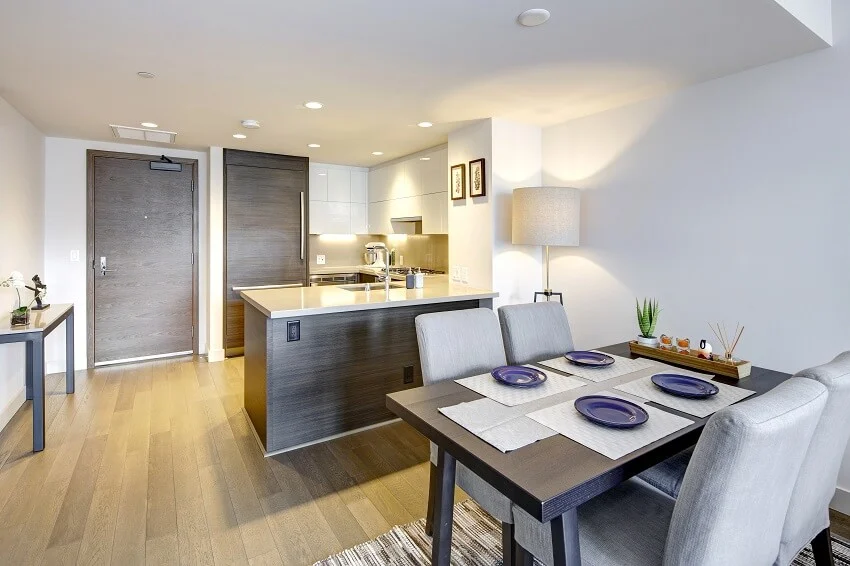 There is no standard size for kitchenettes. One thing to remember though is that it may only be a single wall and a corner while a full-size kitchen will include an entire room.
Full-size appliances are sure to take up a lot of space for a kitchenette though and will cramp up the entire area. This means that another way to tell if it is a kitchen or a kitchenette is to look at the size of the appliances found in it.
If you see full-size appliances, including a 22-inch long and 33-inch wide sink and a 36-inch wide, 70-inch high, and 35-inch deep refrigerator then you're looking at a full-size kitchen. If you see smaller versions of these appliances then it's a kitchenette. Read more about kitchen layout dimensions here.

What Does A Kitchenette Include?

While you have the say in what you want your kitchenette to include, there are some basic items you can always consider. Since using the kitchenette means utilizing the work triangle, it only makes sense to include.
Some of these items are the following:
• Microwave
• Sink
• Small Fridge
• Hot Plate
• Storage (1 or 2 Cabinets or Shelves)
• Food Steamer
• Electric Kettle
• Toaster
• Instant Pot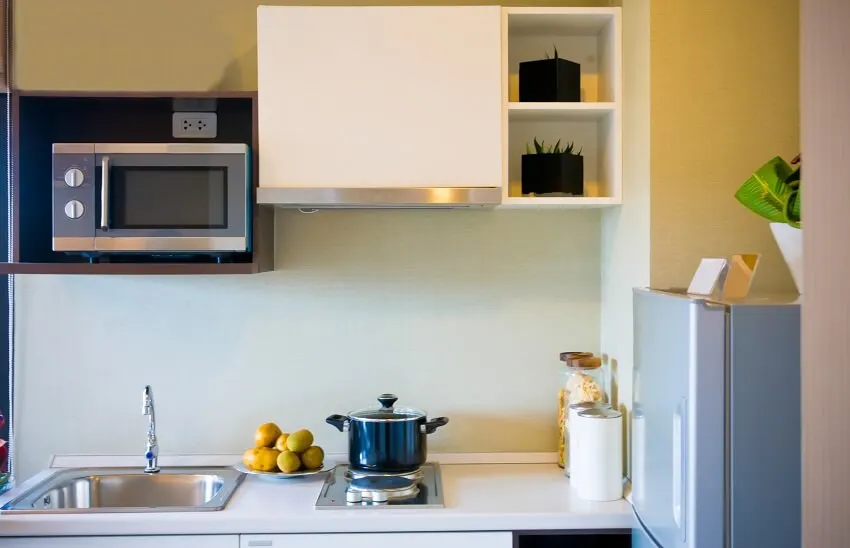 Of course, these small appliances are only recommendations and you can either use all of them or handpick a couple for your own kitchenette.
The priority when considering what to include for your kitchenette is your counter space. See our guide to essential small kitchen appliances here.
Is your counter space enough for you to conduct your meal preparation? Don't crowd your kitchenette with appliances that you might end up not having enough counter space in the end.
Do Kitchenettes Have Stoves?
While it may not have a full-size and full range of cooking appliances, you can cook in your kitchenette.
This would depend on your kitchenette's size though since most small kitchenettes have a microwave and a hot plate while larger ones may have a two-burner or four-burner, depending on the room's size. But when it comes to stoves though, most kitchenettes don't have them, as well as an oven.
Kitchenette Cost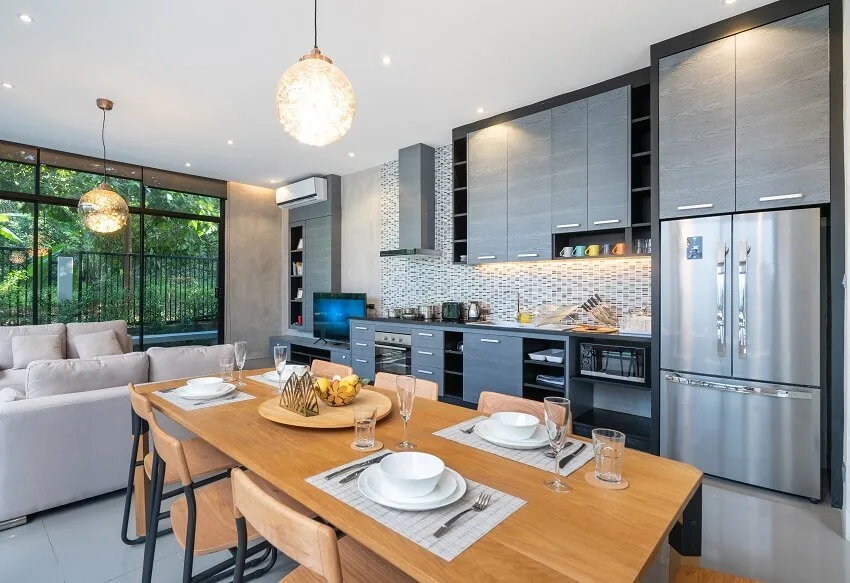 While kitchenettes may be significantly smaller than a standard full-size kitchen, they can be expensive too. And the cost can even get higher if you choose more appliances or techier ones.
It will also be affected by the size, finishes, and finishes so you would have to consider those elements as well.

How Much Does it Cost to Install a Kitchenette
If you are considering installing a kitchenette at home, the cost can fall between $3,000 to $45,000, depending on a lot of factors.
These factors include the size of the kitchenette and the furniture and appliances you've chosen to install in it, as well as its features. These are other factors that can affect the cost of your kitchenette and their possible costs:
• Appliances: $2325 to $6650 (Depends on the appliances installed and this price includes a microwave, toaster oven, dishwasher, electric range, gas range, and mini-refrigerator).
• Cabinets & Countertops: $100 to $1,200/linear foot (Depends on the materials used).
• Electrical: $2000 to $4000 (Includes $6 to $10/square foot of wiring and labor).
• Plumbing: $100 to $1000 (Depending on its location and access to the home's drainage and power supply).
• Permit Costs: As much as $1000 (Depending on the jurisdiction of the housing/city you're in).
The best thing about kitchenettes though is that despite the cost that comes with them, they significantly add value to the homes they're installed in. So if you're worried about the expenses, you may actually recoup some costs with the added home value.
Kitchenette vs Kitchen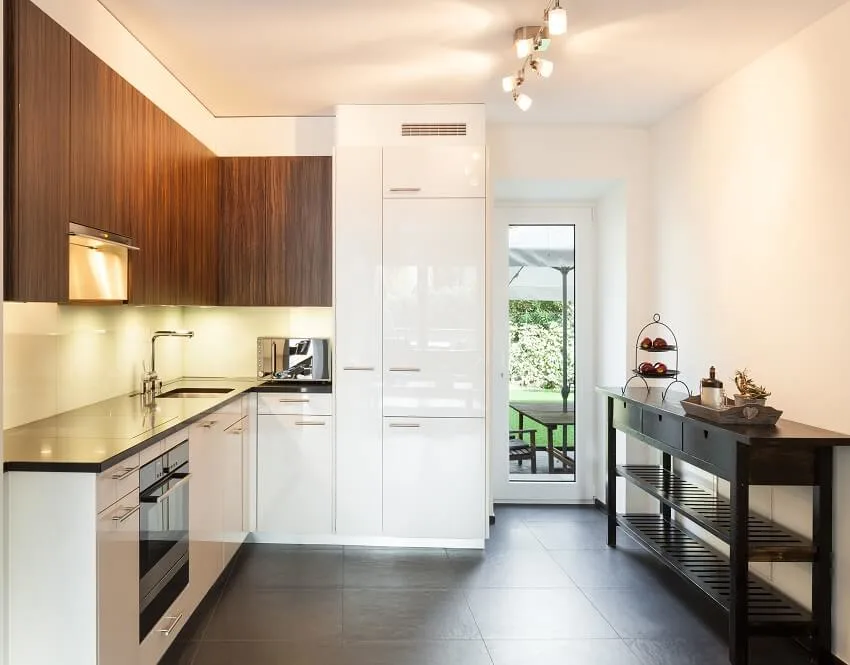 If you feel like you want to install a kitchenette in your home rather than a full-size kitchen, you can do so. Just to be sure though that you have all your i's dotted and t's crossed, here are different factors where kitchen and kitchenette differ:
| | | |
| --- | --- | --- |
| Elements/Factors | Kitchen | Kitchenette |
| Size | Full-size that can take up an entire room | Limited to one wall and a corner (Most) |
| Functionality | Full functionality (You can cook whatever you want) | Limited functionality (Limited to basic cooking needs) |
| Foot traffic | More space to cook and entertain people | Can only accommodate 1 or 2 persons at a time |
| Cost | More (Utility bills and maintenance) | Less (Utility bills and maintenance) |
| Cleaning & Maintenance | More difficult and time-consuming that it can be considered a full-time job | Easier to accomplish with a much lesser area and appliances to clean and maintain |
| Storage Space | More storage space depending on how big the kitchen is | Limited to 1 or 2 cabinets |
Kitchens and kitchenettes have their respective strengths and weaknesses. It will be up to you what elements you want to prioritize in creating your cooking room.
If you are now sure that installing a kitchenette is the best decision for your home, the next step is to skim through different ideas you can use as inspiration.
Kitchenette Ideas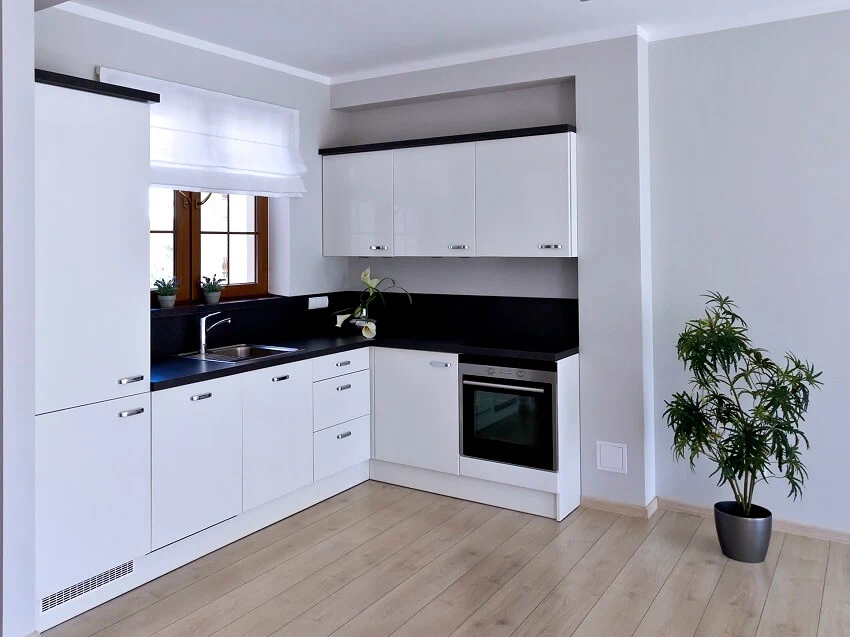 There is a variety of kitchenette ideas you can consider for inspiration. It will really be entirely up to your budget, space, and preference which to choose. Here are some options for you.
Room with Kitchenette
If you already have an existing room and you just want to add a kitchenette to it, that's also possible. You simply have to choose the room that you think would benefit the most when installed with a kitchenette.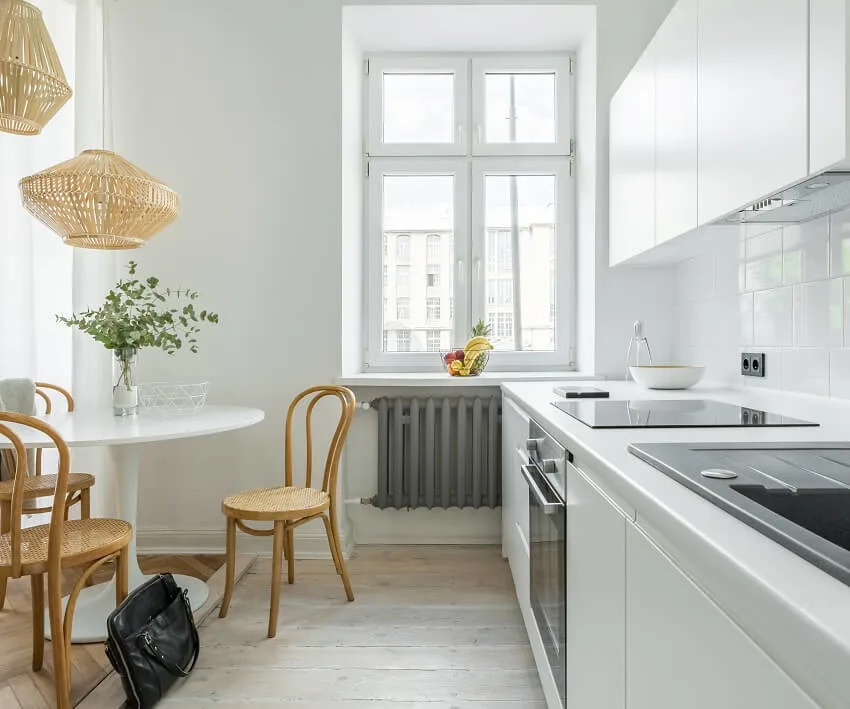 This kitchenette is installed in the dining room. The white walls, countertops, and table provide the illusion that the room is bigger than it really is. The big windows also add to this effect, letting natural light into the room.
The kitchenette also only has a few appliances and if there are others, they might be hidden well. And the wooden chairs and decor/hanging lights somehow soften the vibe of the room.
Prefab Kitchenette
A prefab kitchenette simply means that it is made of components that have been pre-made. Prefab is a term usually used in construction but can be applicable in kitchenettes with pre-fabricated furniture, usually made of wood, metal, or concrete.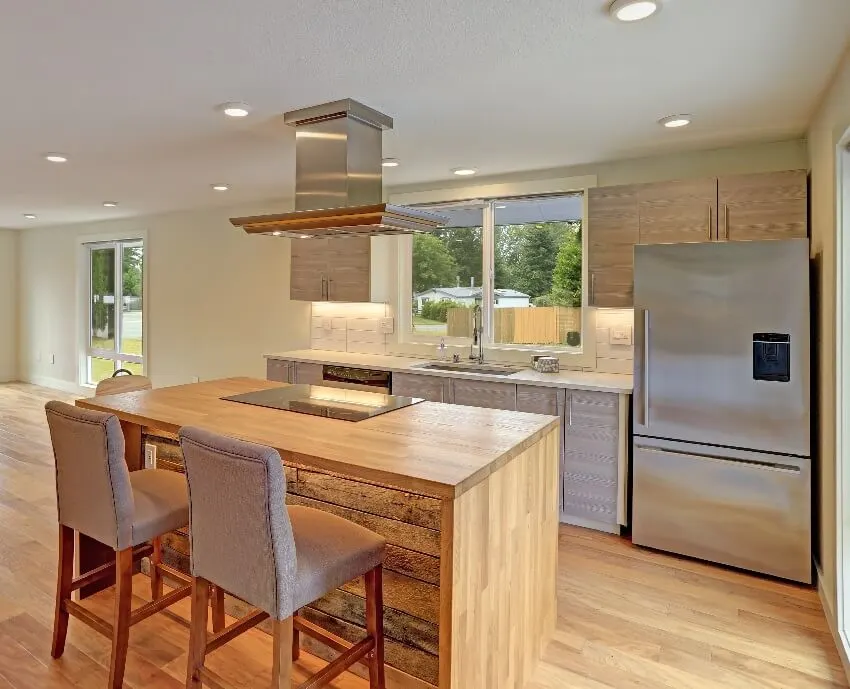 This prefab kitchenette is dominated by wooden components, from its cabinets to its countertops. Its fridge and sink though are made from stainless steel.
Basement Kitchenette
A basement kitchenette is as it is named. It is a kitchenette located in the basement of a home, whether to accommodate someone who's currently living in the basement or just to have an extra cooking space. See our gallery of basement kitchen ideas here.

Small Kitchenette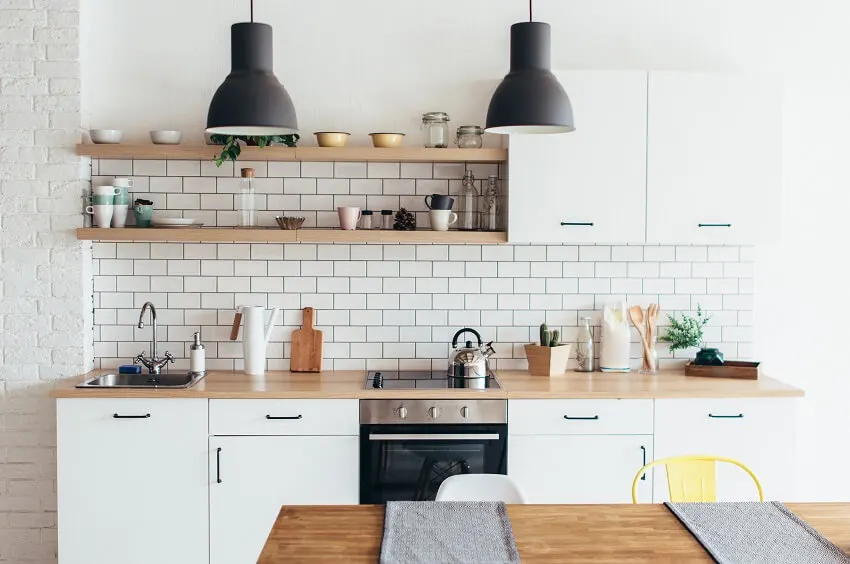 The term small kitchenette may be a bit redundant since it simply means small kitchen at the end of the day. Read more about small kitchen design ideas on this page.
The kitchenette below shows a small kitchen with strategic storage thru wall-mounted shelves and cabinets. It also has basic kitchen equipment from the sink to the gas range and the water heater.
Office Kitchenette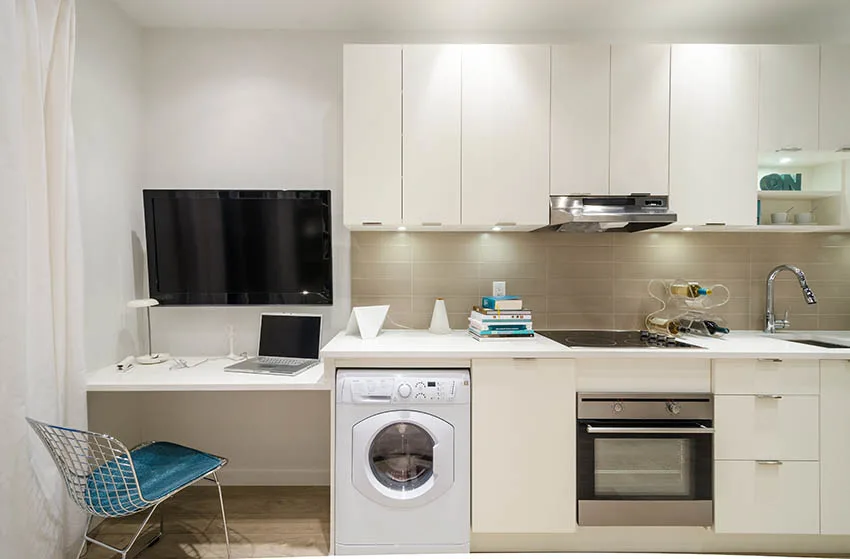 An office kitchenette is the one found in your workplace. Often called the "pantry", the office kitchenette is where you get that cup of coffee you need to boost your energy and finish today's work.
An office kitchen can also be set up in your own home to utilize the available counter space the area offers. If the layout affords the space a lower level counter can be installed to create a home office kitchen nook that can accommodate a comfortable chair to maximize productivity.
This office kitchenette offers you the basics, including the sink, water heater, toaster, and of course kitchen cabinets. Cooking in an office is a bit out-of-place and these small appliances are enough to help you with a cup of coffee/tea and a sandwich for snacks.
Outdoor Kitchenette
If you're thinking about grilling, an outdoor kitchenette may be a good idea. This simply means a small kitchen located outside the home (And most of them are installed outdoors because of a grill!).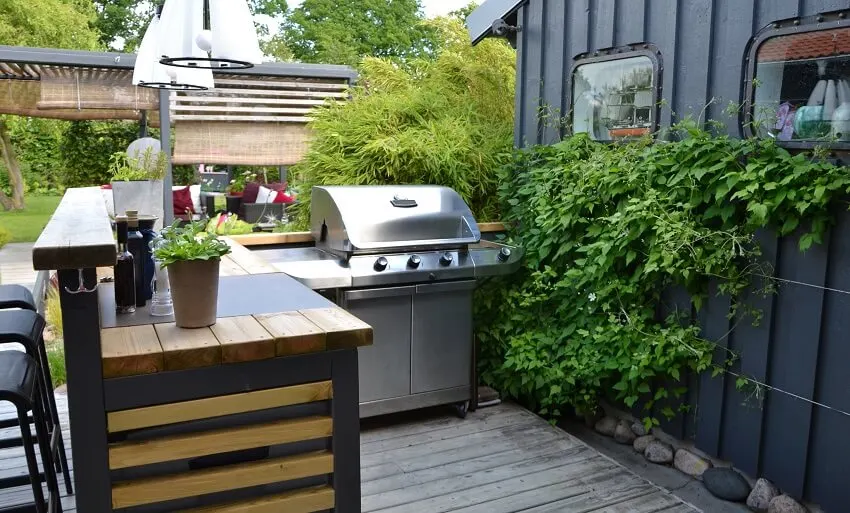 This outdoor kitchenette showcases an elegant stainless grill with wooden countertops where you can do your meal preparation.
Studio Kitchenette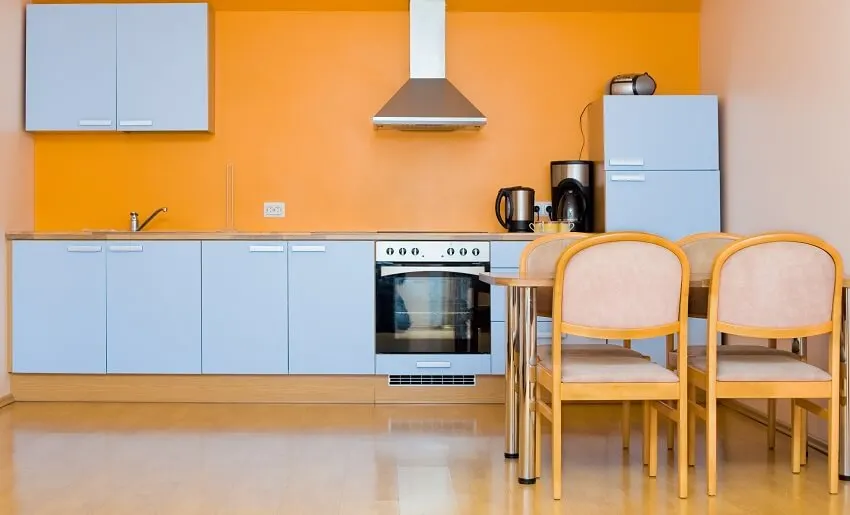 A studio kitchenette is a small cooking space that's been created to provide the basic functionality of a kitchen yet at the same time maximize space in a studio apartment.
This contemporary orange and blue studio kitchenette provides those basics, from the fridge to the gas range, sink, and finally a silver coffee maker!
Modular Kitchenette
A modular kitchenette is a small cooking area where the kitchen furniture is arranged in a way that would optimize space and functionality. This is why the furniture is grouped in units, and so is installed in areas where it would be needed and used the most.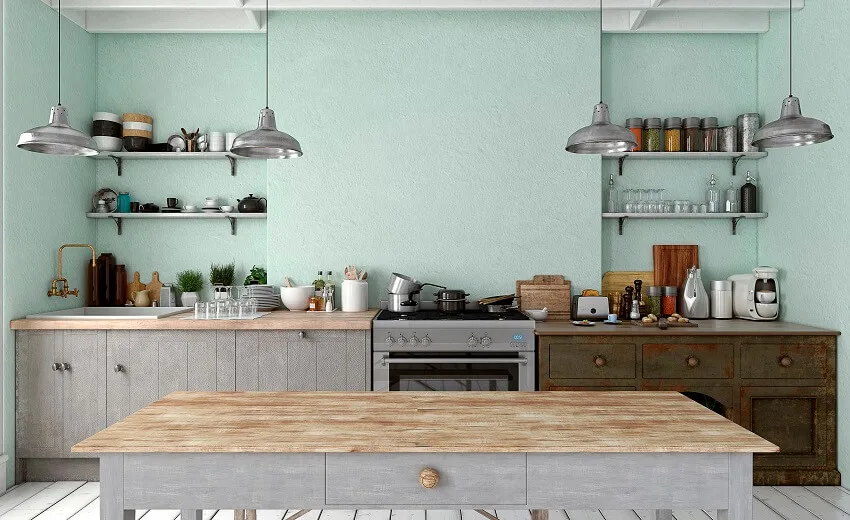 This classic-looking modular kitchen is grouped into three units. From left to right, it is comprised of the meal preparation area, the cooking area in the middle, and then the cleaning and wash up area.
Portable Kitchenette
The portable kitchenette is somehow an innovative idea but has been seen in the past before. A kitchenette is considered portable when you can take with your the components of the kitchenette, from the sink to the countertops. Designs may vary but the idea is simple and the same.
Efficiency Kitchenette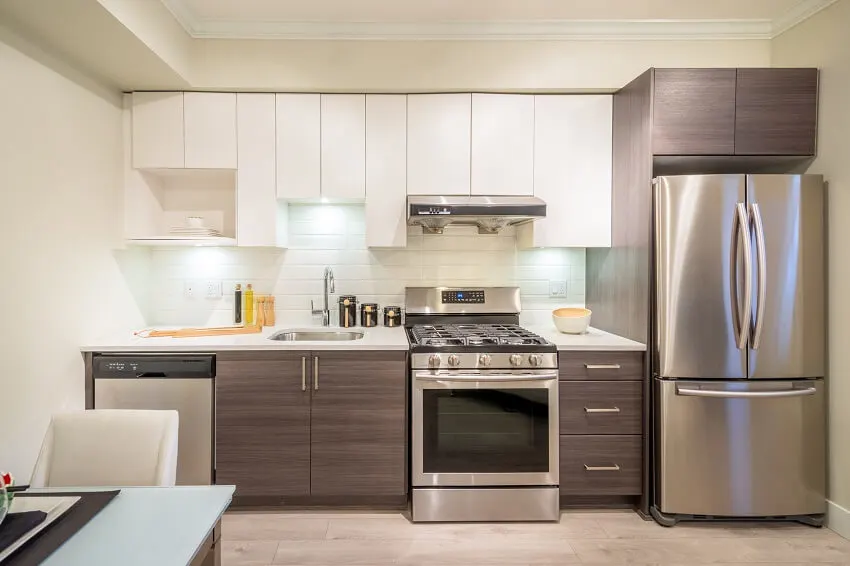 This modern kitchenette focuses on efficiency, which is clear in how it is designed and organized. The cooking area is set in the middle where the wall-mounted cabinets are accessible and easy to reach whenever utensils or other kitchen tools are needed.
The refrigerator and the sink are also within reach on the right and the left of the kitchenette respectively.
Visit our guide on how to organize a small kitchen for more related content.