Whether you have rich brown, light brown, beige, tan, or light-toned shades, it's important to discover what color flooring goes with cherry cabinets to make the most out of your kitchen design.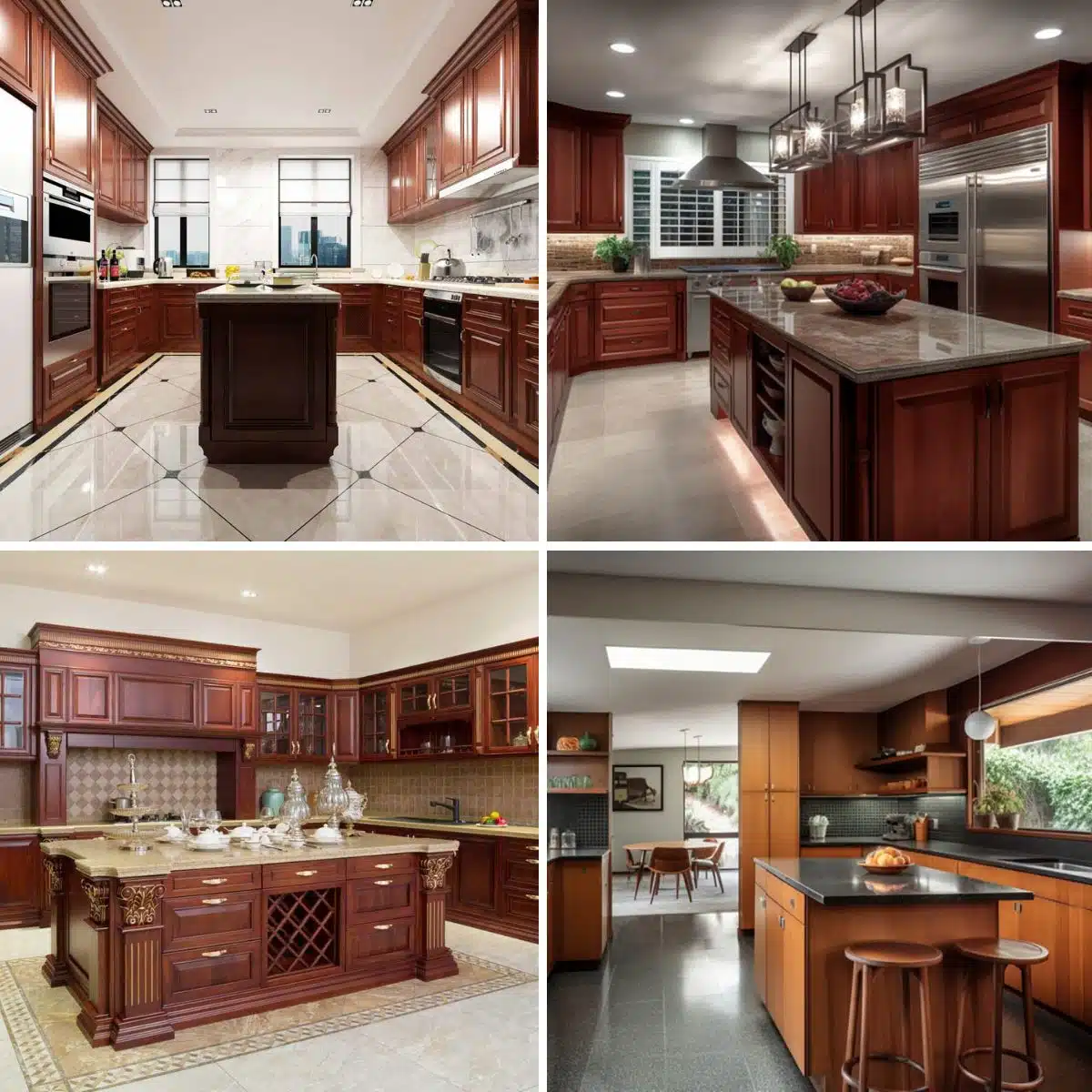 Cherry cabinets are long-established as kitchen cabinets – they have consistently embraced a rich, remarkable history concerning interior design. What makes these cabinets a unique and well-known cabinet solution? Well, that is their enticing reddish-brown tone that evokes luxury and elegance. That makes it hard for homeowners and guests to overlook.
Best Flooring Colors To Use With Cherry Cabinets
Take note that there are an array of cherry wood hues, which may vary from subdued reddish-brown hues to deep crimson ones. But you may know that finding the most complementary flooring color for cherry cabinets may seem a bit daunting.
The starting point for complementing these warm undertones is choosing something from the neutral color spectrum. Even so, while the most common flooring color options are customarily beige, white, tan, or brown, certain rich-hued undertones may also be able to dance with other non-neutral colors. Things just got interesting, right?
Here are our top color suggestions to use with cherry cabinetry.
| Floor Color | Why It Works With Cherry Cabinets |
| --- | --- |
| White Tile | Brightens and creates contrast, bringing out rich wood tones. |
| Brown Shaded | Matches natural undertones; offers a warm vibe |
| Light-Brown | Complements cherry wood and gives a slight contrast. |
| Warm Beige | Neutral color that balances the warmth of the cupboards. |
| Tan Tones | Enhances the warmth without overwhelming. |
| Light Cherry | Creates a uniform and cohesive aesthetic. |
| Modern Gray | Contemporary and sleek style helps modernize a traditional design. |
| Dark Shades | Luxurious and harmonious (best with lighter cabinetry finishes). |
| Dark Red | Adds rich undertones and promotes a regal, elegant vibe. |
| Buttery Yellow | Infuses warmth, creating a welcoming, cozy atmosphere. |
White Tile Flooring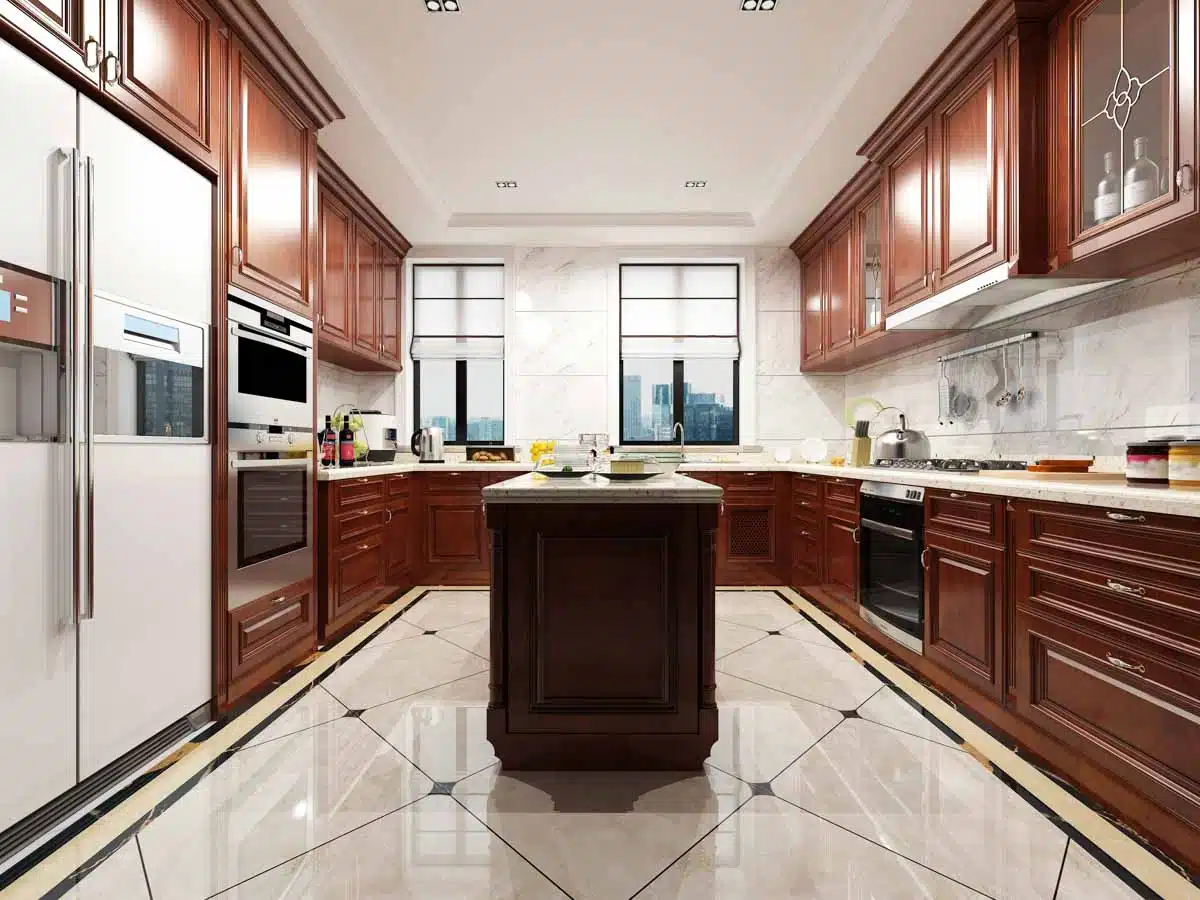 Interior designers believe that white tile floors are the answer to practically anything. We agree – if you're aiming to achieve a masterful canvas or backdrop for your well-loved cherry cabinets, then we recommend going for white flooring.
It is always true that white floors have the utmost capacity to stylishly exhibit the splendor of your cabinetry, as their neatness and purity can fully augment the ambiance of your kitchen.
Moreover, the white backdrop the floors provide should allow the cupboards to turn into centerpieces. Since white is a neutral, unobtrusive color, this will help highlight the intricate, eye-pleasing woodwork and the extraordinary reddish-brown tones of your cherry wood kitchens.
The marriage of white flooring and red woodwork is quite pleasant as it incredibly brings a touch of sophistication, orderliness, and opulence to your every space. This makes the homeowners and guests reminisce about the nostalgic, vintage design features while also loving the modern side of the color.
Also, the interplay of the lightness of white tile floors and the dark tones produces a balanced harmony that caters to diverse personal preferences. This enables it to be a splendid selection for a broad array of interior design layouts.
Brown Shaded Flooring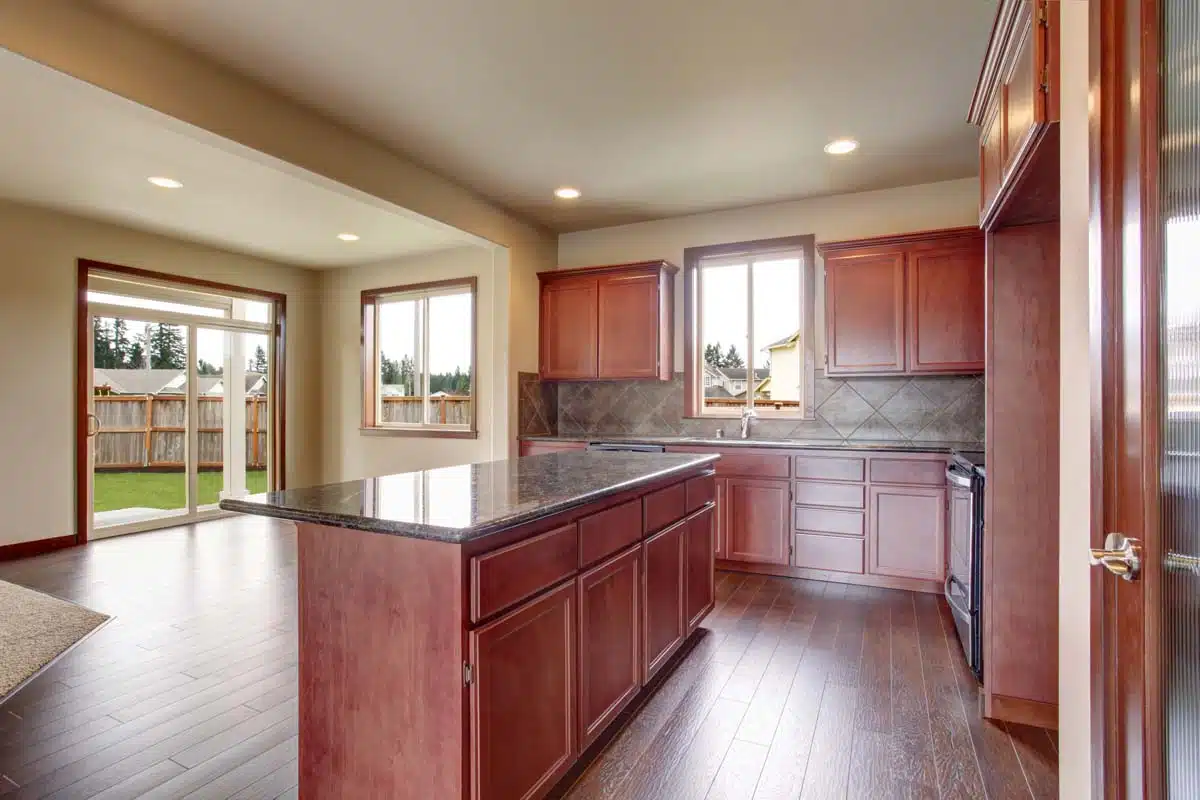 Regarding creating a balanced, well-coordinated conversation with your treasured vintage cherry cabinets, do you know which is the frontrunner? You're right; brown flooring is clearly among the leaders. Pairing the intrinsic warmth of brown tones will complement and effortlessly establish a cohesive, inviting, and pleasing-to-the-eye indoor environment.
Moreover, the conjunction of brown floors with your existing cabinetry will conjure a rustic farmhouse charm that will undoubtedly amplify those contemporary and classic design schemes. Weaving such earthy tones allows you to achieve a delightful interplay of textures, grains, and colors in your kitchen or any room.
Light-Brown Hued Floors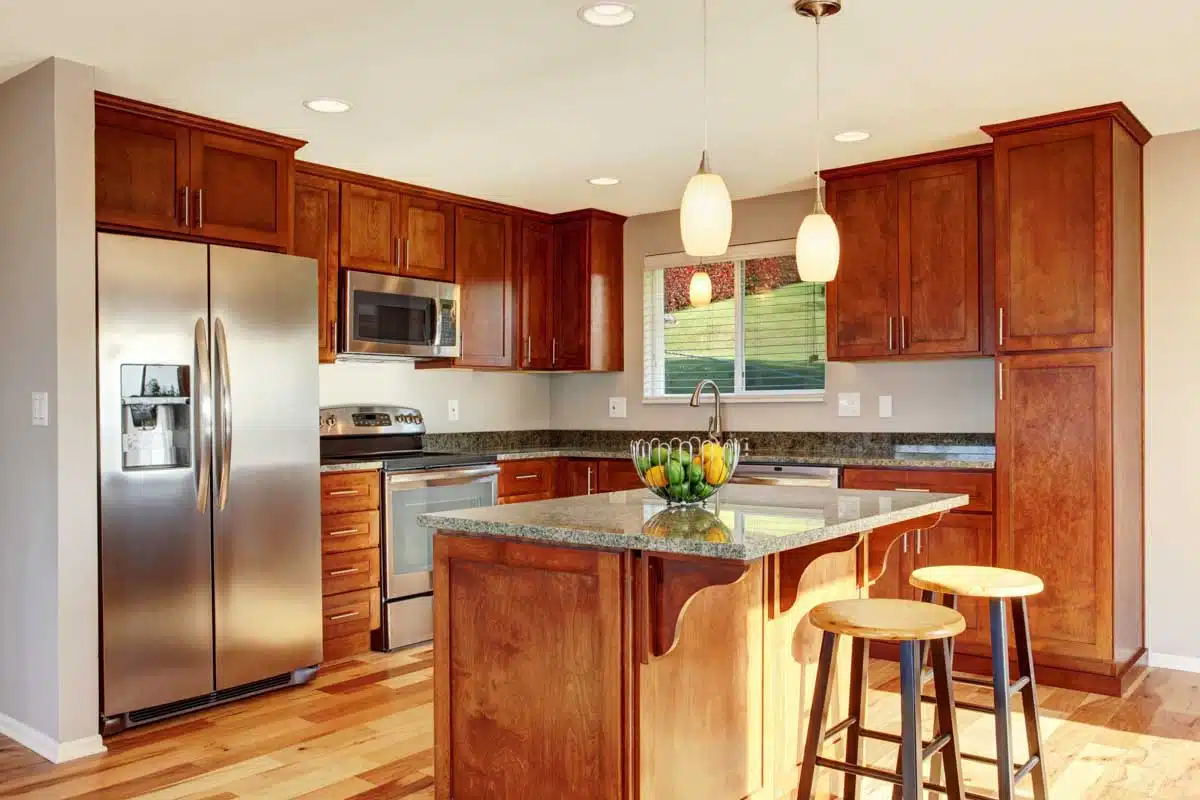 For homeowners who savor minimalism, interior designers recommend light brown floors. This shade could be the answer to revamping your interior vibe. Lighter color flooring options can smoothly supply an interplay of subtlety and contrast, especially when combined with cherry cabinets.
Such a collaboration exudes a sense of refinement and understated aesthetic due to the subtle hues of the light brown floors – they bolster the presence of the warm wood hues without having to overshadow them. This pairing will make your cooking and dining space serene and calming.
Once you install light brown floors in your kitchen or any room, the result will be quite pleasing to the eye – it will emanate a hint of understated style, striking a great balance between welcoming coziness and streamlined design.
The interplay that rich wood tones and light brown hues can give can act as a testament to each interior designer's keen eye when establishing a living space that can invite admiration through its flawless combination.
Warm Beige Flooring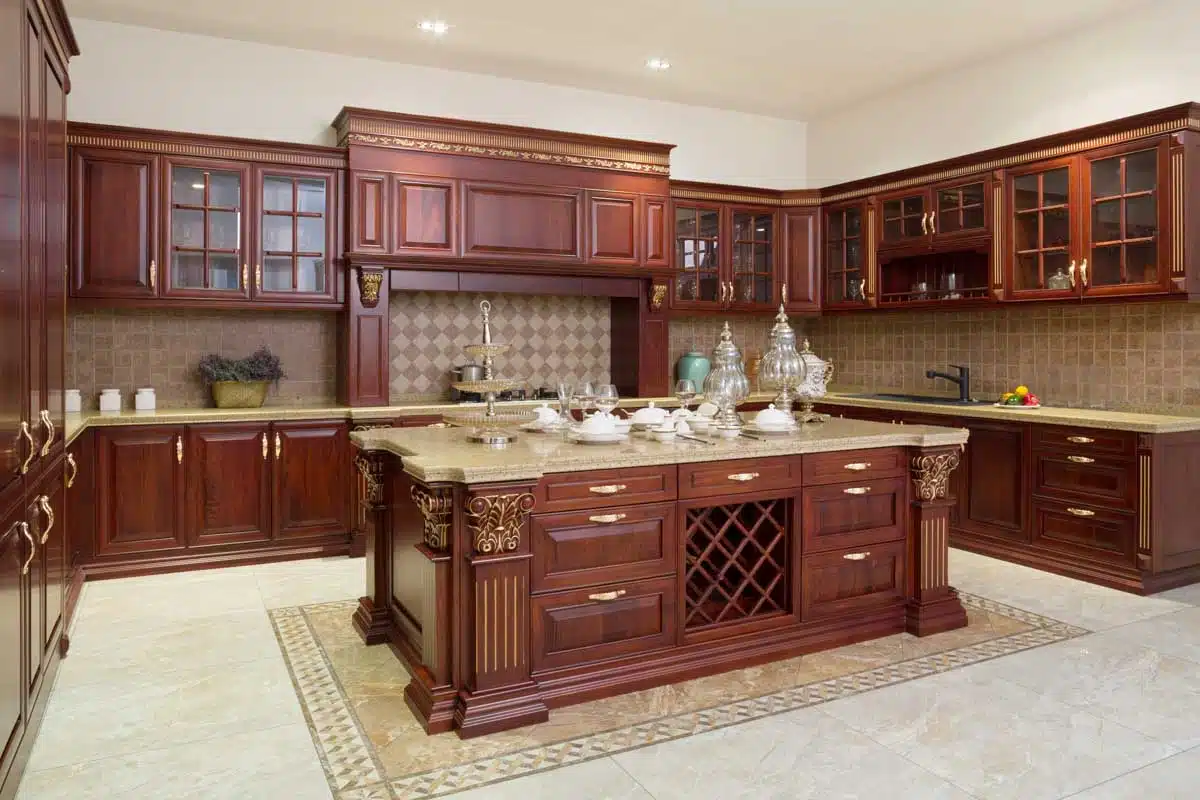 As aforementioned, neutrals are the secret to further boosting the quality and beauty of cherry wood cabinets. Among those outstanding neutral colors that complement is beige – it can craft a very inviting, serene backdrop for your cabinets while casting a relaxing vibe all over the space.
Furthermore, the neutral, enticing warmth that beige provides resonates with the appealing undertones of the cherrywood, which can aid in fostering a harmonious and calm indoor environment.
And since beige is an earth color, it can present a versatile, organic canvas for your cupboards and other design features to pop through and achieve a sense of consistency in your space simultaneously.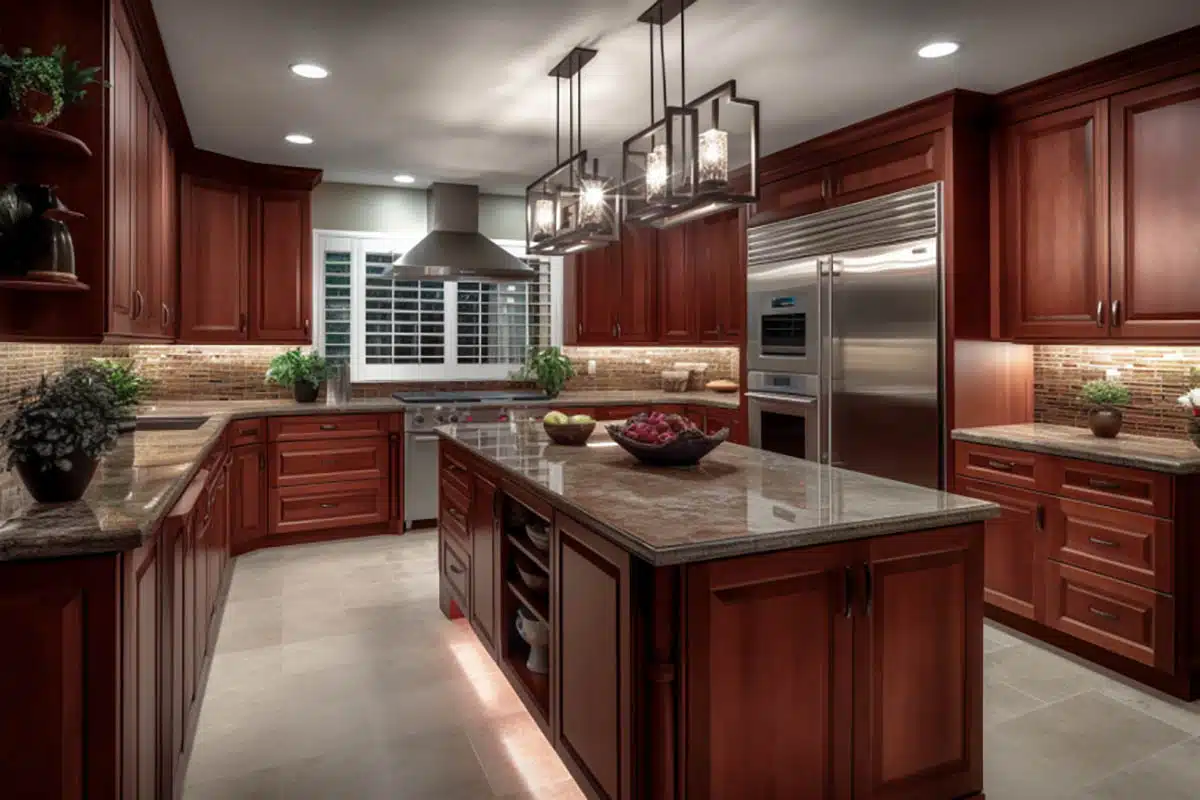 Refined comfort and minimalist sophistication are what beige floors and cherry cabinets can provide to your indoor space. Truly, the subtlety of beige, as well as the vibrancy of the red wood, can result in a relaxing haven, especially in your kitchen.
No doubt, those cooking duties and other kitchen-related tasks would be more productive due to the calming ambiance this combination can deliver.
Tan Tone Flooring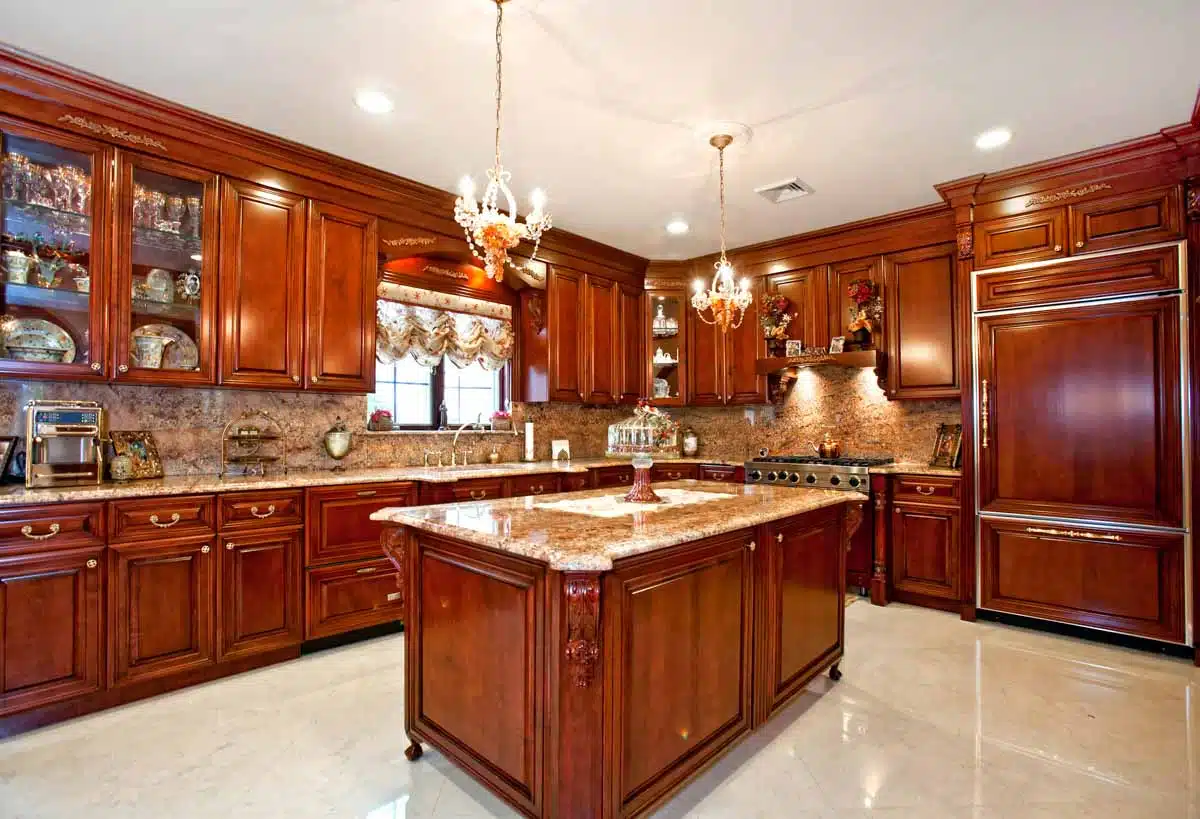 They say that tan is just the same as beige or light brown. But if you are going to ask our respected interior designers, tans have significant differences. Tan floors can seamlessly interlace with the rich, striking vibe of Bordeaux-colored hues, which can help conjure a visually enchanting atmosphere.
Coalescing tan with cherry tones can yield an alluring impact – the richness of the cabinets can be accentuated by the deep yet subtle tones of the tan flooring. This design function ensures that the cabinetry remain the centerpiece.
Light-Toned Cherry Flooring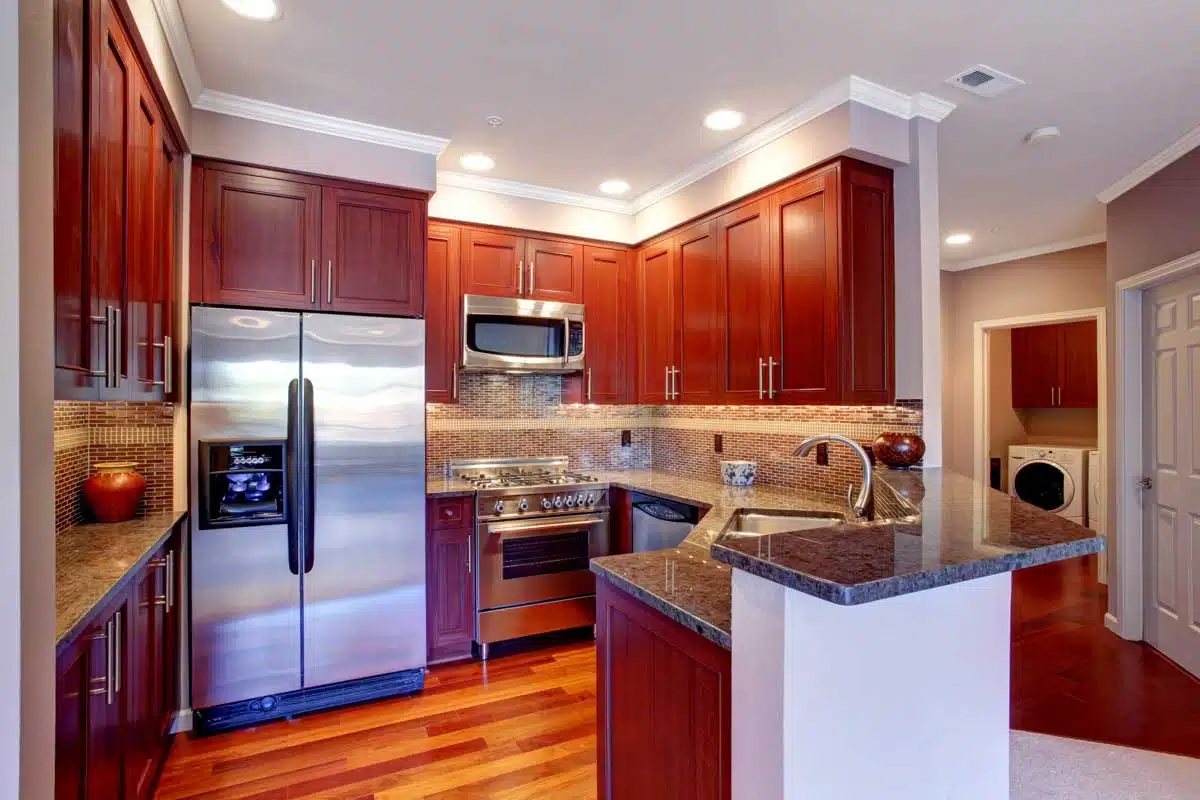 Uniformity is oftentimes the goal of many homeowners and interior designers. If that is your case as well, then you may opt for light-toned cherry hardwood flooring. These floors will promote consistency and balance since they are in the same wood family as your cabinets. Although they are on the lighter side, you will still notice that the quality of the wood is the same.
The wood of the wild cherry is moderately heavy, hard, very durable, and has a close, fine grain. – The Building Trades Handbook A Convenient Reference Book on Building Construction, International Correspondence Schools, 1924
Going for this flooring color can impart a touch of luminosity as well as a sense of openness to the natural environment since they both come from American Black Cherry trees. It can also allow you to foster an ambiance that is softly vivid, enabling your cabinets to maintain their spotlight.
The minimal distinction between light and dark tones can deliver an ethereal sweetness and charm. This is especially true if the combination is done inside a kitchen, as it can help achieve a very gentle and naturally inviting feel.
Aside from that, this design option can showcase thorough attention to detail, and the amazing tone interplay can help exhibit the interior designer's capability to balance the home's functionality and aesthetics.
Modern Gray Flooring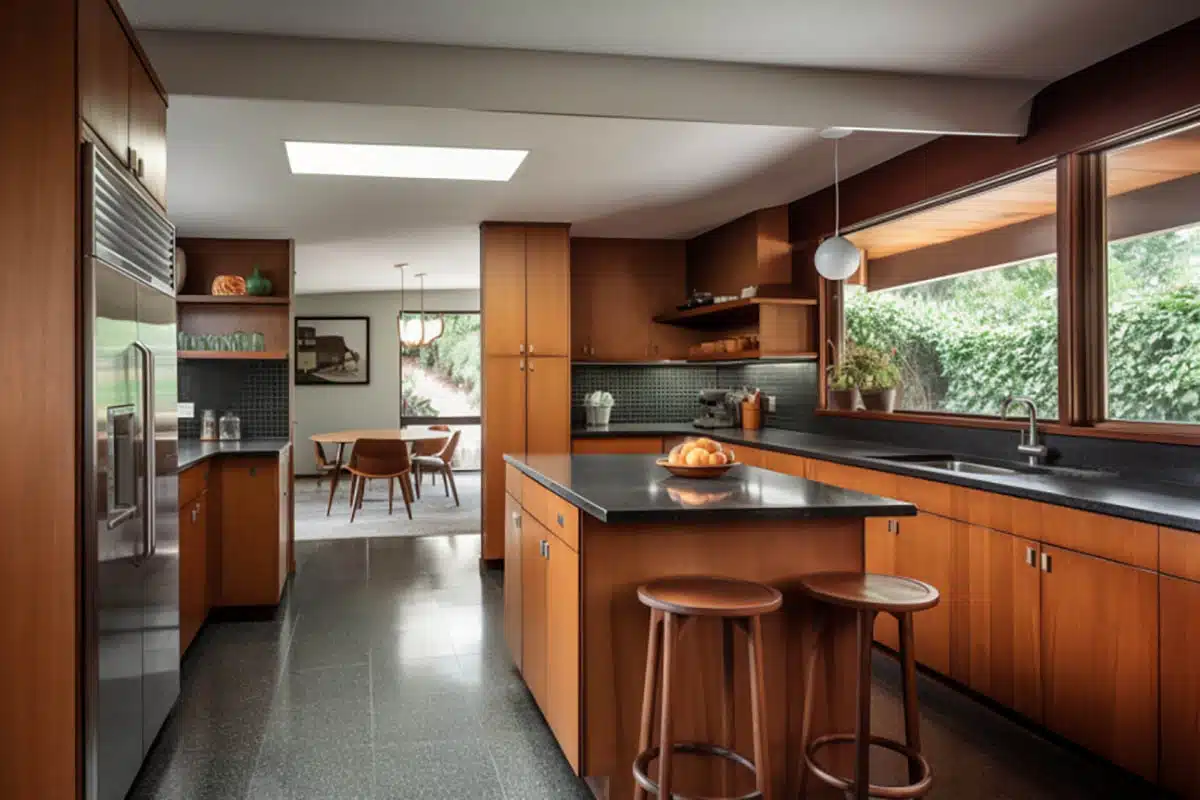 Minimalism, contemporary elegance, and transitional perfection – these are the styles you can accomplish with gray floors and cherry cabinets. Gray is an extremely versatile color that can complement any type of wooden cabinet, including this style.
Choosing dark gray floors can smoothly introduce drama and subtle beauty, enhancing the wood cabinets' warmth. On the other side, light gray floors infuse your space with a soft, airy atmosphere.
No matter what shade of gray you choose, you can be sure that the amalgamation of these gray shades with your wooden cabinetry will engender a balanced design that promotes a mix of modernity and traditional.
Dark-Colored Wood Flooring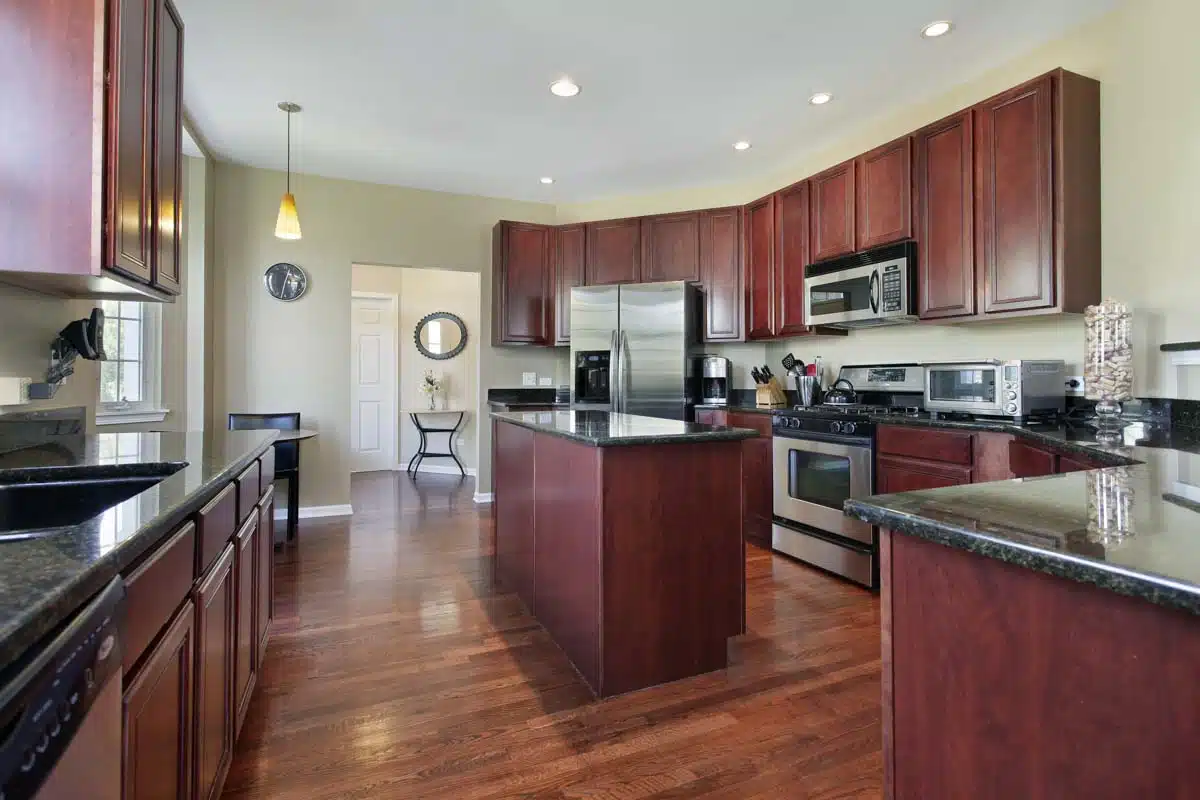 If the shade of your cherry cabinets is lighter, this might be a great opportunity to consider choosing dark-colored wood floors. Uniting your lighter-hued cabinets with dark-colored wood floors will surely orchestrate a relaxing and inherently gorgeous interplay of color contrasts.
Wood floors made of ebony, blackwood, or wenge, specifically if they are styled with gold undertones, can infuse a hint of complexity and depth into the room where the cabinets are located.
However, what if your cupboards have a darker tone? Well, remember that dark-colored wood flooring still qualifies as a good option. This combination can still signify the prowess of the interior designer in terms of layering textures and certain tones. Dark-colored wood floors and dark-toned wood cabinets will make the environment warm, calm, and nature-friendly.
Dark Red Flooring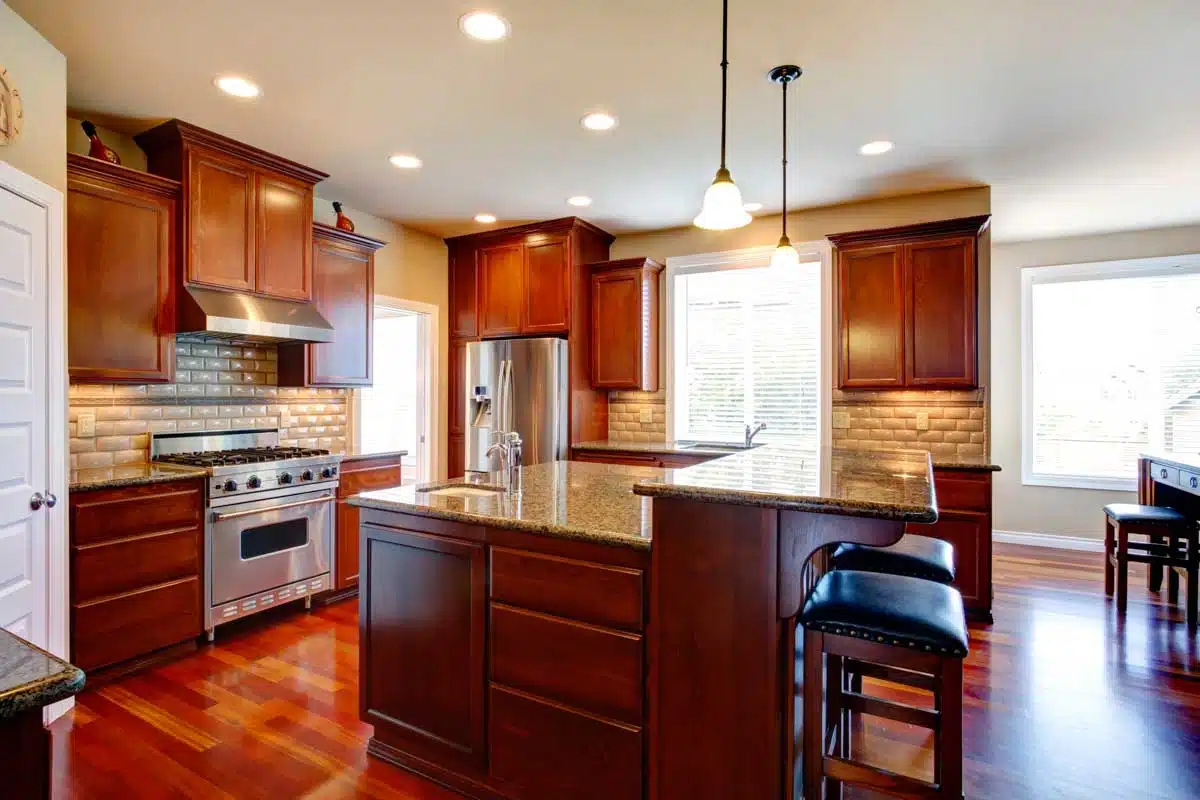 Do you want to ignite a blaze of boldness and fierceness in your space? Dark red flooring options could be an option. This flooring color can heighten the unique character that your woodwork exudes. Combining such opulent and bold tones can lead to an atmosphere that is quite visually appealing yet daring.
The addition of dark red floors can serve as an artistic backdrop that will complement the look nicely. However, once you choose this option, your rich-toned cupboards might not become the focal point anymore, as the dark red floors might partially steal the spotlight.
In addition, having an all-reddish tone limits your compatible color schemes and may force a more traditional design aesthetic.
To help the design from feeling too overwhelming, bring in lighter color countertops, paint, and backsplash materials to lighten the overall feel. Make sure you have adequate natural lighting if possible, and include plenty of light fixtures, including pendants, sconces, or recessed lights.
Bring in color by adding decor pieces that are cohesive with the overall theme. Keep appliances light by using stainless steel with reflective surfaces rather than darker black finishes. Furniture such as bar stools, dining tables, and chairs can use fabric and materials that match other elements for a cohesive look.
Yellow Flooring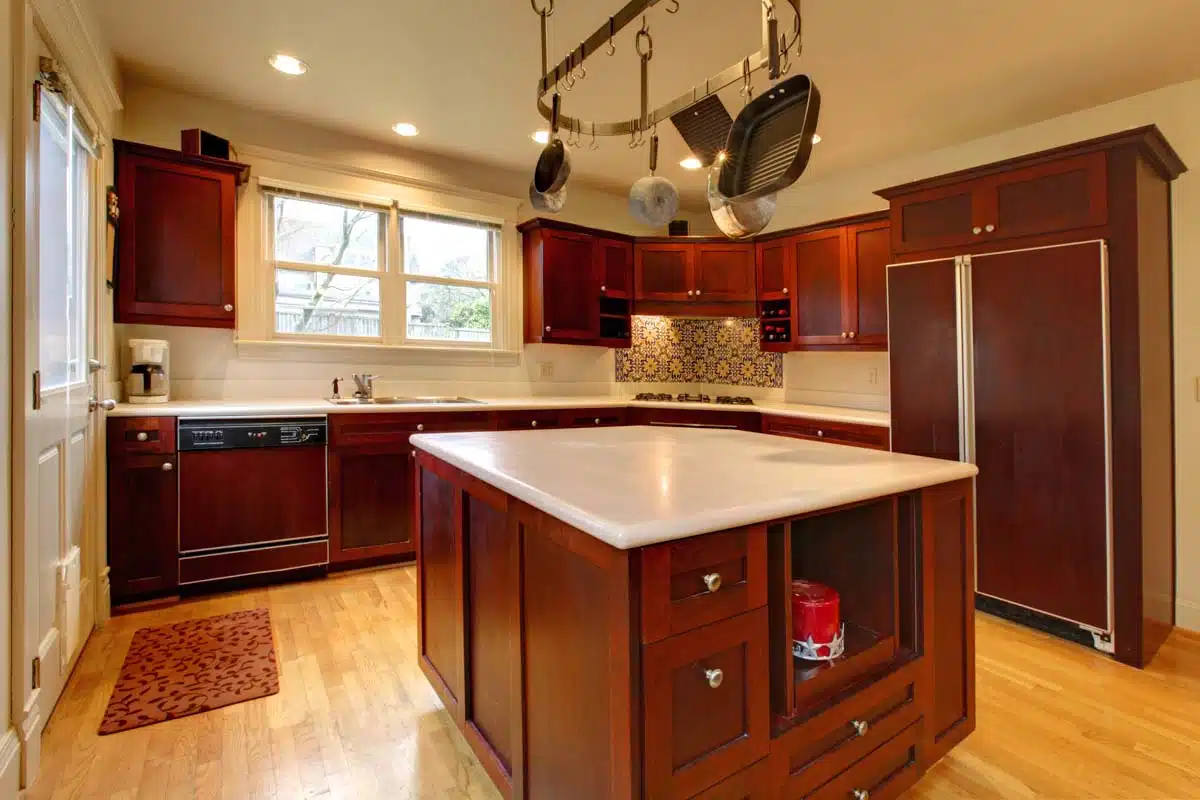 Yellow floors radiate warmth and have traditionally been paired with cherry cabinets over centuries. They have the unique capability to enrich your kitchen or any indoor space with vivacity and energy, particularly if they are in a dynamic pairing such as this.
The interaction of such colors can radiate a positive and energetic ambiance. The regal-color cabinets can be the focal point, whereas the yellow floors can boost the room's brightness.
For this pairing, go for buttery yellows if you want to achieve a softer feel or richer mustard tones for a more elegant look. Wood floor varieties such as maple and hickory can help brighten the overall look of darker cherry cabinets.
Types of Flooring Materials That Go With Cherry Cabinetry
Here is our list of the popular flooring materials to use with cherry cabinets and a few of their pros and cons to help determine the best surface to use in your kitchen design.
Flooring Type
Key Benefits When Pairing With Cherry Cabinets
Hardwood
Pros – Timeless appeal, durable, adds value
Cons – High maintenance in wet areas, susceptible to scratching
Bamboo
Pros – Eco-friendly, durable, modern look
Cons – Sensitive to humidity and easily scratched
Porcelain/Ceramic Tile
Pros – High durability, moisture-resistant, versatile designs
Cons – Hard and cold, slippery, and grout lines can get dirty
Natural Stone
Pros – Unique beauty, durable, adds value
Cons – Hard on feet and cold, porous stones can stain
Vinyl
Pros – Cost-effective, comfortable, and versatile surface
Cons – Can off-gas and some products look less expensive
Laminate
Pros – Economical, easy to maintain, and durable
Cons – Can be easily damaged by moisture, not natural looking
Cork
Pros – Eco-friendly, cushioned feel, warm aesthetic
Cons – Can fade from direct sunlight, sharp objects can puncture
Concrete
Pros – Modern design, durable, and customizable
Cons – Hard and cold surface, porous material needs sealing
Travertine
Pros – Elegant look, adds value, beautiful natural colors
Cons – Needs sealing to avoid stains, damaged by acidic materials
Terrazzo
Pros – Unique appearance, low maintenance, durable
Cons – Slippery and hard & cold surface
Did you find the decor and color-matching information you were looking for, have any renovation questions, or want to share your favorite ways to pair cherry cabinets with floors? Let us know by posting a comment below. See more related content in our article about what backsplash goes with cherry cabinets on this page.