Here we share colors that go with gray floors to help you create the perfect interior design.

Gray floors are becoming a somewhat hot item in the modern day designs. This shade of floors could be made of stone, laminate, stained wood or carpet to name a few. On top of that, there could be a rug or different types of floor mats.
Gray is easy to coordinate since it's a neutral color. Choosing a neutral flooring color opens up the opportunity for furniture, decor and artwork to take the spot light and be multiple colors. Gray flooring can be used in pretty much any setting, including living rooms, bathrooms, kitchens, etc.
---
Creating a Color Palette That Works with Your Gray Flooring
We asked interior designer Danielle Porter, her thoughts on the best color palette to go with gray flooring, and here are some of the methods she uses in her day to day work:
When it comes to interior design, gray is one of the most versatile colors to work with when developing a color palette. In particular, gray floors provide a neutral base for any design style. The true beauty of gray floors is their ability to be paired with virtually any color – warm or cool – to create a cohesive aesthetic.
Before jumping to color selection, you should first determine if your floor is warm or cool, as this may make a difference in your decision.
Cool grays will have an undertone (or a hint) of blues, greens, and purples, while warm grays will have undertones of red, yellow, and brown/orange.
There are some grays that live in what I like to call the "Greige" family, meaning they have warm and cool tones integrated into them. In these cases, you have the option to pull the colors in either direction – giving you maximum flexibility over time. When in doubt, search for some examples online to guide you or consult a professional for guidance.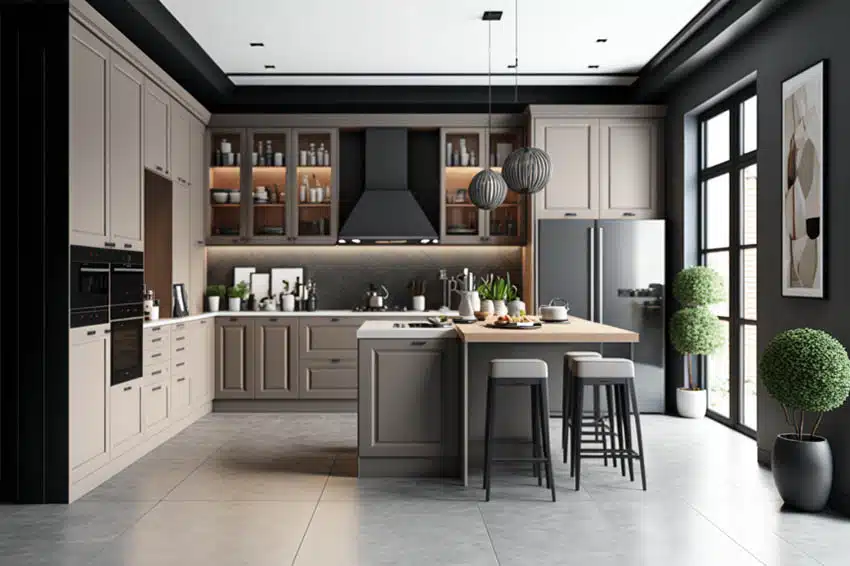 For warm gray floors – you'll want to lean more toward cream tones and colors with warmth for a complementary feel. Some of our favorite pairings are:
Beige. A classic neutral that works well with warm grays, beige brings warmth and depth – especially if you use multiple tones of it. It also pairs well with wood accents in general, so if you have natural wood as well, beige will help tie it all together.
Room Idea: In a living room with warm gray floors, consider using a beige sofa, throw pillows, and curtains to create a cohesive look.
Cream. As a soft and bright color, cream adds an air of softness to any room. It works well as a base color and with virtually all design styles. Luxe aesthetic? Pair it with metallic side tables and details. Bohemian vibe? Add some soft textures and loose patterns.
Room Idea: In a bedroom with gray floors, go for cream bedding and curtains with natural wood nightstands and headboard for a calming, ethereal aesthetic.
Terracotta. Terracotta is warm and earthy and adds a pop to a room and pairs well with natural materials like wood and stone. In a kitchen with warm gray floors, consider using terracotta tiles for a backsplash or incorporating terracotta-colored accessories like dishes and vases.
Room Idea: Terracotta tiles themselves are traditional in kitchen spaces – if you have gray tile floors in your kitchen space, but want a more transitional vibe, try out natural wood cabinets with neutral warm white colored counters and a patterned backsplash with terracotta-colored details.
Then bring that all in through accents like your dish towels, plants, etc. It's an easy way to create an earthy and natural kitchen space.
If you're working with a floor that is in the cool gray family, it's easy to pull in colors that create modern vibrancy or a more serene and calming atmosphere. Some of our favorite color combinations are:
Navy Blue. Navy blue is known for its timelessness and neutrality – it can be paired with virtually any color to create a distinct and unique palette. Pairing navy blue with gray floors can bring depth and contrast, particularly when combined with a tertiary color or finish like metallics or gold/yellow tones.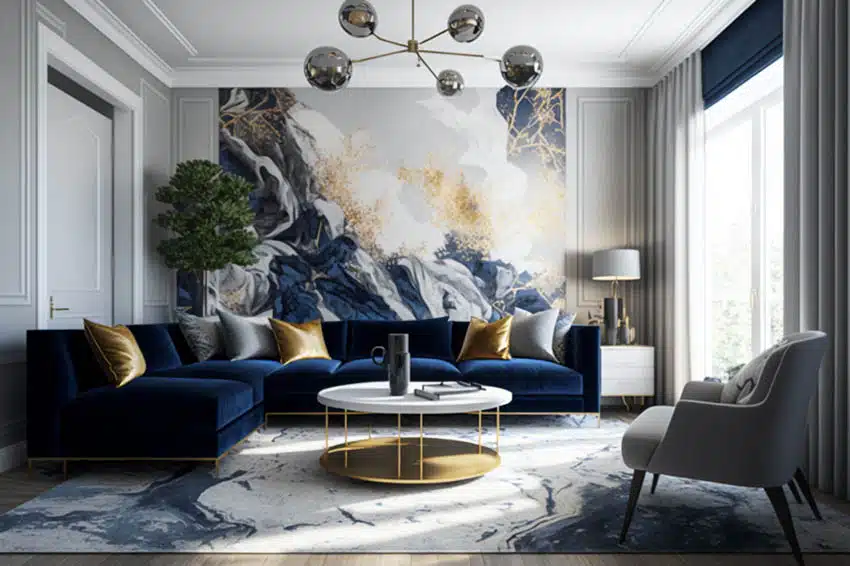 Room Idea: For a living room with gray floors, bring in a wallcovering with a light background and accents of navy and gold and then choose pillows and other accents to make more saturated statements of navy.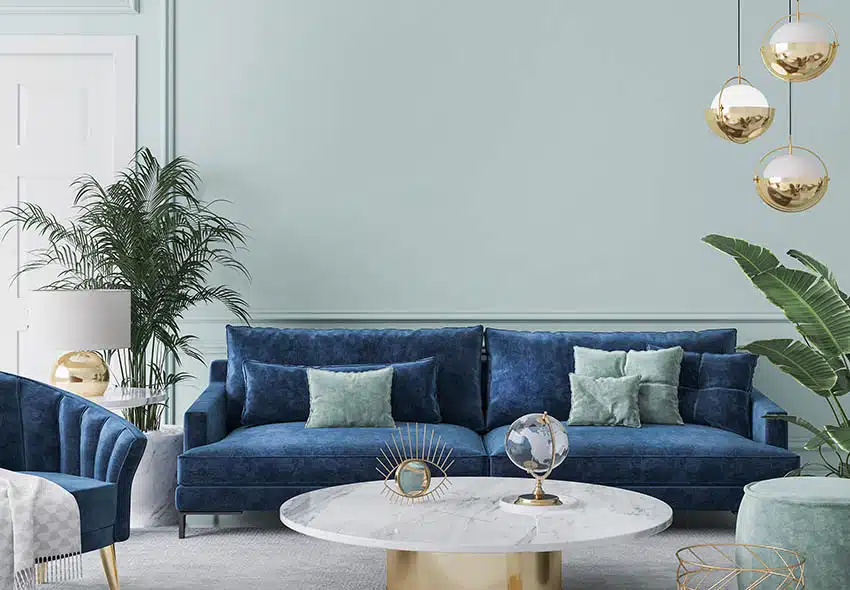 Green. Green is an invigorating and refreshing color that pairs well with cool grays. Particularly when paired with wood tones, it adds a sense of earthy and naturalness to a room.
Room Idea: In a dining space with slate-hued floors, bring in a soft, textural, and patterned area rug with hints of green, a natural wood table, and chairs with green upholstery. Integrate some brushed metals and plants on wood shelves on the wall for an earthy look.
Plum. Plum can bring drama and luxury to any space. Because of it's cool tones, it pairs well with cool gray floors and can either contrast or complement the space, depending on the saturation you choose.
Room Idea: In a more cozy living or TV viewing room, if you have a gray-hued carpet or area rug, you can integrate plum tones to add depth. Try choosing a sofa that is charcoal, or at least darker than your carpet, and bringing plum in through accent pillows, art, and window treatments.
There are one-million-and-one ways to style a room with gray floors – just remember to always determine the tone before jumping into any decisions.
If you work in a color and don't know where to go next, try pairing a neutral tone, wood or metallic, and maybe add a color a shade lighter or darker than your selected hue to really create depth in your space.
---
Wall Colors That Go With Gray Floors
It is important to really identify what sort of gray you have in the flooring, whether there is a cool or warm tone to the gray, to know what to coordinate with properly.
You can use a paint color app to help match your color and find complementary selections. Here are some sets of wall colors that go with gray-hued floors.
Neutrals
Neutrals can work in any space, especially with the gray flooring. Using a darker or lighter shade than the flooring can help create dimension within the space.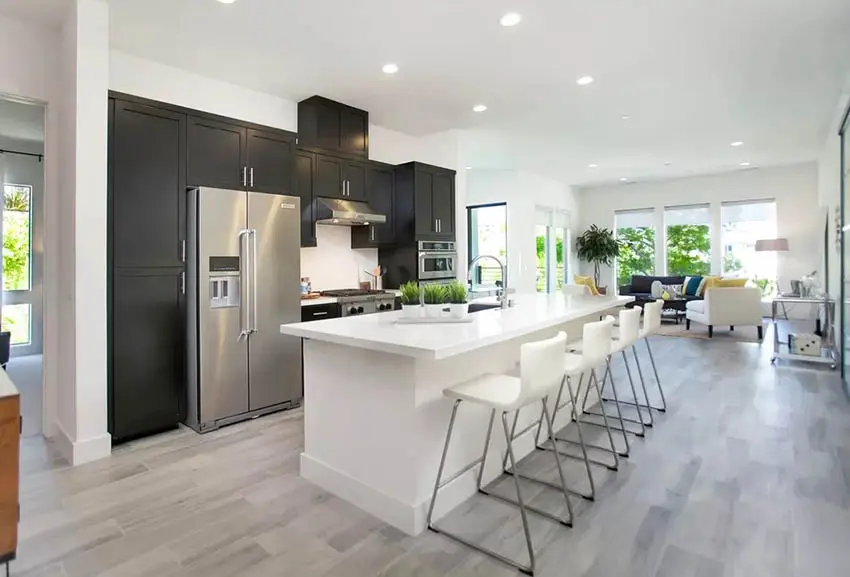 Mixing in some blacks and whites can add a neutral pop to the space when the flooring is gray-toned. See more gray and white kitchens here.
Pairing gray walls with gray floors gives a soft and light feel to the space – adding light décor with it can spice it up while still keeping the design aesthetically pleasing to anyone who may use the space. – interior designer Savannah
Lighter neutrals give a softer more serene feel, while darker gives a more sophisticated and cooler appearance.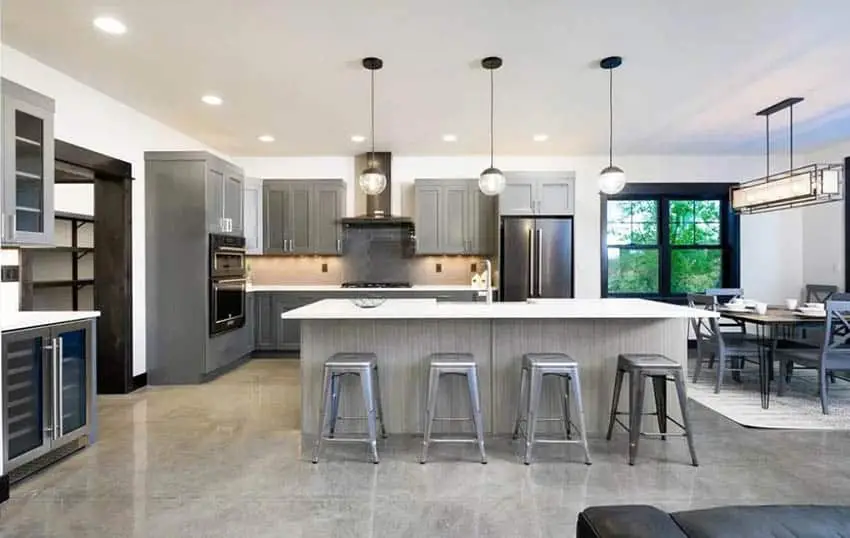 Kitchen with gray cabinets, white walls, pewter-shaded concrete flooring, and white quartz countertops. Flooring options like polished concrete offer durability, various color schemes, low maintenance, and a surface resistant to spills and stains. They also offer an excellent alternative to a hardwood floor that is susceptible to damage in the kitchen.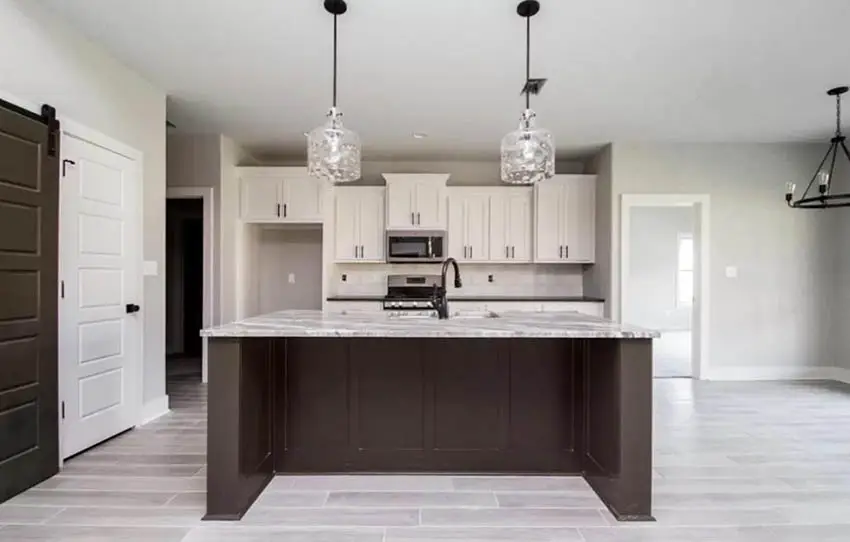 Kitchen with white cabinets, greige wall paint, dark brown island, and ash-gray flooring tiles. The tiles mimic the look of wood flooring planks but are more resistant to damage and available at a lower price.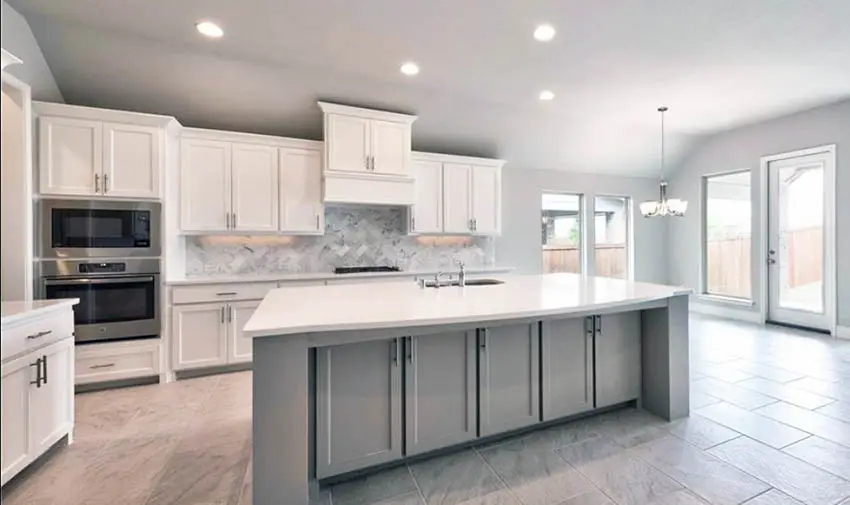 Kitchen with gray island, white cabinets, light silver-gray wall paint, and tile flooring. High traffic areas, such as the kitchen, do well with ceramic or porcelain tiles as they offer a lot of quality at a low cost. Tiles can be found in practically any shade of gray to match your chosen paint shade.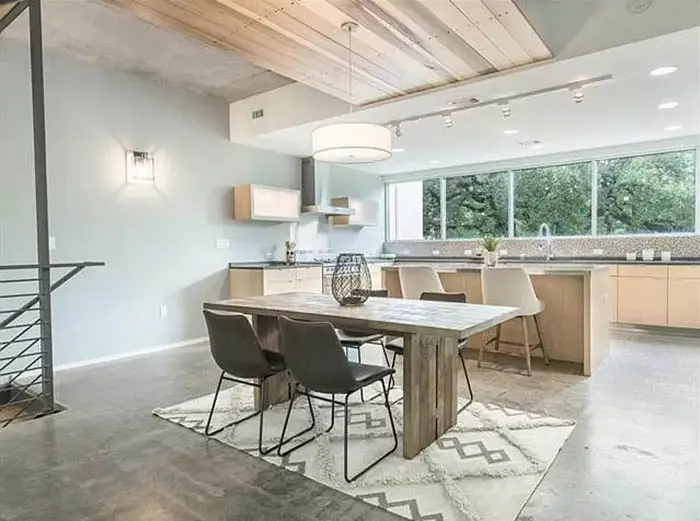 Open concept kitchen and dining room with pale green wall paint and steel-gray concrete flooring.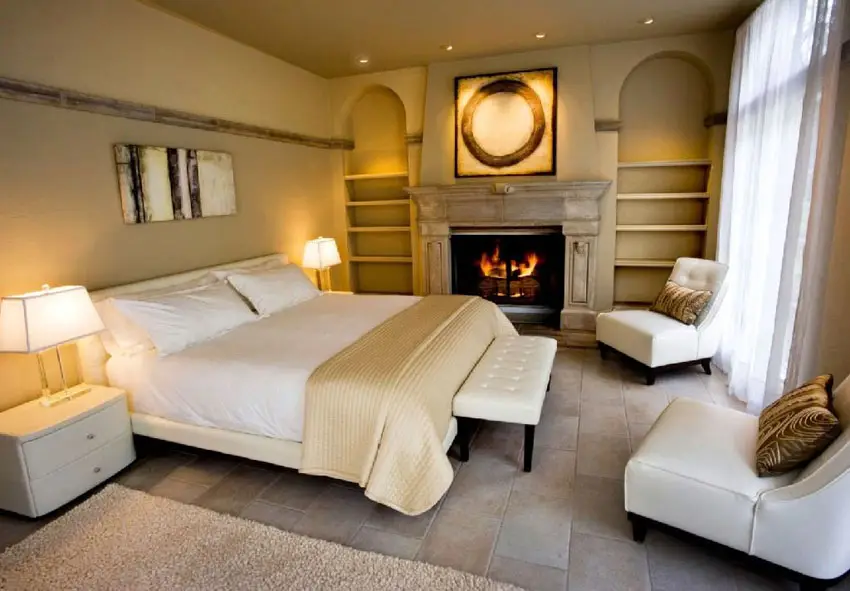 Using beiges and browns are not typically recommended when combining with a cooler dove-gray. However, using warmer grays, and greiges they are good choices for pairing with beige and brown colors.
These colors can be used in darks and lights as long as the gray have warmer tones. This also includes pairing with woods and stones that usually give off at warmer appearance.
Neutral Paint Colors
Here's a selection of paint colors that go best with gray floors for a variety of design styles: Farrow and Ball Wimborne White no 239 Pure White SW 700 Dormer Brown SW 7521 Benjamin Moore Guilford Green HC-116 Benjamin Moore Shakerbeige HC-45
Cool Tones
As mentioned previously after knowing the tones of gray-hues, cool grays mesh best with cool tones. Blues, Purples, and greens (and all the shades in between) are the cool colors and can be coordinated great with gray flooring.
Cool tones go very well with different types of metal for any non fabric finishes. These colors mixed with gray-tones, give a very calming environment and keeps spirits up.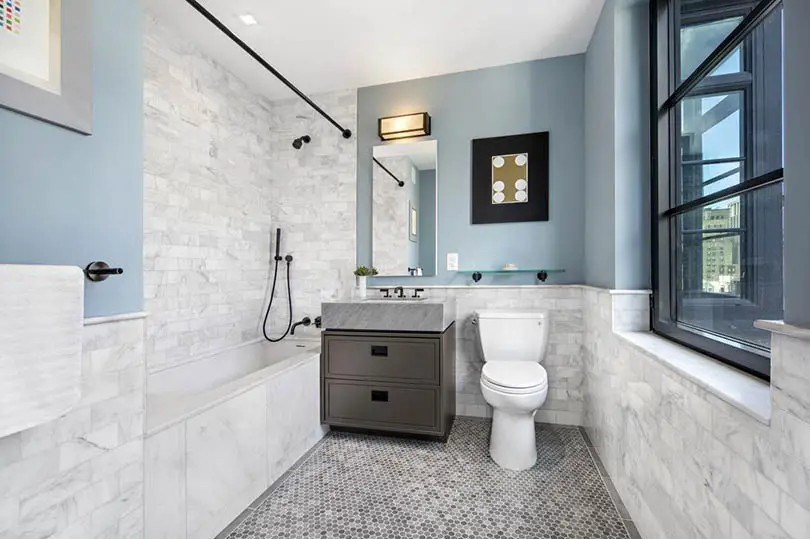 Bathroom with gray penny floor tile with light blue wall paint.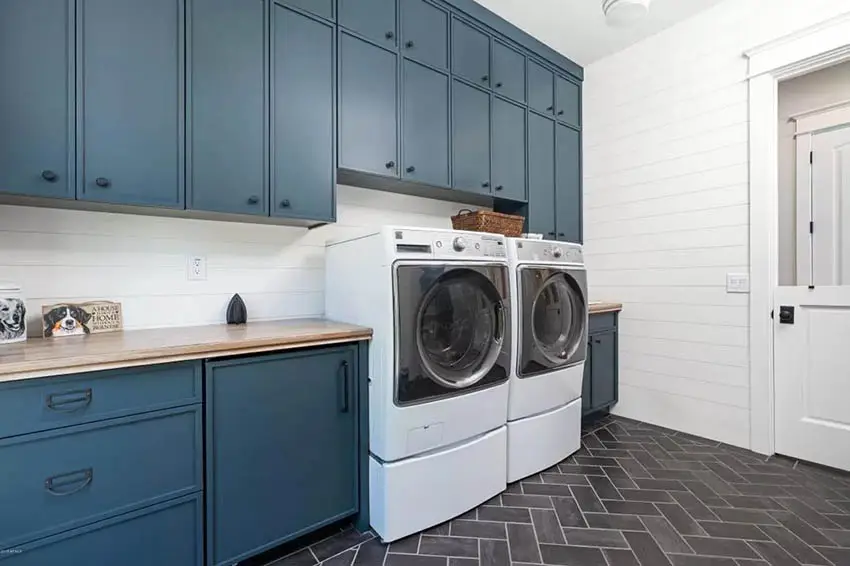 Blue painted laundry cabinets with smoky-gray herringbone tile flooring.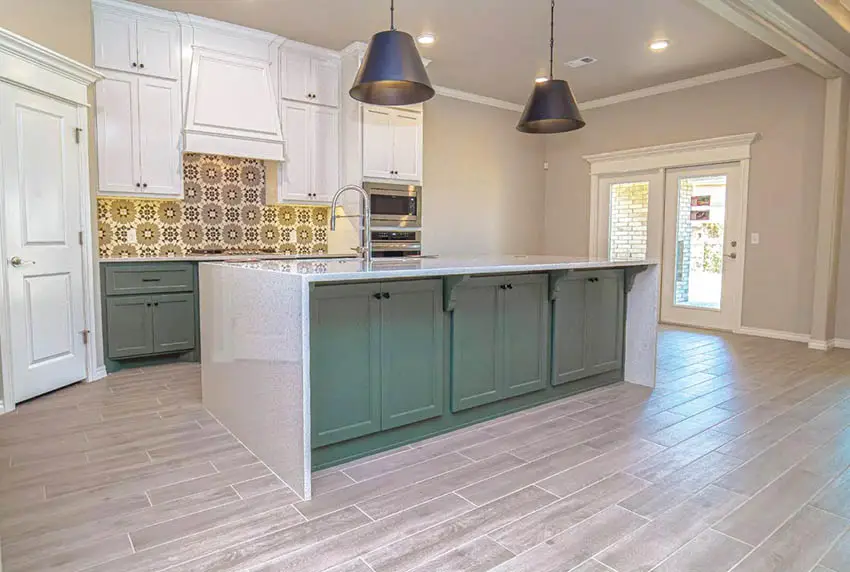 This kitchen features a mix of neutral colors and cool tones for its interior design. The dove-gray tile flooring is complimented by white kitchen cabinets with green island base cabinets and island and beige wall paint.
Cool Tone Paint Colors Benjamin Moore 2066 70 Light Blue Paint Color Inky Blue SW 9149
Warm Tones
Warm colors such as reds, oranges, and yellows are best used with warmer-looking gray-colored flooring. While this is commonly the case, there are some situations where one will be looking for a feeling of contrast.
This is accomplished by using cooler floors with muted warm tones as accents. This would be recommended with orange and it is the contrast of blue which is typically a base of a cooler gray undertone.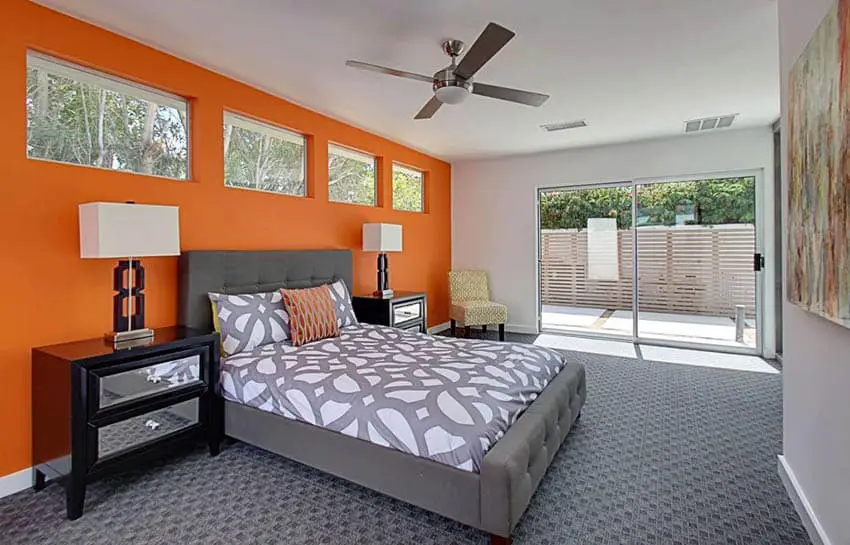 Master bedroom with gray-textured carpet and orange accent wall.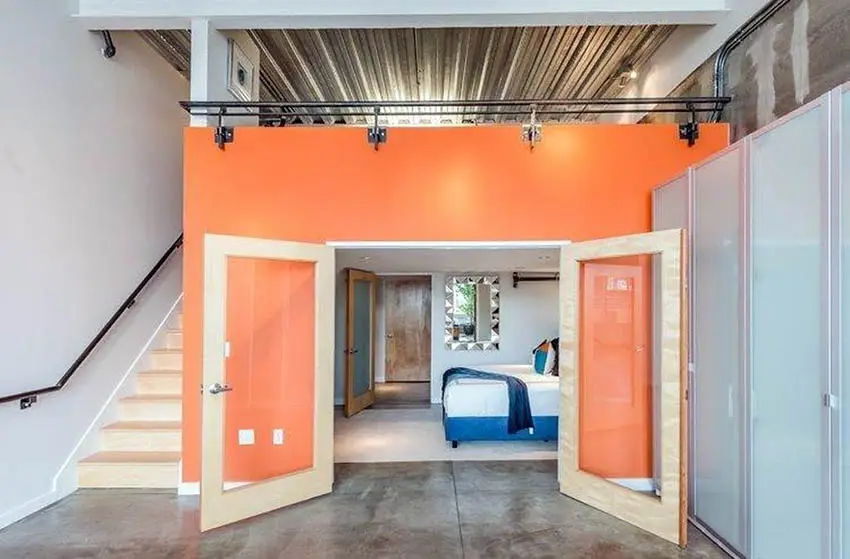 Orange accent wall with slate-gray concrete flooring.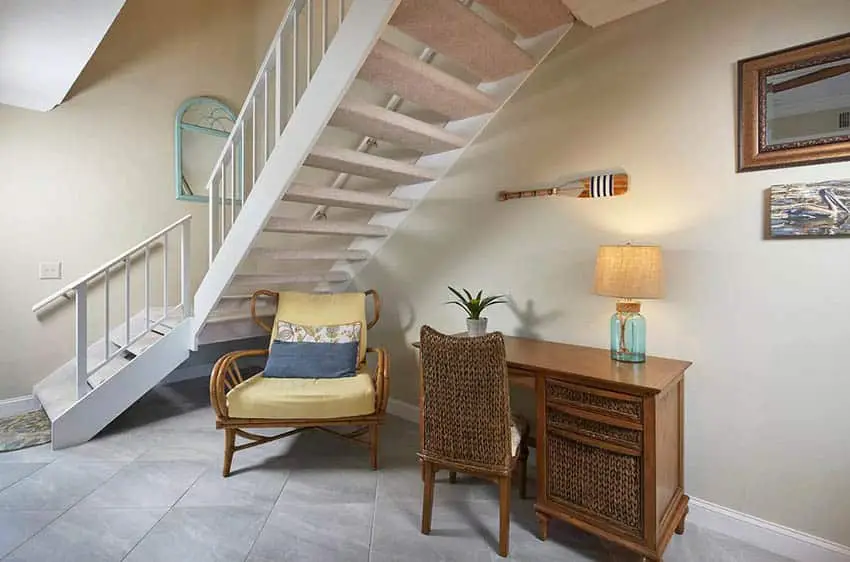 Warm tones go very well with natural wood and wood look alike tile for any non fabric finishes. These colors mixed with warm grays and woods give a cozy and vibrant feel to the space.
Warm Tone Paint Colors Benjamin Moore 2016 20 Citrus Orange

Obstinate Orange sw 6884
Paint Colors for Matching Gray On Floors with Walls
To match your gray flooring to your walls, select a flat gray paint that is the same shade or lighter in color for best results. This will help avoid the space from appearing too dark.
Other wall colors that work well with gray-hued flooring are sand, honey, light green, and pale yellow. Avoid using pure white, as it can be too much of a contrast. Benjamin Moore 2151 70 Powdered Sand Honey Blush sw 6660

Farrow & Ball Estate Emulsion 236 Teresas Green Silent Yellow sw 1661
What Colors Go With Light Gray On The Flooring?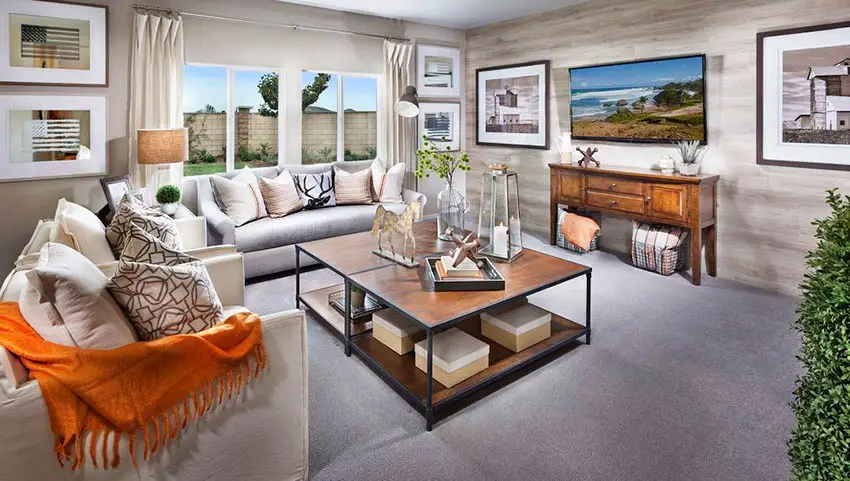 Light pearl-gray flooring works combines great with a warm color palette such as cream and beige. For a more modern masculine feel, try using a silver tone.
For more information about colors that go with gray floors in the kitchen, check out our page on gray kitchen cabinets color psychology.