Here we share colors that go with gray floors to help you create the perfect interior design.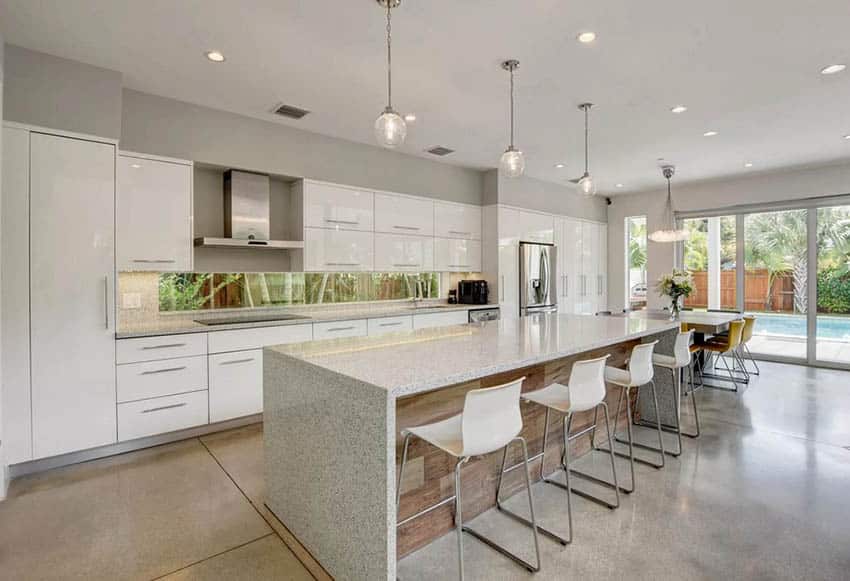 Gray floors are becoming a somewhat hot item in the modern day designs. Gray floors could be made of stone, laminate, stained wood or carpet to name a few. On top of that there could be a rug or different types of floor mat.
Gray is easy to coordinate since it's a neutral color. Choosing a neutral flooring color opens up the opportunity for furniture, decor and artwork to take the spot light and be multiple colors. Gray flooring can be used in pretty much any setting including: living rooms, bathrooms, kitchens, etc.
It is important to really identify what sort of gray you have in the flooring. Whether there is a cool or warm tone to the gray to properly know what to coordinate with.You can try using a paint color app to help match your color and find others that are complimentary. Some of the sets of colors that you can use are described below.
Neutrals
Neutrals are something that can work in any space, especially with the gray flooring. Using a darker or lighter shade of gray than the flooring can help with creating dimension within the space.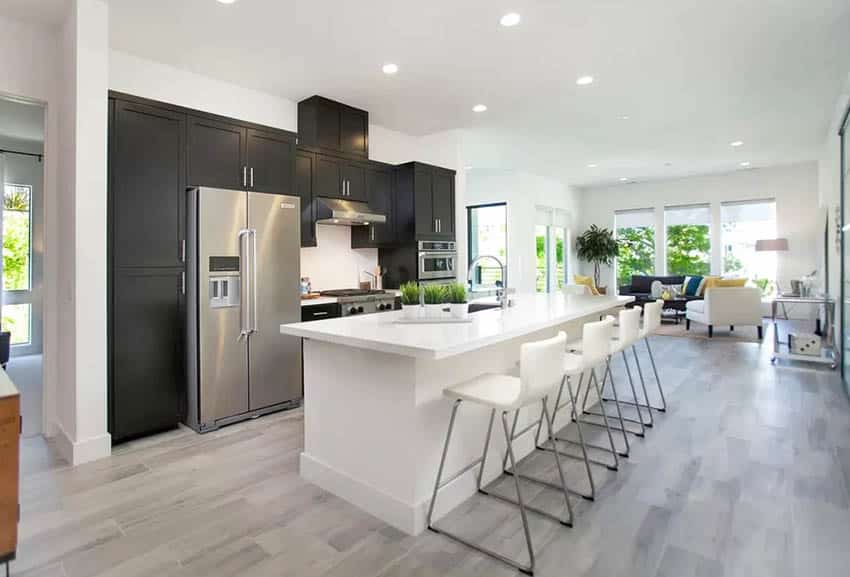 Mixing in some blacks and whites can add a neutral pop to the space when the flooring is gray. See more gray and white kitchens here.
Pairing gray walls with gray floors gives a soft and light feel to the space – adding light décor with it can spice it up while still keeping the design aesthetically pleasing to anyone who may use the space. – interior designer Savannah
Lighter neutrals give a softer more serene feel, while darker gives a more sophisticated and cooler appearance.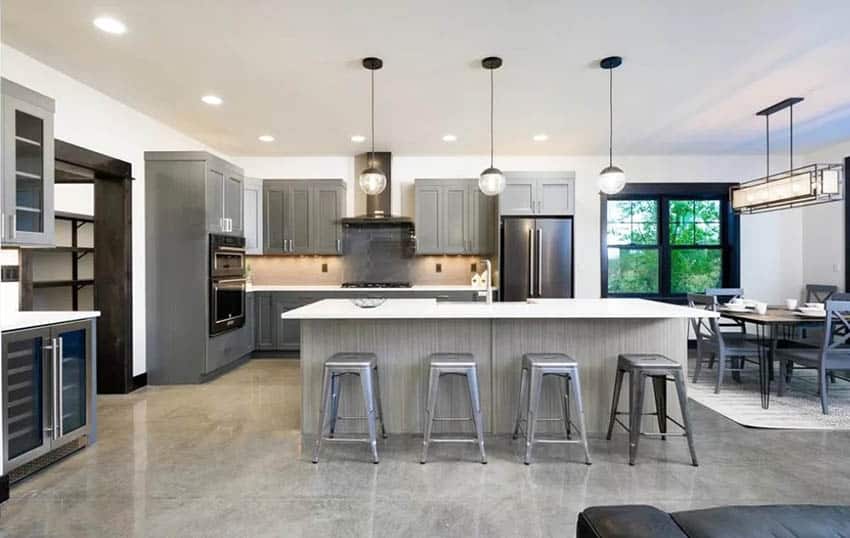 Kitchen with gray cabinets and gray concrete flooring.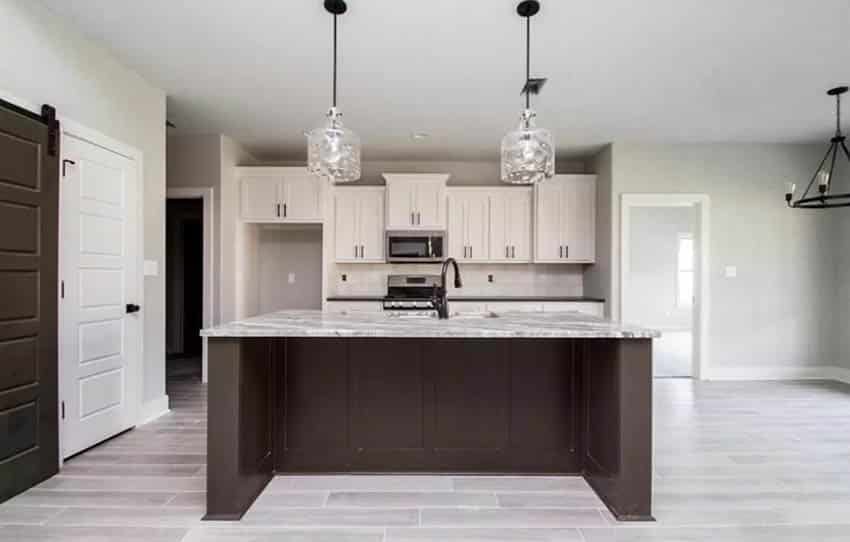 Kitchen with white cabinets, dark brown island and gray flooring tiles.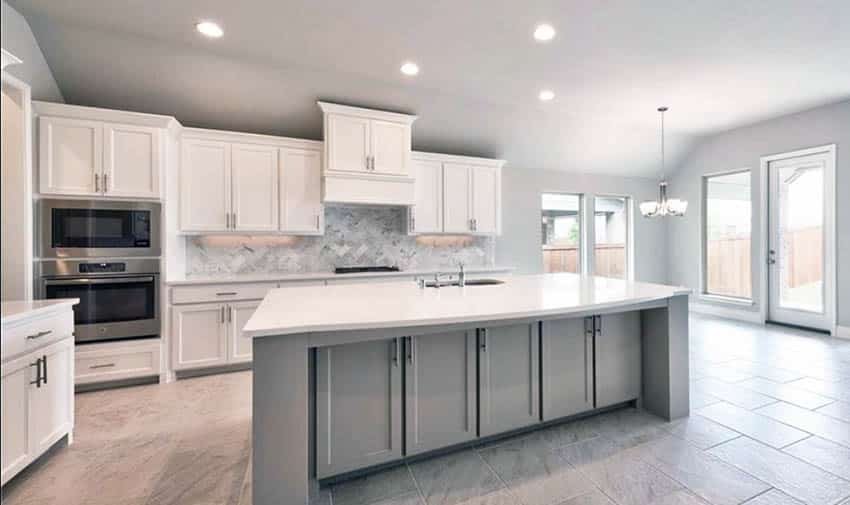 Kitchen with gray island, white cabinets, light gray wall paint and flooring.
Open concept kitchen and dining room with pale green wall paint and gray concrete flooring.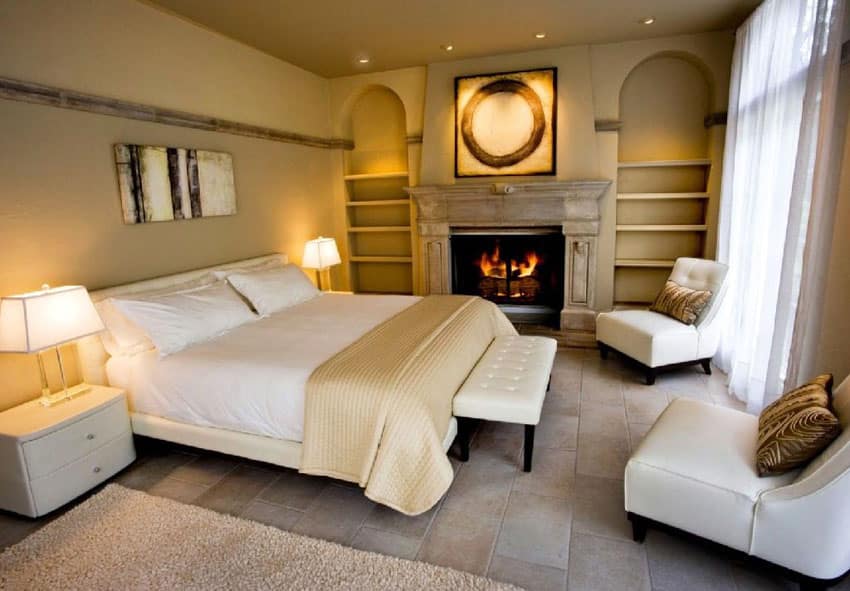 Using beiges and browns are not typically recommended when combining with a cooler gray. However, using warmer grays, and greiges they are good choices for pairing with beige and brown colors.
These colors can be used in darks and lights as long as the gray have warmer tones. This also includes pairing with woods and stones that usually give off at warmer appearance.
Cool tones
As mentioned previously after knowing the tones of grays, cool grays mesh best with cool tones. Blues, Purples, and greens (and all the shades in between) are the cool colors and can be coordinated great with gray flooring.
Cool tones go very well with different types of metal for any non fabric finishes. These colors mixed with grays give a very calming environment and keeps spirits up.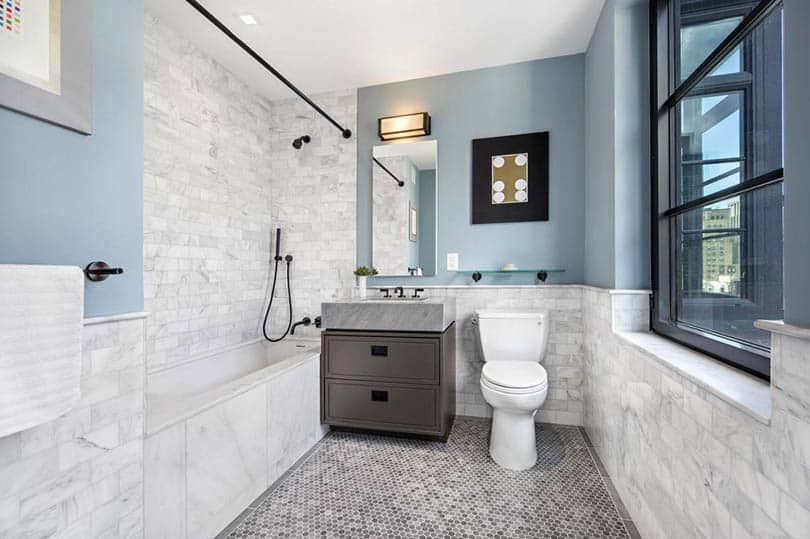 Bathroom with gray penny floor tile with light blue wall paint.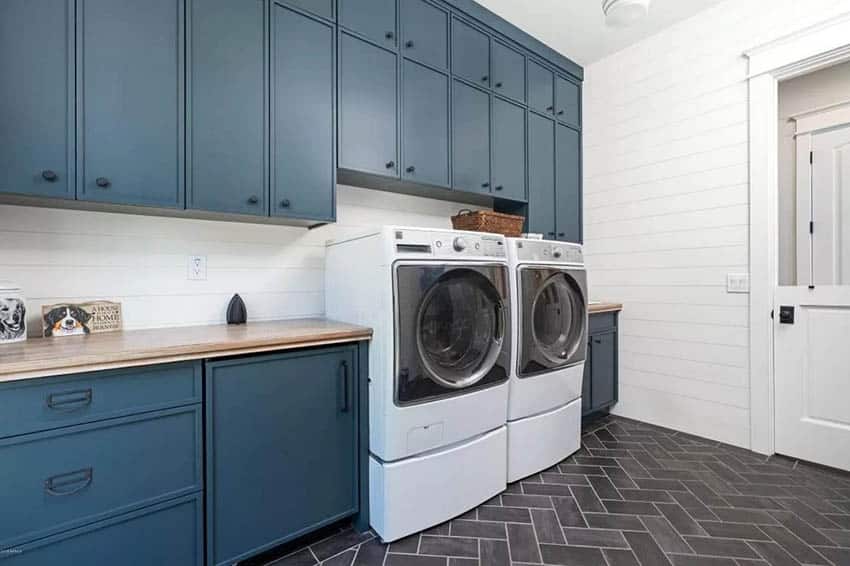 Blue painted laundry cabinets with gray herringbone tile flooring.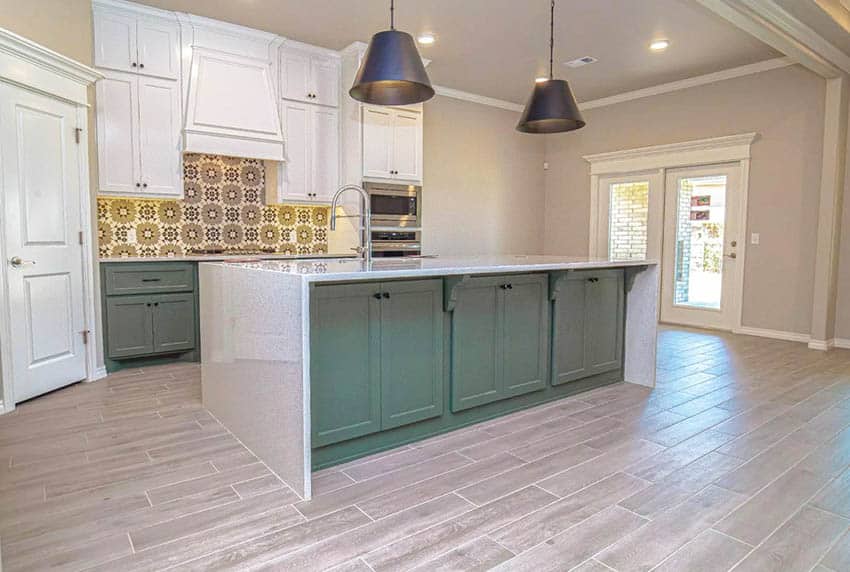 This kitchen features a mix of neutral colors and cool tones for its interior design. The gray tile flooring is complimented by white kitchen cabinets with green island base cabinets and island and beige wall paint.
Warm tones
Warm colors such as reds, oranges and yellows are best used with warmer looking gray colored flooring. While this is commonly the case, there are some situations where one will be looking for a feeling of contrast.
This is accomplished by using cooler floors with muted warm tones as accents. This would be recommended with orange and it is the contrast of blue which is typically a base of a cooler gray undertone.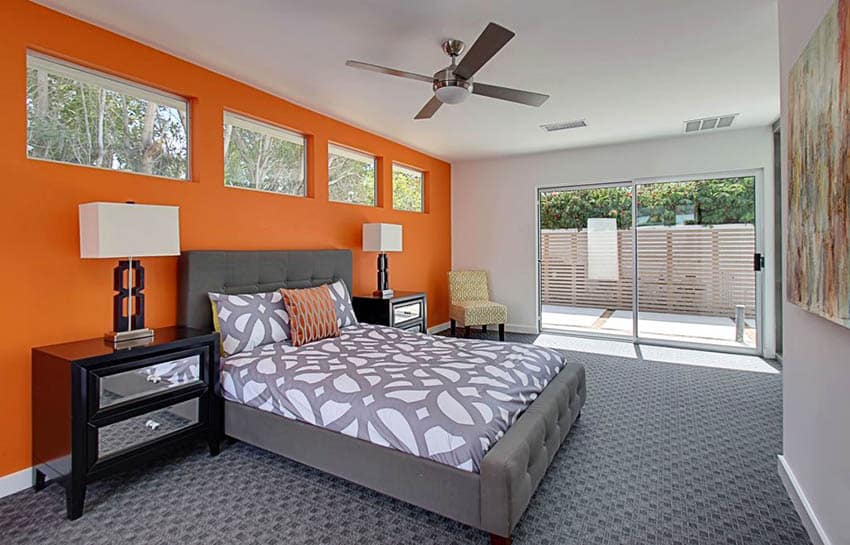 Master bedroom with gray carpet and orange accent wall.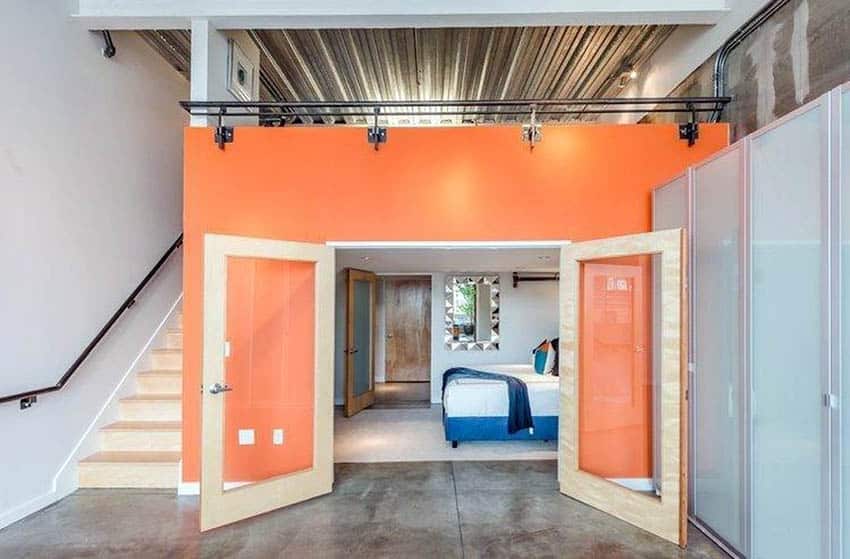 Orange accent wall with gray concrete flooring.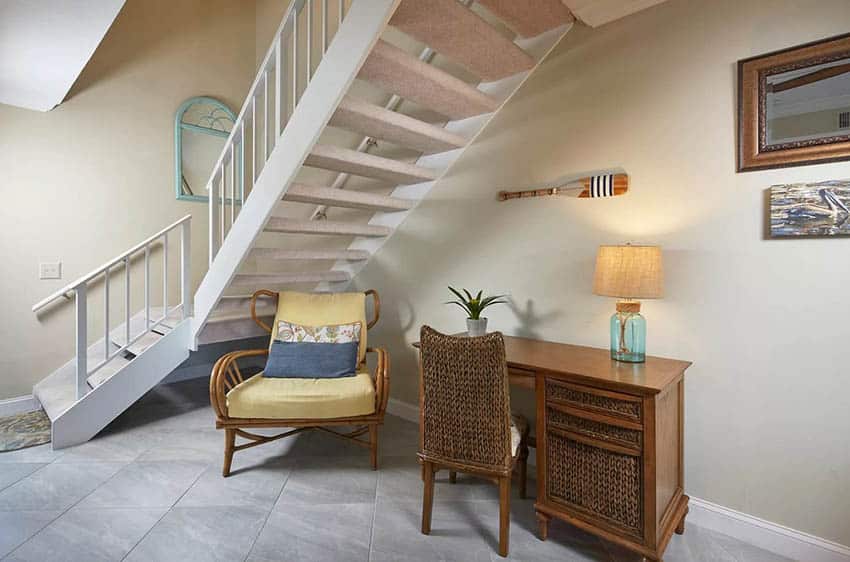 Warm tones go very well with natural wood and wood look alike tile for any non fabric finishes. These colors mixed with warm grays and woods give a cozy and vibrant feel to the space.
Matching Gray Floors with Walls
To match your gray flooring to your walls select a flat gray paint that is the same shade or lighter in color for best results. This will help avoid the space from appearing too dark.
Other wall colors that work well with gray flooring are sand, honey, light green and pale yellow. Try to avoid using pure white as it can be too much of a contrast.
What Colors Go With Light Gray Floors?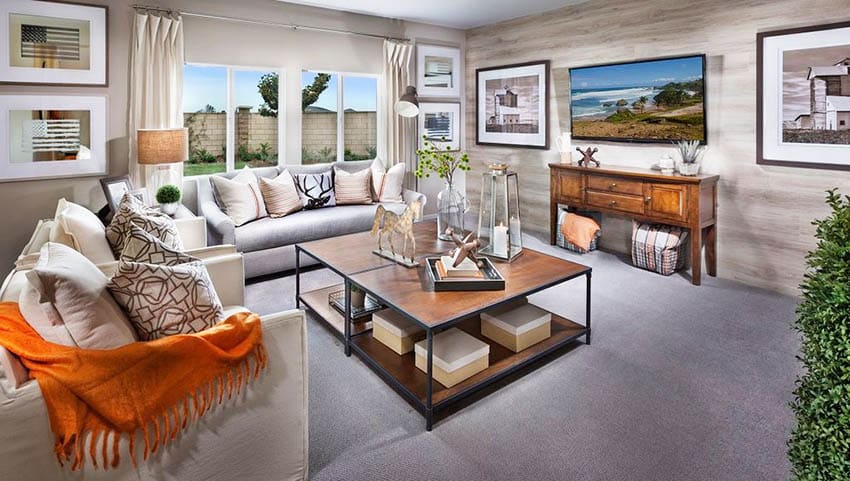 Light gray flooring works combines great with a warm color palettes such as cream and beige. For a more modern masculine feel try using a silver tone.
For more information about colors that go with gray floors in the kitchen, check out our page on gray kitchen cabinets color psychology.