Here we share our paint colors that go with barn wood guide including the suggestions for natural wood, rustic brown, driftwood, and the ideal hues.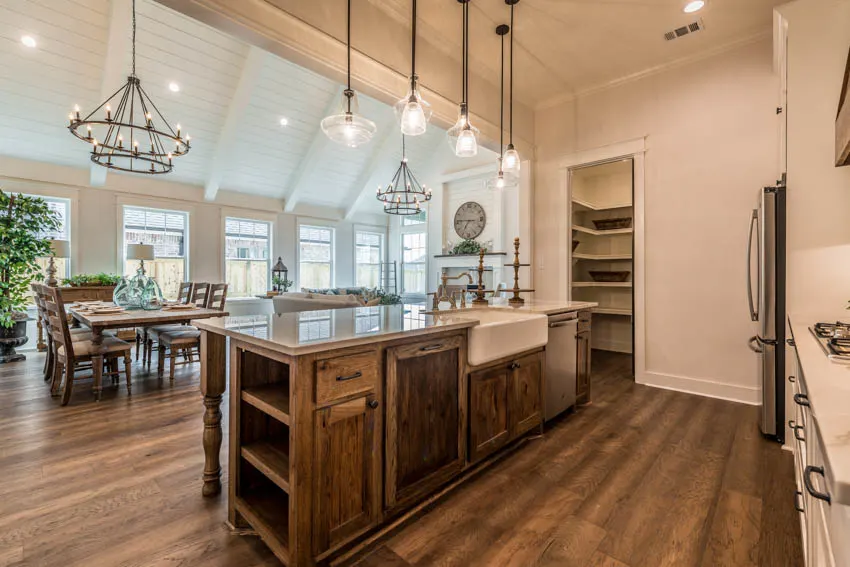 Most of us are so attracted to houses that use walls, floors, trims, or furniture made out of barn wood. These kinds of houses give that simple yet elegant appearance. Barn wood also makes houses look modern and traditional at the same time.
However, to make your barn wood walls, floors, trims, or furniture appear a lot better and outstanding, it's always a great idea to match them with the right paint colors. What are the best paint colors that go with barn wood?
In this article, we will talk about what paint colors go with different wood types.
What Color Complements with Natural Wood?
Here we share the different colors that complement natural wood.
White And Off-White
To make your natural wood stand out and appear more natural, it's best to pair it with white or off-white paint colors. These colors give a highly natural, refreshing, and eye-pleasing light backdrop.



Sherwin Williams Pure White (SW7005) and Off White (SW1095)
With dark natural wood, these colors might give a higher contrast, but they can give your interior space a more modernized and valuable look.
Gray And Greige

To neutralize the warmth of natural wood, it's highly recommended to match with gray or greige paint colors. These paint colors are some of the most recommended options especially if your interior space contains a lot of natural wood floors, walls, trims, or furniture. Sherwin Williams Gray Matters (SW7066) and Perfect Greige (SW6073)
Most natural wood colors can give a bit of darkness in an interior space. But to lighten it up, you can partner it with gray and greige as these colors will add a touch of brightness into your space. Moreover, it makes your overall space look a lot more modern.
Midnight Blue
If you're not a fan of neutral and light colors, you can always go for darker ones. Midnight blue is a good color option as it can add coziness to your interior space.

Sears Midnight Blue (EE334)
It complements natural wood very well. This paint color will look even more calming and eye-pleasing in bedrooms with natural wood.
Green
Going for a bolder color option such as green won't be a problem at all. It can add more color to your interior space while maintaining the earthy effect that the natural wood gives. You just need to choose a shade of green that will contrast very well with your natural wood. Sherwin Williams Seawashed Glass (SW9034)
Muted shades such as sage, mossy green, cool blue-gray, or seafoam green are some of the best green tones that complement natural wood exceptionally. Never go with a green that has slight yellow shades as it will have a negative effect on the natural wood's color.
What Color Goes Well With Rustic Brown?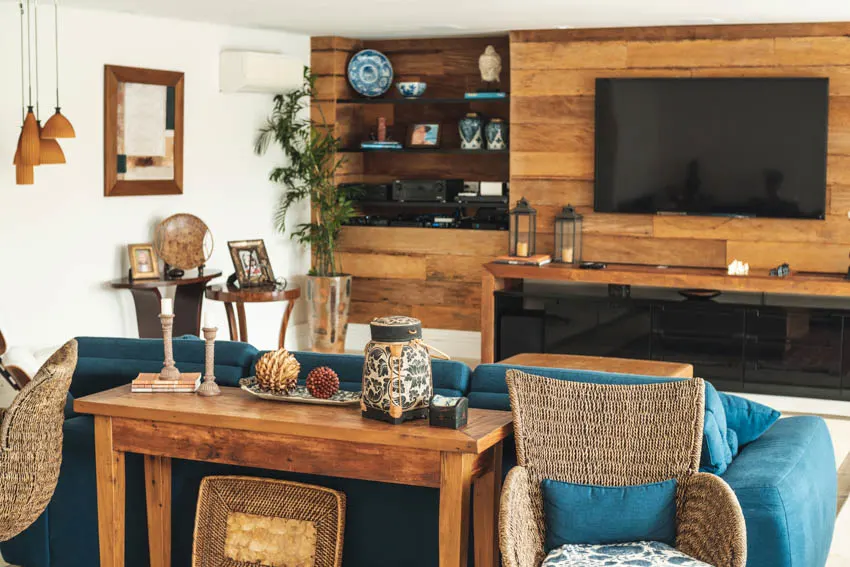 Here we share the different colors that go well with Rustic Brown.
Muted Gold
To make a rustic brown look more valuable and visually appealing, pairing it with muted gold is undoubtedly a good idea.


Kilz Muted Gold (B19)
You just have to make sure that the gold paint is muted or toned down so that it will blend well with rustic brown. This option is a very classic and timeless color selection.
Gray
Sherwin Williams Mindful Gray (SW7016)
Gray paint colors can go well with rustic brown. You just have to make sure the colors that go with gray paint have warm undertones to ascertain a much warmer interior space.
Brown With Red Undertones Benjamin Moore Charlton Brown (CW-265)
If you want to give your interior space more depth and richness, you can use a brown paint color with red undertones. It can make your overall design much more appealing. This is also a good option if you want to boast rustic-style decorating.
Cream
If you don't like rich and deep colors, pale neutral colors with a warm undertone such as cream would be a great option as it can work very beautifully with rustic brown.

Benjamin Moore Calming Cream (OC-105)
It can make a rustic brown look more natural as the cream will make it stand out more gorgeously. A cream paint color provides a warmer off-white effect that looks well-matched on walls, furniture, or floors with a rustic paint color.
Green
The combination of green and rustic brown makes your interior space feel a lot more earthy and nature-loving as it excellently mimics the colors of our nature.

Behr Woodland Green (352)
Pairing green with rustic brown can give your house a more comfortable and relaxing ambiance. Read more about our guide on colors that go with green here.
What Paint Color Goes With Driftwood?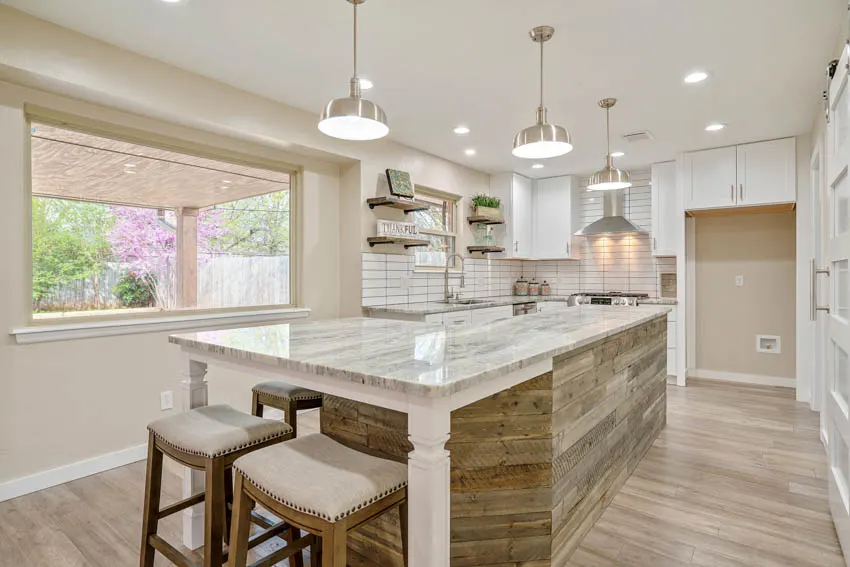 Here we share the different colors that go well with driftwood.
Complementary Colors
Complementary paint colors can fill your driftwood interior space with exceptionally natural harmony and balance. Driftwood features colors that vary from creamy tan to light gray. Sherwin Williams Cottage Cream (SW7678)
You just have to select a shade to highlight and form your interior space's color palette within the tone. Colors such as white, caramel, or cream can go well with driftwood and it can produce a very harmonious and balanced ambiance.
Cool Colors

Benjamin Moore Blue Lapis (2067-40)
To make your driftwood-style interior space more relaxing, calming, and soothing, you can try to incorporate cool paint colors that go with barn wood such as blue, green, or teal.



Benjamin Moore Aegean Teal (2136-40) and Sherwin Williams Clary Sage (SW6178)
These paint colors can be a very gentle companion for beige or gray-based driftwood as they help in balancing out the overall color design. They can make the space more inviting.
Contrasting Colors



Benjamin Moore Lime Green (2026-10) and Pleasing Pink (2003-70)
Contrasting paint colors like lime green, pink, turquoise, and purple can even out the neutrality of driftwood colors. These colors can match well with driftwood. Benjamin Moore Turquoise Powder (2057-50) and Sherwin Williams Majestic Purple (SW 6545)
Contrasting colors such as these can create a much more energizing and joyful ambiance and they prevent the driftwood from looking dull.
Warm Colors Porter Paints Muted Yellow (13185-2) and Behr Orange Zest (240B-6)
The combination of the tones of driftwood with warm paint colors such as muted yellow, orange, and red can produce a cozier and more refreshing ambiance. These colors also help in making the room look brighter.
Barnwood Paint Color Picks

Benjamin Moore Barnwood Gray (CSP-115): This barn wood paint color by Benjamin Moore is inspired by all-natural, weathered, and sturdy barn wood. It's a perfect choice if you're a fan of soothing neutral colors. Sherwin-Williams Barnwood Plank (HGSW3463): This paint color by Sherwin-Williams boasts medium brown with warm undertones. Its satin finish offers extra durability.
It's very easy to clean. Also, it comes with all-weather protection and a water-beading system that helps in preventing moisture.

Behr Barnwood Gray (PPU24-07): This high-quality barn wood paint color is excellent in terms of making your interior space look simple yet elegant. This neutral color can help in producing a modern-style design. Benjamin Moore Rainy Afternoon (1575): This paint has a mixture of gray and green and it excellently matches with natural gray stone. It perfectly resembles a naturally aged barn wood. This offers a dramatic yet sophisticated appearance.

Sherwin-Williams Warm Stone (SW 7032): This paint is a warm brown with slightly gray tones. Its color somewhat mimics a weathered gray barn wood.
It has a deeper tone that adds warmth to your interior space. Also, it works well with natural stone. See more related content at our article about what colors go with dark wood trim on this page.