See our guide to rustic bedroom paint colors with various creative color scheme inspirations like safari sunset, boho chic rust, rustic woods, and more.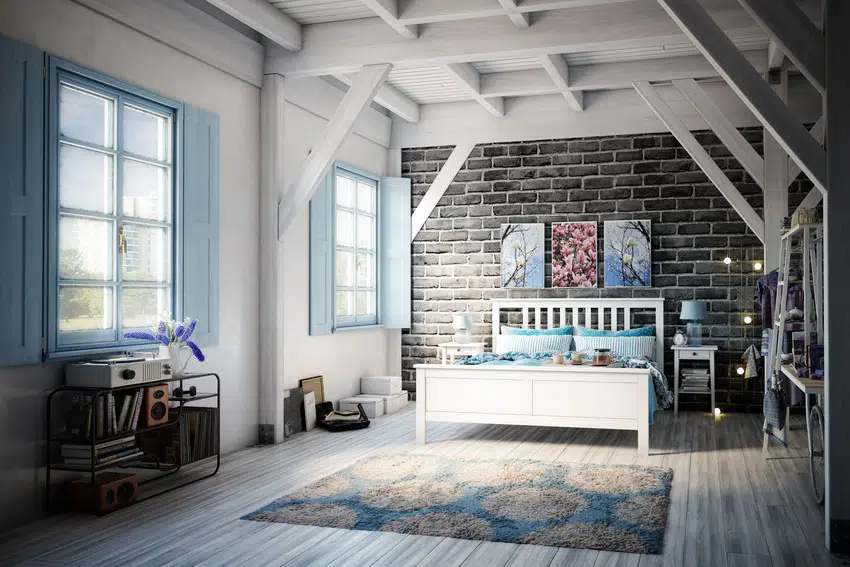 When nude neutrals dominate your living, dining, or kitchen interiors, maybe it's high time to add more splash of colors to your bedroom. But at the same time, including unrestrained earthy tones into the mix.
Rustic colors are often used in home décor because they lend a warm, cozy feel to the space, making it the perfect relaxing ambiance for the bedroom. These rustic hues include greens, browns, grays, and autumnal hues.
The rich green of the leaves, the warm orange of the sunset, and the earthy brown of the soil are all colors that may be found in the beauty of nature, which can also be a great inspiration for your bedroom interior.
Below are various rustic bedroom paint colors that you can check out to give you more ideas and inspiration for your much-needed bedroom makeover.
What Colors Are Considered Rustic?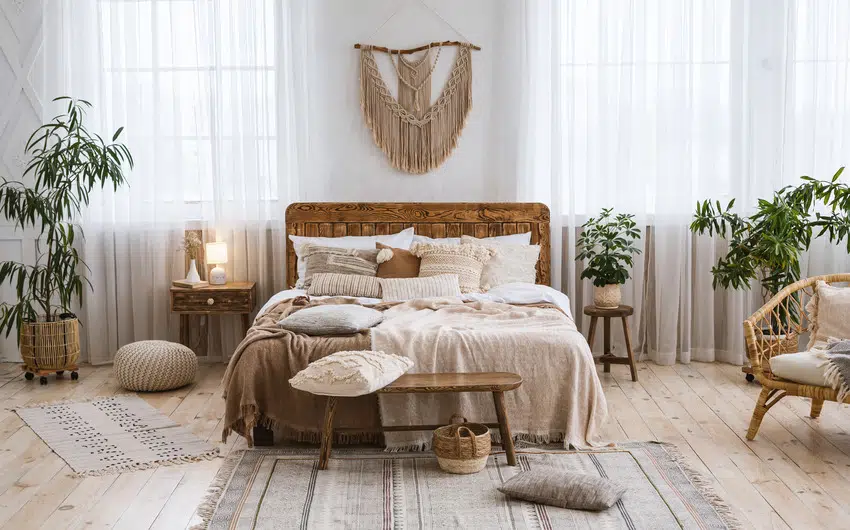 Warm and comforting casual area rugs, fur textured throws, and recycled furniture, such as pallet beds and distressed storage trunks, are the hallmarks of rustic décor. See more various types of rugs here.
Rustic colors are usually deep and organic. The color palette swings heavily towards neutral and rich earthy tones like greens, browns, and grays.
Combined with the right room elements, you can create a warm, relaxed, and welcoming atmosphere.
Fall in Full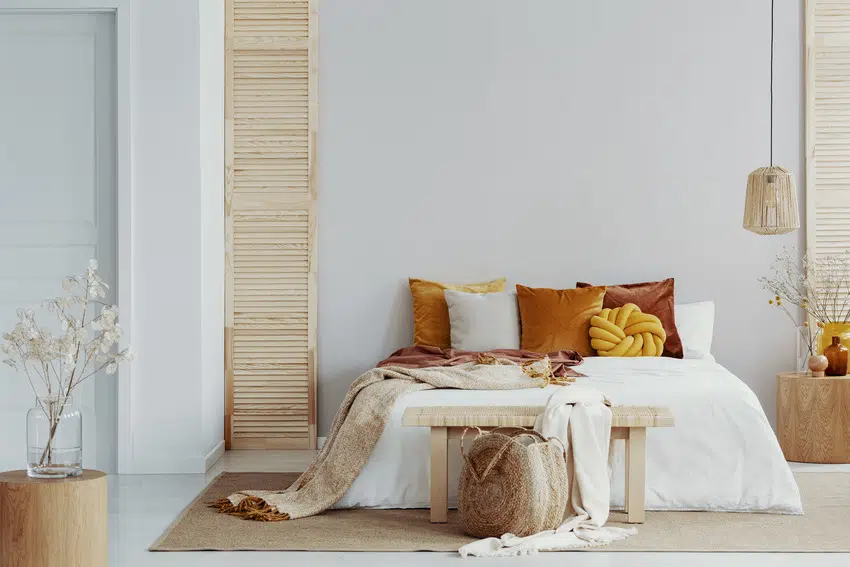 Color Scheme Inspiration:
Burnt Sienna – #af533c
Sienna – #903838
Black – #392b26
Tan – #e5e0d4
Dark Khaki – #b58e66
As the weather shifts into cooler winds and longer nights, one would realize that autumn has arrived. This season is the perfect time to curl up in bed and enjoy a hot cup of coffee.
Enjoy the tantalizing vibe of the fall season all year round with the complete shades of autumn leaves. Sherwin William's Cordial SW 6306
The color scheme of fall combines the rich auburn hues, warm browns, and a tinge of warm grays. Swap for an arresting reddish hue from Sherwin William's Cordial SW 6306 (above) for a swankier tone use Resounding Rose SW 6318 (below). Resounding Rose SW 6318
Autumn Pumpkins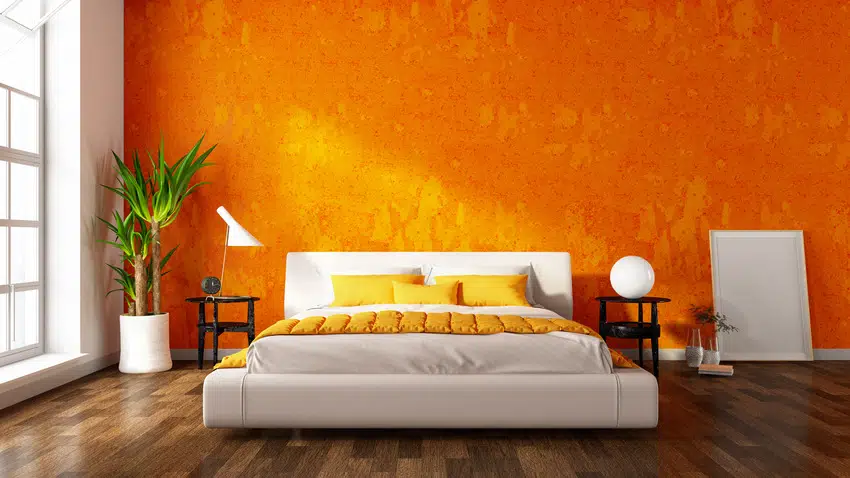 Color Scheme Inspiration:
Orange Red – #C43309
Saddle Brown – #240F0A
Dark Olive Green – #46392D
Dark Khaki – #BF936C
Dark Olive Green – #825F44
This palette is full of greens and oranges, with just a hint of browns. It is perfect for anyone who enjoys some vibrancy with various pumpkin tones.
You can use olive greens or orange-red for your wall colors. Either way, both colors pair well with saddle brown or dark khaki that's a perfect distressed color for your furniture. Read more about our article on colors that go with green here.
If you want a richer color palette, try Sherwin Williams' Raucous Orange SW 6883, combined with Web Gray SW 7075, Nearly Peach SW 6336, and Gray Matters SW 7066 for a more youthful bedroom look. Sherwin Williams' Raucous Orange SW 6883 Web Gray SW 7075

Nearly Peach SW 6336 Gray Matters SW 7066
Badlands Adventures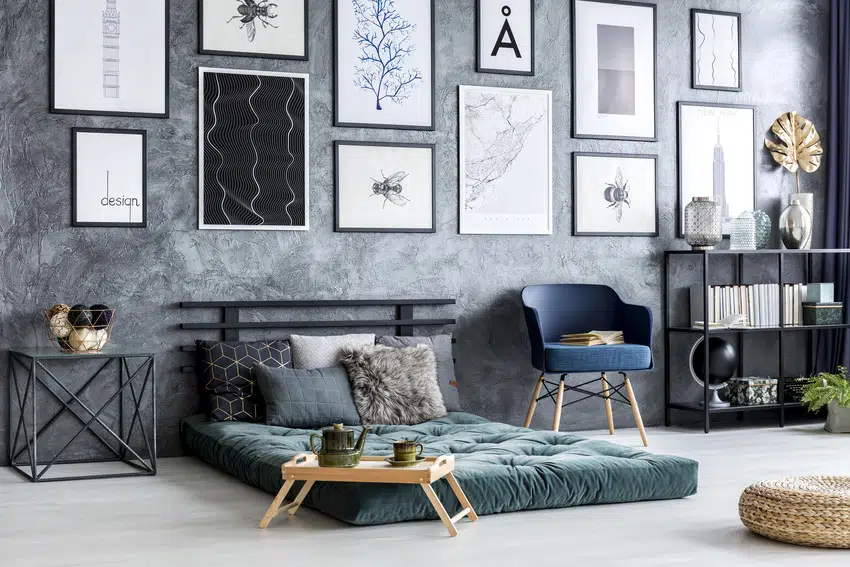 Color Scheme Inspiration:
Dark Olive Green – #69472E
Tan – #C7B297
Black – #140F0B
Dark Khaki – #987657
Light Steel Blue – #E8EAEE
Barren lands may not be an attractive color at first glance, but it's actually a calming and dreamy color combination that is truly ideal for a bedroom. Shaker Beige HC-45
Try a favorite Benjamin Moore tan color called Shaker Beige HC-45 (above) which is a mid-tone neutral that goes with all of your rustic hues. Benjamin Moore paint 2140-30
If you're looking for a perfect dark olive green, pair your tan paint with another Benjamin Moore paint 2140-30 (above), which is an excellent paint color for a two-toned interior.
The Alamo
Color Scheme Inspiration:
Khaki – #F2E19F
Chocolate – #CAA756
Dark Slate Gray – #364D4E
Peru – #CAA756
Dark Sea Green – #C3CCC9
Reminiscent of the old Baroque stone structures, this rustic color scheme is equally sublime and soothing when paired with yellow, warm silver, and green hues.
Think about massive stone walls, prominent forts, and intricately carved doors. While most of the forts are painted pale yellow or pink, the doors are always in vibrant colors. Read more about our article on painting inside of front door here.
In interior decoration, adding vintage furniture like an antique settee to the room can enhance the style and personality of a space. For example, dark but vibrant colors like aquamarine add personality to a room. Light Khaki 2148-40
Benjamin Moore's Light Khaki 2148-40 (above) is a great option for a wall in a small room. Try to add chocolate hues or a dominating gray-cyan or lime green for your fabrics. PPG's Olive Sprig PPG1125-4
PPG's Olive Sprig PPG1125-4 (above)—which is simultaneously PPG'S latest color of the year forecast for 2022—is great to mix and match with your brown and khaki hues.
Safari Desert or Safari Sunset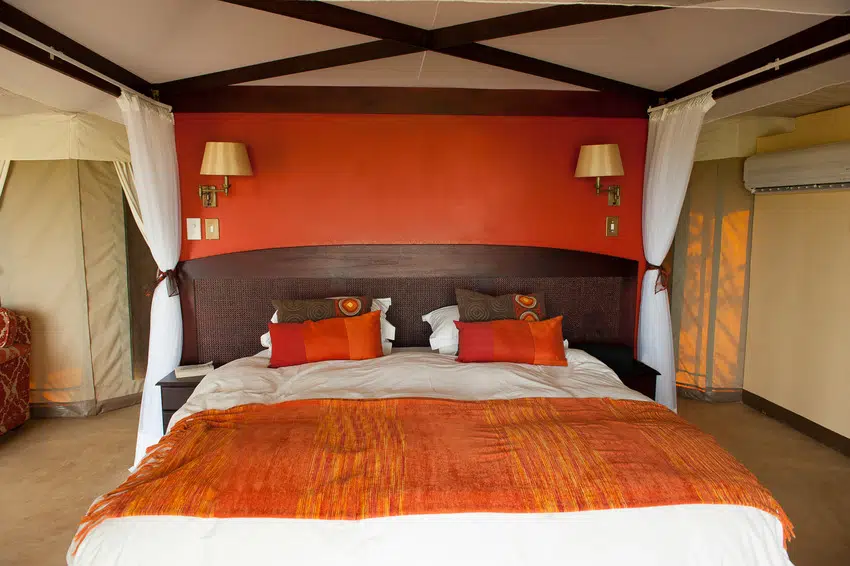 Color Scheme Inspiration:
Safari Desert:
Saddle Brown – #94370A
Dark Goldenrod – #BF650D
Dark Olive Grown – #30371A
Dark Khaki – #C6A070
Beige – #EEDECB
A surprisingly relaxing hue is your Safari Desert color scheme which leans more towards the browns than gold hues. This includes beige and earthy browns which have become immensely popular paint colors. Consider Dunn Edwards' Saddle Brown DE5264 version (HEX#AF7B57). With its soothing hue, you can use this paint from your ceiling paint down to your cushions, and virtually any place you can think of in your bedroom.
Safari Sunset:
Recreate the perkier color scheme of the fascinating Safari sunset with Sherwin Williams' family of rustic browns, khaki, and auburn, plus a tinge of lavender paint by Benjamin Moore.
Griffin SW 7026

Eastlake Gold SW 009

Roycroft Copper Red SW
Obstinate Orange SW 6884 Stratford Blue 831
Grease and Rustic Sheens
Color Scheme Inspiration:
Old Sage – #b259ab
Walnut – #aa8344
Dark Umber – #5e5d57
Orange Ochre – #de7e44
This color scheme is a blend of blue greens and vivid yellow oranges, reminiscent of an old Volkswagen garage. This is the perfect set of rustic bedroom paint colors if you like antiques or want a bohemian vibe in your bedroom.
If you prefer a mellow ambiance, choose a sage or Mozart blue for your base color, or go with a more earthy rust color for your wall paint. Consider the paint colors below by Benjamin Moore. Sage 2143-10 Rust 2175-30 Bellbottom Blues CSP-655 Yellow Marigold 2155-30
Mozart Blue 1665
Industrial Meets Farmhouse
Color Scheme Inspiration:
Portsmouth Olive – #AAAD86
Eggplant – #3A2331
Red Violet – #8D3C4B
Imagine a bedroom with shiplap walls in olive hues with bed sheets or curtains in eggplant, moss, and white fabrics.
Then include an antique rail bars bed frame, pieces of distressed wood furniture, and vintage bell pendants in brass or gold. Nothing feels more relaxed and cozy and than a rustic barn-style bedroom. See more rustic-themed living room ideas here. Truly Olive S350-6
Get gorgeous paint combinations from Behr paints. To start off, paint your walls with Truly Olive S350-6 (above). Rustic Rose BX-13
You can also use a two-tone color by combining your olive paint with Rustic Rose BX-13 (above) to have a layered look. Finally, consider a splash of eggplant hue paint for your furniture or walls.
Modern Rustic Medley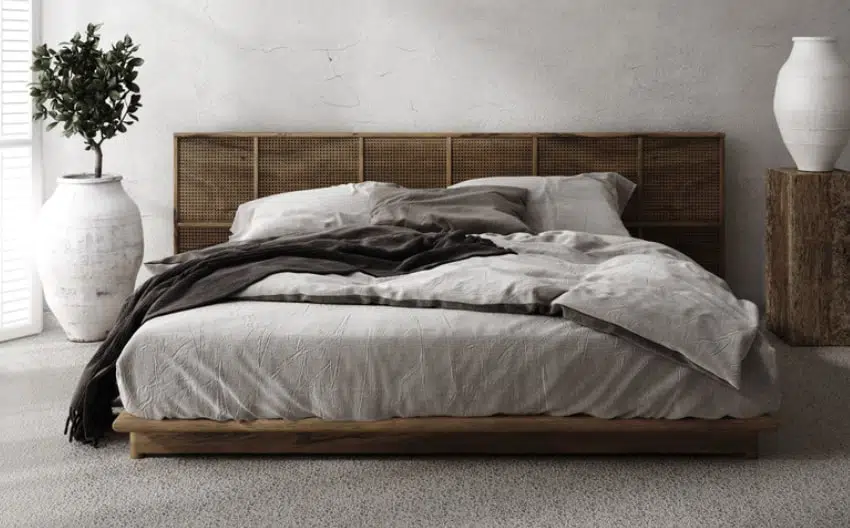 Color Scheme Inspiration:
Spicy Mix – #8A584C
Cadet Grey – #8FA6AC
Champagne – #F5EACF
Tan – #CEB793
Shadow – #85865F
Olive Drab Camouflage – #4F583D
If you're looking for a more modern medley of your rustic colors, choose a mix of silver, khaki, moss greens, and a bit of brick brown hues. These are great color choices if you're hard up in finding the right pieces of furniture and décor.
The modern rustic interior design style is quickly gaining favor among homeowners and interior designers. Probably, the growing popularity of rustic style and colors is a subconscious reaction against the long-dominant cool-colored, pared-back minimalist schemes.
For your paint colors, you'll love the Dunn-Edwards paint swatches below. Dark Lagoon DE C788 Shining Knight DE 6347 Copper Mining DET 455 Almont DE 6143 Cashmere DE C758
Rustic Woods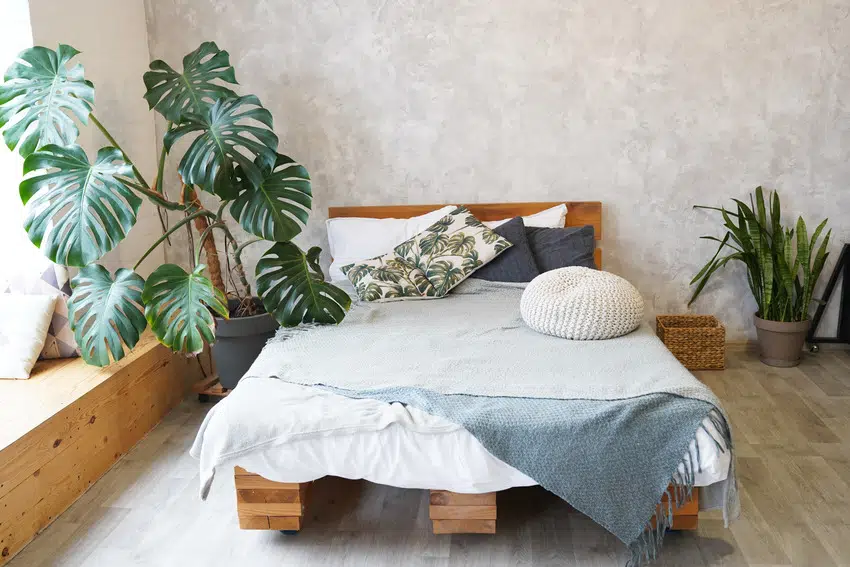 Color Scheme Inspiration:
Cologne Earth Brown – #624329
Shadow – #92785B
Grullo – #AC957A
Isabelline – #F6F0EE
Black Shadows – #BEB7B4
Sonic Silver – #7E7773
If you are still unsure of a rustic, woodsy cabin vibe for your bedroom, then consider testing the shades by changing just a few decoration pieces to achieve the desired effect. This will also allow you to maintain the modern look of the bedroom.
Start with an accent wall by creating a focal point with the wall behind your headboard, for example. Then, adorn the bedroom space with a "unique piece" that you love, such as a custom bed with a woodsy finish, weathered side tables, or even rustic-style decorations. Perfect Greige SW 6073 Dry Rock SW 7502

Half-Calf SW 9091
Sometimes, it's actually the small things that make the biggest difference! Try Sherwin Williams wood color shades like Perfect Greige SW 6073, Dry Rock SW 7502, or Half-Calf SW 9091 to achieve the desired interior look.
Boho Chic Rust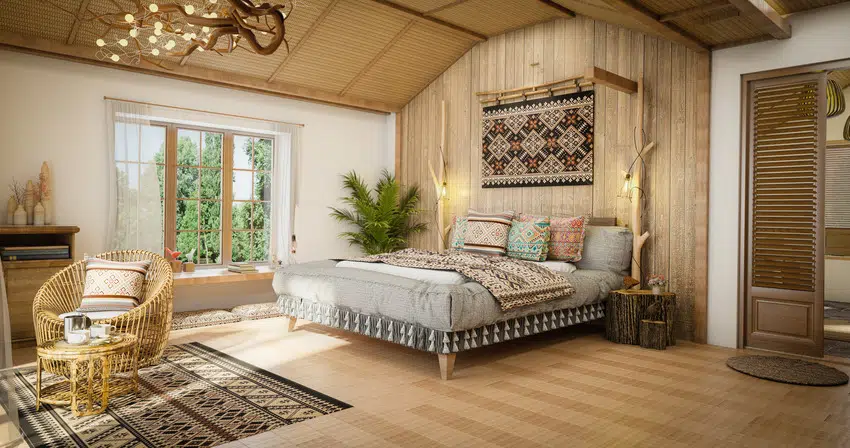 Color Scheme Inspiration:
Munsell Blue – #0F89AC
Cadet Blue – #56A4A8
Pastel Pink – #D9AC9B
Peach-Orange – #F5C492
Light Coral – #EC7D8D
Charm – #C56D92
If you want a more expressive color that still has that rustic charm, then the Boho Chic Rust is the perfect color scheme. This is basically a celebration of orange and blue tones with hints of nude and ethnic decorations. Paint your walls with Mondrian Blue MQ4-58 Behr paint (above) and use peach/orange or pastel pink for various decoration pieces. Peach Amber 1A18-5 by Behr (right) is a lovely hue to pair with your blue-green paints.
For other related content to rustic bedroom paint colors, see this paint colors for bedroom with dark furniture page.