Here we share our painting inside of front door design guide including reasons why, should it match the exterior or not, types of paint and tips on doors with sidelights.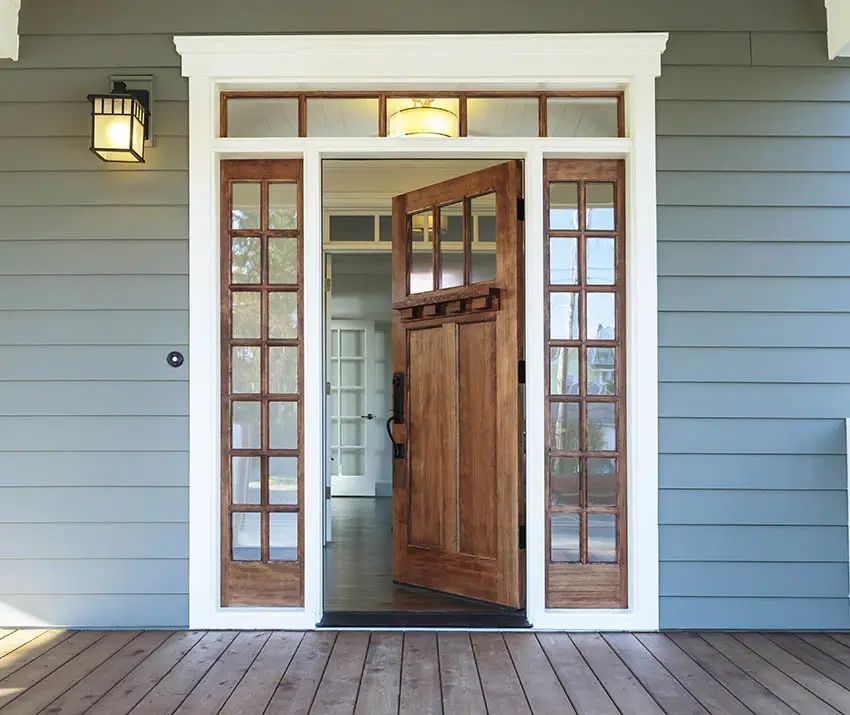 Like any other surface or area in your home, there is no "rule" so to speak, whether you can or cannot paint the inside of your front door.
Everything is up to you, and if you think it makes you happy, makes your space look better, then, by all means, you can have the inside of your door painted a different color from the outside.
Do You Paint The Inside Of Your Front Door?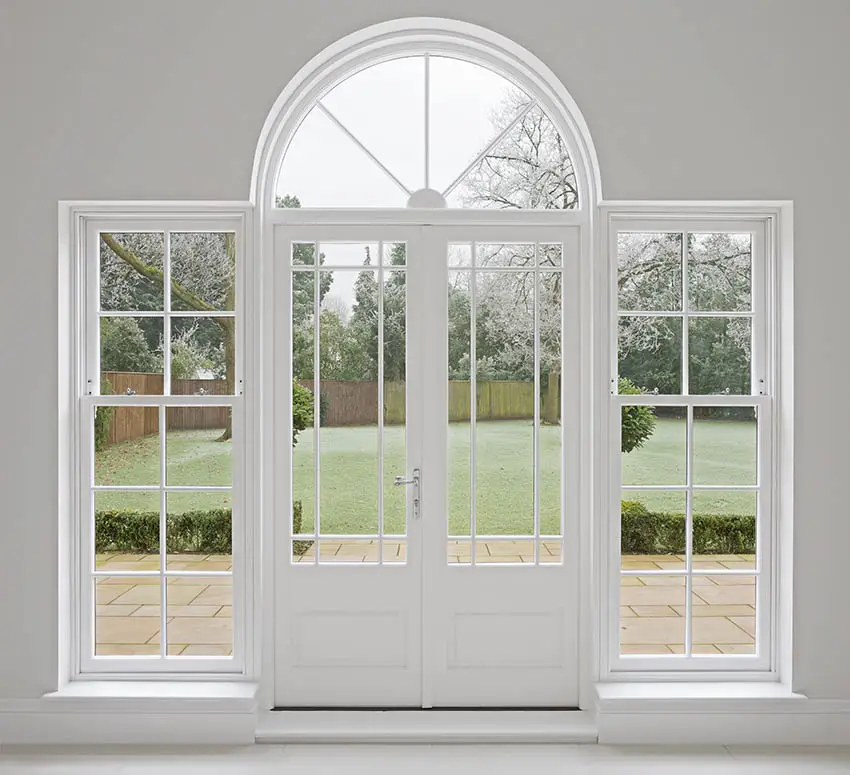 There are many different cases or reasons why you might want to have the inside of the front door painted. The most common reason is that some people want all of the interior doors to match a certain color scheme, and the front door color might be a little off.
Or sometimes, we may have selected a very bright and bold accent color for the front door that works with the exterior of the house, but doesn't really match your interiors.
There are a ton of different reasons why you might want to change the door color. No matter how superficial your reasons are, at the end of the day, it's just a color.
It will, in no way affect the structural integrity of your home, so feel free to get crazy with it!
Should Your Front Door Be The Same Color On Both Sides?
If you are wondering what would designers suggest you do, we'll give you a couple of ideas, but remember, as previously mentioned, these are just guidelines and not hard rules.
If you have wooden front doors – if you have natural wooden doors that shows its natural color/grains, a designer would likely suggest leaving it as it is. If you feel like the color is a bit off, you can do a couple of things to adjust its tone, such as bleaching it if it's too dark, or staining it a darker if too light.
Do note, however, that going lighter is more difficult because you will need to strip off existing wood stains and finishes. If you want to paint just the interior side of the door, while keeping the outside natural, most would probably suggest not to.
You either keep it all-wood or paint everything in the color you want. Read more about our guide on the best interior door paint ideas here.
Painting a Front Door Different Color Inside And Out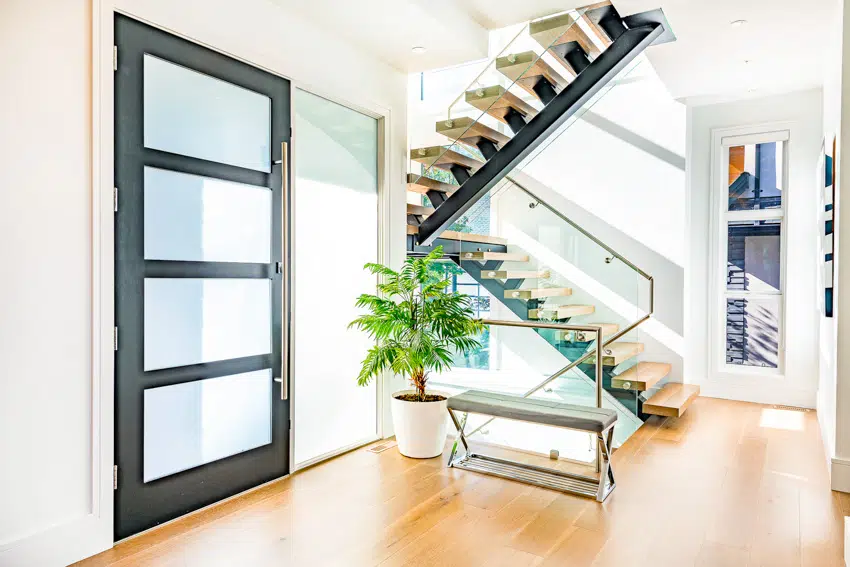 If your front door is already painted and you just want a different color for the interior side, this will be easier, as the texture will be the same, unlike if you have a natural wood door with a painted interior side.
This is very common, especially if you have a set color scheme for the interiors that you want to maintain, or if you want a stand-out color for your front door.
If your door has sidelights – you may want or may not want to have the sidelight frames match your door. Again, this is all up to you. If you want the door to stand out, you may want to have it painted a different color from the sidelights and transom.
You may also want to paint everything in the same color. Just make sure you cover the glass areas with paper and painter's tape to protect them while you're doing the repairs.
Depending on your theme, or the look you want to achieve, you can basically do whatever you like for your front door. Whether you want to paint it in a neutral tone, a bright color, or keep it natural, it's all up to you!
For those wanting to paint over existing doors, or over natural wooden doors, the approach of painting these two would be different.
For wooden doors with no finish, make sure to fill in all the wood bores and imperfections first with wood fillers, and you will have to apply primer prior to painting. Read more about our guide on paint colors that go with cherry wood floors here.
What Kind Of Paint Do You Use On A Front Door?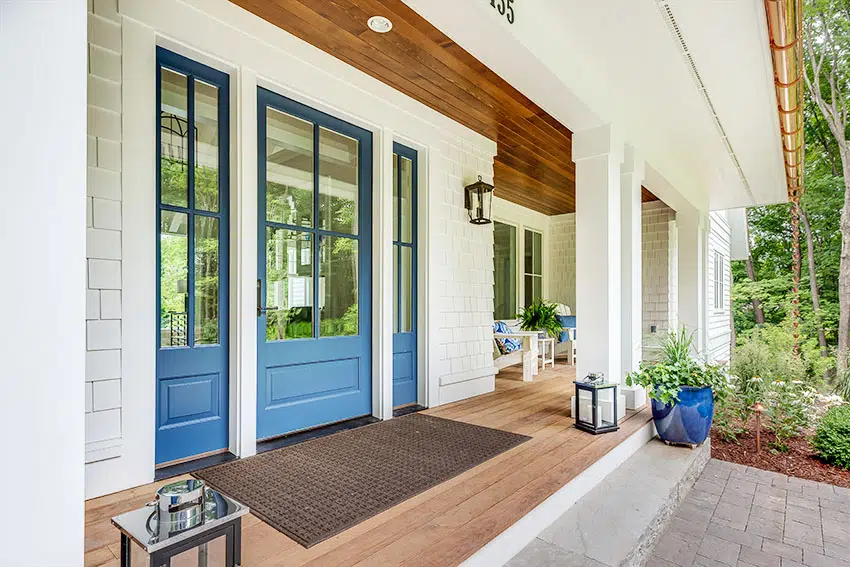 The recommended paint to use for exterior doors are durable, mold-resistant, and moisture-resistant paints such as acrylic resin, latex-based paints, or oil-based paints. Semi-gloss paints are most commonly used for this application, as their surface is easy to wipe clean.
If you're using oil-based paint, it will usually come in a high-gloss finish and is a little bit more resistant to chipping, so it is also a good durable option
If you're painting over doors with existing paint, it will be a bit trickier. If you're painting over oil-based paint with latex paint, your will need to use a primer first. Some brands do have paints that are able to go over oil-based paint without need primer.
You may want to look into that/ If you're working with pre-primed doors, or existing doors previously painted with latex-based paint, you won't need primer and you can just go right ahead and paint it
If you're painting an old, chipped painted door, you will need to try to remove existing paint if it's already chipping, or to at least sand it down smoothly, before going over it with primer. This is important because the texture of the chipped areas will show if you skip this step.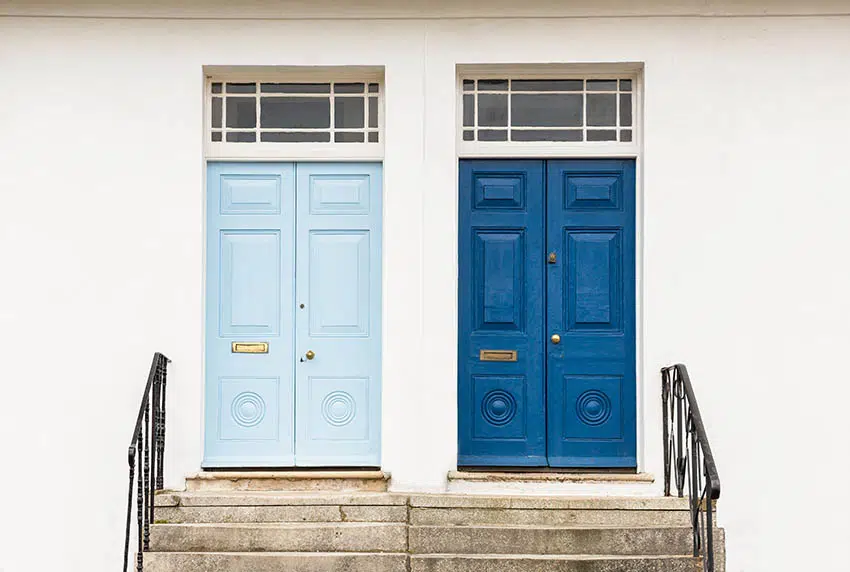 Adding a unique, bright color to your front door will definitely help make it stand out. If you live in duplex homes or townhomes that have similar-looking facades and entry doors, painting your door in a unique color will not only make it stand out but also help you (and your delivery services!) to easily identify your home. Read more about our guide on front door colors here.
Painting Interior Front Door With Sidelights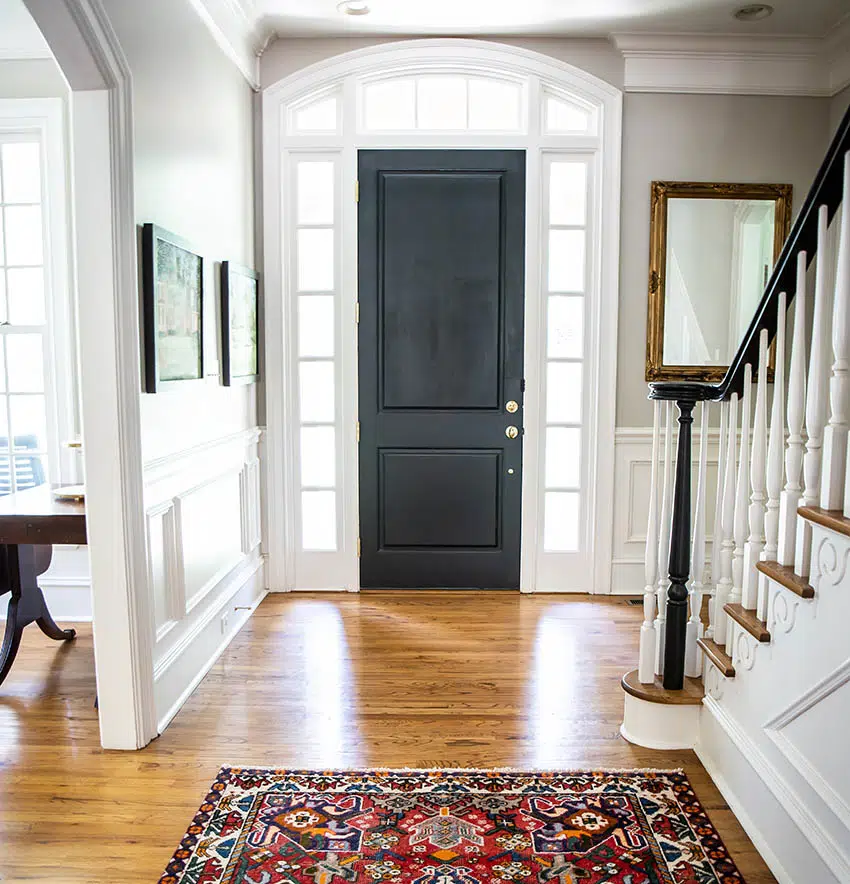 Sidelights and transom windows don't need to match the color of your painted doors. Semi-matte black doors have been on trend lately, and the white frame and sidelights help make the dark-painted door stand out further.
If you have a solid wood entry door, it might be a good idea to use finishes that help emphasize the beauty of the wood grains.
In this example, we have an arched entry door with wood stain, adding a touch of rustic appeal which makes it stand out against the white-painted interior doors.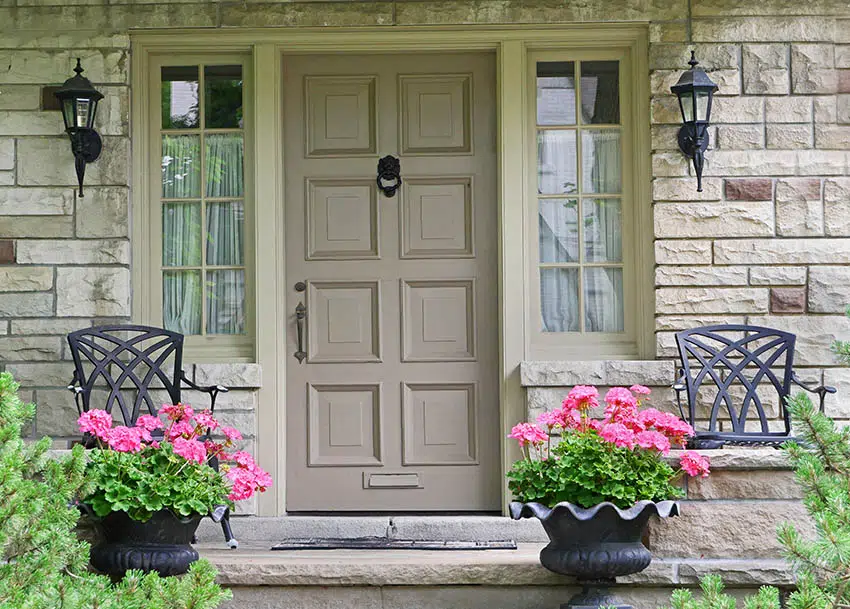 Your paint color choice doesn't always have to be bold. If you're more into neutrals, using a variety of neutral paint tones on your door frame and doors will add a very subtle contrast. This helps your front door to pop while still blending in.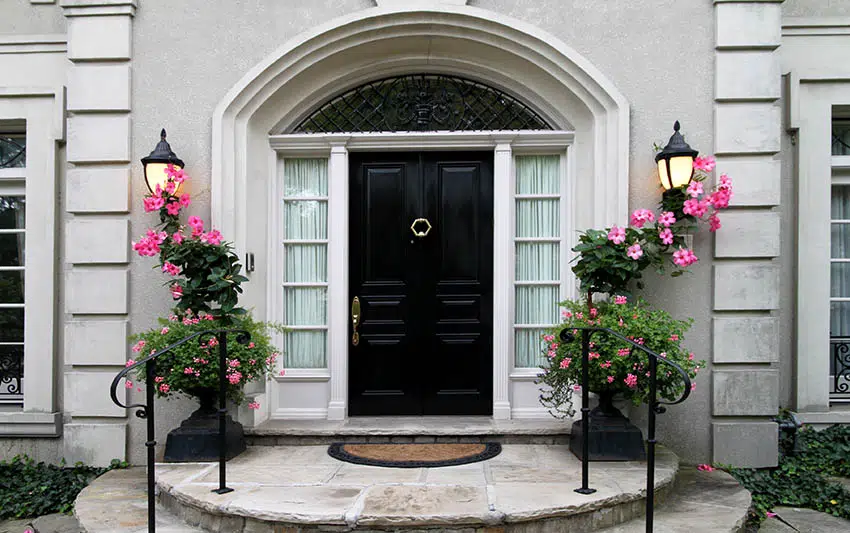 Using black for this entry door really makes it stand out against the white sidelights. But because the black matches the paint used on the wrought iron accents on the transom and on the windows, it still looks very put-together.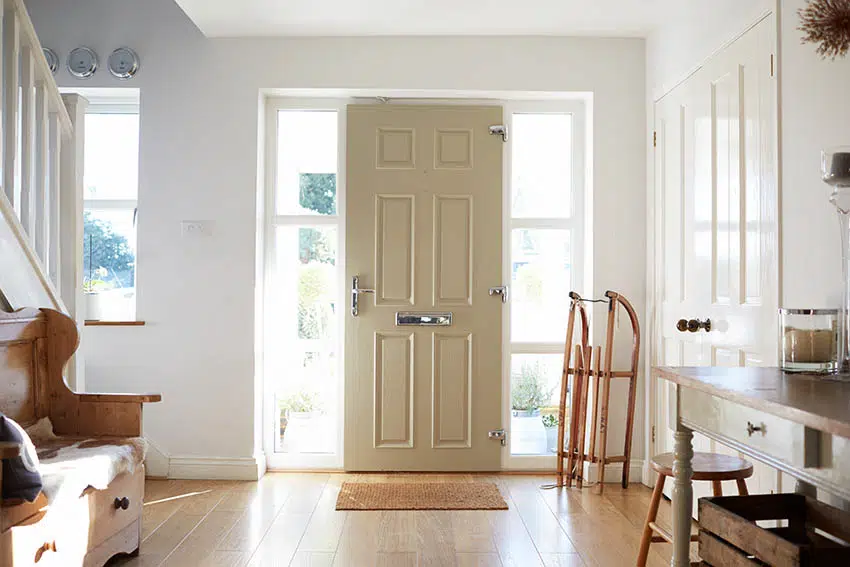 This is another great example of using subtle color for your entry door. The cream-yellow tone is very light and subtle that doesn't stand out too much, yet still gives the entry a different atmosphere.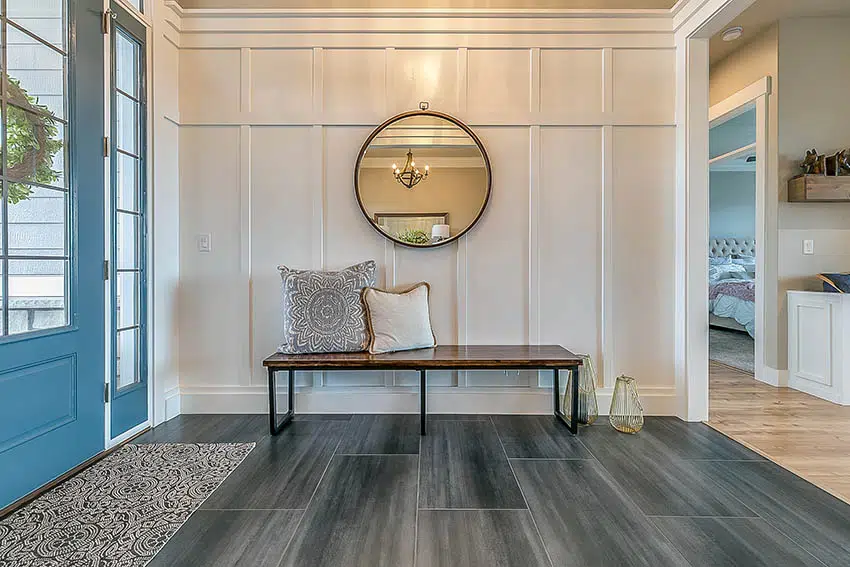 If you really want your entry door to be a focal point, then painting it in a unique color that doesn't repeat in any interior doors is a good idea.
This example uses a nice cornflower blue color on both the doors and sidelights, giving the entry area a refreshing look. See more related content at our article about doors with sidelights on this page.