Here we share our picks for paint colors that go with cherry wood floors.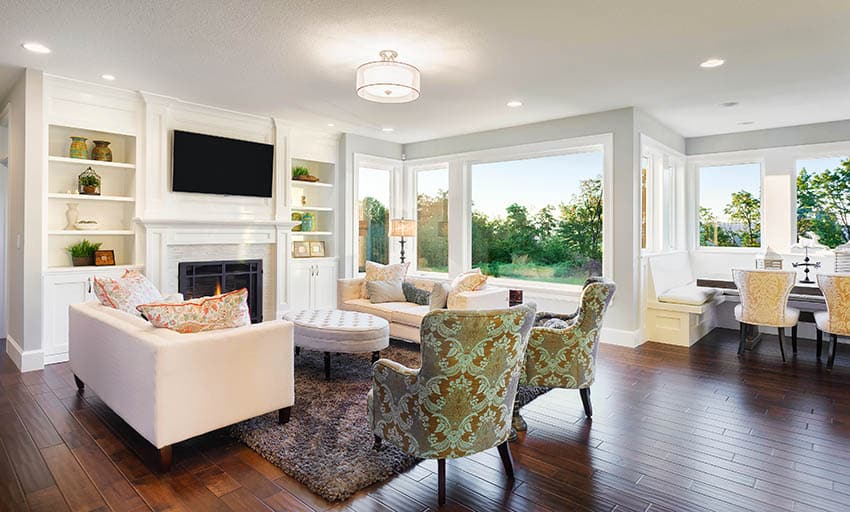 If you're lucky enough to have a home with cherry wood floors, chances are you want to take advantage of every opportunity to show them off and enhance their beauty. Cherry wood is a premium hardwood from the cherry tree — yes, the same tree that grows the round red fruit!
Cherry wood is highly valued by woodworkers and homeowners alike for its durability, smooth grain, and material flexibility. It's a stunning choice for floors, but because of the rich, attention-drawing hue, many homeowners struggle to decide on a paint color for the walls.
Matching Cherry Wood With Paint
The color of cherry wood depends on whether it's heartwood or sapwood. Cherry heartwood, taken from the central core of the cherry tree trunk, ranges in color from a light reddish-brown to a deep and rich red.
Planks that are cut from the sapwood of the tree (the softer, more permeable layer that connects the bark to the heartwood) can be a creamy yellow color. Floors are usually made from all heartwood or all sapwood, for a uniform color.
Before visiting the paint counter and cluttering your house with paint swatches, spend some time just observing your floors. Would you call them mostly yellow, red, or brown? Maybe they are brown in the sunlight, but artificial light lets the red shine through.
Make sure to observe them in a variety of conditions and times of the day. Take note of environmental factors, too — does the room you're painting get a lot of sunlight, or is it mostly shaded?
White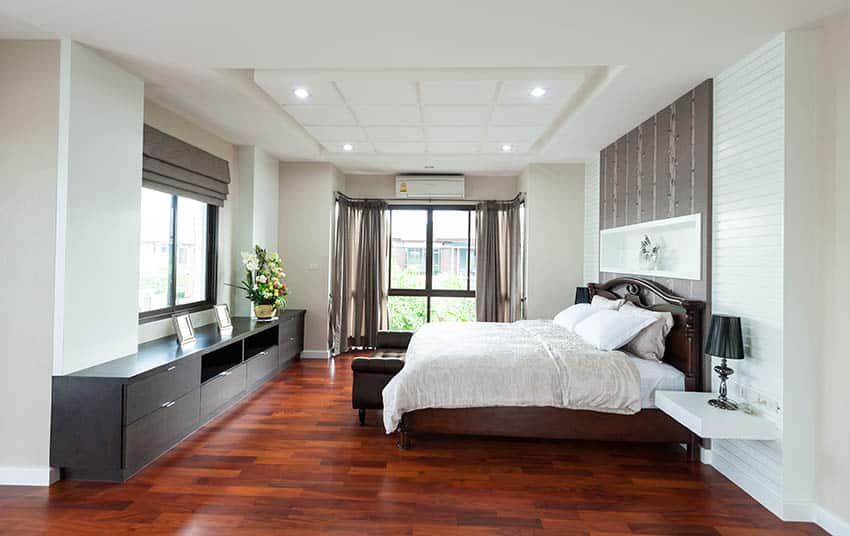 A crisp white paint with gleaming cherry wood floors is a classic look. You can't go wrong with any bright, cool white paint. These tend to have names like 'paper white', 'crisp white' or 'extra white'. 'Decorator's white' colored paint will absolutely complement your cherry wood floors.
Neutral whites (e.g. 'pure white', 'simple white') are a safe, but uninspiring choice. Avoid warm whites with yellow undertones. They don't clash with cherry wood floors, but they don't do anything to enhance them, either.
For those who have dark color wood floors and want a more beige color, the paint color Sherwin Williams Tres Naturale could be a good choice. See more paint color ideas for dark wood floors here.
Green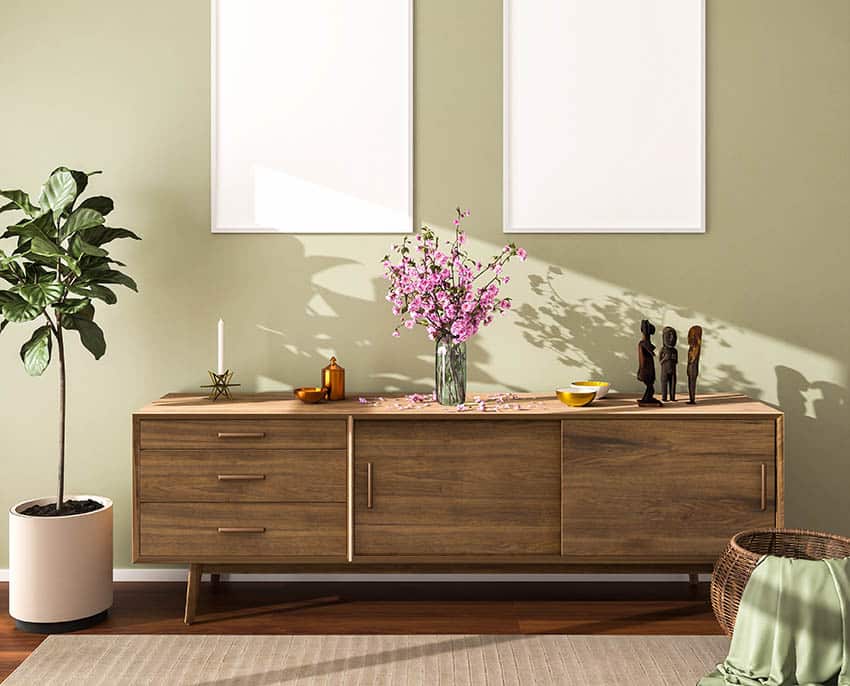 Sage green might be the perfect color to pair with cherry wood floors. It provides just enough contrast to be visually interesting.
Any soft, cool green color, will bring out the beautiful red tones of the wood, while feeling soft and inviting. Pastel green can create a subtle neutral feel.
Look for paint colors with names like 'fern', 'pear' 'pine' or 'basil'. Stay away from greens with yellow undertones, such as olive, lime, or chartreuse.
Dark green paint provides a low contrast in much the same way as dark blue. However, the green will generally offer slightly less contrast than blue. When considering dark green shades choose one that does not have a lot of yellow to avoid the color clashing with the red found in the color of the floors.
Blue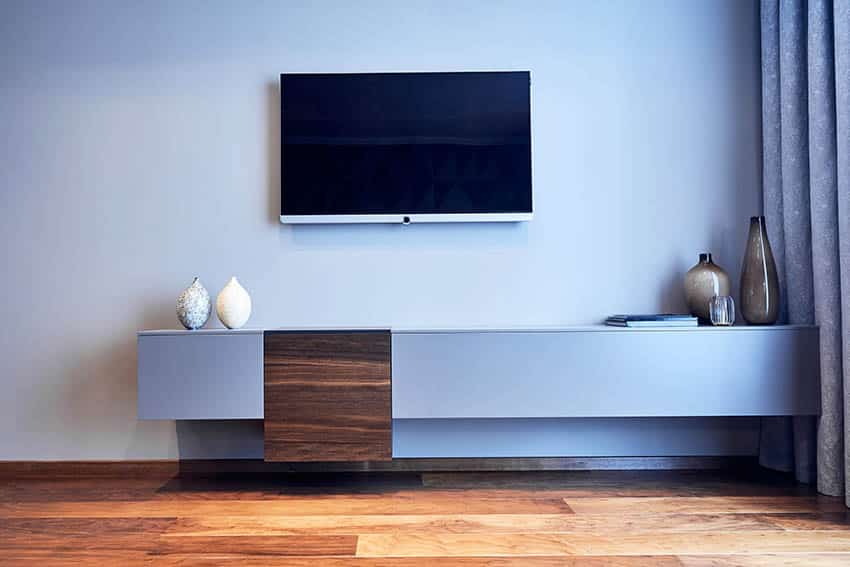 Blue paint and cherry wood floors were made for each other. The key to using blue paint to accentuate your cherry floors is to think in terms of contrast. If you have light sapwood floors, consider a dark blue for high contrast.
A rich reddish heartwood floor can also be subtly enhanced by dark blue. A lighter blue paired with dark wood will make a big impact, drawing focus and attention to the red tones in the floor.
Gray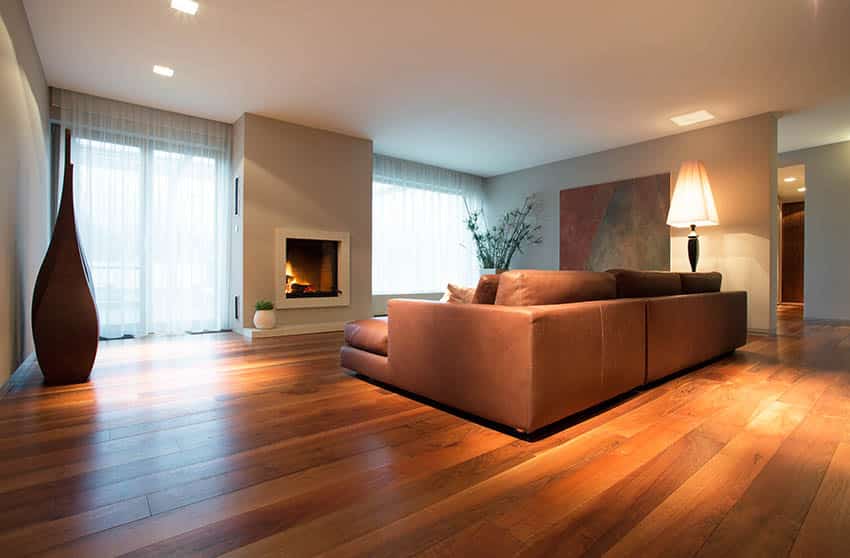 Painting your walls grey won't detract from your cherry wood floors, but it won't highlight them in any way, either.
Note that after a few years, you may notice that the paint color doesn't look quite right anymore. This is because cherry wood will darken in color over time as it's exposed to UV rays from natural sunlight.
Luckily, updating the paint color on your walls to match your wood floors is one of the easiest and cheapest adjustments to make. There's a paint color to match any shade of cherry wood floors. A couple gray colors to consider are Sherwin Williams Aleutian, or Sherwin Williams Gray Clouds.
Colors to Avoid
Yellow
Yellow paint is very difficult to pair successfully with cherry wood floors. If you must have yellow walls, look to warm, buttery yellows rather than neutral or cool yellows.
Red
Since all cherry wood has some red undertones, using red paint is an enticing but tricky proposition. You don't want to overwhelm the room. One option is to paint a red accent wall. You'll want the paint color to match the red tone of the wood exactly.
For the best results, bring a sample of your floorboard (ideally treated identically to the floors) to the paint counter and ask for help. To highlight the reddish tone in the wood, you can use dark and muted red paint.
On the other hand, maybe you've found that the rich red tones of the cherry wood floor are overwhelming the other elements in the room or house.
The solution to too much red is to use red paint only as an accent color. Another option, perhaps counterintuitively is adding more red — specifically terracotta. Introducing terracotta paint will help turn down the volume on the red in your cherry wood floor.
What is your favorite paint colors that go with cherry wood floors? Let us know below in the comments. For more related content visit our page on paint colors that go with red oak floors.