See our guide to living room and dining room combo including layout ideas, furniture arrangements, and tips on how to properly separate the living and dining space.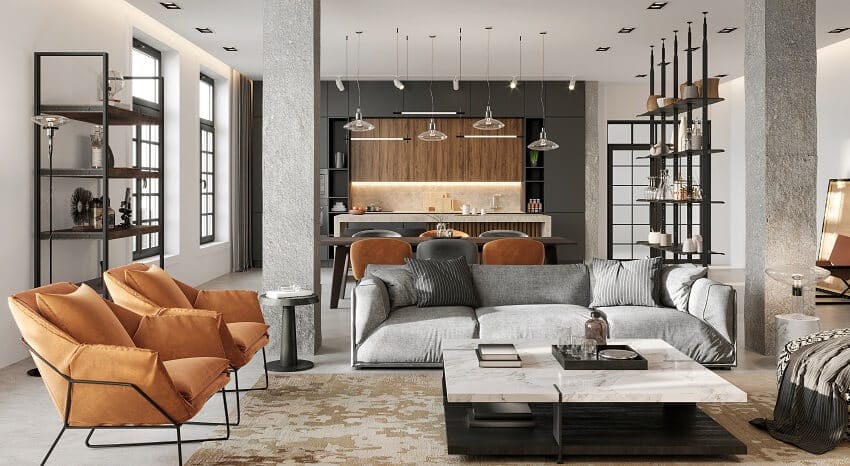 Today's home interior design trends are all about open plan places where the living and dining rooms smoothly transition into each other. This can be seen frequently in both home renovations as well as new home builds all over the country.
In order to properly create a seamless living room and dining room combo, there's a need to put in furniture placement and accessories that are clever and well thought of. What you want to aim for is a space that is the embodiment of having a mixed-use purpose, and is well designed, flexible, and functional for both the living and the dining room spaces in the home.
You would also want to make sure that you get to retain the freedom to change the ratio up just in case you want to use one room more in place of the other. The key to achieving this is to opt for cohesive but stylish furniture as well as complimentary color palettes to make all of the elements easy on the eyes.
We've dug deep into all the possible challenges of creating a great living and dining room combo for you down below. Read on so that you'll have all the possible options in mind before you proceed with this major home renovation.
Arrange Furniture In Living Room Dining Room Combo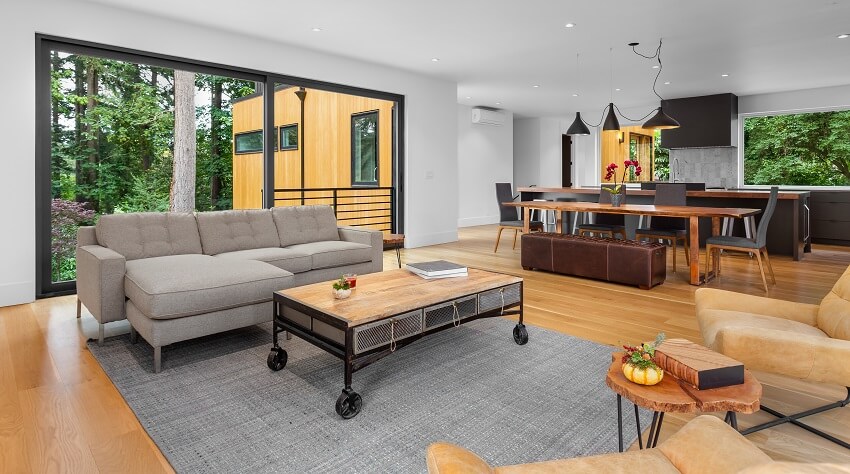 Arranging your furniture in an open floor plan for a living and dining room combo isn't nearly as intimidating nor as hard as you might think. Check out our gallery of beautiful living rooms interior design here.
The first step is in really laying it all out and imagining which spaces you would like to set up as your living room and dining room areas. Once you have a general idea of where you would like them to be, the rest is really pretty easy to follow through on. Here are some ideas that might work for you.
Arrange Your Furniture Away From Your Walls
Making sure that your furniture pieces aren't arranged directly attached to your walls can create a space that is more inviting and cozy.
It is also a great way to make your living and dining room areas feel more inclusive and less intimidating. Take note though that this is usually an option for open floor plans that have considerably large square footages.
"Visually Create" A Room With A Rug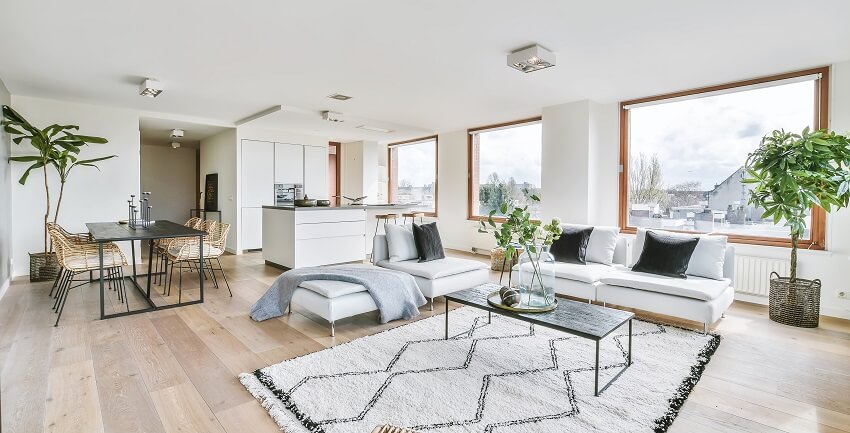 Rugs are a create way to separate the visual plane in your open floor plan. They draw the eyes down, making it easier to identify how one space is separate from the other without having to bring too many elements in.
The upside to this is that whatever floor space you put a rug on is still usable so it doesn't end up creating a clutter in your living and dining room combo. Rugs can also make your separate spaces stand out and look more distinct.
Go With The Same Theme For Your Furniture Choices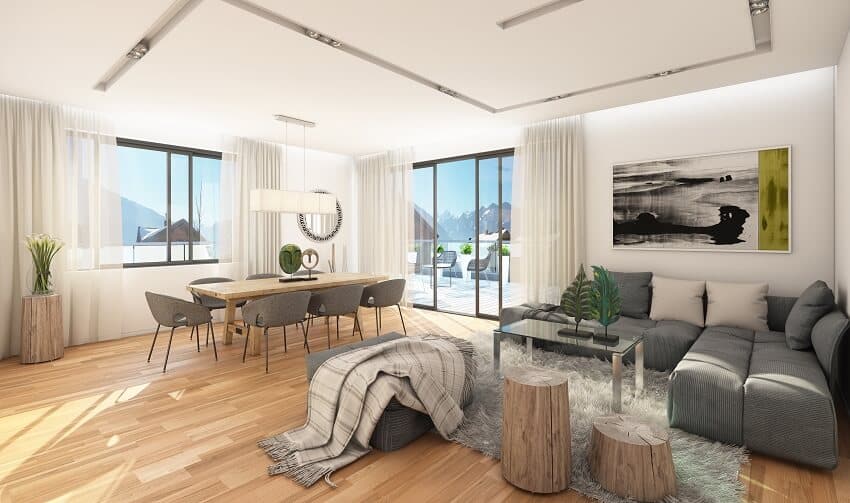 This is a simple way for you to create a more cohesive look and design for your entire floor plan. For example, if you want to achieve a homey farmhouse design theme, it would be great to have wood elements in your furniture pieces for both the living and dining areas.
Living Room Dining Room Combo Layout Ideas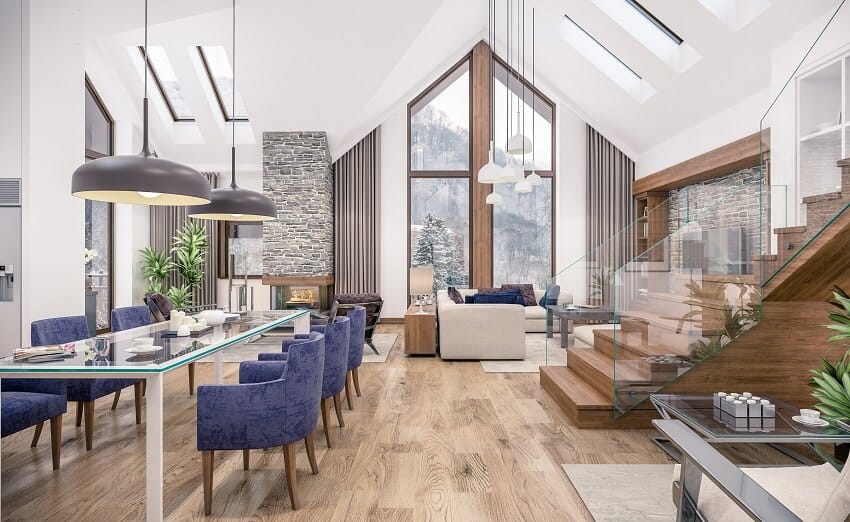 Open floor plans for the living and dining room can make even the smallest and most compact of spaces look and feel bigger and brighter at the end of the day. Read more about open concept living room design ideas here.
Entertaining is a breeze and an absolute delate because you aren't constrained by space issues because one room seamlessly flows over into the other and the seating and other elements can be adjusted as you go along.
Laying out an open floor plan seems technical but with a little bit of help, it can be done. Here are some ideas we've drummed up for you to help get you by.
Put in a Feature for Each Area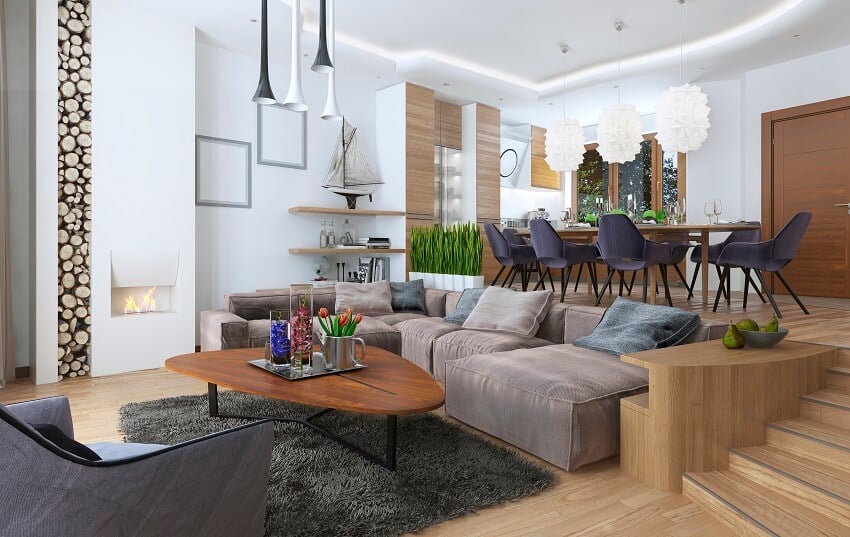 A feature or focal point per area can really make the separate spaces stand out, serve as great conversation starters, and effectively separate one from the other without ever having to put up any obstructions in between.
For example, you might want to put up an impressive chandelier in the living room area while you have a gallery wall in the dining room adorned with art, family mementos, or family photos.
Standout fixtures effective anchor each area while still keeping the space open and flowing. Other elements to consider for this are fireplaces, built-in shelving, and other architectural spaces you might want to include in your space.
Maintain the Concept of Negative Space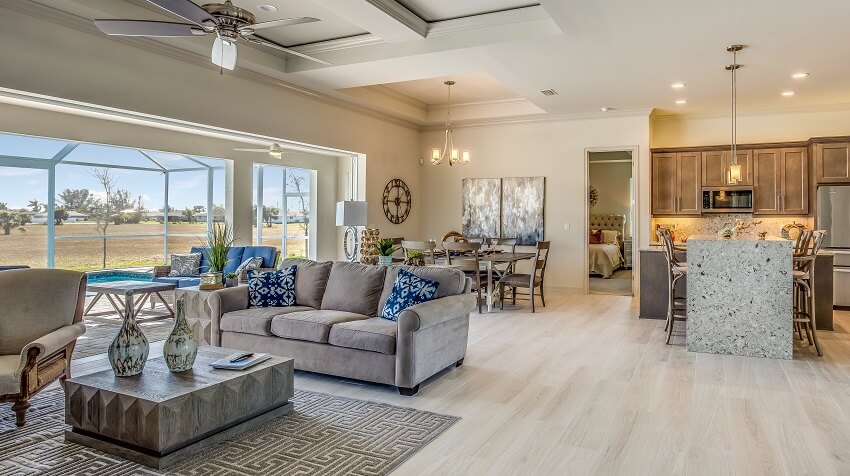 Negative space is one of the best-kept secrets of the interior decorating world. What this means in terms of laying out your living and dining room areas is that you simply need to put in an empty floor area in between the two in order for the layout to be successful.
Be strategic while at the same time, stylish, when you're mapping out your floor plan. Don't clutter up the line of sight with tall shelves and other large furniture pieces.
For example, make sure that you keep tall lamps and the like out of the way so that you don't end up blocking the flow between the two spaces.
Keep Your Windows Unobstructed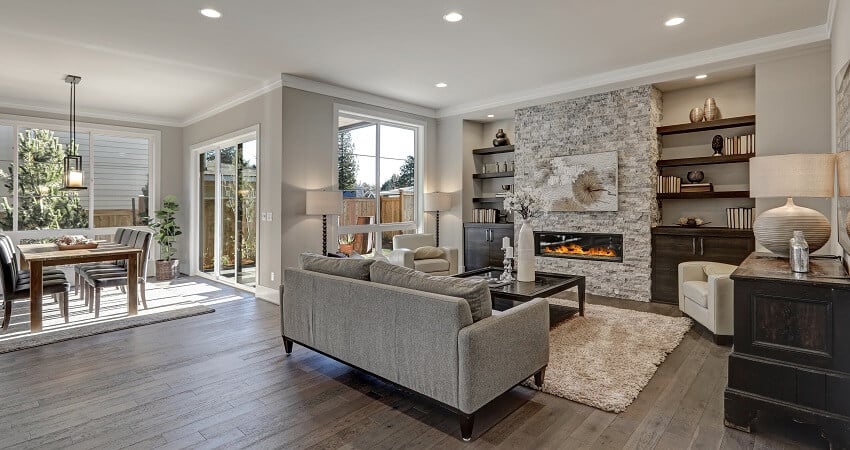 Make sure that you don't block it out with heavy draperies or furniture pieces. It's important to maximize the amount of natural light coming in to really keep everything looking bright and airy. This is particularly important when you're laying out an open floor plan.
Err on the Side of Minimalism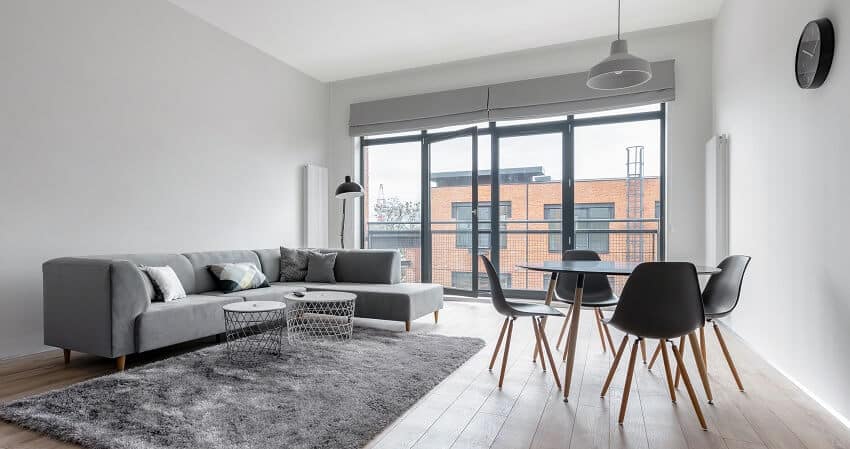 Make sure that you don't put in way too much clutter in the space. This will avoid any potential problems related to overwhelming the senses which can in turn end up blurring the distinction between the living room and the dining room.
This is when the age-old adage "less is more" comes perfectly into play. It would also help if you opt for furniture pieces that are multi-use, banking not just on their aesthetic value but on their functionality as well.
Clear Out the Pathway Between the Spaces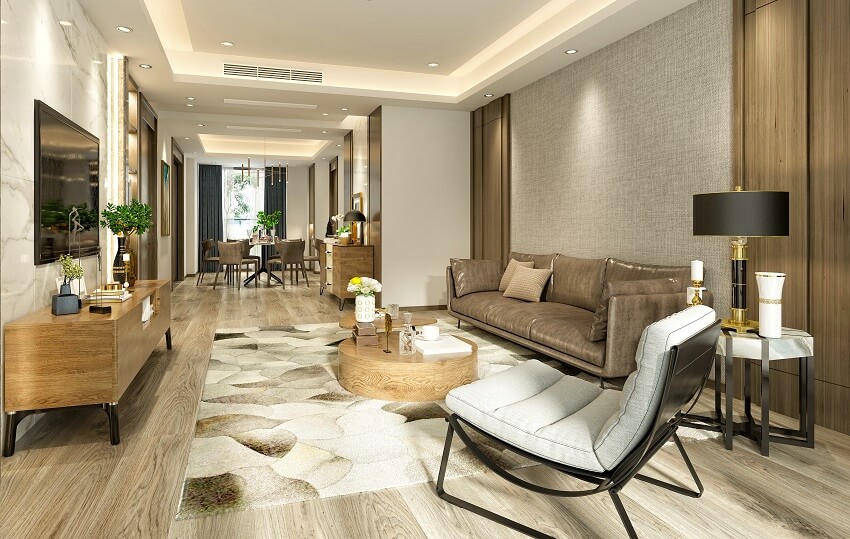 When planning out your layout for your living and dining room combo, it's important to keep in mind where the foot traffic will be.
Make sure that when you are planning out your furniture placement, there's enough pathways for people to actually move around in.
Plan out the empty spaces where they can easily move from one area to the other without bumping into your accessories and furniture. This will make your combo space more usable while at the same time give the eyes the chance to refocus and properly distinguish which space is which.
Living Room And Dining Room Combination Ideas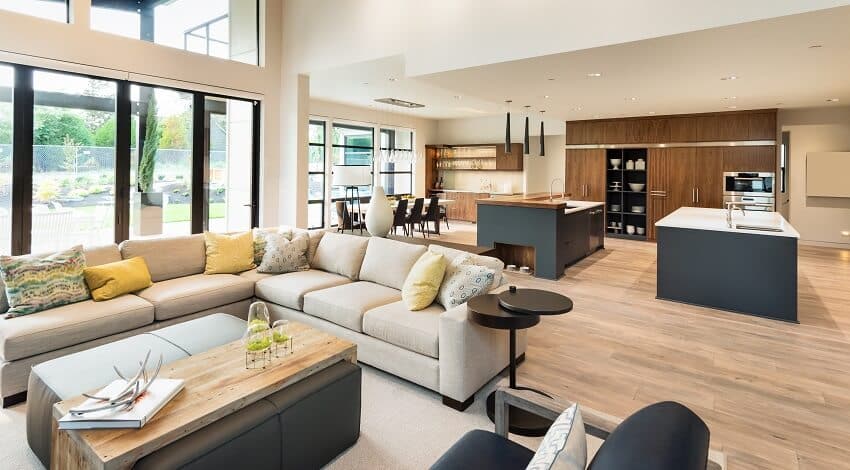 Open floor plans are the mainstays when it comes to creating a modern look for the home. What you want is a properly separated or divided living and dining room space that will not end up confusing the occupants about which is which.
Whether you're just looking for a home improvement plan or starting the whole thing up from scratch, here are some nifty ways to properly demarcate your spaces without breaking a sweat.
Lattice Dividers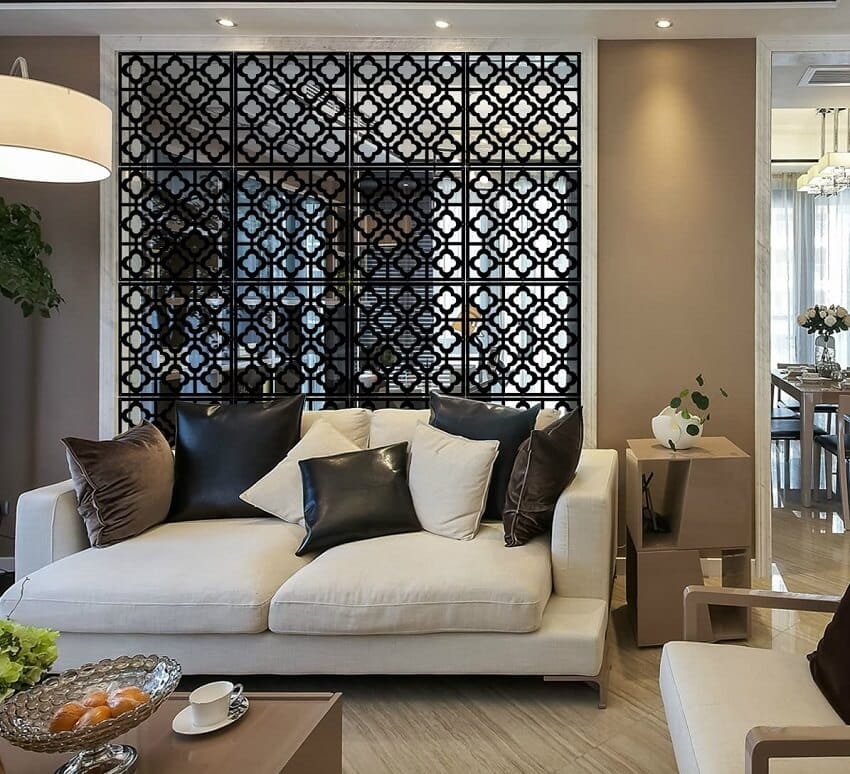 See this lattice divider at Amazon [sponsored link]
These are at times nicknamed as jalli screens and they work quite marvelously if you want to create private nooks in your home with an open floor plan while at the same time putting in a focal point for your space.
You can either go with classic floral designs or opt for edgier geometric patterns; depending on what your design theme is.
Lattice dividers are easy to put in. They don't require any type of installation or construction and more than that, they're easily movable so you can change things up when you feel like it. They're also readily available in the market and can come in a wide range of designs, widths, heights, and colors for you to choose from.
See-through Display Shelves or Units
A see-through display shelf can act as a divider without ever having to build a wall in between your living and dining room. It doesn't close up the space and serves as extra storage as well.
It can be the perfect place to put in souvenirs or precious vases, mementos, or even cutlery and glassware that you might want to put up on display at home.
Lighting Fixtures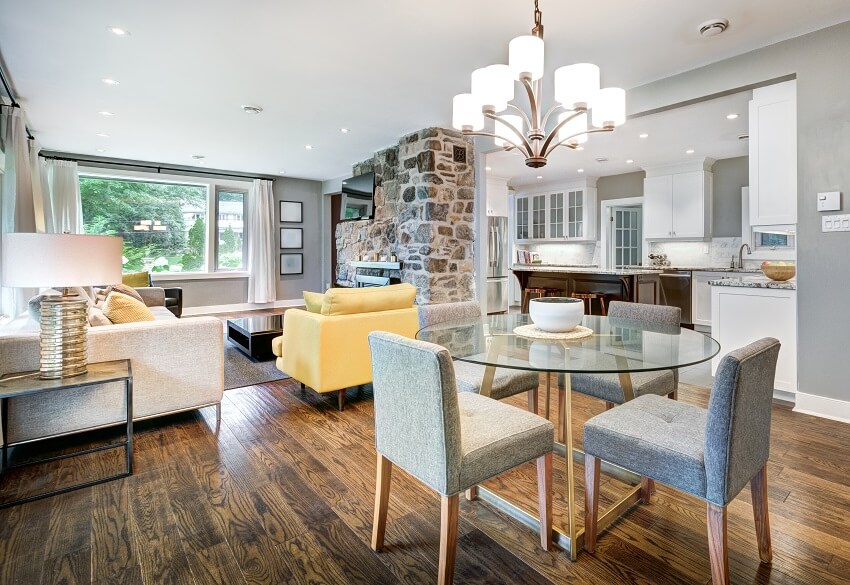 Lights can magically set the mood and tone for your living and dining room areas specifically if you happen to have an open floor plan. You can go with chandeliers, pendant lights, or any type of lighting fixture you might think of that works with your interior design.
The living room is usually best suited for slightly dim lighting with a soft glow to it that can make it more inviting.
The dining room, on the other hand, is best suited for something brighter and livelier to make your mealtimes at the dining table come to life. See more types of dining tables here.
Floor Mats or Carpeting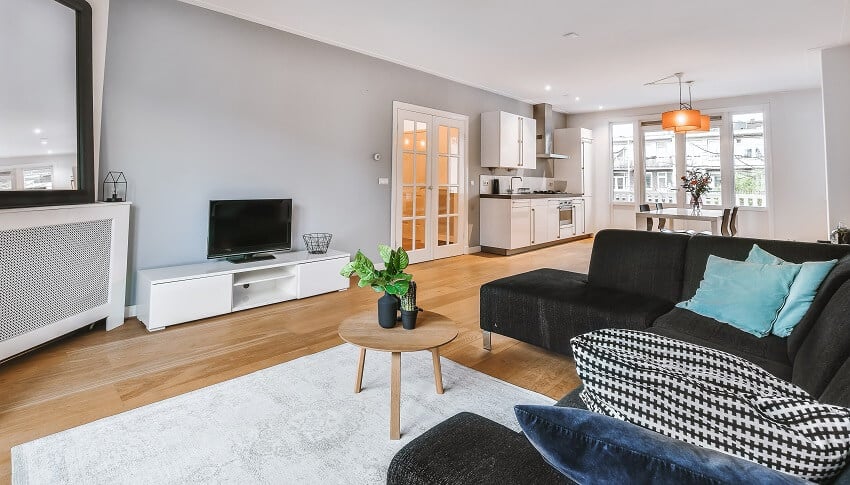 Floor mats are easy to put in and are oftentimes cost efficient depending on your material of choice. They're great when it comes to segregating the space between your living and dining room and they can be changed up as often as you would like.
You have the freedom to go for complementary tones and colors in between the two space or if you would like to go for something more striking, you can opt for contrasting colors instead. If you happen to have a fairly big floor area, you can even play around with multiple mats or carpets.
Wall Panels
If you have a compact space and the living and dining area are close to each other but you'd like to put in a distinction between the two, wall panels might work for you.
They won't be taking up any floor space so you won't end up making the space feel compact or caved in but they separate the spaces in an effective and visually appealing manner.
Opting for wood or something that has warm tones can really appeal to you if you want to have organic elements in your home.
Accent Walls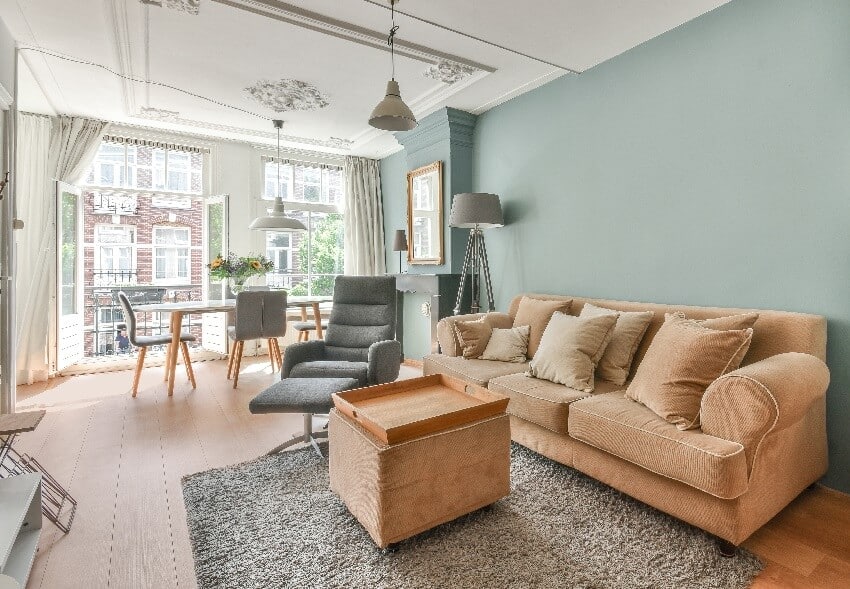 If you have a compact space for your living and dining room but aren't quite fond of wall panels, you can opt for accent walls instead. A change of color in the walls immediately gives off the vibe of a change of scenery and by extension, a change of function for the space.
There's a wide variety of paints and finishes for you to choose from in the market that can attain the exact vibe and look you're going for in your living and dining room combo project.
Mixed-up Furniture Styles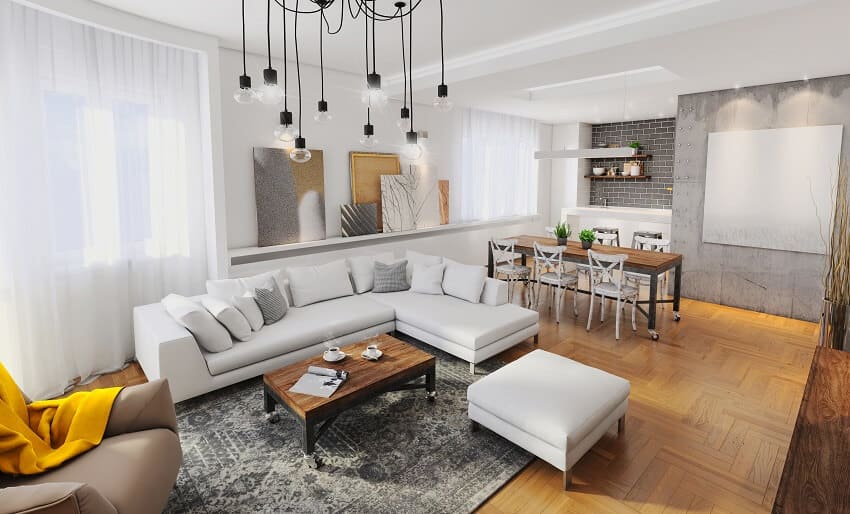 You can effectively separate your living from your dining room by simply switching up the furniture choices.
Go for something more classic for your living room and modernize your dining room furniture to really mark out the distinction or vice versa. The contrast creates a beautiful backdrop between the old and the new.
Divide With Color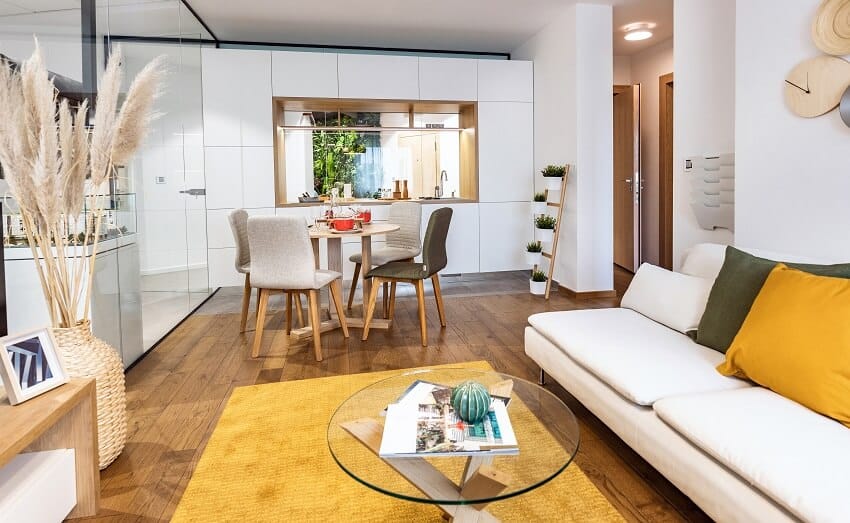 If you happen to have the same wall colors for your living and dining room space, another great idea to separate one from the other would be to go for different color themes. You can use this for your furniture pieces and other accessories that you might want to put in place.
Explore our guide on a variety of living room bedroom combo interior design ideas for more related content.