Below we share our mid century modern paint colors guide with high-quality paints that perfectly match your home exterior, interior, and accent walls.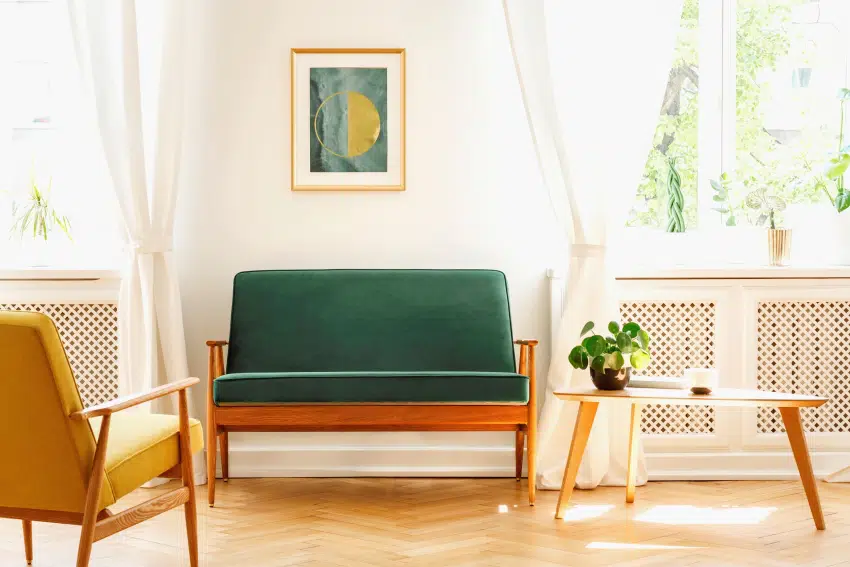 Homeowners who want a friendly, fun, bright, bold, and vintage vibe in their houses should consider applying mid century modern paint colors. It is perfect for anyone who loves retro-inspired architecture and styling.
Most mid century modern paint colors are bold and vibrant, while some are neutrals and earth tones. They can make any home lively, comfortable, welcoming, and fun.
If you want to add a touch of nostalgia to your homes, here are the mid century modern paint colors you must know.
Mid Century Modern Exterior Paint Colors
Mid century contemporary houses feature a neutral color as its foundation, accented with eye-popping colors to highlight important sections. For example, one can paint the house exterior brown, white, beige, or gray.
The corner pillars can receive a splash of midsummer gold or cool blue.
Midsummer gold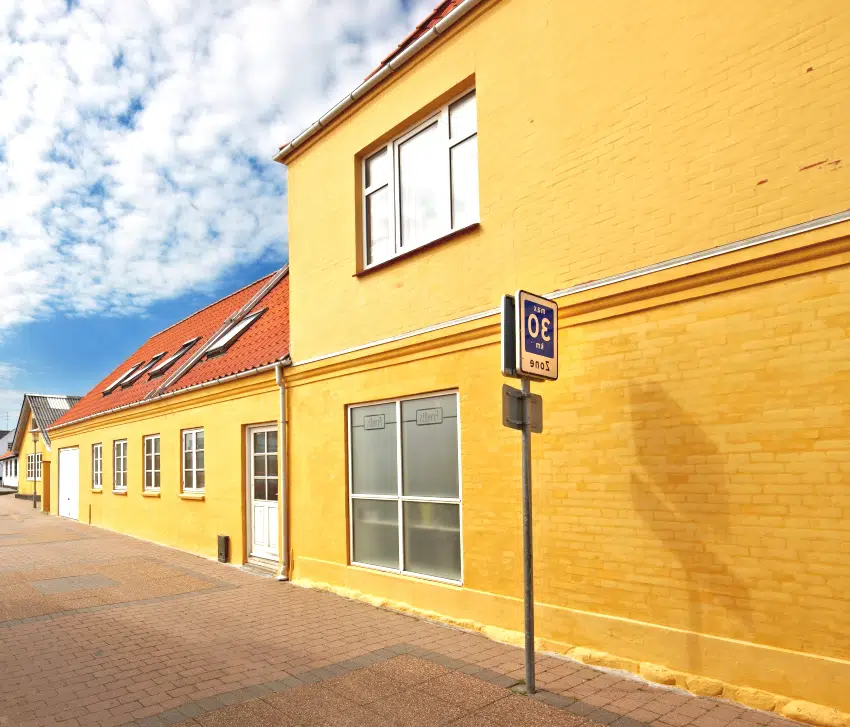 Mid-century homes are famous for their warm yellow and summer golden hues. It is the perfect choice to complement burnt orange and tan colors in the home's exterior.
Soft white If you are not a fan of bold colors, you can paint your house's exterior with soft or timid white
It has a slight grayish tinge, making it look more off-white than pure. This color selection is perfect for giving a modern home a vintage look.
Sherwin Williamseider White SW-7014 is shown in the picture here.It is an off-white shade with gray tones.
Cool blue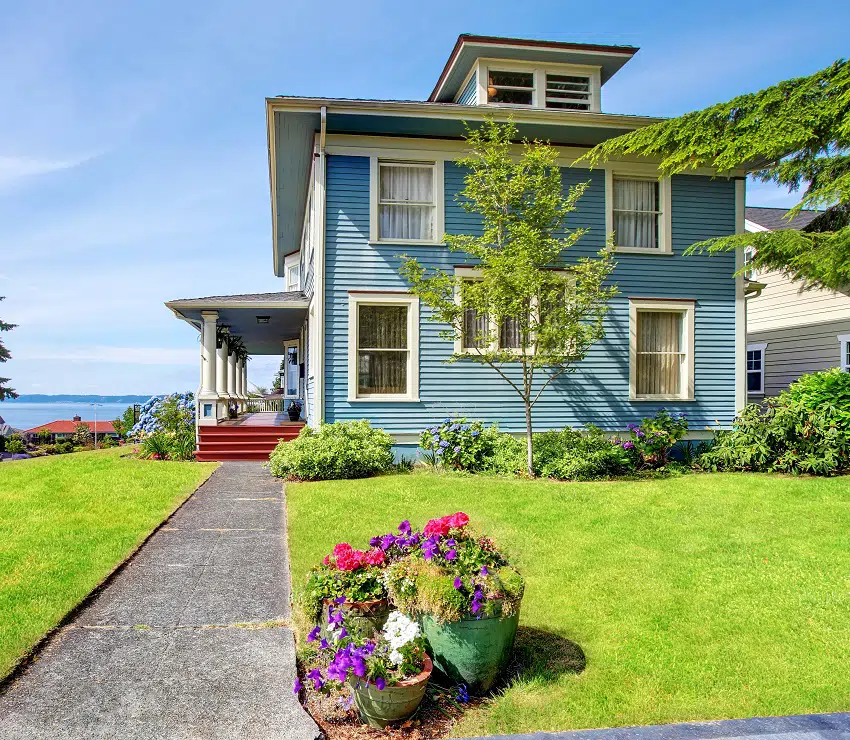 This hue has hints of green and blue, colors that are characteristic of the mid-century years. It is light, making it suitable for complementary use with dark colors, such as brown and dark gray.
Shagbark Produced by Sherwin Williams, Shagbark (SW-3001) is like a cross between dark chocolate and gray.
It is perfect as a base for your home exterior or as an accent color on the pillars, deck posts and similar outdoor structures.
Mid Century Modern Interior Paint Colors
Painting the home interior with mid century modern paint colors is more complex than coloring the exterior.
One has to consider other decorative elements, such as furniture, appliances, fixtures, and other items. In general, mid century modern paint colors can breathe life and add fun to any living space.
Earthy greens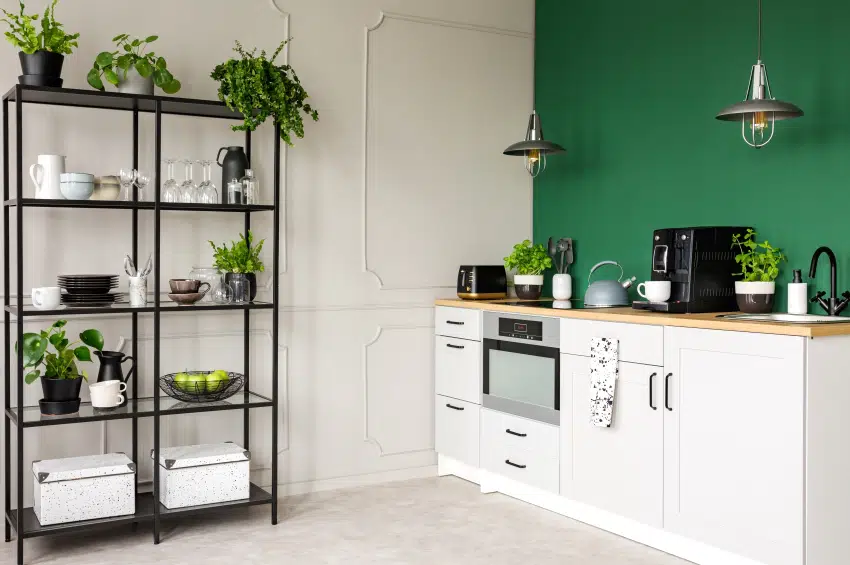 Perfect for living rooms and bedrooms, earthy greens can make home interiors look cool. Ivy green pairs exceptionally well with bold colors. One can also paint architectural details white to make the room pop even more. See our guide to the best living room paint colors here.
Seasonal taupe This shade(Sherwin Williams Taupe Tone SW-7633) has a down-to-earth appeal that can turn any man-den and living room into a calm, serene, and soothing place to relax.
It has strong brown undertones with hints of medium gray that convey a welcoming and earthy feeling.
The most popular taupe paint by Sherwin Williams is called Tony Taupe.
Teal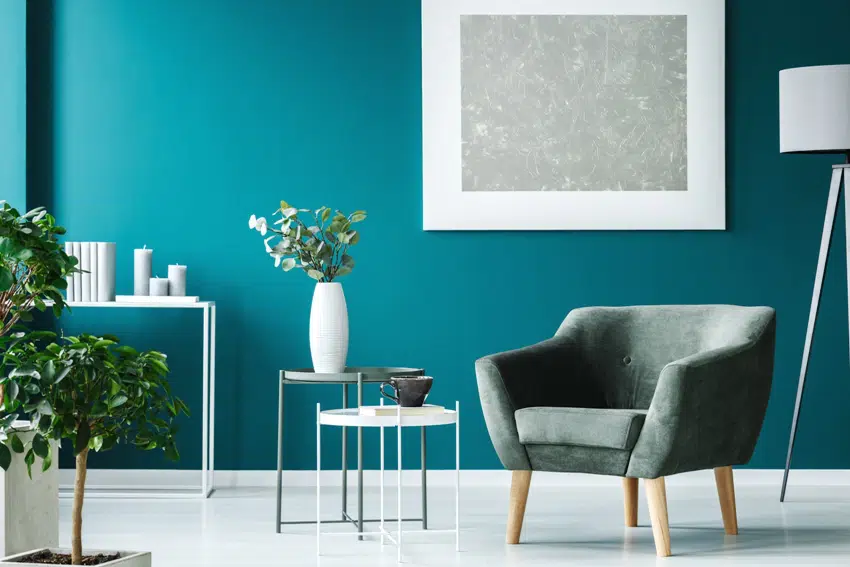 A huge hit in the mid-century, teal is an approachable and playful hue perfect for adding levity and personality to any living space. It is perky and bold, but not overly saturated to overwhelm the living room or bedroom.
It pairs well with bright colors if one wants a livelier look. White linens can make the teal bedroom more relaxing. Read more about the best bedroom paint colors here.
Soft pink People of the mid century loved soft colors. Adding soft pink(Sherwin Williams In the Pink SW-6583) maintains a neutral feel inside the home while adding a splash of color to make it pop out.
If you paint the doors and interior trims white, even soft pink can look brighter and bolder than it is.
This color option also works with any décor with complementary hues.
Classic white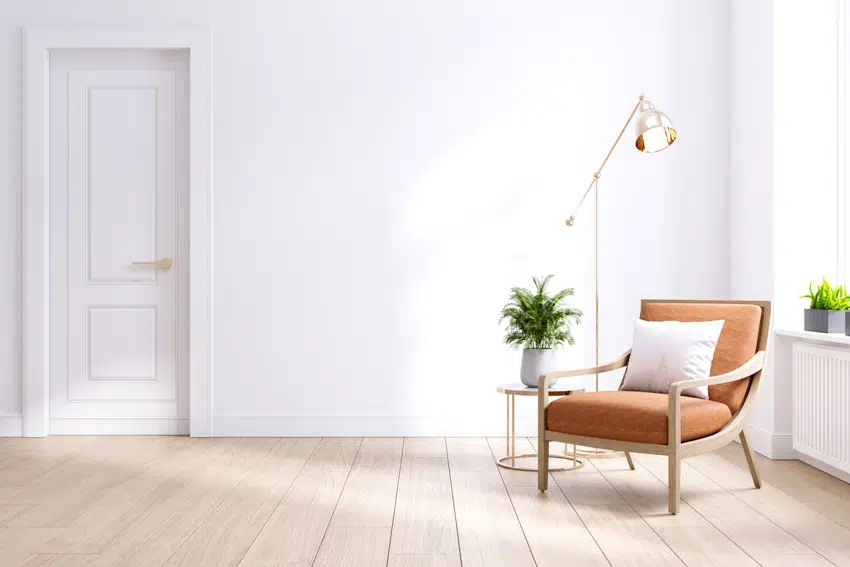 Homeowners who want to keep things simple can always opt for a classic white. This hue is popular in many mid century modern homes, empowering families to use any accessories, fixtures, and furniture without undermining their interior décor. One can always break the monotony by using a bold antique area rug or bright mustard yellow throw pillows.
Aqua It is bright and light but will never overwhelm the senses. Cool blue aqua(Sherwin Williams Aquarium SW-6767) is like teal in producing a comfortable and calm environment in the home.
It pairs well with wood tones to accentuate its calming effect, although whites work well, too.
Mid Century Modern Accent Wall Colors
Mid century accent walls feature colors that complement the base hue, often opposite the color wheel. Here are some exciting mid century modern accent wall colors homeowners can try.
Relentless olive This hue's moss green-like(Sherwin Williams Relentless Olive SW-6425) appearance gives it a relaxing and earthy vibe, suitable for complementing classic white, soft pink, and aqua interiors.
It is perfect for those who want to draw attention to a focal point in the room. This color also works well with burnt orange and mustard yellow.
Heartthrob red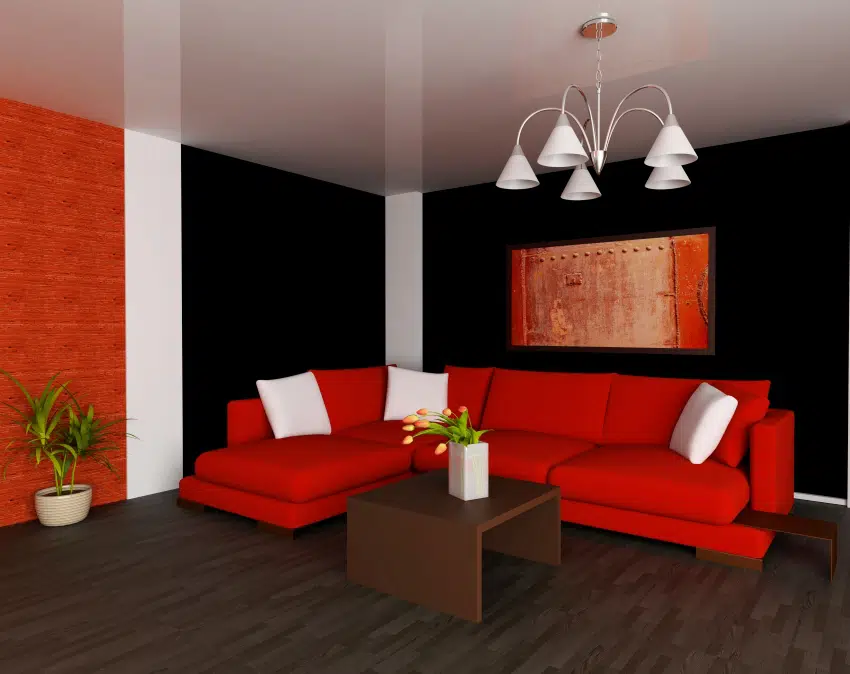 A bold red color is never for the faint-hearted, especially with a fire engine red like Sherwin-Williams' bold heartthrob red. It is perfect for kitchen cabinets if not on accent walls. The hue can liven any home with a mid century vibe.
Carnival orange
Inspired by the colors of a bountiful harvest, carnival orange is a great accent wall color behind wooden furniture, such as a bed. One can also paint the color in a foyer to add zest to life.
Mid Century Modern Paint Colors from Benjamin Moore
When it comes to high-quality paints, very few brands can match Benjamin Moore. This company has been producing many of the world's finest quality paints for various applications since 1883.
It would be interesting to know what mid century modern paint colors Benjamin Moore produced for the rest of the world.
White opulence Similar to a classic white but with hints of light gray, white opulence(Benjamin Moore White Opulence OC-69) is an excellent choice for home exterior colors and interior base and trims.
The color is warm and luminous and part of their classic color collection.
Navajo White is Benjamin Moore's most popular white color.
Wales gray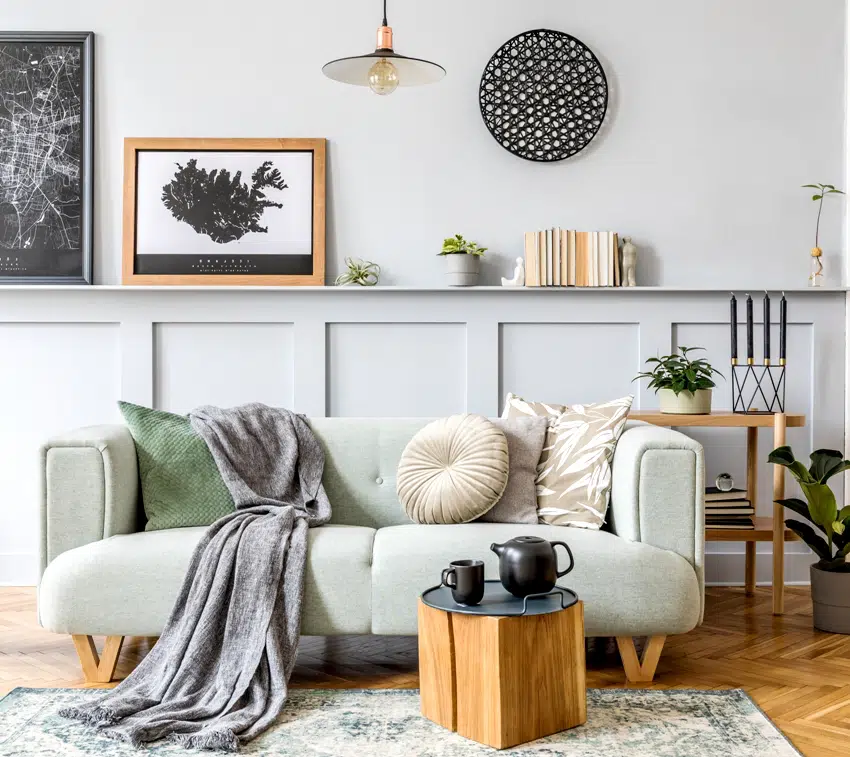 This gray hue has a bluish tinge suitable for giving living spaces a cool and comforting vibe. Ashwood
With its light grayish appearance,(Benjamin Moore Ashwood OC-47) makes for an excellent choice for painting a house's exterior or interior.
It is an excellent off-white background color for other hues. The shade offers a tranquil and serene feel.

Woodstock tan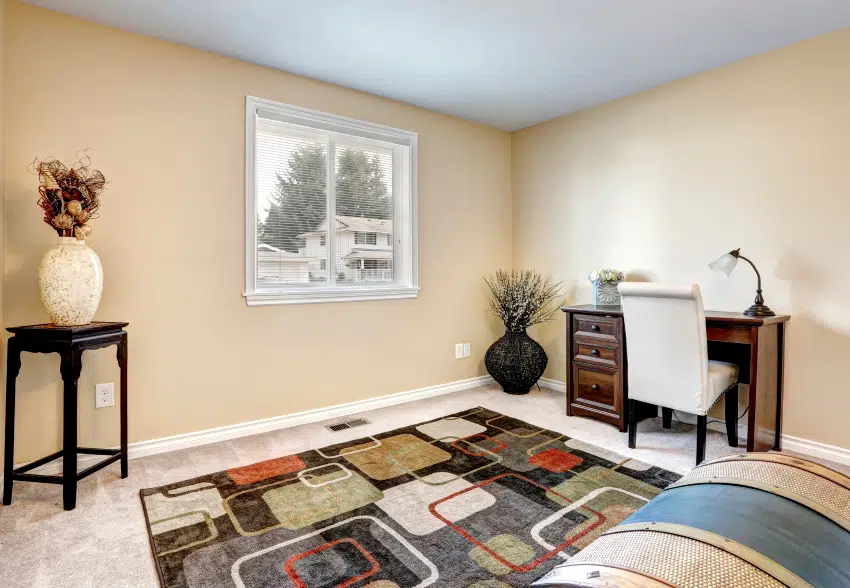 A mixture of light gray and brown, this color palette can give one's home exterior a mid century modern vibe. It has a neutral tone, making it a great base for more eye-popping colors.
Terra Cotta tile

This color (Benjamin Moore Terra Cotta Tile 2090-30) has a rustic, red blood cell-like finish that can draw attention to interior highlights and unique architectural elements in the home.
Similar to fired clay a Terra Cotta color combines orange and brown to create it interesting combination.
The color scheme has been in use since 3000 BC and is still sought after today for its timeless look.
Incense stick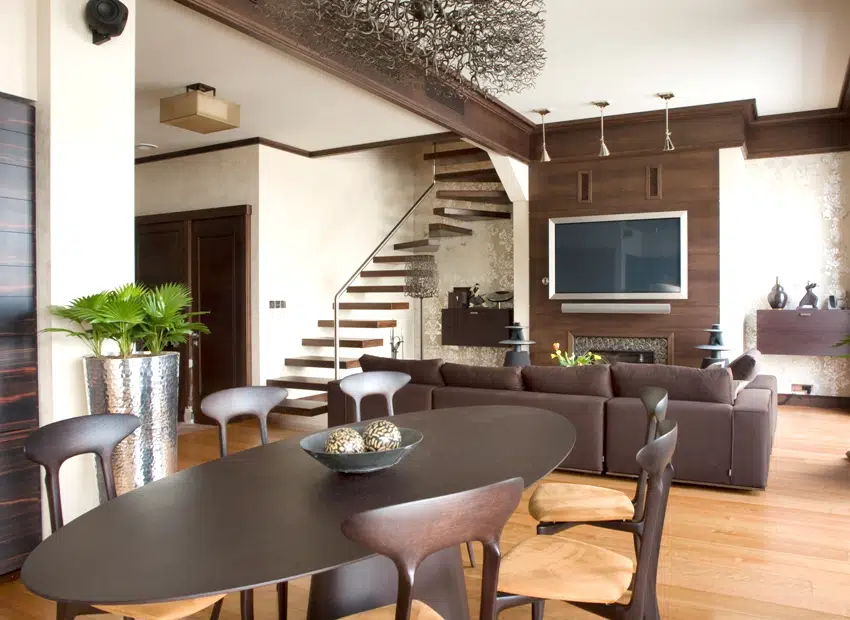 With a dark chocolatey shade, this color option is perfect for accent walls, especially when combined with lighter hues.
Conclusion
Mid century modern paint colors not only add a touch of nostalgia to one's home. These colors can also make the property look more welcoming, calmer, serene, and peaceful.
If you choose the right paint colors, you can also make your house look more fun and vibrant without overwhelming the senses.
For more related ideas visit choosing paint colors that flow from room to room page.